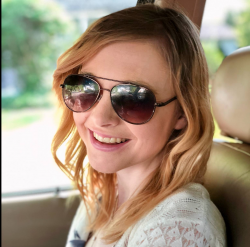 Latest posts by Erin Jamieson
(see all)
My favorite time of year is late September through October. From the crisp autumn air to the changing colors leading into Halloween, there's something magical about this time of year- even more so, for me, than the winter season. It's also one of my favorite times to decorate homes- and a farmhouse fall porch will always feel like home. 
Farmhouse porch decor is the ultimate welcoming touch- from cozy porch swings with buffalo check pillows to decorative farmhouse lanterns. The problem isn't finding decorations for fall: it's putting it all together. 
In this guide, I'll share my favorite ideas for fall farmhouse decor, from lighting to furniture and welcome mats. You'll discover this just may be the quality makeover your porch needs- and even cheap additions on a tight budget can make a big difference. 
Read on to discover everything from minimalist to classic farmhouse fall porch decor trends!
Bottom Line Up Front Summary
Fall farmhouse porch decor is a beautiful, warm way to invite guests to your home- and celebrate a wonderful season. Embrace the season with warm red, yellow, brown, and orange hues. That could mean adding pumpkins and gourds, charming welcome signs, and even decorative lanterns. If you want a modern farmhouse look, stick to simple checkered prints or plain hues. For a rustic or traditional look, embrace a little more clutter and add personal touches to make it your own.
While there are endless options for decorating a farmhouse porch for fall, I have a few suggestions. Start by adding pumpkins, gourds, and corn husks or bales of straw. Add a fall welcome sign, an inviting welcome rug, and classic porch lanterns. If you have a heftier budget, adding a classic rocking chair with a throw blanket is the coziest addition I can think of.
Farmhouse Fall Porch 101 
Step by step, here's how to achieve a picture-worthy look for your farmhouse porch! Just remember to add touches to your personality. My favorite porches- especially for fall- exude warmth and personal touches. 
Farmhouse Porch Styles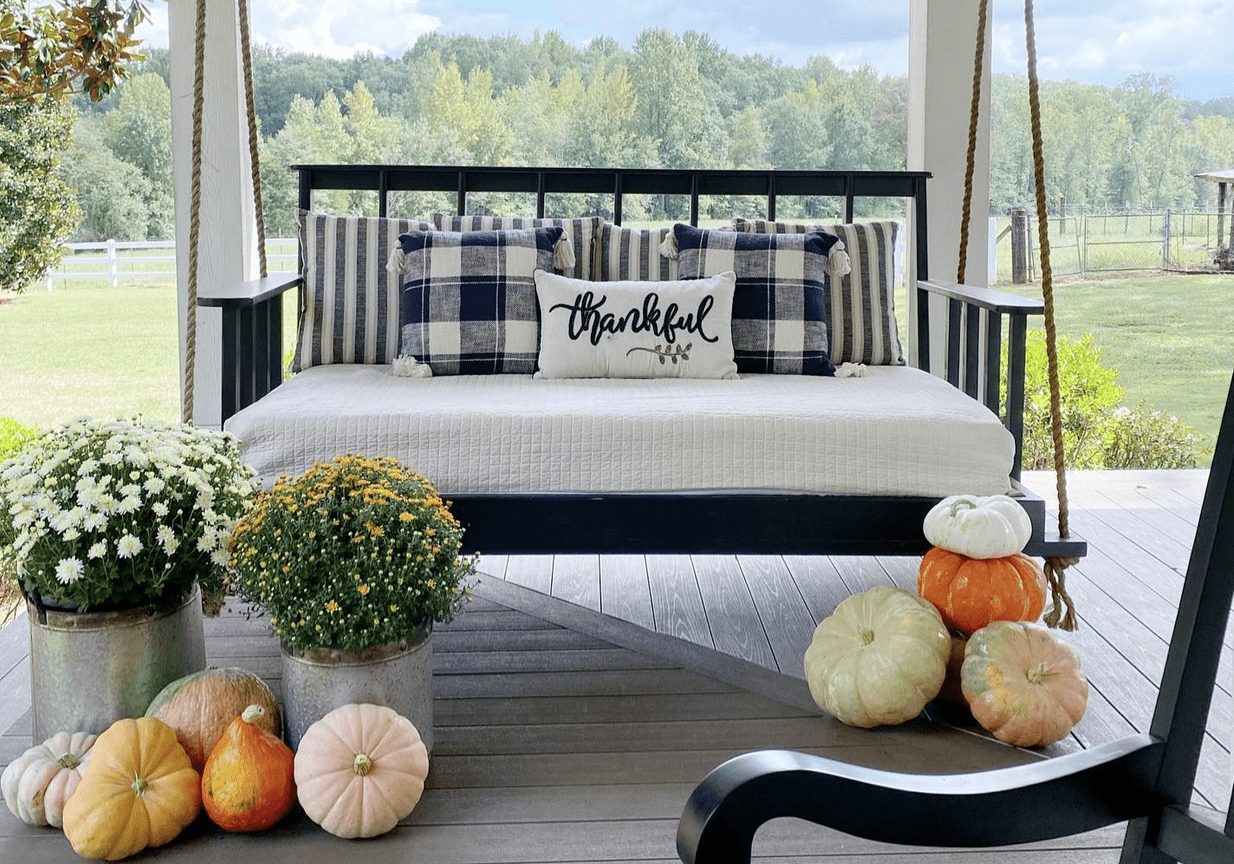 First of all, I want to cover the most popular farmhouse styles. You might have one vision of a farmhouse porch, but there are several charming styles you can choose. What I love about this is that you can decorate classic, modern, and rustic homes. 
| | |
| --- | --- |
| Farmhouse Porch Style | Description/ Why I Love It  |
| Modern Farmhouse | Sleek and sophisticated, modem farmhouse pairs contemporary styles with touches of farmhouse charm, usually with a cleaner, more streamlined look. |
| Traditional Farmhouse  | Just as this sounds, a traditional farmhouse has all the charm you except- often with wood tones, gingham prints, and more. I love how classic and timeless this style is.  |
| Rustic Farmhouse  | Rustic isn't all that different from traditional farmhouse- but I like to add distressed tones and burlap for that well-loved feel. I love how cozy and personal this feels (and it's my personal favorite!). You can also add some elegant touches with metallics for a more upscale look.  |
Don't stress too much about these styles- you can mix and match them and I argue most could work for most porches. If you have an exceptionally modern home, choose fall decor that has cleaner lines, like modern accent tables and lanterns. Farmhouses and brick homes look lovely with traditional farmhouse decor. And rustic farmhouse decor is ideal for whimsical and true farmhouse homes. 
Fall Farmhouse Porch Colors & Patterns
Just one of the reasons why fall is my favorite season is the rich diversity of colors. Why not reflect that with your fall porch decor? While a modern farmhouse porch style may do best with coordinating colors, I like to mix and match warm tones. If nothing else, fall is a season of change, color, and exploration.
Colors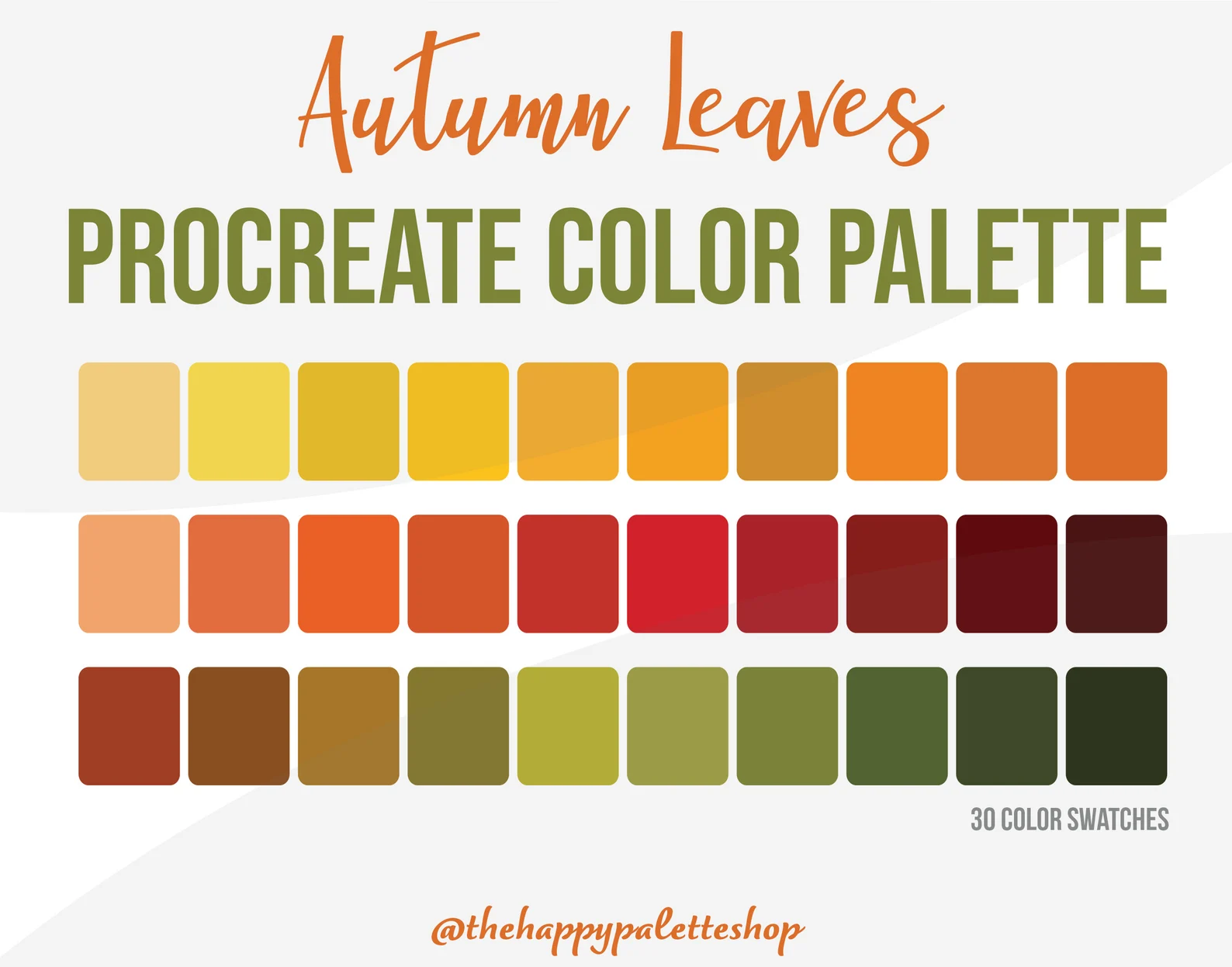 Anything in the orange, red, brown, deeper greens, and browns are excellent choices. My favorite colors for porch farmhouse decor include apple red, mahogany, marron, barn red, wine, burgundy, pumpkin, tangerine, carrot, squash, ginger, rust, bronze, auburn, butterscotch, honey, sunflower, chocolate, mocha, walnut, caramel, gingerbread, cinnamon, hickory, coffee, pine, sage, moss, and basil. 
I like sticking mostly with orange, brown, and red tones- and adding just touches of yellow or green accents to add interest. And of course, take inspiration from nature! I love seeing fall colors for myself, but a Fall Colors Instagram Board can also be helpful. 
Patterns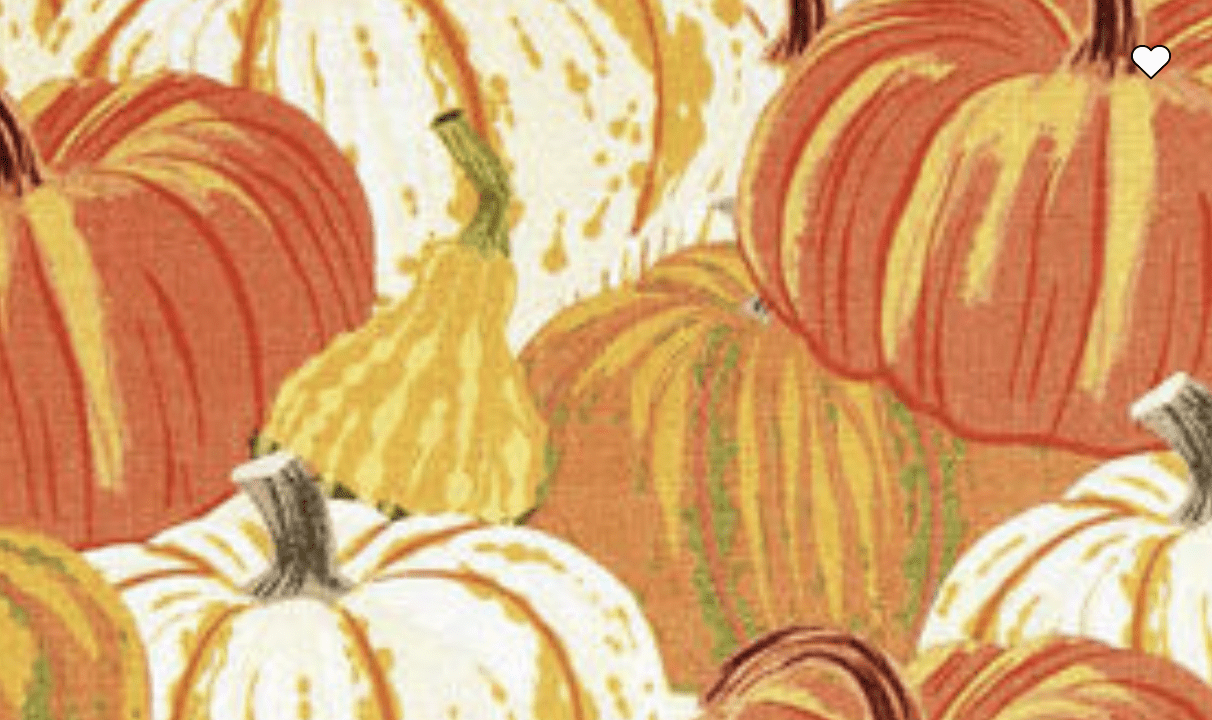 Nothing says beautiful like a fall print. If you're going for a more modern farmhouse look, usually keeping with solid colors and maybe some checkered accents is the best way to go. But for traditional and rustic farmhouse porches, I love playing with patterns- especially for throw blankets and pillows! 
That includes gingham print, buffalo check, playful geometric patterns, pumpkins, fall leaves, acorns, and subtle fall ombre prints. (These are cotton, but should give you an idea of what kind of prints to look for).  
Fall Farmhouse Porch Plants & Produce 
A fall farmhouse porch isn't complete without plants and products that represent the season. 
Produce 
I'm lucky enough to live within a half hour to an hour of different farms- including Shaw's pumpkin farm- and a visit every year. It's a great way to find unique baby pumpkins, large statement pumpkins, gourds, dried ears of corn, and even bales of hay. You can also find these decorations at your local grocery store or sometimes a home improvement store. 
Don't want to deal with fresh produce and accents? You can buy faux pumpkins and even fall decorating kits, complete with pinecones, gourds, and pumpkins. 
Potted Plants 
Fall annual flowers are a gorgeous way to elevate your porch- pair them with a farmhouse-themed rustic metal barrel planter, birch planters, or add a classic farmhouse metal planter to your window. Not sure what flowers are in season? A local nursery will show you that- but even if you're opting for faux outdoor plants, knowing what's in season is useful for an authentic aesthetic.
Some of my favorite seasonal florals for a farmhouse porch include sunflowers, daisies, canna lilies, dahlias, orchids, alstroemeria, gerbera, and goldenrod (beware: not allergy friendly), marigolds, and black-eyed Susans. 
But fall farmhouse porch decor doesn't have to be limited to flowers. Pre-lit faux autumn trees are beautiful for covered porches- especially with the warmth from LED lights. Throw in some faux autumn leaves for expressive farmhouse porch decor on a budget. 
Pro Tip
Make sure any faux plants are suited for outdoor use! Plants need to be rated as outdoor or indoor/ outdoor plants and should be made out of silk, polyester, or another weather-resistant material. I always check the planter too: the best planters are made out of stainless steel, ceramic, or high-density plastic. 
Fall Farmhouse Porch Welcome Signs & Wreaths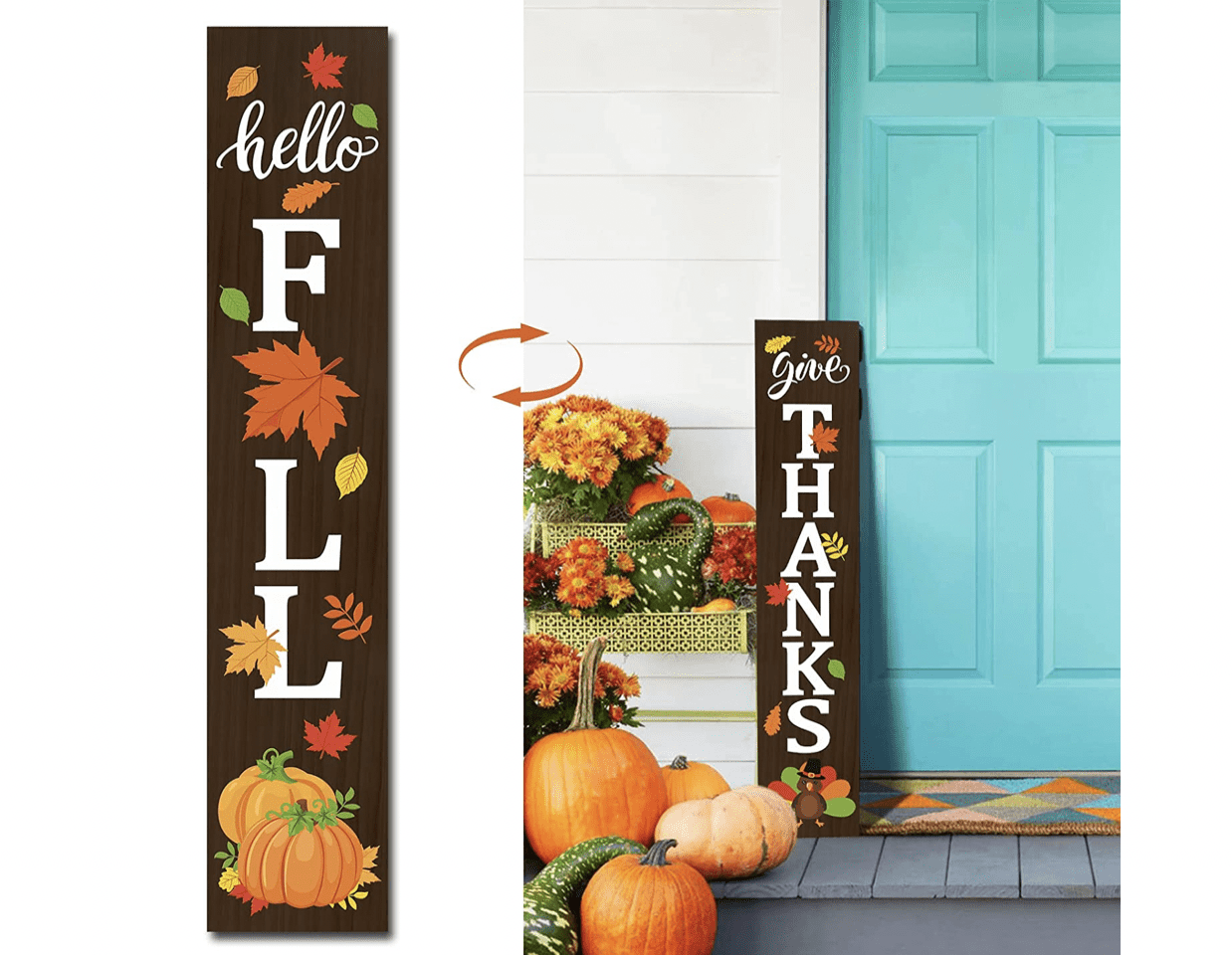 A fall farmhouse porch isn't complete without a welcome sign. Welcome signs add a rustic or traditional touch and are one of my favorite ways to usher the season in. Whether you want a classic welcome porch sign, funny porch signs, or even porch rules signs, the key is to keep with the fall theme and make sure you're buying something that's weather-resistant. 
That means something like kiln-dried wood or materials with a water-resistant coating. I love classic autumnal porch signs, pumpkin porch signs, porch signs with leaves, and another seasonal decor. Hang one around your door knob for a warm welcome, or opt for a freestanding one nestled beside fall leaves and pumpkins.  
I also love autumnal wreaths. So often, I see people limit themselves to a wreath for the winter holidays or Christmas. But fall is a gorgeous time to add a leaf, pinecone, or even pomegranate/ dried fruit autumn outdoor wreath. Make sure it's intended for outdoor use and embrace orange and red hues for a statement on your front door.
Fall Farmhouse Porch Welcome Mats & Rugs 
If you want a cozy addition to your farmhouse fall porch, welcome rugs and mats are a great way to go. Not only are they aesthetically pleasing, but they can tie in your theme for not too much money. I like to tie in patterns, themes, and the colors I discussed earlier in this guide. Some of my favorite welcome mats include:
Outdoor rugs are a great option if you're including a seating area on your porch. Here too, I lean towards solid pumpkin and nutmeg tones for modern farmhouses and patterned prints for traditional and rustic porches. Outdoor fall rugs should be made with weather-resistant materials and tied together with the accent colors from your fall decor.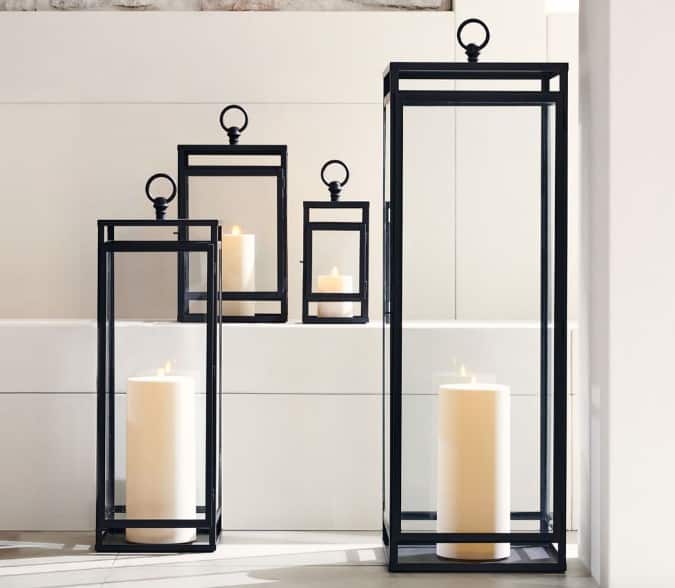 Whether you're looking for solar porch lights or a classic white porch light, even the best fall farmhouse decor can't be fully appreciated at night without great porch lighting. While you need staple porch lights, outdoor porch lanterns are my favorite way to add a fall decorative touch. 
Just remember to use a lantern with a wet-rated bulb and a weather-resistant exterior (like stainless steel, powder coated steel, high-density plastic, copper, or brass): 
 Adding some tea candles exudes ambiance- and you can't go wrong with pumpkin porch outdoor lanterns that you can have out all season long. 
Fall Farmhouse Porch Furniture & Pillows 
Not all porches are roomy enough for a full set of furniture- but one of my favorite ways to achieve a fall farmhouse aesthetic is to add a comfortable seating space. That can be as simple as a single rocking chair, a classic bench, or a cozy daybed swing. And of course, you'll want to decorate with checkered throw pillows or a simple cozy knit blanket with solid fall colors. 
For all porch and patio furniture, I select only materials that suit the outdoors. That includes Polywood, treated wood or wood with natural oils (such as teak, acacia), stainless steel, and powder-coated metals. Both wood and Polywood, however, are my top picks for achieving either a classic farmhouse or modern farmhouse aesthetic. Some of my favorite options include:
Another thing I love about fall? The crisp, fresh weather. But if you live in the midwest like me- or anywhere else where weather changes quickly- you know that a cool night can become brisk pretty quickly. Any fall farmhouse porch that you plan to sit out on can be that much more comfortable with a heating source. 
While patio heaters are a practical solution, I love the ambiance of an outdoor fireplace (wood-burning) or a classic fire pit table. Both provide that warmth from the flame and bring to mind warm bonfires. Add some chairs and get ready to celebrate the fall season with roasted marshmallows. Just make sure you have enough room and follow safety standards. 
Farmhouse Porch Decor Inspiration Photos
It's one thing to plan your farmhouse fall porch decor- but it's another thing to put it all together. That's why I'm including just a few inspiration photos to get you started. I love these ideas because they're at once cohesive and timeless- but also creative enough that they're sure to make your porch a stylish statement for this beautiful season.
Pops of Green
Just because it's fall doesn't mean you can't have fresh bursts of green! I love this farmhouse fall porch for its balance of bright white, sprigs of green, and signature pumpkin tones. In addition to the fresh flowers and pumpkins, the accent pumpkin pillow and southern welcome mat are simply charming! A simple white Polywood rocking chair is all the excuse you need to spend time outside.
Halloween-Ready Rustic
Halloween is one of my favorite holidays: the ambiance, the crisp air, seeing all the creative costumes, and making a kid's night with a heap of candy are only a few reasons why. And this rustic farmhouse porch shows how you can blend everyday decor and festive Halloween accents. Most of this decor is versatile: pile one gourds and pumpkins of different shapes, sizes, and colors for a pumpkin patch aesthetic. Dried corn husks are beautiful ways to adorn classic porch columns. I'm loving the splash of color from the maroon and golden flowers, accented with a seasonal wreath. Of course, the Jack O'Lanterns and Trick or Treat signs are must-haves for a spooky night.
Whimsical Evening
This falls cozy farmhouse porch decor at its best. The key: don't try too much to coordinate. Embrace a slightly more cluttered- but still cohesive look. I love how inviting this porch is- and even the chilly evenings will feel magical. A  daybed porch swing with a modern farmhouse print is elevated with hanging outdoor string lights. A checkered throw blanket will keep you and your pet cozy, while classic farmhouse lanterns add candlelight. With gorgeous pumpkins of all sizes and overflowing fall florals, you'll feel like you're stepping into a dream.
Midwestern Charm
This porch screams the Midwest to me- but it'd honestly fit just about anywhere! Combining cozy, rustic, and modern elements, you can see just how beautiful and welcoming farmhouse porch decor can be. Start with Polywood rocking chairs, add bales of straw or hay, and shop for gorgeous fall florals. Corn husks and little decorative touches- like a fabric pumpkin and side lantern- are just what you need to complete this appealing look.
Frequently Asked Questions
Question: How do I decorate my front porch for autumn?
Answer: Decorating a porch for autumn is not only fun- but also easy! The first thing is to assess your space and think about what kind of aesthetic you're going for. While farmhouse fall porches are popular, modern fall porches can be beautiful too. Head to your local nursery, home improvement store, and craft stores. Pick up some planters with fall florals. Add pumpkins and gourds (from a local farm!) and dried ears of corn. Hales of bale adds a rustic touch, as do rustic buckets with sprigs of faux or real flowers. Burlap, welcome mats, and colorful table decorations are all you need to achieve a gorgeous autumn look. Add string lights for a more whimsical look.
Question: How do you decorate a farmer's porch for fall?
Answer: A farmer's porch doesn't refer to a farmhouse style, but a type of porch. Farmer's porches originated in my favorite region of the United States- New England- and are open-air porches. They wrap around your home for a cozy and beautiful aesthetic. A porch like this is made for fall. Add a porch swing if you have the budget, plus a cozy throw pillow and blanket to keep you warm. A little side table or coffee table can be decorated with faux leaves, pumpkins, and tea candles. Of course, you can never go wrong with pumpkin, gourds, and even branches or twigs. Add in some enchanting lanterns and a wreath and you have a cozy, gorgeous aesthetic for fall.
Question: How can I decorate my porch for cheap and fall?
Answer: Decorating your porch for fall doesn't have to cost a fortune. To pull off the autumn aesthetic, there's a lot you can DIY. Buy some fabric and burlap from a craft store or even Amazon. Make your porch welcome sign out of wood and head to a farmer's market or farm to pick out gourds and pumpkins. You can't go wrong with faux leaves and other faux plants. That's not only low maintenance but also cheap. Simply put, decorating for fall doesn't have to put a dent in your wallet.  
Question: When should you hang fall decorations?
Answer: It's up to you when to start decorating for fall. I have a bad habit of wishing for fall before it comes! But that said, late August is a good time to start. Some feel better by waiting for the true start of the season in September. Anything from mid-August to late September is fine. Around me, people tend to wait until the weather cools off, while others start decorating when school is back in session. Probably the most popular time of all is in October, in anticipation of the Halloween season. 
Final Thoughts
Farmhouse porch fall decor is simply one of my favorite aesthetics for a home. It exudes warmth, and comfort and truly showcases the best of a beautiful season. While decorating for fall doesn't have to cost a fortune, there are many things to consider. Start with small seasonal decor from your local craft store, visit a farm, and add pumpkins and gourds. Whatever you do, don't forget a welcome mat and lighting if you don't have them already.
Final Recommendations
Not sure where to start? As fun as it is to decorate for the fall season, I know it can also be overwhelming. Make sure you have ample porch lighting but try to add decorative porch lanterns on your steps or near your front door. A welcome sign is a budget-friendly way to exude warmth, as are pumpkins and gourds from a store or farm. Shopping your local craft store is also a great way to find extras, like corn husks! And if you want an excuse to spend more time on your porch, why not add a rocking chair?
Recommended Reads: