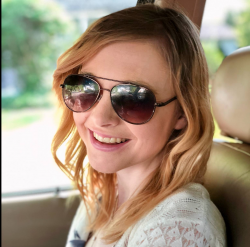 Latest posts by Erin Jamieson
(see all)
I've also loved the French country style, and over the years I've collected wall decor and accents. But for a while, I've had my eyes on not a classic wood grain rocking chair, but a crisp white hue. White rocking chairs add an inviting ambiance to any outdoor space, and they don't have to be rustic. 
Whether you're looking for a distressed white rocking chair, a double rocking chair, or a white ergonomic rocking chair, I have you covered. I'll tell you how to select the best white rocking chairs for porches, from shade and design to must-have features. 
Bottom Line Up Front Summary
White rocking chairs are beautiful additions to a porch. They require more upkeep but are worthwhile. The best material for an outside white rocking chair is Polywood or hardwood with a weather-resistant coat.
Cushions made out of weather-resistant materials (polyester or a stronger Olefin) add comfort. Different hues of white allow you to shop for contemporary, traditional, and rustic styles. 
If I had to select just one white rocking chair for a porch, it would be the Pottery Barn X-Back Vintage White Rocking Chair. It's one of the more expensive white rocking chairs on the market, but for good reason. It's incredibly versatile, low-maintenance, made in the USA, and both lead and BPA-Free. 
My Top Picks
Why You Should- Or Shouldn't- Buy a White Rocking Chair For Your Porch 
I've always loved the charm of a white rocking chair on a porch. It's classic but has a different aesthetic than a black or natural wooden hue. But while a white rocking chair is a charming upgrade, it's not ideal for every porch. Here are some of my top advantages and disadvantages to buying a rocking chair in white. 
Reasons to Buy
White rocking chairs are easy to style and coordinate. You can leave a white rocking chair plain or decorate it with colorful or patterned cushions. I even have seen bows and another decor to celebrate different seasons. White goes with almost any color scheme. 
Depending on what style you love, you can find white outdoor rocking chairs to achieve vintage, rustic, and even contemporary styles. White rocking chairs will never go out of style, and, when properly cared for, can be styled and used in various ways, year after year. 
Reasons to Buy a Different Color
Notice the last clause under my reasons to buy a white rocking chair. The biggest downside to a white rocking chair for a porch is an obvious one. White chairs show dirt, stains, and wear more readily than dark hues or natural wood grains.
Even if you select a rocking chair that's easy to clean, you'll need to clean it more regularly. White rocking chairs are available, but there are more options for natural wood grain rocking chairs. In times of lower supply (as of 2022) you'll have slightly fewer styles to choose from. 
How to Select an Outdoor White Rocking Chair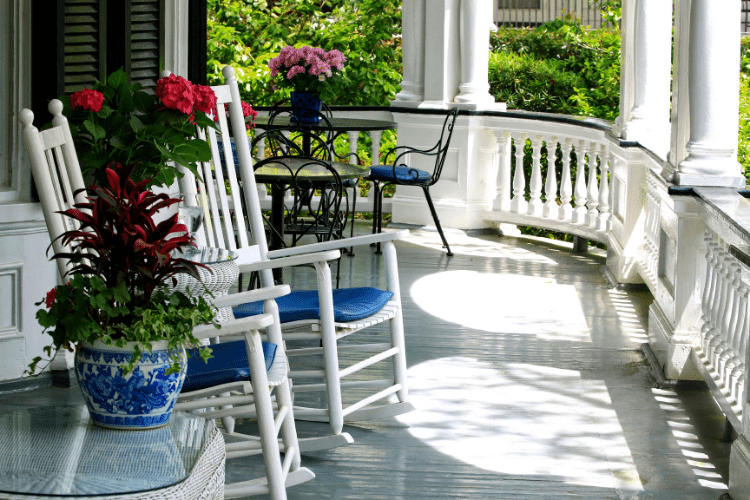 If you have one image of a white rocking chair in your mind, think again. White rocking chairs include painted wood, recycled materials, and much more. While there are classic chairs there are also minimalist and distressed styles. Here's how I select the best white rocking chair for a porch, from style to materials to special features. 
Step One: Selecting the Main Material
Materials are quite different for an indoor vs outdoor white rocking chair. If you plan on leaving your white rocking chair out on a porch or patio, you should select something that is weather-resistant. Here's a look at some materials to consider for a white rocking chair- and some to avoid. 
Best Choice For Most: White Polywood Rocking Chairs
Polywood is not genuine wood, but it does mimic the look of the wood grain. Polywood is made out of plastics and materials that can't easily be recycled. But it's not just eco-friendly. Polywood is sturdy material– most chairs can last up to two decades. They are resistant to fading from UV rays and are both scratch and chip-resistant. The biggest cons to a white Polywood rocking chair is that it will be more expensive and heavier than other materials. 
Reasonable Choice: White Hardwood Rocking Chairs
Wood can be stained white– and there's something undeniably beautiful about a genuine wood rocking chair.  Wooden chairs are classically stylish and won't hold heat. 
The problem is that certain woods should only be used indoors. The wooden chairs you want to look for are hardwoods. Hardwoods, as the name suggests, are difficult to damage and can last for years– if treated properly. However, they must produce their natural oils or be protected with a sealant. White poplar is a hardwood, it is one of the softest.
Possible Option: White Metal Rocking Chairs
Metal is neither the best nor worst choice for an outdoor white rocking chair– but it's not nearly as common as other materials. Aluminum or steel are the main options. Both can endure weather fluctuations, won't attract mildew, and are easy to clean. Unlike wooden chairs, they won't attract bugs. However, aluminum can corrode and steel can rust. Because of this, any steel, wrought iron, or aluminum chair needs to be treated with a protective coating. However, there are very few options for white rocking chairs. 
Possible Option: White Wicker Rocking Chairs
Whicker by itself isn't suitable for the outdoors. However, you can buy resin wicker rocking chairs. These are waterproof, easy to clean, and fairly studious. I love the rustic charm or a white wicker rocking chair– just be careful because they are easier to break. They aren't the best choice if you have young kids or during high winds. 
Avoid: Regular Plastic, Soft Wood White Rocking Chairs 
On my list of materials to avoid for a white rocking chair are regular (not high density) plastics and softwoods. Both can easily be damaged and shouldn't be used outdoors. Examples of softwoods include pine, cedar, spruce, redwood, and Douglas fir. 
See also: Where to Buy Patio Furniture Online
Step Two: Selecting White Stains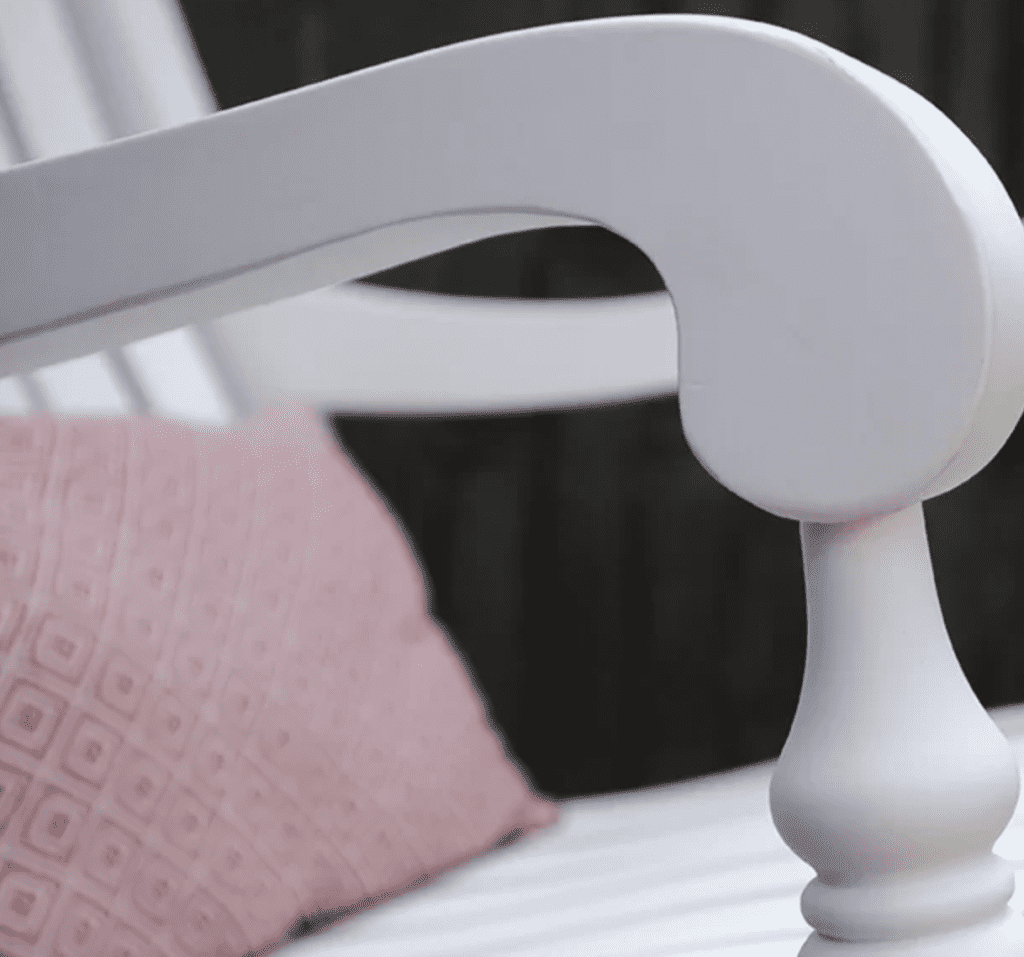 This is a matter of personal preference. Of course, the same rules apply here: a white stain should ideally be both weather-resistant and UV-resistant. But some different shades and styles are fun to shop for. Here are a few of the most popular white rocking porch chairs:
Classic White 
A bright white adds a fresh accent to any porch. Keep it simple or dress it up. Bright white fits classic and contemporary styles. 
Ivory/ Off-White
These rocking chairs have a softer color, making them a bit easier on the eyes and still quite versatile. It can be used for achieving any style. 
Eggshell White/ Antique White
Eggshell white was a favorite in my parent's house. It has a slightly yellow tint and pairs well with neutral and primary colors. This tone suits rustic and whimsical styles. 
Weathered White
These white rocking chairs come in any shade of white but achieve a weathered look with an uneven white stain. These are usually wooden rocking chairs and are very rustic. 
Step Three: Sizing, Features, and Where to Buy 
Finally, I want to discuss selecting the right size for your white rocking chair, some features you should consider, and the best places to shop.
Sizing
Standard rocking chairs must be 3 feet apart and have about 10 square feet each. You can find rocking chairs in sizes ranging from 36 to 45 inches tall; 25 to 30 inches wide, and 32 to 38 inches deep. The taller the person, the deeper the seat should be. Shallow seats are usually less comfortable. 
Features
If you have muscle aches or just want a more comfortable white rocking chair, consider: ergonomic armrests, adjustable arms, or footstools. Cushion, both for your seat and lumbar, adds decor and support.
Some rocking chairs even have cup holders. Non-slip and non-skid feet are also things to consider if your porch gets slippery. More importantly, I like white rocking chairs that come with a warranty. 
Where to Buy
Surprisingly, Cracker Barrel has just one white rocking chair. Budget-friendly outdoor rocking chairs can be found at Walmart, Target, and Amazon.
The next step up is home improvement stores, including Lowes, Home Depot, and Menards- as well as Wayfair. Polywood white rocking chairs can be bought from polywood.com and regular stores. Pottery Barn, L.L. Bean, Crate and Barrel, and some independent Amish sources are great sources for sustainably sourced, durable white rocking chairs. 
See also: Best Patio Design Ideas: All You Need To Know
Outdoor White Rocking Chairs I Love

Here are some of my top recommendations for the best white rocking chairs you can buy for your porch. In addition to showing a range of styles, these white rocking chairs are suited for outdoor use and stand out for their construction, materials, and price. 
Mainstays Outdoor White Rocking Chair

On a budget? The best white rocking chairs typically cost $200 to $400- sometimes more. I was happy to find this budget white rocking chair for under $100. Unlike most white rocking chairs at such a low price, it's made not with plastic, but genuine acacia hardwood.
The simple slat design is accompanied by a slightly contoured seat for a more comfortable fit. The hardwood is sustainably sourced and coated with a weather-resistant finish. It comes with a 1-year warranty, holds up to 250 lbs, and can be assembled in half an hour.
Acacia wood is over 50 denser than European oak and is resistant to water and scratches. A big downside I need to mention is that acacia wood can crack with prolonged heat exposure, so it should be kept in the shade and may not be the best fit for an environment like Arizona.  Buy Here. 
Pros
Excellent Price

Sustainably Sourced Wood

Treated with Weather-Resistant Finish 

Easy Assembly
Cons
Requires Regular Maintenance

Sensitive to Temperature Changes
Pottery Barn X Back White Vintage-Inspired Rocking Chair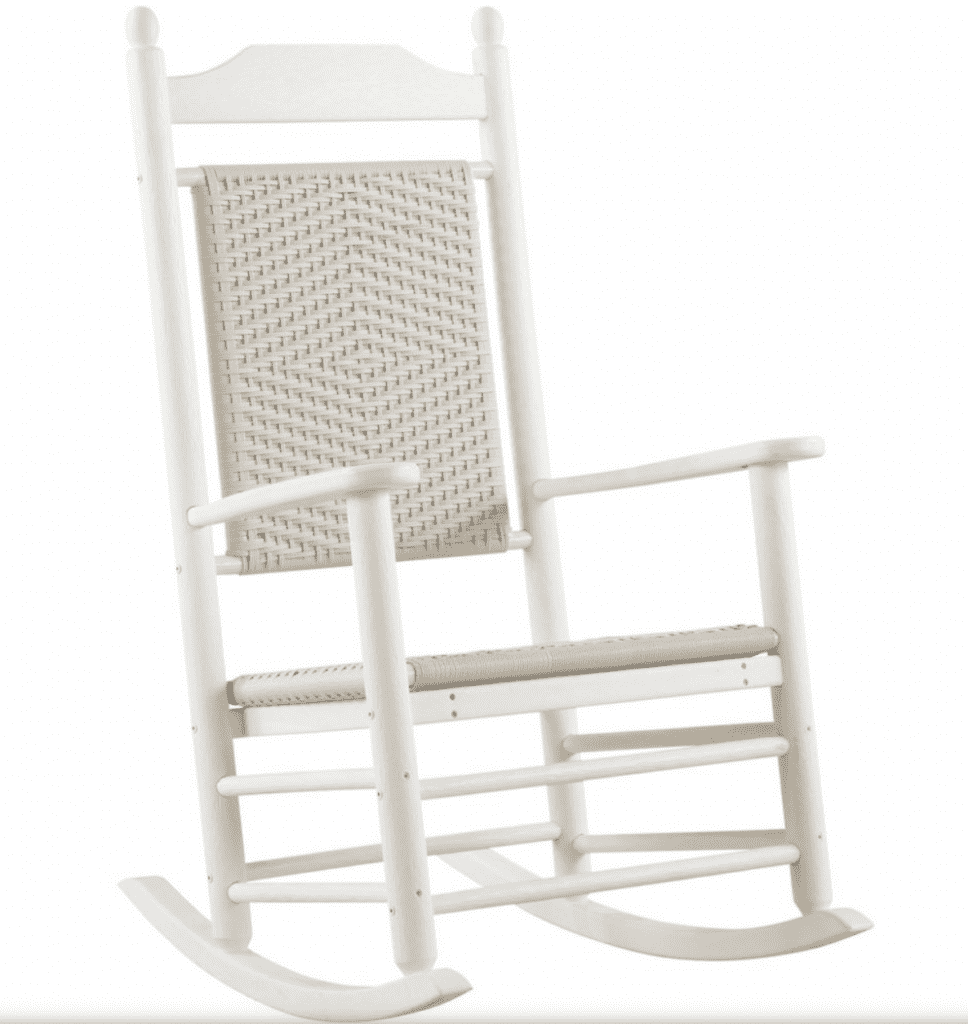 Vintage white is best described as a shade between classic white and ivory, and this chair is nothing short of elegant. A classic X-rocking back combines contemporary and vintage traditions for a clean aesthetic.
This chair is made in the USA with Polywood and stained with color-stay technology. It's naturally weather-resistant, easy to clean, and very low-maintenance.
I also love that it's certified BPA and lead-free. It's a supportive, beautiful, and durable rocking chair with a design that sets it apart from other white rocking chairs. This chair holds up to 300 pounds. Buy Here. 
Pros
Weather and Fade Resistant

Made in the USA

BPA and Lead-Free

Elegant, Unique Design 
Cons
More Expensive

No Cushions Included

L.L. Bean All-Weather Presidential White Rocking Chair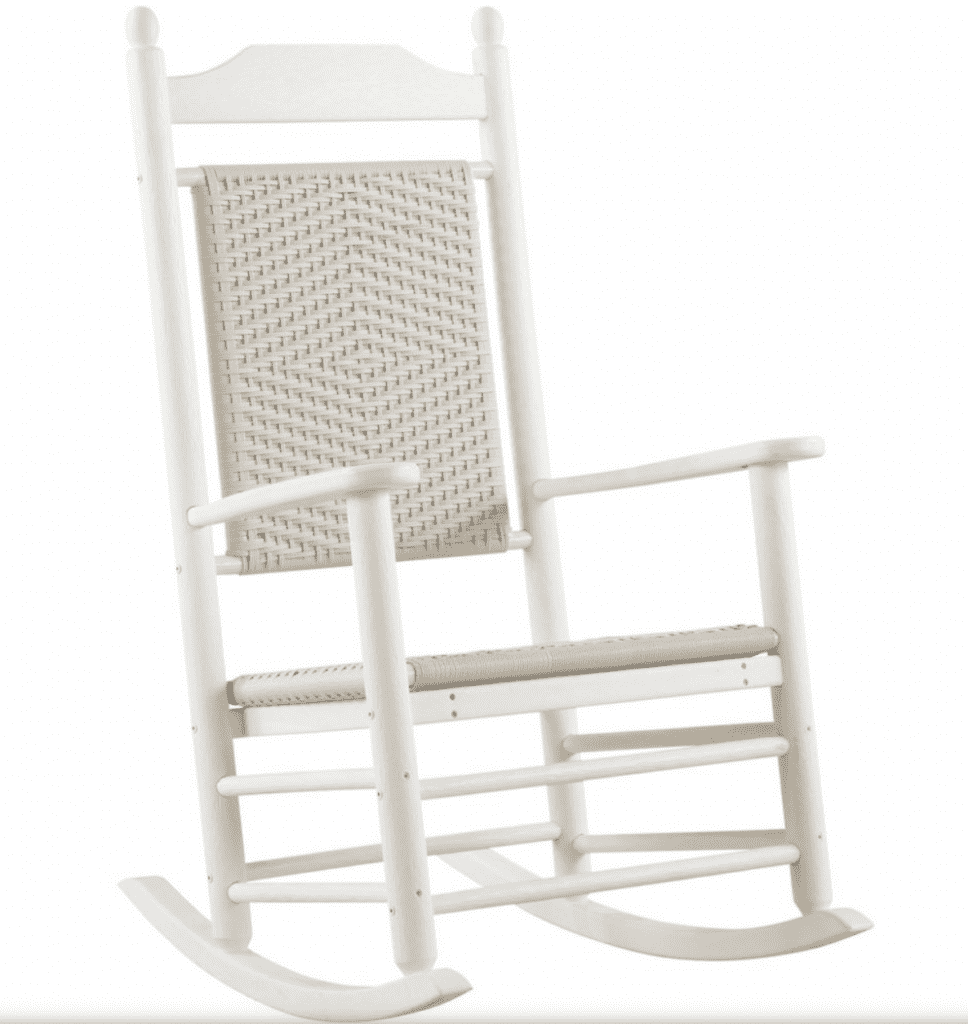 I have many fond memories of browsing LL Bean catalogs with my parents. They bought me backpacks that, growing up, I used to joke about. Their reputation for long-lasting products continues with this stately white rocking chair for your porch. Polywood is crafted to withstand temperature fluctuations and weather conditions without warping, corroding, or cracking.
The hardware is military-grade stainless steel. The study seat holds up to 325 lbs, while the woven detail adds visual interest. This white rocking chair is made in the USA (with imported parts).  A downside is that it shouldn't be left in the snow because of the woven seat- though that could potentially be covered or treated. Buy Here. 
Pros
Military-Grade Hardware

Classic, Timeless Appeal

Resistant for All-Weather, Temperatures

Won't Crack or Warp
Cons
Not Recommended For Use in Snow (Seat) 

Not BPA-Free
Outdoor Oisin Solid Wood Rocking Chair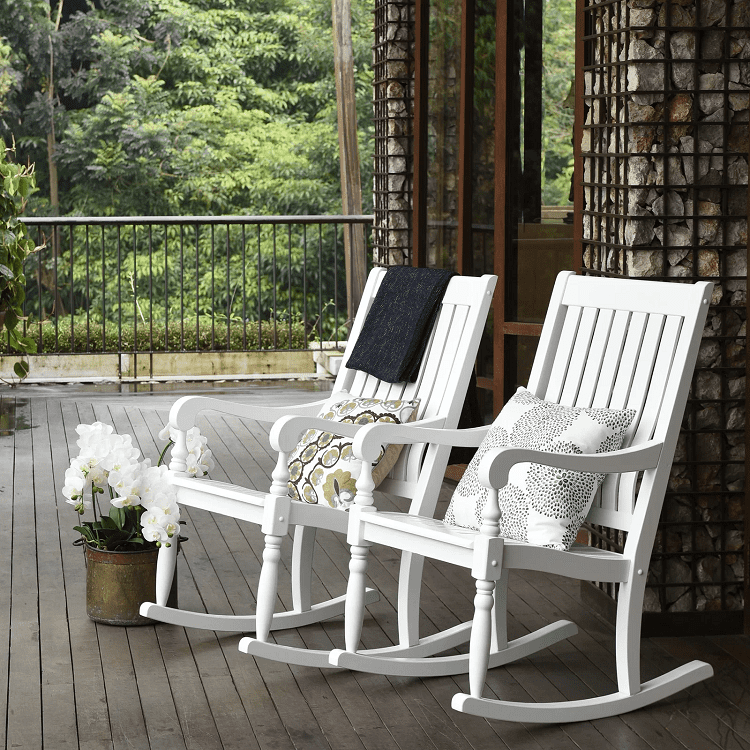 If you want a classic white rocking chair made with hardwood and have more than $100 to spend, this could be the right choice for you. The slatted seat is a classic look, while the contoured armrest is comfortable and stylish. A curved seat provides some relief for tired backs.
Solid mahogany wood is treated to be weather-resistant and improve its durability. Mahogany is already a wise choice, with its natural insect resistance and strength. The one downside is that it can fade if always left under indirect light. This white rocking porch chair holds up to 300 lbs. Buy Here. 
Pros
Ergonomic, Curved Seat

Insect and Weather Resistant 

Solid Mahogany 

Sturdy Frame (Up to 300 lbs)
Cons
Fades Under Constant, Direct Sunlight

Requires More Maintenance vs Polywood
Vineyard Deep Seating Rocking Chair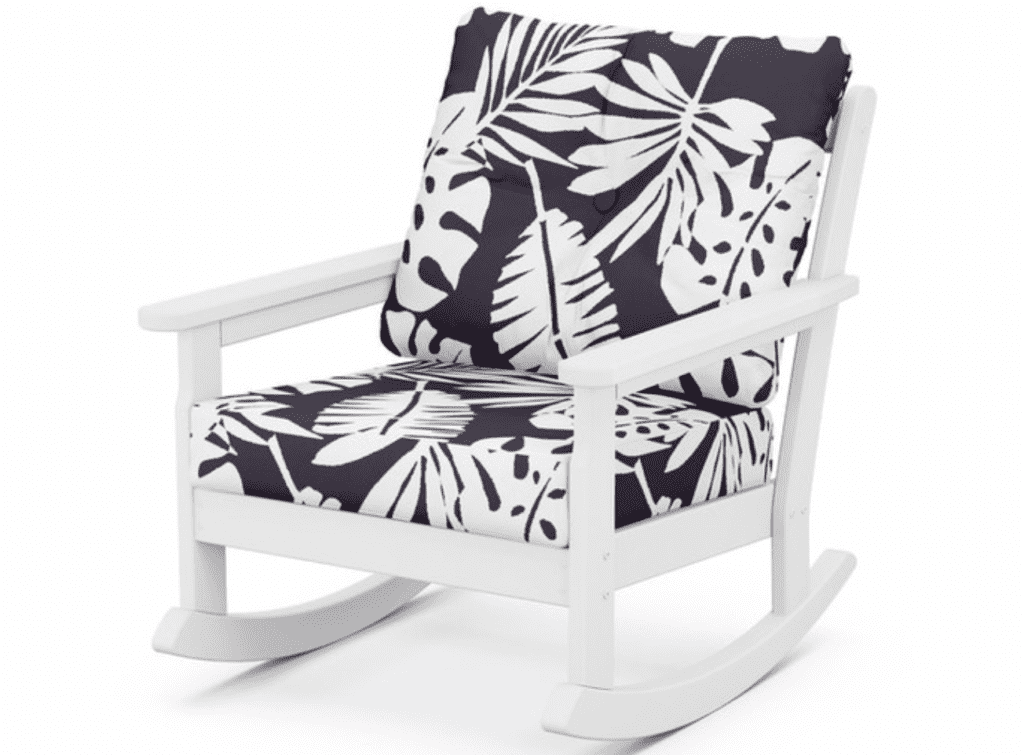 There are white rocking chairs, and then there are luxury white rocking chairs. If you have more to spend, this white rocking chair is not only durable but also comfortable, stylish, and customizable. A slightly sloped design is paired with comfortable cushions for a more supportive, comfortable chair.
The cushions are made with all-weather fabric that won't fade, attract mold or mildew, or become damaged with water or salt. The Polywood frame endures everything from direct Summer sunlight to blistering cold snow. It won't crack, splinter or peel and even comes with an incredible 20-year residential warranty.
The chair is protected from UV rays, requires next to no maintenance, and is constructed with marine-quality hardware. It's made in the USA, with customization options available for its cushions. Buy Here. 
Pros
Sloped Design with Cushions For Comfort

20 Year Warranty

Resistant to Mildew, Cracking, Warping

Customizable Design 
Cons
Cambridge Casual West Lake Rocking Chair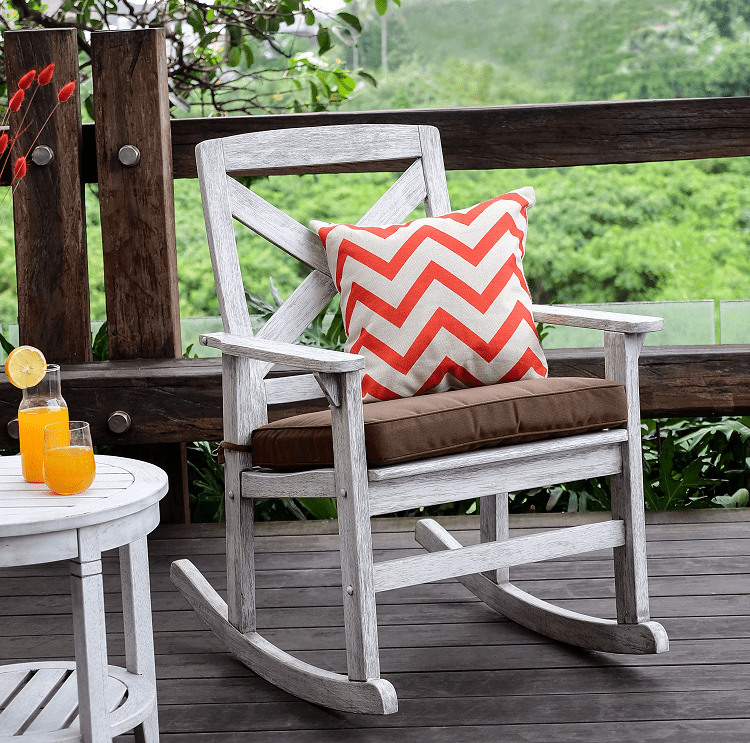 I know it's not for everyone, but I've always found a weathered look charming. A weathered finish provides a touch of rustic and well-loved appeal. Finding a white rocking chair that has a weathered finish and is suited for a porch is tricky. However, Overstock delivers with this competitively priced rocking chair.
The highly-rated rocking chair is made with mahogany hardwood with a white weather finish. A polyurethane coating improves weather resistance and durability. This chair comes with soft accent cushions and can be assembled in half an hour, with easy instructions. Buy Here. 
Pros
Unique Weathered Finish 

Competitively-Priced

Weather-Resistant Coating 

Easy Assembly 
Cons
Not Insect-Proof

Requires More Maintenance 
Frequently Asked Questions
Question: Is Rocking in a Rocking Chair Good for You? 
Answer: Rocking in a rocking chair is mostly good for you, with some exceptions. Rocking back and forth improves circulation, especially in joints. Some with arthritis experience less pain with gentle rocking. While it's not considered exercise, rocking in a rocking chair is a form of N.E.A.T. (non-exercise activity) and burns extra calories.
Evidence is limited, but a pilot clinical study found a correlation between rocking in rocking chairs and lower blood pressure in the elderly.
Simply put: there isn't anything magical about a rocking chair but it is a form of very mild activity. It's also potentially beneficial for mental health. However, those with back pain should be cautious and use seat cushions and a lumbar support cushion. 
Question:
Why are Rocking Chairs so Relaxing?
Answer: If you find rocking chairs as relaxing as I do, we're not alone. Rocking in a rocking chair is a form of very light movement. It's a way to get the blood flowing without exertion. Rocking chairs outside may have even more benefits. Rocking chairs are a way to ease anxiety and reduce the feeling of being overwhelmed.
They may also provide an outlet to socialize and spend more time outside. We all get busy, and a rocking chair reminds us to slow down and take time for ourselves. 
Question:
Can a Wooden Rocking Chair be Left Outside?
Answer: Wooden rocking chairs sometimes can be left outside, and sometimes not. Any rocking chairs made out of softwood should be kept inside. Even hardwood rocking chairs don't fare best outside. You either need a hardwood that produces natural oils, such as teak, or one that has been sealed and treated.
Without natural oils or treatment, wooden rocking chairs may warp, shrink and otherwise become damaged. Even with a teak rocking chair, a rocking chair cover for stormy weather can be a good idea. 
Final Thoughts
Touted by The New York Times as "the most American of all furniture," a rocking chair is a classic statement for any porch. White rocking chairs provide a clean, inviting aesthetic and suit cottage, vintage, and even modern homes.
While white rocking chairs require more frequent cleaning, it's easy to see why so many are drawn to them. Never try to use an indoor white rocking chair for your porch. Investing in weather-proof materials makes a difference in how long you'll enjoy your chair. 
Final Recommendations: Affordable Covers For Your White Rocking Chair
Even if you buy a white rocking chair that's built to last outside, it's not a bad idea to buy a cover for your rocking chair. A chair cover may extend the life of your rocking chair and can be quickly thrown in during inclement weather. Avoid Covers and All, an online store that has concerning customer complaints.
Amazon has a nice range of rocking chairs covers. Buy one that is designated for outdoor use and all weather conditions. I look for heavy-duty waterproof covers, but you don't need to buy the most expensive listing.
If you can't find a chair cover in the exact size, size up a little to make sure your chair is completely covered. Shop Amazon Covers For Your White Rocking Chair Here. 
Recommended Reads: