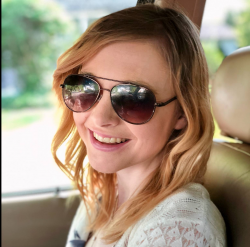 Latest posts by Erin Jamieson
(see all)
In my work with Habitat for Humanity, I learned several things. One: home improvement projects- and something as seemingly simple as a porch- can transform lives. Two: knowing how to build a porch is a valuable- but not easy- skill to learn. 
In this guide, I'll share with you how to build a basic porch and what you need to know about the best porch materials. I'll discuss if you should take on a DIY porch- or if learning how to build a patio is better suited to your needs. 
Ultimately, this guide will help you get started and decide on the right style, dimensions, and materials for a fabulous extension to your home. 
Bottom Line Up Front Summary
Most of the time, you can build a porch without a permit. Another plus? Building a porch, instead of having it constructed professionally, slashes costs. Labor costs for a porch add anywhere from $5 to $15 per square foot. But while you can slash as much as a few thousand dollars for a larger porch, you need to do it methodically. I recommend a sturdy but economical material like concrete or brick, then making complete blueprint plans before building. Have someone nearby to help, and don't neglect safety gear. 
Before You Build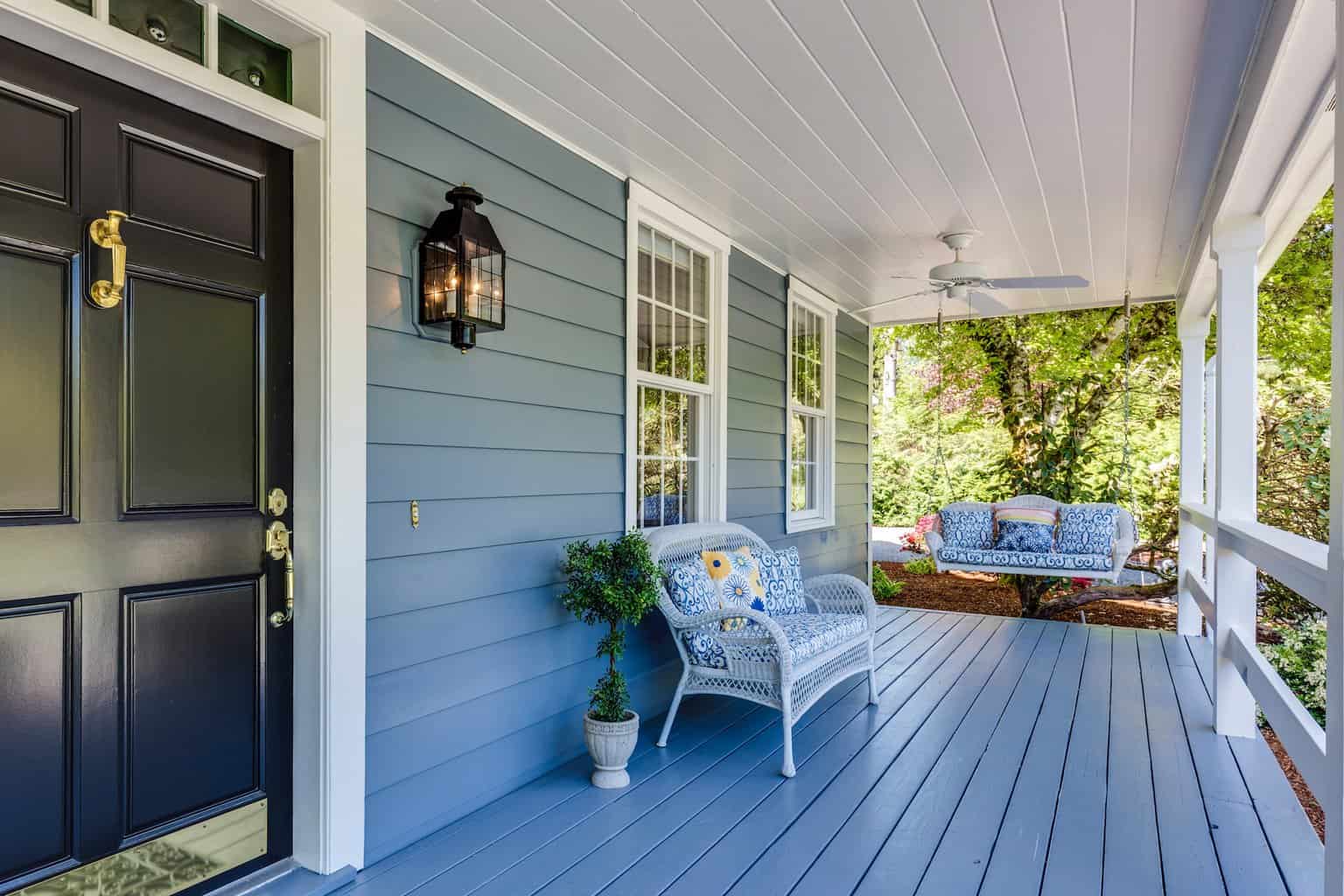 Trust me, building a porch is hard work, no matter what style of porch you're after. Because of this, I want to give my honest opinion on important issues like the best materials to buy and if a porch is right for your home. By taking these steps, the building process is much more likely to have a positive outcome and meet your expectations. 
Porch or Patio?
I've had the pleasure of seeing some fantastic porches and patios, so it's not so much a matter of which one is better. For some homes, knowing how to build a patio makes more sense. Why? Building a patio is simpler, requires fewer materials, and costs less (more on that later). A patio sits at the back of your home and is ground level, perfect for entertaining. 
But if you want a more seamless extension to your home, or you're after curb appeal, a front porch is a better idea. While more expensive, a porch has an undeniably classic appeal. There's nothing for me quite like a front porch with dramatic steps and a few rocking chairs to enjoy a sunset. If you want a stairway, a porch is a perfect project. 
Best Porch (Main) Materials
You can be far less picky with patio materials than porch materials. That's because a porch is supposed to complement your home's exterior, and a patio is a separate extension. I recommend matching or directly complementing the materials of your home. For instance, build a brick porch if you have a brick home. If you have something like siding, you may want to opt for a concrete porch.
| | | |
| --- | --- | --- |
| Main Porch Materials | Why I Love It | What I Don't Love |
| Paving Brick or Stones | Warm, classic, and durable. Brick and stone are both a gorgeous and classic addition to a porch- and they can hold more weight than concrete.  | Both brick and stone porches will cost more initially- as much as double concrete! They also take a bit more finesse to lay out properly and aren't as beginner DIY friendly.  |
| Concrete (Poured) | Concrete is versatile, reasonably strong, and easy to work with. This is a good choice if you want something cheap but sturdy.  | Concrete cracks over time, no matter the upkeep, and you'll need to address cracks with sealant- or risk larger foundational issues. Concrete porches may be classic, but they don't have the same aesthetic appeal as brick or stone.  |
You also have the option of different flooring types. The more upscale you get, the more expensive and challenging. 
Ultimately it's up to you. I like brick, paving stones, and concrete, all for different reasons. While I still argue concrete is the easiest to work with, something like brick may be a better long-term investment. But if you have a modern home, you may find brick doesn't carry the aesthetic you're looking for. 
Measurements & Planning 
A word of advice: keep it simple but precise. Unless you're a well-seasoned builder, I'd opt for a simple porch design. But for planning purposes, here's how to decide on both a porch style and the dimensions- both of which you need to consider before buying both your main materials and equipment. 
Porch Styles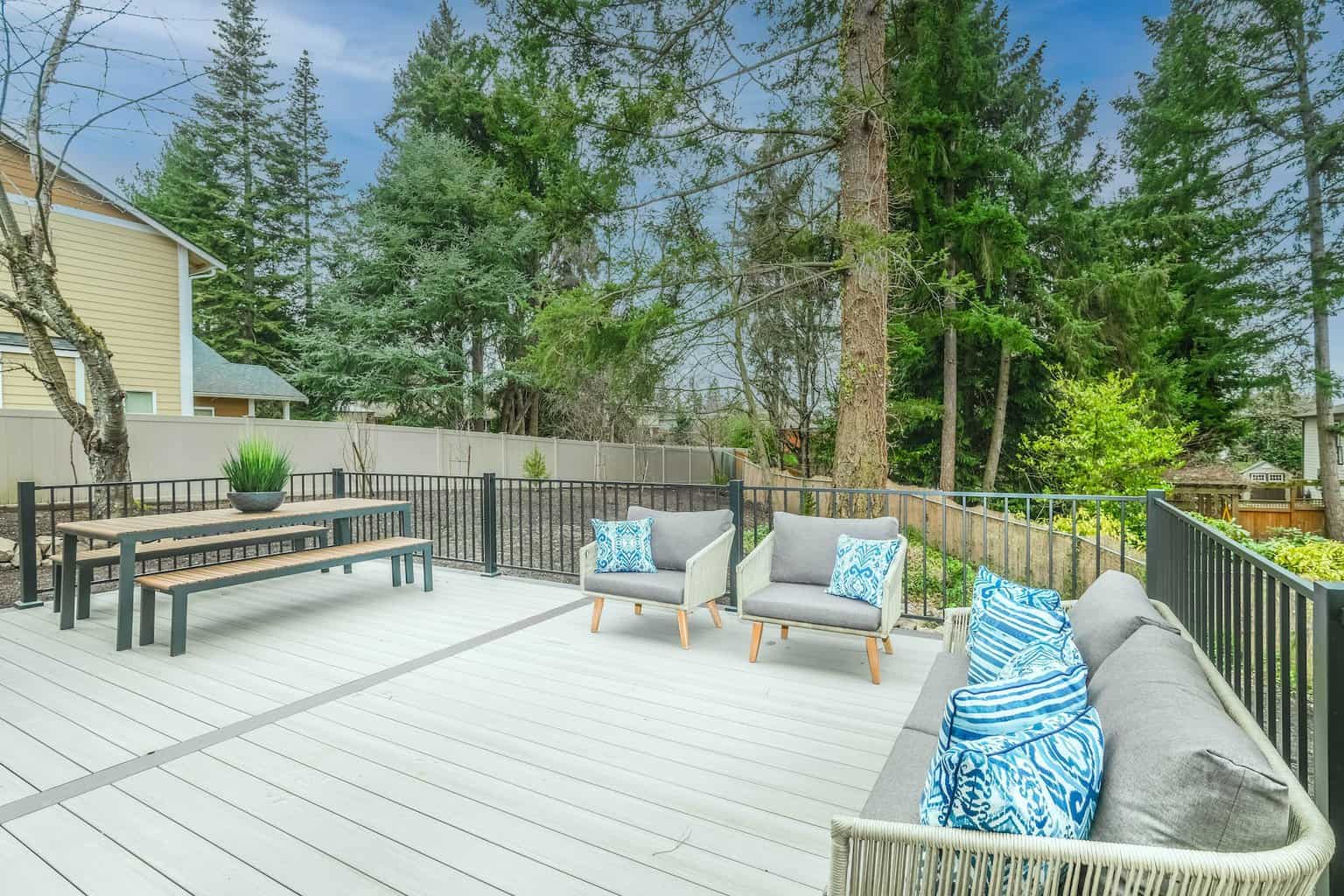 Some of the best porches are simple. But that said, you can opt for any of these types of porches: 
Type of Porch 
Description

Simple Open Porch 

Simple and practical: this is a porch without a cover and is as easy as it gets to build a porch. While you don't have coverage from the elements, you can always add a screened porch addition later. 

Farmer's Porch 

In an ideal world, this is my favorite porch style. Popularized in New England, it's a wrap-around porch. While it can be covered, it's usually not. This is technically challenging, and I highly recommend professional installation. 

Covered Porch 

This can be quite simple, but you have a porch ceiling. It's a great addition so long as you know how to connect a porch roof to the house's roof. Beyond providing coverage, porch roofs also have a unique aesthetic- especially if you try these

great porch ceiling ideas

. 
Dimensions
The average porch isn't that big: 6 to 10 by 8 to 12 feet is a good size to aim for. A 6 by 8 porch is the best option for a small home. But if you enjoy entertaining and plan to add rocking chairs or other furniture, I recommend aiming for the larger side of these dimensions. Six feet deep is as small as I'd go.
Other Porch Materials & Equipment 
Time to gather the other materials- and equipment you'll need. Remember that this is a general list- you may need more or fewer materials, depending on what type of porch you're building. Here's what I'd have on hand, from must-have materials to safety equipment and more: 
Remember that you can rent equipment, but if you don't have these materials on hand, you'll need to add them to your total cost. I can tell you from experience that not being prepared with all the necessary equipment can be a big detriment to your process. 
Porch Steps Materials
If you plan to add porch steps, it's always best to be prepared. In addition to safety materials, you'll need. Note that these are the main materials for classic wooden porch steps- see further down for my instructions on building simple concrete steps.
I prefer pressure-treated wood because it won't warp like regular wood. You can opt for stainless steel if you don't want galvanized steel screws. Just avoid regular steel screws, which can rust and corrode when exposed to the elements.
Calculating Porch Costs
Just so you don't get sticker shock, here are some general average costs of a porch: 
$2,000 to $8,000 for an open, simple front porch

$8,000 to $50,000 for a farmer's porch

$5,000 to $20,000 for all porches
The good news is that you can sometimes shave up to a few thousand dollars off those averages if you're building your porch. The not-so-good news: it all depends on your materials and what you're trying to do. As you can imagine, the simpler the porch design, the cheaper it will be. 
My tip? Get your porch dimensions, select your materials, then research the average cost of those materials (everything included!). You can also use an Online Porch Cost Calculator to get a rough estimate. 
Saving Hack 
Want to shave costs? My secret is to shop for materials during an unpopular time. That means winter or late fall- because not many people are planning that far ahead! Buy materials for your porch in Spring or early Summer, and you'll pay top dollar. Of course, comparison shopping never hurts. Some places like Lowe's or Home Depot may offer price matching on materials, which never hurts to ask. 
How to Build a Porch: Step by Step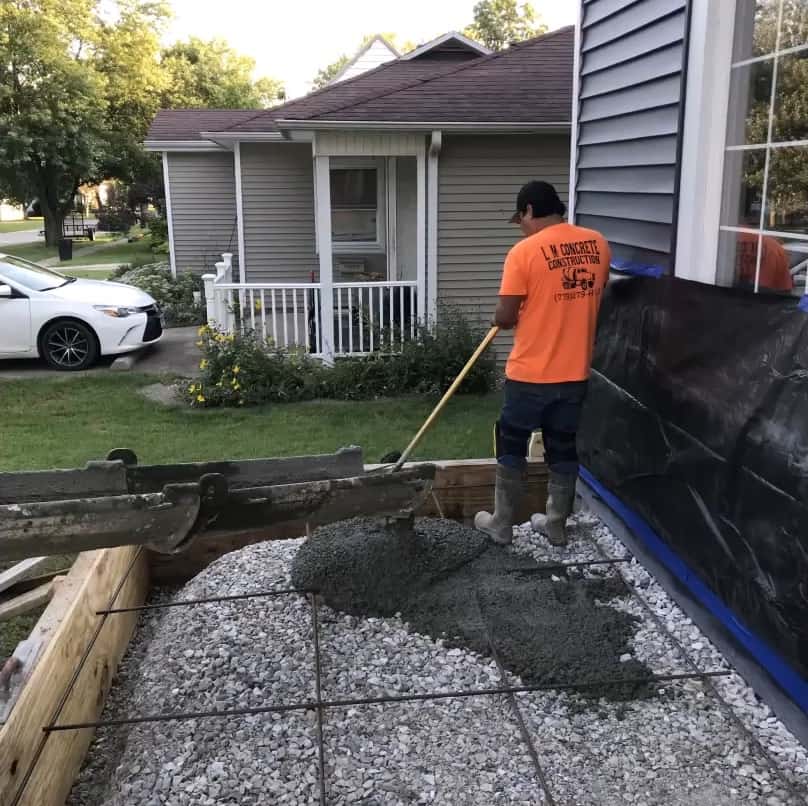 Gather your materials and prepare to build. From my experiences, I recommend having someone help for a few reasons. For one, it'll go by much more quickly, and you'll also have more oversight to ensure the process runs smoothly. If you run out of materials or some equipment doesn't work as planned, you have someone who can troubleshoot. Whatever you do, make sure you wear safety gear.
Building A Simple Concrete Porch
Ready to start? These are the steps you need to follow for a simple concrete porch:
Prepare Footing and Posts.

Footers provide the foundation for your porch. You'll need a few (usually three) holes spaced evenly. They should be the depth you want your porch to be. The first and last hole needs to be the length of your desired porch. Use

form tubes

to lay out the gravel in your gaps. Pour your prepared concrete over these spaces to create your footers. Next, adhere your posts to your footers. (If you're unsure about this step, see

detailed steps here

). 

Lay Out Metal Wire/ Mesh.

Steel is the most commonly used. Place

steel channels

over your holes/ layout. This forms a basic grid where the rest of your concrete will be poured. This can be done for both the main base of your porch and your steps. 

Form a Base with a Ledger Board.

This is another critical step for your porch's structural integrity! Your ledger board not only forms the sides of your porch but is a key component for attaching your porch to your house. Use galvanized screws to attach ledger boards, with two joist hangers at the end. 

Pouring Concrete.

Pouring concrete is more detailed than you'd think. You must ensure you've

properly mixed concrete

to avoid lumps or other common problems. Work steadily but don't rush the process, pouring your concrete as evenly as possible over your space. It would be best if you poured your concrete to match the depth of your footers. Screeds or concrete places are the most common tools to smooth concrete.

Want to See this in Action? Watch this 2 Minute Raised Concrete Porch Time lapse.
Building (Wooden) Porch Stairs & Porch Flooring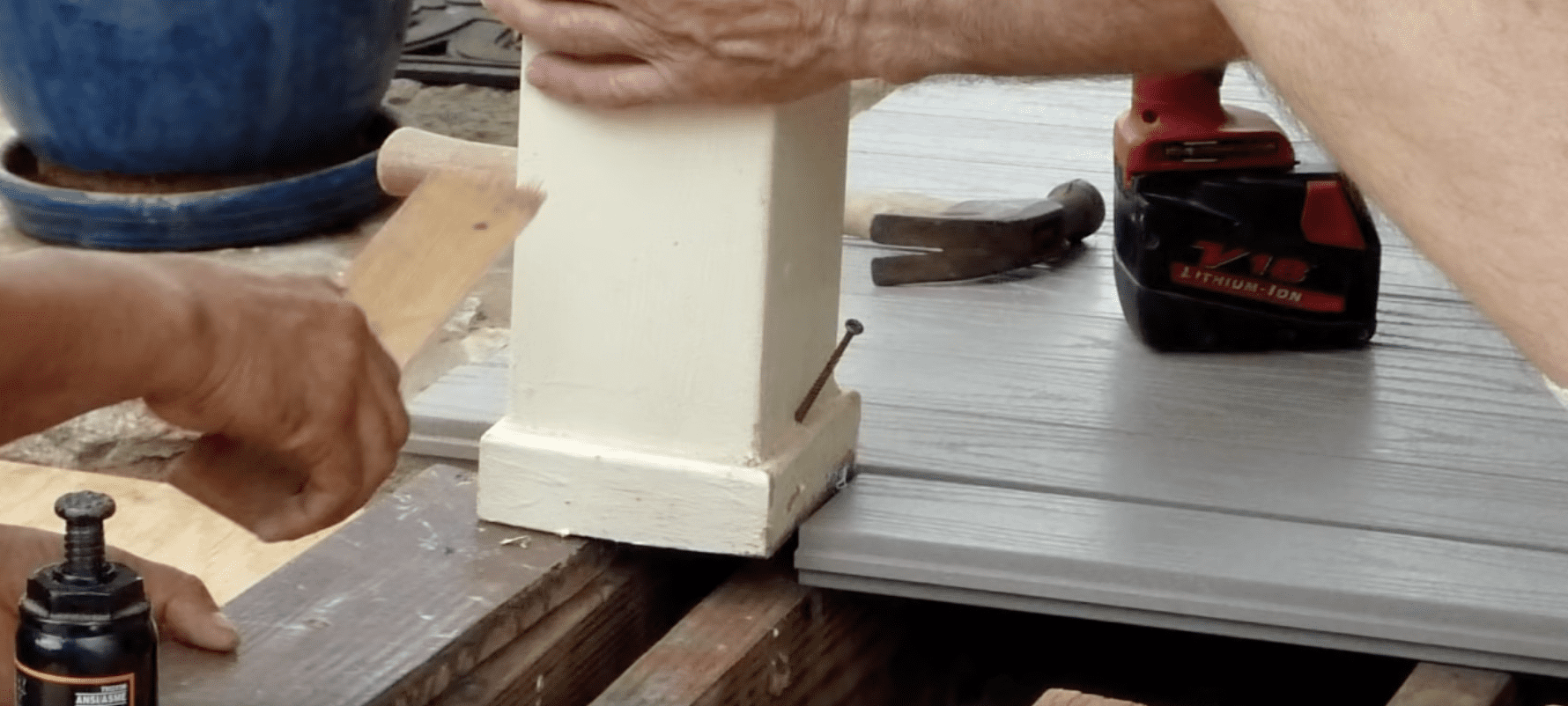 Porch flooring can be used with any porch boards. To secure deck boards, tongue and groove flooring work with fasteners (1/16 inches). Each porch board must be screwed to joists and installed over the exposed grooved edge of the previous board.
If you opt for wood board flooring, I recommend pressure-treated boards. However, PVC boards are easiest because you won't have the same warping issues as you can with wood. Straight edging is very important to avoid a sagging porch. (Watch How to Lay Out Porch Flooring Here).
Note About Composite Decking/ Floors
One of the most popular options is composite decking. Composite decking/ floors are aesthetically and easy to work with. Remember that composite materials will still be more expensive than concrete! Composite decking is the most expensive porch floor option, compared with both wood and concrete.
See also: Best Wooden Porch Swings Guide
Materials/Supplies For Additional Concrete Steps and Railing
If you're going to make any addition to your porch, I recommend porch steps with a railing. You can watch this tutorial to build wooden porch steps, but I find those concrete porch stairs are much easier to manage- unless you're skilled at carpentry. 
Mason's line

Tamper

Framing square

Level

Hoe

Edger

Sledgehammer

Marking tool (like chalk)
Working with Brick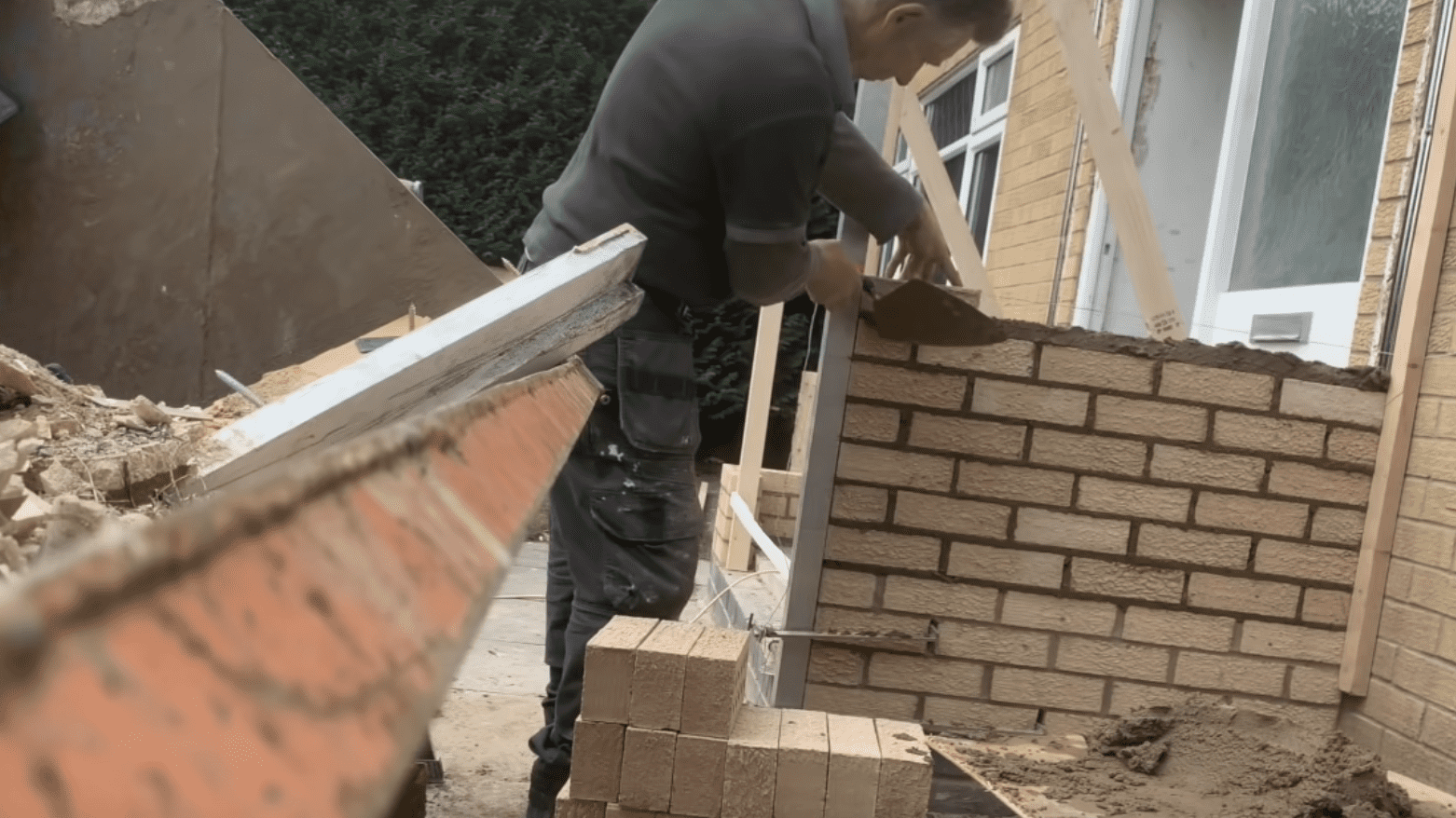 You'll follow similar setup steps as above, but instead of pouring concrete over a base perimeter, you'll be laying bricks. You'll need plenty of screws and a washer to scaffold the structure of your brick porch. Start by laying your brick on either side of the house's foundation (this will be the width of your porch). 
You'll need to buy brick mortar and apply it evenly between each row. Build up to your desired height, measuring carefully and placing temporary ties to adhere your bricks to the house as you work (for safety and integrity reasons). 
It's hard work, but once you get the hang of it, you could even prefer it to concrete. I like working with brick vs. concrete for a porch because it's a bit more precise and easier to control. Watch the Brick Laying Process For a Porch Here. 
Porch Maintenance and Additions
Basic Porch Maintenance
Porches, even the best-built ones, need maintenance. Make sure you have sealant on hand and check your porch for any cracks at least once a year. Another tip: check your porch posts and columns. If you have wooden porch columns or posts, there's a chance that they will warp or rot. Applying oil treatment can prevent this, but it's not all a lost cause if something has gone further in disrepair. Watch How to Repair A Rotted Porch Post.  
A mistake I've made? Using too much salt, especially in the first year! If you opted for a concrete or brick porch, go easy on the salt in those winter months, using only what you truly need. 
Special Features
I love simple porches, and I don't think you need the most advanced features to get a lot of use out of your porch. But if you have a spacious porch, why not add to it? Electric outlets are an excellent idea for entertaining. Polywood furniture adds a modern and versatile way to relax without the upkeep of wooden patio furniture. 
Want to get fancy? Trends I love include porches with firepHow to Connect a Porch Roof to House Guidelaces, porches with above-ground pools, and porches with grilling areas. Add a TV, plants, and even outdoor string lights, and you'll have a magnetic front (or back) porch. 
Frequently Asked Questions
Question: Can I build my porch?
Answer: Building your porch is a challenge at first, but many homeowners find it rewarding and a way to save money. The trick is ensuring you have adequate materials and planning for your project. If you've never done a DIY home project before, you may want to consider something smaller. If you have a history of little projects and working with materials like composite or wood, you may be able to build your porch. Have someone on hand to help and watch some tutorials before tackling more porches. 
Question: Do I need permission to build a porch?
Answer: The good news is that most porches don't require a building permit! Porches are considered small additions and can usually be added without a permit. That's, however, as long as it complies with your municipality. Occasionally, there are restrictions based upon things like home owner's associations. And you'll need to ensure your porch has structural integrity and is considered built-to-code. If you're unsure, you can check with your local municipality and ask, but modest porches are usually fine. 
Question: What is the cheapest type of porch?
Answer: Cheaper isn't always the best, but concrete is usually the most affordable type of porch. While brick porches are also economical, concrete is a tad cheaper. Expect to pay $10 to $15 per square foot for brick and about half for concrete. You'll also need to factor in design additions like steps, railing, or more expensive materials. The good news is that these materials, affordable as they are, are known for their durability and versatility. Bottom line: you can build a porch for a fairly low cost. 
Question: How much does it cost for a front porch?
Answer: A front porch is a great addition to a home without a steep price tag. But it also depends on the porch style you're building. An open front porch averages $2,000 to $8,000, and you can expect a similar range for a back porch. A farmer's porch, meanwhile, costs an eyewatering $8,000 up to $50,000 on average. The national average for all porch projects is $5,000 to $20,000. Remember that costs vary based on materials, labor, and design additions. Of course, building your porch will inevitably slash costs. 
Final Thoughts
Building a front or back porch is an excellent way to add a warm and classic welcome to your home. An extension to your house can provide some coverage from the shade and a place to greet guests. The downside? Building a porch requires more time, skill, and money than building a patio. At the same time, you can screen on a porch, which can be a natural extension of your home.
Keep the design simple, gather your materials, and prepare to build. The extra prep you put into your DIY building project is well worth the effort!
Final Recommendations: Finding a Professional
I love DIY projects- but sometimes, I take on too much at a time. It's okay to ask for help if you need it. That's one lesson I learned from working on homes with Habitat for Humanity. Whether you've reviewed these plans for building a porch or feel stuck, it could be worthwhile to seek a professional contractor.
While some home improvement stores specialize in porches, I love to check local listings. I'll ask for word of mouth, then check the contractor's reputation. Make sure you're clear with your vision, whether you want a farmer's porch or a simple porch. Ask for quotes and see if it's worth the extra cost.
Recommended Reads: