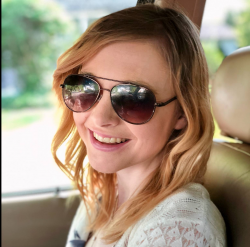 Latest posts by Erin Jamieson
(see all)
It sounds strange, and perhaps sentimental- but certain porch lights hold memories for me. That includes my grandparent's classic lanterns. But it also includes the array of different porch lights my parents choose over the years- and all the ones I grew up with. How you choose your porch lighting can make a difference not just in the visibility of your home, but also in making the first impression. 
Today I'm sharing my favorite porch lighting ideas. From solar to electric and string lights to wall sconces, my ideas are meant to last outside. That means beautiful lighting for all that life throws you. From charming and dainty to sturdy floodlights, read on for a few of my favorites that you can buy online now.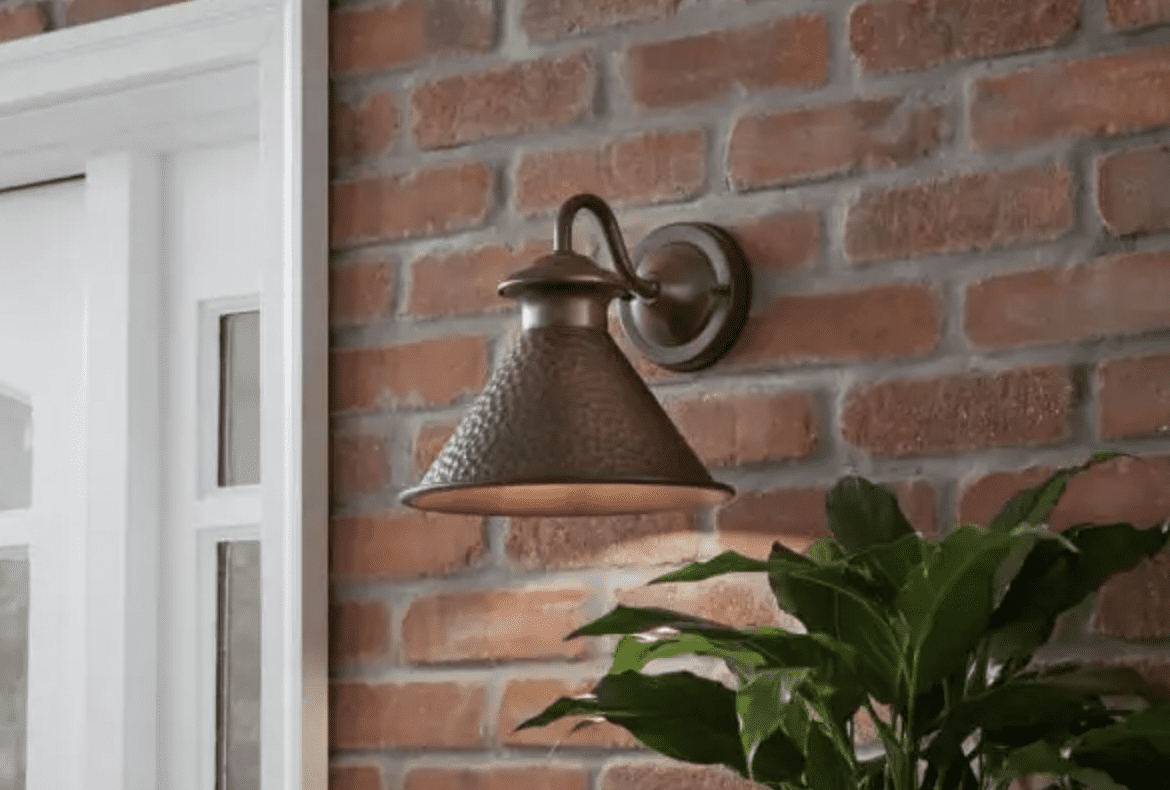 Bottom Line Up Front Summary
What you choose for your porch lighting not only makes an important first impression, but also improves the safety, curb appeal, and visibility of your home. My favorite porch lighting ideas balance performance, style, and versatility. From modern farmhouse to sleek and minimalist to country, these porch lights can be used for both covered and uncovered porches.
If I had to recommend just one of these porch lighting ideas, it would be a staple like an Origin 21 Allendale Outdoor Light. The slim, low-profile design is pretty easy to coordinate with most contemporary (or even classic) porch styles– all for well under $100. Not only is it affordable, but it's also equipped with an integrated LED lighting system with multiple tone settings. And since it's rust and weather-resistant, it's ideal for both uncovered and covered porches alike.
My Top Picks
Tobler Solar Powered Wall Lantern:

Best Solar Porch Lantern 

Brightech Ambience String Lights

:

Best Solar String Lights 

Outdoor Hexagonal Wall Sconce

:

Best Vintage-Inspired Solar Light

Pottery Barn String Light Posts

:

Best UL-Listed String Lights

Montpelier Wall Lantern Sconce

:

Best Modern Dusk to Dawn Light

Origin 21 Allendale Outdoor Ligh

t:

Best Minimalist Wall Light

Mcdade Outdoor Barn Light

:

Best Modern Farmhouse Light 

Feit Electric Security Floodlight

:

Best Security Light with Motion Sensor

Stella Nova Lantern

:

Best Decorative/ Hanging Porch Lantern

Home Decorators Antique Lantern

:

Best Farmhouse/ Country Light

Madison Hardwired Lamp Post : Best Classic Lamp Post
 Casa Marseille Lamp Post: Best Large Lamp Post

Melunar Lamp Post: Best Budget-Friendly/ Solar Lamp Post 
Bright Town String Lights: Best Christmas/ Festive String Lights
Bieocur LED Porch Light:  Best LED Porch Wall Light 
My Selection Criteria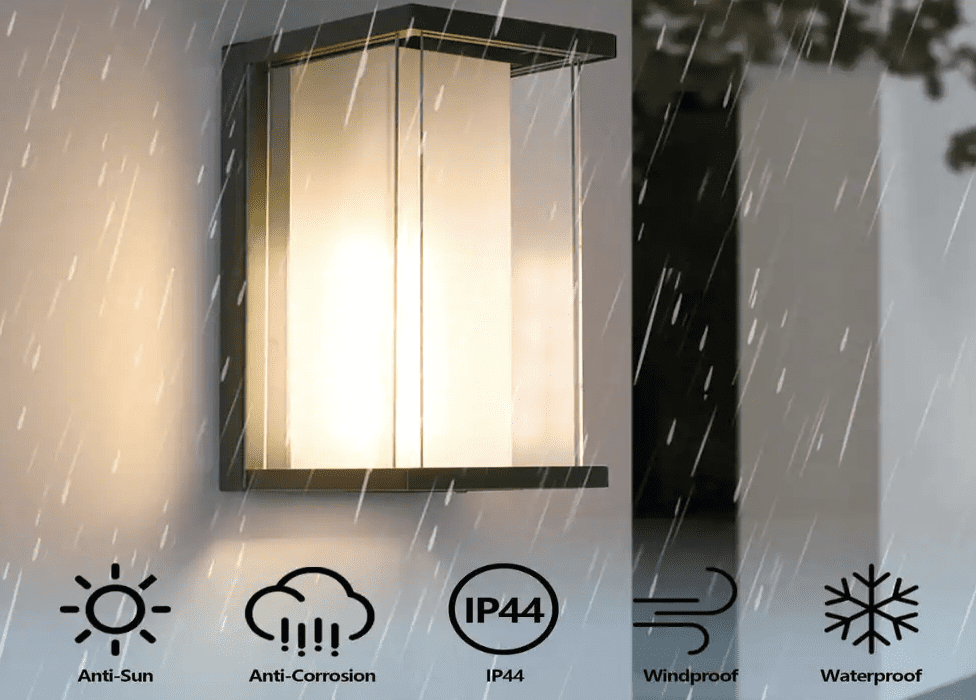 Interested in my ideas and eager to shop? Feel free to scroll. But I wanted to showcase the how and why behind my ideas. Hopefully, my selection criteria will provide you with insights into your shopping trips, too. The goal: find quality porch lighting for a wide range of purposes that truly is meant with performance in mind. 
Both Solar & Electric Lights
I'm including solar porch lights, electric porch lights, and both porch lights with an outlet and lights without an outlet. Why? Because I think that each of these lighting solutions can make sense for different situations. If you live in a region with extended periods of little sunlight, you're going to want to have a backup for solar lights- and a main electric porch light may be a wiser solution.
Solar lights, though are both environmentally and energy efficient- and may even save you money. So it's not a bad idea to play with mixing solar and electric porch lights. For this reason, I'm showing you ideas for both. 
Types of Lighting
Something I love about selecting lighting for a porch is it's quite fun. What I mean by that is that you can mix and match porch lighting types based on function. I looked for:
String Lights

– decor, holidays, accent lighting 

Wall/ Sconce Lights

– great for a porch entry, covered porches

Ceiling Mounted Lights-

nice, subtle, framing a doorway 

Floodlights/ Security Lights-

improving visibility and deterring intruders 

Puck Lights-

low-profile lighting, great for framing a porch area

Hanging Lights-

decorative, adds charisma, great as a spotlight 
You can easily pair string lights with a staple wall light not only for extra lighting but also for a bit of finesse and style. 
Bulbs, Tone & Lumens 
I prefer LED bulbs because they give you more bang for your buck. They're going to last longer than halogen lights, and save you money on energy costs. If the porch light included the bulb, I wanted both starker white hues (for security reasons) and softer or off-white. I even threw in a colored light idea. 
I favored damp-rated bulbs (covered porches) and wet-rated (outdoors, full exposure) for my ideas. For lumens (lighting intensity), I just wanted to see a practical range from 100 to 800 for regular lights, and 700 and above for security lighting. 
Outdoors-Ready Materials
I've noticed ways companies cut back on costs for porch lighting. The main way? Lower quality materials. While I didn't want to only include premium options, I made sure my ideas are weather-resistant: 
Powder-Coated Steel 

Stainless Steel 

Carbon Steel

Copper/ Bronze

Polycarbonate 
Styles & Special Features 
We all have different style preferences, and I wanted to reflect that. Popular porch lighting styles I want to reflect include: modern/ contemporary, industrial, modern farmhouse, farmhouse/ rustic, eclectic/ boho, traditional, cottage/ country, and unique. 
I also, of course, wanted to show off porch lightings that stood out for their features, such as lights with cameras or motion sensors; unique finishes; extensive warranties; adjustable heads; dawn to dusk sensors; and automatic shut-off systems- and UL or  ETL- Listed for safety. 
Where I Shopped! 
I only selected porch lighting ideas from places I'd buy from myself. That included home improvement stores (Home Depot, Lowes, Menards), Wayfair, Amazon, and specialty stores with a good reputation for both the quality of their products and customer service. 
Porch Lighting Staples for Any Home: My Picks 
Here are some of my favorite porch lighting ideas. As outlined in my criteria above, I wanted to showcase a wide range of styles and types- but always with quality and value you in mind. Whether you want accent lighting or brilliant floodlights, consider one of these solutions as a staple for your home.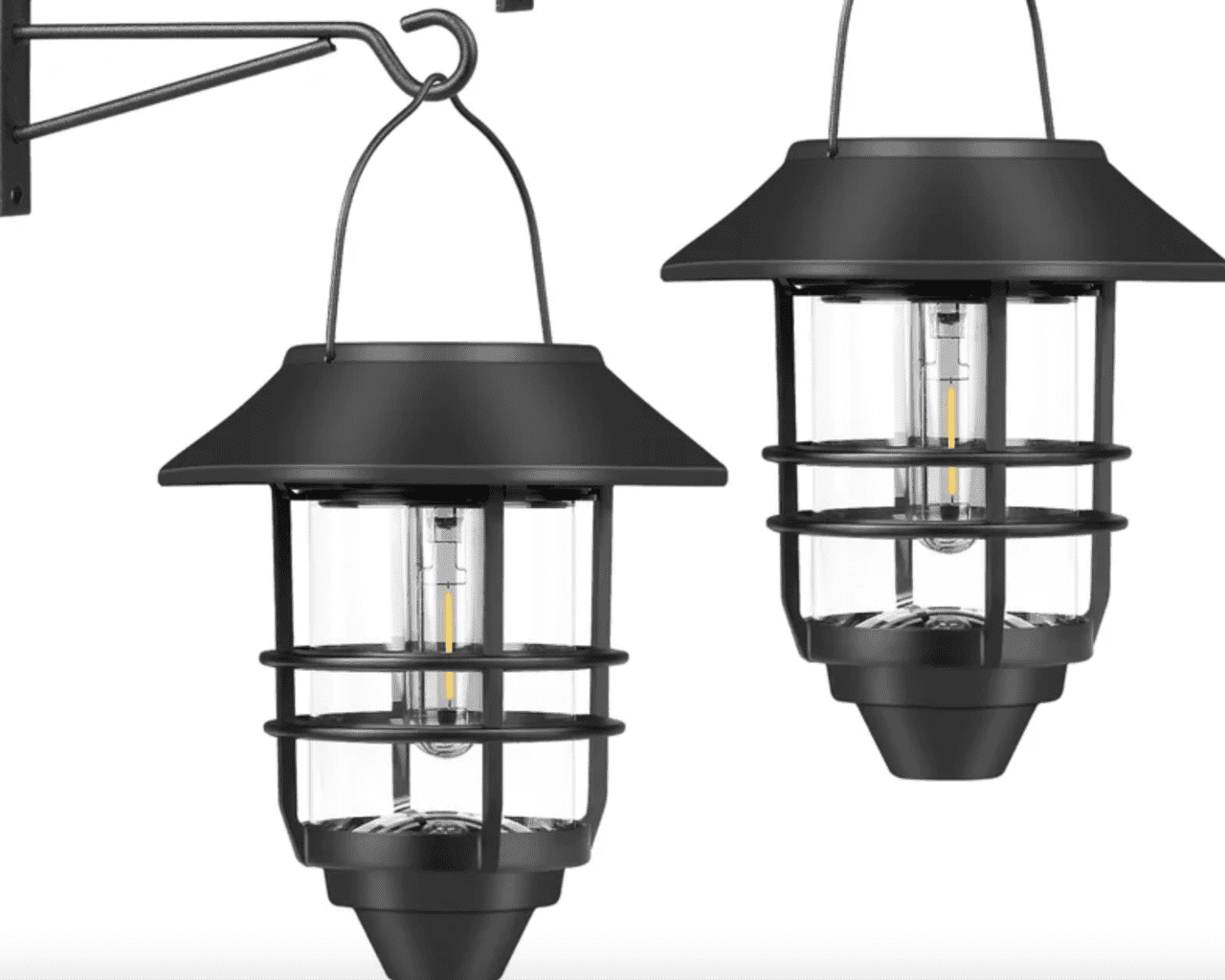 I love this classic wall lantern for anyone who wants timeless porch lighting- and wants to go solar. This striking porch lantern provides soft, beautiful light for 8 to 10 hours after charging in sunlight. What I love about the design is that it's traditional and updated enough to suit contemporary homes.
It's not all about looks, either: since it's wet-location rated and UV resistant, it'll be with you from sunny days to snowstorms and everything in between. This LED solar lantern looks enchanting against stone or brick and would be especially appealing with potted plants nearby.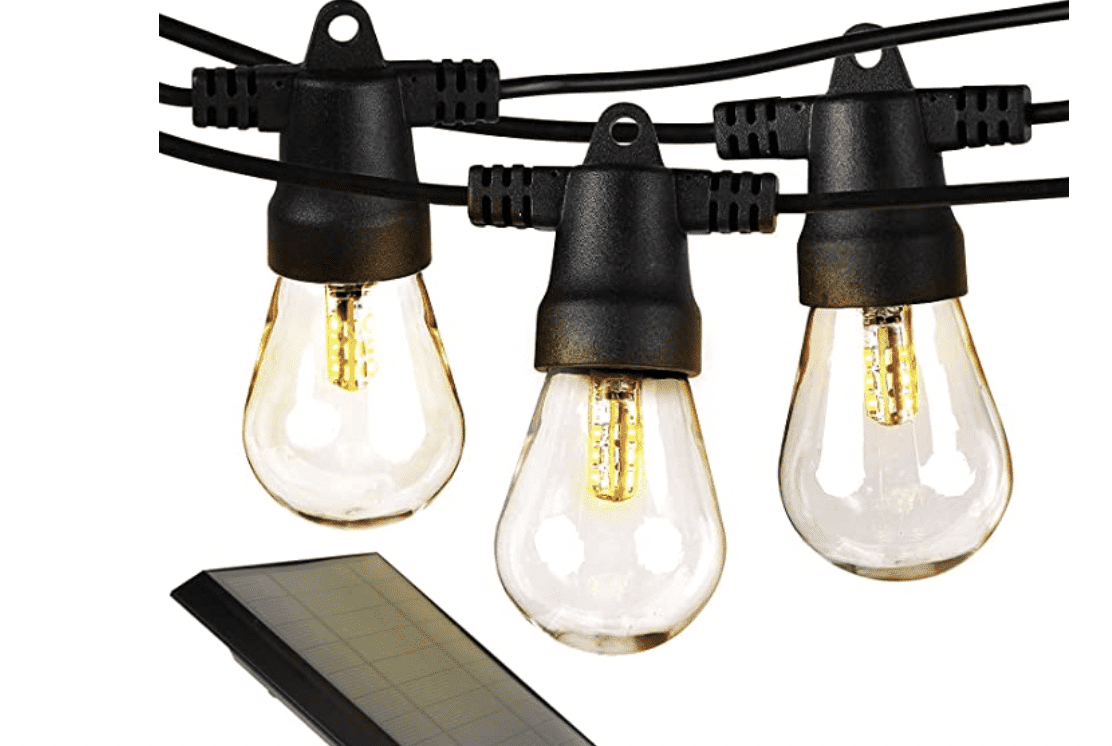 I simply love the playfulness of string lights, and too few people take advantage of them for the accent porch lights. These string lights are updated and modern enough to suit modern and even industrial homes. Each LED solar bulb is shatterproof, so if you're clumsy like me, you're covered.
They're dainty enough to be used for a special occasion- even a wedding!- but hardy and versatile for unique porch lighting. While these highly-rated string lights are commercial-grade weatherproof, I also think they'd look lovely under a covered or screened-in porch. Your imagination is the limit, with two lengths, an impressive 2-year warranty, and a great price.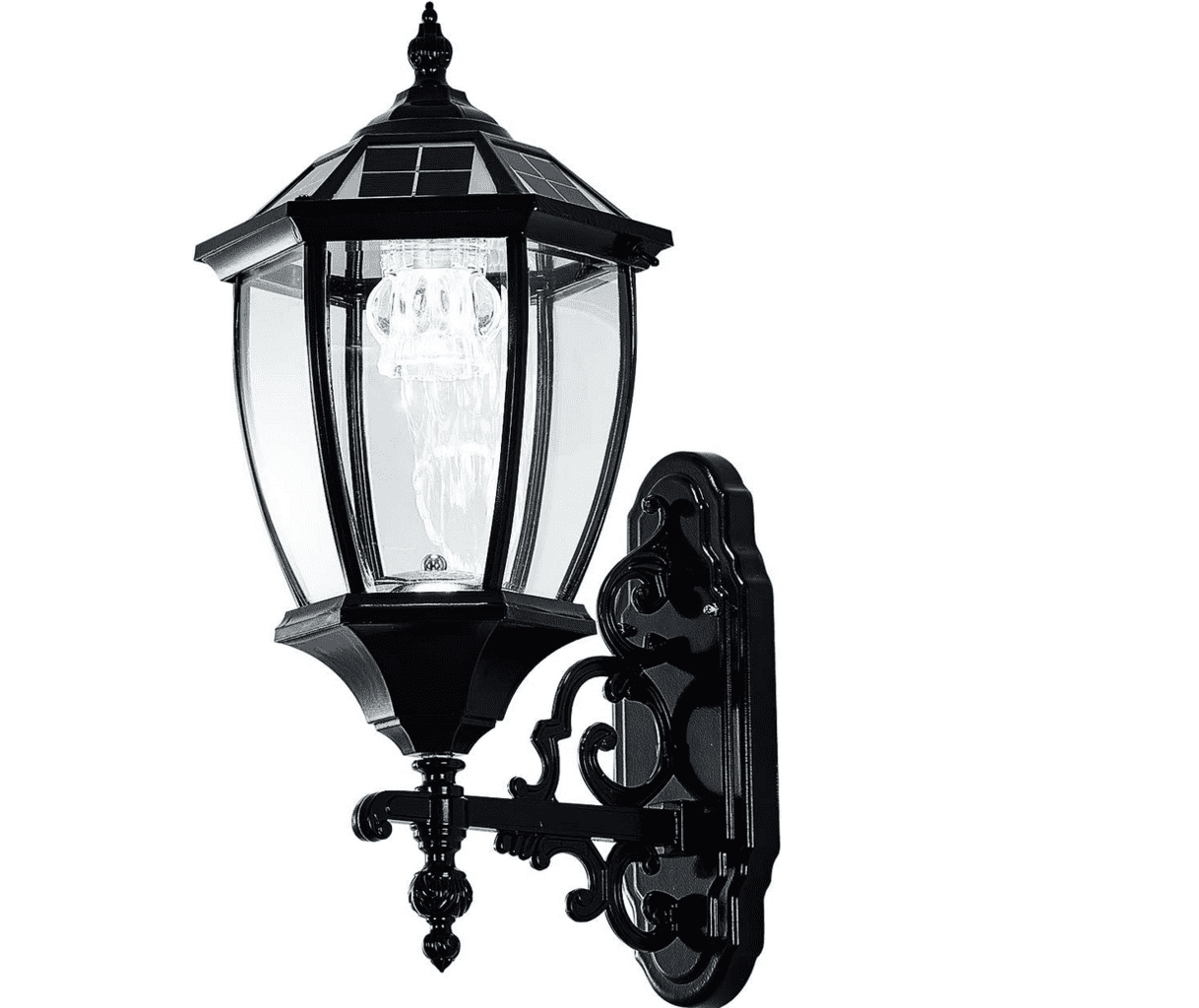 Sure, I have a love for vintage-inspired decor and lighting, but even if you're not sure, this solar porch wall sconce may very well change your mind. This affordable but lovely porch lantern is both waterproof and heatproof: perfect for even the most humid and unpredictable weather.
Once it's charged, you'll get up to 10 hours of beautiful light- ideal for framing a front porch or around a doorway. I also love that it's wire-free and easy to install anywhere. While the black tone is timeless and beautiful, the bronze finish adds warmth and personality.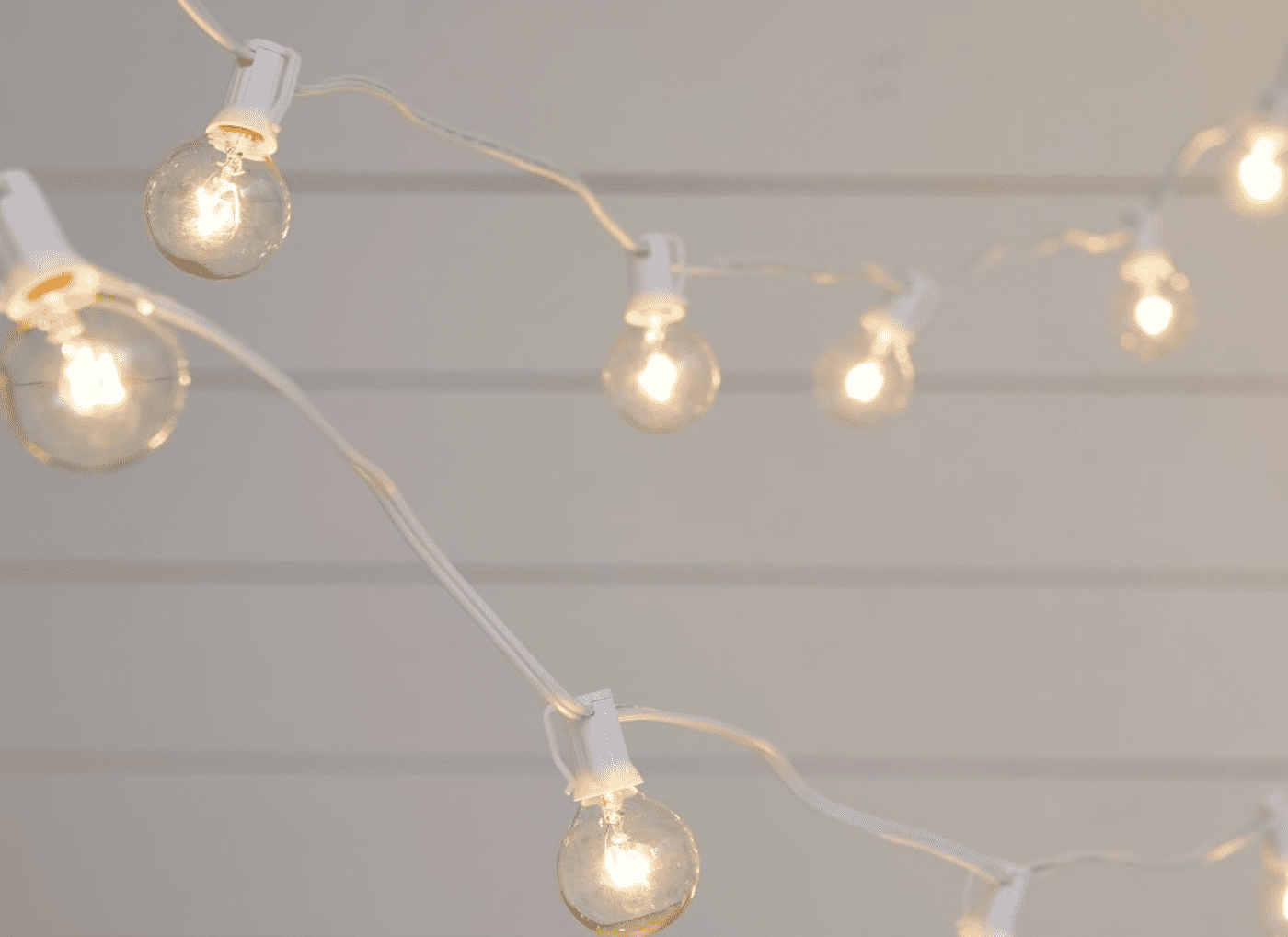 My immediate draw to these porch string lights, I admit was aesthetics. Pottery Barn, in my opinion, often has beautiful outdoor decor, and it doesn't disappoint with these delicate porch lights. Available in black, forest green, and white, I certainly could see these used at an occasion as momentous as a wedding.
But they just as much should be considered for both covered and uncovered porches. They're wet UL-listed for both safety and durability and can be hung or used with beautiful standing posts. While constructed well, they are both BPA and lead-free- up to the standards I expected.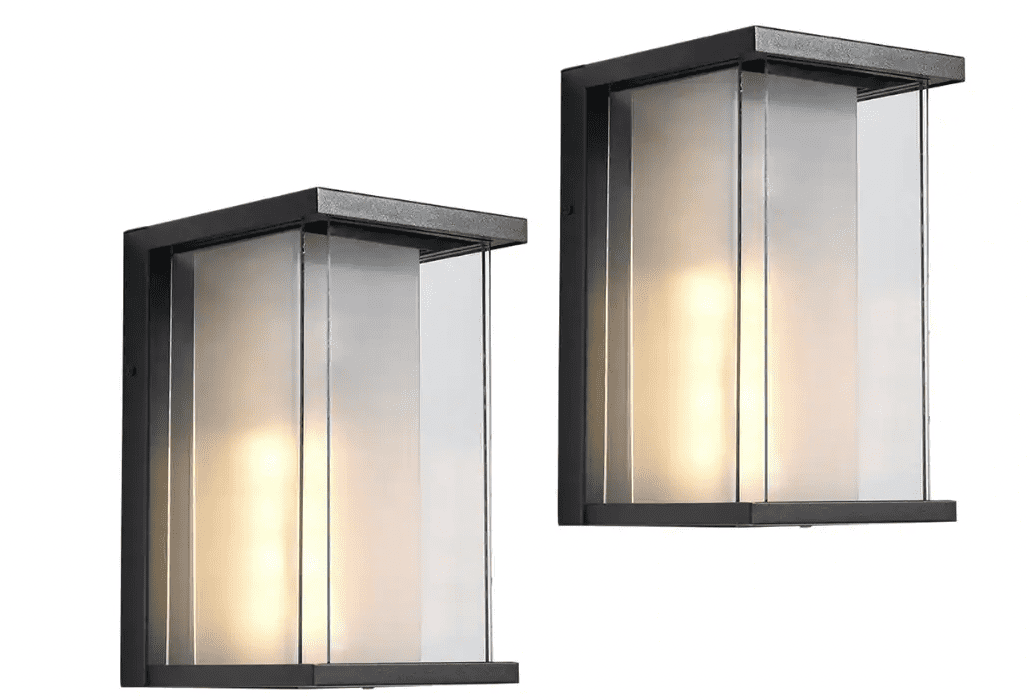 Have you ever been guilty of forgetting to either turn your porch lights on or off? I sure have. Much as I try, I get forgetful- especially when I'm busy with work! This dusk to dawn solar porch lantern takes the remembering out of the equation. It'll naturally adapt to light, providing you with soft lighting around your porch when you need it.
That cuts back on wasted energy, and it's all accomplished with a modern look. The crisp, clean lines and simplicity of this porch light make it a great choice for modern and contemporary homes of all kinds. Since they're weatherproof and ETL listed, that's even less worrying for you, no matter what weather comes.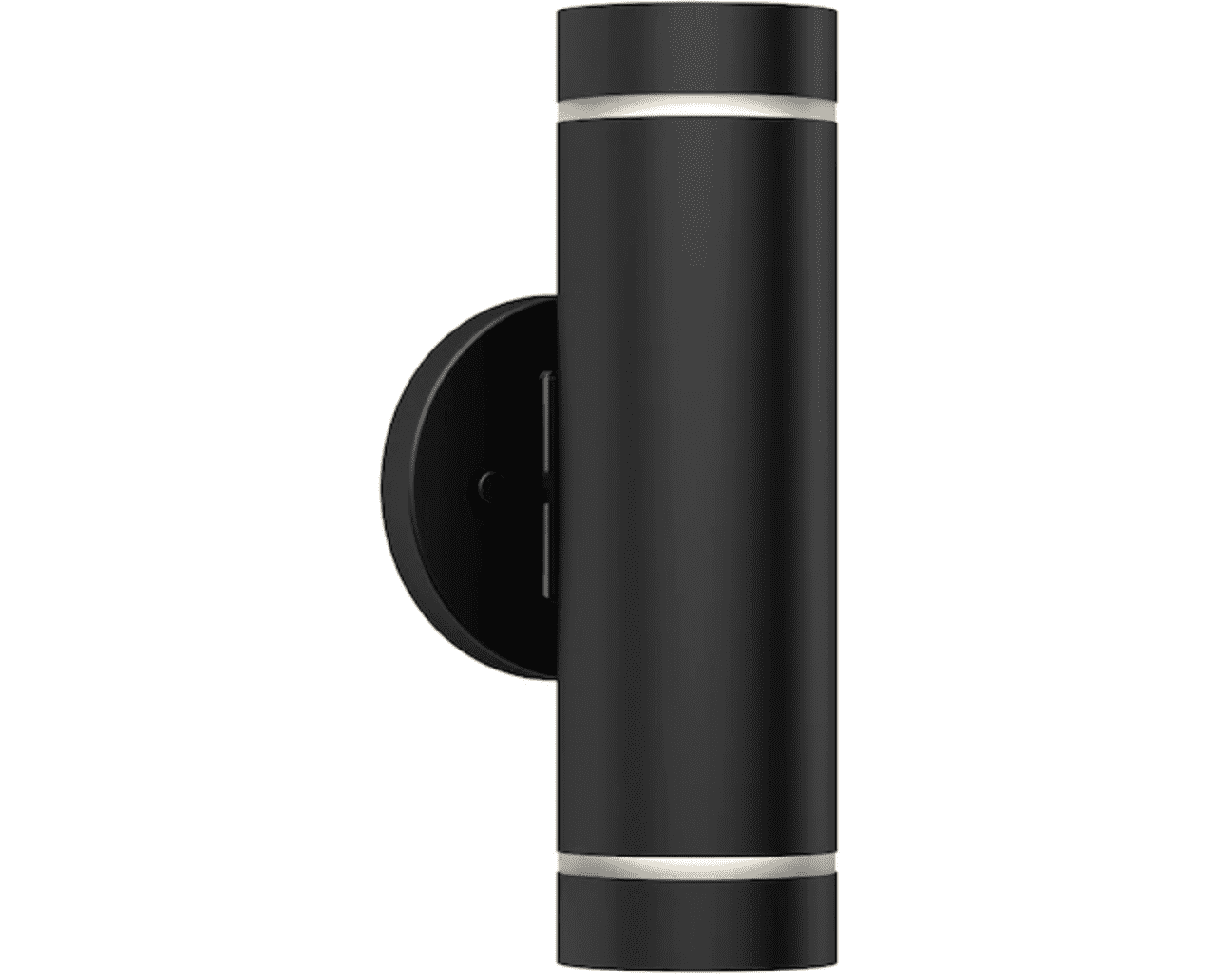 Sometimes you just need a subtle porch light to get the job done. And if you want a functional porch light with reliable performance for under $100, this idea might be the best choice for you. Exclusive to Lowe's, this porch light features an integrated LED light with 5 switches that change the hue and temperature!
That's a great hidden feature that makes it easy to adapt to whatever weather conditions you face. With a waterproof construction and 3-year warranty, it's a porch light that's practical in every sense.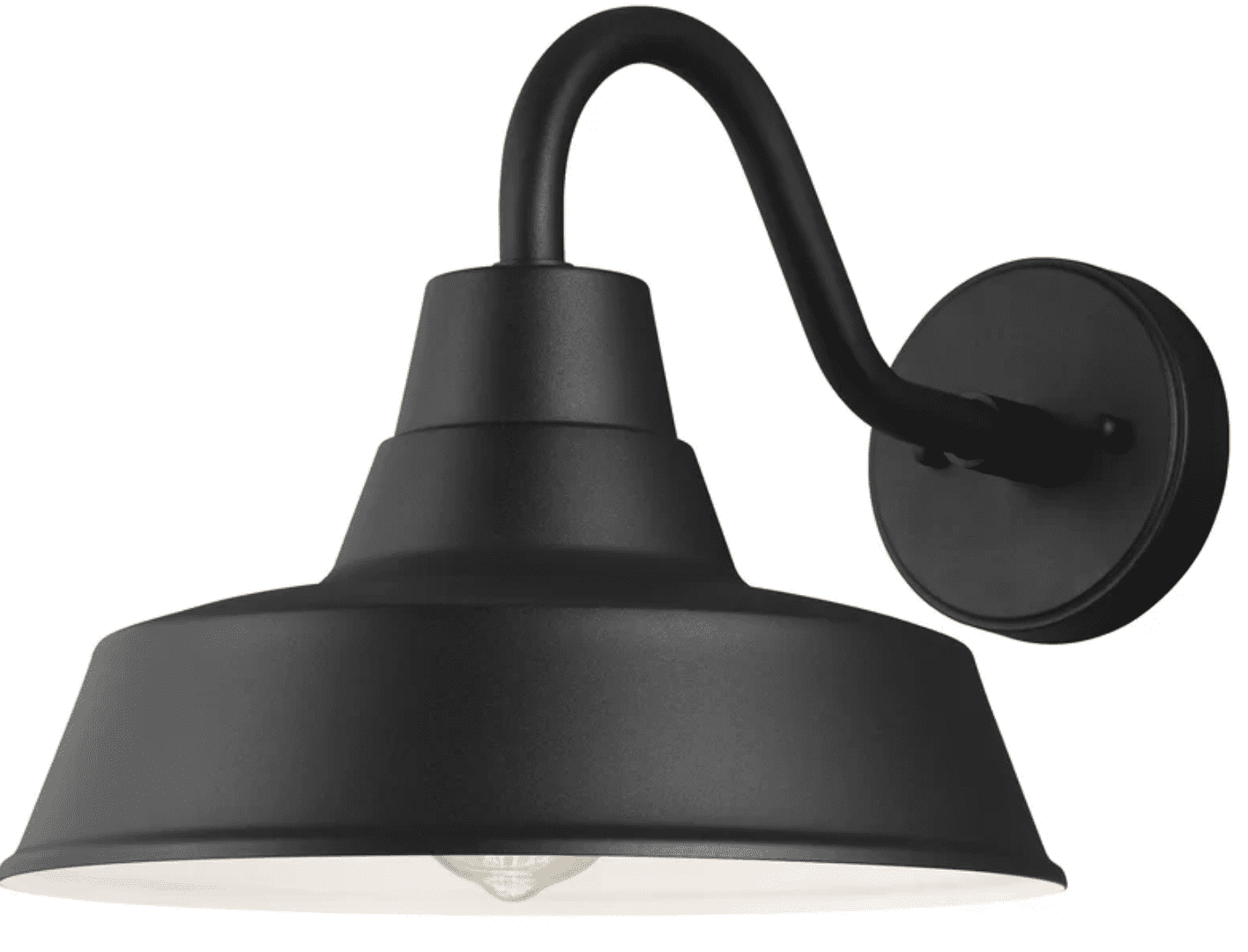 Modern farmhouse is more popular than ever, and I love how this porch light captures that style. With black, white, weathered pewter, and antique bronze, there are countless ways to style this porch light. Classic but also contemporary, I think this would be perfectly paired with a front porch swing to complete the look. But no matter how you style it, this porch lighting solution is rust-resistant, dimm-able, and rated for direct water exposure.
Feit Electric Security Floodlight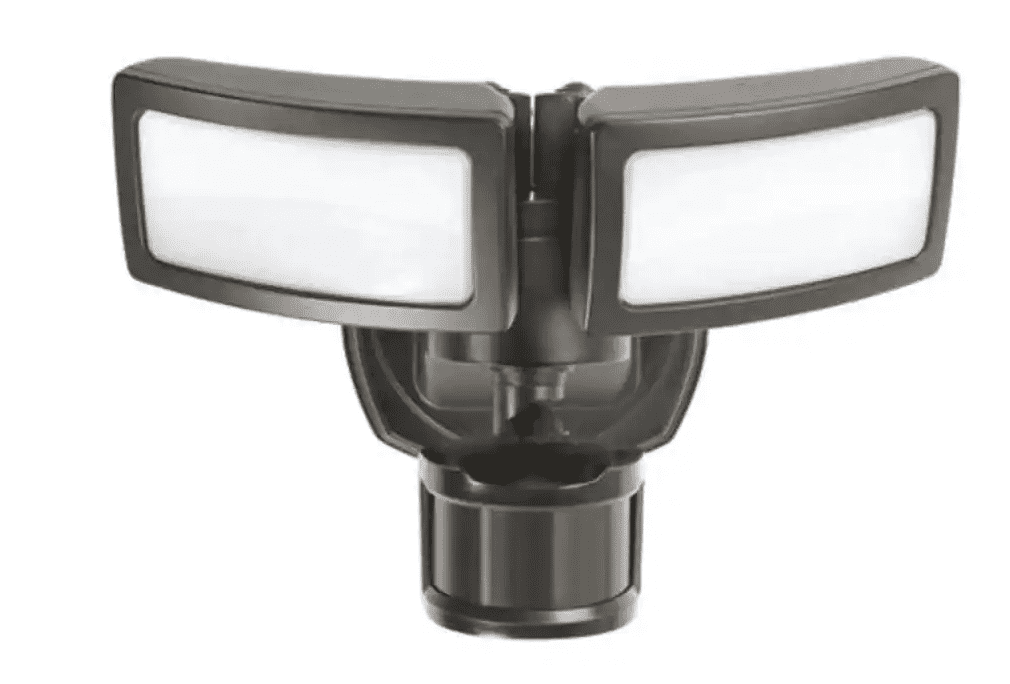 You want your home to feel safe and secure- or maybe you just need better visibility at night. If you're searching for a security light with a motion sensor, this design is a great choice. Automatically synced to turn on at dusk and off at dawn, motion sensors and high-powered lights keep you feeling safer in your home or on your porch. And while it's not the most aesthetically pleasing porch light, it's subtle enough it won't stick out with your porch decor.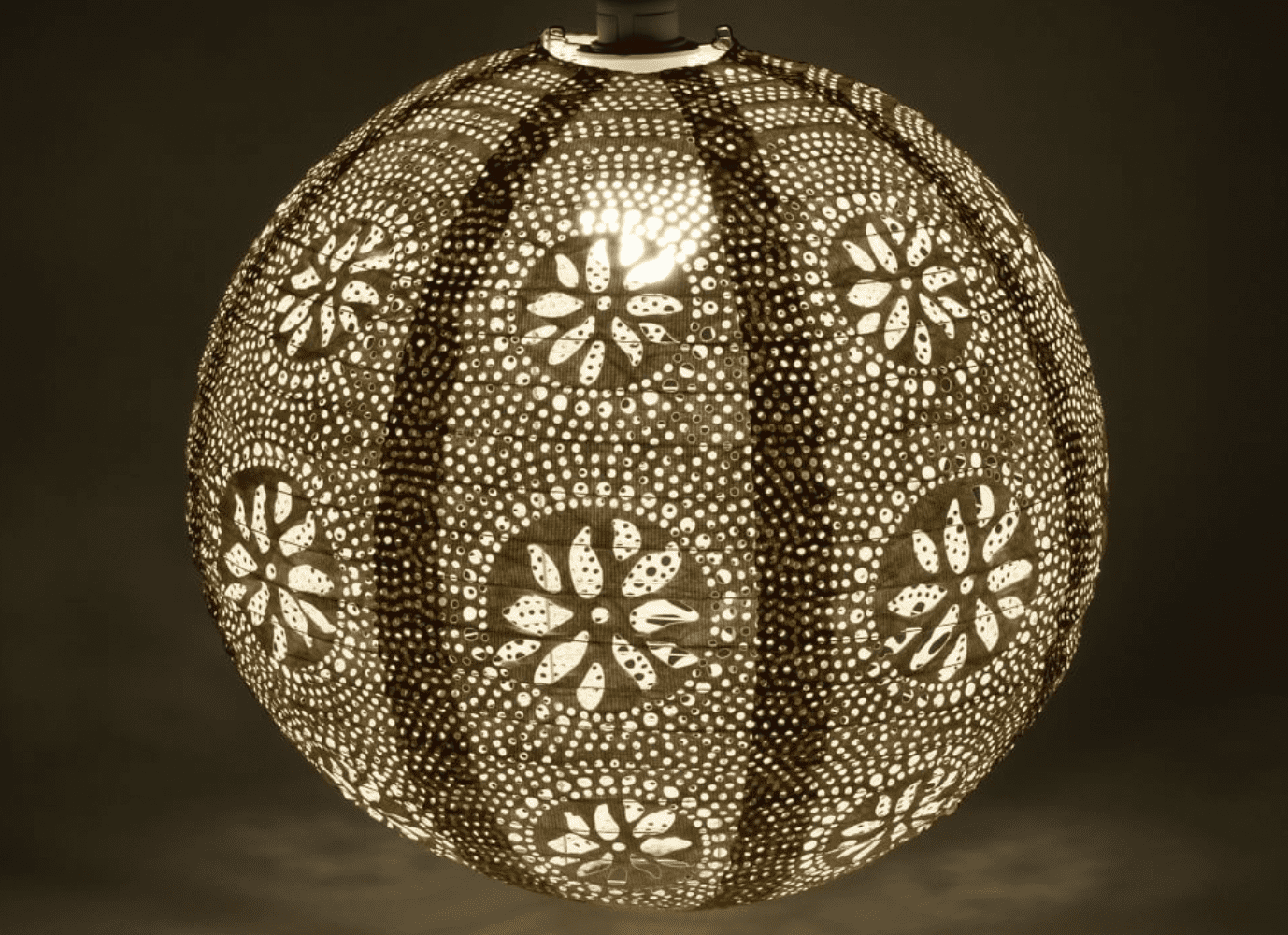 There are practical porch lights, and then there are decorative ones. Or are those distinctions that clear-cut? The truth is you don't have to settle for one or the other entirely. If you're looking for festive accent lighting for your porch that won't mar in rainy weather, this beautiful lantern is a great idea.
While it should still be handled with care (I'd take it in during a heavy snowstorm or thunderstorm), this beautiful lantern is handmade with a special durable fabric. Rated for indoor and outdoor use, it's also wet UL-listed. The gorgeous detailing provides a bohemian ambiance- and I adore the range of colors (cream, white, pearl, and blue).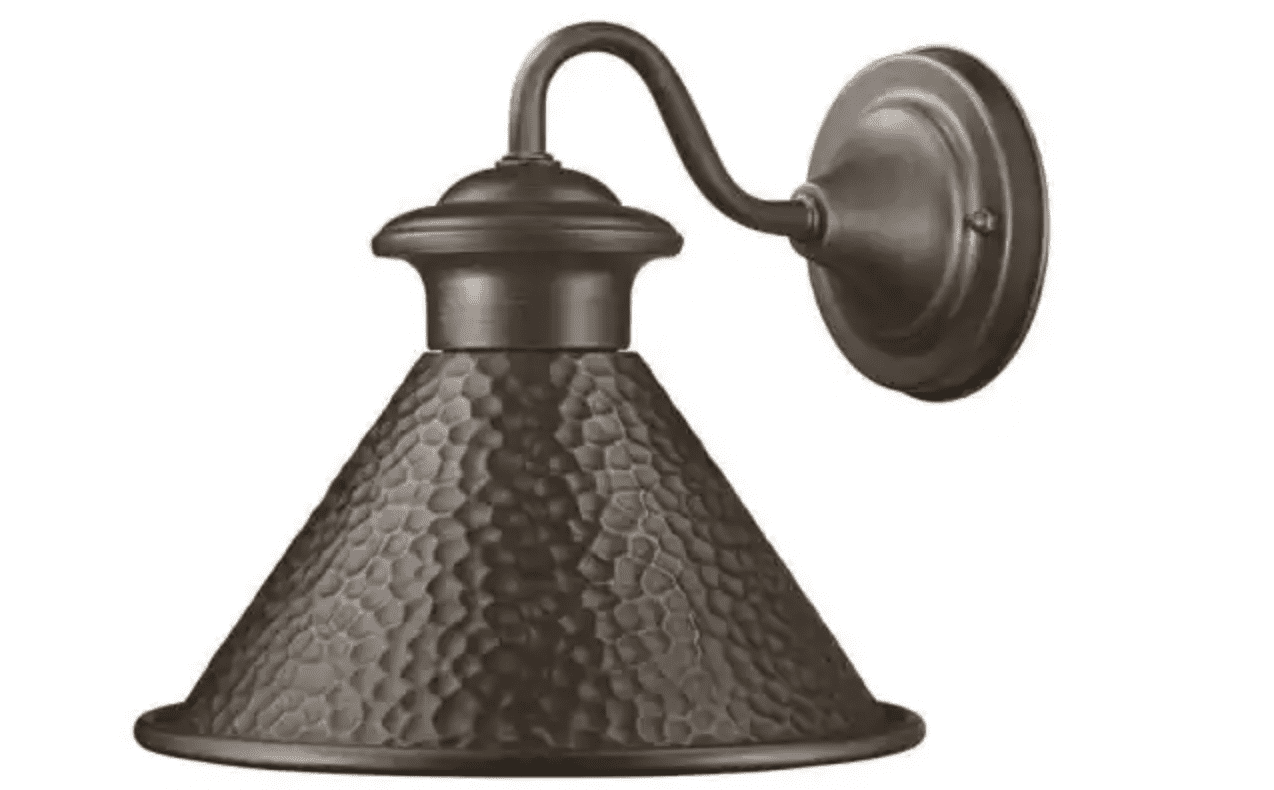 I had to round out my list with a porch light that captures country or cottage charm. From the popular Home Decorators brand comes unique rust and weather-resistant lighting solution. The hammered look is truly eye-catching, while I love the slight warmth of the finish. UL-listed, this LED porch light provides gentle light for your porch and a warm welcome. Add a classic rocking chair and you'll feel like you're out in the country even in the suburbs.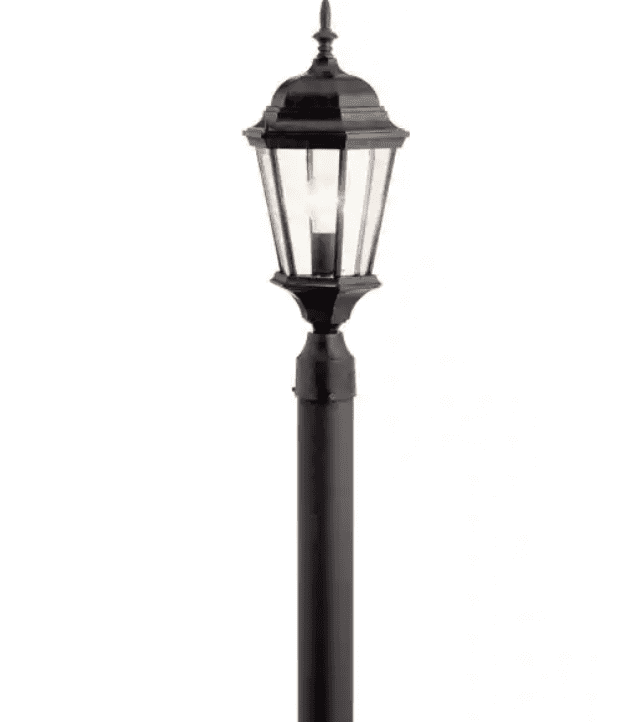 A lamp post is a wonderful way to add statement lights leading up to your porch. I love the classic allure of this hardwired post, complete with a sturdy brass construction and beautiful beveled glass. It's just enough soft light to make the walk to your porch all that more welcoming- all with a classic and undeniably timeless appeal. It's also hard to beat the price.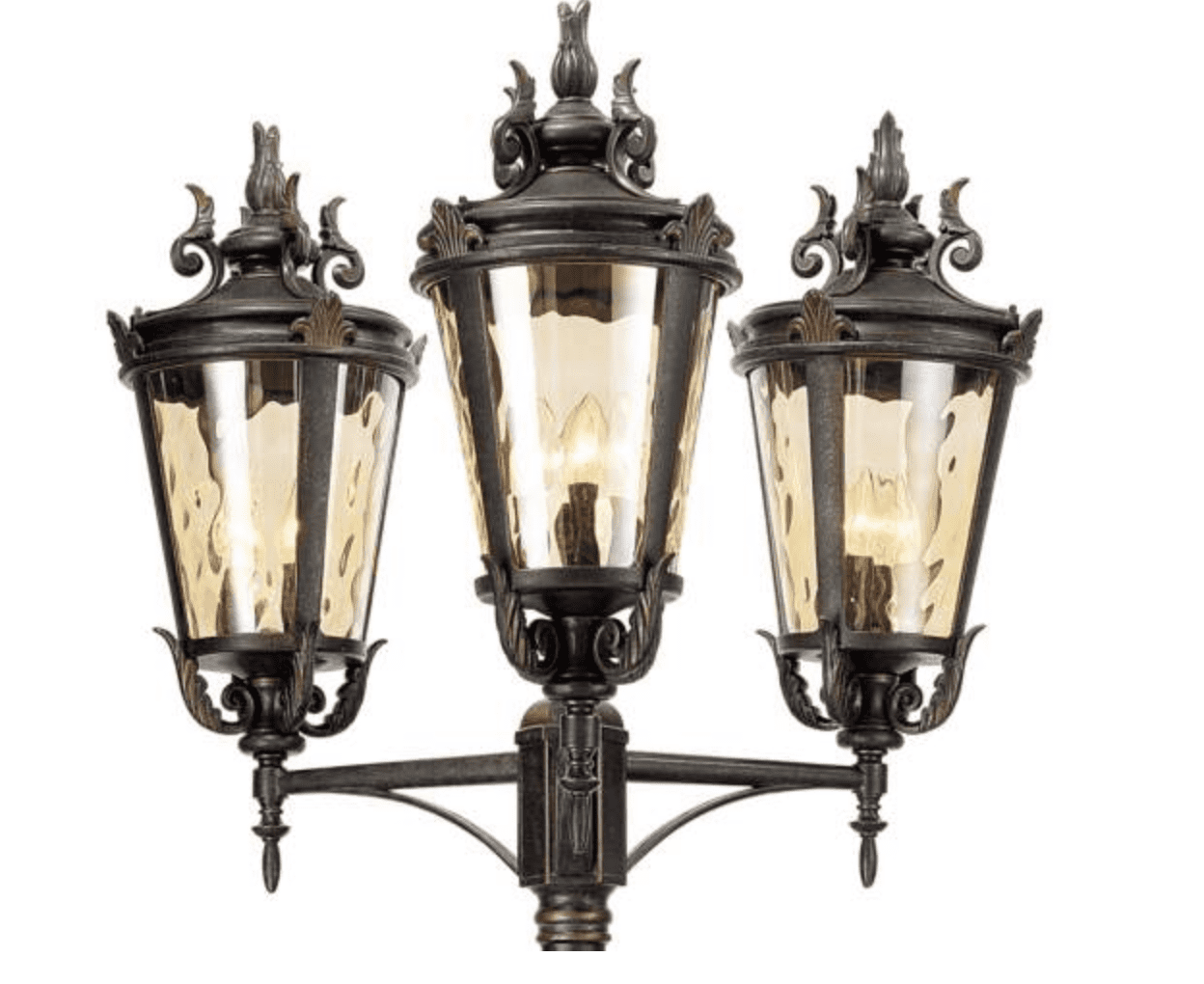 Not only do I find this lamp post stunning- it's also constructed with sturdy bronze. Wet-location related, with an adapter base, there's something to be said for the grandeur of this lighting idea. It's also highly rated and would suit classic, traditional, and other home styles.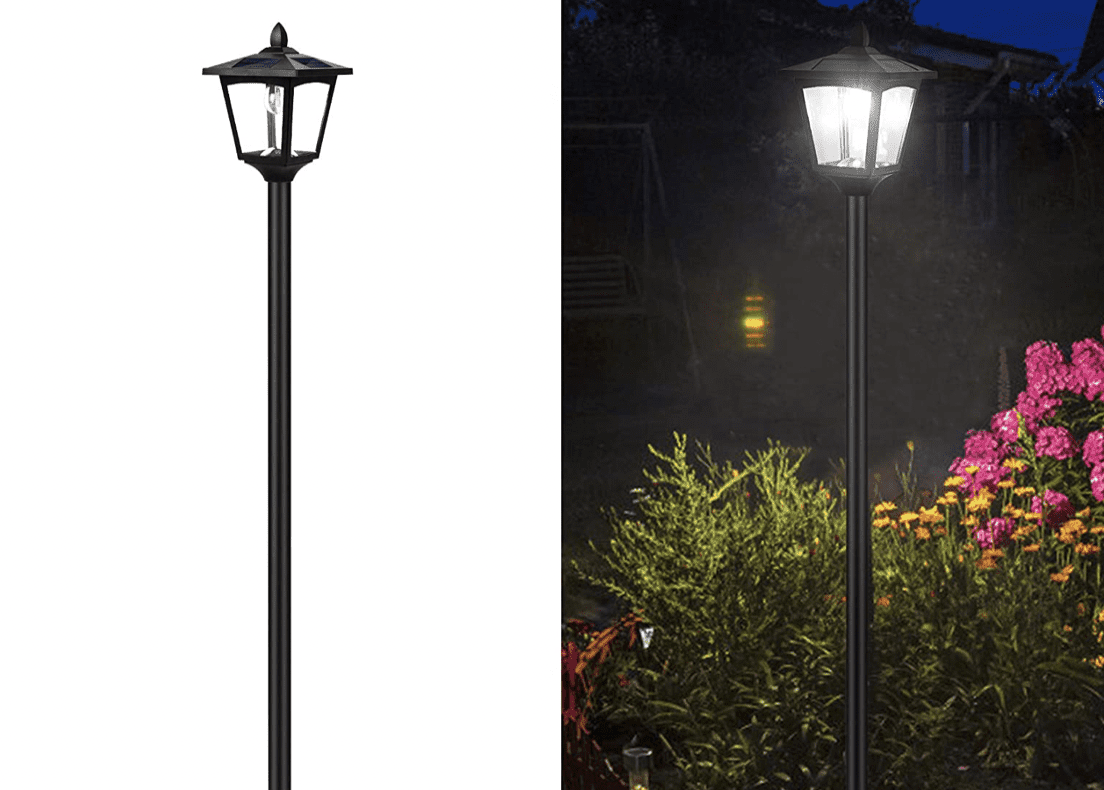 Not only is this lamp post an excellent price, but it's also energy-efficient! It's simple and modern but an effective way to light your path leading up to the porch. There are two brightness settings, and it's certified waterproof for even the rainiest days. It's easy to see why this is an Amazon Choice listing.
There are countless options for Christmas and festive string lights. But these string lights in particular are a great idea. I love that they're UL-listed for safety, the 25 ft transparent bulbs feature bright, cheerful hues. They're certified waterproof, and at a great price too. But if you don't celebrate Christmas- or just want more options, check out the gold and ivory options, too.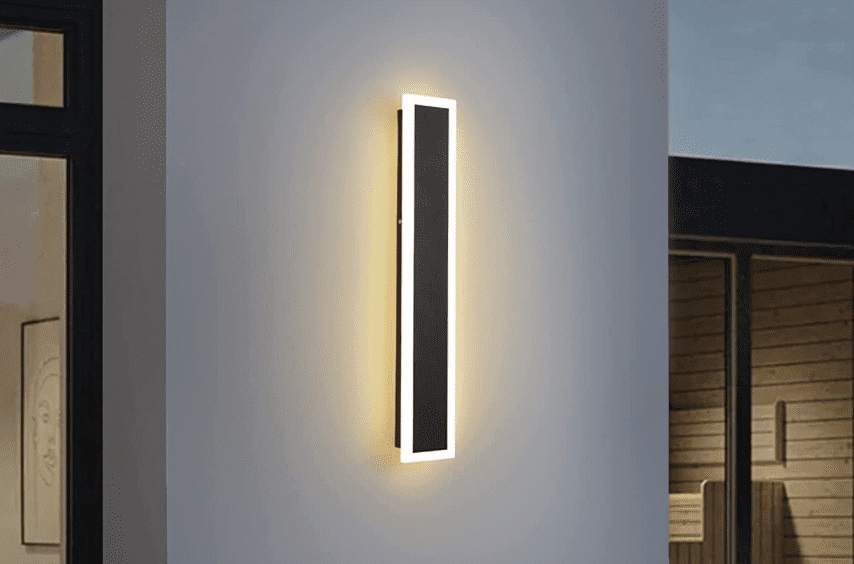 Stunningly modern and sleek, this LED porch wall light is not only aesthetically pleasing but practical too. The frosted white hue is quite attractive and versatile, with waterproof construction. The light temperature is soft, warm, and inviting- but provides enough light for the visibility you need.
Frequently Asked Questions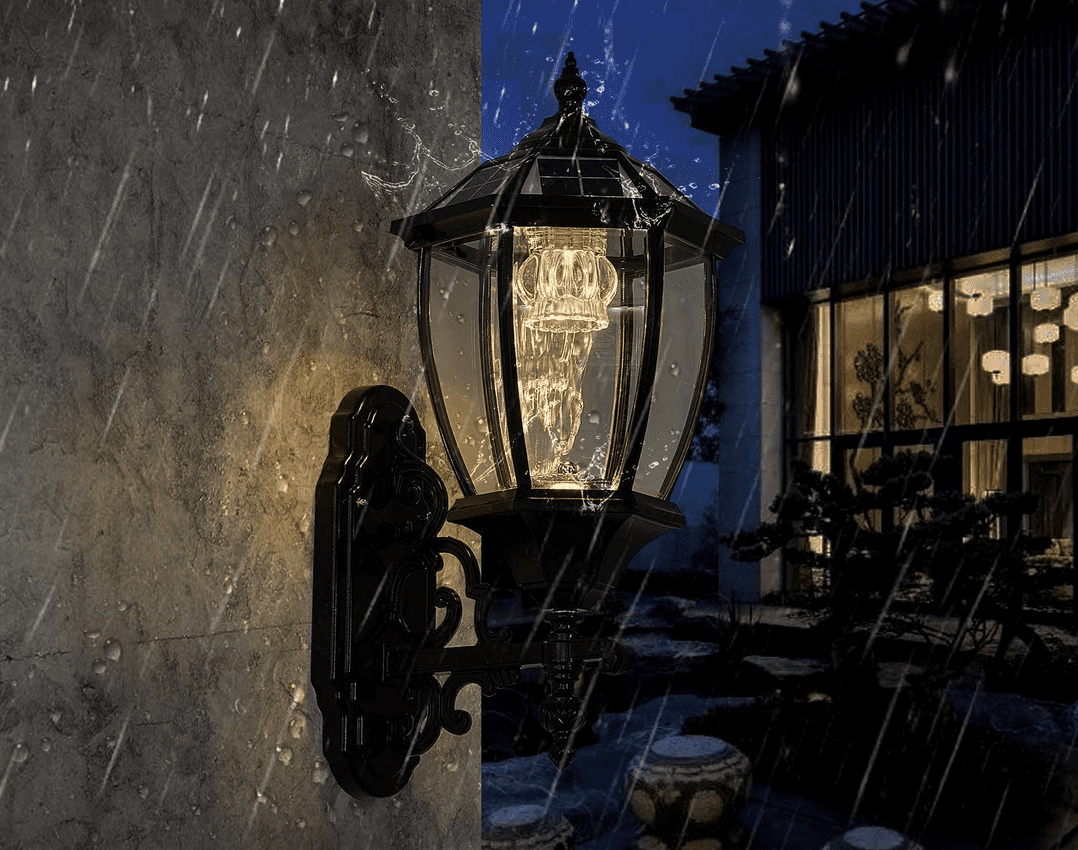 Question: Can I light my porch without electricity? 
Answer: The best porch lighting solution without electricity is solar lights. Solar lights can work for several hours at a time, even on cloudy days, so long as they've had ample time to charge under full sun. The other advantage is that you can have porch lights without outlets. Of course, solar porch lights are energy-efficient and more environmentally friendly. But they may not be the best option if you're relying on solar entirely but live in an overcast area. 
Question: What type of lighting should be placed for a porch entry?
Answer: There are a plethora of options for types of lighting for your porch entry. Usually, you'll want to opt for a softer hue and something like a wall or ceiling light. LED lights are an excellent choice because they're more energy-efficient and can save you money in the long run- all the while giving you great performance. Even though LED lights and lanterns have a more expensive initial price, they may be lower cost over some time. 
Question: Should you leave your porch lights on?
Answer: On one hand, turning porch lights off is a great way to reduce electricity costs- at least if you're using a lot of energy. But leaving porch lights on in the evening and night is a wise choice for a few reasons. It increases visibility for guests, adds ambiance to your home, and may deter someone from breaking in. If you are worried about security, however, flood lights or lights with a camera are an even better option. If you go on vacation, asking someone to turn on your porch lights at night is a smart move. 
Question: How long do LED puck lights last? 
Answer: Puck lights are used commonly indoors but also outdoors for low profile, soft lighting. These small round or oval-shaped lights adhere to surfaces, counters, or hard-to-light corners. LED puck lights are going to provide better lighting and performance than halogen lights, and can last anywhere from 18,000 hours to 50,000 hours.
With the use of just a few hours a day, a light could feasibly last two decades. But this depends on use, materials, upkeep, and where it's being used. That said, LED puck lights are a fairly durable lighting option. 
Final Thoughts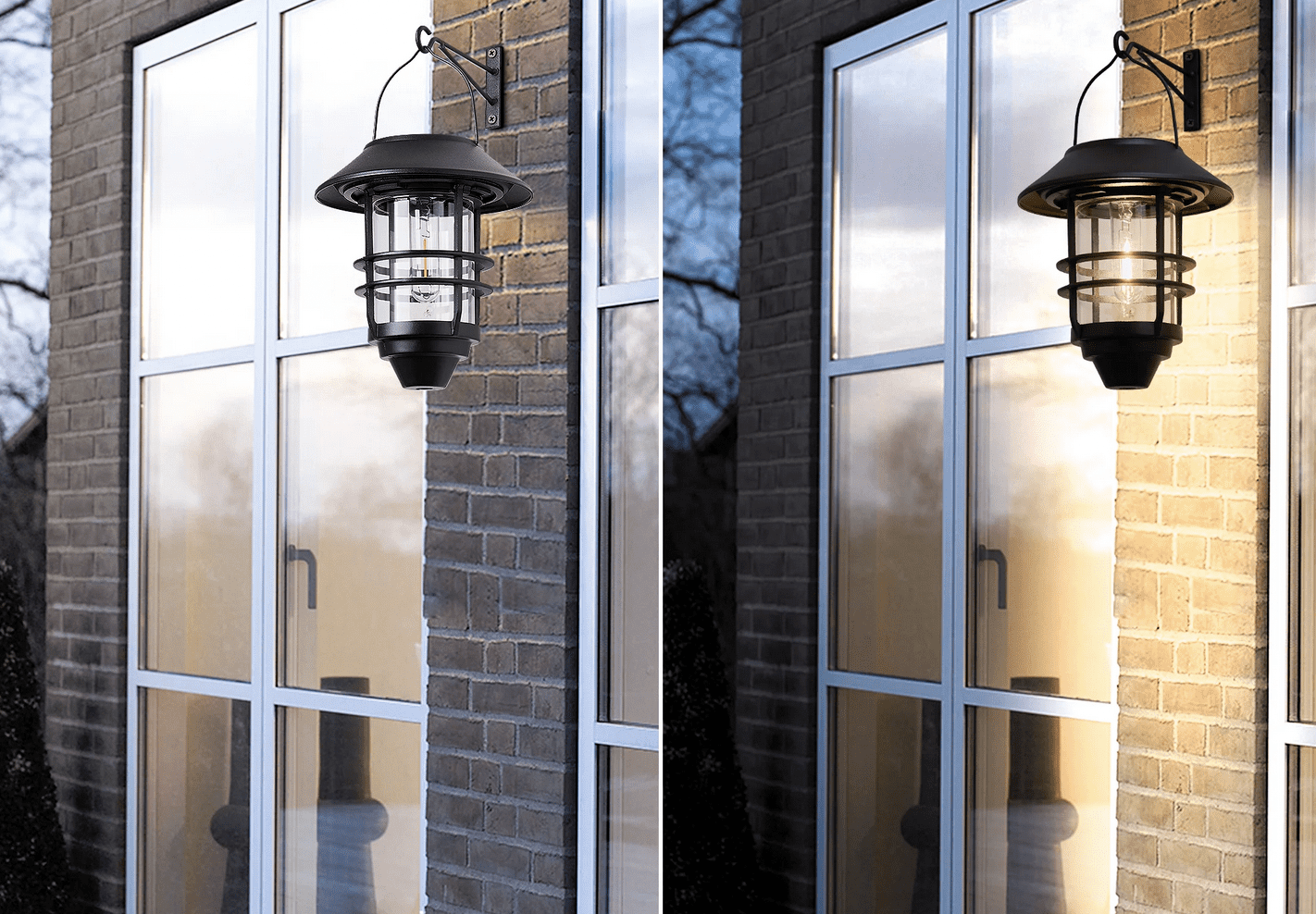 Hopefully, my list has given you some fantastic ideas for lighting your porch. Whether you're looking for string lights for a festive occasion, classic lanterns for staple lighting, or basic wall sconces, the key is to think critically about what you want from your lighting. No matter what style you choose, always pay attention to the light's exterior materials. That will tell you what kind of performance you expect- and if a light is suitable for a covered porch or can be left in direct rain.
Final Recommendations
Know you need more lighting for your porch but are still not sure where to start? As much as specialty lights can be a great option, a solution that will work for just about any home is a versatile porch light like Origin 21 Allendale Outdoor Light. It's practical, affordable, and weather-resistant. One of the best features is the integrated LED light with multiple settings to adapt to the weather and time of day.
Recommended Reads: