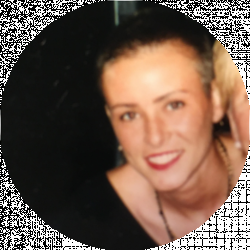 Latest posts by Richelle Tieman
(see all)
Every front porch needs a welcoming invitation — unless you are at the Dutton Ranch or the Snell Farm.  (Yellowstone and Ozark, for those of you not binge-watching!)  Your front porch is a prime focal point of your home that friends, family, and delivery carriers will see right away.
Seasonal signs give an extra flair and stir up interest in each passerby.  It's like a "changing of the guard" (changing of the decor!).  I get so many compliments when I change out my seasonal decor – people really like that fresh, starting anew feeling.
Summer porch signs signal that school is over, vacations are looming ahead, vegetables are growing, and it's time to go swimming and eat ice cream! For others, it means ocean beaches, deep water fishing, bonfires, and barbecues — relaxation all around. Summer porch signs can take any form; whether it be vertical floor signs, hanging doors chime signs or porch wall decor.
These days, I am looking for a bit more resiliency from my decor and look for specific criteria if I am spending more than I want to lose!  I always weigh how I would feel if an item I purchased tore, broke, stained, or fell apart.  Summer holds first place as the favorite season for youth, and counting down the days is so much more fun when you have a colorful sign welcoming the warmth!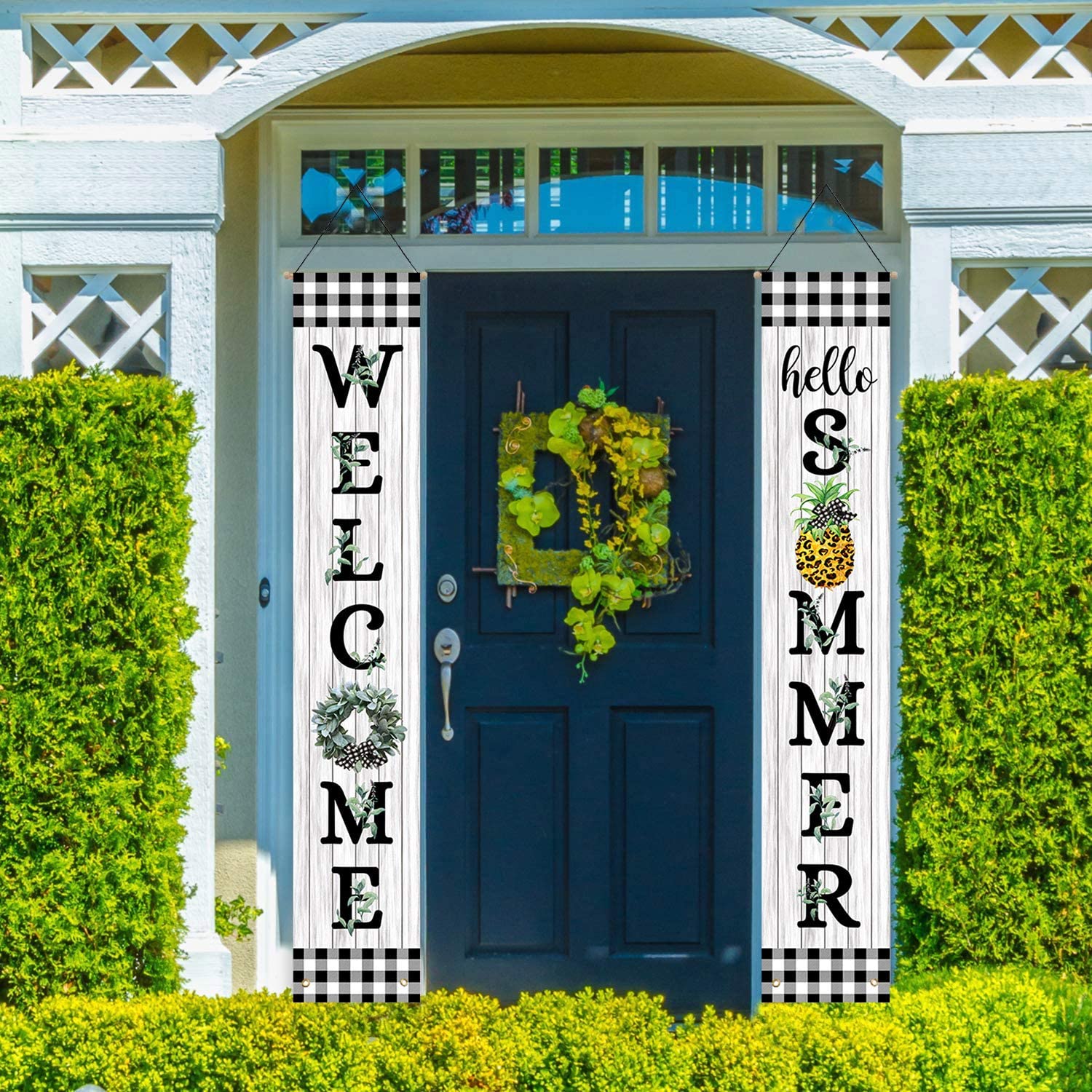 Bottom Line Up Front
I love the classic gingham black and white appeal of these summer signs for their timeless elegance.  The pineapple is also a welcoming invitation to family and guests, as is the ivy design. It mixes traditional symbols of friendship with a striking black and white theme that can blend with modern or country styles.
Hanging ropes allow for use anywhere outside, and the material is weather-resistant!  This is my overall best pick for a summer porch sign that fits with various decor, can be used anywhere, is sun-friendly, and is wallet-friendly!
My Top Picks for Best Summer Porch Signs
Lighted Summer Porch Signs
Tabletop Summer Porch Signs
Hanging Only Summer Porch Signs
Vertical Standing Summer Porch Signs
Flag Porch Signs for Hanging/Garden Stand
Selection Criteria for Summer Porch Signs
When I think about summer porch signs, I don't just envision the typical "hello summer" painted on a wooden sign.  There are so many types of summer porch signs to choose from, and those include signs that have traditional summer colors, summer activities, and summer sights.  All these things give me a summer state of mind and are exactly the type of things I included in my favorite summer signs.  If I wouldn't have it on my porch, it didn't make the cut.
Porch signs may seem like a no-brainer to choose from, but there are actually a few important characteristics to look for when buying outdoor decor. The first is durability in all types of weather.
Accessibility is another factor that I consider.  Is this an item that thousands of people can buy, or is it only found in person at a store in Pennsylvania or California?  Is this a limited edition, or will it be manufactured for years?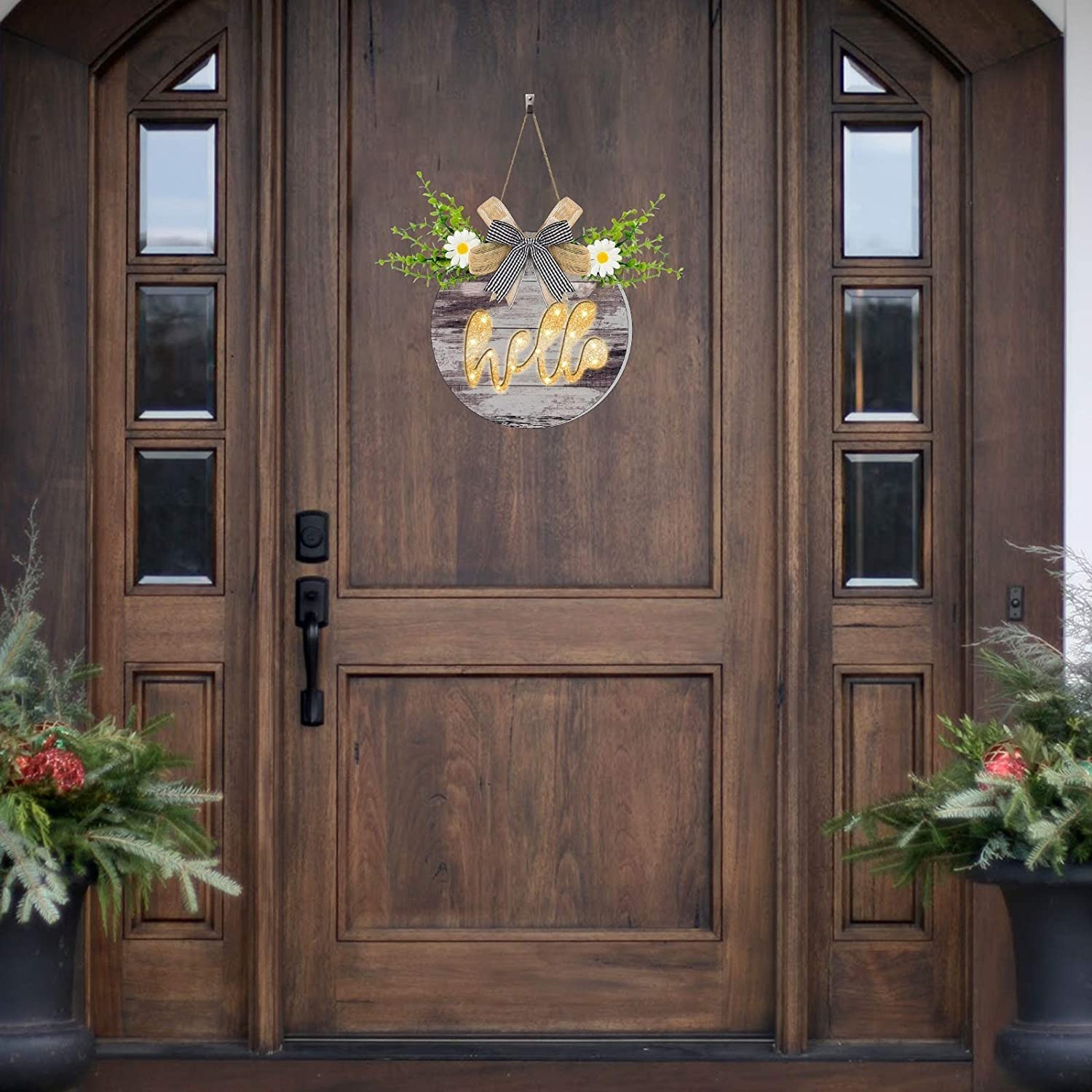 A checklist of things I consider is bulleted below.
Criteria
Weather-Resistance
UV-Resistance
Reputable Retailer
Customer Reviews
A "summery" vibe or message
Summer Porch Sign Materials
I find that the most durable porch signs are made out of wood that has been sanded, stained, and sealed several times.    This will weatherproof your sign and prevent it from chipping and peeling.
The polyester flag material is another way to go for summer porch signs.  Look for UV and weather-resistant properties. Another thing to consider is that the wind will whip the sign and roll it around the pole if you don't have it up against the door or a wall.  In the past, this has led me to a daily ritual of untangling the sign, only to have it curled upwards when "straight" and tangled up again an hour later!
A trick for this is to buy some inexpensive magnets or fishing weights and either hot glue or sew them to the back bottom of the sign.
Best Summer Porch Signs Explained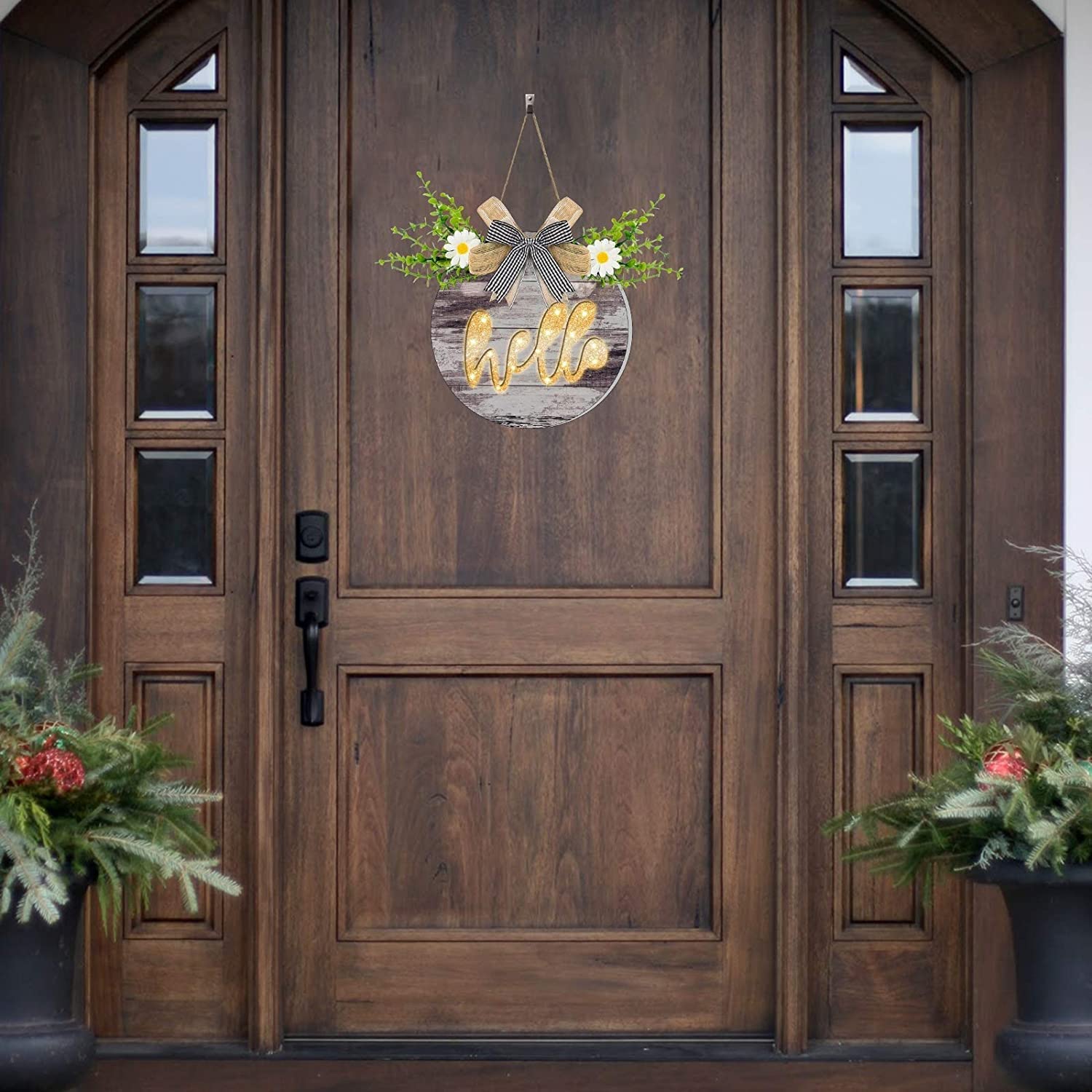 I love this sign because of its lights and the added pop it gives a front door in the evening hours.  This charming summer sign has glowing lights that highlight the warm welcome visitors will see as they come up your walkway.  I love this pre-lit tiny hanging sign because it exudes a fun sense of summer as the days get longer and more and more people are out at night. It is wooden and has a timer function for the battery box in the back.
At 9×9 inches, it is large enough for your front door but small enough to add to a wreath for an extra appeal!  This is meant for a covered area and will probably not hold up too long when exposed to the elements.
Pros
Inexpensive
Lighted
Country charm
97 reviews of 4.5/5 stars
Cons
Batteries need replacing
Not weather resistant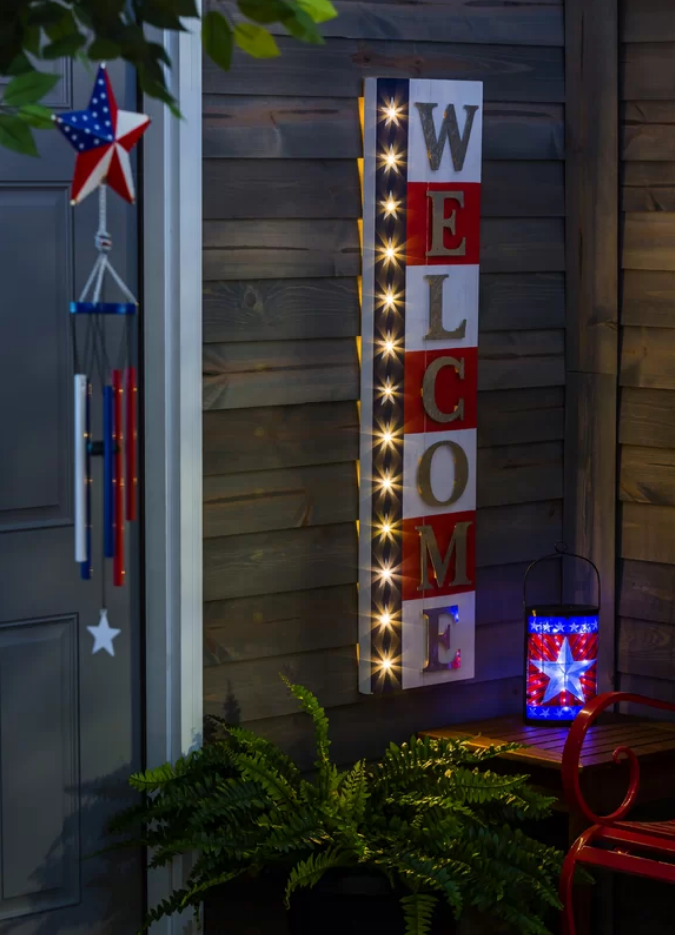 This farmhouse-inspired lighted summer porch sign welcomes in the Fourth with an enticing checkerboard background of red and white and a blue stripe downs its side.  Pre-lit to welcome in the holiday, your true colors will really show in this nod to our brave first responders.  I love this simple design, and the ample lighting sends a bold statement to all who pass by.  The sign is four feet high and one foot across. Customers gave it a 4.8/5 star review.
Pros
Well-made
5 pounds
Bright
Cons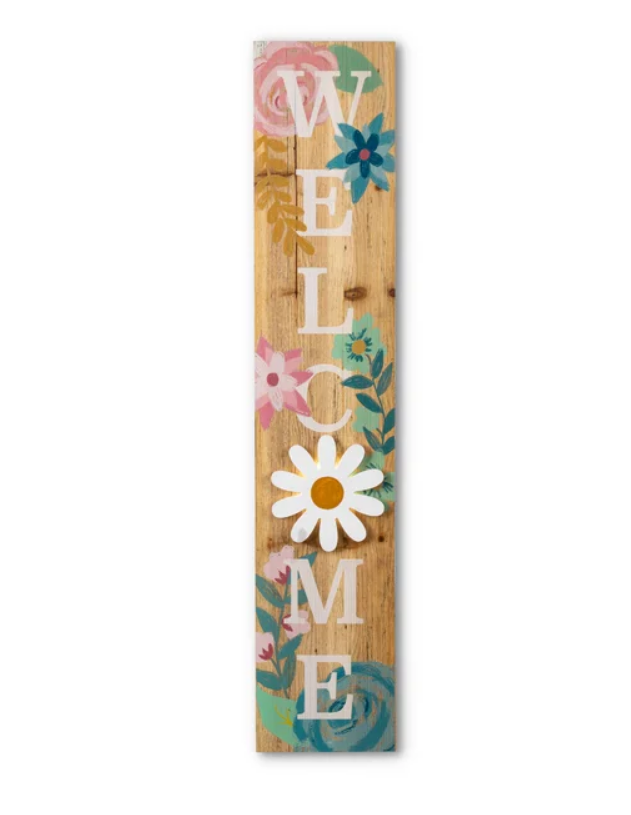 This floral fairytale summer sign has a daisy windmill on it that is backlit with multi-colored LED lights!  I love the easel back for convenience, and it has a long 16″ hanging rope for the front door.  The design is vintage floral and really screams summertime with its pale blond wood stain background.
It has a battery pack with a timer, which is nice for battery life. Simple and attractive, this is vacation charm at its best, and the unique shades of turquoise, green, and pink will keep your eye studying the details of this style.
Pros
Detailed design
Unique Colors
Pre-lit
Four feet high
4.8/5 stars reviews
Cons
Risk of blowing over in every gust of wind
See also: Screen Porch Ideas on a Budget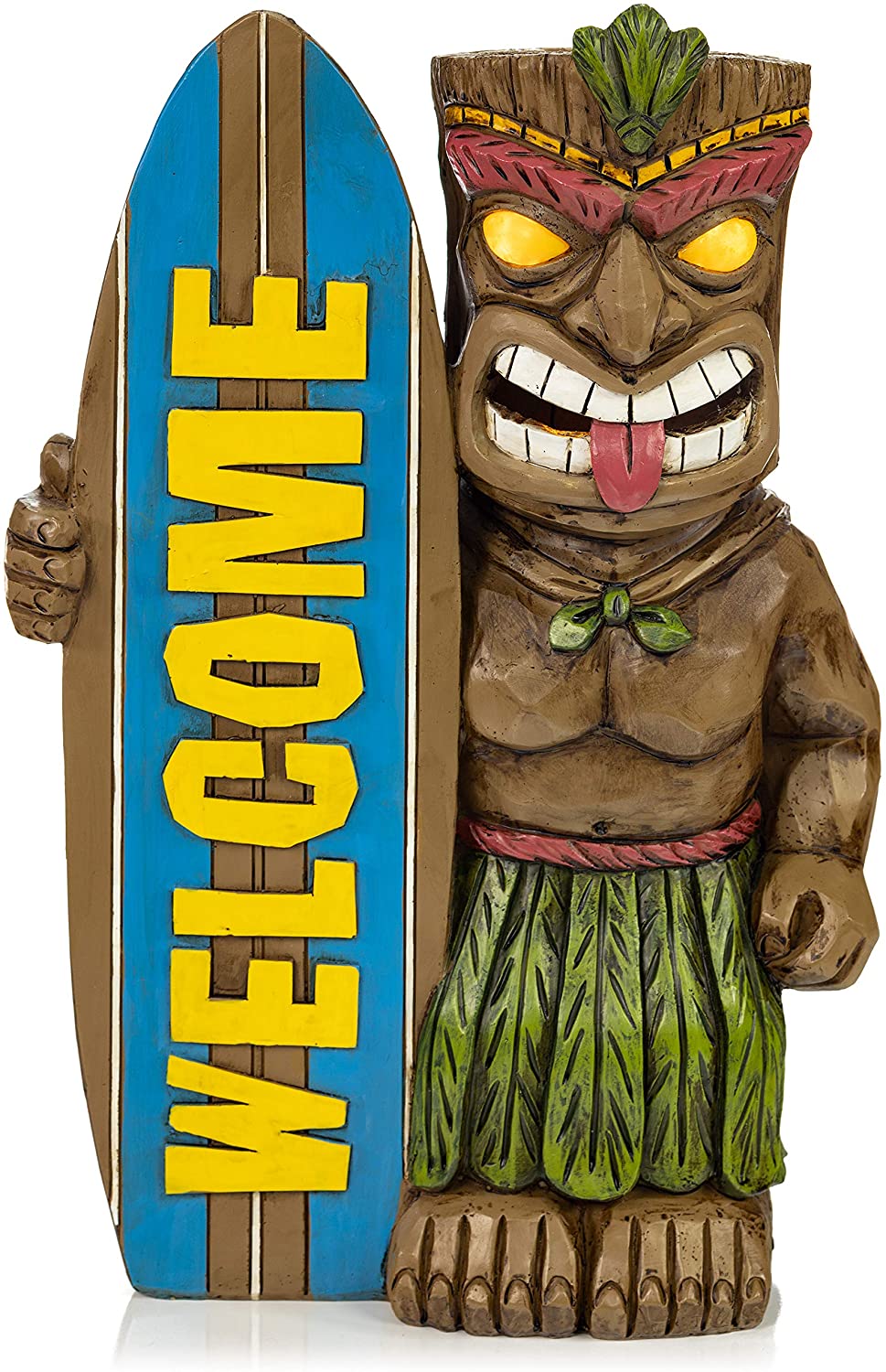 I love this summer welcome sign!  Totally unique and sure to be a showstopper, this is lighted for nighttime ambiance as well as a daytime porch decoration.  This reminds me of Scooby-Doo and Wiki-Tiki! Kids and adults are sure to love this detailed image that evokes Hawaiian music. This is solar-powered and is 14″ high and 9″ wide, and weighs almost five pounds.  Made of polyresin, it is UV and weather-resistant and sure to last for years.  Almost 800 reviews of 4.5/5-stars!
Pros
Super cute summer vibe
Strong and sturdy
UV and weather-resistant
Does not need a covered area
Inexpensive
Solar lit
Cons
Needs to get direct sunlight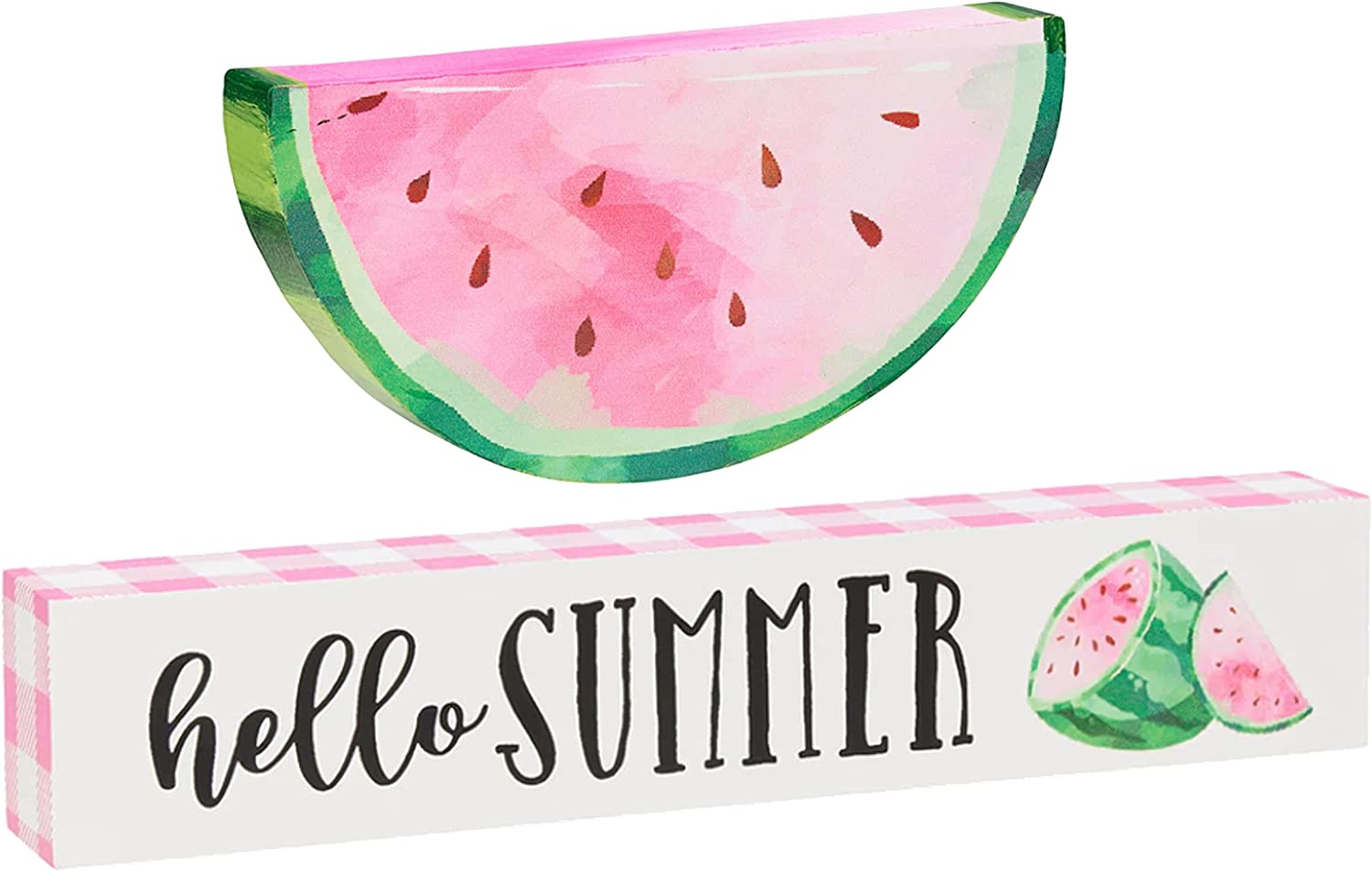 These are great porch signs to put on a table or bench near your door.  Sweet and delicate shades of pink and green add charm and seasonal greetings to any space.  I love this because it has a pink gingham design that blends nicely with pastel summer colors.  I would add a pink gingham bow to the porch or door and make a soft, relaxing porch ambiance.  This is simple and dainty.
Pros
Includes two home decor items
Fun stand-alone pieces
Charming, delicate style
Inexpensive
Cons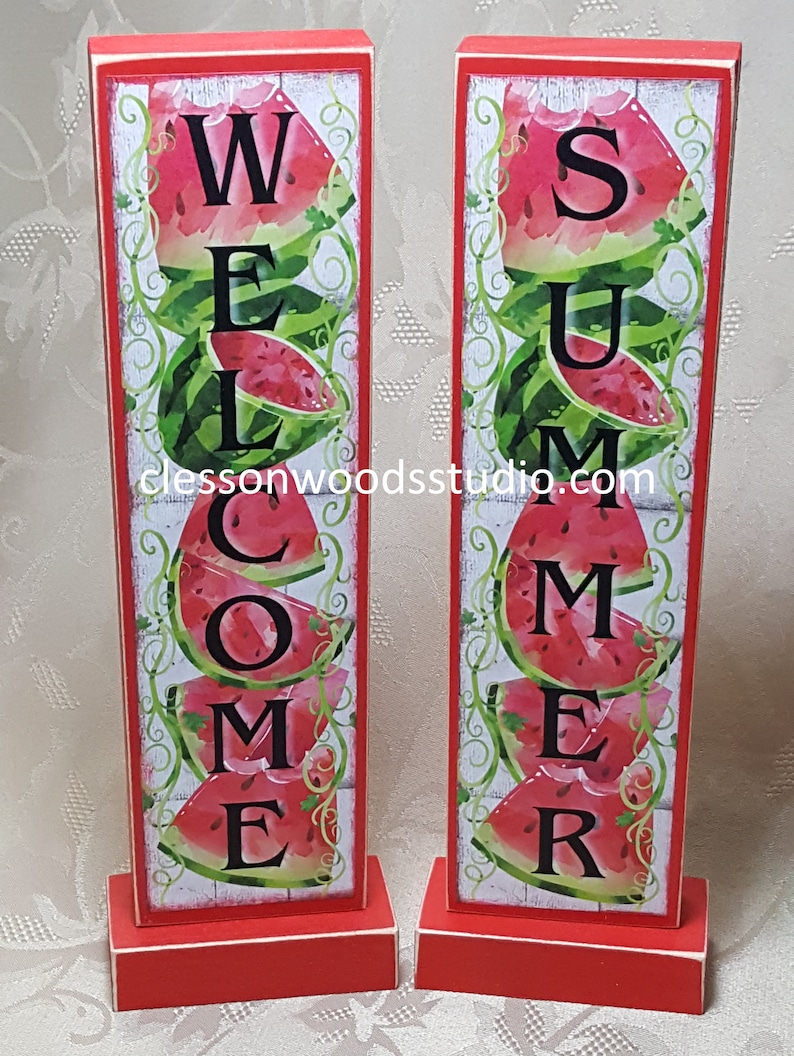 I love the glorious watermelon design on these porch table signs – they look good enough to crunch and slurp right into!  These really give you a big taste of summer with the realistic cut watermelon slices.  I love the pedestal stands attached to the bottom for no-hassle standing. These signs are a must for any well-decorated summer porch and are ten inches high for easy placement on benches, tables, railings, or steps!
Pros
Satin paint
Sealant
Pedestal stands
Inexpensive
Cons
Cannot be hung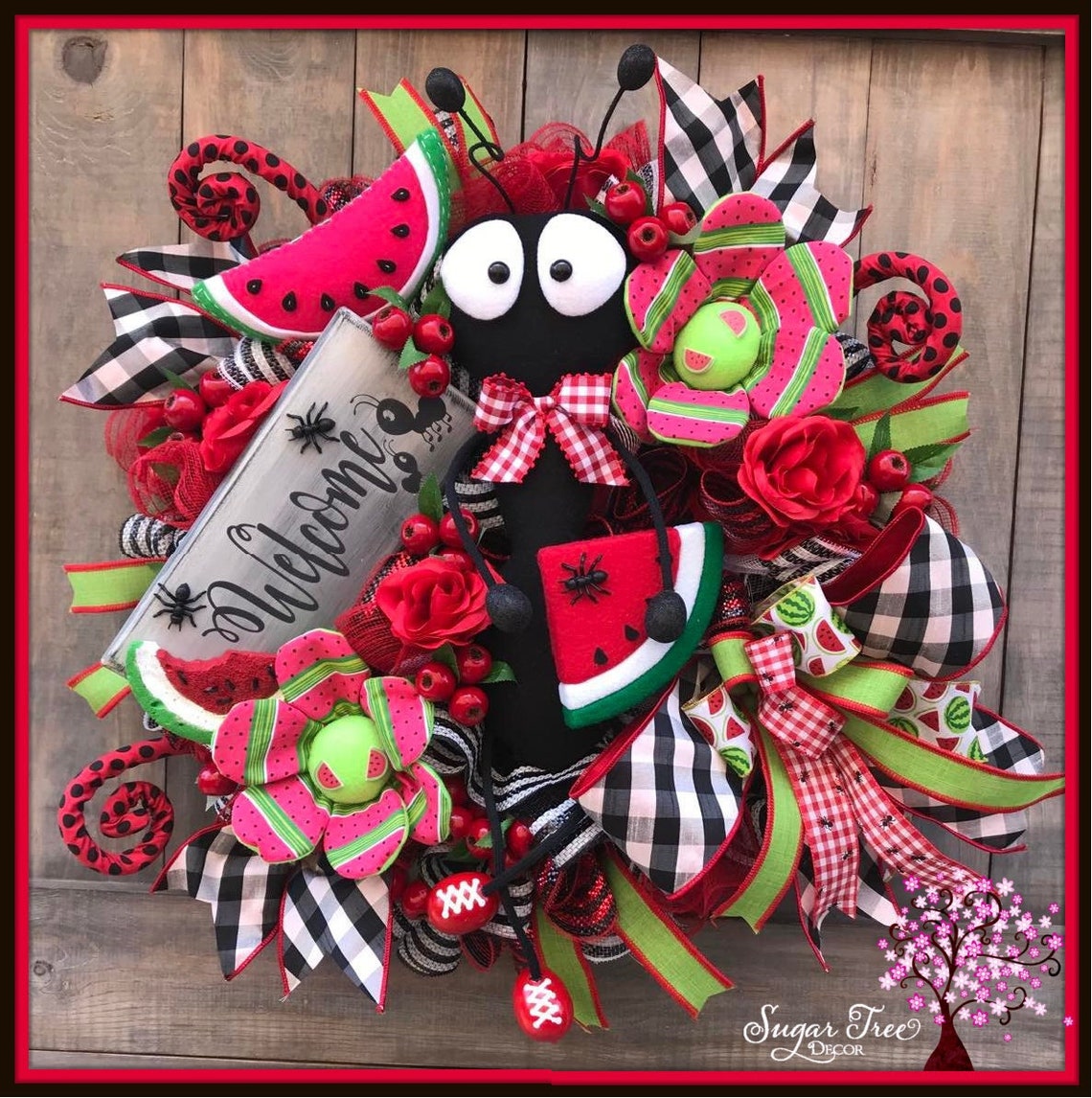 I love this whimsical summer wreath/welcome sign!  It is so adorable with the bows, handmade flowers, and decorations – the ant even has skinny legs with sneakers!  This is sure to get a rise out of even the quietest guests! Perfectly evocative of summer fancies and follies while still maintaining dignity with the black and white theme throughout. This Etsy seller has 180 reviews of five stars!
Pros
Unique show-stopper
Handmade in the US
Can carry the whole porch (no need for any more decoration!)
Consistent five-star reviews
Cons
See also: Best Side Porch Ideas This 2022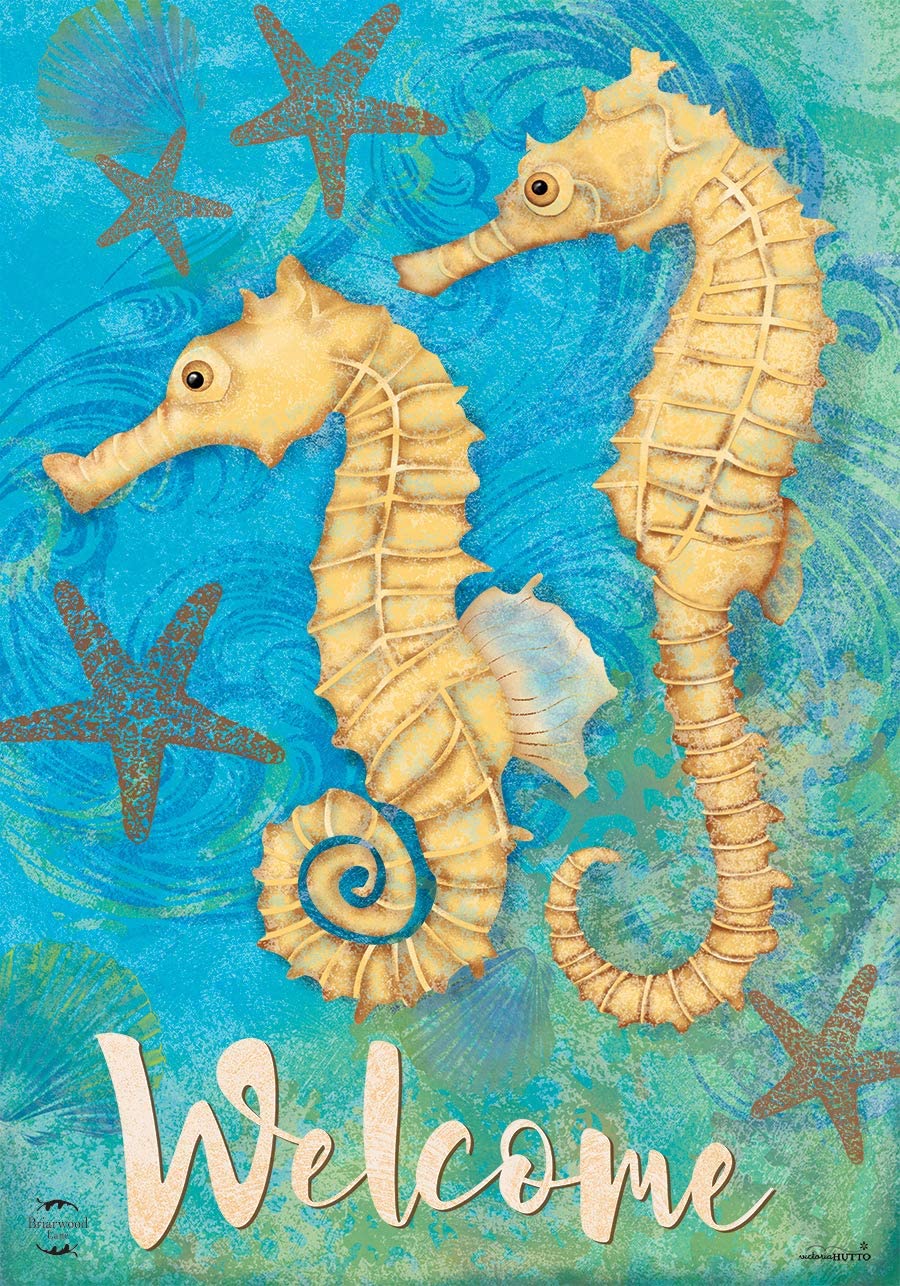 I love the mermaid/seashore colors of this summer welcome sign.  The seahorses and starfish are whimsically drawn, and you can hear the sound of the waves!  Laid back and easygoing, the polyester material of this flag sign has been treated to be weather-resistant and won't fade in the sun.  It has a sewn sleeve that will fit most flag poles.  You can hang it on your door if you prefer. I'd love to have this in my room as a painting!
Pros
Weather and UV-resistant
Inexpensive
Magical hues of blue and green
700+ five-star reviews
Cons
The hanging pole is not included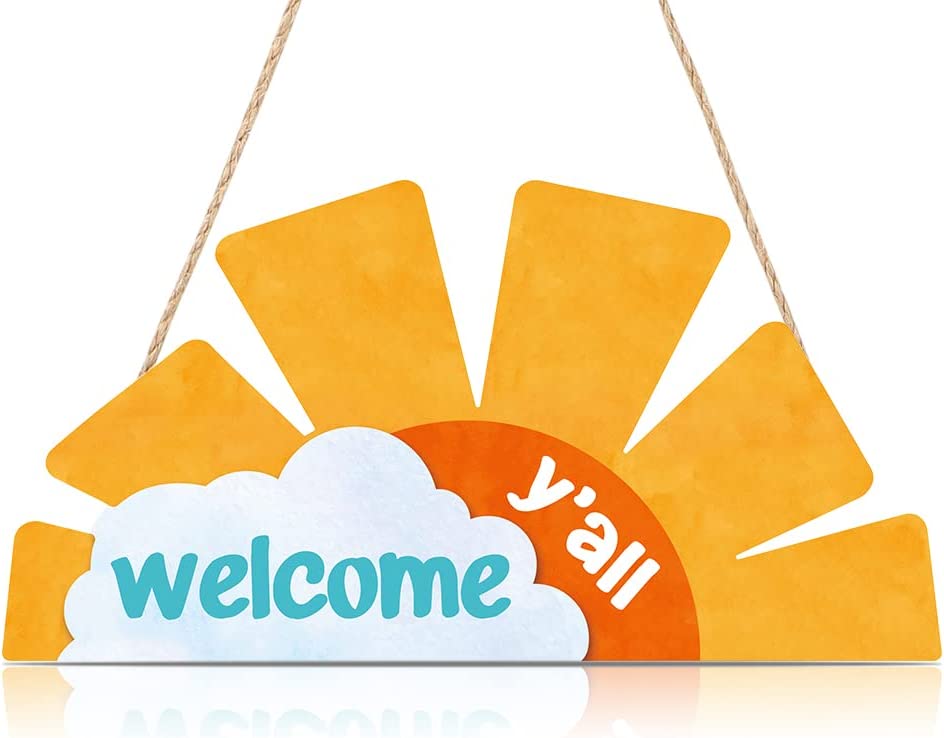 Made of durable wood resin, this 12″x6″ summer porch sign is boho and retro in one unique design.  The printing and colors are UV-resistant and waterproof due to a special sealing process.  I love the vintage vibe this gives, reminiscent of the Beach Boys in the 1960s. The bright yellow is cheery but not overpowering.  This sign is small enough to fit on a side porch or back porch but large enough to show off on the front door!  I like the fact that its size makes it convenient for any size space.
Pros
Unique design
Waterproof
UV-resistant
Multi-purpose
Inexpensive
Cons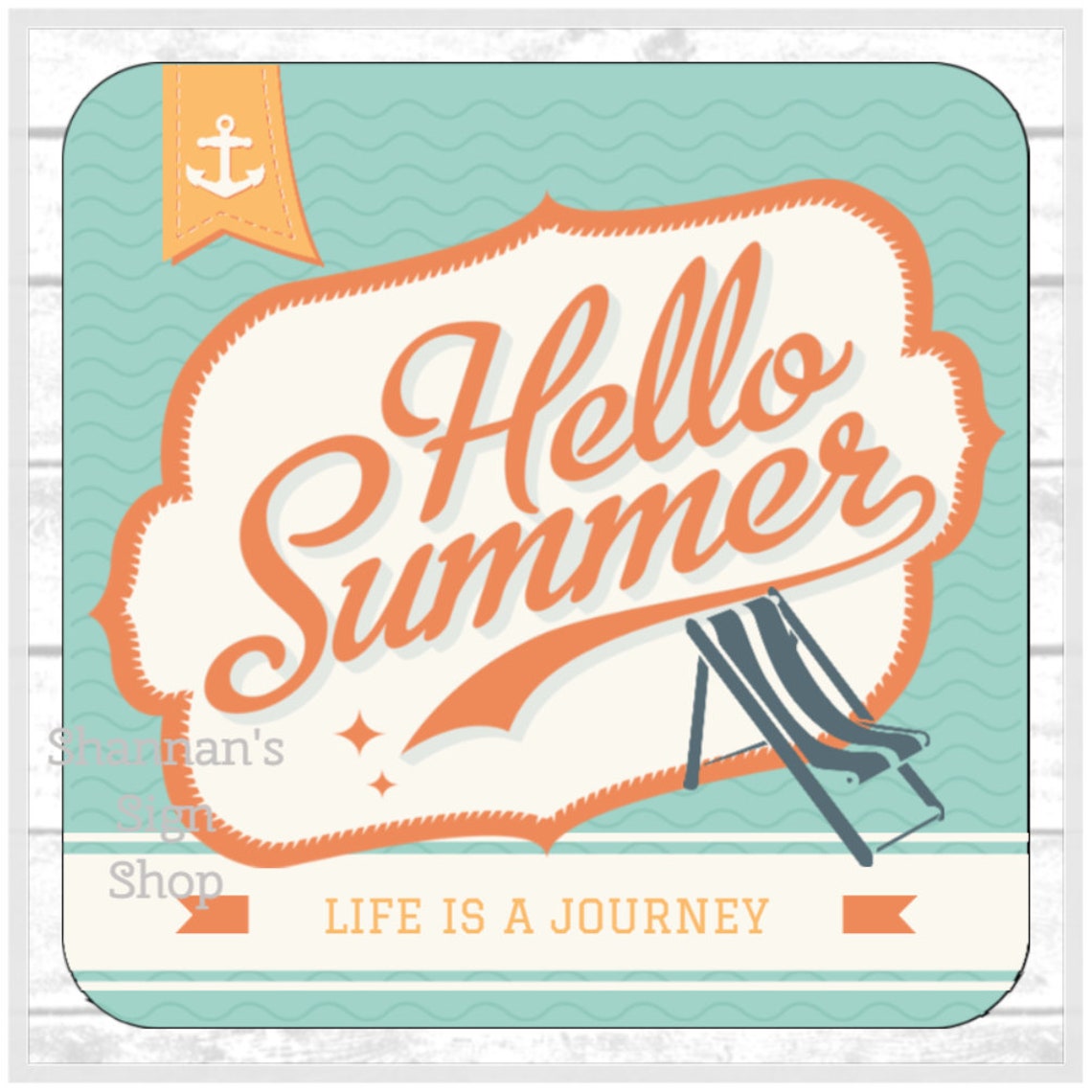 This adorable sign reminds me of Frankie Valli and Annette Funicello or the movie "Where the Boys Are"!  Totally vintage with its anchor and old-fashioned beach chair, it shouts "summer" in a bold, center-of-the-page style reminiscent of days gone by.  The colors are a nod to the atomic designs of the sixties and early seventies, with the light greenish-blue contrasting with the orange sherbet and cream colors.  I would get a retro atomic cat sign and put it next to it!
Pros
Weatherproof and Sun-proof
Glorious vintage design
Holes for hanging
Inexpensive
1000 reviews of 5 stars
Cons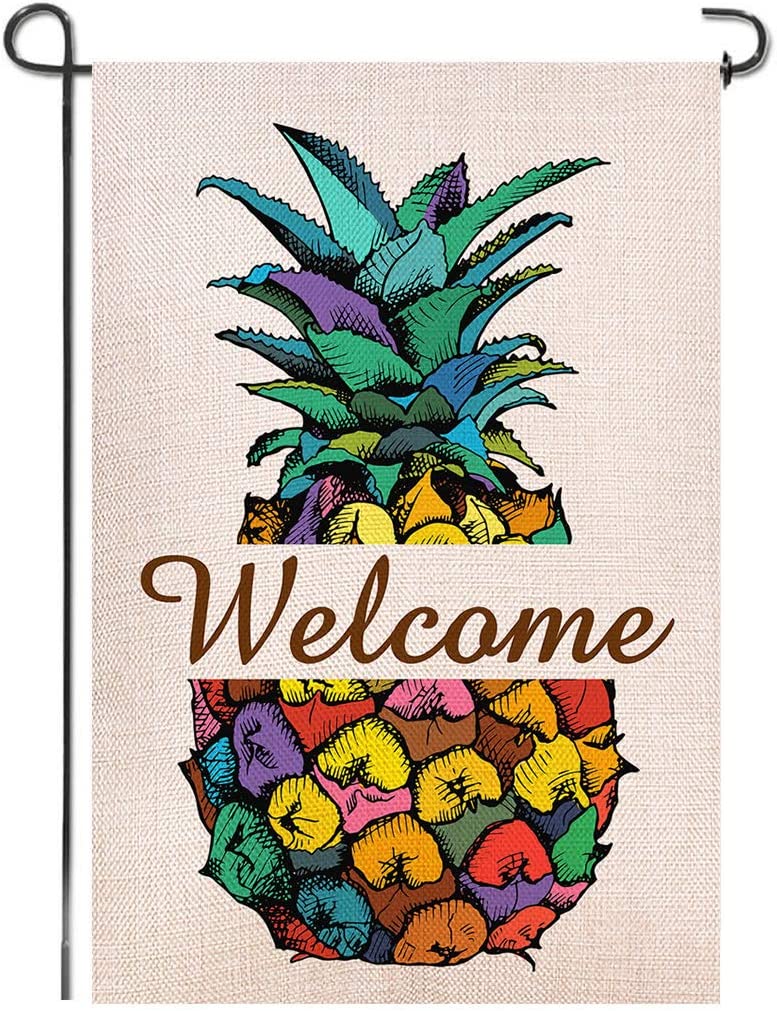 This is the ultimate porch sign for those of you who want inclusion to be part of your message!  I love that it is printed on both sides and is waterproof, so I don't have to worry about it being out in the rain.  This blends the traditional pineapple welcome symbol with shades of the rainbow to make a summer statement that all can love! It is made with fade-resistant dyes with UV protection properties.  It can be hung from a yard pole, or you can hot glue some twine to the back and hang it on the door!
Pros
Waterproof and UV-resistant
Printed on both sides
Long-lasting dyes used
Inexpensive
Cons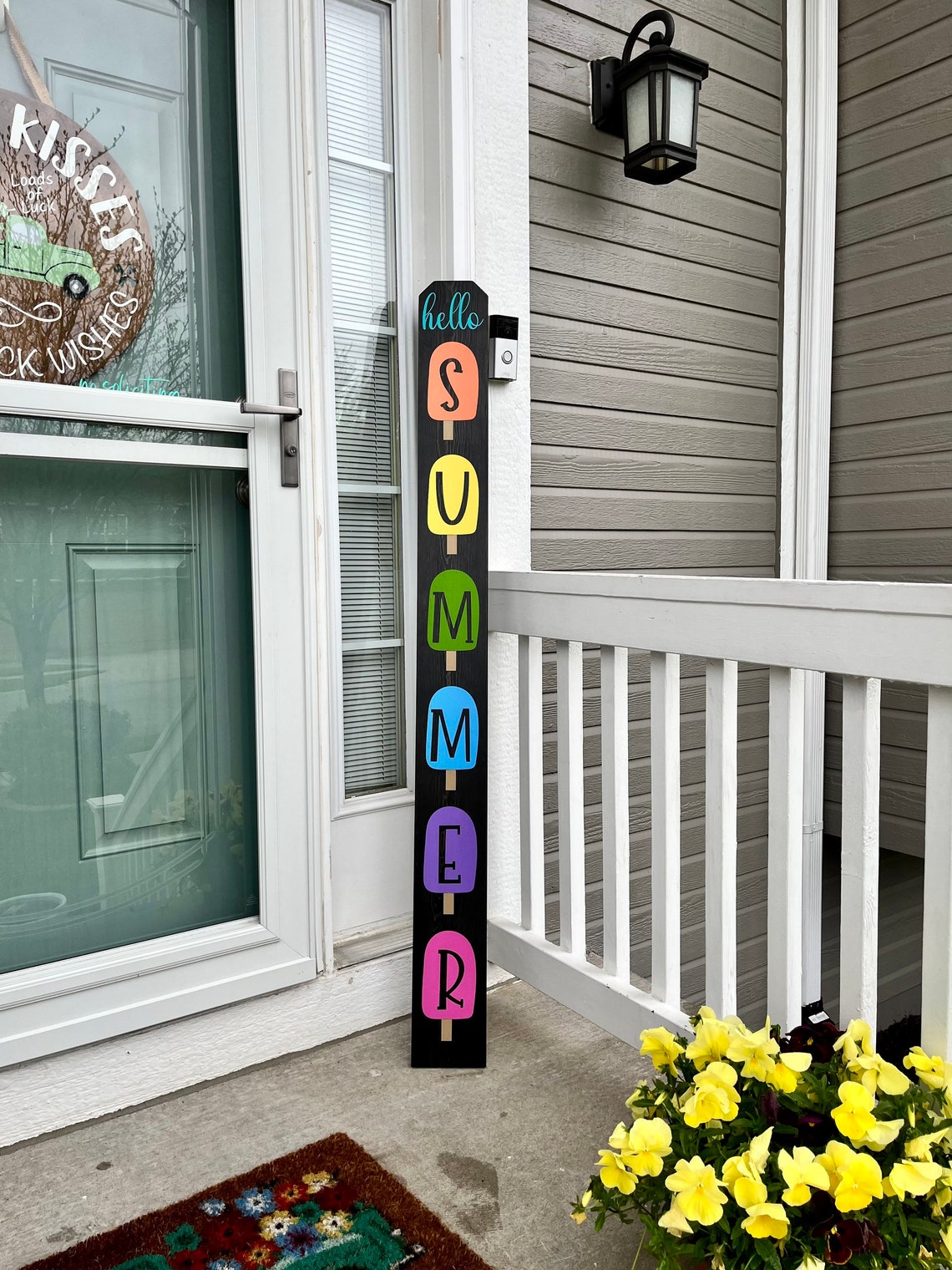 The popsicles in this sign remind me of each summer and boxes and boxes of popsicles my family goes through!  That and frozen yogurt with hot fudge, caramel, and marshmallow toppings!  Getting a craving now!  Handcrafted in the US, sanded, stained, painted, and sealed, this porch sign is made to last for years!  I love the shocking pink in this sign, and the lettering is almost modernistic in its appearance.  This sign says fun on a grand scale!
Pros
Several sealants make it weather-resistant
Narrow width versatility
Handpainted in the US
1000 five-star reviews
Cons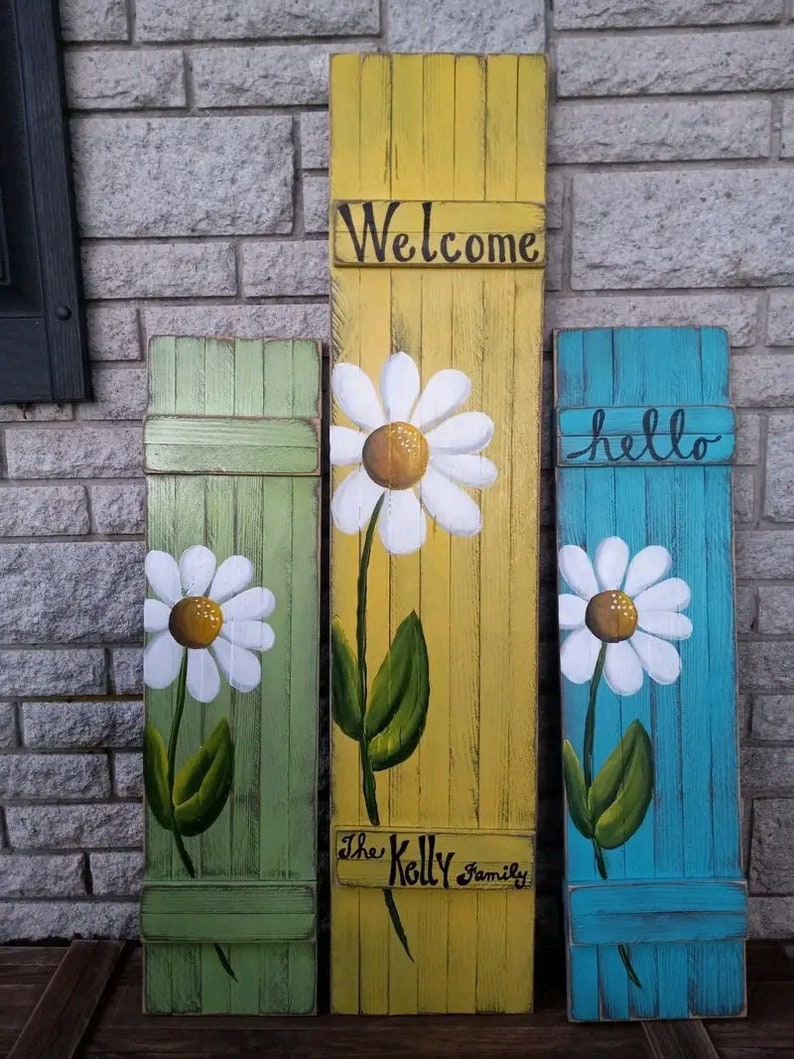 I love this distressed wooden shutter for its old-world country charm and unique idea.  This would be at home on either side of your windows or standing up at your door.  You can have it personalized, which lends an air of richness to the space.  Pretty and bright colors of summer will greet your visitors as they comment on these porch signs.
The porch sign comes in two heights and three beautiful colors.  I love that it is sealed and then painted with acrylics.  These are all hand-made, one-of-a-kind items, so you won't see this on your neighbor's porch.
Pros
Unique shutter charm
Sealed for weather-resistance
Personalized
Hand-made
Cons
Best kept in a covered space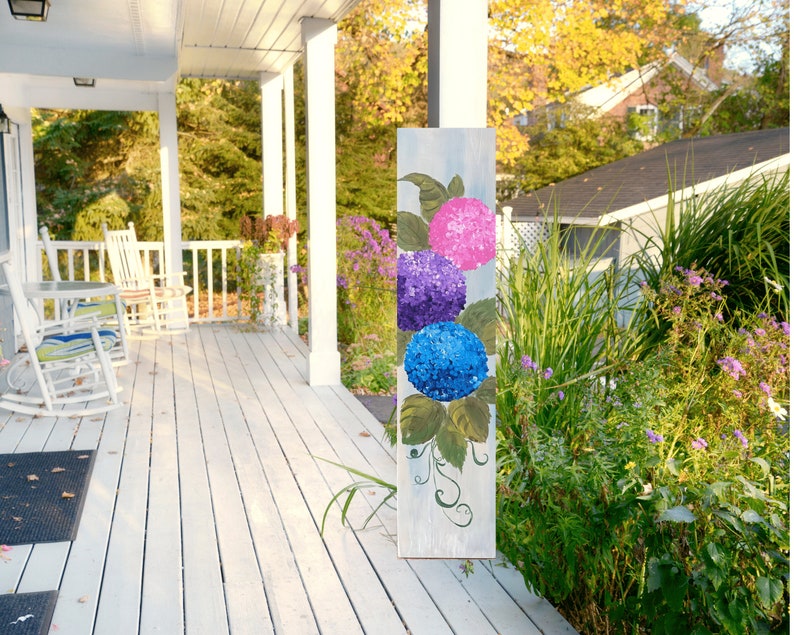 This gorgeous summer porch sign can be customized to include any text you would like on it!  Hydrangea blossoms boldly welcome the warm months, and I love the fun statement this makes.  The colors pop out, and I would have a welcoming text grace the bottom or top.  This is pine. However, it is sealed twice by hand to withstand the elements from a covered location on your porch.  The vibrance is exciting on this sign, and I could see myself using this indoors as well.
Pros
Hand-made in the US
Bold and Vibrant
Unique
Weather-resistant
5-Star Reviews
Cons
Pine-Wood (not as longlasting)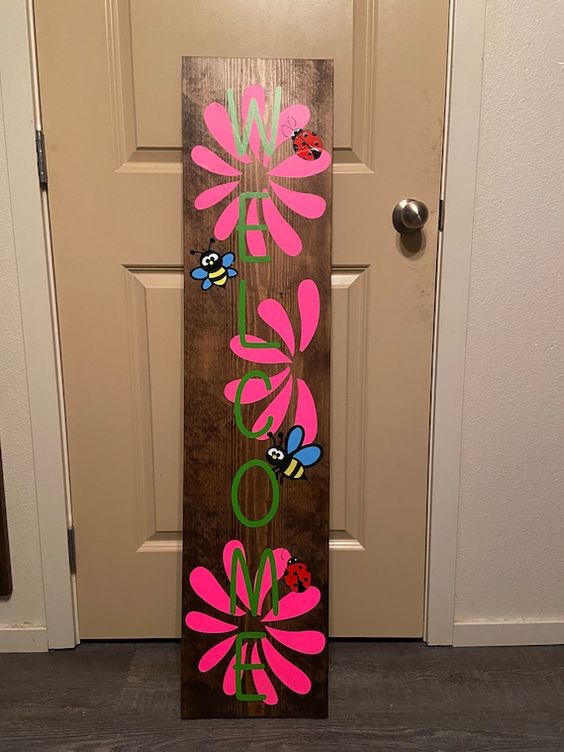 This bright pink floral sign has vinyl lettering, ladybugs, and bumblebees on it that are almost 3-D-like. I love the eclectic art and its informality of it.  Whimsical and a hint retro at the same time.  A definite conversation starter!  It is stained a dark walnut color and is sealed with an acrylic-based clear coat once the vinyl decorations have been added.
Pros
Handmade in the US
Fabulous whimsical appeal
Weather-resistant
300+ five-star reviews
Cons
Hard to see the lettering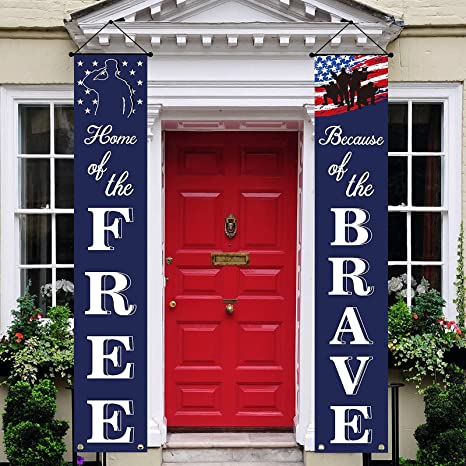 This whopping six-foot-tall porch flag sign gives gratitude to where gratitude is due.  Home of the free, because of the brave honors our nation's first responders in a splendid navy blue and white.  I love this because it is large, and everyone from the street can see it – it may brighten someone's day to know that their sacrifices are appreciated!  This retailer has 200 five-star ratings!
Pros
Weather-resistant polyester
Thick and wrinkle-free material
Six feet long
2 holes at the bottom for anchoring
Inexpensive
Cons
Can only be hung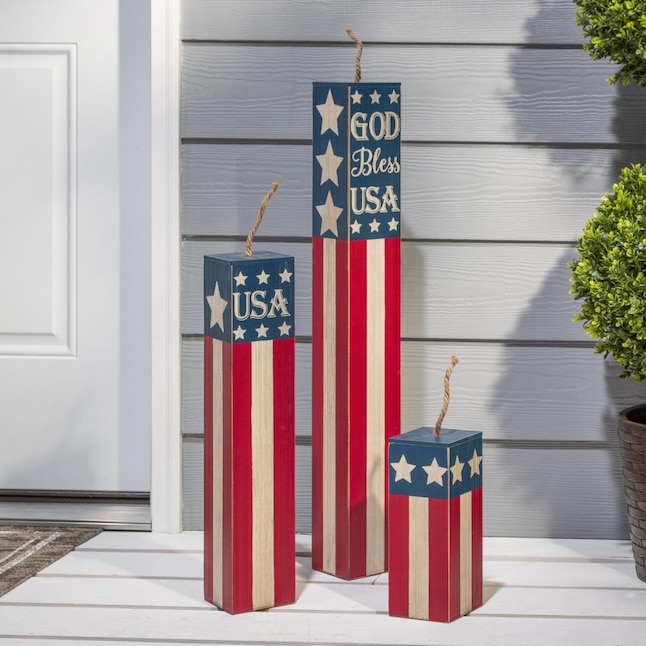 These are the cutest firework block signs for your porch!  I love the chunky wooden design with the American flag theme and rope for the wicks of firecrackers!  This is a convenient and must-have porch accessory for the fourth.  Crafted entirely of wood, this set is great for a covered porch away from the elements.
Pros
Unique block design
All wood
Easy to store
Convenient multi-placement
Set of 3
Cons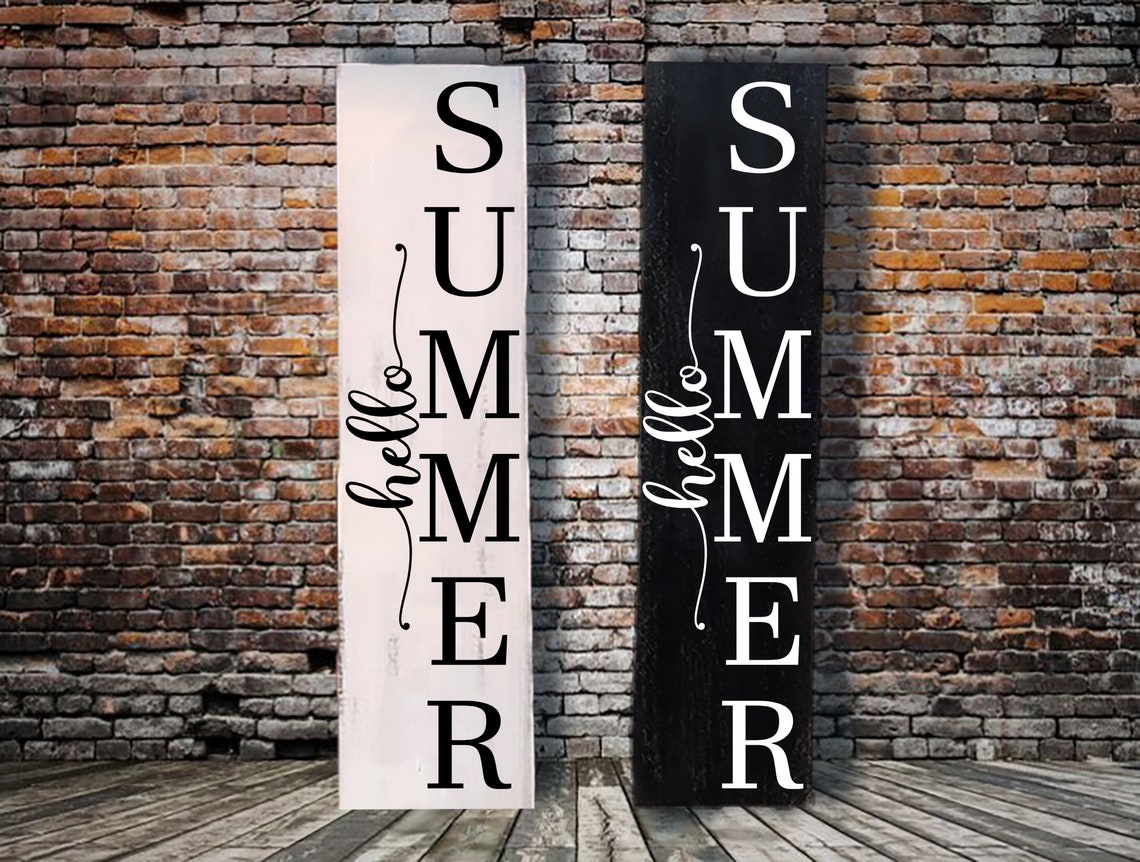 Dramatic black and white can stand on its own or complement a wide array of porch decor!  I love the ethereal beauty of black and white that will never go out of style.  These signs also have a certain "theater-esque" quality to them that makes me think of Broadway shows with the white and black happy mask/sad mask motif!  At home, anywhere outside or inside, they are double sealed for weather resistance.
Pros
Timeless appeal
Weather-resistant
Hand-made in the US
Sophisticated yet simple
Cons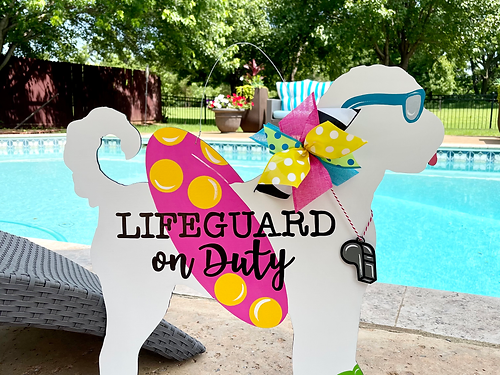 This friend will serve as a loyal protector of your pool and remind everyone to act safely while having fun.  I love the bursts of color from the pink innertube and yellow bow to really give your area a summer feel.  The whistle and sunglasses complete the picture, as does the little pink tongue sticking out!  This is 20″x20″ and has been weather sealed.  No vinyl stick-on is used; it is all hand-painted in the US.  Comes with a wire hanger in the back for convenient hanging.
Pros
Conversation piece
Weather-resistant
Handmade in the US
Gorgeous pops of color
Standing, tabletop, or hanging
Cons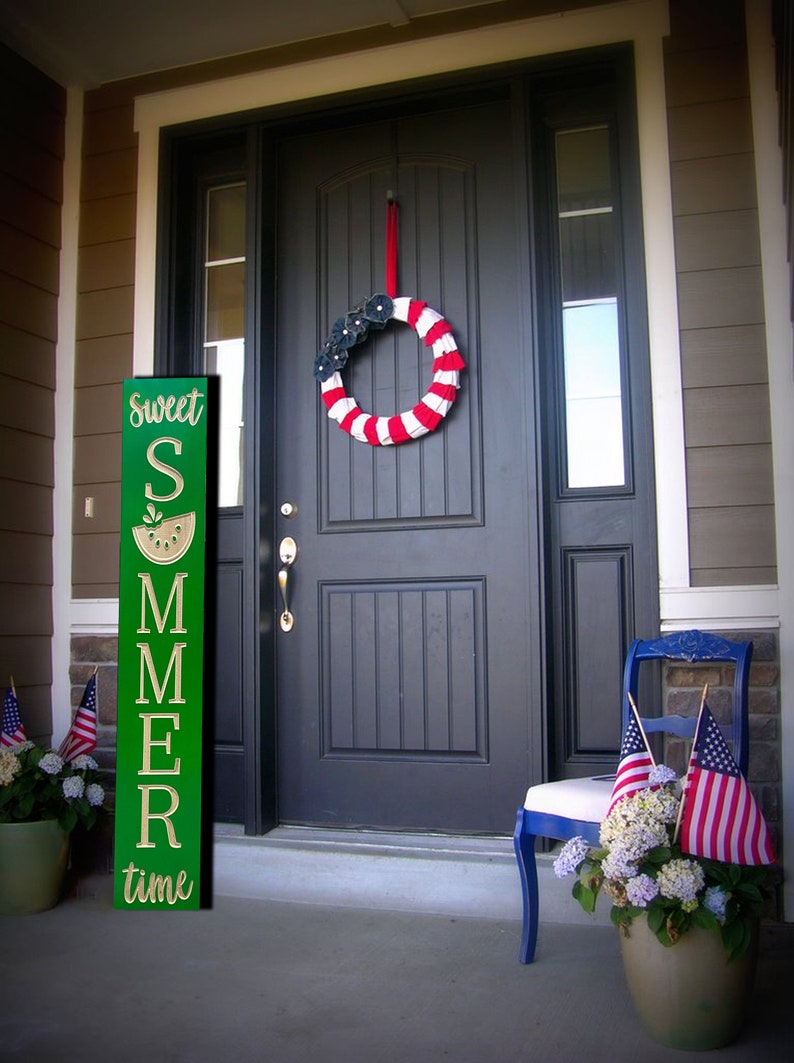 This is a great sign I would have in several of the 20+ colors it comes in!  I love the hand-carved detail of this solid wood porch sign.  Very classy and a strong statement to set near your front door. It will last for years because of the cabinet-grade weather-resistant wood used and the sealant.
Pros
Hand-made in the US
Durable and weather-resistant
Fantastic traditional style
Will last for years
Great customer service
Customizable
Cons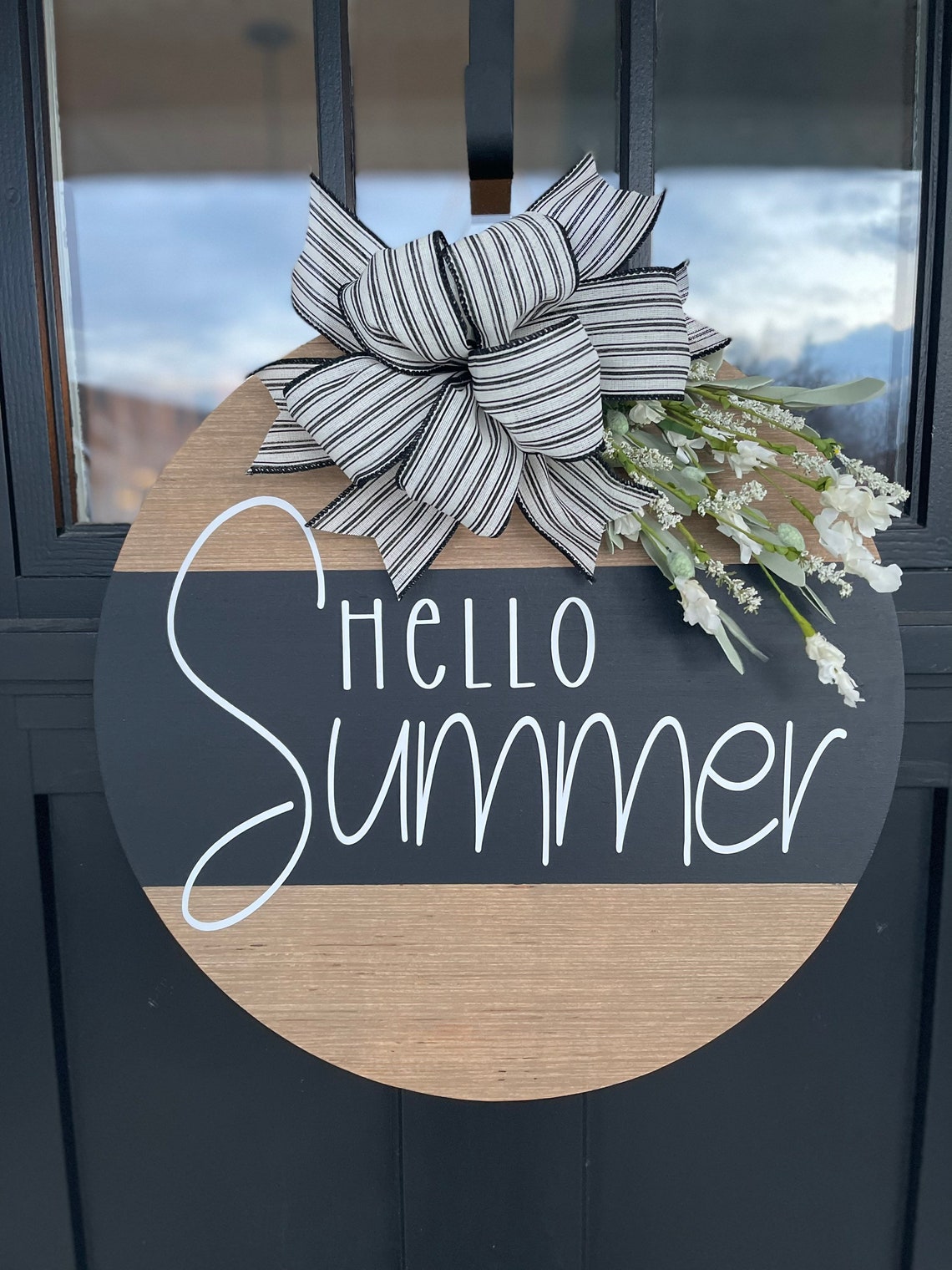 Elegant simplicity abounds in this 18″ circular summer porch sign.  I love the black and white design with the delicate, feminine flowers and bow giving it warmth.  This will blend with most decor as it is quite traditional and limited to two colors  – which is ideal for many people who aren't sure what will coordinate with their existing decor.  It is large enough to be seen from the street yet simple enough to grace a side or back door as well.
Pros
Weather sealed
Blends with most decor
Elegant and Simple greeting
The large size allows it to be seen clearly
Tabletop or hanging
Cons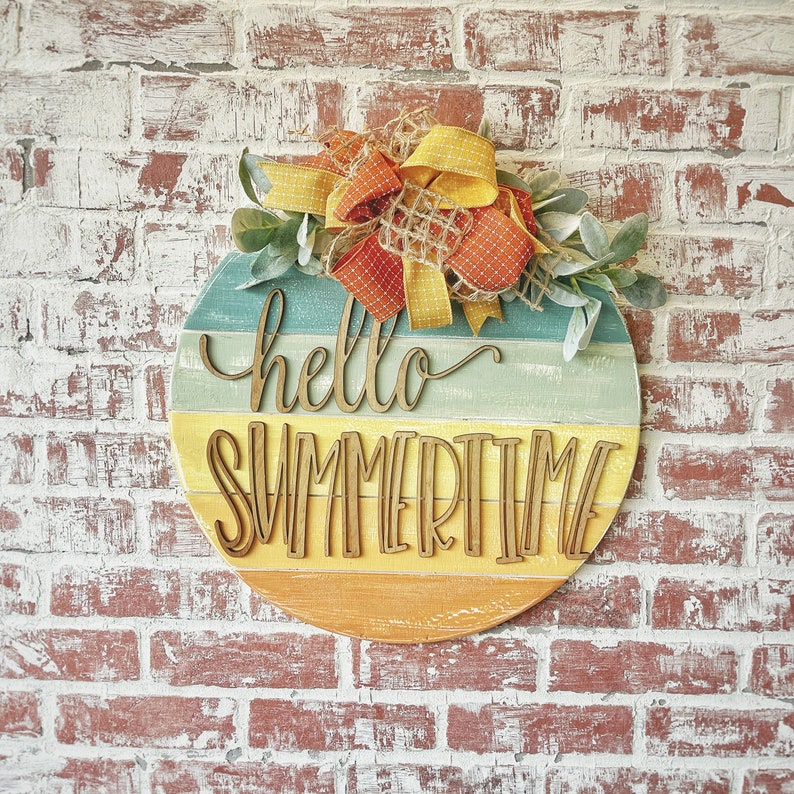 I love the durability of this country charmer.  At 18″x18″, it will be legible from the street, and it is 1/2 inches thick, so it won't warp or crack.  This is almost a vintage rustic piece that shouts out the arrival of warm weather and all that comes with it.  It is hand-made on Etsy, and the owner has almost 3,000 5-star reviews!  This is a porch sign that will last for years because of the sealant and paint used.  Sweet and spicy sign for the summer season!
Pros
Hand-made
Weather-resistant
Unique round design
Durable
Hanging or tabletop
Cons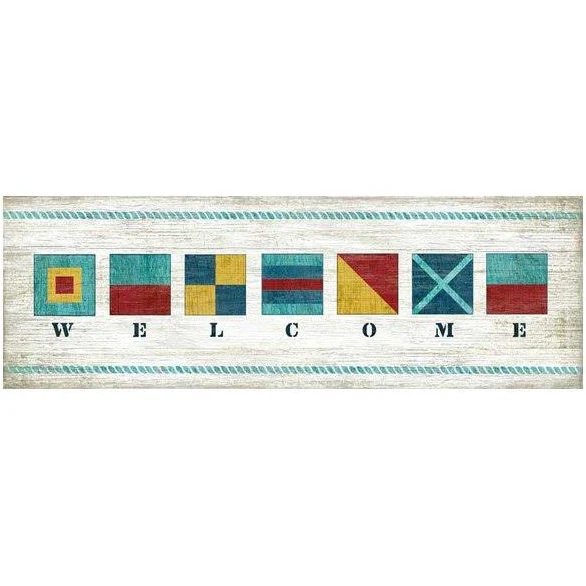 I adore this nautically themed welcome sign that is painted on distressed wood.  It immediately reminds me of summer on the water, whether that be sailing, swimming, ocean breezes, or lake boating.  The colors are so warm, and turquoise is one of my favorite colors (if it's not too bright, which it isn't here). There is no better way to invite summer to your porch than with this sign.  It comes in two sizes and is an original design by the artist. This is made to last through the years.
Pros
Original design by artist
Two sizes
Gorgeous deep color shades
1 inch thick
6 pounds
Cons
Should be clear sealed every year
FAQs
Question: What size should my welcome sign be on my porch?
Answer: A welcome sign or a summer porch sign should be at least four feet tall if you are planning to lean it against the wall.  With a small entryway and stoop, a four-foot sign would be enough, but a larger space that is farther away from the road or sidewalk would require a larger sign.  Larger signs are gaining popularity as people have focused more on home decor during the pandemic, and six feet is becoming more widely seen on large porches and homes that are set back from the street.
Question: Do I need to seal my wooden porch sign?
Answer: Yes.  It's all about protecting the wood so that your porch sign will last.  Usually, the shop or manufacturer will already have put at least one coat of polyurethane on your sign, but always read the fine print or ask that question.  Cracking, splitting, peeling, and warping are all things that could happen if your porch sign is exposed to rain, sleet, scorching sun, and other elements.  The seal will also protect it from rot and make it UV-resistant for brighter colors.
If your sign is in a covered area and not exposed to water or sun, you may be alright for several seasons.  Remember that humidity also plays a factor in breaking down the integrity of the wood.
To be safe, pick up a small can of sealant and paint it on once a year.  Your local hardware store will also have a lot of information for you on the subject.
Question: How do I keep my porch sign from blowing over in the wind?
Answer:  A fantastic way to keep your signs standing on your porch is to get some inexpensive Scotch or 3M Dual Locking Adhesive.  It works like mesh strips that you press together, but it is much stronger and "clicks" together.  It has two pieces, one sticky side, and one "locking" side.
Follow the directions to adhere one piece to your wall outside and one piece to your porch sign back.  (Make sure they line up).  Then just press them firmly together up and down.  My signs have stayed in one place through hurricanes!
Last Thoughts on Summer Porch Signs
Front porch signs are traditional staples for congeniality and neighborliness. A porch sign is almost a necessity for representing who you are and how you like to live.  It comes down to where on the spectrum you are for wanting social togetherness.
At the very least, an attractive welcome sign will present a front porch recognized for exchanging pleasantries with neighbors.  However, a front porch sign can easily highlight your enthusiasm for sharing time with others.  Having a summer front porch sign kicks it up a notch to let people know that you enjoy celebrating each season and the joys that come with it.  And that you're not afraid to take pride in your porch.  It lets others know that you "live" there and don't just sleep there.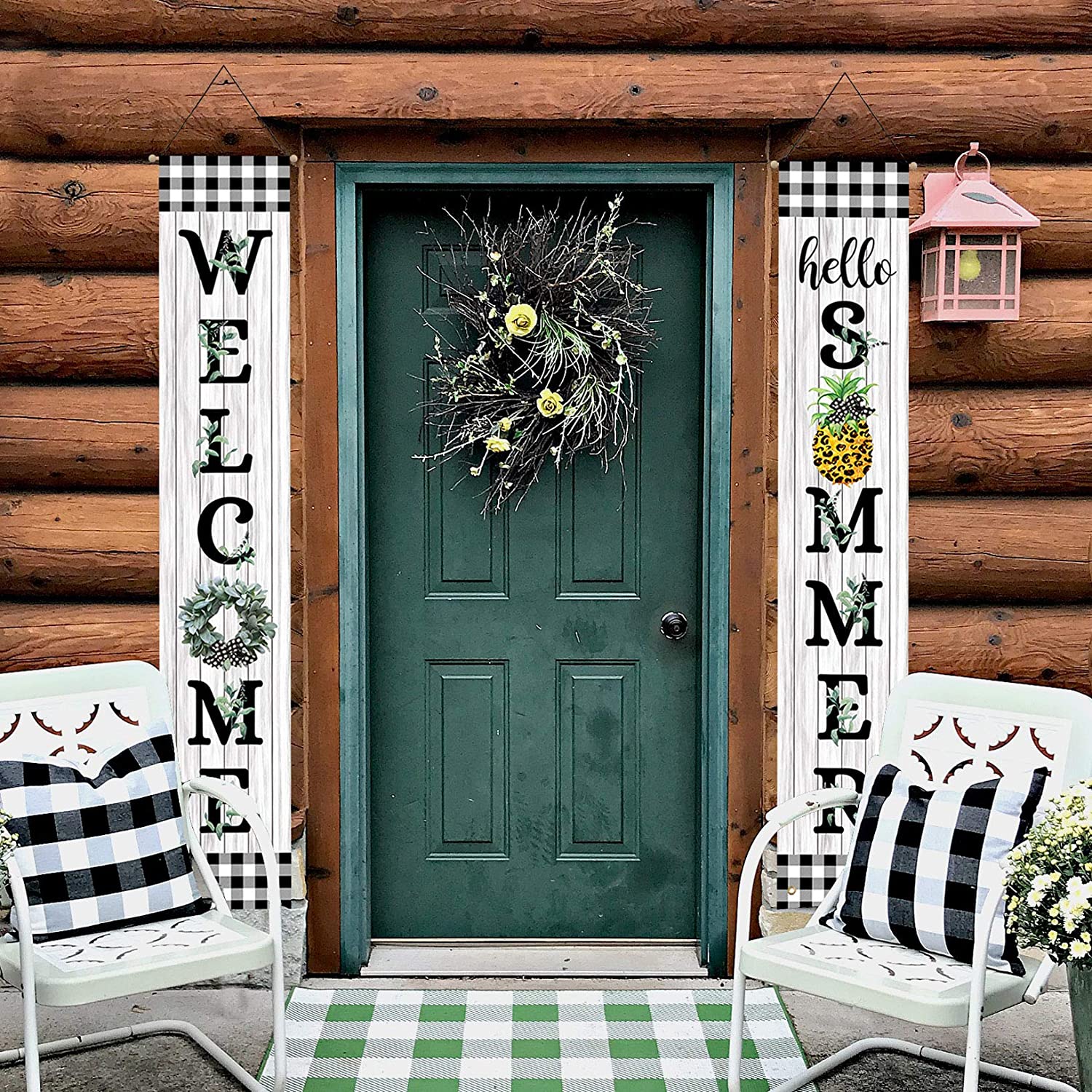 My favorite pick for summer porch signs is rich and gorgeously tall. Using a pattern similar to wood planks, they are eye-catching and immediately welcoming. I love that the fabric is weather and UV-resistant.  Grommet holes at the bottom allow you to adhere them to the wall or to items behind the sign to keep them straight.
The price point is amazing for such a perennial favorite, and it is perfect for "holding down the fort" until you find something else that you love!  There are no challenges with these signs, and I can have a bold statement and not spend more than I have!
Recommended Reads: