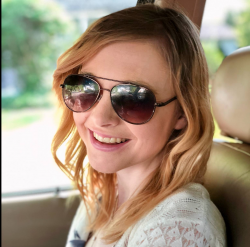 Latest posts by Erin Jamieson
(see all)
My late grandmother's garden shed was truly a magical place. It was here, under a tiny glass ceiling, where sunlight would stream in and she'd make landscaping plans. I was too young to help, but sometimes I'll have flashes of memory of how much that space meant to her, the same way my late grandfather loved his porch for grilling. Maybe that's why I've always wanted to have a space of my outside- and a side porch may be one of the best ideas for just that.
A side porch acts as an extension to your home. Unlike a patio, a side porch provides the illusion of elongating your home. It's a way to escape the chaos of everyday life and brings a surprising welcoming touch beyond the entryway. 
I'll take you through ways to design your best side porch yet to make the most out of it- whether you have a narrow side porch or a generous one. I'll also offer fantastic recommendations for lighting, furniture, and decor for a stunning space of your own. 
Bottom Line Up Front Summary
Too many people don't make full use of a side porch. What I love about side porches is that you can get a lot out of the space, no matter how grand or small. These design ideas encompass everything from modern to boho to Southern charm- all with a focus on versatility, value, and durability. 
If I were to recommend just one of these design ideas, it would be a simple, affordable, and versatile design like my cheerful narrow porch idea. It's simple, but easy to customize- and will work with any space and budget. Start with crisp white paint and an accent color, add a classic porch lantern and finish the design with a welcome mat and hanging plant.
My Top Ideas
Brick & Wicker Side Porch
Contemporary Southern Charm Side Porch
Cheerful Narrow Side Porch
Rustic and Romantic Side Porch
Low Country Side Porch
Cape Cod Side Porch
Minimalist Side Porch
Potted Plants Side Porch
Classic Screened-In Side Porch
Sun Room Side Porch
Dreamy Boho Side Porch
Beach-Inspired Side Porch
South Western Side Porch
How I Came Up With These Ideas 
Here's my perspective: some of the best designs come from your personality and creativity- and a side porch should reflect that. My goal is to inspire you to make plans and add your touches. But to do that, I focused on style, versatility, and durability. By balancing popular styles with designs that extend the use of your side porch, my goal is to get you enjoying the outdoors more. Here's how. 
Popular but Timeless Styles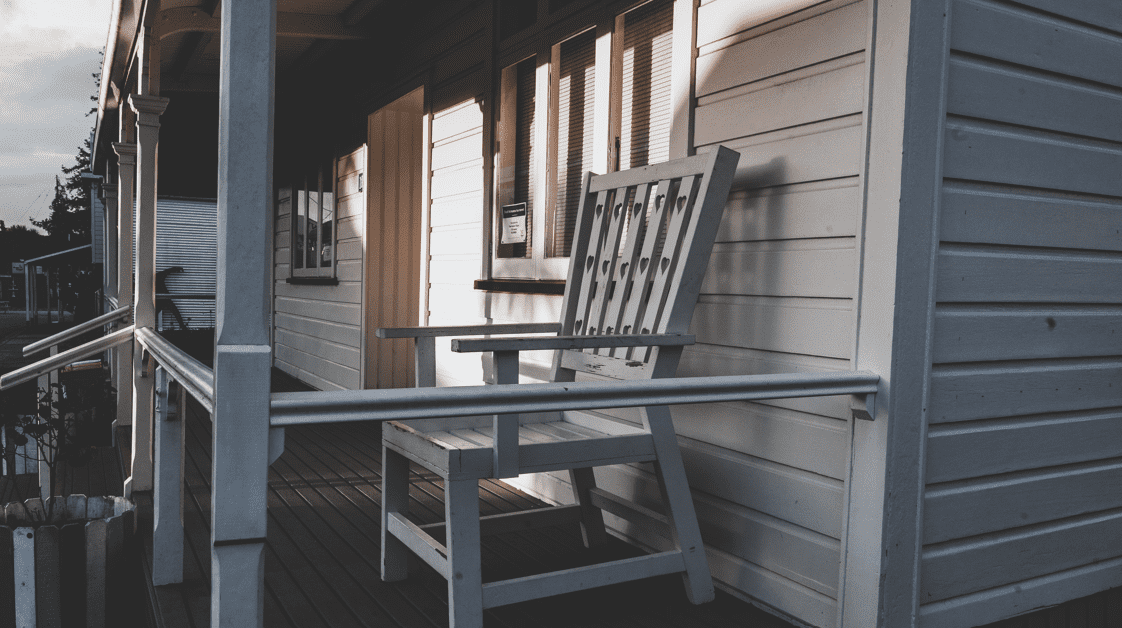 I want to showcase fresh, updated side porch designs- but also ones that offer some versatility and classic touches. Neutrals, warm earth tones, crisp whites, and blues were all on the table. Based on trends, regions, and pleasing designs, my ideas fall under the umbrella of these general styles: contemporary Southern, rustic/ modern farmhouse, cape cod/ New England, modern/ contemporary, and bohemian. 
Catering to All Budgets
If you've already had a side porch installed, you know that it isn't cheap! A report from Home Advisor found that a mere 200-square-foot side porch costs anywhere from $5,000 to $20,000 for most Americans- and that average is over $10,000. Even if you have a small side porch and great budget-saving hacks (like building your own), the point is, that you may not have tons of room for extravagant decorating. 
For this reason, I tried to be mindful of different budgets. I'm blending both saving tips, and more luxurious ideas, and always trying, regardless of budget, to recommend products that I think are a good value for the sticker price. And remember: it never hurts to use these ideas but be creative! I've often made great finds at the garage and rummage sales. 
Functional Space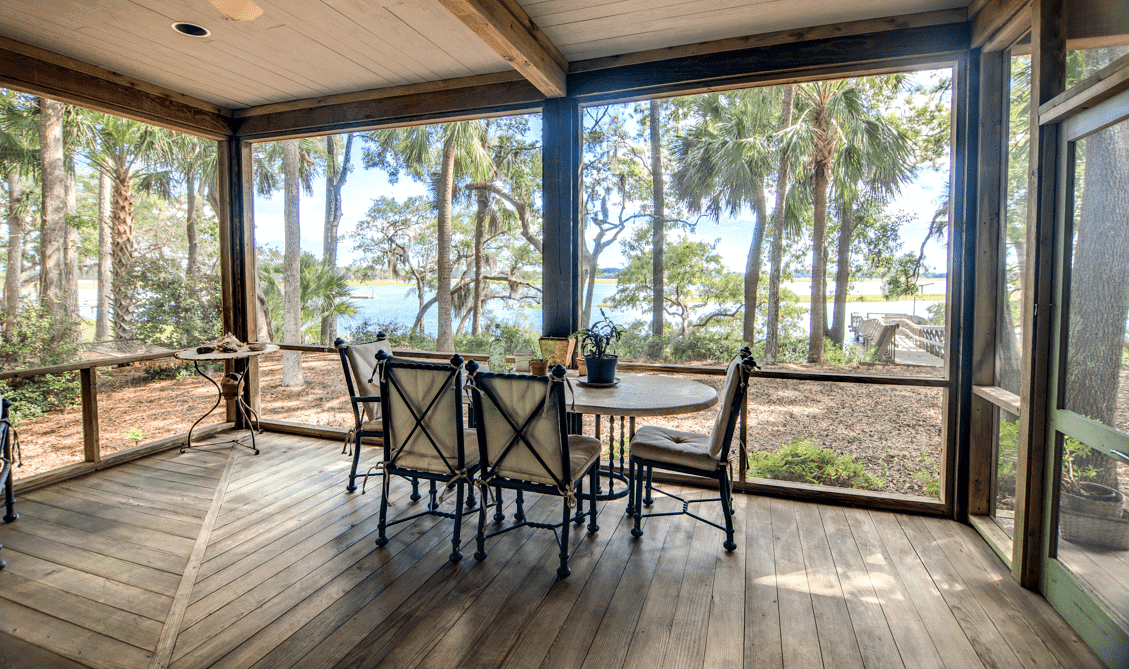 I believe that a side porch should not only be beautiful but also functional and practical. For this reason, most designs include a place to sit, entertain, nap, or read a good book. For bigger spaces, I'm showing too-covered designs for year-round use. But for the narrow side porch, I'm also showing how to get the most use out of your square footage. 
Materials For All Weather 
With product recommendations, I had a few things in mind: weather durability, value, and company reputation. I aim to offer ideas to give you a sense of what's available. While you can buy your products, all of mine- from decorations to umbrellas to porch furniture- are built to be weather-resistant, and only come from places that offer trustworthy and secure shopping. 
Side Porch Designs: My Ideas 
Here's a look at my favorite ideas for updating your side porch. From modern to Southern to boho and more, these ideas are not only stylish but truly transformative. I'm showcasing some of the top designs, with product recommendations to achieve the same look and feel. Here's to your next side porch project and some inspiration for your design plans. 
1. Brick & Wicker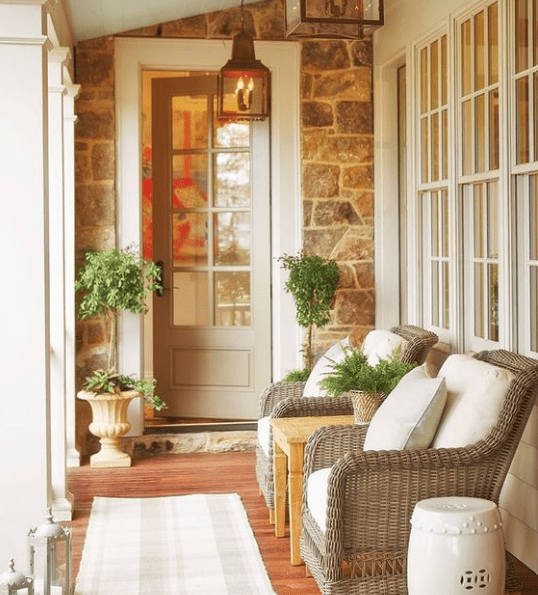 Classic red brick exudes warmth. I love how this stylish side porch could look at home just about anywhere. If you want a truly inviting side porch, then there's little more instantly charming as deep cushion wicker chairs. Pottery Barn has gorgeous, customizable chairs- but you can also shop Overstock for great deals. I love coordinating my chair cushion (think: ivory, white, peach, cream) with a small statement outdoor rug.Next, I'd paint your exterior door a tan or cream color. But to bring in versatile warmth, I think that a classic hanging lantern is a must. Meanwhile, I love adding a pop of green with a live topiary or an artificial topiary.
2. Contemporary Southern Charm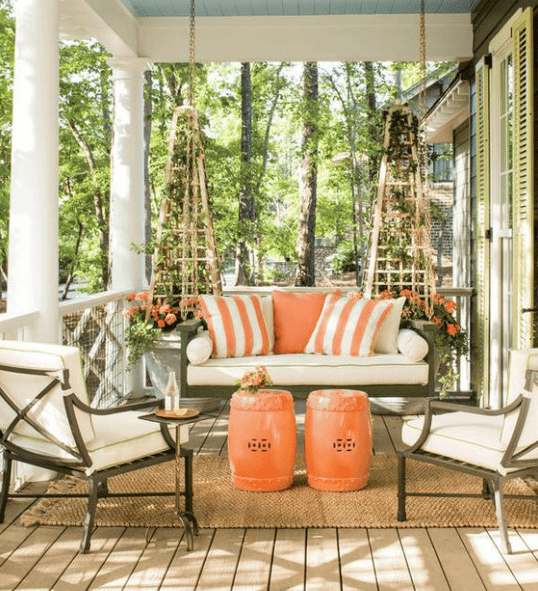 Look up porch ceiling ideas, and chances are you'll come across a lot of blue hues. There's even a whole collection of blue paint shades coined haint blue. And what that blue ceiling is doing for this side porch is making a fresh and bright contrast with neutrals and pops of orange. This side porch design reminds me of a bright Southern day, perfect for sipping sun tea or bringing out a glass pitcher of lemonade. Capture this beautiful design with a burlap rug, a mandarin orange glazed ceramic garden stool, and of course, some potted flowers. I think you can go a few ways with your chairs: Pottery Barn has premium modern cushion sofas, but to slash costs, you can buy a contemporary set for under $500 or just buy two comfy chairs from your local furniture store.
See also: Inexpensive Porch Ceiling Ideas [2022]
3. Cheerful Narrow Escape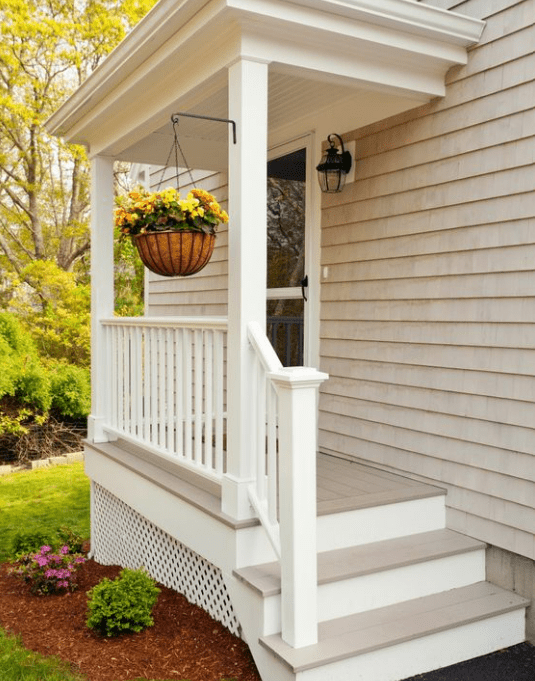 This side porch is simple- and that's the point. Not only do a lot of us have a narrow space to work with, but sometimes simple is the best way to go. I also love how this design shows that you don't need to do much to make an upgrade to your home. Add crisp white paint if you have steps. It makes neutrals and light gray pop. A darker porch lantern frames the look, but a hanging plant adds that needed pop of color. I'd also add a sandy brown welcome mat and you have a versatile and sophisticated side porch.
4. Rustic and Romantic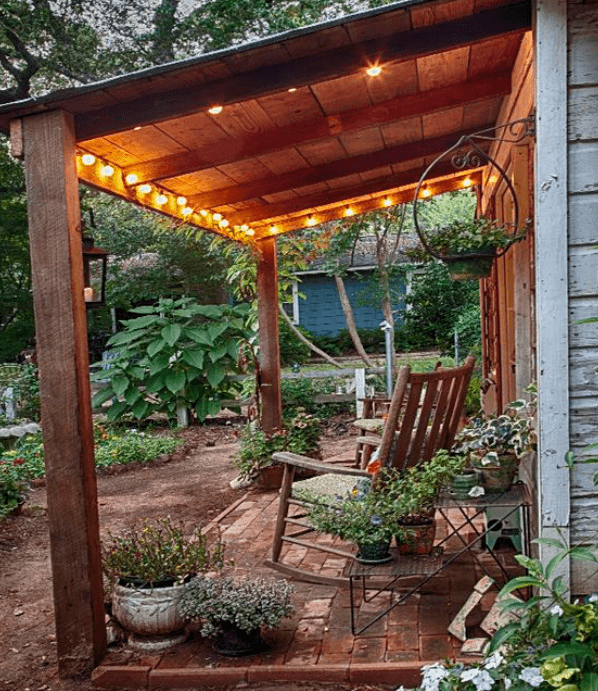 Rustic but elegant, this side porch design ties in lovely and enchanting bits of decor- and it doesn't have to be expensive! While this works best with a covered side porch, you can always hang your affordable, weather-proof string lights elsewhere- I prefer that to add many mounted bulb lights. Next, add one or two of either Polywood rocking chairs or save money with genuine hardwood rocking chairs-just make sure to oil them occasionally! But what makes this side porch design, for me, is the lush green accents. Buy potted plants from a local nursery, then tie the hues together with floral-inspired seat cushions.
5. Low Country Beauty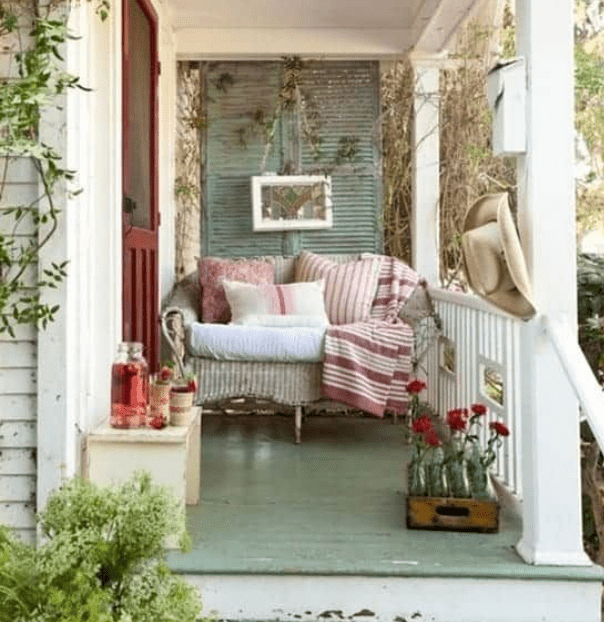 Whether you have a country home, a classic Southern home, or even an eclectic home near the coast, this side porch design is stylish and charismatic. You can show off your personality by pairing turquoise, rosy hues, white, and cream. I love that this look pairs vintage, romantic and classic styles for a one-of-a-kind look- and it's a natural design if you love thrift store shopping! Start with a comfy loveseat, adding striped accent cushions and weather-resistant blankets for a cozy place to nap. Hang a vintage-inspired picture frame, and then set out glass jars for freshly-picked (or artificial) flowers. Crawling vines and shrubs bring this look together- but don't be afraid to mix and match colors and patterns.
6. Cape Cod Cottage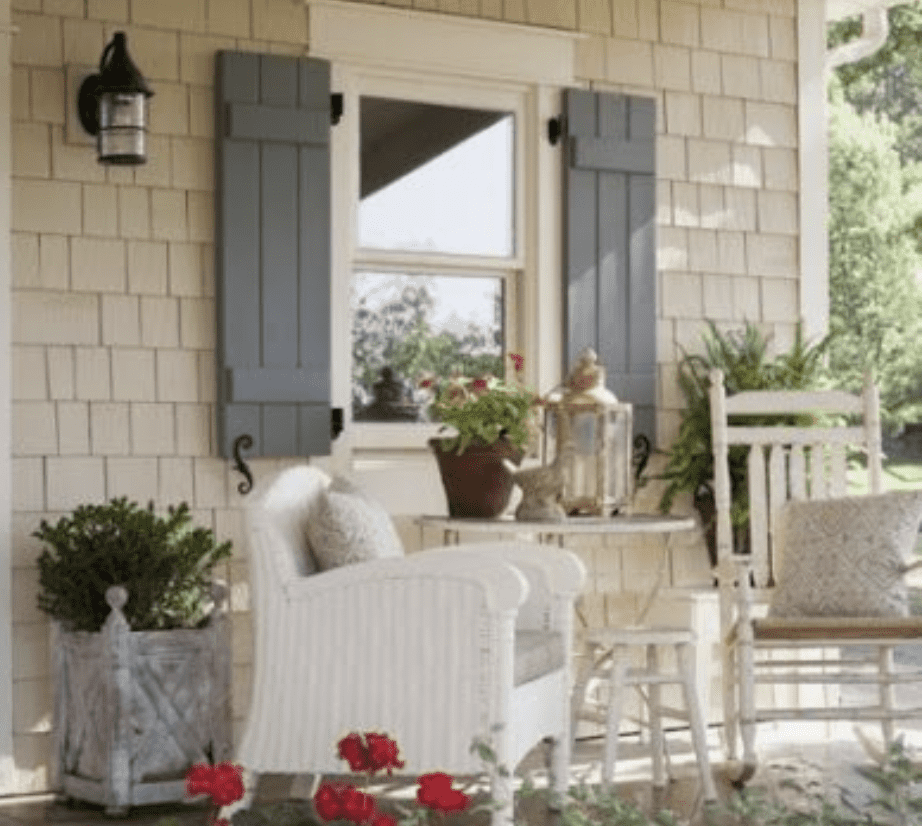 If I had to select one of these side porch designs just for myself, it would be this gorgeous Cape Cod design. I've always been fond of cottage-inspired designs and anything that reminds me of my travels to New England, but there's a lot to love for everyone with this side porch design. A white wicker chair pairs with a classic painted rocking chair for versatile seating. I love the side glass table for a potted plant and a decorative lantern with just a touch of gold. Red roses add that touch of romance and look lovely with slate-blue accents. I also like a modern lantern to add lighting as dusk sets.
7. Sleek and Minimalist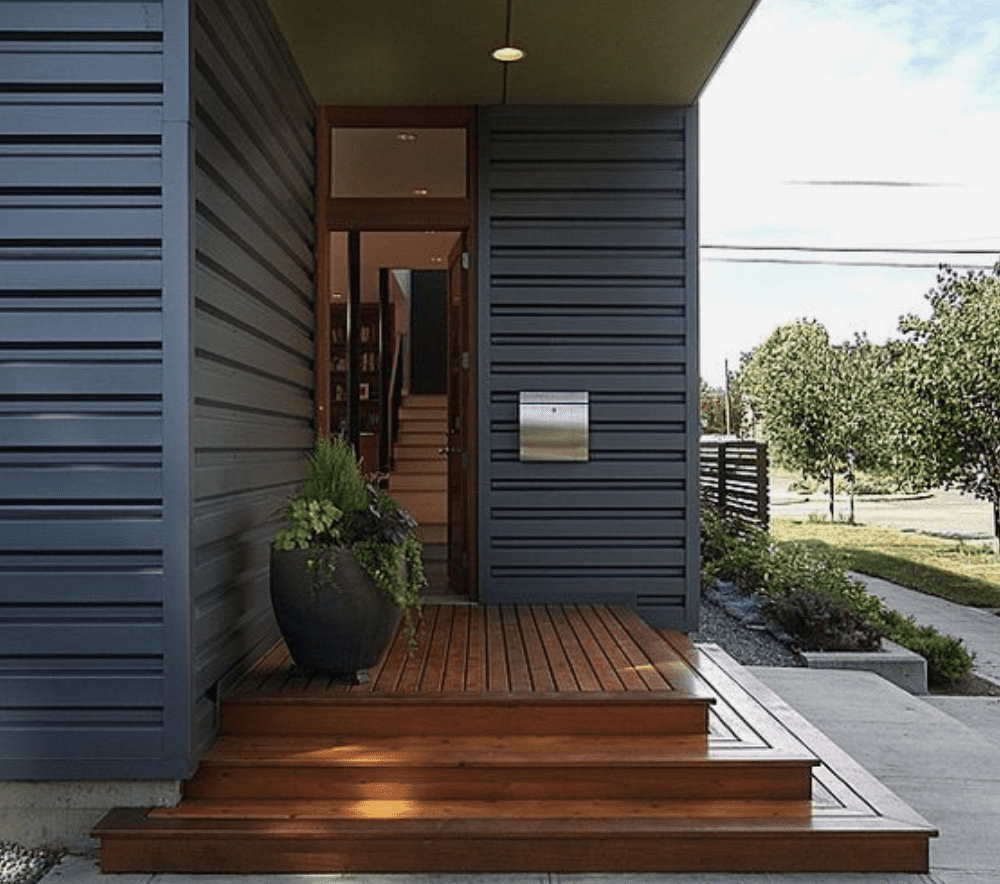 Less is more with this stylish, sleek, and modern side porch. What I love about this idea is that a lot of emphases is placed on clean lines and functionality. If you can, the tiered steps add a dramatic and stylish addition. But regardless, you'll want to pair metallics with darker tones. Here, a deep slate blue siding pairs with natural wood tones and is accented with a simple porch ceiling light. An oversized potted plant adds a bit of interest and proportion to an otherwise understated porch.
8. Potted Plant Enthusiast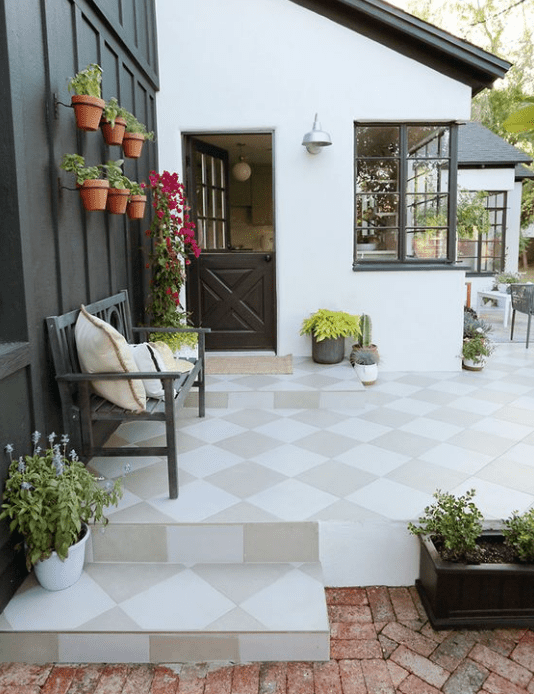 Modern side porches don't have to mean giving up your budding green thumb. What I love about this side porch idea is that it combines style with functionality. Don't have room for a garden? This side porch gives you a similar feeling, with less upkeep and a modern approach. Start by installing hangers for small potted plants on a back wall. Don't be afraid to be playful and innovative- pairing succulents with sprigs of flowers. You can even add realistic artificial outdoor plants for year-round beauty. I'd keep seating simple, with a stained wooden bench or a stainless black bench. And if you don't have the money for flooring, swap out the tiles with a statement rug.
See also: Best Black Porch Swing Ideas
9. Screen-In Oasis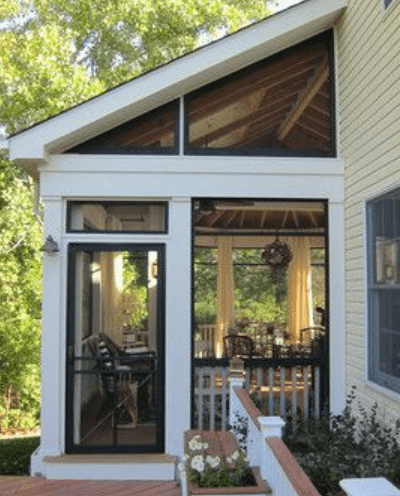 Have a lot of space to work with? A screened-in side porch is a great investment. Though screen porches are often a central piece of attention, having one on the side of your house provides even more privacy. You can have one professionally installed or slash costs with something like a netted pop-up screen. Leading into your screened-in area, I'd add a small side bench and a shrub for privacy. Add a little cafe table for bistro-style outdoor dining. And don't forget overhead lights for enjoying your space, no matter the time of day. I like adding a statement with something intricate (but not too expensive) like this hammered glass matte light.
10. Gorgeous Side Sun Room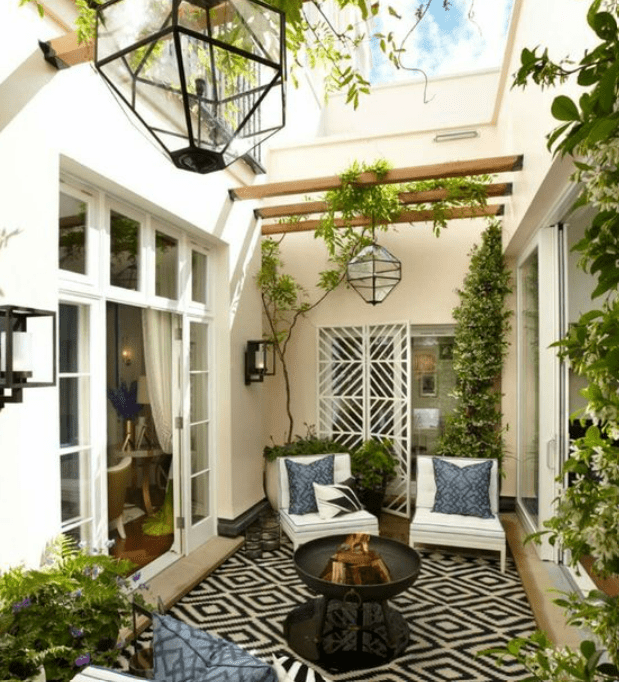 If you have a generous budget and generous space for your side porch, this sunroom design is about as striking as it gets. It's hard not to love an enclosed, sunny room with pops of modern allure. Glass ceilings can be professionally installed. You could also opt for an add-on like this Canopia Sun Room from Tractor Supply. A statement rug is an absolute must- and a geometric pattern provides modern allure. I'd pair that with deep-cushion lounge chairs, a decorative panel, and accent cushions. Keep your outdoor lanterns sleek and modern. But I'd argue that what makes this pop is the crawling vines and plush florals.
11. Dreamy Bohemian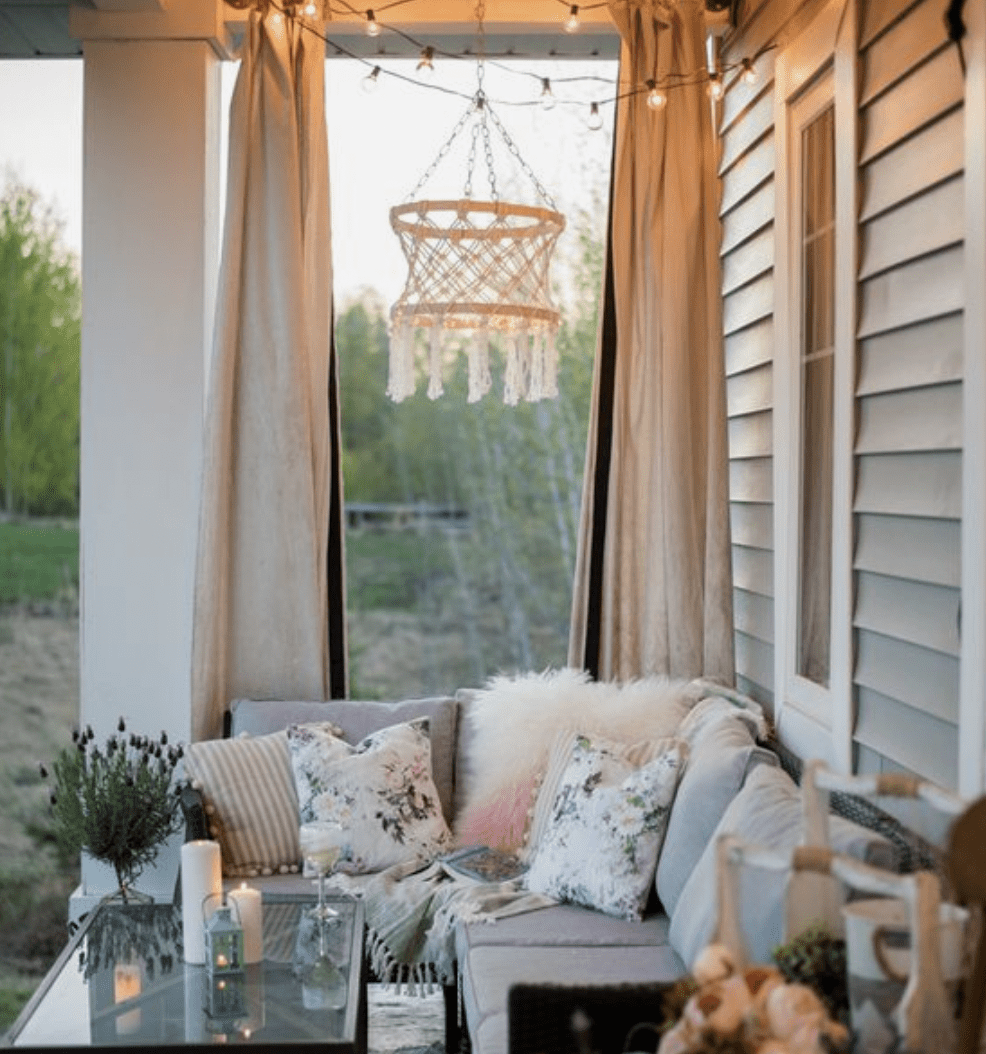 Just because you don't have a covered side porch, doesn't mean you have to give up privacy. I love the shade, privacy, and sheer ambiance of a boho-style side porch. Think pastel and dusky hues: soft pink, baby blue, periwinkle, and peach tie this look together. The show-stopper of this side porch is breezy, weather-resistant outdoor curtains. But I can't help but love the touches of decor, from dream catcher wind chimes to solar string lights, and even fluffy pillows and floral pillows. Add a turquoise throw, tea candles, and a mini lantern for that charming feel. An l-shaped outdoor sofa is perfect for napping- and if you're like me, an excuse to relax is much needed.
12. Beach Vibes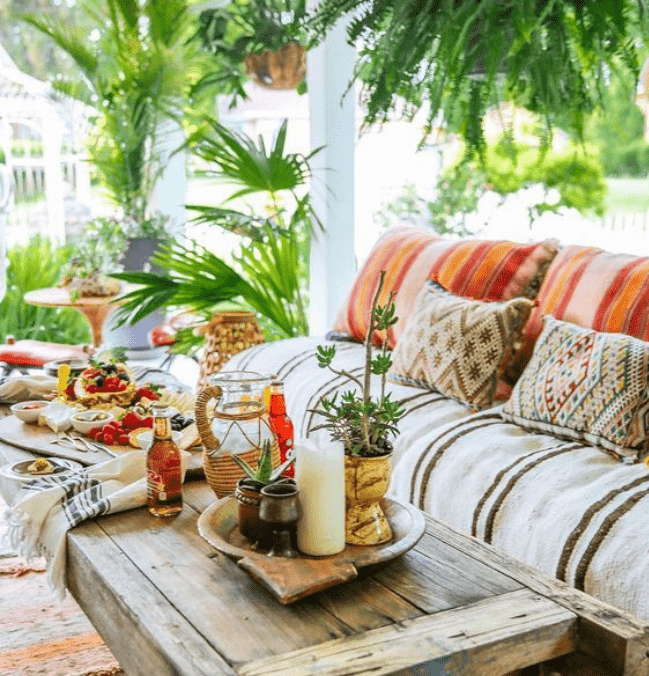 Florida immediately comes to mind, but this side porch idea is perfect for anyone who lives near a body of water. This playful and comfy beach-styled side porch challenges what a side porch has to be. Notice that there's no official paved area! Instead, there's a sandy, delightful slightly-covered area that feels natural, breezy, and is certainly eye-catching. Crisp white pairs with wooden tones and earthy tones, while stripes and patterns keep the look interesting and vibrant. I'd start with a distressed wood table and add a ceramic bowl as your centerpiece. Though not pictured here, this is the perfect opportunity for a tilted umbrella. Add in a cozy deep-seated cushion couch, and statement pillows, and swap out some stripes for beach-themed patterns. If you do live by the ocean, seashells on your table are the perfect finishing touch.
13. South-Western Warmth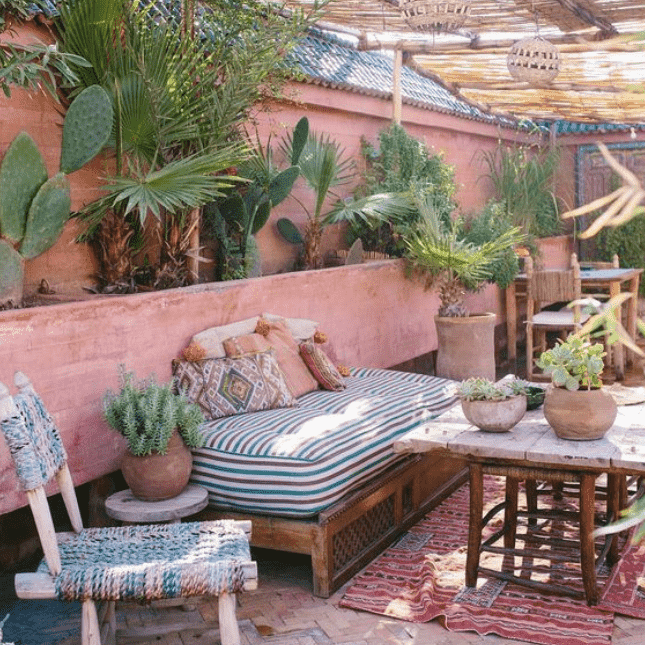 While this style wouldn't suit the region where I live, I'm very drawn to this warm, vibrant, and unique porch design. The dusky desert tones pair perfectly with baby blue and pop of green for a classic, beautiful Southwestern side porch. Even if you only have a small, narrow side porch, you can achieve this style. Potted succulents are a must, as well as at least one (or multiple) rustic side tables. The more potted plants the better (artificial plants work if too many would overwhelm you). But a must-have? A statement is a woven chair. This gorgeous Masaya Woven Lounge Chair is handcrafted in Nicaragua with genuine hardwood and weather-resistant polyester. Add decorative ceramic dishes, play with color, and balance earthy, bright, and green tones for an unforgettable side porch design.
Frequently Asked Questions
Question: What is a patio vs porch?
Answer: The terms patio and porch are often used interchangeably, but they mean different things. A patio technically refers to an extension that sits behind the home. Unlike porches, patios are almost always the same height as the ground and are seen as extensions. Porches, meanwhile, are directly connected to the home's foundation and sit at the front of the home. While almost all homes have patios, porches are an extra project- often added to extend the use of backyards and even add perceived value to a property. 
Question: What can I do with a small side porch?
Answer: You don't need a large porch to make an impression. A small side porch can become an instant reading nook, a spot for potted plants, and a great way to showcase your personality and style. I love the idea of adding a little hanging hammock to enjoy a side porch. Even small potted plants and a hanging light make the space feel like your own. Instead of cluttering it, decide on a focal point or two. That could be a great deep-seated chair or even a bonsai tree. Less is more with a small space. 
Question: Does a side porch add value?
Answer:  A porch has the potential to add value to a home- whether that's a grand porch or a small side one. Of course, a porch in the back of the home is usually going to be worth more than a side porch- but there are exceptions. The type of porch you add and the materials you use impact the value, and the housing market will too. Perhaps instead of counting on a porch to add value to your home, a better way to look at it is how it may make your home stand out or appear more attractive amongst other listings on the market. And of course, the best reason to add a side porch is for your enjoyment.  
Question: How can I add privacy to my small porch?
Answer: Even near a busy road, you can make small adjustments that add privacy to your modest porch. Hang up curtains if you have rafters. Blinds are an even better option- and can block out some noise, too. Just make sure that whatever you're using is considered weather-resistant. Other options include potted plants, furniture that faces the front of your house, and privacy panels. If you have a bigger budget, you can even install a screen for an enclosed porch. The downside to this is sometimes it's not practical and cramps a small space. 
Final Thoughts
A side porch is one of the best ways to extend your home. Whether you need a reading nook, are longing for a place for potted plants, or even want a place to rest, I think there's a lot that you can do. I hope that these ideas showed you that you don't have to have a grand budget or a large side porch to enjoy a unique space. If anything, it's these smaller additions that are spiking in popularity, and for good reason. So make your plans, but don't be afraid to get creative and add your personality to these side porch ideas and designs. 
Final Recommendations 
Not sure where to start with your side porch? In my opinion, it's hard to go wrong with a simple template, then branch out from there. My idea for narrow porches starts with crisp white paint and an accent color and adds a classic porch light and welcome mat for functionality.
Recommended Reads: