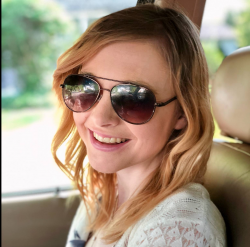 Latest posts by Erin Jamieson
(see all)
If I've learned anything about Ohio weather, it's that it's unpredictable. You can go from a mild, warm night to a cool night where a sweater is a must. But despite this, I simply love watching the seasons change- from the cool, sparkling beauty of fresh snow to the crisp array of autumnal hues. And this year, I want to spend more quality time outside. The good news: there are many heating solutions available for your patio to allow you to spend time outdoors year-round. 
Whether you have a covered or uncovered patio, small or large, I'll guide you to the best heating solution for your space. From when you should rent or buy, to choosing between a patio heater and a fire pit, I'll help you select the best type of heating for you. 
Next, I'll explain how to select the best patio heating option with the BTU output and quality features you need. And if you're still unsure where to start, I'll finish up with some of my favorite patio heating ideas- from fire pit tables to infrared heaters- so you can start enjoying your patio this year. 
Bottom Line Up Front Summary
Even if you live in a region where the weather can turn on a dime, you can continue to enjoy the outdoors. Both patio heaters and fire pits are great heating solutions- so long as you know how to select the right model for you. For pure heating purposes, patio heaters are no-nonsense and easy to use. Electric patio heaters are best for covered spaces, while propane heaters are a wise choice for open areas. If you want to create an entertaining space and keep guests warm, a fire table is a great alternative to a patio heater. Finally, if you just want a small burst of heat at a low cost, both tabletop patio heaters and tabletop fire pits are modestly-priced options. 
If I were to recommend just one of these patio heater solutions, it would be something like the Fire King Propane Patio Heater. Not only is it under $200, but it also provides excellent, versatile performance for any uncovered patio. It's safe to use, with tip-over protection and CSA approval. Plus, the 48,000 BTU heat output is more substantial than a lot of freestanding patio heaters on the market. 
My Top Picks
How to Select the Best Patio Heating Solution
 I want to be honest up front: even the best patio heater or fire pit isn't going to fully heat your space in winter. While a lot of that depends on BTU output and heat efficiency, you may still need to have a light sweater when truly cold weather hits. But that aside, both patio heaters and even some fire pits can make your patio more comfortable. But before you start shopping, here are my tips for determining the best heating solution for you. 
Renting vs Buying 
In most cases, buying a patio heater or fire pit is the more economical option. While renting a patio heater isn't expensive- usually determined by hours and fuel costs- you'll more than makeup for any money saved in a week or more of using a heater you purchased. Because of this, I recommend renting patio heaters for one-time events, like a party, or if you need supplemental heating for a short period. Otherwise, buy a heater that you can store away when it's not in use. 
Patio Heaters vs Fire Pits 

First ask yourself: is your main goal to simply heat a space, or do you also want to create a larger entertaining space with some ambiance? I like both patio heaters and fire pits- but for different reasons. Here's why I'd select a patio heater over a fire pit as a heating solution, or vise-vera. 
Select a Patio Heater If…
You're just concerned about heating and don't care as much about aesthetics

. Like pyramid patio heaters add some decorative touches, they don't quite achieve the same warmth as an open flame. 

You want something easy to store.

Aside from tabletop models, fire pits are harder to store than patio heaters and often heavier. 

You have a small patio.

Tiny patios are better paired with a patio heater vs an open flame fire pit. 

Safety is your number one concern.

Whether you have very young children or pets or just are worried, patio heaters pose less danger and risks than an open flame heating solution. 

You're worried about maintenance costs.

While not universally true, patio heaters are usually a little easier to maintain and have lower maintenance costs than fire pits.
Select a Fire Pit If…
You want a multi-purpose design. Fire pit tables can double as places to set drinks, store accessories, and even roast marshmallows! 
You love the look of an open flame.

Pyramid heaters with quartz tubes may be pretty, but they don't quite match the feel of an open flame. 

You're willing to take safety precautions.

The best fire pits for a patio sometimes have safety features- but you still need to be cautious near an open flame.

You want to make an impression.

Patio heaters- aside from

pyramid heaters with a spiral flame

– tend to fade in the distance; a fire pit is a focal point of attention. 
Natural Gas vs Propane vs Electric
While propane patio heaters and propane fire pits are the most popular, there are times when I'd recommend natural gas or electricity as your fuel source instead. Here's how to decide: 
Fuel Type 
Pros 
Cons 

Electric 

Easy to Use

Quick to Heat

Can Use Under Covered Porches 

More Expensive

Can Be More Expensive to Run

Reduced BTU

Natural Gas 

No Chemicals

Usually Cheaper than Electric 

Hooked to Gas Line 

Can't Use Under Covered/ Enclosed Spaces 

Propane 

Economical 

Increased BTU 

Cheap to Run

Bulky Propane Tanks 

Can't Use Under Covered/ Enclosed Spaces
Have a covered, small space? Always go with electric. Want the most versatile and lowest cost? Propane is probably the best solution for you. 
Types of Patio Heaters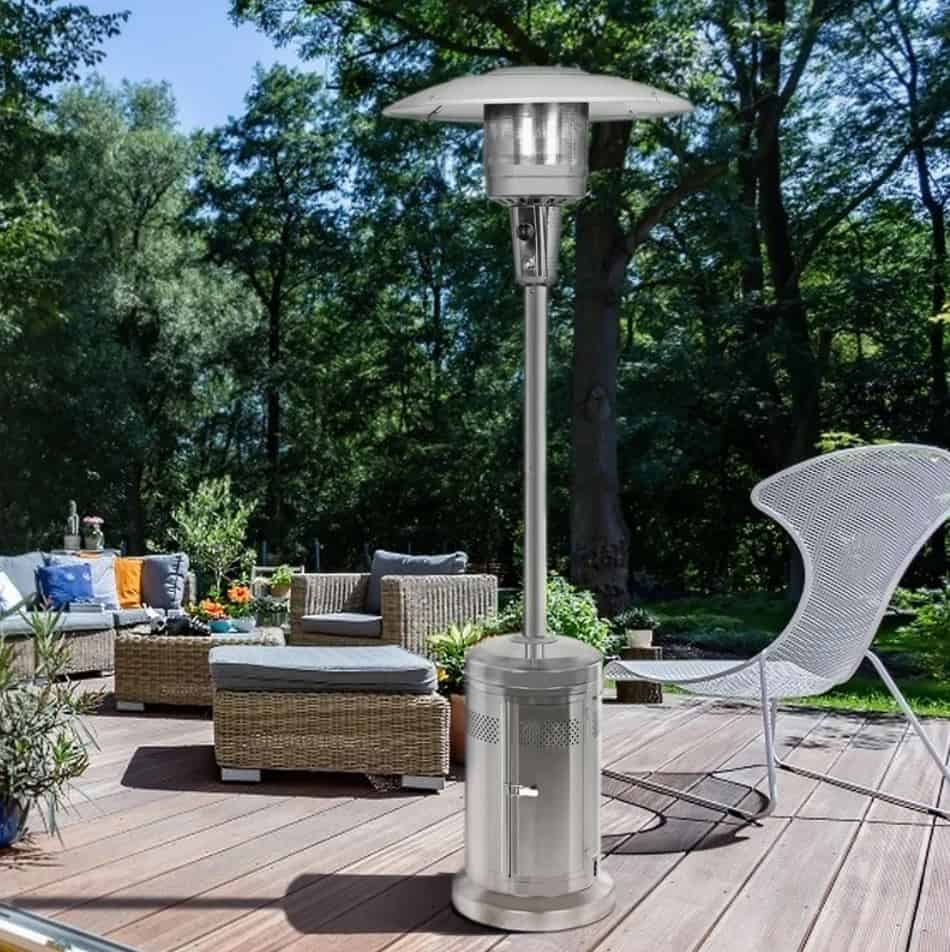 Settled on a patio heater? There are four main types you'll need to choose from: 
Tabletop Patio Heaters:

these aren't going to be effective for warming an entire patio, but will provide a burst of heat for a table. 

Freestanding:

This is the best heating solution for most people because you can move it freely as you need.

Ceiling/ Wall Mounted:

Best for targeted seating areas and enclosed spaces (covered patios, screened-in porches, etc) 

Pyramid Patio Heaters:

Pyramid heaters usually have a quartz glass tube and spiral flame. They're more expensive than typical patio heaters, may come with additional features, and are a great option if you're looking for something between a typical patio heater and a fire pit.
Types of Patio Fire Pits 
If you think a fire pit is better, I'd focus on two main types of fire pits for a patio. While you can buy portable fire pits, they're not very stable and are better for something like camping. I prefer a fire pit table or a tabletop fire pit: 
Tabletop Fire Pit:

If you want a table setting with just a little bit of warmth, then a tabletop fire pit will do the trick. But don't expect it to fully heat your patio. 

Fire Pit Tables:

Fire pit tables are a good solution for heating a certain region. With some great fire pit seating area ideas, you can carve out a space for guests to enjoy on larger patios.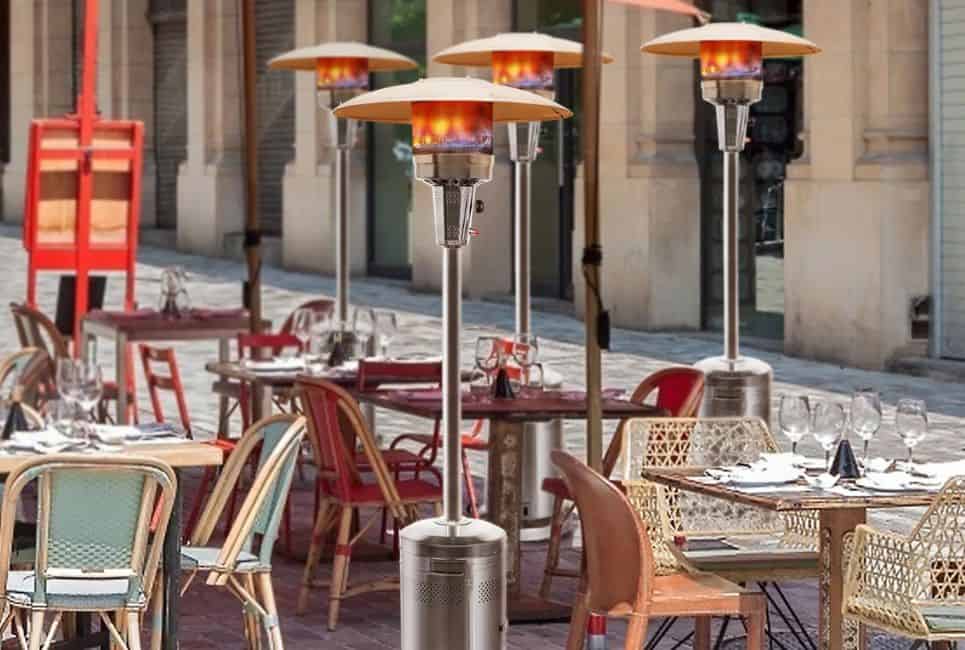 BTU Output & Watts
BTU output and heat radius are two things you must consider. If not, you're going to end up with a less-than-warm seating area. You can use an online BTU calculator to estimate what you'll need, or use the following formula: 
2,000 to 10,000 BTU for tabletop heaters/ fire pits 

Minimum 20,000 BTU for wall-mounted heater 

Minimum of 30,000 BTU for other heating solutions 

Preferred: 40,000 to 60,000 BTU for large patio spaces 
For electric heaters, a 2,000-watt heater is about equivalent to 6,000 BTU.  You're never going to get as much heat output from an electric heater, but I'd opt for no less than 1,500 watts. 
Special Features to Consider 
Patio heaters and fire pit tables have some features in common. From safety to efficiency to entertaining perks, here are a few I'd consider:
| | |
| --- | --- |
| Type of Feature | Features to Look For  |
| Heat Control & Efficiency  | Adjustable heat knob/ variable temperature, electric ignition, infrared (energy efficient- uses direct instead of radiant heat), adjustable flame (pyramid heaters & fire pits), remote control, smokeless |
| Safety Features  | Automatic shut off, ETL/ UL listed, CSA certification/ approved, anti-tilt, heat deflector to wind guard (fire pits)  |
| Aesthetics  | Quartz glass tube, spiral flames, lava rocks (fire pits) |
| Entertaining  | Wheels for portability (freestanding patio heaters), side trays or convertible design (fire pit tables), lights |
Of course, all of these features aren't must-haves. For patio heaters, I'd prioritize quality, then safety features. For a fire pit table, I'd prioritize a safety certification and possibly a wind guard- and then adjustable heating knobs. Meanwhile, spending more on an infrared model (electric patio heaters) could save you money in the long run. 
Quality Materials and Where to Buy 
This last step may be the step where the most mistakes are made: the overall quality of your patio heater or fire pit table- and how long it'll last- depends on how it was made. I look for weather-resistant materials and only buy from stores with a record of positive customer service. Here are my top tips:
Stainless steel and carbon steel are the best materials for strength and durability. Powder-coated metals can also work. Concrete, Polywood, stone, and brick, when maintained, are also excellent choices for fire pit tables. 

External customer reviews are important for understanding longer-term satisfaction

Warranties and other customer-friendly policies are a sign that the manufacturer is confident with their product's quality 

Make sure there are high-quality photos 

Look for descriptions with product specifications 

Only shop on websites with a secure connection and secure payment methods

When in doubt, head to a local home improvement store (Home Depot, Menards, Lowes, Ace Hardware) to ask about their patio heater solutions. But go in with a plan and budget in mind. 

If you don't know a company, check their Better Business Bureau rating and complaints on Trust Pilot 
You can find good deals on Amazon and Wayfair- or even Overstock. Just select your patio heater or fire pit table carefully, because quality varies. Setting a budget, BTU output needs, and must-have features means you're less likely to end up with something you don't like. 
My Favorite Patio Heaters and Fire Pits
Now that you hopefully know what type of patio heater or fire pit is right for your patio, here are a few examples of some of the best options. I selected one patio heater and fire pit in each category based on durable materials, features, and overall value. These patio heating solutions are all from stores or brands I'd feel confident buying from. 
EnerG+ Dual Element Patio Heater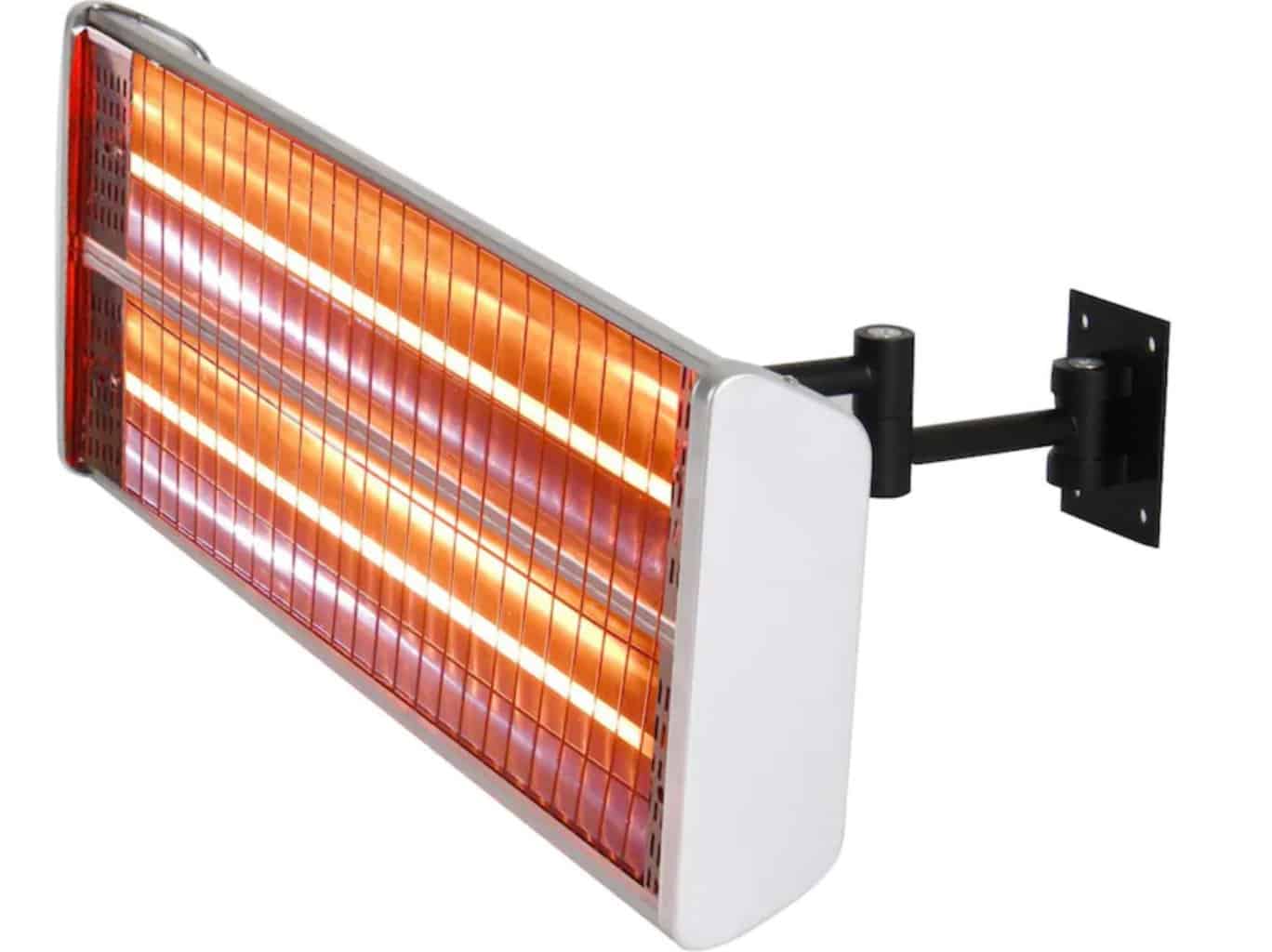 This is one of the best patio heating solutions for covered spaces. This space-efficient electric heater is also energy efficient, with infrared heating technology. But it's a great option even for uncovered, cramped patios. Certified waterproof, I love that this heater is both durable and provides two power settings (1500 watts and 750 watts), complete with remote control. You don't have to plan, as it'll heat up quickly and it comes with a one-year manufacturer's warranty. Buy Here. 
Pros
Infrared, Energy-Efficient Heating

Remote Control Heat Settings

Waterproof 
Cons
Modest Heating Radius 

Not ETL- Listed 
Fire King Propane Patio Heater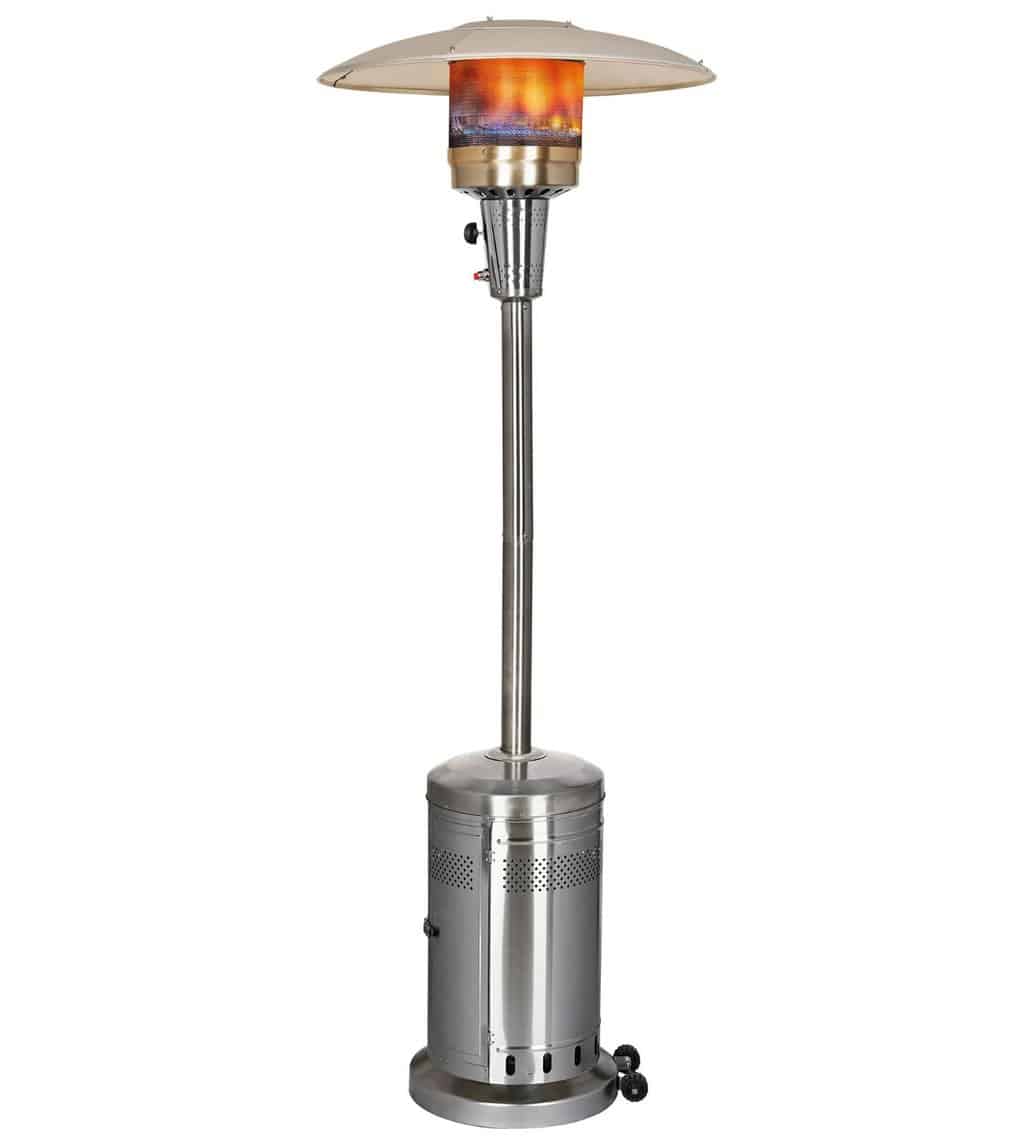 Freestanding patio heaters are popular and for good reason. They're the most versatile patio heating solution, no matter your patio size or situation. As so long as you don't have a covered patio, this classic freestanding propane heater is one of the best. With a heat output of 48,000 BTU, it'll keep your patio area comfortable even on those cold evenings. The tip-over switch is a great feature- especially combined with CSA certification. Not only has it been rigorously tested, but it's also made with a strong, lightweight, and durable stainless steel frame. And at this price, it's a bargain. Buy Here. 
Pros
CSA-Approved

Tip Over Protection 

48,000 BTU 
Cons
No Adjustable Heat 

Not Suitable for Covered Patios 
Heat Maxx Tabletop Heater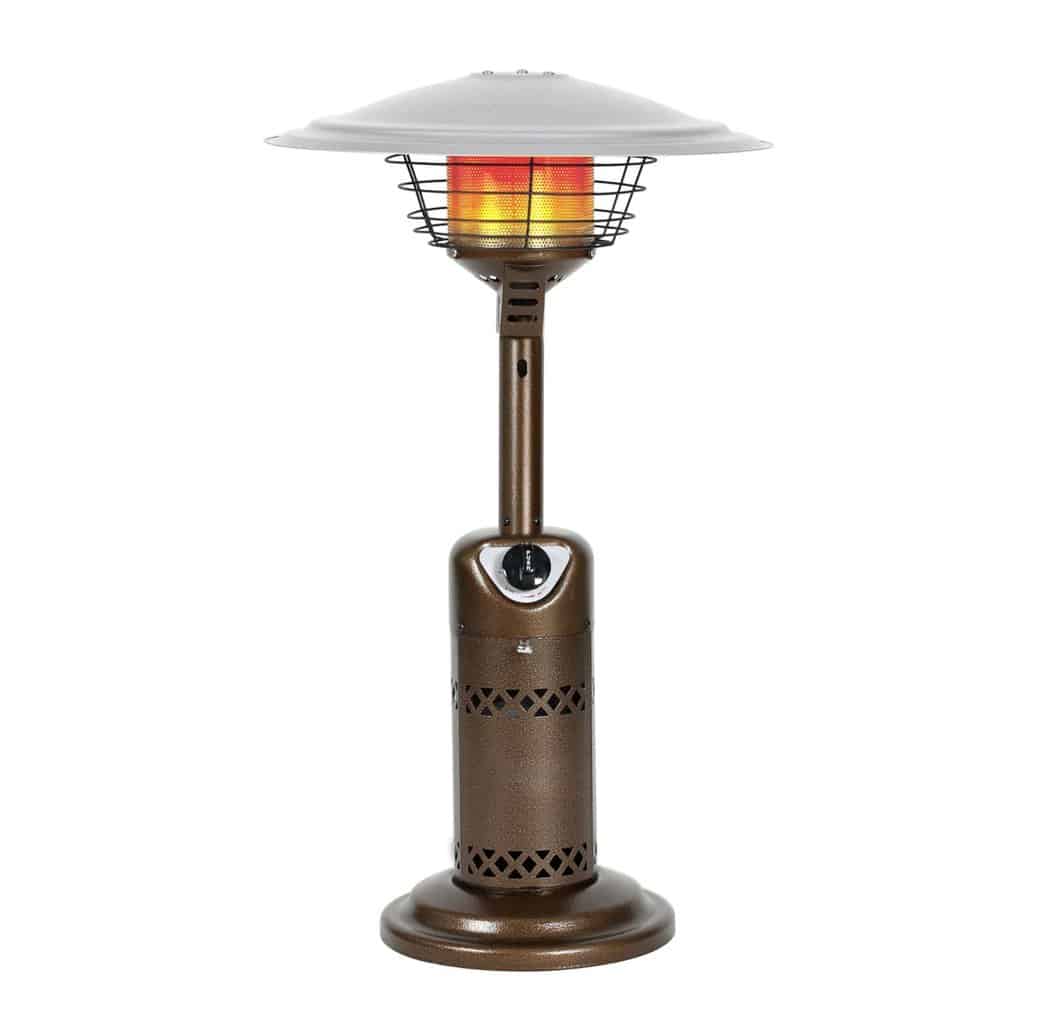 Sure, a tabletop patio heater isn't a heating solution for your entire patio. But if you're low on storage space- and live in a fairly mild climate- then this could make late Fall meals outside a bit more enjoyable. Unlike a tabletop fire pit, you don't have to worry about the flame going out on a windy day. It's fully weather resistant, with sleek stainless steel construction, tip-over protection, and electronic ignition. With that electric ignition, I like that you can heat your table more quickly, but with the advantage of the lower operating costs of propane. It even has an automatic safety shut-off and is CSA-approved! Buy Here. 
Pros
Auto Shut-Off and Tipover Protection

CSA Approved

Electric Ignition
Cons
Not For Enclosed Spaces

Modest Heat Output (10,000 BTU) 
Pyramid Flame Heater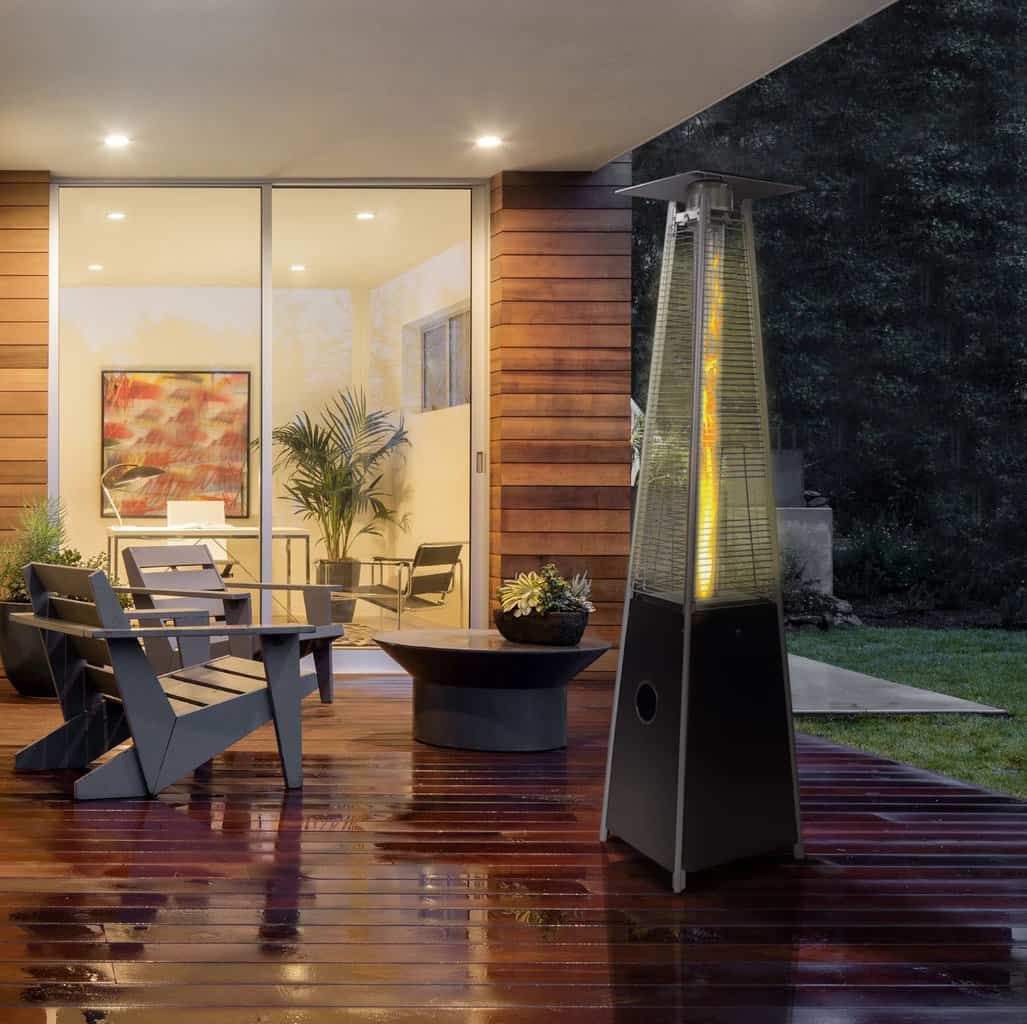 If you're torn between a more practical patio heater and the ambiance of a fire pit, why not consider a striking spiral flame patio heater? This dazzling patio heater is built with stainless steel, powder-coated frame to endure all types of weather. Electric ignition makes it a breeze to use- and the 42,000 BTU heat output is suitable for heating a generous seating area. It also stands out for its portability (wheels included) and ETL listing. Plus, adjustable heat allows you to control your gas output.  Buy Here. 
Pros
ETL Listed/ Tip Over Protection 

Wheels 

Electric Ignition with Adjustable Heat 
Cons
More Expensive than Classic Patio Heaters

Difficult Assembly 
Ocean Rock Tabletop Fire Pit
Maybe you're just looking for a replacement for candles. This tabletop fire pit provides more warmth and reliability- and it's priced well under $100. It uses bio-fuel for a smokeless design– which is great if you have allergies like me. It also means less and less maintenance. I love the striking design and windshield and heat deflector, too. Buy Here. 
Pros
Under $100

Smokeless

Wind Guard
Cons 
Modest Heat Output

No Adjustable Flame 
Foowin Fire Pit Table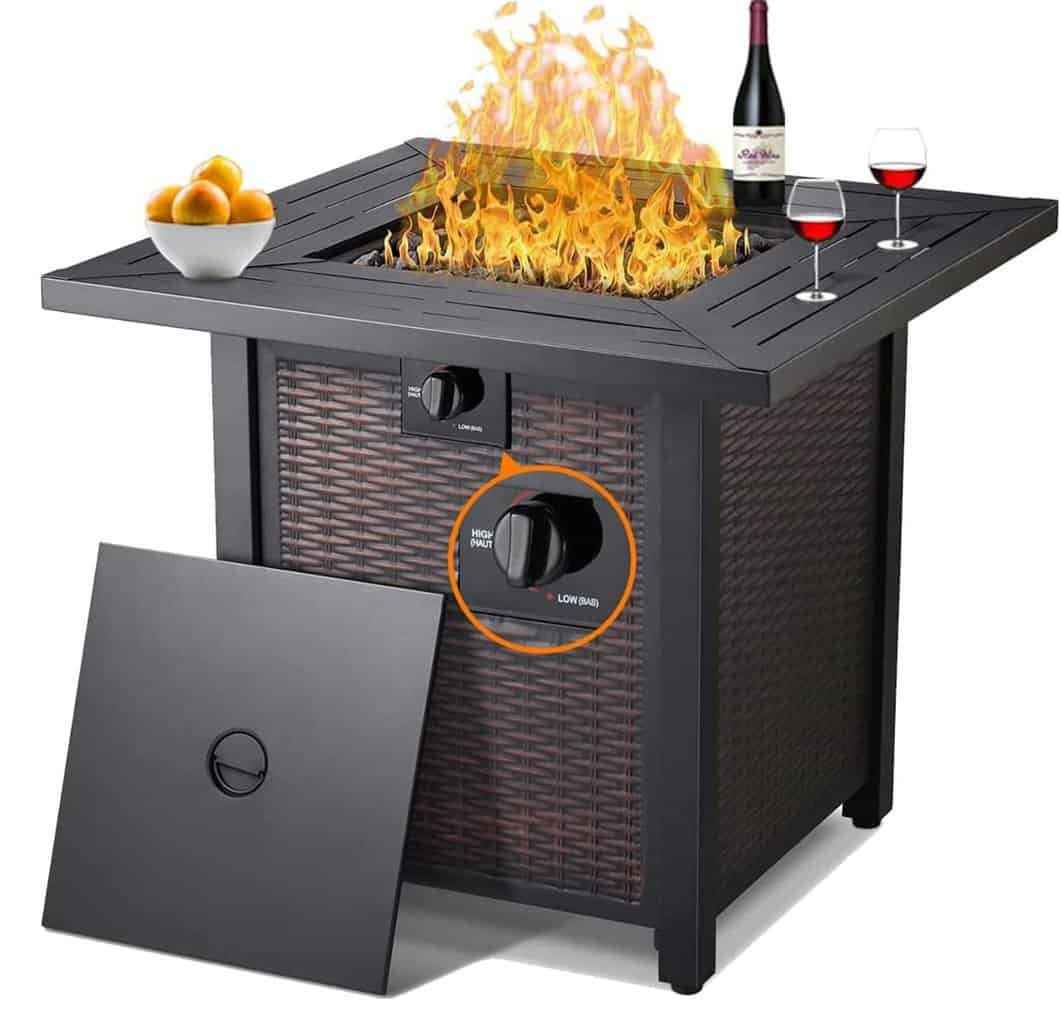 With clean lines but a touch of wicker, this fire pit table strikes a balance between modern, classic, and cozy- and proves heating a patio can come with a bit of style. If you just want a heated corner of your patio for entertaining, this fire pit table is one of the best values. Available in a 28-inch square size or 43-inch rectangular model, this fire pit table is rustproof and fade-resistant. I love the convertible design, easy access propane panel, and CSA certification. Plus, the heat output of 50,000 BTU is more than I'd expect for the price point. Buy Here. 
Pros
50,000 BTU

Convertible

CSA Certified
Cons 
Resin Side Panel Not as Strong 

Tricky Assembly 
Polywood Round Fire Pit Table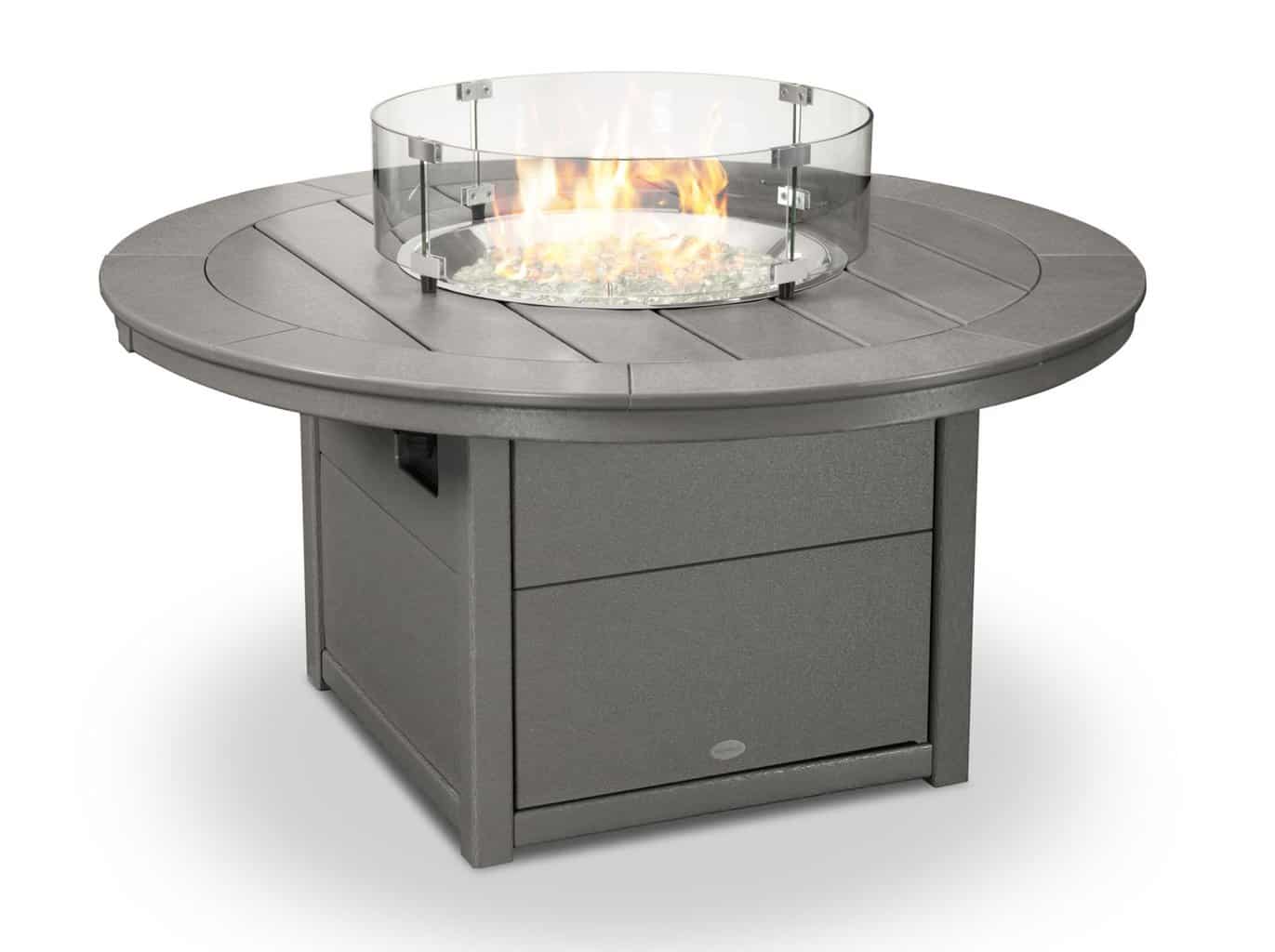 Of all the patio hearing solutions on my shortlist, this is the most aesthetically pleasing, perhaps the most durable- but also the most expensive. Made with premium Polywood and stainless steel burners, you can custom order from a range of colors. The 48-inch size is a great idea for a family gathering. I love that you don't have to worry about rusting, fading, or splintering. It's made in the USA with Marine-grade hardware and comes with an impressive 20-year warranty. Make sure you check out the other models on the Polywood site if you like this design. Buy Here. 
Pros
20 Year Warranty 

Made in the USA

Low Maintenance
Cons
Expensive 

Only for Large, Open Patios 
Frequently Asked Questions
Question: What is the best way to heat a patio?
Answer: The best way to heat a patio depends on if it's covered or uncovered, and your personal preferences. If heating is the only objective, a propane gas patio heater is one of your best options. It's easy to control, relatively inexpensive, and versatile. But electric patio heaters should be used instead if you have a covered patio, screened-in porch, or tent. Meanwhile, a fire pit is a good option for anyone who wants both heat and the ambiance of an open flame. Fire tables are excellent for multipurpose heating and tabletop fire pits, while providing only a burst of warmth, are a natural alternative to candles. 
Question: What type of patio heater works best?
Answer: Different types of patio heaters work well under different conditions- but infrared heaters are the most energy efficient and environmentally friendly. That's because they use direct heat vs radiant heat. In other words, infrared heaters heat directly, rather than warm the air around them. And while the initial sticker price can be higher, infrared heaters save you money over time by reducing wasted heat and energy. 
Question: How do you heat an uncovered patio?
Answer: Uncovered patios can be heated with both patio heaters and fire pits. That includes electric, propane, and natural gas models. Propane fire pits and heaters are the most popular option, due to their cost effectiveness and their higher (on average) BTU output. Choose a patio heater if you mostly are concerned about warming space in winter, but choose a fire pit if you also want an area to entertain with. Those with smaller patio areas will find heaters to usually be more practical than fire pits. Also, patio heaters may require less maintenance than fire pits. 
Question: Can you use a patio heater under a covered patio?
Answer: You can use an electric patio heater under a covered patio but should avoid gas patio heaters and most fire pits. The reason: electric patio heaters are typically safe to use indoors and outdoors, In contrast, propane and natural gas patio heaters require ventilation- just as open flame fire pits do as well. Except for an electric tabletop fire pit, most fire pits need to be used only on uncovered patios or fully outdoors. 
Final Thoughts
Just because cool weather hits, doesn't mean you have to head indoors. If you're looking for heating solutions for your patio in winter, there are many options available. If you simply need to heat your patio, a patio heater is probably the best bet. If you want ambiance, heating, and entertainment space, I'd consider a fire pit table. And if you're just looking for a solution for a special event, patio heater rentals get the job done. Just remember to use a patio heater/ fire pit cover when it's not in use! Your heater or fire pit will last longer.
Final Recommendations
Still, trying to decide on the best heating solution for your patio? It's hard to go wrong with a classic freestanding patio heater like Fire King Propane Patio Heater. While it's not intended for enclosed spaces, it's otherwise very versatile and has great overall value. With both safety features and a BTU output of 48,000, it's one of the best affordable patio heating options.
Recommended Reads: