I am an interior designer with a passion for gardening and creating beautiful and comfortable outdoor spaces. My front porch is my favorite place to hang out and I am constantly adding to, changing up, and redoing my outdoor décor. 
Spring has arrived, and it's finally time to get back outside and enjoy our porches again. Whether your porch is small or grand, a swing is a fantastic seating option. There is just something romantic about swinging on the porch.  And swings come in so many styles and sizes, one is bound to fit your space and budget.
Small Porch Swing Ideas
Do you have a tiny spot, like an apartment balcony or a stoop with a small overhang? There are more options than you might think for a small space. Here are some of my favorite porch swing ideas for smaller porches, side porches, or anywhere space is at a minimum.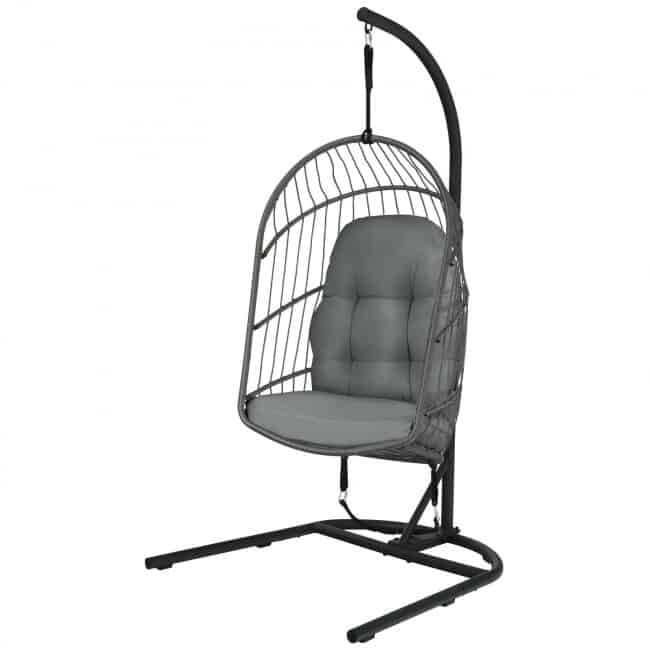 I love this Hanging Wicker Egg Chair for several reasons! I think the color choices available make this egg chair appealing to everyone who is a fan of farmhouse decor for their front porches. Plus, I think Egg Chairs are so fun to see because they aren't a typical choice for a lot of people decorating their front porches.
I think this is a great option for anyone looking to add in a porch swing on their front porch, but don't have a lot of room to work with. Plus, if you're single and just looking for a spot for one person, this would be perfect!
If hanging something from the ceiling of your porch is beyond your comfort level or not allowed, check out a hanging egg chair with its own stand. I like this one from Costway because of its affordable price. I also like the lines, and how it resembles a birdcage.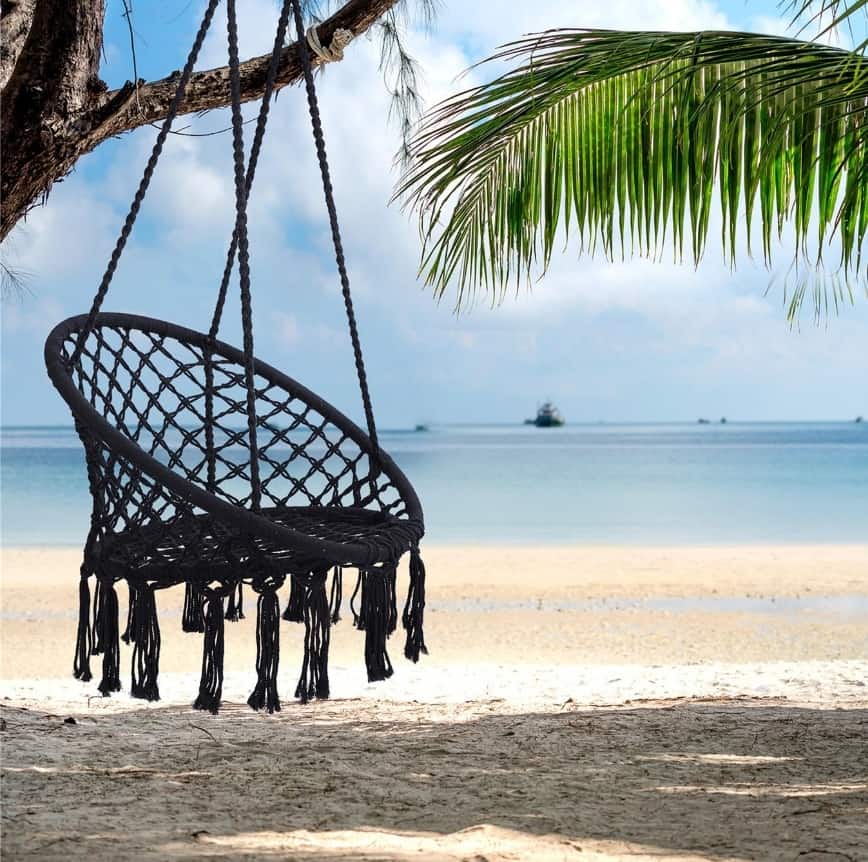 A small, yet comfy swing like this one from Walmart is great for a compact space. It's lightweight, making it easier to install. It also has a great, simple boho look.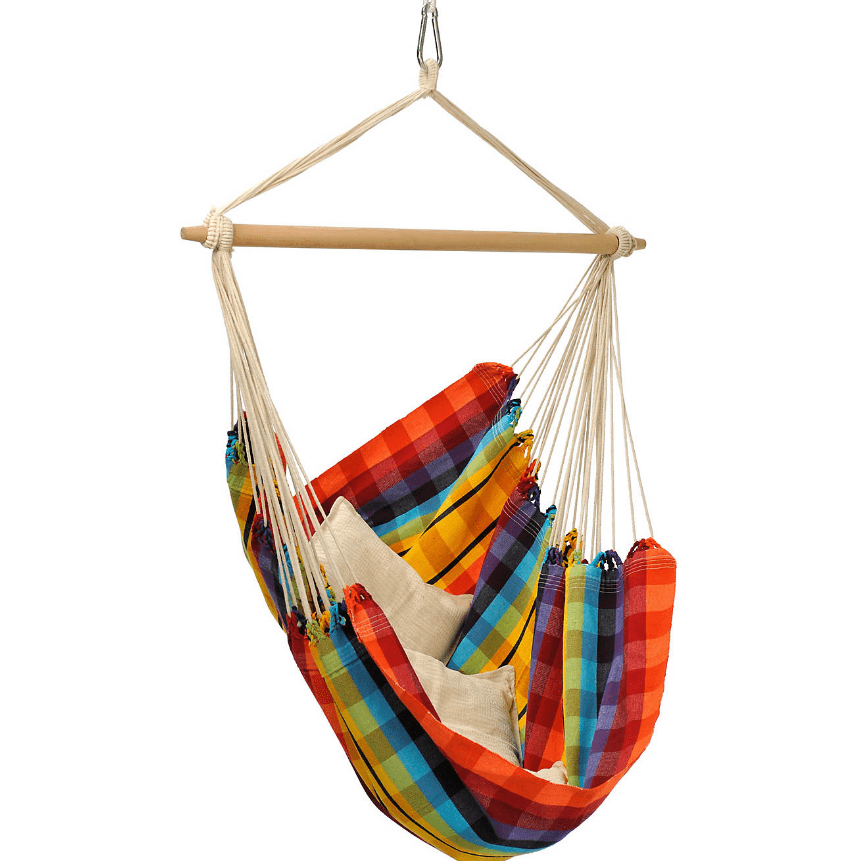 My mom has a couple of swings this style on her porch and my daughters rave about how comfortable they are. The colorful fabric is eye-catching and can work with multiple styles.
Medium Size Porch Swing Ideas
Have a little more room, you could add a more traditional swing for your mid-sized porch or could spend a little more time with some DIY bench options.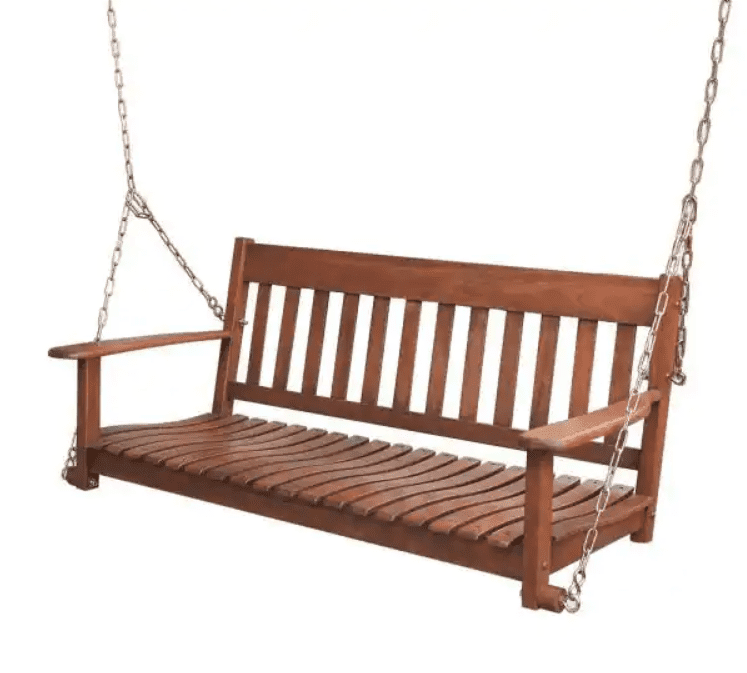 If you have a little more room, a traditional wood swing may be what you are looking for. This swing from Home Depot has classical lines, and a simple stained finish that can work with any style of porch.
 For added comfort when you want to spend a few hours on your porch, you may want to invest in a swing with a seat cushion and pillows.
The cushion on this one from Sears is nice and thick and looks like I could sit on it for hours and still be comfortable. And the simple grey and white color scheme blends into almost any outdoor area. I imagine piling it with some decorative pillows to really make it vibrant!
DIY a Hanging Reading Nook
 If you like DIY projects, you could build your own using an old door, reclaimed wood, a used crib or even a Papasan chair. I love this example and could imagine reading here all day or watching a thunderstorm! 
This one was built by someone's hubby, so we know that it's possible. I just love the dark wood against the white cushions and this would look amazing in a mid-size porch as a dependable, special porch swing that would last for ages!
Large Porch Swing Ideas
If you have a large porch, you may want the luxury of a bed-sized swing, as I do. My husband built me one for Mother's Day a few years ago, and it is my happy place. There is no nap like a nap on a huge comfy swinging mattress. It is also the place I have one on one time and deep conversations with my kids.   Here are a couple of pictures of my swing on my porch.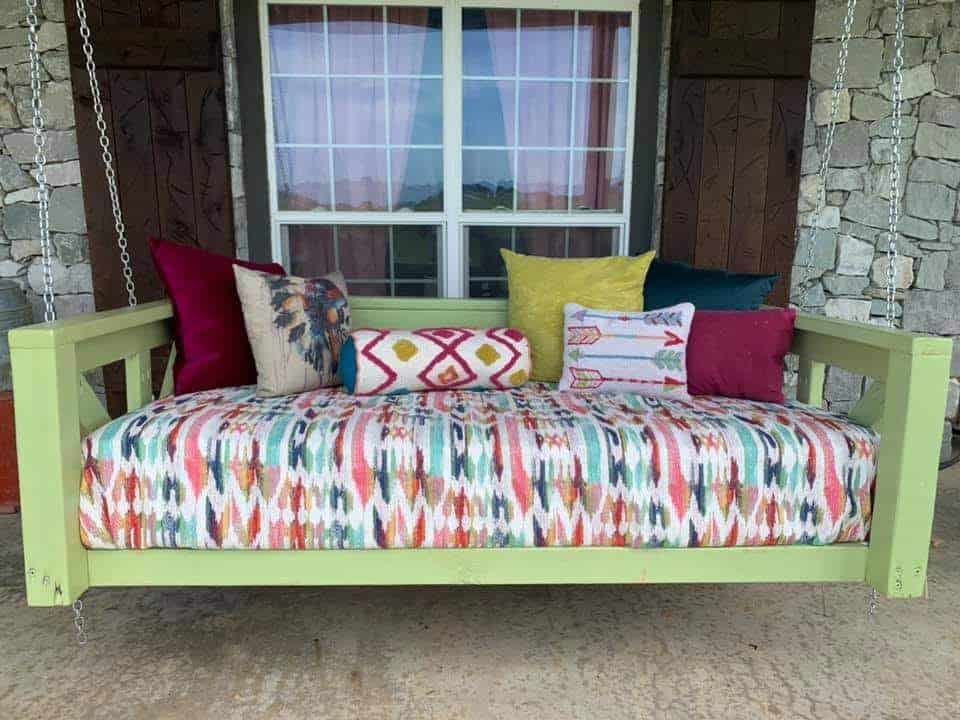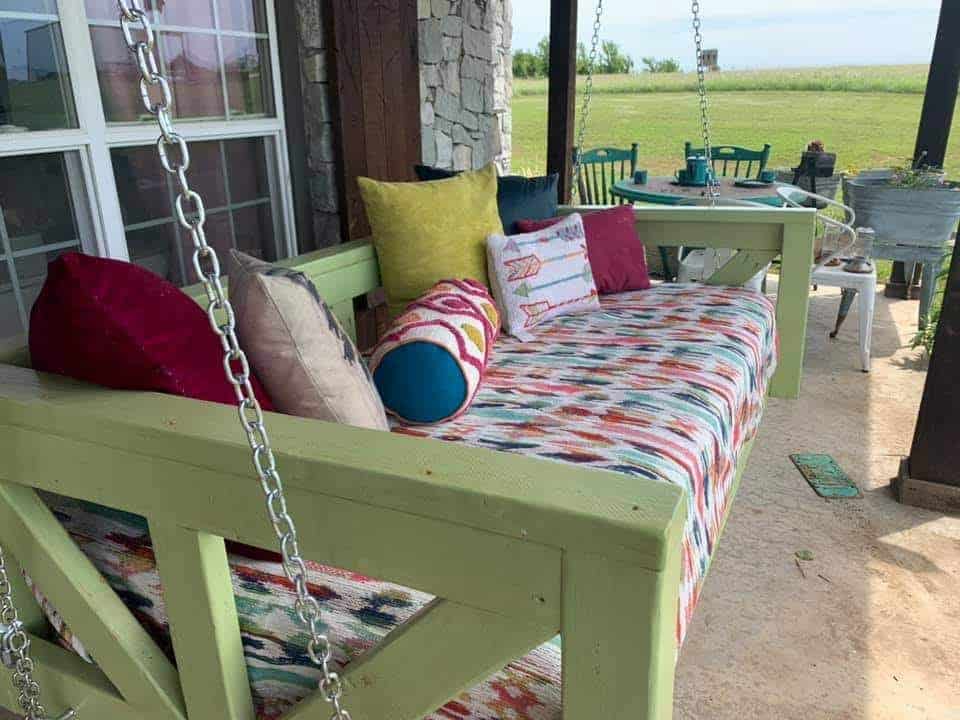 You can order this one from James and James online if you don't want to build one yourself. The bolster pillows make it super comfy. I also love the tailored look of the mattress and pillow covers.
Here are some other Outdoor Bed Inspired Ideas for your large porch: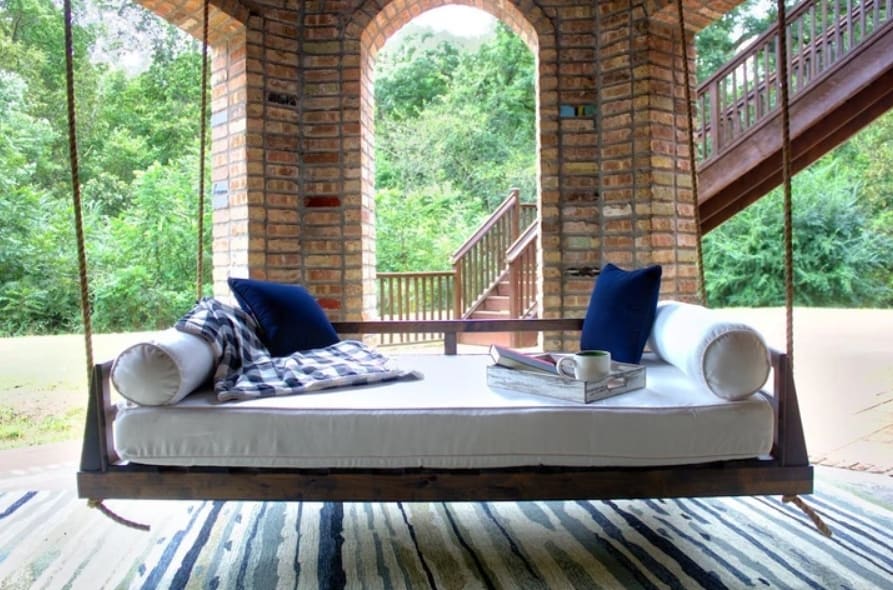 If you have the space but a smaller budget, a hammock would also be a great place to close your eyes and listen to the birds' sing.  This one from Ashley is a double hammock, making it the perfect cuddle spot.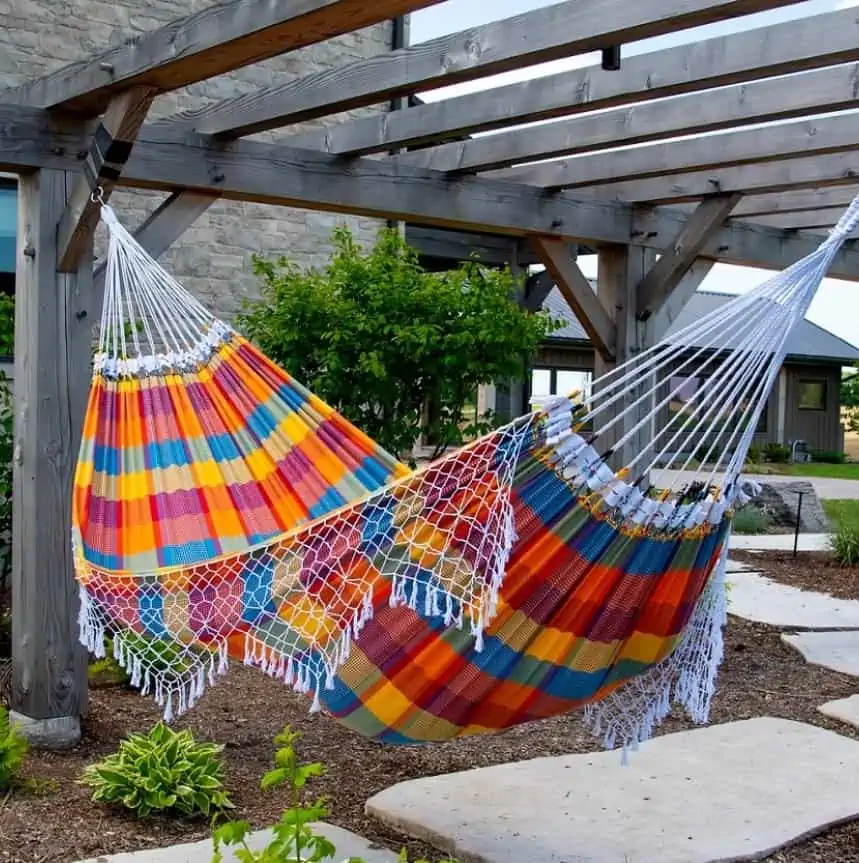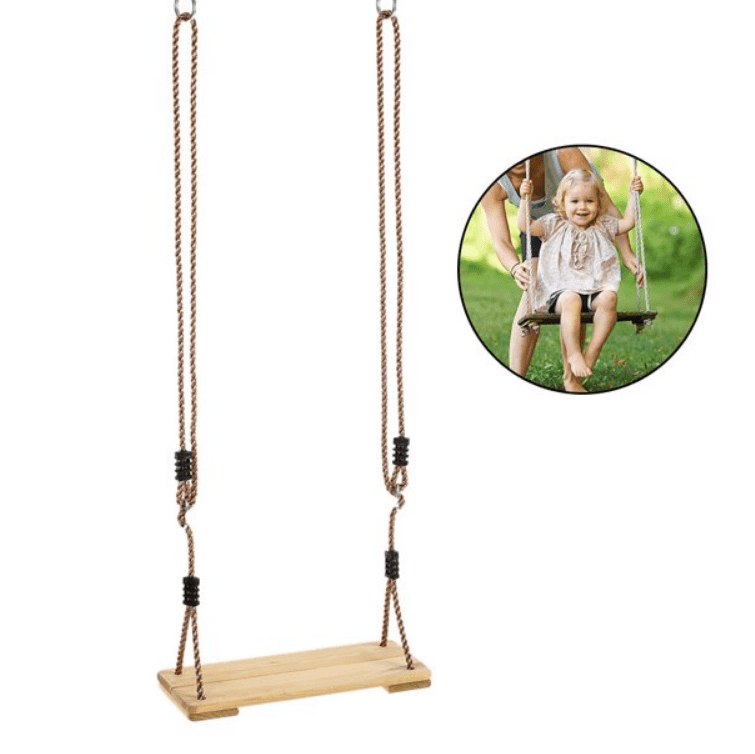 A freestanding swing with a canopy works well in an area that doesn't have anything to hang from. I like this one from Overstock because it's a great price, and I love the idea of a canopy for areas without a covering. The added shade means you can stay outside and swing to your heart's content.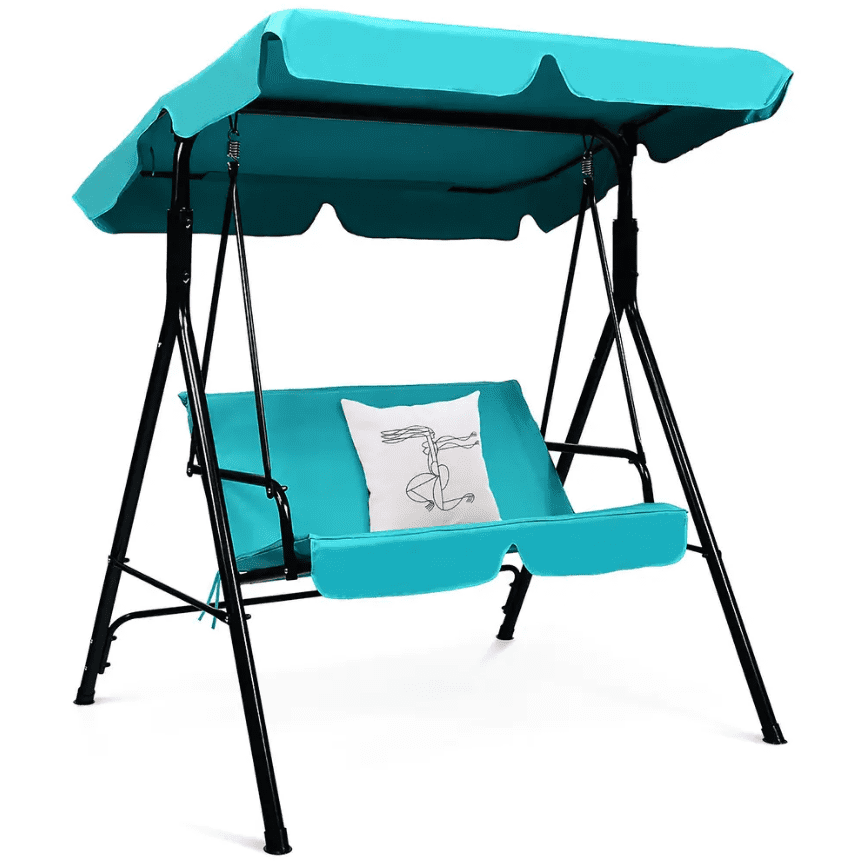 If you are looking for the perfect place to lounge by the pool, check out a hanging chaise lounger. If I had this one out by a swimming pool, with a good book and a pina colada, I might never leave. The canopy would keep me cool and protect me from sunburn. This is good, because I would definitely be asleep with the rocking motion and the way it is contoured.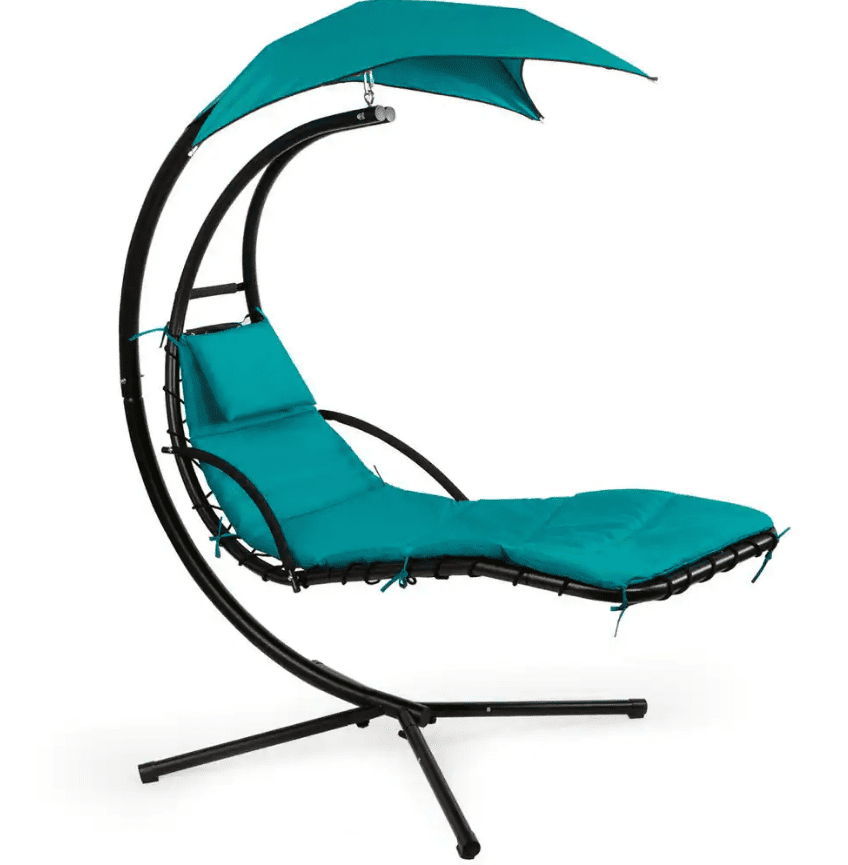 If you really want to make a statement on your patio, look for a combination portico and swing. It's part art, part swing, and part canopy.
When I saw this one from VidaXL, I immediately started thinking of where I could put it in my yard. This is the ultimate in shade and swing combined. Oh, and it lays down to become a bed. And if you close the netting, you keep the bugs out! If it just had air conditioning, I'd move right in.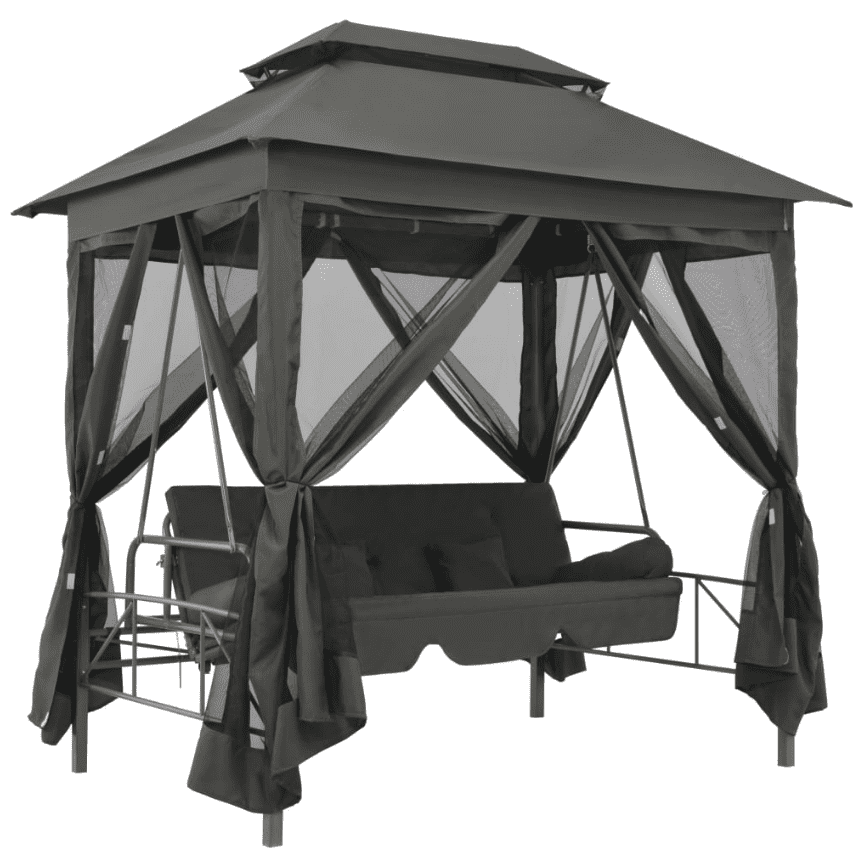 Another canopy and swing combo also brings in the picnic table. Sierra custom builds a set up made of 2 gliders facing each other with a table in between. And there is a canopy over the top of all of it! That beats the heck out of a normal picnic table. Shade, swings and food, the perfect combination.
On a Budget Porch Swing Ideas
Looking for a great swing, but on a budget? Check out these two from Amazon. They are made of metal, so very durable. One has a classic style, and the other a great boho look. And both for just over a hundred dollars.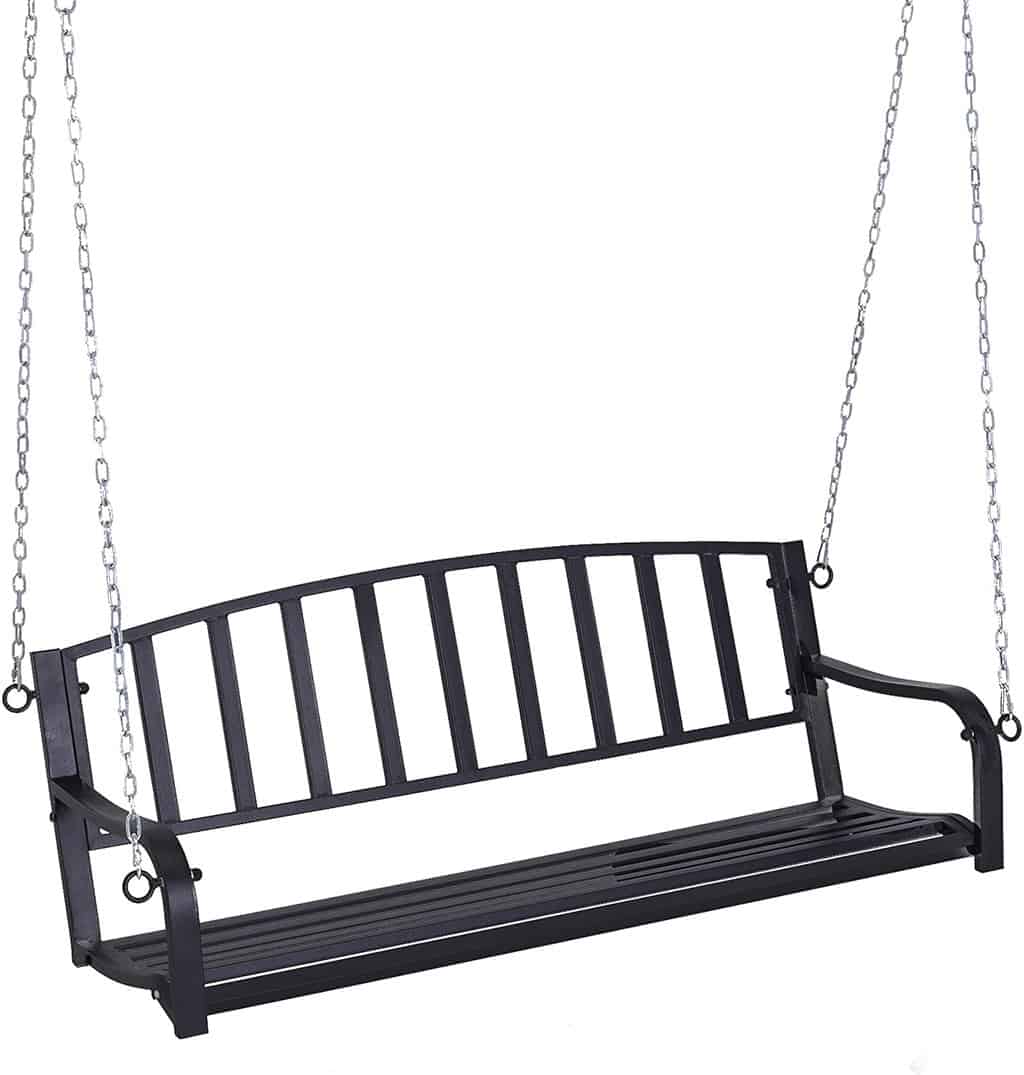 The clean classic lines of this swing can fit in anywhere, and the metal construction means it will last a long time.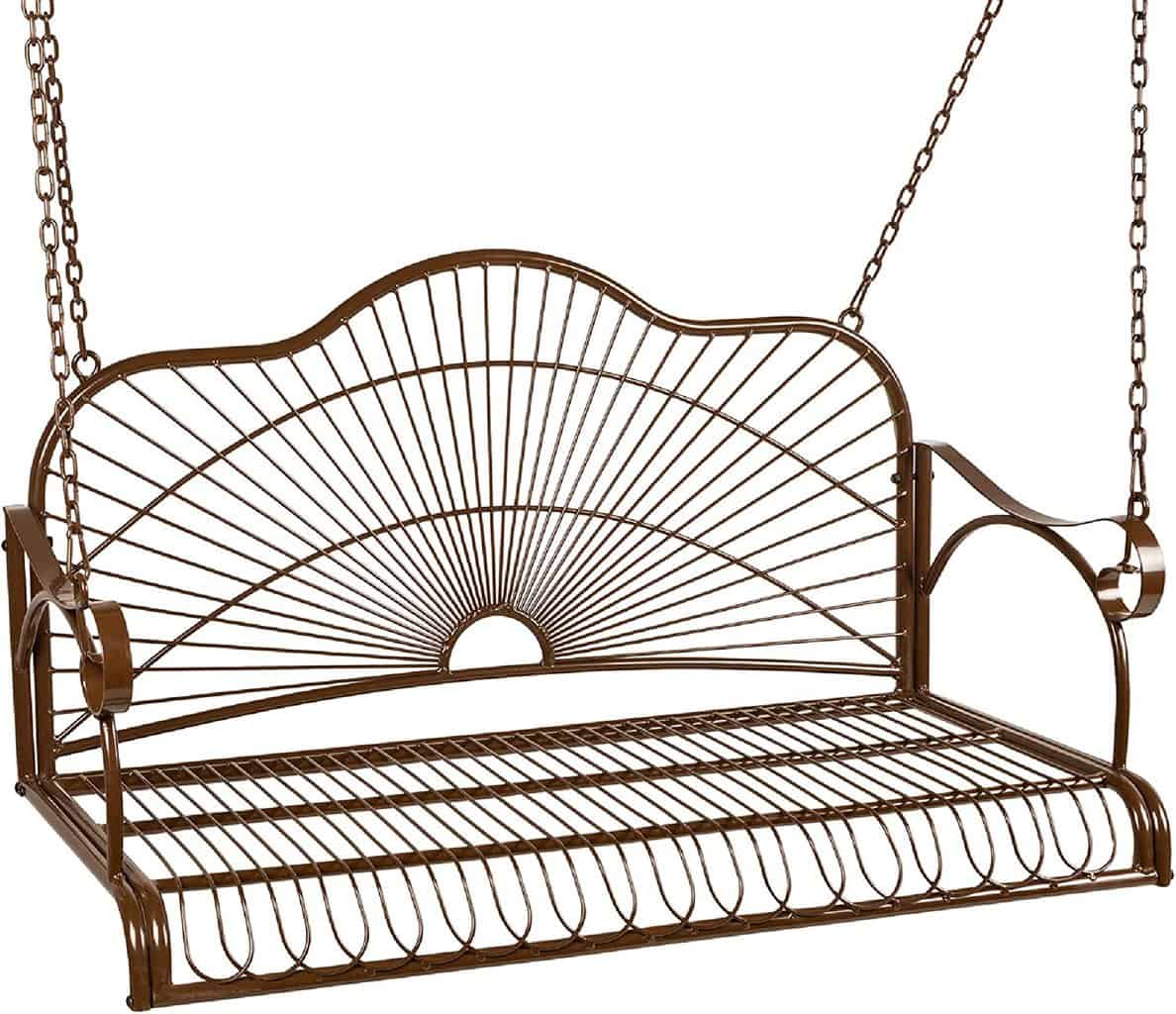 The intricate pattern of the metal gives this swing a boho look and makes it look much more expensive than it is.
For a freestanding option, this sharp blue and white striped, canopy-covered swing comes in just under $150. Outsunny 3-Person Patio Swing Chair, Outdoor Canopy Swing Bench with Adjustable Shade, Cushion and Durable Steel Frame, Dark Blue w/ & Seat | Aosom The graphic look of the stripes is eye-catching and would look great by a pool.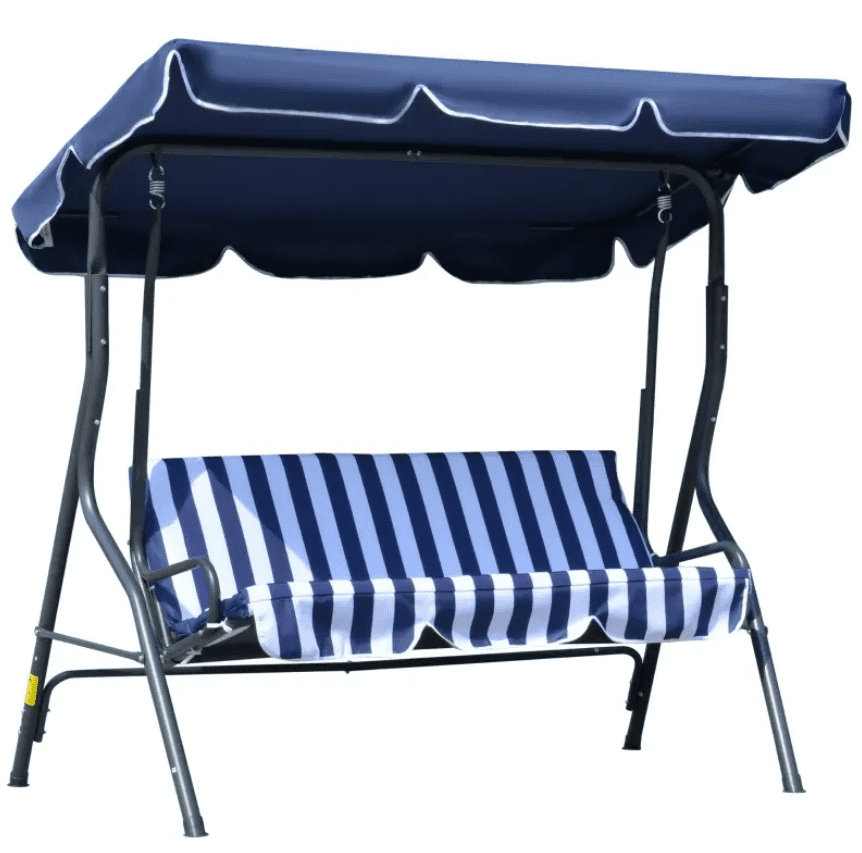 This classic white wood swing would look great on any porch. It seats 3 people, and holds up to 300 lbs. It is also made of acacia wood, which means it will handle the weather nicely.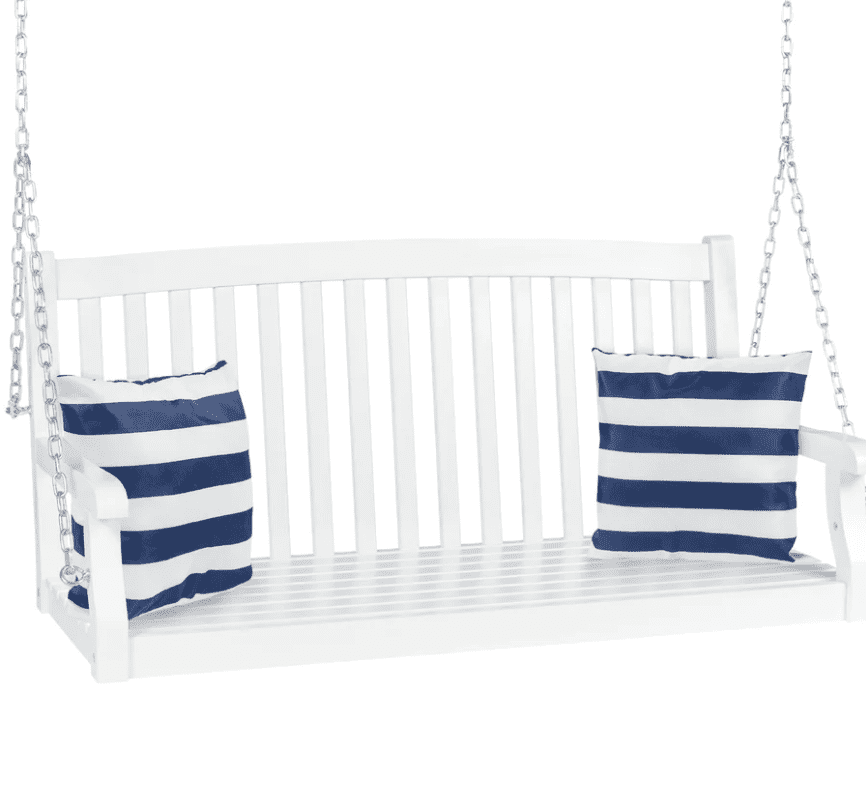 Mid-Priced Porch Swings to Love
Talk about options, this swing has 3 lengths, 20 colors, and a choice of chains or ropes to hang it with. I love the look of hanging swings with ropes.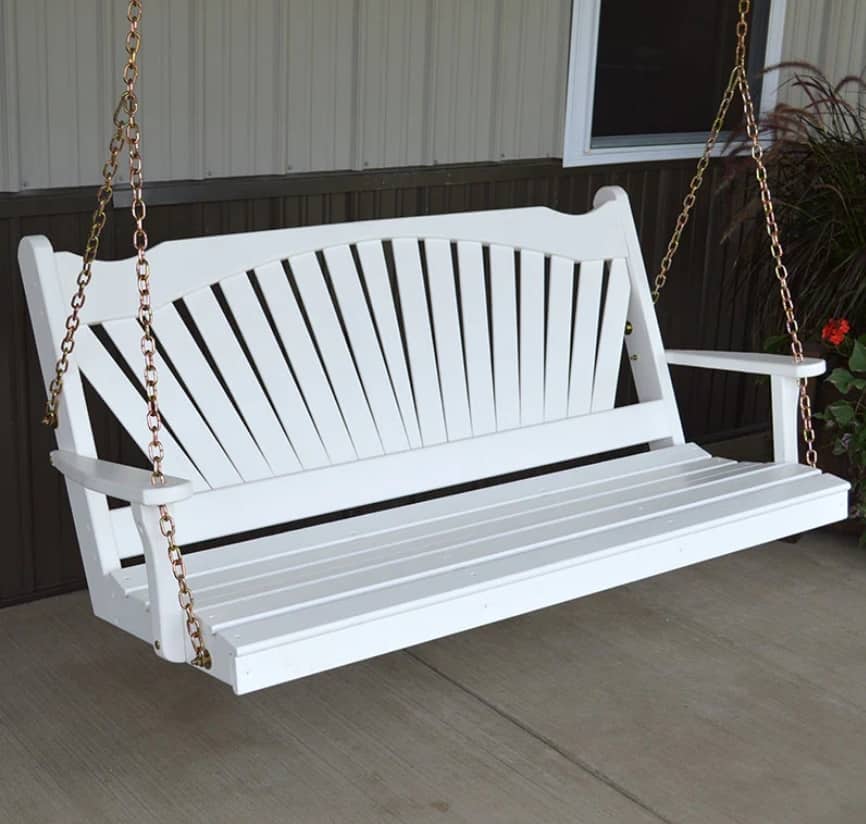 The Marlbro swing also has 20 color options, chain or ropes for hanging, 4-6 foot length choices, and even an option for cup holders. I am obsessed with the shape of the back of the swing, it's playful and still elegant.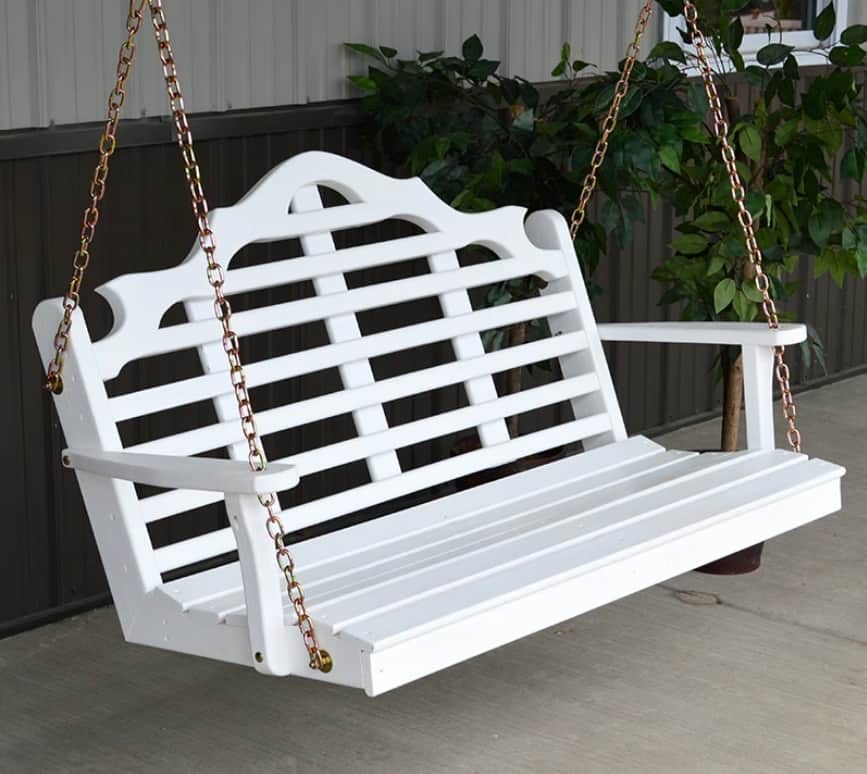 Luxury Priced Swings for a Modern Front Porch
The details on the HammMade swing are so dreamy! It looks like something made from old architectural pieces. You can choose between a crib and twin mattress sizes, and 7 colors. If I didn't already have a bed swing, this would be at the top of my wish list.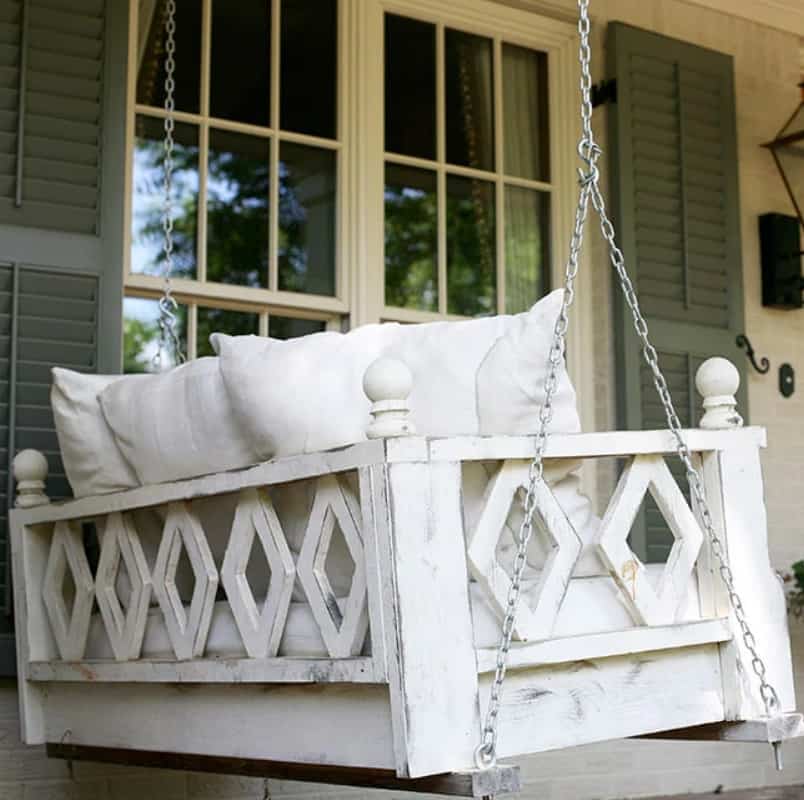 The Hayden swing is for those who want a dedicated nap place on the porch. It is literally a bed hanging from 4 ropes. You can choose from crib size up to a full-size mattress. If I only had a place to put this swing, I may never sleep in the house again.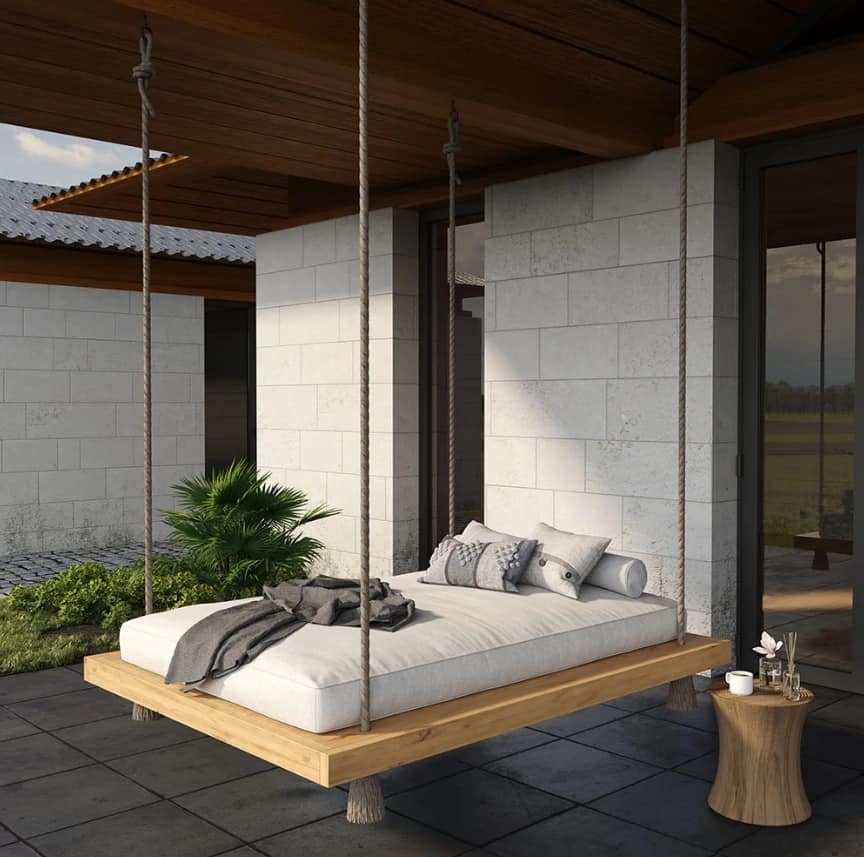 The Nostalgic Cathedral swing is absolutely gorgeous. The style of the back combined with the beauty of the red cedar is stunning. This would look great on any vintage home or traditional style porch.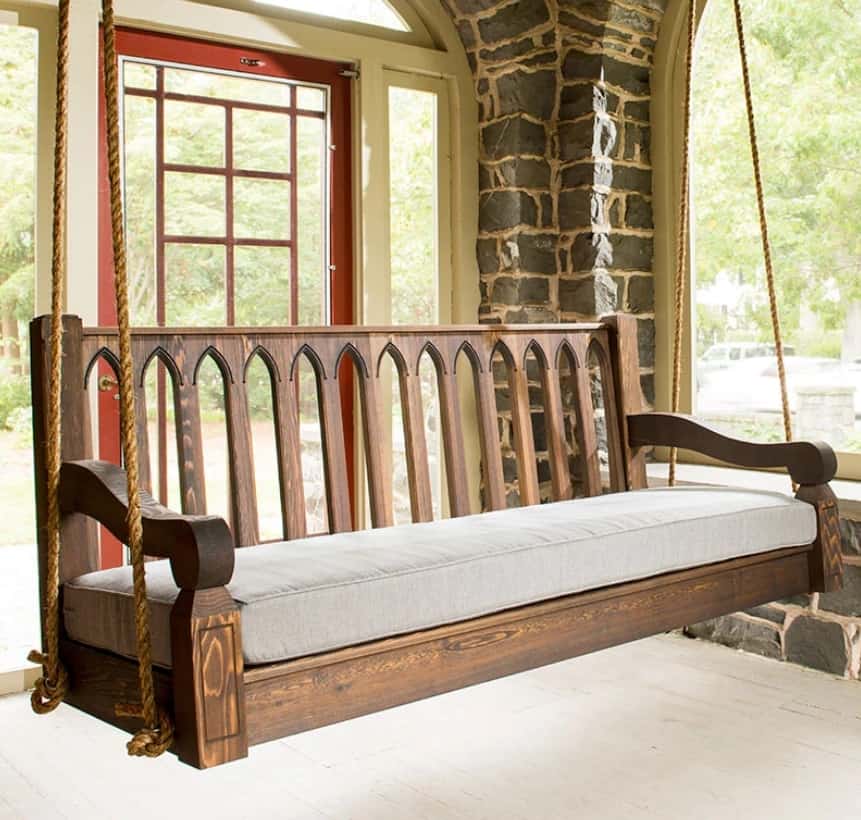 The Ethimo swing is a modern take on a covered, self-supported swing. It would complete a porch or patio of a contemporary-style home.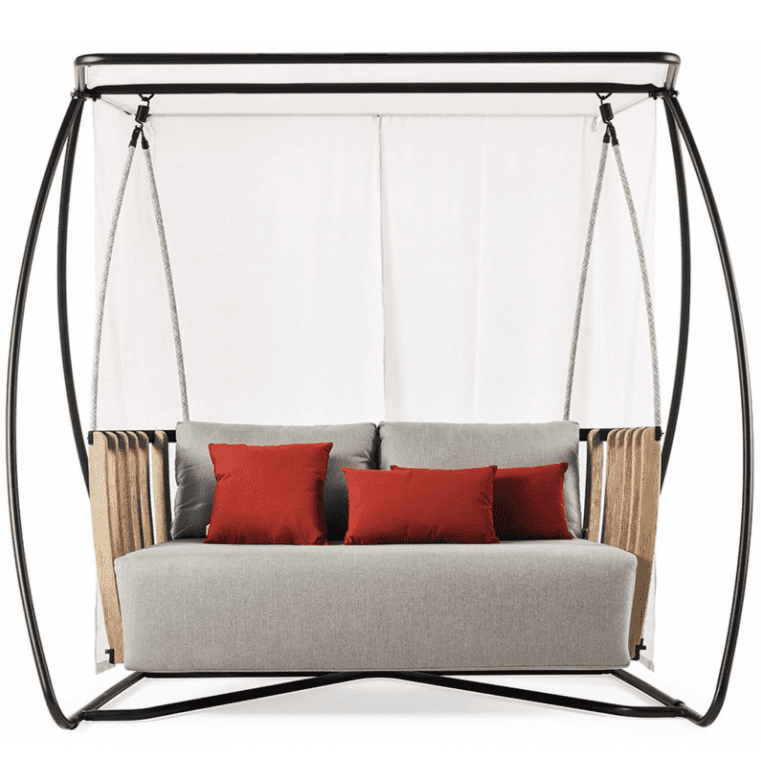 Wicker Swings You'll Love
The Outsunny wicker porch swing would blend in with a lot of the modern porch furniture. And depending on the cushion color, it starts under $200.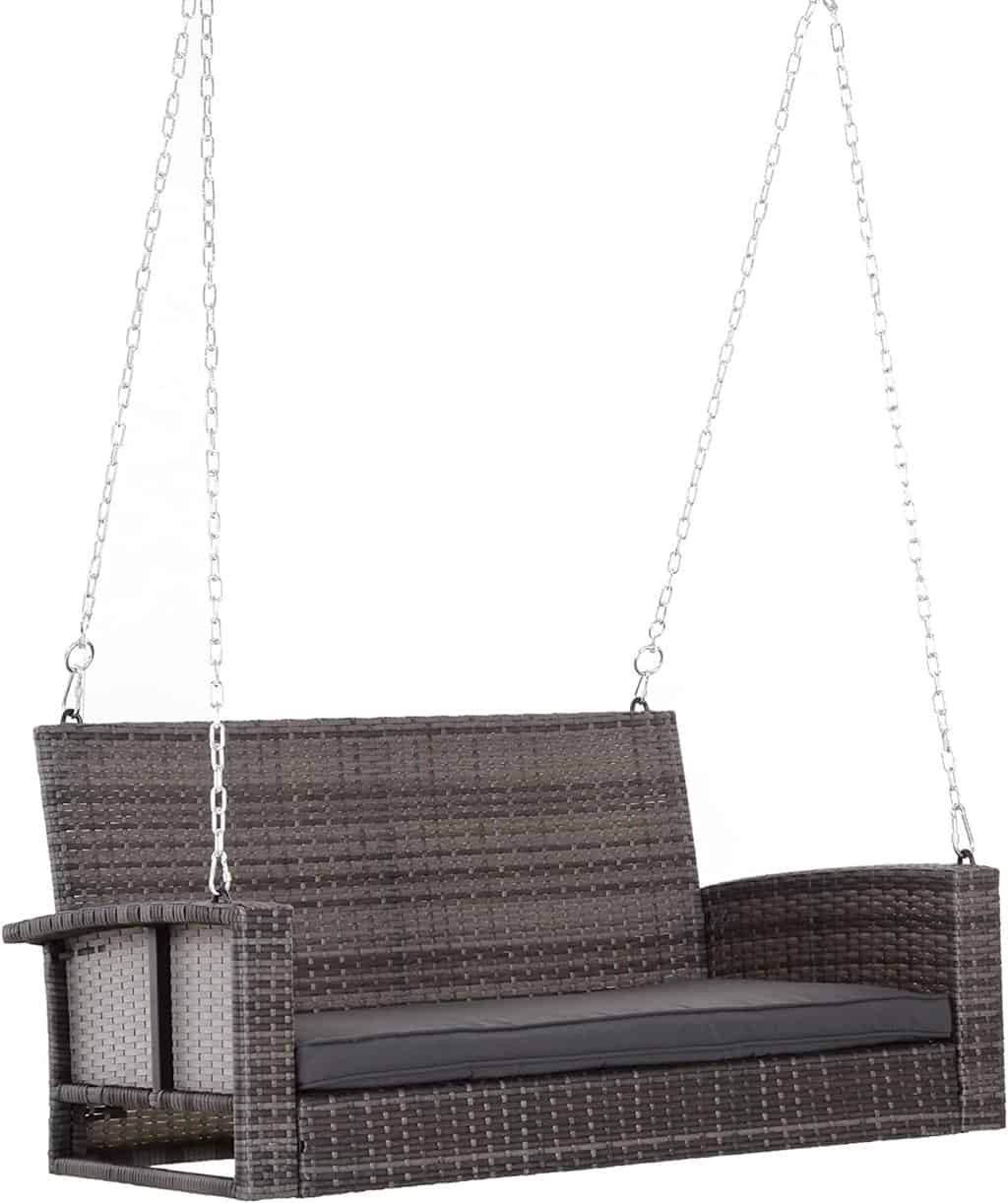 The Caravan Diamonds wicker swing is perfect for a vintage style porch. The white wicker gives it a romantic feel that reminds you of grandma's porch.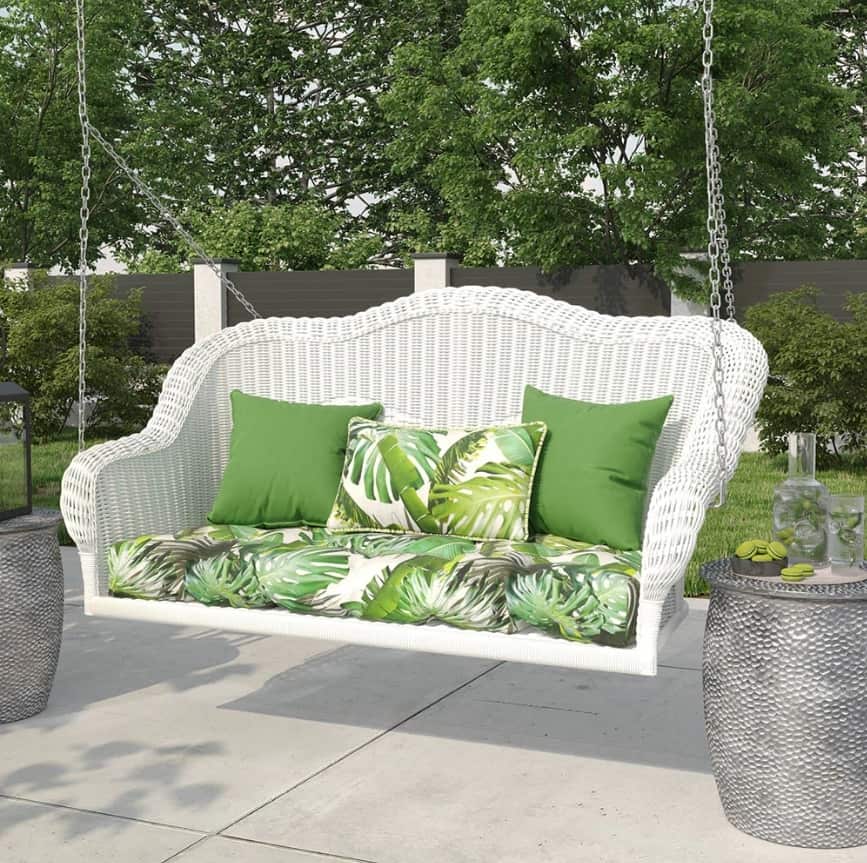 The Garden Treasures swing combines the convenience of a free standing, covered swing with the beauty of wicker. It is perfect for a spot in the garden where you want to sit and watch the wildlife.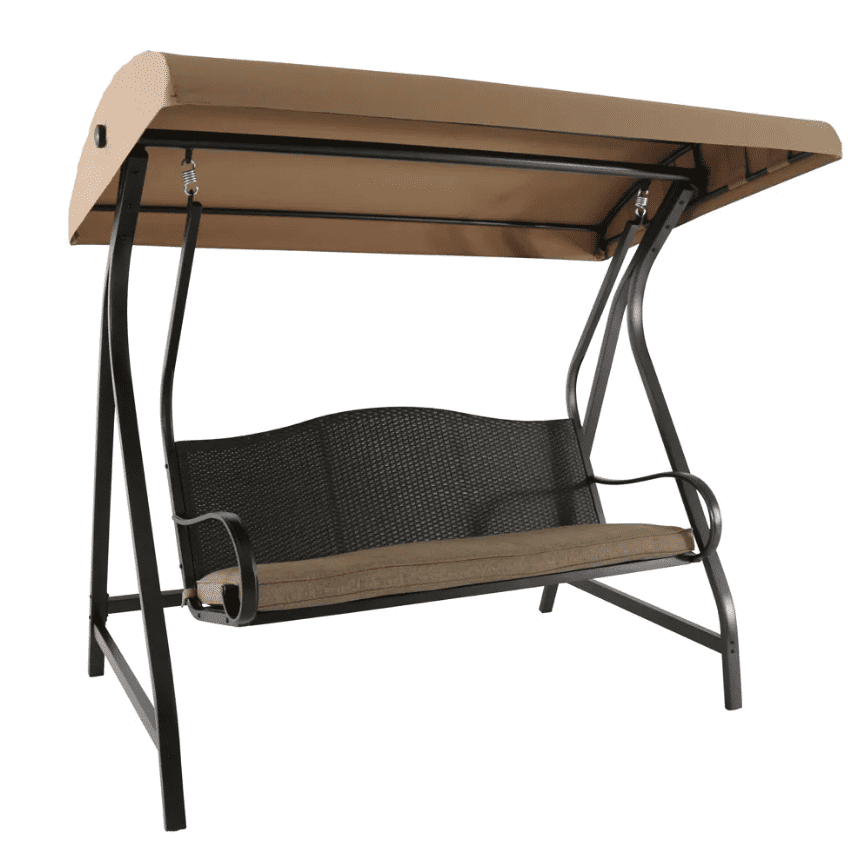 The Abate swing is a single-person egg-type swing made of wicker. It comes in a couple cushion color choices and 3 wicker color choices. It looks perfect for reading a book while swinging.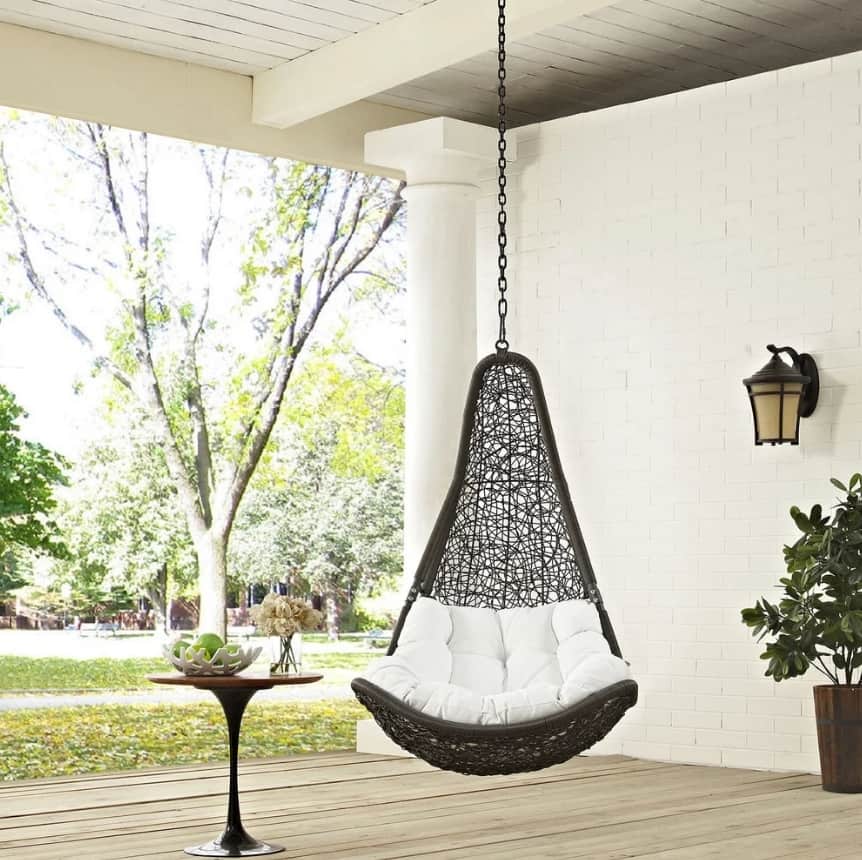 Metal Swings to Cherish
If you are looking for a swing you don't have to hang, check out a metal glider. This teal one is perfect for a retro-style porch.
And this metal swing from Amazon has a traditional look that resembles a park bench. I can see this on the porch of older traditional style home.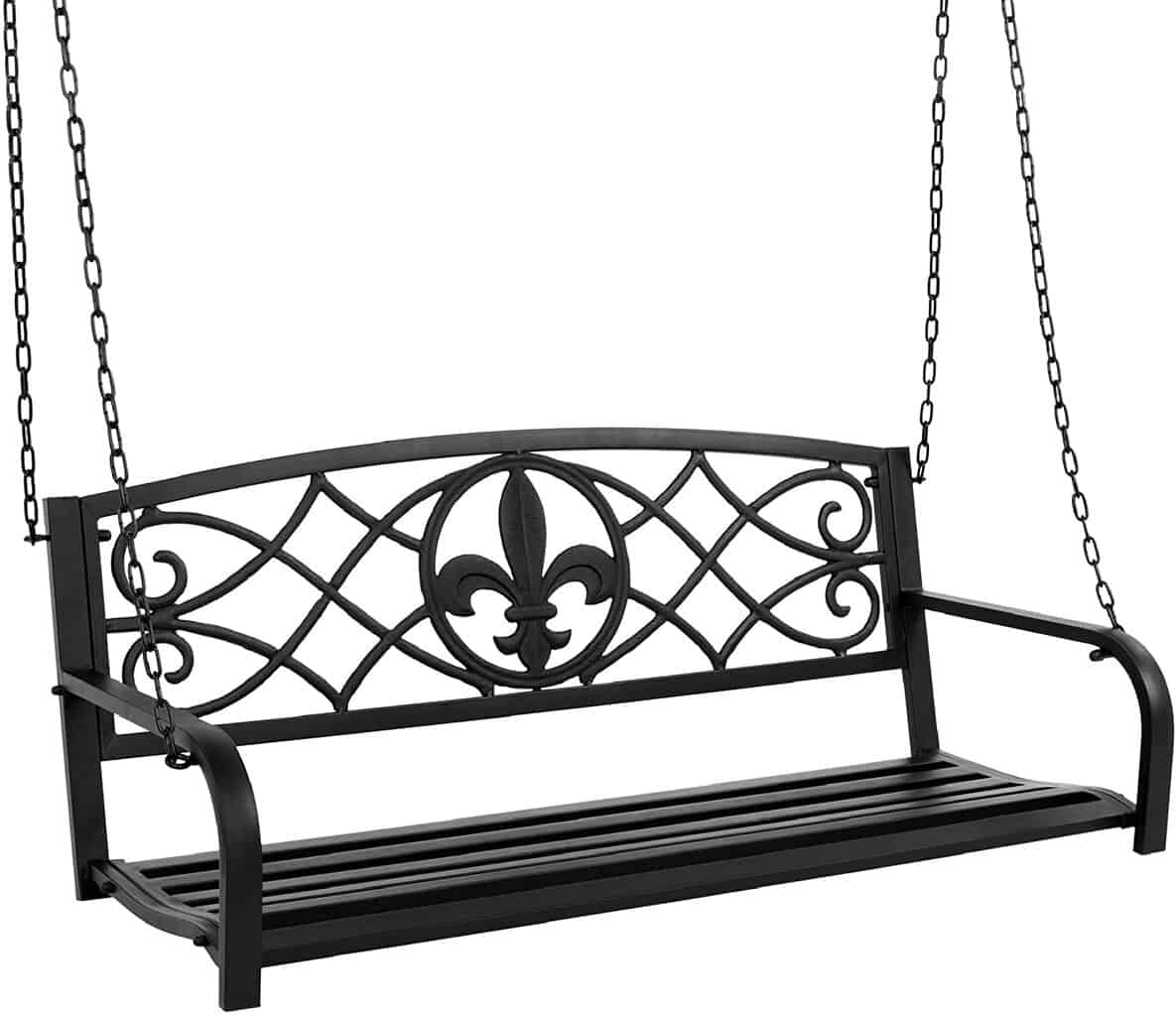 Some Fun Thematic Front Porch Swing Ideas
The Rosalind Wheeler swing is perfect for a patriotic porch, or a special 4th of July celebration.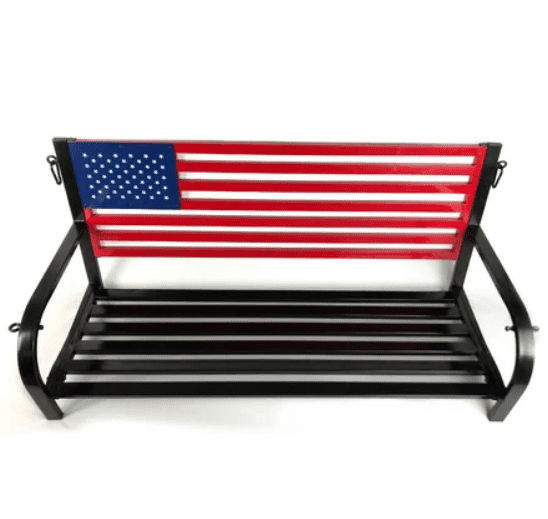 This single swing with a beach chair print is perfect for a seaside porch. I'd love to sit in this and listen to the waves.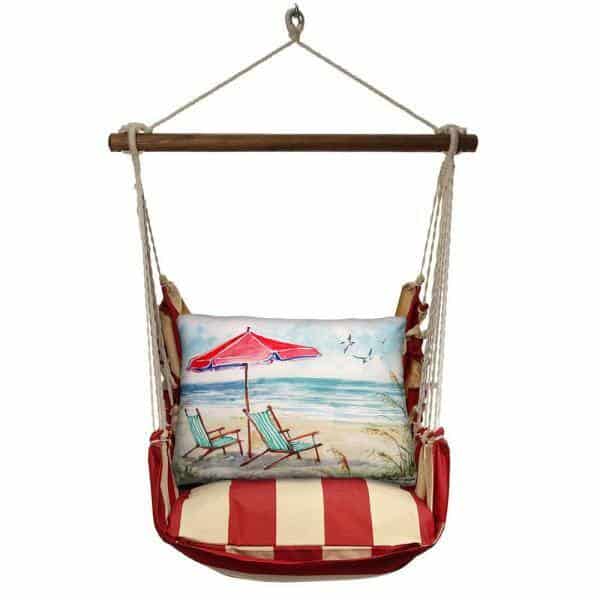 This is a similar swing with a lake house theme that instantly takes you to a lakeside cottage. This is also a great hammock for smaller porches or side porches as well.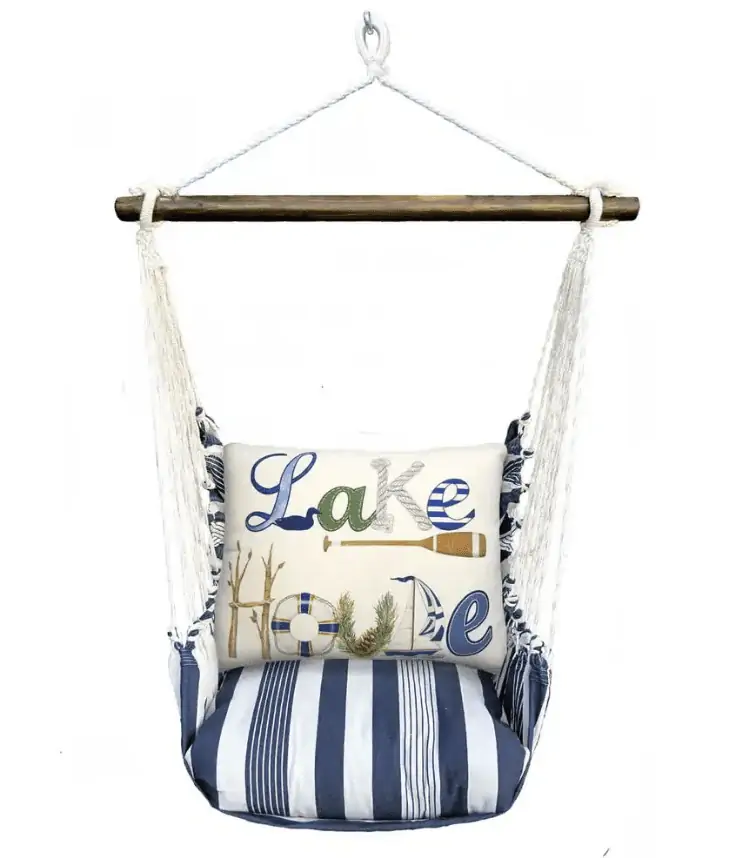 This log cabin-style swing would also look amazing on the porch of a lake house.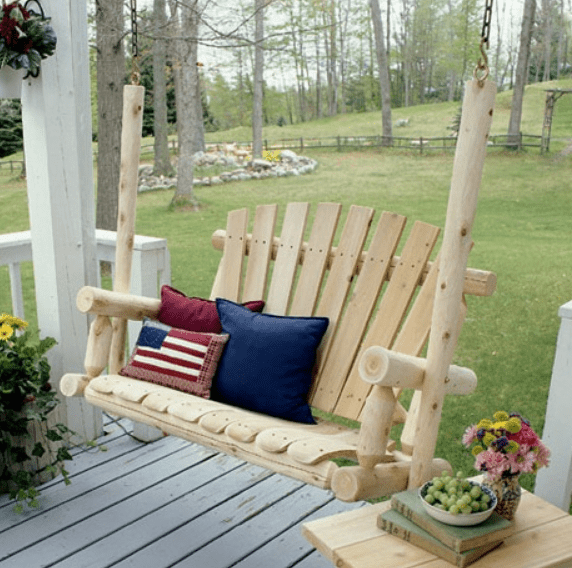 For the Car Lovers, An Automotive Front Porch Swing Dream: Truck Tailgate Bench Swing
My husband would adore this Chevy-themed swing made from a tailgate and fenders. Well, I might kinda love it too. It's perfect for any truck lover.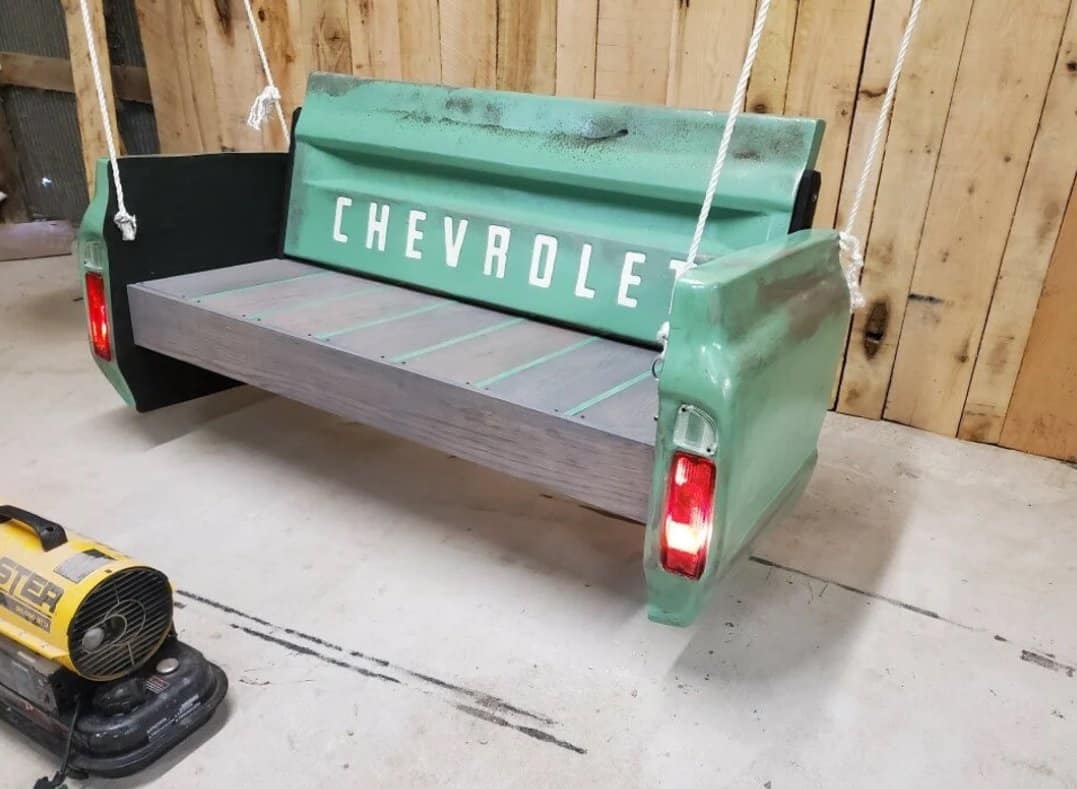 Porch Swing Ideas: Frequently Asked Questions
Question: How do you hang a porch swing?
Answer:
Locate the ceiling joists. Due to the weight, you must hang the swing from the joists.
Purchase hardware rated for at least 400 lbs. (the weight of 2 average adults). You will need hooks that screw in to the joists at least 2-3 inches, and s-hooks to connect the chains.
Measure the width apart of the chains located on the swing, and mark the corresponding holes in the joists.
Predrill holes where you marked the joists, then screw the hooks in to the holes.
Hang a piece of chain from each hook, then attach the s-hook.
Attach the 2 chains from each side of the swing to the s-hook.
Test the swing and hardware to make sure it is securely attached to the joists and each other.  Trust me; no one wants to fall while on a porch swing.
Question: How much space do you need for the swing to move?
Answer: In order for your porch swing to move properly and not bump into walls or railings, you need between 26 and 36 inches clearance in front of and behind the swing.  At least 14 inches on each side is also recommended so that the swing will not accidentally bump into things if it moves sideways in the wind, or someone gets a little crazy with their momentum.
Question: How do I choose the right porch swing for my space?
Answer: 
1. Consider the amount of space you have. Is it a tiny apartment balcony, or a huge terrace? Take in to account the environment it will be in. Is it a covered porch, a pergola, or a patio? Is it near water like a pool, lake or beach, somewhere with lots of rain, or a dry desert?
The elements can affect how long the materials will last, and sun exposure can bleach out any fabrics not made for outdoor use. Consider how and where it will be installed. Do you need a free-standing swing, or do you have the structural support to hang one?
Think about the style of the porch. Is it traditional, whimsical, beachy, or is there a specific architectural style?
What is your budget? Swings can start at under $30 and go up in to the thousands.
Consider how much time will you spend on the swing and how you will use it. How comfortable should it be? Do you want to lay down on it? Do you need cup holders for your lemonade? 
Using the information you have gathered, choose the type of swing that best meets your needs. Then pick your favorite of that type.
My Final Say on Front Porch Swings
Whne choosing a front porch swing, you have to consider many things, the space you have, the mood you want to evoke, and where you live. There are so many creative ways to swing on your front porch, the sky is the limit! Have fun, choose an idea and get to relaxing! Personally, my favorite is a twin-size bed swing. In fact, that's where you will find me on my porch napping and reading this summer.
Recommended Reads: