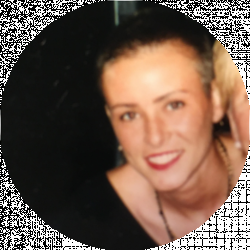 Latest posts by Richelle Tieman
(see all)
Bottom Line Up Front
My favorite go-to fits anything goes anywhere, provides privacy or not, and always matches the best patio pick.
Canopy Five Piece Wicker Patio Set by Harper and Bright at Home Depot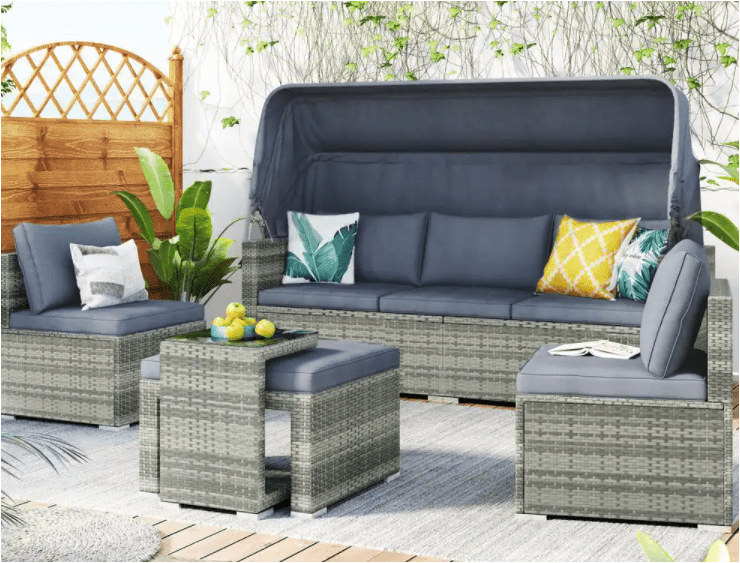 This is my recommendation for the best patio design set. I am recommending it because it matched all my criteria and then some.
Quality and Durability:  Made with a robust solid steel frame and heavy-duty fabric that is water-resistant
Instant Privacy:  Has a retractable canopy to snap up for more intimate conversations or to keep out the sun
Multi-Use:  Five pieces in one! Three-seat sofa with canopy, two chairs, an ottoman, and a side table
Coordinating:  No worrying about matching with other outdoor pieces – neutral colors make it easy to liven up with bold colors or play off the tranquil vibe with some ivory colored throws and tasseled throw pillows
Availability:  Offered at Home Depots everywhere and online! Trusted retailer with return policy!
Pricing:  Won't break the bank, and it is within reach for five quality pieces of patio furniture!
Best Patio Seating Designs
How do you get an outside living space to just "come together"? The answer is that it can be as straightforward or as labor-intensive as you want it to be! Some simple questions can narrow the playing field, while some introspection will tell you what sourcing path to take.
Being super distinctive and individual in all my endeavors has led me down some day-long rabbit holes to find just the correct item that lit my soul on fire. This can be a time-consuming and never-ending work in progress or "constantly being refined" patio, balcony, porch, or garden.
Let's take it one step at a time. One question at a time.
I. Questions to Ask Yourself
How do You Want to Use the Space?
The most important question of all. What you want the space to do is far more important than how large it is or what style of outdoor oasis you want. Will the main focus be to sit around a pool and lounge, with perhaps some side tables for drinks and snacks and an umbrella or two?
Do you love to dine al fresco? When I lived on the island of Corsica, we dined al fresco with linens and two forks every night! It was glorious. This dining intention will dictate your main items as a table (for how many?) and enough chairs for all your needs. Think of chairs around the table and have a few others positioned in different corners in case you need to pull one up for cousin Maisy, who came last minute. Stools with a back are good ideas for minimal space disruption at the table, or ottomans are a terrific and novel way to show off your personality.
A small bistro set can be charming and elegant for a balcony lunch, with a chair and a half-plus ottoman in the other corner for casual seating. Putting a rug underneath it all makes your balcony an extension of your home.
Maybe a gorgeous view of your garden, lake, or horizon is your piece de resistance. For showcasing the picture, choose more open and airy patio furniture, like four legs of the chairs being visible rather than having the bottom of the chair or couch enclosed. This will let the eye see through the piece to what's beyond and create symmetry and seamless living from inside and out. Darker colors like Sienna Rust, rich browns, or moss greens will evoke a sense of nature and align with the theme.
Lighter colors outside will separate the view or the sense of "outdoors" from your furniture arrangement. If you opt for pastels or whites, you will need to ensure that the seating and décor are "finished" or can stand independently without whatever is around them. (Basically, your eye will see a separate "room" made up of your seating, which is especially appealing with timeless, sumptuous pieces and a somewhat minimalist theme – but don't forget a rug and large flower pots, and maybe some lanterns).
Need It Child and Pet Safe?
If young children (or even teenagers, as I have found) will be romping around the area, eating, chasing, hiding, throwing balls, and grabbing their unbreakable cups for a quick sip on the go, you will need to think of safety first.
Think trip falls, inadvertent pushes, pets underfoot, errant nerf balls, or water pistols that require a dive under your feet. All that and forceful wagging tails knocking things over.
Solutions are rounded edges and no glass. When I say "rounded," I mean "round." Just cut out a world of hurt with one shape. Round. I prefer Wood. Sometimes plastic can leave the worst injury.
I have had the best experience with teak on my patio's "child-friendly" side, and it was worth the peace of mind not worrying about glass, metal, or "edges." If you like a glass table or metal look and feel, opt for one encased in wood or wicker or has rounded edges and not flat angular finishes.
1. Homegrown Tip or Trick:  For wood, oil it for an anti-splinter appeal if you see any edges that are rough or dry. Teak oil is a good choice.
Take a cloth and get it reasonably damp (should not leave the table "wet" or have too much on your fabric) with the oil and rub in circles all over the wood until you have gone over every part about ten times. (Should not take you more than ten minutes,).
You should not get any on your finger if you press down when rubbing along the table. Wipe the excess off with a new cloth. Furniture makers suggest doing this several times a year.
Do You Like Privacy or Not?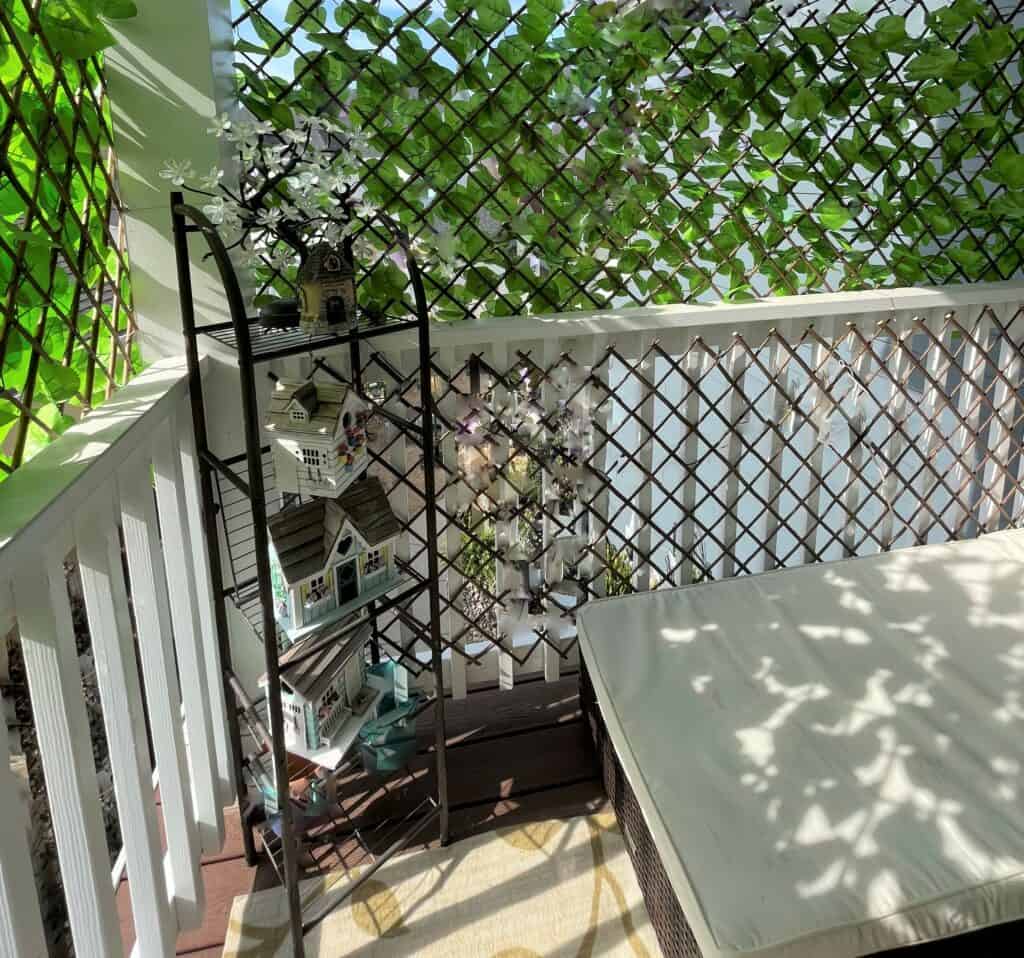 Do you like a clean, crisp, open design that leaves the 360-degree view unobstructed inside and out of your yard? Is there a road or sidewalk near your patio where you will see and hear people, pets, bikers, and cars? Will they see you? Do you care?
I do care, and most of my patio career has been creating an oasis of seclusion without feeling stifled. Many DIY projects with gauze drapes, extending trellis panels, and false flower vines have given me all the know-how for a fraction of the market privacy price.
2. Homegrown Tip or Trick: The picture below shows a balcony off my bedroom and my expanding trellis "fence." I have done other projects with just the wood trellis and no leaves on my back yard and front porch.
Because my neighbors walk by and turn their heads to look into my backyard, I want a barrier for their view. First and foremost, I concentrate on waist height and above – about 3 feet off the ground, going up for about three more feet.
This is only a three-foot-tall area that I need to cover, and hopefully, I have a fence or some other barrier on which I can secure this "wall." If you don't, don't despair.
Buy several expanding trellises
Use garden wire stakes to secure the bottom of the trellis every foot (if they are going in the ground) or attach the tied together lattices to your balcony railings
Get 2 or 3 long, thin pieces of wood (I used 2″x1″x84″ high) and secure it by wire to one end of a trellis
Take some thin black jewelry wire and wrap it around one of the "X" crisscross pieces of willow on one trellis and wrap it around an X on the second trellis (either directly below or to the side of the first trellis – depending on if your frame will be positioned horizontally or vertically) every six inches.
Affix the other end "post" to the trellis
This project took me about 2 hours, and I repeated it on porches and balconies with excellent results. I use three long pieces of wood instead of two if I have more than three expanding trellis fences that I am joining together.
3. Homegrown Tip or Trick:  Expandable rods come in every shape and size, and I use them frequently for porch and patio curtains, balcony privacy, hanging from the ceiling to separate a room, etc. So easy to use and inexpensive, I keep a few on hand for last-minute projects.
Another method to create privacy is using an expandable rod. Measure every space you have before getting the rods. You should not have the rod expanded to the maximum limit point, as you risk it either falling apart or losing its coil tension. Keep about six inches of the new rod.
I love to find clearance fabrics, fabric shower curtains, and second-hand drapery – all for a small fraction of the new price. I will hem by hand or cut or adjust as needed. This is easy to change out and easy on your wallet, so you won't be reticent to change it when you want a new look!
Pulling It All Together
The two pictures below have a common thread of neutrality running through them. Putting eclectic shapes, textures and items together can be perfectly matched if the underlying colors (rugs, seating, throws, tables) are neutral. The dark wood and beige macramé go hand in hand with green leafy plants and flowers to create a natural environment.
The use of solar or battery-powered candles and tea lights gives a romantic glow and relaxing aura to the spaces. To find a complete selection, Wayfair has just the thing!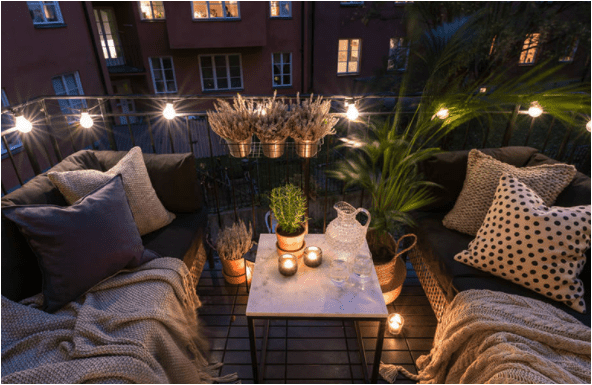 Notice all the textures and different mixed patterns. Large and leafy is a spacious and whimsical way to bring nature to your outdoor abode.
Adding dimension and depth with hanging lanterns that provide a free-standing three-dimensional effect ensures that the whole space is felt and therefore appears larger.
Notice how in the first picture, the addition of throws creates warmth, depth, texture, and a finished look. In the second picture, there are no throws, but it still seems finished.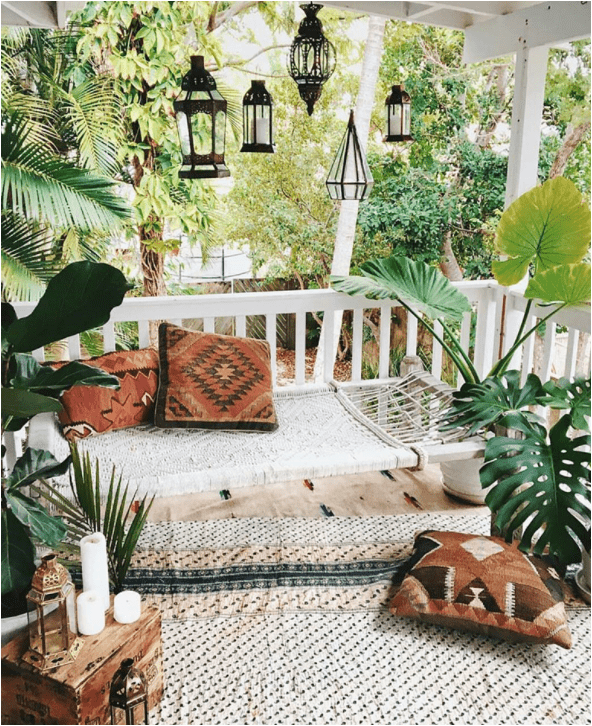 Look at the flooring, and notice all the "air" and open feel of the first. A smooth tiled floor creates fresh and clean appeal, but not necessarily an inviting welcome. Nebraska Furniture Mart is worth a look for inviting throws!
In the second picture, we see a plethora of green plants, almost obscuring the view on the sides, and it has a roof on the top which almost compresses it to be snug and cozy.
Rugs of different textures and patterns abound, like toss pillows and more greenery. The space itself is carved out of a solid block rather than having the top of the block removed (as in the first picture). To find exquisite outdoor rugs that add depth, check out Birch Lane's selection!
Notice these things when you are decorating to gauge how much or little feels right to you.
5. Homegrown Tip or Trick:  If you love something, it will fit in anywhere because it fits in with you. I will buy anything that I love that speaks to me, regardless if I know where it will go or if it will go with anything I already have. Once I set it down, that love and appeal tend to change everything around it to become more of me slowly.
Fountains of Tranquility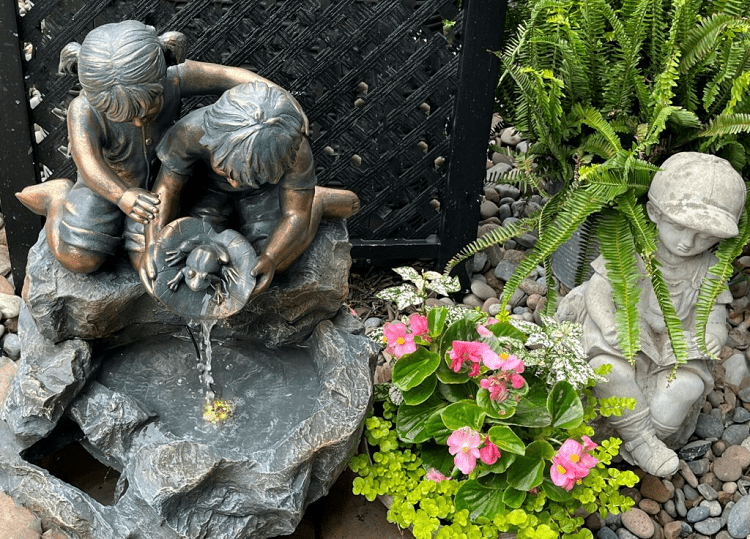 6. Homegrown Tip or Trick:  I use my hot glue gun constantly for almost everything – it has replaced duct tape as my "do anything" and "fix-all." It has served me well. And continues to help me as I find tiny wooden birds at craft fairs or river pebbles during a hike or sea glass at the beach.
The image of water, and the splashing, gurgling sounds of the water as it drops and joins the pool below stimulate our nervous system and call to our subconscious. It speaks to the amygdala, the reptilian brain, of an earlier time when all our senses could be at automatic peace in a nature that was unthreatened.
I explain this because the profound effects of listening to water droplets and splashing evoke much-needed calm for our bodies and minds these days. Fountains are a piece of nature that we can bring into our yards, or set on porch tables, to borrow some serenity from the earth if we do not find ourselves close to a water source.
You will see different groupings of animals, birds, colored stones, and even false moss covering the resin rock waterfalls that I love for my fountains. Plant and pot leafy ferns or colorful geraniums (hardy) near your fountain to play off the running water scene.
Collect things you love, images, fabrics, tiny roses from a craft store, and practice with them in different places on your fountain (before using your adhesion method!)
Try Hayneedle, Walmart, or Garden and Pond Depot to find your soothing fountain!
Recommendations for Best Patio Designs
Round 6 Person Patio Dining Set in All Weather Wicker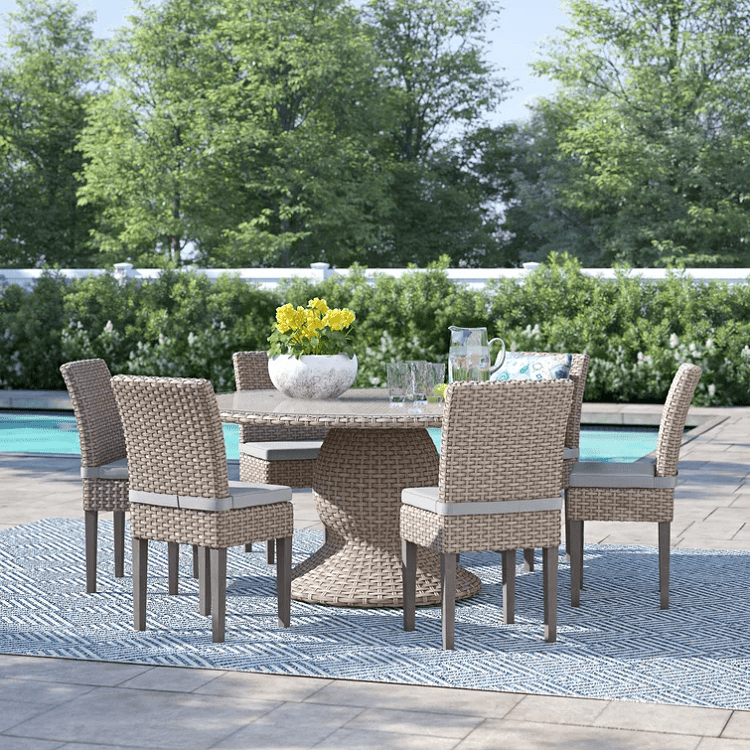 A must-see at Wayfair, this Rochdorf dining set comes with six chairs, cushions, and a 60 inch round, 30-inch high table. Gorgeously inviting, this set is a conversation starter and comfy. Rust-resistant metal with sturdy resin wicker means you can keep it outside in inclement weather.
The curvy sculpted table comes with a glass tabletop to ensure level placement of glasses and plates and keep it easy to clean.
The cushions are weather and water-resistant and have zippers and tie-backs.
This is a quality set, with chairs being 18 pounds and the table being 84 pounds – I like the weight of these for stability and not being blown over by the wind!
I love that it has a 2″ umbrella hole in the center of the table – this has everything you need to make it a special moment while dining.
There are height adjusters on the feet for uneven surfaces – I rarely hear this about dining sets, which shows the care it was made with.
Most times, the actual stand for the oversized egg crate chair or swinging chair takes up the room. Make use of hangable seating!
Remove the floor clutter; you have to have a pretty broad base to hang a chair from a stand (otherwise, tippy, tippy, I found out the hard way one year!), and suddenly you have a floating seat you can curl up in that minimizes its footprint! Other places to look for hanging chairs are Serena&Lily, Overstock.com, and HomeThreads!
Textured Throw Pillows for Depth
These are both found at Home Depot, and don't let the word "bohemian" fool you into thinking these beauties will conflict with your décor.
These days, I have found retailers use the word "bohemian" on anything and everything they want us to think is fun and full of life! Throw away those connotations associated with style trends, and listen to how you feel when you see an item.
Another fabulous place to find unique outdoor waterproof pillows is Zazzle! They have bright and colorful patterns that will enchant you! Also, try out Bed Bath and Beyond!
Hollow Tree Fountain with Light at Wayfair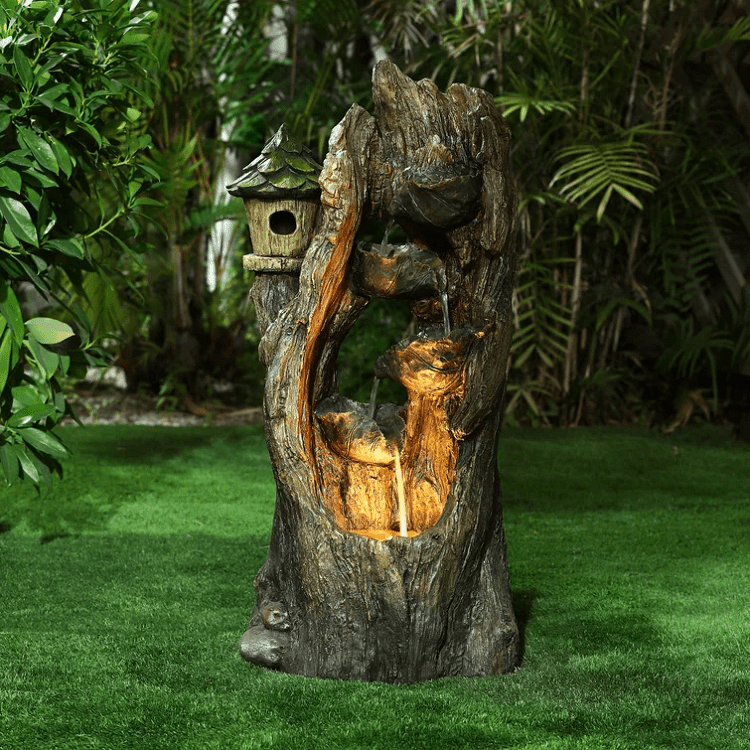 Find this lighted tree house fountain at Wayfair.
This rustic fountain has an adorable bird's nest on the side of a tree where water cascades down into a 3.25-gallon pool. This fun and blissful outdoor piece have many nooks for you to perch birds or tiny animal figurines that you find at garden stores (or the Dollar Store where I go!). Etsy has some darling handmade fountains.
Reviewers give it 4.7/5 stars, citing quality as being excellent. At 35 inches high, it is majestic enough to stand alone in the center of a space, and at 18 inches wide and 13 inches deep, it is small enough to fit into tiny spaces.
It's 18 pounds, and the pump and lights are included. Made of weather-resistant resin, this fountain will last for years.
It was made by Millwood Pines and featured their cabin cozy appeal that genuinely emulates the mountains.
It has an open back for easy access to the pump, a 6-foot long cord, and even a video to show the lighted fountain working at night. This is one of the best fountains I have seen for being realistic, imaginative, and durable.
Check out the other Millwood Pines fountains with dogs, rabbits, and different nostalgic and rustic themes.
Water and Wind Proof Outdoor Patio Curtains

Make sure to browse all the styles of outdoor patio curtains at KGORGE!
These are the best outdoor curtains I have seen, and what puts them over the top is the double up and down grommets for the rod that holds them in place!
Water, windproof, and UV resistant, there will be no more worrying about fabric blowing in your face or knocking over drinks on a windy day.
These curtains would be perfect in cool weather because they are thermally insulating, even though they are one layer.
Stainless steel grommets and 80-90% blackout are also features of these unique drapes.
This blackout feature would be my only concern as light is part of being outside, and I don't want to go out into the darkness!
This color is rich and classic but dark enough to be cozy and different from many other options.
Coming in 11 colors and nine different measurements, there is something for everyone and at a price that won't give you or me a headache! Also, try Suchoutdoor for super curtain choices!
Modular 7 Piece Faux Rattan Patio Seating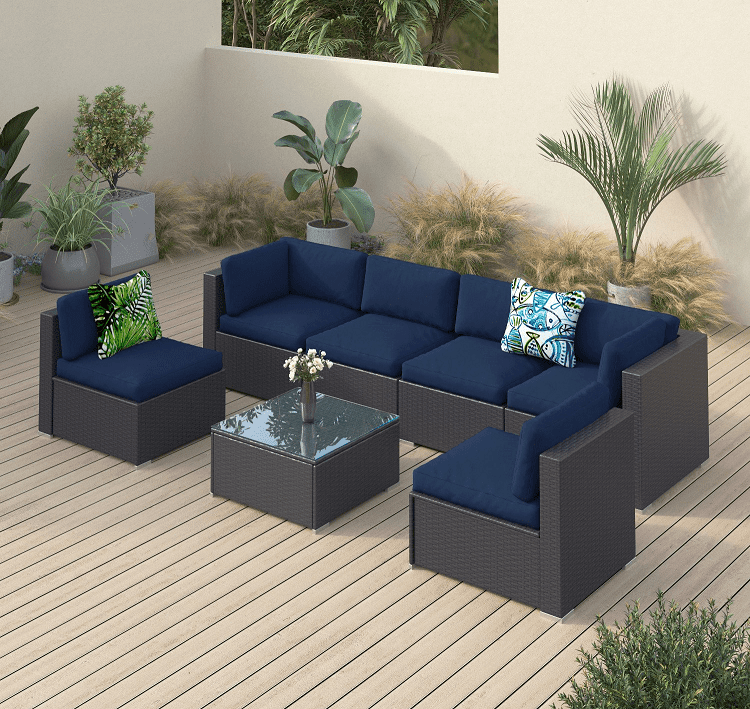 This seven-piece set from Walmart can be split up into six different chairs around the coffee table, made into a couch with three or four parts, or combined into one large sectional!
The versatility and functionality of modular-style seating allow you to have a set that matches to focus on another outdoor décor, such as greenery or rugs, or artwork to personalize your space.
Having a solid steel frame and high-quality faux rattan gives this lightweight set ease of use for moving and repositioning as needed. The cushions are comfortable, with more than 3 inches of foam to sit on. Removable zippered covers are easy to launder.
The coffee table glass is tempered to withstand hot and cold beverages and meals. This set comes with a one-year warranty from the manufacturer. You are getting four armless chairs, two corner chairs, a coffee table and back, and seat cushions.
Look for alternative modular seating ideas at Target, as they have many!
FAQs
Question: How do I know if modular seating suits my patio?
Answer: Modular seating is designed for all spaces, whether large or small, angular or open. It's also intended to be arranged in many different configurations to accommodate every need. Styled to coordinate with all pieces in that line, it is a sure thing for someone wanting a clean, crisp, and harmonized theme for the backyard.
The balance it creates in your outdoor living space is achieved regardless of the seating features that you opt for. Each piece of a modular set can stand on its own or be attached to another few details to create a sectional. The design of most modular seating is sleek, with right angles and a somewhat modern appeal.
The joy in modular furniture is that it helps make the decoration process so easy. Every piece matches, spaces, and shapes can be accommodated, and there is a spectrum of pricing for everyone.
The question is not so much "Is this right for my patio" because the answer will always be yes. The question is, does modular seating represent your unique personality?
Question: What type of patio material is best?
Answer: You dictate the best patio material. Many patios are made with cement due to their versatility and durability. Many colors and patterns exist; it is inexpensive and can be a DIY project. Pavers are made of cement, and my favorite ones are the interlocking shapes that you don't need grout for!
Brick is a favorite and has been used for thousands of years for outdoor living spaces. Many shapes, color combinations, and themes can be achieved with brick. It lasts, but you will pay more for quality brick pieces. Try using brick for the walkway and then for the patio; use coordinating cement pavers.
Flagstone is wonderful for around pools or where you need some traction when wet. It is slightly rough and comes in many colors and shapes. Limestone, Bluestone, Quartzite, and Sandstone are all variations of it. Use stones that are 2″ thick to avoid cracking; otherwise, they will need to be placed in cement to last.
Tile is used, but it is not optimal as it gets slippery when wet
Mulch, pea stone, gravel, and sand are also used, and I especially like pea stone as it drains immediately, and you can control its height.
Cut stones like marble, travertine, and granite are also used for a formal, elegant and smooth look. You will be paying a premium for this, and I don't like it because there is not as much choice or adaptability.
This picture is Tan Variegated Dutch York-Stone-styled paving. Each paper is 10″x10″ and comes in a box of 44. These are durable and inexpensive alternatives to the actual stone. Easier to work with, and many colors and patterns are available at Home Depot today!
Question: How Can I Make My Patio Unique?
Answer: Things you like make a patio unique.
What is your ideal vacation? Being on a beach, mountain biking, or, if you're like me, swimming in waterfalls and perusing boutiques on cobblestone streets.
A tabletop fountain, free-standing fountain, or DIY rock pond can show your characteristics and style.
Good article from the Family Handyman on building your own little "mountain spring."
Try huge colorful scarves to tie around the top of chairs for a one-of-a-kind look.
Home Talk has an excellent how-to for tying.
Check out Amazon for inexpensive scarf options.
Question: What is Patio or Backyard Zoning Design?
Answer: Patio Zoning has become a conversational term lately, as people strive to maximize their outdoor space for all types of activities. We are all looking for ways to be with others in everything we do, but have it OUTSIDE so that people will feel comfortable participating.
Sectioning out areas of your outdoor space for different purposes is called patio rezoning. Children's room, pool, quiet conversation, dinner gatherings, sectional seating for everyone, small firepit, bistro set for breakfast with your partner, quiet work or study retreat, etc.
Houzz and The Spruce have great articles on creating patio zones!
If your yard, back or front, doesn't lend itself to an accessible zoned patio setup – create zoning! I would suggest small pea stones, bricks (a bit more intensive), or even a large rug to create peaceful moments. Check out the Handyman's Daughter for directions on making a pea gravel patio.
Easy and inexpensive instant patio solutions include using pavers to "pave the way" for your patio and walkway. I like this idea because pavers come in so many beautiful styles. An article for creating a paver patio can be found on the Gardening Channel.
Home Depot also has a comprehensive guide on different styles of pavers.
Designing a small 8′ circular area with pea stones can make a backyard corner into a sweet sectional oasis. Creating a pathway through grass lends itself to putting two benches on either side to make a "destination" on the way to the garage.
Lowe's has a video that has step-by-step DIY directions for making a paver pathway!
In Conclusion
Ultimately, the best patio truly puts you at peace and embodies your person.
Whether you like modern simplicity and tailored lines, rich textures in bold colors, or traditional, classic beauty, as long as you walk outside and feel hopeful, calm, and happy (the way that nature intends), it is the BEST patio design you could have in these times where nothing is certain.
I suggest disregarding the "mores" and "social etiquette" of coordinating your outdoor space with your home just because someone says it won't look right. The new "best" doesn't have an already dictated set of criteria – it is an outline waiting for your criteria. Be bohemian with a Southern-style ranch, set out that modular furniture in a colonial brick home, and embrace your whimsical wicker garden-style outside of your current split level.
Social distancing is not a problem when you create a second home outside of your four walls and a roof.
Recommended Reads: