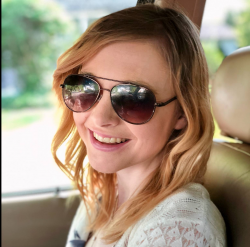 Latest posts by Erin Jamieson
(see all)
I grew up with fireplaces: my parents always had one, as did my Nana and Papa and my late grandparents. But one thing my family never had- and my mother has always wanted- was an outdoor fireplace. Ever since I attended a home aroma event in Cincinnati, I've been fascinated by how much fireplaces can transform a porch. 
But as I've seen more designs and researched outdoor fireplaces, the more I see how they are not limited to grand homes, but even ones with a tiny space. From freestanding to fire pit inserts to custom built-in fireplaces, there's nothing that quite has the same ambiance. 
I'll show you amazing contemporary, classic, and timeless fireplace designs for your porch-complete with entertaining ideas and seating arrangements. This addition may just be your best home improvement project yet.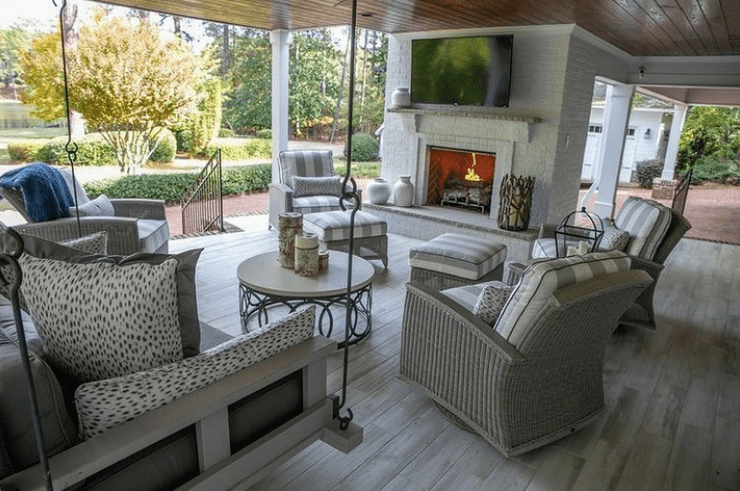 Bottom Line Up Front Summary
An outdoor fireplace is a popular and inviting way to upgrade a porch. Outdoor fireplaces are expensive, with an average cost of around $10,000 to $15,000 with professional installation. But DIY projects and different types of fireplaces can save you thousands of dollars.
From warm brick wood-burning fireplaces to sleek and modern gas fireplaces, there are plenty of options. My ideas include both fireplace ideas and the area around them. The goal: add ambiance, entertainment, and practicality to your porch. 
If I had to choose just one of these eye-catching fireplace design ideas, it would be the Grill Out Porch. This combines an open-air grilling space, a beautiful granite countertop and bar area, and a seating area. Complete with a brick fireplace and L-shaped outdoor seating, you can use this template and scale it up or down for enjoying dinner from start to finish.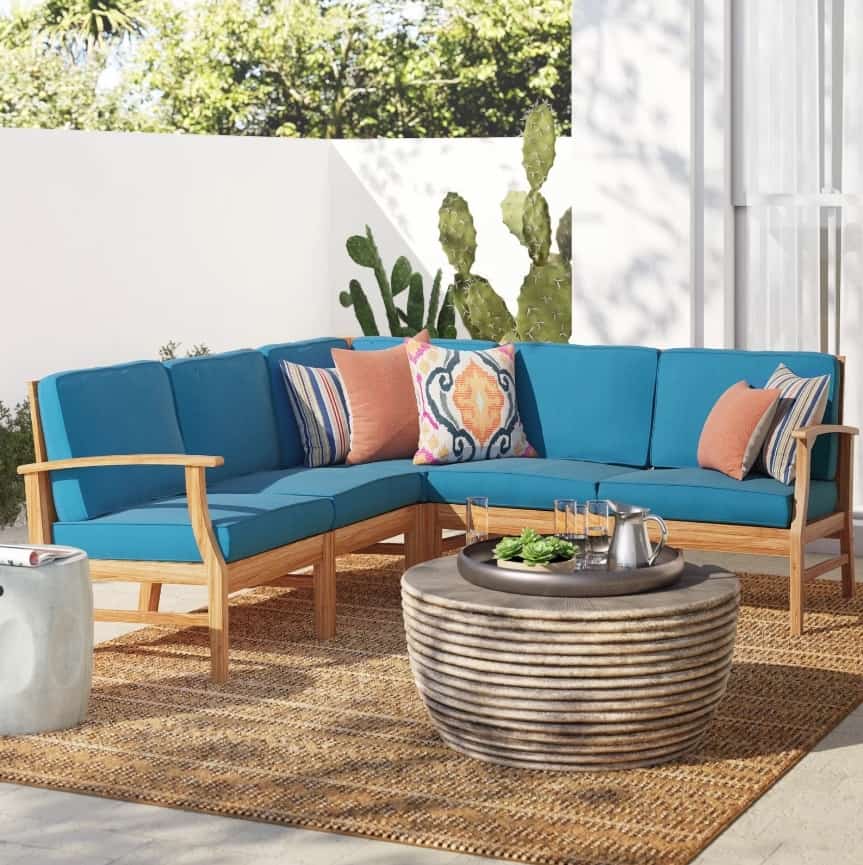 My Top Fireplace Porch Ideas
Rustic Elegance: Best Southern Charm

Modern Southwestern: Best Colorful
By the Coast: Best New-England Inspired
Cozy Screened-In Porch: Best Classed Screen Porch
Art Deco Space: Best Whimsical
Open Air Simplicity: Best Classic Porch Design
Vintage-Inspired and Vibrant: Best Vintage-Inspired
Cozy Solitude: Best Space For One
Lasting Impression: Best Fireplace with TV

Poolside Glamour: Best Fireplace with Pool

Book Lover's Haven:Best For Book Lovers

Grill Out Porch: Best Fireplace Design with Grill & Bar 
My Ideas Criteria 
Before I show you have favorite ideas for an outdoor fireplace area, here's a glance at how I chose these designs. It's one thing for a porch fireplace to be beautiful- it's a whole other thing for it to be practical and worth your money. From modest fireplaces to large wood-burning fireplaces, here's what went behind each design idea. 
Gas vs Electric vs Wood Burning Fireplaces
You might wonder why I'm including gas, electric, and wood-burning porch fireplaces. We all have a preference. I love the ambiance of a wood-burning fireplace. But I don't think there's a one size fits all solution. So here's why I included all three choices. 
Gas Fireplaces
Gas fireplaces are a good option if you want something cheaper to run than electric, but don't want to mess with the upkeep of a wood-burning fireplace. While some can be used in screen porches, I prefer them for open porches and contemporary or modern homes. 
Electric Fireplaces
These fireplaces are a great choice for anyone who wants a strikingly modern look, and something reliable for entertaining. 
Wood Burning Fireplaces
On a budget and love a classic look? These are best for traditional porches. 

Types of Fireplaces
One mistake I made when I first became interested in outdoor fireplaces? Assuming that they were off limits for small porches. The truth is that different types of fireplaces are perfect for accommodating different spaces. 
Fireplace Inserts
I like fireplace inserts for the smallest porches or a minimalist and modern look! Inserts are excellent for DIY projects and refurbishing older fireplaces. Fuel burns more slowly and efficiently, too. (If you don't have an existing fireplace box, then you need a regular fireplace). 
Fixed/Built-In Fireplaces
You can DIY or have these professionally installed. I love how seamless built-in fireplaces look, and they are perfect for entertaining. 
Stand Alone Fireplaces
Stand-alone fireplaces are a better option if you want to slash installation costs (and have versatility). Freestanding fireplaces may not look as seamless, but I love how much more affordable they are. 

Quality Materials 
If you're spending money on an outdoor fireplace, then you absolutely should care about how it's constructed. I balanced weather resistance, function, and aesthetics for all my ideas. My favorite porch fireplaces are constructed from one of the following main materials
Brick
Brick exudes warmth- and it's quite strong. I love brick fireplaces for both traditional and classic homes. Brick fireplaces are also low maintenance- just a bit more expensive than other options. 
Stone 
Like brick, stone is one of the most beautiful, aesthetically pleasing options for a more traditional fireplace. Durable though pricey, I'll show you the different hues you can play with. 
Steel
Stainless steel is one of my favorite options for a more modem, sleek spin on a porch fireplace. I skip regular steel, which can rust and corrode. 
Concrete/ Composite

I wanted an affordable choice for porch fireplaces, so including an idea or two for concrete was important. Concrete isn't as beautiful as the other options, but it's far more economical (it can crack over time, so just keep up with maintenance and catch small cracks with a crack seal repair).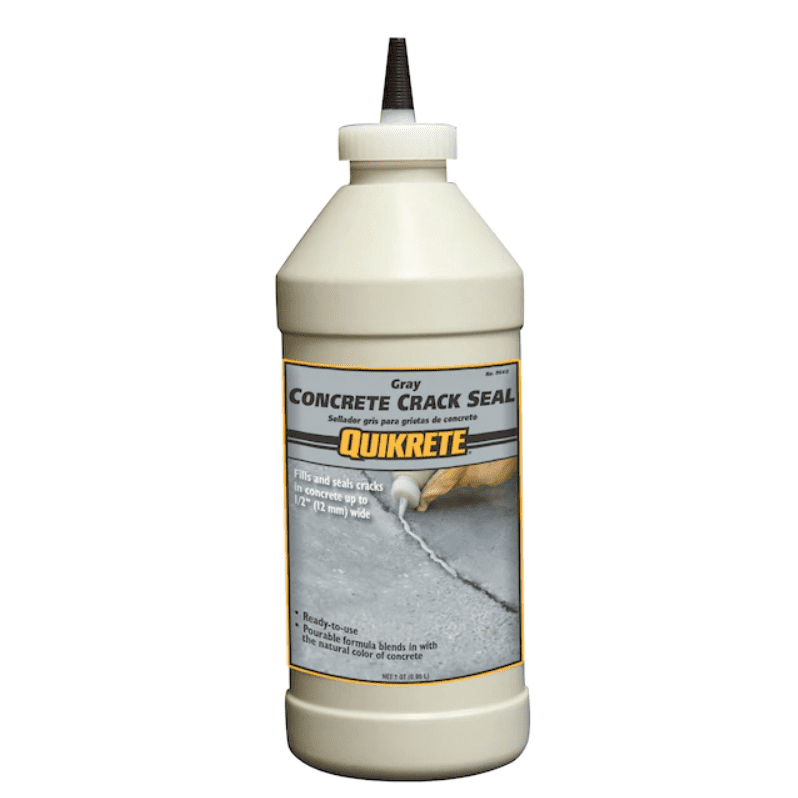 Outdoor Fireplaces for Every Budget
Tying into just about every category, these designs can be pulled off at different budgets. The average porch fireplace costs $10,000 to $20,000- and many of us don't have that much to spend! While I'm including some luxury options, I'm also showcasing designs that cost less. 
More than Just Fireplaces
A porch fireplace, odd as it sounds, isn't about the fireplace alone. When you add a fireplace, you're creating a new space for enjoying or entertaining. With that in mind, my design ideas include beautiful patio furniture and decor to make the most out of your space. 
Playing with Style
These ideas reflect some of the most popular and timeless designs for outdoor fireplaces. Rustic, warm, bohemian, farmhouse, and contemporary- no matter what style you're looking for, a fireplace can amplify it when styled correctly.
Safety First 
All of these porch fireplace ideas are safe- it set up correctly. Whatever catches your eye, provide a minimum of 10 feet clearance from anything that can catch fire. And, of course, for any premade fireplace I recommend, I'm only recommending those built with integrity, from a reputable store (or contractors you can trust). I shopped from places like Menards, Lowes, Home Depot, Wayfair, and more. 
Outdoor Fireplace Designs for Your Porch 
Here are my favorite design ideas for porch fireplaces. From a rustic wood-burning fireplace to a modern stone fireplace and so much more, there are options for a range of budgets and tastes. These styles are at once contemporary and timeless, offering warmth and versatility. 
Rustic Elegance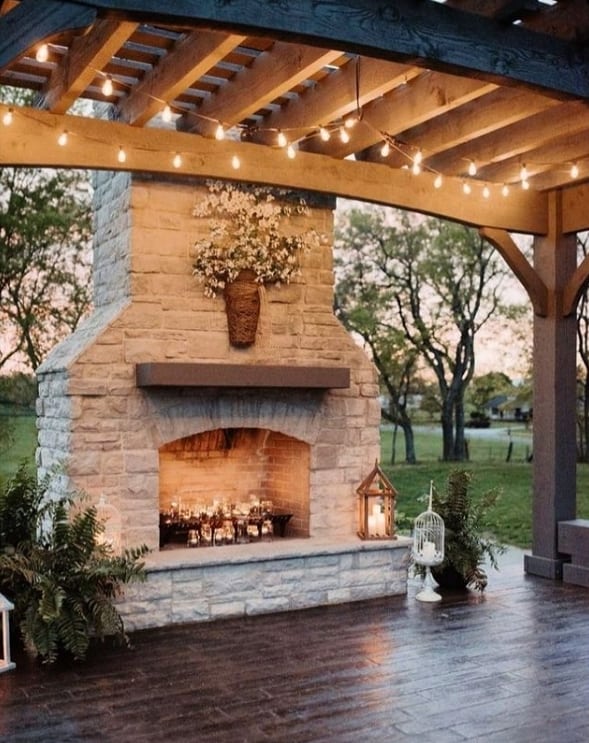 This dainty fireplace exudes modern warmth. I love how the white stone freestanding fireplace keeps it classic, while the lanterns add elegance. But I think it's the floral and greenery details that tie it together. Since this is an open-air porch, the fireplace also is working to give you privacy and block some wind.
Hanging dainty outdoor string lights from the rafters is the perfect finishing touch for entertaining. This looks best with wooden flooring because the dark tones are just what you need to balance the white accents.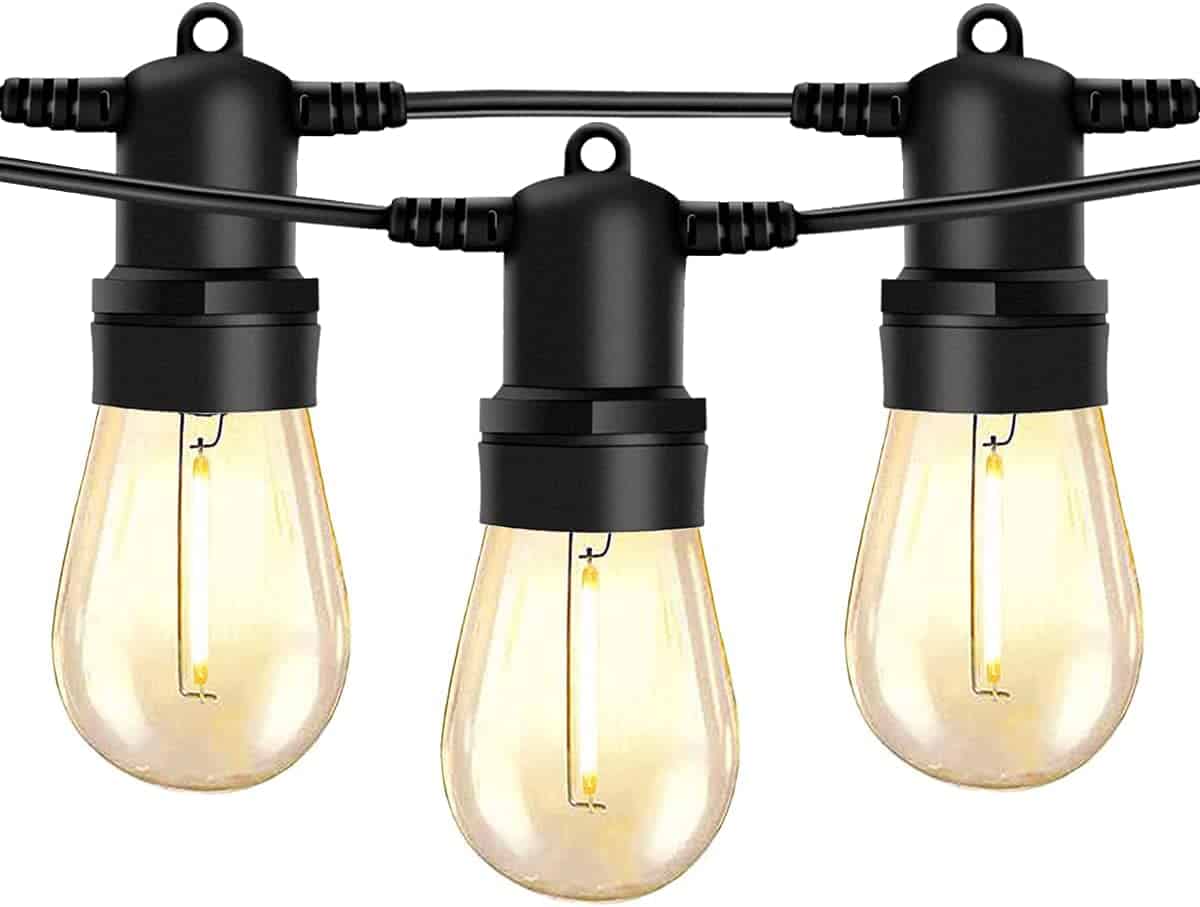 Modern Southwestern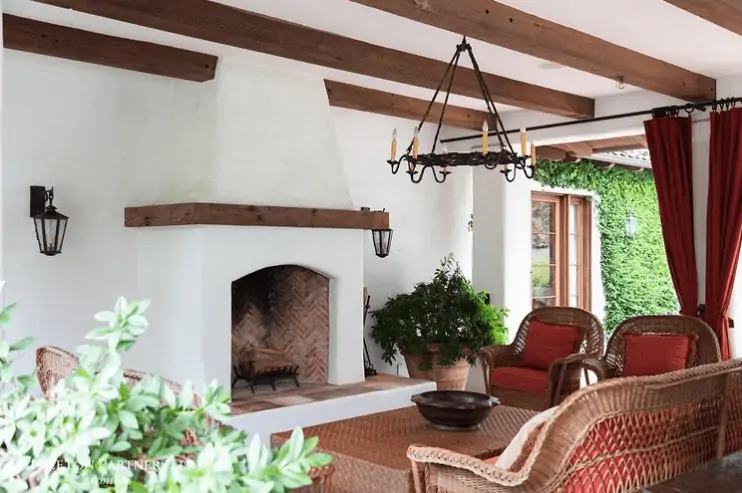 No matter where you live, this charming fireplace porch is going to make a gorgeous statement. Rich red wicker chairs pair with a wicker and wood coffee table and billowing outdoor curtains for a true oasis. I love how this design provides both privacy and an open-air feel- just close the curtains when the rain comes.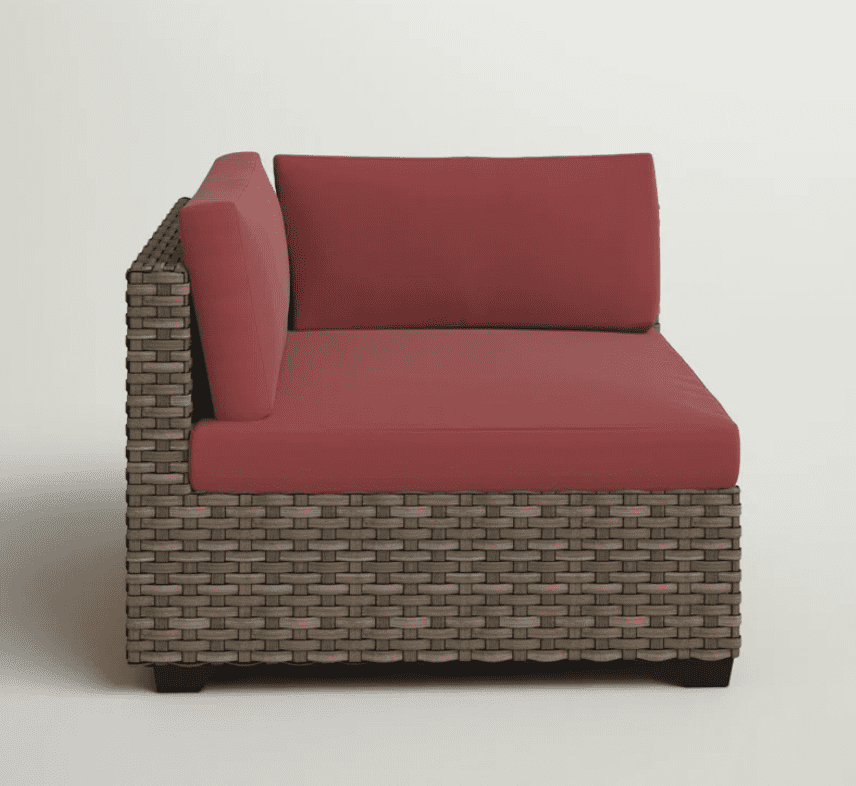 A wood-burning fireplace built into the foundation of your home provides a cohesive and seamless aesthetic. To top it all off, classic porch lights and a potted planted provide allow you to enjoy this space from morning to evening.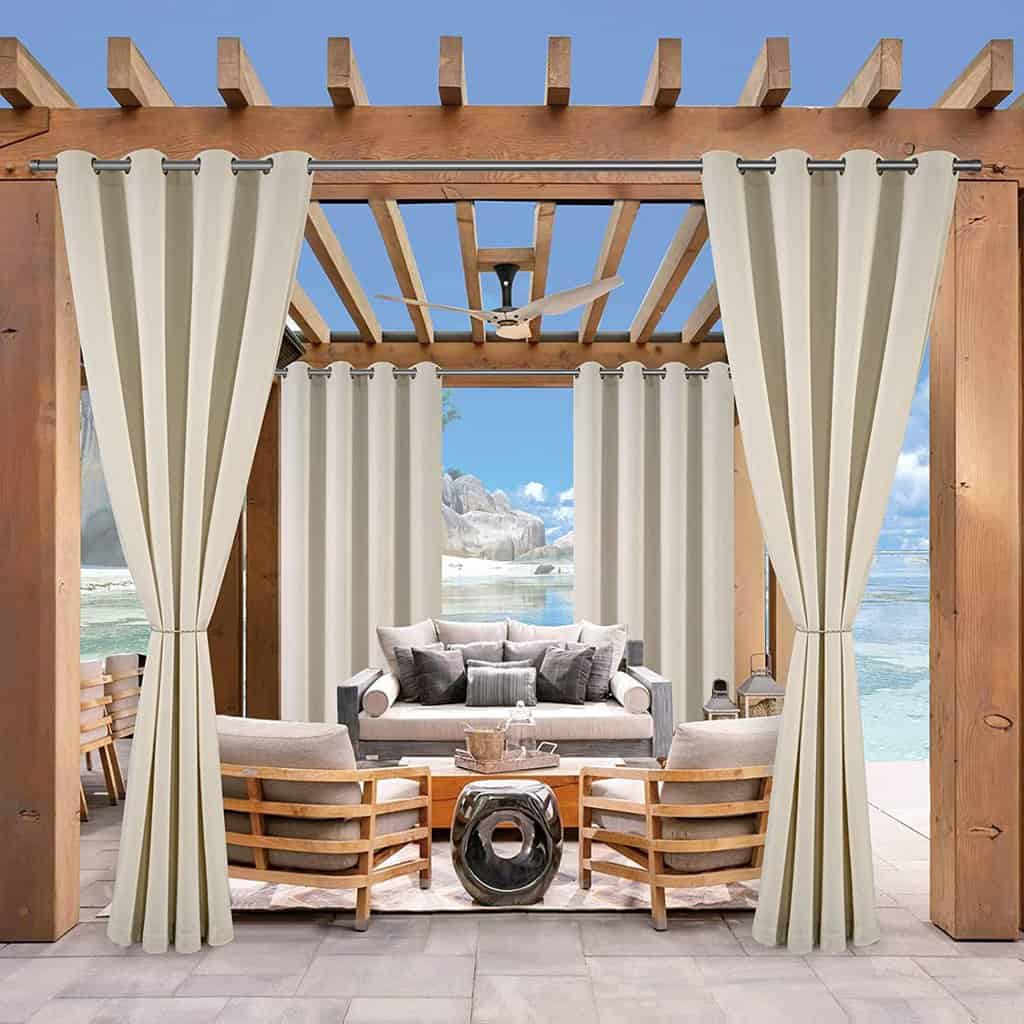 By the Coast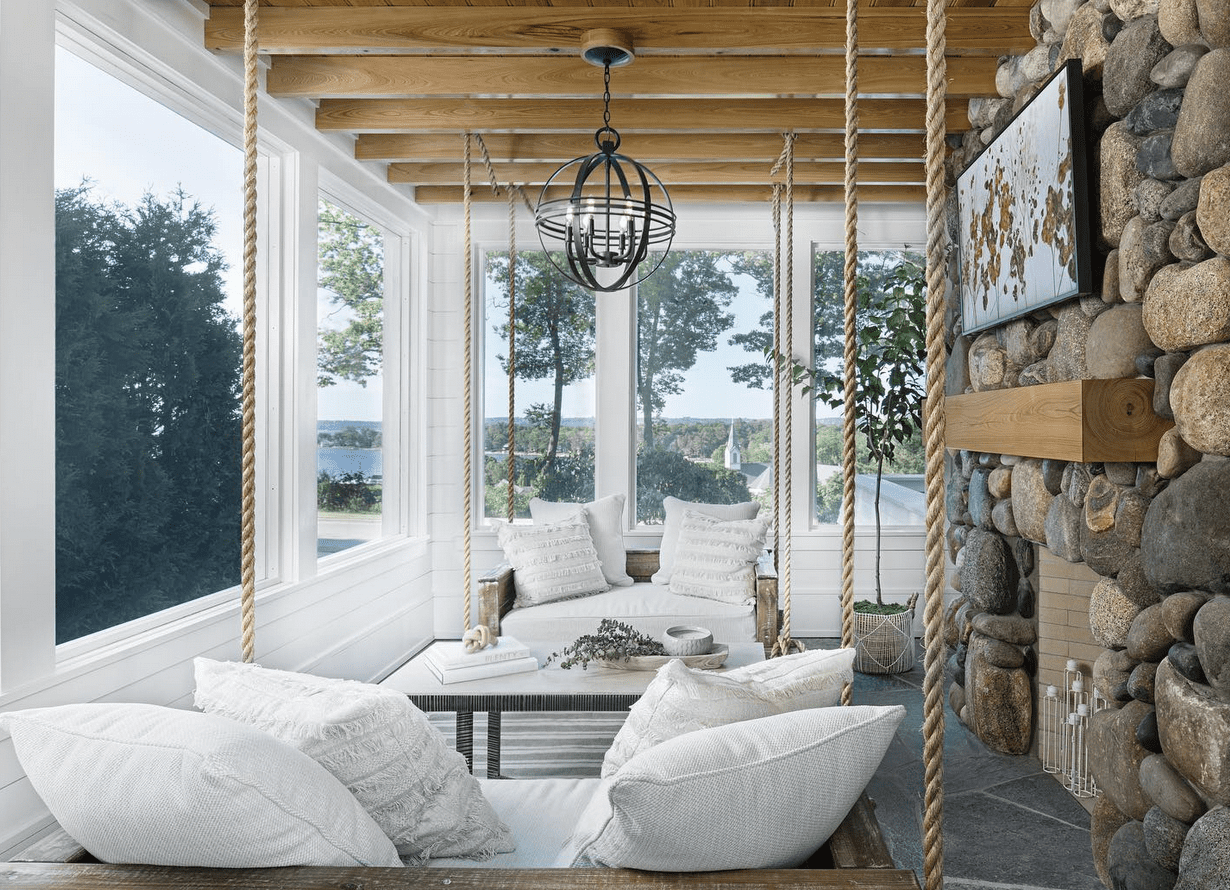 I love New England- one of my favorite trips I've ever taken was to states like Maine and New Hampshire. And part of what I love most is the beautiful coastal small towns. This porch exemplifies that, with breathtaking but simple modern touches. I'd opt for an electric fireplace for those breezy days- and the cool stone exterior keeps very much in theme with the coastal location.
That fireplace is the perfect touch for a cozy place to nap on a classic swing bed. Pair that with a modern coffee table and some playful decor, and this is a place you'll want to spend time in every day, no matter the weather.
Cozy Screened-In Porch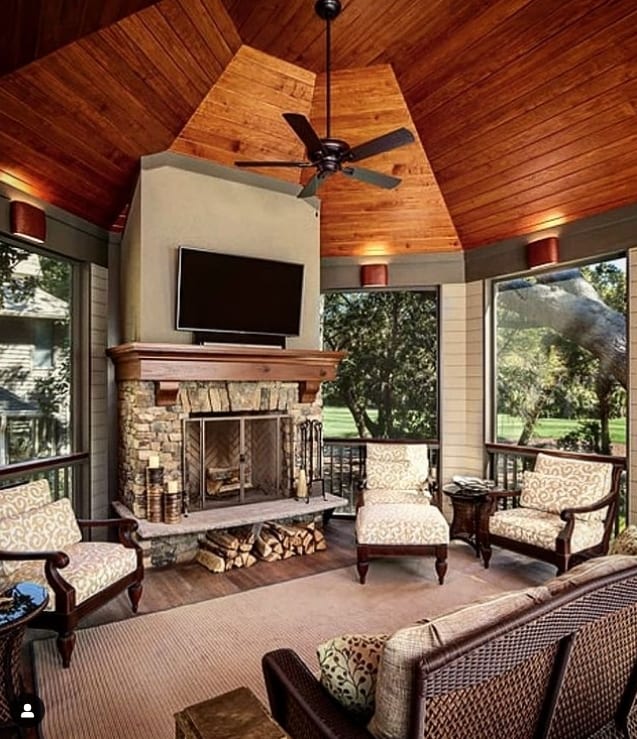 If you have the money, a screened-in porch is a great step for 3 seasons of enjoyment. But I've seen many porches that don't optimize their space. Here, a generous porch is given an update with a built-in classic wood fireplace with a stone exterior. Those earthy tones are carried into luxurious lounge chairs and accent chairs.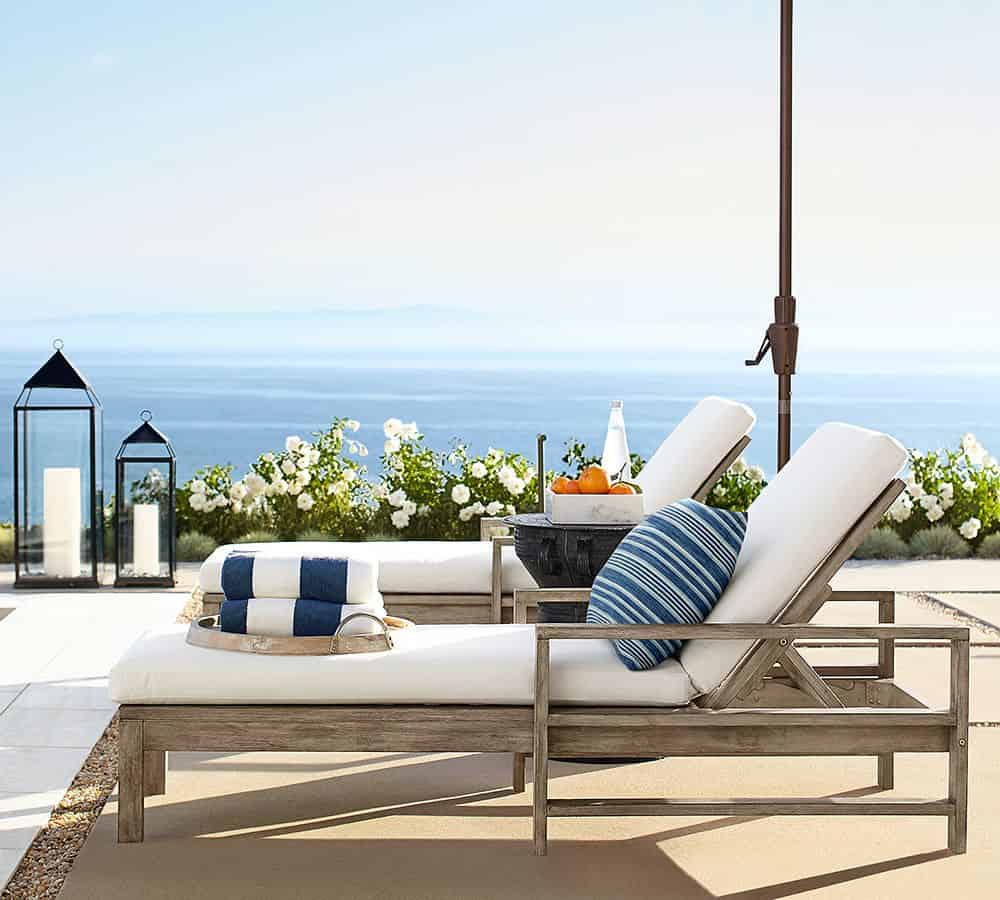 While the wooden flooring keeps this look classic, it's the tan outdoor rug that adds a welcoming but sophisticated appeal. The mounted TV adds entertainment value, but I'd also consider swapping that TV for personal photos or a stereo system.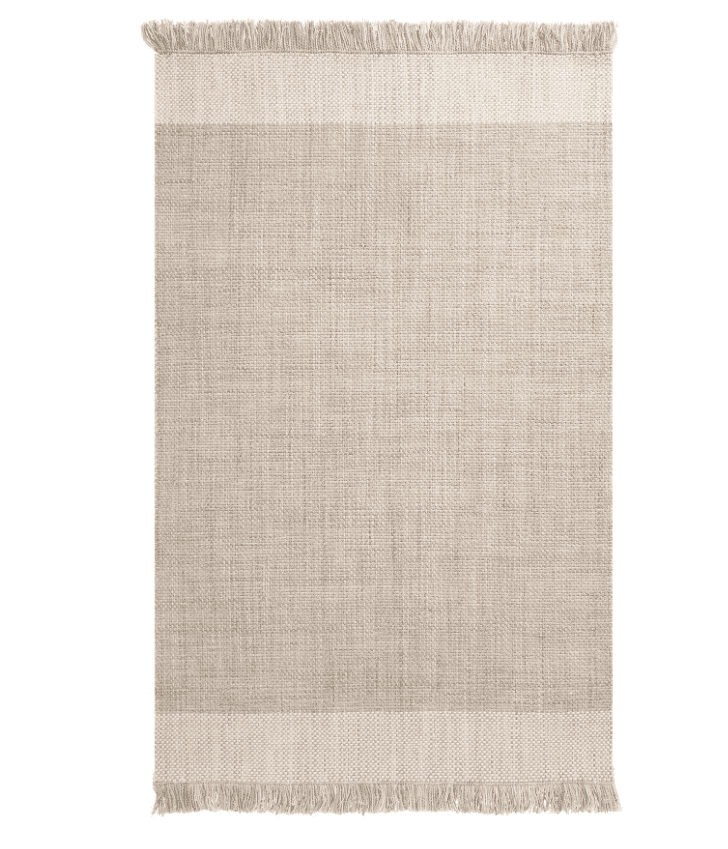 Art Deco Space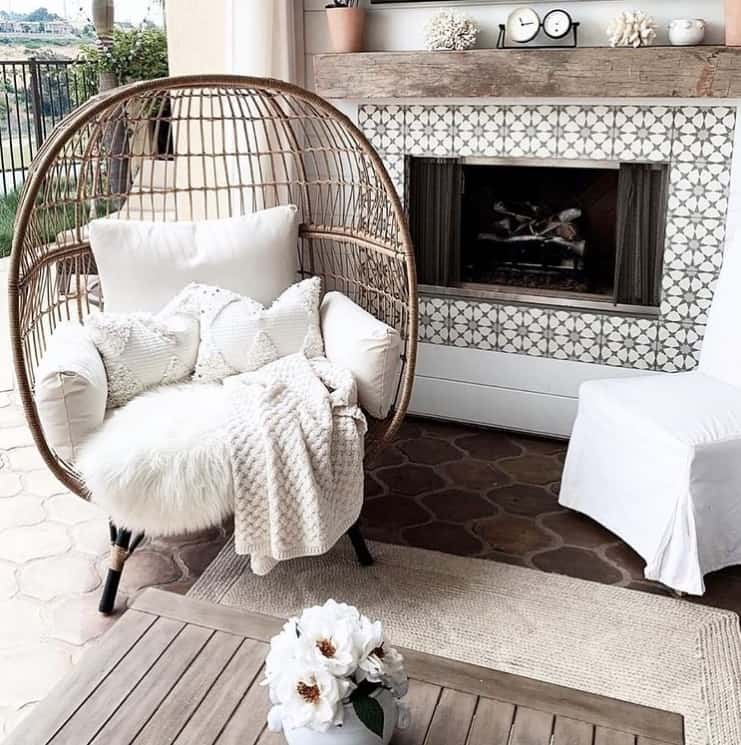 This fireplace porch is pure fun! Of all my design ideas, this is the most playful- and it's great if you have a small space to work with, too. The egg chair is accented with a playful accent pillow, a cozy throw blanket, and plenty of room to lean back and enjoy a cup of tea. This gorgeous built-in fireplace is accented with a tiled exterior (I'd opt for electric if you can afford it).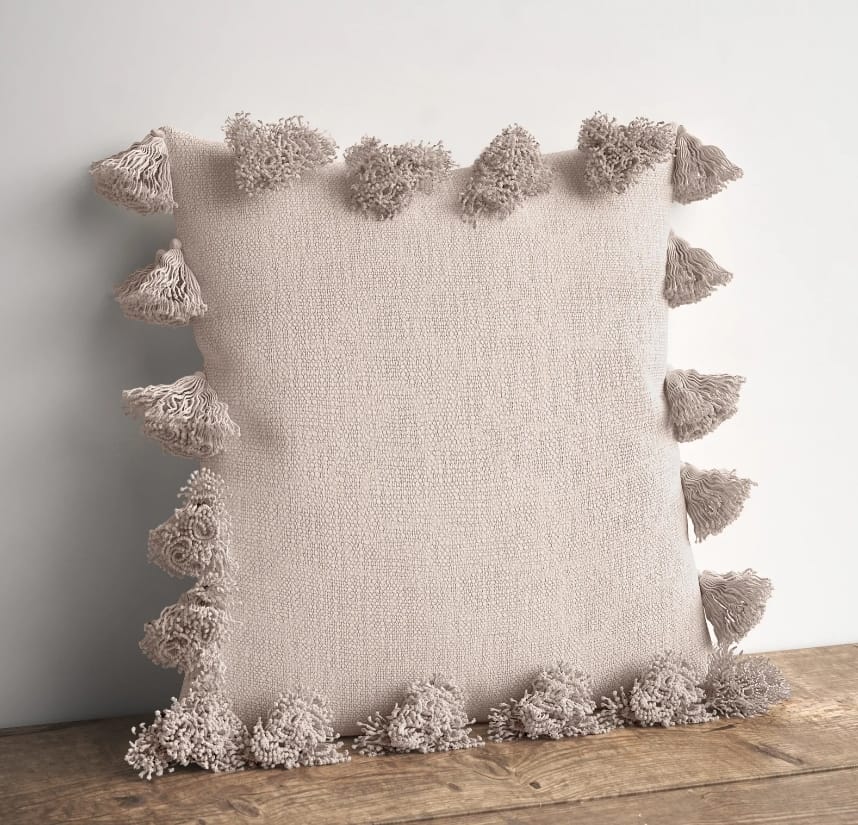 Meanwhile, the accent chair keeps things simple with a pop of white. I especially love the geometric tile flooring. It's that play with patterns that make for a remarkable, unforgettable look.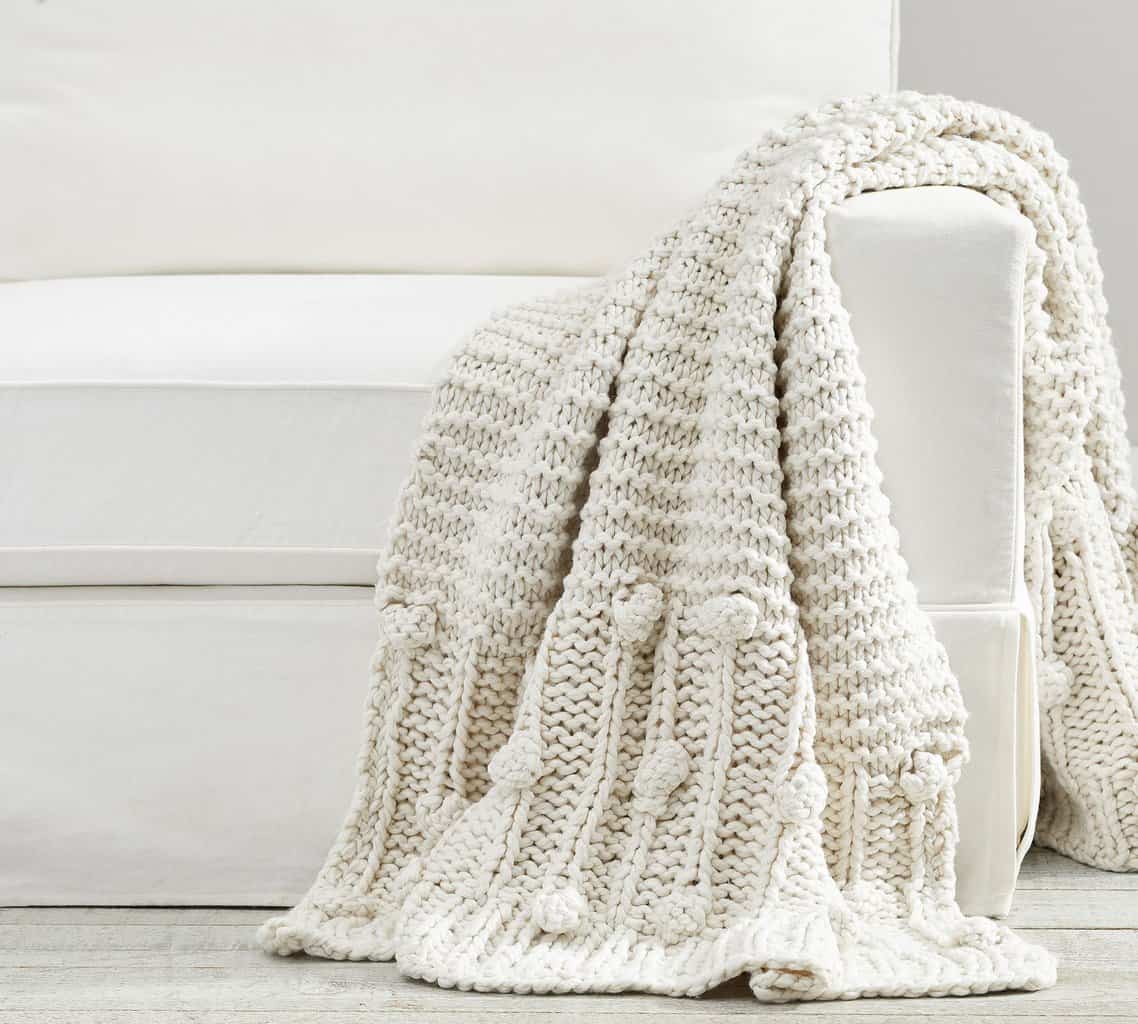 Open Air Simplicity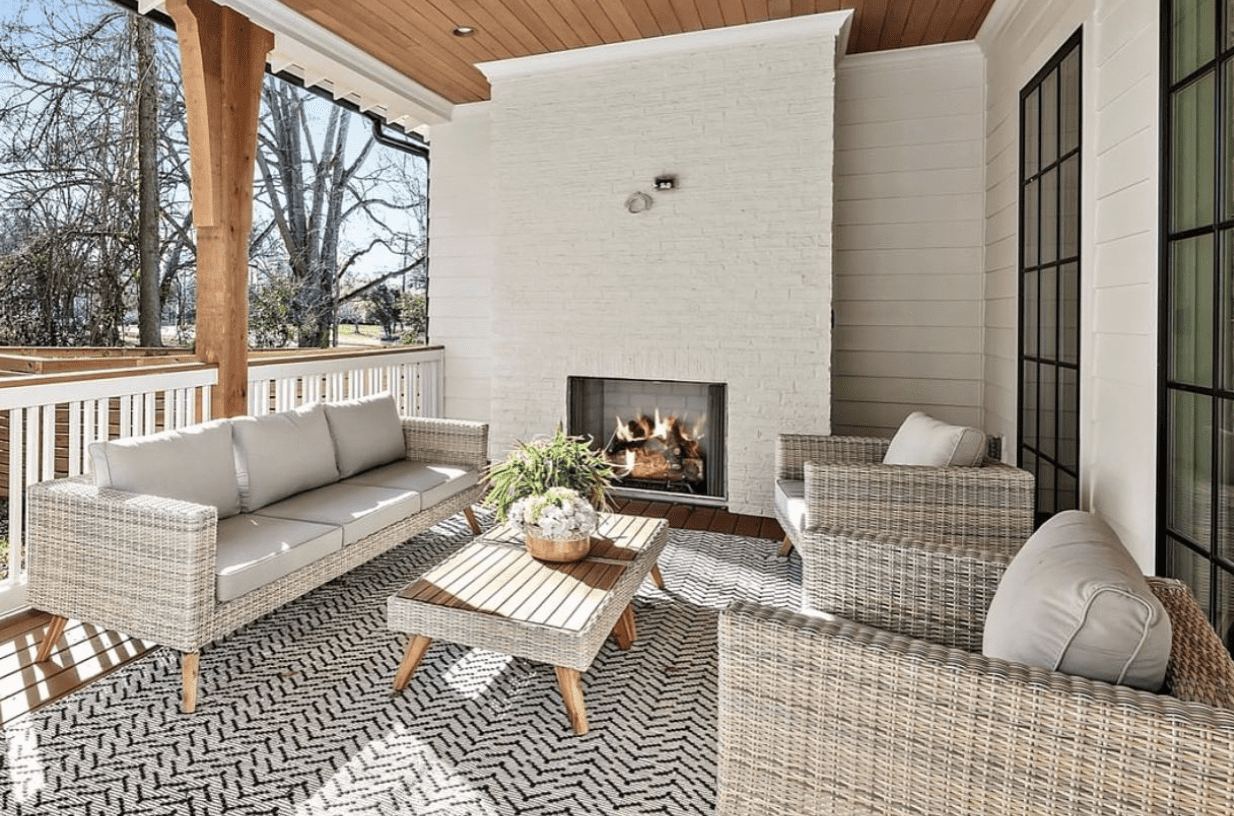 One of the biggest challenges of adding a fireplace to a porch is? Feeling like you need a dramatic style, tons of space, or an enclosed space to pull it off. But this design idea proves none of that is needed. What I love most about this idea are its simplicity and versatility. The stars of this design include two modern wicker sofas, paired with a low-profile coffee table.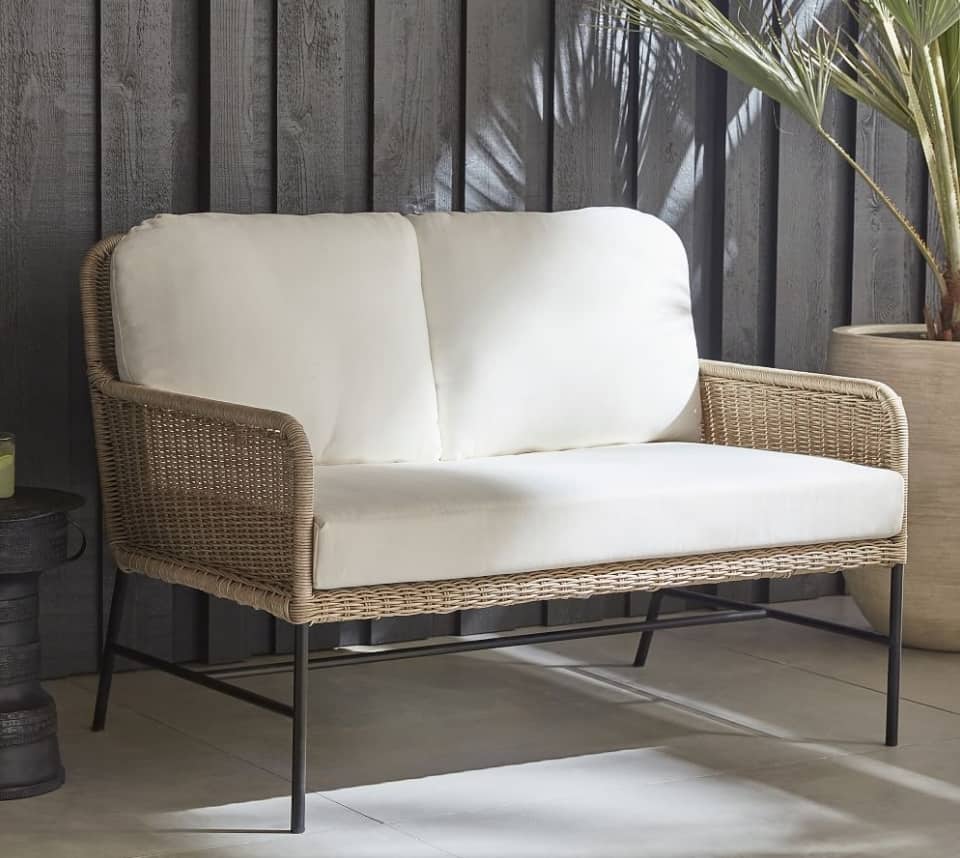 The neutral color scheme pairs well with a white brick fireplace- keep it wood-burning or opt for a gas fireplace to reduce costs. The patterned outdoor rug adds warmth to the space without feeling overdone.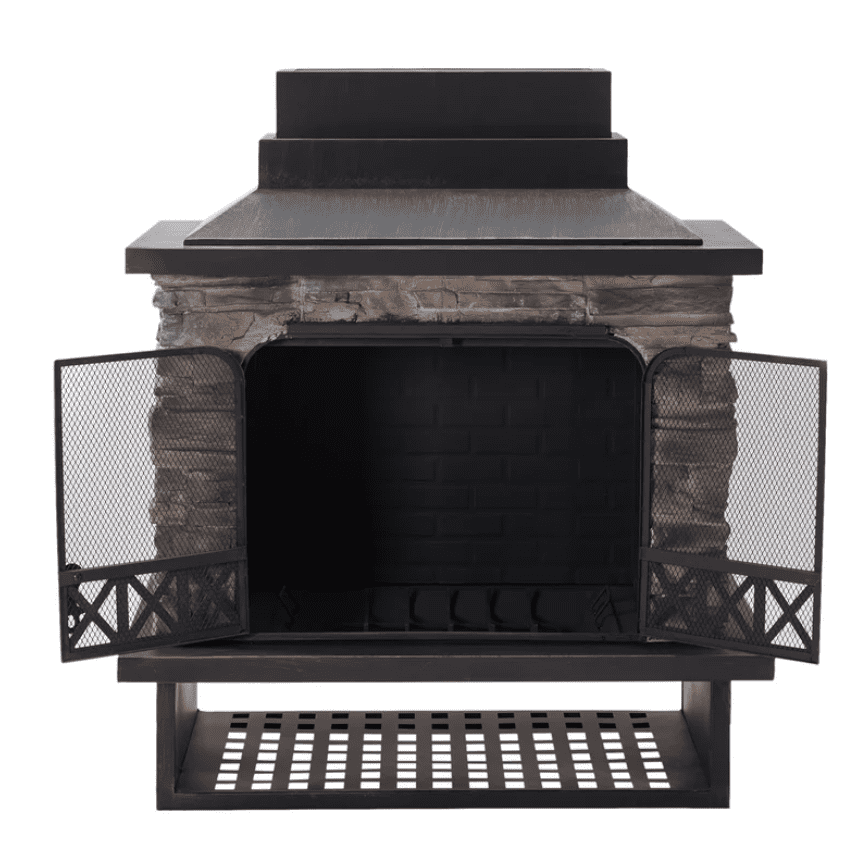 Vintage-Inspired and Vibrant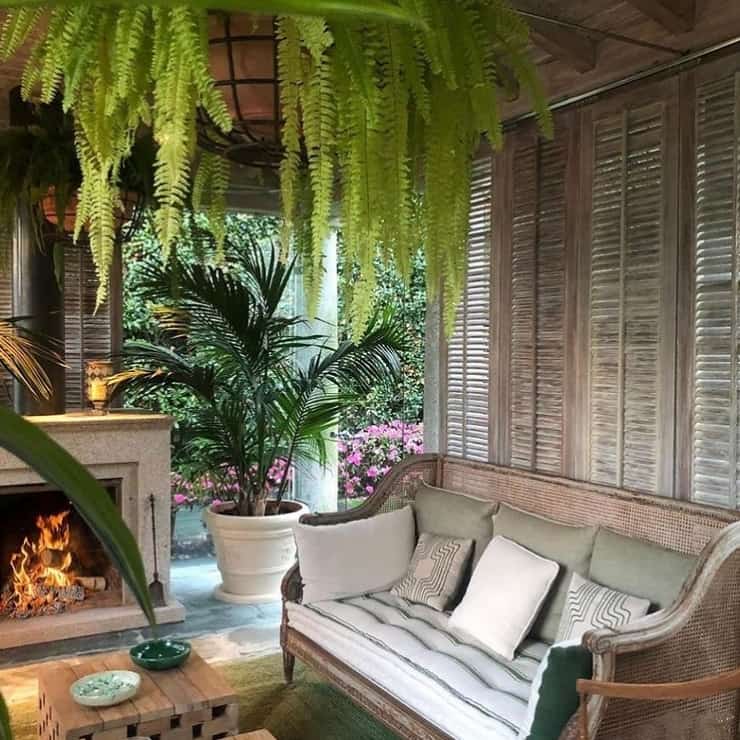 Interested in a freestanding, wood-burning fireplace for your porch? If you have a fondness for a timeless, vintage appeal like I do, take note of this design idea. Even though it's vintage-inspired, it's quite playful, too. Sage green cushions accents a distressed outdoor loveseat.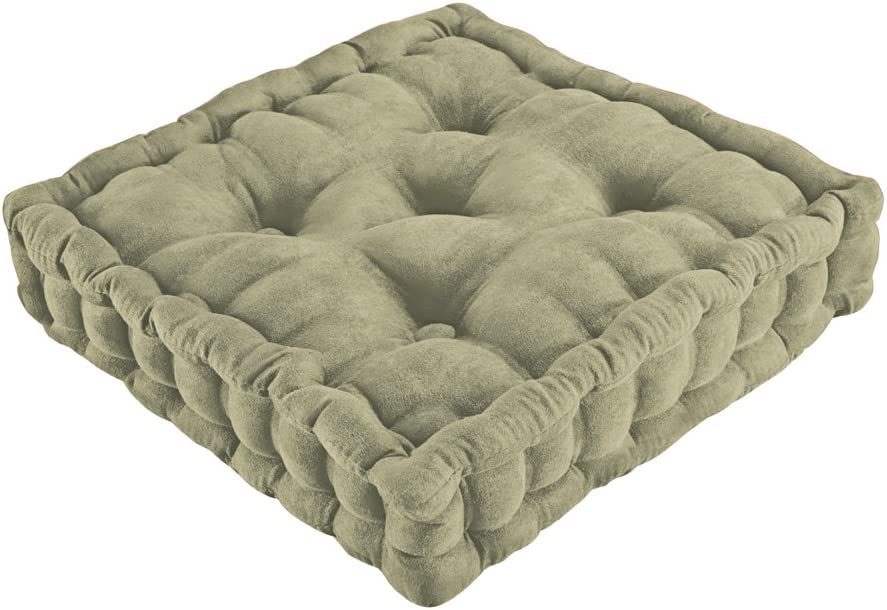 That pairs beautifully with magenta flowers. Switch up your plants based on your climate- or even opt for realistic faux plants for year-round beauty. Another element that makes this design complete is the antique privacy divider- and I love that it's a cheaper alternative to a full-screen porch or a sunroom.
Cozy Solitude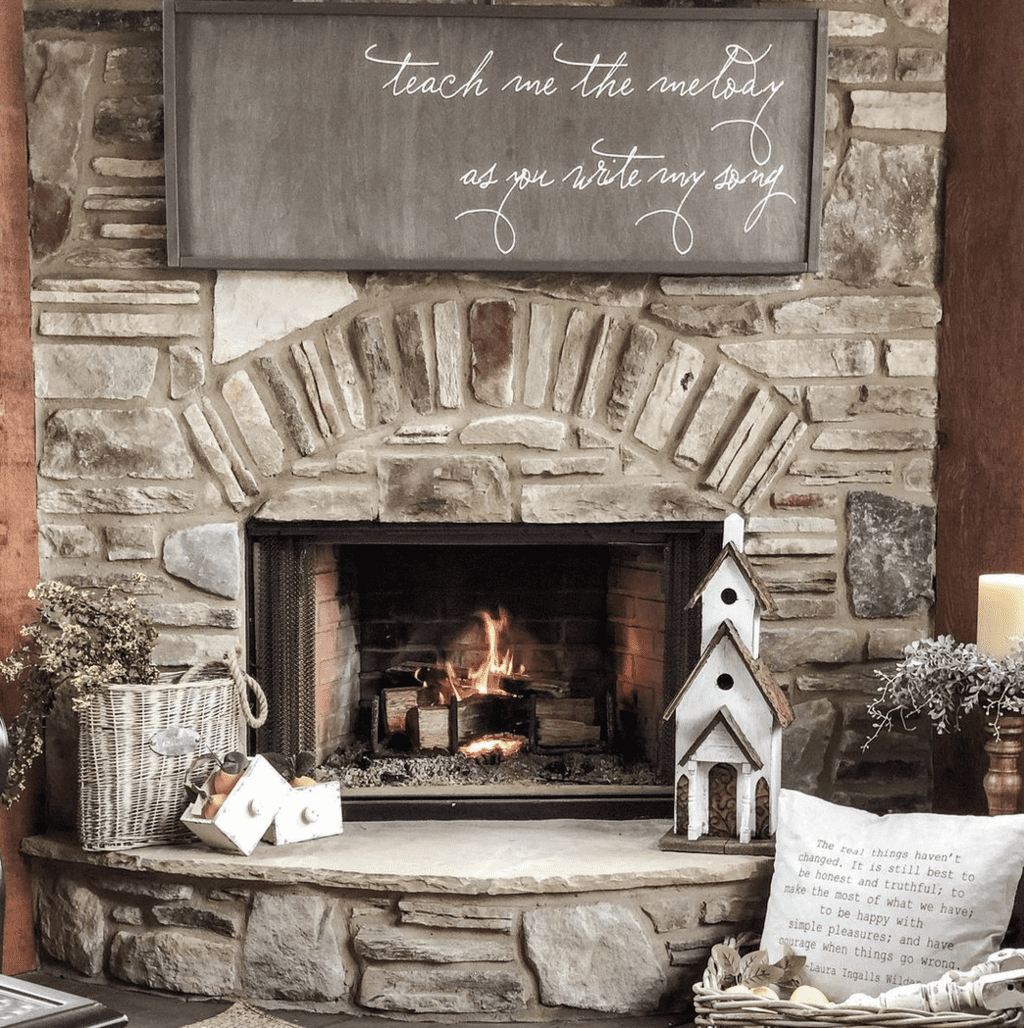 This custom stone fireplace shows how a beautiful porch design doesn't need a lot of space. Both wood-burning and gas fireplaces would work well with this cozy rustic theme. This design is for the detail-oriented person. Find inspiration throw pillows, and a wicker basket with sprigs of green, and make the space your own. Set against a warm brick backdrop, this design is at once timeless and inspiring. It's a great place to reflect when life gets chaotic- something I think we could all use from time to time.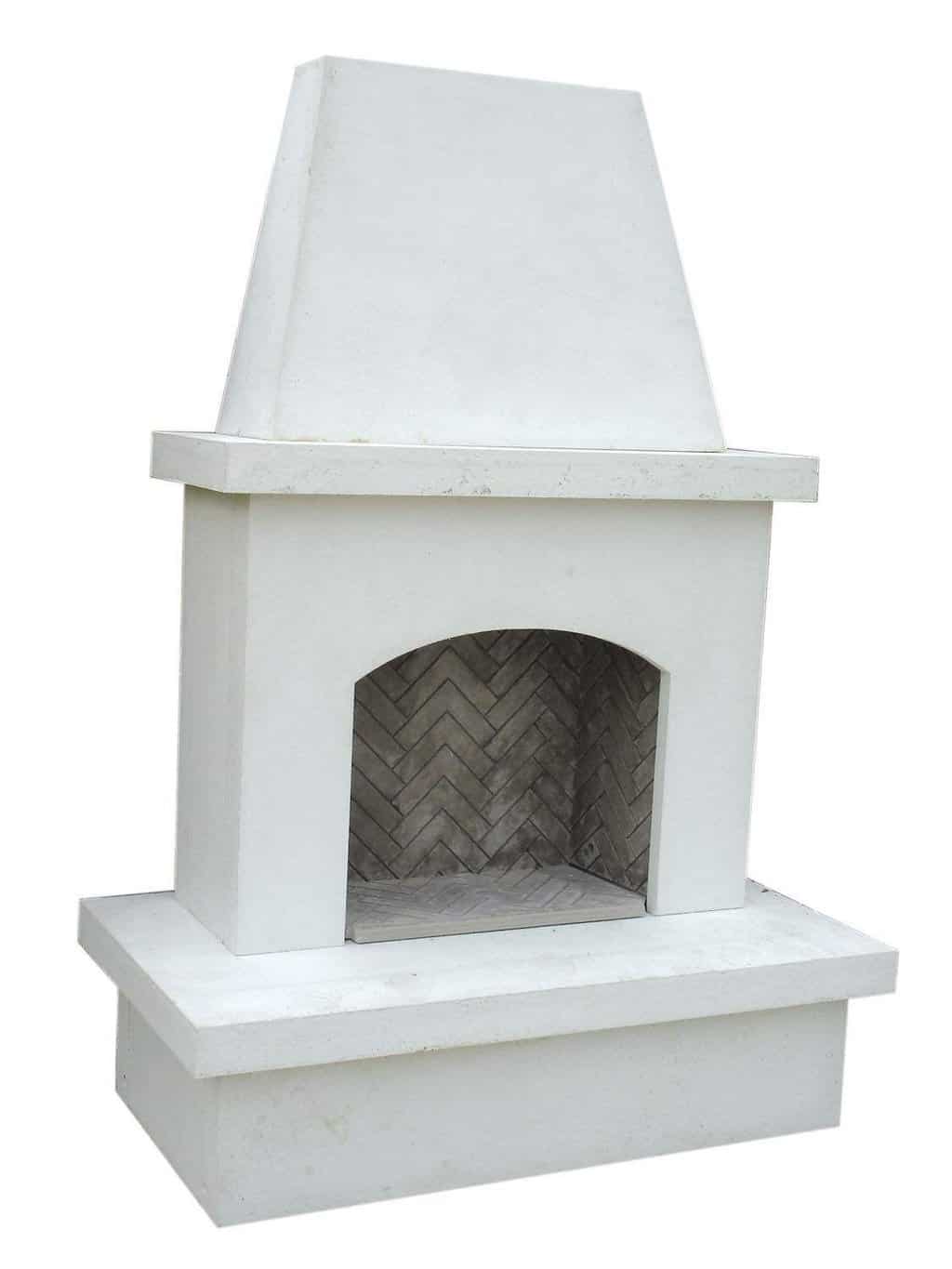 Lasting Impression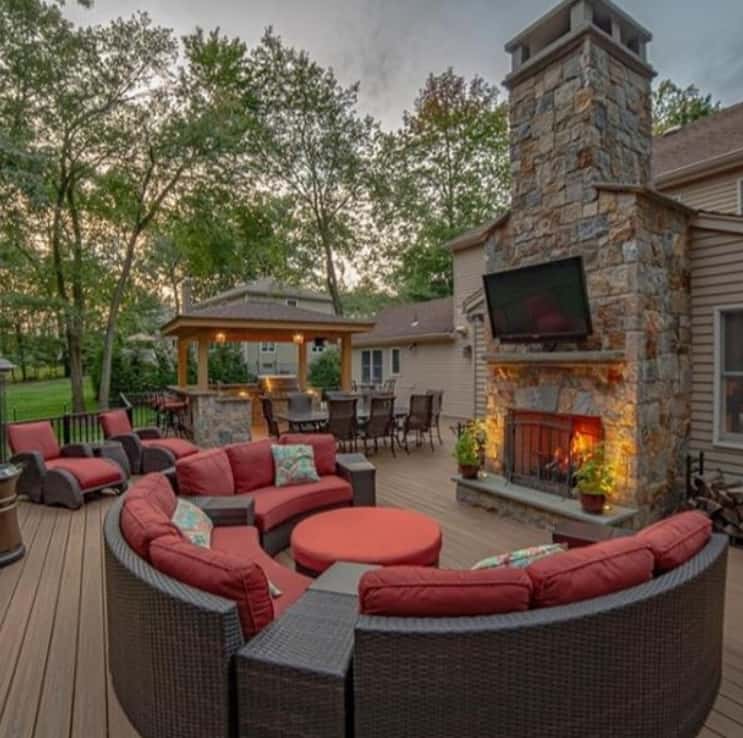 This one's for the entertainers at heart. Perfect for anyone who loves having company over and wants to entertain, this 3-season porch design with a fireplace is simply fantastic. A built-in electric fireplace insert (or freestanding) forms the warm centerpiece for curved wicker seating. It's the perfect way to enjoy TV in a way you never had before, while the lounge chairs behind provide a quieter space for other guests. If you have room, add a pergola and a Polywood dining table for a porch you'll enjoy all night long.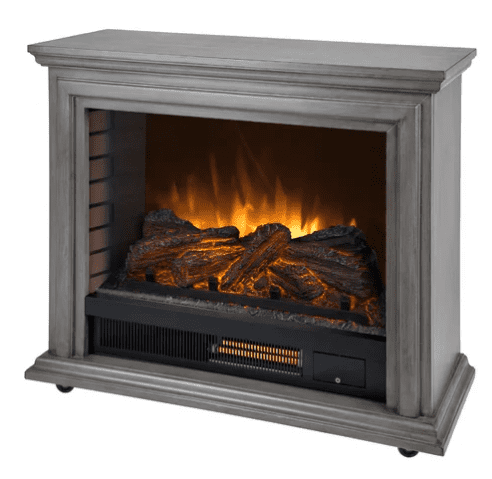 Poolside Glamour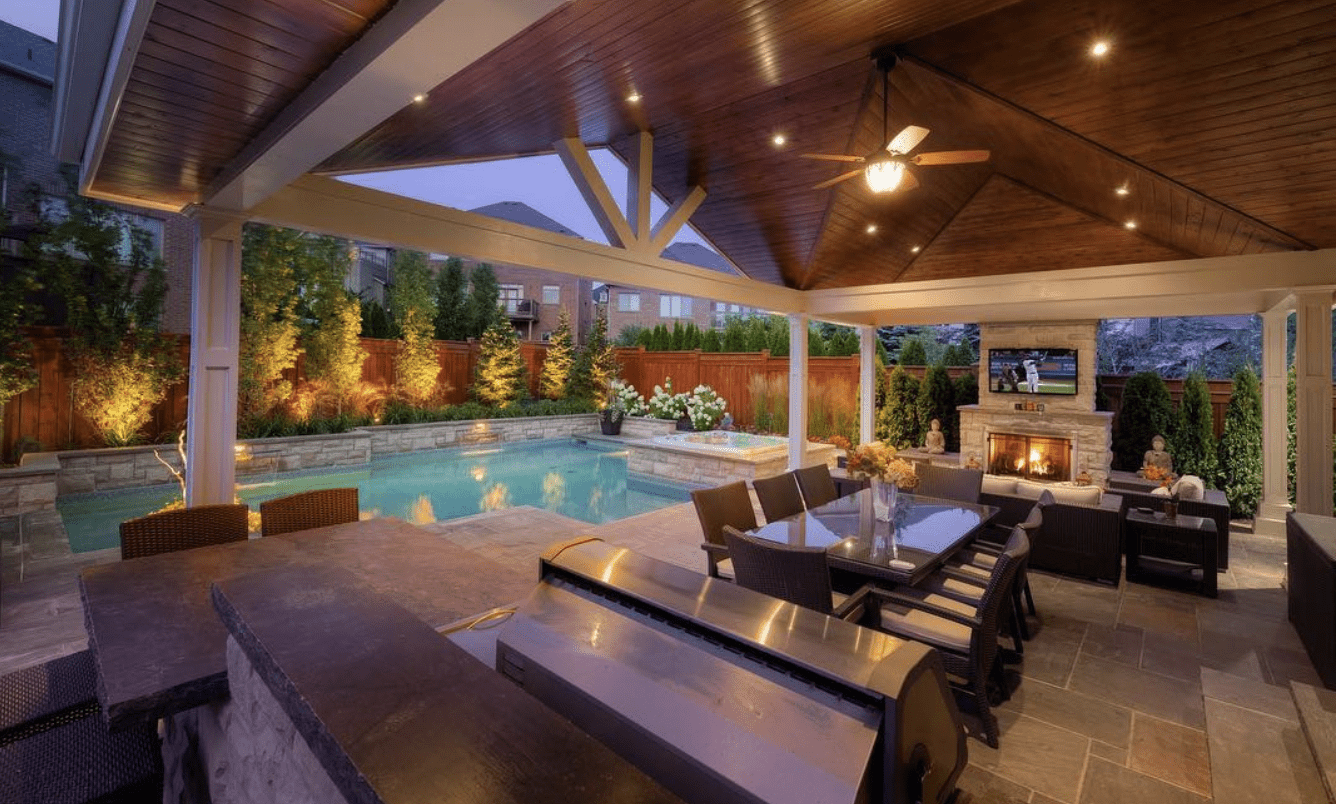 This design idea isn't going to be for everyone. You need a large budget, ample space, and a lot of patience. This gorgeous outdoor pool pairs with a porch dining and entertaining area. I've seen such designs featured for home-aroma homes, and it's easy to see why. A covered, open-air porch features an elegant dining table, an outdoor bar, and a seating area.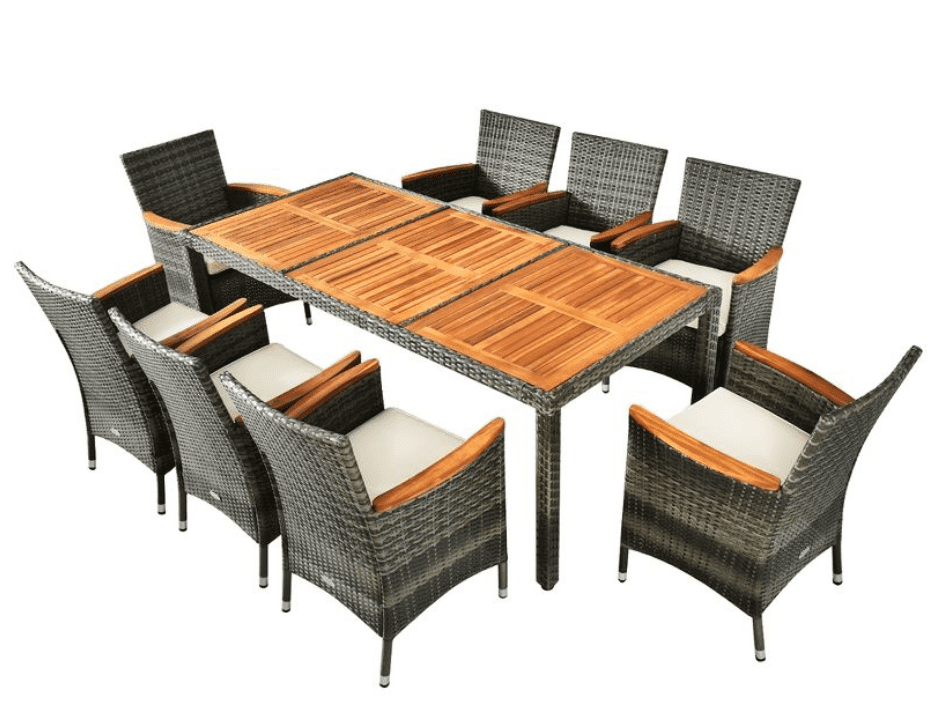 The seating area features an electric white brick fireplace, along with modern outdoor sofas and loveseats. The black and white theme feels sleek and modern- but the pool and touches of florals keep it from feeling sterile.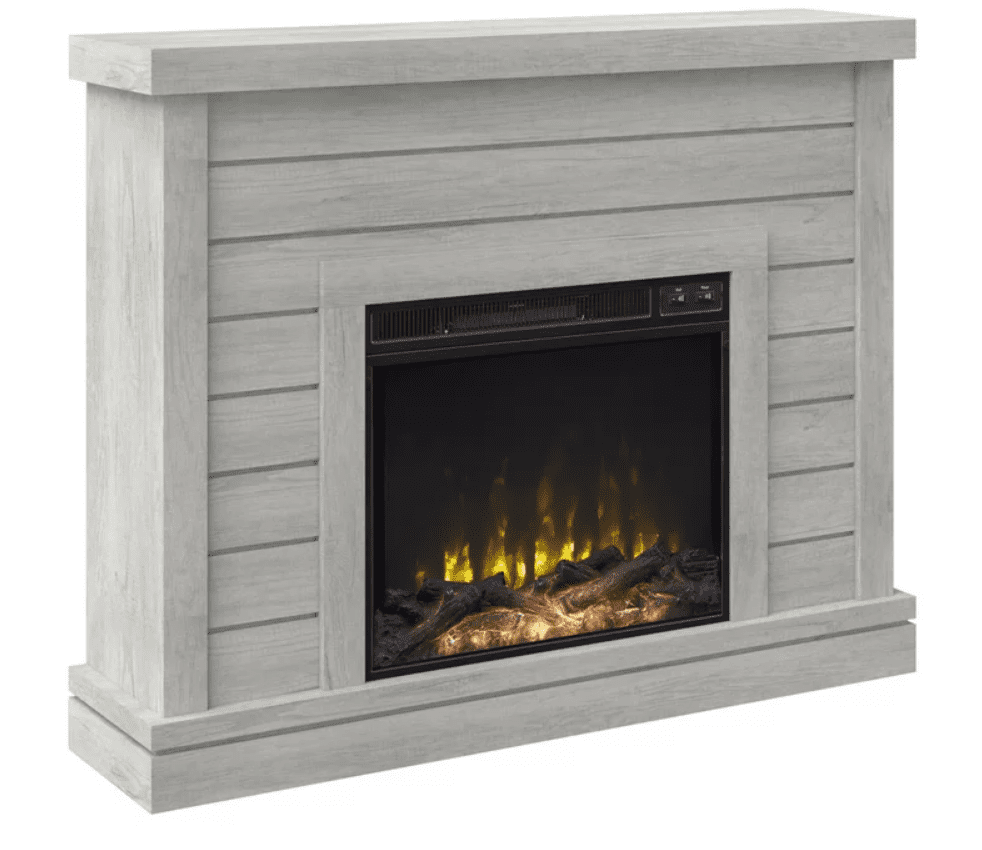 Book Lover's Haven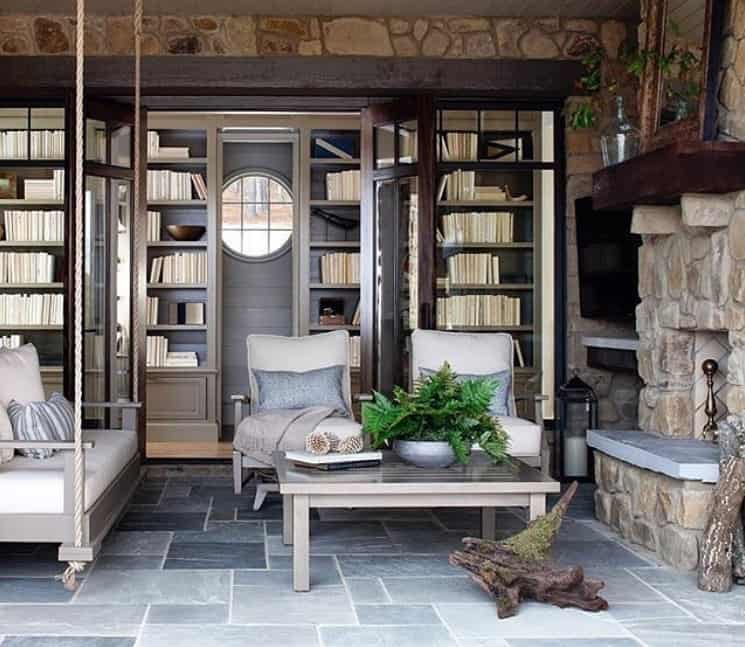 I admit it: I have a personal bias towards anything involving books. I'm an avid reader, and there's little more comforting to me than a personal library. But this design shows how books can serve not only as a place of solitude but as an accent, decor, and entertainment. Whether you use real books or faux books, (make sure they are well protected if real) there's no doubt that these beautiful bookcases or outdoor display shelves add charm and character.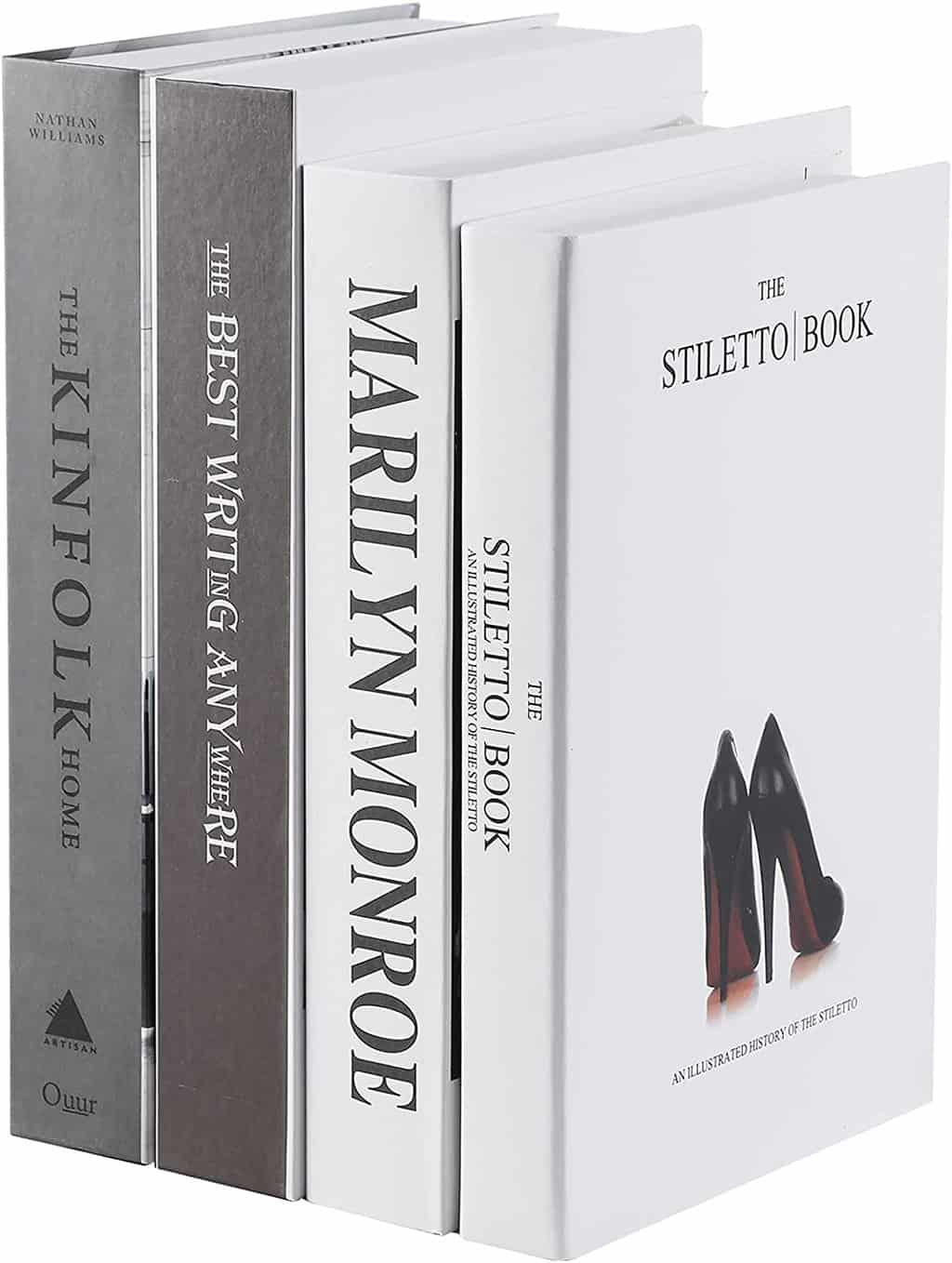 The daybed porch swing and accent chairs provide an almost French-inspired feel- while the outdoor stone fireplace adds that warmth for a cool day. While you can sneak in a mounted TV, I think this design is also just fine without.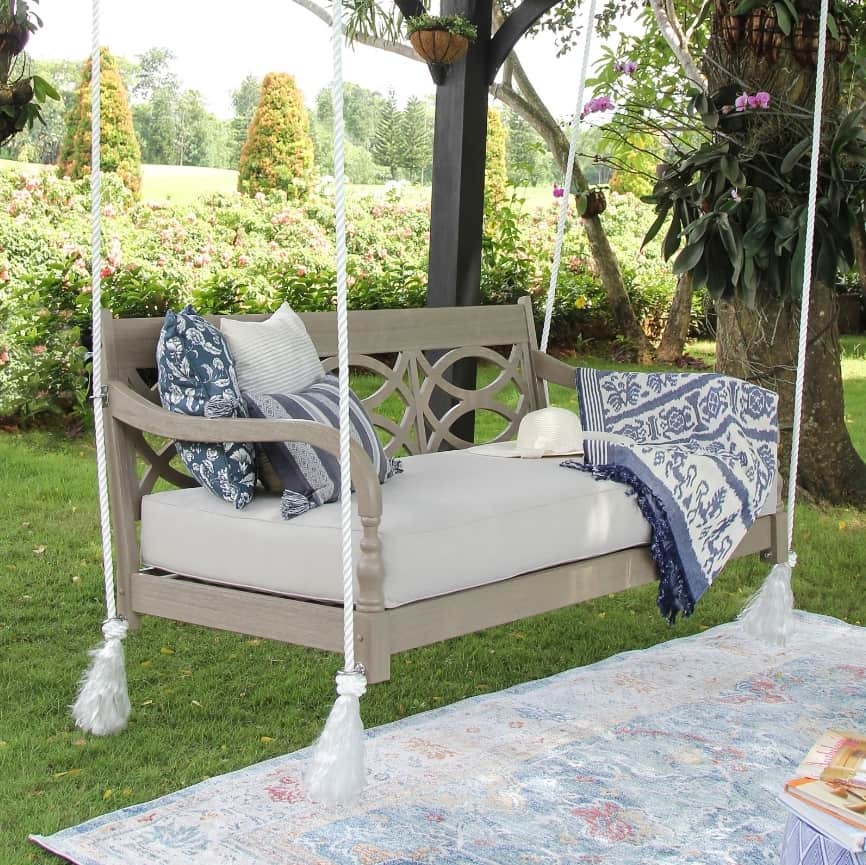 Grill Out Porch
My final idea for a fireplace porch reminds me of growing up with family cookouts. Just because you have a fireplace porch, doesn't mean you can't also have a space to cook out and grill. If anything, this is ideal for entertaining while you prep your meal. A granite outdoor countertop provides prep space and a bar area, complete with bar stools.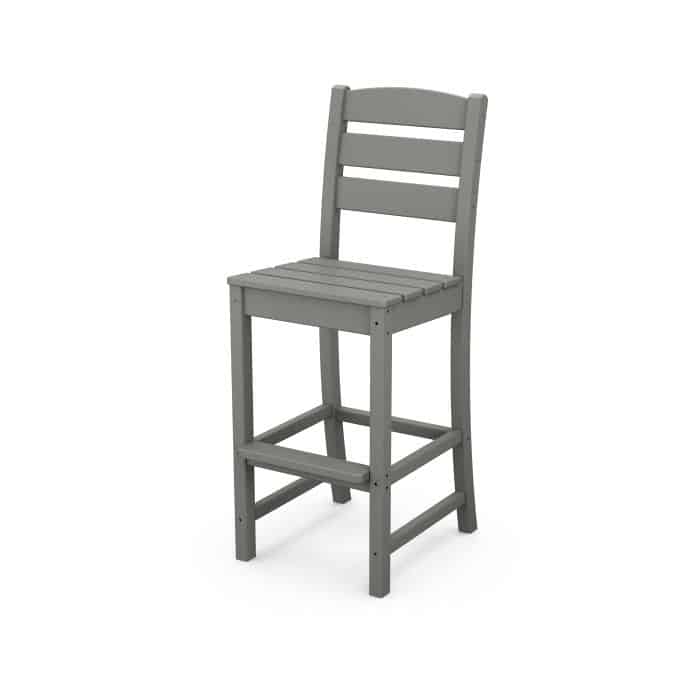 Meanwhile, L-shaped outdoor sofas are perfect for a cozy space around a free-standing composite fireplace. A fire pit insert would also be perfect if you have an existing wall. This space is at once modern and update, but also classic in its use.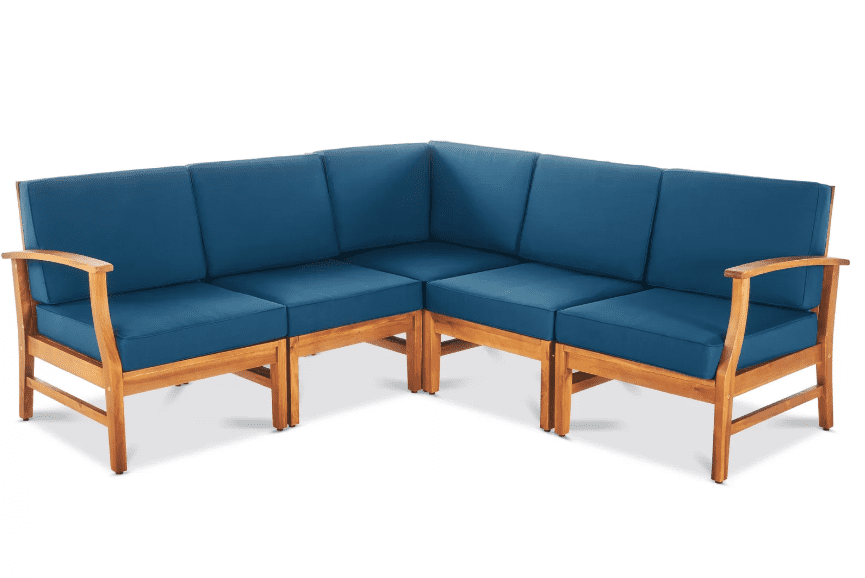 Frequently Asked Questions
Question: Can you have a fireplace on the porch?
Answer: A fireplace is a welcoming and warm addition to a porch- but it must be integrated thoughtfully. Featured on both open Porsche and covered porches, it's an excellent choice for entertaining and adding ambiance. The key is making sure you have adequate space to accommodate your fireplace and adequate ventilation.
Some of the most popular fireplace designs are built right into the side of a home, while others love fireplaces for a modern screen porch idea. So long as you plan accordingly, a fireplace could be just what you need for an elegant porch upgrade. 
Question: How much is a porch fireplace?
Answer: Outdoor fireplaces aren't cheap. It's one easy, for an open porch, some opt for a modern fire pit instead. But while the average outdoor fireplace costs around $3,500, the range is anywhere from $1,000 to as much as $30,000. The fireplace's size, customization, materials, and features all factor in the total price tag.
Gas and propane fireplaces have a higher start-up cost than wood-burning because they require connections. Of course, a DIY fireplace, if done correctly, is less expensive than one that is professionally installed.
Question: Can you have a gas fireplace on a screened-in porch?
Answer: This is tricky. Usually, you don't want to have a gas heating solution (patio heaters and fire pits included) in an enclosed space. However, a screened-in porch is a bit different than a fully enclosed porch (like a sunroom). Most will have adequate ventilation, but they should be fairly large. You also need to comply with CSA rules for clearance. If you're not, that's a great risk to you and your home. I still prefer electric and wood-burning fireplaces to gas for an enclosed space. 
Question: Do you need a flue for an outdoor fireplace?
Answer: The purpose of a flue, of course, is to provide ventilation. Exhausts travel out the flue and act as an exhaust pipe. Outdoor fireplaces don't always need flues, but I'd highly recommend one. I especially recommend flue for enclosed porches. A flue liner is excellent for those windy days. That's because it will provide direction and stability.
Without a flue, it'll be challenging to control the direction of flames and exhaust. You can also opt for a smoke shelf, which prevents rain and other elements from getting into your fireplace. If you decide against a flue liner, make sure it complies with outdoor fireplace regulations.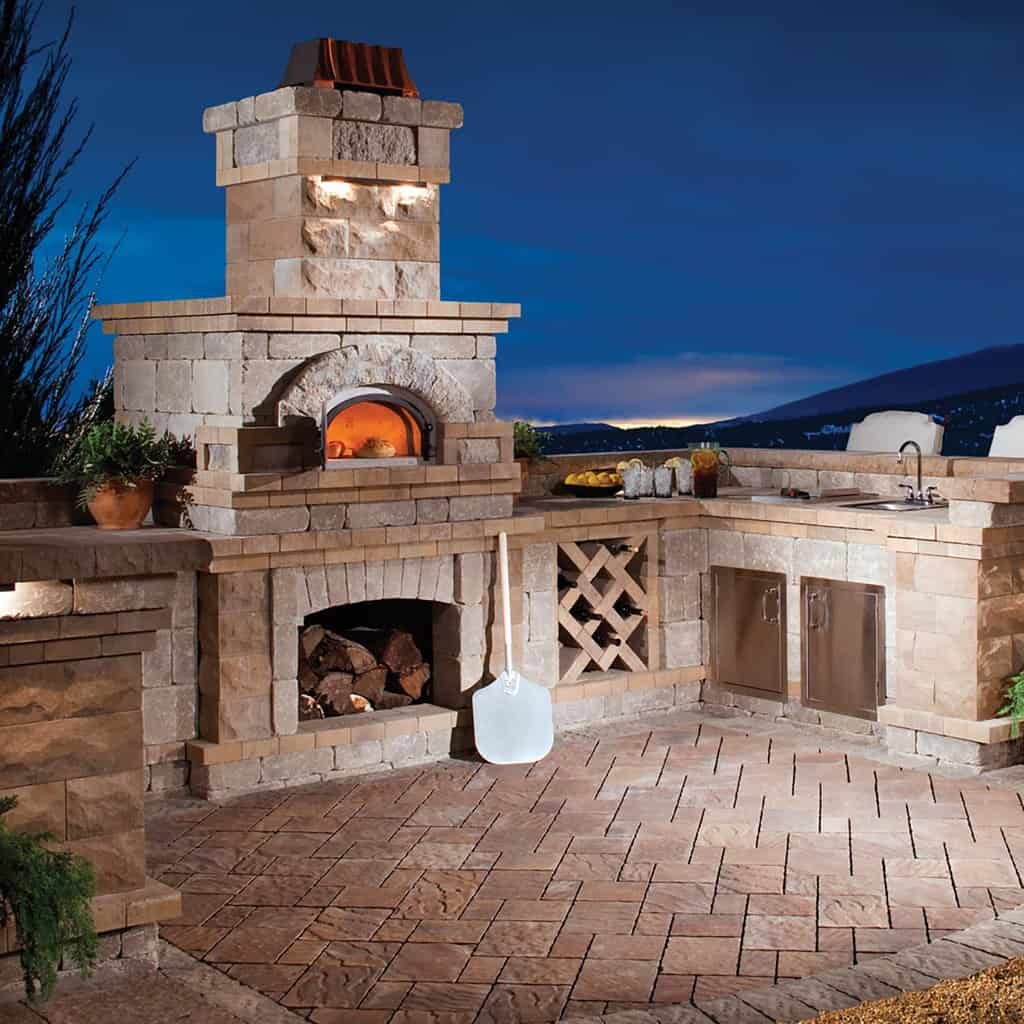 Final Thoughts
What I love most about porch fireplaces is that you can enjoy your patio even in cooler weather. They also create a great space for entertaining and may add value to your home. But no matter how much or little you spend, what's truly priceless is the time you'll share and the memories you'll make.  Whatever you do, make sure your fireplace has enough clearance and ventilation. 
Final Recommendations
Not sure which porch fireplace design is right for you? I recommend opting for a multi-functional design, like the Grill Out porch. Opt for a simple grill and pair it with outdoor L-shaped seating. This brick wood-burning fireplace doesn't cost a fortune and exudes ambiance.
Recommended Reads: