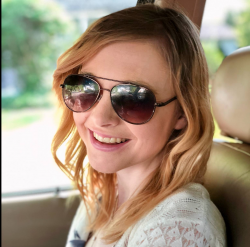 Latest posts by Erin Jamieson
(see all)
I live in Ohio, and we like to joke that you can experience 3 seasons (sometimes 4) in a single day. The problem? That can make it challenging to enjoy an outdoor porch. While I love decorating patios and porches- and porch lighting is important too- those additions only take you so far. One of my favorite ways to makeover a porch? Make it into a 3 season porch. 
3 season porches allow you to enjoy the outdoors for nearly ¾ of a year. From dome tents to fireplaces, screen systems, and gorgeous sunrooms, the concept is simple: add insulation to protect against sun, wind, and rain. 
Of course, framing a 3 season porch is far from simple. Whether you have a professional coming in or you'll DIY, planning is important. Here are my top ideas and tips for the best 3-season porch ideas- from flooring to a greenhouse conversion, heater solution, ventilation, screen systems, and more. 
Bottom Line Up Front Summary
A 3 season porch allows you to enjoy the outdoors for most of the year. While something like a sunroom can cost anywhere from $4,000 to $30,000, there are many ways to save money and still feel comfortable. I also love that a 3-season porch will save you money vs. a 4-season porch- and I have some clever ideas to winterize it, too. All of my ideas have practical use, style, and budget in mind.
Of all of my 3 season porch ideas, the one I'd recommend most is a design like the Mid-Century Modern Porch. This includes both indoor and outdoor space- perfect for all weather. Trim back costs by opting for a small vs. large sunroom, and you'll have plenty of versatility. The addition of outdoor lights, comfortable furniture, and decor make it an instant crowd-pleaser.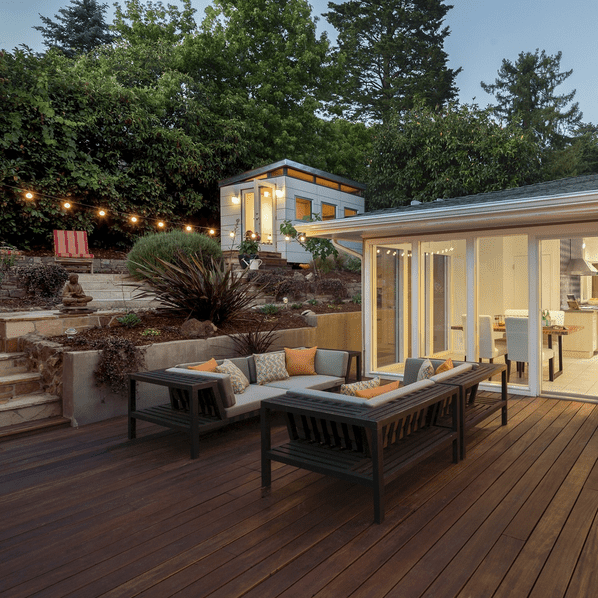 My Top Picks
Blue and Light Sunroom Oasis:

Best New England 3-Season Porch

Southwestern Porch: Best Partially Covered 3-Season Porch
Wicker Dining: Best 3-Season Porch For Casual Dining 
Glamping At Home: Best Temporary 3-Season Porch 
Sunroom with Fireplace: Best Traditional 3-Season Porch 
Classic/ Modern Farmhouse: Best Southern 3-Season Porch
Dazzling Mid-Century Modern: Best Indoor/ Outdoor 3-Season Porch
Modern Greenhouse Addition: Best 3-Season Porch For Plant Lovers
Bohemian Sunroom: Best 3-Season Porch For Relaxing 
3-Season Porch with Pool: Best Luxurious 3-Season Porch 
My Ideas Criteria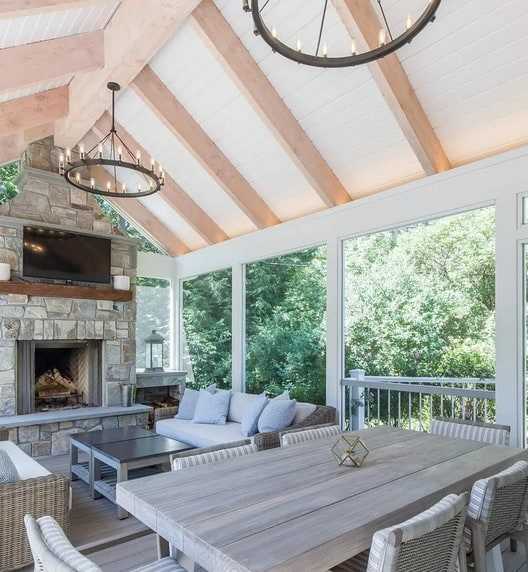 Before I dive into my favorite design ideas for 3 season porches, here's a look into my process. I wanted to share aesthetically pleasing ideas, but, above all, they needed to be practical and versatile too. So here's how I came up with these 3 season porch designs- and a few tips for whatever you're planning. 
Comfort For 3 Seasons 
What's a 3 season porch without comfort and protection from all seasons? From rainy and stormy days to humid summer evenings and crisp autumn nights, every design has some elements of protection and comfort, no matter the time of year. I'm including screens in porches, sunrooms, blankets, heaters or fans, rugs, and more. Insulation plus effective heating and cooling transforms a porch into a 3 season porch. 
Budget 
Everyone has a different budget, and the last thing I want to do is offer up ideas that are all out of reach. I've often hesitated to make upgrades for budget reasons, and I know how limiting that can be. For that reason, in addition to more upscale ideas, I'll throw in ways to save money and products that can achieve a look for less than you think. Keep in mind that the average budget for a sunroom is $4,000 to $30,000- which is quite a range. I worked not only within that range but also below it. 
Styles & Colors 
Something I love about 3 season porches? They don't have to be one style. I'm showcasing some of the most practical, popular, and versatile styles. To represent different regions, needs, and personal preferences, I'll present currently in style designs- but also ones that have at least some element of timeless appeal. Styles I'm including include farmhouse/ rustic, modern farmhouse, vintage-inspired, bohemian, classic modern, mid-century modern, and bold and colorful. With colors, you really should think about how your 3 season porch will coordinate with the rest of your home. Still, it was important for me to show off different spectrums, from muted tones to bold and bright pastels. Each of these 3 season porches plays a bit with color but still comes off as coordinated and cohesive. 
Weather-Ready Materials 
If you're going to have a 3 season porch, it's not good if it deteriorates under the pressure of weather. From shades to sunrooms to benches, I'm only recommending solutions and related products that are built to last outdoors- no matter the weather. That means materials that resist rust and moisture and materials that are sturdy enough to stay with you for many seasons. 
Making Use of Your Space
I've had some fairly small porches, so I didn't want that to be a deterrent. While a 3 season porch is best for medium and larger porches, I consider ways to make the most out of your space. I included a few space-saving hacks. But I also want a 3 season porch to be a space that you'll enjoy.  
Quality and Reputation

Any products I recommend alongside these designs are ones I'd recommend to friends and family. That meant balancing cost and overall quality. I looked for respected brands- but more importantly, I want you to shop safely. All of my product recommendations come from stores with a reputation for trustworthiness. That extends to secure payment processing, shipping, and inventory. For products from a larger website, like Amazon, I considered the company's reputation, customer reviews, and more. 
Setting it Up: Sunrooms, Screened Porches, Insulated Curtains
Before you get overly involved in any one 3-season porch design idea, here's a heads up on where to start. There are three main options for most 3-season porches: sunrooms, screened porches, and alternatives, like insulated curtain panels or blinds. All of these options add comfort and protection for different seasons. Here are my quick tips for how or where to buy/ install each of these. 
Sunrooms
This is my favorite- but also the most expensive option. Installing a sunroom can cost a few thousand up to $30,000- depending on the size and how elaborate your design is. I love sunrooms for 3-season porches because they bring in natural light and act as a beautiful extension of your home. 
Here are a few places to consult: 
Local Businesses
Check around you! There are several great patio, porch, and independent contractors near me- and you may find some local discounts. Always ask for a full quote; the best places may do a consultation for free. 
Great Day Improvements LLC
They have beautiful solutions for 3-season sunrooms, alongside helpful tools like an online sunroom 3D visualizer, planning tips, and more. Their designs are bright, modern, and versatile, and they've earned a reputation for quality. I also like their specials and financing options. 
"Easy" Sunrooms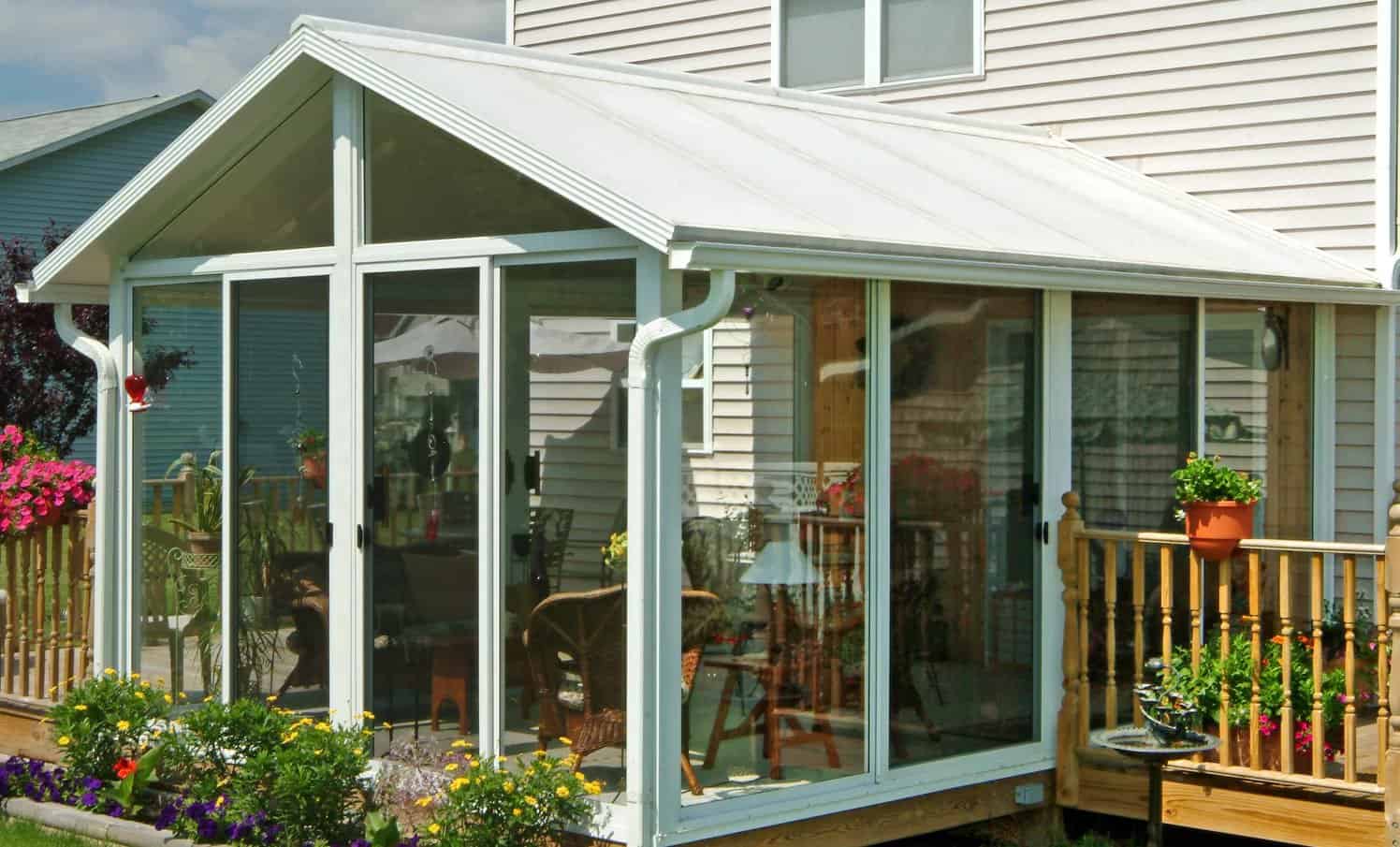 Instead of a fully customized sunroom, you can slash costs with sunroom kits. You can order these from home improvement stores like Lowe's, Home Depot, and Menard's (see this example). The challenge: assembly. Assembly is tricky, and you may want help. The other challenge is selecting one that has quality materials. For example, aluminum is weather-resistant, but it's easily damaged. 
Screened Porches
If you want more fresh air- and are willing to either add more heat to feel the chill- a screened-in porch could be the best solution for your 3-season porch. A bonus? Cost-wise, a screened porch is less expensive by far. You could save as much as 50 percent over a sunroom! Still, expect to spend at least a few thousand dollars. 
Here's where to look: 
Local Stores, Home Improvement Stores 
Same story here: you may be able to find a great specialty store near you- try a google search "screen porches near me," or look at new home developments or a home improvement show. Some home improvement stores will custom install, too. 
Super Screen 
This company has some of the best standards I've seen for screened porches. All of their products are carcinogen-free and come with a 10-year warranty. That's not to mention that they're UV resistant, pest resistant, and resistance to mold and mildew. They're strong enough to withstand pets: something, as a fellow pet owner, that I appreciate. You can order samples or just visit their main website. 
Alternatives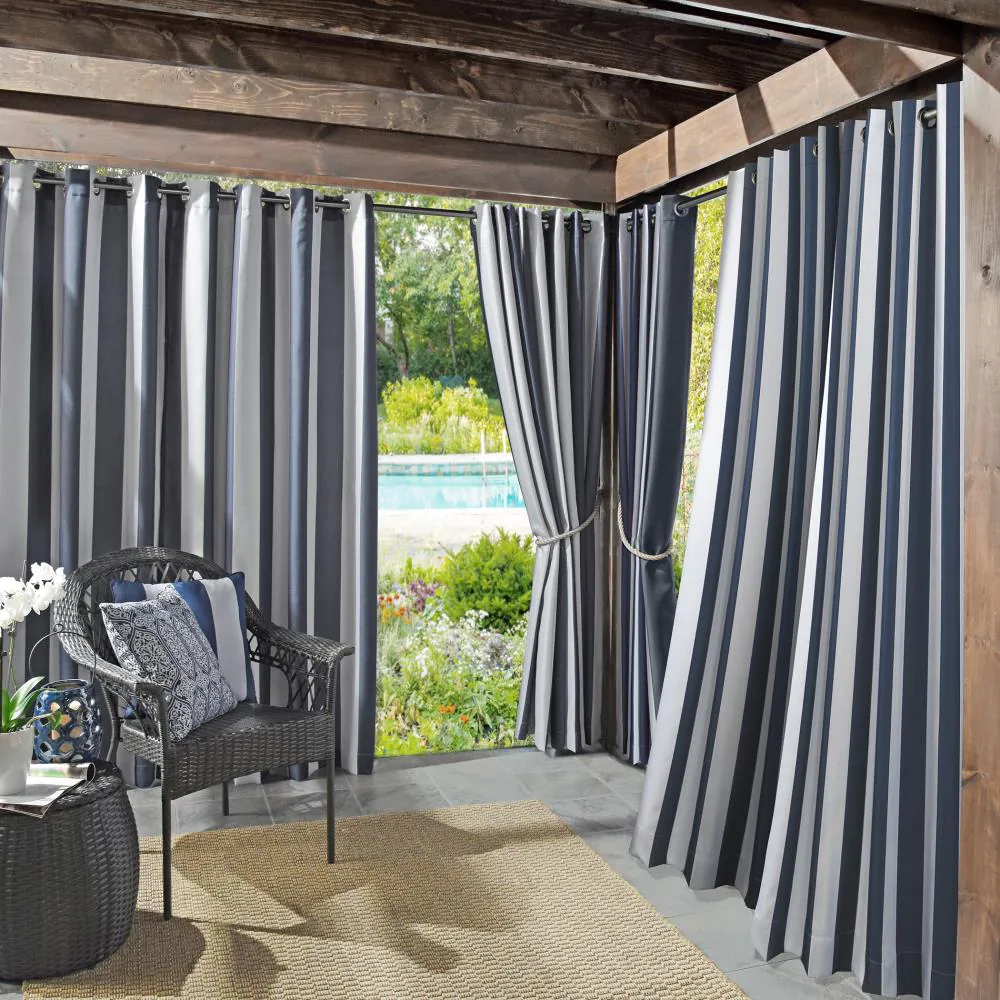 Alternative, cheaper solutions are ones I recommend if you live in a mild climate. If you can't afford a screened porch or sunroom addition, try outdoor curtains and panels that provide both privacy and insulation. You'll want to go for a moisture-wicking material. For great protection and privacy, a waterproof roller shade is a great choice. Of course, you don't have to just buy a plain option. These Sun Zero Outdoor Curtains aren't as insulated, but they do protect from the sun and wind. 
3 Season Porch Detailed Designs To Try This Year
Here are a few standout designs for a porch you can enjoy for most of the year. From bohemian and beautiful to simple and practical, here are a few designs I can get behind. (For any product recommendations, feel free to select something similar. I did my best to include ideas from a range of prices and needs). 
What's not to love about this breezy 3-season porch? I love the natural sunlight coming in, paired with dusky blue, navy, and sandy tones. Find some classic wicker chairs from Amazon, Pottery Barn, or a home patio store. A few striped accent pillows tie in with a geometric outdoor rug for visual interest. What I love most is the addition of a watercolor painting and a ceiling fan to keep your company comfortable.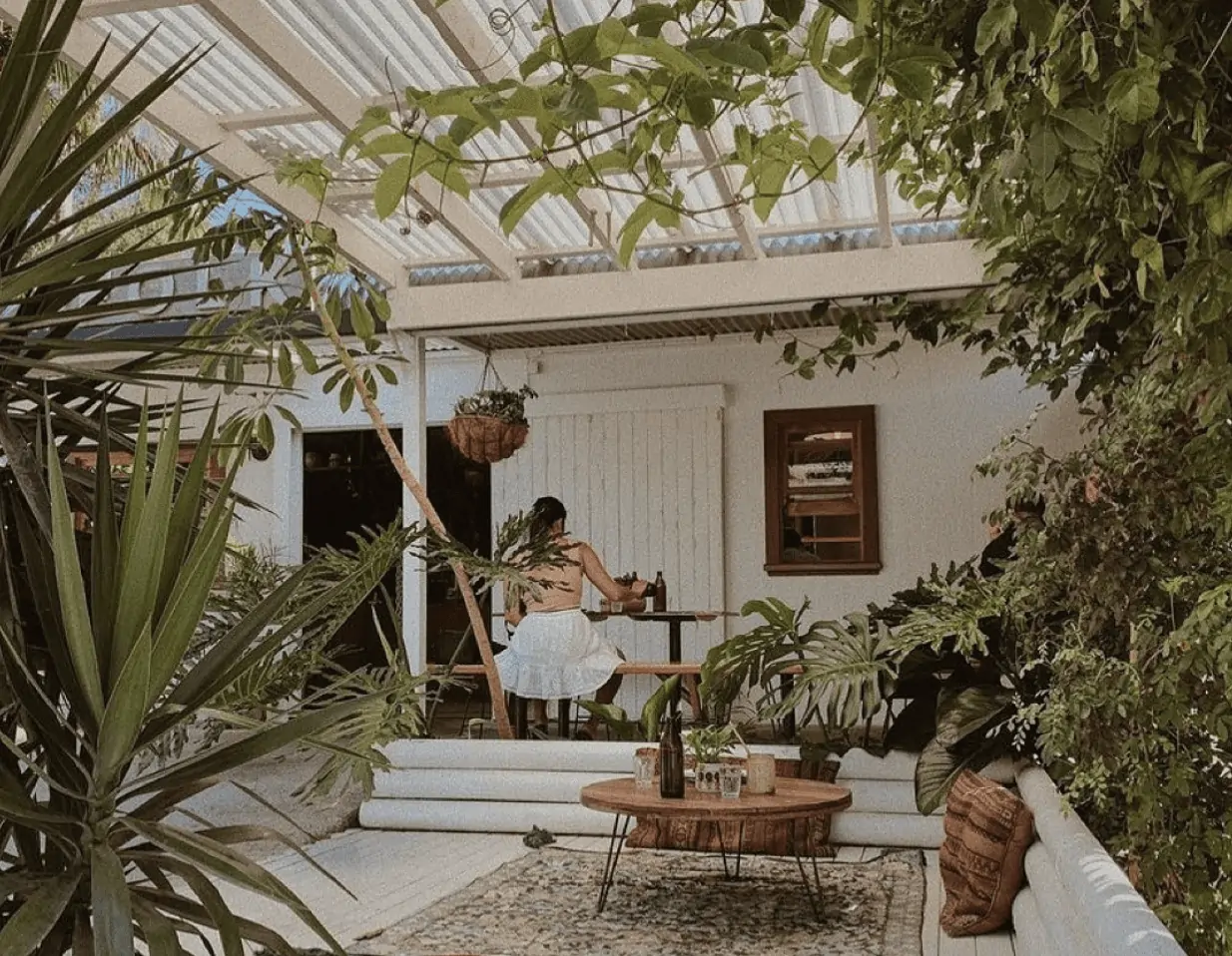 This three-season porch is a more affordable option- and suited for warmer climates. There's a lot to love here, from the dusky warm tones to the Southwestern accents. The key component? White paneling that acts as a cover against rain, sun, and wind. Add in a hanging plant and lovely shrubs and you have an outdoor oasis. I like the low-profile wooden side table for serving drinks and adding more decor.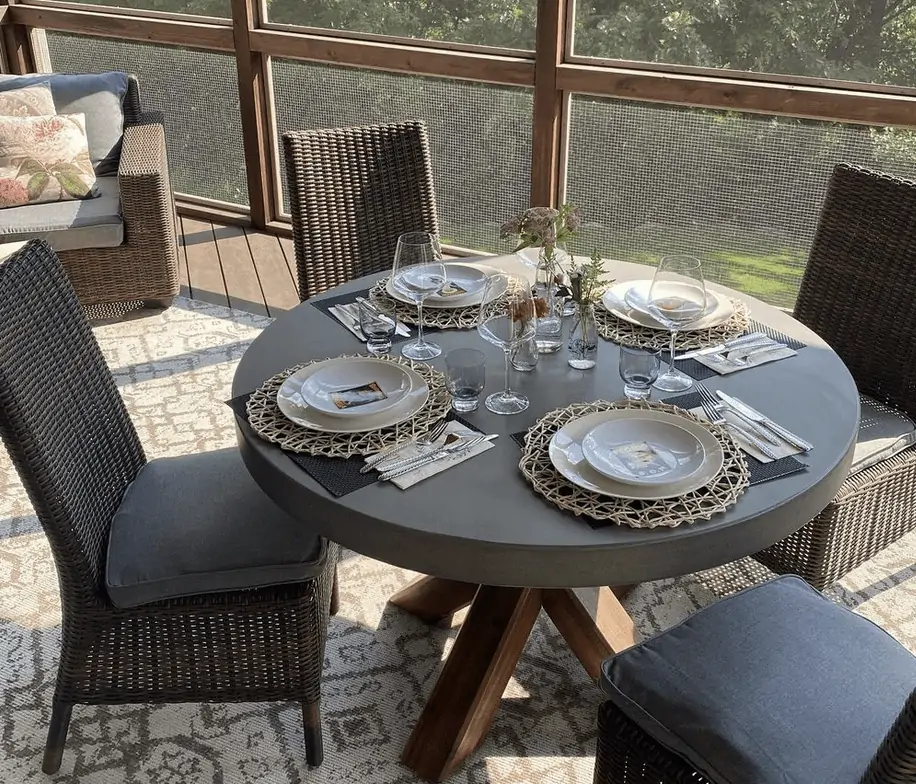 I have many fond memories of eating outside with my grandparents- but they never had a 3 season porch solution. This screened-in porch is a great answer to that. Keeping things simple, I love how this space is timeless and great for making memories. A charming wicker patio set pairs with a classic patterned rug for an elegant, still welcoming look. The little details are what I love most: an accent flower pillow, plus outdoor table decor. I'd add a ceiling fan for summer or a wall-mounted heater for a cool day.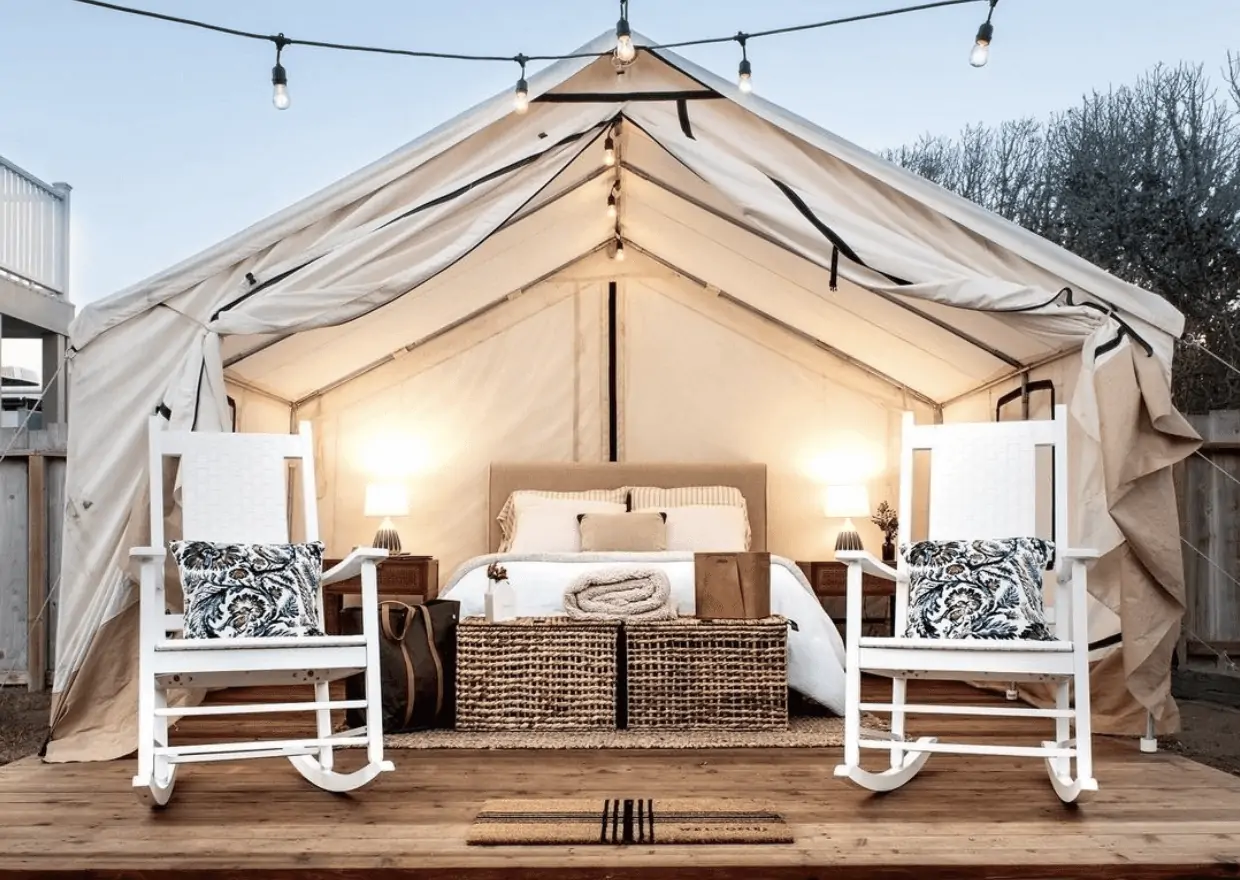 Glamping is still going strong: traveling in luxury. But who says you have to travel when you can prop this set up for a unique and affordable 3-season porch? I love this trendy option for anyone who isn't ready to commit to a fully screened-in porch or sunroom addition- but still wants a practical and cozy space for entertaining. Start with either a pop-up gazebo or a white outdoor canopy with string lights for a whimsical touch. What completes this for me are wooden or Polywood rocking chairs, paired with accents like decorative pillows, outdoor lanterns, and a rustic welcome mat. There's even an outdoor bed! Still, a practical alternative is an outdoor daybed porch swing. The trickiest part is heating or cooling. A freestanding fan or electric heater will do the trick.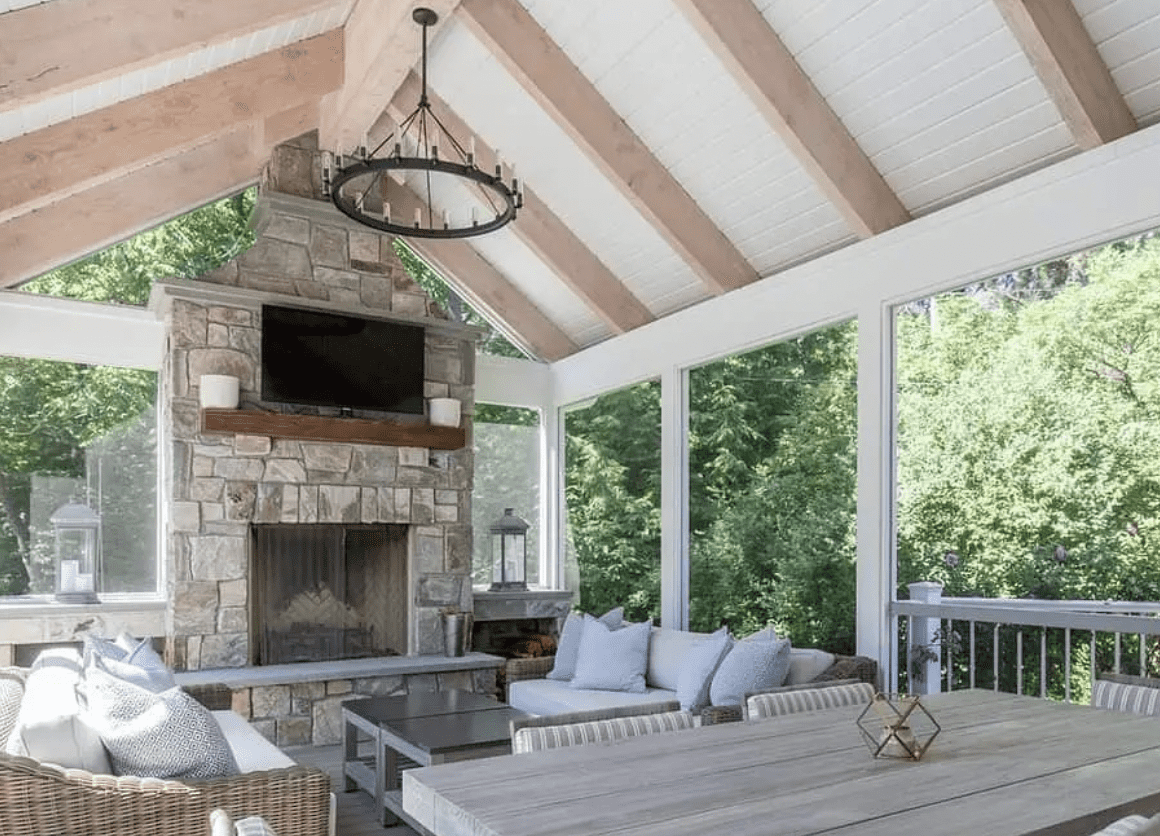 If you have a bigger budget, this sunroom is one of my favorite 3 season porch ideas. Why? Because even with a drastic turn in the weather, you're going to stay comfortable. Gorgeous sunlight streams in and exudes warmth with outdoor love seats and a coffee table. I love how the stone outdoor fireplace adds warmth and ambiance- and you can even mount a TV above it for the ultimate in entertaining. Have even more room? The back pub-style table, with some outdoor tabletop candles, is a great place to enjoy a little dinner or appetizers.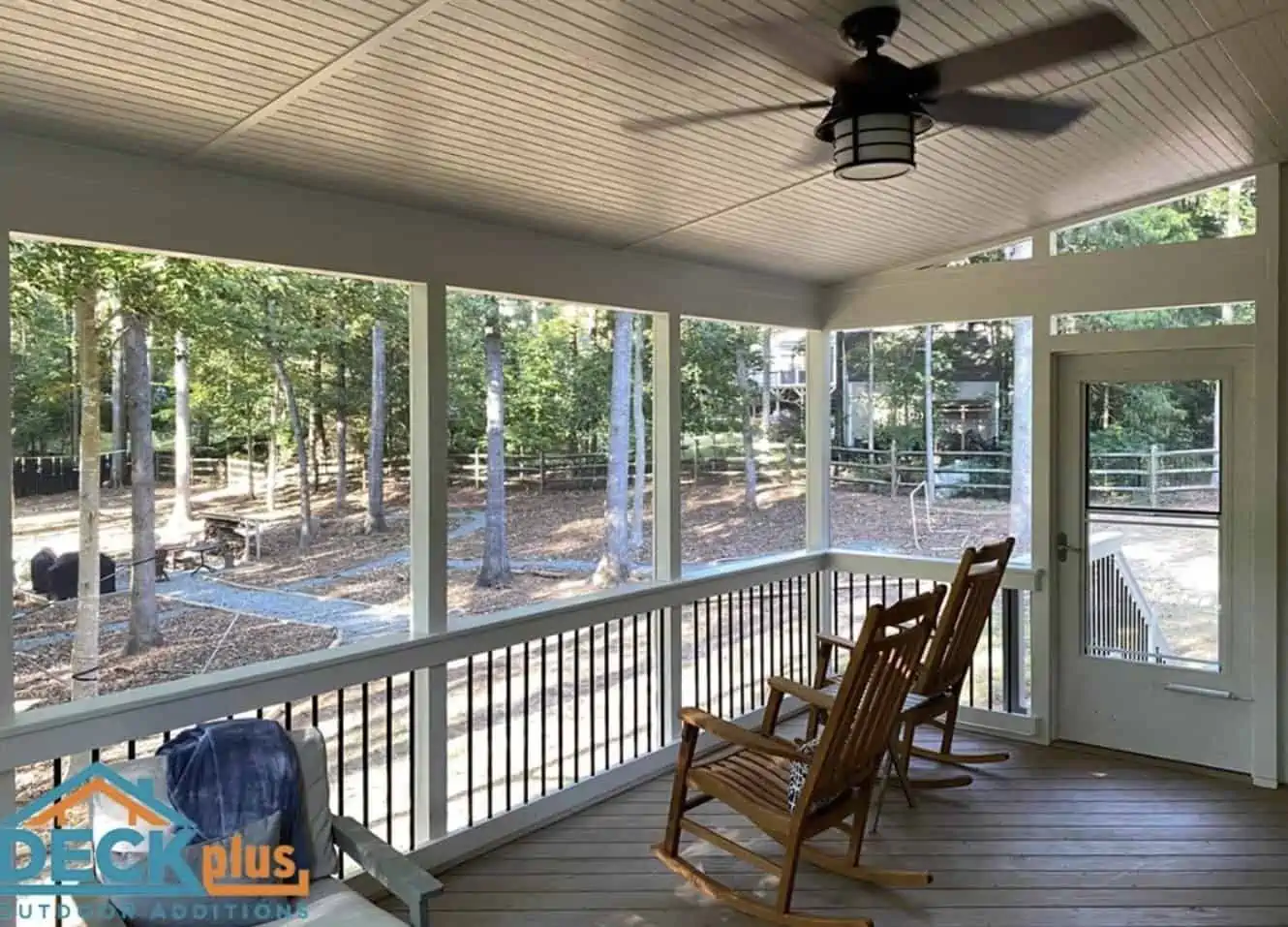 My list of ideas for  3 season porch simply wouldn't be complete without a nod to classic farmhouse charm. For a more modern look, simply swap out classic wooden rocking chairs with colorful Polywood rocking chairs and some outdoor string lights. Other than that, keep it simple; a durable wood floor/ deck is all you need, paired with a fully screened or partially screen porch. I'd add a ceiling fan for those humid days, plus outdoor throw blankets as the weather turns.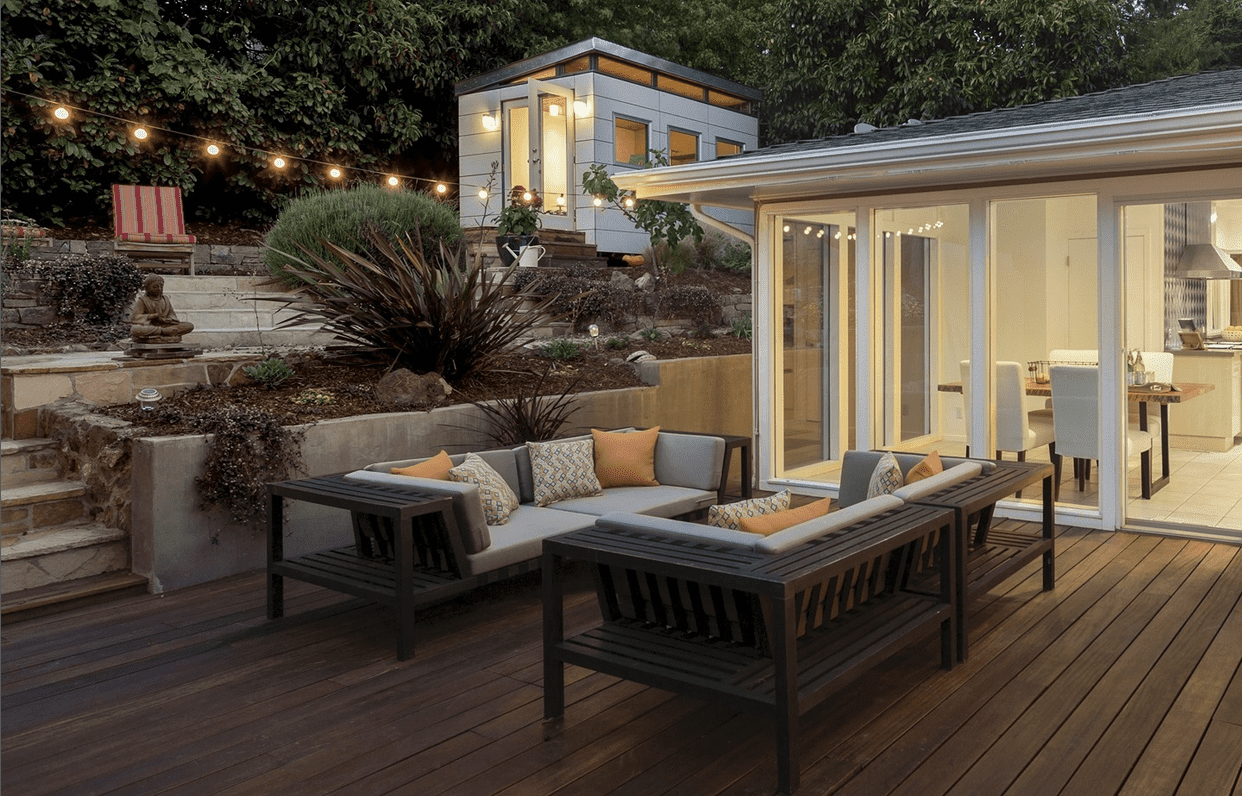 While this style wouldn't fit where I live, this is easily one of my favorite twists on a 3 season porch. What's so clever about this design is that you're getting a blend of indoor and outdoor space. The sunroom addition opens up to a wooden deck, complete with string lights, garden beds, and beautiful marble or stone steps. The low-profile outdoor sofas are paired with a warm and dusky tone for an iconic mid-century modern design. Add a few small outdoor figurines, a freestanding patio heater, and an outdoor umbrella and you may have a truly luxurious space.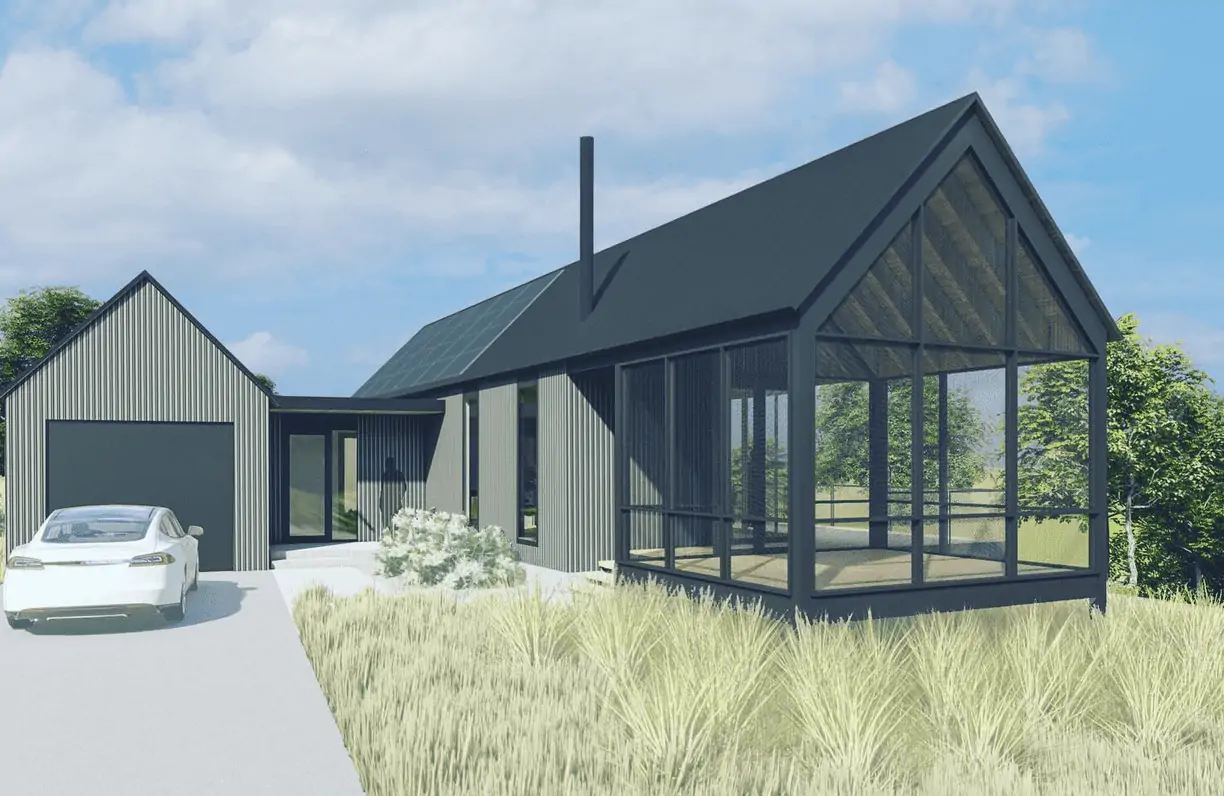 Sleek, modern, and striking, this 3 season porch could double as a mini greenhouse. The minimalist frame and bamboo flooring would be a natural fit for potted plants. I envision an egg swing chair to nap and read in while you enjoy your plants and a modern indoor fountain. It's a template, just waiting to be filled with your ideas.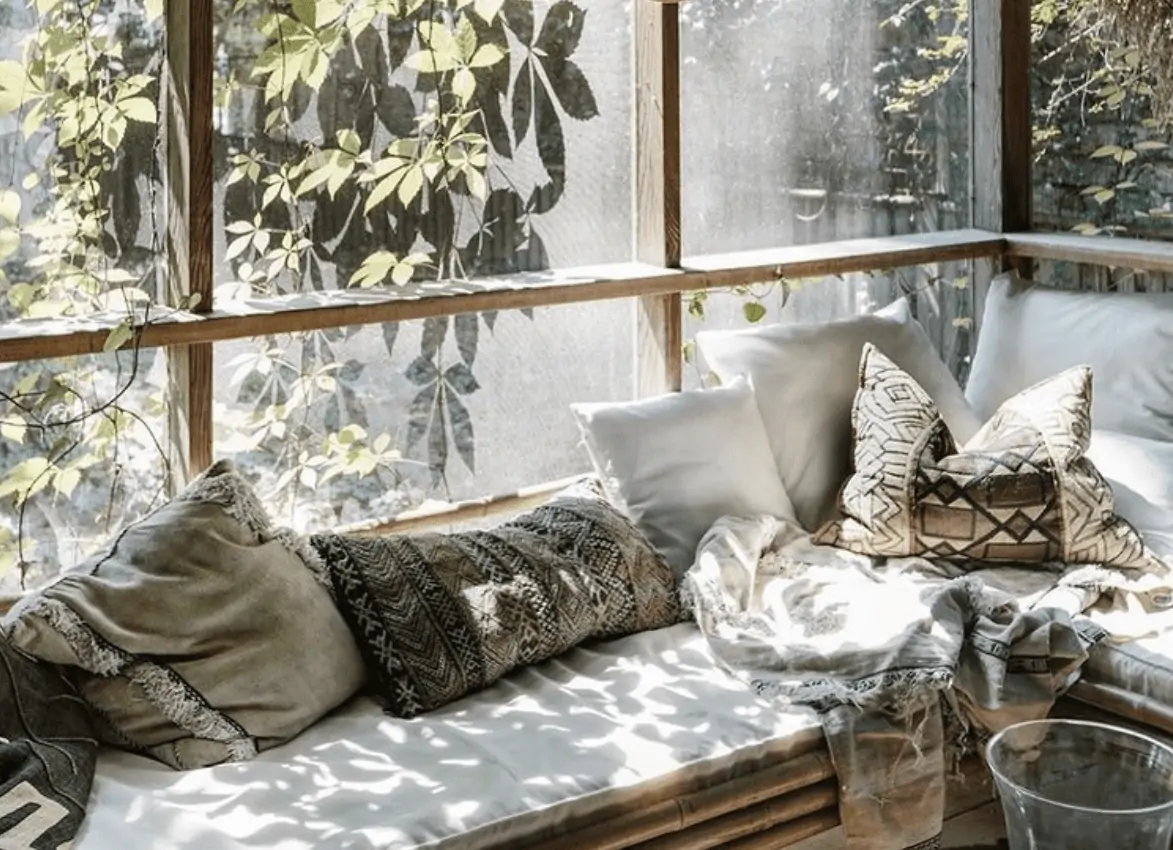 Even if it's not your style, something is welcoming and appealing about this 3-season porch idea. Why? Because it's an excellent example of how to use space. I love the L-shaped sectional couch by a window. Decorated with accent throw pillows and tea candles, this would work with both sunrooms and screened porches. Keep tones neutral and dusky, but don't be afraid to experiment with patterns and textures. An outdoor fan adds comfort, while blankets and outdoor shades keep you warm.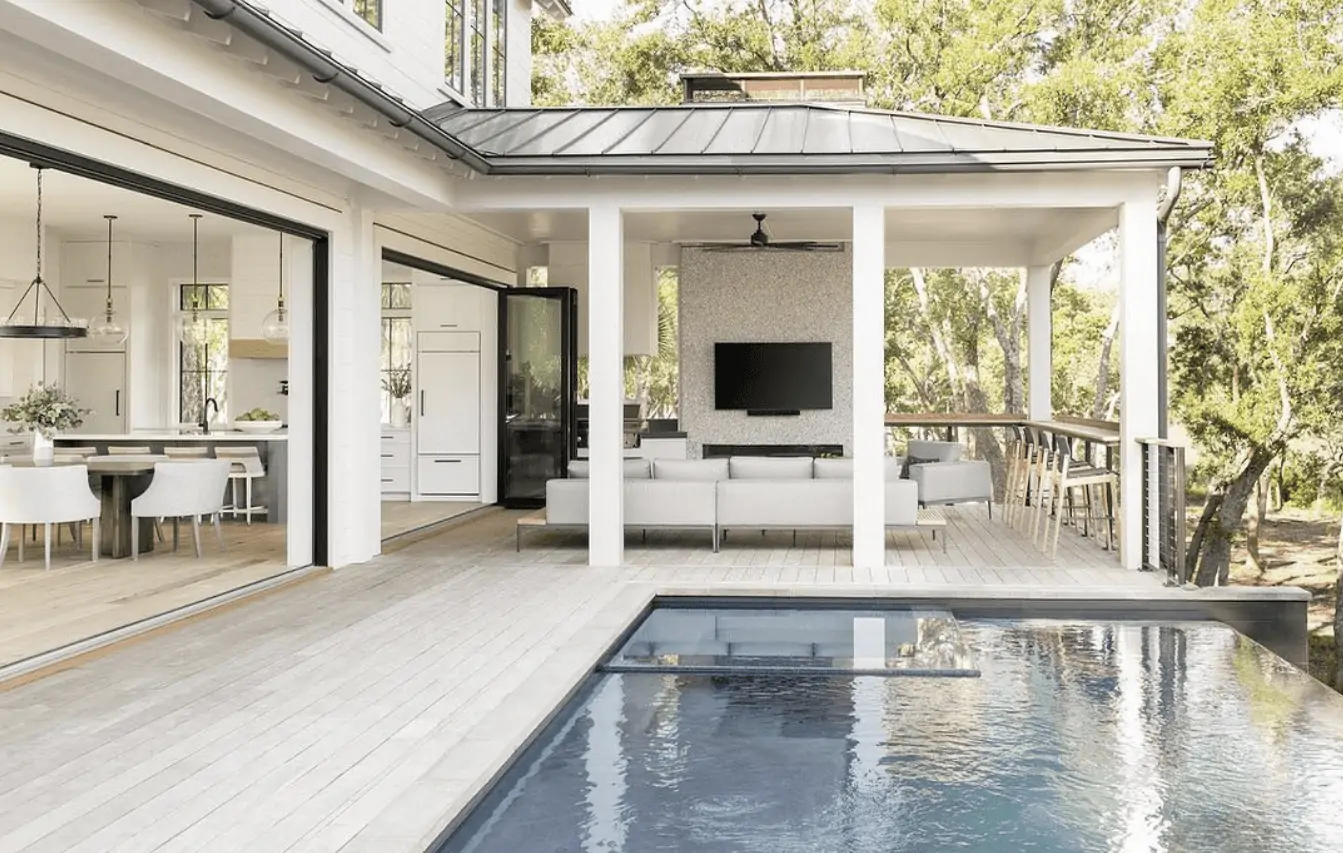 My final idea is only  3 season porch design for those who live in warm climates. You don't get the coverage of a sunroom or screened porch, but you do get privacy and comfort with gorgeous porch columns. To add privacy and warmth, just hang up roller shades. The key here is modern minimalism: you want to highlight the built-in pool with modern lights and light bamboo flooring. Luxury outdoor sofas and a wall fireplace pair with a mounted TV for a space you'll never want to leave.
Frequently Asked Questions
Question: What makes a porch 3 seasons?
Answer: A 3-season porch means that it can be enjoyed for 3 out of 4 seasons. That covers fall, spring, and summer. This is the type of porch that's suitable for both warm and cool or mild weather but doesn't quite offer protection for cold winter days. Of course, there are many ways to make a porch a 3 season porch- and it can be adjusted over time. This includes protective coverings, a screen, windows, blinds or shades, and other ways to stay comfortable during cool or rainy weather. A 3 season porch is a good fit for anyone who lives in a location that stays mild year-round, like San Francisco.
Question: How much does a 3 season porch cost?
Answer: The cost of a 3 season porch varies widely. One of the most luxurious options is a sunroom. If you want a 3 season sunroom for your porch, expect to pay anywhere from $3,000 to $35,000 on average. That cost usually includes materials and installation- but there are ways to spend far more, and ways to slash costs as well. For instance, there are DIY sunroom sets that will slash installation costs. You can also opt for other screened-in solutions to save money.
Question: What is the difference between a 3-season and 4-season porch?
Answer: While a 3 season porch will keep you comfortable for most of the year, a 4 season porch is winter-proofed. 4 season porches cost two to three times more if you're looking at a full sunroom, but they don't have to. 4 seasons porches are fully enclosed and have powerful heating and cooling solutions. Of course, that can look different: some porches use outdoor patio heaters, and others have more extensive heating or cooling systems. 
Question: How do you winterize a 3 season porch?
Answer: Have a 3 season porch but want to enjoy it on a chilly winter day? While it may not be as comfortable as an actual 4-season porch, there are several ways to upgrade it without spending a fortune. Start with adding rugs or mats. That already improves insulation and makes the porch feels cozier. Throw in some blankets, curtains, or blinds. An electric freestanding patio heater or ceiling-mounted patio heater will also work. Just don't use a gas one, which needs plenty of open-air ventilation. Another tip? Filling up the space. The more you fill the space, the warmer and cozier it will feel. 
Final Thoughts
3 season porches are an excellent upgrade to any home. Most of us could use more time outdoors, but when it rains, storms, or the weather drops, that can prove challenging. Hopefully, one my these ideas will inspire you to take on your project. Always start with a realistic budget and an idea of how much space you're working with. If you feel lost, you should consider talking with someone- even support from a place like Lowe's or Home Depot, instead of a DIY project. DIY will save you on installation costs, but you need to make sure you know what you're doing.
Final Recommendations
While I appreciate something about each of these 3 season porch ideas, there is one design that stands out. If you're not sure what design is right for you, I recommend something like the Mid-Century Modern Porch design. It's not so much the style itself (which is still a great choice for contemporary and modern homes) but the way the space is used. You take a small sunroom and extend the outdoor space, complete with lights, beautiful furniture, and touches of decor.
Recommended Reads: