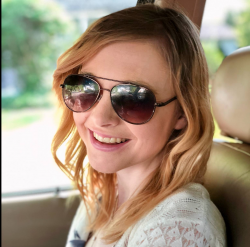 Latest posts by Erin Jamieson
(see all)
Two things make me nervous: hosting a party (even if it's just family) and having something not go as planned at the last moment. Patio heaters are a great option for keeping guests warm- but what happens if your patio heater won't light at all?
With expenses rising, I'm more budget-savvy than ever. But I also want to make sure you get your patio heater back up and running so you can entertain your guests, stress-free. In this guide, I'll explain the most common reasons why your patio heater isn't working, and when and how to shop for the best replacement parts. 
Bottom Line Up Front Summary
While the best patio heaters can last you several seasons, there are a lot of things that can go wrong. From something as simple as debris getting in the way to improper connections, it's all too common for a patio heater to refuse to light up. If you've ruled out other solutions, the good news is that there are many affordable patio heater replacement parts. This guide tells you how to select different types of patio heater replacement parts so you can get back to enjoying the outdoors once more. 
Something I always recommend having on hand? A set of basic hardware for your patio heater, like this Patio Heater Replacement Hardware kit. It's not prone to rust, should fit most models, and is covered with a manufacturer's guarantee. 
My Top Picks
Reasons Why Your Patio Heater Isn't Working
I know the feeling. You're ready to enjoy your day- maybe you have plans. And then the one thing that needs to work, doesn't. If your patio heater won't light, there are several reasons why. It's important to check for common problems before you rush off to buy either new replacement parts or an entirely new patio heater. 
Not sure where a part is on your patio heater? The best solution is to look at the instructions that came with your specific model. However, this diagram by XTreme Power USA, a patio heater manufacturer, helps locate internal parts in a standard propane patio heater. 
Reason #1: It Needs to Be Cleaned
Best case scenario? Your patio heater simply needs to be cleaned. If you've been guilty of leaving your patio heater outside when you're not using it, or even just not cleaning it occasionally, then debris can build up. From leaves to dirt to dust, anything can clog up your heater, making it impossible to ignite. 
Solution
Use compressed air so you don't risk pushing the debris back further. Check your hose and remove your screen to clean thoroughly. Pilot tubes, gas dispensers, and your thermocouple can all become clogged. In the future, schedule regular maintenance and cover your patio heater when you're not using it. 
Reason #2: Your Gas Pressure Is Low (Gas)
Low gas pressure is a common reason why a patio heater won't light- but it can happen for a few reasons. The most common reason can be fixed quickly; the other requires a replacement part.
Solution
Start with the basics: make sure your gas lines aren't bent or damaged. Make sure your propane tank is full enough. If none of these is the problem, chances are you need replacement parts for your hose and gas regulator. If you're straightened out your hose, filled your tank, and the gas is on, 9/10 you'll be buying a new regulator. 
Reason #3: Your Gas/ Safety Valves Are Worn Out (Gas)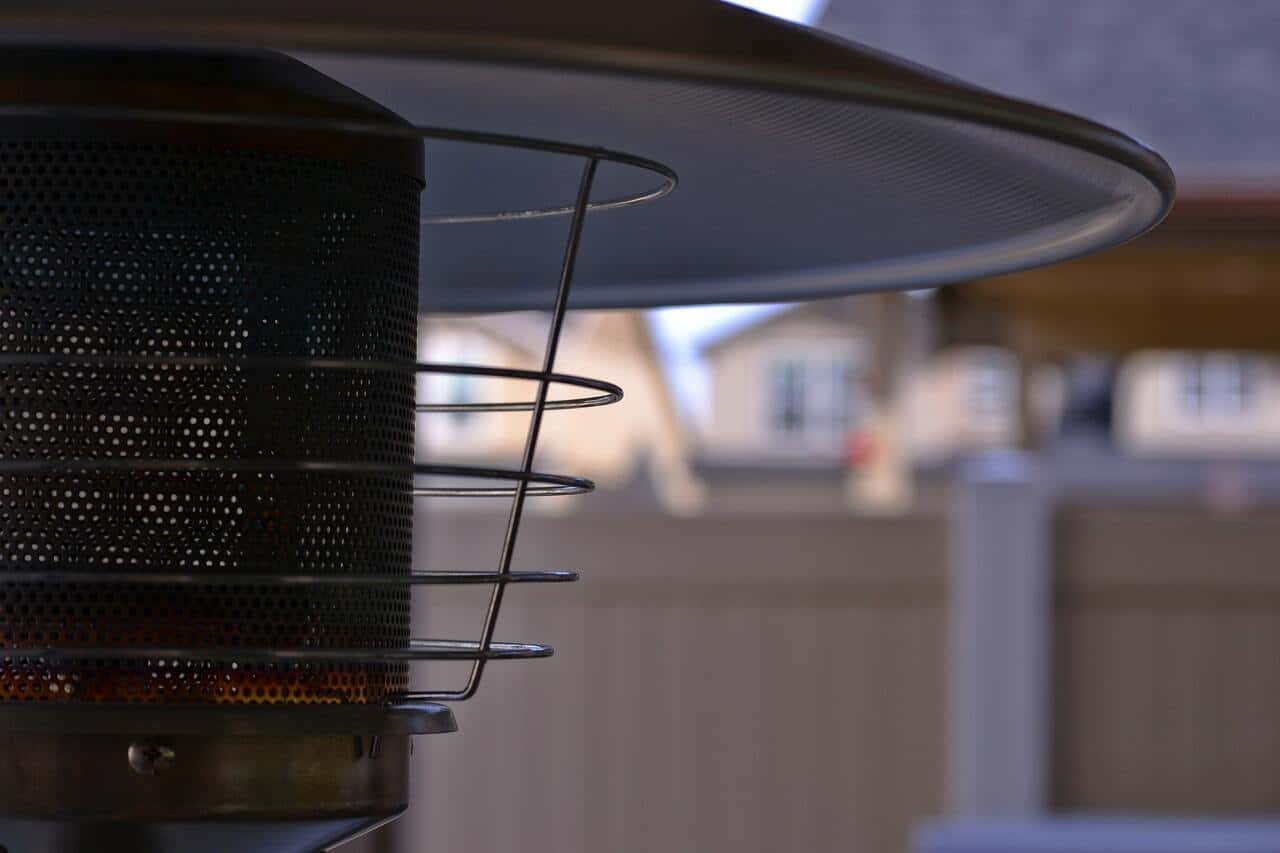 Gas and safety valves can simply wear out over time- more quickly if they're cheaply made or you're leaving your patio heater out, uncovered. If you've eliminated the first two reasons, it's time to inspect your valves. 
Solution
Check to make sure all valves are working and properly tightened. If they seem damaged or corroded, it's time to replace them. 
Reason #4: You've Blown a Fuse (Electric) 
If you have an electric patio heater, it's honestly pretty common to blow a fuse. In rare cases, many blown fuses could be caused by a defect. 
Solution 
Replace your blown fuse. 
Reason #5 Your Thermocouple is to Blame. 
A thermocouple acts as a temperature sensor and regulator. If it's not connected properly or damaged, chances are your patio heater won't light up. 
Solution
Make sure the area around your thermocouple is free- and that the thermocouple is close to your pilot ignitor. If your thermocouple appears anyway damaged, broken, or kinked, it must be replaced. 
Reason #6: Your Igniter Isn't Working (Gas)
There's not always an obvious reason, but sometimes your igniter just won't work- and you've ruled out other possibilities. Carefully manually light your igniter– if you can get it to start, chances are the igniter itself is the issue. 
Solution
Time to replace your igniter. 
Reason #7 Internal Heating Issues 
This much more complicated issue- and I'd eliminate other concerns first. At best, it's possible (electric) wires somehow became loose. But any damage to internal wiring can be dangerous to fix yourself. 
Solution
Have a professional inspect it, or consider buying a new patio heater. Whatever you do, please don't go poking around! 
How to Know if You Need Replacement Parts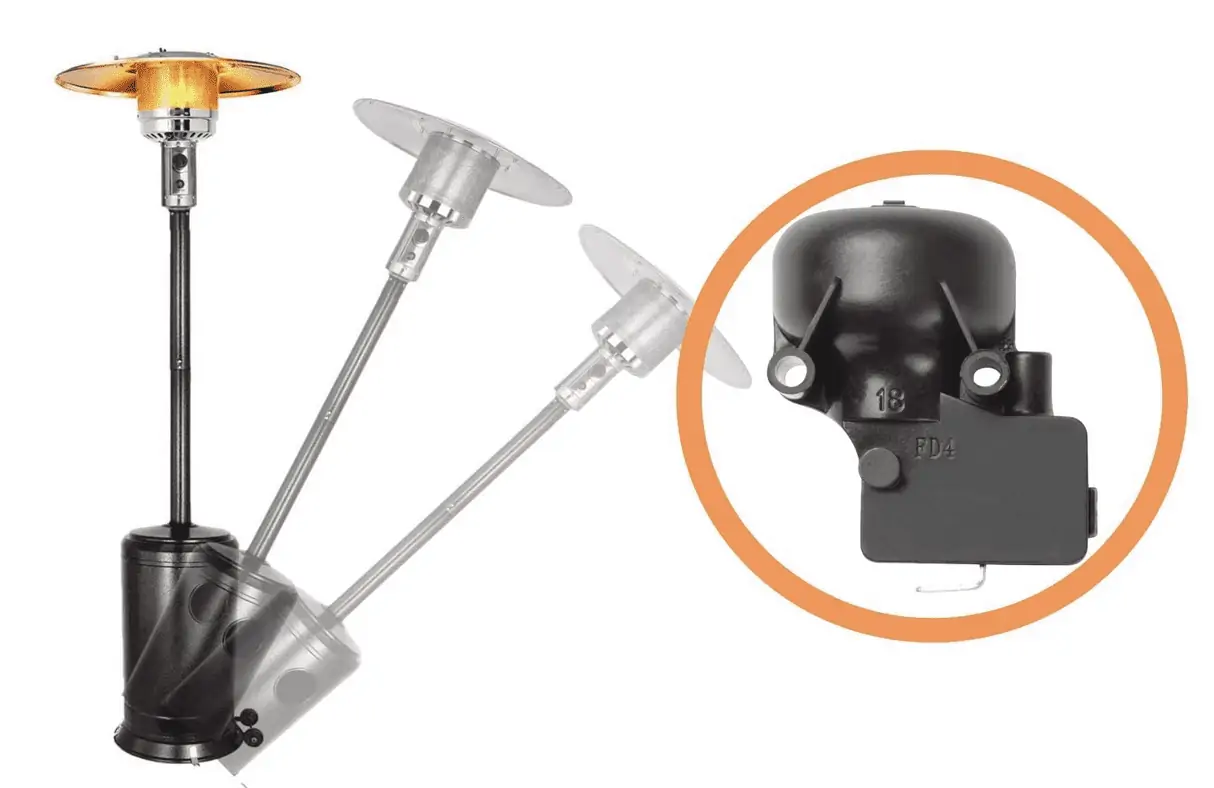 After you've made sure you have enough gas, cleaned your patio heater adequately, and found the issue, you have to make a decision: is it worth buying replacement parts or buying a new patio heater entirely? Most of the time, it's worth it to buy replacement parts. Replacement parts for a patio heater are affordable and pretty easy to buy. 
The times I'd buy a new heater instead of buying replacement parts include
: 
There are multiply broken or corroded parts

There's a fundamental issue with the internal heating system 

Costs of replacement parts are more than half the cost of the original patio heater's value 

You don't have the confidence to safely install replacement parts- and a professional is expensive 

You've already had your patio heater a long time- and it's looking worse for wear 

You're in a hurry for a major/ important event
You need to make sure you can confidently replace your patio heater parts. A new patio heater can cost as little as $60 through a few thousand dollars, but the average freestanding patio heater is $150 to $350. 
See also: Best Patio Heaters Guide
How to Select the Best Patio Heater Replacement Parts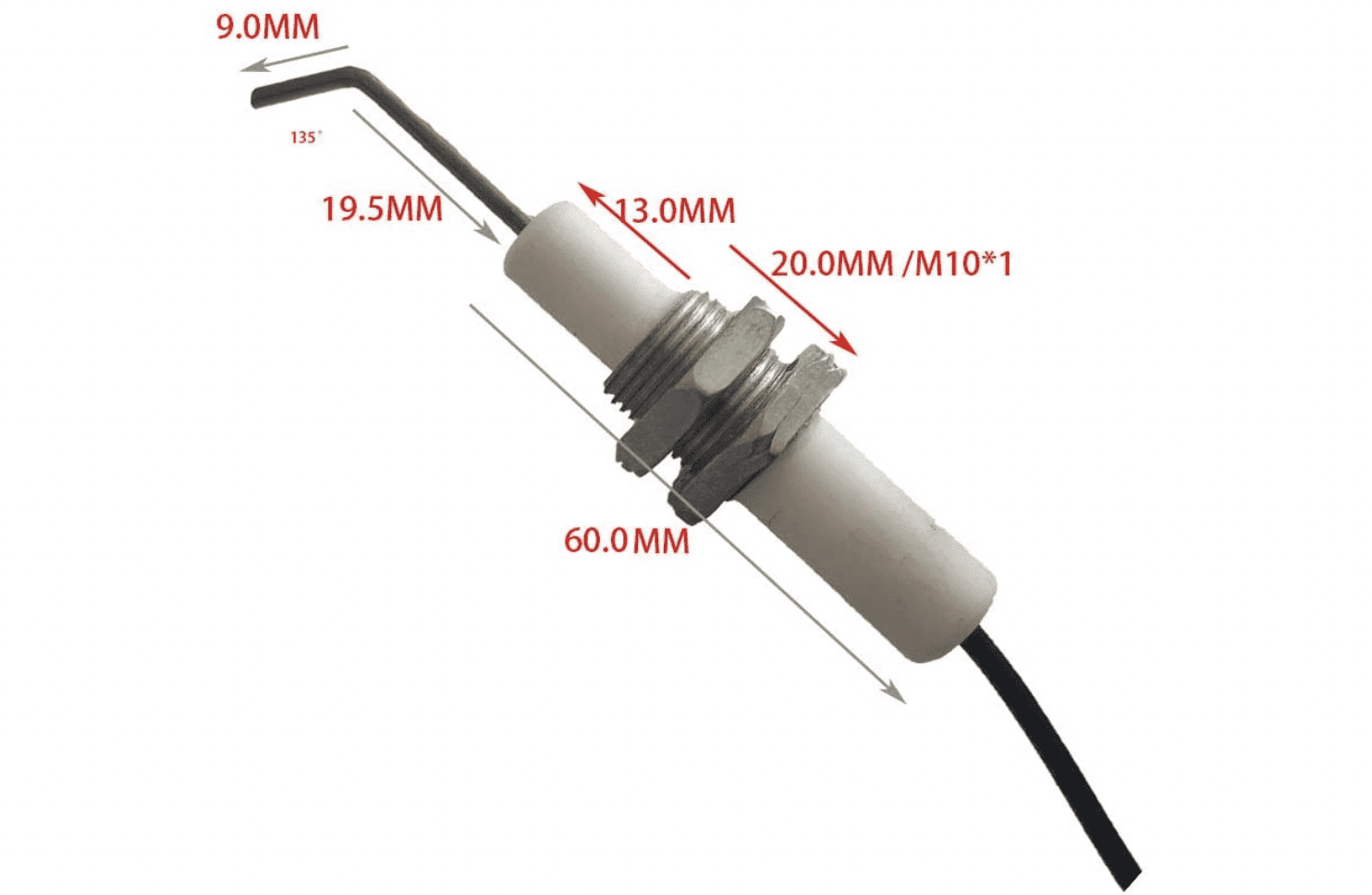 Even if your patio heater is just looking worn, some components should be replaced to prevent hazards. To select the best replacement parts, you must: 
Measure Your Current Components

. Patio heater replacement parts come in different sizes and shapes. The dimensions need to match. Many stores carry components in categories of freestanding/ tabletop/ mounted patio heaters. 

Many Listings will even include models that they're compatible with- just ask if in doubt. 
Mind Materials.

You want materials that are built to last. External materials- like heat deflectors- need to be weather resistant, preferably made with stainless steel. Thermocouples should be made of copper, iron, and/or chrome. PVC and polyethylene are suitable materials for gas hoses. Other components may be made out of 100 percent brass or similar materials that aren't prone to corrosion. 

Brand and Manufacturer Reputation.

Another way to tell if you're buying quality replacement parts is to check for external (and internal) reviews of both the brand and company. Warranties are likewise a good sign that the company has confidence in the durability of its products. 
Here are the most common replacement parts you can buy, and a tidbit on why this component is important:
Common Replacement Parts For Patio Heaters
| | | |
| --- | --- | --- |
| Replacement Part  | Why It's Important | Tricks For Picking the Best Fit  |
| Heat Deflector  | Deflects heat downwards/ regulates heat dispersion | Check to see how yours is mounted- many heaters have two or three holes. The replacement part should mount in the same way  |
| Burner/ Burner Emitter Screen  | Your main burner and screen protection. This commonly wears out simply with regular use. Often, people replace it with cosmetic improvements  | Look for threaded holes- this provides fuss-free installation and ventilation. Stainless steel is a good material choice. Pay attention to the number of mounting holes and if the hardware is/ isn't included. Three screen holes will fit a lot of popular round models.  |
| Gas Hose  | A critical component for gas patio heaters- is where gas flows and allows your heater to run | Hoses should include a gas regulator, around 4 to 5 ft in length, and ideally, come with a pressure gauge (PSI units). ⅜ inch is a standard, suitable width. Corrosion-resistant brass for the main components and easy-connect outlets/ inlets are also good features |
| Igniter Wire With Striker/ Electric Igniter | A critical component for your patio heater to start/ light up  | You can select a regular igniter with a striker or a more expensive electric one- I'd replace it with the kind you currently have. 21 inches is a standard length (check your model); aim for resistance of around 200 C.  |
| Control Knob | Allows you to seamlessly adjust your  patio heater | Not all patio heaters come with a control knob, and it's best to look for one listed as compatible with your model. However, there are some universal, basic knobs. Simple heavy-duty plastic with a twist application will do the trick.  |
| Locking/ Tightening Coupler | Used to adjust the height of your patio heater | Not available for all models (or needed). It should include 3 components: a fastening nut, screw coupler, and spacer.  |
| Thermocouple  | Prevents gas leaks; signals for gas to flow; a critical component  | These come in a range of sizes- from about 16 inches to 24 inches. A 23.5" fits the majority of tall (freestanding) heaters. It should have an optional connection for anti-tilt safety components; and two flat connecting terminals (around 5 mm). Look to see if extra hardware is required- I prefer quick connects.  |
| Control Valve | Main control valves control the flow of gas in your gas patio heater | You want both pilot and variable settings, with an inlet to connect to your thermocouple, the main inlet, the main outlet, and a pilot tube outlet.  |
| Propane Tank Guage  | Also called a face or dial gauge, this reads the gas levels and tells you how much fuel you need  | Opt for a generous dial size, a solid heavy-duty construction (solid brass is good), and make sure it's compatible with a gas hose (ideally your current one, but you can buy a new complementary one)  |
| Hardware: Nuts, Bolts  | Holds everything together!  | Stainless Steel or Marine-Grade Hardware is Best  |
Replacement Part Examples
To get you started, here are a few examples of high-quality replacement parts for patio heaters. Keep in mind that, with most patio heater replacements, one size does not fit all. These were selected based on the main components, ease of installation, price, and overall value. That said, always make sure you're buying something that has a universal fit or meets the dimensions of your patio heater. In many cases, these models can be purchased in several sizes. 
HGXCBLKB Heater Focusing Reflector
This stainless steel heat reflector is an upgraded version of most: you may end up improving your patio heater's performance. Directional heat means you're getting more out of your fuel, and I look at the heavy-duty but sleek stainless steel construction. Buy Here.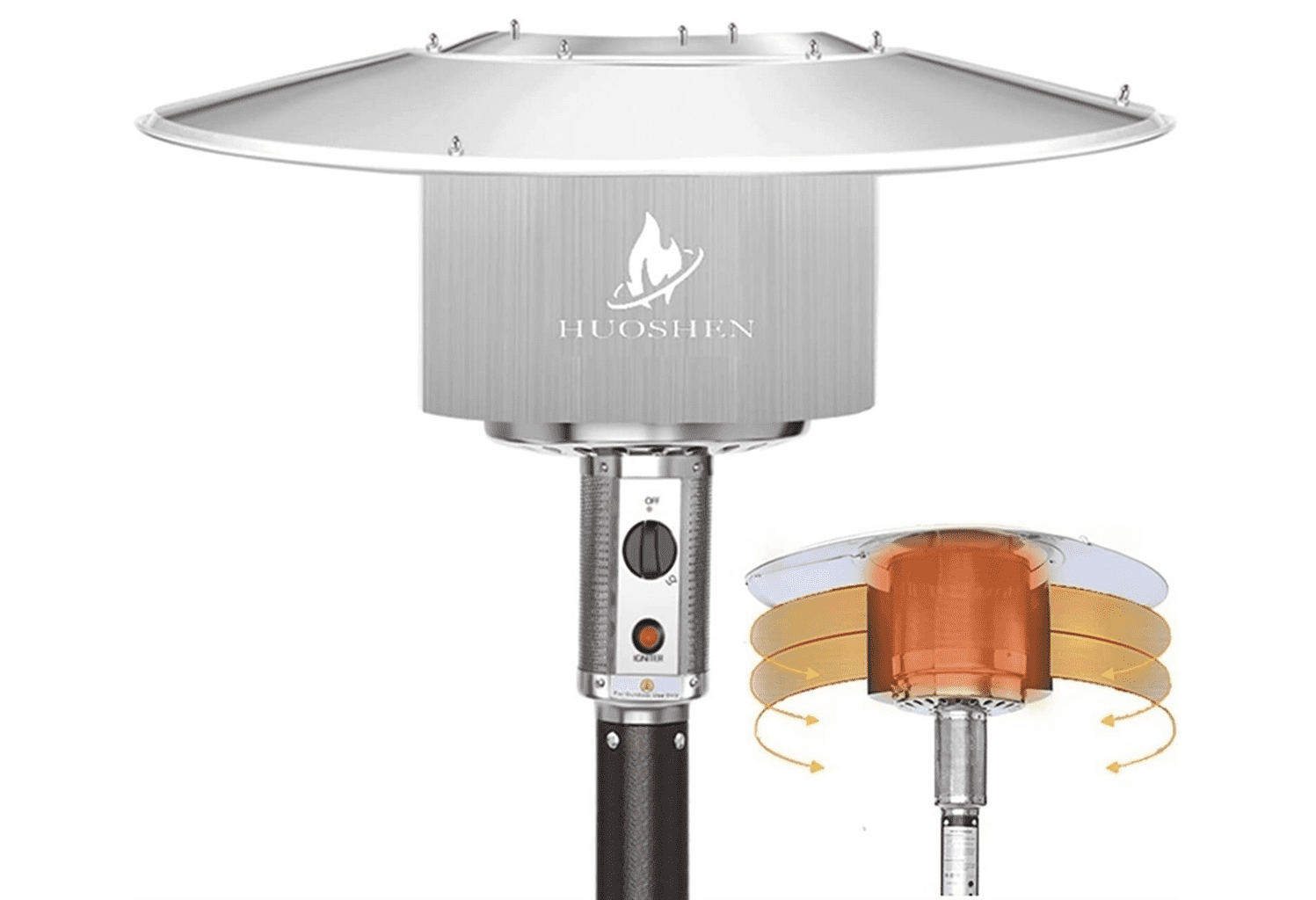 Pros
Directional Heat Control 

Stainless Steel

Unique, Patented Product
Cons 
More Expensive than Some Models 

Fewer Reviews
Hiland Main Burner Emitter Screen
If you just need a main burner emitter screen to update your patio heater, this is a solid choice. The stainless steel exterior is more durable than the cheaper, aluminum makes. Meanwhile, 3 threaded holes make installing and attaching fuss-free. Buy Here.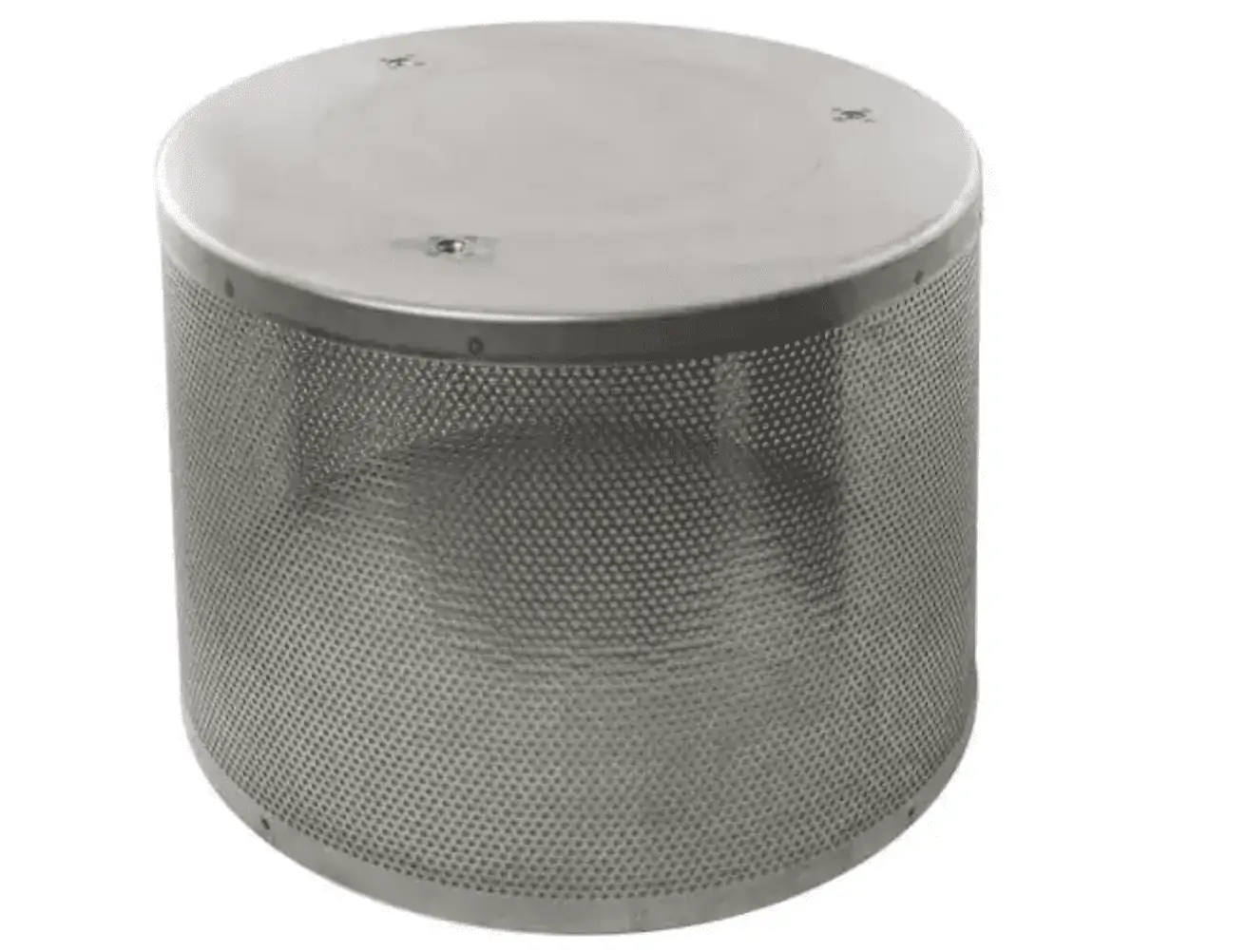 Pros
Stainless Steel

Easy Threaded Hole Attachment

Warranty & 90-Day Return Window
Cons 
Doesn't Include Hardware 

Some Models Are Cheaper
Gustaf Propane Regulator with LPG Hose
I can't stress enough how important a quality and safe hose and regulator are. This patio heater replacement part is not only affordable but also a great buy overall. Choose your desired length, then easily connect this new, CSA- safety-certified hose. It requires zero tools for attachment and regulates pressure to keep your patio heater safe. Buy Here.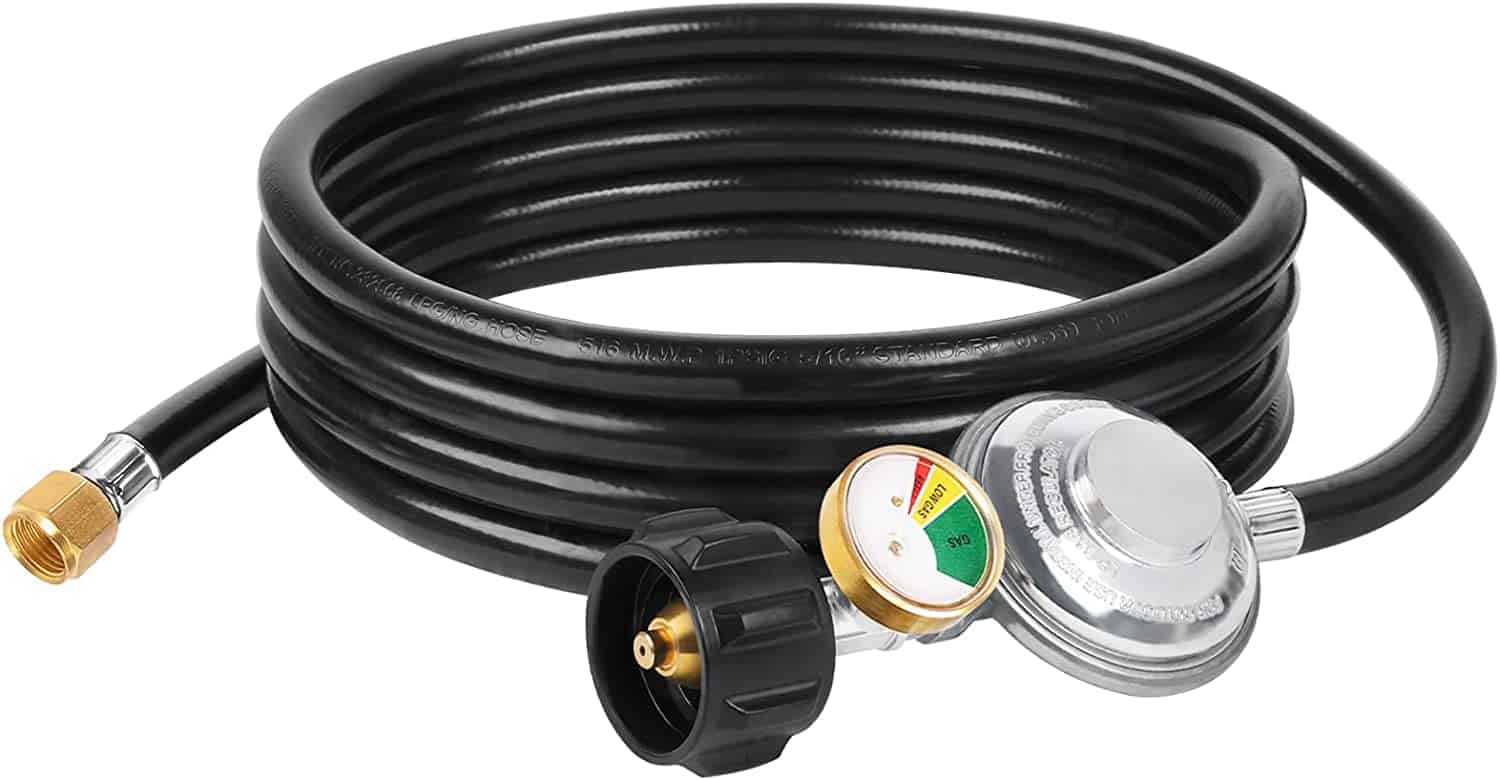 Pros
CSA Certified

No Tools Required

Solid Brass Construction
Cons 
Won't Fit Every Model (See Full Specs)

Warranty Not Disclosed
MENSI Propane Push Button Piezo Igniter Kit
There are more sophisticated, advanced igniter replacements. But this highly-rated, popular kit is intended for DIY projects. Listed as an Amazon Choice product and offering free returns, this cheap but effective igniter replacement has a suitable sparking distance of 3 to 5 mm, requires no battery, and is easy to install and adjust as needed. Buy Here.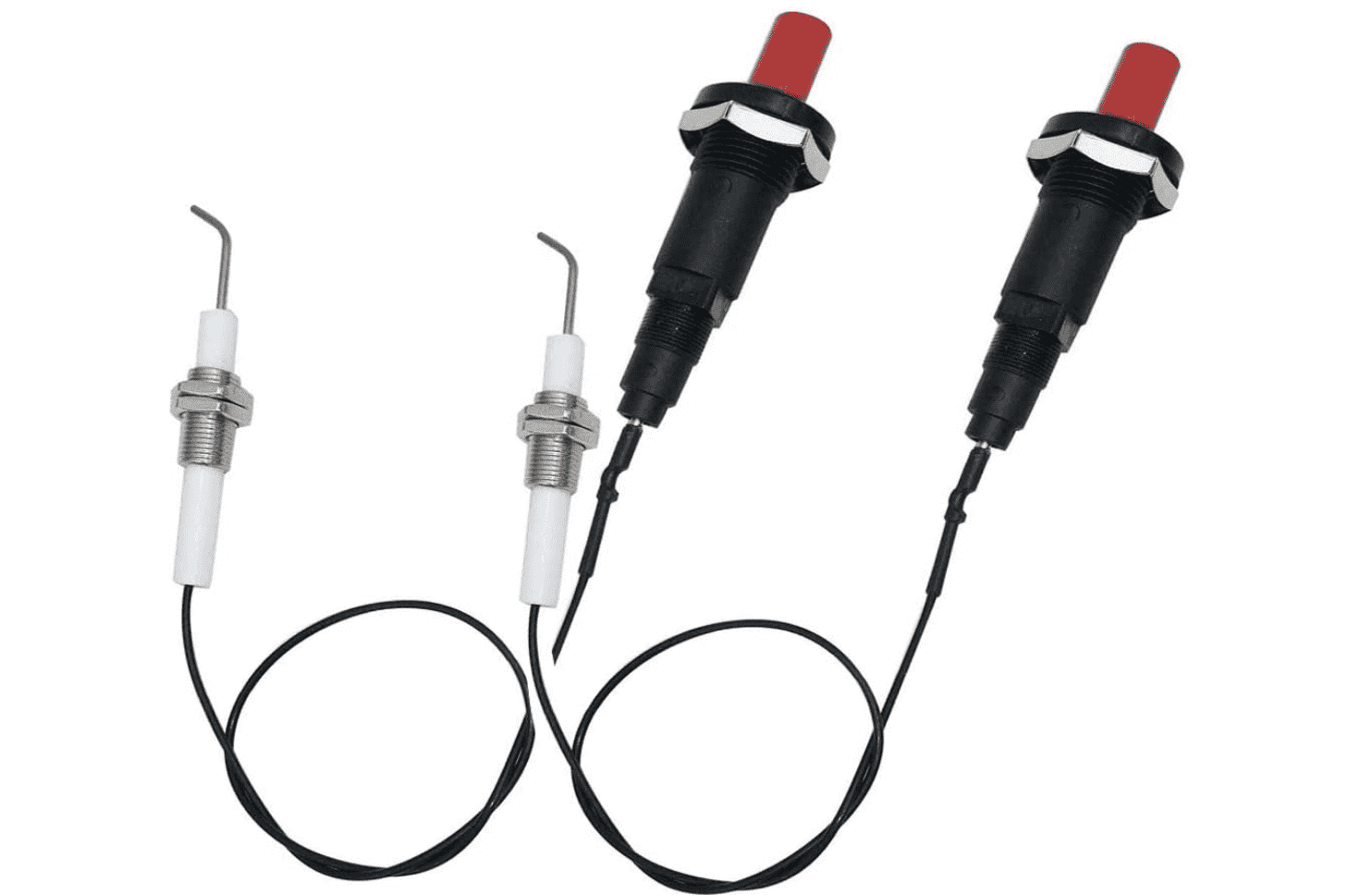 Pros
Great Price 

Good Spark Distance 

Easy to install
Cons
Not Electric/ Automatic

May Need to Slightly Modify 
Meter Star Gas Control Safety Valve
Sometimes it's best to keep patio heater replacement parts simple and safe. This gas control safety valve is both CE and CSA certified for safety, complete with strong copper components. It's well rated, and at a reasonable price, too. Buy Here. 

Pros
CE/CSA Certified 

Free Returns (Prime)

Easy Attachment 
Cons
Some Aluminum Components

Won't Fit All Models (See Specs) 
Thermocouple and Tilt Switch for Patio Heater
There are a lot of options out there for thermocouple replacements- and while your best option may depend on your model, this is a solid choice. Useful for resolving the all-too-common problem of a patio heater that won't stay lit, this thermocouple comes with a dumb tilt switch protector- keeping you safe and increasing efficiency. The 2-lead attachment is a simple installation, and the price is hard to beat. Buy Here.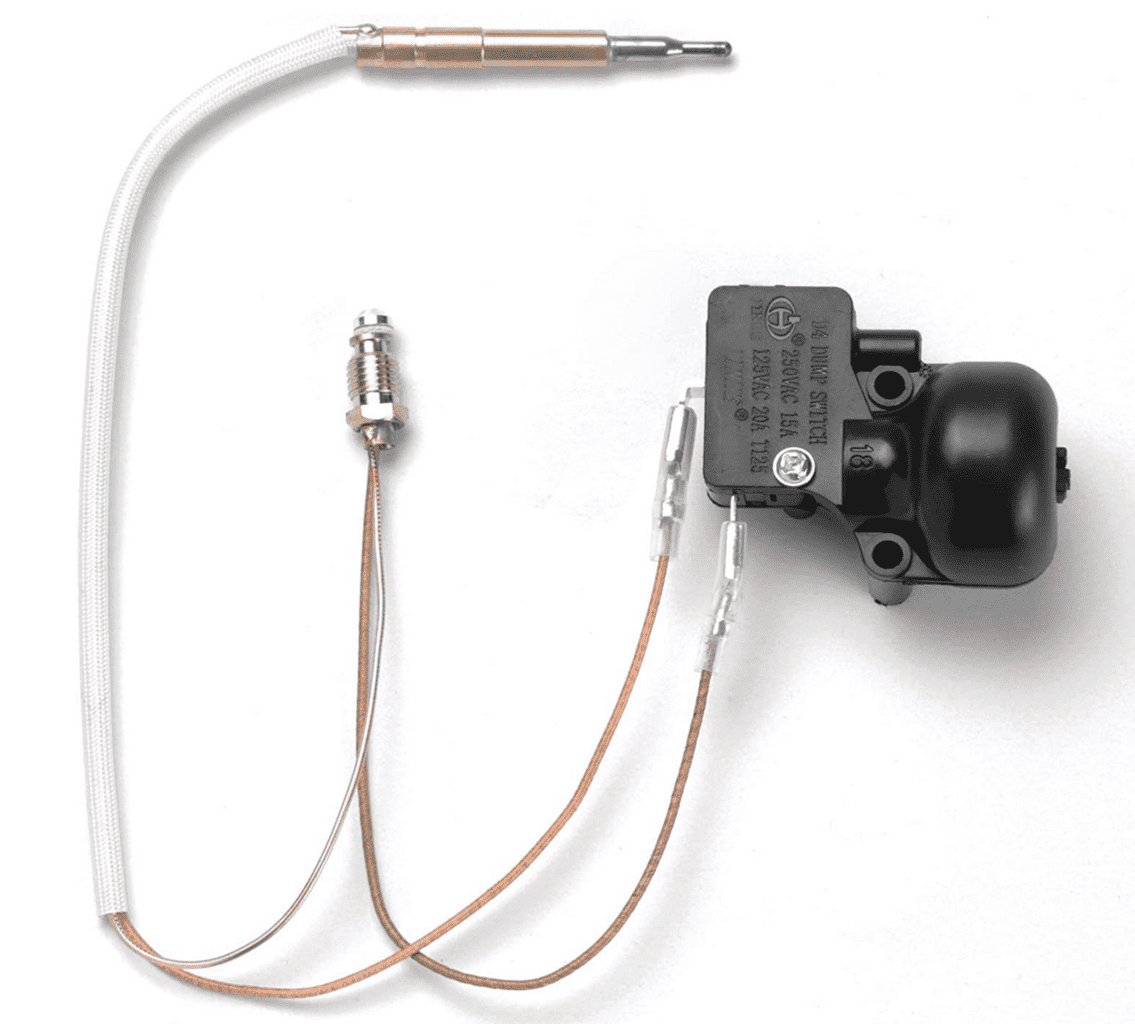 Pros
Great Price 

Easy Attachment

Includes Tilt Switch 
Cons
Won't Fit All Models (Won't Fit Some Fire Sense)

Must Make Sure Temp. Sensor Arrives Threaded
UTY Quartz Glass Tube
Keep it simple if you need to replace a quartz glass tube. This replacement part certainly isn't as cheap as other patio heater replacement parts- but it's built to last. High-temperature and corrosion resistant, this product also comes with 24-hour customer service if you have questions. Measure before to make sure this is the right size for you, and check out the company's other products. Buy Here.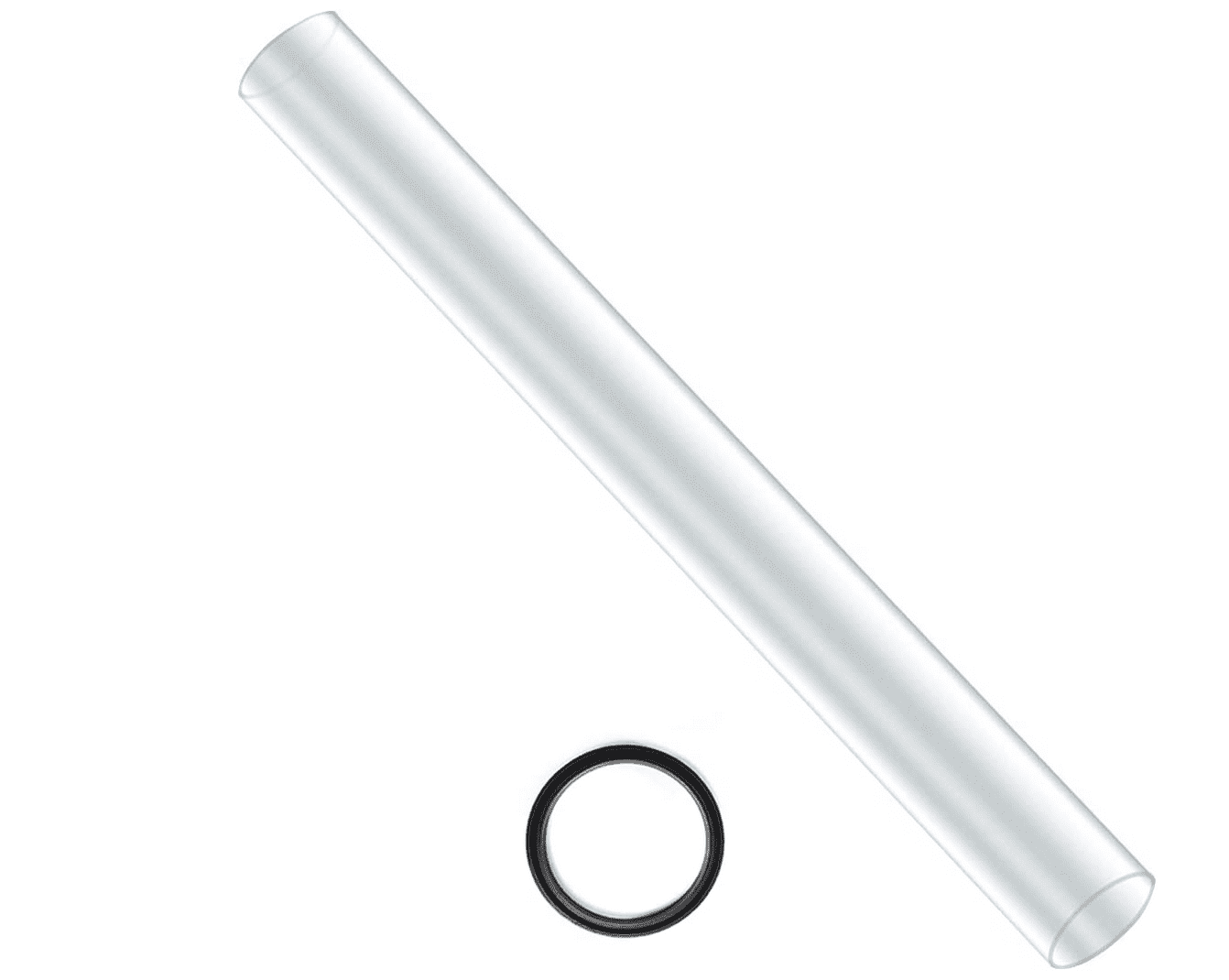 Pros
Customer Service Help

Anit-Corrosion

High-Temperature Resistance
Cons
A Bit Expensive

One Size Won't Fit All 
Patio Heater Replacement Hardware
Half the time, patio heater replacement parts don't come with additional hardware. I also just like being prepared- and having an affordable set of nuts and bolts on hand is worthwhile. With a complete set, these components should fit most regular patio heaters. Everything is rust-resistant and comes with a money-back guarantee. Buy Here.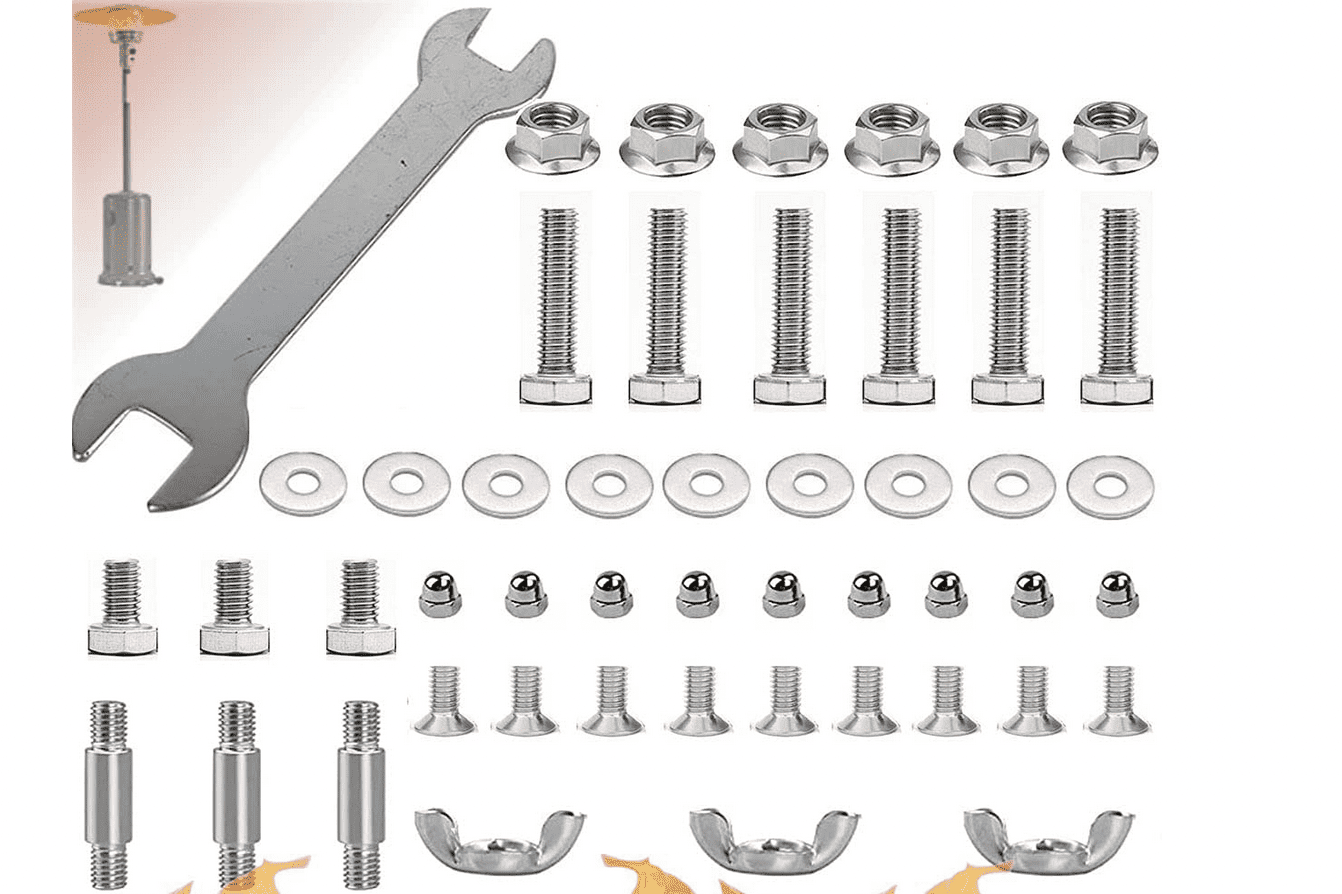 Pros
Rust-Resistant

Fits Most Patio Heaters

Money-Back Guarantee
Cons
May Not Fit Tabletop Heaters

Not Clear Instructions 
Frequently Asked Questions
Question: Why do patio heaters stop working?
Answer: The most common reason why patio heaters stop working is that there's a problem with the thermocouple. Thermocouples are made with conjoining metals that sense temperature when electric signals pass through them. If the thermocouple isn't placed close enough to the ignition/ flame, the patio heater won't turn on. Debris can also clog patio heaters, regulators can break, and the fuel tank may need more pressure. Some of these problems can be fixed, and some mats require either replacement parts or an entirely new patio heater. 
Question: Why is my patio heater not lit?
Answer: A patio heater that won't light is the most common- and understandably frustrating issue. The good news is that it doesn't always require a replacement. The first thing I'd check is if your patio heater is clean. It's pretty common for dust, dirt, and debris to get in the way. Check to make sure you have adequate fuel and gas pressure and that the ignition is close to the thermocouple. Sometimes, gas valves wear out and need to be replaced or your gas hose needs to be vented. 
Question: How long do patio heaters last?
Answer: Assuming you have a standard 20 lb propane tank, you can get around 8 to 10 hours out of your heater at a time. But how long your patio heater lasts overall depends on use. That involves if you leave your patio heater outside,  if you use a cover, and how heavily you use it. Patio heaters ideally shouldn't be left outside because even the best ones can deteriorate in rain and snow. But if you treat your patio heater well, it can last a few to several years. 
Question: Can you manually light a patio heater?
Answer: If you simply can't get your patio heater to light when you turn it on, it is possible to light it manually. Granted, this needs to be done carefully, and, in the long run, you should either investigate the cause or see if a replacement part is necessary. Using a lighter or a match, you'll need to hold the primer for 30 seconds before lighting the pilot. Waiting for 10 to 15 seconds before flipping on the switch from low to high will also increase your chances of success. Follow this Step by Step Tutorial For Manually Lighting A Patio Heater. 
Final Thoughts
If you have a brand new patio heater, always check to see if it's still eligible for a return, refund, or warranty window. Short of that, the first step I recommend is checking to see if any debris may be clogging your machine. The second most common problem is an easy fix. Check to see if the thermocouple and ignition are close together. If you've checked for these issues, then it's time to consider replacement parts.
Final Recommendations
Not sure where to start? A simple set of nuts and bolts, like this Patio Heater Replacement Parts Kit, is good to have on hand. Even if you don't need to replace something, buts and bolts can wear out. These are rust-resistant components, covered by a manufacturer's guarantee.
Recommended Reads: