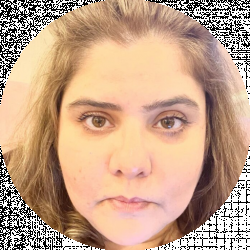 Latest posts by Asma Shahwar
(see all)
After walking the dog, I saw my next-door neighbor Janice discarding her pre-loved patio chairs on the curbside when I was coming home. She asked me for advice on how to find the best patio chairs, as I had purchased a very nice and sturdy set just a few weeks back.
As an outdoor design consultant, I know the best brands, salient features, and pros and cons when buying patio furniture, but shopping for myself had me all worked up.
Even though my work is related to the patio furniture industry, the overwhelming variety of patio chairs available in the market had me go through thorough research, investigation, and comparisons.
As an outdoor design consultant and furniture lover, I found some salient features and buyer guidelines I would love to share with those in the market to purchase patio chairs.
Bottom Line Up Front
When I started looking for patio chairs, my foremost priority was comfort and style. With a wide selection of chairs flooding the market, it was a daunting job to say 'yes' to the right one. By the end of a busy day, I wanted to melt down in a relaxing chair and have that 'Aha' moment.
I am a big advocate of looking at the furniture in person because photos of items presented on websites could be deceiving. Pictures taken for advertising are usually photoshopped, giving the wrong impression of size, color, and aesthetics. Most importantly, you can't determine how comfortable a chair is until you sit in it.
Best Overall Tip
I think the smartest thing is to check the rating, sales ratio, and consumer reviews of the patio chair if you're making an online purchase.
When buying patio chairs in person, make sure to sit in them, as that's the best way to determine the comfort level. Furthermore, find out about the assembly guidelines if you are not a handy person. My personal preference is as-is pieces with minimal assembly and less hassle.
Best Overall Choice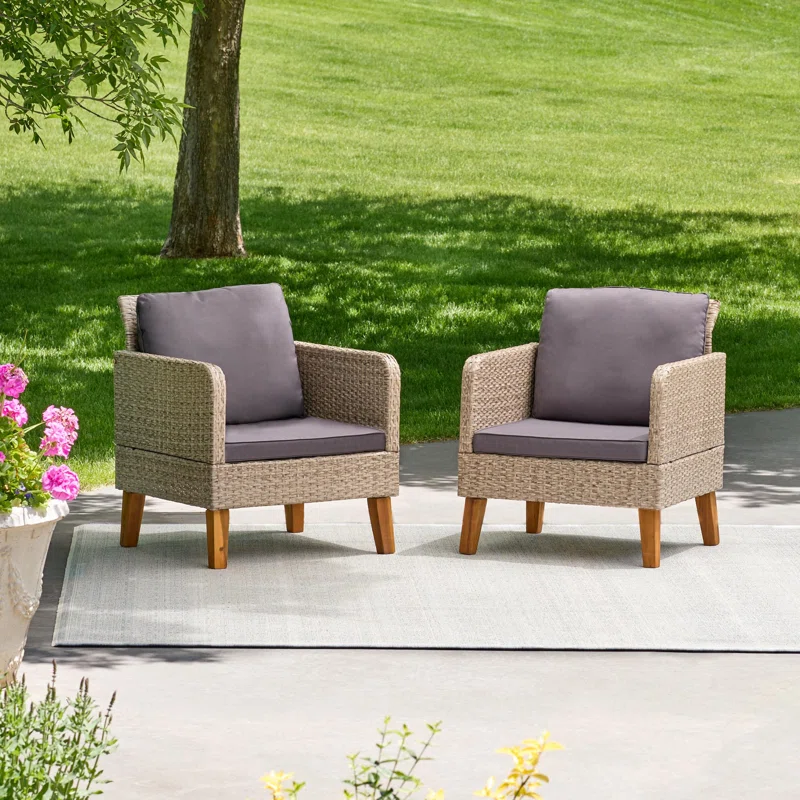 After pouring in time, sweat, and tears, not to mention the tiffs with my husband ( he always wants the chunky, carved wooden chairs), we sealed the deal with All Weather Rattan Outdoor Chair by Sand and Stable.
This chair ticked all the right boxes on my checklist and was the winner in the end. Within a decent price range ( $324.99) and a very modern look, this beige rattan chair matched the contemporary look of my patio and blended in well with other furniture.
I can vouch for comfort after using these chairs for a few months, not to mention the all-weather resistant quality. The space grey cushion is upholstered in a stain-resistant fabric and provides ultimate relaxation while sitting.
This patio chair has an aluminum frame with the weather, rust, and mold-resistant rattan weave. As we live in a cold, rainy town, inclement weather is no longer a big worry as these chairs can take up a good weather beating.
I fell in love with the composition of different materials like metal, rattan, wood, and fabric, and all put together to create a piece of art that looks and feels fantastic.
My Top Ten Picks
GDF Studio 299455 Florianopolis Brown Wicker Stacking Chairs: Best budget-friendly patio chairs.

Outsunny Set of 2 Foldable Textilene Garden Chairs: Best small space patio chairs

Woodard Cascade Wrought Iron Lounge Chair: Best oversized space patio chairs.

Christopher Knight Cayo Outdoor Acacia wood Rocking Chair: Best rocking chair.

ÄPPLARÖ Chair, outdoor, brown stained/beige: Best wooden patio chairs.

Tatiana Outdoor Plastic Chairs, Set of 2, Teal: Best plastic patio chair.

Winston Palazzo Cushion Cast Aluminum Arm Spring Lounge Chair: Best metal patio chair.

Firenze Outdoor Wicker Club Chair (Set Of 2): Best wicker patio chairs.

Lane Venture Hemingway Plantation Black Truffle Cast Aluminum Lounge Chair: Best luxury patio chair.
Points To Ponder
When decorating a sitting area, the first thing that comes to mind is the appropriate seating. A patio chair is an essential member of the furniture family as it relaxes muscles and feet after a long busy day. Choosing accurate outdoor furniture can create a stimulating environment to enjoy the beautiful summer days.
Keeping in mind some pointers can save you money, frustration, and buyer's remorse.
Comfort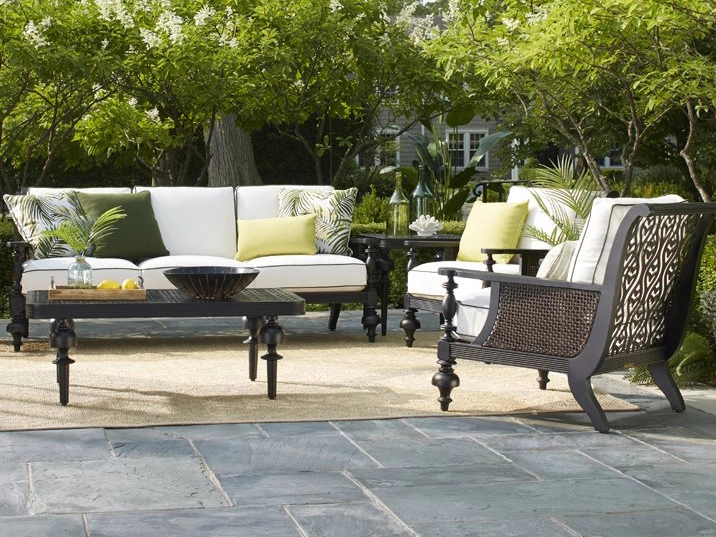 Comfort is the most crucial aspect to be considered when buying a piece of furniture for the interior or exterior of your home. Why do we decorate our homes and bring in furniture? The sole purpose is to relax our body and brain. Furniture that does not comply with this rule is a fail.
Make sure to visit the showroom and sit in the patio chair before you make a buy. In case of an online purchase, carefully read the information and reviews given by the buyers.
Size
The ideal height for a standard patio chair is between 18 and 20 inches tall. This chair has the most common seating height and comes in all styles. Though comfortable and unique, the downside is the amount of space they capture.
The standard height for a bar height stool is between 28- and 30- inches tall. It can easily fit under a 40- to-42 – inches bar table. These occupy less space.
Counter height chair is around 24- and 28- inches tall, which is a perfect fit for a standard height bar or counter table. Stylish and comfortable but takes more space.
Space
When we were looking for patio chairs for the backyard, my husband was adamant about buying a set of very bulky, wooden chairs that were unsuitable for a small patio like ours.
Before making a hasty purchase go to your outdoor area, take a deep breath and ask yourself if the furniture in your mind is size appropriate for the intended location. Buying a set of the wooden Adirondack chairs for a dinky little yard or balcony would be a faux pas. Similarly, remember the item's symmetry, balance, size ratio, and area when purchasing garden chairs for a larger space.
There should be enough space inside your home to store the furniture during lousy weather.
Lifestyle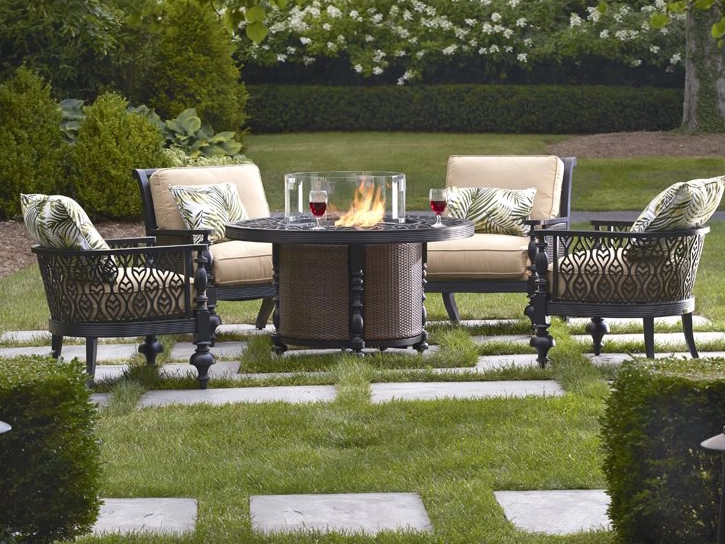 Like my friend Janice, who lives with her cats and rarely has company, buying very bulky chairs would be inappropriate.
Lugging around heavy furniture without any help could become a hassle for you. On the other hand, if you are a party animal with a massive circle of friends and family, you should invest in a durable and sustainable set of patio chairs.
Lightweight, stackable chairs are an excellent choice for someone who moves around quite often.
Budget
Now comes the time to dig deep into your pocket and see how much stash you can spare.
With a vast rush of consumerism, the manufacturing industry massively produces products to meet people's demands. The market is flooded with all sorts of outdoor furniture that can fulfill the needs of all financial strata.
There are countless patio chairs for your outdoors, based on different price points. You can splurge on a Ledge Lounger for your poolside from an exquisite boutique or buy a stack of plastic patio chairs from your local retail store.
Coordination
A patio set is color and style coordinated. In contrast, if you buy patio chairs only, you must blend the aesthetics, style, shape, and hue with the existing pieces for symmetry. I invested in a set of chairs that complemented the whole theme of my patio, and the color was neutral enough to incorporate into any setting.
Mixing and matching designs is a good idea, but you can not stray too far away from the existing theme of your setup.
Weather
Patio chairs are built from diverse materials, making them unique. The weather could have a profound impact on the sustenance of your outdoor furniture.
Although pleasant sunny days are the best for spending time on your outdoor patio furniture, the harmful UV rays can fade the color of the wood and fabric of your chairs.
Rain and humidity can seriously harm unsealed and untreated wooden chairs, whereas rust and corrosion produced due to damp conditions can damage steel and iron furniture.
Make sure to buy sturdy chairs so they won't get blown away in windy areas.
Aesthetics
Whether you are a fan of Avant- grade and minimalistic look or a traditional soul who loves to dwell in the past, there are enough choices to fulfill everyone's wishes.
Rock the evening away on your outdoor rocking chair or sip your favorite drink on a poolside lounger; the possibilities are endless.
Lumbar Support
All interior and furniture designers are big advocates of comfort over everything. A perfectly balanced chair supports your back and maintains good posture. I have seen a rise in the production of ergonomically designed patio chairs to provide the ultimate sitting experience and eliminate sore back and neck problems.
A recliner chair is preferred by the elderly due to its comfort. This chair promotes good circulation, reduces stress, and maintains spine alignment. It has a backrest capable of reclining for neck and lumbar support.
The Building Material for Patio Chairs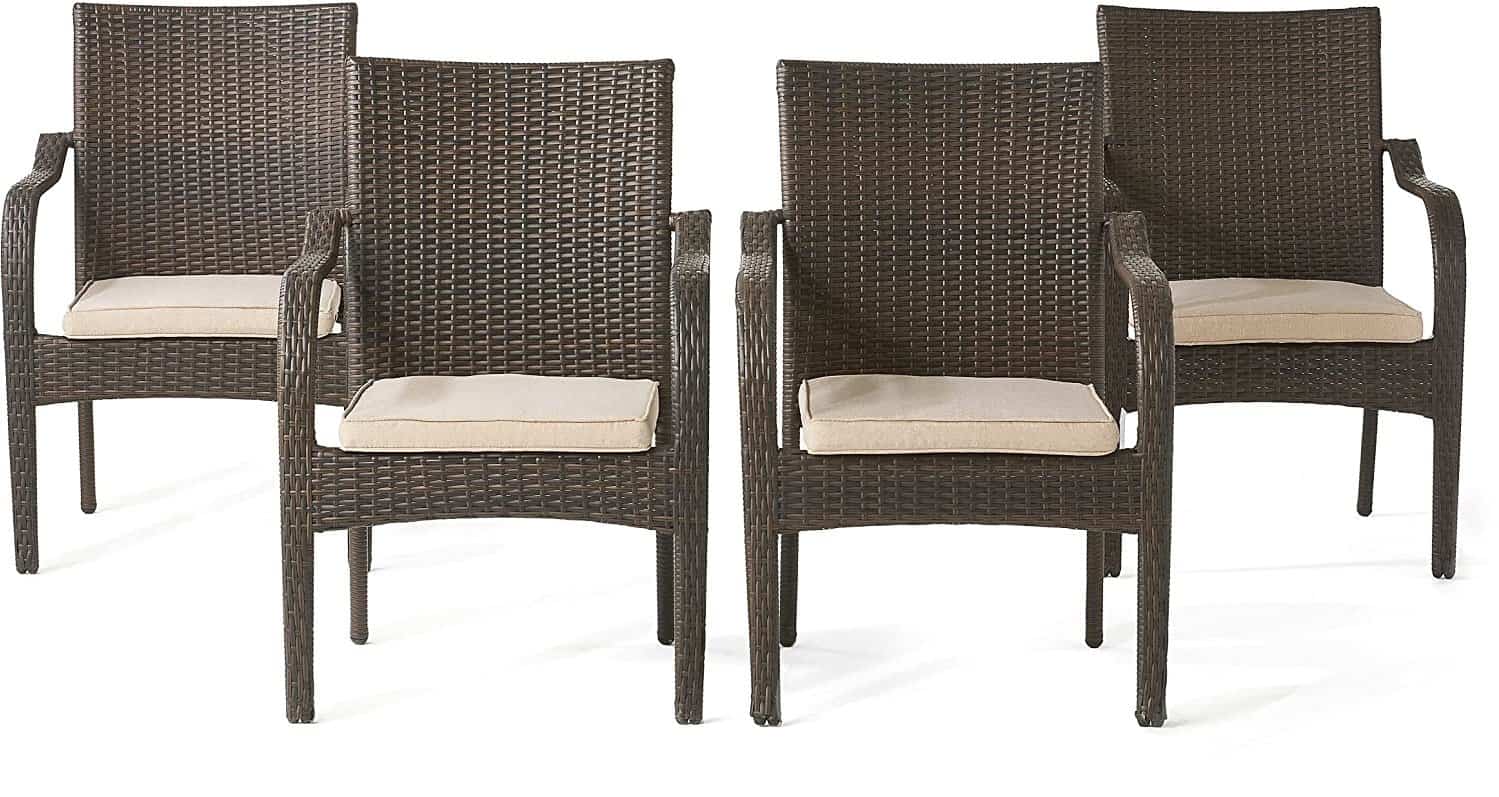 All patio furniture, including chairs, benches, stools, and loungers, are made from different materials to meet the demands of clients with peculiar tastes.
Wood
The wooden patio chair has been one of the oldest and most famous choices among consumers due to its hard-wearing qualities. Wood is the most universal, bountiful, and feasible natural resource for manufacturing furniture.
Teak
If you decide to bring in new patio chairs this summer and wood is your first option, look into Teak outdoor furniture. This wood has superior quality, weather resistance, and a warm, attractive hue.
Cedar
Patio chairs made from Cedarwood are rot, termite, and beetle resistant. In addition, this kind of wood is lightwood and develops a grey patina if left untreated for a long time.
Outdoor items made from Cedar lack elegance as mainly large planks and poles are used for durability. Cedarwood chairs look best in a cottage or country-style settings.
Synthetic Resin and Plastics
Chairs made with this material are lightweight, weather-resistant, and waterproof, giving off a sleek and modern look. The traditional resin chair is woven in a traditional wicker pattern portraying a classic style. Unlike natural rattan, it stays in shape and retains its color.
Synthetic resin wicker is constructed with a few artificial materials like Nylon, Polyethelene, and PVC. The best quality of PVC is High-Density Polyethylene wicker, known for its better performance than PVC.
Metals
Many of us might have seen beautifully crafted, ornate chairs made with wrought iron in old movies, antique shops, or in our grandparent's homes. The use of this metal has decreased considerably in making patio furniture due to its heavy composition and high maintenance. Aluminum and steel have replaced the consumption of wrought iron for making outdoor chairs.
Aluminum
This metal is exceedingly malleable and can be molded into stylish patio chairs. When looking for the best patio chairs, consider aluminum a leading contender due to its peculiarities.
Aluminum is anti-rust and corrosion, ideally suitable for coastal or humid areas. Furthermore, it does not need a lot of care. The only downside to aluminum furniture is its lightweight composition can not withstand strong winds.
Steel
Sturdy, versatile, but expensive, steel is best for highly windy places. Steel chairs are prone to rust and corrosion, but stainless steel and galvanized steel are treated against rust and corrosion.
Fabric
Fabric plays an essential role in the making of outdoor chairs. Upholstered patio chairs are ultimately comfortable. There is no doubt that a seat cushion can turn a rickety, spiny, uncomfortable chair into a luxurious throne.
I like fabrics that are in neutral colors so that they blend in with different aesthetics. Vinyl, polyester and acrylic fabrics are used for outdoor chairs due to weather resistance, water resistance, and powerful endurance against fading.
Textiles are used for cushions, seat covers, and upholstering a patio chair. The sling chair uses a fabric sling as a seat.
My Top 10 Picks for the Best Patio Chairs
There is a lot in the world of outdoor furniture to meet the demands of consumers, as everyone has specific criteria in mind for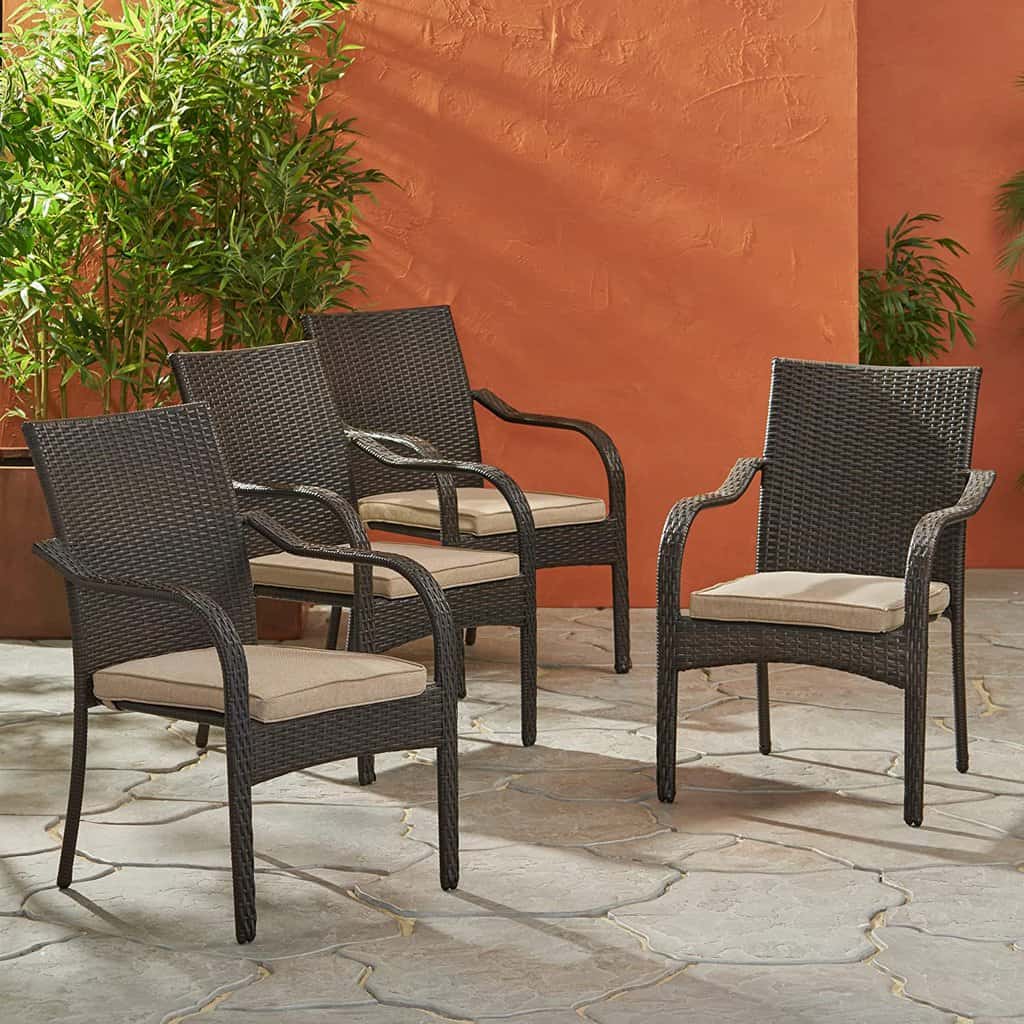 I was completely sold on this beautiful set of 4 patio chairs for its modern look, comfortable style, and fantastic price range. Manufactured by GDF and sold by Amazon, this set of patio chairs has raving reviews from satisfied customers.
These chairs are stackable, making them an ideal choice for smaller patios, and the weight is around 13 pounds; they are easily movable. The construction material is Polyethylene wicker, and the frame is iron, making them tough and weather resistant.
The woven, slightly arched back and armrests are designed to provide ultimate comfort; furthermore, the beige cushions add elegance and luxurious touch to all kinds of patios.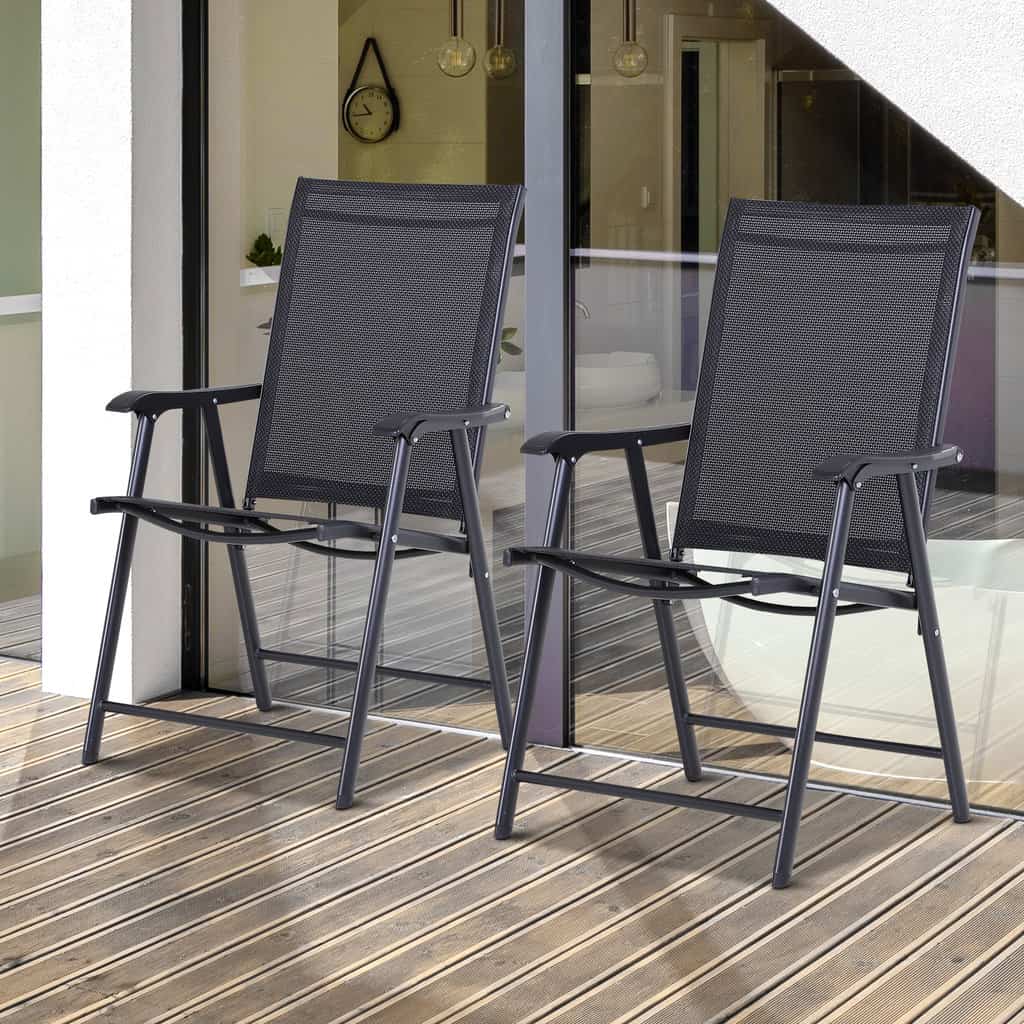 When my daughter moved into her apartment, I bought a set of these lovely, versatile chairs for her tiny patio. Her feedback made me purchase a set for my patio as an add-on when having some guests.
These chairs are lightweight, foldable, and have an all-black steel body, which gives them a polished look. You can add a bit of color by adding cushions or a throw. The ergonomic design and high back provide a pleasant sitting experience.
The seat is made from high-grade Textilene fabric, which is all-weather resistant. These chairs are sturdy enough and have a weight capacity of 230 lbs. The only downside I experienced is that they are lightweight and unsuitable for areas with heavy winds or storms.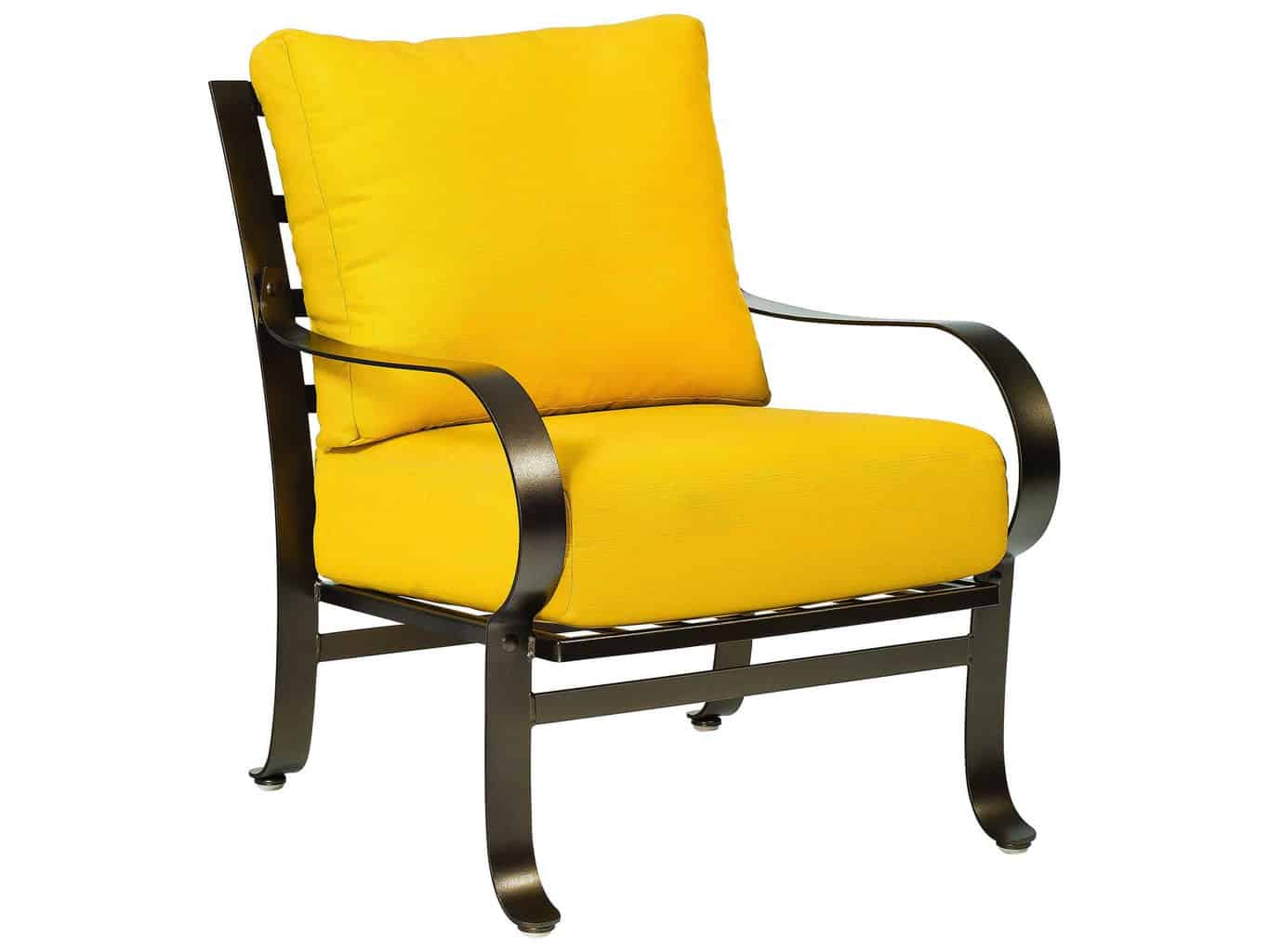 Imagine yourself lounging in this oversize wrought iron piece with a book on a warm summer evening. Wrought iron furniture in the '80s and '90s would be intricately designed with curves and swirls, making cleaning difficult. Lately, designers have come up with wrought iron furniture with clean, simple lines, like this one, for easy care and maintenance.
I was undoubtedly inclined towards these patio chairs by Woodward from the Cascade collection for their durability, sturdiness, and vibrant fabric color. Still, the size was more suitable for a more oversized patio than mine.
Another selling feature of this handcrafted chair is its craftsmanship and finesse. The dimensions are 28.50"W x 36"D x 36.50"H with a seat height of 20 inches.
You can choose from 10 different shades for the frame and countless fabric choices according to your taste. Furthermore, you can select other pieces from the same collection for a more refined look for your patio.
The only drawback I could think of is the weight and the fact that it is a particular order that takes 25 to 29 weeks to deliver.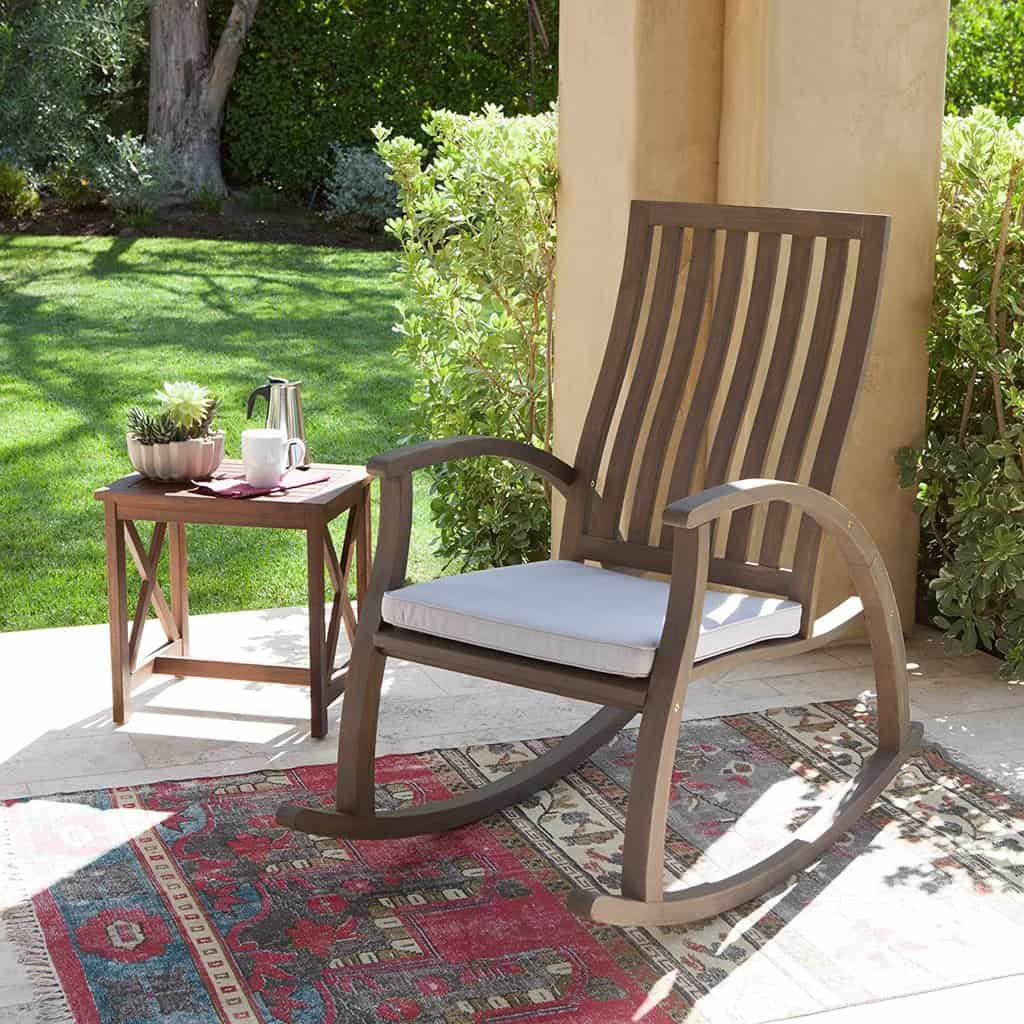 If money is not a problem, I couldn't recommend enough for every household to invest in an indoor or outdoor rocking chair. Envision yourself rocking on your deck while drinking in the beauty of nature.
A classic rocking chair is usually constructed out of wood, but lately, some modern options are made of metal and Wicker. The new versions of the traditional rocking chair come in many colors.
This beautiful piece of outdoor furniture is crafted from sustainable acacia wood and holds excellent value due to its durability. Designed on clean lines with the beauty of a traditional rocking chair, this would be the limelight of your patio or backyard.
This rocking chair has a 17 inches curved, high back to support the arch of your spine and provide maximum comfort. The armrests are also curved, creating symmetry with the chair's base. According to the customer reviews, the bottom of this chair is sturdy enough for easy rocking, and there is no complaint about toppling or any accident.
This chair comes with a pillow for the seat and is easy to assemble with an assembly guide booklet and care instructions.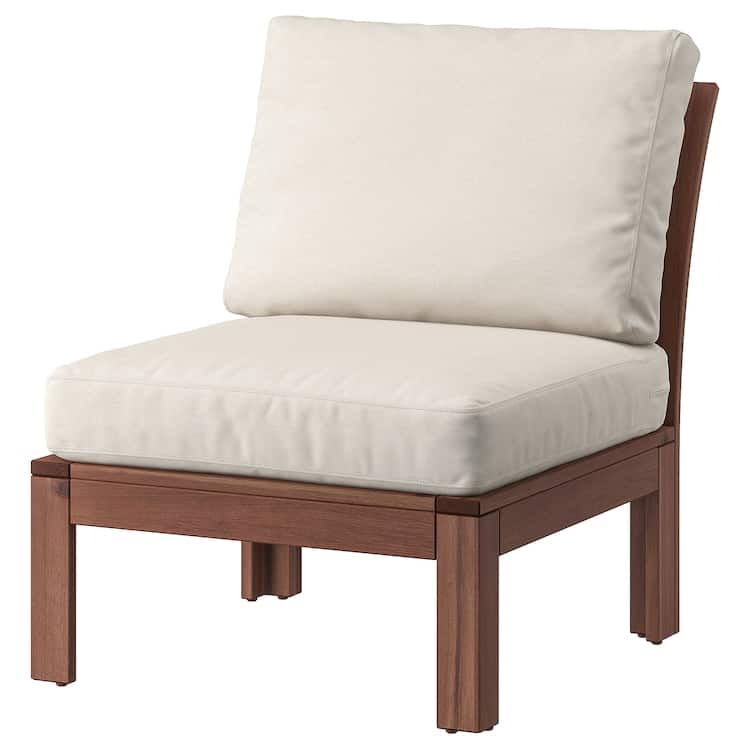 Wooden patio chairs are considered chic and classier members of the outdoor chair family. This kind of furniture has been around for a long time and was diligently carved and constructed by talented carpenters back in the day.
The elegance of wooden chairs lies in the intricate designs and handiwork of the artisans to date. I admire the artistry and look of wooden chairs, which could be a classy addition to any patio decor.
Although I adore this wooden patio chair, the rainy weather in my town made me decide not to go with wooden furniture for the outdoors.
This particular chair from Ikea is constructed from sustainably sourced acacia wood which is acclaimed for its durability. The artistically designed chair lacks armrests, but the depth and great seat make up for that feature, and you can easily curl up on this chair to relax.
The wooden legs are sturdy to maintain a firm grip on any surface. The frame of this chair is built with sustainability and stability in mind.
The plush cushions and the inside filling are 100% polyester, and the cushion covers are removable and washable. The fabric used is not stain-resistant or water-resistant, making it necessary to protect them from the rain and snow.
To increase the life of these chairs, stain and clean them regularly and store them in a dry place when not in use.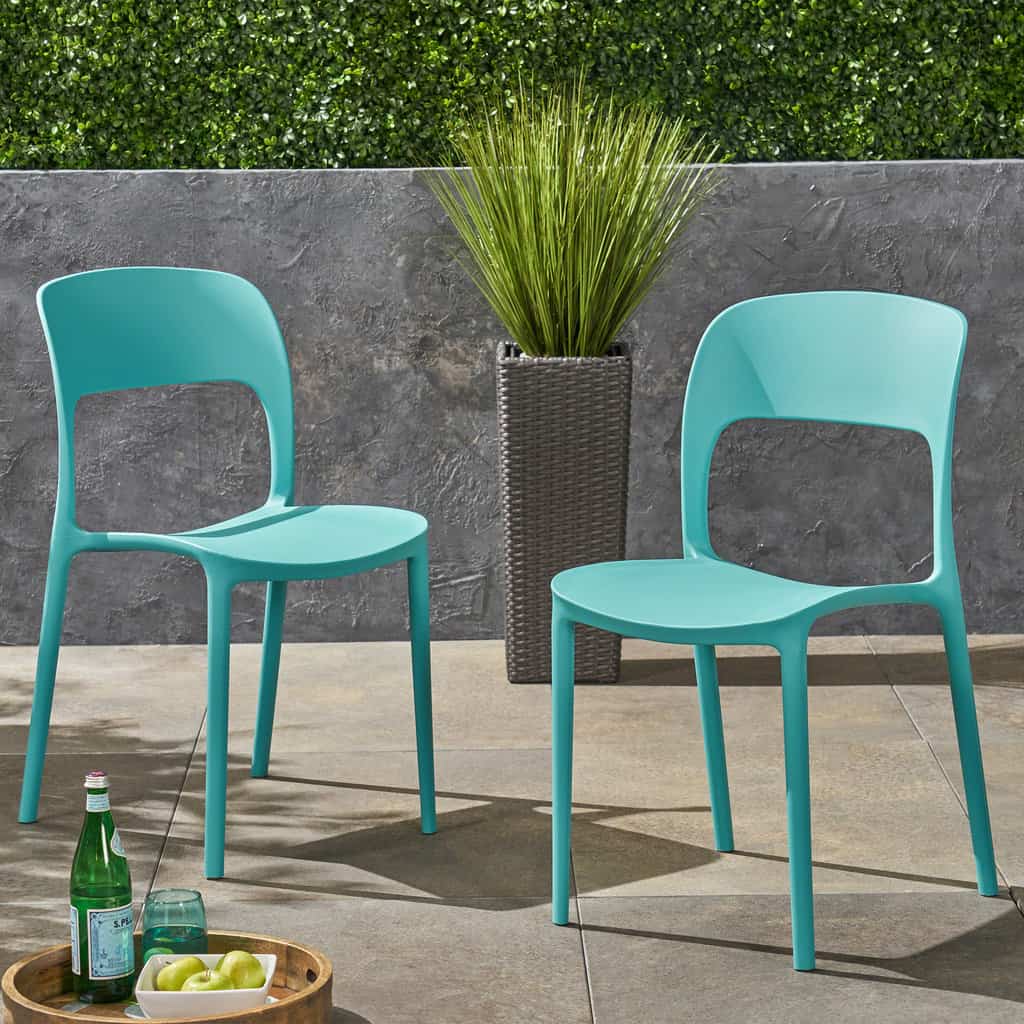 These teal plastic patio chairs are a show stopper. The modern, sleek design and the bright color would uplift any patio setting to another notch.
I recommend investing in these chairs if you are into entertaining and need extra seating space regularly. The design is more suitable for the younger crowd because of the straight backrest and less arch support.
Plastic is a cost-effective way to buy patio chairs if you are on a tight budget, although it is not a favorite choice of the consumers.
These chairs are aesthetically pleasing, cost-effective, and need less space as they are sleek and stackable, but sitting in them in a sweltering climate would be a challenge. These chairs could get deformed in sweltering hot temperatures, and the vibrant colors could fade away due to harsh UV rays.
These plastic patio chairs are available in 3 appealing colors, need minimal assembly, and could be a chic but hassle-free addition to your patio decor.
Buy it from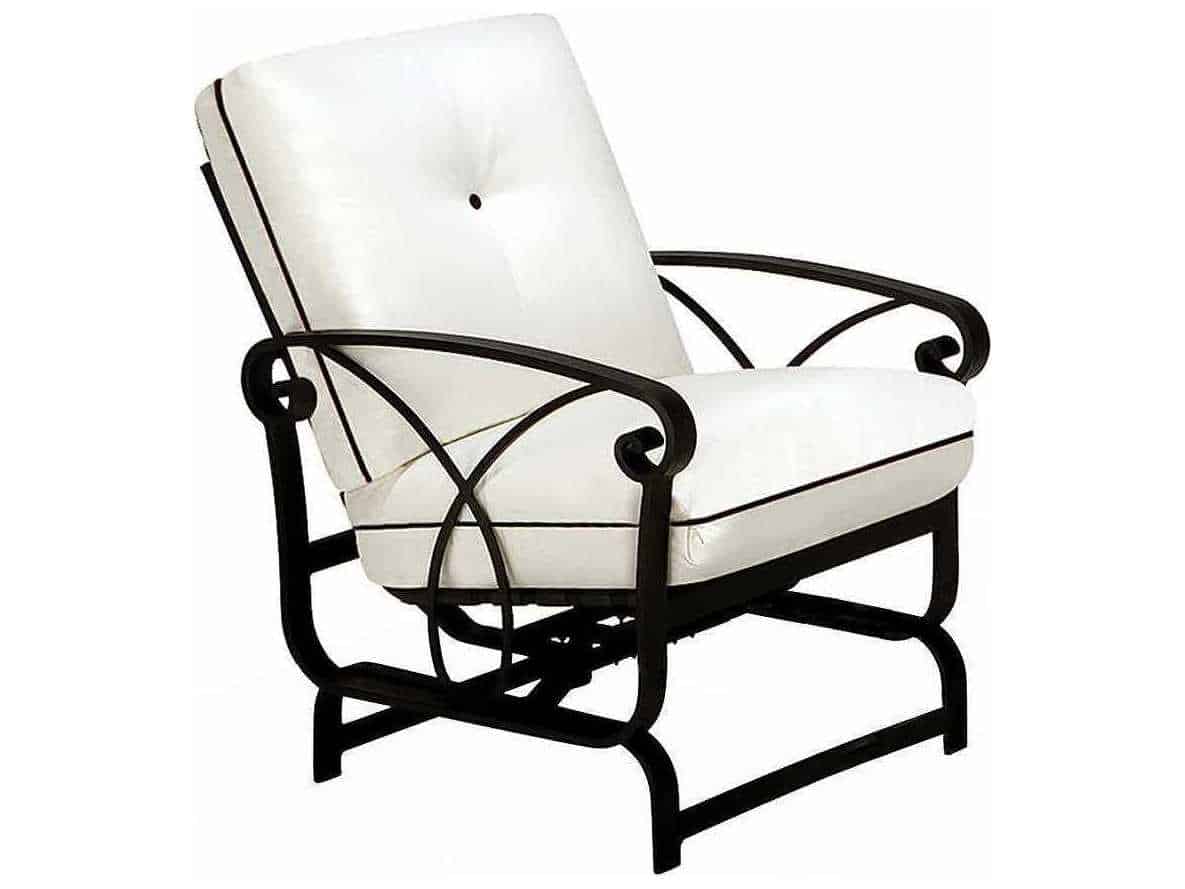 Patio chairs made from metals are sturdier and would serve you for a lifetime but keeping in mind the qualities of the metal they are constructed from is a good idea.
Keeping the weather factor will cause you less headache if you are inclined towards metal patio chairs because of rusting and corroding issues. Aluminum is an excellent selection because of its anti-rust properties.
When Janice and I were browsing the web to look for different options, this one was instant love at first sight. The gorgeous bold yet chic silhouette with scroll details on the sides and curved armrests speaks luxury and style.
The cushions' detailing adds depth to this lounge patio chair. The cushions are button-tufted and have a welt that could be customized according to your taste.
The heavy-walled aluminum body is rust, corrosion, and water-resistant, making it an ideal choice for any weather. These chairs are sturdy enough to be placed on different patio surfaces like stone, tile, cement, or wood.
The reason Janice shied away from this piece was that this chair would look more appropriate in a larger setting because of its ample size. Another deterring reason was the 41lbs weight, which would make moving it around a hassle.
Overall, I would suggest that if you want to splurge on a patio chair that would polish the look of your patio, invest in the Winston Palazzo Cushion Cast Aluminum Arm Spring Lounge Chair.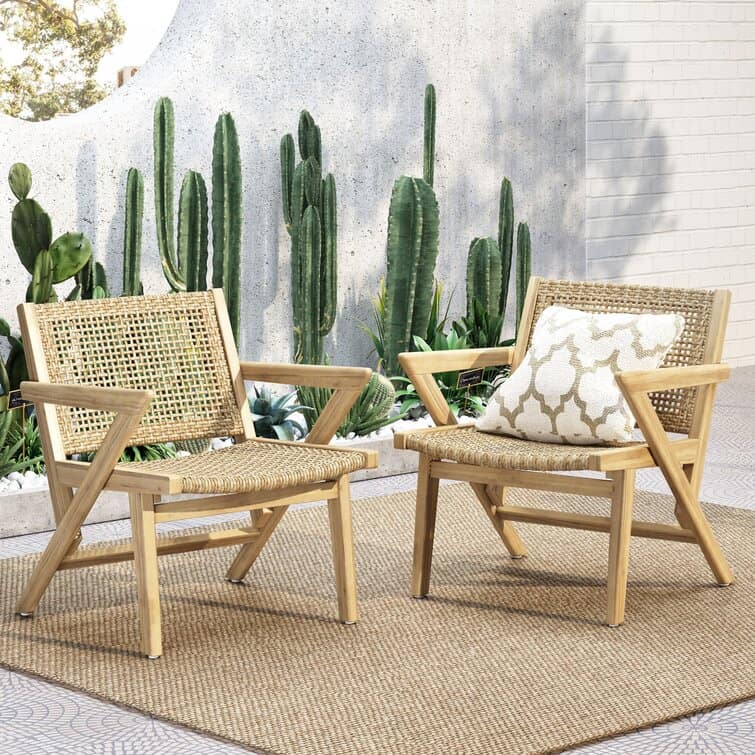 The word Wicker reminds me of a colonial front porch with an old-fashioned rocking chair looking onto a white picket fence. Synthetic vinyl and resin are woven into a wicker pattern to replicate the authentic look of a Malaysian wicker chair woven with natural materials.
These chairs from Joss and Main are an instant hit with consumers for their colonial-era vibe merged with contemporary lines. My grandmother had a set of similar chairs with a plastic weave, and we would spend hours sitting in them and enjoying the summer evenings.
Due to biological factors, these chairs come in different color variations, grains, or wood knots. It has a sturdy composition and weighs around 35 lbs, making it a good choice for windy areas.
The wooden frame is water-resistant and can be cleaned with a dry cloth if needed.
.Although authentic Wicker is challenging to come by due to its delicate endurance against harsh weather conditions, there are a few other choices of chairs woven in a wicker pattern.
Synthetic Vinyl and Resin are used to construct the weave in these patio chairs for their weather tolerant qualities, but their frames are always made from solid wood.
Although I love the look of these chairs, putting them away out of the direct sun would be a good idea; another con that could become cumbersome is that the Wicker is prone to breaking and unraveling the entire weave.
Inspired by the noble prize-winning author's legendary style, the Earnest Hemingway outdoor collection combines classic taste and exotic details.
If I could have only one accent patio chair for the rest of my life, I would opt for this beauty. The chair is constructed with cast aluminum, protecting against weather, rust, and corrosion.
Hand-woven polythene synthetic fiber is woven over the metal frame to present this chic piece of furniture. The front legs remind me of a Louis XV romance antique chair.
The pattern woven all around the sides of this chair is intricately designed and complements the whole aesthetics of this work of art. It is available only in 640 black truffle finish.
The weather master cushions come with seat coil inserts. There is a vast selection of colors and patterns to choose from, and if you want to build your patio set around the same pattern as this chair, you can buy the matching love seat and table from the same collection.
This budget-friendly option from Walmart has a 5-star rating, good reviews, and whooping sale numbers. Customers were satisfied with these outdoor chairs' comfort, price point, and functionality.
These chairs are made of sturdy steel with a powder-coated finish making them rust and corrosion-resistant. The seat and back are made out of a quick-drying ventilated sling.
These chairs weigh 10 lbs each, but the weight capacity is 250 lbs. These chairs are consumers' favorite because they are lightweight and foldable, and the simple design complements any setting. After reading all the reviews, I scored a couple of them for parties and entertaining.
These come in tan, teal, navy, red and black colors.
FAQs
Question: What is the best material for patio chairs?
Answer: Patio chairs come in various materials, but they might not be suitable for every household. The climate of your area, where you want to put the chairs, your budget, and your lifestyle are the contributing factors in picking the appropriate material for your outside chairs. Wicker is a favorite choice among buyers for its classic look.
Question: What are the best outdoor chairs for tall people?
Answer: The great patio parma chairs are the perfect choice for tall people. The Adirondack chairs are also suitable for lofty heights because of their study and reclining design.
Question: What features should an outdoor recliner have for the elderly?
Answer: The main focus for the elderly is for the chair to be relaxing and comfortable. Some chairs keep the seniors in mind and are constructed with high care. The zero gravity chair is considered the best for the elderly because of its perfect sitting position.
Question: What are the benefits of patio chairs?
Answer: It is imperative to suggest the importance of sunlight and fresh air, especially in places where you are closed indoors for six months due to weather inclement. Furthermore, spending time outside with friends and family promotes bonding, positivity, and energy. A nice set of patio chairs would provide relaxation while lounging outdoors. Patio chairs are specifically made to endure weather elements and promote outdoor aesthetics.
Final Thoughts
After thoroughly analyzing the outdoor furniture market, I conclude that the foremost consumer demand is comfort. I agree that your outdoor patio chairs should be comfortable enough to spend hours on.
Being from the interior decor industry, I understand that splurging on a fancy chair is not always the best idea. High-end boutiques that specialize in selling patio furniture charge extra bucks for the same set that you could purchase directly from the manufacturer.
Similarly, retail stores like Walmart, Home Depot, Lowes, and Wayfair sell the same product but at different price points due to sales or price cutdowns.
Whenever I'm in the market to buy a chair or any indoor or outdoor furniture, I make it a point to ask the sales associate for a discount if I buy the floor model.
Places like Ikea have fantastic deals on as-is or last-call pieces where you can score amazing deals.
This summer if you are thinking of creating an outdoor oasis and wondering how to find the best patio chairs, thoroughly analyze your budget, lifestyle, and aesthetics before taking the plunge.
Recommended Reads: