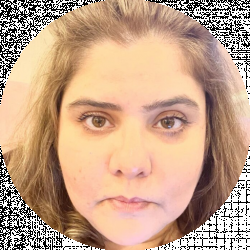 Latest posts by Asma Shahwar
(see all)
My daughter Alena, who moved to a distant city with her husband and a 3-year-old daughter, called to ask for some tips on Halloween decor.
Doing up the yard for Halloween has always been our joint family venture, but this time, she had to tackle the job by herself. With a lot of concentration and research, I compiled a Halloween Porch Decor Guide to give her a heads up on how to do her front porch.
Our little town takes the cake for its spookiest Halloween decorations and craziest costume competitions. As leaves turn into beautiful orange, yellow, and red tones, the town transforms into a mystical world of ghosts, fairies, and witches.
Bottom Line Up Front
We all love the festival of Halloween for its magical vibe, imagination, and uniqueness.  This year, create a world of your choice by decorating your front porch, dressing up, and having a big Halloween celebration, but always be mindful of your civic duties towards your community and your planet.
Invest in decorations that could be reused and recycled, and avoid excessive use of paper, wood, and plastics. There are biodegradable Halloween decorations available to promote environmental stability.
Make a group with friends, family, and neighbors, where you can exchange Halloween decorations and create new looks without putting a dent in your budget and the environment.
If you are a fan of the magic lamp, fairies, and witches, embark on this journey to turn your porch into a front cover of your favorite horror book.
Down the Spooky Lane: A History of Halloween
The tradition of celebrating All Hallows Eve, later known as Halloween, began when the ancient Celtic people started celebrating the festival of Samhain by lighting up bonfires and wearing costumes to ward off evil spirits.
With time, this festival evolved into a day of trick or treating, carving Jack-o- lanterns, and dressing up in different costumes.
Halloween gained popularity with time and emerged as a famous holiday now celebrated worldwide. You can tell it's spell time when front porches in your neighborhood start displaying spooktacular decorations.
Being a homeowner in an area that has been the Halloween decor winner three times in a row, I have a few decoration tricks up my sleeve to turn your facade into a horror chamber.
Preparations: How to Get Started
Clean-up
Start your Halloween porch decor by thoroughly cleaning up your front porch and removing the previous seasonal decorations to make room for the new ones.
Giving an excellent scrub to the front door with a multipurpose cleaner such as Mrs. Meyer's multisurface cleaner in Pumpkin scent will solve your dust problems while making the whole place smell like Pumpkin spice latte.
Look out for fallen debris, broken steps, or faulty electric outlets and get them fixed. Check if there are any ditches, holes, or fallen branches in your yard.
Shop in Your Attic
It's time to look into the attic and bring out those storage boxes. If you have stored Halloween decorations from the previous years, try to add them to your new inspiration. Instead of buying everything from scratch, rummage through your stuff; you will find things to use to decorate your porch this Halloween.
Black, white or orange fabric, old Halloween costumes, pumpkins, bats, spiders, and fall decorations can give a magical face to your house.
Look for Bargains
An excellent way to stock up on Halloween decorations is your local flea market and Garage sales. Last year, I scored a life-size plastic skeleton in pristine condition from a garage sale for only $5.
You have countless options to purchase mysterious artifacts to deck out your front yard and Porch. Local retail stores, Amazon, and dollar stores sell various things, from tiny spiders to life-size zombie dolls.
It's All in the Theme
Before jumping in to decorate your Porch for Halloween, think about the theme you want to follow this year. Pinterest and Etsy have fantastic pinboards to create different porch look this fall. You can choose from funny to scary and cute to bone-chilling themes from one of these websites.
Some people celebrate Halloween with zeal and spend lavishly, decorating the whole house. One of my friends transforms her entire home into a horror chamber. She collects pledges from the people who pay to take a tour of her place. Her charity donates all the proceeds to the  Sick Kids hospital.
Put Your Thinking Hat On
Before decorating any space, it is imperative to answer the how, what, where, and when of your decorating project. Vague ideas lead to unnecessary purchases, resulting in undesired outcomes and remorse. Be confident by researching numerous magazines and blogs displaying Halloween thematic ideas for your front porch.
How to Look for Ideas?
Mid-September onwards, there is a surge in promoting scary ideas through various media to create a chilling and thrilling Halloween season.
What Kind of Spooky Stuff Should I Buy?
After carefully analyzing the Halloween adornments you already have, list all the items you have and the ones you want to buy for the festival.
Careful shopping will save you a pretty penny by not accidentally buying identical items.
Shop according to the desired theme.
If I am not on a full-on horror bandwagon, I easily incorporate the Halloween theme into my seasonal fall theme.
Avoid using paper or fragile fabric items for wet and windy places, as they can get damaged or blown away by inclement weather.
Before shopping, make a checklist of your Halloween essentials; free  Halloween shopping list printables are available on Pinterest, such as doaainspiringdesigns.com.
Where to shop for Halloween?
Now that you have a shopping list ready, with all the spooky stuff comes the crucial question of whether you wish to design on a dime or splurge to create a chilling scene from a count Dracula movie.
Create your decorations from scratch if you are creative or a big fan of Martha Stewart.
Dollar shops and discount stores have incredible Halloween decorations like straw or fall wreaths, scarecrows, spider webs, and ghostly tree hangings.
 You can buy large items like life-size mummies, coffins, battery-operated figures, skeletons, and eerie lighting from your local retail stores, Amazon, and Halloween stores like Halloween city.
Sometimes you can find fantastic deals from garage sales or second-hand shops.
When Should I Start Decorating for Halloween?
The most common time to start putting up your Halloween decorations is within October's first couple weeks. It is all up to you how early or late you want to do your house.
Piles of pumpkins, potted marigolds, and loads of Halloween decorations brighten up the aisles in your local retail stores, starting mid-September through October 31st. Halloween porch decorations are displayed, creating a spooky ambiance throughout the streets.
Before picking your pumpkin for carving, keep in mind that a carved pumpkin wilts and decays within a week. To save your carved handiwork from rotting,  follow a few steps from this article,' Seven ways to make your Halloween pumpkin last longer' by Jamie Young Gobankingrates.com.
If you plan to incorporate bales of straw in your fall decor, put them under shade to save them from rain, as wet straw is a breeding ground for insects.
Ensure to invest in good quality porch lighting with longevity, as the low-quality ones stop working within a couple of days.
See also: Screen Porch Ideas on a Budget
Inspiring Themes for Halloween Porch Decor
Are you a fan of blood-curdling horror-themed decor or love the friendly vibes of Casper the friendly ghost?
After skimming through dozens of  Halloween porch decorations, I got inspired by the aesthetics and creativity of these porches for fright night. There are dozens of ideas and inspirations on the internet for you to follow.
Pumpkin Patch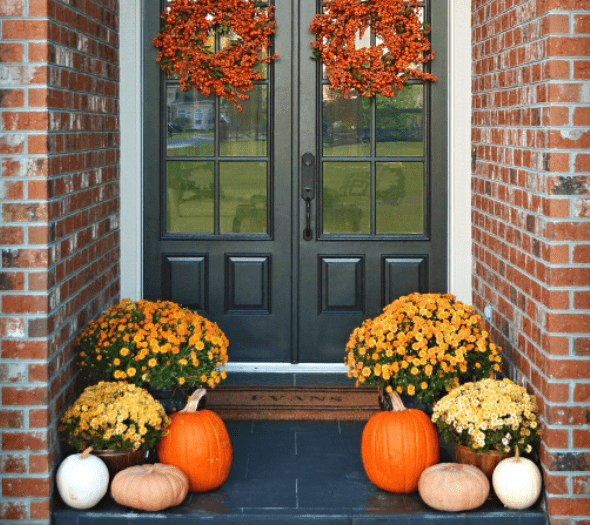 One of the best ways to don your front porch for Halloween is by creating a pumpkin collage.
Creating the pumpkin collage is a cost-friendly and hassle-free idea.
You can tie the fall decor with the Halloween look in this design.
Make sure to choose pumpkins in different colors and sizes to bring symmetry and balance.
Wreaths on the door and  Marigold plants harmonize with the color palette.
The color coordination in this vignette speaks volumes for its simple yet elegant fall/Halloween theme.
Monochrome Halloween Porch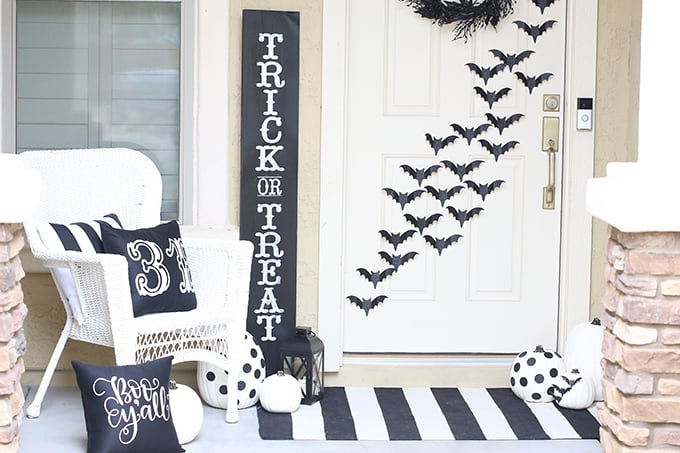 I fell in love with this whimsical themed decor in black and white created by Vanessa of See Vanessa Craft.
This porch looks the best if your front door is black or white. A quick paint job will do the trick if you have an entry in a different color.
Instead of displaying pumpkins in their natural colors, paint them black or white.
You can buy adhesive sticker dots from Amazon and stick them on the pumpkins for a modern look.
Most of the crafts displayed in this decor were made on the circuit maker, but if you don't have one, don't worry. You can do it the old-fashioned way by getting Halloween stencils from a dollar store and making these numbers, dots, and bat cutouts out of chart paper.
Create a signpost for your front yard by painting a  plank of wood. Cut large Halloween slogans out of adhesive paper and stick them to the plank for a personalized welcome banner. You can make or buy these Halloween signposts for added style.
You can spray-paint any old straw or dollar store wreath in black.
This theme has a lot to do with a paint job; you can easily purchase acrylic or other paints online or from craft stores.
See also: Best White Porch Swing Ideas
Bubblegum Pink Witch's lair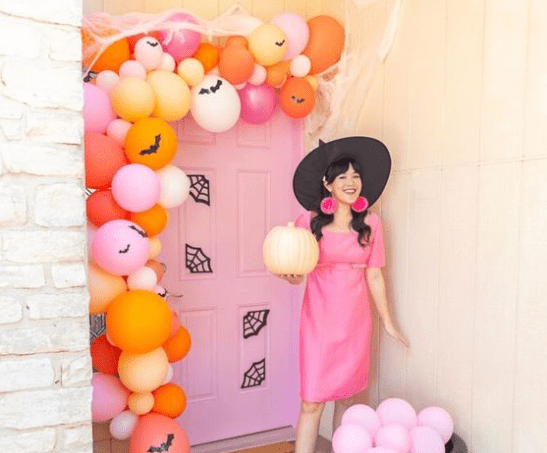 Let's shock the trick or treaters with this sugar and spice-themed front porch decoration for Halloween. I wanted to share this look with you for its uniqueness and pop of color.
This theme is pretty straightforward, and you only need a bunch of balloons, a few pumpkins, and some cobwebs from the dollar store.
Get a few pumpkins from the grocery store in different sizes and paint them in various shades of pink.
You can also buy plastic pumpkins; they are expensive but will last a long time.
Balloons are available in all varieties and colors from any store. You only have to make a balloon arch using different sizes and shades of pink for depth and balance.
The pink door is the focal point of this decor, with a couple of bat wings scattered on it.
Strategically positioning the balloon arch and the pumpkins in this vignette has created an exciting yet magical sense of ambiance.
The Wicked Mansion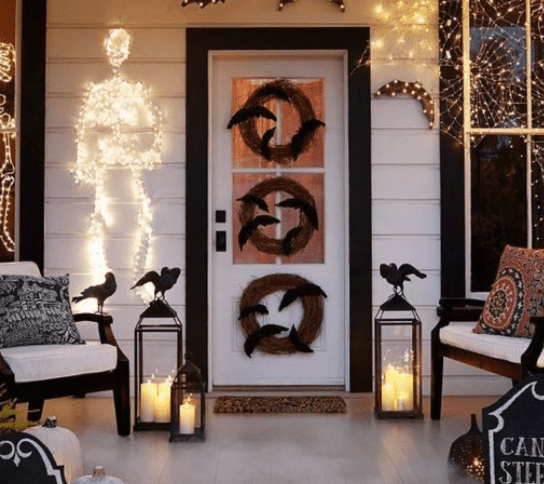 This setting is in full swing at night for the light display, which creates an eerie atmosphere.
By carefully looking at the picture, you might notice some fog on the Porch. That is created by the fog machine that you can easily rent or buy online. Fog creates an element of mystery and horror that will give goosebumps to your trick or treaters.
This Halloween porch has a lot of battery-operated accessories to give a spooky look to the space.
A couple of battery-operated bats are hanging from the ceiling that also works as light fixtures. You can get them online or at Halloween pop stores.
The wreaths on the front door could be your next DIY project. Get plain straw wreaths from a craft store and use some crow, spider, or other Halloween-themed cutouts to create a scary vibe.
There is a crow infestation on the porch to scare the little munchkins on the scare night; get them in a pack of threes and fives from Amazon.
All the candles, light-up skeletons, and cobwebs are battery operated; check the batteries a day or two before Halloween to avoid an epic decoration fail.
Creepy Crawlies Den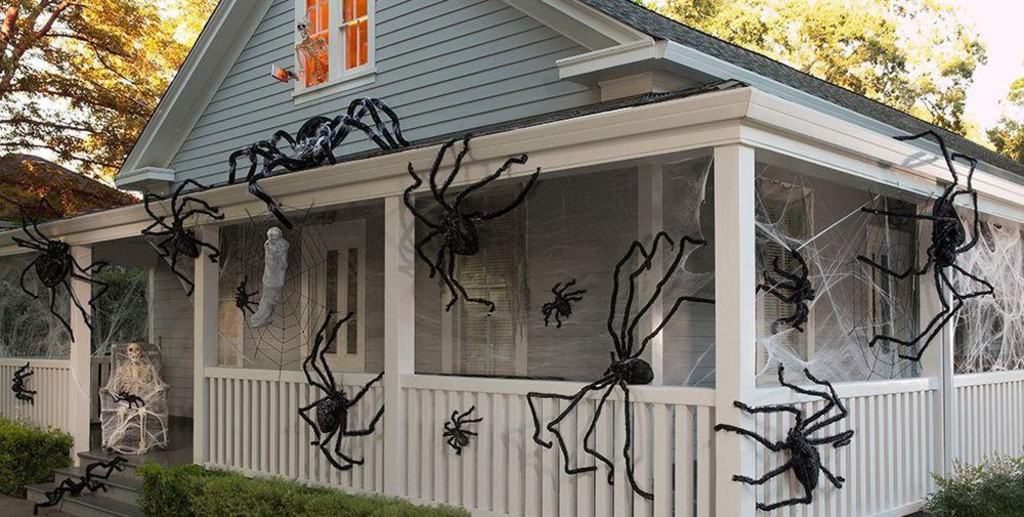 What could be scarier than an army of giant spiders crawling up your porch to invade your house?
This Halloween theme mainly spins around a wrap-around porch with a white railing that sets off the background for the giant black spiders.
The main decoration objects used in this setting are the spiders, which could be your next DIY project.
Spider webs are also used in this theme to coincide with the spider decor.
There are a few life-size skeletons and figures to elevate the Halloween porch decor.
Tombstone Portal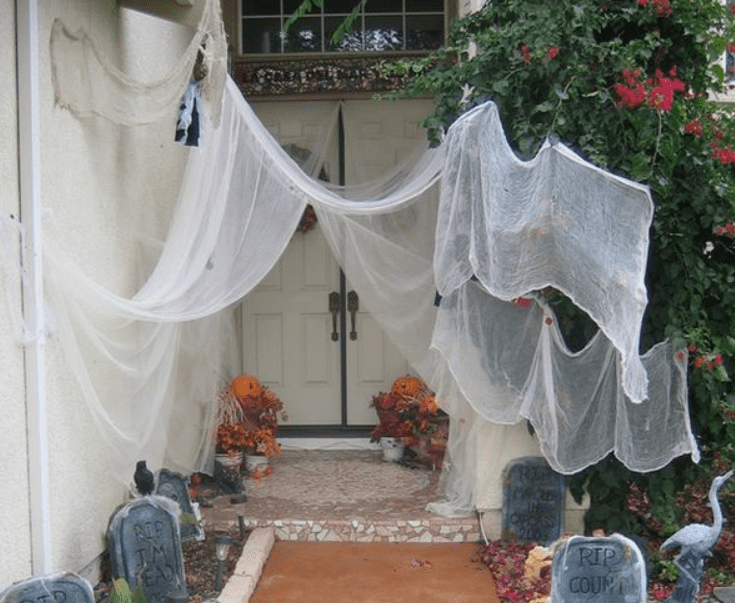 Simple yet spooky, this graveyard theme looks scarier in the dark. This idea is a personal favorite for its eerie and easy-going vibes.
A horror effect is created by using tombstones and white sheets.
Muslin sheets are haphazardly draped over the porch entryway to enhance the graveyard feel.
Tombstones are placed along the path leading to the front door as if you are walking through a graveyard.
You can quickly get cheesecloth from Etsy or Amazon and create a similar Porch decor at a minimal cost.
Bat infestation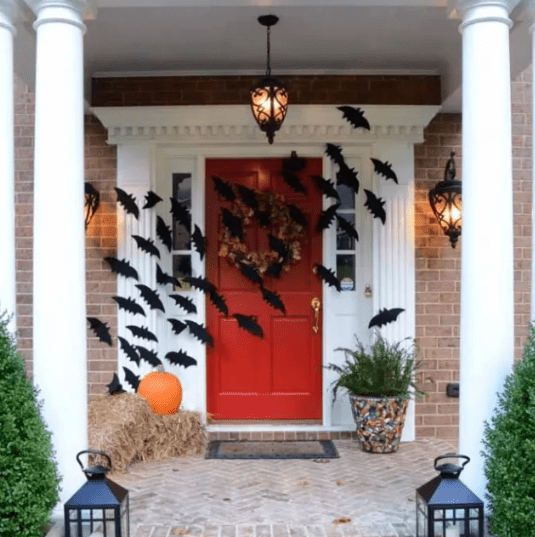 Give the spectators a reason to believe that your house is under attack by a colony of bats.
You can purchase Halloween bat decorations from Amazon or any retail store. A bat ornament can also be constructed from black vinyl or plastic.
Add a few bales of straw for a dramatic effect.
You can add a few pumpkins in different sizes or paint them orange or black.
See also: Best Black Porch Swing Ideas
DIY Projects for Halloween Decor
Halloween is the best time for families to bond together. Pumpkin carving, painting, candy shopping, and decorating are fun activities that make Halloween one of the favorite holidays among children.
Create your decorations by following these easy DIYs.
How To Paint Pumpkins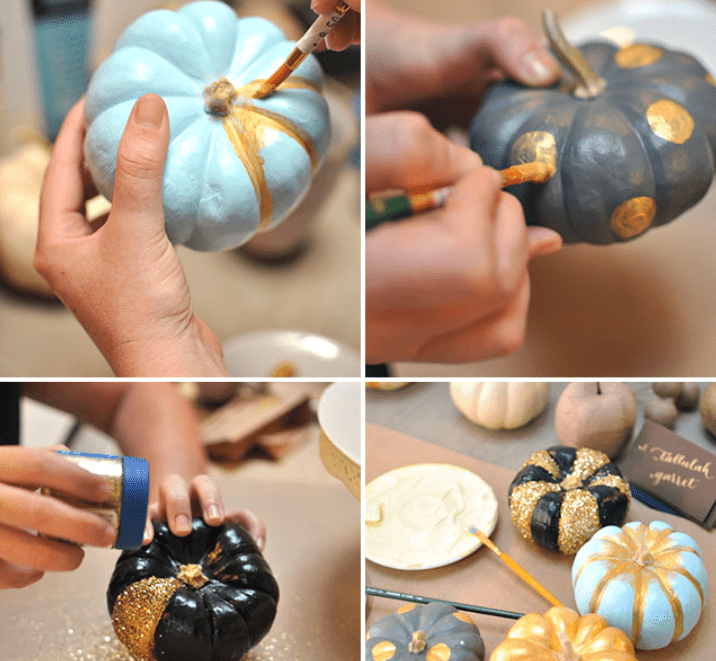 If you have a color scheme in mind that does not match the real or faux pumpkins available, put your painting apron on and create a rainbow galore of pumpkins.
Materials Needed
Faux or real pumpkins
Acrylic or chalk paint
Paint brushes
Paper towel
Cup of water
Instructions
Decide upon the color.
Paint on your base coat. Paint a light base coat for a smooth look. Pumpkins look realistic when you use more than one shade of the same color.
Use a paper towel to dab on the second coat. You can dab on the second color coat for a smooth finish.
Use a small wet brush, dampen it in the second coat color, and shade to blend in the crevices of your pumpkin.
DIY freaky Spiders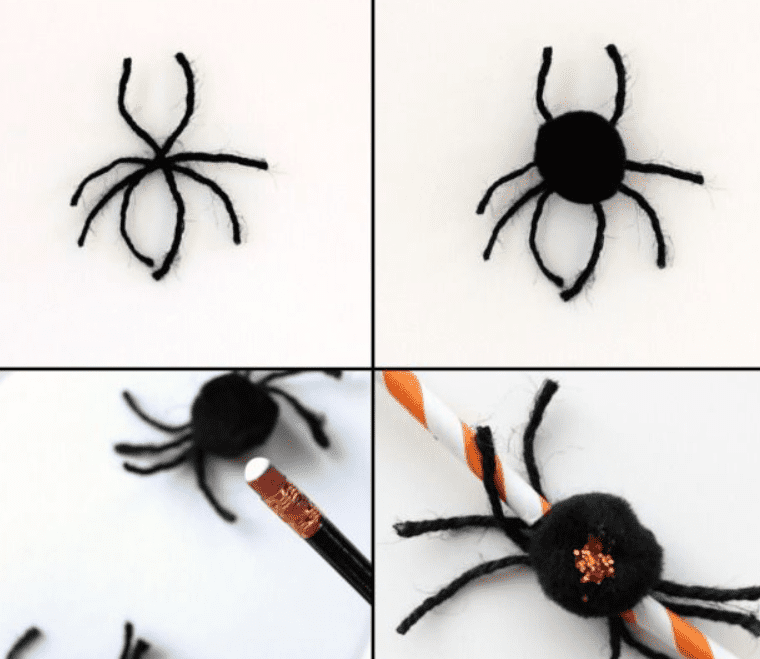 These foam and fabric spiders will be the talk of the town for days. Glue them on the stairway, hang them from the ceiling or stick them on the side of your house.
This spooky DIY Halloween craft could be easily hung inside or outside the house. You can create from minuscule to giant ones to create different effects.
Materials
Faux fur fabric
16- gauge stem wire
6 ft by 1-inch foam tube
zip ties
Two- 4 inches foam half balls
2- inch foam half balls
Two 8 inch half-sphere goblets
16-inch half-sphere goblets
Instructions
I am obsessed with this outdoor Halloween decorating look. Imagine an army of tarantulas climbing up your house!
Start with hot gluing the foam half ball to the wire half globe, to make the head and body of the spider.
Cover the entire body with faux fur pieces with the help of a strong adhesive.
With the help of an awl, poke holes through the fur to thread four sets of spider legs.
Bend the wire into a loop at the end of each leg.
Cut foam tubes into 18- inch pieces, slip each piece over a leg and push it close to the body.
Glue the tube to the fur and body to secure it properly.
Bend the wires to create any shape you want.
DIY  Halloween Balloon Arch
Balloon arches are famous for baby showers, bridal parties, and celebrations, but having a balloon arch for a Halloween theme porch is unconventional. Getting a custom arch made is expensive, but you can make one at home by following a few instructions.
Materials
You need around 100 balloons for a small arch and 150 for a bigger one. Amazon has a large variety of balloons in fascinating colors.
Investing in a balloon pump would save you plenty of time and energy.
Fishing line or string. A fishing line works better because it is transparent and hides well with the balloons.
Hooks
Scissors
Glue gun
Clear tape and
Blunt needle
I mostly buy my crafts from Amazon or my local craft store.
Instructions
The first step to making your arch is to blow up the balloons. To make your project interesting, use balloons in different sizes.
Now comes the time to assemble the balloons by attaching them to the fishing line. Thread your blunt needle with the fishing line and tie a knot on end.
Poke the needle through the extra balloon material under the knot.
Slide each ballon to the end of the fishing line, rotating the shape, size, and color.
For a thicker arch, squish the balloons together. Put two-thirds of your balloons on the line.
Cut and tie off the line after putting two-thirds of the balloons on the line.
Hang the hooks on your wall or structure and attach the arch to it.
Fill in the blank spots by attaching the smaller balloons.
DIY Faux Bats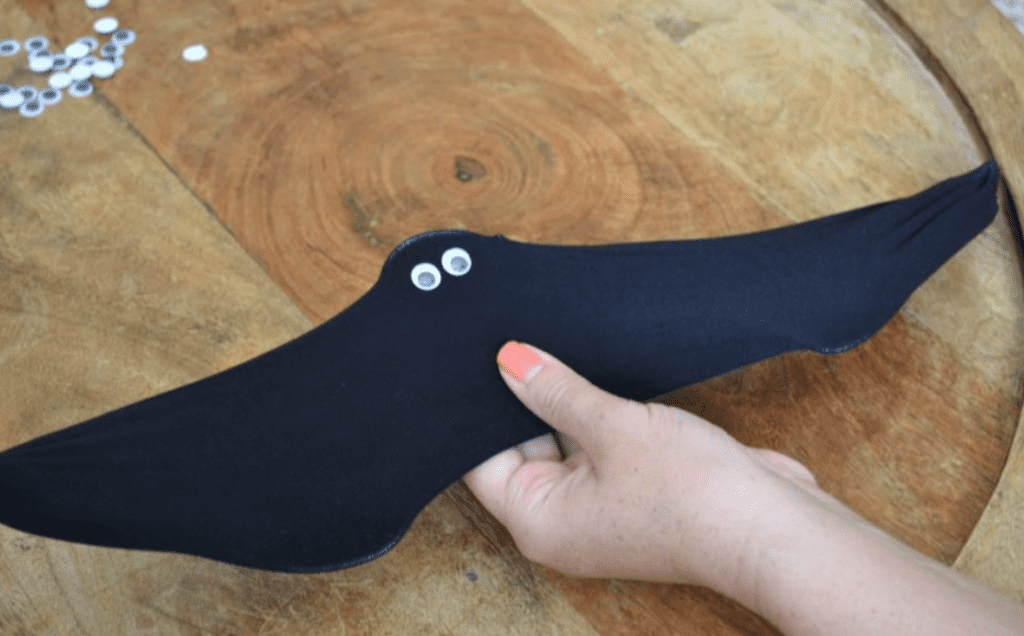 Bats are a classic symbol of Halloween decor, and you can easily construct one by using items readily available at home. To make bats decorate your front porch for the spookiest night of the year, you need:
Materials
Black construction paper or black vinyl sheet.
scissors
Fishing line
Hanger
Instructions
Outline a bat on a black construction paper or vinyl sheet. You can use a stencil for drawing. If freehand drawing is not your thing, print a bat out, cut it, and trace it on the material you are using to make the bats.
Cut out the bat silhouettes. If you want to add a bit of drama, add some glitter or googly eyes to your creation.
Fold-down the middle, in between the ears of the bat. If you're using vinyl, hot glue a pipe cleaner in the center of the cutout and bend it to create a bat shape.
Fold both sides of the body, about where the wings are.
Loop a clear thread through the folded part of the bat's body and check that the bat's body hangs well.
Tie the other end of the string to a hook or hanger to display.
DIY Jack-o-Lanterns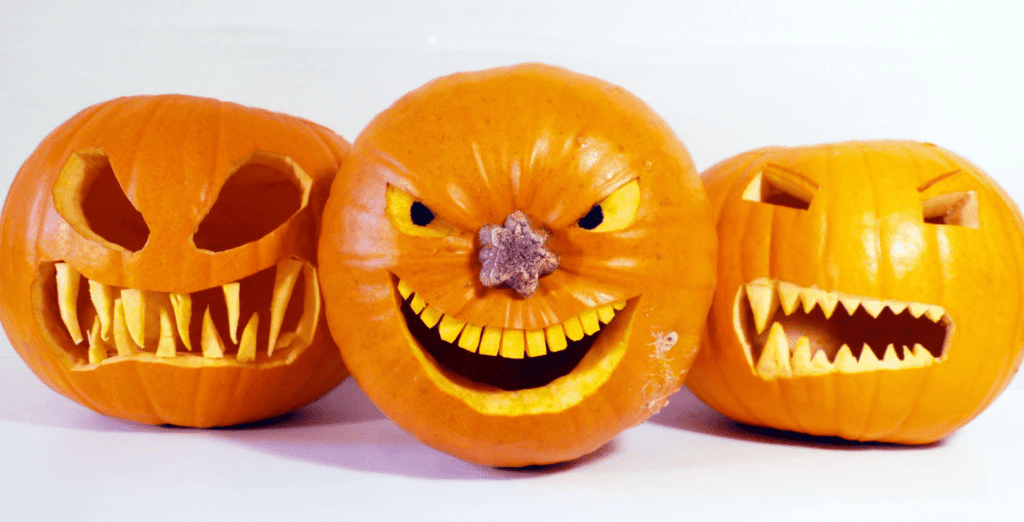 This fun activity is a favorite among children and adults but requires precision and extra caution around sharp knives and pumpkin carving tools.
Materials
Pumpkin
Medium serving spoon
Medium knife
Small knife
Newspaper
Medium bowl
Dry eraser marker
Candle
Lighter
Instructions
Spread out the newspapers to make a carving station with minimum mess.
Cut a hole around the stem at about 45 degrees angle towards the middle of the pumpkin. The hole should be big enough for your hand to reach inside the center.
The stem will fall into the pumpkin if the cut is not angled correctly.
Save the stem.
Scoop out the seeds and flesh of the pumpkin using a medium serving spoon.
Draw the desired face on the roundest part of the pumpkin with a marker.
 With the help of a small knife, start cutting perpendicularly along the chosen design.
Discard the loose pieces into the bowl.
Wipe down the extra markings from the dry erase marker.
Light a candle with a lighter and place it on a little plate to catch the wax. Now put it into the pumpkin to turn it into a Jack-o-Lantern.
You can save the hassle and danger of burning a candle by using battery-operated candles.
Safety Tips to Avoid Halloween Decor Accidents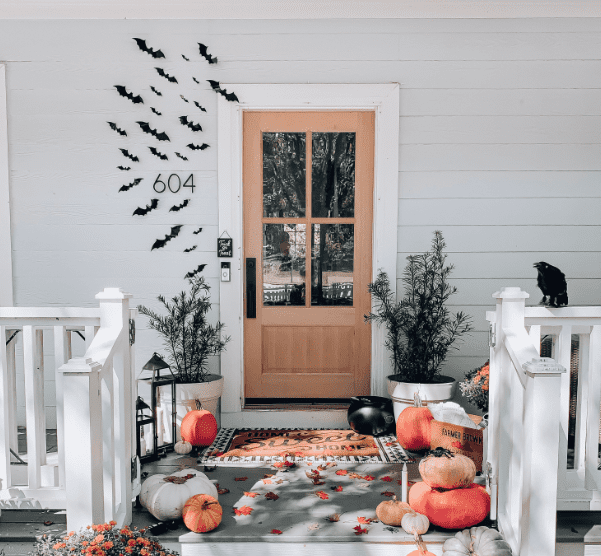 Be Careful With The Extension Cords
Halloween is a festival celebrated at night or in the evening, making light displays critical for your porch decor. Overloading the electrical box by using excessive electrical gadgets could result in an accident.
Check out and fix broken or damaged wires or electrical outlets. Check if you have a working and safe doorbell.
Safety Tips for Pumpkin Carving
Pumpkin carving is an activity that could lead to severe injuries if not done correctly. Children should be carefully monitored by adults when using carving knives and candles.
Fire Safety On Halloween
Bonfires, Jack-o-lanterns, and candles are a big part of Halloween decorations. Careless handling of flammable items could create a fire hazard which could lead to fire or injury.
Placing candles near flammable items or helium balloons could end in a disaster.
Mark or Clear Fall Hazards
Clear out and fix the ditches, tree roots, or extension cords stretched across your yard as part of the decor to save the trick or treaters from nasty falls.
You must eliminate or mark the safety hazards by putting safety fluorescent stickers on them.
Maintain Clear, Well-Lit Pathways
Clear the path to and from your house free of debris. The track and porch leading to your home should be well lit to avoid falls.
Line the path or entrance to your place with battery-operated luminaries or solar lights.
While decorating for Halloween, the safety of ourselves and others should be our priority.
Frequently Asked Questions
Question: What is the best Halloween decoration for your house?
Answer: The best Halloween decoration for your house is the one that suits your budget, aesthetics, and weather. If you are a big fan of all-out scary decor, go for it, while families with little children should prefer keeping it sweet and simple so as not to scare the little munchkins away.
Question: What special effects gadgets are available for Halloween?
Answer: You can choose from a vast selection of special effects Halloween decor available from various sources. There are fog machines, cobweb machines, lighting effects, sound effects, motorized figures, bats, etc., to give a frightful touch to your Halloween decor.
Question: How do you keep your Halloween inflatables in perfect condition?
Answer: Inflatable decoration items need proper care like any other motorized gadget. Save the inflatables from direct sunlight and follow the care instructions recommended by the manufacturer. Furthermore, keep the inflatable away from sharp objects and rugged surfaces.
Conclusion
This Halloween, I have decided to go with a simple balloon arch theme, as I want to experiment with something out of the box.
How are you planning to do your front yard this year? Are you going to stick with the classic bats and witches theme or try something unique and new?
If you're decorating for October 31st for the first time and wondering where to start, a detailed Halloween porch decor guide will give you a headstart on your project.
Shock your spectators by decorating a bewitching web of dread on your doorstep and create a  Halloween masterpiece by integrating creepy colors,  monstrous styles, and ghostly inspirations on your front porch.
Recommended Reads: