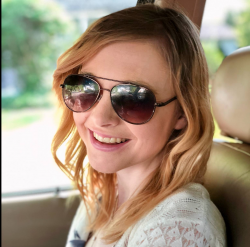 Latest posts by Erin Jamieson
(see all)
Confession: I've always loved bonfires and fire pits, but I also haven't always had the best experiences. The problem: as much as I love the ambiance, the company, and the warmth of an outdoor fire, my allergies don't love the smoke and soot. That's why I wish, growing up, that I'd had the chance to have the same memories- but spent around a smokeless fire pit.
Smokeless fire pits aren't just for smoke-sensitive people like me, though. The best smokeless fire pits can truly revolutionize how you use and enjoy an outdoor bonfire. Whether you're looking for a compact portable fire pit or one for entertaining, a smokeless fire pit means less mess, less smoke, fewer emissions, and greater energy efficiency. 
Sound like a good fit for you? Read on as I share the top smokeless fire pits that excite me, and how I selected each to find the very best brands, designs, features, and prices. 
Bottom Line Up Front Summary:
There's a lot I love about smokeless fire pits- and I think you'll love it too. With a smokeless fire pit, there are fewer emissions, less mess, and less smoke. That's a huge plus from an environmental perspective, if you have allergies like me, and if you just want less to clean up. The great thing is that there are many options now, from portable smokeless fire pits for camping, to large smokeless fire pits for entertaining. 
If I had to recommend just one smokeless fire pit, that honor goes to the R.E.I. BioLite Fire Pit. This multi-purpose fire pit features an integrated grill and 51 air jets for incredible ventilation. I love the multiple settings, Bluetooth and USB/USB-C connectivity, and the high-temperature enamel coating.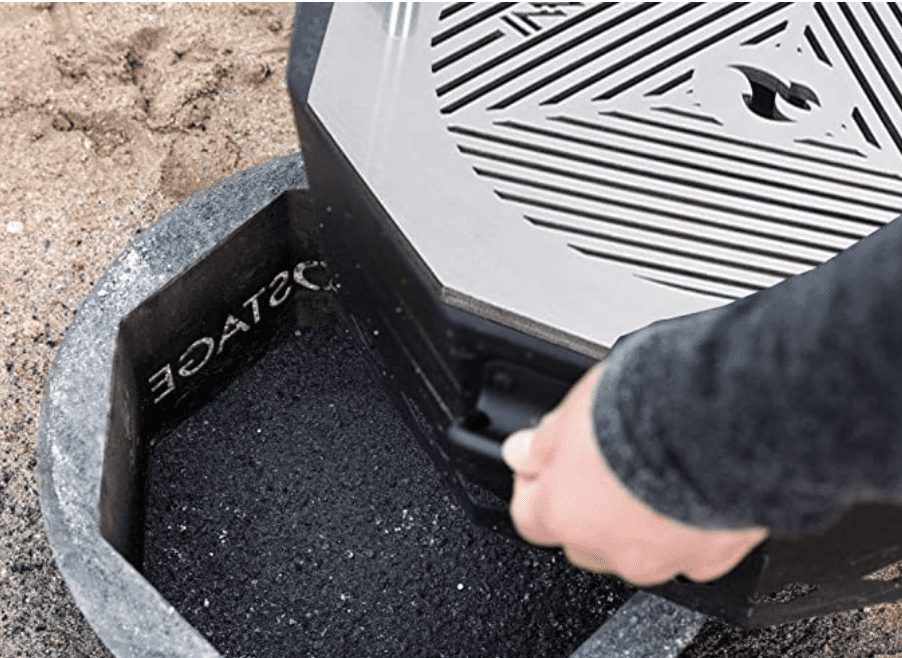 My Top Picks
My Selection Criteria 
Before you look at my smokeless fire pit ideas, I want to share the process for selecting each one. When I recommend a smokeless fire pit, no matter the size, I want to make sure it's a great overall experience. That means taking into consideration materials, features, brand reputation, and how it'll be used. Here's what I considered. 
Main Materials
The construction of your fire pit matters a lot. I've seen some rather flimsy fire pits, and trust me when I say it's worth paying a bit more. The goal is simple: I look for materials that are relatively durable, weather-resistant, and can withstand temperatures and weather conditions.
Steel 
304 Stainless steel, carbon steel, and steel alloys are all great in my book– but a protective weather coating enhances the fire pit's durability. Powder-coating is one of the best and most popular options. 
Aluminum and Iron
As for aluminum and iron, I'm pretty picky. Though aluminum is lightweight and weather-resistant, I don't love how easy it is to damage. Especially if you're camping, an aluminum frame isn't best. I love the strength of cast iron, but I only ever consider iron if it's been treated with a weather-resistant coating. This is more important for steel, but steel can rust and corrode.
Concrete, Stone
Concrete and stone are stellar options for a smokeless fire pit, though less common. If you want a stationary, study a smokeless fire pit, both provide it with less upkeep. 
Fuel Type
With my ideas for a smokeless fire pit, I wanted to keep an open mind for fuel type. A lot of the popular smokeless fire pits run on propane, and I like that for a few reasons. Propane is the most energy-efficient and produces the least amount of emissions. Propane is an excellent choice for both the backyard and for going out camping.
However, natural gas has a lesser smell than propane. Wood-burning smokeless fire pits are also popular. They give you the option of that classic wood-burning pit appeal. They're chemical-free and handy if you don't want to lug along a propane tank while you're out camping or hiking.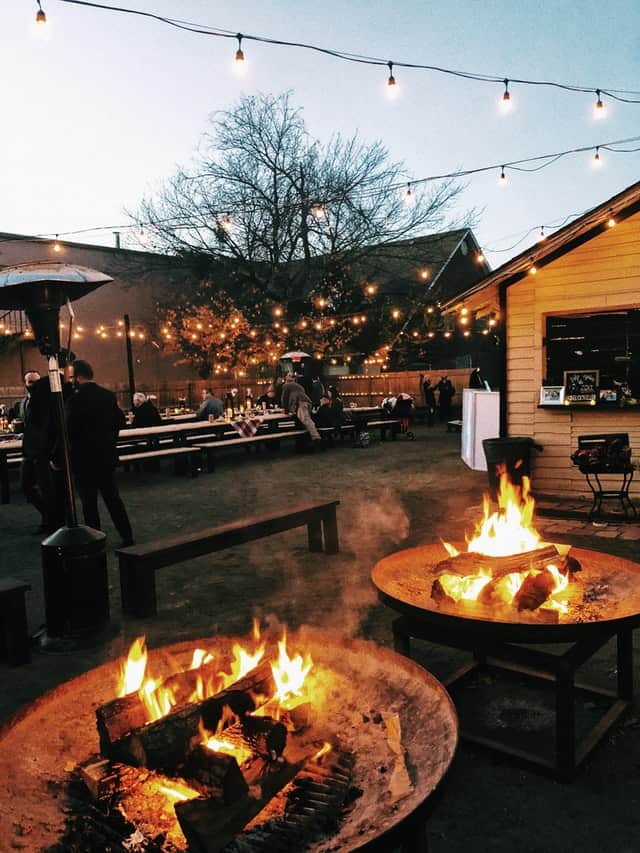 Features
Here are the features that played into my decisions and separated my smokeless fire pit ideas from others on the market. 
Excellent Ventilation 
Since smokeless fire pits don't typically have openings, they often use a double-wall construction. I look for an integrated ventilation system that optimizes airflow. I prefer the double-walled method and one that has a secondary combustion chamber. An integrated ventilation system that's described in the product listing is a must-have for all of my selections
Cooking/ Grill Grates
Who says you have to have a grill to enjoy that grill taste? I love to find smokeless fire pits that include a grate, preferably with a 360-degree swivel or adjustable height and racks. 
Electric Ignition
I also took note of smokeless fire pits that play up to contemporary entertaining. That may mean something different for everyone, but for me, that means electric ignition. I love smokeless fire pits that are seamless to turn on and off, adjust flames, and even sometimes feature a safety/ emergency shut-off. CSA and other safety certifications are a plus. 
See also: Best Home Depot Fire Pits
Potability 
I know this isn't a priority for everyone, but a portable fire pit is so handy to have on a camping or hiking trip. For this reason, I also looked at smokeless fire pits that are lightweight (under 30 lbs) and included features like carrying handles, wheels, collapsible design, or easy assembly to make the trip all that much smoother. 
Accessories
I didn't weigh this as heavily, but as I care about overall value, I did consider some fire pits with accessories, such as protective covers or replacement parts. Some more notable accessories that I like to see are heat shields or spark screens. 
Reputable Places to Buy
Finally, all of my ideas for smokeless fire pits are from places and companies that are considered trustworthy. For me, that meant investigating Better Business Bureau listing, TrustPilot, and customer reviews. I only wanted to recommend fire pits from places I'd also be willing to buy from. Anywhere that offered warranties and straightforward shipping and refund policies I took special notice. 
Smokeless Fire Pits: My Top Picks  
With that in mind, here are some smokeless fire pits that I'm excited to recommend. From portable and small to large, here are some of the best smokeless fire pits you can buy today- and why they caught my attention.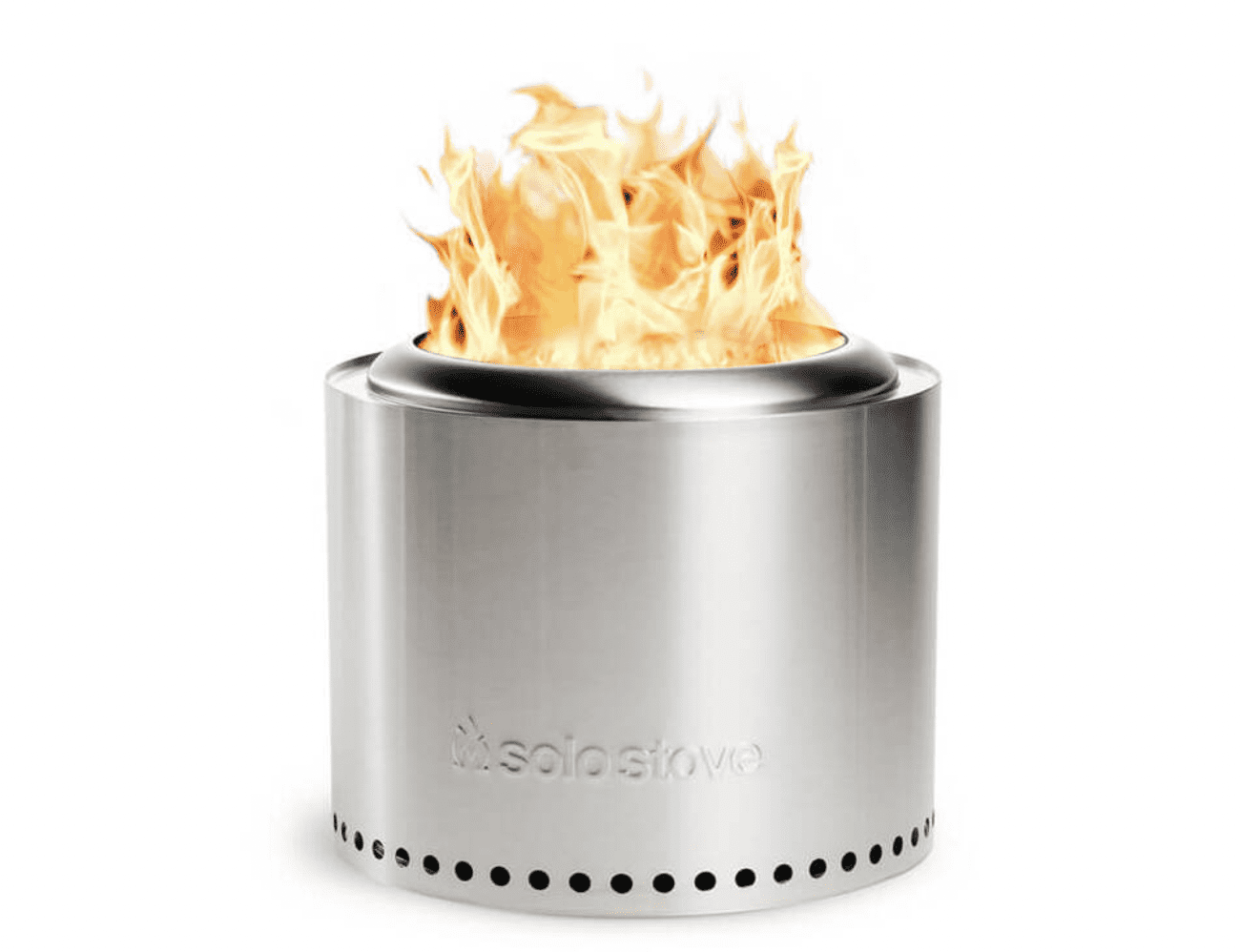 This is my favorite idea for anyone who wants a wood-burning fire pit for camping, and there's a lot that I love! While the sleek design caught my attention, it's the little details that won me over. I don't know about you, but I prefer a lightweight fire pit to one I'll have to lug around- and the free carrying case is a great bonus. The stainless steel fire pit not only has patented airflow technology, but it's much warmer than some smokeless fire pits.
I could see campers and hikers using this fire pit to roast marshmallows and hot dogs, all without the smoke or mess. That sure beats dining on cold soup! The company also sells handy accessories (not included) like a marshmallow roasting set, cooking set, and heat shield.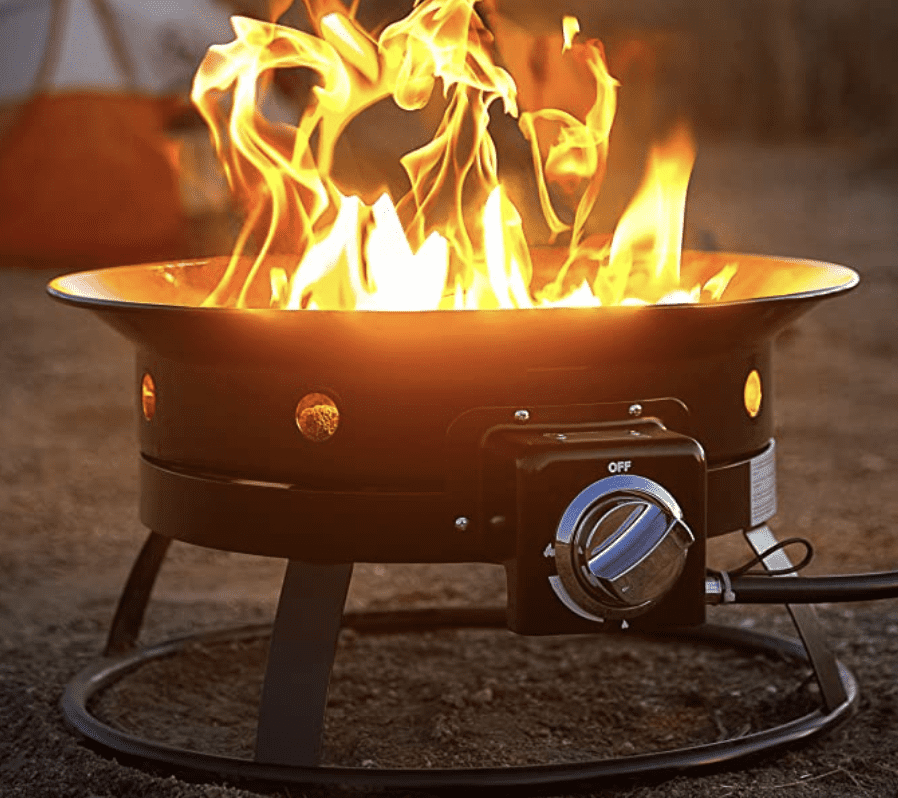 I've seen a fire pit that wasn't thoughtfully controlled. Wood-burning fire pits, if not well-tended, can be a bit unpredictable. So if you're camping in a heavily wooded area or just want a more consistent result, I love this propane fire pit for camping and hiking. While it weighs a little more, I love the powerful heat output (52,000 BTU) and the no-assembly design. Even novices can work with this fire pit easily, with an adjustable knob and spark-free ignition.
While it's a small feature, little details matter, and the addition of lava rocks makes it for me. If you're gone camping without fire pits because you thought they'd be too much of a hassle- I have- this idea may just change your mind.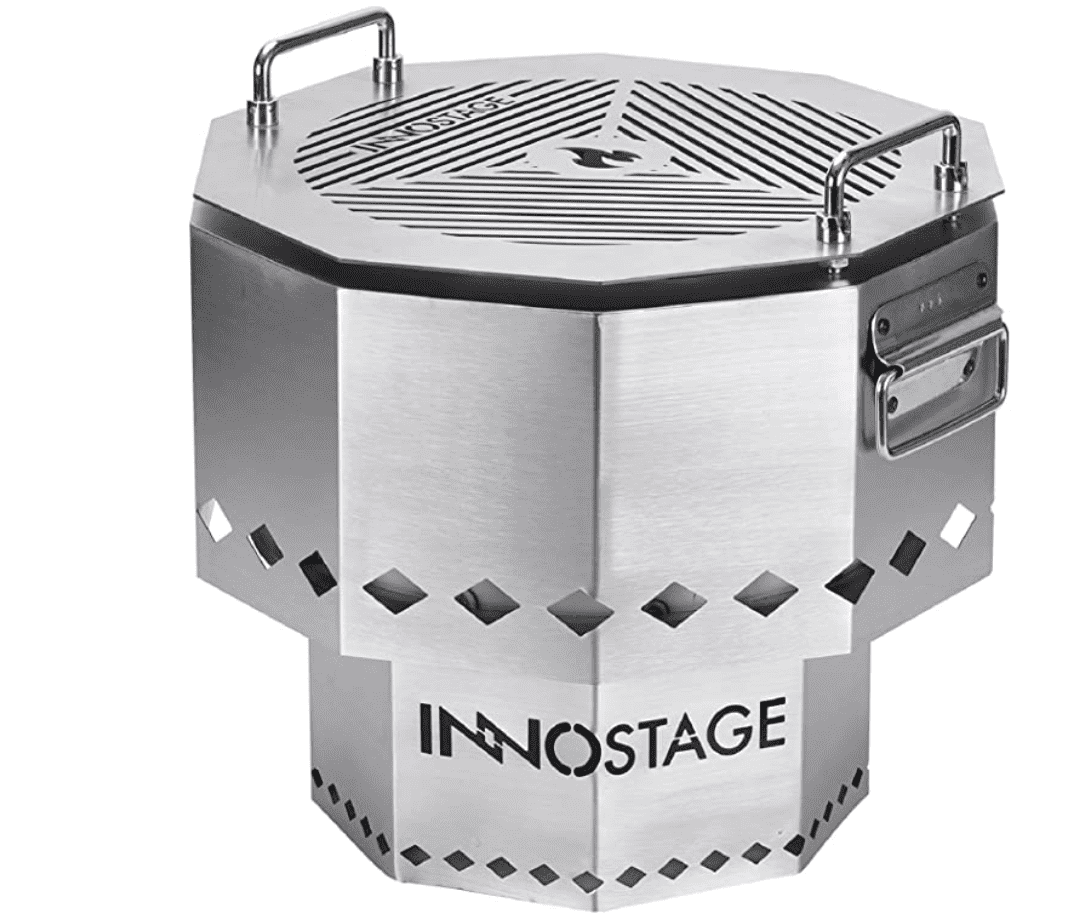 Hot dogs and marshmallows are fun, and both bring back fond memories of camping and humid Summer evenings. But I'll be honest: I'm not into relying on hot dogs and marshmallows for a longer trip. If you're headed out for a long camping trip or just don't have a space for a larger fire pit, I love this portable smokeless fire pit for cooking.
A simple grill plate fits seamlessly on top of the fire pit bowl. I love a stainless steel top for low-stick grilling for veggie burgers and sides (you can easily use smaller cuts of meat). It's simple, but perfect for a small group of campers. I love the double-walled ventilation for less smoke and less mess and it comes with a waterproof carrying case.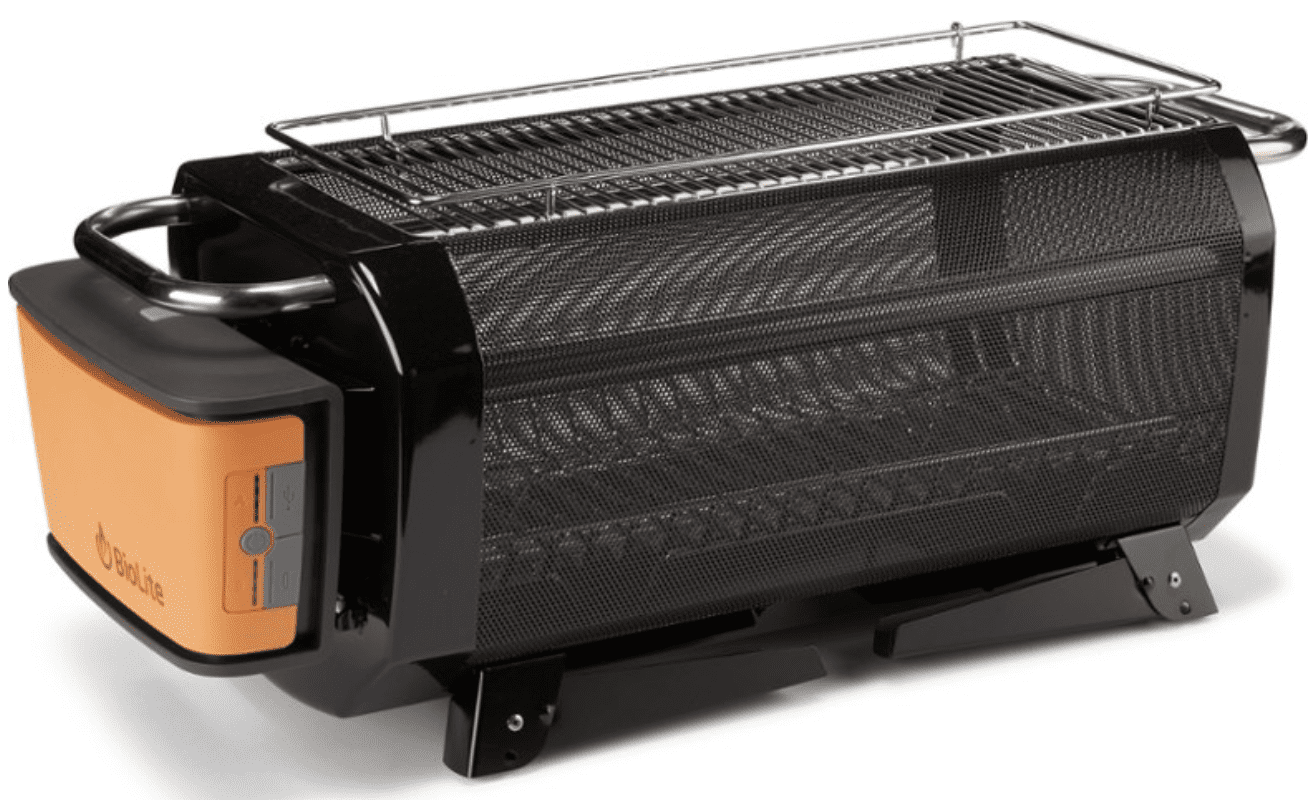 I've had many great meals from a grill- from family-style fajitas to Atlantic salmon to seared peaches served over vanilla ice cream. But this smokeless fire pit with a grill proves you can get some excellent results sans a traditional grill. This idea is for all the cooks, avid grillers, and anyone who's mainly interested in serving up a meal worthy of entertaining.
Upgrading the features from portable styles, the BioLite fire pit includes an integrated grill grate, angled expertly for even cooking. An impressive 51 air jets provide excellent ventilation and heat dispersion and though I'd use it at home, it also can collapse for camping.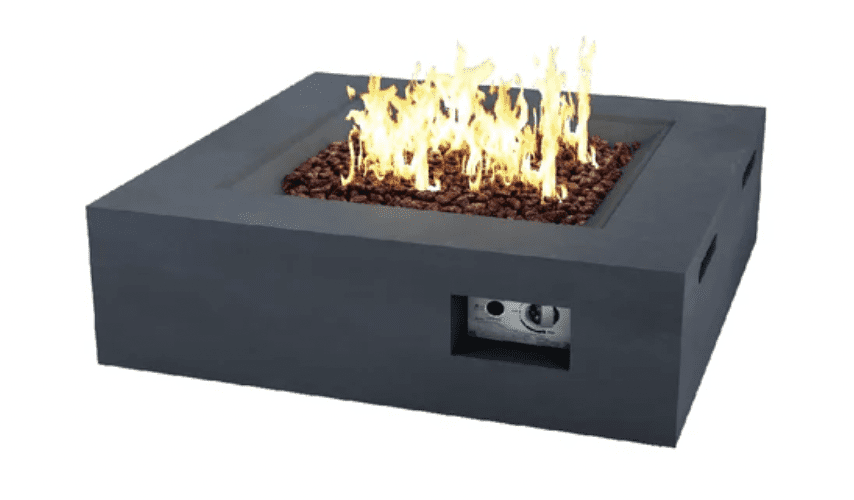 When I first became interested in fire pits, I assumed that they were all traditional styles, with around construction. That's far from the truth. Rectangular and fire pit tables like this smokeless idea are strikingly modern and carry a clean, aesthetic appeal. I love this idea for contemporary and modern backyards, and for anyone who wants an easy fire pit to operate.
The concrete fire pit comes in light gray, charcoal gray, and wood tones so that you can choose one that expresses your style. I love the adjustable knob, impressive heat output (50,000 BTU), and side handle.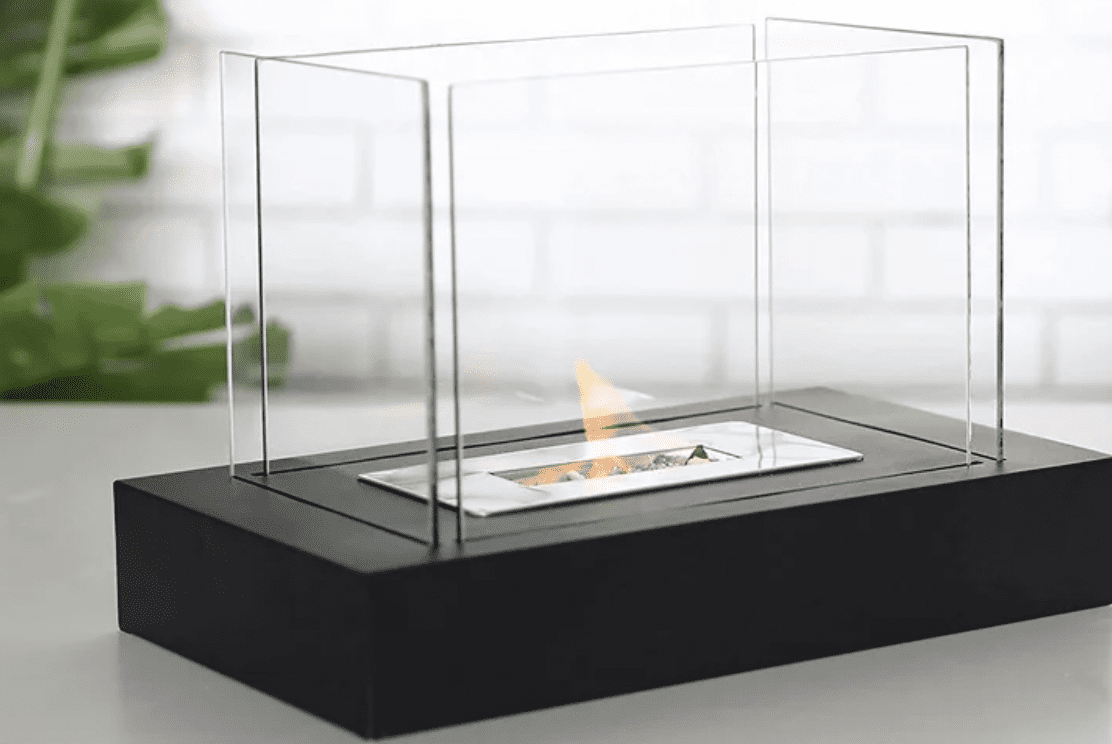 I've always found candlelight calming, but candles only do so much. I love this tabletop fire pit for a smokeless, contemporary accent to an outdoor table. For anyone who doesn't want the full heat output or upkeep of a full fire pit, this tabletop fire pit is an excellent idea. Bio-ethanol fuel burns cleanly, supported by an attractive glass wind guard. It's seamless to use and elevate a dining or entertaining area. And in some ways, I love that you can use this on the warmest of nights without getting too warm.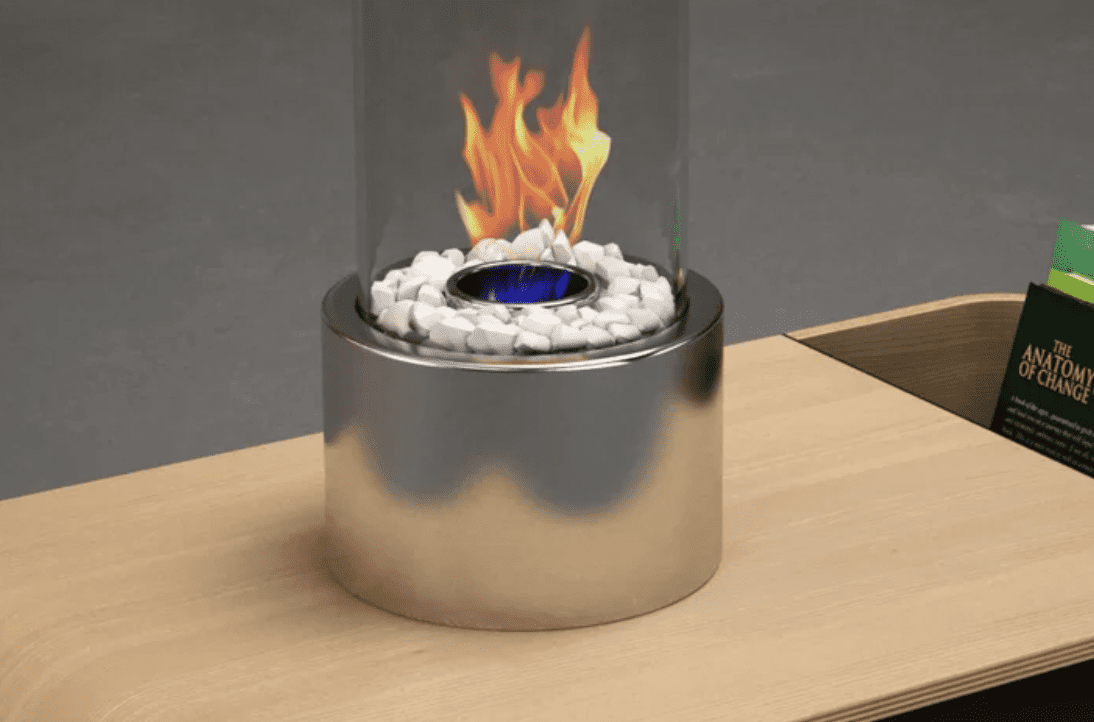 I love to budget and thrift shopping, so any fire pit option under $100 or even $50 was going to catch my eye. But the problem with cheap fire pits- even miniature ones- is that you're often sacrificing quality. This mini table fire pit is a nice idea for anyone on a tight budget who just wants a small bit of decor.
If you're not ready or able to commit to a full fire fit, this miniature tabletop fire pit is a great idea. It features a ventless design with a circular flame guard. You can use it even on windy days, and I love the contemporary 304 stainless steel burner.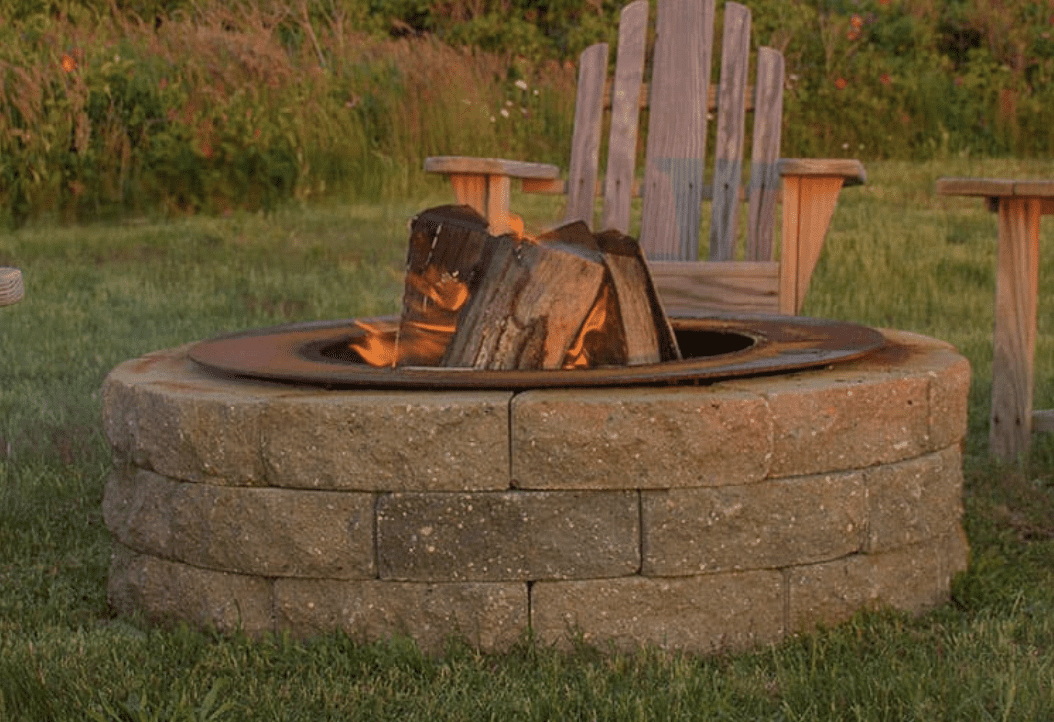 Something is satisfying about a DIY project. Even something as simple, I know, as building a birdhouse is all that much more special than buying a product. So if you feel you have the dedication and knowledge to build a fire pit, this kit is a great idea. This kit allows you to construct a wood-burning fire pit with a classic round stone brick exterior and a smokeless fire pit insert. Both the gray quarry blend and gray and tan vineyard blend are pleasing colors that fit seamlessly into most backyards.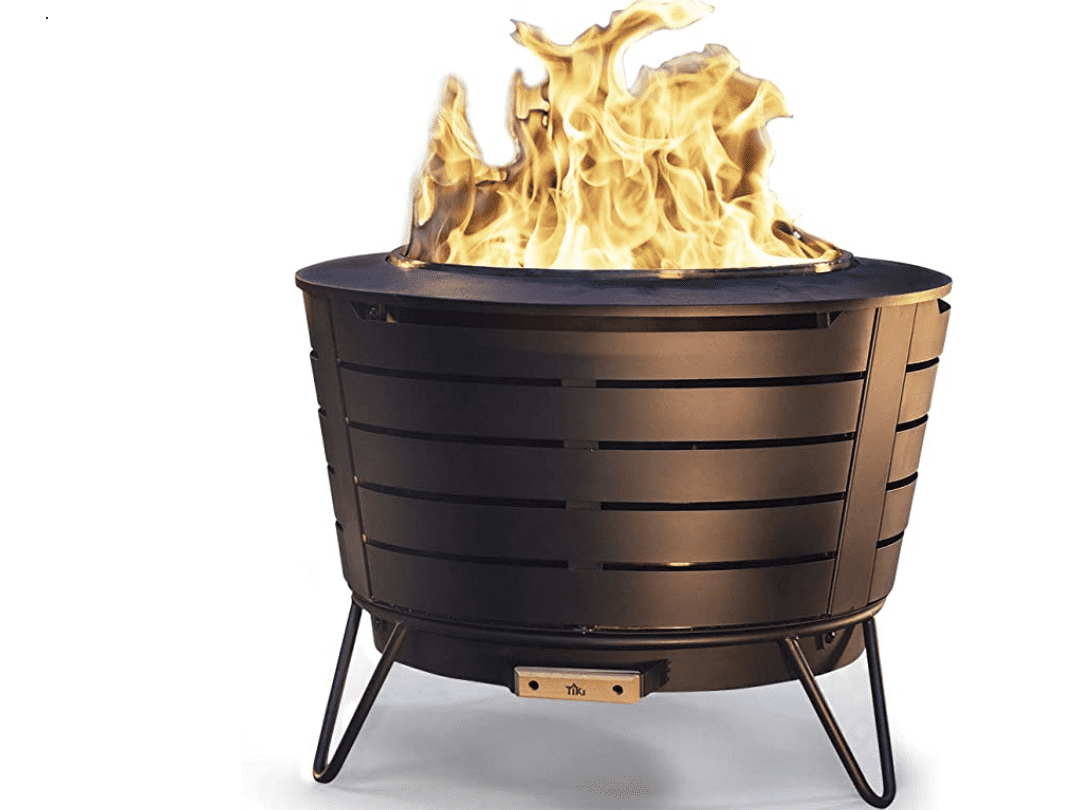 Sports have always been a part of my family, and while our teams don't always do well (Cincinnati Bengals, Xavier University basketball, Cincinnati Reds), it's fun to get together with family and friends and cheer them on. Only recently did one of my relatives buy an outdoor fire pit with some flair- and it made me realize how great they can be for sports events and tailgating. This striking smokeless fire pit is a great idea for just that, with a 16-gauge powder-coated steel exterior.
That means if you get into the game and leave this fire pit out, you don't need to worry about its weathering. While this wood-burning fire pit has touches of classic appeal, it's also contemporary. I love that it's an Edison Awards winning pit, and the round size is perfect for gatherings.
Frequently Asked Questions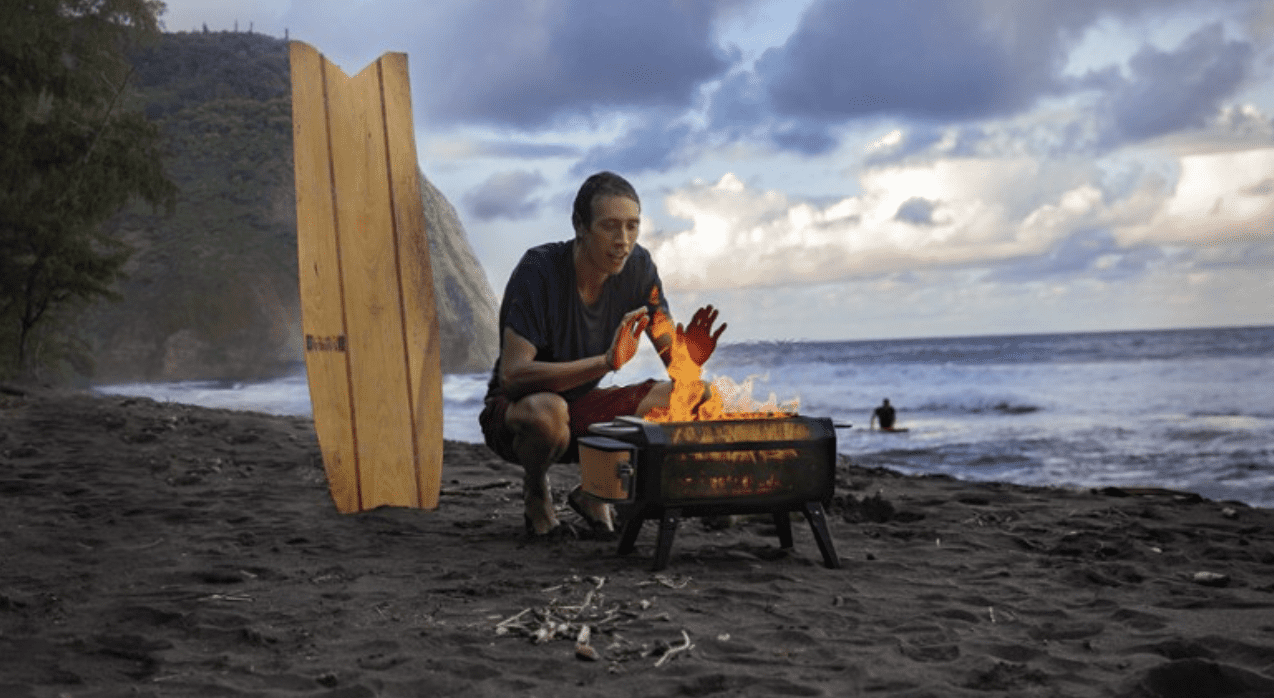 Question: Do smokeless fire pits work?
Answer: Smokeless fire pits not only work, but they're an excellent choice for several reasons. Smokeless fire pits leave behind less mess, are more energy-efficient, and have a lower level of emissions. However, smokeless fire pits are not 100 percent smoke-free: it's better to think of them as low-smoke. A smokeless fire pit is optimized to improve ventilation. By doing so, it burns through fuel more cleanly than traditional fire pits and leaves fewer ashes and soot behind.
Question: What can I burn in a smokeless fire pit?
Answer: It depends on the fire pit and its make. Smokeless fire pits may be equipped with electronic ignition. In this case, gas- usually propane-is common. However, there are also smokeless fire pits that are compatible with charcoal, wood pellets, and traditional wood logs and twigs. Some of the most popular smokeless fire pits allow you to burn multiple types of fuel sources. The key is to carefully read product descriptions and select a fuel source that makes sense for you. 
Question: Do smokeless fire pits give off less heat?
Answer: One downside to smokeless fire pits is that they give on less heat on average than a traditional fire pit. The reason why smokeless fire pits tend to burn a little cooler is due to the way fuel is burned. An emphasis on fuel efficiency and the airflow system results in less heat output. While that is a downside during cooler months, it's unlikely that you'll notice it in Summer or hot climates. As with other fire pits, there's also a range of heat outputs, depending on size, model, and design. 
Question: Do smokeless fire pits smell?
Answer: Smokeless fire pits tend to smell less compared to traditional fire pits. The smell from fire pits comes from the fuel being burned- so sensitive individuals like me will notice the smell of propane gas. Smokeless fire pits aren't scent-free, but they have lower emissions. No matter what fuel is being burned, a smokeless fire pit will have a lower level of scents. However, that difference will still depend on the type of fuel you're using, as well as heat output and the size of the fire pit. 
Final Thoughts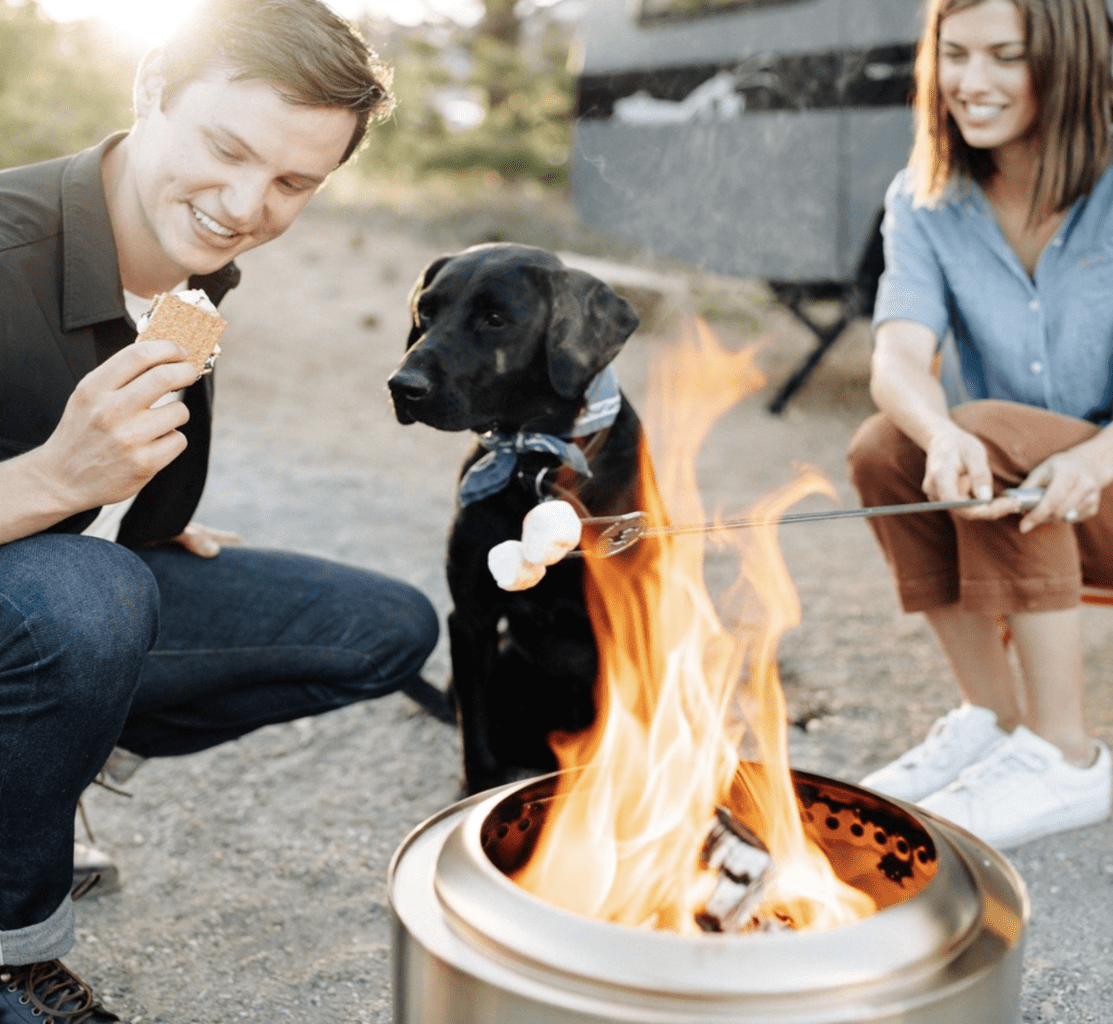 I hope these smokeless fire pit ideas got you inspired. Whether you've been itching to go on a camping trip, enjoy the outdoors more, or entertain, there are some exciting options. I truly believe that not one model fits everyone, so select a smokeless fire pit that fits how you'll use it most. While none of these smokeless fire pits are perfect, they all stood out to me for their designs and value. After that, it's just a matter of enjoying your fire pit! 
Final Recommendations
If you're not sure about a smokeless fire pit, here's a recommendation that even helps me when I'm indecisive. Write down a list of pros and cons -both for different smokeless fire pits and smokeless vs traditional fire pits. If you value energy efficiency, fewer emissions, and less mess, chances are that a smokeless design might be right for you. 
And if you can't decide which smokeless fire pit to get, my recommendation is the R.E.I. BioLite Fire Pit. You can use this smokeless fire pit for both grillings and just enjoying. While it works well in a backyard, it also features collapsible legs for a longer camping or RV trip. 
Recommended Reads: