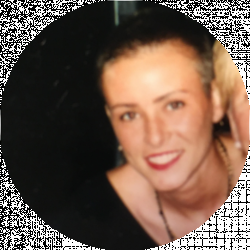 Latest posts by Richelle Tieman
(see all)
The ease of a gas fire pit providing warmth and tranquility with family and friends without smoke or sparks lends itself to a relaxing evening, creating a retreat from the stress of everyday life. My fire pits have always been focal points of my home, even more so in the last few years as we are discovering the many opportunities of spending ample time outside.
Safety
Durability and Longevity
Visual Appeal
Trial and error with different sizes and heating capacities of fire pits have given me a clear understanding of what I need from any fire pit.
The first thing I always look for is safety ratings.
Ensure your fire pit is U.L. or CSA listed (for America and Canada). Your fire pit should be standardized to CSA and
ANSI
regulations. All fire pits, whether a kit, portable, gas, or wood, should be made according to the Outdoor Decorative Gas Appliances standard and should say so in the description.
Next up are durability and longevity. How long will this last and function properly? I tend to invest more upfront to have peace of mind after that. I want to make sure my purchases will last their entire "ideal" life span, whether a dress, a chair, or a fire pit.
The third is aesthetic. How gorgeous is it? Do I love it and feel good every time I look at it? This is very subjective, and only you will know if your gas fire pit strikes a chord within.
If you are looking for the best gas fire pit options for your space, look no further. I will break it down by size, shape, and style. Let's get started!
The Bottom Line Up Front on Gas Fire Pits
You can't beat gas fire pits for their reliability and ease of use. While they may not be for everyone, a gas fire pit is an excellent investment if you want a lasting yard accessory that can provide countless hours of enjoyment and extend your outdoor living season.
If I had to choose my favorite gas fire pit, it would be The Outdoor Plus 60″ Sedona Wide Ledge Concrete Gas Fire Pit by Starfire Direct.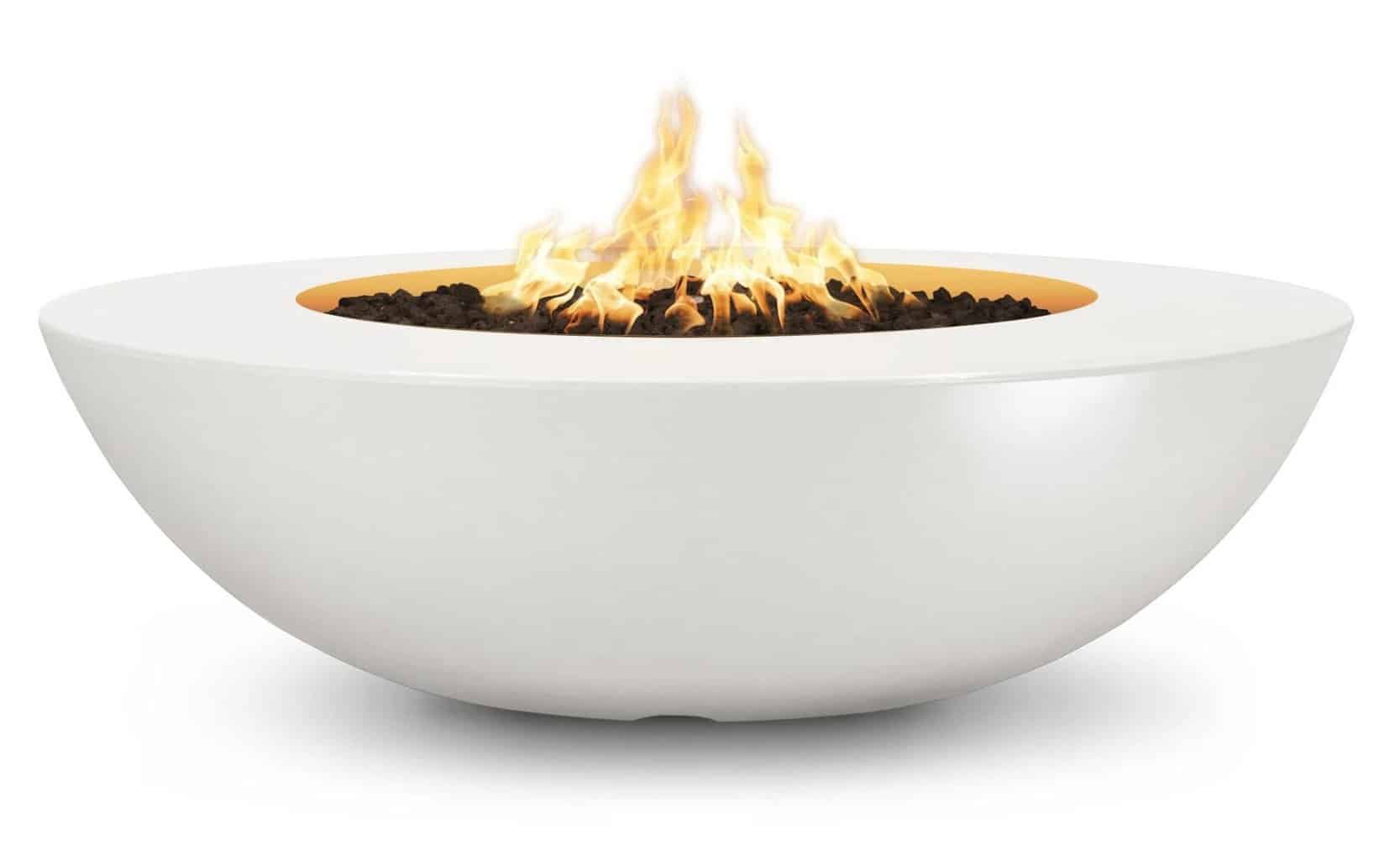 I love the sizeable 60-inch round size of this! It's great for extended family and neighborhood get-togethers. I always found my fire pit to be especially useful for class parties and holiday gatherings during the school year.
It has a beautiful wide rim for food and drink and delivers 65,000 BTUs of warmth.
It is made in the USA with fiber-reinforced cement to ensure decades of use!
This sleek fire pit is worth the little extra investment!
Super convenient fittings for both natural gas and propane gas
Safety check! CSA certified
Great stability at 300 pounds
My Top Picks
Rail Yard Trackside Music Responsive Gas Fire Pit: Best "WOW" Gas Fire Pit
Prism Hardscapes Pebble 56-Inch Oval Gas Fire Pit: Best Modern Gas Fire Pit
Are Gas Fire Pits the Best Fit for You?
Gas fire pits take the guesswork out of your fire pit activity. No more worrying about how high the flames might spark or if you have enough wood. No more getting up to put another log on the fire or worrying about your rug getting burns. I remember the first time I had a natural gas fireplace. I didn't know what to do with my time! All I had to do was walk out, flip the switch, and it was on indefinitely with no worrying about if there was enough gas in the tank or wood on the fire.
The cost upfront is more expensive to run the natural gas line under the ground to your firepit, and you want to be sure that the fire pit is in the position you want it to be. (No moving it once it is there.)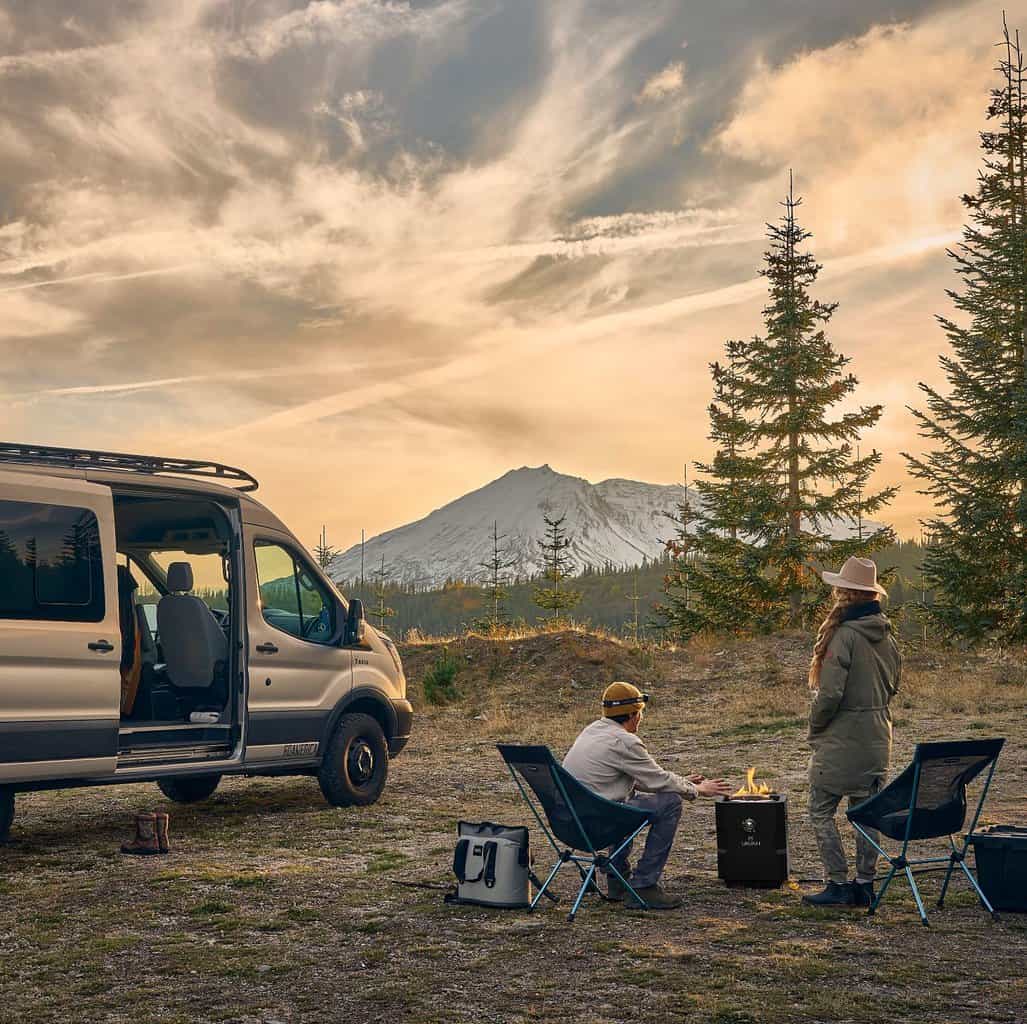 The other option is a propane gas fire pit. You will need a gas tank nearby (usually a 20-pounder), and there are decorative tables and cabinets made to store them out of sight if your fire pit doesn't come with underneath housing for it. The tanks run out fairly quickly, with only a four-hour output at maximum heat and 8 hours at moderate heat. For me, that meant either limiting the use of the fire pit on each occasion (which defeats the purpose of having a relaxing gathering) or storing several propane gas tanks, which added to my stress with the dangers of that.)
Natural Gas
Pros
The ultimate convenience for fire pits
Unending supply of gas
No storage of tanks or wood
Cons
Much more expensive to install
Propane Gas
Pros
Can be more mobile if the fire pit location is changed
Much less expensive upfront
Cons
A limited supply of gas
Inconvenient
For a good reason, gas-fueled fire pits have become more popular in the last several years. With more people spending more time outside and finding ways to maximize that time, gas firepits offer an extended outdoor season and opportunities to connect with family and friends. Before buying one, discussing the pros and cons of natural gas vs. propane gas is essential.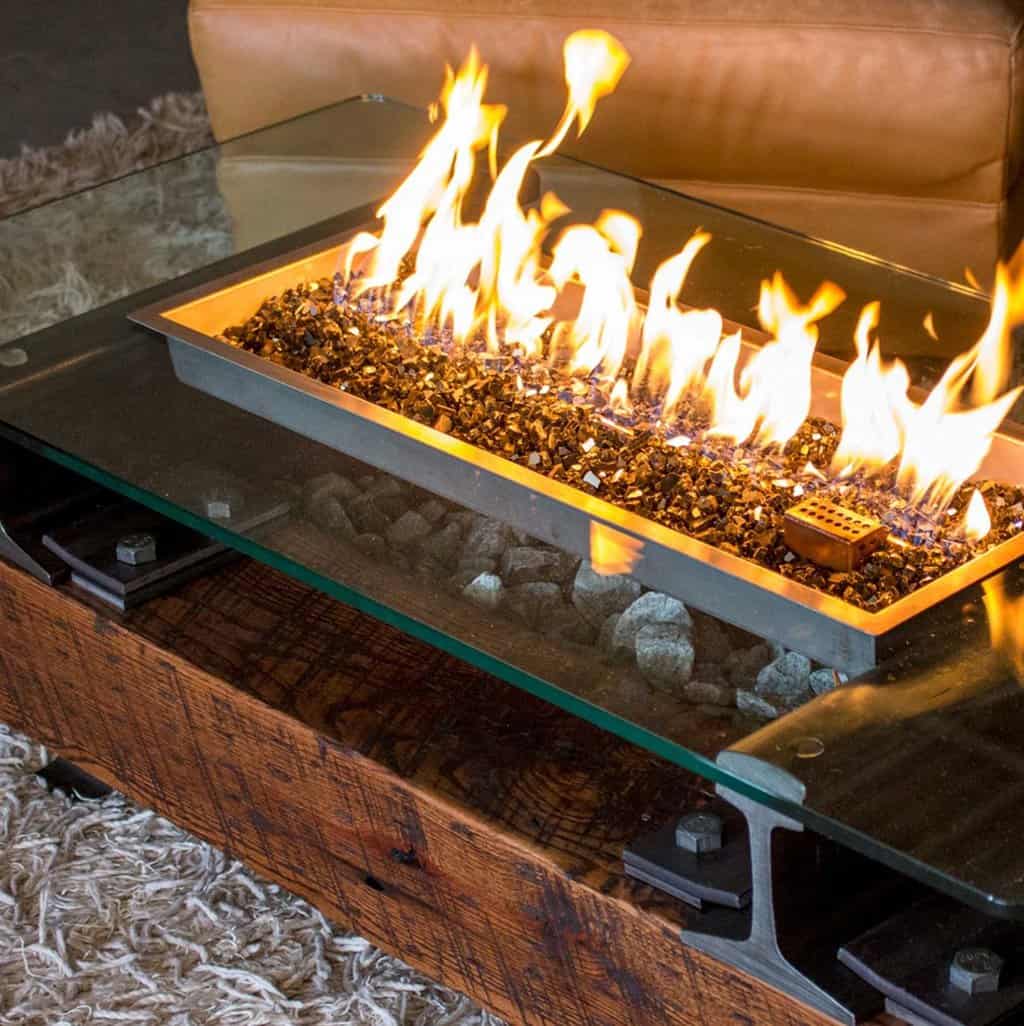 I made big mistakes that cost me more in the long run by only looking at the initial cost of a gas fire pit. I went with small, inexpensive fire pits that needed constant re-fueling and caused weekly maintenance activities. It was not a good fit for my family or me. Mapping out the cost of each gas type over five years will give you a more accurate view of the long-term cost. With some fire pit warranties being lifetime, you could even map out the cost over 15 years.
See also: 19 Best Cinder Block Fire Pit Ideas to Step Up Your Backyard
Gas Fire Pits: A Good Fit for your Lifestyle?
Gas fire pits have evolved from simple backyard stone structures to glossy, focal points of decor and functionality. A few things to ask yourself before making the leap and investing in a gas fire pit:
For Natural Gas Fire Pits
Am I settled in a home for more than the short-term?
Does my family want to use the fire pit on many occasions?
Can my family shift some money from another item to cover the cost?
Are convenience and low maintenance priorities?
Do we have a budget that allows us to make a significant investment?
For Propane Gas Fire Pits
Is my family too busy to consistently monitor and replace the fuel supply?
Do we have the storage necessary to keep several gas tanks on hand safely?
Can we move the fire pit if we move?
Does the fire pit come with an underneath area for a gas tank?
Does everyone in my family know how to use propane gas tanks safely?
When a Gas Fire Pit is Not a Good Fit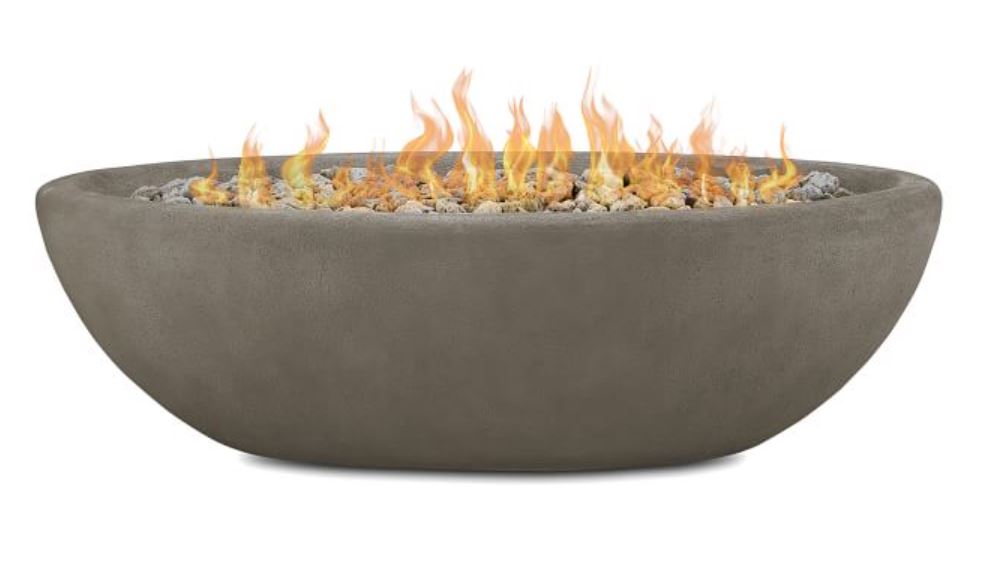 Times when a gas fire pit just won't fit the bill:
When you travel or camp and want a fire pit with you
If you want to cook on your fire pit
If cooking is your aim for a fire pit, read this article on Best Fire Pit Cookers!
How to Decide on a Gas Fire Pit in Four Steps
I have a list of steps that I use for considering a gas fire pit purchase that has saved me time, money, and headaches for more than a decade. I write this out in advance with the input from family members, so we all are on the same page. I have been surprised by a reaction or idea that I had not even considered more than once.
Step 1: Size
Map it Out
I can't stress the importance of taking chalk and mapping out the exact dimensions of the fire pit and the seating you want to have around it. It's so easy to miscalculate the amount of space you will need for a comfortable and safe gathering area. Ease of access dictates a seven-foot circle around the edges of your fire pit. If it is rectangular, you will need to measure from the longest edge out to seven feet. It may sound like a lot, but it won't seem like much once you get your seating situated and account for moving the chair back and maneuvering around other people.
What Size Overall?
The size of your fire pit will depend on where you want to put it and how you want to use it. Envision large gatherings with eight people warming themselves, toasting marshmallows, and drinking wine into the late evenings? Or will the fire pit be an intimate addition to quiet evenings at home?
Width (Diameter)
Remember that the total width of a round or square gas fire pit will include any edges or tabletop space for plates and glasses. A 36-inch fire pit with 12-inch sides will only have a 24-inch span for the "fire." This will produce less heat than a larger burning area will.
I have found that 36 inches to 45 inches across is the limit for convenient conversations that include everyone. Any more than that, and yelling begins across the fire pit chasm. (I've been there!)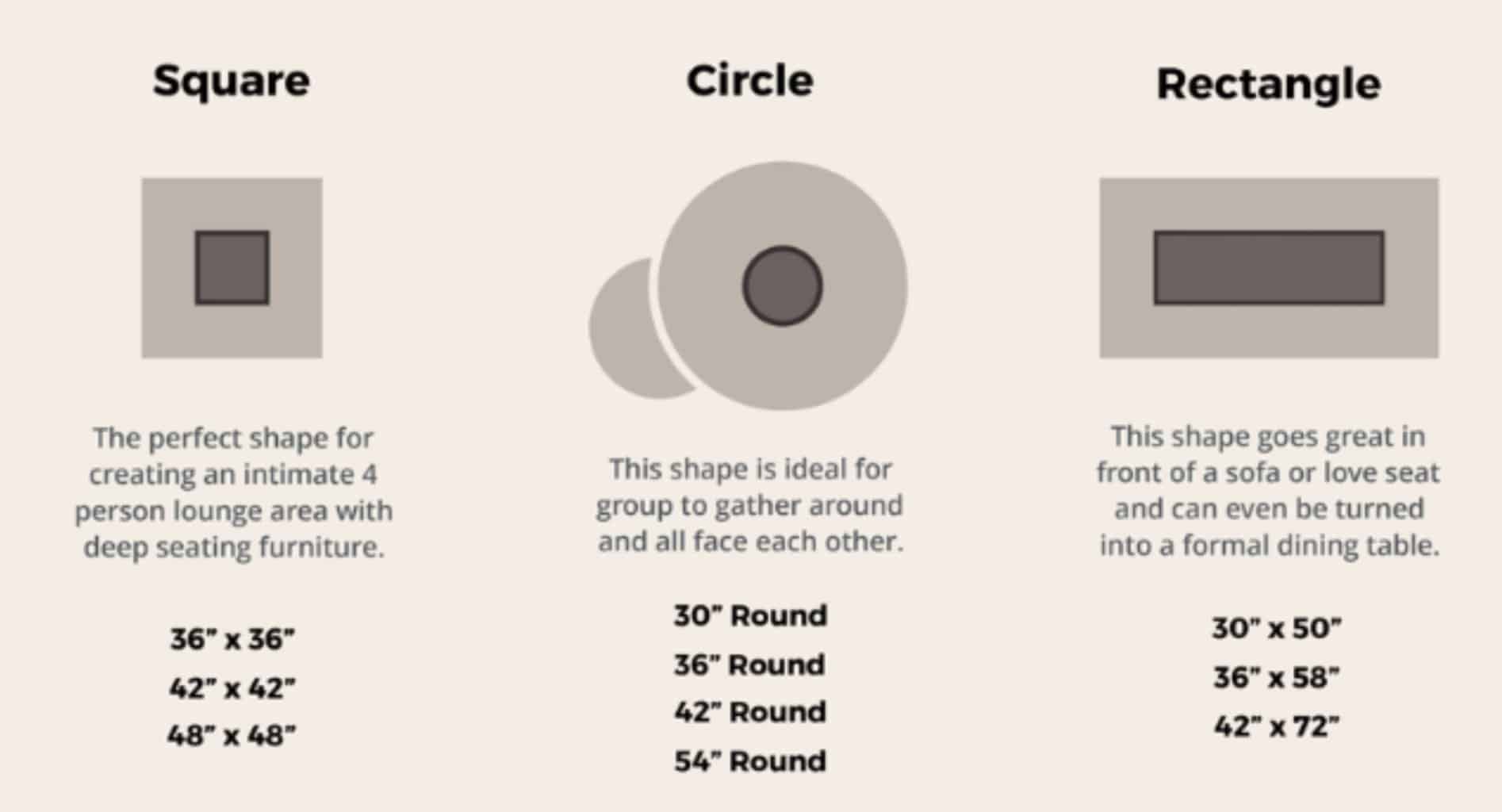 I always err on the side of caution when it comes to size. I have a large extended family, and I like to have neighbors and groups to the house frequently. Being outside means I have to focus less on cleaning the inside!
I like round, large fire pits that can hold eight people around them, all encircled and facing each other. For me, it's more inclusive, and a circle has no stopping points. There's no defined area to limit people, which often happens with angular fire pits.
Larger fire pits emit more heat which means more toasty coziness!
Height
The height of a fire pit may be lower than you think. To put your feet up and warm the toes, I recommend a height between 10 and 15 inches. This will also depend on the seating height around the fire pit. My chairs are 16 inches from the ground to the seat, and the fire pit is thirteen inches high. It works well for my guests to put their feet on, but it is a little short for them to sit on comfortably.
I prefer to use the edges of the fire pit for placing food and drinks and not for sitting. It's safer and provides somewhere to put your "things" down and chat.
Step 2: Style
This gorgeous custom-made fire pit is on top of a fountain! It looks great but will only warm the top of your body, and your marshmallows could fall into the water!
Seriously, though, the style of your fountain will determine how much of your body gets the heat. The higher the fire pit, the less heat your body will get. Since I lived in New England for half of my life, I am all about staying toasty warm, so I like my fire pits to be on the low side. A coffee table is about 20 inches high, which will be hard to get your feet on unless you had seating 2 1/2 feet off the ground!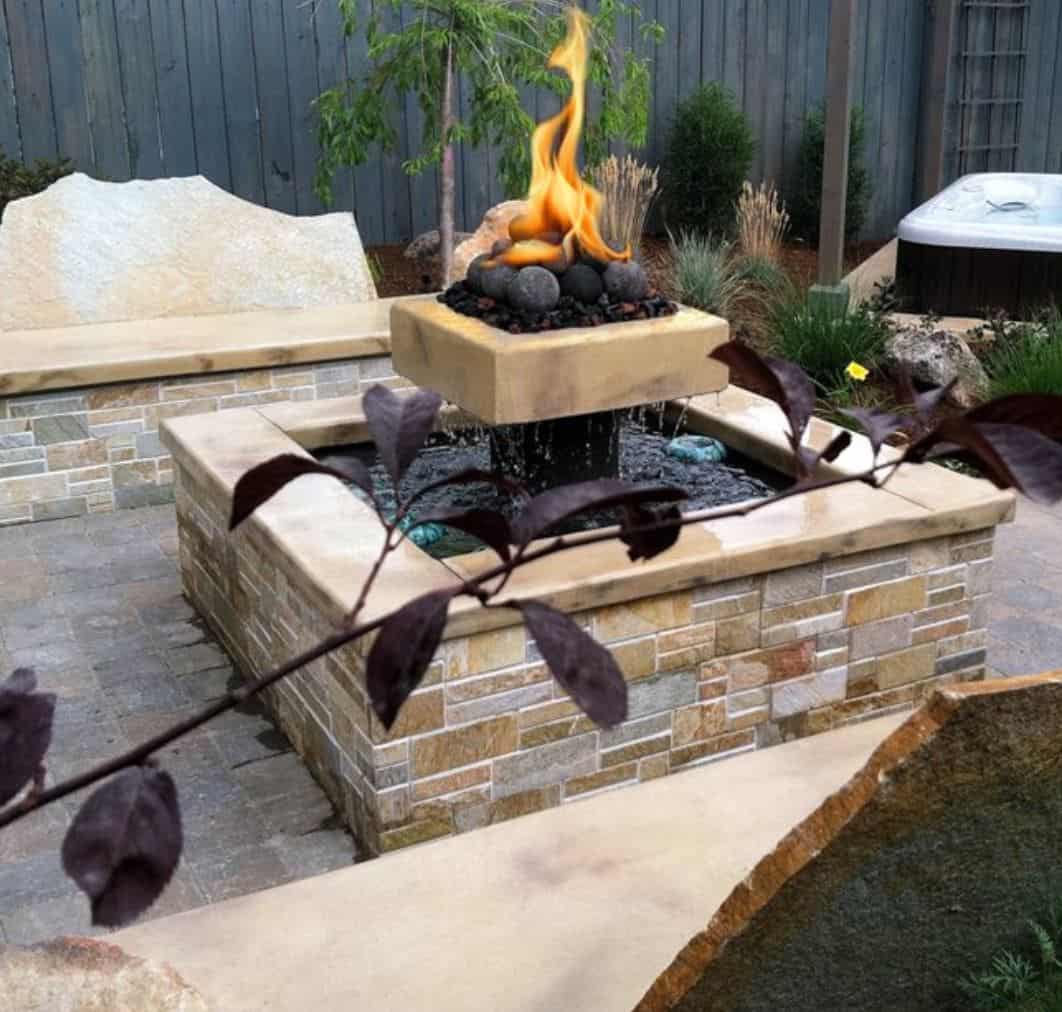 Whether your style includes granite, copper, cast iron, or concrete, read the fine print on heat-resisting surfaces.
Style Types
Gas Fire Pit Bowls
A fire bowl is a bowl that is a fire pit! The best construction for these is a glass-reinforced concrete mixture.
Gas Fire Pit Tables
Gas Fire Pit Tables are either coffee tables or dining tables with a fire pit built into them! They are multi-functional and are a super sophisticated way to entertain a party of guests for dinner.
Portable Fire Pits
If you will be traveling, camping, attending tailgate parties, or just want the convenience of a lighter, mobile fire pit, opt for a high-quality portable fire pit. These are more conducive to cooking as well. For the best portable fire pits, check out our article!
Step 3: BTUs
My experience has taught me that if you want to sit around a fire pit in chairs and sip cocktails or soda, you will need at least 75,000 BTUs on a chilly night. My get-togethers range from 6 to 25 people and average about 8. No one has ever complained of being cold outside, even when it has been 45 degrees (with no wind).
Save for the sub-freezing weather in the northern states, 75,000 BTUs will be plenty of heat. You can get by with 50,000 BTUs on a milder night. I tend toward being cold, so as soon as the temperature dips below 60 degrees, I turn up the fire pit!
In my experience, anything less than 50,000 BTUs for a yard-based gas fire pit is too little (unless you just want to look at the flames for ambiance and the air temperature is warm enough for you year-round!)  I would have to leave the continental U.S. for it to be warm enough for me year-round not to want some extra heat, even though I now live in a southern state.
35,000 to 50,000 BTUs:  For portable fire pits or small, close-to-the fire pit gatherings of 4 to 6 people
55,000 to 75,000 BTUs:  Heating 8 to 10 people around the fire pit on a chilly night (this BTU amount satisfies most people)
80,000 to 150,000 BTUs:  Extremely windy or cold climates with extensive outdoor space to heat
Step 4: Cost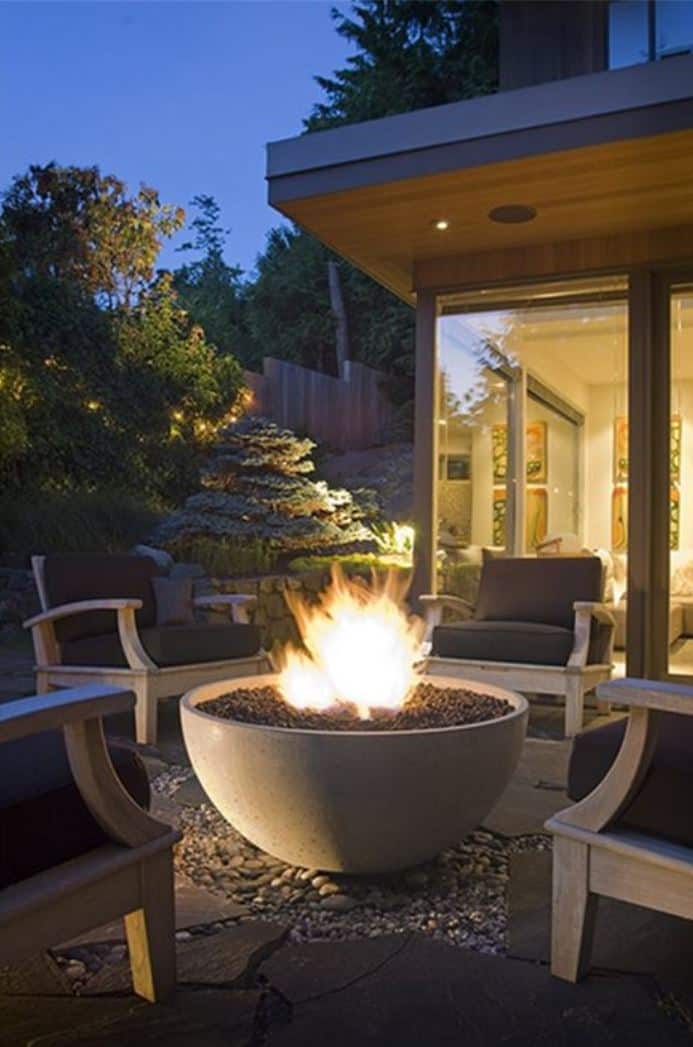 This is the fun part because whatever your budget, you are sure to find something you like! Remember that if you opt for a natural gas fire pit, the fire pit plus its installation will run you at least a few thousand if you don't already have a gas line near your fire pit location. Then, add the fire pit cost, which runs anywhere from $600 to $3,000+. The good news is that you can calculate that initial layout figure to average out over ten years. With a $5,000 initial investment, that would be less than $50 a month for ten years.
Always have a licensed plumber do your natural gas installation for your safety and state regulations.
Bottom Line Budget
Initial Outlay
$2,500 and up:  All natural gas firepit installed
$400 to $3,000:  Propane gas fire pit or fire table
Ongoing Costs
Natural Gas Fire Pit: $3.00 for 6 hours of use (average)
Propane Gas Fire Pit: $40 to $50 for 6 hours of use (average)
My Gas Fire Pit Top Picks
Rail Yard Trackside Music Responsive Fire Pit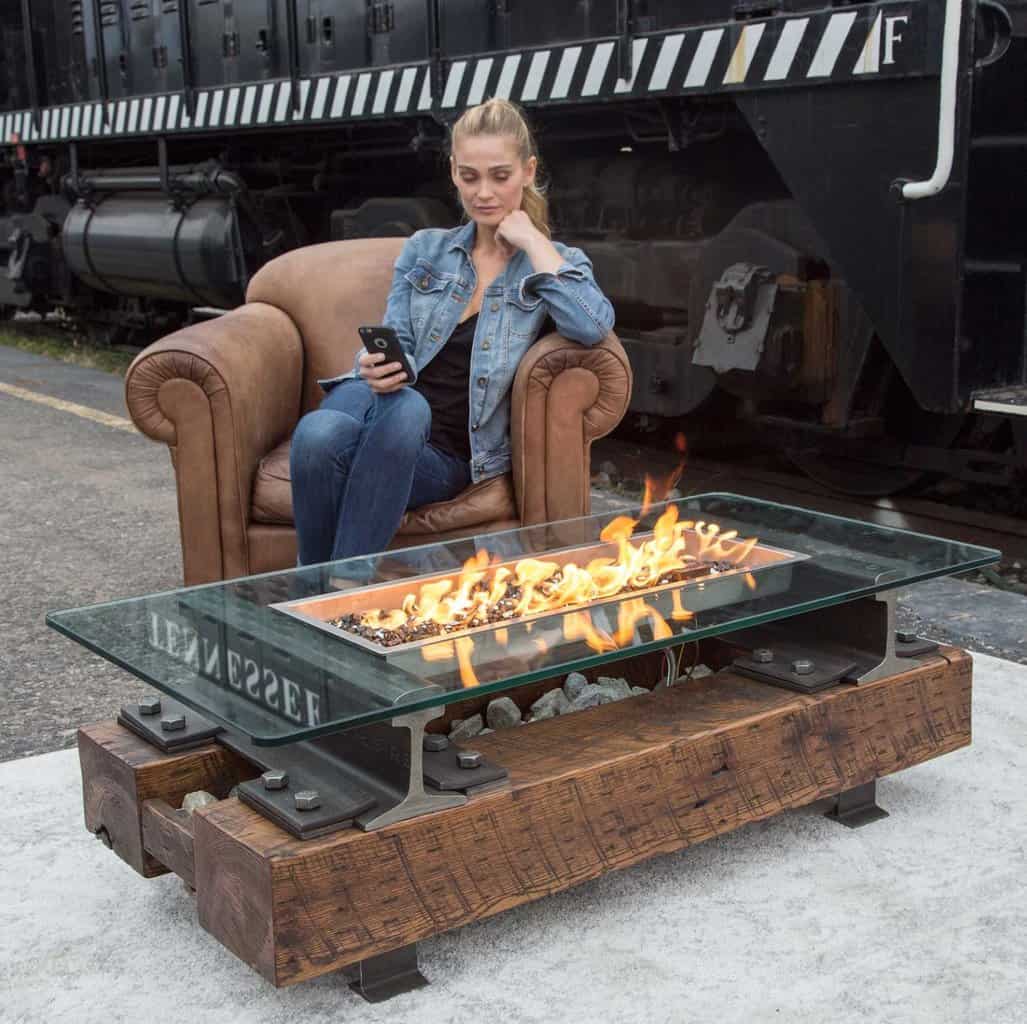 Move straight to the "Wow" factor with this gas fire pit made with decommissioned railroad tracks, stone, and solid hardwood timbers! This is like no other fire pit seen before – the tempered glass gives the rustic vibe a chic look, and the flames are responsive to music that you play from the attached control center!
Incredibly safe, with both CSA and U.L. certifications, this beauty is made in the USA.
It has options for music only, flame only, flame responsive to music, or flame unresponsive to music.
A touch control panel lets you adjust the height of the flame and the LED lighting in it. I love that everyone will always be warm around this fire pit no matter what the temperature, with 75,000 BTU heat output for even the coldest climates! Buy this here.
Pros
Extra Safety Standards followed in Manufacturing
It uses real railway tracks and solid timbers
Made in Nashville, TN
Built-in music capacity for flames to follow your beat
300 pounds
Cons
Heavy to life
More expensive
Vin de Flame Estate Wine Barrel Gas Fire Pit Table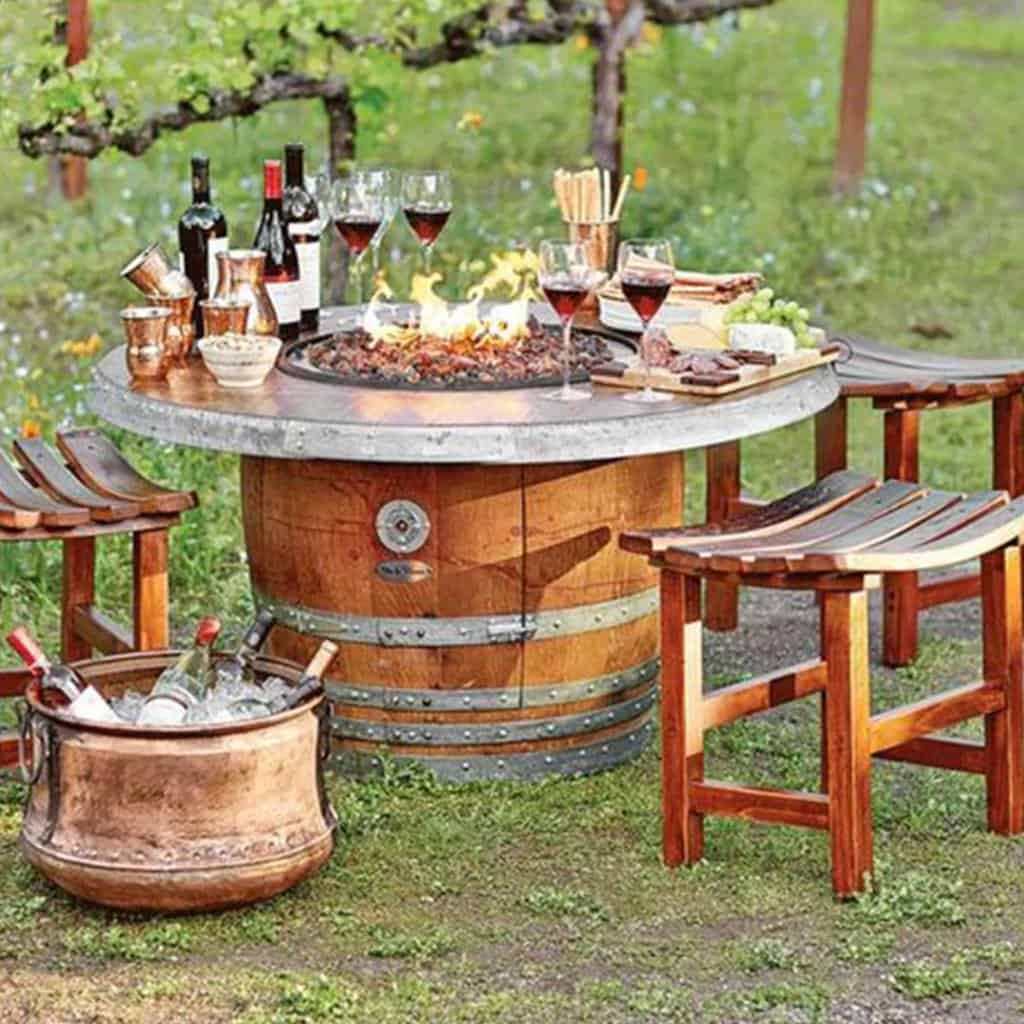 This luxurious design gives you a taste of the Tuscan countryside in the wine-making country! I love that these are real wine barrels that have been preserved and refinished at their estates. This is upcycling at its best! The Oak barrels are handmade and weatherproofed for the wine-making process, and even the tabletops are cut sections of real wine barrels! Buy this here!
Pros
Authentically preserved wine barrels
Three sizes
Recycled material
Made in North Carolina
Perfect for adult entertaining
Cons
Needs a conversion kit
Manual ignition only
Big Sur Fire Pit Table
Reminiscent of northern California with the ocean waves and tall trees, this fire pit calls us back to nature with a modern twist! The material is the best for fire pits, a glass-fiber reinforced concrete mixture that will last for decades with proper care. This material is also extremely heat resistant for an added safety bonus. It comes in three wood-grain colors and two sizes. This fire pit is built to please with both propane gas and natural gas accommodations and three ignition choices! Buy this here!
Pros
Natural wood look
Safe and Durable material
Handmade in the US
65,000 BTU
Cons
Prism Hardscapes Pebble 56-Inch Oval Gas Fire Pit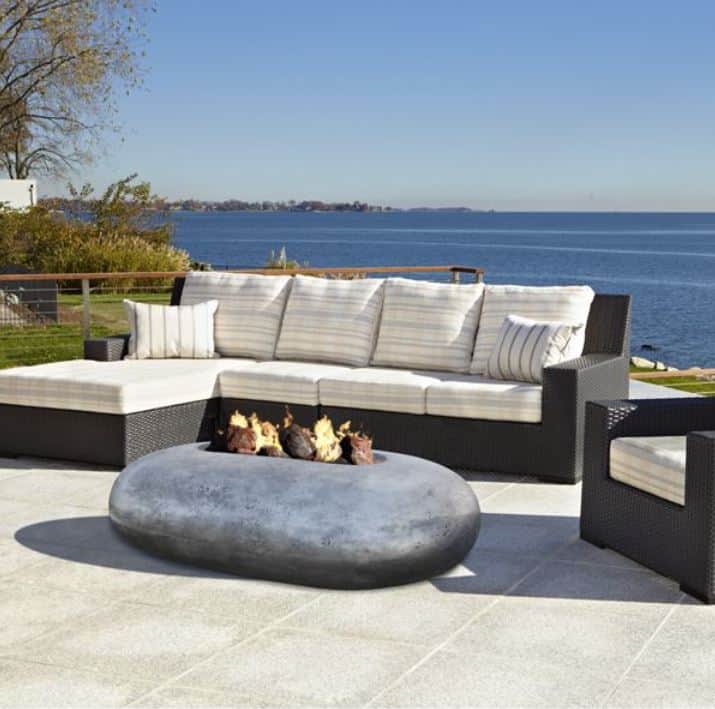 I love this giant pebble-like construction of GFRC (glass-fiber reinforced concrete) because it's unique and fun looking while still being safe. CSA certified with a 2-year warranty for encouraging worry-free entertaining. This is handmade and comes with a stainless steel burner kit. I love the variety of finishes available for this because you can style it to your own personal taste, and this will continue to provide you with years of relaxation. Buy this here!
Pros
Super Safe CSA certified
GFRC construction for durability
Eight different finishes
56″ long
Cons
Loon Peak Outdoor Log Fire Pit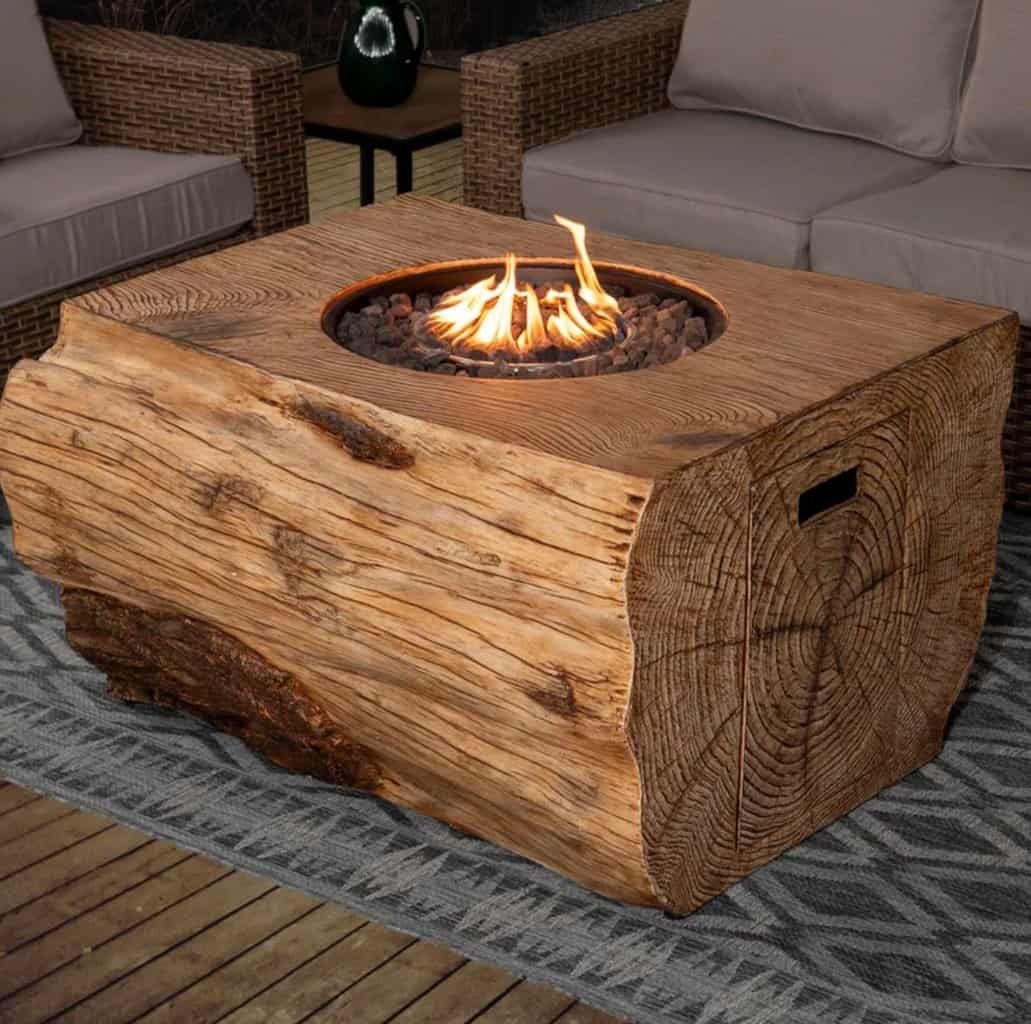 This log fire pit reminds me of our Maine campfires and the stumps that we sat on as we told our ghost stories under the stars! Little did we know how lucky we were! This log fire pit will surround you with a woodsy feeling and blend into any backyard seamlessly. Warming you up with 50,000 BTUs, this fire pit has a powder-coated frame to withstand the elements and even comes with a cover. It is CSA-certified for safety and has an adjustable flame control built-in to the side. I love the extra space on this to use as a coffee table. Buy this here!
Pros
CSA and U.L. certified for safety
Powder-coated rust-resistant
Cover is included
Cons
Concrete Urn Gas Fire Pit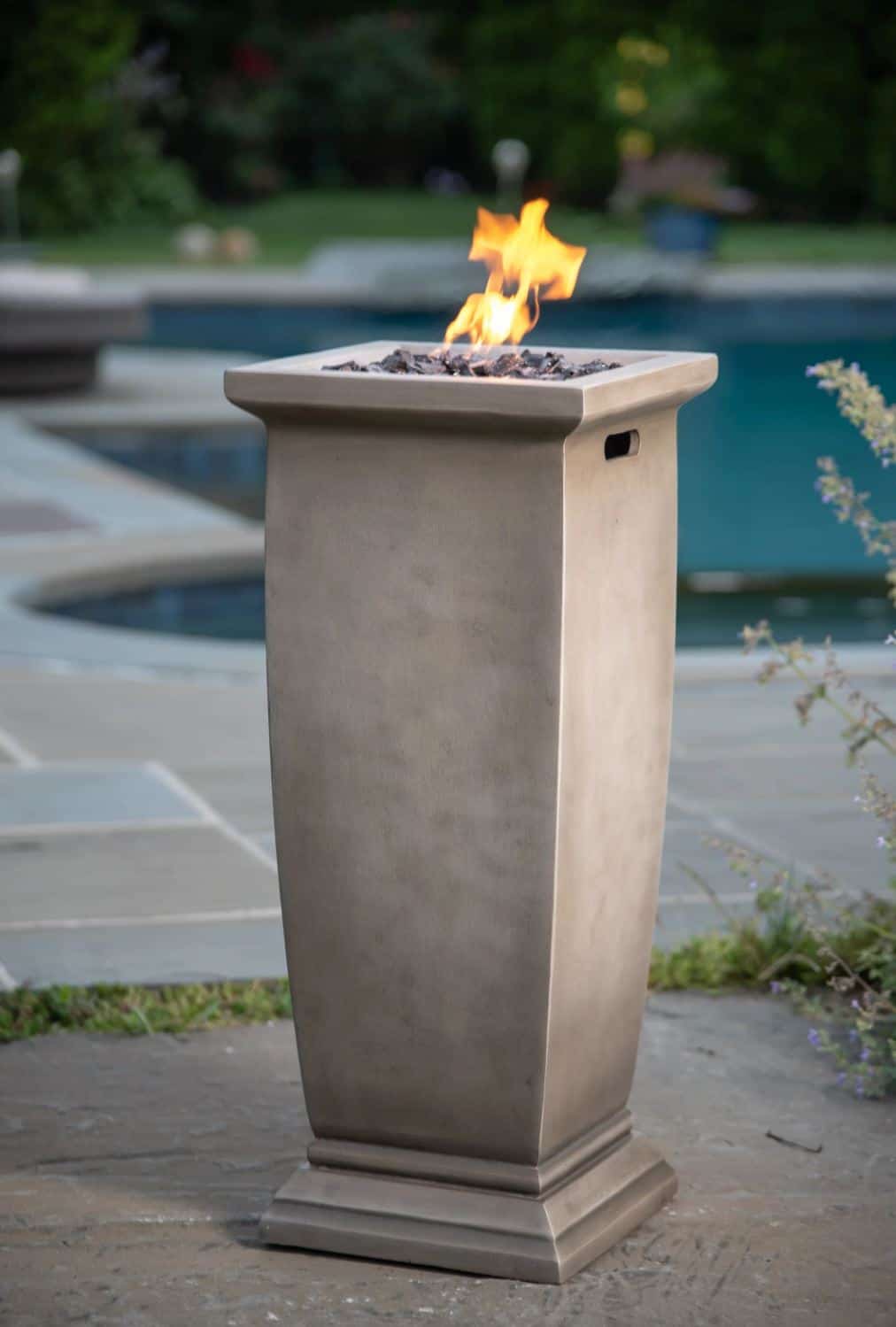 This slim and graceful gas fire pit is made for small spaces and will add elegance to your patio regardless of the size!  I love the simple lines of this and it can be moved because it is lightweight at only 18 pounds!  Refined style to fit with any decor makes this fire pit exceptionally versatile.
Pros
Fits small spaces
Elegant and chic versatile design
Weather-resistant
Hides fuel tank
Budget-friendly
Cons
Only 10,000 BTUs
Not as stable as other designs
Portable Steel Gas Fire Pit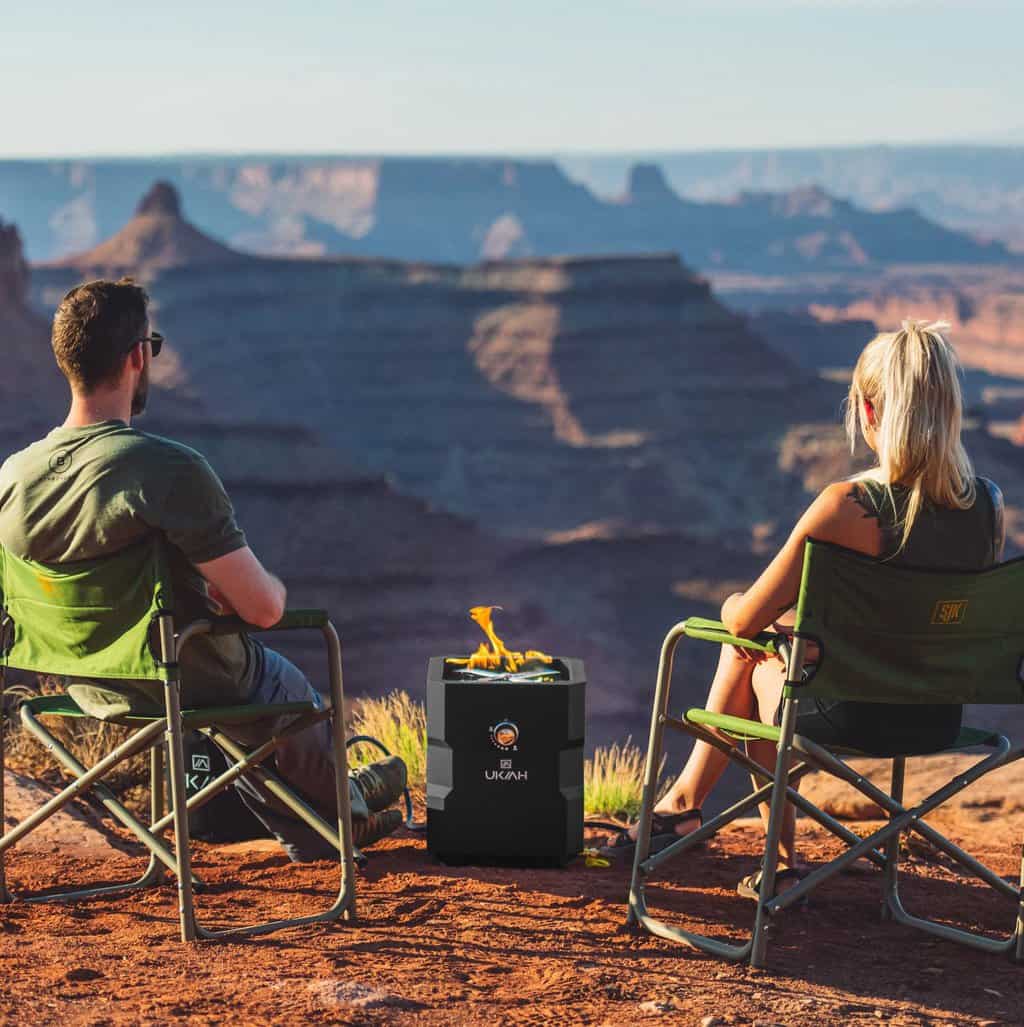 Latitude Run has made a portable bonfire possible with this gas fire pit that puts out 50,000 BTUs of heat!  I love the warmth that this provides, especially if you are camping outdoors during chilly nights or you want to warm up after swimming in a cold lake!  Not bulky or flimsy, this compact square design is user-friendly with handles on the side.
Pros
50,000 BTUs
Adjustable flame
Rust and weather-resistant
Electronic ignition
Cons
More expensive
Needs a 20lb gas tank
Woodsy Stone Round Gas Fire Pit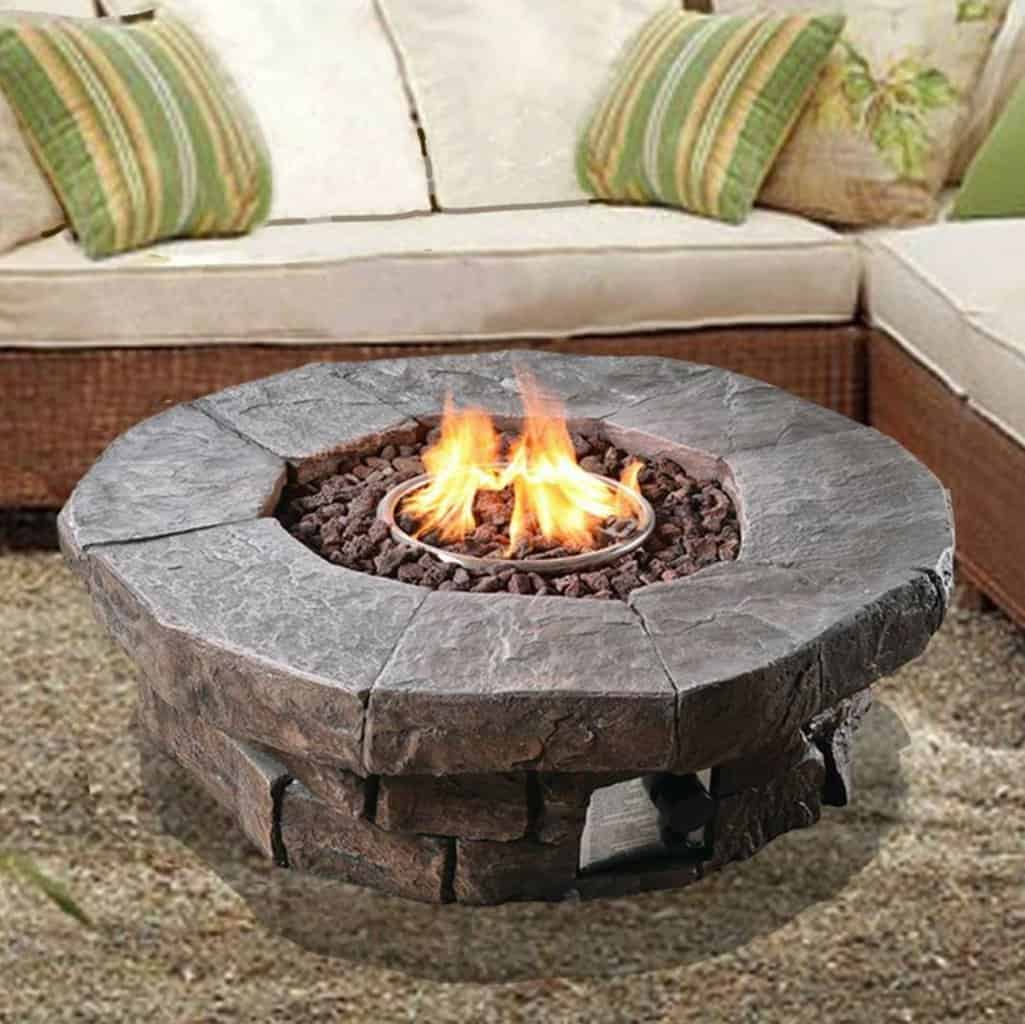 This stone-like gas fire pit from Target has a wide rim for food and drink, which is a must-have for a fire pit. This will warm you up with 50,000 BTUs of power, and the sturdy 80-pound weight means it can withstand any wind speed and the occasional bump.  I like to bring as many earth elements as possible into the patio and porch decor, and the natural style of this fire pit fits right in.  Large fire pits include more people and warm a greater area, and at 40 inches around this fire pit lends itself to family and friend gatherings. Kudos to Target for offering a multi-use high-quality fire pit that is less expensive than other retailers!
Pros
50,000 BTUs
Table rim
Study construction
Adjustable flame
Budget-friendly
Cons
Blackwell Oval Gas Fire Pit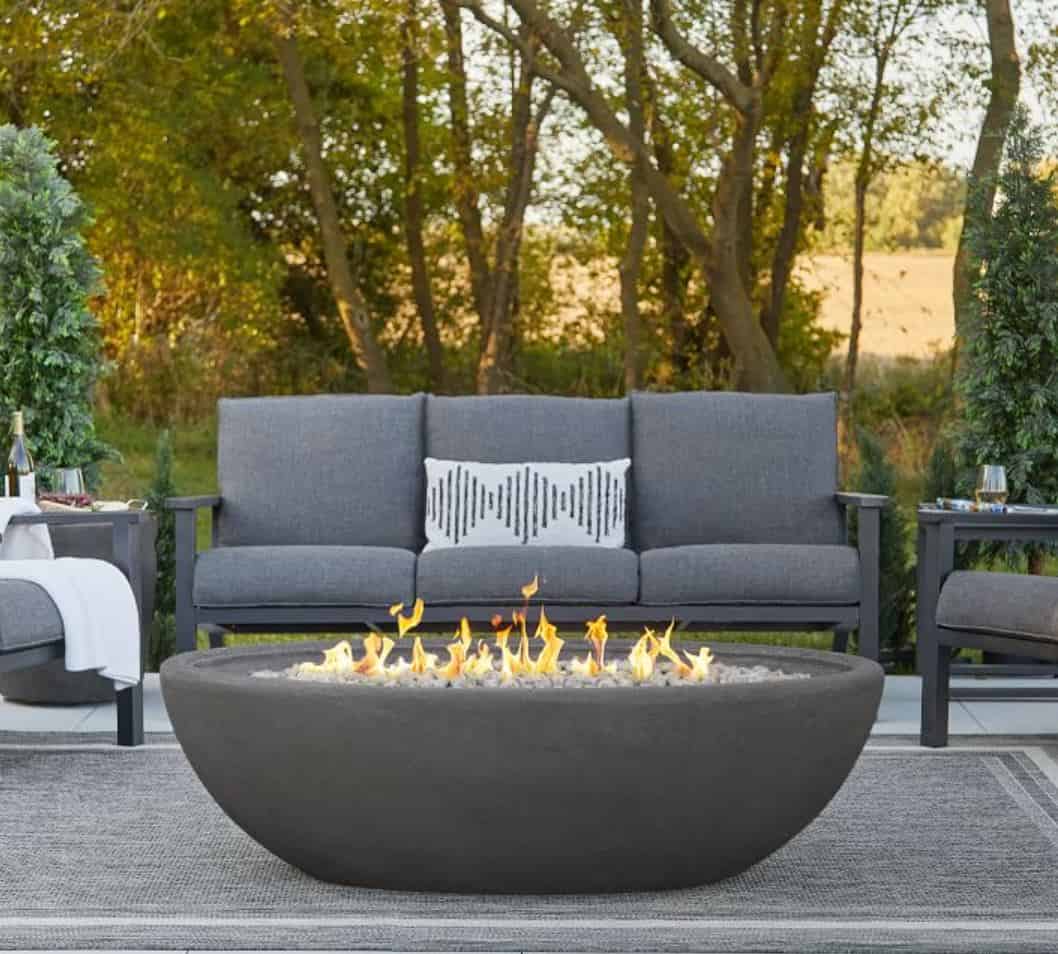 I had a similar oval concrete fire pit like this one at my last home, and I loved the graceful curve and bowl shape style on my patio.  It got so many compliments!  I especially like this one from Pottery Barn because it is made with steel and fiber-reinforced concrete, which means it is durable and sturdy.  This fire pit was built for larger spaces at almost five feet across and three feet wide.  The crowning glory is the efficient flame – you get 8 hours from a 20-pound propane tank at the highest setting!  That means more money in your pocket.  Your guests will gather around this warm, enchanting fire pit for years to come!
Pros
Natural-looking and graceful
Large fire display
Sturdy at 100 pounds
Cover included
Gas efficient
Rust, weather, and UV-resistant
Cons
No rim to put food/drinks
More expensive
BBQGuys Signature Lavelle Table-Top Fire Pit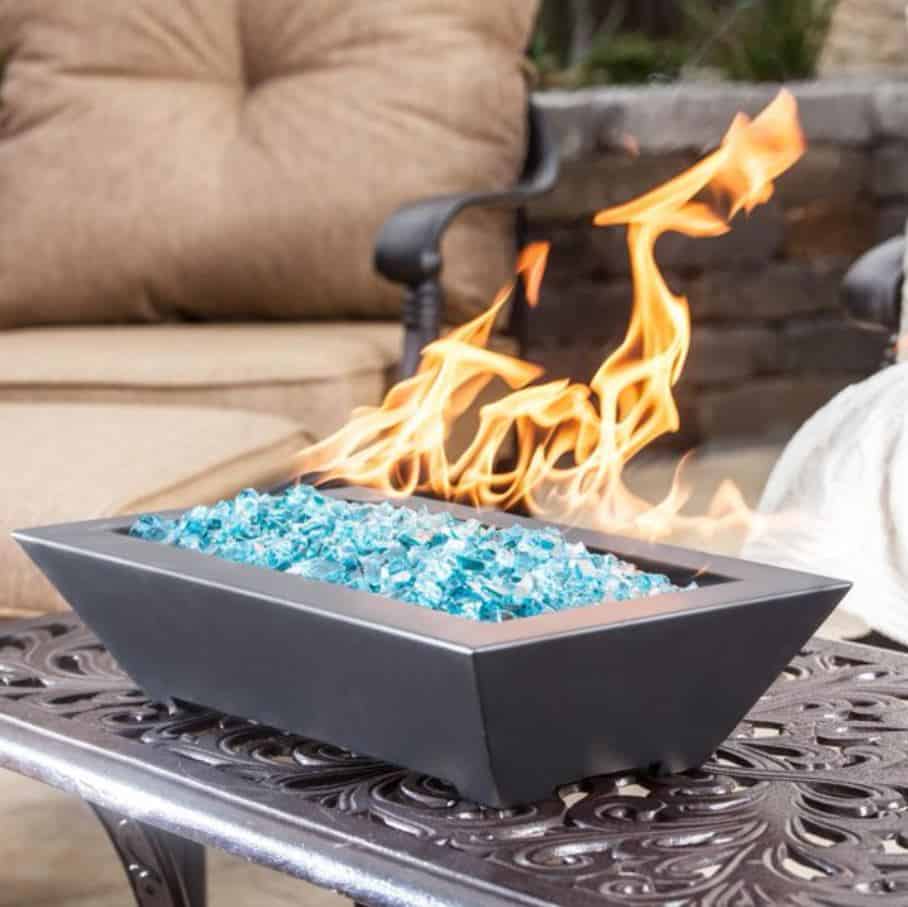 Oil-rubbed bronze gleams as it radiates heat from a full 18 inches long!  This tabletop fireplace mimics large outside firepit tables with its rectangular design and blends in with any decorating style.  An amazing feature is its 35,000 BTU capacity!  I love that it will actually warm you up!  This is rare for a tabletop fire pit and I wish more manufacturers offered this.  A generous flame display with colorful lava rocks makes it worthwhile to spend a little more for this investment.  Commercial-grade stainless steel will last for years!
Pros
35,000 BTUs
Resembles real fire-pit
Durable and long-lasting
Large flame area
18″ x 10″
Cons
Brookbury Better Homes & Gardens Gas Fire Pit Table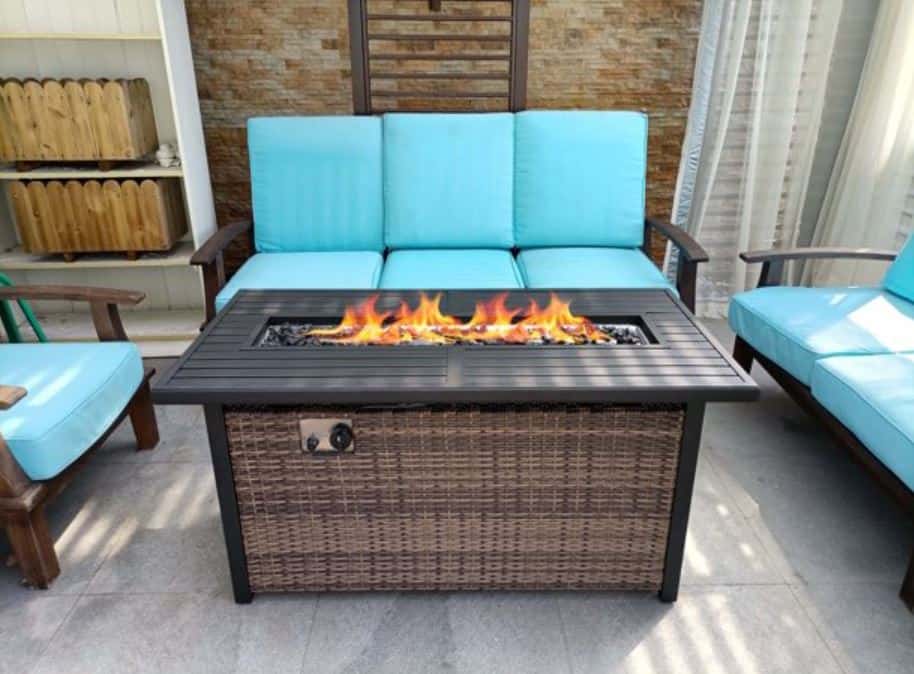 I love the rattan wicker look of this fire pit table from Walmart.  It has a large rim that's convenient for food and drinks, and can seat 8 people comfortably around its 50-inch length!  Great for entertaining groups, dinner parties, toasting marshmallows, or just relaxing while the flames dance in front of you.  Better Homes & Gardens endorsed this fire pit and it has a one year limited warranty.  This fire pit comes with a lid and an outdoor cover!
Pros
50,000 BTUs
Wide table rim for eating
Electric ignition
Crafted of steel
Better Homes and Gardens Brand
Great value
Cons
Too large for small spaces
FAQs
Question: How long does a 20lb propane tank last on a 50000 BTU fire pit?
Answer: A 20-pound propane gas tank will last between 5 and 8 hours with a 50,000 BTU fire pit. That's about two or three uses depending upon how long you keep your fire pit going. Keep in mind that each 20-pound tank costs about $50, while a 100-pound tank will cost about $120.

It's much more cost-effective to buy larger propane tanks if you have a safe storage place for them near your fire pit and a long enough hose.

It's much more convenient to buy the 20-pound propane gas tanks and get a fire pit that has storage underneath it for the tank.
Question: What is the monthly natural gas cost for a fire pit?
Answer: The bottom line is that the average monthly cost of using a natural gas fire pit is exceptionally inexpensive.

50,000 BTU natural gas fire pit = $16.00 per month (with 32 hours of use)
50,000 BTU propane gas fire pit = $100.00 per month (with 32 hours of use)

Over the past several years, the average cost of natural gas has varied between $8 and $11, depending upon what state you live in. The price of natural gas is per one thousand cubic feet. One hundred cubic feet is equal to one "therm," which is equal to 100,000 BTUs.

So, in plain English, it will cost between $0.80 and $1.10 to run something with 100,000 BTUs for one hour. Since many fire pits average 50,000 BTUs, it will cost (on average) between $0.40 and $0.55 every hour to run your 50,000 BTUs fire pit.
At fifty cents an hour to run your fire pit from natural gas, you could run it for 8 hours and pay only $4.00, which is much less expensive than a propane gas fire pit.

If you plan to use your natural gas fire pit for four days out of the week for two hours each day, that's 8 hours a week. Monthly it would be multiplied by four and equal to 32 hours every month. At $0.50 per hour, that would be $16 per month.

As a comparison, using your propane gas fire pit four days a week for 32 hours a month would cost about $100 (assuming you use the 20-pound propane tanks that go under the fire pit).
Question: What is a BTU for a fire pit?
Answer: The formal term for BTU is British Thermal Units, and it refers to the amount of heat output needed to warm the air by 1 degree.    Firepit BTUs start at about 35,000 for a small portable heater and continue until about 150,000 BTUs (for residential use).

Try thinking of a space heater to make it super easy to understand how much heat you are getting. One electric watt is equal to 3.41 BTUs.  That means a space heater of 1500 watts has a little over 5,000 BTUs.  Doing the math indicates that if you were inside your house, you would be warm in a room that was 15 feet by 10 feet. Outside is a different story. No ceiling or walls to keep the heat in, and the wind and humidity also will snatch up some of your heat. That's why residential gas fire pits start at 45,000 and go up to 150,000 BTUs.
Question: What's the Best Material For a Fire Pit?
Answer: Although they are both quite heavy, stone and concrete are your best bet for safety and durability. Stone and concrete both resist heat extremely well and are made to last especially glass-reinforced concrete.
Aluminum is not a great choice as it stains and dents easily, and it gets quite warm.
Iron and steel are better than aluminum for durability and safety, just remember to have them weather coated or powder coated for rust resistance.
Question: How Do I Turn the Flame On in a Gas Fire Pit?
Answer: A gas fire pit has three different types of ignition that start the fire: Manual, spark, and electric.

Manual:  Turn the gas on and light a match to the flame (always start with a low gas output to avoid a large fire flare)
Spark: Turn on the gas and push a button on the unit that produces a "spark" that will light the flame
Electronic: Flip a switch or use a remote app to turn on the fire pit (uses batteries or electricity)

Always Remember to Turn Off the Gas After Using!
Parting Notes
A gas fire pit is an investment in your home and the quality of life you want. Break down the cost over a yearly and then monthly basis to account for re-fueling. High-quality doesn't mean it has to be the most expensive fire pit. Stores such as Costco, Home Depot, and Lowe's have many choices in all budget ranges.
A stationary gas fire pit is more stable than one that can be moved, and stone or concrete is the most heat-resistant material for little hands, and it's durable for many years of use. You can construct one from the ground up or opt for one ready-made. In either case, please make sure it has met U.L. or CSA standards and always have a professional plumber install your natural gas line, no exceptions!
I have two fire pits that have become part of our lifestyle and provide safe, carefree, and convenient gatherings. If you relish your time outside as we do, a gas fire pit is a welcome invitation to "al fresco."  Happy cozying up!
Recommended Reads: