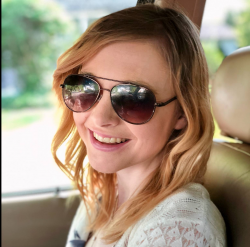 Latest posts by Erin Jamieson
(see all)
Blue has always been my favorite color- from the slate gray-blue of an overcast day to the saturated blue of sapphires. But even though my closet is full of blue clothing and I have plenty of blue decors, it wasn't until recently– and with a nonprofit organization's campaign- that I considered blue porch lights. 
Blue porch lights are one of the freshest ideas for an upgrade in more ways than one. For some, blue porch lights are a symbol of autism awareness. For others, they're a way to cast a unique style. And for others still, a blue porch light evokes a sense of calm in a way that classic white porch lights don't. 
Today I'm sharing my top ideas for blue porch lights. From solar porch lights to modern porch lights with an outlet, here are a few options for upgrading your home. Read on for my top picks and how I selected each one thoughtfully. 
Bottom Line Up Front Summary
Whether you're looking for a porch light with a blue bulb or a statement porch light with a blue exterior (or even both), it's time to break out of the classic mold and add a unique and welcoming addition to your porch. The blue porch lights I'm excited about this year balance function, form, and durability. 
If I were to recommend just one blue porch light from my shortlist of ideas, it would be the Yuanwu Solar Vintage Porch Light. What's so great about this blue porch light is that it's one of the best values in terms of unique style and practicality. With five integrated solar panels, it's designed to trap and convert light more efficiently- acting as a more effective light even if you have cloudy days. I love the unique style and the striking cobalt and metallic hues. 
My Top Picks
Michaela 12.5" H Outdoor Wall Lantern:

Best Farmhouse/ Rustic 

Yuanwu Solar Vintage Porch Light:

Best Vintage-Inspired 

Urban Barn 11 1/4″ High BlueWall Light

:

Best Modern Farmhouse

Tandoori Globe Solar String Lights

:

Best String Lights  

T-Sinus Blue Solar Porch Lights

:

Best Security/ Floodlights 

EOYIZW Solar Lantern Lights

:

Best Solar Lanterns 

Waterproof Solar Lamp for Garden Patio

:

Best Table Light 

AIMEOKO LED Blue Light Bulb

:

Best Damp-Rated Blue Lightbulb

Ameri Luck Deep Cobalt Blue Light Color

:

Best Waterproof Blue Light Bulb
My Selection Criteria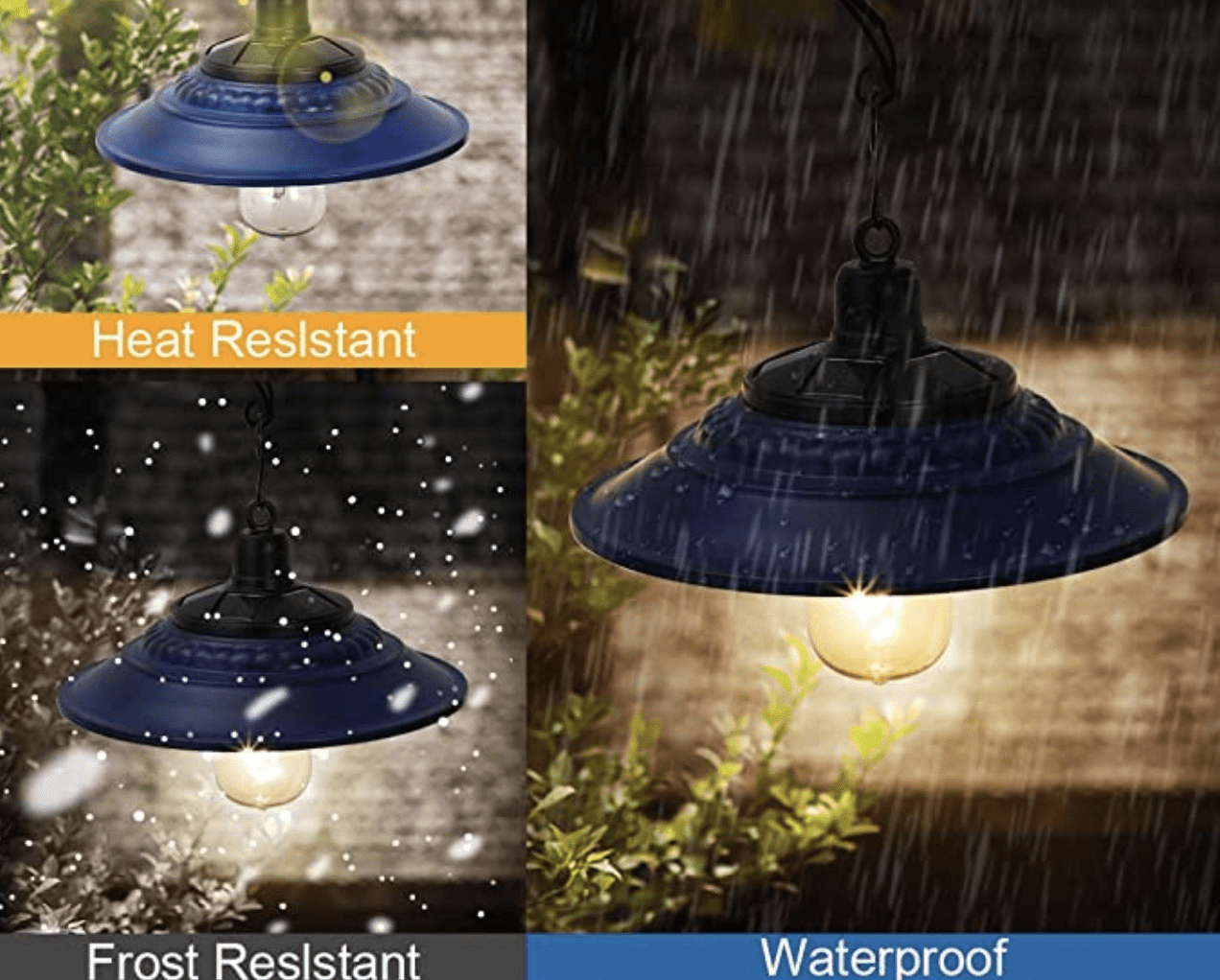 Before I get started with my ideas, I want to shed a little light on these porch lights. I've had the experience of a cheap light- I think we all have. My goal was to find blue porch lights that offered unique features and styles with the durability that you need for an outdoor porch light. Here's a look at my selection process. 
Including Different Types of Blue Porch Lights
Without boring you too much with every detail, I wanted to provide ideas for different types of blue porch lights. First up, I am including both solar porch lights and porch lights with an outlet or battery. (If you value energy efficiency and live in an area that gets reasonable sunlight, solar may be for you. Electric lights are a little more predictable and cost less initially. 
Outside of those broad categories, I'm including string lights, sconce/ wall lights, ceiling lights, flood and security lights, and post lights. That way, whether you're looking for something decorative or something to improve visibility, you'll have a choice. 
Finding the Best Materials for Blue Porch Lights
For the exterior of a porch light, I tend to be picky. I included only blue porch lights that have brass, copper, cast iron, or steel exterior. All of these materials will wear reasonably well no matter the weather. I'm skipping aluminum and plastic composite lights- these are cheaper options but don't meet my standards for durability. The exception is ABS. ABS materials provide abrasion and weathering resistance- just be gentle when you install these lights. 
See also: Best Side Porch Ideas This 2022
Selecting Different Shades and Styles
Blue porch lights come in a wider variety of styles and hues than I first imagined- and that lends itself to exciting possibilities! To showcase different options, I'm interpreting blue porch lights in two ways: porch lights with a blue bulb and porch lights with a blue exterior. (You can also add your blue bulb to these). I am also representing everything from icy blue to saturated sapphire blue. 
Styles
It was likewise important to select different styles of blue porch lights. Those styles include modern, industrial, whimsical/ bohemian, farmhouse, mid-century modem, Art Deco, and classic. 
Picking the Best Features 
For features, it depended on the type of light. For instance, I don't expect many features from simple string lights. However, security lights, motion sensors, and automatic and emergency shut-off features are a big plus. 
For All Lights…
For all porch lights, I paid attention to the bulb type, lumens, and water rating. That's because these all informed me what to expect for the performance of each blue porch light: 
I favored LED bulbs/ panels, but I considered some other high-quality alternatives  

I favored wet rated lights, then damp rated lights (both can be left out in the rain, in varying degrees) 

I paid attention to lumen ratings based on the type of porch light. 

General porch lights and scone porch lights 100 to 500 

Floodlights 550 to 800 

Other lights/ lanterns/ decorative can be less 
See also: Best Home Depot Patio Heaters
Where I Shopped 
I only shopped for blue porch lights from places I'd also buy from. It's really important to me- especially for something like outdoor light fixtures- that I buy from companies we can trust. That meant checking customer and professional reviews. Companies with a history of quality products, detailed descriptions, and clear photos were eligible.
Plus, I took note of companies with options like generous refunds or returns and optional protection plans. While I did look at typical home improvement stores, like Lowe's and Home Depot, I also consider specialty retailers and larger retailers. 
My Favorite Blue Porch Light Ideas 
Here are a few of my favorite ideas for unique blue porch lights. These ideas are meant to inspire you- and maybe challenge you to try something new. I'm including porch lights with blue light bulbs, porch lights with blue exteriors, and blue light bulbs you can use in the compatible porch light of your choice. Plus, I'm adding styles and types so you can find what you need.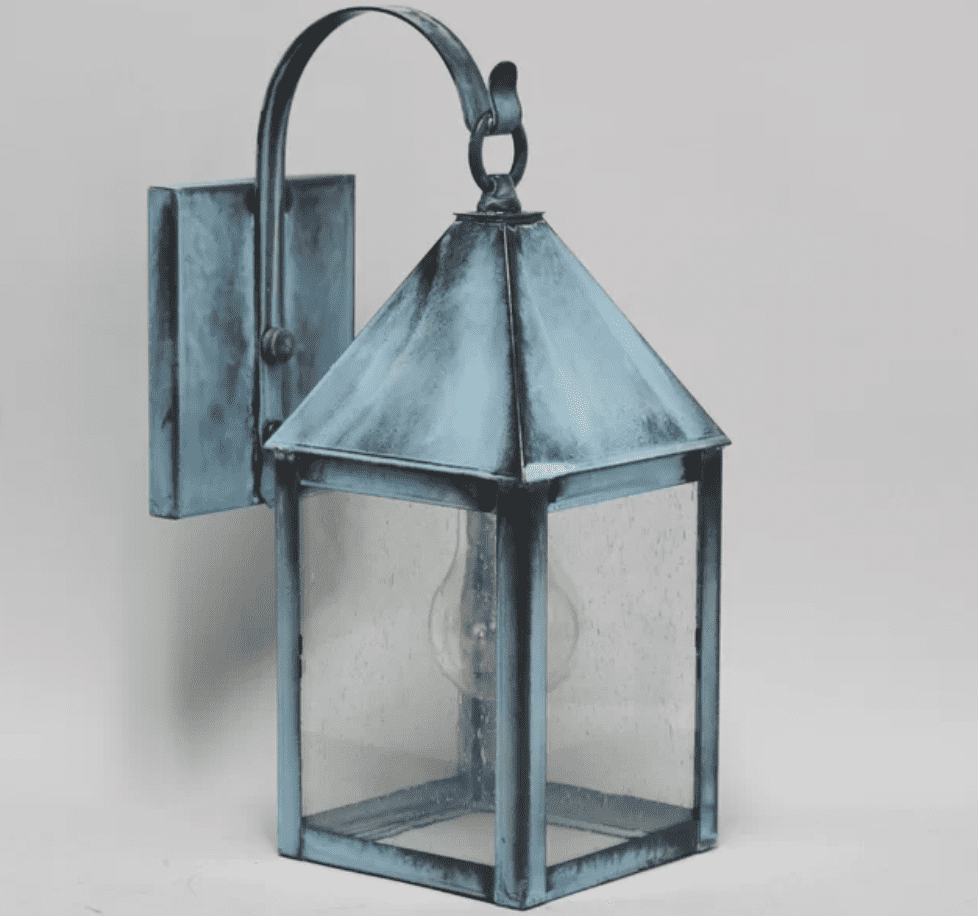 If you love a touch of rustic charm- or even a blend of rustic and industrial styles, this outdoor porch lantern could be the best fit for you. I love the authenticity of the handcrafted copper and brass exterior, all with a greenish-blue coating that's sure to add a softer touch to your porch. It's lead-free and certified to last in all weather conditions, including direct rain.
I especially love this design because it shows you can add a touch of blue to your porch without it becoming a dramatic statement. I'd love to see this porch light paired with rustic porch decor and maybe even a great swing or rocking chair if you have room.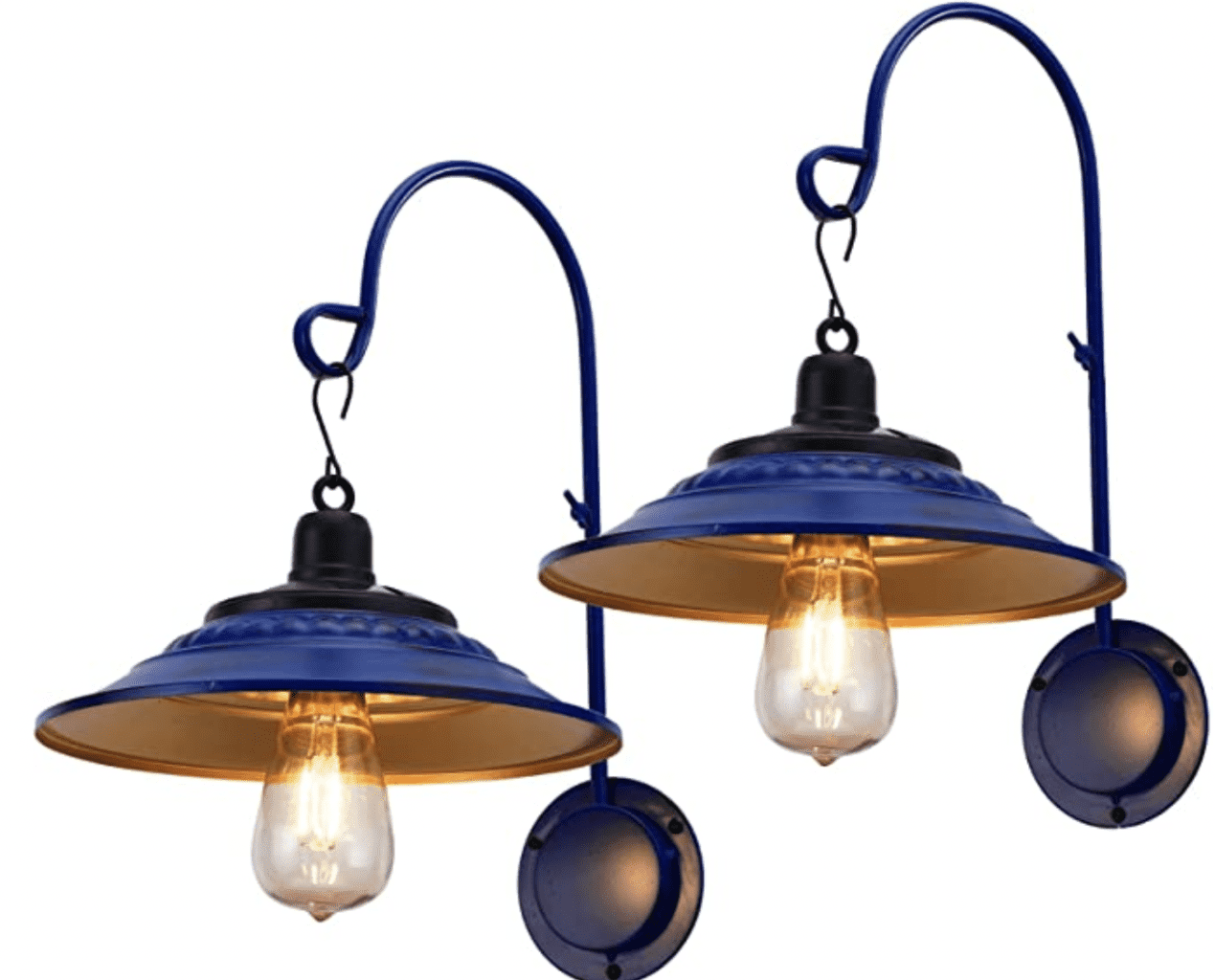 A touch vintage and completely charming: I love these striking blue porch lights for anyone who wants to make an elegant, timeless but unique statement around their door. These solar porch lights feature a gorgeous contrast of cobalt blue and metallic hues. I love that the light is equipped with five solar panels designed to capture sunlight and convert energy more efficiently.
With a simple hook design, even those new to porch lighting should be able to set things up without much trouble. This is easily one of my favorite blue porch lights on the market, and I think the price is pretty fair, too.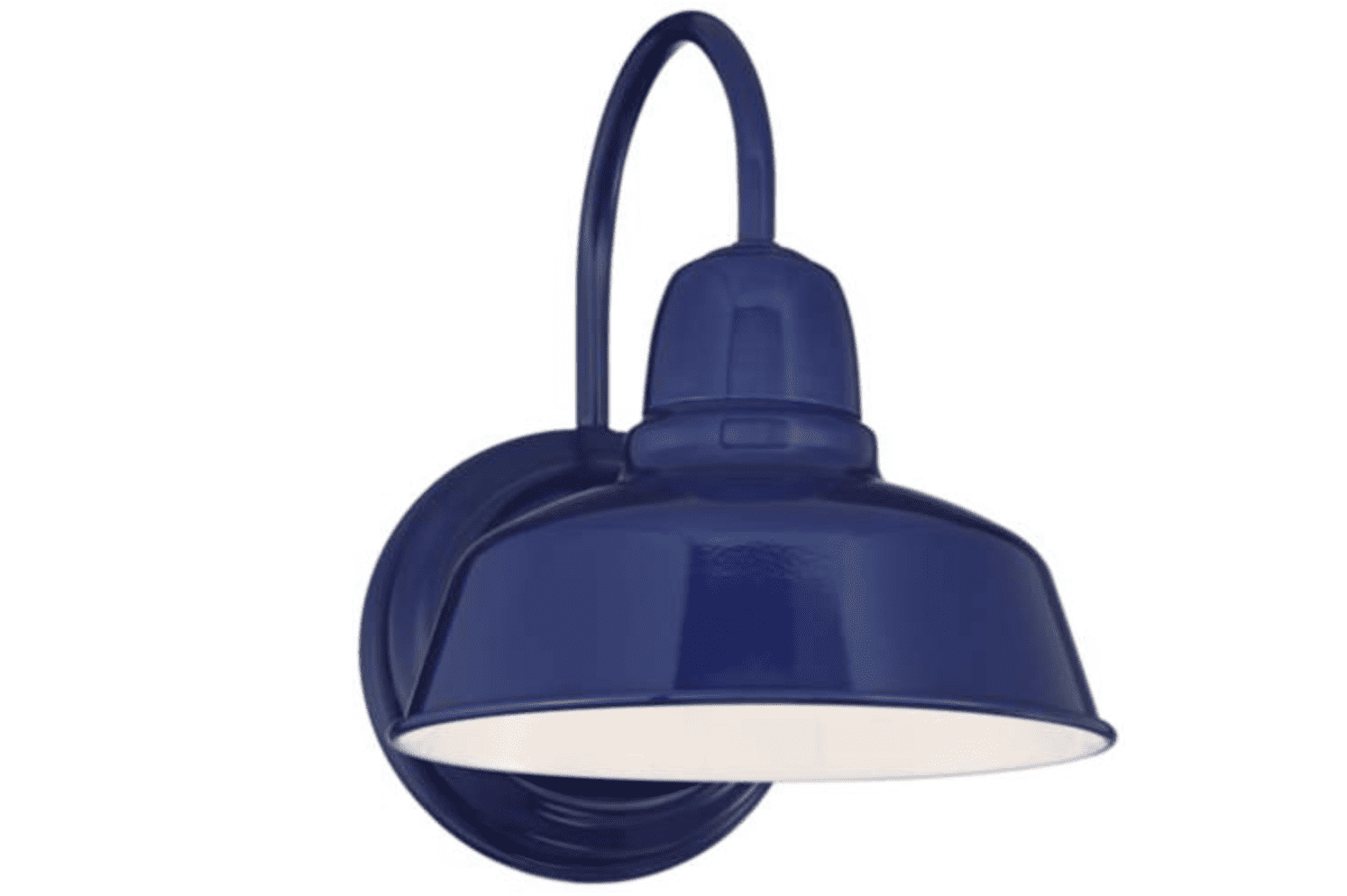 One trend I love right now is the modern farmhouse trend. But I could make an argument for this blue porch light for any contemporary or modern home. While it doesn't have the LED light I'd prefer, it's still a solid option for its practicality and versatility. It can seamlessly be used both outsides for your porch or even indoors.
The sturdy steel frame adds a modern, updated look with the durability I'm looking for. Since it's wet location rated, feel free to leave this anywhere- including in direct rain. The gooseneck is just the right detail to add a refined touch.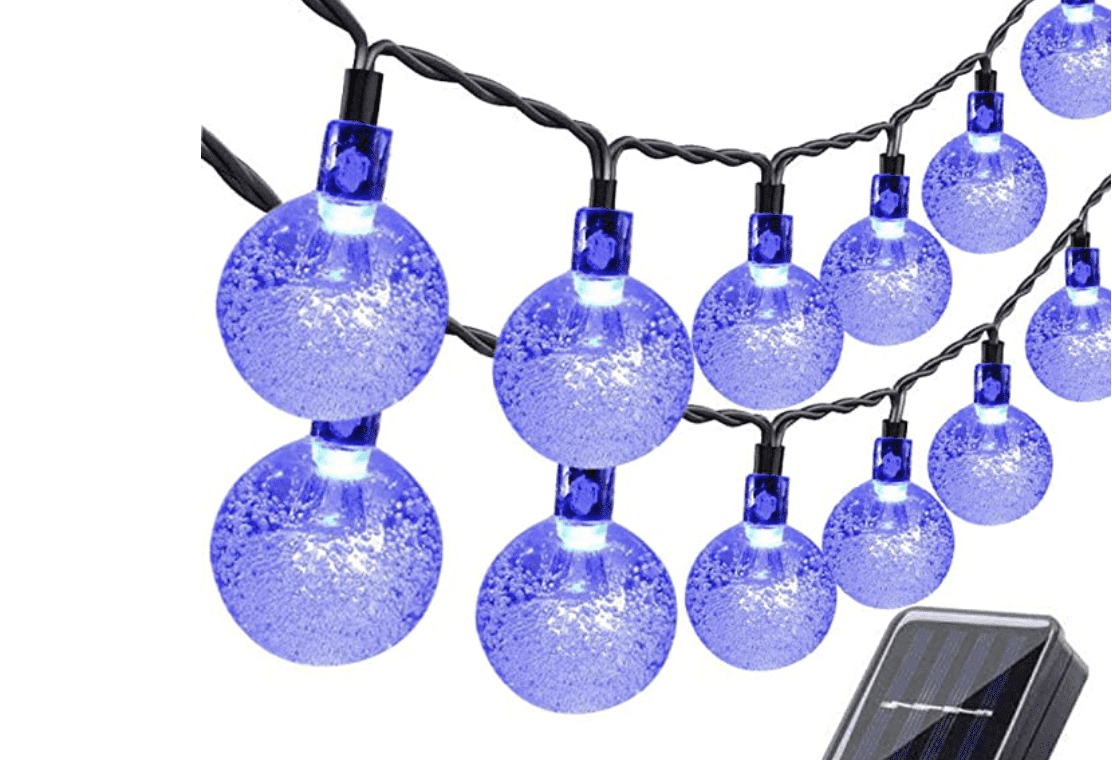 If you're not fully committed to a blue porch light and want to try out the look for festive occasions, why not try out these whimsical blue string lights? I could see these blue lights hung around a porch but also in a tree or to adorn a gazebo. I love that these solar lights are energy-efficient and include five unique modes so that you can use them from day to night.
They're waterproof, highly rated, and offered at a great price. So go ahead and have fun decorating with these lights for parties or holidays- or just because.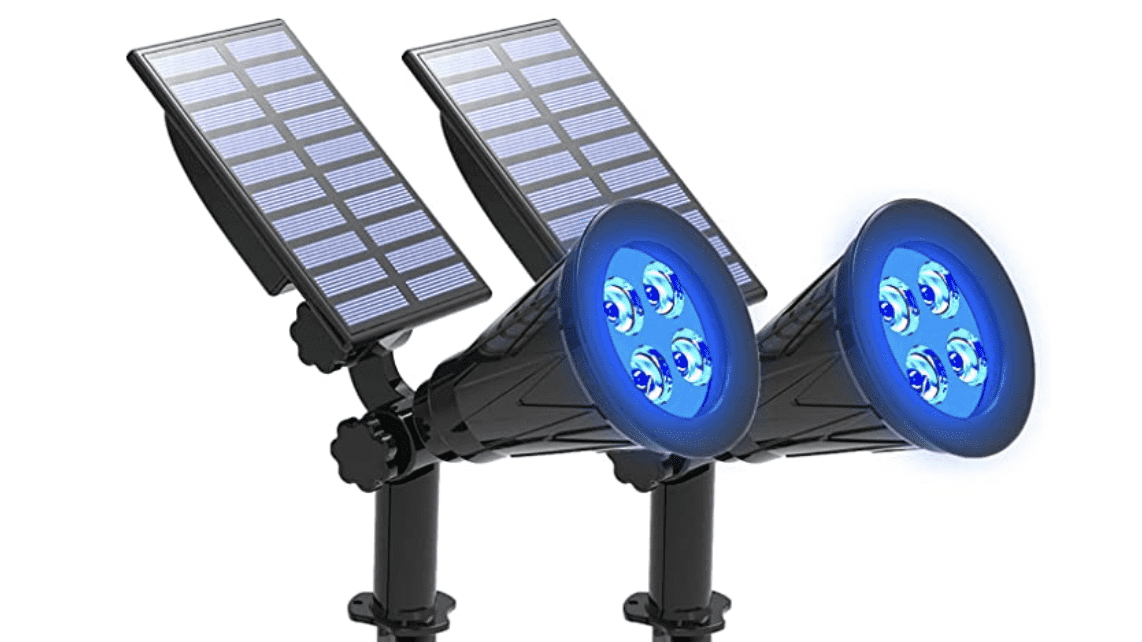 Security and floodlights won't do much to add comfortable ambiance to your home, but they can improve safety, security, and visibility. If those three things are your main goal and you don't want to go for a traditional light floodlight, these lights are one of my favorites.
The solar motion sensor lights feature an automatic on and off security feature, plus an adjustable 180 degrees of coverage. I love that you can place these anywhere on your porch, but also on a fence or post if you prefer. They're an Amazon Choice product, and the price is one of the most competitive I've seen for the features you get.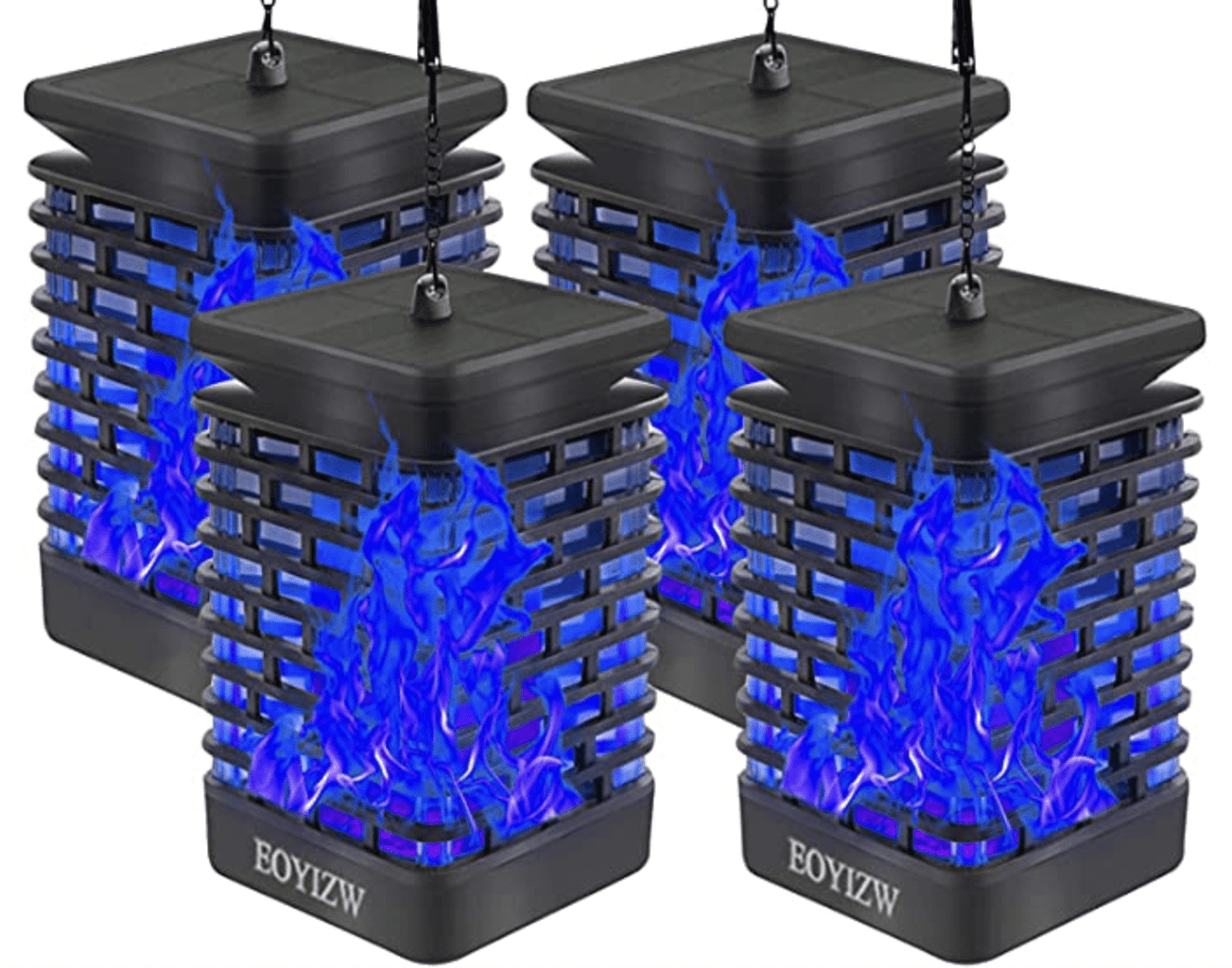 I was surprised to find several options for blue porch lights in a lantern style, but these stood out to me as the most practical and the most durable. These modern blue porch lights are a good option if you want a balance of functionality and unique design. The LED, solar-powered lights feature a unique flame design for a bit of stylish flair.
Of course, design alone isn't the only reason why these blue porch lights are one of my favorite ideas. They're waterproof and have an auto-on and off design. That means less energy consumption, and it's helpful if you can get forgetful as I do.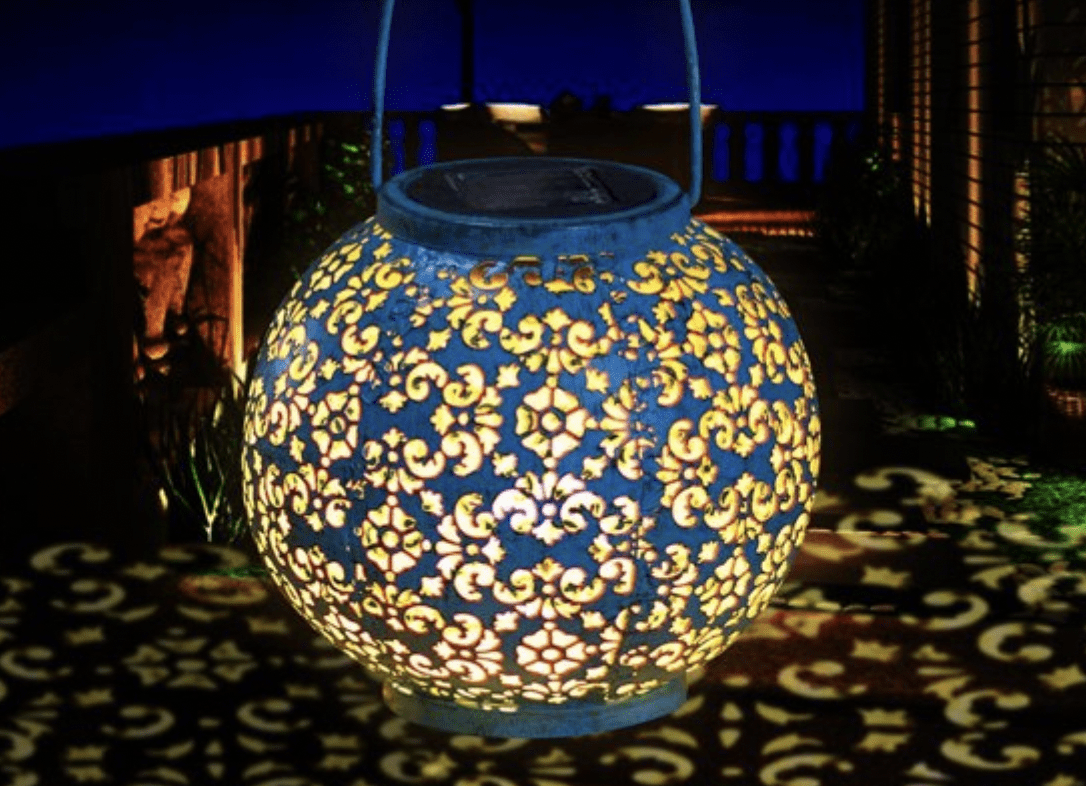 I wanted to throw in a fun idea- because while I admire practical porch lights, I do think it's good to branch out and include options for solely decorative purposes. If you're looking for an accent light for a table, I love this affordable idea. It's a metal solar lamp with a distinct design that is reminiscent of mandalas. The floral pattern is the perfect touch for a bohemian and chic vibe on any patio. I also appreciate the automatic on and off feature and the beautiful, soft glow for a dreamy and relaxing evening.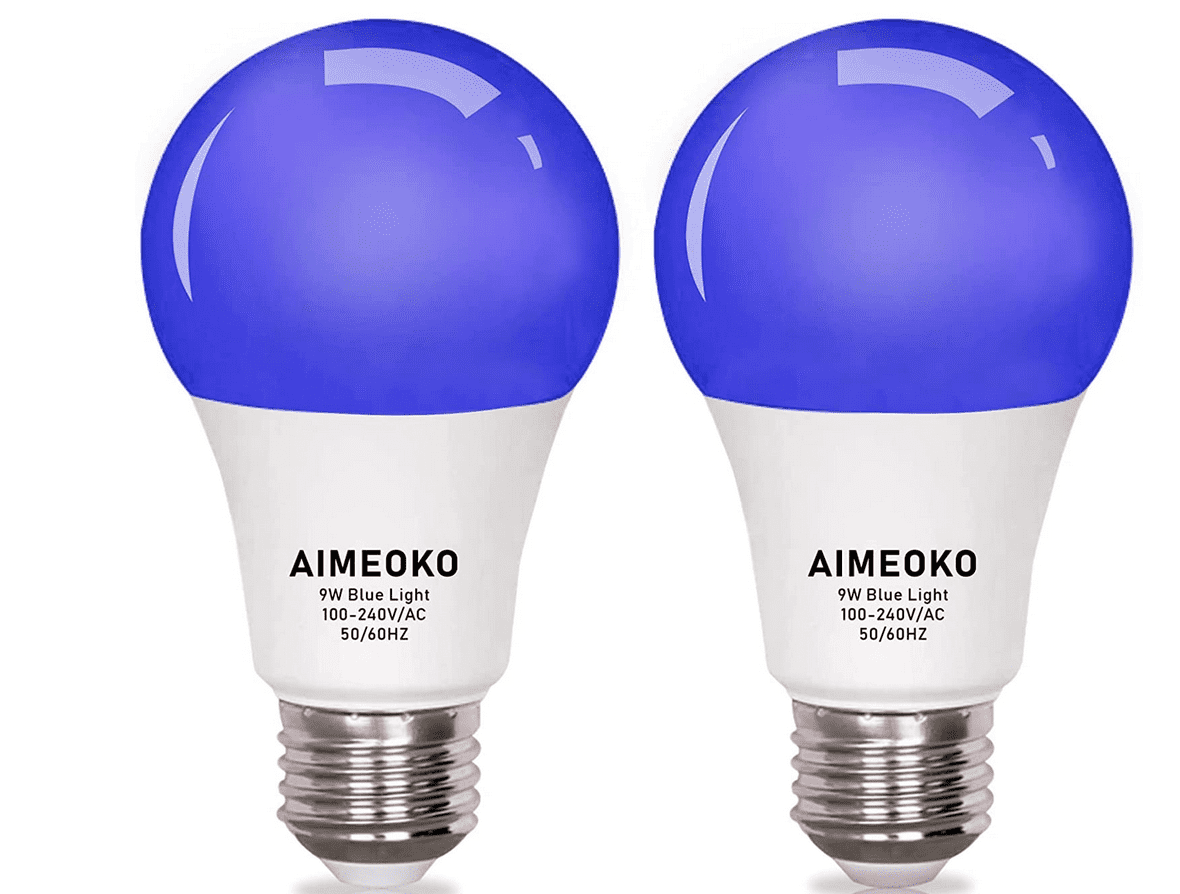 Looking to add a blue aura to your porch? This lightbulb is perfect for a variety of outdoor porch lights. I like this option for several reasons. For one, LED lights are meant to be energy efficient. For another, the price is great. They provide a cozy but statement ambiance, perfect for setting a mood in the evenings and at night.
They are rated for damp locations, so a covered or slightly covered porch should be fine. Just be aware that when you receive the bulbs, they will appear white: they transition to blue once they're on!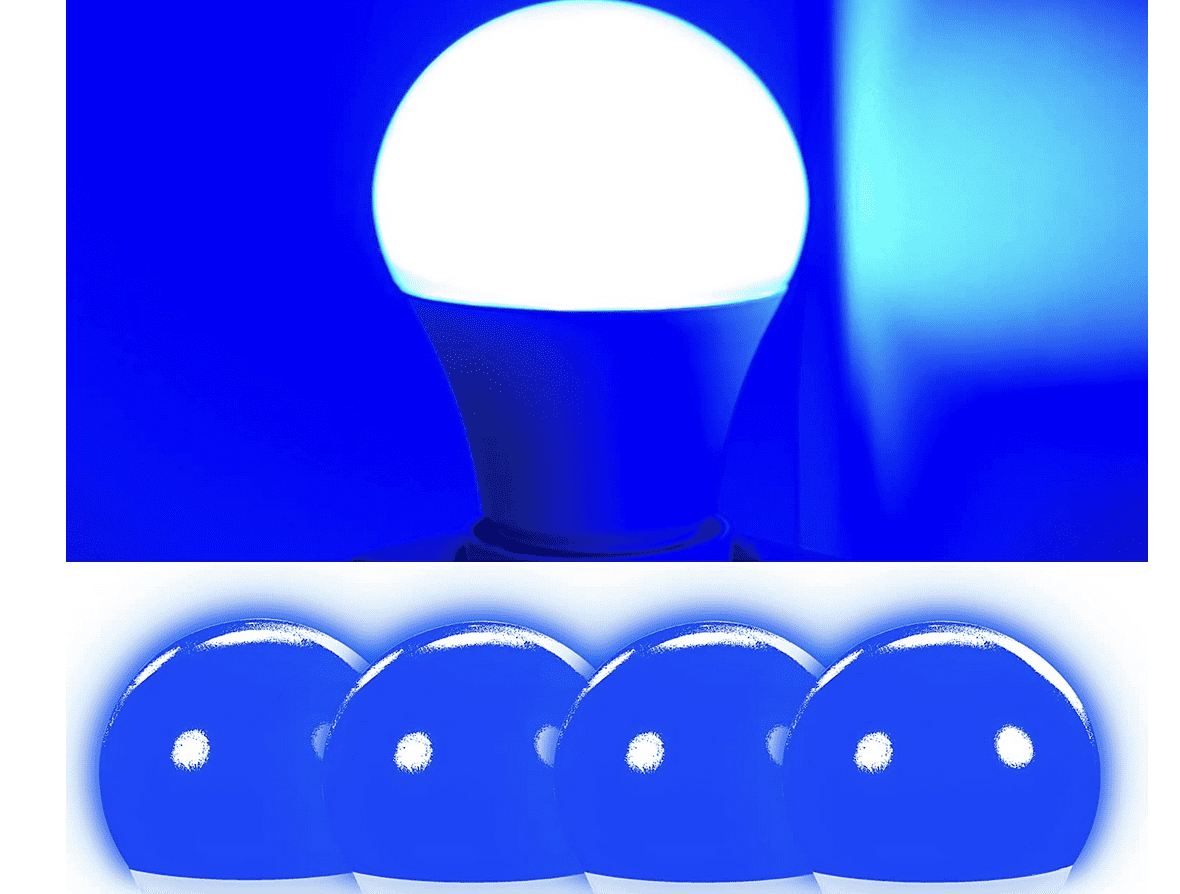 Need a blue light bulb for your porch that will last even under direct rain? Then this is the option you should consider. This unique lightbulb features a deep cobalt blue that's compelling but not too harsh. I love that the LED light is shatter-resistant and consumes up to 88 percent less energy than regular incandescent bulbs. With a 2-year warranty and a flicker-free construction, it's very much worth the competitively low price.
Frequently Asked Questions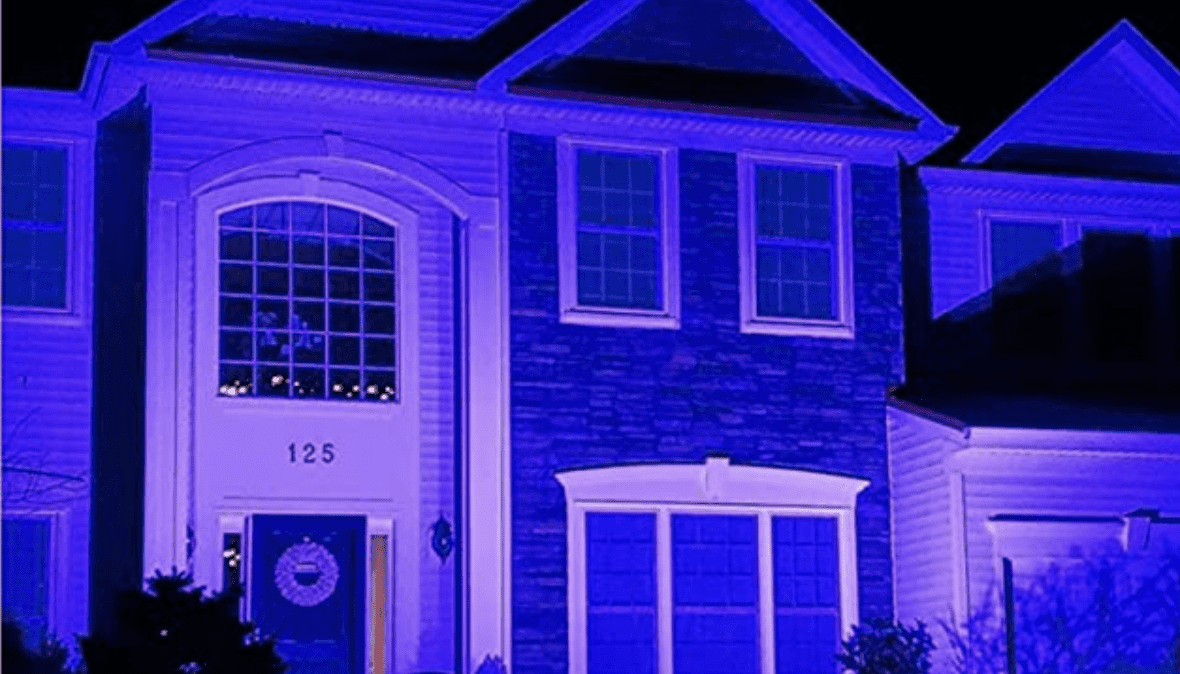 Question: What is the meaning of a blue porch light?
Answer: For some, a blue porch light is an aesthetic choice and a calming alternative to a white porch light. For others, it's a meaningful symbol of awareness. A blue porch light is sometimes used to raise awareness for autism. The Autism Speaks Campaign launched the Light Up Blue initiative in April. It became popular in 2021, and this campaign will likely continue in subsequent years. Still, that doesn't mean that you can only have a blue porch light on for one month per year.  
Question: What is the most relaxing color for LED lights?
Answer: Color, saturation, and intensity all play a factor in how calming an LED light is. This is most important indoors, especially in bedrooms, but also something to keep in mind if you want a certain effect for your porch lights. Blue lights are the most calming, followed by other cool colors, like green. Deeper pigments tend to be more calming than bright colors, even within different shades of blue. Of course, something like floodlights won't have the relaxing impact of a soft porch light. 
Question: Is blue light calming?
Answer: Blue lights bring a calming ambiance to the exterior or interior of a home. When I was working for a sleep doctor, blue light was always emphasized as an important transition from white lights in the evening. Blue lights signal for our bodies to wind down after a hectic day. Blue light therapy, meanwhile, is emerging as a method to reduce anxiety and stress. That said, this is a bit different than merely sitting near your average blue LED lights and trying to relax. 
Question: How can I light my porch without electricity?
 
Answer: Porch lights come with three main options for operation: batteries, an outlet, or solar. Solar porch lights generate energy from sunlight but can work even on cloudy days if they have enough energy stored. They're also more eco-friendly and energy-efficient than porch lights with an outlet.

The other advantage is you have a little more wiggle room for solar light placement since they aren't tied to an outlet. That said, solar porch lights tend to be less effective if you live in a region that tends to not get much sunlight. 
Final Thoughts
Whether you're searching for a blue porch light for a calming effect, a symbolic statement, or just as a white porch light alternative, the unique hue can truly make a statement. It's important to remember that there's a range of blue light hues and saturations. In my experience, sometimes taking the step to do something a bit different can pay off. It may not seem like it, but just by swapping out your porch lights, you can pull off a unique style for the home. I hope some of my ideas sparked your interest.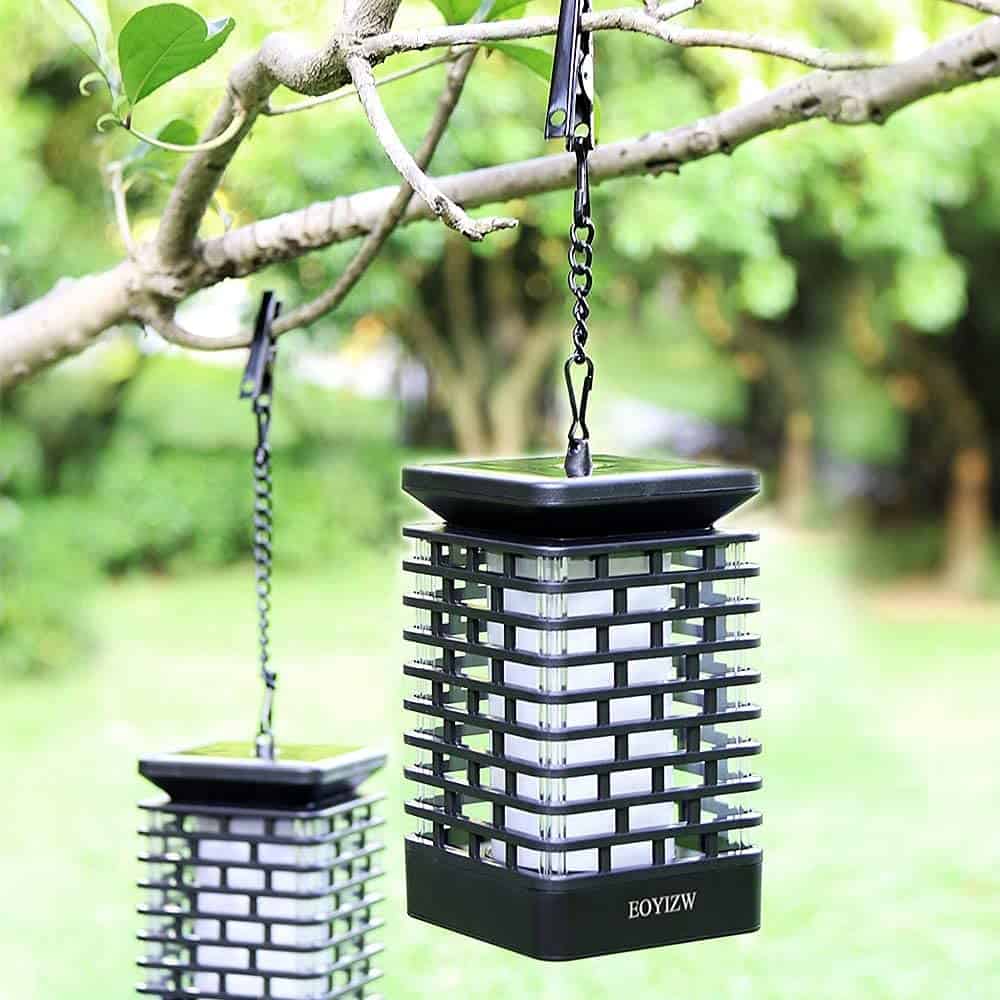 Final Recommendations
Blue porch lights may not be for everyone, but that's honestly part of their appeal. I love how there are so many different styles today, from modern to Art Deco to classic. Just make sure that whichever blue porch light you pick, you take care of it, cleaning it occasionally, so it stays at peak condition no matter the time of year.
And if you're still trying to decide between my ideas, I highly recommend selecting a blue porch light like the Yuanwu Solar Vintage Porch Light. This statement porch light adds cobalt blue and metallic hues to your home (you could even swap in a blue solar bulb for a dramatic effect) and is especially energy-efficient. With an all-weather construction, it also should last, regardless of the climate you live in. 
Recommended Reads: