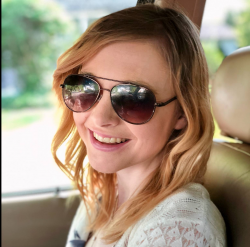 Latest posts by Erin Jamieson
(see all)
I've always loved history- in part because I grew up listening to my father's stories of different historical figures. And I've also always been fascinated by vintage art and architecture. That love only increased when I took a class in Art History as an undergraduate. Perhaps that's why I'm so excited to share my favorite ideas for the best vintage glider ideas for your porch. 
These vintage porch gliders are perfect for a wide range of homes. From Art Deco to Streamline Modern, Mid Century Modern and so much more, these gliders will add comfort and style to your porch. You'd be surprised how many styles there are. Austere or playful, it's time to rethink your next porch upgrade. 
Read on for my top ideas and how I selected them. 
Bottom Line Up Front Summary
Vintage porch gliders are a way to add a wow factor to your home. My ideas reflect a range of vintage designs, from the sleek sophistication of Art Deco to the adventurous colors of Mid-Century modern gliders. In all of my ideas, quality, durability, and style were important. 
If I had to recommend just one vintage-styled glider today, it would be the Bates Outdoor Sofa Glider. What I love about this vintage glider is that it balances a distinct, bold style with a durable frame. The geometric cut-outs, unique colors, and slanted back pair with a weather-resistant frame for a practical but truly unique addition to your porch.
My Top Picks
My Selection Criteria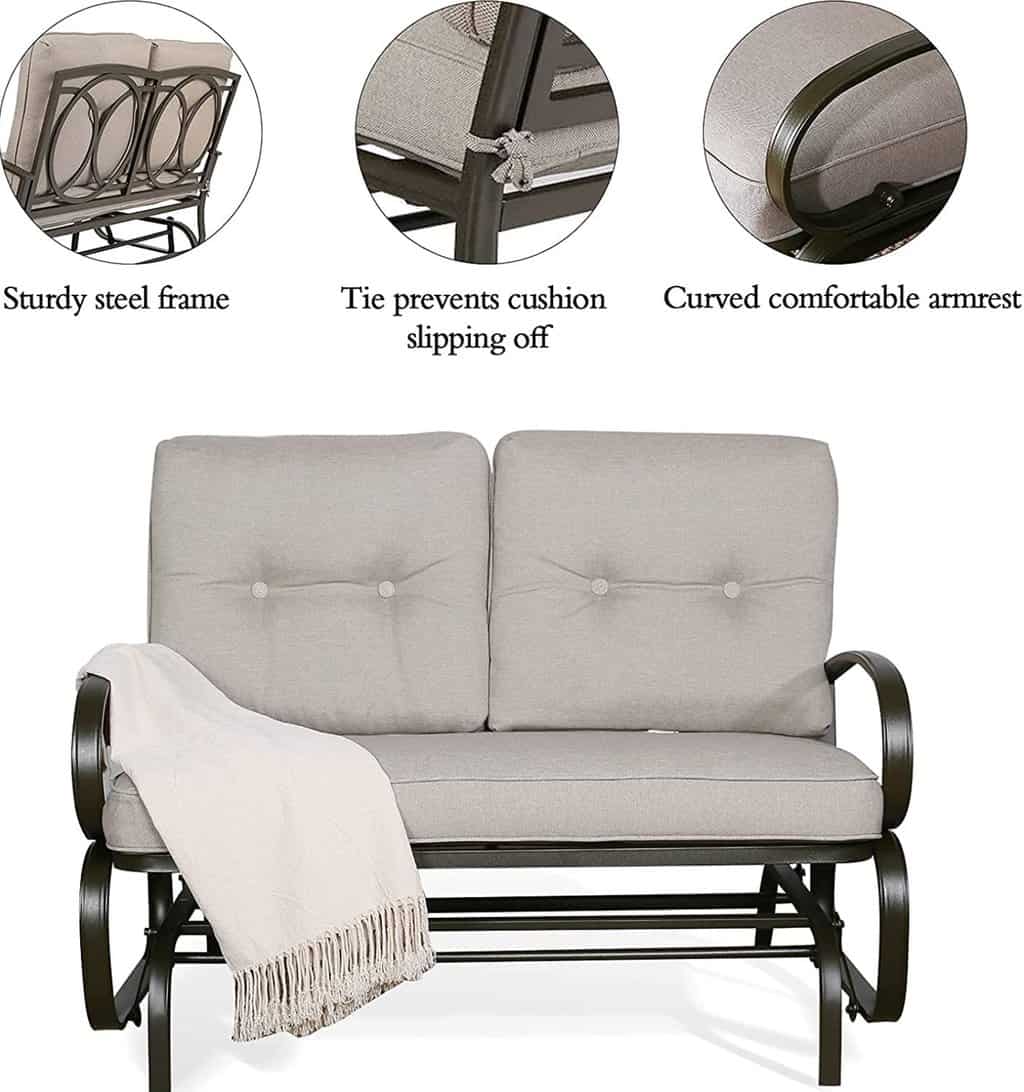 Before I share my favorite ideas, here's a check-in with how I made my selections. My picks are largely vintage-inspired. That means that these gliders are new but heavily inspired and built based upon vintage styles. For true vintage gliders, my tip is to support your local vintage/ thrift/ antiques shop or check-in with Etsy. I wanted to make sure that my ideas are in stock and great condition. 
Designs and Styles 
The first thing I wanted to do was define the styles of vintage porch gliders. Vintage, unlike antique, has a narrower range of eras- the most popular of which are the 1920s through the 1970s. While vintage-inspired and vintage gliders don't follow these popular styles perfectly, I wanted to make sure my selections hit some of the unique and eye-catching styles these different eras were known for. Here's a look at some style inspirations that I considered for my favorite ideas: 
Era/Period
Popular/ Signature Styles

The 1920s

Art Deco

: clean lines, plays with geometry 

The 1930s

Art Deco

, especially with mahogany and deeper woods;

Streamline Moderne:

tubular, molded wood, clean lines

The 1950s

Futuristic shapes, bold colors,

Mid Century Modern:

clean lines, nature motifs, dusky tones, geometric shapes

The 1960s

Mid-Century Modern;

Retro-Modern

: bold colors, inspired by pop art, pairs elements of Mid-Century and Art Deco 

The 1970s

Rattan furniture, textured fabrics, geometric patterns, sunken structures
I discovered that many vintage-inspired gliders mix and match these styles, and that's okay, too. Many of these styles overlap and take inspiration from each other- that's something I've always found fascinating when I studied art history. 
See also: Best Cedar Porch Swing Ideas
Best Materials
For vintage gliders, I wanted to strike a balance between authenticity and durability. Hardwood gliders are in, and so is metal.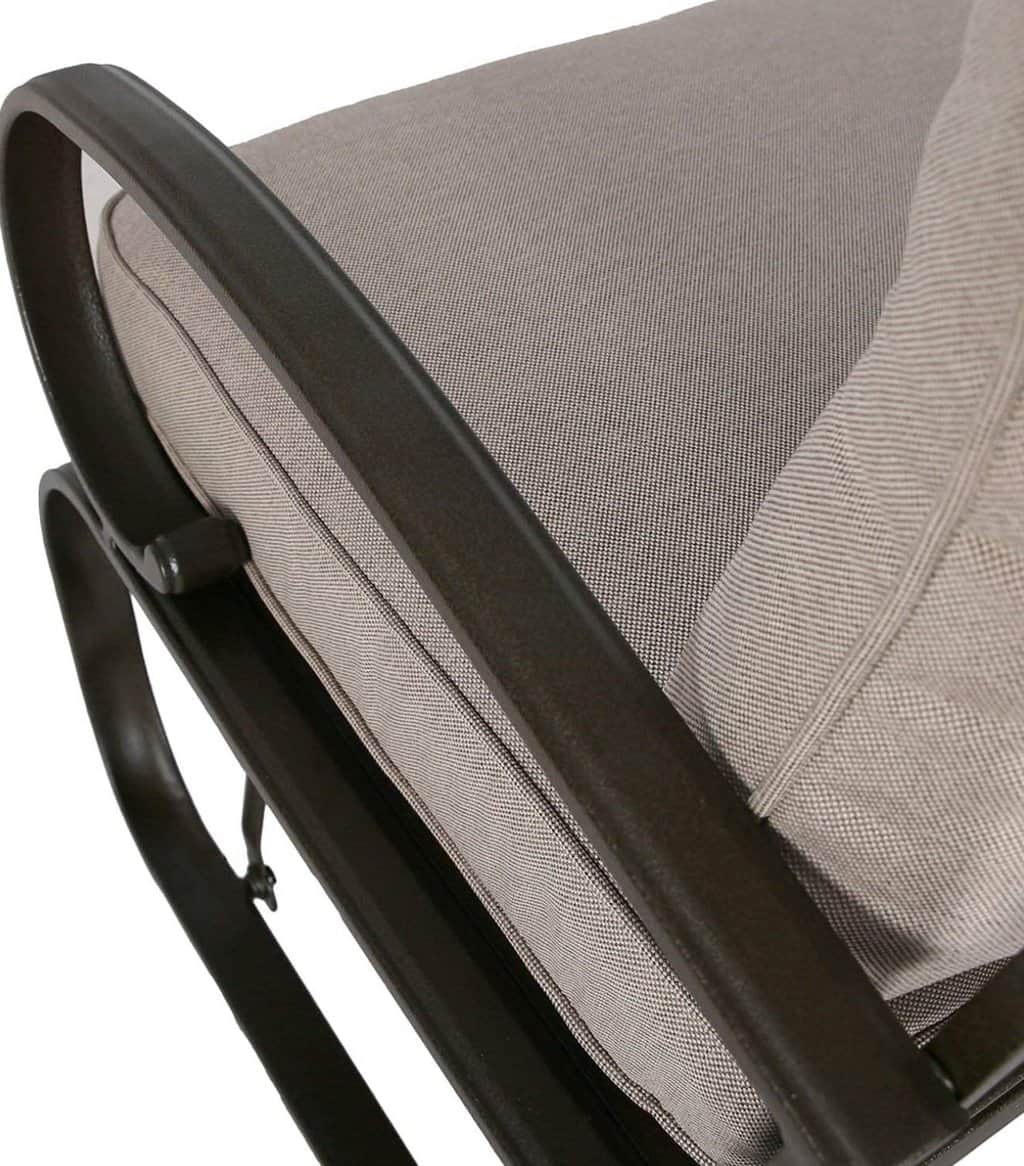 Hardwoods
Hardwoods are not only more durable but also feel more authentic for a vintage glider. Some of my favorites include oak, mahogany, maple, hickory, teak, and walnut. I also love it when I find a wood that's been sealed and treated- but regardless, you'll need to do this a few times of year yourself. 
Metals
Iron is common for older vintage styles, but I also don't love that iron rusts. For this reason, I would only select something that has an anti-rust protective coating. I'm skipping aluminum gliders because they tend to be less sturdy and easier to damage. While steel and stainless steel is at times a more modern take on vintage, it's an excellent choice for still embodying the same look with improved durability and weather resistance. I also was sure to include powder-coated steel gliders. 
Quality
I also wanted to make sure my ideas went beyond style. At the end of the day, we all want a glider that is sturdy, relatively comfortable, and will last. That's a tall task, but I considered the quality of the glider's frame as well as the hardware used. Weight capacity also gave me an idea as to if the glider leaned lighter or more heavy-duty.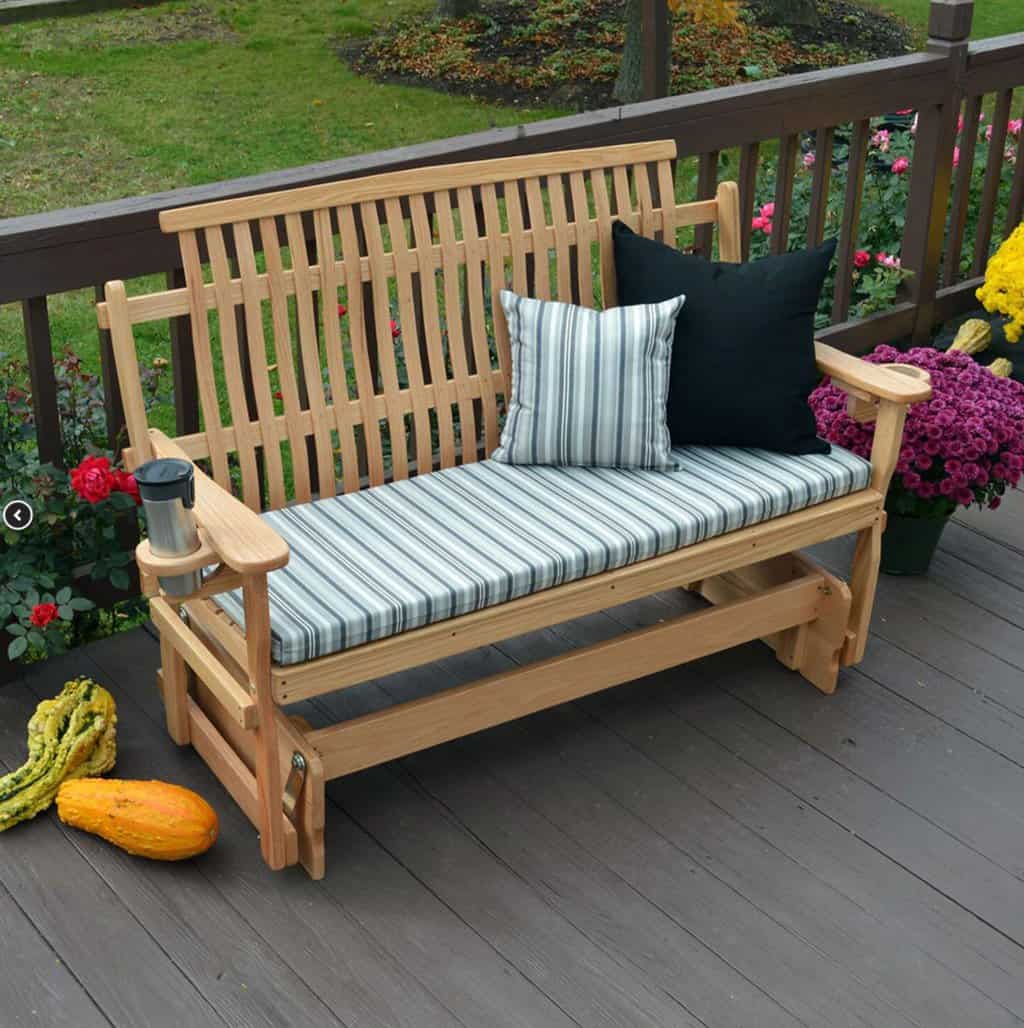 Features for Comfort
One of my favorite features of any porch glider is its comfortable, ergonomic design. That means a more generous seat depth, a slightly arched backrest, and more generous armrests. I also took note of gliders equipped with springs and hardware for a smoother and quieter rocking experience. Cushions, of course- especially weather-resistant ones- were a nice bonus. 
Where I Shopped
Finally, I know that buying a porch glider online is a risk. You can't see it in person- and it's all that much more important to make sure you can shop with confidence. That's why these fabulous vintage porch gliders only come from companies I trust, too! I checked internal and external reviews to select reputable companies. Secure payment methods, return policies, and detailed product descriptions are a must for me. 
Vintage-Inspired Porch Gliders: My Ideas
Here are my favorites for vintage-inspired porch gliders. I know everyone has different needs, so I've made sure to include gliders in different styles, shapes, and sizes. The dimensions range from longer benches to cozy loveseats. With each of these ideas, from fun and bold to versatile and subtle, my goal was to show the wide range of designs you can choose from. Hopefully one of these vintage gliders gets you inspired and encourages you to decorate your home! 
Bates Outdoor Sofa Glider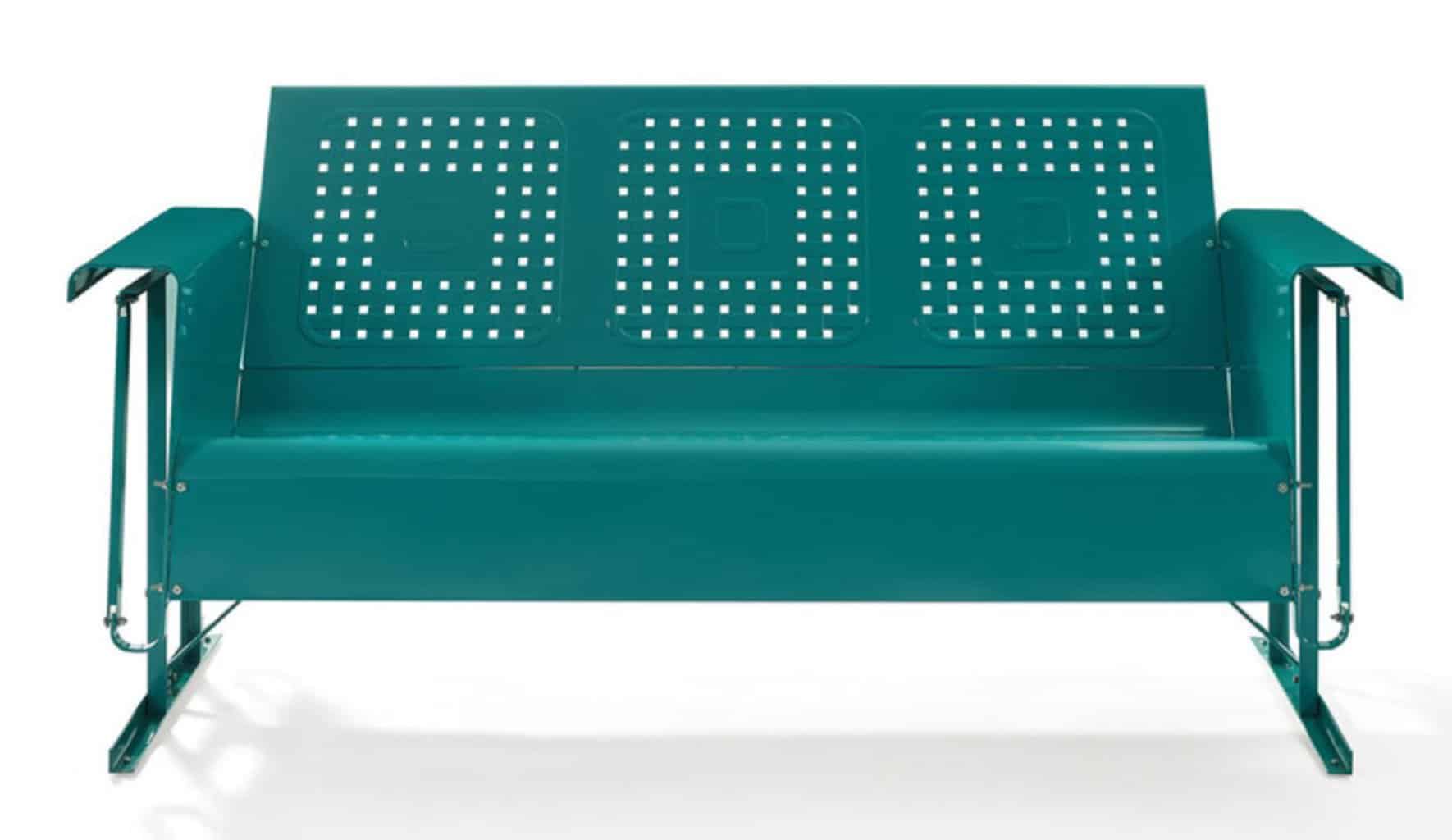 This vintage glider is pure fun, and it's hard not to notice. The unique cut-out design on the back showcases a play with geometry that fans of both Art Deco and Mid Century modern will love. The playful aqua and cherry red hues add a dramatic pop of color. But if you want to go more classic and versatile, white is also an option. Landscaping can bring the look together. I'd especially love to see some hanging or potted flowers that echo the color of the glider. Beyond the show-stopping style, the glider is a sturdy powder-coated steel frame with UV-resistant color. I also love the angled back- not just for style, but also for comfort. Buy Here. 
Mainstays' Retro Outdoor Steel Glider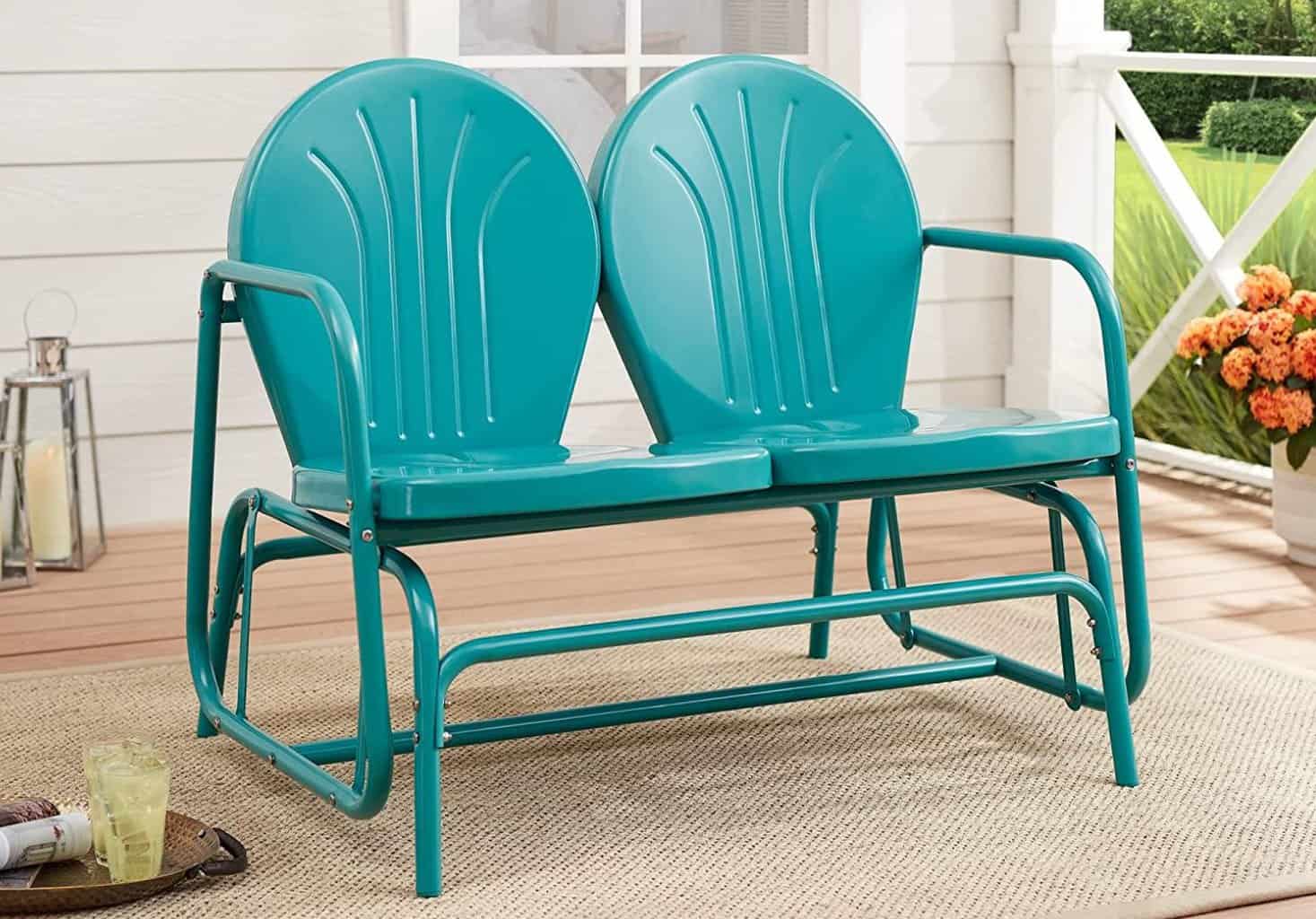 Something I love about retro patio furniture is how much it plays with different shapes and colors. I could see this retro glider as an instant hint for anyone who lives by the ocean or on the coast. Between the aqueous hue and clam-shell-inspired back, this vintage glider adds charm and charisma to a patio. I can't help but also love the price (under $200) which is far more budget-friendly than the average vintage or vintage-inspired glider. Though this glider appears dainty, I was happy to learn that it's made with a powder-coated steel alloy. It's pretty sturdy, accommodating 600 lbs, and it's even easy to assemble. If you love this whimsical style, I think this is one of the best values overall. Buy Here. 
A&L Furniture Co. Bent Oak Porch Glider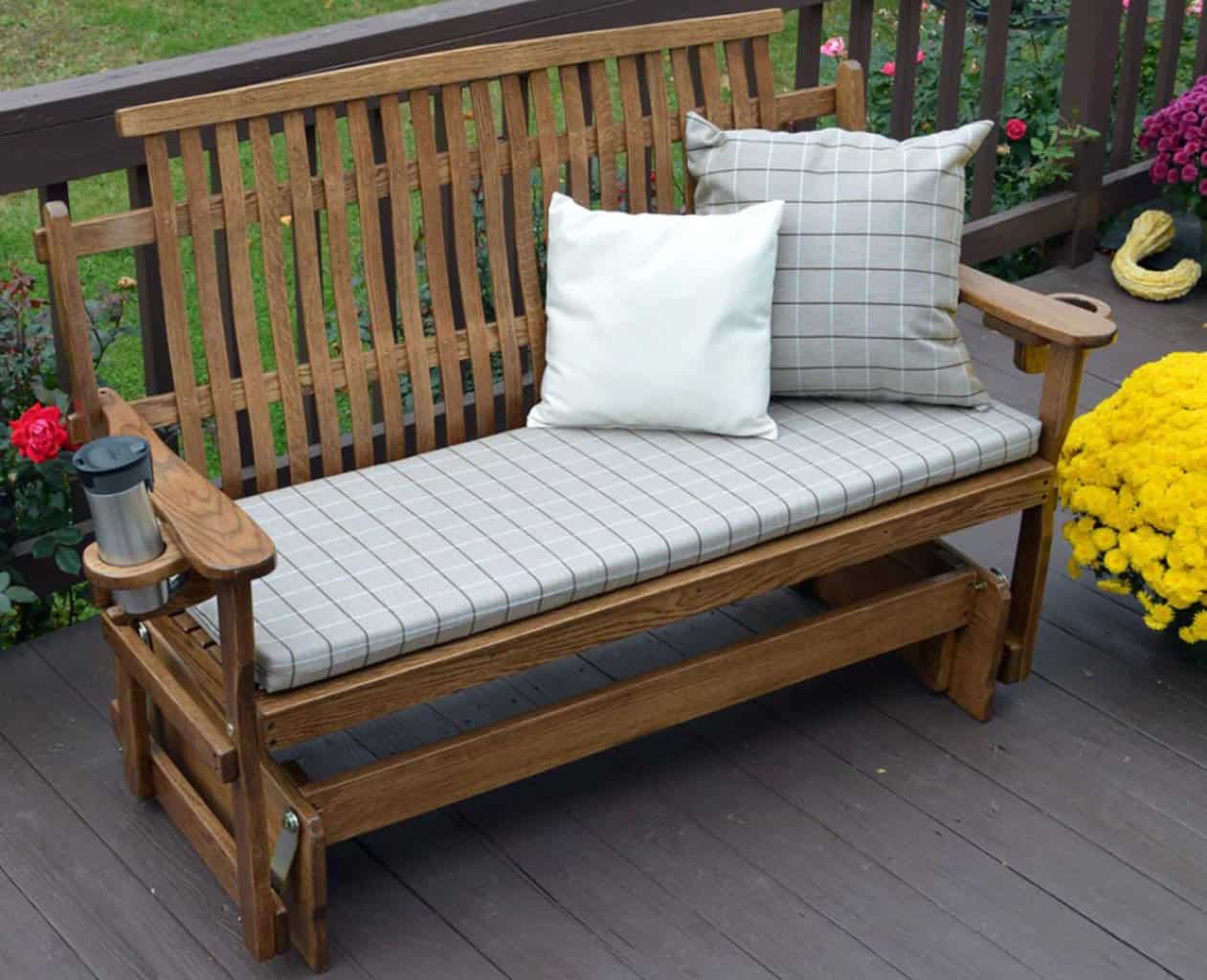 Maybe it's just me, but I find it hard to find something much more classic than a hardwood glider. The problem is that so many wooden gliders are made today with softwoods that won't last. Not so with the vintage glider. The bent oak porch glider is about as subdued and versatile as you get. The clean lines and textured back blend styles from the 1960s and 1970s but also borrow from even older periods. The armrests include cup holders. I like that you can add a seat cushion for a little extra (or go without). You get a custom, sturdy glider that truly feels vintage and timeless. I also love that it's made in the USA by Amish communities and, despite being made to order, ships within 2 business days or sooner. Buy Here.
Outdoor Isabela Gliding Metal Bench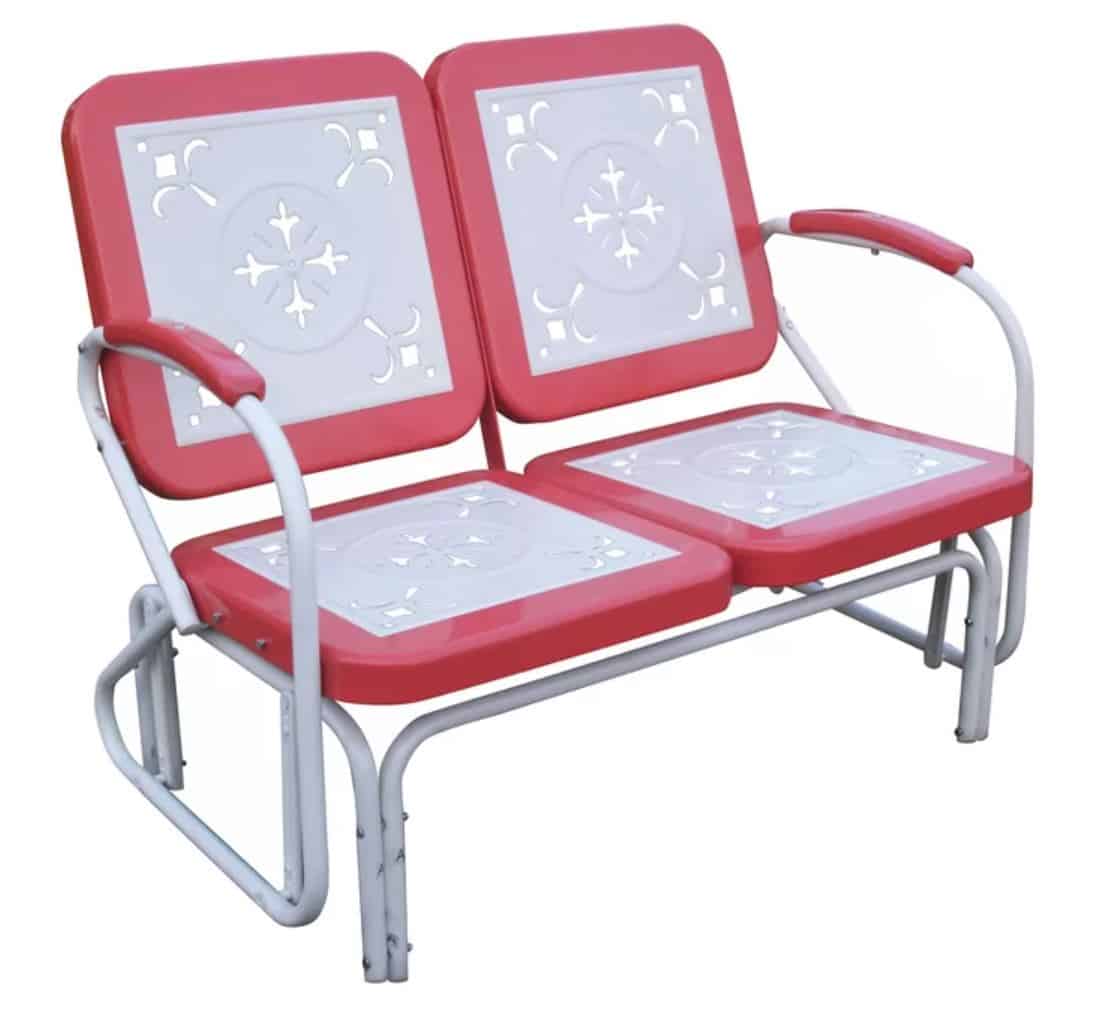 I know this vintage porch glider won't be for everyone- but if you want to make a bold statement with an artistic pattern? This idea may get you excited about all the vintage designs you can explore. The creative glider features garden-inspired designs and floral details, but with plays of colors that grab your attention. The steel frame features a non-toxic powder-coated finish. That means you don't have to worry about leaving it out in the rain! I'd love to see this vintage porch glider overlooking or even in a garden for the full effect. Since it's sold through Wayfair, you can buy a five-year protection plan at a great price. Buy Here. 
Christopher Knight Home Dexter Glider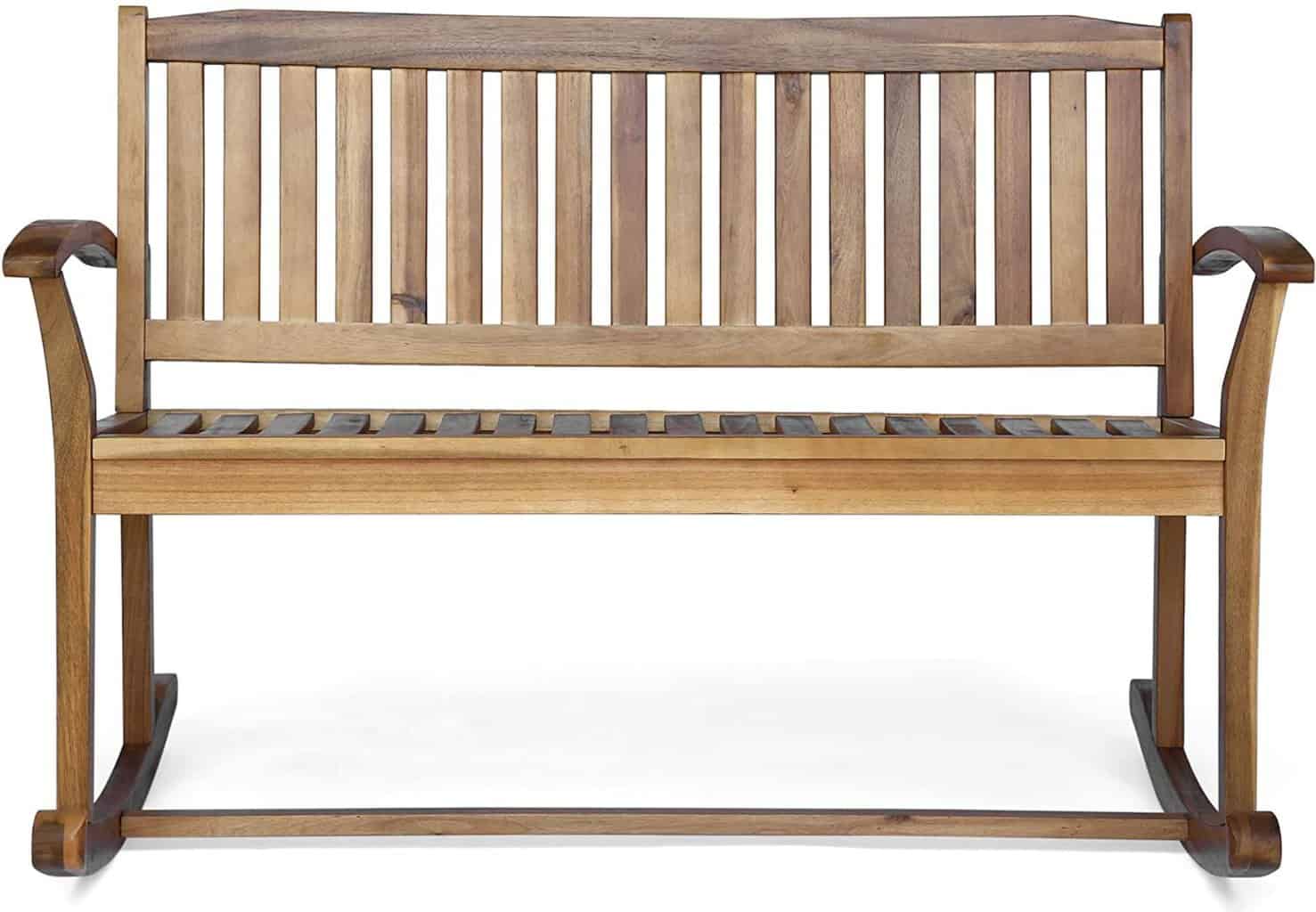 If you don't love the darker tone of my oak glider pick, you may just love the classic allure of this lighter acacia wood glider. Like most wooden gliders, it'll take more upkeep, but if you're willing to put in the work, it can last for years. I love the natural stain but also the variations, with an elegant yet slightly rustic appeal. Clean lines are paired with slightly curved armrests for comfort as you rock. I like the generous seat depth for a relaxed orientation. With handcrafted details, you get a timeless vintage touch everywhere you look, without feeling tied to representing one era. This is a great idea for anyone who wants a versatile and sturdy glider but is willing to treat it occasionally. Buy Here. 
Latitude Run Porch Glider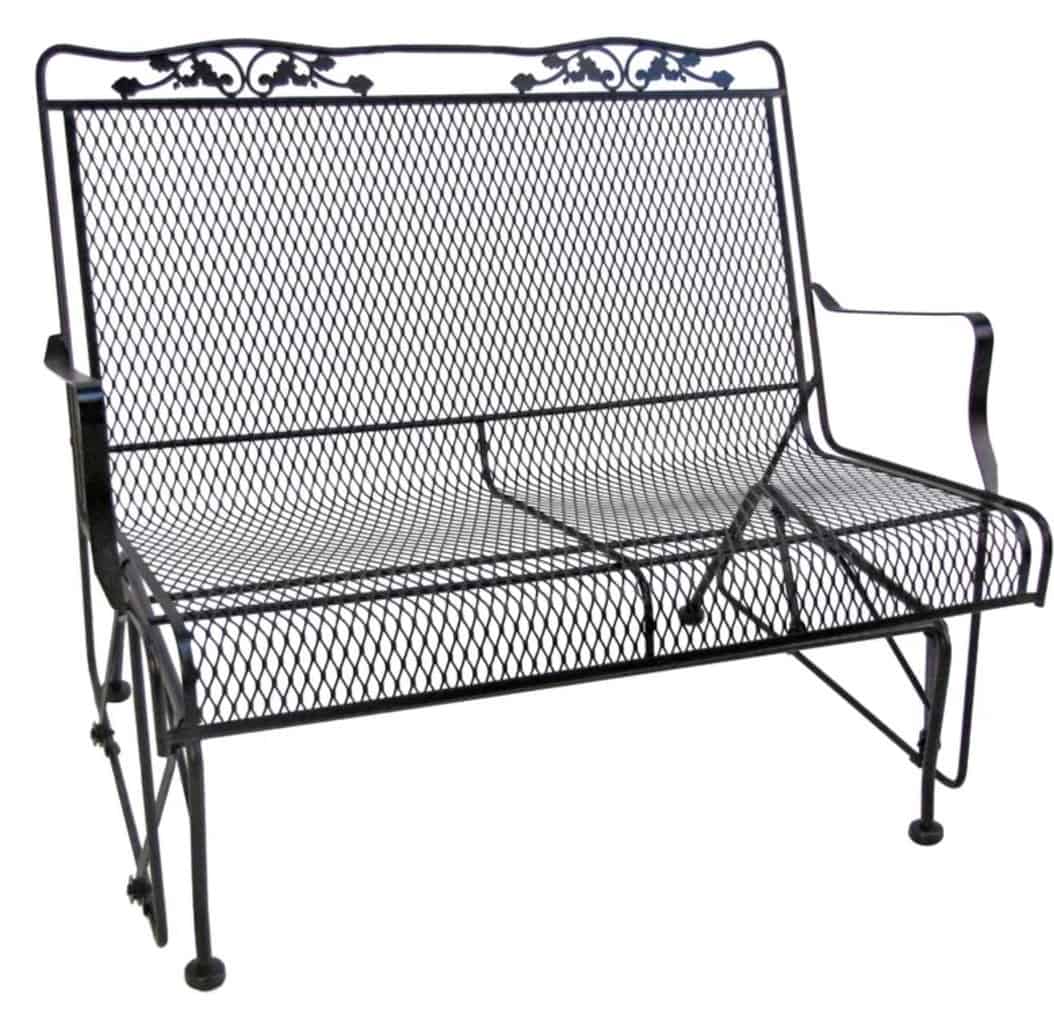 Do you love floral and garden motifs- but want something more subtle and versatile? This vintage glider was always going to make my list- it reminds me of some patio furniture my own Nana has. But there are plenty of reasons why I think this vintage porch glider could be a fantastic idea for you as well. The glider is constructed with a black, powder-coated steel frame, which is an excellent choice for all types of climates. Translation: the frame is resistant to all types of weather, rust, and even UV rays. The subtle floral details that accent the top transform this glider from ordinary to make a vintage statement. I also love the slightly sloped back. Buy Here. 
Outsunny Blue Cushion Glider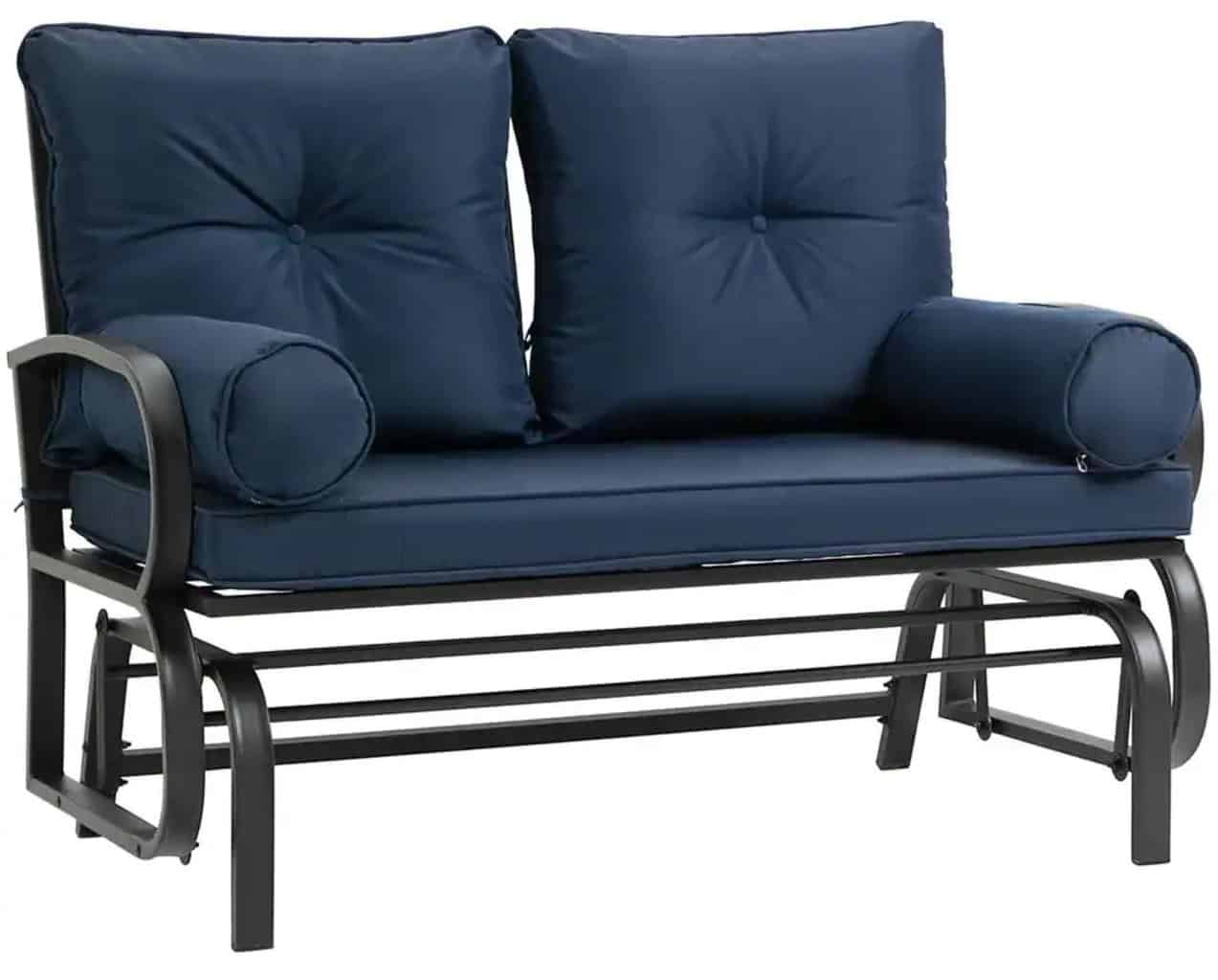 Maybe you've been considering a vintage glider for a while, but you also don't want to give up comfort. If that's you, I recommend considering this idea. This vintage porch glider has hints of popular styles from the 1970s but with modern comfort. The sturdy steel frame is accented with comfy weather-resistant polyester box cushions. I think the love seat style adds a lot of personality to an otherwise more muted glider. But I especially love that the glider has been carefully constructed to provide the smoothest movement possible. While this glider works well for a porch, I could also make an argument for a balcony or overlooking a garden. Buy Here. 
Patio Tree Glider Bench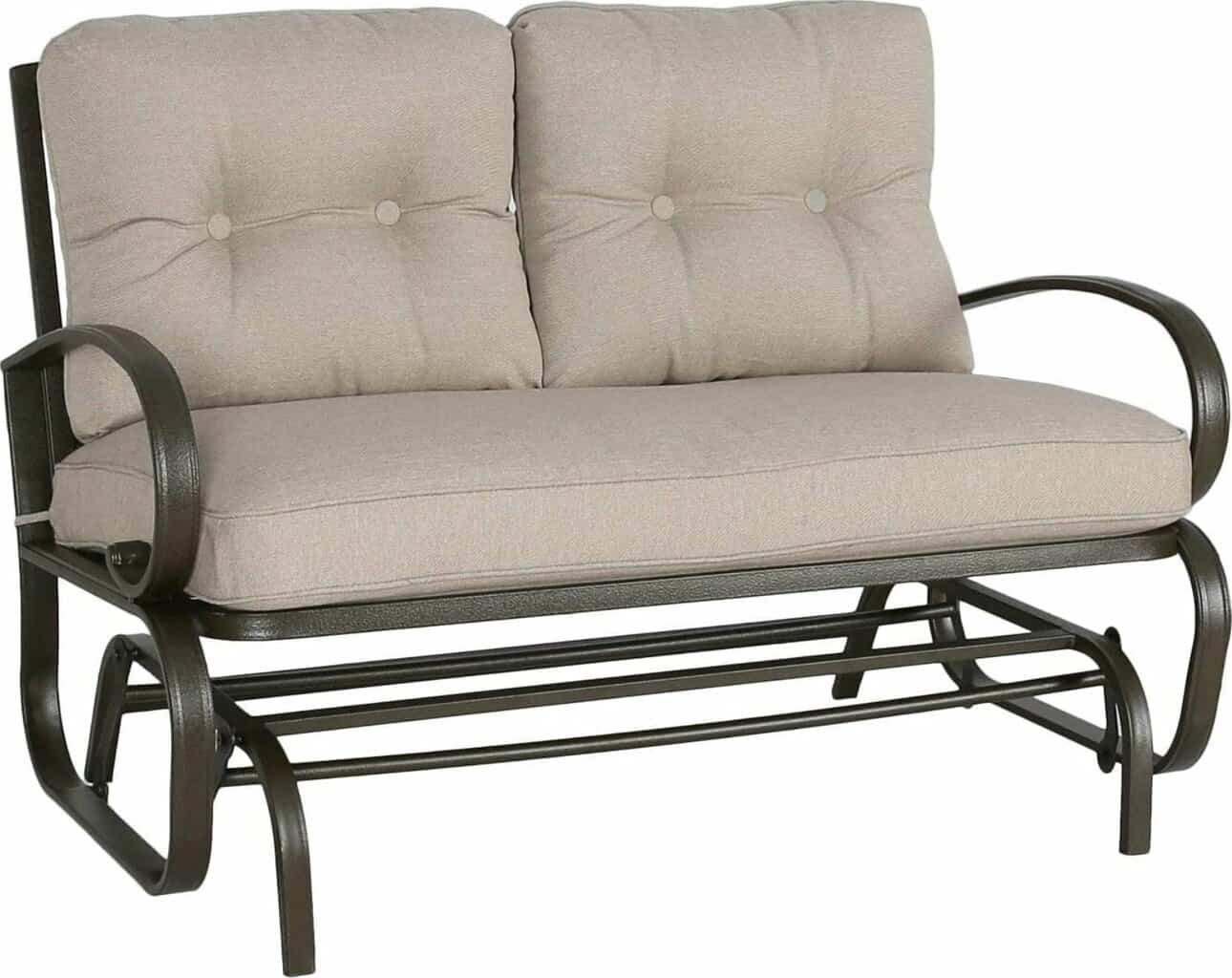 My final idea for vintage porch gliders is a great fit if you're torn between vintage and more modern styles. I feel this hints at the Retro-Modern style, with your choice of subdued colors (beige and navy) or statement red. At once cozy and sturdy, it's also easy to style with almost any decor. I like the powder-coated sturdy steel frame, all with characteristic curved arms for both comfort and style. Plus, the olefin cushions are a nice upgrade from typical polyester cushions, but still provide the same weather-resistant. That's a win in my opinion. Buy Here. 
Frequently Asked Questions
Question: How do you restore a vintage porch glider? 
Answer: If you have a truly vintage glider and want to restore it, you must do so carefully. The first step in restoring a metal porch glider is to remove any rust. A spray with phosphoric acid should do the trick. A bristle brush can be used as well. For iron porch gliders, finish by applying a weather-resistant coating. For a wooden porch glider, it depends on the state of the wood. Some wood gliders could be too warped or rotten to fix. Other times you can strip the top layer of wood and reseal and refinish it. For more help, either seek a professional in antique restoration or Watch this Tutorial for Restoring Metal Porch Gliders. 
Question: How do porch gliders work?
Answer: It's easiest to think of a glider as a middle ground between a swing and a rocker. In many ways, it's more like a modified rocking chair. Porch gliders rock side to side, while porch swings rock back and forth. A glider includes a seat on a base and includes bar links to work. While it still serves as a piece of decor and as a place to sit, gliders have quite a different feel- and slightly different purposes. They take up less space than porch swings, are usually a little safer, and can even be used (carefully) for soothing young children. 
Question: How much space do you need for a glider?
Answer: While gliders don't require as much space as a porch swing, they still need adequate room to rock back and forth. I recommend giving yourself more space than you think you'll need. However, you'll need two feet of clearance both in front of and behind the glider, at a bare minimum. Keep in mind that this doesn't account for other patio furniture, traffic on your porch, or where you're positioning your glider. A glider is, however, a good alternative to a porch swing overall if you want some of the same use without sacrificing quite as much space.
Question: Are porch gliders comfortable? 
Answer: Like porch swings, it's hard to classify all porch gliders as comfortable or uncomfortable. It depends on the quality and materials of your glider. For most people, gliders are fairly comfortable but can become uncomfortable if used for too long of a duration. Metal porch gliders, just like metal porch swings, can get too cold or too hot. The best way to ensure that your porch glider remains comfortable is by buying cushions for the seat, as well as a bolster cushion for back support. A slightly arched back for the porch glider provides more stability and support for your back.
Final Thoughts
Whether it's a true vintage or vintage-inspired, a glider is an excellent choice for your porch. It requires less space than the average porch swing and is a bit safer and more secure during storms. But practical uses aside, a vintage porch glider adds so much personality to a home. Even if you don't have a truly vintage-inspired home, don't be afraid to play a bit with styles. I've even seen modern and vintage styles mixed. Have fun with it, and treat your new (or old) glider with care to enjoy for many more years to come.
Final Recommendations
Vintage porch gliders are a way to show your unique personality and style. But that's only as good as you're willing to take care of them. The solution is simple: keep your glider covered if it's not fully weather-resistant. Metal porch gliders can be treated with anti-corrosion sprays and coatings. Meanwhile, wooden porch gliders can be sealed and oiled (I recommend this once to twice a year, or more if you live in an incredibly humid or dry climate).
And if you still aren't sure which vintage-inspired glider is right for you, then I recommend Bates Outdoor Sofa Glider. This glider immediately catches your eyes, with geometric cut-outs and distinct color options. Not only that but it's built to last and can be left outside in all types of weather. Check out our guide on Best Porch Design Ideas here for more inspo!
Recommended Reads: