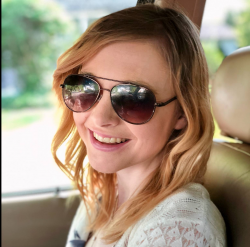 Latest posts by Erin Jamieson
(see all)
One of my earliest experiences with a fire pit was when I was eight years old. It was a Halloween-themed birthday party, set at a beautiful Southern Ohio farm. But what I remember most isn't the birthday cake or even the haunted hayride. It was sitting around a fire pit on rustic wood stools. Looking back, as enjoyable as the party was, the fire pit seating wasn't ideal.
Finding the best fire pit seating is something I see so many people neglect. While finding a great fire pit is a challenge in itself, I think comfortable and sturdy seating ties the experience together. But what I've discovered is that it looks different for everyone. 
To help you enjoy your fire pit as much as I've enjoyed fire pits, I'm rounding up a shortlist of some of my favorite fire pit seating ideas for your home. Read on to see my picks and why I selected each seating option. 
Bottom Line Up Front Summary
Firepit seating doesn't have to be perfect- it just needs to suit your fire pit area and be built to last. As popular as wicker seating is, my top picks are wooden and Plywood fire pit chairs and benches. As long as you keep your seating at least 18 inches away from the fire pit, you should be able to enjoy it safely! 
If I were to recommend just one option for fire pit seating, it would be the Polywood Nautical Adirondack Chair. Adirondack chairs are classic options for seating around a fire pit, and for good reason. An Adirondack chair features a sturdy build and a slightly tilted back for an ergonomic fit. But this chair in particular is crafted with care by Amish communities in the United States. As a bonus, the all-weather Polywood material needs next to no maintenance. I simply love all the color choices, too! 
My Top Picks
How I Selected these Fire Pit Seating Options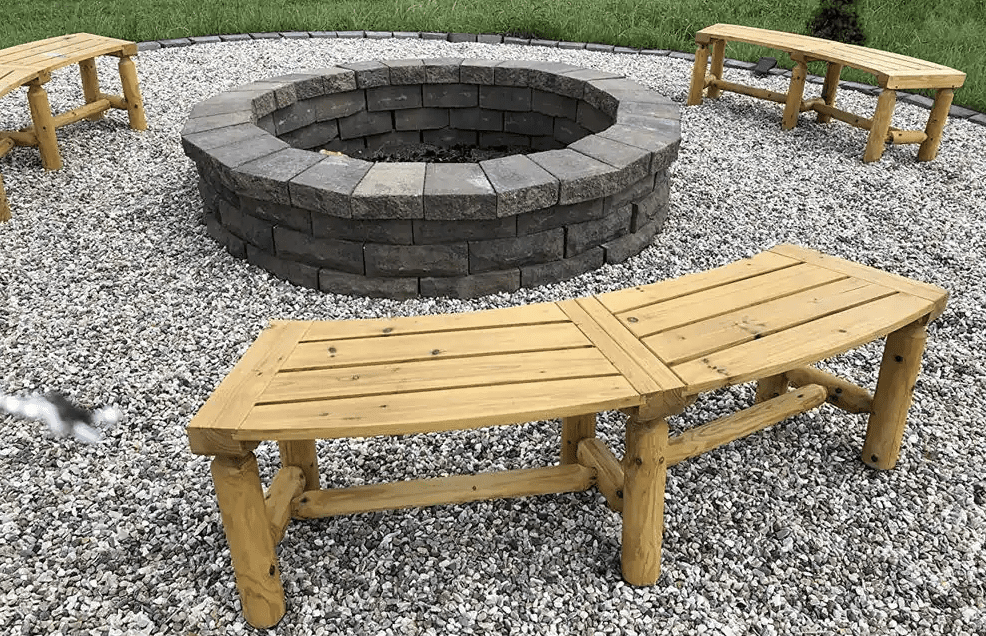 What I want to emphasize is that there truly is no one-size-fits-all or ideal fire pit seating solution. Instead, I wanted to focus on a few factors when selecting my ideas. Those factors include quality, style, and durability. Before you scroll down to my favorites, here's how I sorted through numerous options to round up my shortlist. 
Choosing Quality Materials for Fire Pit Seating
This is tricky- and I've seen all types of assumptions made, as well as mistakes. So when I selected the best materials for fire pit seating, I focused on comfort and safety. That meant nixing metal chairs and regular plastic chairs. Metal chairs tend to trap heat- and I don't find that ideal. 
Wicker is popular- but it's not a material I would recommend if you care about durability near a fire pit. 
Wooden Fire Pit Chairs and Benches
Wooden chairs are just fine for a fire pit- so long as you set them around 20 inches away from the fire. For my selections, I opted for solid hardwoods and woods that are naturally rich in oils (teak). I also considered cedar: it's easier to damage than oak but is cost-effective, resilient, and naturally repels insects. Since fire pits can attract insects, that's a big plus. 
Polywood
While I ignored any regular plastic chairs, I knew immediately that Polywood (high-density plastic) seating would make my list of maintenance-free and durable options. For these, I checked to make sure all options were authentic, solid Polywood. 
Choosing Fire Pit Seating Styles & Dimensions 
I wanted to include just a few styles. Those included Adirondack chairs, regular chairs, and benches. With these, I wanted to include more boxy, angular, and even curved seating options. The curved seating, I knew, would be an excellent choice for a large round fire pit. 
Dimensions and seating capacity were likewise considered. I wanted a weight capacity of 200 pounds/ seat or better for most of my ideas. I'm also including a range of dimensions to suit everything from small fire pit tables to large round fire pits. 
Considering Features
For great features, I think that comfort and stability matter most- after all, you can always buy fire pit accessories. With that in mind, here are some features that I considered for making the fire pit seating experience more enjoyable:
Ergonomic (curved/ arched, generous armrests)

Deep Seating 

Cushions/ Covers

Foldable/ Compact

Weather-resistant coatings

Unique Styles 

Sustainably-Sourced

Warranties and Protection Plans 
Deciding Where to Buy Fire Pit Seating 
For where to buy, I wanted to provide fire pit seating examples that offered a great overall value. From affordable and inexpensive to more expensive, all of my ideas only come from reputable stores. While that does include home improvement places such as Home Depot, Lowes, and Menards, I also shopped at specialty stores and even Amazon and Wayfair. The key? I looked at customer reviews, policies (refunds, delivery), and reputation. 
See also: How to Find the Best Patio Umbrella
Fire Pit Seating for Your Home: My Favorites! 
From circular benches to handsome Adirondack chairs, here are my ideas for just a fire of my favorite fire pit seating options. I've considered different styles, budgets, and dimensions. Here's what made the shortlist- and what I love about each option. 
Polywood Nautical Adirondack Chair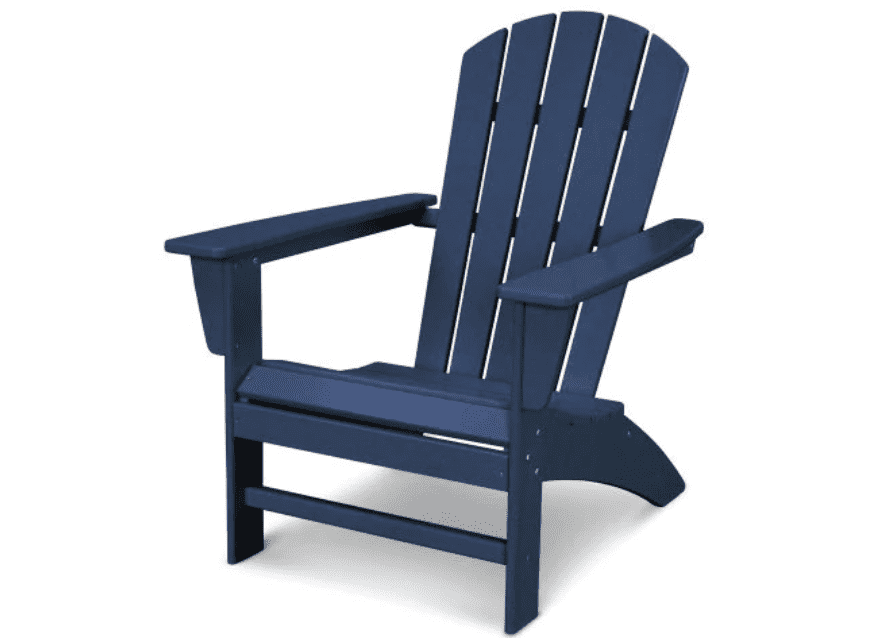 I have a bias towards Adirondack chairs because of all the great memories I've made- from campouts in the Midwest to a stunning view of the ocean in San Francisco. But this would undoubtedly be my top choice for fire pit chair options for a class, low-maintenance use. This beautifully constructed Adirondack Polywood chair is sturdy and weather resistant. I'm always excited to see something handcrafted in the United States (by Amish communities). I love the colors you can select from too! While I always appreciate the classic and versatile hues like white, black, neutrals, and navy, the addition of more colorful shades is great to see. Finally, I love Adirondack chairs in general because the tilted back orientation is relaxing and less stressful on your back. Buy Here. 
Vineyard Polywood Adirondack Set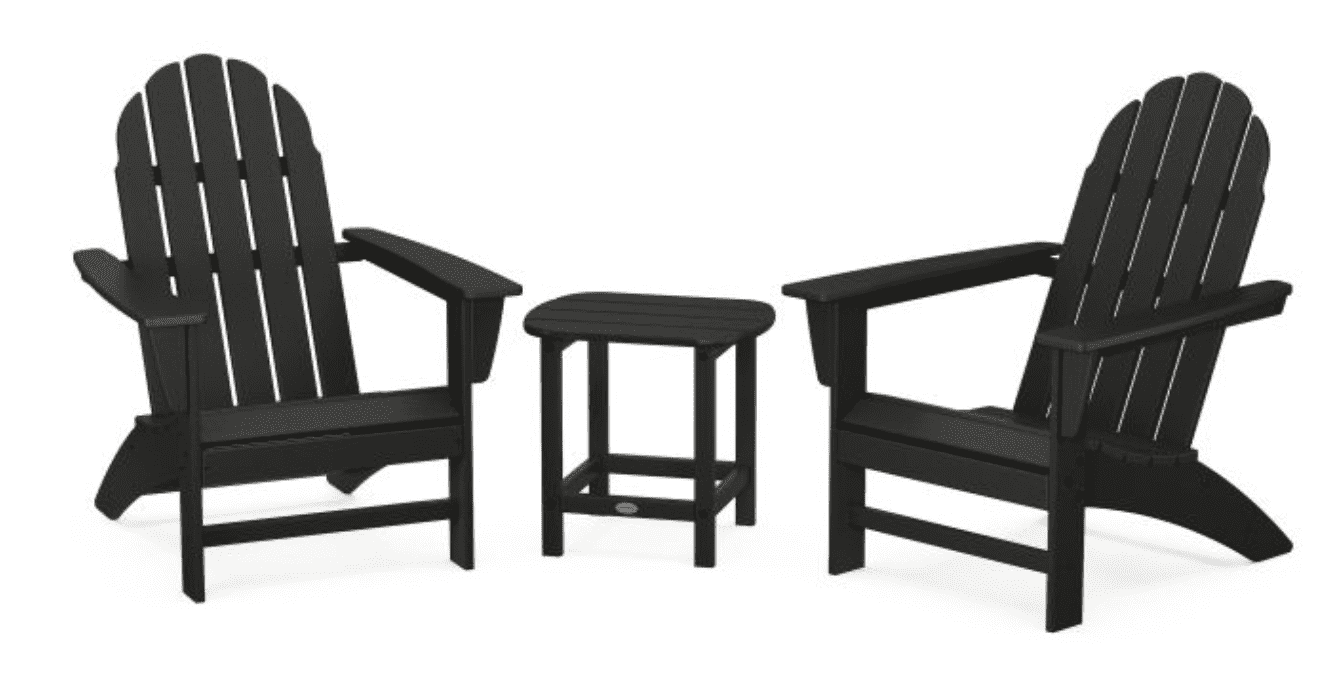 I mentioned this idea as a fire pit seating option for couples, but it's just a great set overall. If you have a small fire pit and want somewhere to place your drinks, I think this fire pit seating set is a great value. The two Adirondack chairs are constructed from Polywood, as is the coordinating accent table. While the sticker price isn't cheap, everything is built to be sturdy, attractive, and entirely weather-resistant. I love that you can select from muted and classic colors and even some surprising colors, like Mandarin orange. You're getting that same timeless and comfortable Adirondack style- and the 20-year warranty from the American-made set is a huge bonus, too. Buy Here. 
Pottery Barn Teak Adirondack Chair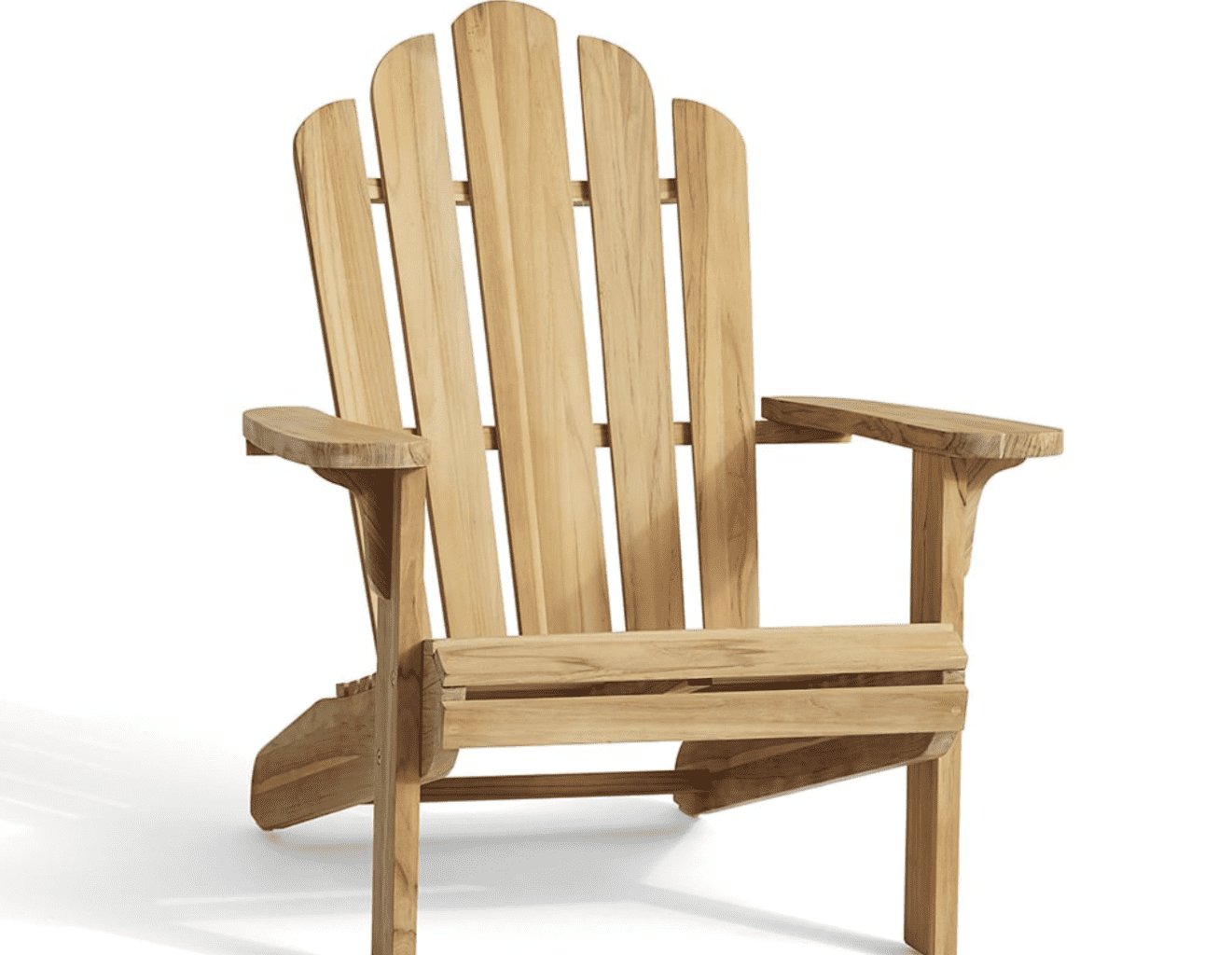 If you want a classic wooden Adirondack chair and have a generous budget, I'd be remiss not to mention this sustainably sourced hardwood chair from Pottery Barn (click here for a budget alternative). This fire pit seating optional exhibits, in my opinion, exceptional craftsmanship. Premium teak produces its rich oils and weathers better than many other wood options. It's kiln-dried, which only increases the strength and durability of this classic chair. I love stainless steel hardware both for its beauty and versatility. Buy Here. 
Achla Designs Curved Backless Bench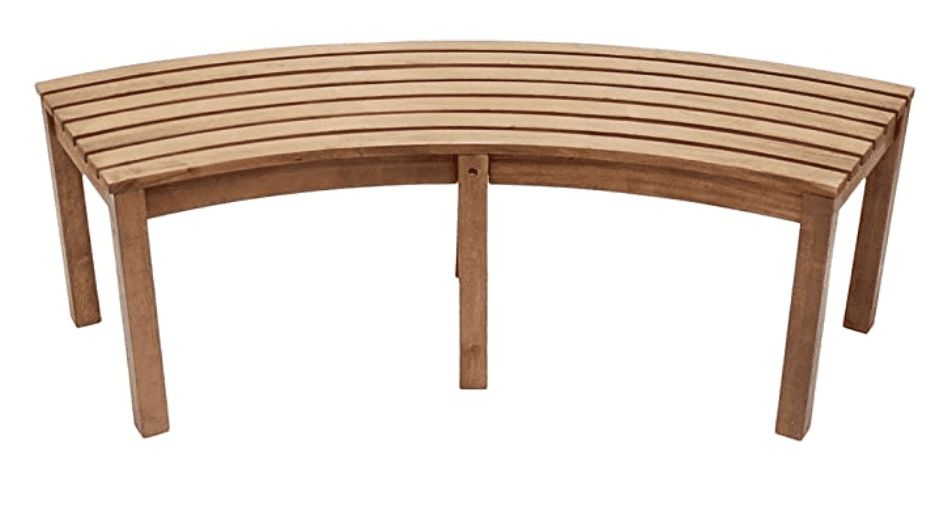 If you want a modern, minimalist fire pit seating option for around the fire pit, this unique curved backless bench is my top choice. I love how this bench strikes a balance between modern and classic styles, all with a gently curved seat. The bench is made with genuine Eucalyptus wood, which naturally weathers and forms its protective coating. But I love the addition of an oil finish- and if you keep up with occasional oil treatments, you can retain a more reddish hue. I was excited to see that the wood is sustainability harvested- a feature you don't often see at this price point, or from products on Amazon in general. Buy Here. 
Cedar Wood Log Bench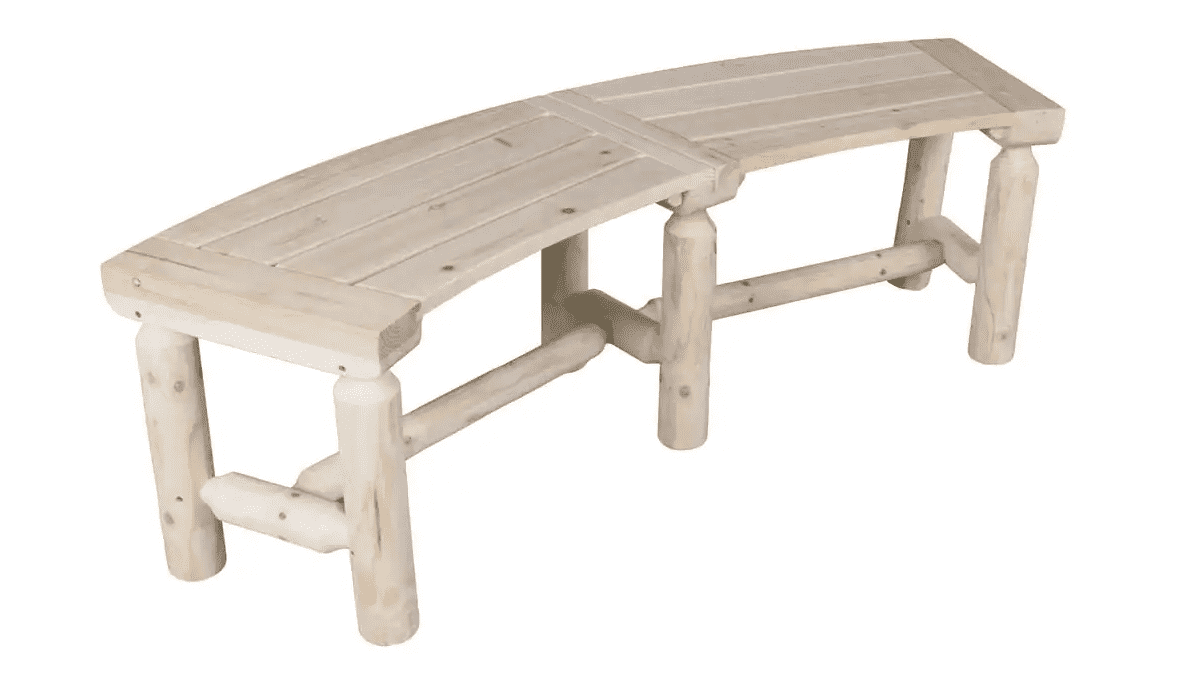 Live in an insect-heavy area? Prefer a more rustic look? If your answer is yes to one- and especially both- of these questions, then this unique wood log bench may be the best option for you. Priced affordably at under $200, this bench provides a rustic appeal with insect-resistant hardwood. I think that the light hue of the wood is quite versatile, and I also like shopping with companies like Home Depot because you have the option of a more traditional shopping experience or even assembly support. Buy Here. 
Harbison Wooden Picnic Bench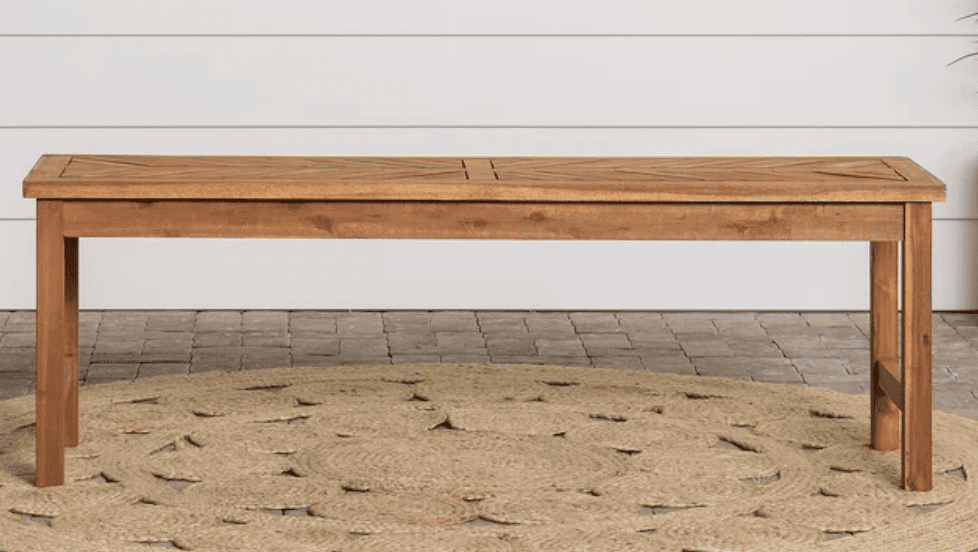 Have a square or rectangular fire pit? This stylish and sophisticated wooden bench isn't just for picnics. The straight lines provide a clean and contemporary aesthetic, supported by a durable and sturdy construction. The solid acacia wood bench features natural wood knots for a classic but still updated look. While I like the natural wood of acacia, you can also opt for a dark brown wash, a gray wash, or a whitewash. The pattern is refined and beautiful. It's not a typical option for fire pit seating- but I argue that's part of its appeal. Buy Here. 
Bronson Classic Wood Folding Adirondack Chair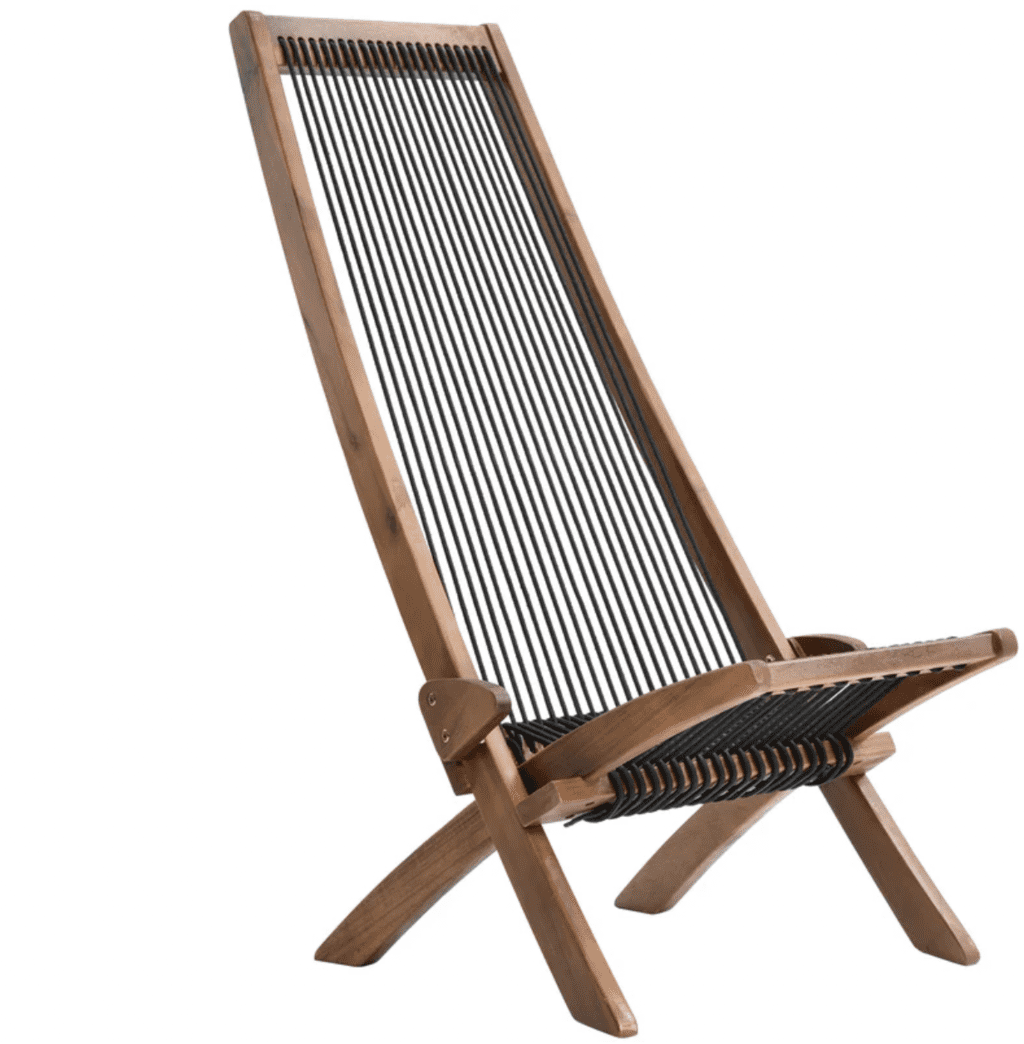 To be clear: there are many folding chairs you can pick for your fire pit. There are budget ones you can find from Amazon, Walmart, or Overstock. There are more premium ones that offer exceptional comfort. But I think this classic wooden folding chair is a great balance between value, price, and style. I'd opt for a folding chair if you don't have much space or if you're looking for an option to use with a portable fire pit. The hardwood folding chair features a comfortable reclining orientation and accommodates up to 250 pounds. Much sturdier than your average folding chair, I love the classic appeal of the deep brown acacia wood frame. Buy Here. 
Indira Outdoor Acacia Wood Club Chairs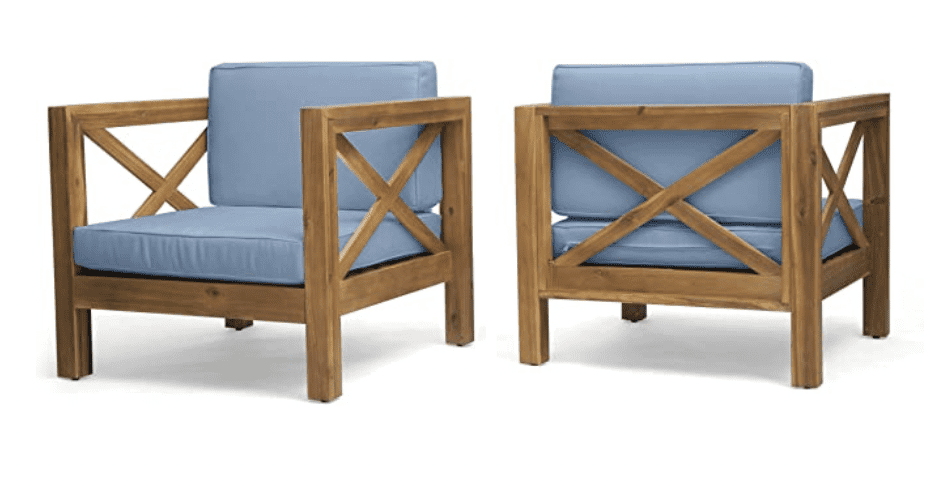 I love a great rustic or classic fire pit chair, but I also can appreciate a contemporary, more luxurious approach to fire pit seating. If you have a modern fire pit table and long for a truly comfortable seat, why not opt for something like these club chairs? These beautiful outdoor chairs feature a durable acacia wood frame. It's the deep seating orientation that sets them apart, with a Mid-Century modern inspired design. The weather-resistant cushion not only ties the style together but also adds comfort for entertaining. I love the more muted colors, but if you want to be daring, there's even a set of red cushions. Buy Here. 
L.L. Bean Eucalyptus Sling Lounger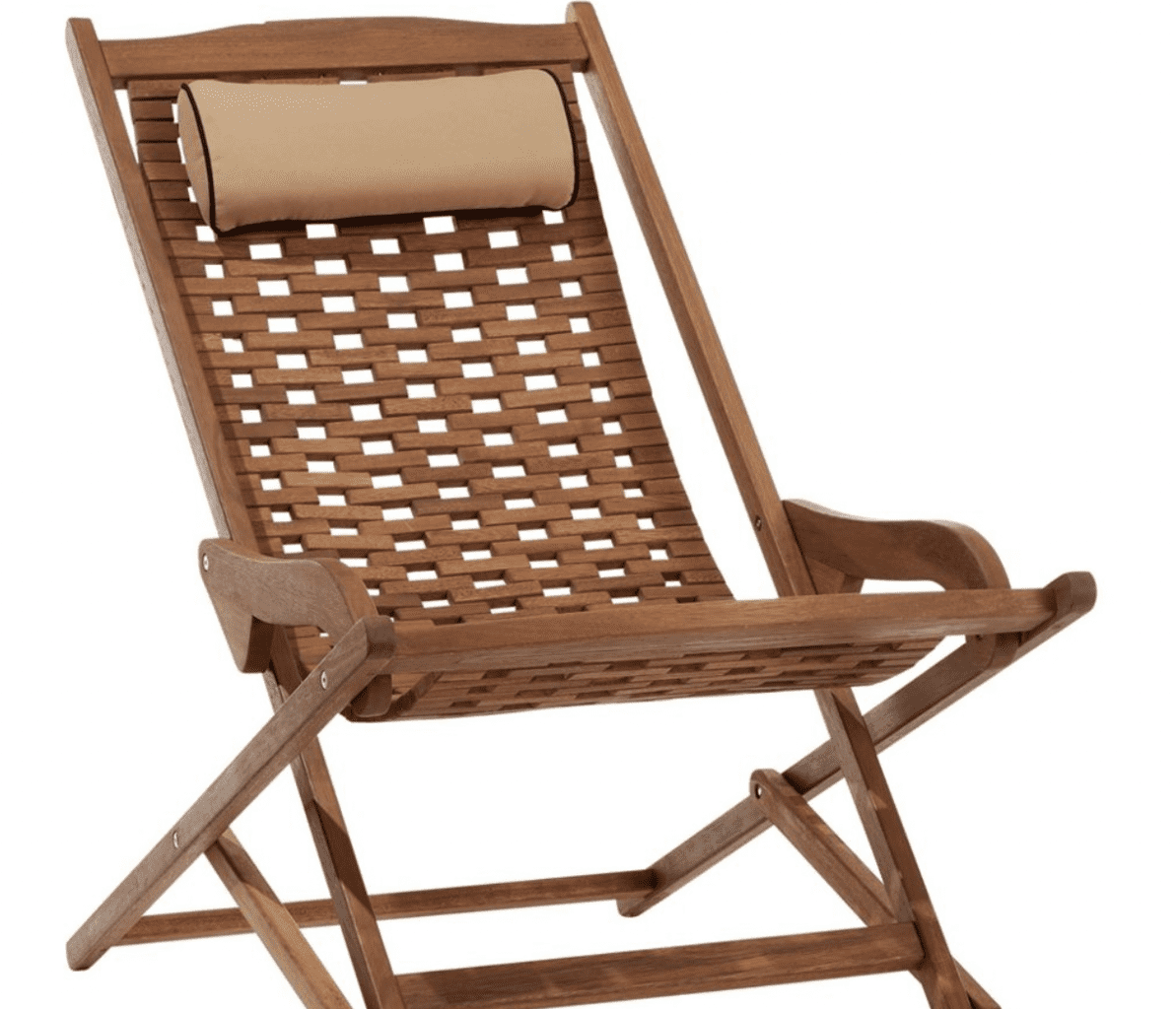 A lounge chair may not be the first thing that comes to mind when you think about fire pit seating, but it really can be a good fit. This chair strikes a balance between the Adirondack style and a full lounge chair. If you want to relax by your fire pit and stretch out your legs, this is a fun option. I could also see it for anyone living near a coast or beach. It's crafted with care from sustainably-sourced Eucalyptus hardwood and comes with stainless steel hardware and even a weather-resistant pillow for neck support. So go ahead: relax and enjoy. Buy Here. 
All-Weather Adirondack Footstool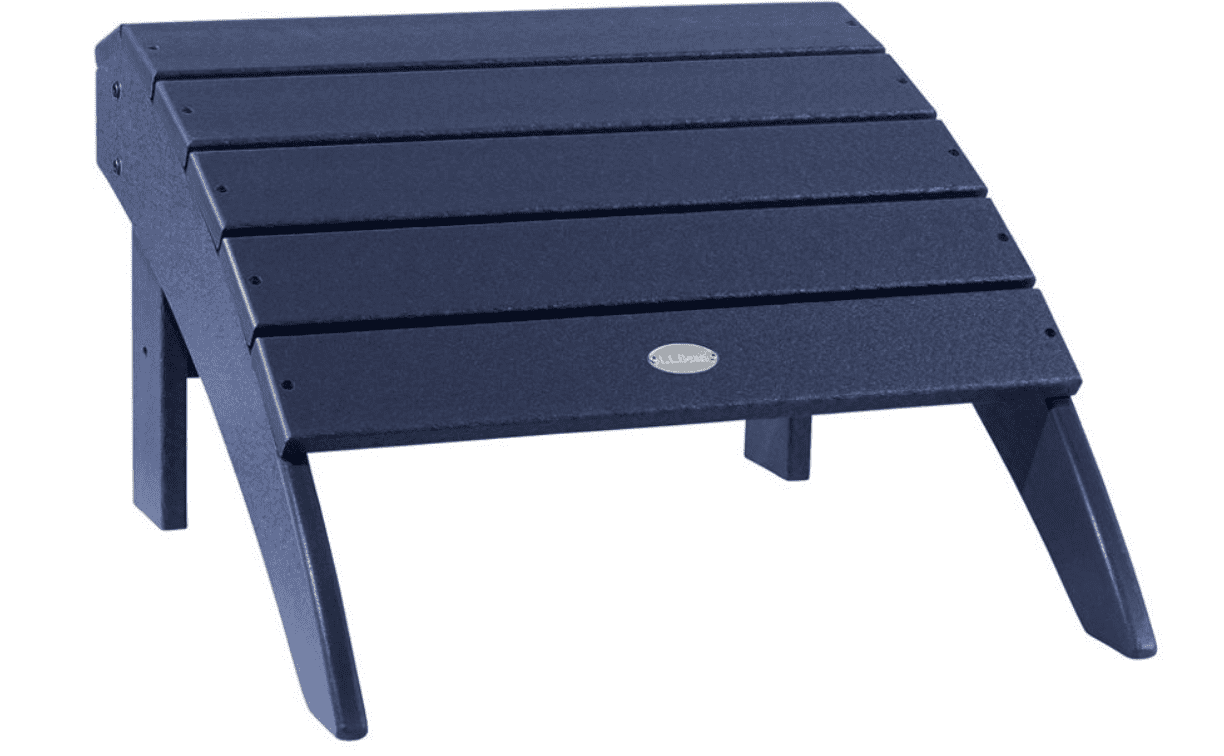 I'm always on my feet, and, considering the callouses I've developed over the years, I can appreciate a great footstool. If you have tired feet or need to elevate your legs, as my grandfather does, I guarantee you that buying a footstool can enhance your fire pit seating experience. You can find cheaper options, but this one is built with all-weather Polywood and is a perfect match for a Polywood Adirondack chair. I like the elevation, the ridged texture, and the range of colors you can choose from. Buy Here. 
Frequently Asked Questions
Question: What should you do sitting around a fire pit?
Answer: Selecting what to sit around your fire pit can be challenging. You need to consider your fire pit area, comfort, and durability. Any seats need to be weather-resistant and strong. Metal seats, while modern, may not be the best choice. Metal tends to absorb heat, so such chairs will be uncomfortable. At the same time, regular plastic isn't a great option. Hardwood and Polywood are both suitable options. Adirondack chairs, with their laid-back orientation, are the most popular option for classic fire pit seating. 
Question: How do you build a seating area around a fire pit?
Answer: Some people place fire pits- especially fire pit tables- on back patios. In this case, you just need to make sure you have adequate space for both the fire pit and the seating around it. But if you're setting up an area in your backyard, a little more work is required. First, decide whether you want an above or in-ground fire pit. For an above-ground fire pit, find a clearing that's 20 feet or more away from any home. You can create a gravel or dirt path leading up or around the pit. For an in-ground pit, you'll need to lay down your bricks and a fire pit liner (you can buy fire pit projects for in-ground pits from Home Depot and Lowes). Click Here for a Full DIY Tutorial from Home Depot. 
Question: How much space do you need between a fire pit and seating?
Answer: One of the biggest mistakes I see made is placing seating too close to a fire pit. While there is no exact distance that's ideal, a few inches for less than 20 inches is about right. I wouldn't recommend placing seats closer than 17 inches away or much further than 24 inches away. Too near and you'll not only be uncomfortable but also less safe- especially if you don't have a spark screen. Too far away and you won't be able to feel the fire pit's warmth. Ultimately, it'll also come down to how much space you have to work with. 
Question: How far should a fire pit be from a home? 
Answer: While conventional advice recommends that fire pits are situated at least 10 feet away from a home, others recommend up to 20 feet away from your home. If you have an above-ground pit, 10 feet away usually will suffice. Large and in-ground fire pits that generate a lot of heat may be best closer to the 20 feet away mark. It's also important to make sure your fire pit isn't near anything else that could cause hazards. Consider trees or other plants, playsets, and other structures. It's ideal to have a dedicated fire pit area to make sure you can enjoy it without incident. 
Final Thoughts
Finding the best fire pit can be challenging enough, but finding fire pit seating is a step I think often goes without enough consideration. Firepit seating by no means needs to be perfect. You can see, from my ideas, that it comes in myriad styles, from traditional to contemporary. But I also believe that taking time to consider both the comfort and safety of the seating makes a difference. As a bonus tip: make sure you take care of your chairs. If you decide on a classic wood chair, you'll need to treat it occasionally. No matter what you do, buying covers for both your fire pit and your fire pit seating can also make an impact. 
Final Recommendations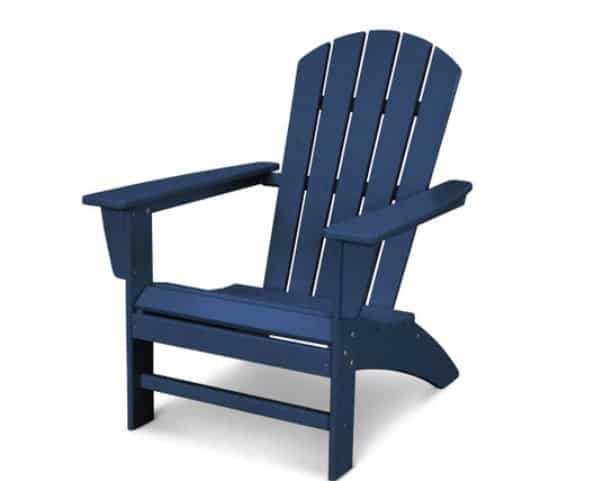 Firepit seating doesn't have to be excessively expensive and it doesn't need to be for a large crowd. I always focus on quality and practical use. By being selective with my ideas, I'm careful to recommend only chairs that provide a balance of comfort and style. Hopefully, my ideas caught your eye or at least gave you a bit of inspiration.
Still, trying to decide? I know that feeling all too well. If you're not sure what type of fire pit seating is best for you, then I recommend something like the Polywood Nautical Adirondack Chair. Not only do you get the classic fire pit chair look (with countless color options!) but you don't have to worry about maintaining these chairs as you would wooden chairs. Each chair is crafted in the United States with care for a sturdy, all-weather, and attractive addition to your fire pit area. 
Recommended Reads: