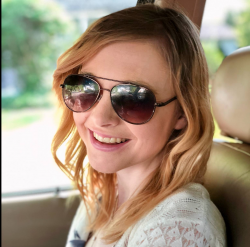 Latest posts by Erin Jamieson
(see all)
I've spent time on everything from wooden porch swings to Polywood and more. And while that time was always well-spent reading or spending time with loved ones, there was one thing that sometimes ruined the fun. 
Weak and noisy porch swing chains can interfere with the experience, which is why I'm providing this guide. The best porch swing chains- either as replacement parts or your first chains- can make a world of difference. 
As someone who's had so many great memories on porch swings, from humid Summer days to crisp and cozy Fall evenings, I want to share with you my top tips for how and where to buy the best chains for your porch swings. I'll also share a few of my favorite chain sets that you can buy online or in stores today. 
Bottom Line Up Front Summary
Whether you're shopping for porch swing chain replacements or even taking on a DIY project, the best chains are ones that are heavy-duty and weather-resistant.  Protective coatings are another great way to add both style and durability to your chains.
If I had to recommend one set of porch swing chains, it would be the Campbell Steel Porch Swing Chain Set. These chains, from Ace Hardware, feature a subtle and modern design. Galvanized steel is plated with zinc and has a heavy-duty construction. The price is great and it perfectly fits a variety of porch swing styles. 
My Top Picks
How to Find the Best Porch Swing Chains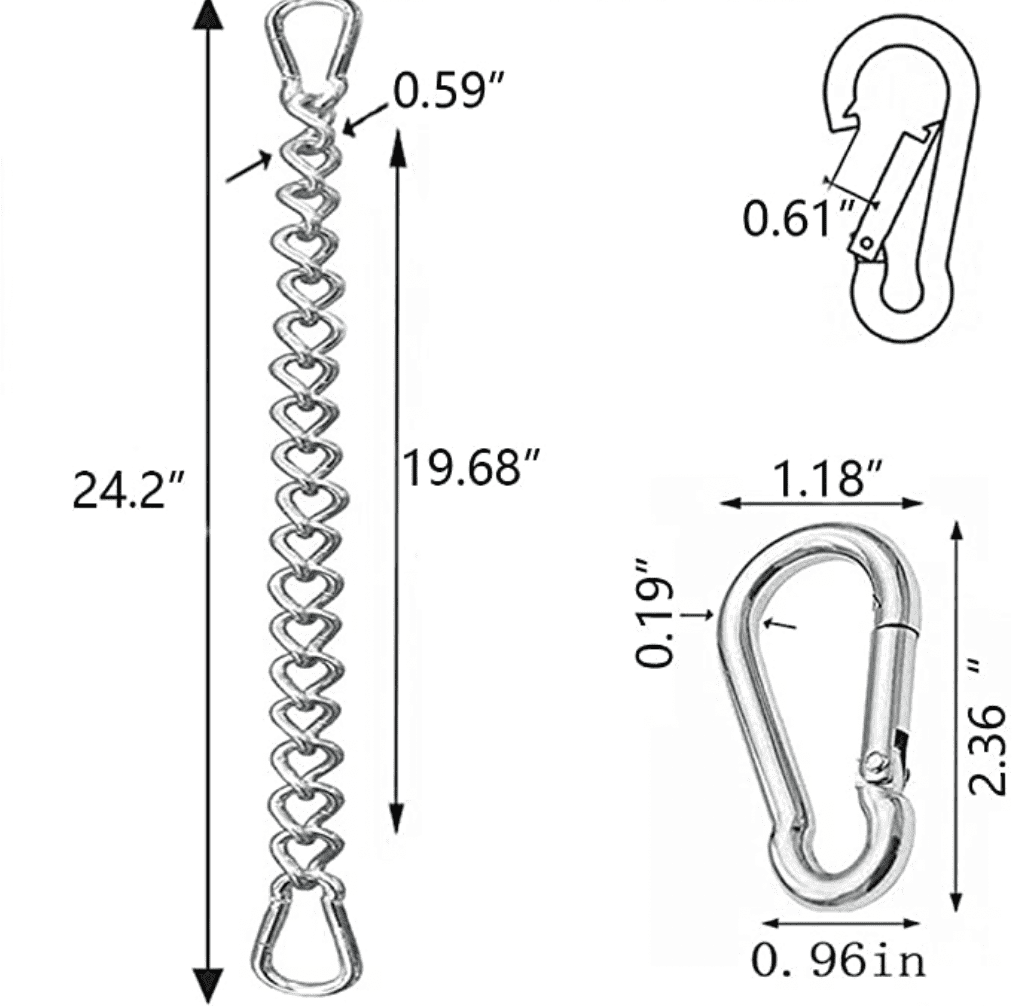 It's one thing to have a porch swing chain that squeaks- I've certainly had that experience. It's another thing to have porch swing chains that rust, are weak, and cause safety concerns. But by shopping wisely you can cut back on those safety concerns and enjoy a smooth, enjoyable swinging experience. Here's how to find the best fit- and where to buy sets and replacements. 
Selecting the Best Materials for Porch Swing Chains
First, I want to address the elephant in the room: the issue of ropes vs chains. I admit that I've always been fond of rope chains. The rustic appeal is right up my alley and brings back memories of visiting farms in the Fall, and even some of my favorite books. 
Looking back, however, I'm glad that most of the porch swings I spend time on had chains vs ropes. Ropes are susceptible to weather and can easily fray, tear or break. They often can't support quite as much weight. So if you're concerned about safety and durability, I recommend chains over ropes. The table below shows the most common materials for porch swing chains- and some honest pros and cons. 
Chain Material
Pros
Cons
Iron (Cast, Wrought)

Very Strong
Evenly holds heat/ cold

Rusts Without Coating or Treatment

316 Steel (Stainless, Carbon, Galvanized, Reinforced)

Strong and Lightweight
More Weather-Resistant

Not as Strong as Iron
More Expensive than Plastic, Aluminum

Aluminum

Modern and Lightweight
Fairly Weather-Resistant

Easy to Damage
Not Suited for Heavier Swings
Chain Coatings & Treatments
There are also chain coatings. I like chain coatings for two reasons: added style and improved durability. A PVC coating works well because it can come in a variety of colors, from white or black to playful hues. This coating acts as a barrier against moisture and ensures that your chain won't rust. Zinc plating is also popular. It's great for guarding against corrosion. 
Other possible treatments include powder coating as well as galvanized or reinforced metals. Powder coating adds weather resistance. Galvanized and reinforced metals are stronger and less susceptible to everyday damage. 
See also: How To Find The Best Porch Swing Hanging Kits
I prefer treated steel chains most because it's a great balance of lightweight strength. 
Porch Swing Chain Size and Weight Capacity 
The size of porch swing chains you need depends a bit on your space. Keep in mind that some of this also depends on how you position your porch swing. For this reason, I'd recommend buying a slightly longer chain than you think you need. 
The upside? You can find porch swing chains in a variety of sizes and lengths. 
Chain Width
Chain width says something about how strong the chain will be though you don't have to opt for as thick of chains as possible. I recommend an average width of ¾ inches. If you're looking for a chain for a heavy-duty porch swing, you can opt for a slightly thicker one. 
Chain Length
When hanging a porch swing from your porch ceiling or even a tree, you'll want a chain that's roughly one foot less than the height. For instance, a ceiling with a height of 10 feet would do well with a porch swing chain length of 9 feet. 
Swing Clearance 
Another consideration is swing clearance. Swing clearance tells you how low your swing will hang. You want it to be an easy enough height to get in and out of, but high enough that you can swing comfortably without your feet hitting the ground. I recommend an average of 17 inches above the ground. 
Weight Capacity 
Perhaps the best indicator of a porch swing chain's strength is its weight capacity. I'd never buy a porch chain swing that doesn't clearly state how much weight it can hold. Heavy-duty chains can accommodate around 600 to 800 pounds, while others have lower weight capacities. Play it safe and opt for the higher end on what is required. It's wise to try to match the weight capacity of the porch swing with its chain. 
See also: How to Find the Best Patio Set: A Comprehensive Guide
Chain Styles
There are modern, traditional, and rustic finishes for porch swings. For modern styles, I like classic white or black coating. Silver is a traditional color that's hard to go wrong with. And while less common, you can sometimes find porch swing chains with rustic accents, such as bronze or antique finishes. 
The most common types of chains are cable chains, which are notably strong and versatile. I also like flat link chains, which provide a slightly different look and in some ways are more subtle. Both types of chains are suitable for porch swings. Look for interlocked circles or ovals that have been welded together. Both of these chain types are strong. Y-Campbell chains are still fairly strong and provide a minimalist touch. 
Where and How to Buy Porch Swing Chains 
Porch swing chains are sold at more places than I first realized. My rule: make sure you know the reputation of the company. If it's a specialty store you've never heard of, a quick look at external reviews, customer service policies, shipping, and refunds all go a long way. 
| | |
| --- | --- |
| Type of Store | Examples |
| Online Large Furniture Store | Wayfair, Overstock  |
| Large Wholesale Retailers | Amazon, Walmart  |
| Home Improvement Stores | Lowes, Menards, Home Depot, Tractor Supply, Ace Hardware  |
| Specialty Stores  | Porch Swing Company  |
Chain Sets vs Kits
The two main ways to buy porch swing chains are by either kits or regular chainsets. Chain kits usually include not only chains but also hooks and springs. These kits give you all the hardware you need to hang a porch swing. You can also buy chains by yourself. This is a good option if you already have other hardware or are just looking to replace your current porch swing chains. 
Porch swing springs should be equipped with the same weight capacity and materials as your porch swing chains. I also advocate for comfort springs if you can find them. Comfort springs have a similar coiled appearance as other springs with the advantage of reducing friction and tension. The result is a smoother, quieter, and more comfortable swinging experience. 
Warranties and Customer Reviews
It's more common to find generous warranties for porch swings themselves vs porch swing chains- so I take special notice of warranties, even if they are limited. Customer ratings are also important to me. Look past the star ratings and look at the breakdown of those ratings. For instance, porch swing chains could have an average of 3 out of 5 stars as a result of polarized 1 and 5-star ratings. Instead of taking a single customer review to heart, look for general patterns. 
Porch Swing Chain Sets and Kits: My Picks (& Criteria)
Here are some of my favorite porch swing chain sets and kits that you can buy online or in stores. 
These porch swing chains were selected based upon the quality of their materials, weight capacity, protective coatings, and brand and product reputation. I looked for fair prices and a quality design in different sizes to suit different porch swing situations. I hope that these porch swing chains provide a solid foundation for your own shopping experience. 
Barn-Shed-Play Heavy Duty Swing Hanging Chain Kit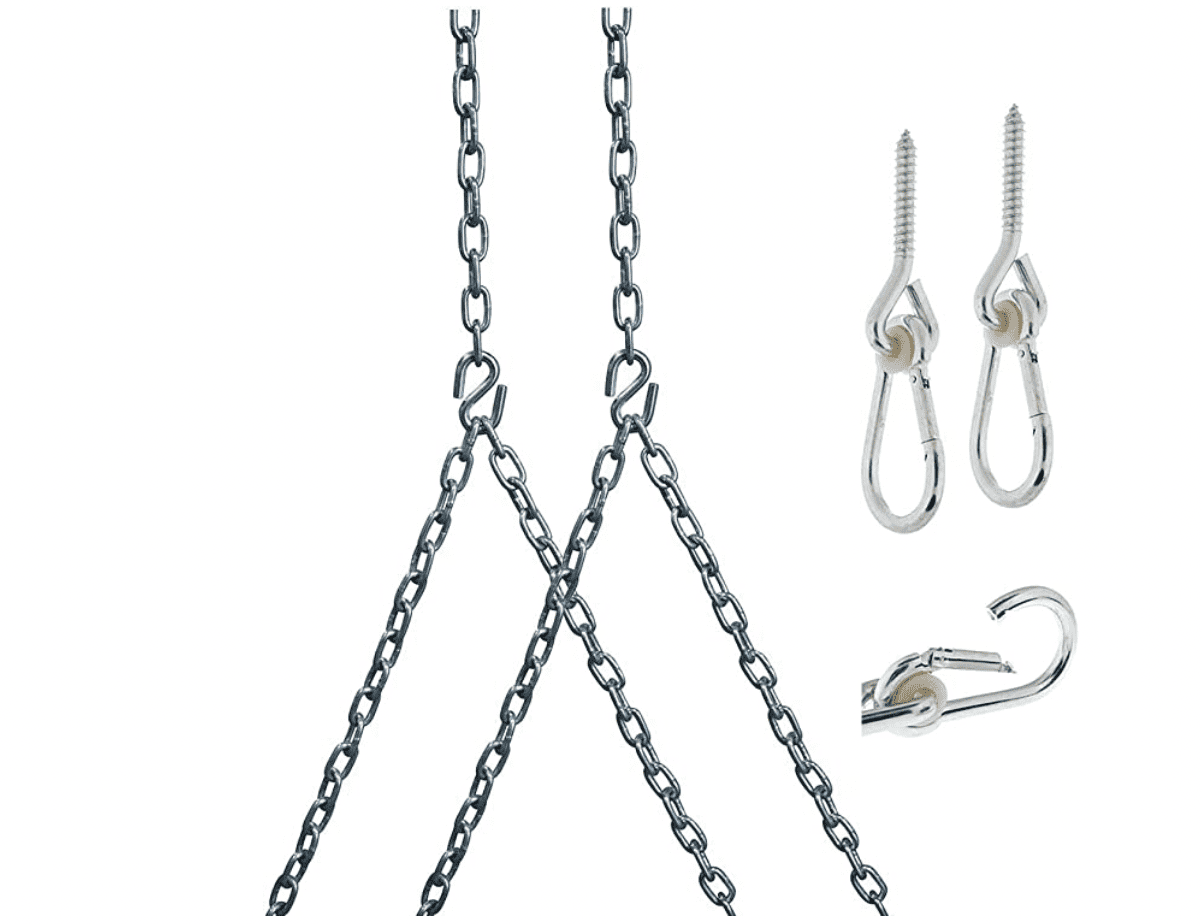 I admit it: I'm a sucker for porch swings and chainsets with a slightly rustic appeal. But this swing chain kit is a top choice for just about anyone. While it looks fantastic with a wooden porch swing, it'll also work with more contemporary designs. This classic chain is durable steel, plated with zinc. While it weighs a mere 2 pounds total, it provides the bulk for a heavy-duty set. High customer ratings and a great price also caught my attention. Choose from 8 or 10-foot hanging positions. The set includes two chains plus hanging hooks. Buy Here. 
Pros
Two Hanging Positions

Zinc Plating

Complete Set with Hooks

Comfort Hooks
Cons
Slightly More Expensive

Only in Silver
Blue Hawk Green Powder Coated Steel Chain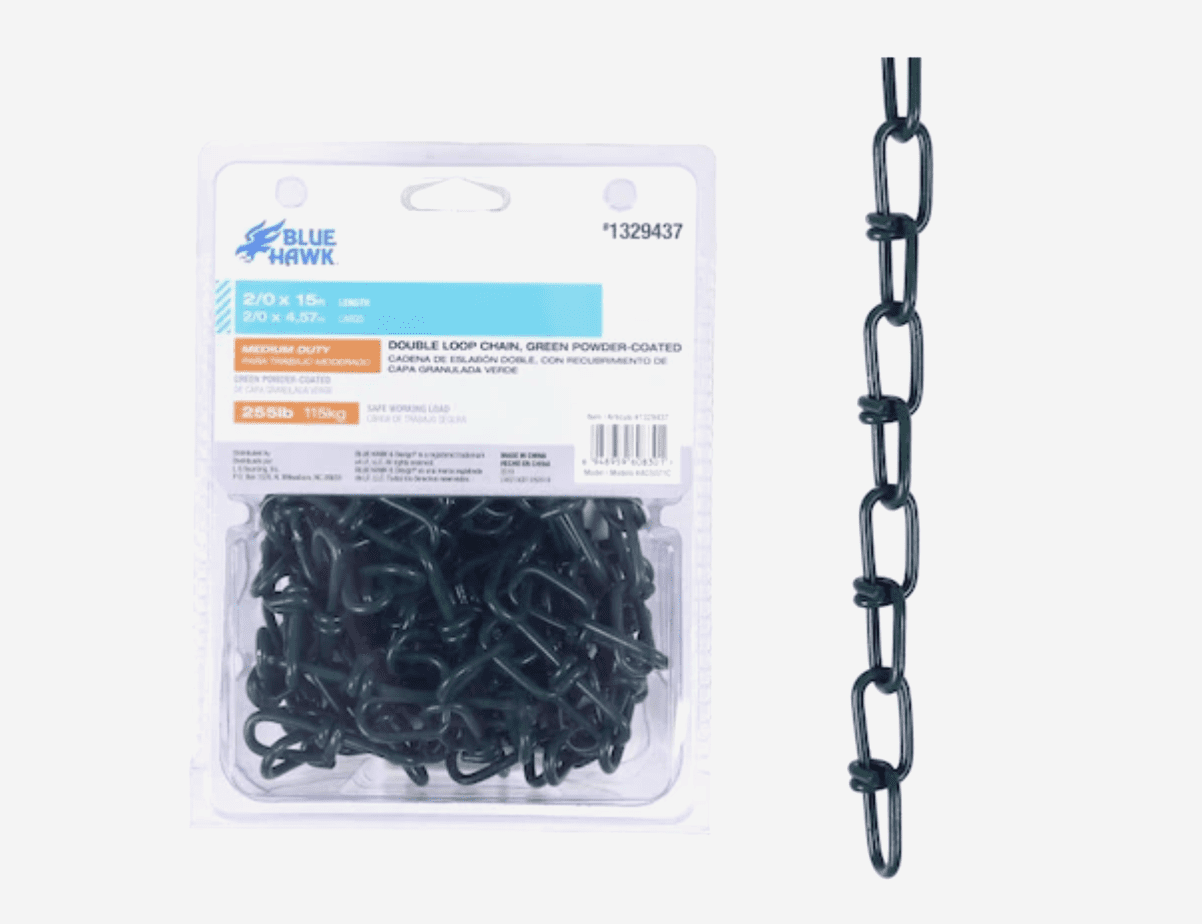 Looking for a chainset with a bit of color? I hear you. I appreciate adding a little color and personality, and this strong porch swing chain does just that. The deep green provides a classic appeal with a unique look. The chain is plated with zinc for corrosion resistance. I think this chain would look at places with Polywood porch swings in particular. It's available from Lowe's which adds to your different shopping options. And it's hard to beat the price! Buy Here. 
Pros
Great Price

Unique Color

Zinc Plating 

Perfect for Polywood Swings
Cons
Only One Color 

Only Includes Chain
BLADOPIA Stainless Steel Hanging Chair Chain
If you have a small porch swing- especially a porch swing chair for one- this is my top recommendation for your hanging chain. This sleek and timeless design is stainless steel with a nice high shine. It's protected with a weather-resistant coating so you don't have to worry about rusting or corrosion. It's adjustable to achieve your perfect height, with a generous length of 20 inches. The welded steel chain is quite strong even for smaller swings and has a sophisticated appeal. Buy Here.
Pros
Weather Resistant Coating

Versatile and Adjustable 

High Shine

Welded Steel 
Cons
Suited Only For Small Swings

Chain Only 
GOOD TDO Swing Chair Hanging Chain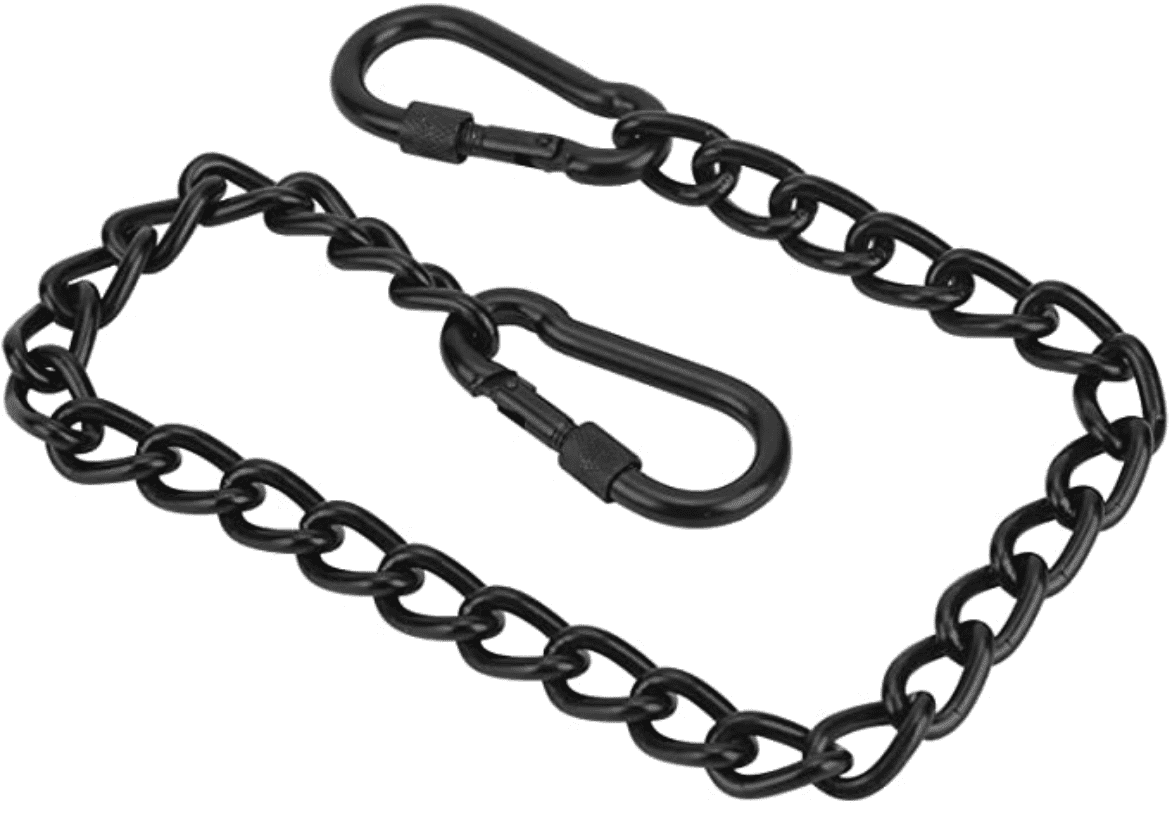 There are many black porch swing chains, but I was especially excited to come across this option. This porch swing chain is made with stainless steel alloy and plated with zinc. The classic cable chain has a respectable weight capacity of over 300 pounds and is easy to connect with your porch swing or even for hammocks. It's a great price and earned high ratings from customers. Buy Here.
Pros
Signature Black Color

Stainless Steel

Easy Connect 

Weather-Resistant Plating
Cons
Just the Chain 

Not Suited for Swings over 350 Pounds 
Campbell Steel Porch Swing Chain Set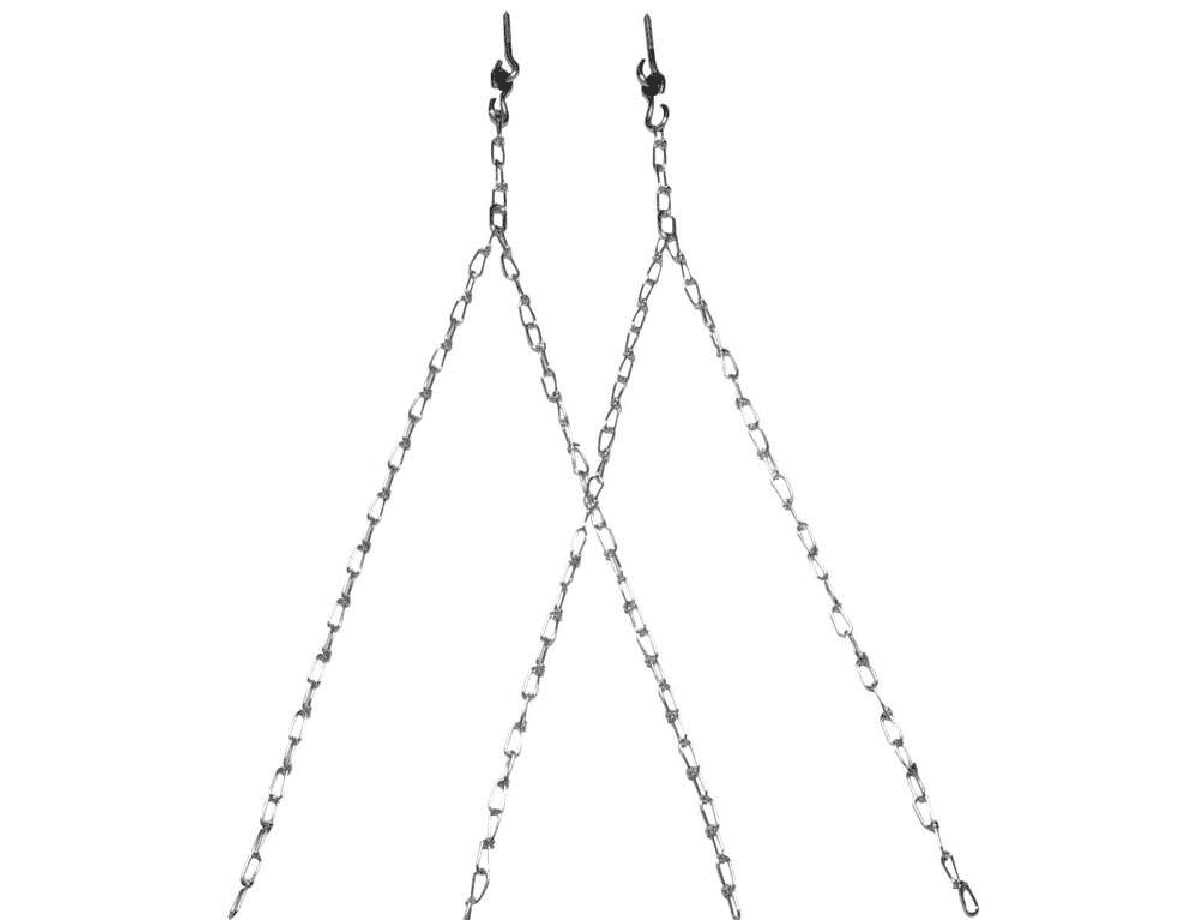 My final choice is a great chain set from Ace Hardware. This porch swing has a minimalist appeal and a light, dainty appearance. What I like about this is that you still get the strength that you need, but the less visual focus will be on the porch swing chains. The unique Campbell chain has a great weight capacity (500 lbs) and would look spectacular with metal and Polywood swings- or even a modern take on a wooden swing. Buy Here. 
Pros
Minimalist, Subtle Design

Heavy-Duty Steel 

Zinc Plated 

Galvanized Steel 
Cons
Harder to Attach 

Trickier to Clean 
See also: Best Porch Design Ideas For A Welcoming Home
Frequently Asked Questions 
Question: How do you stop porch swing chains from squeaking?
Answer: One of the most common problems with porch swing chains is how noisy they are. While a squeaking porch chain can still function properly, it can ruin the ambiance of enjoying your swing. Luckily, there are some easy steps you can take to stop this problem. Lubrication is needed. All you need to do is buy a lubricating spray and apply it liberally, about six to seven inches away. Spray the screws, bolts, and entire chainset. Allow it to dry before swinging again. This should solve the problem and swings should be sprayed occasionally. 
Question: How do you extend porch swing chains? 
Answer: There are a few ways to extend your porch swing chains. You can adjust where you position your chains. However, the best and easiest way is to buy a porch swing extension set. Porch swing chain extensions can often be hooked on or linked to your main chain. To do so, try to match the materials and thickness of your original chain. You need to make sure you have a tight, secure fit for optimal results. Apply the same standards as you would for buying the primary porch swing chain. You can buy these where they sell porch swing replacement parts or Shop for Porch Swing Chain Extenders on Amazon.com. 
Question: How do you secure a chain to a porch swing?
Answer: While porch swings are considered safe, most accidents arise when they aren't installed properly. That's especially true when a chain isn't secured. Most porch swing chain kits and sets come with instructions. You'll need to take the ends of your main chains and secure them to the front mounting of the swing- normally with a quick link. Next, take your shorter chains and secure them to the back of the swing seat, using another quick link. Finally, connect your short chain to the long-chain using hooks (S hooks are common). Make sure everything is properly linked and secure before using your swing. Anything that feels loose or rattling sounds needs to be addressed. If you're more of a visual learner like me, you can also Watch this Tutorial. 
Final Recommendations
Overall, I'd recommend the Campbell Steel Porch Swing Chain Set. If you're not sure where to start with your porch swing project, this chain set simply is going to give you everything you need to get started. It's a great value and offers strength and durability. Plus, with its versatile style and lengths, it's hard to go wrong.
Recommended Reads: