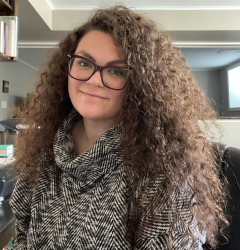 Latest posts by Candace Osmond
(see all)
Are you tired of your winters only being about huddling under blankets indoors and chestnuts roasting? What if I told you that you could instead enjoy the frost and family time on your patio? You should invest in one of the best patio heaters I've reviewed below.
You've likely seen one of these giant mushroom or pyramid-shaped devices warming up your favorite outdoor dining spot. You may not have known that they're also great for keeping your home's outdoor spaces warm. And this includes seasons when Mother Nature has other plans.
Bottom Line Upfront
Where I live, patio heaters are pretty much a must if you want to enjoy summer evenings outside. We actually had the Amazon Basics Patio Heater for years and loved it. So, I can vouch for its awesomeness. But we just got rid of it to make room for our fire pit.
Top 3 Picks
Before getting to the meat of the matter, I've created a rundown of my top 3 patio heater picks. Here they are.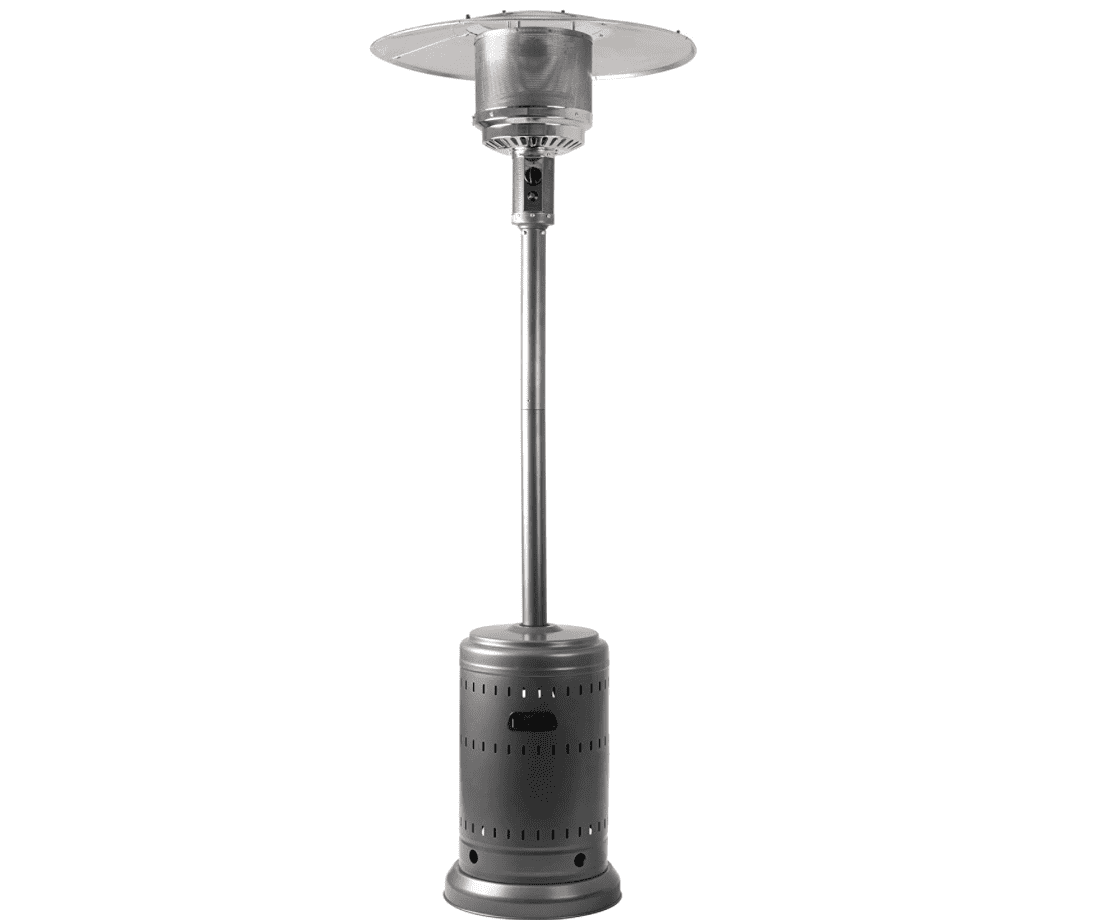 This Amazon Basics Patio Heater provides commercial-grade heating for a nine-foot radius with its 46,000 BTUs.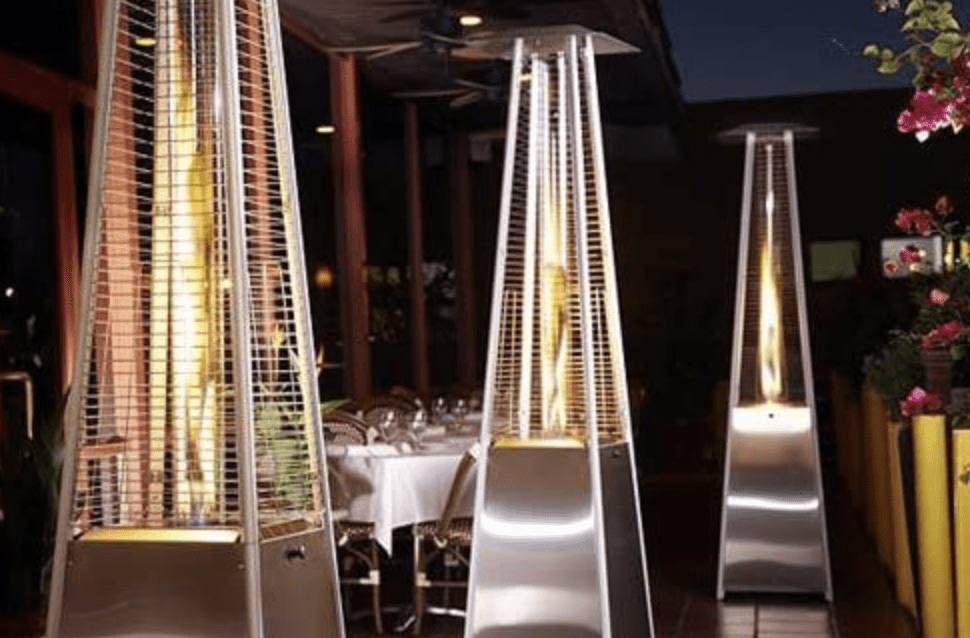 With Hiland HLDSO1-GTSS, you can enjoy up to 10 hours of service on the unit's highest setting.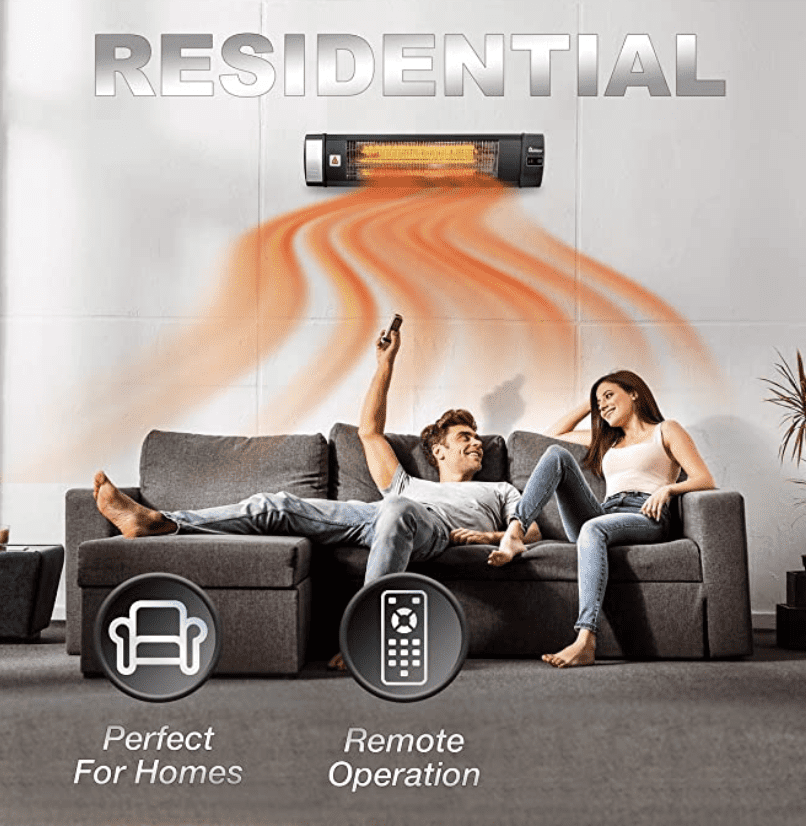 DR Infrared Heater DR-238 is made with weatherproof and durable anodized aluminum to ensure years of outdoor use.
See also: How to Build a Patio Guide in 5 Steps
Types of Patio Heaters
There are four types of patio heaters you should consider when making a purchase decision.
Wall-Mounted Patio Heaters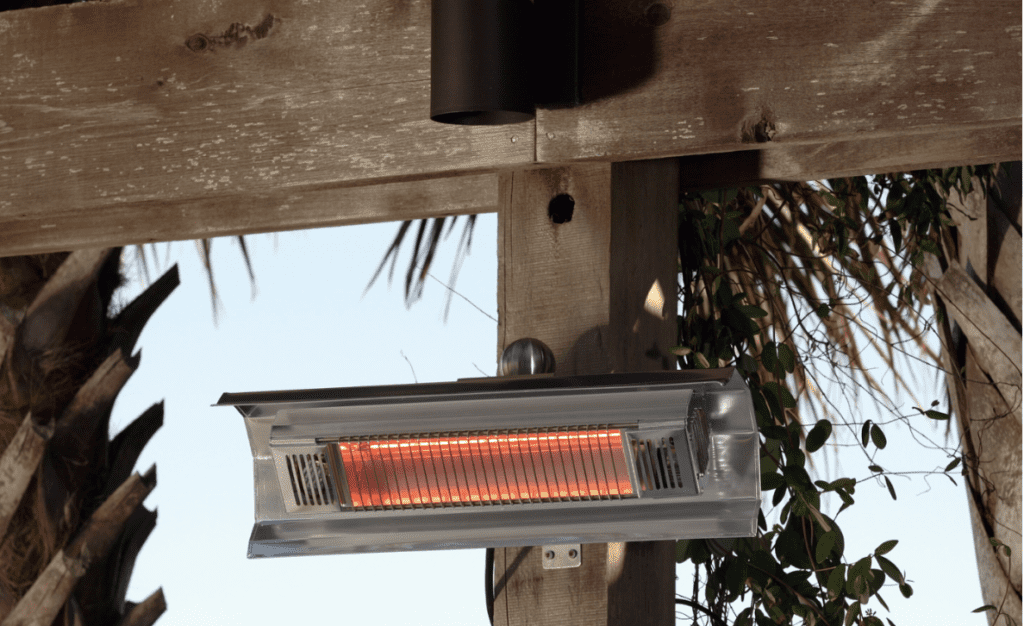 If you'd like your heater out of the way, wall-mounted patio heaters are the answer. These units allow you to relish your patio's space to the fullest. They're also great alternatives for people who need a patio heater but don't have the space for one.
What's more? Wall-mounted patio heaters are typically electric and use infrared heat to warm up patios. A great example is the DR Infrared heater we looked at earlier.
When going for a wall-mounted patio heater, find one that can tilt up or down. This feature allows you to point the heater's heat in your desired direction.
Tabletop Patio Heaters
These patio heaters are unique centerpieces for any patio table. They look like miniature versions of free-standing patio heaters. Some have even been designed to look like outdoor table lamps.
Better yet, tabletop patio heaters have the same basic parts you'll find in their larger freestanding counterparts. The only significant difference is that being smaller, tabletop patio heaters have lower BTUs, making them impractical for large areas.
Free Standing Patio Heaters
Freestanding heaters are the most popular and are similar to what you'll often find in a bar or restaurant patio. They're also the most convenient. Why? Because you can easily set them up just about anywhere outside, provided they have a fuel source.
Freestanding patio heaters are usually made of four basic parts — reflector, heat source, pole, and base. The base provides stability and houses the fuel source, such as propane tanks if it's a propane patio heater.
The heater is rated by British Thermal Units (BTUs), and the pole extends the heater upward for better heat coverage. Lastly, the reflector at the top-most section prevents an upward loss of heat by reflecting the heat back down.
See also: How to Find the Best Patio Umbrella
Infrared Patio Heater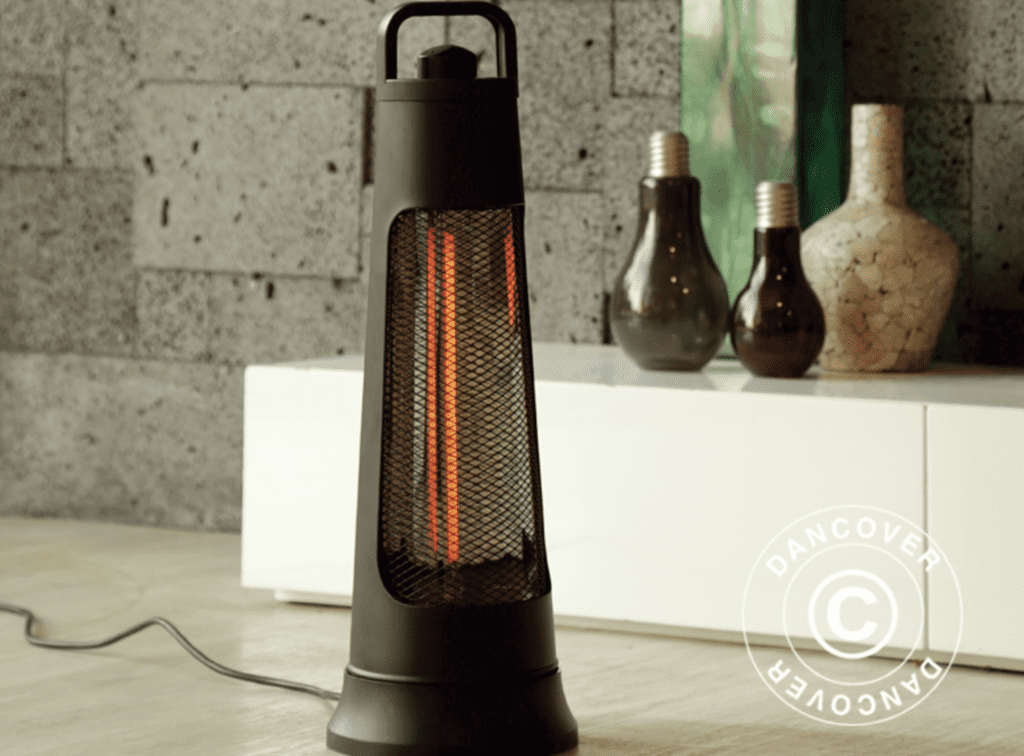 Like wall-mounted patio heaters, infrared patio heaters run on electricity and emit waves that heat up your patio. However, unlike infrared patio heaters, you do not feel the heat. But they warm up the space, nonetheless.
Infrared patio heaters operate more like infrared saunas.
Pros and Cons of Patio heaters
There are benefits to owning one of the best patio heaters, but there are cons as well.
Pros
Some boast stylish and modern designs that'll style up your patio
Easy placement and portability
Efficient and energy-saving
Versatile and can work in different weather conditions
Can heat large areas
Affordable
A wide array of sizes and design options to pick from
They allow outdoor gatherings even when it's cold
Cons
They can harm the environment
They produce carbon dioxide and can be lethal if used indoors
What to Look for in a Good Patio Heater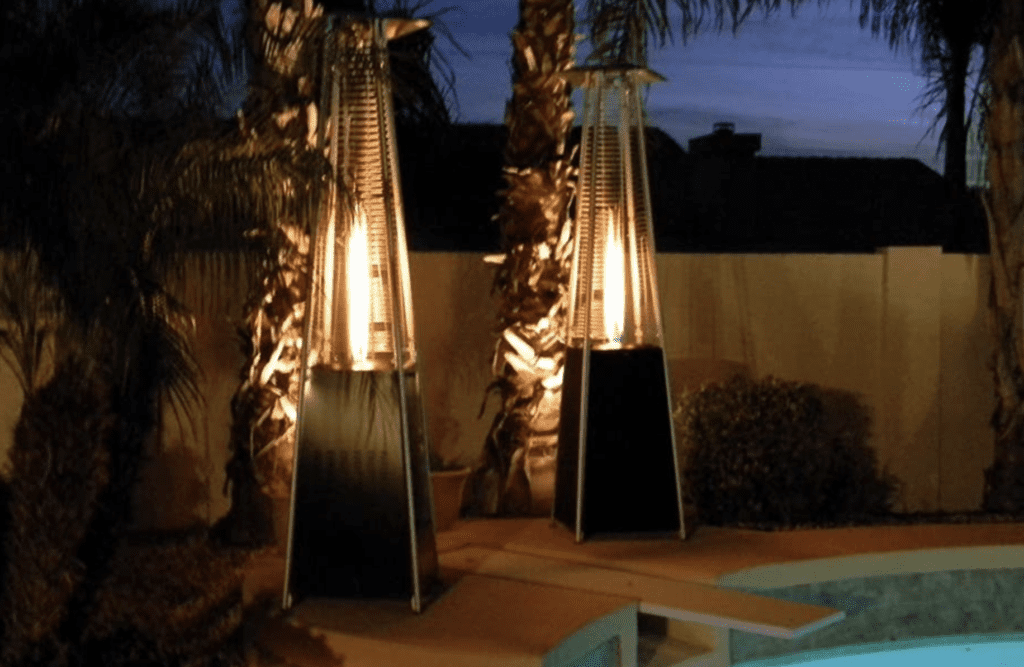 You have to consider your own needs and limits when choosing one, but take into account the following, too.
Fuel Source
I'll touch on the different heat sources of patio heaters in the next section. For now, just note that you should only pick a patio heater whose fuel source is readily available to you.
For instance, most patio heaters' fuel source is propane. Some of these propane patio heaters use small camping propane cans, while others require large propane tanks. Such as those used by most full-sized grills.
Materials
Some climates, like those in coastal environments, can be harsh on any equipment used outdoors. So, if you live in one of such environments, pick a patio heater made of the right material.
A great example is marine-grade stainless steel that can withstand even saltwater corrosion.
Heater Controls
Usually, freestanding patio heaters have their controls mounted on the units themselves. However, if you pick a mounted heater, there are additional control options you can choose from. These include on-unit controls, simple remote control, and remote control with zones.
Downward vs. Outward Heat
Most restaurant patio heaters (which you're probably most familiar with) emit heat downward. While this works just well, freestanding tube heaters that emit heat outward (360 degrees) may be better for your patio.
Styles and Other Features
The best patio heaters retail in many shapes and styles. Therefore, you'll want to find one that matches your home patio's décor and sensibilities.
Fuel Efficiency
Go for a patio heater with a high Annual Fuel Utilization Efficiency (AFUE) rating to save money over time. Like MPG for your car, AFUE is an efficiency measure that top-rated patio heaters have. The better a heater's rating, the more energy-efficient it is.
Safety Features
If you're going for a propane heater, you'll definitely need one with an anti-tilt feature. This additional feature will automatically shut off your heater if it tilts past a specific angle.
Additional safety features to consider include an overfill protection device (OPD) and an oxygen depletion sensor.
Power and Heating Area
The two most essential factors in a patio heater are its power output and heating diameter. Heating diameters vary considerably depending on the style and brand of the heater. As such, ensure the model you pick can cover the entire area of your patio.
Portability
The same needs that have inspired your purchase decision will dictate how versatile the heater you get should be.
Would you like a unit you can use for all things outdoors like your gazebo and not just your patio? I recommend getting a propane heater. Keep reading into the next section to understand why.
Heat Sources for Patio Heaters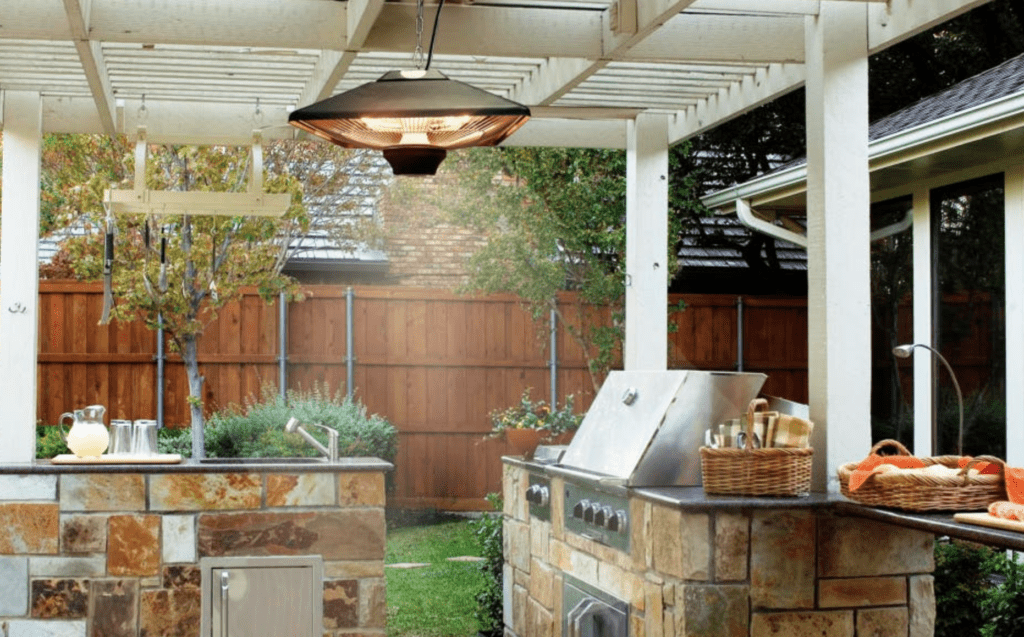 While investing in the best patio heater, pick the power type that best suits your location and available utilities. The three heat sources for patio heaters include electric, natural gas, and propane. Let's take an in-depth look into each.
Natural Gas Patio Heaters
If your house has a natural gas outlet, consider going for a natural gas patio heater. These units offer a higher BTU range and are usually freestanding. Also, all you'll need to do is connect the heater to your natural gas outlet. So you'll never have to worry about running out of fuel.
Pros
Never require a refill
Less expensive to operate
Available in excellent BTU outputs
Easy to maintain
Efficient and reliable
Cons
Not wind resistant
Less portable due to their need to be attached
Propane Patio Heaters
Propane is the most commonly used fuel source for patio heaters. The propane comes in small tanks you can place inside the patio heater's base. This makes propane patio heaters the most versatile option because you can place them just about anywhere.
Most freestanding heaters will need a standard 20-pound propane tank. Smaller ones, like tabletop heaters, will usually take smaller propane tanks. Once your heaters' fuel runs out, simply refill the tank or get a new one at your local grocery store.
Pros
Versatile
Convenient
Portable
Have high BTU outputs
They heat quickly
Can heat a large area
Cons
Propane tanks need refilling
Wind can blow out the heater
Electric Patio Heaters
Do you lack access to natural gas or simply don't want to worry about refilling propane tanks? Electric patio heaters are a great alternative. The only downside is your heater will always need to be close to a power source to operate.
With this type of heater, you simply plug it in and turn it on. Also, note that all kinds of patio heaters (freestanding, tabletop, and mounted) have electric versions.
Pros
Greatest wind resistance
Mount models available
Requires small clearances
Available with multiple heat and power level settings
Easy to use
Safe to use in enclosed spaces
Cons
Most expensive to operate
Needs to be placed close to an outlet
What to Consider Before Buying a Patio Heater
The factors I've listed below should help you pick the best patio heater for your needs and situation.
Patio Size
Of course, the first thing to consider before buying a patio heater is the space size you'd like to heat. If we're talking a few bodies around a blanket, then a small tabletop patio heater should suffice.
However, if you're looking for something that can accommodate large crowds, opt for a larger freestanding heater.
User-Friendliness
Go for a patio heater that'll be user-friendly for everyone in your household. As a general rule of thumb, electric and propane-fueled heaters are the most user-friendly options.
BTUs
Just like air conditioners, most patio heaters measure their output in BTUs. Models with a higher BTU are stronger and better at warming large spaces than those with lower BTUs. For example, patio heaters with a 48,000 BTU can keep up to ten people quite warm on a regular-sized patio.
Your Budget
The average cost of a patio heater will vary mainly based on size and type. Wall mount heaters typically range from $100 to $1000. Freestanding heaters will usually cost between $200 and $1000. Lastly, prices of tabletop patio heaters fall in the $50-$200 range.
Weather Proofing
The patio heater you get will be working outside your house. With that in mind, the one you get should be strong enough to withstand dust, wind, rain, and even snow. A patio heater's IP rating will tell you how well it can handle outdoor hazards.
Top 9 Best Patio Heaters
Here are some of the best, highly rated, and most popular patio heater models on the market. I chose these based on their design, ease of use, and price.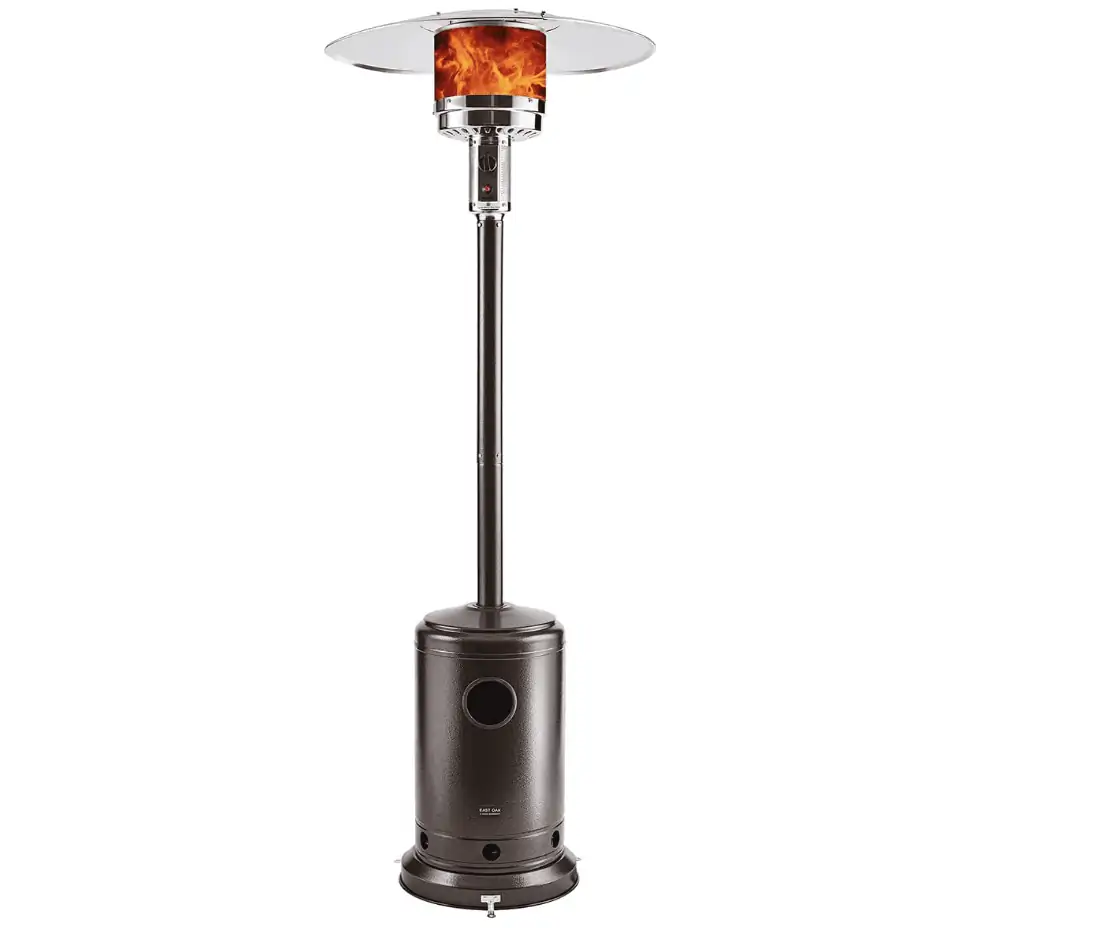 Illuminate your dining area or patio with East Oak's elegant outdoor propane heater. The unit's top-rated column design creates a focal point for alfresco entertaining after cozy and dark family nights outdoors.
Price Range: $155-$200
Height: 87 Inches
Fuel Source: Propane
As its title above shows, the unit boasts a 50,000 BTU output. It also features a top-to-bottom flame that works overtime, adding warmth and beauty to your patio. It can spread heat up to 18 feet from its central heating position.
Pros
Durable
Wheel based
High-quality build
Competitively priced
Durable stainless steel construction
A flame-out safety protection system included
Cons
Bulky
Installation instructions could be clearer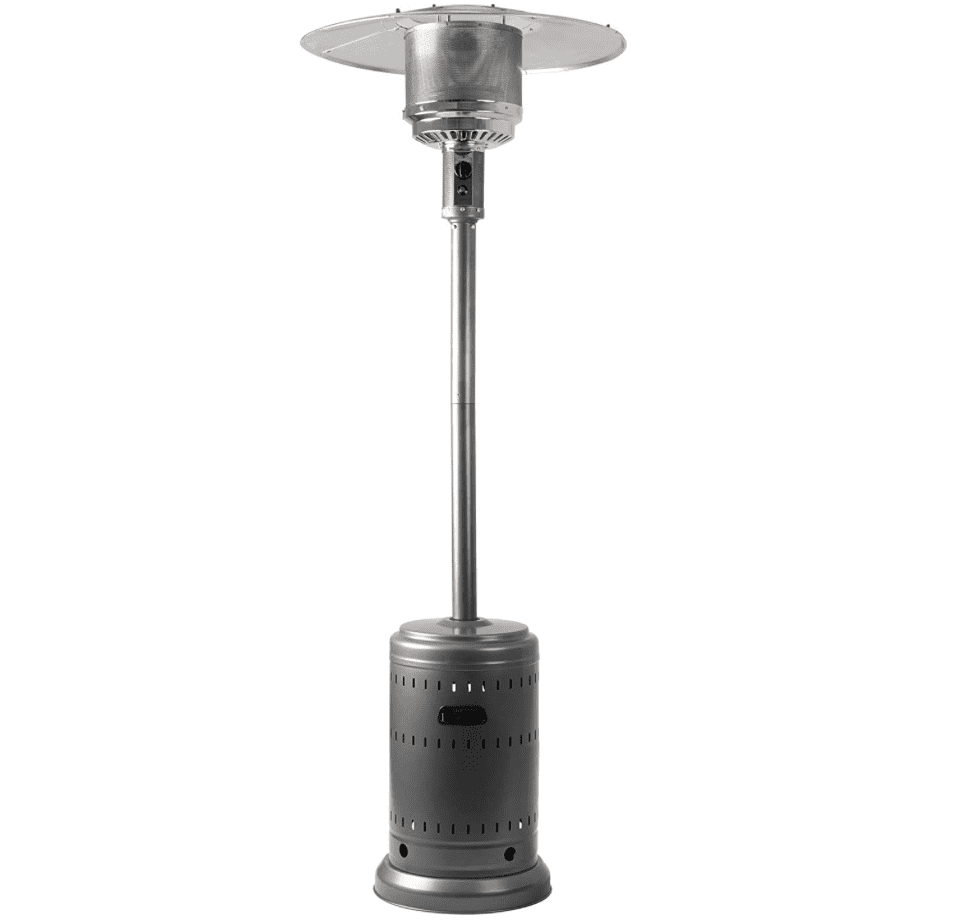 If you're considering something with a bit of flair, this highly coveted Amazon Basics Patio Heater is for you. I actually owned this one and loved it. The unit is available in both stainless steel and powder-coated versions. It also retails in six different shades, such as charcoal, sable brown, and Bahama blue.
Price Range: $120-$150
Height: 89 inches
Fuel Source: Propane
What's more? This Amazon Basics Patio Heater is backed by 46,000 BTUs that can heat up to a nine-foot radius. Inside the package you'll receive from Amazon, you'll also find a chain included in the tank. Use it to secure the heater when it's not in use to avoid potential damage.
Pros
Easy to operate
Portable
Heats up fast
Easy to assemble
Relatively affordable
Great color range
Cons
Some find it too tall
Not wind resistant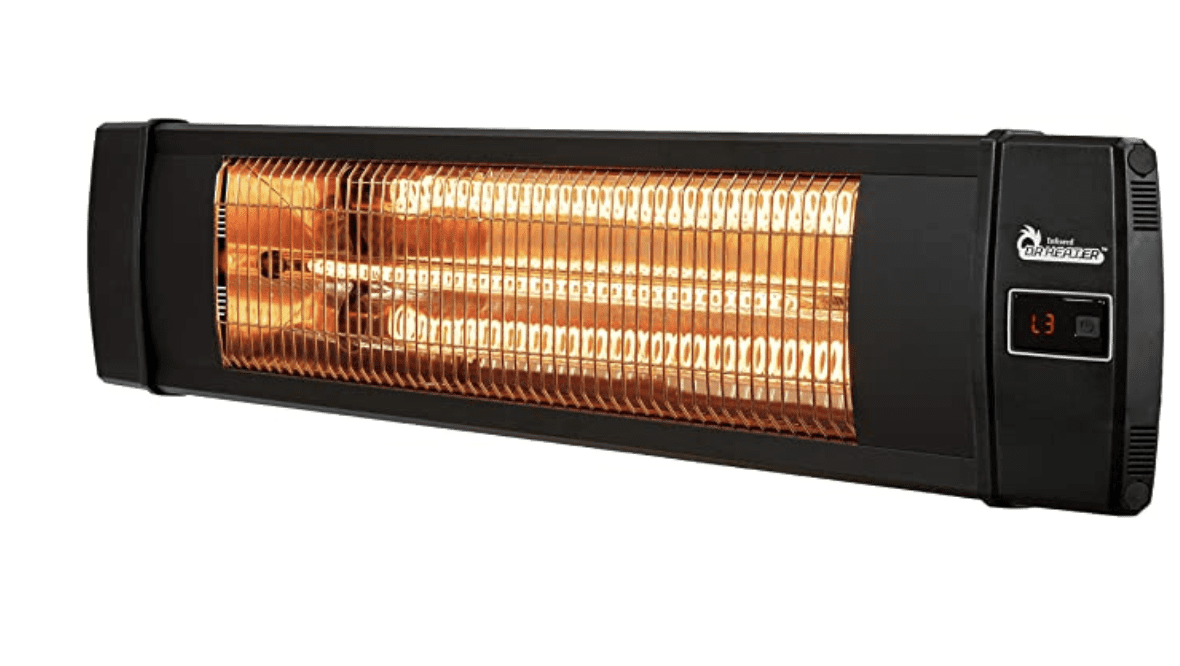 For the best mounted patio heater, consider DR Infrared Heater DR-238. The unit retails with three power settings: 900W, 1200W, and 1500W. At least one of these levels should emit sufficient radiant heat to keep your home's patio cozy.
Price Range: $100-$$130
Height: 4 inches
Fuel Source: Electricity
DR Infrared heater DR-238 is also remote control operated. This makes it ideal for covered patios and screened-in porches where you may not have to do much repositioning. The wall and ceiling mounting brackets will be included in the package.
Pros
Huge coverage area
Infrared is safer around children
Affordable
Great for small groups
Elegant and discreet
Space-saving
Cons
Not meant for large spaces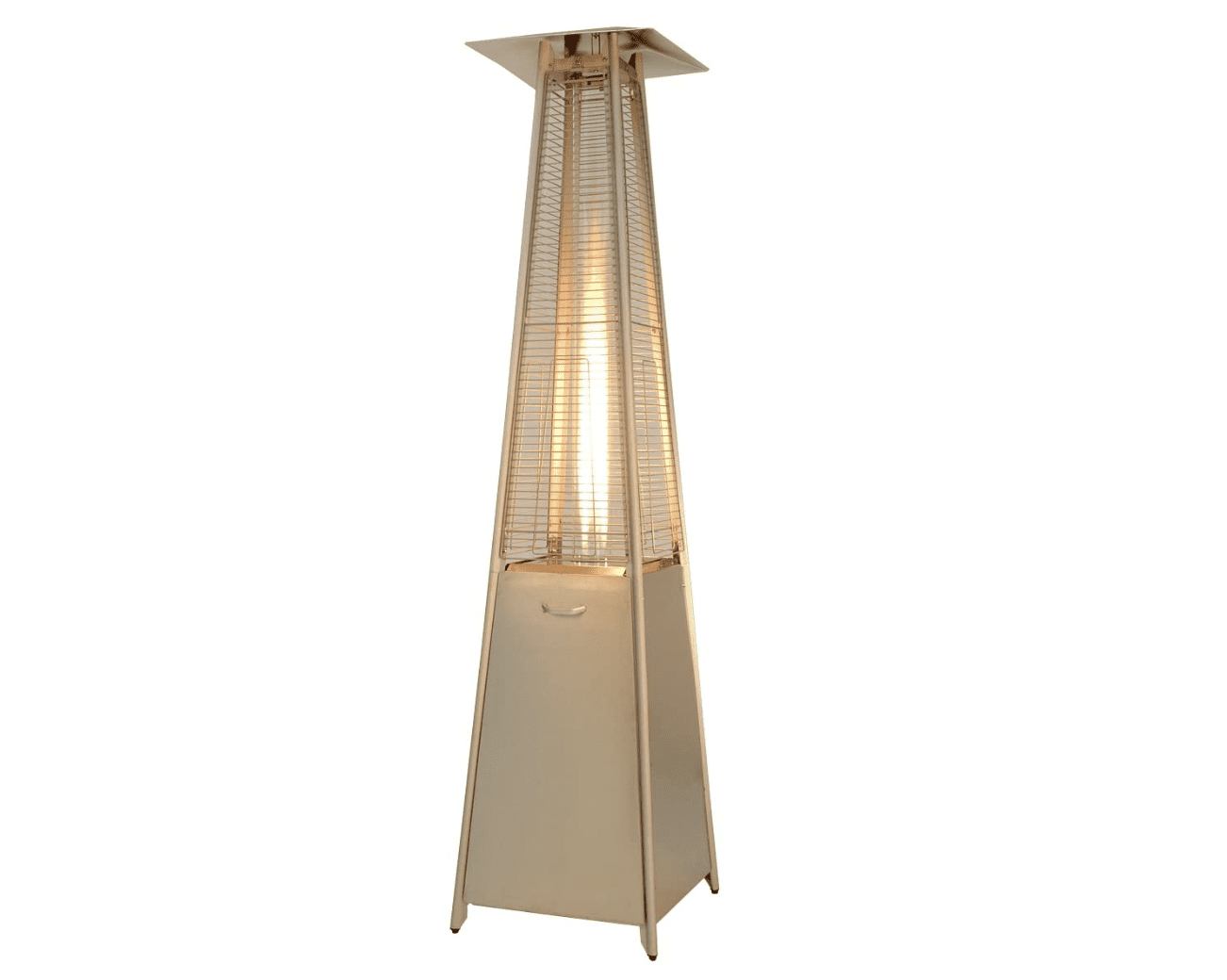 This modern style Hiland HLDSO1-GTSS patio heater has major visual appeal. It's packed with the bells and whistles it'll need to look cute on your patio while giving off good heat.
Price Range: $400-$600
Height: 91 inches
Fuel Source: LP gas
Features you'll enjoy on the Hiland HLDSO1-GTSS include a safety auto-tilt shut-off system and a reliable ignition system. Underneath, you'll also find mobility wheels you can use to move the unit around your deck or patio easily.
Pros
Sturdy base
Attractive quartz glass tube design
Stylish dancing flame design
Commercial grade build quality
Durable stainless steel finish
Safety auto-tilt shut off system included
Cons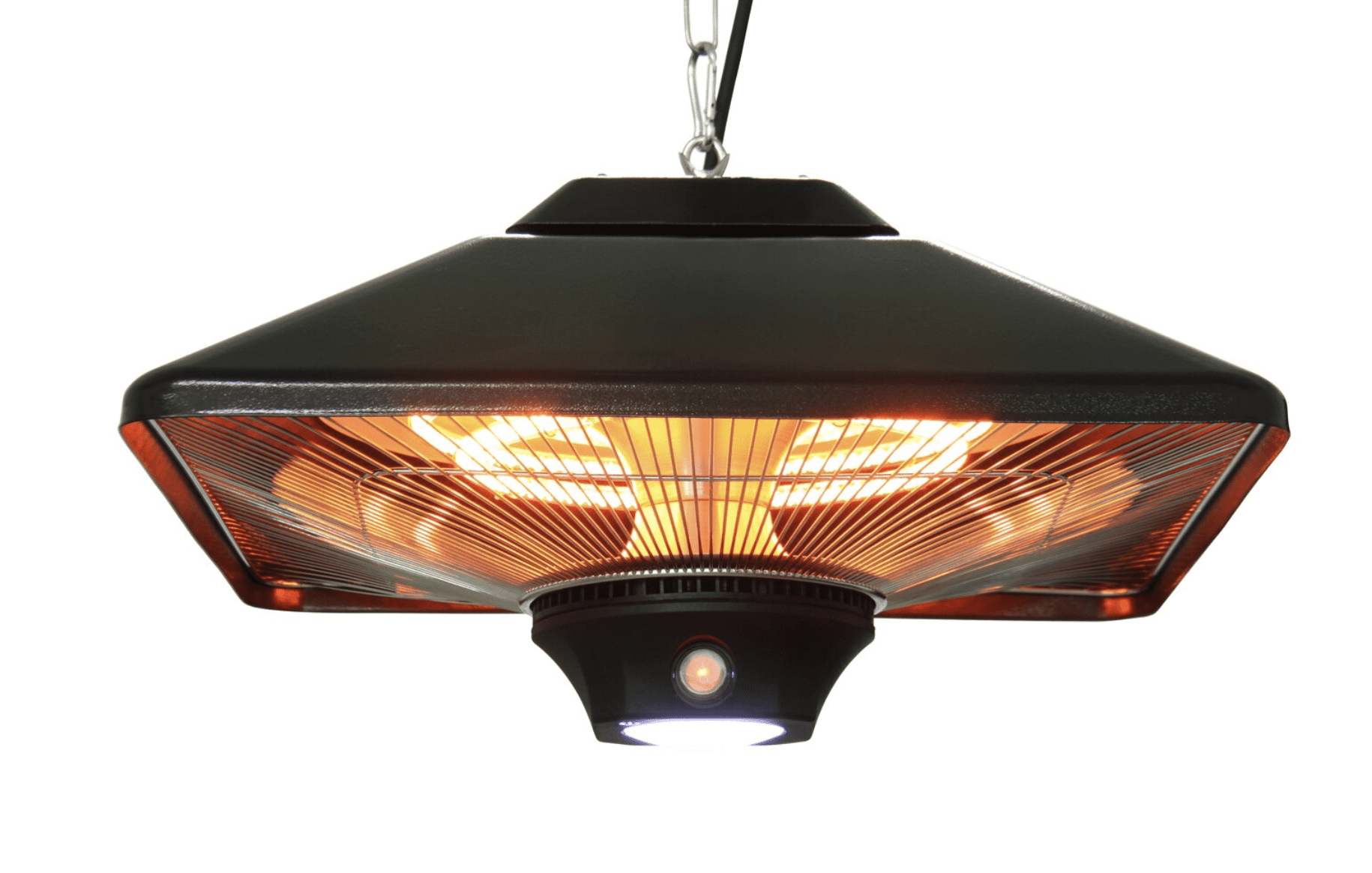 Are you scouring the internet looking for a heater takes up little to no square patio footage? Look no further than the EnergG+ Patio Heater. With adjustable hooks and chains, you can easily suspend this electric heater on gazebos, balconies, patios, porches, and terraces.
Price Range: $180-$220
Height: 11 inches
Fuel Source: Electricity
Regarding its output, you can adjust the heater's heat emission in 3 ways: 1500, 800, or 700 Watts. All three settings deliver high-quality heat through the unit's 360-degree round steel shell.
Pros
Aesthetic
User-friendly
Quiet
Plug and go operation
Safe for use under covered patios
Remote control included
Cons
It costs more to use in the long run
It has to be close to an outlet to operate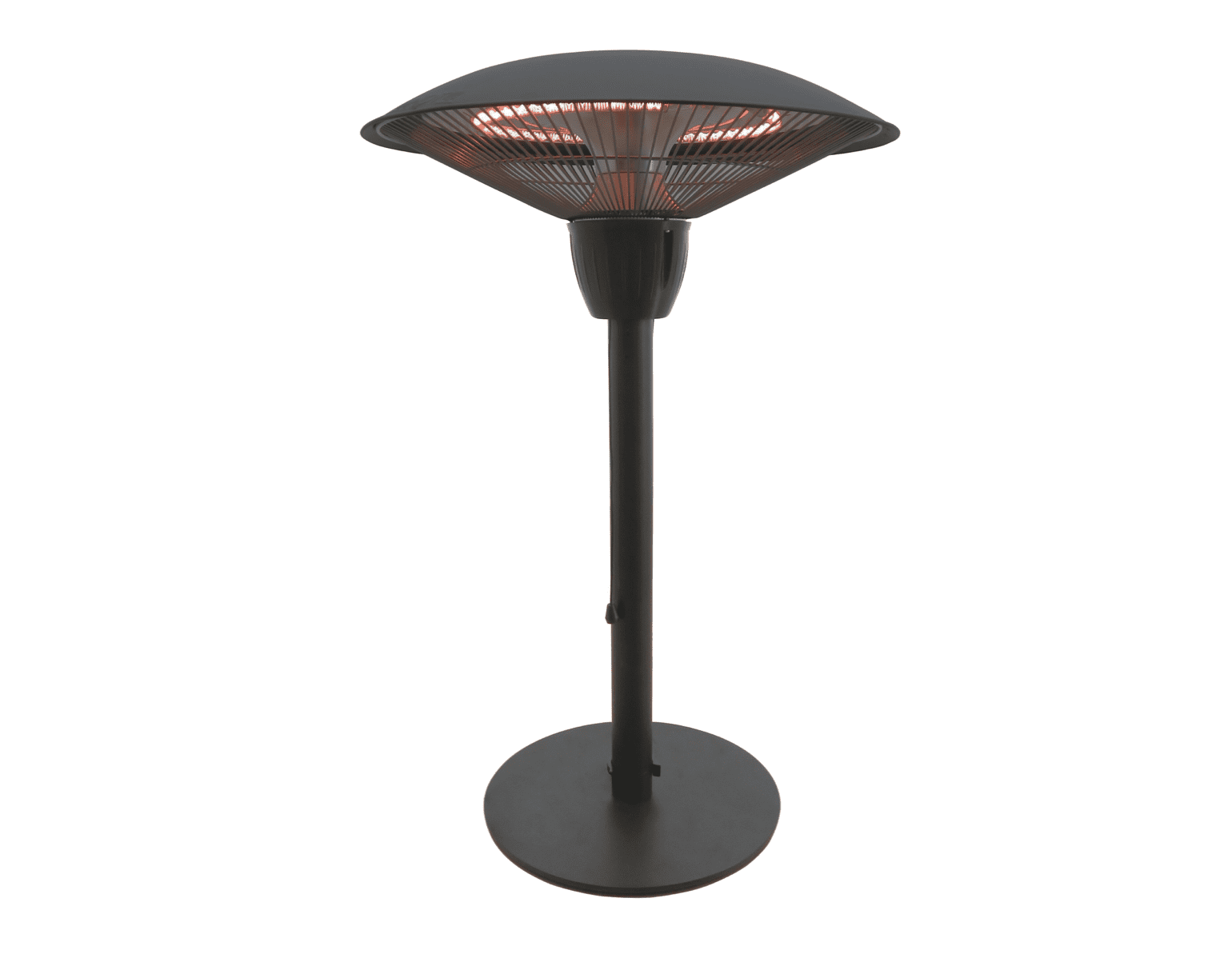 Backed by a 1-year warranty, this petite, portable tabletop patio heater can heat up to 50 square feet. That makes it the perfect addition for patio tabletops, covered porches, and breezy apartment balconies. The unit is also CSA Certified.
Price Range: $130-$200
Height: 25.98 inches
Fuel Source: Electricity
That said, to prevent fire hazards, the manufacturer recommends giving your Westing House Tabletop Heater a 24″ clearance area. Ensure the carpet, furniture, ceilings, walls, and other flammable materials are a safe distance away.
Pros
Affordable
Tabletop design is easily portable
Wheels included for easy transport
Tip-over and overheating protection included
Great for indoor use as well
Warranty included
Cons
Insufficient power for large patios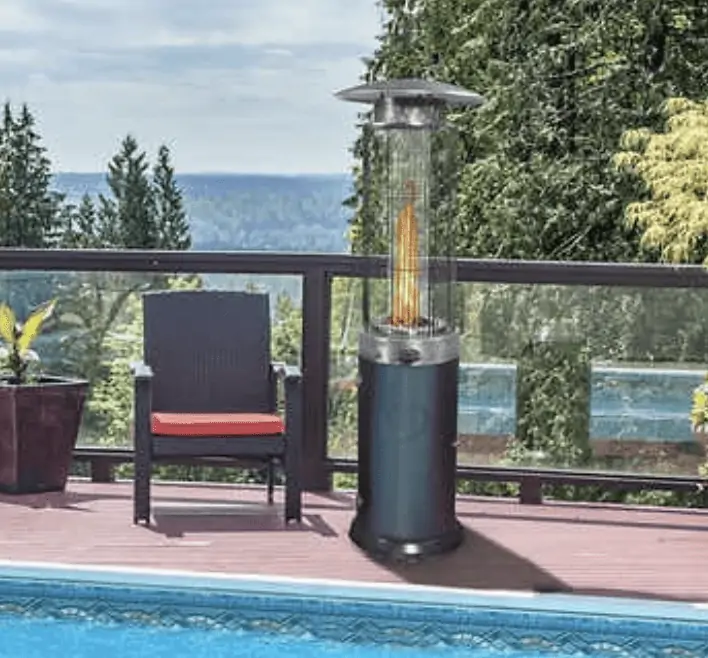 With this Paramount Patio Heater, you'll find yourself inventing winter social events at your home just to show it off. The 5-foot-tall unit has an attractive black finish and a powder-coated rustproof steel base.
Price Range: $350-$800
Height: 65.7 inches
Fuel Source: Propane
Plus, it's encased in a tempered glass tube. This addiction allows you to watch the spiral flame dance as up to 40,000 BTUs keep your patio warm.
Pros
Stylish dancing flame design
Features a tempered glass tube
Great for crowds
Lightweight and portable
User friendly
Durable and sturdy
Cons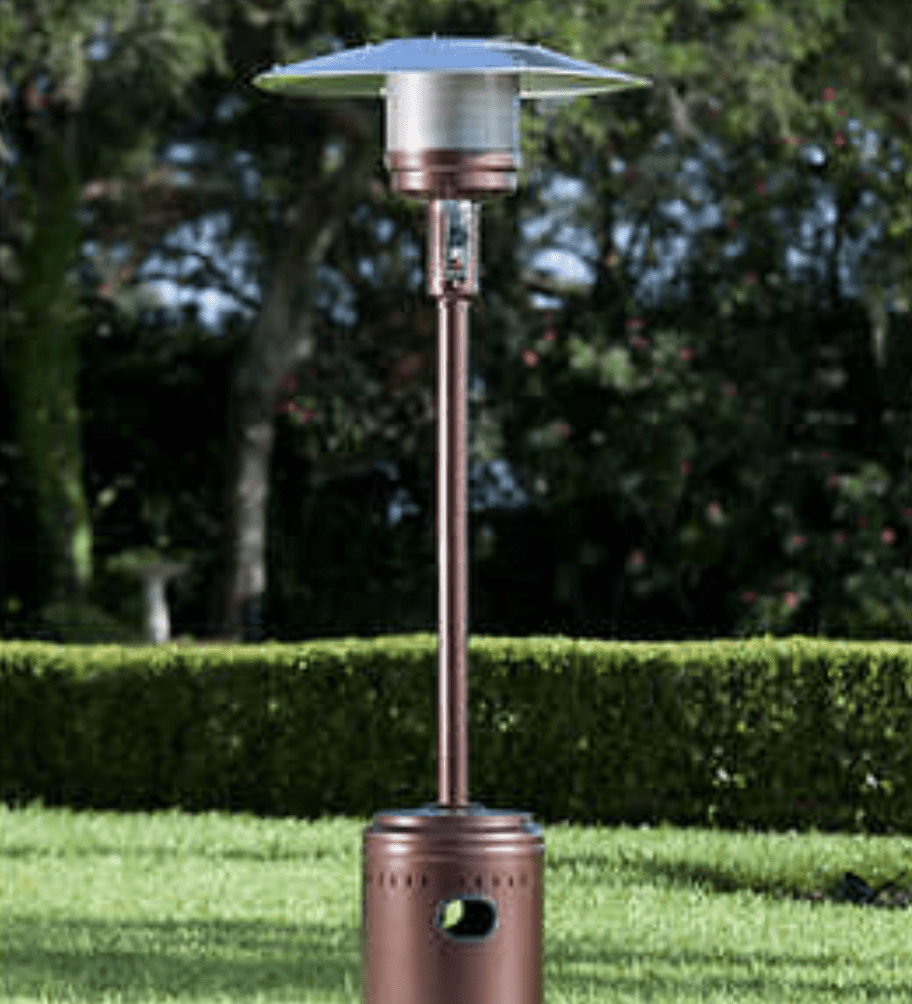 This sleek heater model from Paramount is one of the most weather-resistant patio heaters I've ever tested. This has been ensured by the unit's powder-coated and stainless steel trim on its tank and head.
Price Range: $150-$300
Height: 87.4 inches
Fuel Source: Propane
Even better, this paramount bronze patio heater boasts a piezoelectric ignition for quick, easy starts. A wheel kit has also been included to help you move the unit easily wherever you need it.
Pros
Wheels included for easy mobility
Safety features included
It has a strong and durable build
Great for large patio spaces
Very portable
Easy to assemble
Cons
Bulky
Some reviewers have complained about its igniter
This Paramount Telescopic Infrared Patio Heater is slightly expensive for an infrared electric heater. That said, it also boasts a patented telescopic, adjustable pole. The pole will allow you to direct the heat where you need it most.
Price Range: $300-$400
Height: 86.6 inches
Fuel Source: Electricity
Bonus point: as with other electric patio heater models, you won't have to worry about running out of gas.
Pros
Directs heat where you need it
Silent operation
Eco-friendly weatherproof
For both outdoor and indoor use
Wind resistant
Protective aluminum cover shield included
ETL approved
Cons
Less heat output for its price range
Bulky
FAQs
Below, find additional common questions asked about patio heaters.
Question: Which Type of Patio Heaters Are the Best?
Answer: Propane patio heaters are the most popular and efficient because they can heat large areas and are portable.
Question: Is a Patio Heater Worth It?
Answer: In my opinion, it's an excellent addition to any outdoor space. More heat will mean you can keep enjoying your patio year-round, so yes, patio heaters are worth it.
Question: Can You Put a Patio Heater Under a Covered Porch?
Answer: It depends on the type of patio heater you have. Propane patio heaters are generally not recommended for covered spaces. Electric patio heaters, on the other hand, are safe to use in covered areas.
Question: Do Patio Heaters Use a Lot of Electricity?
Answer: While electric patio heaters are cheap to buy and 100% effective (no heat waste), their running costs are high. The average cost for a 4,000-watt electric patio heater is 15 cents per kilowatt-hour (60 cents per hour.)
Bottom Line
Never again should you let the bitter winter temperatures stand between you and your beloved patio. Get the most from your space with the help of one of the best patio heaters I've discussed above. If you're looking for style and affordability, I recommend the Amazon Basics Patio Heater.
Within the main categories of heaters I've also listed above, you'll find an array of designs, sizes, and prices. Pick the unit you think best exemplifies the best of all worlds. And for more great recommendations for your home, check out our site!
Recommended Reads: