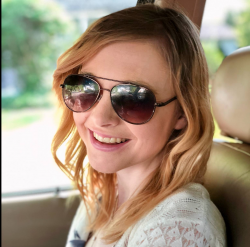 Latest posts by Erin Jamieson
(see all)
While my dream is to one day own a cottage-style home, the truth is that my living situation is far more contemporary. Whether you're living in a modern home because you love the style or simply because that's where life took you, don't neglect to decorate your porch. And one of the best ideas for doing just that is by adding a modern porch swing.
Growing up, I associated porch swings with traditional homes. While that's not incorrect, it's also a big loss to assume a modern home means no porch swing. If anything, there has been innovation in the space of modern porch swings. From cozy daybed swings to a funky egg chair swing or a striking navy blue swing, modern porch swings upgrade the street appeal of your house and add ambiance. 
Here are my top ideas for modern porch swings with updated, sleek designs. With careful selection, you can buy one that'll last you for years to come. 
Bottom Line Up Front Summary
Porch swings aren't just for traditional homes. Modern porch swings add warmth, value, and style. From mid-century modern to sleek to coastal, have fun finding a porch swing that sits in the style of your modern home. All of my ideas were selected based on quality materials, signature features, and unique designs. 
If I were to recommend just one modern porch swing, it would be the Domi Porch Swing with Canopy. It's more expensive than many of my ideas, but for good reason. With a powder-coated steel frame, generous canopy, solar lights, and stylish Sunbrella cushions, it's built both to last and to entertain. 
My Top Picks
How I Picked These Swings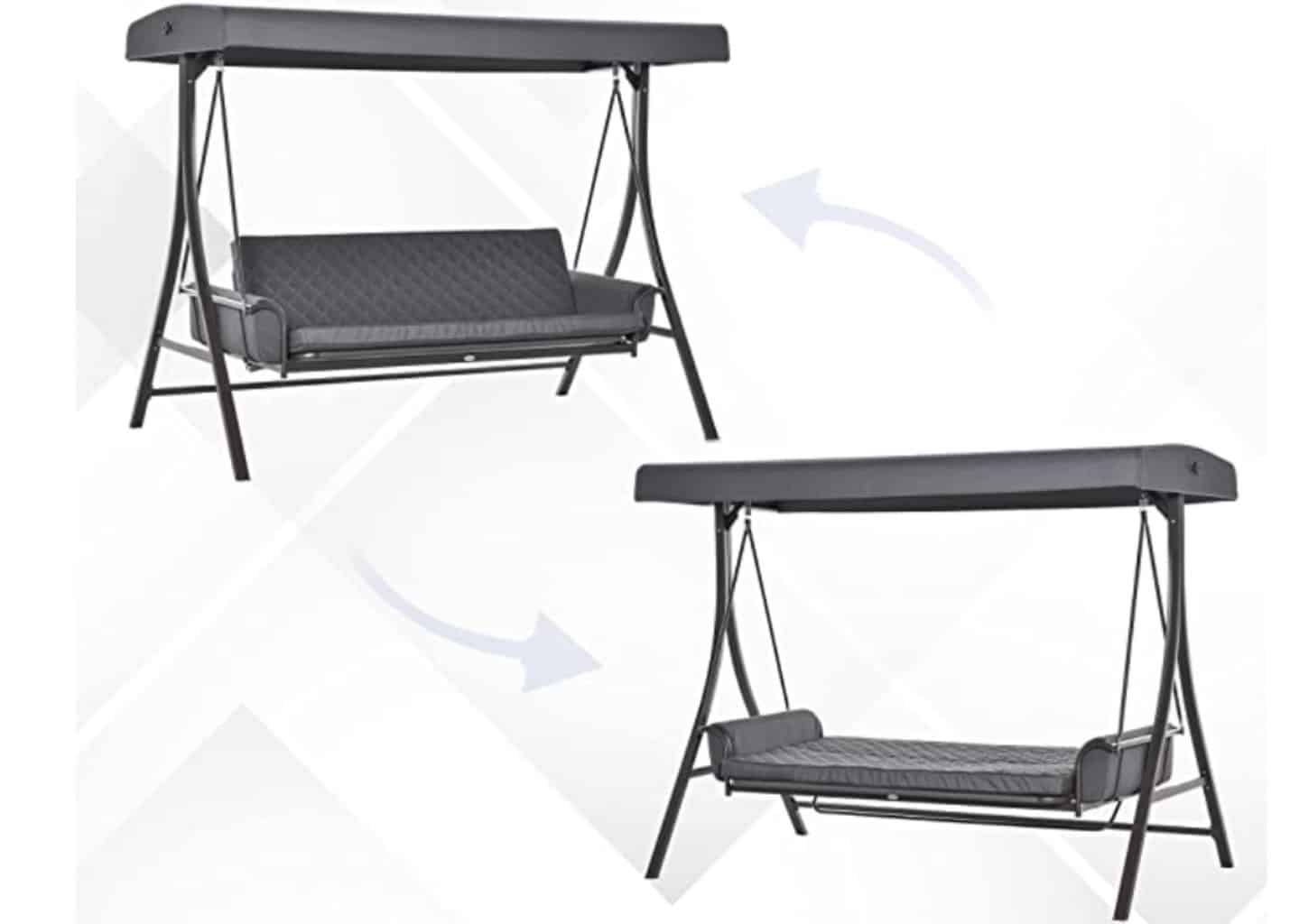 Here's an inside peek at how I choose my favorite modern porch swing ideas. With modern porch swings as popular as ever, the challenge for me was to find styles and designs that stood out from the rest. My goal: balance out porch swing quality with price, style, and features. 
Selecting Modern Styles 
The first task before me was defining a modern porch swing style. In truth, modern encompasses several popular styles. While my first thought is of sleek, clean lines, there's plenty more nuance and interesting ways to express a modern style. The table below shows just that! 
| | |
| --- | --- |
| Modern Style I Looked For  | Key Characteristics  |
| Mid-Century Modern  | Egg shapes, geometric patterns, bright colors |
| Industrial/ Eclectic  | Metallic accents, mix, and match shapes play with texture  |
| Minimalist (Scandinavian- Inspired) | Sleek, clean lines  |
| Modern Farmhouse | Touches of warmth with sleek lines- wood tones  |
| Modern Coastal/ Beachhouse  | Minimalist with tropical colors and motifs |
Colors played a role in the styles I looked for, and with modern, you can have a lot of fun. Metallics (silvers), sleek black and white, and even bright colors (blue, gray, and more) were all on the table. 
Selecting Modern Porch Swing Materials 
For modern porch swings, I usually lean towards two broad categories: metal and Polywood porch swings. Polywood typically encompasses that modern style better. I also like that both require less upkeep- keeping pace with a busy, modern style. 
For Polywood, I just made sure it was sold from a reputable seller and came with a warranty. For metal, I was a bit pickier. For metal porch swings I prefer stainless steel, carbon steel, or treated iron. Cast and reinforced iron are great for a modern, industrial look, but I made sure to pick swings that won't rust or corrode. 
Wooden swings tend to be less modern. However, sometimes they are treated with a modern and weather-resistant coat. This can suit a mid-century style.
Selecting Modern Porch Swing Features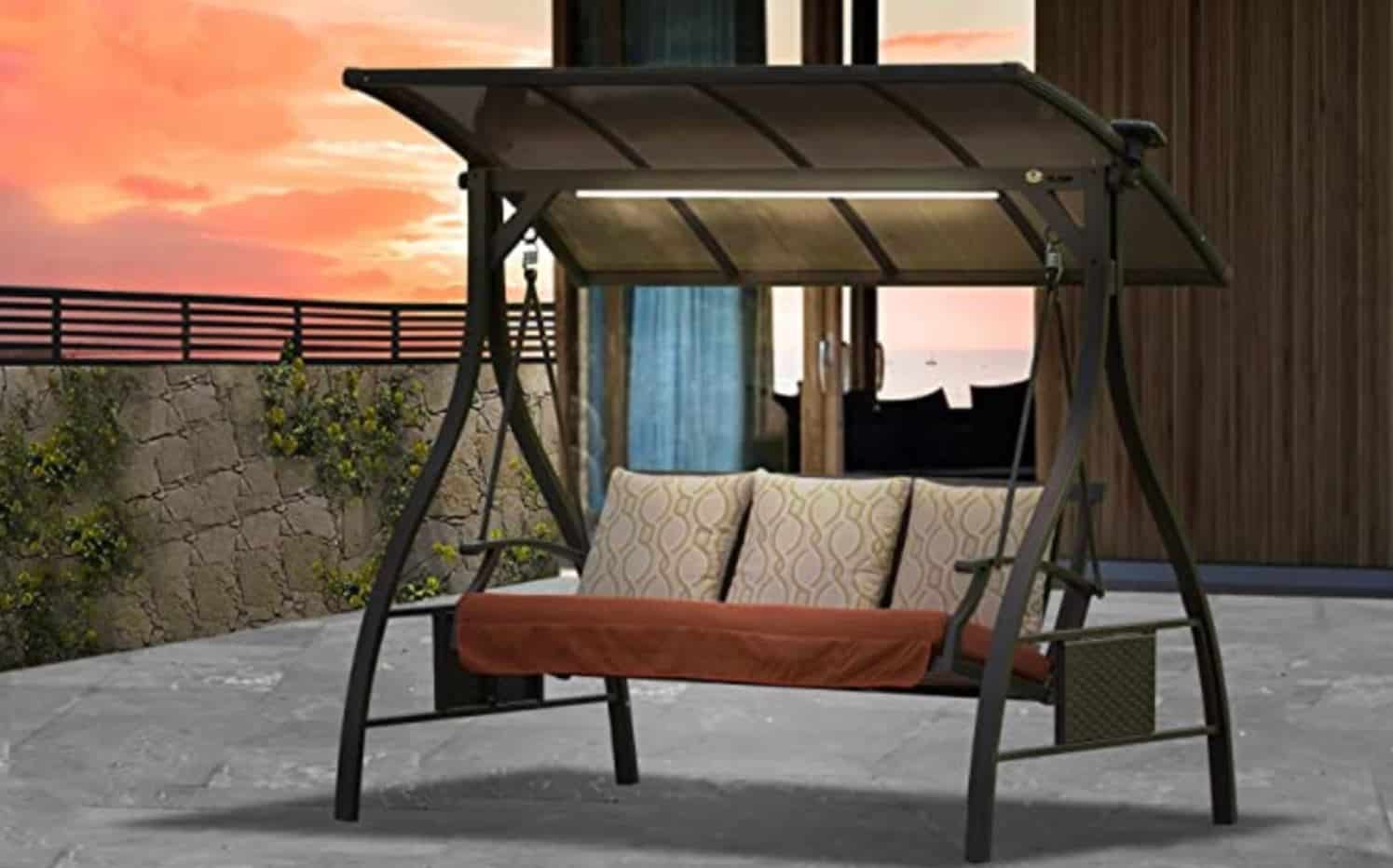 Modern porch swings can be simple- and there's nothing wrong with that. But I also wanted to include ideas that are especially comfortable, great for entertaining, and add a wow factor.
 Those features include striking cushions, canopies to protect you from UV rays, cup holders and tray consoles for enjoying a snack, and even solar lights to help you enjoy your porch swing from dawn to dusk. It's these extra features that show me just how much enjoyment you can get out of a modern porch swing design. The point: I had fun finding unique features for a unique modern porch swing. 
Deciding Where to Buy Modern Porch Swings
The challenge for me wasn't so much finding anywhere to buy a modern porch swing from but making sure that where I bought it from was a reliable source. I dug into customer reviews and the company or brand's reputation in the professional world. My ideas only come from stores I'd also feel comfortable shopping with. High-quality pictures, detailed descriptions, protection plans, and warranties also gave me more confidence in the swings that I'm recommending. 
See also: Best Farmhouse Porch Swing Ideas
Dimensions & Price Point 
In addition to the selection criteria that I already mentioned, I also wanted to make sure I didn't apply a one-size-fits-all approach. That means I've included swings at all price points, from budget to luxury. I also included different porch swing dimensions- everything from one person to three-person swings. Finally, I selected comfortable seats with a depth greater than 18 inches, but also some more laid-back, deeper seat depths for lounging. 
Fabulous Modern Swings: My Ideas
Here are my favorite modern porch swing ideas that I'm happy to recommend. It's time to get inspired with everything from an egg swing chair to a 3-person modern swing with a canopy and stand. A few of these are hanging swing chairs- and may come with a rope. I'd swap out the rope for a stainless steel swing chain for an even modern look and more durable construction. 
Barton Egg Swing Chair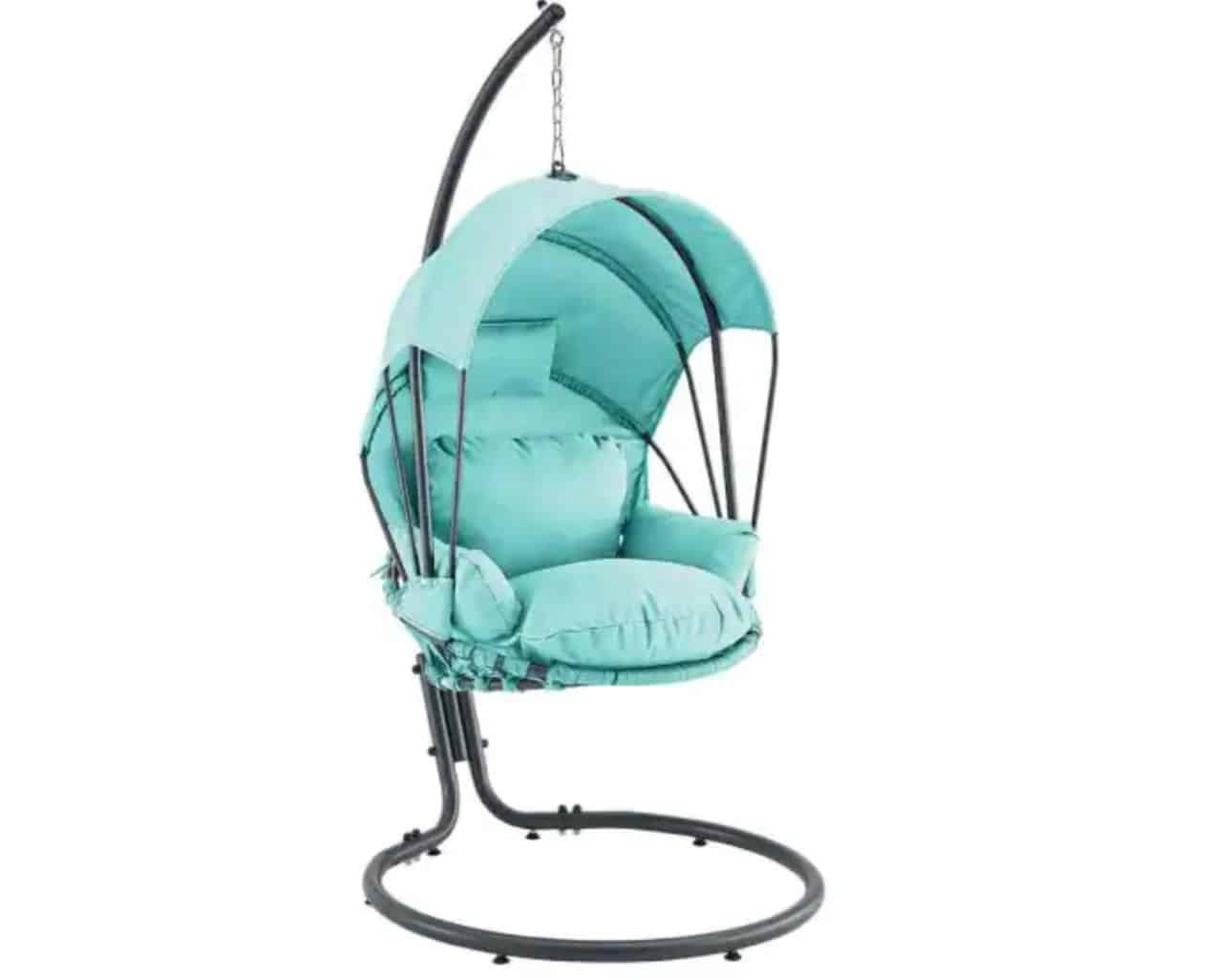 If you have a small porch to work with and love a mid-century modern look, this swing idea is for you. The egg chair style adds a pop of color with a comfy seat that's perfect for reading, napping, or just spending time alone. I love how this swing chair is both fun and practical. Many egg chairs just don't hold up outside, so I was happy to see some important details. I love the powder-coated steel frame, and the cushions are perfect if you're anything like me and tend to get shoulder knots for everyday stressors. Those cushions are resistant to fading from UV rays. Plus, no worries if you have a little spill: in my experience, polyester cushions are pretty easy to wipe clean! Buy Here. 
Raybon 2 Person Metal Porch Swing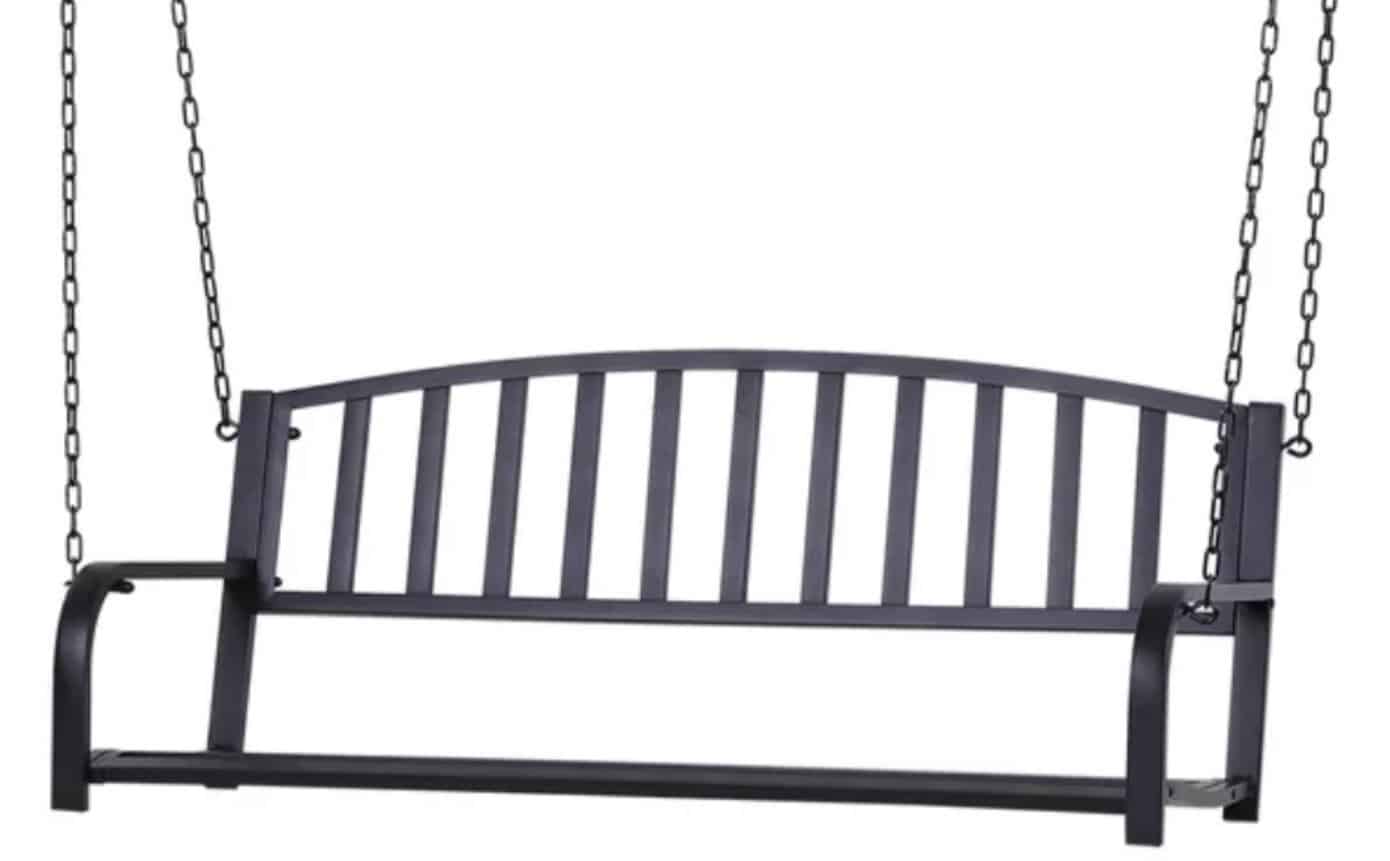 Something I love about modern porch swings? They don't have to break the bank, and they can be incredibly versatile. That's certainly true for this under $200 porch swing. I love this idea not only because it's budget-friendly, but also because you can style it to achieve the modern look you want. Stick to contemporary by keeping the plain, sleek stainless steel frame. Add a brightly-hued cushion for a mid-century touch, or coastal motifs for that beachy vibe. You could even add a high-shine finish for an industrial look. But whatever you do, this simple metal porch swing has a nice, curved back for more comfortable swinging. I also love that it comes with a classic link metal chain and is resistant to both UV rays and corrosion. Buy Here. 
Outsunny Convertible Swing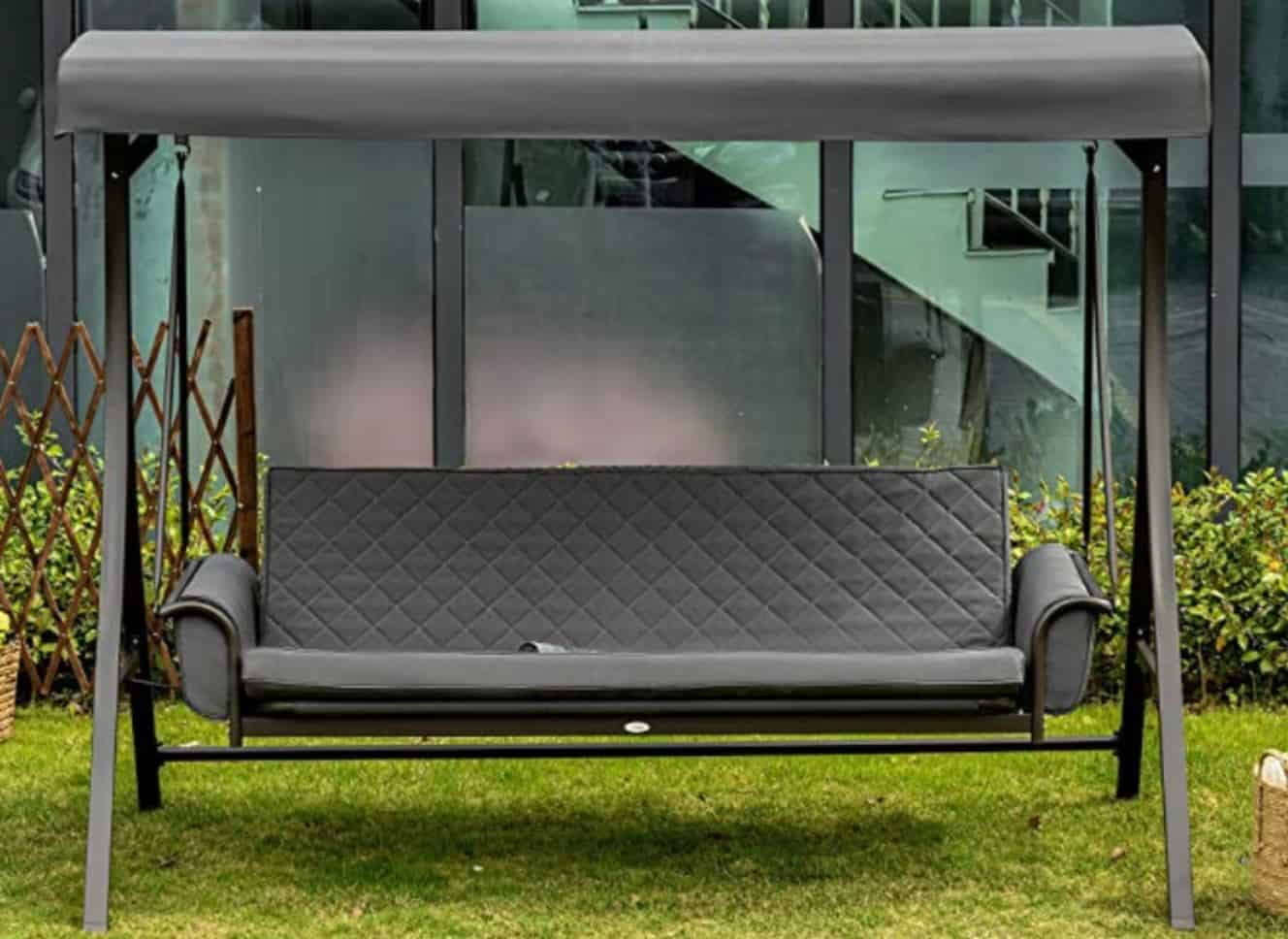 My mother has always loved convertible designs for just about anything- from jackets to furniture. I didn't understand the appeal as much until I went to college and later, moved into my place. But this porch swing sold me entirely on the concept, and if you want both a swing to nap on and enjoy regularly, then this modern porch swing is the perfect fit for you. The steel frame includes a canopy to protect you from sun, wind, and rain. Even better, it's adjustable so that you can tilt it however you like. The 2-in-1 design allows you to go from an upright, cushioned seat to a comfy daybed. Gray cushions are always an excellent choice for a modern swing, and not just from a style perspective. If you're ever messy (I know I am), a dark gray is probably a more practical option than a light hue. Buy Here. 
Mark Estate Daybed Swing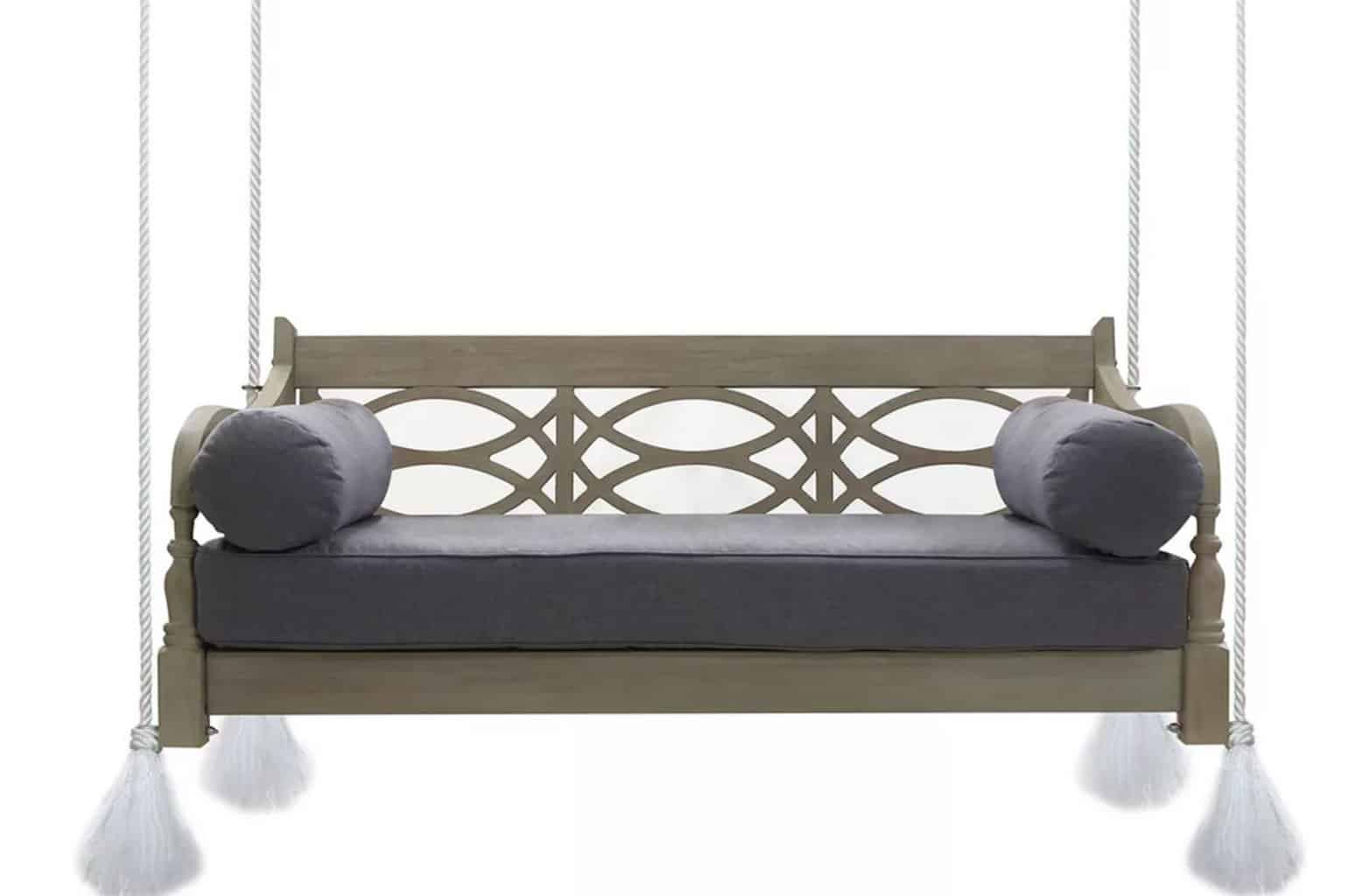 There are porch swings, and then there are dramatic daybed porch swings. If you like a modern take on elaborate designs, want a statement porch swing, or just want a comfy place to nap, take a look at this unique porch swing. The daybed swing is heavy-duty, with a weight capacity of 900 pounds. Modern glam is certainly a statement, with a gold finish and flourished sides. Yet sleek lines and minimalist bolster pillows keep the look updated. The sustainably sourced wood frame is a plus- all protected by a weather-resistant coating. I'm a sucker for a stormy blue color and the gold pairs with it for a striking statement. Even better, the cushions are made with premium Sunbrella fabric. Buy Here. 
See also: How To Find The Best Porch Swing Hanging Kits
Wilmar 1 Person Metal Porch Swing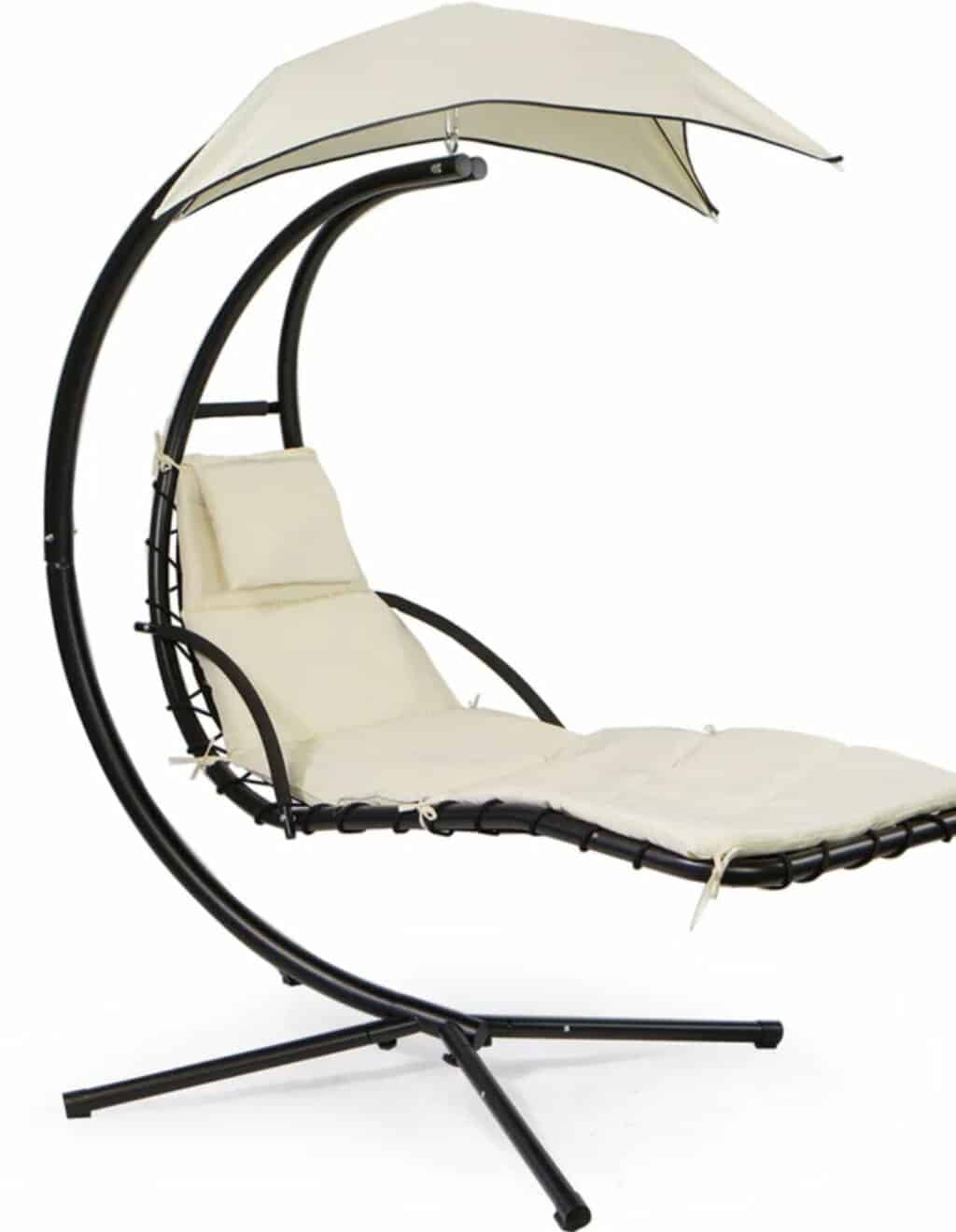 Whether you live near a lake or have a pool in your backyard, this swing is perfect for enjoying a body of water. This modern porch swing for one is one of the more clever designs I've seen, and, as someone who burns easily from the sun, I appreciate it. The unique tubular design gives me updated mid-century modern vibes, while the little umbrella provides relief from sun and heat. Unlike so many tubular swings I've seen, the frame is made with sturdy, powder-coated steel. I also love that it includes fade-resistant cushions. I will admit: though I like the look of them, ivory cushions probably wouldn't be the ideal fit for me. Good news: the cushion is easy to remove- either to swap it out seasonally or for cleaning. Buy Here.
Porch Swing Company Roll Back Porch Swing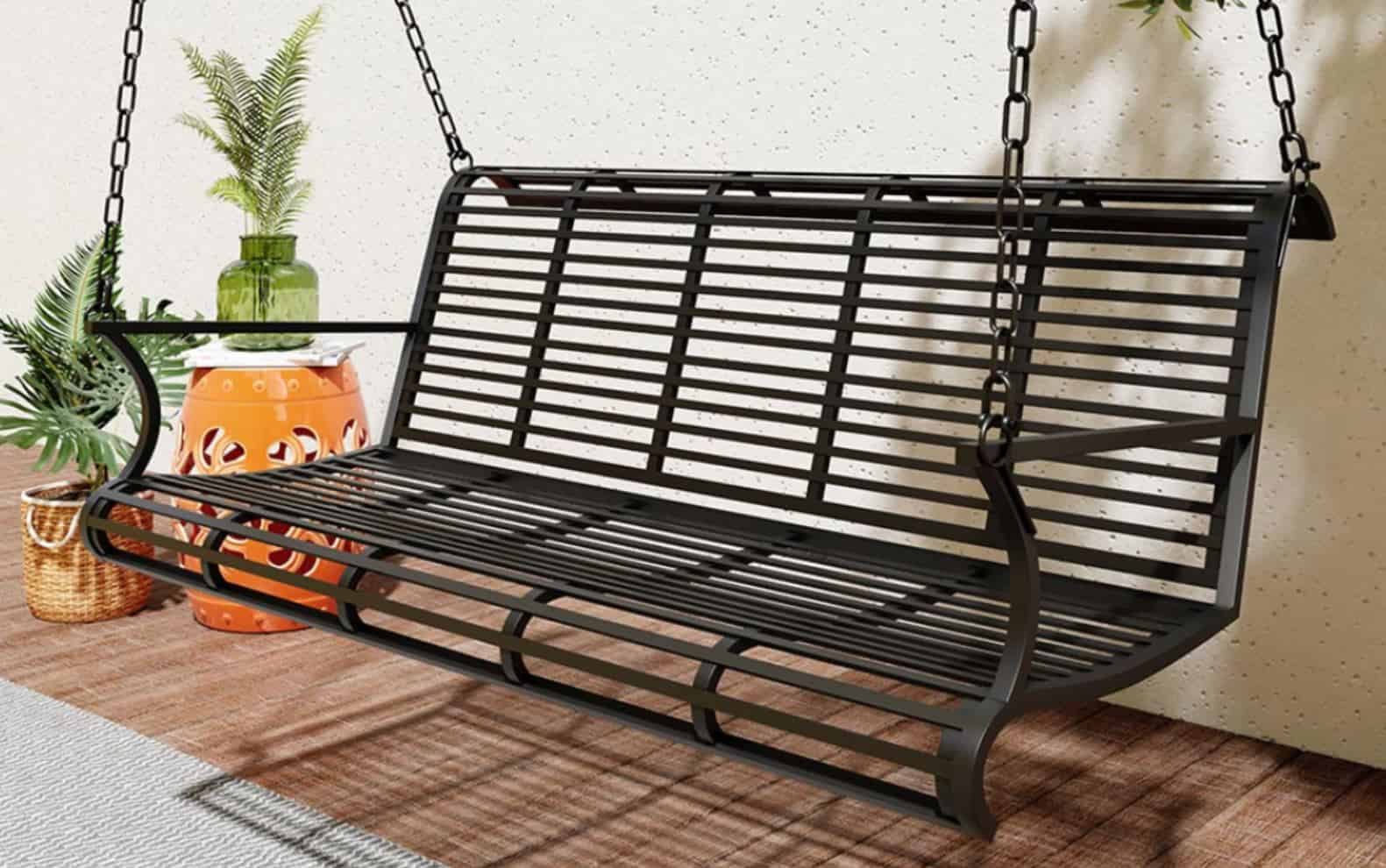 Want to keep it simple- but also want a heavy-duty swing? This modern porch swing may be the best idea for you. What I like about this porch swing is that it manages to be both modern and timeless: it's not going to go out of style any time soon. The rollback design is great for improved back support, while still keeping a contemporary look. I love that you can keep this porch swing plain, stain it, or add cushions. While I wouldn't say it's the most unique porch swing, it is very practical and perfect for anyone who wants a staple porch swing that will last year after year. Buy Here. 
Nautical Porch Swing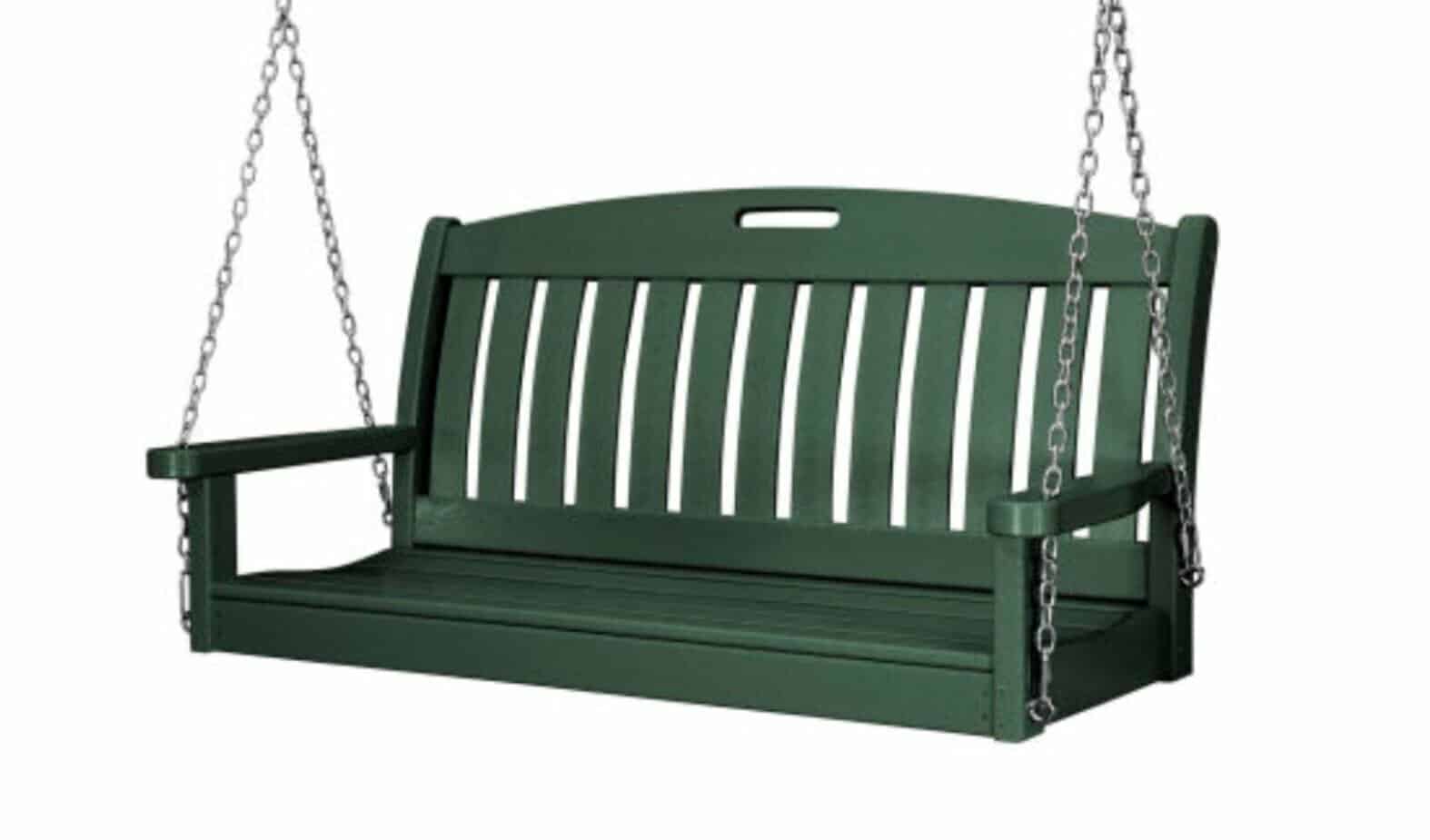 Modern farmhouses are a trend I'm excited to see because it just shows that you don't have to be pigeon-holed to either a traditional or modern porch swing style. If you love the charm of a farmhouse but want an updated look, this swing is an excellent choice. I love how the sleek lines pair with hints of farmhouse warmth with a Polywood frame. The curved back and sturdy construction are big bonuses. But that said, I also would be remiss not to mention the fun stain colors, from simple and black to forest green. Buy Here. 
See also: Ultimate Farmhouse Decor Ideas
Domi Porch Swing with Canopy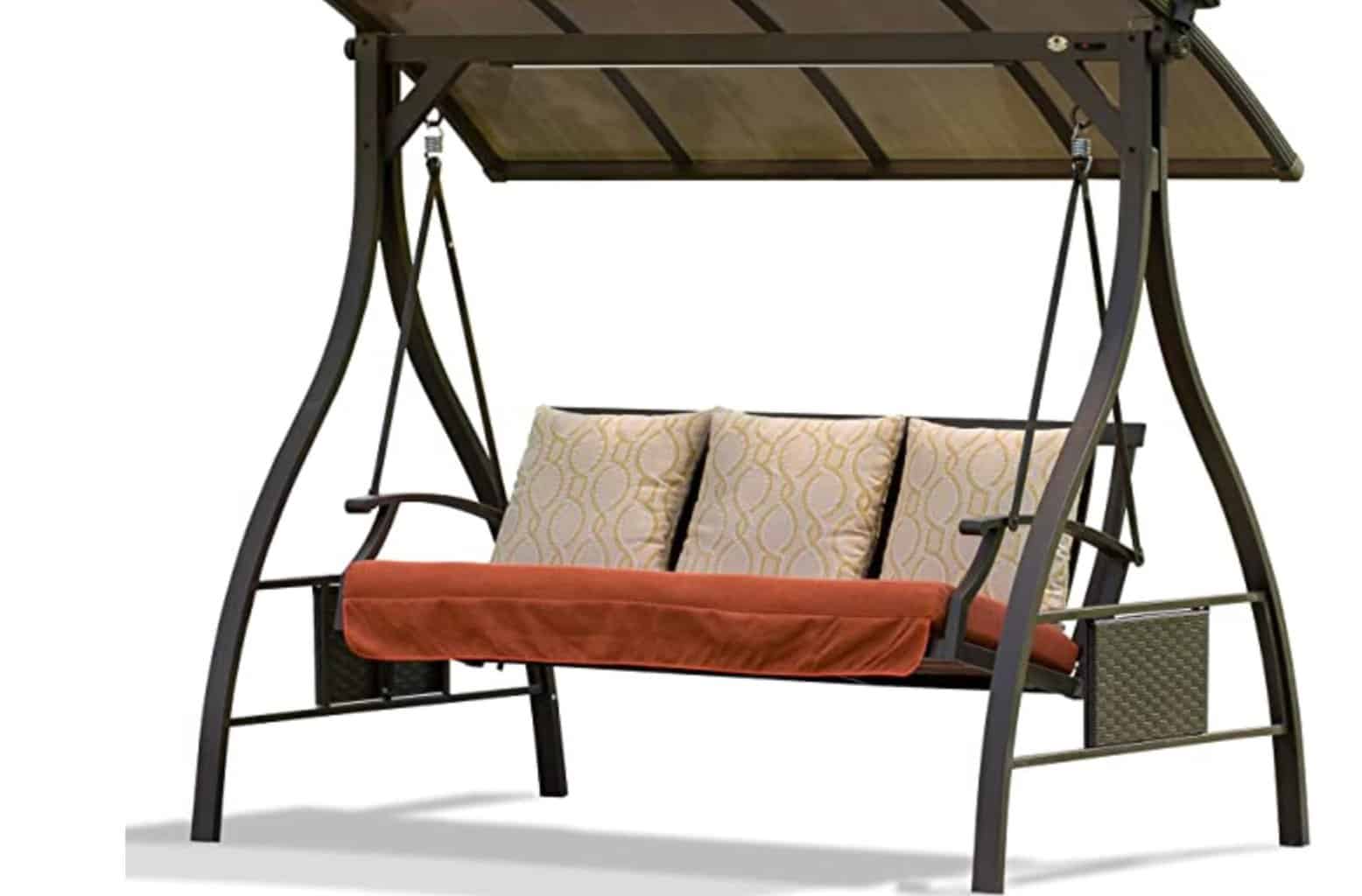 This is one of the most luxurious, modern porch swings you can get for comfortably under $1,000. If you love making a statement, love entertaining, and simply value comfort, definitely consider this idea. The statement porch swing comes with a generous canopy- perfect for sunny, windy, and even rainy weather. Sunbrella fabric exudes both comfort and warmth, with rust and tan hues. I also love the solar LED light and how easy this swing is to adjust. It's sure to become your go-to place to relax! Buy Here. 
Mission Style Porch Swing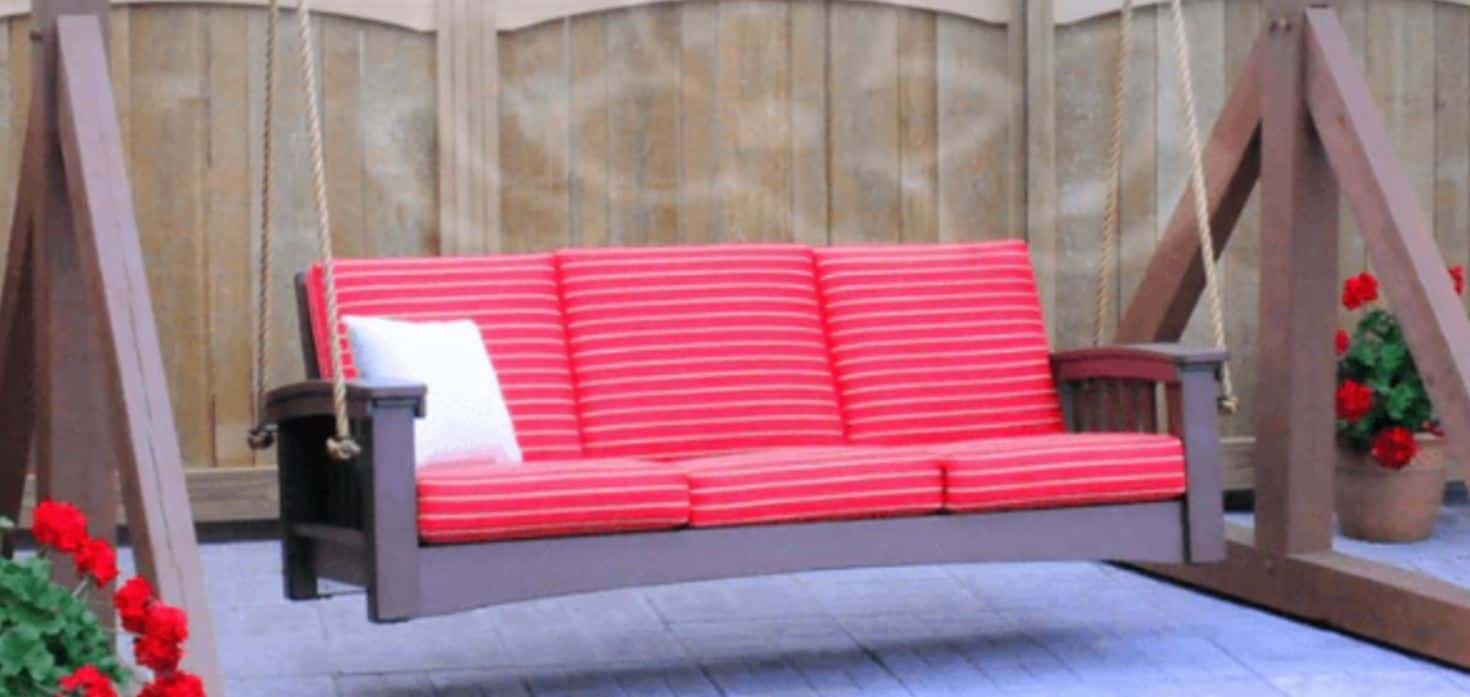 Have a modern beach home? A house near the coast? Or do you just like that style? Then I think this may be the best porch swing for you. While it's the most expensive of all of my ideas, there are several reasons why this porch swing caught my attention. First of all, the unique design blends modern and beachy warmth. I love that you can customize the pattern and color of your cushions. The porch swing has this distinct low profile that you'd think might be less comfortable, but includes a leaned-back orientation for a more comfortable swing. I also love that it's made in the USA by Amish craftsmen, all with a low-maintenance Polywood frame. Buy Here. 
Frequently Asked Questions
Question: Are porch swings a Southern thing?
Answer: Porch swings are especially popular in Southern states. With mild to hot weather year-round in many regions, spending time on porches is especially popular. That said, I think it's a mistake to label porch swings as purely Southern. Porch swings of different styles have gained traction in the Midwest, regions of the East Coast, and other parts of the United States. Modern porch swings have also expanded who uses them. Porch swings add aesthetic appeal, value, and personality to the home, which is all the more reason to embrace the trend. 
Question: Is a wood or metal porch swing better?
Answer: Both wooden and metal porch swings can be fantastic additions to your home, but both have pros and cons. Wooden porch swings are beautiful and can be durable, but most of them require regular upkeep, including oil and sealing treatments. Some woods attract insects. Metal porch swings are usually more affordable and still quite strong. Though they are versatile, they do trap both heat and cold, so cushions become a must-have for a more comfortable swinging experience. Iron swings can rust, so treatment or a protective coating is a must.
Question: How much room do you need for a porch swing?
Answer: Providing around 15 inches of leeway on each side of your porch swing ensures you can enjoy it safely and comfortably. 50 inches of clearance in the back is also recommended. I'd measure your porch and give yourself a bit more space than you think you'll need. Make sure to consider other factors, such as front or side doors, windows, traffic, and any porch decor. 
Question: Is a glider or porch swing better? 
Answer: Both gliders and porch swings are excellent ways to upgrade a porch and entertain. They have a slight difference in how they work. Gliders rock back and forth and stay on the ground. A swing way from front to back and your legs are suspended in the air. For young children and rocking a baby, a glider is the better option. It's safer and more soothing. For general porch ambiance, porch swings tend to be more popular. Porch swings are trickier to assemble but don't leave marks on flooring. Ultimately, when deciding between a glider vs a swing, both aesthetics and who plans to use it should be taken into consideration. 
Final Thoughts
When many of us think about home upgrades, I think it's only natural to focus on large home improvement projects, like remodeling. But what I've learned is that even small changes and additions can make a sizable difference. That includes adding a modern porch swing. Adding a porch swing is not only enjoyable for you but can even raise the value of your home in the eyes of prospective buyers. And remember: porch swings are a little too Southern traditional styles. Modern porch swings can be used anywhere you live to add a decorative touch and a welcoming accent. 
Final Recommendations 
No matter which modern porch swing you pick, remember that there are ways to add your style. An accent cushion or pillow goes a long way. You can still keep to a more minimalist style with a small accent pillow that has a solid color. Pops of color and color contrasts are also popular, so don't be afraid to mix it up by pairing a black swing with a bright cushion.
 And if you're still trying to decide on the best modern porch swing for your home, my top idea is the Domi Porch Swing with Canopy. I love that you can enjoy it from day to night, with a canopy to protect you and playful lights to add ambiance. The Sunbrella cushions are stylish, durable, and comfortable- and the powder-coated metal frame is sleek, modern, and sturdy. 
Recommended Reads: