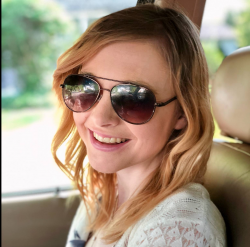 Latest posts by Erin Jamieson
(see all)
At their best, fire pits are a space for roasting marshmallows, sharing time with loved ones, and even cooking up a meal. But while I have many fond memories of outdoor bonfires, I also see a lot of mistakes made. And one of the most important mistakes to avoid is neglecting fire pit grates. 
A sturdy fire pit grate is one of the best purchases you can make for your fire pit. It may not be nearly as exciting as some of the more exciting fire pit accessories- but that doesn't make it any less important. At their best, fire pit grates make your fire pit both easier to use and more efficient.
If you want your fire pit to perform at its best, read on. In this guide, I'll explain why you should put a grate in your fire pit, how to size a grate, and seek the best materials. Plus, I'll explain the different types of fire pit grates and show you a few of my favorite grates you can buy today. 
Bottom Line Up Front Summary
Fire pit grates are an excellent addition to wood-burning and charcoal fire pits. A sturdy grate will optimize the burn time of your wood and make your fire pit easier to work with. Meanwhile, a cooking grate is handy for preparing vegetables and proteins, especially when you're camping. Opt for a steel base and measure for the correct size. 
If I had to recommend a fire pit grate for most consumers, it would be the Steel Freak Wagon Wheel Firewood Grate. This fire pit grate is a spider/ wagon wheel style, which improves your fire pit efficiency even more by optimizing airflow.  Unlike many grates of its kind, it's made with weather-resistant alloy steel. It also comes in multiple sizes- from a diameter as small as 12 inches up to a 40-inch diameter. 
My Top Picks
Why- and How- to Use Fire Pit Grates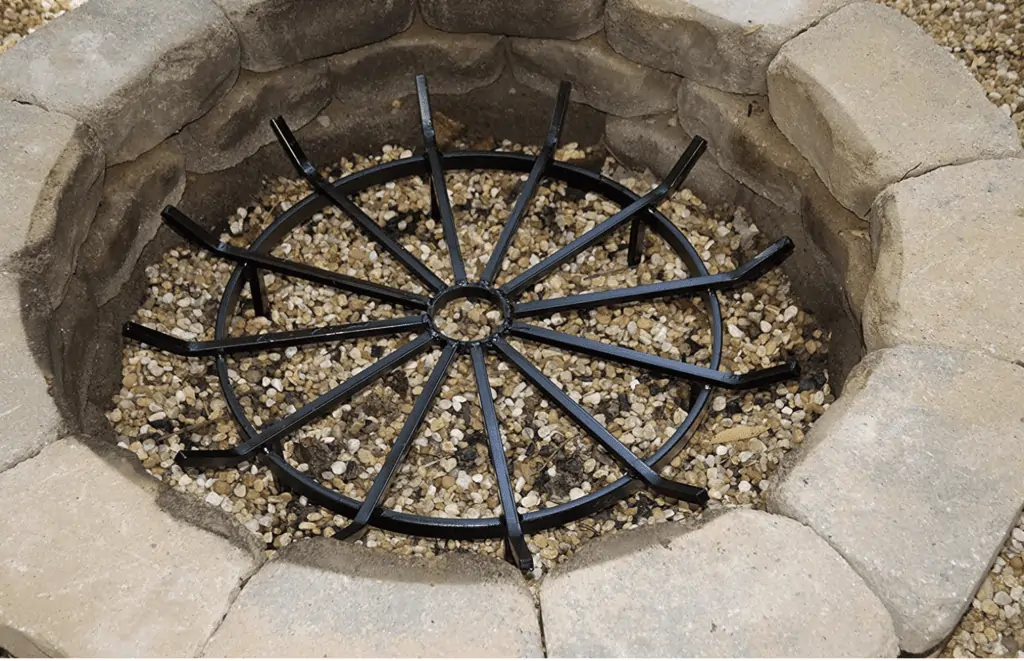 Should you put a grate in your fire pit? My answer for wood-burning and charcoal fire pits is yes. Firepit grates are incredibly helpful and affordable. By buying a fire pit grate, you'll simply get more out of your fire pit experience. For propane fire pits, often a burner pan is used to promote air circulation. 
Purpose of Fire Pit Grates
Firepit grates have two main functions. First of all, they make it easier to access the bottom of a pit and this lights your fire. This is not only easier but also arguably safer. 
Another key role in a fire pit grate is keeping wood stacked properly. What happens with wood-burning fire pits is that logs may fall as the fire burns. If they fall in a certain way, airflow can be restricted. Thus, a fire pit grate ensures constant airflow, making your fire easier to control, longer-lasting, and more in control. 
There are also grates specifically used for grilling and cooking. These provide more control, including temperature control. Different types of grates allow you to place food on top of them- acting like a cooker or grill. 
How to Use a Fire Pit Grate
Your grate should sit inside the inner circle of your fire pit. Set it tightly in place within your fire pit, making sure it's on a level or even surface. Your firewood sits directly on top of the fire pit grate- and that's all there is to it. You should, however, clean and properly dry your fire pit grate occasionally. Firepit grates aren't usually dishwasher safe. Instead, use a scratch pad, hot water, and regular soap. Make sure you dry your grate completely before placing it back inside your fire pit. Fire pit cooking grates, meanwhile, are used with fire pit cookers and fire pit grills and placed on top, with food set on the grates. 
Main Takeaway
Fire pit grates aren't 100 percent essential but they are incredibly helpful for classic wood-burning fire pits. You'll get a longer burn time and a more enjoyable experience. 
How to Find the Best Fire Pit Grates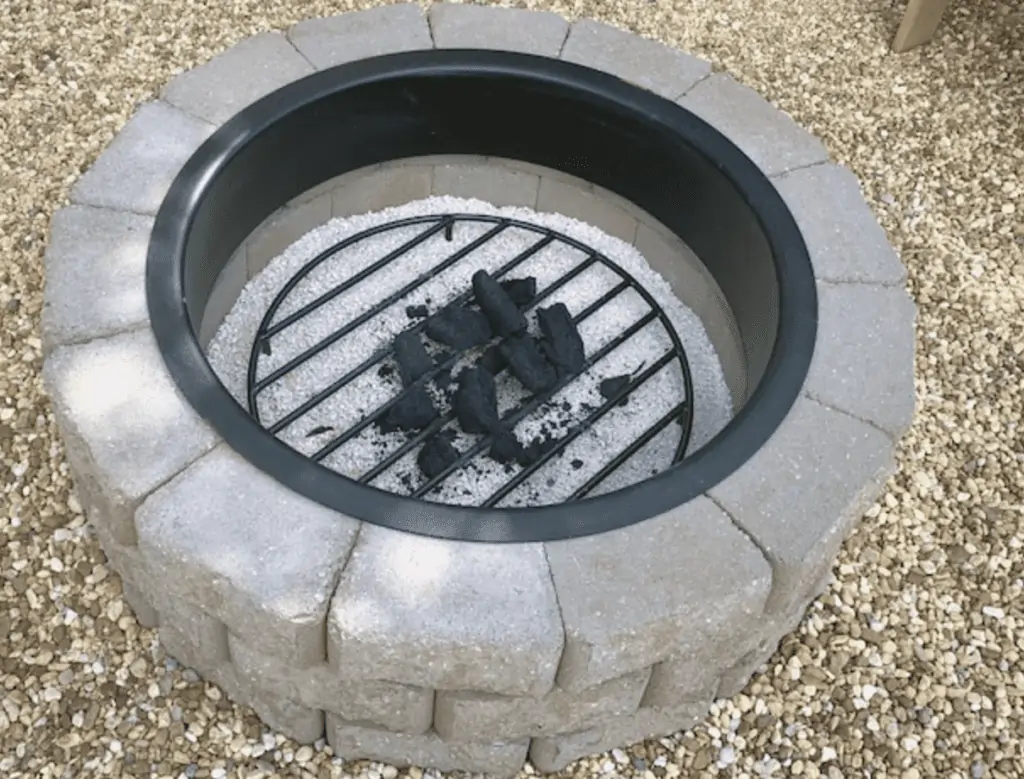 To find the best fire pit grate, you need to know how to size a grate, the best materials, and other features. The good news is that the process is pretty simple, once you understand how fire pit grates are made and designed. Read on for a quick buying guide. 
See also: Best Home Depot Fire Pits
Step One: Types of Fire Pit Grates
There are just two main types or categories for pit grates: standard fire pit grates and cooking fire pit grates. While standard fire pit grates are most useful for wood-burning fire pits, cooking fire pit grates are popular for both wood-burning fire pits and gas fire pits. There are also distinct styles- which I will cover under sizes. 
Standard Fire Pit Grates
Standard fire pits fit neatly at the bottom of your fire pit and keep air circulating. As I explained before, this enhances the efficiency and length of your burn time. These are levels, though they come in different sizes, styles, and shapes. 
Cooking Fire Grates
Cooking fire grates are designed differently- as they serve a different purposes. Instead of at the bottom of your fire pit, they are elevated above flames. Parallel lines and x-patterns are common. They provide space to roast, grill, or sear everything from meat and seafood or vegan alternatives to vegetables. 
Step Two: How to Size Fire Pit Grates (& Styles) 
Shapes and Styles
Standard Shapes for Grates
Firepit grates, just like fire pits, come in different sizes and shapes. While some of the most popular fire grates are circular, there are also square, rectangular, and hexagonal shapes. You select these styles based on the shape that complements your fire pit. Less importantly, most fire pit grates are black- but there are some blue grates as well. 
Wagon Wheel Grates
You also have the option of a wagon wheel. Also known as a spider fire pit grate, these grates are distinguished by a circular shape with raised spokes. The reason why I like these types of fire pit grates is that they further optimize airflow. The function of the raised spokes is to catch any loose pieces of wood, coal, or charcoal. They're among the most effective fire pit grates. 
Dimensions/ Sizing
Firepit grates usually range from a diameter of 28 inches to 48 inches (common sizes: 28 inches, 30 inches, 32 inches, 36 inches, 48 inches). The problem is that fire pit grates almost always come in these standard sizes, so someone with an unconventional fire pit may have trouble finding a fit. 
Assuming you have a standard fire pit size, all you need to do is measure the inside diameter of your fire pit and decrease that diameter by 2 inches. That means that a fire pit with a diameter of 48 inches needs a grate that's about 46 inches. 
Grate Clearance
Fire grate clearance is also important. Clearance refers to how high up the great hits from the base. Zero clearance grates lie flat, while others should have legs that sit the grate up. 
The only reason I'd go for a zero-clearance grate is if I'm buying a cooking grate. Most grates should have a clearance of around 4 to 6 inches. 
Step Three: Selecting the Best Fire Pit Grate Materials 
Firepit grates can be made out of aluminum, different types of steel, and iron. Iron has the highest strength, but also the lowest corrosion resistance. 
While cast iron has a classic appeal and is popular, I would skip it. If you do buy a cast iron fire grate, expect to buy another one in a couple of years- or you'll need to store it indoors. 
Best Option: Steel Fire Pit Grates
Aluminum grates are easier to damage and won't be as effective. Above all, steel is going to be the ideal option.  Carbon, alloy, and stainless steel are all options- though I noticed some manufacturers don't fully specify. Alloy and stainless steel are usually your best options due to their great corrosion resistance. 
Step Four: Other Features & Where to Buy 
Other Features
Other than size, dimensions, and the type of fire pit grate, I look for an overall quality build. That's admittedly easier to tell for in-store shopping, but I consider reviews and brand reputation. Anything that offers a manufacturer's warranty, even if a limited one, adds to my confidence in purchasing that fire pit grate. 
For a cooking fire pit grate, I like adjustable features. Adjustable height or width allows you to further optimize and customize based on the type of food that you're preparing. 
Where & When to Buy
While I often recommend catching sales for fire pits by buying off-season (Winter, late Fall), with grates you really can buy them year-round. You can buy fire pit grates from nearly all home improvement stores (Lowes, Home Depot, Menards), as well as Amazon, Wayfair, and outdoor retail stores.  
Fire Pit Grates: My Top Picks
Whether you're looking for a cooking fire pit for a bbq, headed out camping, or just enjoying your fire pit the outdoors, here are the top 5 picks for the best-value fire pit grates you can buy. These were selected based upon materials, sizes, brand reputation, ratings, and quality construction. 
Sunnydaze DecorBlack Steel Fire Pit Grate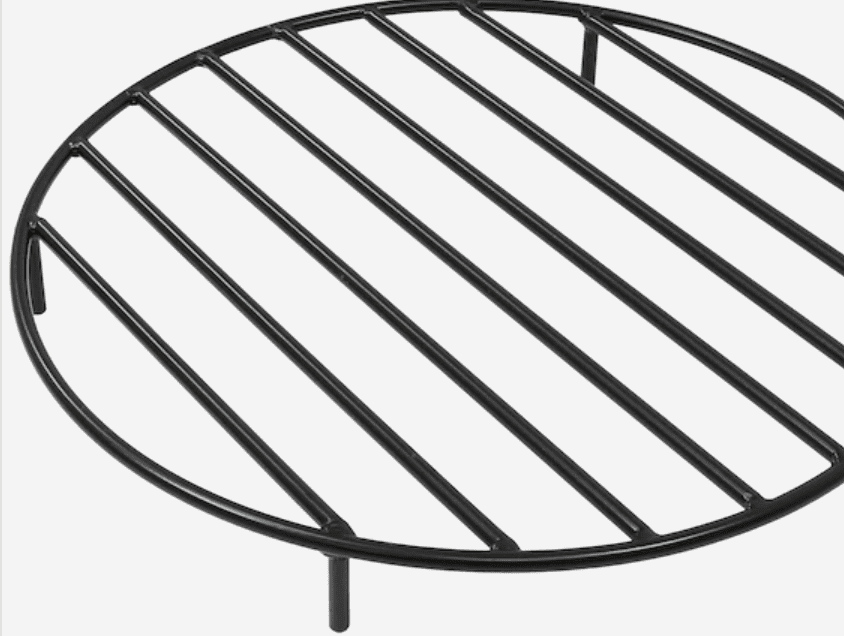 Sunnydaze is known for its affordable but well-rated outdoor products, and they offer a classic round fire pit grate that's worth looking at. Instead of going the popular route of iron, the great is crafted with solid steel. The black paint is high-temperature resistant- another important detail. The great has 2-inch gaps for plenty of ventilation. It's a simple but pragmatic design and works well with wood-burning fire pits. This fire pit grate is 24 inches in diameter, but you can find other sizes at Lowes as well. The great comes with a 1-year warranty. Buy Here. 
Pros
Heat-Resistant Paint

Study Steel Bars

Practical Design 

Warranty Included
Cons
Only Available in Round Shapes

Prop 65 Warning (California) 
Steel Freak Wagon Wheel Firewood Grate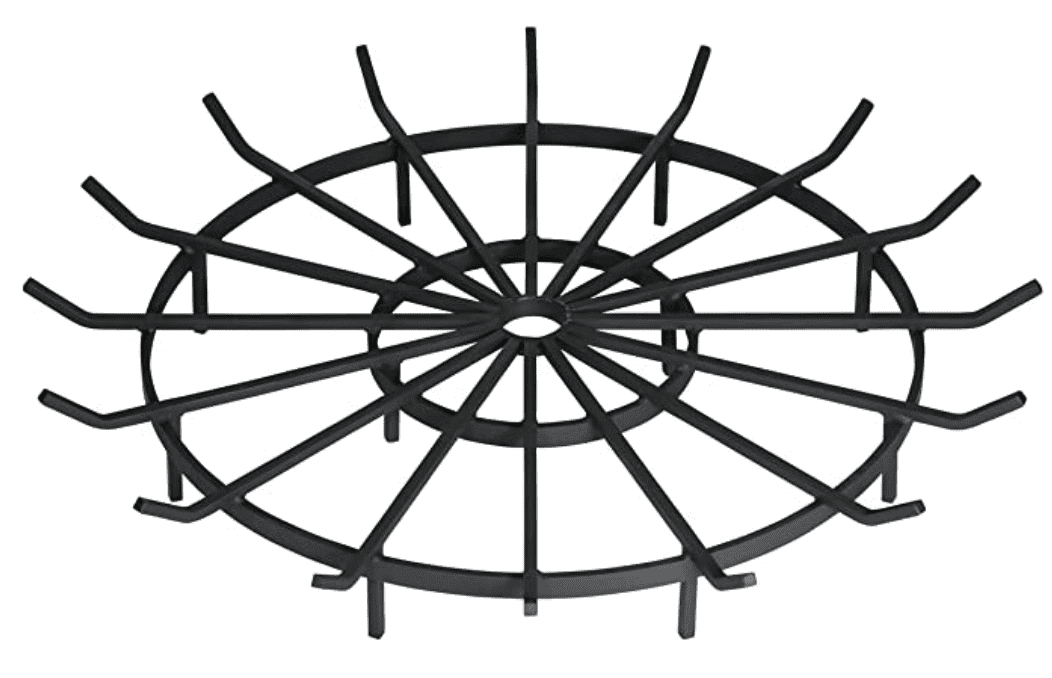 This wagon wheel fire pit grate is one of the best you can buy. So many wagon wheel fire pit grates are either flimsy or made out of cast iron, which can rust. I was happy to find this fire pit grate, which is made in the US with alloy steel. The raised spokes and legs provide even more efficiency for your wood-burning fire pit. The support bars are heavy-duty for managing logs. It's made from a small business but listed on Amazon. Even better, it comes in a wide range of sizes, from 12 inches up to 40 inches. It's highly rated, carrying an average of 4.8 out of 5 stars.  Buy Here. 
Pros
Sturdy Alloy Steel

Made in the USA

Optimized Airflow

Support Small Business
Cons
Warranty Not Specified (Contact Seller)

More Expensive 
Master Flame Welded Steel Fire Pit Grate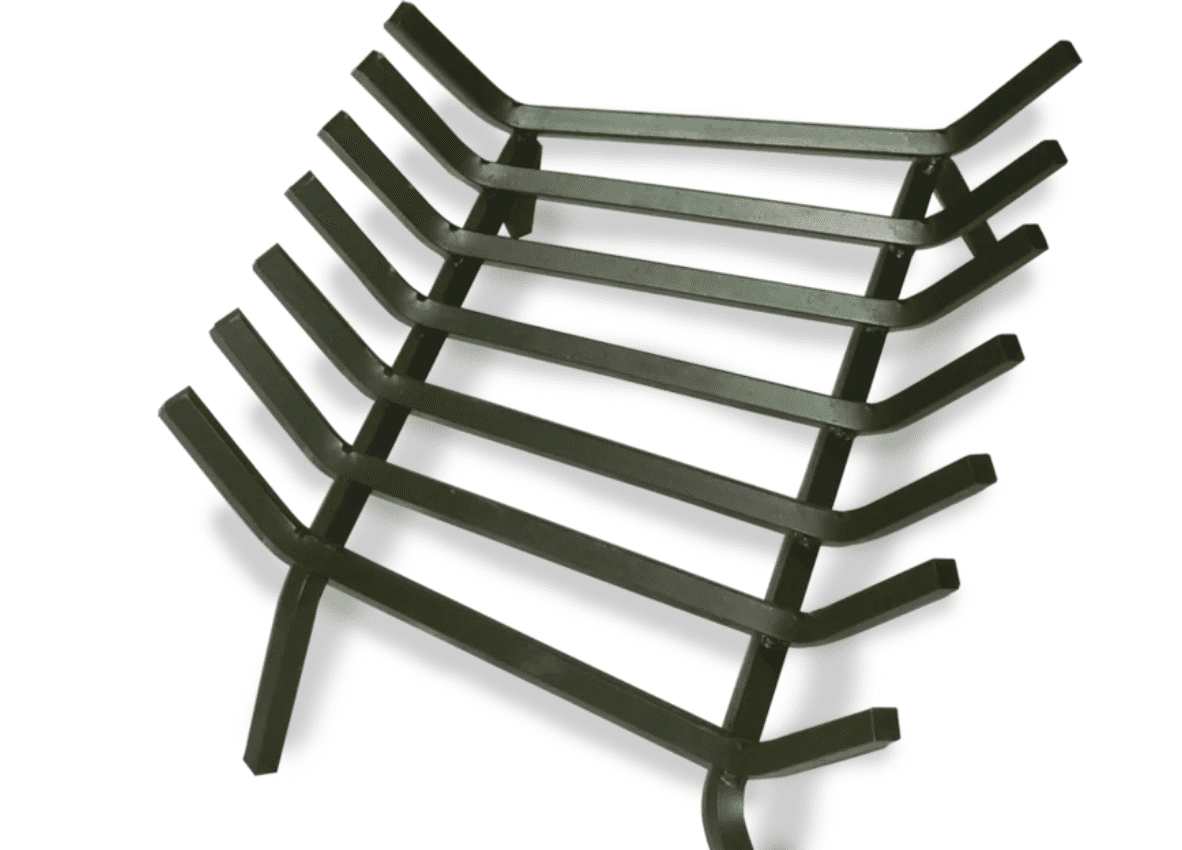 This welded steel fire pit grate from Wayfair is easily one of the best rectangular fire pit grate options. Once again, the market is flooded with iron and other less-suitable materials. The welded steel here provides both strength and durability. The slightly tapered, back-to-front design optimized airflow. The black paint is resistant to high temperatures. There are three sizes to choose from, and everything is listed at a reasonable price. I also appreciate the complimentary manufacturer's warranty. Buy Here. 
Pros
Welded Steel

Back to Front Design

Temperature-Resistant Paint 

Warranty 
Cons
Harder to Clean

Fewer Reviews 
Sunnydaze Decor X Marked Fire Pit Cooking Grate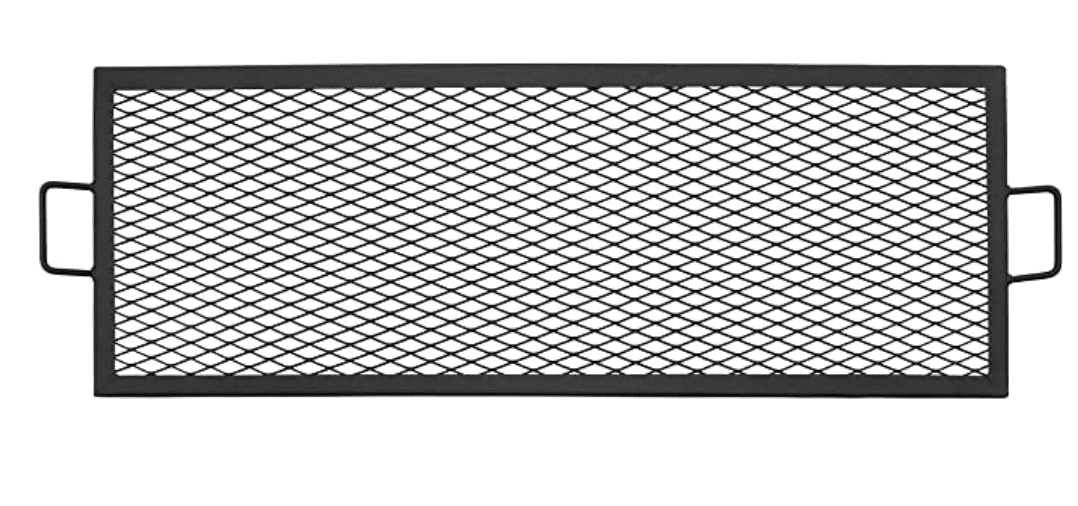 If you want a fire pit grate with generous cooking space, this is a great option. Available at Amazon, Home Depot, and other stores, this cooking grate measures 40 inches long. It's made with heavy-duty steel and finished with heat-resistant black paint. The x-mark design has two benefits. For one, it optimizes heat dispersion. For another, it leaves a signature x-mark- providing a more grilled feel to your food. It's also available in a smaller 36-inch size. All purchases come with a one-year warranty, and, like my other picks, it's highly rated. Buy Here. 
Pros
Heavy-Duty Steel

Heat Dispersion

Signature X Mark 

Warranty 
Cons
Not Suitable for Smaller Fire Pits

Cannot Stand Alone (Grate Only) 
Texsport Heavy Duty Barbecue Swivel Grill Grate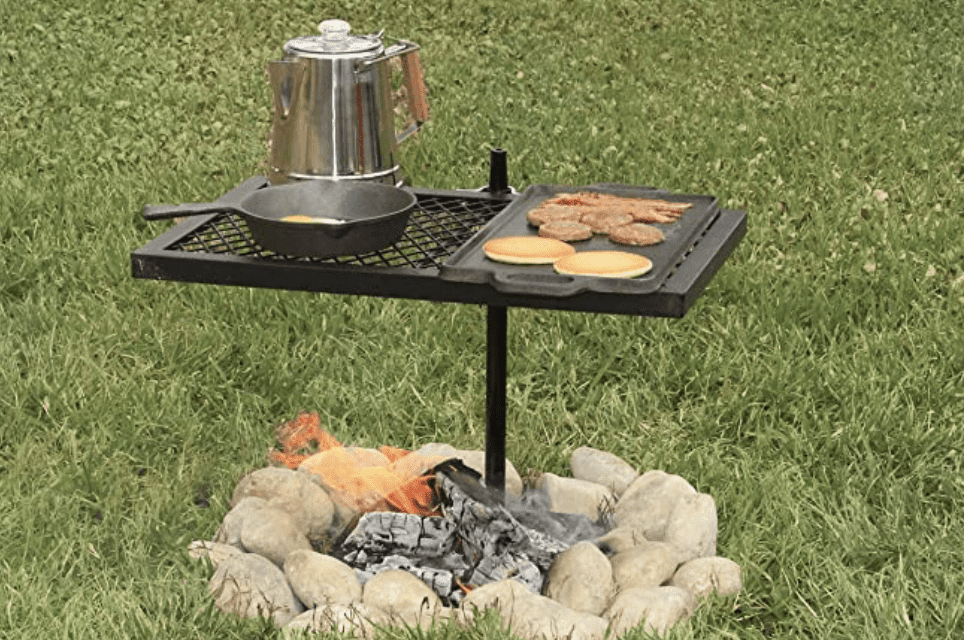 If you want a stand-alone fire pit grate to take with you camping, this is my top pick. This cooking grate is an excellent price and an Amazon Choice listing. Welded steel provides durability. Where it stands out is its height adjustment and 360-degree rotation- all for improved heat dispersion and versatility. It's portable and can be placed over fire pits of different sizes. It comes with a manufacturer's warranty. Buy Here. 
Pros
Adjustable Height and 360 Degree Swivel 

Welded Steel

Versatile and Portable 

Warranty 
'Cons
Paint Not Specified to Be High Temperature 

Only One Size 
Frequently Asked Questions
Question: Do fire pits need vent holes?
Answer: Fire pits always need some form of ventilation. That may include holes on the sides, traditional vents, or something similar. Ventilation is required to produce and continue to fuel a steady flame. However, you can opt for smokeless designs. A smokeless fire pit swaps out traditional vent holes with double-wall construction. This double-wall construction provides even more efficient ventilation and results in a low-smoke, low-ash fire. Regardless, ventilation is essential for an efficient fire pit system.
Question: How do I make my fire pit radiate more heat?
Answer: The amount of heat your fire pit generates depends on several factors. The type of fuel, the structure of the fire pit, size, and circumstances are all factors. The best way to optimize your fire pit heat is by adjusting your flame's height. Some propane fire pits have this as a feature that syncs with electronic ignition. With wood-burning or charcoal fire pits, this can be done by adding something like lava rocks. Keep in mind that this should always be done slowly and safely. Propane pits are also rated at a maximum BTU output, so be aware of this before buying. 
Question: What do you do with ashes from a fire pit?
Answer: Even smokeless fire pits leave some ashes beyond. It's important to remove ashes from a fire pit when it's nearing an inch in height. The problem with leaving ashes is that they can cause damage to your fire pit over time. The good news is that there's a lot that you can do with ashes as opposed to merely throwing them away. Ashes can be added to both compost and soil, as they supply magnesium, calcium, and other minerals. Ashes are also used to forward away insects. 
Question: Can you use pea gravel in a fire pit?
Answer: A common material many are tempted to use in the bottom of a fire pit is pea gravel. However, pea gravel should never be used for a few reasons. The problem with pea gravel is that it holds moisture. River rocks and concrete blocks also shouldn't be used. Any materials that retain water could cause safety issues. In some instances, fire pits have even exploded.
Final Thoughts
If you want a safer and more efficient fire pit, a sturdy fire pit grate is a must. Whether you have a portable fire pit for camping or a grand wood-burning fire pit, grates really can make a difference. The good news is that you don't have to spend a lot of money. If you invest in seeking out a grate that's built to last, you'll have a much better experience. It's a must-have fire pit accessory that you should select if your fire pit doesn't already have one. 
Final Recommendations: Fire Pit Screens and Covers
Firepit screens and covers are useful for several reasons. They increase the longevity of your fire pit. They provide safety barriers for when your fire pit isn't in use. Finally, spark screens protect you from flare-ups, as well as your environment. I like that some fire pits are sold with integrated and/ or accessory fire pit screens, lids, and covers. I especially recommend these accessories if you're camping with a fire pit. 
To find a great fire pit screen, opt for a hardy stainless steel screen with mesh for proper ventilation. You don't have to spend a fortune to find a great fire pit screen, either. Lowes and Amazon both have a nice collection of affordable fire pit screens for a variety of sizes and shapes. Shop Fire Pit Screens at Lowes Here. 
Recommended Reads: