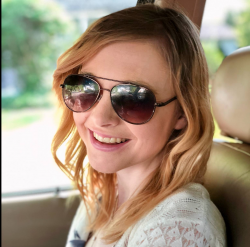 Latest posts by Erin Jamieson
(see all)
In my grandparent's neighborhood, I was always struck by the traditional home with stately porch columns. From classic columns to colonial and contemporary, there's something about porch columns that I think really completes a home. And cedar is one of the most popular options for a classic wooden column.
In this guide, I'll cover the basics of buying the best cedar column for your porch. I'll tell you the honest pros and cons for choosing cedar over other porch column materials. I'll also help you select the right porch column size, shape, price and styles.
The goal? Buying the best value cedar porch column so that you don't waste your money.
Bottom Line Up Front Summary
Cedar is a beautiful and classic choice for porch columns. At its best, cedar is resistant to insects and most weather conditions. It does require upkeep: like all wooden porch columns or posts, it can rot over time. To find the best cedar porch column, you should investigate the seller, the type of cedar used, and size according to your project requirements. 
If I had to select one cedar porch column, it would be a custom order from your local home improvement store or something like the Vintage Woodworks Cedar Porch Column. This versatile column exudes warmth with a no-fuss design that's versatile for most homes. It can be ordered with no mounting or the mounting of your choice, as well as in multiple dimensions.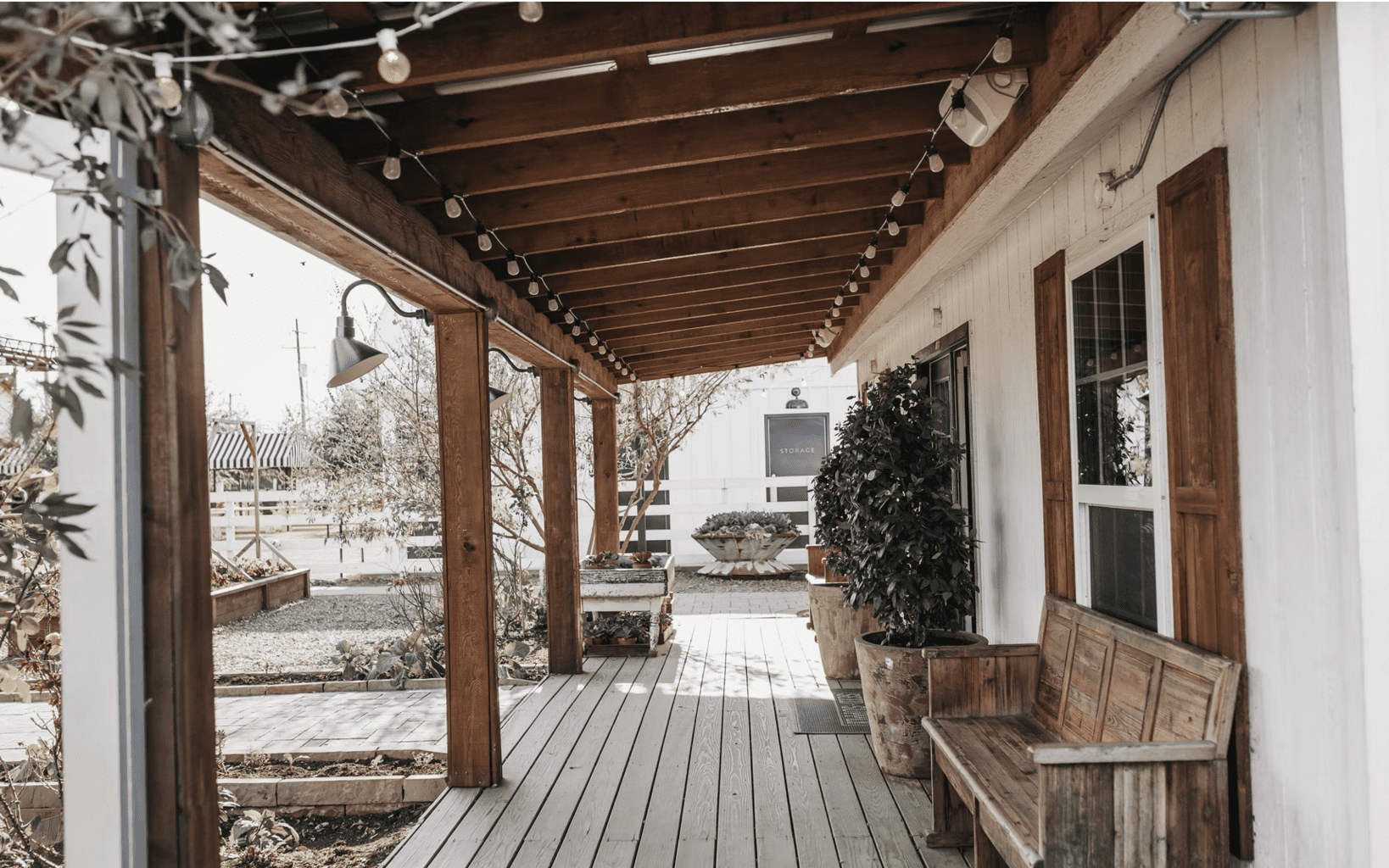 My Top Picks
The Truth about Cedar Porch Columns
Cedar porch columns are a beautiful and classic addition to your home. But I also see too many people fall for aesthetics without considering the pros and cons. So before you have cedar porch columns installed, or build them yourself, here's my honest opinion.
Pros of Cedar Porch Columns
Cedar is a popular material for porch columns for good reason. This beautiful wood is among the most popular for its timeless appeal. Cedar porch columns are offered in an array of colors and stains. With different types of cedar, you can have everything from a reddish hue to a more golden brown.
More importantly, cedar has some advantages for weathering the outdoors. It's an insect repellant and can weather everything from sun to rain to heat and cold. It's easy to cut, so it's popular as a DIY and also not as complex (or costly) to install as some other porch column options. Since it's widely available, it's notably more affordable than some wood porch column options.
Cons of Cedar Porch Columns
Despite its durability and use in boat making, cedar is considered a softwood, not a hardwood. While it is more durable than most softer woods, it requires more care and attention. It will need to be treated with oil to prevent shrinking or warping. Over time, you may notice your cedar porch columns changing hue.
While cedar porch columns can be load-bearing, they need to be carefully installed. Keep in mind that cedar is not as strong as some other woods. I must also point out that cedar shares disadvantages common with other wood porch columns. That means it can rot (see my final recommendations) and it is flammable.
Takeaway
Cedar porch columns are beautiful and fairly weather-resistant, but you must be prepared to fully commit to treating them well. They're more vulnerable than some other types of porch columns, and you should only have them installed if you're willing to put forth the effort to take care of them.
How to Select the Best Cedar Porch Columns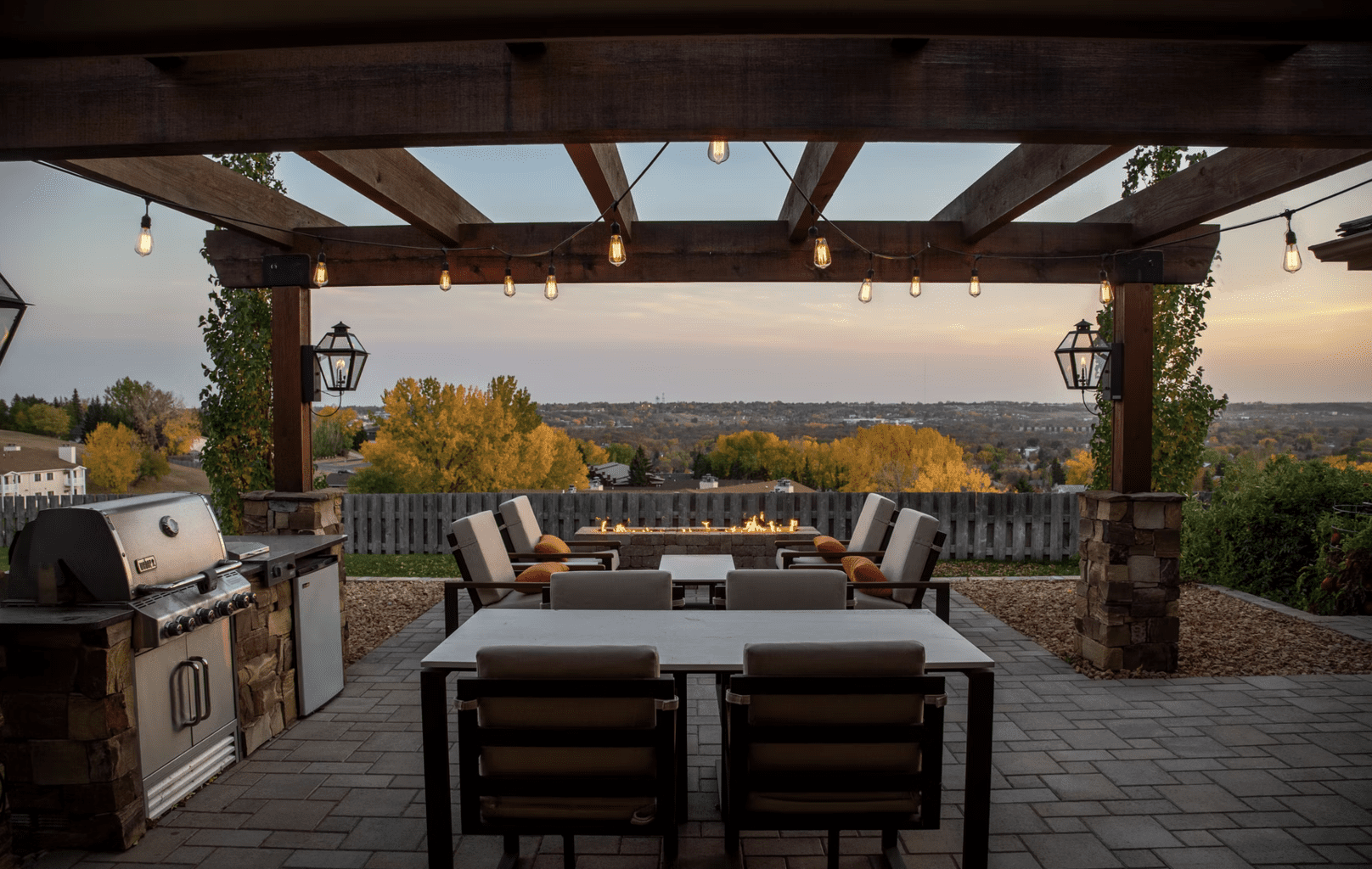 If you're determined to install (or build) cedar porch columns, here's what I'd consider. These factors tell you a lot about the quality of cedar you're working with, as well as must-have features the best value for your upgrade.
See also: How to Find the Best Patio Umbrella
Step One: Selecting a Type of Cedar for Porch Columns
Types of Cedar
Cedar encompasses many types of cedar. Cedar ranges from deep red to light in hue. There are four primary or 'true' types of cedar: atlas cedar, cyprian cedar, cedar from Lebanon, and Himilayian cedar. There are also cedars that are not technically cedar but often classified as cedar. These include: Alaskan yellow cedar, red cedar, Northern white cedar, Orford cedar, and. Spanish cedar.
Best Choices
These types of cedar are best for their insect-repellant and weather-resistant qualities.
| | |
| --- | --- |
| Type | Colors |
| Eastern Red Cedar | Pinkish-Red to Deep Red with Strips of White |
| Northern White Cedar | Light Brown with Off-White |
| Spanish Cedar | Pinkish-Red to Deep Red, Light Notes |
| Western Red Cedar | Reddish-Brown with Some White |
| Yellow Cedar | Off-White to Creamy Yellow |
Pressure-Treated and Dried Kiln
One way to further enhance the durability of your cedar porch columns is by opting for pressure-treated and dried kiln options. KDAT stands for kiln dried after treatment. The advantages here are that the wood has been chemically treated to reduce rot.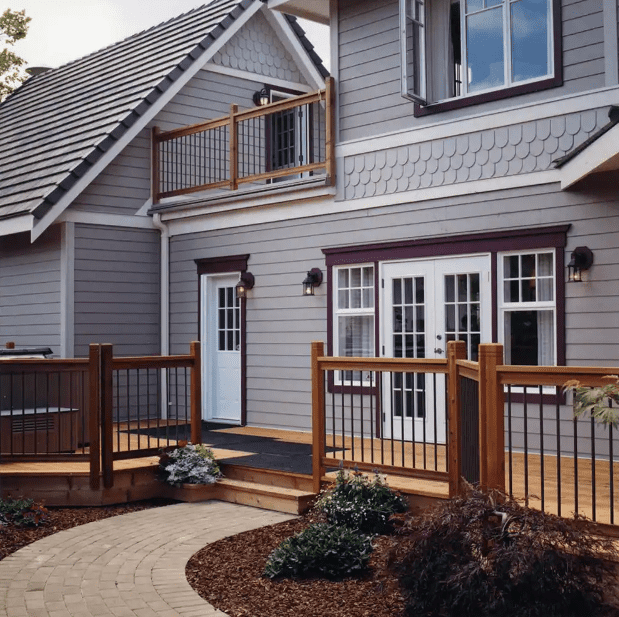 Step Two: Selecting Cedar Porch Column Shapes and Styles
Shapes
Shapes and styles give you a range of ways to customize your porch upgrade. The most common shapes are rectangular, square, octagonal and round. Round shapes tend to be more decorative in purpose, as they can't bear quite as much weight.
Main Styles
For styles, there are vertical columns and columns designed for porches with multiple levels. Vertical columns provide the most versatility and a classic look, like buttress- style columns provide ambiance and a slightly more oramentaive feel. In addition, there are porch columns in other styles, such as Victorian and Colonial.
| | |
| --- | --- |
| Style of Column | Best For… |
| Vertical/ Plain | Contemporary, Cottages, Craftsman, Modern, Mid-Century Modern, Industrial, Tudors |
| Victorian | Victorian, Ranches, Farmhouses |
| Colonial | Cape Cod, Colonial, Ranches |
Other unique styles include Egyptian columns, ironic columns (Greek), and Roman columns.
Tapered vs Non-Tapered
Most cedar (and wooden) porch columns will not be tapered. Tapered adds a bit of finesse to the style, but the downside is that there will be certain parts of the columns that are a bit weaker than others.
Textures
Cedar porch columns are typically smooth. It is possible that you'll buy a column that is relatively consistent, or more irregular. Cedar is an open wood grain, which means that it's normal to see large pores.
Step Three: Selecting the Right Porch Column Size
You'll need to assess your porch- or have a professional assess it for you- to determine the correct column size. A standard length for a porch column is around 8 feet, while 9 and 10 foot posts are also common. You can sometimes find porch columns that are taller, but it's important to note that you may have to have them custom ordered.
For column width, aim for around 3 to 5 inches for a standard width. This provides ample support and a clean look.
Step Four: Mounting Blocks/ Plates
Depending on your project and the store, you can often order posts and columns with a mounting block or plate attached. Options for materials include: aluminum, steel, PVC, or other types of wood. Of these, I'd opt for steel or PVC (or wood for a seamless look).
PVC provides additional weather protection, though steel is stronger.
Step Five: Where to Buy Cedar Porch Columns
What I look for, above all, is a cedar porch column with a sturdy capital (top part), shaft (load bearing section) and base. I look to see what type of cedar is being used, if there's a strong base, and who is selling it.
Checking the seller's reputation, where the wood is sourced, and what is included in the price is also important. The best value cedar porch columns aren't those with the lowest price, but ones built to last. Warranties and positive reviews are also positive signs. The more transparent the company is, the better the option.
Cedar Porch Columns: My Ideas (Selection Criteria)
Here are a few ideas for a cedar porch column. If you're ready to make an upgrade to your home, hopefully these ideas will inspire you. Just be sure to make them your own.
I selected these columns based upon the type of cedar used, the quality of the construction and the transparency and reputation of the seller. I choose them also for their overall value and signature hues and styles.
However, I still think that a custom order from a local store is one of the best ideas. These are meant to give you an idea of what's available online, as well as different styles and dimensions.

Sometimes simple is just the style you need for a great porch column. While this cedar porch column has traditional details, it's still versatile. Square tops are paired with rounded posts for a balance of support and groves. The medium cedar wood is perfectly suited for traditional and even colonial-style homes. Base mounting options include cypress, aluminum, and PVC or plain. Select from several full and half sizes for your perfect fit.
Pros
Traditional Ambiance'
Mix of Support and Styles
Mounting Available
Cons
Won't Suit Modern Homes
Not Kiln-Treated

This post, or column, is a short version, which can either be combined or used for a railing. The plain post features clean rectangular lines. Just a bit of style provides that extra flair for a more interesting contemporary look. It can be assembled in half the time of many other cedar posts and features natural anti-aging qualities. The Western red cedar hue adds warmth to any porch.
Pros
Quick Assembly
Clean Contemporary Look
Warm Red Tone
Cons
Not Substitute for Full-Length Column
Base/ Mounting Not Included

This striking style really does remind me of some of the homes I saw when I traveled to San Francisco. These charming cedar porch columns feature a tapered and fluted design. At once traditional and also artistic, this style would look at home for a variety of classic and traditional porches. PVC, cypress and aluminum are all available options for mounting plates. You can choose from full-length and half-length sizes.
Pros
Tapered and Fluted Design
Unique and Versatile
Mounting Options
Cons
More Expensive
Harder to Install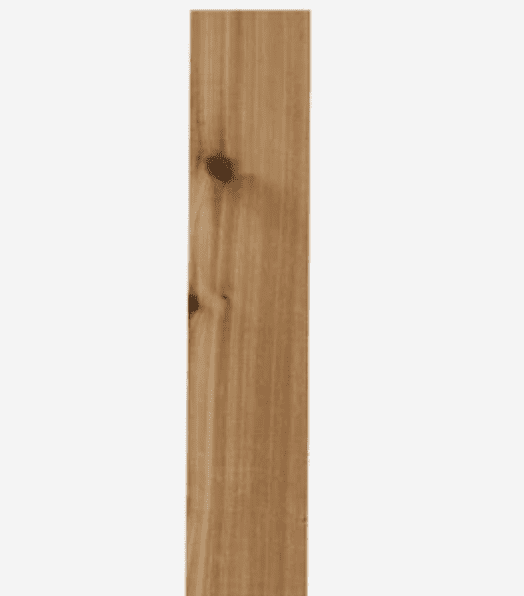 Minimalist porch columns are becoming more popular. This square cedar porch column provides support without appearing bulky. Whether you have a modern or contemporary home or just want something versatile, sometimes plain is the way to go. This red cedar porch column comes with your choice of PVC, aluminum or wood mounting and is available in multiple sizes.
Pros
Contemporary and Versatile
Easier Installation
Mounting Options
Cons
Very Plain
Expensive For Plain Style

This red cedar porch column is sure to add style, charm and historical flare to your home. The Victorian cedar porch column is not overly elaborate, yet pairs rounded and angular cut-outs for a blend of support and unique style. Like many of my picks, you can order this column in half sizes and full sizes and with the mounting of your choice.
Pros
Victorian Style
Mounting Options
Beautiful Red Cedar Hue
Cons
Hard to Coordinate
Trickier to Install
Frequently Asked Questions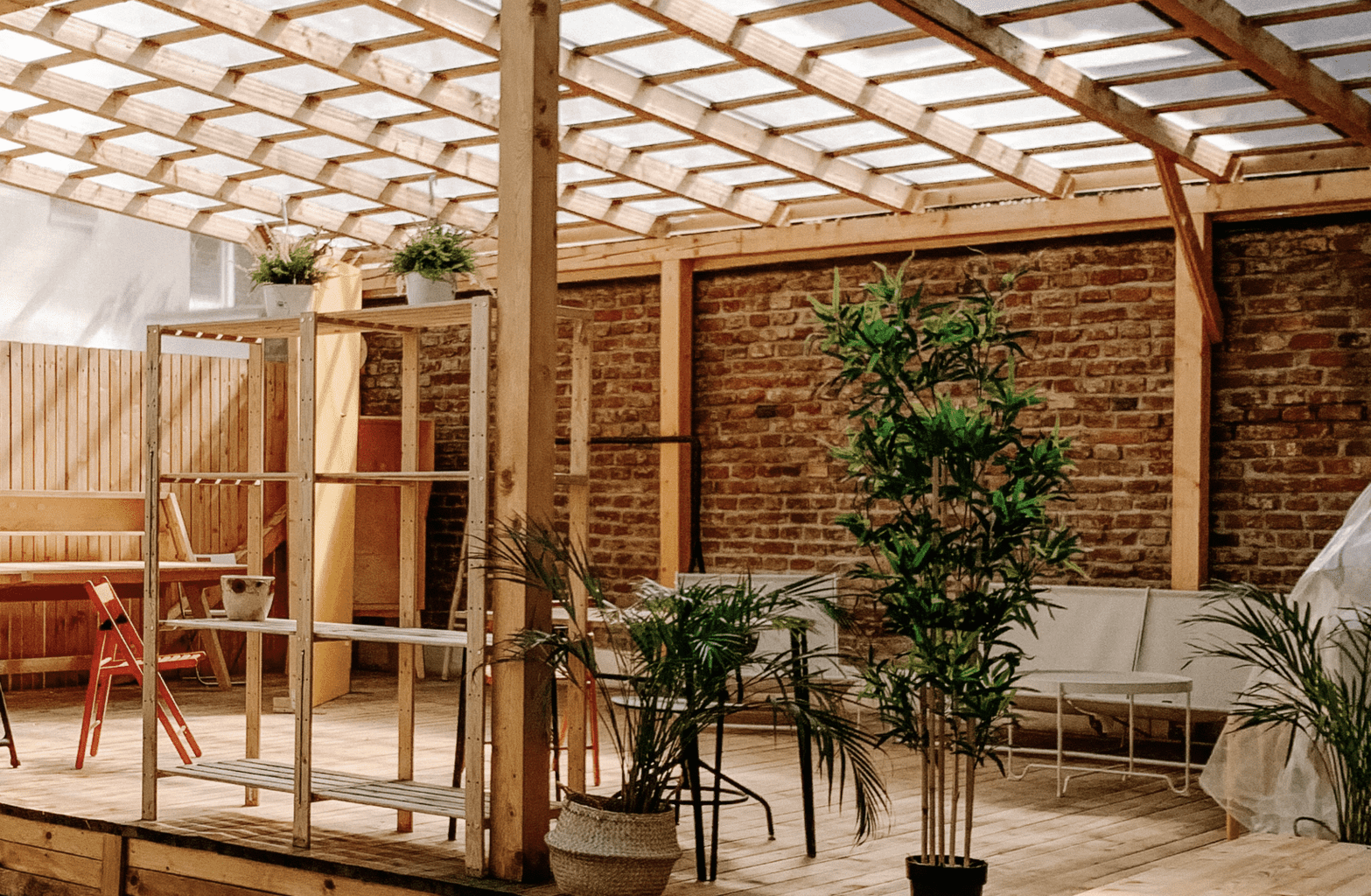 Question: How much do new porch columns cost?
Answer: New porch columns are certainly an investment. The price of porch columns depends on the size of your porch, the materials used, and installation methods. If you're replacing porch columns, expect to spend a few hundred dollars on average. More expensive materials can be as much as $1,000 and up. Building porch columns from scratch cost anywhere between a few hundred dollars up to $5,000 on average.
That's why asking for a price quote and comparing is important. Often, small tweaks can make a big difference in terms of affordability.
Question: How much does it cost to wrap porch columns?
Answer: Porch column wraps are added for decorative flair. They're a popular way to upgrade porch columns without replacing them, and the hefty costs that come with that project. However, wrapping porch columns prove costly too. Wrapping a single porch column costs an average of $100 to $200 each. That cost is a base cost, and doesn't include the cost of labor. Labor costs average $50 to $95 per hour, depending on the extent of the project.
Question: Is a porch column load-bearing?
Answer: Some porch columns are load-bearing, while others are not. That's why it's critical to make sure you're opting for the right porch column type for your needs. PVC, cellular columns are loved for their general durability, cost and versatility. However, the downside is that these columns are not load-bearing. Examples of load-bearing porch columns include: wood (all kinds), fiberglass, steel and aluminum.
Thus, porch Columbus are categorized as either purely decorative or load-bearing. To be load-bearing, the porch columns must include some type of internal support.
Question: How do you repair a rotted porch post?
Answer: Rotting porch posts are a great concern. Unfortunately, older wooden posts that are rotting- especially loading-bearing posts- can cause safety concerns. Many DIY by either replacing it or using a wood filler. If only a small portion of the post is rotting, wood filler can be used to fill in gaps left by rotting. All you need to do is follow the manufacturer's instructions, apply, and allow it to dry. The best wood fillers should help your porch post retain its stability without issues like warping or shrinking.
The problem is that this is more of a temporary solution, and it also can't address systemic rotting issues. When in doubt, have your porch post assessed to see if a full replacement is necessary.
Final Thoughts
Cedar porch columns are a striking and classic addition to any porch. With proper stains, wrapping and other decor, you can transform your columns for contemporary, rustic, and classic looks. Of course, cedar columns require care. Drilling air holes at the bottom, priming your columns, and appealing sealants or a wood finish can prevent your columns from rotting before their time. It's important to check the health of your porch columns, especially if they're being used as load-bearing columns.
Final Recommendations: Epoxy Paste for Rotten/ Worn Porch Columns
Wooden porch columns are strong and beautiful. At the same time, they require upkeep, and over time- especially without proper attention- portions of your porch columns can rot. Once you've assessed the situation, the good news is that you often don't need a full replacement. One solution is to apply a wood filler or paste. Epoxy paste repairs and fills in gaps caused by rotting wood. It's used for long-term repairs, is easy to apply, and can be painted over or stained. Learn More/ Buy Here.
Recommended Reads: