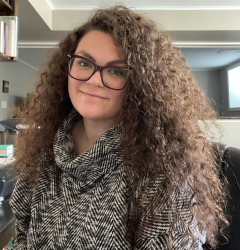 Latest posts by Candace Osmond
(see all)
Are you tired of giving up the pleasures of the outdoors and your patio once the weather turns cool? Then consider bringing the Hampton Bay 48000 BTU Stainless Steel Patio Heater into your life. This masterpiece will help add warmth to those crisp, cool evenings on your porch or backyard.
The Hampton Bay 48000 BTU Stainless Steel Patio Heater really does encapsulate the patio heater mold. It has an unobtrusive design, a stainless steel body that'll stand up to the weather, and excellent heat distribution. Here's everything you need to know about the appliance.
About Hampton Bay
The Hampton Bay is a wholly-owned subsidiary of The Home Depot that sells home-improvement supplies. Its products include kitchen cabinets, outdoor furniture, ceiling fans & replacement parts, outdoor lighting, fan remote controls, and outdoor patio heaters.
The company is headquartered at Home Depot's Atlanta Store Support Center.
What's more? Hampton Bay's goods, including this Patio Heater, are manufactured by various 3rd party vendors and suppliers contracted to Home Depot. The wide range of manufacturers includes Woodcrafters, Fedders Corporation, and Sunjoy.
Here is a fun fact: Did you know that Hampton Bay's electric fans department accounted for half of all fan sales in the US at one point?
Pros and Cons of the Hampton Bay 48000 BTU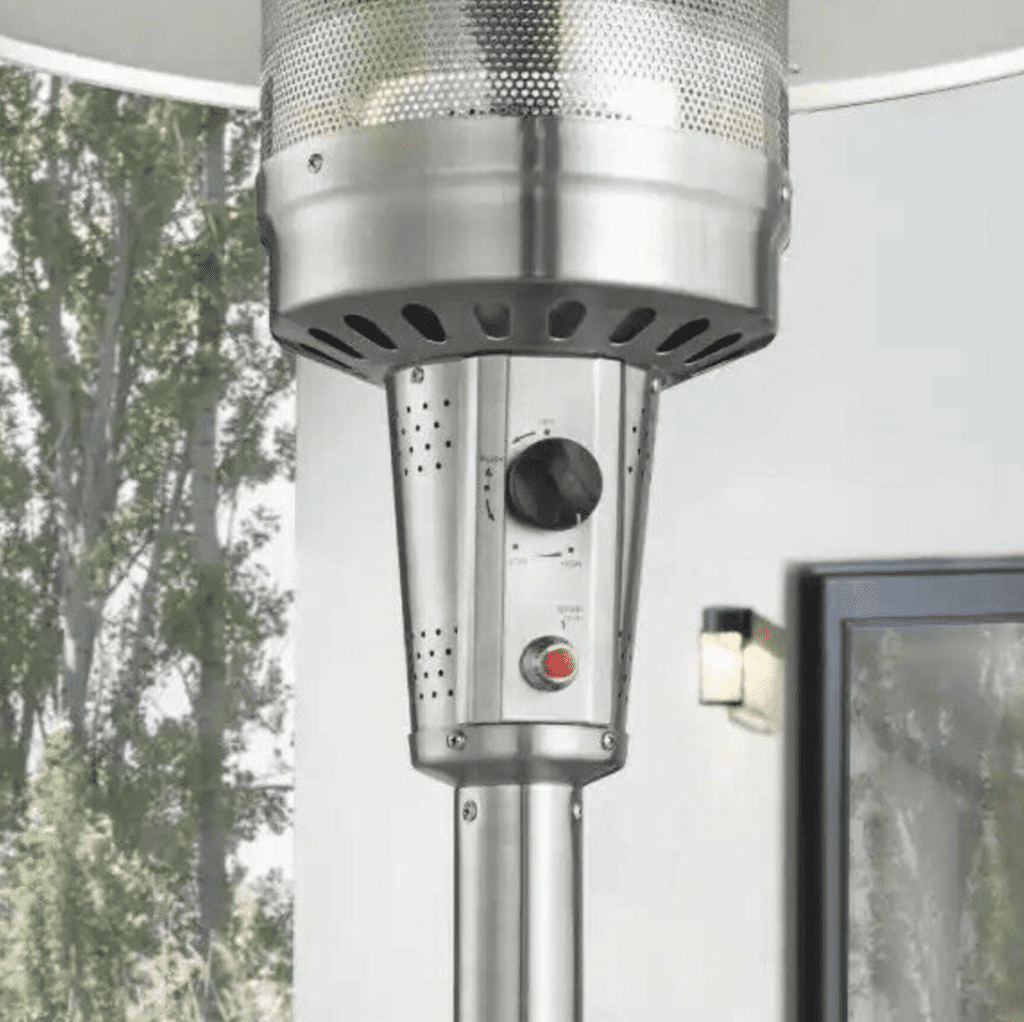 The Hampton Bay 48000 BTU Stainless Steel Patio Heater packs the perfect, seriously sizzling heat output for patio parties. That said, like all other products, it does have its drawbacks. Here are some of the product's pros and cons you should consider.
Pros
Will heat up to 200 sq. ft. of space.
Boasts a durable stainless steel construction.
Lift-up housing design allows for easy tank access.
Easy to set up.
Beginner-friendly.
It incorporates a knob one can use to adjust heat output.
Cons
It doesn't have wheels, making it strenuous to move.
No rain cover.
Benefits of Using a Patio Heater
Have you ever excitedly attended an outdoor event only to wish you could teleport back to your warm bed? That's likely because the space the event was getting held at had no outdoor heaters to help keep guests comfortable.
Are you still on the fence about investing in the Hampton Bay 48000 BTU Stainless Steel Patio Heater? These benefits may help you take the leap.
1. A Patio Heater Allows You To Explore the Outdoors All Year Round
From family gatherings to laid-back evenings hangouts, patios are the perfect spaces for relaxing and hosting guests at your home. With a patio heater in your corner, you're sure everyone's access to your patio is available all year round.
The party won't ever have to stop just because it's getting cold outside.
2. They Also Add to the Ambience
Hooking up your patio heater will make your guests feel warm and welcome. And when that happens, you'll also notice the interactions begin to shift. Everyone attending will be more open to letting themselves go, getting onto the dance floor, and having fun.
3. Freedom of Placement
The seating arrangement in any outdoor setting is never fixed. You'll need to adjust these arrangements to accommodate your guest's requirements from time to time. In these scenarios, the flexibility and convenience of a patio heater's placement will ensure your guests remain comfortable and warm.
Patio heaters' anti-tilt structural designs and built-in wheels only add to the convenience and allow you to place them anywhere.
4. They're Safe to Use
If you have pets and kids, you won't need to worry about anyone sustaining burn injuries from a patio heater. Most modern units have been designed with clear-cut safety standards in place.
For instance, the bases of modern patio heaters remain cool to touch even after extended use. Most also retail with safety tilt valves that'll switch off the heaters should any issues arise.
Features of the Hampton Bay 48000 BTU Stainless Steel Patio Heater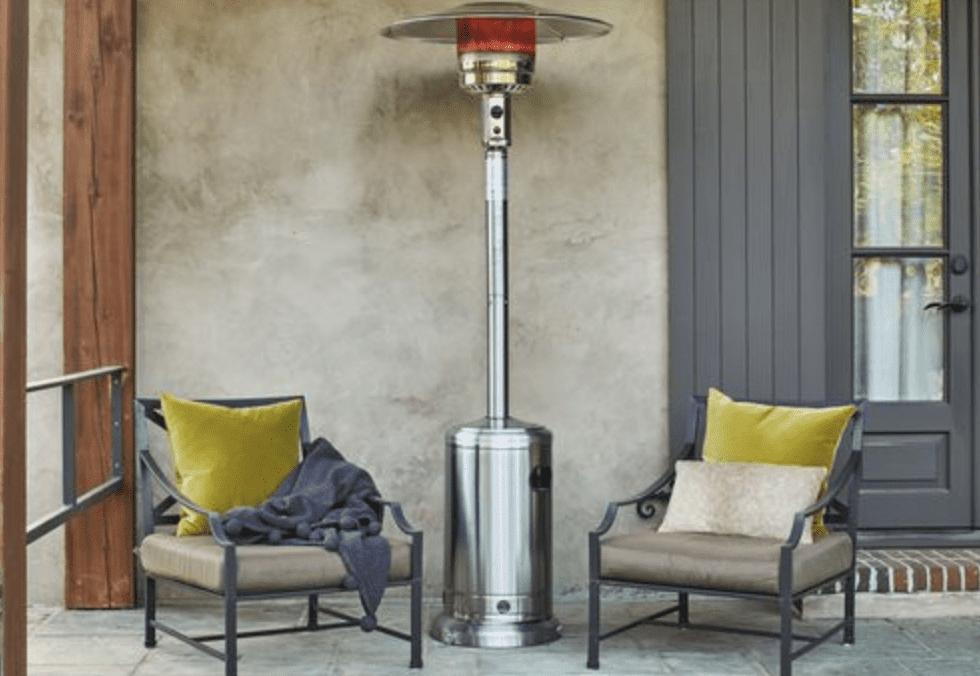 At first glance, the Hampton Bay 48000 BTU Stainless Steel Patio Heater seems to be a well-rounded machine for features. Let's break them down and see what the unit has to offer.
Size and Weight
Unstaked and with the propane gas bottle removed, the Hampton Bay 48000 BTU Stainless Steel Patio Heater weighs 33lb. That's light enough to shift around and store away in a garage or shed (if the ceiling height allows.)
Fully assembled, the unit measures 22 x 18 x 87 inches (LxWxH).
Material
The Hampton Bay 48000 BTU Stainless Steel Patio Heater is made of brushed stainless steel. This durable steel construction allows the unit to stand up to the elements while simultaneously enhancing your outdoor patio décor.
Quality of Construction
The Hampton Bay 48000 BTU Stainless Steel Patio Heater is made of (yes, you guessed it) good old stainless steel. This quality build allows it to stand up to most elements over the years. That said, you're still recommended to cover it when it's not in use. Primarily if you reside in a rainy or coastal region.
The base housing boasts an internal cage that'll accommodate any standard 20lb propane tank.
Hampton Bay has also included a cover that lifts off to secure the tank. This places the tank safely out of reach, shields it from the elements, and adds stability to the heater's base.
Fuel Source
The Hampton Bay 48000 BTU Stainless Steel Patio Heater relies on 20-pound propane tanks to generate heat. The propane tank isn't included in the package. You'll need to buy one separately.
Heat Range
It will cover about 200 sq. feet of space with warmth. Use the tool's control valve to adjust the temperature to whatever makes you and your guests comfortable.
Price Range
The price of a Hampton Bay 48000 BTU Stainless Steel Patio Heater unit can range anywhere between $169 and $300. Eventually, your pay price will largely depend on the retail store you get your unit from. Different stores have varying contracts with suppliers, which varies the cost they ultimately charge you.
Warranty
Hampton Bay's team carefully tests and packages the patio heater when shipping it out to minimize the chances of damage. Has any part of the unit proven defective in fabrication or material within one year from the purchase date? The company will repair and replace it at no extra cost to you.
Home Depot's obligation under this 1-year warranty is to repair and replace any defective parts at their discretion.
Things the manufacturer does NOT cover under this warranty include damages or failures deemed to be caused by:
Connections to incorrect power sources by the owner.
Incorrect removal or installation by the owner.
Abuse.
Misuse.
Alteration, accident.
Customers who take apart the heater without contacting the service center first.
Best Feature
Hampton Bay 48000 BTU Stainless Steel Patio Heater's best feature has to be its Anti-tilt feature. If turned on, the Anti-Tilt feature will automatically switch off your patio heater when it detects any falling motion. This will cut off the gas flow and prevent gas leaks that could devastate you, your family, or your neighbors.
It also boasts a control valve and piezoelectric ignition. Use these to adjust temperature levels.
How Easy Is It to Set Up?
This Hampton Bay 48000 BTU Stainless Steel Patio Heater retails with an easy-to-follow instruction manual on how to set up. The whole process should take no more than 45 minutes. That's the typical time range in many large outdoor patio heaters.
Where Can You Buy the Hampton Bay 48000 BTU Stainless Steel Patio Heater?
Where you buy your patio heater is just as important as picking the best patio heater in the market. I've done the investigating for you and created a shortlist of the best buying options.
Using the links above, compare delivery costs (if any), available rebates, initial prices, and warranty coverage.
How to Care, Clean, and Store the Hampton Bay 48000 BTU Stainless Steel Patio Heater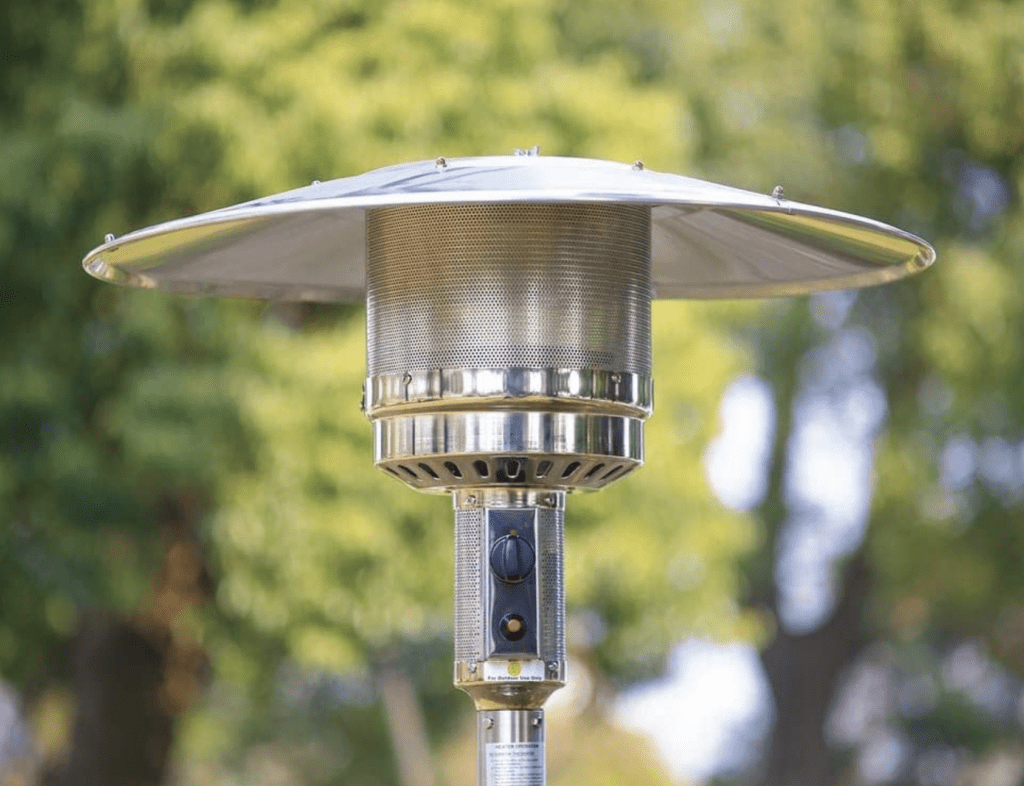 Would you like to see your Hampton Bay 48000 BTU Stainless Steel Patio Heater deliver years of outstanding performance? If yes, you'll need to care for it, clean it regularly, and safely store it away from any exterior elements.
While cleaning your patio heater:
Never use corrosive or flammable cleaning agents. Instead, use warm, regular soap water.
Ensure you keep the region around the burner dry all the time. NEVER submerge the control valve. If it gets accidentally submerged, dispose of it, and get a new one.
Inspect your Hampton Bay Patio Heater before each use and at least once a year by qualified service personnel.
Signs of possible blockage on the Hampton Bay 48000 BTU Stainless Steel Patio Heater to watch out for include:
Heater making popping noises.
The heater's glow stays consistently uneven.
A heater that doesn't reach the desired temperature.
Gas odor with extremely yellow tipping of flame.
Also, repeatedly inspect your heater's orifices and burner to ensure insects like spiders aren't nesting on them. These nests can damage your heater and render it unsafe, so repeatedly clean the burner holes using heavy-duty pipe cleaners.
When not in use and storage:
Cover the heater to prevent build-up in air passages (wait until it cools to cover).
Store upright in areas sheltered from direct contact with inclement weather (like debris, dust, snow, hail, sleet, or rain).
Disconnect LP source.
Turn the control knob off.
If you live in salt-air environments, frequently inspect your unit for eroded areas and immediately repair any that pop up.
Safety Tips for Using a Patio Heater
Whether you use an electric or propane patio heater, these units can be hazardous if not used correctly. Here are five safety tips you'll need to note if you're going to own one.
1. Leakages
Do you smell gas potentially coming out of the patio heater? Shut off gas to the unit immediately and extinguish any open flames. If, after some minutes, the odor is still in the air, stay away and promptly contact the fire department.
Unfortunately, this won't be able to save you every time. As you may know, propane gas is odorless and invisible. That's why companies add an odorant to the gas to help end-users detect potential leaks.
Well, odorants in patio heaters' propane tanks fade over time, so gas leaks may not always be detectable by smell.
What can you always do to ensure your and your loved one's safety? Use or store the propane gas in compliance with local codes and ordinances or with ANS/NFPA 58.
2. Carbon Monoxide Hazard
During operation, patio heaters produce carbon monoxide, which is colorless and has no odor. As such, using one of these units in enclosed spaces, like a tent, camper, or your home, can be fatal. These appliances are for outdoor use only.
3. Installations
If you do not have extensive experience with patio heaters, let qualified service personnel carry out any installation and repairs. After set up but before use, check all fittings and connections for potential leaks using soapy water. Never use a flame to check for leaks in any scenario.
Also, ensure your patio heater's valve outlet is clean.
4. During Use
Remember, during operations, patio heaters can be sources of ignition. So do not keep any solid combustibles, like cardboard, paper, or building materials, close to the heater.
Also, never use a patio heater in a space that may contain airborne or volatile combustibles. These include products like unknown chemicals, paint thinners, solvents, and gasoline.
5. Is Your Patio Heater's Anti-Tilting Feature Still Working?
As an added safety precaution, periodically test your patio heater's anti-tilting switch to ensure it'd still function properly if needed. Consult the manufacturer's guide that came with your unit for the best ways to test the anti-tilting switch manually. Every patio heater has different instructions on this matter.
See also: Best Rectangular Fire Pits Guide
Alternatives to the Hampton Bay 48000 BTU Stainless Steel Patio Heater
Does, for some reason, the Hampton Bay 48000 BTU Stainless Steel Patio Heater not quite cut it for you? Here are several alternatives you could explore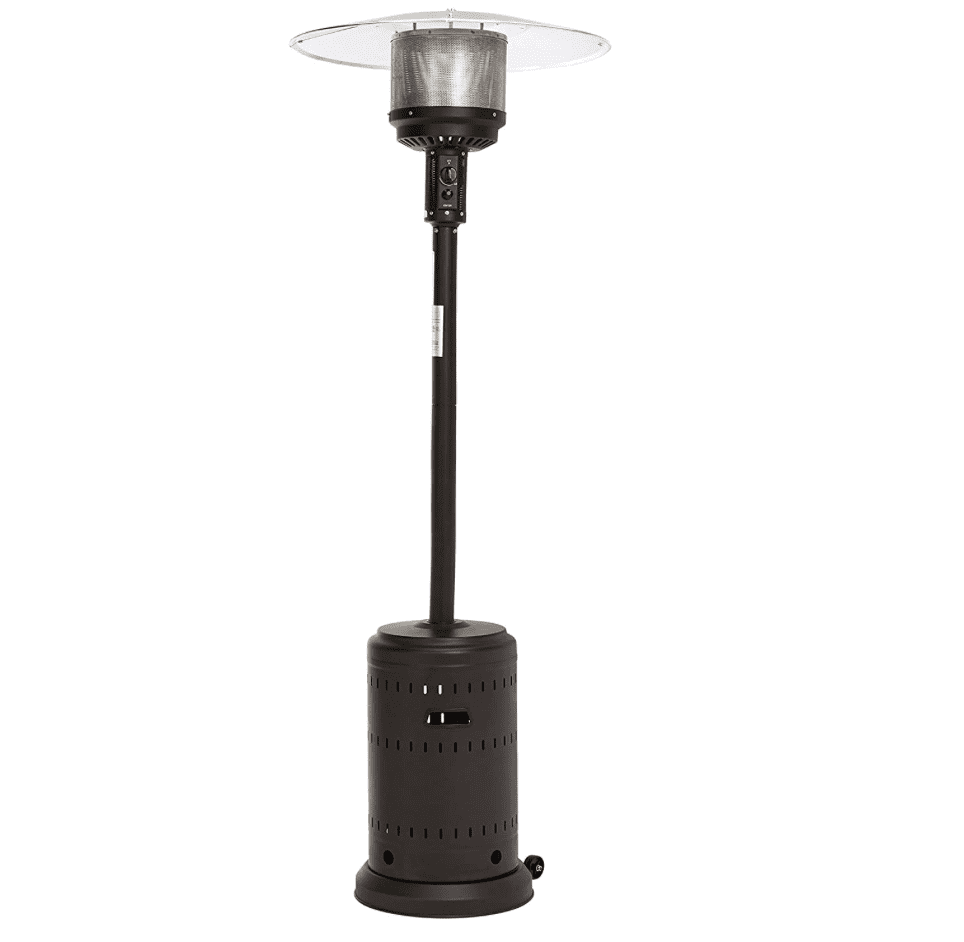 Are you looking for a particular shade that can act as a feature on your patio? The Amazon Basics 46,000 BTU Outdoor Propane Patio Heater could be what you're looking for. The unit retails in seven distinct shades, ranging from classic stainless steel to Bahama Blue.
Power Source: Propane.
BTUs: 46,000.
Dimensions: 33 x 18 x 89 inches.
Like other goods from Amazon Basics, this unit's unique selling point is also its price. The heater is currently listed for $127. This price has been known to hit as high as $190 during colder months when units are almost out of stock.
Pros
Wheels are included for easy maneuvering.
Affordable.
Easy to assemble.
Good construction.
Heats up to a 9 ft. radius.
Cons
Difficult to store due to height.
Weaker heat output compared to other tall patio heaters.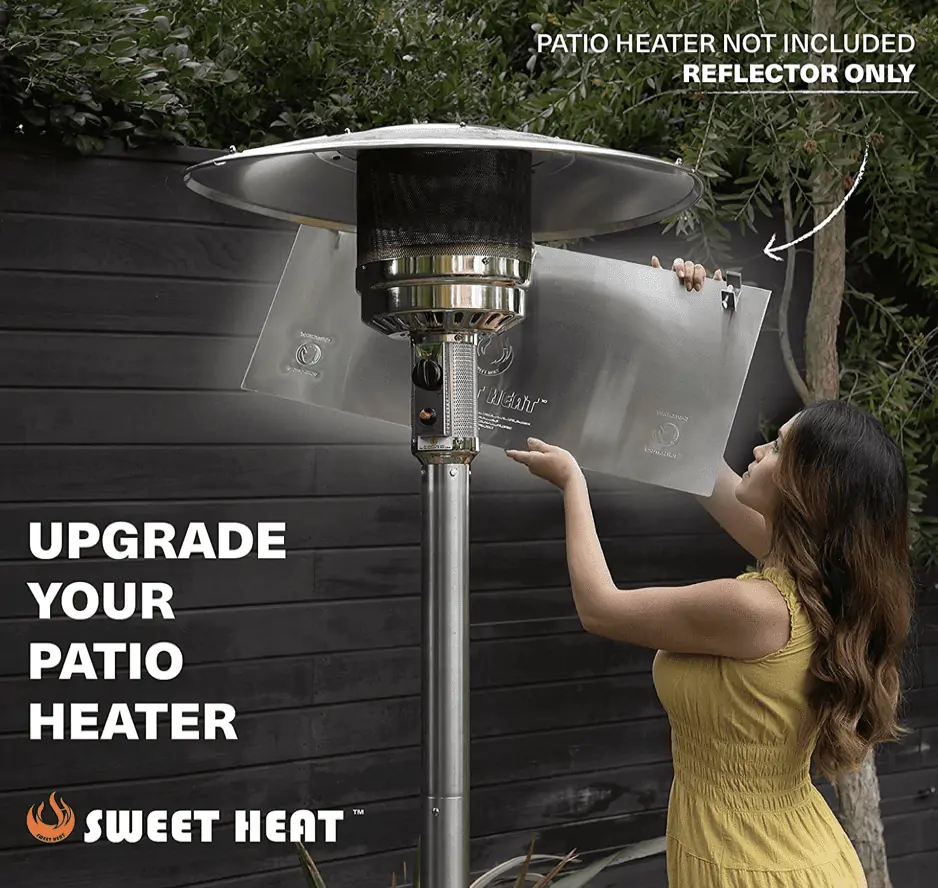 This isn't a patio heater unit. As its name suggests, it's a heat-focusing reflector that'll allow you to redirect heat where you'd like it. This worthy investment allows you to save on propane and protect neighboring walls and trees from unwanted heat exposure.
Weight: 3.24 pounds.
Materials: Aluminum.
Dimensions: 35 x 15 x 2 inches.
To ensure the Heat Focusing Reflector serves you for years, Sweet Heat has machined it with precision using high-grade aluminum. Installing it on your patio heater shouldn't be a hassle because the unit retails with a user guide.
Pros
Quality build.
Fits most gas, round, full-sized patio heaters.
Protects surrounding delicate items from heat exposure.
Allows for increased performance.
It will make your propane last longer.
Cons
Its big metal sail can act as a windcatcher, which can knock down your patio heater
East Oak 50,000 BTU Heater


For a more powerful yet portable patio heater, I recommend the East Oak 50,000 BTU Heater. Its heat output of 50,000 BTU and an 18-Foot Diameter Heat Range will turn any space into a comfy oasis.
Power Source: Propane.
BTUs: 50,000.
Dimensions: 33 x 18 x 87 inches.
Like all other tall patio heaters, the East Oak 50,000 BTU Heater can be awkward to move. That's why the two wheels EAST OAK has included for smooth mobility is a welcome feature. EAST OAK also offers 3-year customer support and lifetime technical support for this product.
Pros
Wheeled base for easy mobility.
Features a high-level aluminum reflector.
Strong build.
Built with three anchoring arms and 4-holes-design for the water box.
Responsive customer care.
Cons
The water box is not included in the package.
Hard to assemble.
FAQs
Question: How Much Space Does a 48000 BTU Heat?
Answer: A patio heater with a 48,000 BTU capacity can heat up to 200 sq. ft of patio space.
Question: What Company Makes Hampton Bay Patio heaters?
Answer: Hampton Bay is a Home Depot in-house brand. Its product, including patio heaters, are manufactured by various third-party suppliers located in China and the USA.
Question: What BTU is Best for Patio Heater?
Answer: The best BTU for a patio heater will depend on the space size. To calculate the BTUs needed for your patio, multiply your patio's square footage by 20 BTUs.
Question: Is a 46000 BTU Patio Heater Good?
Answer: A 46,000 BTU is good enough to warm up a patio space of no more than 2,300 sq. feet.
Bottom Line
The Hampton Bay 48000 BTU Stainless Steel Patio Heater is reliable and functional, if not super special. It's an affordable solution that'll quickly heat any canopy-covered space, large patio, or outdoor area.
Would you like a unit that looks better or can hold up to elements a bit more vigorously? Feel free to go for one of the alternatives. But whichever product you've chosen, go ahead and place an order before it sells out. And for more awesome reviews and breakdowns like this, head over to our website!
Recommended Reads: