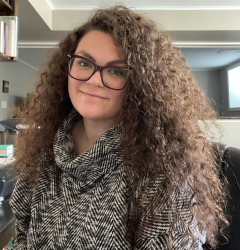 Latest posts by Candace Osmond
(see all)
Fire pits give everyone a reason to put down their devices and talk to each other face-to-face. They're great for roasting marshmallows and hotdogs, for sitting around to keep warm, and for date night. Round fire pits are particularly trendy right now, which is perhaps why you're interested in buying or making your own.
Today, I'll walk you through the 19 of the best round fire pit ideas that you can either purchase online or DIY. Ready? Let's go!
Bottom Line Upfront
I live in a chilly climate, even in the dead of summer. But we still love to sit around the fire! That's why I think I'd pick the Stylish DIY Brick Fire Pit. Not only because I'm such a DIYer, but because of its shape, the pit reflects heat back at you more than a regular one would.
Top 3 Picks
Let's start off by looking at the 3 best round fire pit ideas. It doesn't matter if you've got a small or big yard, you want to invest money or DIY your own fire pit. These offer something for everyone. The overall design, functionality, and material choices won't let you down.
Best Round Fire Pit Ideas
Round fire pits feel both homey and modern, which is why there are so many popular styles to choose from. Without further ado, let's look through the best round fire pit ideas to give you some inspiration for your own yard.
1. Cute DIY Stone Fireplace
Can't you picture yourself drinking mimosas with all your friends while sitting around the fire pit in this picture? This fire pit may look fancy, but Rachel Sanford makes it easy to recreate this in your own yard with her DIY guide.
While you're at it, you can DIY the circular stone bench, too, so that you have the same matching effect you see here. With a little patience, it won't be as complicated as it seems.
2. The Way of the Future Fire Pit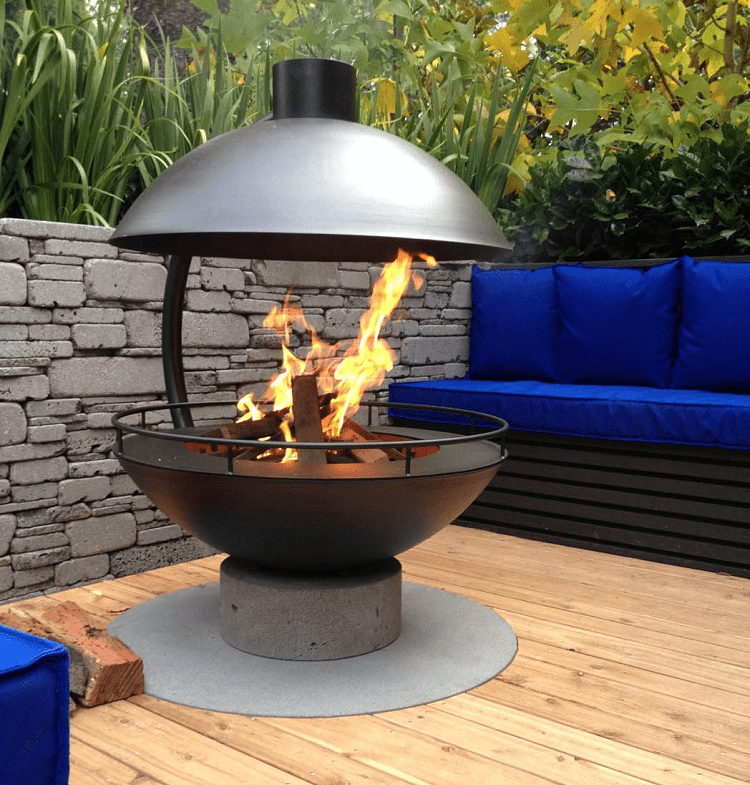 Whoa! Did we just fall through a time machine to 2032? This fireplace, stylishly placed on a deck in this picture (far away from flammable objects,) looks like a capsule or pod of fire.
Metal fire pits are definitely trendy right now, and this fire pit makes it easy to see why. Every detail is smooth and flawless. Given the strength of the material, you know this fire pit can last for a long time.
3. Keepin' It Simple Fire Pit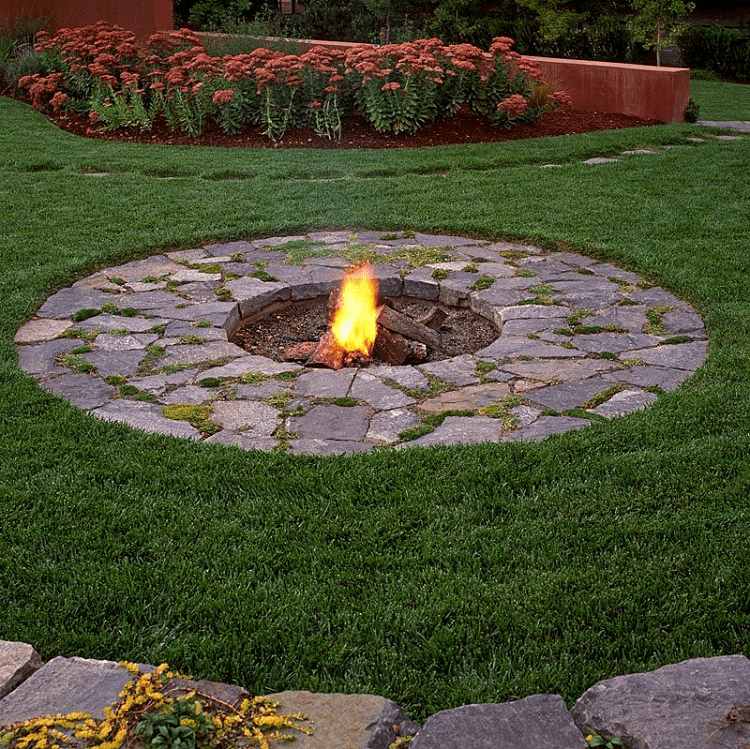 Sometimes, you just want to light a fire in the ground. In all seriousness, this is an in-ground fire pit. The fire is contained within the gray stones which have been arranged into a perfect circle.
Since this yard also has stone walkways, the in-ground fire pit matches beautifully. It might be best to hire a landscaper if you want your stone circle to turn out as perfect as this.
4. The Modern Metal Fire Pit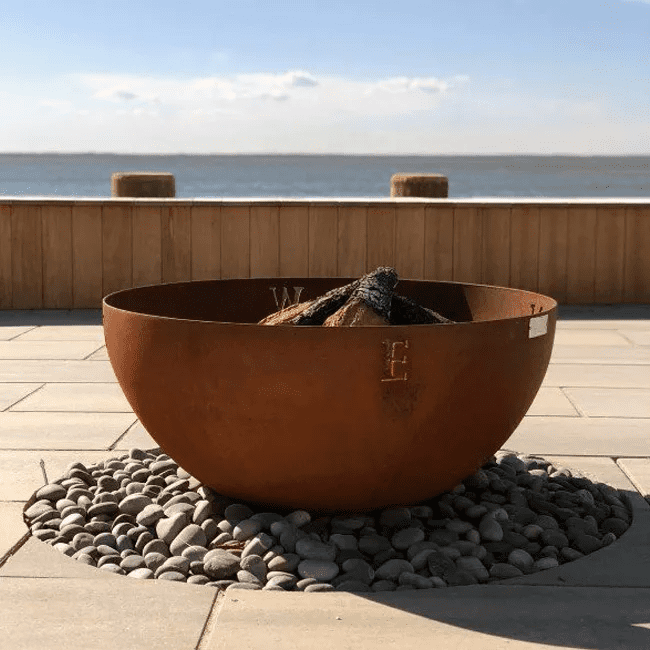 This is another reason why metal fire pits are the modern way to go. While appearing like a giant metal cauldron, the 4 coordinates are embossed on the sides of the fire pit. It's been placed on a pile of pale stones.
The pop of orange from the fire pit itself really stands out with the overall beach theme taking place in the picture. Another great thing about this one? It's super easy to set up.
5. Stylish DIY Brick Fire Pit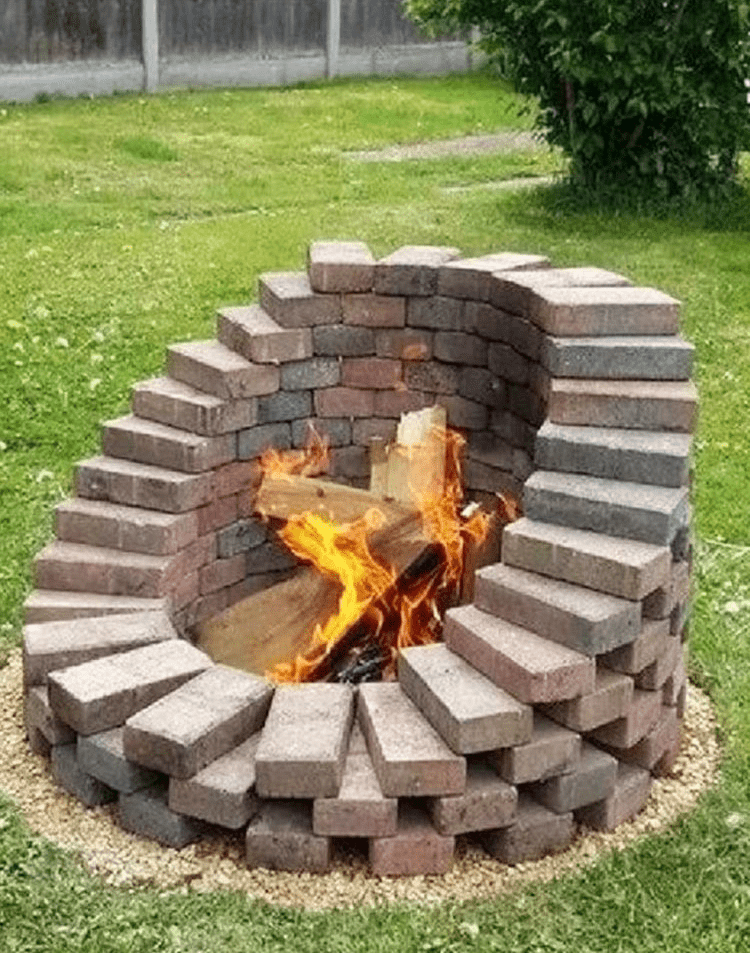 Best DIY Round Fire Pit
If you're ready to do the dirty work yourself and make your own fire pit, try out this one if you've got bricks on hand. The bricks have been arranged into a spiraling staircase design.
The back wall of bricks is much taller than the front, which makes the fire pit safer and easier to light. Just pay attention to how you're laying each brick, you can have this fire pit done in no time!
6. Perfectly Round Metal Fire Pit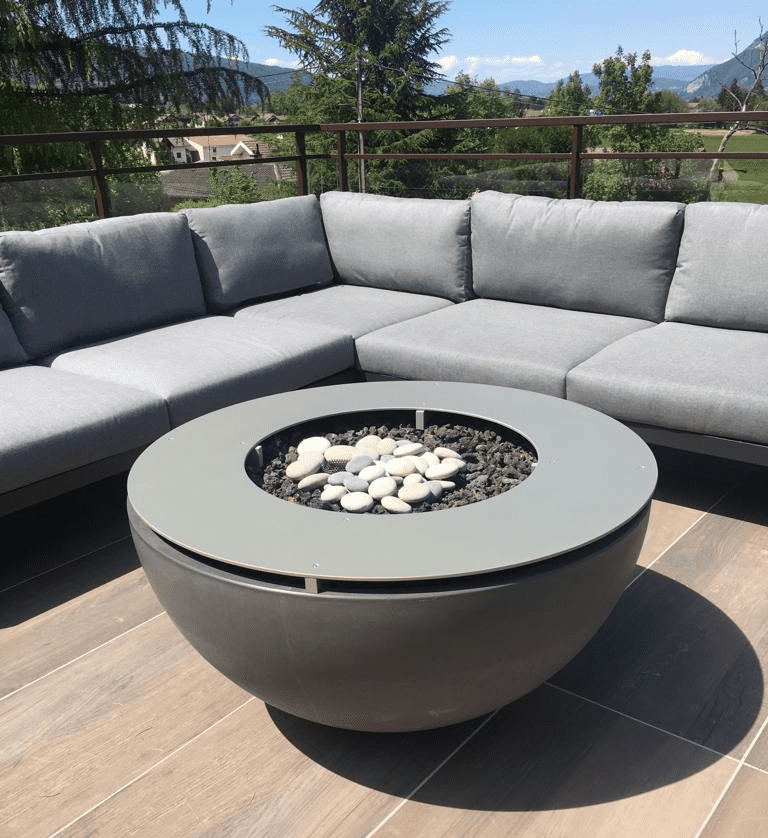 This fire pit is so chic! The perfectly round metal fire pit matches well with the light silver couches. Adding smooth white stones on top of the black rocks draws the eye to the middle of the fire pit. Overall, this fire pit looks crisp, clean, and like a picture of modernity.
7. A Fire Pit and a Table in One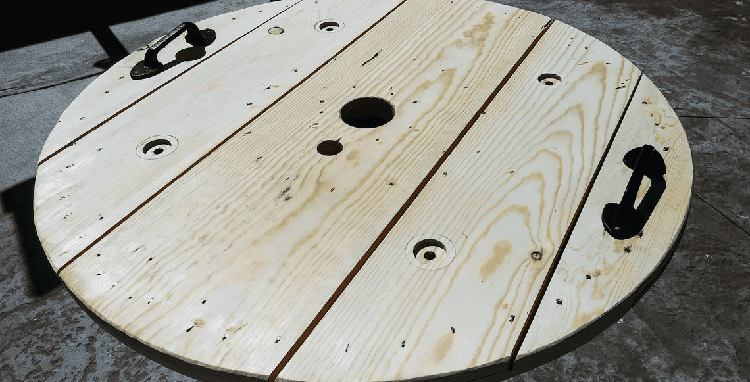 Well, how convenient. This stone fire pit comes with a beautiful wooden tabletop. You can use this 2-in-1 fire pit for cooking dinner and the tabletop for eating what you prepared.
2 dark metal handles on the sides of the tabletop make it easy to lift on and off the fire pit. Get ready for grilled hotdogs with friends or drinks by the fire with an SO.
8. The Fire Pit for Romantic Nights In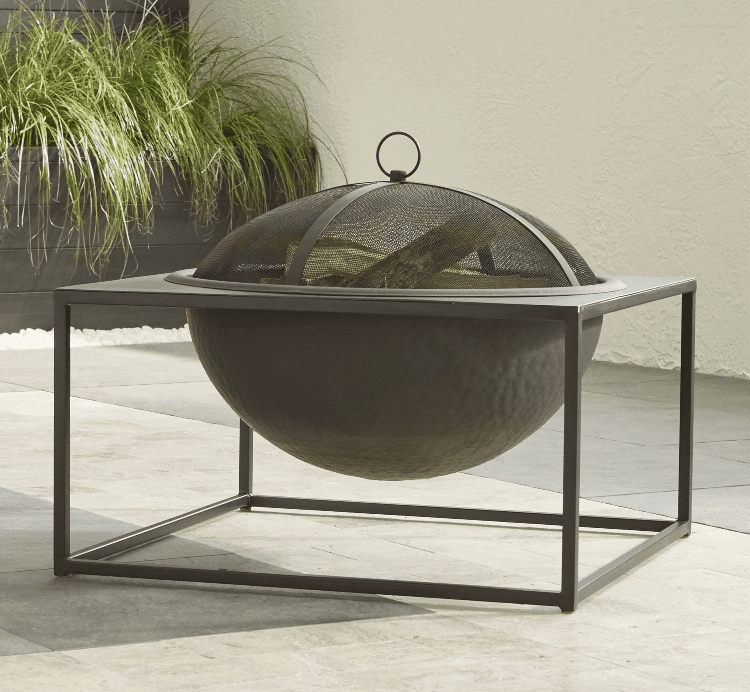 This metal fire pit's sleek, dark color is subtle and effective. When I look at this, I picture sitting beside my SO and talking all night by the fire (or at least until one of us gets tired.)
Assembling a fire pit like this one is a snap, so you won't have to expend much effort putting this into your existing set-up. If you buy a fire pit like this one, make sure to reserve the night for date night.
9. Classic Fire Pit in a Table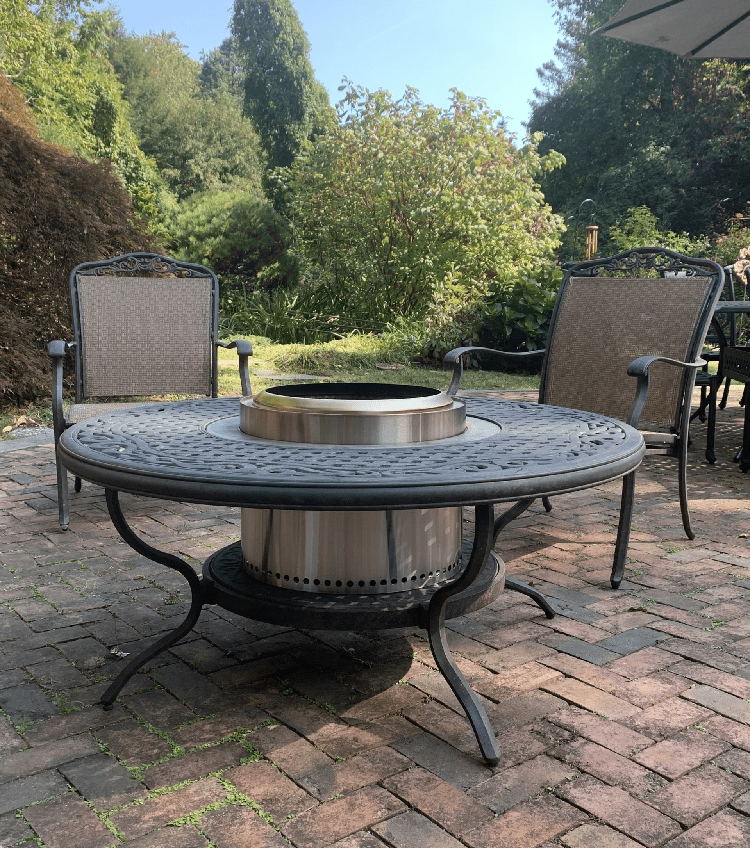 This is another gorgeous example of a fire pit and table all-in-one. This example is different because you won't need to remove the tabletop to use the fire pit.
Instead, the fire pit sits directly in the middle of the tabletop. Make sure to observe fire safety if you're sitting at the table while the fire is burning (like not leaning in too close.)
10. Steel Sphere of Fire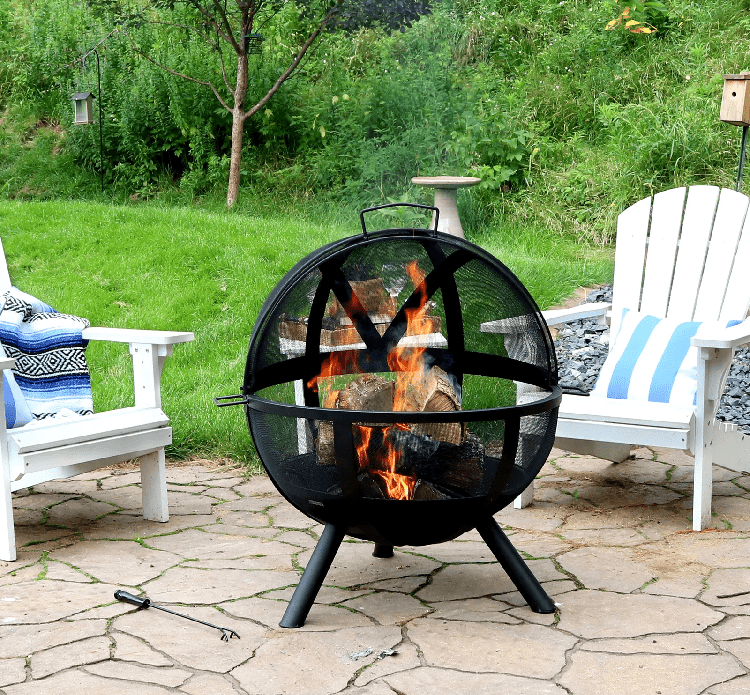 It's the burning ring of fire Johnny Cash was singing about! Well, it's the burning sphere of fire. This fire pit shows off a mix of classical and modern styles. It's simple, it's sleek, and it fits in well with a variety of yard themes.
Since this fire pit is made from steel, it won't have any problem braving the elements and potentially lasting for generations. This is the overall crowd pleaser for everyone.
11. The Homey Outdoor Fire Pit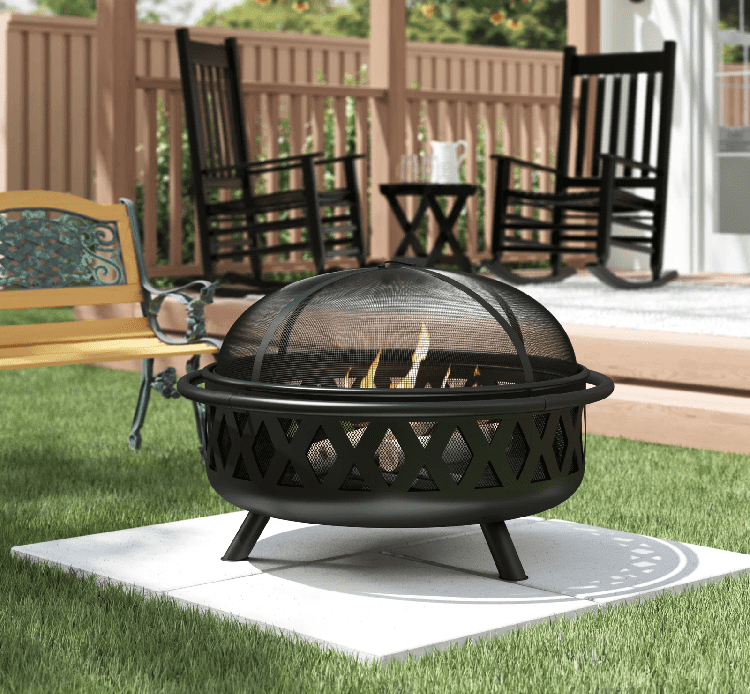 Maybe it's the way this fire pit is shaped like a slow cooker, but something about it just feels like home. Its warm brown color is welcome in this picture full of pristine white.
With its protective steel grate lid, this fire pit is even safer than all the varieties that don't come with a lid. Nothing says family s'more night quite like this.
12. Sophisticated White Geometric Fire Pit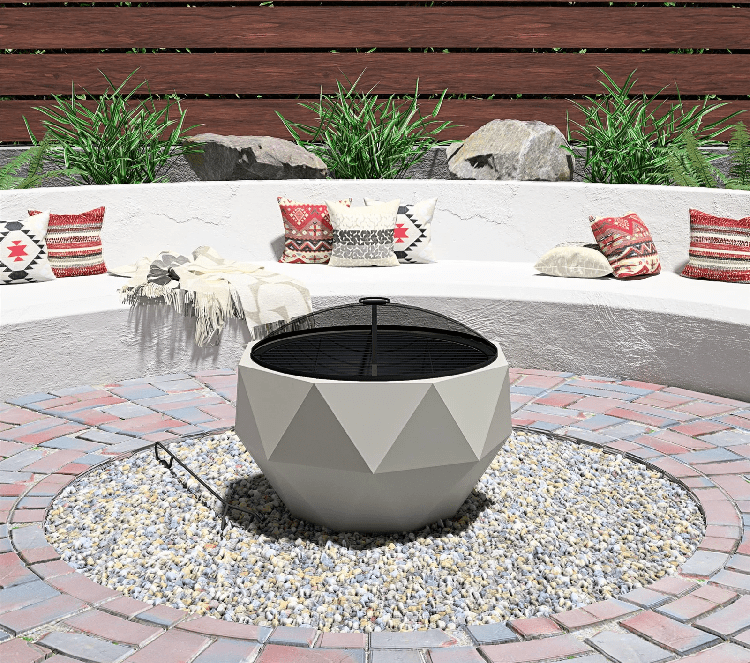 Looking for something out of the box? Check out this white fire pit. Its sides are made from geometric white shapes, which gives the fire pit a modern feel. Since it comes with a metal grate that covers the open flame, you can use this to do all your grilling, too. If you like, you can buy this same fire pit in gray.
13. Sleek Outdoor Fire Pit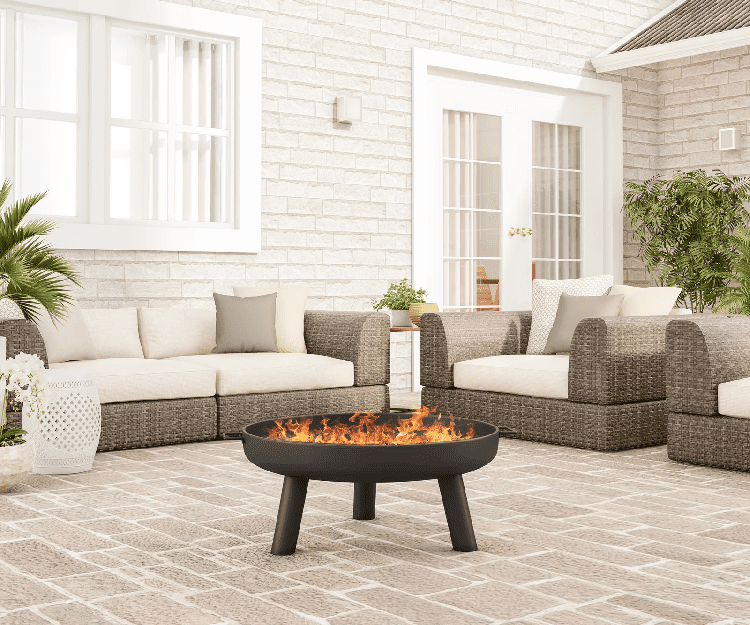 Here's a steel fire pit that keeps it simple. The design, which is made up of a circular metal bottom supported by 3 steel legs, is minimalistic. I think this is another round fire pit that fits the molds of both modern and classic.
This is a wood-burning fire pit, so make sure to always buy wood intended to be burned at fire pits. Wood for construction isn't suitable.
14. The Tiki Party Fire Pit Idea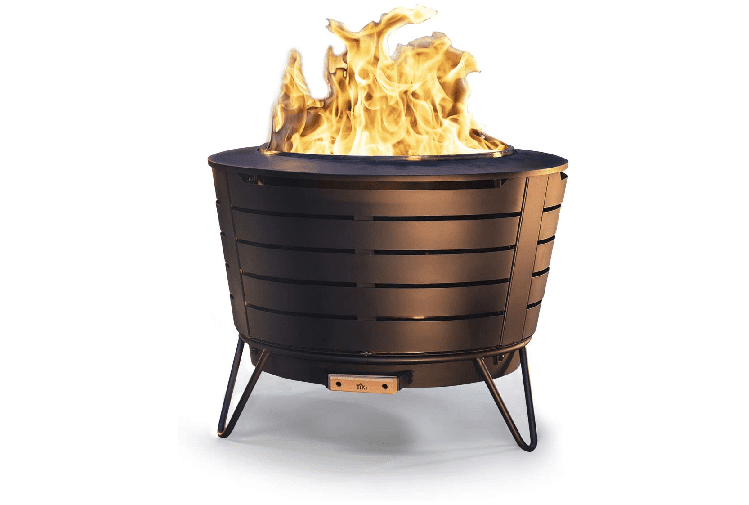 Best Round Fire Pit for Small Yards
Tiki tiki! This tiki party-inspired round fire pit makes me want to get ready for my next luau! If you're always the one throwing parties at your house, a unique fire pit like this one can spice up the ambiance. Despite the tiki torch appearance of this fire pit, the outside is actually made from durable stainless steel. Being relatively small, it works well even in small yards.
15. Elegant Gas Fire Pit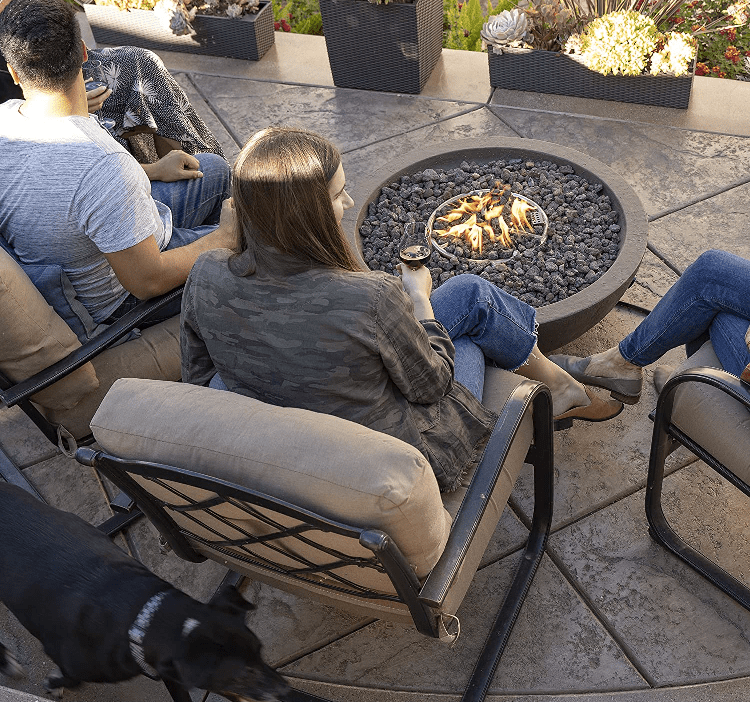 This is like something out of an Italian romance novel. If you prefer the convenience of a gas fire pit and are looking for something with an elegant touch, you've got to check this out.
The fire is contained within a pale stone bowl with other smoother, smaller stones nearly filling the bowl to the brim. With the fire coming up out of the rocks, this fire pit will cast a romantic light all around you.
16. The Stunning Stone Gas Fire Pit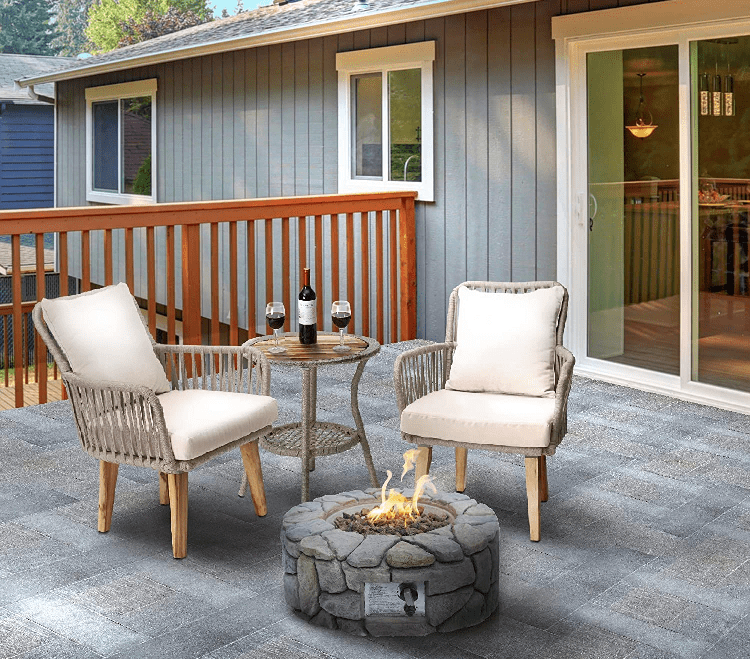 This fire pit gives the illusion that it's been formed by rocks piled onto the ground. By facing the propane nozzle away from your guests, you can hide that this is a gas fire pit, too.
What's great about this is that it's much more transportable than most other fire pits. All you'll need to bring for it to work at a family BBQ or company party is the fire pit itself and a bottle of propane.
17. Your New Best Friend for Grilling Out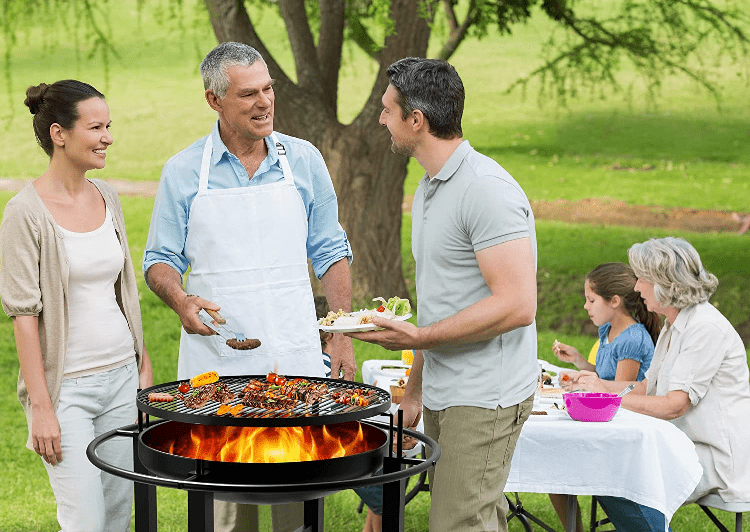 Say hello to your new grill! What better way to grill out than over an open flame where your food and fingers are protected by 2 durable grates? You'll even get a spit for roasting your favorite meats. If cooking outside all summer long is on your mind, I recommend you buy a fire pit that doubles as an exceptional grill.
18. Dainty Stone and Copper Fire Pit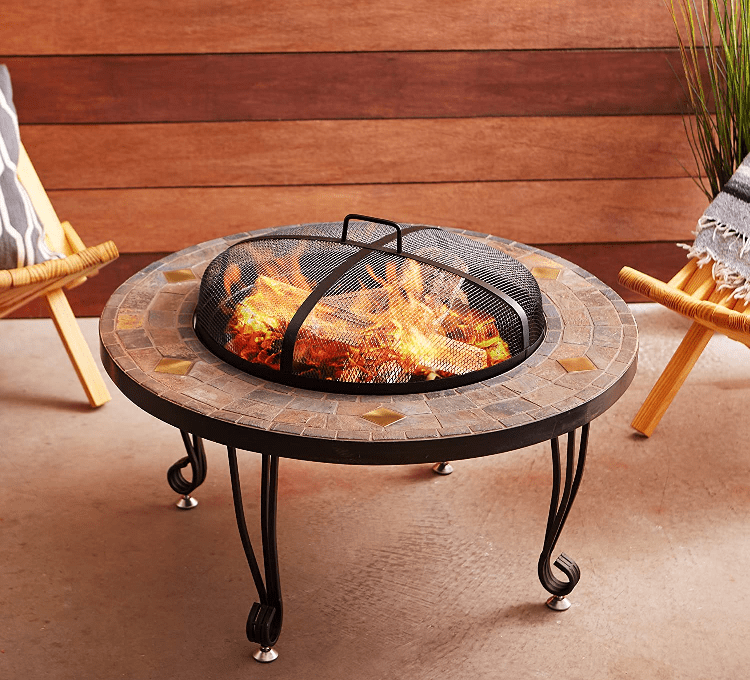 Let's finish things up with this beautiful dainty round fire pit! The stone and copper accents have been delicately arranged into an eye-catching mosaic.
For a simple fire pit, the small details are what make this one exceptional. I love how the feet curve up in a classical way, too.
See also: Best Costco Fire Pit Covers
Round Fire Pit vs. Square Fire Pit
Want to know why you'd want a circular fire pit over a square fire pit, or vice versa? I'll let you know what makes both types of fire pits stand out.
Round Fire Pit

Inviting shape that resembles a campfire or round table
Perfect for modern and classic styles
Best if your other furniture and architecture features curves
Ideal for circular seating options

Square Fire Pit 

Best when you have to make a small fire pit
Easier to measure the dimensions while DIYing
Best if your other furniture and architecture features sharp edges
Ideal for non-circular benches and other seating options
Types of Fire Pits to Consider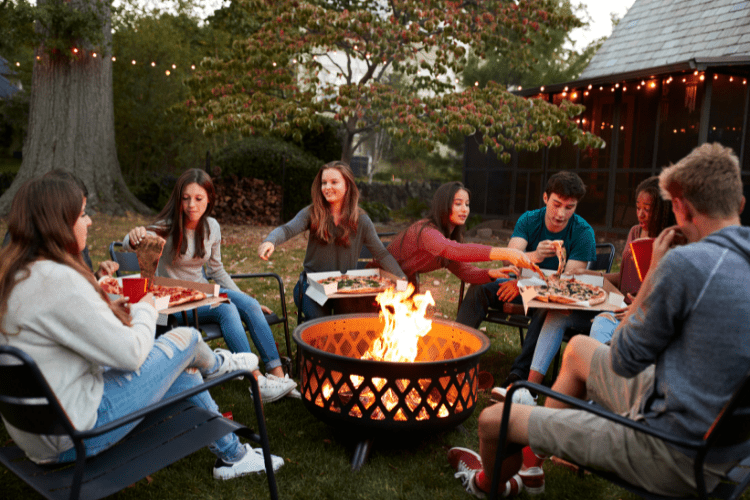 The material your fire pit is made from plays a huge part in how it looks and how it works. I've listed some popular materials for round fire pits here and given their pros and cons.
Stones
Pros

Gives the look of a classic fire pit
Perfect for rustic homes
Durable
Beautiful

Cons

Not all rocks are safe to put in and around a fire pit
Chiminea
Pros

Huge range of gorgeous designs
Wide variety of material types
Elegant structure that looks like a mini chimney

Cons

Doesn't look like a traditional fire pit
Harder to roast food over the fire
Tabletop
Pros

A stunning outdoor fixture
Lets you sit and relax close to the fire
Offers fun time with friends and romantic nights in

Cons

Leaning too far onto the table while fire is lit is a fire hazard
If something explodes in the fire, guests could be harmed
Gas
Pros

Convenient to use
Portable
Easy to put together
Generally less expensive

Cons

Doesn't function like a traditional fire pit
Some people like a more natural aesthetic
In-Ground
Pros

Looks beautiful, particularly if you have other in-ground fixtures like stone walkways
Less likely to cause a fire that gets out of control
Many material and stylistic options

Cons

Harder to install than most above-ground fire pits
Metal
Pros

Very stylish and modern
Highly durable
Resistant to weathering
Tons of styles

Cons

Some can be very pricey
Can be heavy to carry and transport
Fire Pit Safety Tips
Never forget that while fire pits are stylish and add fun to every party, they're also a huge, well, fire hazard. To make sure you're up-to-date on fire pit safety, I've given some of the most important safety tips here.
Make sure to read the manual your fire pit comes with to know safety information specific to the product you bought!
Always, always, always make sure young children and pets are 3 feet away from the fire at all times.
Make sure you set up your fire pit in an open space with nothing around it so that plants, buildings, and/or backyard items don't catch on fire.
Don't try to use your fire pit on abnormally windy days.
When lighting a fire, always make sure to light the fire upwind.
Always have a large amount of water and/or a fire extinguisher on hand so you can put out the fire at a moment's notice.
FAQs
If you have any other questions about fire pits that aren't answered below, please feel free to leave your question in a comment!
Question: Which is Better, a Round or Square Fire Pit?
Answer: Both can look stylish, but there's something particularly homey about a circular fire pit. Round fire pits can be made to look minimalistic and sophisticated, too.
Question: How Big Should a Round Fire Pit be?
Answer: It's recommended that your fire pit's diameter be between 36" and 44". Any smaller than this might make it hard to keep your fire alive. Any bigger than this could give you a large fire that's hard to control.
Question: What Shape Fire Pit is Best?
Answer: A circular or square fire pit is best. It's easier to get the dimensions right if your fire pit is one of these two shapes.
Time to Go Relax by the Fire
There's nothing quite like sitting by the warmth of the fire, is there? I hope you feel inspired to uplift your own yard with a fire pit.
Did you learn something new today about fire pit materials or fire pit safety? Have you found a fire pit idea from the ones we talked about above that really caught your eye?
If you live somewhere cold like me, I recommend the Stylish DIY Brick Fire Pit. For more information about gorgeous home décor ideas, please come take a look at our website!
Recommended Reads: