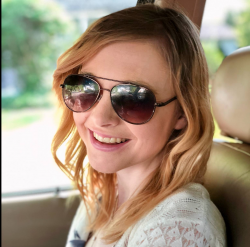 Latest posts by Erin Jamieson
(see all)
I have fond memories of roasting marshmallows or just warming up near a fire pit. But something I missed growing up was how much thought goes into taking care of one. If you want lasting memories and avoid buying a fire pit a few years down the road, knowing how to find the best fire pit inserts is important. 
We all get caught up in the best fire pit accessories or features. Those certainly are important. But fire pit inserts can improve both the durability and safety of your backyard fire pit. If you love fire pits but also want to save money in the long run, like me, it's worth considering. 
Consider this your brief guide to finding the best inserts for your fire pit. I'll explain when you do- or don't need- a fire pit insert and how to shop for the best value. Here's to many more years of enjoying your fire pit safely. 
Bottom Line Up Front Summary
Firepit inserts are not a must in all cases, but they're very helpful for improving both durability and safety standards for stationary fire pits. Look for a sturdy steel frame, with dimensions and a shape that matches your fire pit. Consider features like a smokeless design, cooking grates, and lids. 
If I had to recommend just one fire pit insert, it would be the Woodland Direct Fire Pit Insert. Constructed with the same quality steel as used in US parks, this value bundle comes with a sturdy fire pit insert and bonus swivel cooking grate. 
My Top Picks 
Reasons Why You Should (Or Shouldn't) Use a Fire Pit Insert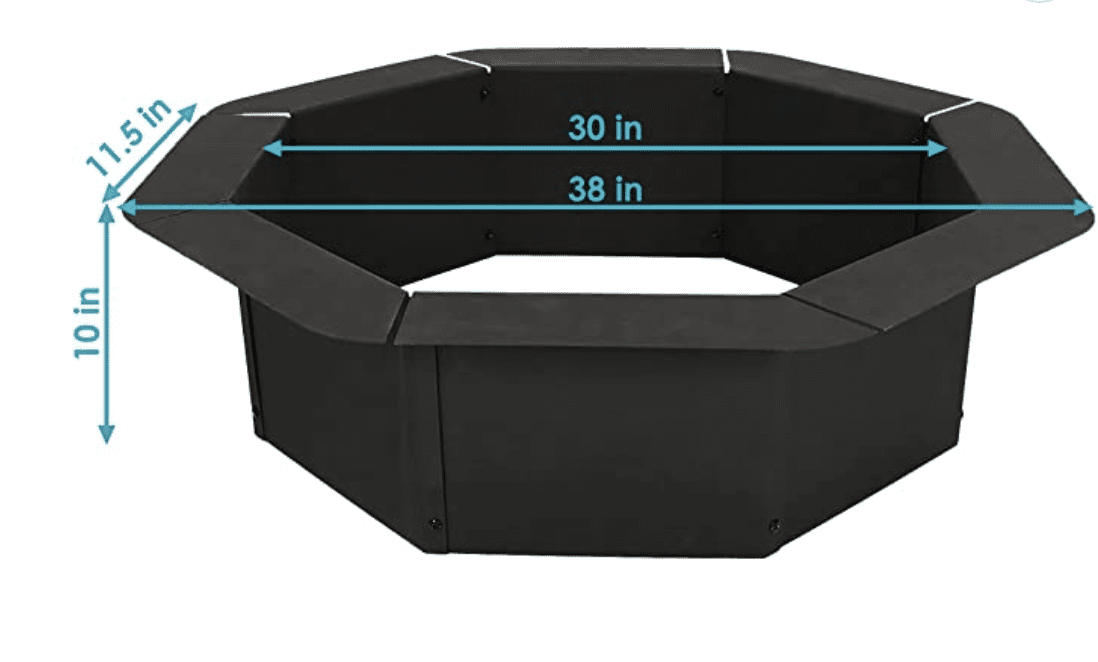 I understand wanting to save money- and there's no reason to buy something that'll add to the cost of a fire pit but that you won't use. The question I see many people wondering is if they need a fire pit insert. While the answer is yes in many cases, it isn't always. 
Do You Need a Fire Pit Liner?
| | | | |
| --- | --- | --- | --- |
| Fire Pit Situation | Highly Recommended | Optional  | Not Needed |
| Brick Fire Pits |   |   | X |
| Portable Fire Pits |   | X |   |
| Low-Temperature Fire Pits (Below 1200 Degrees F) |   | X |   |
| Stationary Fire Pits | X |   |   |
Main Benefits of a Fire Pit Insert
The purpose of a fire pit insert is to protect the interior of your fire pit from heat and extend its life. Adding a fire pit insert also has safety advantages. It's especially useful for high temperatures, like ones that exceed 1200 degrees Fahrenheit. Alternatives to fire pit liners- such as granite, cinder blocks, and flagstone- will eventually crumble and could even cause an eruption. 
Buy a Fire Pit Insert If…
If you have a standard backyard fire pit (round, rectangular or square) that is stationary, left outside, and used often, chances are you should buy a fire pit insert. The exception here is a brick fire pit. Brick insulates from flames in a way other materials don't. The only reason someone might use a liner for a brick fire pit is to add aesthetic, contemporary lines. 
Skip the Fire Pit Insert If…
If you have a portable fire pit for camping- or one you use occasionally, I would skip the fire pit liner. Not only is it harder to find liners in smaller sizes, but it's also just not a necessity. I'm not saying that it will hurt to have one, but anything that is used lightly and stored indoors most of the time probably will do just fine without a fire pit liner. As I already mentioned, you can also skip the fire pit liner if you have a brick fire pit (these are not very common). 
You can also skip fire pit liners when using fire pits with a low BTU output and temperatures. Just make sure you are only using approved materials. 
How to Select to Best Fire Pit Inserts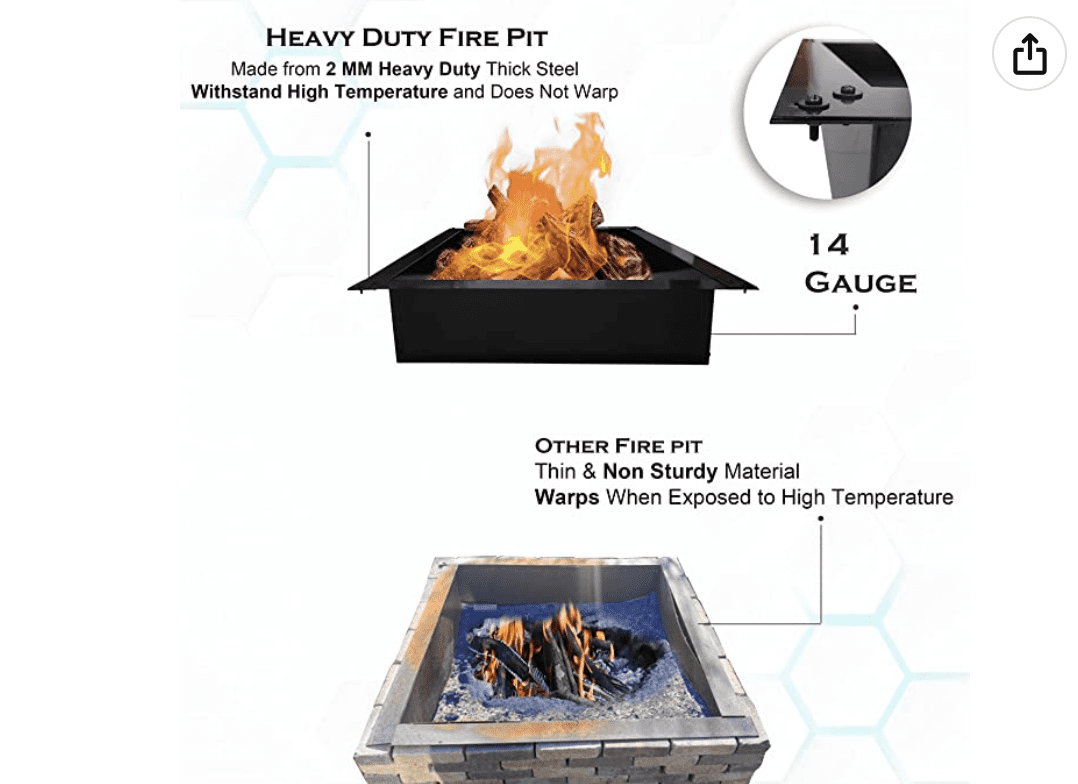 If you've decided that a fire pit insert is right for your situation, here are some of my tips for finding the best one. I'll cover dimensions, materials, and other ideas for outdoor fire pits. Make sure that your fire pit doesn't already come with an insert/ liner. If it does, check to see what it is. 
Please note that a fire pit ring is not the same thing as a fire pit insert! A fire pit ring lays on the ground, while an insert is within/ inside your fire pit. 
Step One: Fire Pit Insert Shapes, Sizes, and Dimensions
Dimensions
Your fire pit liner absolutely must fit your fire pit properly. This is common sense, but a round fire pit needs a round liner; a square fire pit needs a square liner, and so on. The problem is those fire pit liners are usually available in standard dimensions. For around fire pit, that's a diameter of 24 to 46 inches. 
Pay attention to both the interior and exterior dimensions.  For fire pits that are not in standard sizes, you'll need to have an insert custom-made. 
Thickness
Thickness is important to consumers for the strength and degree of protection. This can vary, but a thickness of 2.5 mm is a good place to start– more if you want something more generous. 
Depth 
Depth averages 10 inches. I wouldn't recommend any fire pit inserts that are shallower than this. Deep fire pit inserts- up to 20 inches- are an advantage for high and strong flames. 
Step Two: Fire Pit Insert Materials 
Firepit inserts are made with metal, and that makes sense. Metal is equipped to protect your fire pit's interior and keep it strong over time. But the type of metal is worth discussing. Fire pits inserts are made out of stainless steel, iron, or carbon steel. 
The problem with iron is that it's prone to rust. Iron is a strong material, but it'd be my last pick of these three materials. Stainless steel is undoubtedly the best option. While carbon steel also rusts when exposed to moisture, stainless steel is comparatively slow to corrode or rust. Reinforced or treated stainless steel is even better. Powder-coated is my favorite option, as it increases the weather resistance. 
Gauge 
I also consider the gauge of the metal insert. The gauge indicates the thickness- and subsequent strength- of the fire pit insert. You'll see a range of 10 to 20 gauge metals, with 20 being the thickest. You don't have to opt for the thickest insert, and the thickest inserts will have a heavier look to them. However, I'd aim for the higher end of this range when possible. 
Step Three: Fire Pit Insert Features/ Accessories
Fire Pit inserts are often fairly simple, but a few of them come with little additions. Some fire pit inserts are sold as a bundle with a lid. This lid acts as a protective cover, and it also matches aesthetically. It's a great perk, though you could also simply cover your entire fire pit- insert included- with a fire pit cover. 
Many are bottomless, which is suitable for portable fire pits. Firepit inserts with a bottom can only be used with stationary fire pits. There are also smokeless fire pit inserts. Smokeless inserts reduce smoke by improving fuel efficiency. That's worth considering, especially if you're like me and have allergies. 
Finally, there are fire pit inserts that come with simple grill plates. These don't tend to be as advanced as full grilling fire pits, but they include helpful racks for roasting small pieces of meat, marshmallows, or vegetables.  In summary, features you may consider include:
Lids

Smokeless

Grill Plates

Bottomless (for portable fire pits) 
Step Four: Pricing & Where to Buy
Firepit inserts are a little trickier to find than your average fire pit accessories. You can find them, however, at places you probably expect. That includes Amazon and Wayfair, some specialty stores, and home improvement stores. Wherever you shop, do your research. There are a few outdoor stores that offer online-only shopping that have less than stellar reviews. Checking customer reviews, shipping policies, and return policies are all important. 
I also look for red flags. That usually includes a website without a secure connection and no details on the products themselves. You should see at least details about the fire insert's materials, dimensions, and any relevant features. Of course, there should also be images so you get a sense of the color, style, and general construction of the fire pit insert. 
Prices range quite a bit. Firepit inserts can be as cheap as $40 and go up to a few or even several hundred dollars. I tend to like to stay in the middle of this range- around $150 to $300. I keep the price in mind, while also making sure it has the materials and features I'd need. In other words: set a budget. Don't inherently go for the least expensive or the most expensive. 
And if you want to catch a great deal on fire pit inserts, consider shopping during the "offseason." This means the later Fall months and Winter months, where sales for fire pits, fire pit inserts, and accessories tend to be down. 
Great Fire Pit Inserts: My Picks 
Here are a few of my top recommendations for fire pit inserts. While the price was a consideration, my picks are ultimately about overall value. These picks are made with durable materials and sturdy construction. They've been selected by their unique features or versatility, just to give you an idea of what is available. Please check the brands' other listings for additional sizes. 
Simond Store Square Fire Ring Pit Insert (30-inch interior; 36-inch exterior)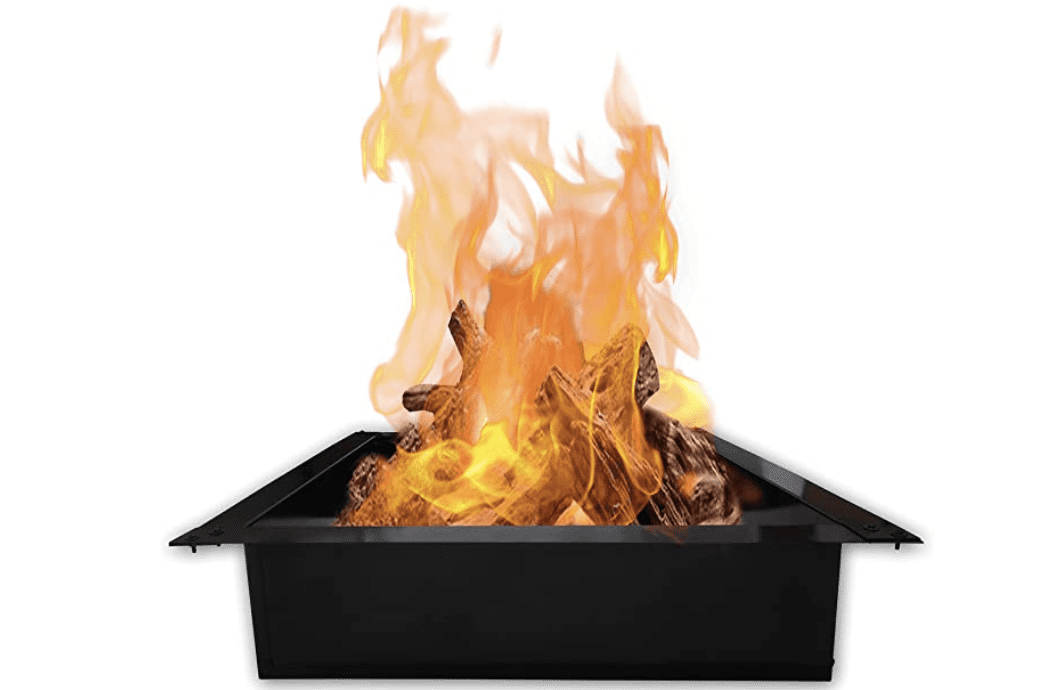 The Simond brand has several listings on Amazon if you want different sizes, but this is a great example of a square fire pit insert for a competitive price. This Amazon Choice fire pit insert is crafted with powder-coated steel. The steel is 2 mm thick and ready to use above or on the ground. It can be assembled in just four steps, and, though it doesn't have many bells and whistles, it's about the nice value square fire pit ring. Be sure to check out their other listings if you want a modestly-sized and priced fire pit. Buy Here. 
Pros
Easy Assembly

Powder-Coated

Use Above or In-Ground
Cons
Paint Isn't as Durable

Not as Sturdy as Expensive Inserts
Breeo X Series Fire Pit Insert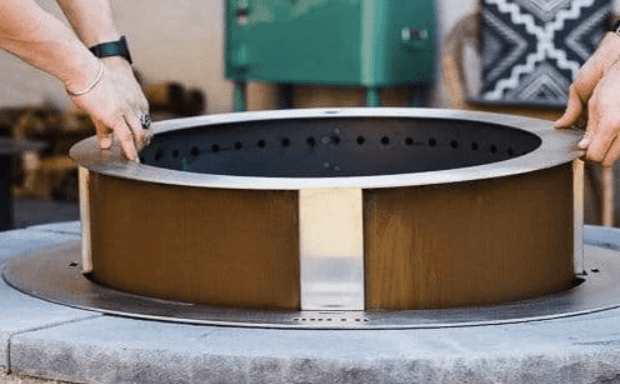 This fire pit insert is one of your best options for a smokeless experience.  The fire pit insert ring includes vents for improved airflow. Compatible with the X Series Fire Pit, this insert comes in three models and is made in Pennsylvania. Made with stainless steel, this fire pit insert is built to last- and it comes with a lifetime warranty. It's undeniably sleek and modern and has a rim width of just over 3.5 inches for their most popular model. Buy Here. 
Pros
Compatible with Smokeless

Lifetime Warranty 

Made in the USA 
Cons
Limited Compatibility 

Only Circular Models
Woodland Direct Fire Pit Insert with Grate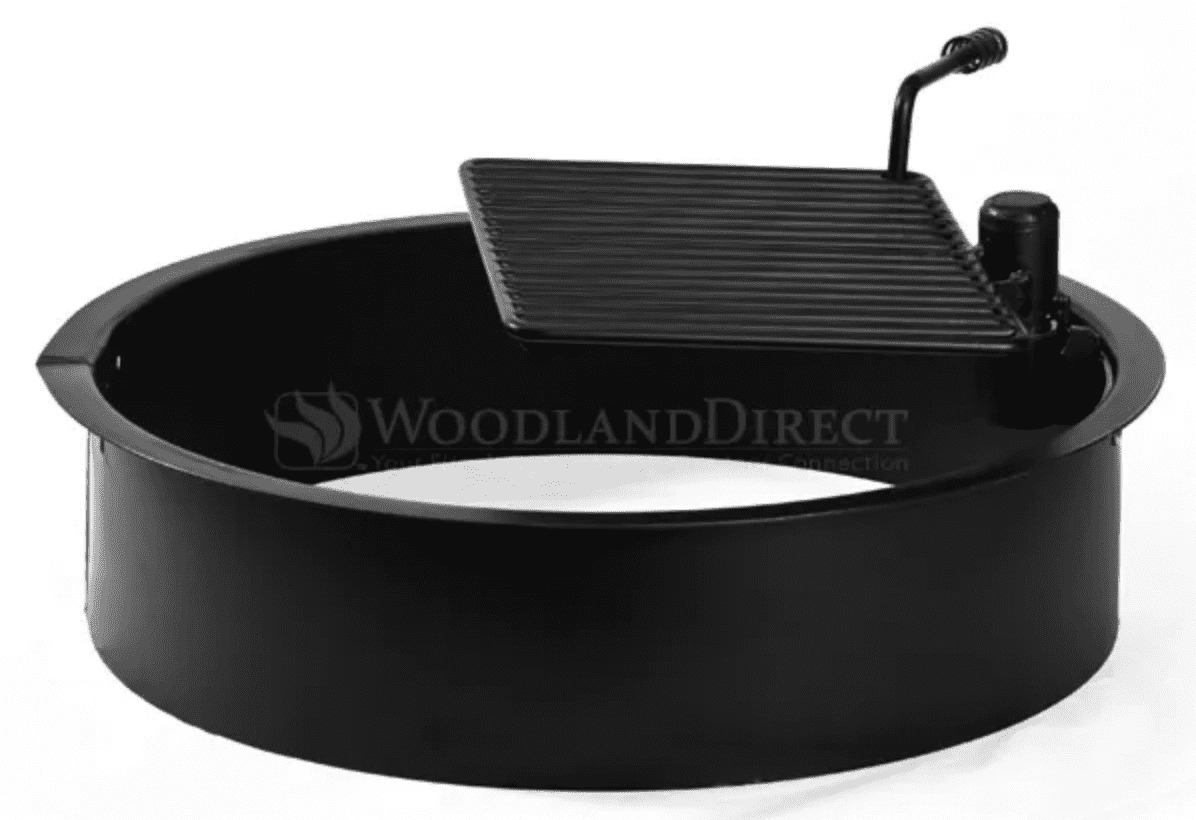 If you want to protect your fire pit and get cooking, this product may be for you. What I like about the fire pit insert is that it gives you an idea of what a grill grate and insert bundle are like. But what struck me is that there are more details about the quality of its construction vs some competitors. The insert and grate are both made with US park-grade steel. The cooking grate provides swivel action for more even dispersion of heat. It's a little heftier, at 50 pounds, but what you get in return is a sturdy fire pit insert. Buy Here. 
Pros
Cooking Grate with Swivel

US-Park Grade Steel 

Heavy-Duty Construction
Cons
Heavier

Some Users Felt Trim Width Could be Greater 
Sunnydaze Octagon Fire Pit Ring Insert- Octagonal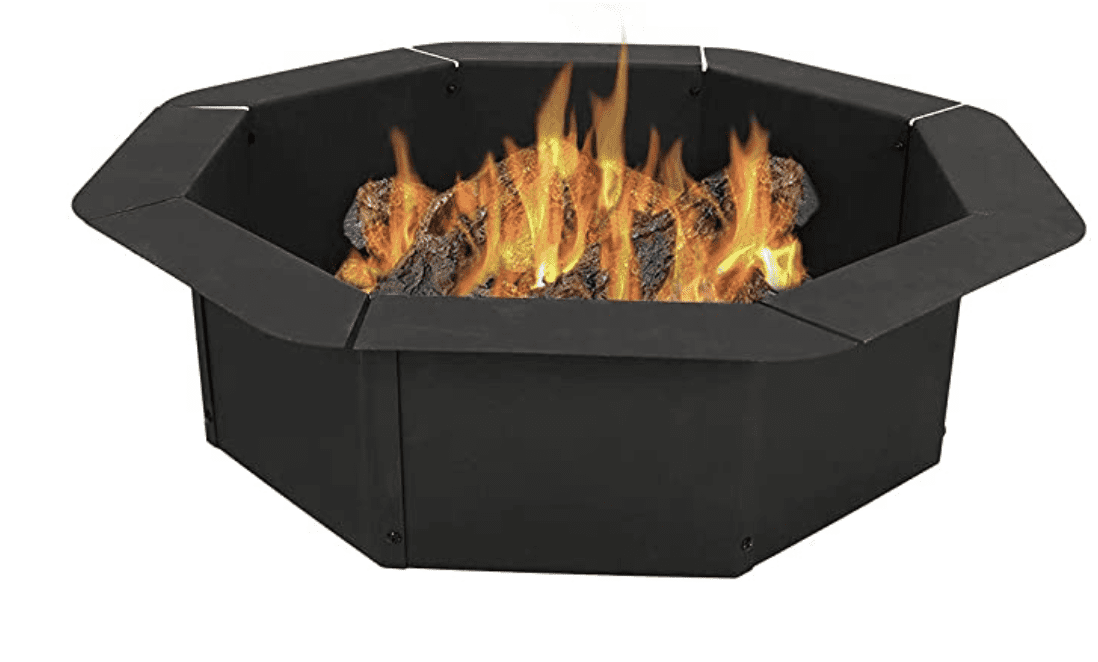 It's challenging to find an octagonal fire pit insert, and this is one of your best options. Sunnydaze is a popular brand that sells other fire pit inserts, so they're worth looking into. This one measures 38 inches and is made with heavy-duty thick steel (2.2 mm thick). It can be used both in-ground and above-ground and comes with a 1-year warranty against defects. It's easy to assemble and, once again, for sale at a great price. Buy Here.
Pros
Warranty 

Sturdy Steel

Easy Assembly 
Cons
Heavier

Listing for Octagonal Only: 
Firebuggz Rectangular Fire Pit Insert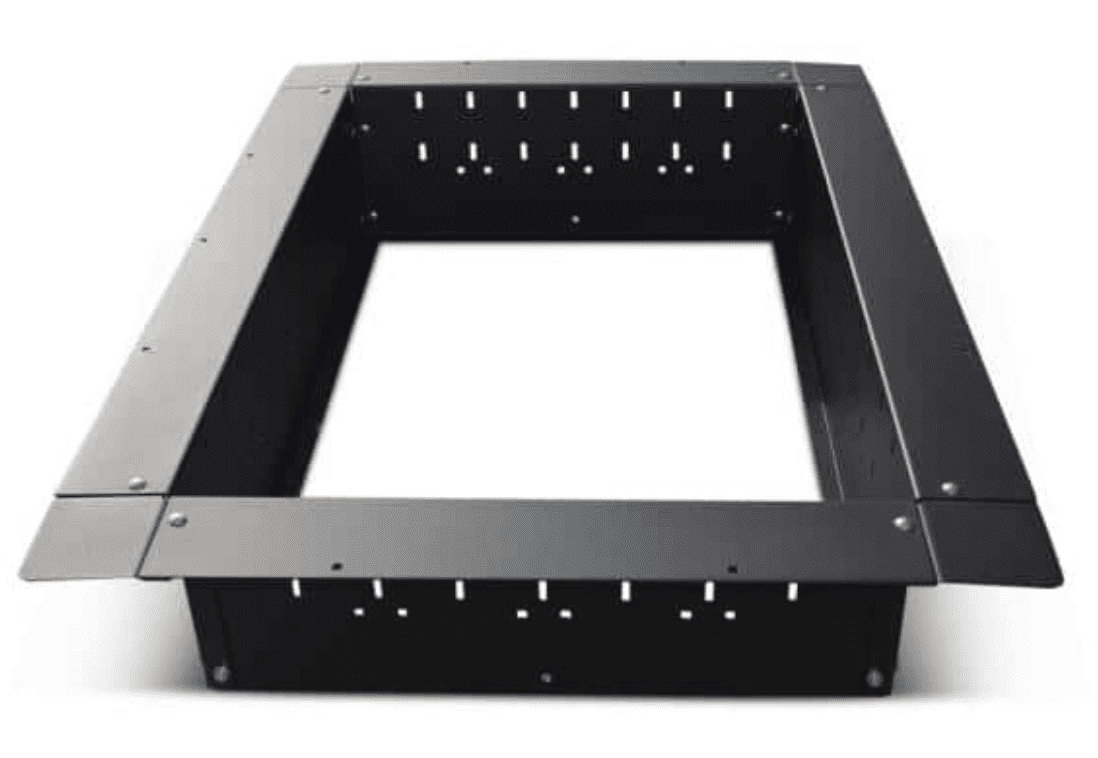 Home Depot is a good place to shop for fire pit inserts, and this generous style is great for rectangular fire pits. Measuring 36 inches by 24 inches, this fire pit insert can be installed above ground with stones or built directly into the ground. Heavy-duty commercial-grade steel, with a thickness of 2.5 mm, forms the frame. I also like the slotted air vents for increased airflow and efficiency. This fire pit comes with a 30-day manufacturer warranty. Buy Here. 
Pros
Commercial-Grade Steel 

Increased Air Flow

Warranty Included
Cons
More Expensive

Only 30 Day Warranty
Frequently Asked Questions
Question: What can I use as a fire pit insert instead?
Answer: You don't have to have a traditional fire pit insert, as long as you either have a brick fire pit or something that serves the same purpose. Many people opt for other materials, such as cinder blocks or bricks. Not one material is needed, and these can be used in a pinch to provide stability and protection to any stationary fire pit. However, these should only be used short-term, as they will deteriorate. 
Question: How do you install a fire pit insert?
Answer: You can install a fire pit, insert yourself or hire an expert. Many home improvement stores offer installation services for a reasonable price. The fire pit insert should fit inside to form a barrier between the flames and the exterior. For this reason, choosing the proper dimensions for a snug fit is a must. Watch this DIY Tutorial on all the steps for fire pit and liner installation. 
Question: Do you need a steel liner for a fire pit?
Answer: A stainless steel liner is placed within fire pits to increase their lifespan. It also is safer to use a fire pit liner- with some exceptions. If you only plan to use your fire pit intermittently or for camping, you probably don't need a liner. You also won't need a liner for a brick fire pit. Otherwise, a liner is a great option for staple fire pits that will remain stationary in backyards. Liners can be smooth steel or even composed of natural, heat-resistant materials, such as stones. 
Question: How do I make my fire pit smokeless? 
Answer: Fun fact: smokeless fire pits are not one hundred percent smokeless. A more accurate way to describe a smokeless fire pit is lower smoke. Smokeless fire pits are designed to be more efficient in the way gas/ propane burns. A system of higher temperature and pressure reduces smoke. However, even with a typical wood-burning fire pit, there.
Final Thoughts
Firepit inserts really can make a difference in the safety and longevity of your backyard fire pit. What many people don't realize is that buying a fire pit insert, if your fire pit doesn't come with one, can save you money in the long run. If you're just using a portable fire pit or a fire pit table for occasional entertaining, you can probably skip it. But if you have a stationary fire pit you're using regularly, a fire pit insert may be one of the best purchases that you can make. Prioritize fit and materials, and only ever buy from a store you know something about.
Final Recommendations: Replacement Fire Pit Bowls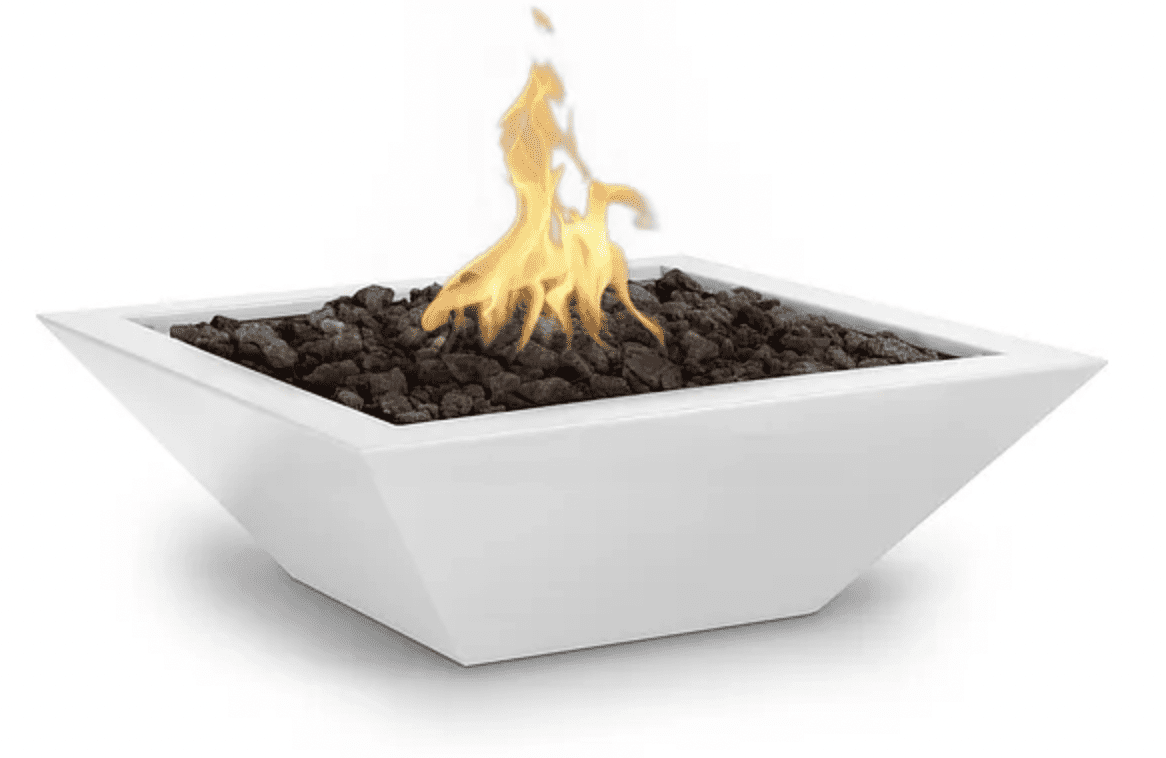 If you don't want to fully commit to a fire pit, a fire pit bowl is another good idea. Unlike a fire pit- which requires an insert- a fire pit bowl is a bit lower maintenance and sits in a bowl-shaped above the ground. You can also buy replacement bowls that are placed within pits. The same rules apply here for the best fire pits. You want a bowl that's constructed with concrete, stone, or stainless steel that's crafted with a sturdy frame. You can Buy a Replacement Bowl Here (and at Home Depot in general) or see an example of a great Powder- Coated Steel Fire Bowl Here.
Recommended Reads: