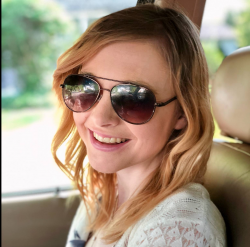 Latest posts by Erin Jamieson
(see all)
I love shopping clearance, but not just to score a discount. One of my best finds was a pair of foldable patio chairs from Walmart. While they're not stapled chairs I leave outside, they've become a good addition to my small patio. But are Walmart patio chairs right for you– or should you shop for sales elsewhere? 
Consider this your quick guide to shopping for and finding the best patio chairs from Walmart. From popular brands like Better Homes and Gardens to styles like boho and modern, I have you covered. Whether you're shopping for Adirondack chairs for a fire pit, chairs with a deep seat, or stackable chairs for tight spaces, here's what you need to know.
I'll point you to my favorite patio chairs at Walmart and give you the truth about the best and worst of shopping from Walmart. 
Bottom Line Up Front Summary
Walmart has a wide selection of patio chairs, from compact (foldable and stackable) to dining, swivel, and many other styles. Instead of buying the cheapest patio chair, I look for materials that are weather resistant. Ergonomic, contoured seats and a substantial weight capacity are bonuses. 
If I had to recommend one patio chair from Walmart, it would be the Polywood Classic Adirondack Chair. This is one of the rare chairs made in the USA and constructed with high-density, low-maintenance recycled materials. The classic look, laid-back orientation, and sturdy construction make this chair a go-to for enjoying your patio space or even a fire pit. 
My Top Picks
Reasons to Shop For Patio Chairs at Walmart 
I have a feeling that if you're reading this, you're looking for an affordable and convenient patio chair. If that's the case, Walmart makes sense.
But before you start searching and shopping, I'll give you my honest thoughts about the pros and cons of shopping for patio chairs at Walmart. There are a few things I love, and some I'm not fond of. (Be sure to check out my best alternatives to shopping at Walmart at the end of this guide). 
Advantages of Shopping for a Patio Chair from Walmart 
Walmart had a wide selection of patio chairs. And when I said wide, I mean over 1,000 listings under the 'patio chairs and seating' category. You can seamlessly filter by price, brand, and shipping options. It's a great place to quickly compare prices. I also think that most Walmart patio chairs will work for about any home. While the styles aren't extraordinary, they are practical and versatile. 
Shipping is usually pretty quick, and you can choose to ship directly to your home or a store near you. Tracking and return services are fair and standard. Unlike Wayfair and Amazon, which also are known for their wide patio chair inventory, Walmart of course also has in-store shopping. 
Disadvantages of Shopping for a Patio Chair from Walmart
But I don't love everything about shopping for patio chairs at Walmart. While you can find popular brands, like Better Homes and Gardens, most are brands that you think of when you think of Walmart, such as Costway and Mainstays. There's an emphasis on low-cost products, and not many patio chairs are made in the USA.
Along with that, while there is a variety of both styles and materials, styles are neither unique nor high-end. Patio chairs focus more on functionality than style or comfort. While there are some good prices and clearance patio chairs, there are competitors that offer equally cheap options. 
Low-Down Summary 
Walmart is great for patio chairs if you want a large selection of affordable options. They offer convenient shipping and shopping. But if you want unique or the highest-quality patio chairs, it's not the best place for you.  
How to Select the Best Patio Chairs from Walmart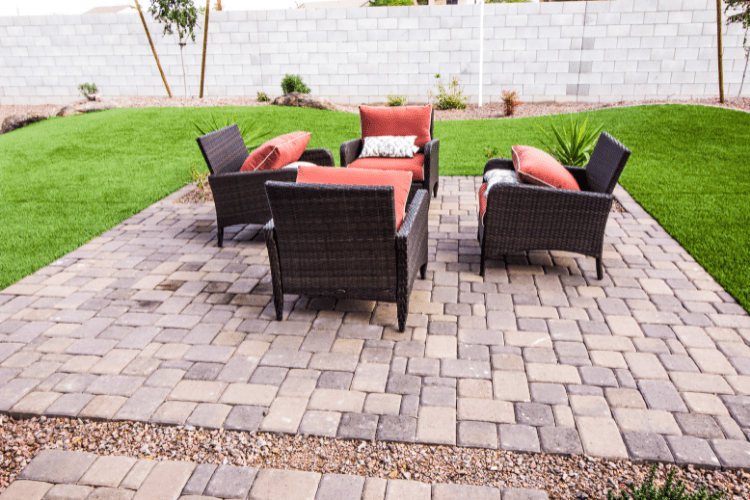 If you've decided to shop for patio chairs at Walmart, let me help you navigate the virtual or physical aisleways. Here's how to prepare for your shopping experience and how to find Walmart patio chairs. 
Step One: Selecting a Patio Chair Type
Start by asking yourself what type of patio chair you need. With Walmart's vast selection, that's important. To keep things simple, I've created a chart of the most common types of patio chairs Walmart sells and what each is good for. I won't be including loveseats, hammocks, daybeds, or side tables– which interestingly enough Walmart includes in their complete patio chair seating collection. 
| | |
| --- | --- |
| Type Of Walmart Patio Chair  | Purpose |
| Patio Rocking Chairs | Relaxation, Entertaining, Ambiance  |
| Patio Swivel Chairs | Dining, Entertaining, Freedom of Movement |
| Patio Dining Chairs | Eating; Also, Accent Chairs  |
| Patio Lounge Chairs | For Pools, Lounging, Relaxing  |
| Patio Ottoman Chairs | Backless, Cushioned Seat- Reading, Relaxing |
| Patio Adirondack Chairs | Leaned- Back seat, For Porches and Fire Pits |
| Patio Slingback Chairs  | Economical Seats for Dining or Entertaining  |
| Stackable/ Foldable Patio Chairs | Portable and Save-Saving Seats  |
There isn't a right or wrong type of patio chair. It's more about what you'll use and how you'll use it. If you just want a generic patio chair that's multipurpose, I recommend Walmart's swivel, dining, or slingback chairs.
See also: Best White Rocking Chairs for Porches
Swivel chairs have the advantage of allowing you to view different angles without straining your neck, but cheap ones are prone to breaking. Slingback chairs tend to be lightweight though not always super comfortable. 
Step Two: Selecting the Best Materials
I admit it: first impressions made me jump to conclusions at first. See, Walmart advertises many of its cheapest patio chairs, especially common plastic materials.
But they have a nice selection of some respectable materials at a good price. When looking for a patio chair anywhere, I value materials that are weather-resistant and durable for the price point. Here's what Walmart offers– and what I'd buy or avoid.
Buy: Polywood Patio Chairs, Powder-Coated Steel Patio Chairs 
Polywood is a high-density plastic that's made out of recycled materials. It's sturdy, difficult to damage, and can last for 20 years or more. Unlike regular plastic, it has a more luxurious texture and smooth presentation. It's easy to clean and can be left outside. Almost all of Walmart's Polywood Chairs are Adirondack style, however, so your options are pretty limited. 
Powder-coated steel patio chairs are also a good choice. I'd go for steel over aluminum, as it's much stronger and harder to dent. The powder coating prevents rust and corrosion. Walmart's Powder-Coated Metal Patio Chairs range quite a bit in ratings and structure, so it's still important to be careful. I especially like reinforced steel, which is a little stronger than regular steel.  
Be Careful: Wooden Patio Chairs, Wicker Patio Chairs 
This is where I notice Walmart- and competitors- cutting costs. Walmart has a Collection of Wooden Patio Chairs, but many of them I would avoid.
Softer woods are a no-go for patio chairs, and ideally, you want either a wood that is rich in natural oils, like teak or one that's been treated with a weather-proof coating. Acceptable hardwoods include acacia, maple, oak, cherry, walnut, eucalyptus, and mahogany.  Steer clear of pine and cedar chairs. 
Wicker patio chairs are tricker. Wicker, no matter the material, tends to be a bit fragile. I'd only buy a wicker chair from Walmart that's been treated with a resin, weather-protective coating. 
Avoid: Regular Plastic Patio Chairs 
Walmart has some pretty cheap patio chairs, but regular plastic chairs, in my opinion, just aren't worth it. They won't last long, nor are they particularly comfortable or attractive. 
Step Three: Selecting Patio Chair Dimensions, Features, and Brands
Dimensions
The type of patio chair you buy, of course, really impacts what sizes make sense. For any patio chairs, measure the size of your patio. Allow space in between your chairs and space to move around.
If you're buying a full set or a lot of patio furniture at once, you can use Target's Virtual Outdoor "Room" Planner. Patio chairs at Walmart are 18 to 24 inches tall on average. If you're buying chairs for a table, the chairs should be close to 17 to 19 inches tall. Seat dimensions matter too. The deeper the seat depth, the more reclined. 
See also: Best Outdoor Rugs for Porches
Weight Capacity
Weight capacity is something else I look at. The higher the weight capacity, generally the more stability that chair offers. A patio chair with a weight capacity of 230 pounds and up is a good idea, and even better if it's closer to 300 pounds. 
Brands and Main Features
As far as Walmart brands, I wouldn't honestly shop for them. I notice quality varies even within a brand. Instead:
 I'd focus on reviews, quality materials, price, and features. Features I might look for include: warranties, ergonomic design (generous armrest, contoured seats), adjustable arms/ legs, and weather-proof coating.  
Walmart Patio Chairs: My Picks
Most of my picks represent the more expensive side of Walmart. The reason? These patio chairs feature superior materials and construction vs the budget options.
While the initial price may be higher, it's still cheaper than many stores- and it may save you money in the long run. Special features, weather-resistant frames, and respectable ratings made these Walmart patio chairs stand out to me. However, I did sneak in a budget option that fits this criterion. 
Polywood Classic Adirondack Chair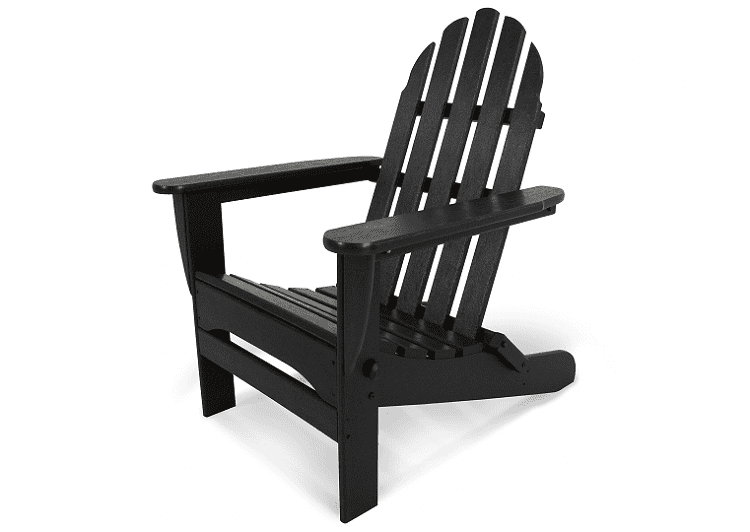 Walmart may not carry many Polywood patio chairs, but I did find this style– and I'm glad I did. It's a better price than many other Polywood chairs out there and still gives you some great benefits. Polywood is a high-density plastic that's eco-friendly because it's made with recycled materials.
This Adirondack chair is perfect for a fire pit or just enjoying your patio. No painting, refinishing or oiling is required. It's made in the USA and features commercial-grade stainless steel hardware and is resistant to UV rays.
A scalloped back and contoured seat provide an ergonomic sitting experience. What's fun is that there are many colors to choose from, including black, turquoise, brown, cobalt, gray, red, and white.  Buy Here. 
Pros
Ergonomic Seat and Back 

Polywood- Weather Resistant

Hardy Stainless Steel Hardware

Made in the USA
Cons
Not 100 Percent Recycled Materials- Like Some Polywood

Tricky Assembly 
Relax Fabric Swivel Patio Chairs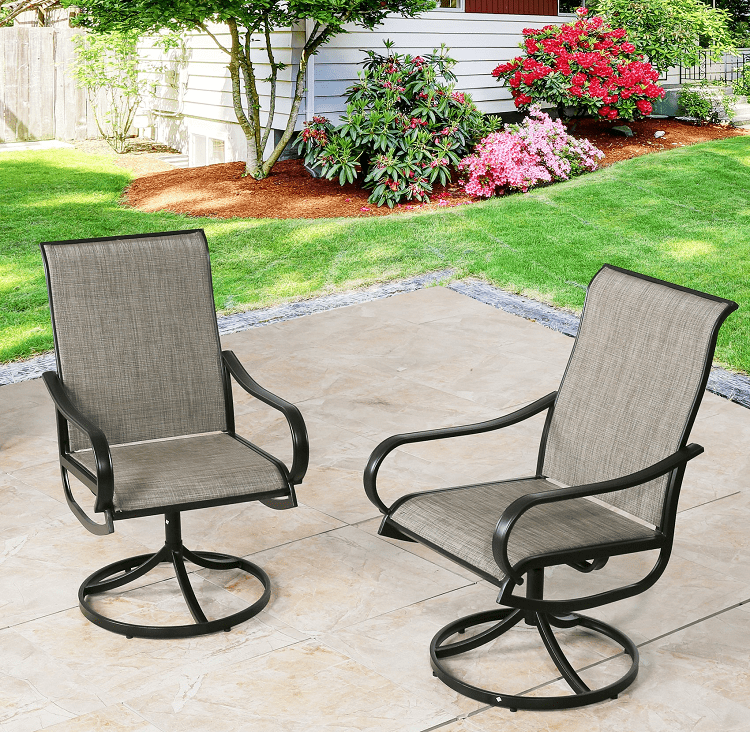 Use these versatile swivel chairs as stand-alone patio chairs or with a dining table. The high back and armrest provide more support than the usual chair at this price, and control as you rotate.
The frame is powder-coated steel and easy to care for. The mesh seats are meant for all weather conditions and provide plenty of ventilation for hot and sunny days. These chairs rotate a full 360 degrees and even gently rock. You can easily ramp up the plain style with some statement cushions. This set of two chairs is lightweight but can hold up to 300 pounds per seat. Buy Here. 
Pros
Powder-Coated Steel Frame

Mesh, Breathable Seats

360 Degree Swivel

Versatile
Cons
Not Much Back Support

Thinner Seats- May Want Cushions 
Costway Weather Foldable Patio Lounge Chair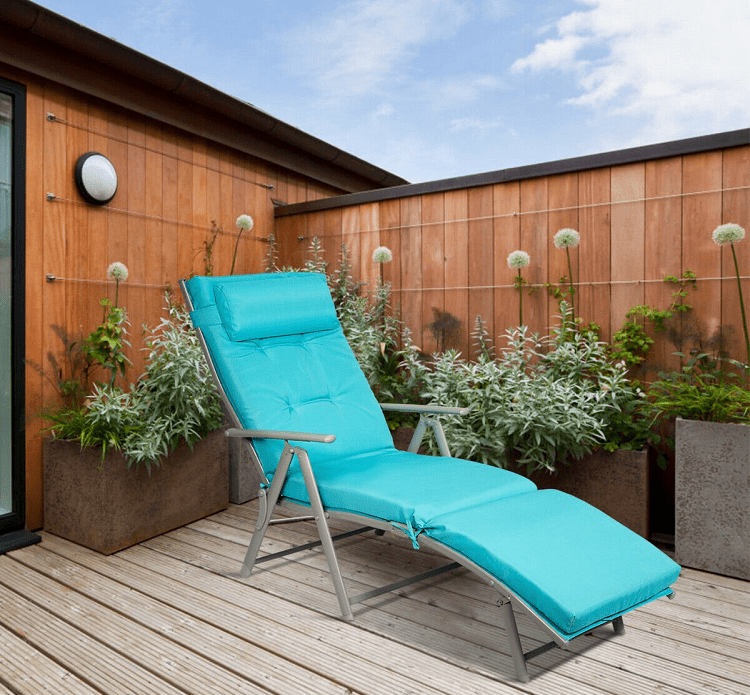 A lounge chair isn't a must-have for a patio- but I appreciate a good lounge chair. If you're anything like me and tend to overwork yourself, a lounge chair can remind you of how important it is to stop and relax. But this lounge chair is the one I'd recommend from Walmart because it's made with better materials than the vast majority of Walmart lounge chairs.
That includes a reinforced, rust-resistant steel frame, combined with a breathable, all-weather cushion. Anti-slip pads prevent accidents from happening near a pool. The arched back is designed to be ergonomic, and it's even foldable for easy storage. This lounge patio chair from Walmart is available in solid black or turquoise. As a bonus, it holds up to 330 pounds. Buy Here. 
Pros
Weather-Resistant Cushions

Ergonomic and Foldable

Sturdy Reinforced Steel Frame 

Anti Slip Pads
Cons
Polyester Is Less Durable than Some Weather-Resistant Fabrics 

Only Black or Turquoise 
Manor Park Chevron Wooden Patio Chairs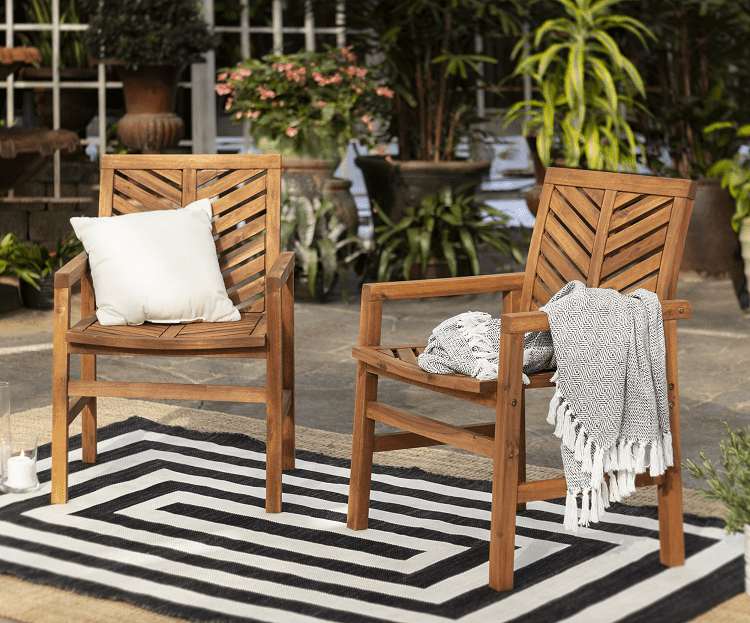 I mentioned that Walmart isn't the best place to find wooden patio chairs, and I still stand by that. After searching for a while, I came across this set of patio chairs that fit at least more of my criteria than other options.
This set of wooden chairs is made with genuine acacia hardwood. Acacia is prized for its density and hardness and is known to absorb less moisture than other woods. I like the classic design of these patio chairs, as well as the contoured seats for added comfort. Buy Here. 
Pros
Solid Acacia Hardwood

Unique Back Design

Contoured Seats

Sturdy 
Cons
Requires Teak Oil, Upkeep 

May Need Cushions to be Comfortable 
Mainstays Steel Stacking Patio Chair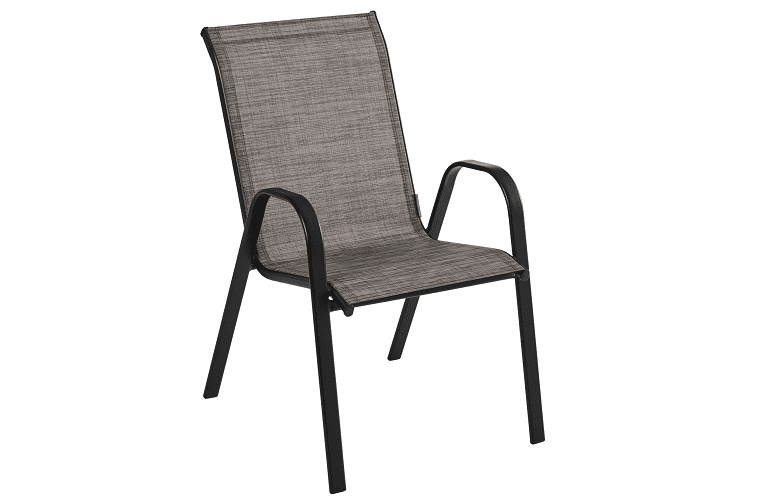 This is probably the first type of chair people think of when looking for a Walmart patio chair. It's unassuming, goes with everything, is easy to store, and is incredibly affordable. This stack-able Walmart patio chair costs under $50 and works in a pinch for entertaining or replacing a dining chair.
The steel frame is both powder-coated and e-coated to endure all weather conditions. The simple sling seat is easy to clean- simply use water and gentle soap. Out of 96 reviews, this simple patio chair earned 4.5 out of 5 stars. Buy Here. 
Pros
Powder-Coated Steel Frame

Stackable 

Easy Care

Incredible Cheap Price 
Cons
Some Customers Received Defective Products 

Intended For Light Use- Easier to Damage 
Grandview Patio Wicker Chairs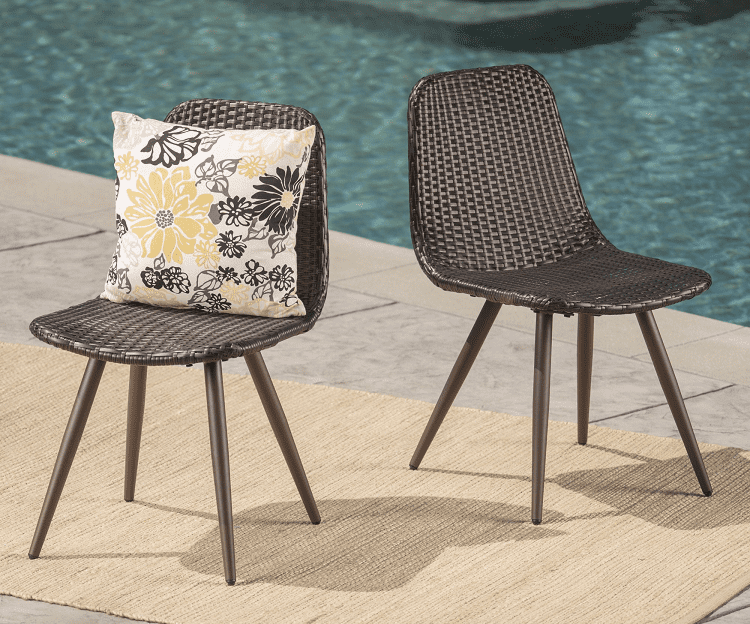 As I said, you have to be careful with wicker patio chairs. But I have always loved the charm of wicker, and I know a lot of other people do. Unlike many of Walmart's patio chairs, which lean pretty plain, this adds a bit of subtle style to your patio. Use them for dining or casual patio seats.
This set of two wicker patio chairs features a sturdier frame, with powder-coated metal (iron) and weather-resistant resin. The dark brown legs are easy to coordinate, and the style is modern but whimsical. These won't take up much space, but provide a bit of a modern boho charm to your patio. Buy Here.
Pros
Powder Coated Iron Legs

Weather-Resistant Resin Seats

Charming Style
Cons
No Armrests/ Not that Comfortable 

Still More Fragile than Solid Patio Furniture 
Final Recommendations: Alternatives to Walmart Patio Chairs
While Walmart has a broad spectrum of patio chairs, maybe you've discovered that it isn't the best store for you. Whether you're looking for a direct Walmart alternative or higher-end patio chairs, here are a few places you could shop instead.
Direct Alternative: Amazon Patio Chairs

Love the vast inventory, convenient delivery, and competitive prices of Walmart's patio chairs? The most direct alternative is probably Amazon. If you don't mind doing all of your shopping online, you have a broad range of chair styles, materials, and prices. These patio chairs lean simple, contemporary, and practical. Shop Amazon Patio Chairs Here.  
Wide Selection: Wayfair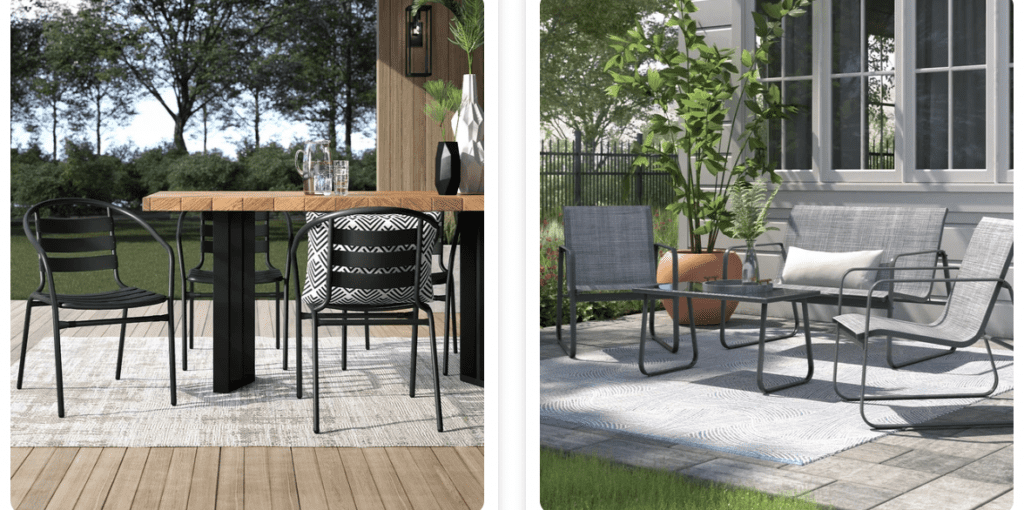 Middle-range patio chairs and an incredible selection of updated styles are a few features of Wayfair's collection. While their patio chairs aren't the cheapest, they're a good value. You can easily peruse customer reviews and add-on protection plans. Shop Wayfair Patio Chairs Here. 
Customer Service and In-Store Shopping: Home Depot & Lowe's
Lowe's Collection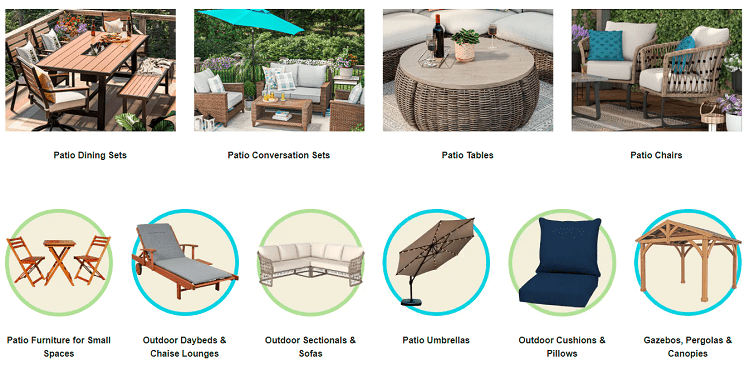 As traditional home improvement stores, what I like about Home Depot and Lowe's is that you have in-store options and a nice online inventory. They offer services for installation and general advice. While that may not be necessary for a simple patio chair, it's certainly a perk if you're buying a full dining set. Shop Home Depot Patio Chairs Here or Lowes Patio Chairs Here. 
Frequently Asked Questions
Question: Will Walmart restock patio furniture?
Answer: Patio furniture has faced shortages for a while. That's been seen across stores, from home improvement stores to even places with a wide inventory like Walmart. There's good news for anyone shopping from Walmart, however. Not only does Walmart restock its furniture, but you can also opt-in for notifications when they do.

If you were opt-in, you'll be sent an email when the patio chair or whatever you're requesting is available. The caveat is that not all items are guaranteed to come back in stock. Online listings vs in-store listings are also handled differently. Click Here to Learn about Out of Stock Items from Walmart.
Question: When do Walmart Patio Chairs go on Sale?
Answer: If you're shopping online, you can find budget and even clearance patio chairs and furniture year-round. However, there are a few times of year that are best for catching discounts, sales, and deals. Fall, especially the second half of Fall, is an excellent time to shop. Black Friday and other holidays also have sales.

Another wise choice is to shop right before Spring. From January through March, Walmart and other stores tend to have sales because it's both a quieter time for sales overall and not popular for patio furniture sales. Just avoid buying patio chairs at peak season if you care about sales. That would be from April through August. 
Question: Is there a Promo Code for Walmart Patio Chairs?
Answer: I've seen many supposed promo codes advertised for Walmart. These are usually provided on third-party websites. Often these do not work and aren't safe. Only apply a promo code directly offered to you through Walmart. Shop through clearance or by price if you want a great deal without problems. 
Question: Who sells the Cheapest Patio Chairs?
 
Answer: Walmart has often been named the cheapest store for patio chairs, but it has stiff competition. That includes Ikea, Amazon, discount warehouse stores, thrift stores, Big Lots, and other discount places.

Rather than focus on the cheapest store to shop at, I recommend setting your budget. Set your search and filters based on your budget, and comparison shop. Just because something's available at one store doesn't mean that it's guaranteed to be cheaper. While Walmart does sell cheap patio chairs, I've seen deals elsewhere. 
Final Thoughts
Walmart's selection of patio chairs isn't innovative or high-end, but that's not usually why people shop there. What Walmart does offer is a vast inventory of patio chairs, especially if you're shopping online. It can be a little overwhelming, so setting a budget, criteria for materials and features, and being prepared goes a long way.
Remember that the patio chairs listed online don't match the same patio chairs at your local store. If you do want to buy a patio chair at your local store, there are search filters for that. 
Recommended Reads: