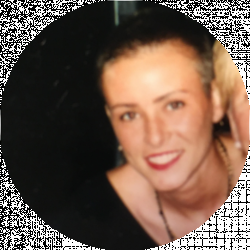 Latest posts by Richelle Tieman
(see all)
Here is Spring!  Hibernation expiration alert! Vitamin D is streaming, just waiting for us to come out and play.  Year-round, I come up with ideas on making our porch and patio better, homier, more inviting,  more beautiful, and user-friendly.  My mother has always been the green thumb in our family and the decorator that "gets it done."  I am the ideas person who works best with someone that can put my idea into motion. Together, we make an unbeatable team.
And now it's that time again to sweep off the front porch and assess your next moves.  Perhaps you are itching to invest in some new and fun ideas, eager to get the show on the road.  This is certainly the time to get rid of the old and bring in the new – even more than New Year's!
Last weekend, I swept off and hosed down my front porch, scrubbed the window box with dish soap, and put up plastic spikey bird deterrents above the front door!  I have been sourcing all the front porch planters that I can find and still find that I am drawn to BLACK!  There are so many ways you can "do" black.  Sleek and modern, traditional and timeless, charming country, antique rustic, and sophisticated and romantic.
These pictures show a fun way to add layers and detail to your front porch by stacking a black wrought iron obelisk in your black urn planter.  The black is very dramatic, charming, and bold.  You can leave the obelisk as is for a light, see-through effect or have vines climbing up.  More ideas are here!
Many fabulous black planters come in all shapes, sizes, and materials that will keep your plants thriving and your front porch glowing.  I will break it down by planter material and type to find the most fabulous durable designs that will encourage growth.
See also: Best White Rocking Chairs for Porches
In this article, I will give you tips on how to make the best use of your black planter and give you a look at some of the most unique and versatile black planters for your porch. But first, my bottom line for the best black planter for your front porch.
Bottom Line Up Front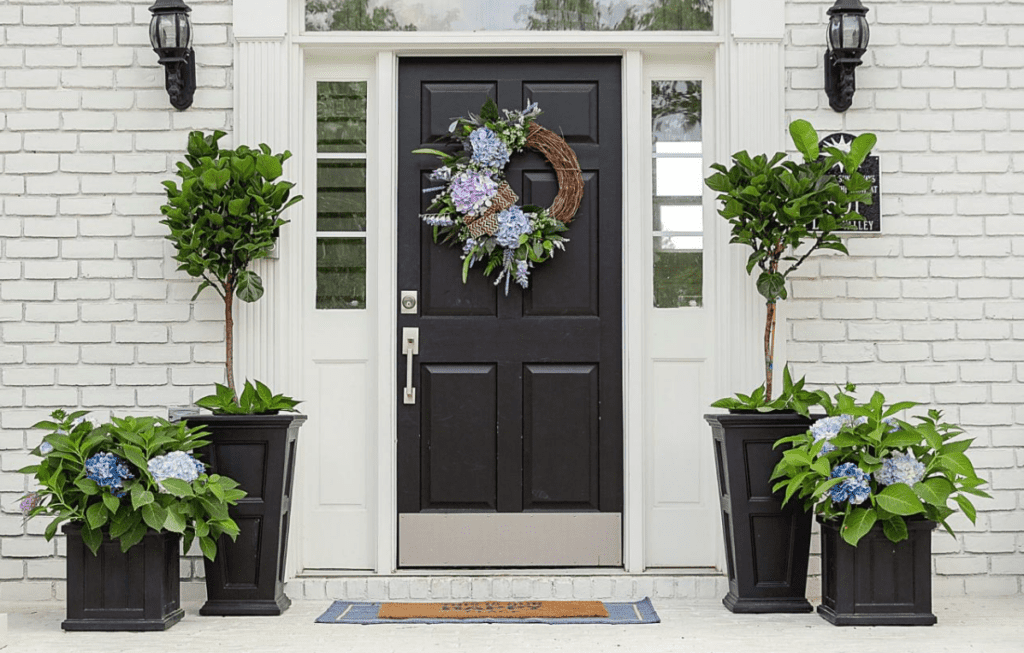 Whether you want your front porch to match your landscaping or want to add flair to a small space, it's easy to create a welcoming environment as you walk up to your home.  Having seen thousands of planters for all different front porch types, one thing that never misses is a planter that optimizes space.  Large porch or small nook, we all can use every inch of our porch.  Quality, as always, is the first checkmark, and minimizing the footprint is the second.
My bottom line recommendation is a black bench planter for your front porch.
Dual Planter Black No Weather Bench
At 75″x24″, it provides ample space to sit, and some inexpensive cushions can add to the comfort.  A selling point is a 35-year warranty on this proprietary recipe material made of sustainable plastic resins.  This bench is so versatile that you can move it around to many different locations to dress up a walkway or to serve as a guardrail on the porch.  Guaranteed not to splinter or peel, it can be washed via sponge and detergents or power-washed without damage.
It doesn't stain, has ergonomically correct seats for pleasant seating without cushions, and weighs 70 pounds!  This bench will not be blown over by the wind.  The investment will reap the rewards for many generations to come, and this piece will provide you peace of mind knowing it's safe, sturdy, smooth, plant-protecting, and beautiful for a lifetime.  For more bench planters for your front porch, check out these.
How Do I Choose a Black Front Porch Planter?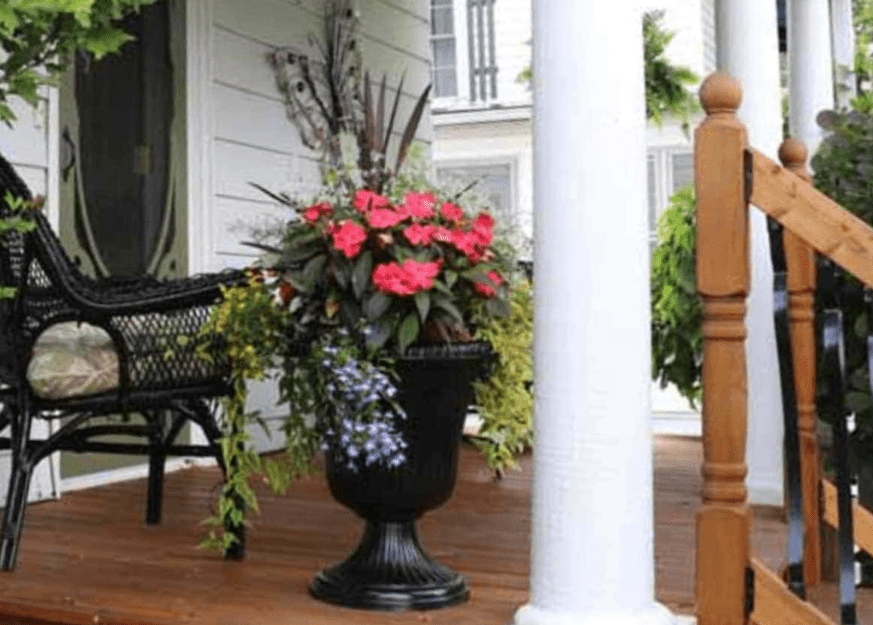 The best way to greet your guests as they stroll up the walk is with plants and flowers.  Housing those living greeting cards is what planters are for.  How you choose your front porch planters is determined by how you like your style.  Do you prefer one overlapping theme pervading your home?  Are you country farmhouse-inspired, or like traditional, timeless designs that say elegance?  Is there a material you prefer to use, such as wood or terracotta?  Can you use some porch space for large urns, or would you like to maximize your space with window boxes and vertical gardens?
The answers to these questions will determine how you choose a black front planter.  My love is for texture and color, nature, and a woodsy feel with eclectic glossy and sophisticated pieces interspersed.  I like eclectic, and you will find many materials and different fashions woven throughout my home.  I always do the cart test – both in-person and online shopping.  When I am finished shopping, I stop and take everything out of my cart and line it up.  Yes, sometimes I see people looking, but I pay no mind.
I look at each piece and gauge my liking for it according to the next item.  Then I imagine each piece in different areas of my home, serving different purposes.  I see large urn planters holding both living things and magazines next to my bed.  Or a bevy of remote controls.  I consider the uniqueness of each item and how available it is to get it in similar colors or styles.
Then I think about how much that piece says something about who I am.  Not necessarily what message I want to send – because don't we all want to send a message that we are the best at everything?  The problem with that is that no one is.  Or ever will be.  So, it's best to go with who you are at your best moments. The moments when you love yourself best.  That is the guarantee that it's more than just a piece of decor.  It's an extension of your best self.
See also: 5 Best Porch Swings with Canopies
The biggest mistake you can make is to decorate your home like it's someone else's.  You should see yourself in your spaces.  Not a guidebook of style do's and don't or Pinterest trends.  You.
Here are some ideas to get you started.
Front Porch Styles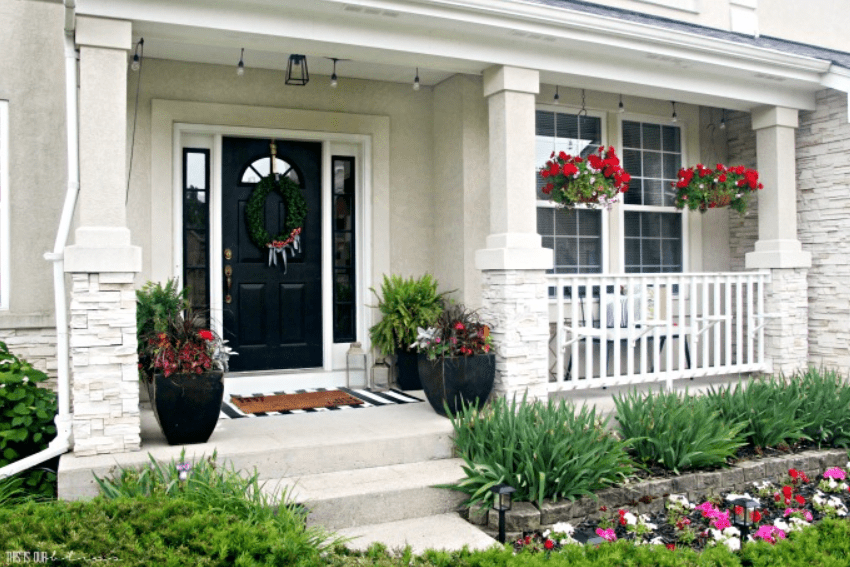 Rustic farmhouse style will be yours with this Plow and Hearth wood look-alike planter.  For more ideas with a rustic style, check out Pottery Barn.
French country is always a charming and popular theme to swathe your abode in country splendor!  Celebrate that style with a chinoiserie black metal planter from Oka in the United Kingdom.  For more French Country Black Planter ideas, check out Overstock.
Traditional style planters abound in many forms at Flower Window Boxes.  Check out some other ideas for traditional black planters here at River Bend Home.
Bohemian style is my favorite because it mixes textures, tones, and layers to create a cozy, eclectic collection that doesn't follow one theme.  These are some of my adorable essentials, along with other black Bohemian Planter Ideas!
Modern minimalist ideas can be found here, as well as modern planters.
Coastal style ideas are breezy and cool for summer, especially in the Southeast, where I am, and you can find some tremendous black coastal planters here (black is a hard color to find in a coastal style!)
Scandinavian style is similar to modern and minimalist, with sleek lines and angles and neutral colors, but I did find a few black Scandinavian planters for you!
Many of you will know what you aren't before you know the style you are drawn to. Now that you have answered some questions and thought about who you are and how to represent that, we can start shopping!
Recommendations for Black Planters for your Front Porch
My first and foremost criteria for anything is, "Will it do the thing I need it to do?".  If I need a black planter that will look good for a year or two, I won't be so fussy about its longevity, but I will be looking for that dramatic appeal.  If I look for a solid entranceway statement to last for decades, then quality and material will be the first thing I will assess.
Generally, my needs result in quality and durability coming first, and then it has to speak to my heart.  That being said, I am lucky there are literally millions of choices out there!  Happy Shopping!
See also: Best Target Fire Pits Guide
Safavieh Gerand Black Front Porch Planter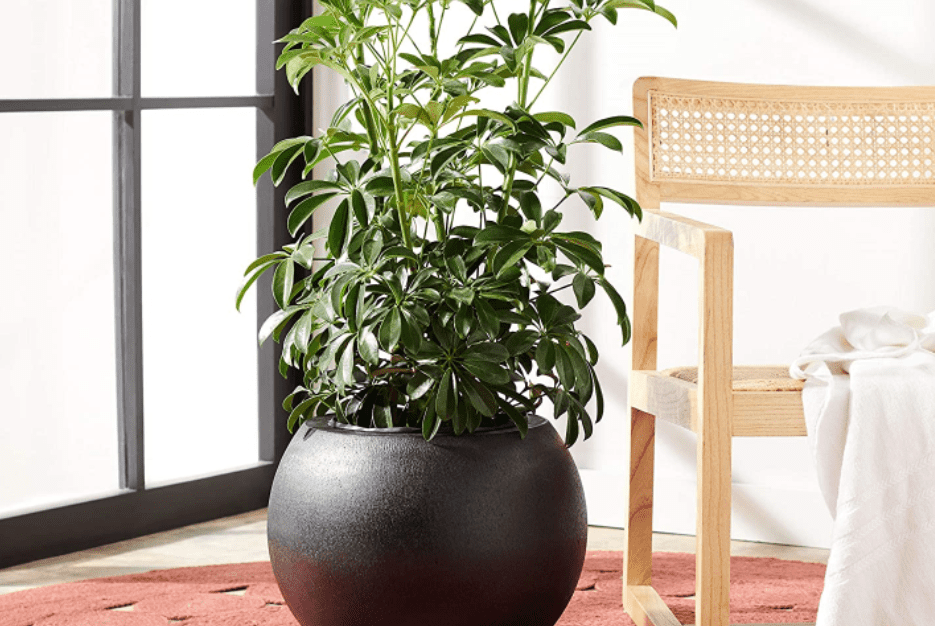 I covet this orb-shaped planter from Safavieh.  Anything Safavieh is fabulous and good quality, but this black planter will highlight your plants with its encapsulating charm for decades.  The black stone ceramic finish is reminiscent of ancient times when indoor and outdoor living was less defined.
This is a true stamp of environmental design meeting rough-hewn beauty with an earthy character.  This stylish black planter from Decor Market will be an eye-catcher on your front porch.
Made of concrete, this planter weighs 15 pounds and is 16″x16″x13″.  One thing I am not pleased with is the return and shipping policy.  The more money you spend at Decor Market, the more money you pay for shipping.  Spend over $300, and you pay 10% of your bill for shipping!  That's $30 extra for shipping.  If I spend $300 somewhere, they better have free shipping!
The return policy is that they will not refund shipping, and they charge a 15% "restocking" fee.  That raises my eyebrows, and almost nothing raises my eyebrows.  I feel like I am back at the Verizon store.
See also: Best Farmhouse Porch Swing Ideas
Glencoe Reversible Black Metal Planter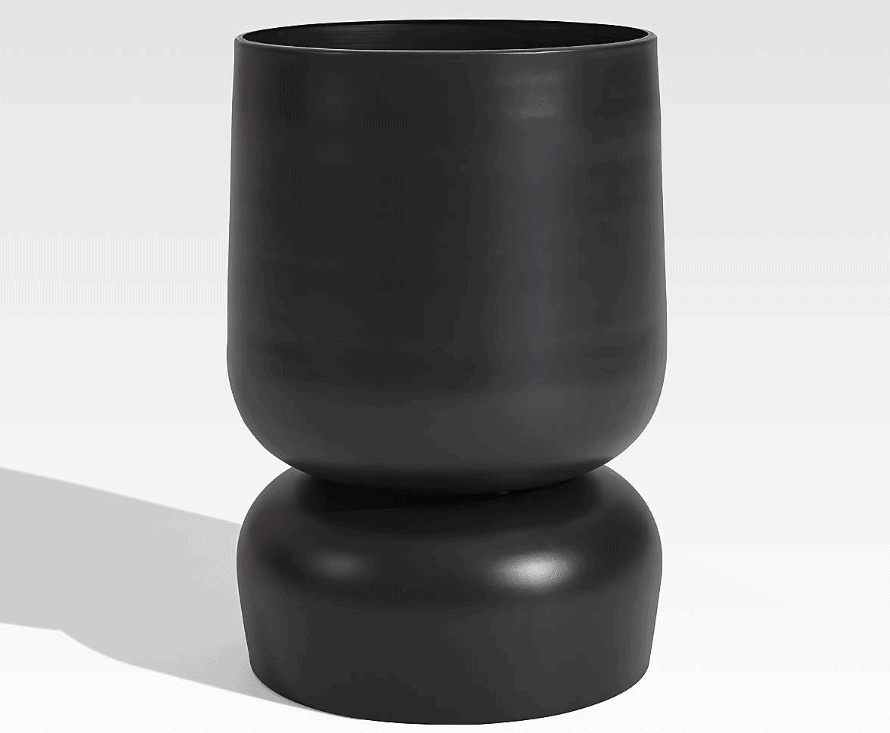 In two sizes, 16″x23″ and 14″x20″, this planter shapeshifts from a shallow bowl to a deep urn.  Made of black-finished iron, I adore this multi-use asymmetrical planter.  Greet the world with a bold statement that is fluid and graceful in its lines on your front porch.  These planters will have people asking you where you got them.  Exclusive to Crate and Barrel, you won't see your planters on other porches.
The hourglass shape and smooth finish look like these planters bleed into the ground and slide into nature.  I haven't seen any metal planters that can mimic their seeming motion.
One drawback is that they are metal, which is also a plus for their visual appeal and durability.  Metal will heat up quickly, especially in direct sunlight so that the soil will be drier than in planters of other materials.  Make sure you check it frequently for the health of your plants.
Graceful, sleek, unique, and reversible!  An Amazing choice.
Mayne Nantucket Traditional Planter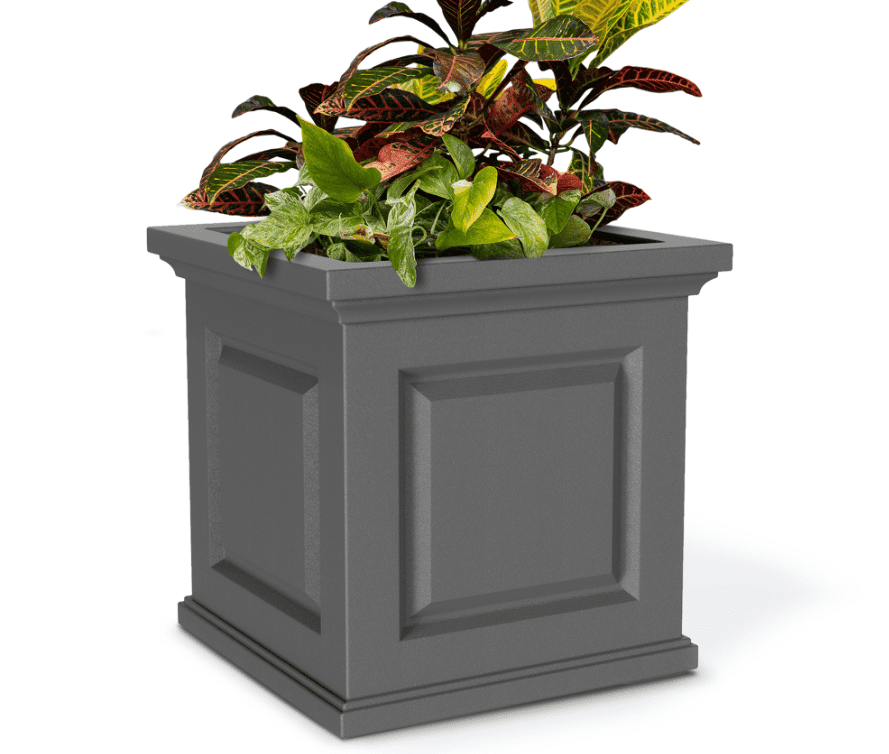 These paneled planters are made from polyethylene resin, which is all weather-resistant and rotproof!  A great feature I love is the water reservoir it houses at the bottom for plants to find moisture whenever they need it.  Keep plants healthier and have more free time!  Find this at HomeSquare.
A warranty for 25 years provides peace knowing that this ten-pound, 32″ high black planter will live on front porches for decades.  Resembling the woodwork of doors and ceilings, this adds grandeur and sophistication to any front porch.
Being sturdy at 16″ wide and 16″ long, additional colors are espresso, graphite gray, and white.
This is sourced and made in Canada and the United States, and the Mayne company has been established for almost twenty years.
Gleaming Fiberglass Black Windsor Front Porch Planter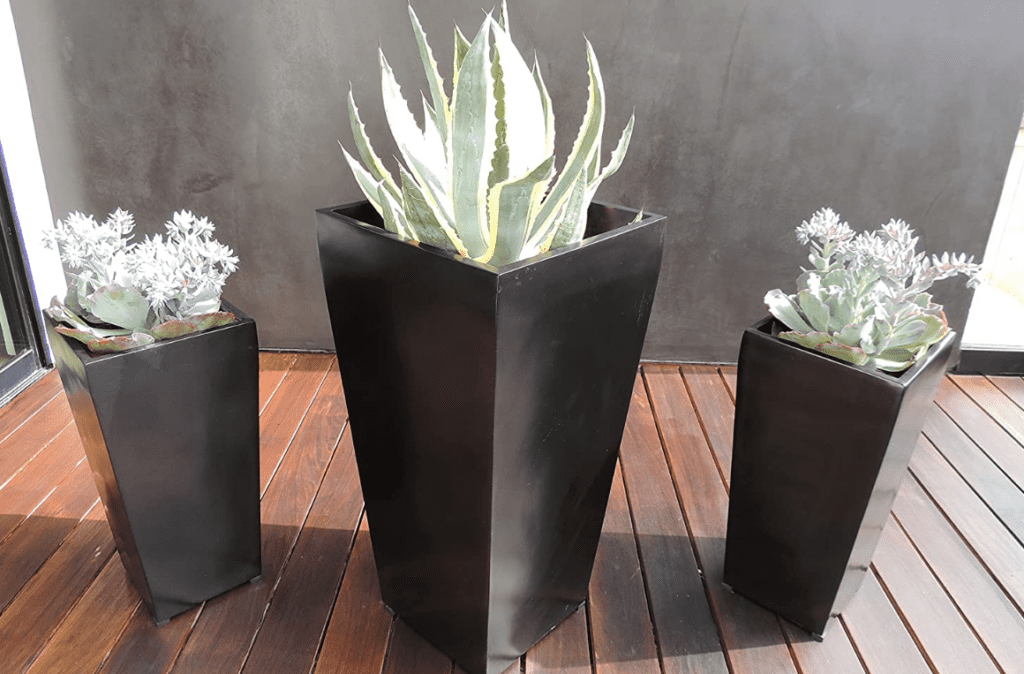 These glossy, chic planters can be found at Burke Decor. Capital Gardens at Burke Decor has these rust and corrosive proof reproduction planters with a brilliant satiny finish.  Fiberglass is my favorite for its versatility and durability.  Designed to last for 30+ years, fiberglass closely resembles metal, wood, concrete, or stone.
These are made to order in black or white, and unfortunately, the shipping time is less than ideal, being about 12 weeks.
However, a significant deterrent for me was the price, and you will want to consider this a maintenance-free investment for decades to come.
Zara Mini Black Harlequin Mini Planters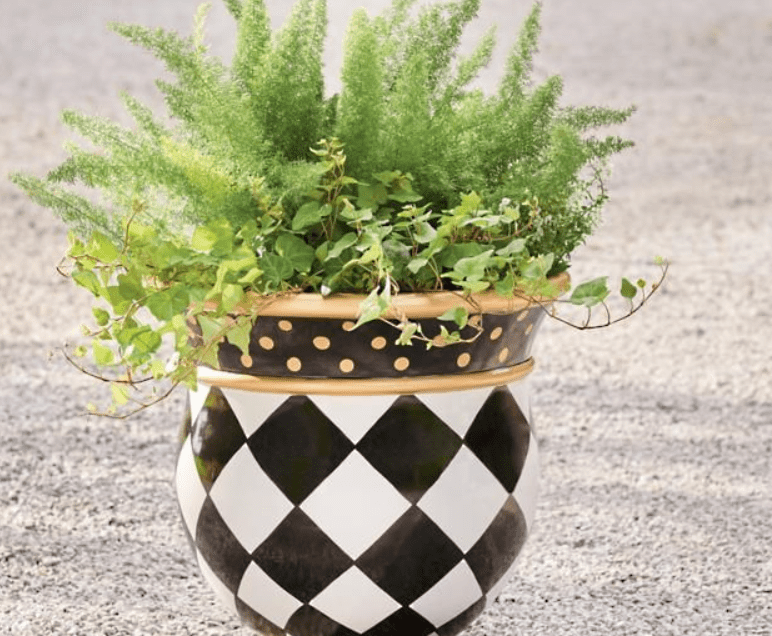 What a conversation starter these gold, white and black whimsical planters are!  People will come out of the woodwork to tell you how much they like them!  Making the list for their "wow" appeal and hand-painted exterior.  You know you are getting one-of-a-kind planters when you buy these! Fabulous planters like these can be found at GrandinRoad.
Crafted of a lightweight composite with a polyurethane finish, these sturdy vessels are rust, corrosion, and crack-proof.  Also weatherproof!  The lifetime of these will be decades, and they won't go out of style with their retro-vintage charm.
I love the opposing themes of living green with high-gloss black and white checks.  It makes the plant POP!  Pair these with their larger counterparts in different spaces of your home, inside or out, and leave splashes of design that will make it easy to pick up colors in every room.
Situated on the front porch as a sign of welcome, it also shows a commitment to style for the entrance space.
Both have 8″ diameters; the large is an urn at 11″ high, and the pot at 7″ tall.  They are each 2 pounds, and it is recommended to store them inside during the winter to preserve the finish for years.
Black Resin Sheep Planter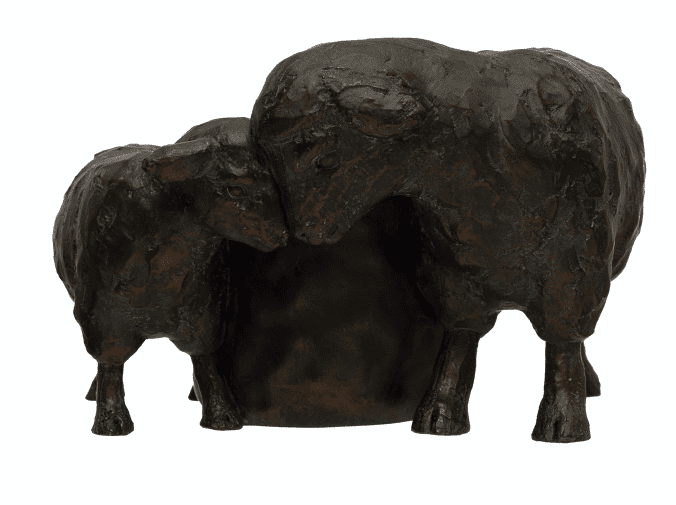 Find this whimsical beauty at Overstock.
This whimsical planter is 13″ long, 11″ wide, and 5″ high.  I have many animal-themed items all over my house, especially outside.  Three-dimensional renderings of dogs, cats, rabbits, frogs, bees, butterflies, birds, foxes, and lambs all grace areas and charm my decor.
This planter is precious and small enough to fit on a porch table and still leave room for your beverage.  A mother sheep and her lamb are head to head in a circular shape.  There is a round planter in between them.  Built for indoor and outdoor use, this planter has coordinating pieces at both Michaels and Overstock for a theme you can carry from the inside out.
The disadvantage is that no retailers have any detailed information regarding these resin sheep planters other than they are made in China. I like to source my belongings more specifically than that, especially if I pay more than $50!
FAQs
Question: Is Black a Good Color for Planters?
 
Answer: I am the first one to use black when showcasing my flowers, and I love the dramatic and timeless statement it makes.  It also blends well with neutrals and provides a base like an anchor to spin-off black decor.

You may have heard that black is not a good color for planters because it absorbs heat and will dry out the roots of whatever is planted.  No, and maybe yes is the answer.  Certain materials and planter construction will determine how the sun and heat will affect your black planter.  I know that if I love a black planter, regardless of the material or how it's made, I will find a workaround to make it effective.

Planters come in black for several reasons, including collecting warmth and sun for new seedlings in the spring and fostering succulent growth.  Most flowers and plants that end up on porches will not be able to tolerate black planters in full sun in the summer, especially if you live in the South.  Some exceptions to this rule are geraniums, salvia, marigolds, and sunflowers.  For more information about having black planters, check out Take A Yard.

I have many black pots, and my workaround has always been to insulate the soil, so the roots don't burn.  Black planters can be ovens.  Bake a plant.  The thicker the planter wall, the better for the moisture in the soil, and your plant roots won't get stressed out and unhealthy, leading to disease, bugs, and wilting; you get the idea. Concrete is a natural insulator, as is stone.  Metal and terracotta will be your driest.

Fill a large planter with 1/3 bubble wrap, foam, old blankets, or other insulators.  Wrap the sides of the planter with the insulation as well.  Remember that roots need more depth to grow than it would seem.  Leave 5″ to 9″ of deep soil to ensure roots can stretch out and not get into a tangled, unhealthy white mass at the bottom of the planter. Look at This Old House for instructions on how to insulate your plants!

Gardeners are usually in-tune with weather changes, and that will play out well when maximizing your flower's beauty.  South facing sun-baked porches will provide a different environment than North facing shaded porches.  A good investment is a temperature gun to see the actual amount of heat your plants are getting.
Question: How do I Coordinate Front Porch Style with a Black Planter?
Answer: Coordinating your front porch with black planters is easy due to black's blendable and versatile nature.  Like a "little black dress," black planters can go with everything anywhere.  A large pot or urn in black is a great choice that can sit in front of your steps, or on them, or flank your entrance.  This provides some "grounding" bases, and then you can decorate with any colors and materials you choose after that.  Best to pick up the black color in some of your decor, like chairs, rugs, or porch wall art.  Here are some ideas to make your front porch an extension of yourself with black planters.
Question: Is Black a Good Color for Front Porch Feng Shui?
Your front porch and door are essential in Feng Shui for bringing positive energy and light to your space.  Black is a powerful color as it represents the sum of all the colors and attracts positive energy.  Black is on the Yin aspect and is connected to the water element.  Black planters or large black urns instill a sense of contemplation and deep insight, promoting wisdom and personal exploration.  For more on Front Porch Feng Shui colors, see The Spruce.
In Conclusion
Black is an easy color to mix styles and materials with, as it has such a solid earth-bound aura. Creating an inviting front porch increases the value of your home, both financially and, more importantly, with quality of life.  Making your outside space functional for your family's needs and relaxing and aesthetically pleasing to you need not be an arduous task.  Somewhere to sit (at least two chairs grouped for ease of conversing), at least one plant, a doormat or rug, an outside light (for safety and security first!), a fan for hot climates, and one or two tiny tables!
These things will convey a sense of togetherness, conversation, and relaxation, and I find them to be most important – the greenery and flowers give a lush feeling to your front porch.  A healthy front porch!
The black front porch planter that you choose will be an anchor serving to provide a foundation for other outdoor decorating due to the properties of the black color.  It absorbs attention while being solid and having mass, even if it is a tiny pot.  Remember that large pots and urns will work best with the black color because they will have more soil and protect the plant roots more.
Concrete and wrought iron will be the most durable and rot-proof, including high-quality thick fiberglass.  You can find every type of black planter that you could have imagined, in every kind and style for your front porch – so breathe easy knowing black is a fabulous color for your front porch planters.
Recommended Reads: