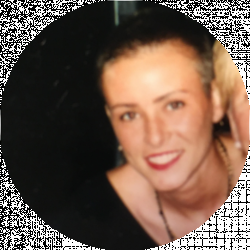 Latest posts by Richelle Tieman
(see all)
Recent times have almost ordered us to set up our lives out of doors. This new necessity can be overwhelming or easily incorporated into your daily life. Think of it as a room for chatting, relaxing, and gathering.
What do you need first? A place to sit. Somewhere to put food or drink down. And nowadays you need something to extend your comfort level as the seasons change. That's a fire pit.
They can provide a huge amount of warmth, depending on the type. A fire pit magnetically draws people in; it's almost like magic – you don't want to miss it.
The decorating you do around your fire pit is entirely up to you. For years I had four chairs and some string lights draped on shepherd's hooks around my tiny fire pit. I did manage to put pea stone under it at some point! Family and friends were more than satisfied to sit out there!
Though square fire pits wouldn't be my first choice (I find the neverending circular design to be the symbol of life and fluid movement), I do love the neatness of a square fire pit.
I find myself a non-conformist as I arrange a circular seating pattern around my square fire pit, not adhering to the laws of physics by stopping and starting at fixed points.
I believe that you make your own decorating laws here on Earth and that if you listen to your instincts, it is easy to create an innately relaxed space that speaks your private language.
Square fire pits are great for home DIY projects as they provide right angles and convenience. You know exactly how many pavers, bricks, or stones to line up on each side.
Square fire pits also give you a parameter for seating spaces. No guessing or measuring it out – that's already done in the basic design shape.
Clean lines give a symmetrical and polished look that is inherently tidy in its appeal. I like a square shape – boxy is good; it's chunky and substantial. Its quadratic form anchors a space and feels sturdy.
Don't think too much about it, or thoughts will creep in that originate from what others have deemed appropriate! Speak your own square fire pit lingo!
Bottom Line Upfront
In a time where we are constantly reminded to "carpe diem," now is the moment to create an outside gathering space to make beloved memories – don't wait for some futuristic perfect time (there'll never be any, I know!).
I'm all about using my home regardless of its decorating state! I don't wait for it to be "finished." Lol. I just go with it and continue evolving it over time.
Thus, my favorite square fire pit idea is born out of that philosophy!
Idea #1: Traditional and Timeless Coordinated Square Fire Pit Set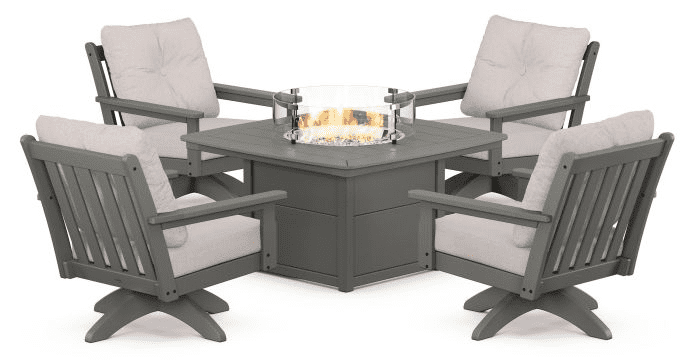 This is a classic campfire look, with durable all-weather materials to stand the test of time. I like the no-frills attitude that offers cushiony comfort, matching pieces, and rocking seats! It provides everything I want in a fire pit area and then some.
Square Firepit Ideas Selection Criteria
There is an automatic checklist of questions that I ask myself before recommending an idea. How it looks will always be the first thing that registers in my mind, but before I recommend this to someone else, a few things need an answer! 
The idea has to include a square firepit
Would I want to be part of this idea? Is the idea appealing to me, and does it make me excited about firepits? 

Can this idea be achieved with a variety of space sizes? I want my ideas to come to life regardless of your yard size.

Durability – if possible, I like things that serve a beautiful purpose for years or decades!

Will this look appeal to a wide array of people? I won't include my goth medieval firepit fantasy ideas!

Price $$ – Can I make this idea happen with just a few items and a small budget?
My Top Square Firepit Ideas
Fire Pit BTU's and You
The proper name for BTU probably won't help you to understand what it is; at least, it didn't work for me. British Thermal Unit is the term, and it relates to how much energy is needed to cool (or heat) one pound of water about one degree (yes, that's right, one pound of water).
It typically refers to A/C units and fire pits. So, what it means in terms of fire pits is how much energy you need to heat the air. If you live in a more southern climate like the Carolinas or Arizona, you will need fewer BTUs because the air will be warmer year-round than if you live up North.
In Maine or Montana, you will want a higher level of BTU for adequate heat. Your fire pit should always be UL listed for safety, with no exceptions.
Ceramic logs with your lava rock will create more heat output without increasing your BTU need. Lava rocks, ceramic pieces, stones, and glass pebbles are called fire media, as they distribute the heat they absorb.
They fill your fire pit burner and help operate your unit safely. To avoid excess fire media, always stay within the recommended range for your fire pit.
Most fire pits have a BTU capacity of 40,000 to 150,000. For a detailed explanation of all types of fire pits and media, see the article at The Outdoor Great Room Company.
Fire Pit Tips
Materials Used for Square Fire Pits
Concrete, pavers, bricks, and retaining wall blocks are most often used when making fire pits. They don't heat up and burn fingers, and they are fireproof. They are also relatively inexpensive and are readily accessible at hardware stores like Home Depot and Lowe's.
Since all commercially manufactured fire pits feature a metal insert that lays between the fire and the outer structure of the fire pit, the design options are plentiful when it comes to choosing a style.
If your choice of material is steel, opt for a powder-coated option to ward off rust and weather changes. This option is easy to move as it's quite lightweight.
Stone is wonderful for blending in with natural surroundings and creating a woodsy feel. However, cold winters can crack the stone, and cycles of freezing and thawing can take their toll on these fire pits. Stone is heavy and may be difficult to move, so it's better for permanent fire pits.
Favorite Square Firepit Ideas
Idea #1: Traditional and Timeless Coordinated Square Fire Pit Set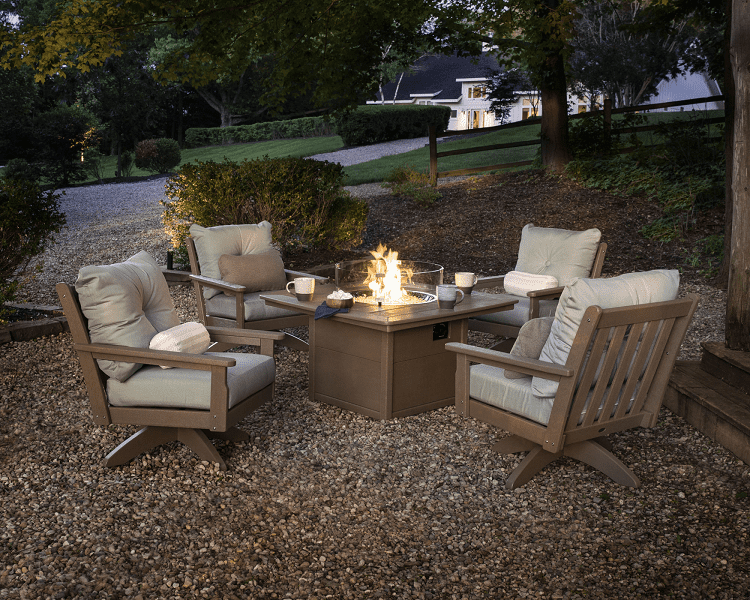 I love this neutral coordinated look for a fire pit with seating. This traditional theme is tied up in one fell swoop with the eye lingering on the round glass shield that separates you from the flames.
This fire pit is really set off by the similar angles and clean lines of the chairs, and the plush cushions exude luxury and ensure everyone is comfortable.
I would use padded benches around the firepit in coordinating colors for smaller spaces. You could even throw in some bold patterns to spice it up!
I would also add a candelabra stand for lighting and a finished look.
Find this look here!
Idea #2: Sleek Modern Futuristic Steel Fire Pit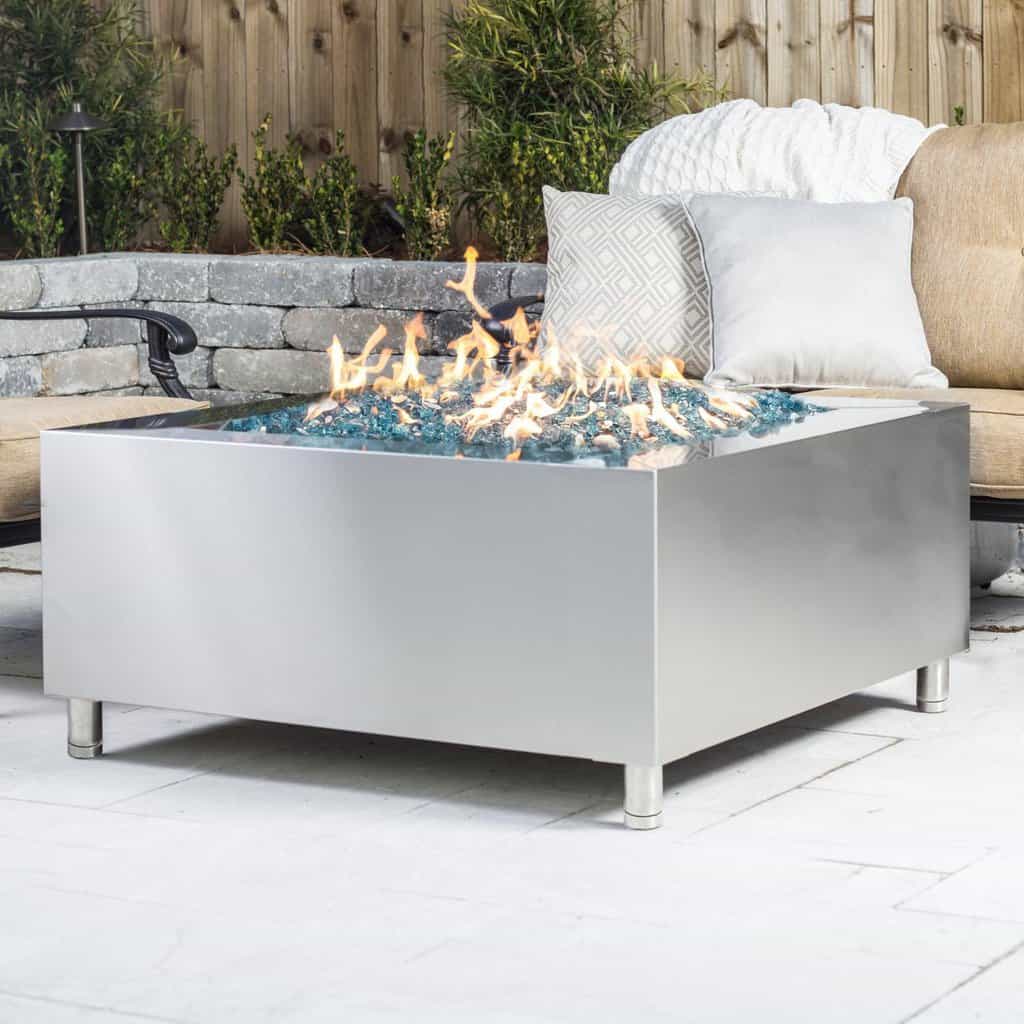 I love the sleek, clean lines of this fire pit idea. The square shape enhances the stainless steel angles and showcases the huge opening. Blue fire glass was added instead of the traditional lava rock to make this exciting and dramatic looking. The contrasting circular feet are height adjustable for a personalized fit.
Note the complementing brick patio that gives a rough texture compared to the smooth steel.
White chunky wicker with thick cream-colored cushions would look fantastic with this shiny silver, as would black iron furniture and black cushions.
Cream and blue toss pillows, or black and blue pillows, would pick up the heavenly blue and tie it all together!
Find this look here!
Idea #3: Modern Geometric Look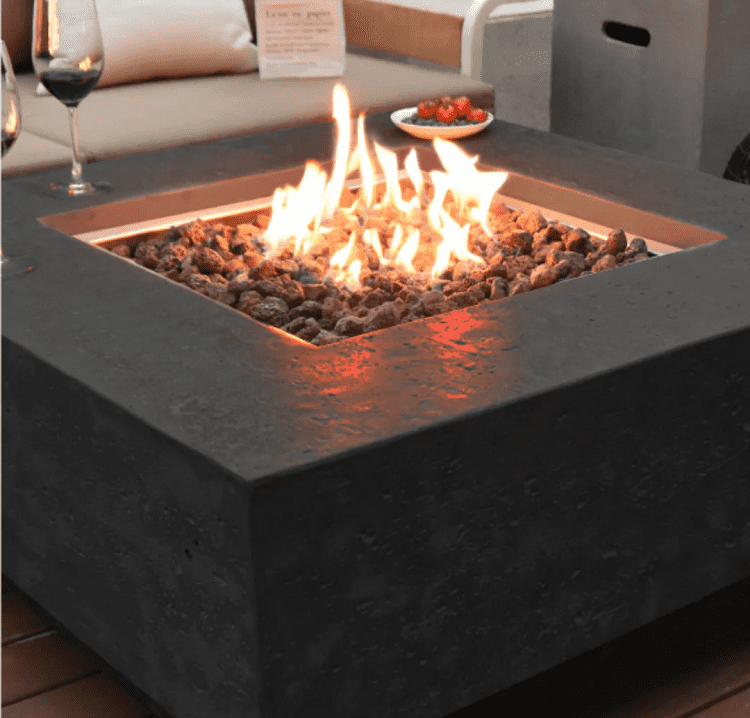 I love this square fire pit's sturdy, thick walls; it anchors the space around it. The modern look is softer with the blunted edges at the corners. The tempered glass adds a lovely dimensionality to the ambiance and protects food from falling in!
The flooring and the brick decor are neutral colors that allow the fire pit to be front and center. Same with the furniture.
I would put a fireproof rug in a complementing color such as cream, black, sky blue, or minty green to show off the fire pit. I would also swap the bright white furniture for a dark rattan or black iron frame. Choose cushions that are the same color as your rug.
Opt for cream-colored cushions if you don't have a rug -this will soften and warm the style.
Read more about this fire pit here! Elementi Manhattan Square Fire Pit
Find this look here!
See also: Best Side Porch Ideas This 2022
Idea #4: Victorian Grace Style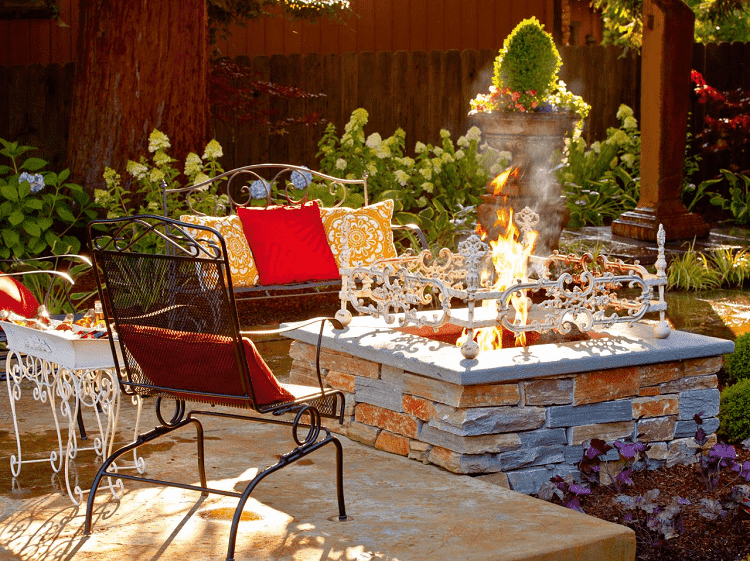 I love the creative whimsy of this setting! The owner has shopped for a graceful style to soften the angles of the fire pit, and the cushions pick up the colors of the fire pit bricks.
The fabulous distressed iron decor is easy to replicate with various fire screens, lawn edging pieces, or artwork! The iron scrollwork of the patio furniture complements the Victorian theme, and the plants and flowers give it all a fairytale-like atmosphere.
For an inexpensive way to achieve the white wrought iron look, try buying some metal art pieces and attaching them with a fireproof adhesive like J-B Weld Professional Steel Reinforced Epoxy Glue.
Find this look here!
Idea #5: Separate Square Spaces

I love how they created different relaxing areas using neutral colors that blend across the patio! This majestic square fire pit sits low and tidy, making it easy for guests to stretch their feet and warm their toes!
The rough-hewn corners of the pillars and the fire pit are softened with the addition of throws and toss pillows. I like the black throw but am unsure about the rust clay-colored pillows. I would have opted for a soft green to coordinate the two patio spaces.
I would add some large plants as well. This is a stately and majestic scene that I would like to be a part of!
This looks like a build-it-yourself fire pit – read more here Build Your Own Square Fire Pit and here How to Build a Fire Pit
Find this look here!
Idea #6: Sleek Modern Minimalist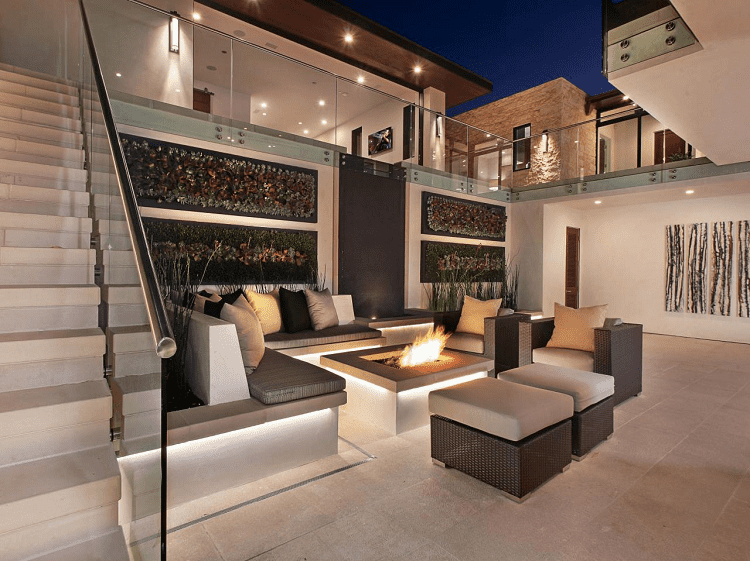 I love this look of wall gardens and natural materials surrounding the flames of a fire pit. This little piece of heaven looks sheltered on the bottom floor of the house, and the heat won't escape as fast, keeping everyone here toasty warm.
This is all angles and minimalism, quite chic and urban. The bench cushions are thin, which keeps the look cool. Everything is color-coordinated for a planned, organized look that is more formal than traditional fire pit scenes. Stick with creams, greys, and blacks in solid colors for this well-polished setting.
Find this look here!
Idea #7: Elegant Old-World Oasis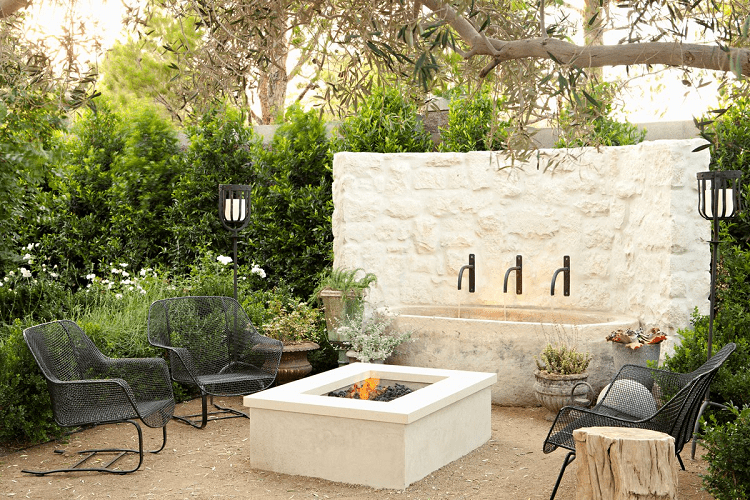 I adore this old-world fountain that is coming out of a medieval wall! This setting truly looks like a lush, uninhabited world where Greek-style meets Mediterranean mountains.
The natural concrete fire pit with table sides symbolizes earthly elements and rustic times. This idea is an authentic escape from daily life. Make sure you have loads of plants!
For some neat, inexpensive do-it-yourself wood-burning square fire pit ideas, check out this article on Bob Vila and at The Spruce.
Find this look here!
Idea #8: New Wave Campfire Glam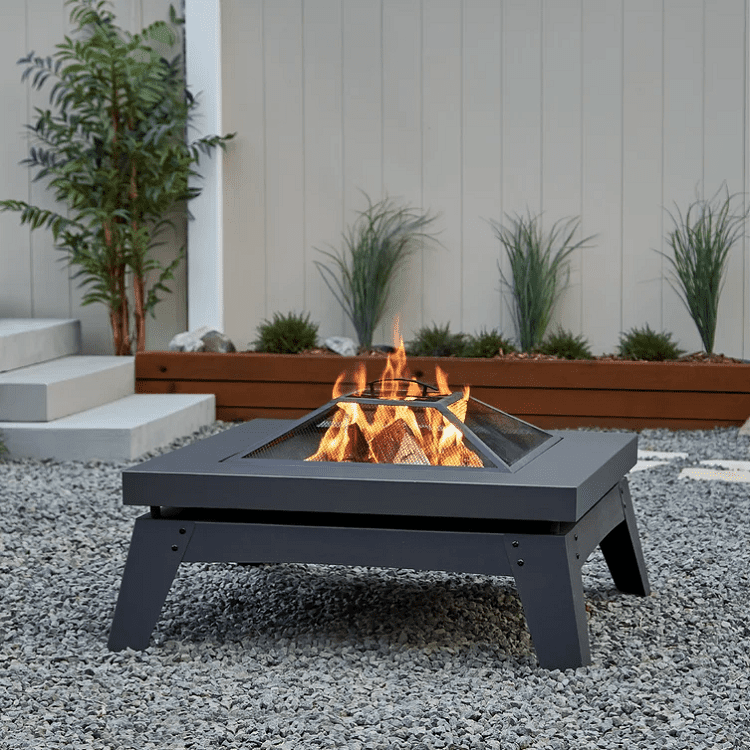 This idea is a perfect example of the newly imagined campfire! The fire pit is modern and almost industrial in its form; it resonates with high tech even though it is wood-burning!
Pair this with either thick wooden chairs or benches that look natural. Black metal outdoor furniture would also go well with this, but be careful of mixing a graceful, elegant wrought iron style with this solid industrial look (unless you love it together!).
Find this look here!
Idea #9: Rubbed Bronze BBQ Elegance
This graceful wood fire pit combines scrolling sophistication with old-fashioned wood fire cooking! The rubbed bronze finish evokes an antique grace that would pair beautifully with abundant greenery and toile pillows.
I love the domed-shaped screen and all-around mesh screen that keeps errant sparks away and maximizes safety.
Find this look here!
Idea #10: Fire Pits are from Mars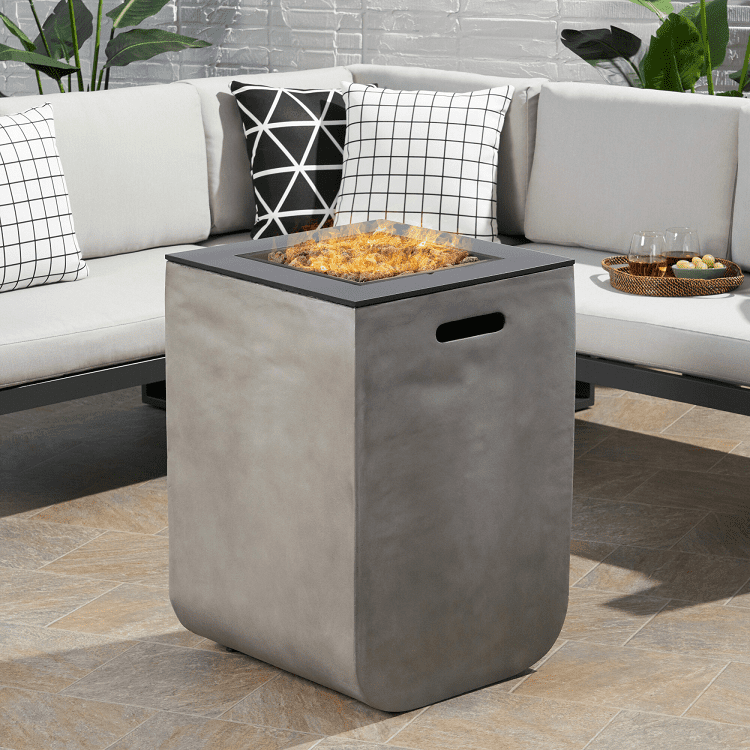 This adobe rock shape reminds me of Martian furniture with its sloping bottom curves and tall, angular top. The muddy grey color is reminiscent of clay or dirt.
I love the uniqueness of this design, like a blob almost or a dollop of mud. Not too appealing to describe, but this fire pit manages to achieve a natural magnetism that allows you to stare at it and appreciate its depth and stature. You won't get tired of looking at this; it only grows on you!
I would love to see some luxuriously thick silver cushions and toss pillows to highlight the grey. Black planters would add to the "otherworldly" vibe and coordinate the whole space!
Find this look here!
Idea #11: Natural elements table fire pit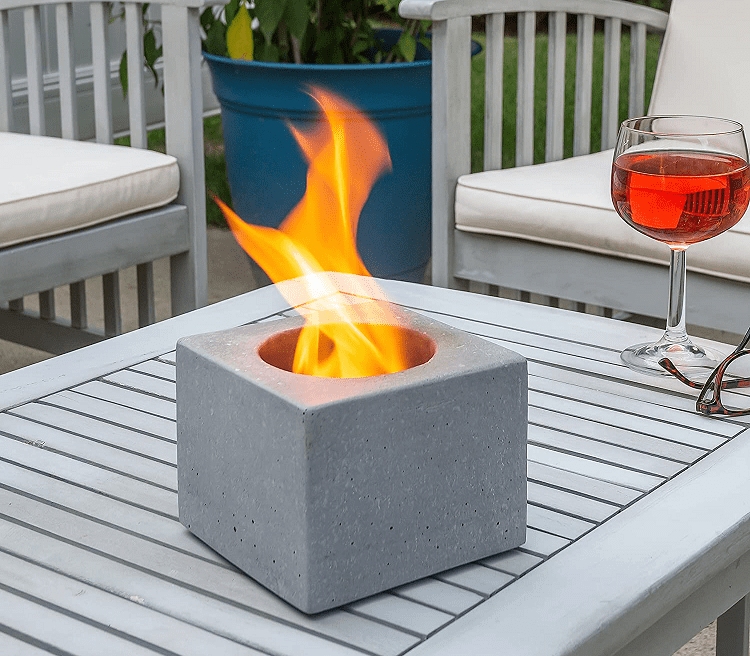 This is the perfect starter fire pit cube! It's square but has a circular flame opening, and its 4″x5″ size allows it to sit anywhere! An instant gathering place.
The natural flaws in the cement give it a unique all-natural vibe that would pair well with blacks, dark blues, and forest greens for a bold splash.
Try sand-colored cushions and toss pillows or grey coordinating furniture for a more subtle look. Grey wicker would look fantastic with this! Don't forget to add a fountain and lighting, too!
Find your look here!
Idea #12: Urban Slice of Life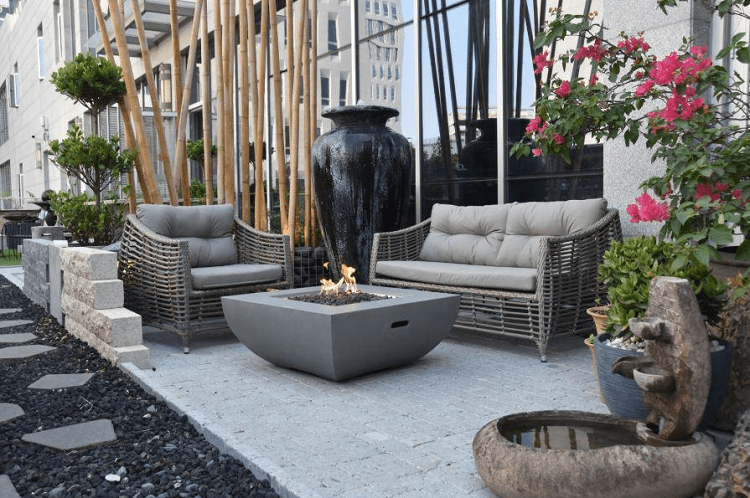 This urban scene combines textures and styles to achieve this relaxing cityscape. Note the profusion of flowers, plants, and bamboo poles set into fencing with stones.
The black pea-stone with the slate-like pavers and concrete bricks mesh well. This space has a lot of crafted designs that could be DIY projects.
Notice the surreal oversized black vase and the thick chunks of edging used for partitions. I like that green is a major focus with the muted natural colors. The flowers pop out. This area could have been just a slab of bricks outside, and now it's where the action is!
Find this look!
Idea #13: Montreal Cafe Bar Culture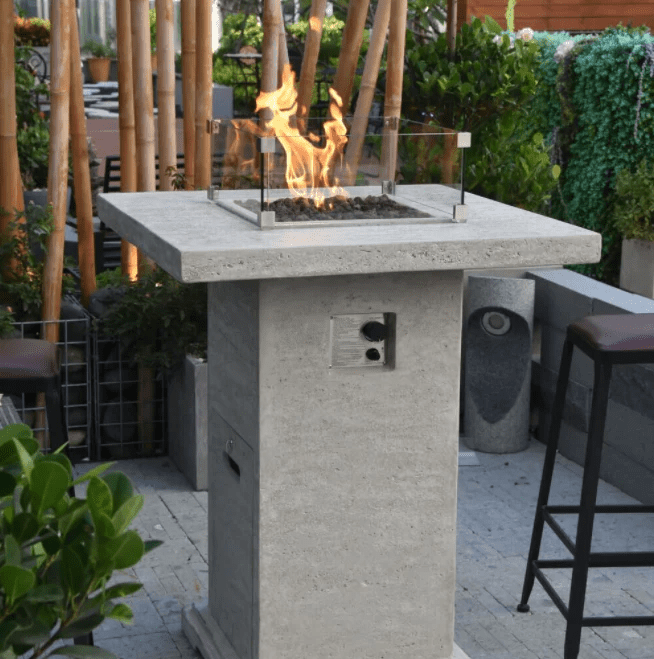 This is like the high bar tables you find so often in Montreal, especially in the old quarter. Warm yourself and eat in nouveau richer style as you sip hot chocolate or Cidre Bouché in an eclectically designed setting.
Such fun to choose bar stools with or without backs, and add potted trees that are higher than the table!
Some metro wall art and a modern wall fountain would be so dramatically decadent! Pillows won't stay on the bar stools, but you could toss some patterned throws on them.
Find this look here!
FAQs
Question: What Shape of Fire Pit is Best?
Answer: A round shape more easily accommodates a group. Its circular nature encourages being together and communication is fostered with a seamless seating arrangement.
For more formal gatherings or Bed and Breakfasts, Hotels, and restaurants, a larger square shape is preferred so guests will have some defined areas separating the seating.
A square fire pit has structured areas with more formal energy and is found in many modern and formal backyards as the angles and parallel lines have an order to them.
However, I have arranged circular seating around my square fire pit for years and never had any complaints!
Question: Does a Square Fire Pit Give Off More Heat?
Answer: If we're talking apples to apples with a fire pit, a round fire pit will give off more heat to each individual. If six people are seated at a round fire pit, it's like six slices of pie – there's a direct line to the middle.
With six people seated around a square fire pit, the four people seated directly North, South, East, and West will have equal access and be the closest to the center of the fire.
One way to combat this is to install multiple metal inserts on the inside of the pavers or concrete. This will more evenly distribute the heat generated by the fire pit so that no one is left in the cold!
Question: How Big Should My Square Fire Pit Be?
Answer: The size of your square fire pit will probably fall into the 3 to 6-foot range, depending upon how you are likely to use it.
For intimate gatherings with all feet on the ground, three feet across will be plenty big enough to provide a bit of warmth and an outside destination. For group gatherings that may have people propping up their feet on the fire pit, six feet across may be more accommodating.
The height of the fire pit should be 12 inches off the ground, and 18-20 inches high if you want to sit level with the edge, or if you want to sit on the edge.
Question: Where Should I Put My Fire Pit?
Answer: Experts recommend having a 20 foot radius around your fire pit that is free from anything flammable such as brush or outbuildings. Remember to check with your town or HOA for any restrictions or policies regarding fire pits. For more information on where to place your fire pit, check out The Magic of Fire.
Also, be wary of the wind direction in your area. You will want to place your fire pit in an area that won't have odors and smoke blowing toward your home's windows. To determine the wind direction in your area, go to The National Water and Climate Center.
Question: Can I Still Toast Marshmallows on a Gas Fire Pit?
Answer: If you are mindful you can still toast marshmallows on a gas fire pit. Be careful not to let the marshmallow touch the flames as you could get a taste of the gas when you eat it. It could also get too hot and drip on the lava rocks or glass, which is a potential fire hazard.
If you do put your marshmallows up for roast, hold them a foot above the flames and watch to take them away before they start sliding and falling off!
In Conclusion
The one-stop shopping is just what I need to immediately start enjoying together time with others. My living spaces will always be recycling, refreshing, and reinventing themselves to better express my mood of the moment, but why not make a space that is as finished as it can be if I'm going to take the plunge and entertain amidst my "work in progress"?
Square fit pits organize the surroundings in a matter-of-fact manner. I am more aligned when I put my square end tables amidst my circle of fire pit seating, but mixing up styles and shapes is the name of the decorating game! Round tables and rounded back chairs go well with a large square fire pit. I find the larger the shape, the less of the same shape you need.
With so many square fire pit options available in all price ranges, you can have it all and share it with friends. Also, remember that an important part of owning a fire pit is to read the instructions and safety precautions extensively.
My last thought for you is to add a tabletop fire pit to a different area of your porch. Watching the dancing flames and feeling that warmth never goes out of style. Namaste~!
Recommended Reads: