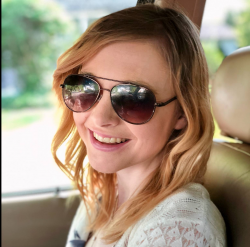 Latest posts by Erin Jamieson
(see all)
Whether it was for my cousins when they were young or my parent's shit-us, I grew up with porch and deck gates. Most of my family's gates (both indoors and outdoors) focused on safety. But today, with an array of wooden, metal, and PVC gates, there's no reason to settle for one design.
From adding curb appeal with a decorative porch gate to keeping little ones and pets safe, porch gates are a wise investment. But since buying the right style can be tricky, I've rounded up a few of my favorite porch gate ideas. From simple sliding gates to decorative accordion gates, here's what I recommend. 
Bottom Line Up Front Summary
Whether you're trying to add a little style to your home or just trying to keep kids and pets safe, a porch gate is an excellent investment. My picks are made with weather-resistant materials, flexible, and easy to use. I also selected a variety of privacy, security, and decorative features so you can find the best solution for your porch. 
If I had to recommend just one of my ideas, that top honor would go to the Fypon® QuickRail® Square Gate Kit and related products. While it doesn't quite have the beauty of hardwood, it's easier to clean and maintain and a great solution if you want something sturdy but not so hard to install. I also love that it comes with a warranty, several delivery options, and doesn't need any paint or staining. 
My Top Picks
My Selection Criteria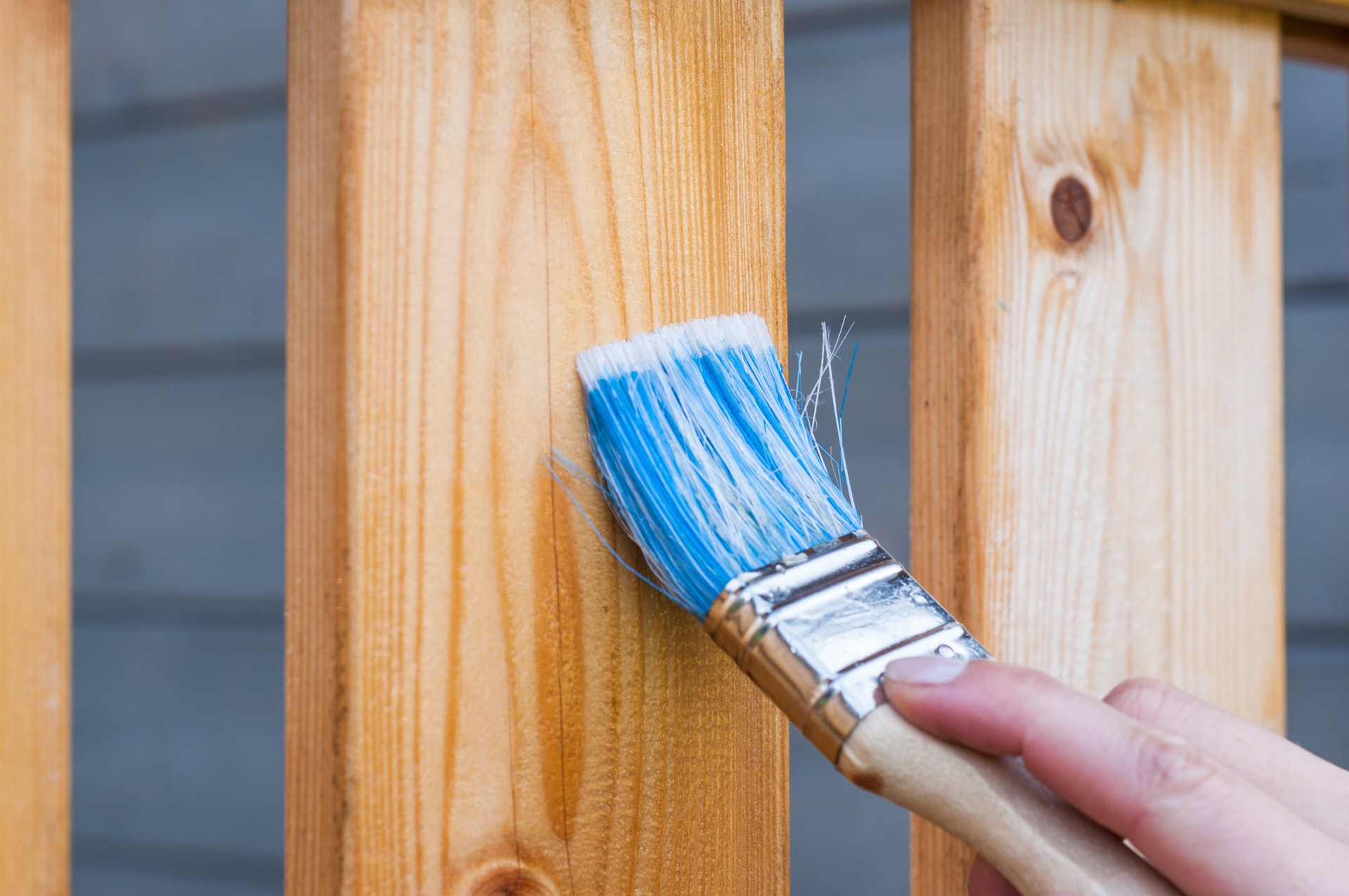 If you're in a hurry, scroll through to the next section for my top porch gates. But buying a porch gate, especially for the safety of a baby/ toddler and pets, is a big decision. On the one hand, I'm happy that there is a wide variety of designs, which alsomakes the selection process tricky. Here's how I made my selections for some of the best quality porch gates out there. 
Finding the Best Porch Gate Dimensions
What I like about some porch gates is that they can be cut down to size. But when making my selections, I tried to find most gates 30 to 36 inches wide. How wide you need a gate will depend on your project, but remember that many porch gates can be either ordered in different sizes or stocked alongside different sizes.
For height, I wanted to represent a range- because the height of a decorative gate is less important than one for the safety of a baby, toddler, or pet. However, 40 inches high (from your porch base) and up is a good starting point. Finally, I favored porch gates that swing inward rather than outward. 
Searching For Quality Porch Gate Materials
I've also associated porch and deck gates with real, natural wood, but that isn't your only- or always the best option. Here are the materials I considered and why I'm including or excluding each one.
I mostly stuck with genuine wood gates and weather-resistant steel gates with durable hardware (nuts, bolts, hinges). 
Wooden Porch Gates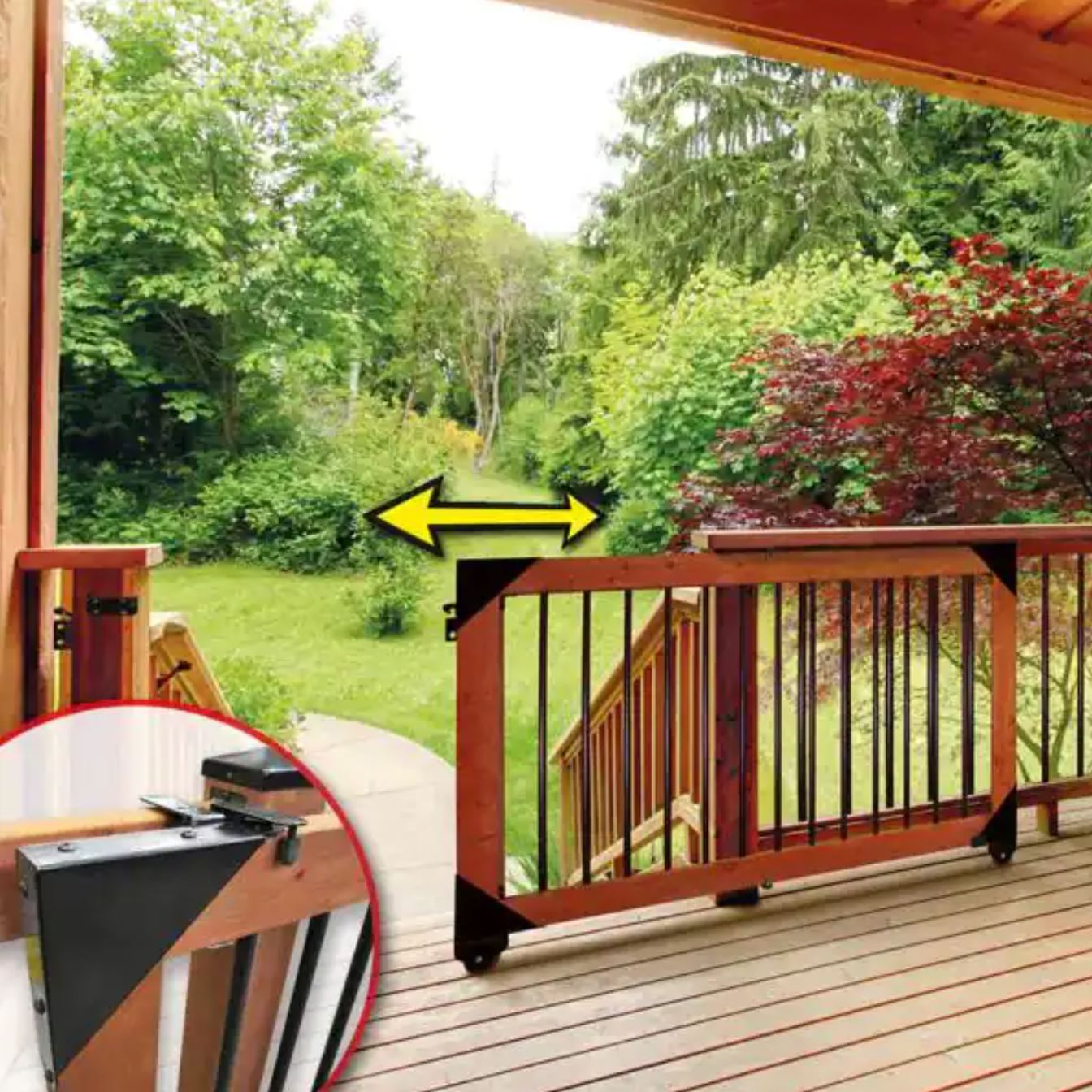 There's little more classic than a wooden gate, and most can be stained or painted if, for instance, you want a white finish. But wooden gates can warp and shrink, requiring more upkeep- including occasional sealing. I also tried to find mostly hardwoods or softwoods that are higher-density and more resilient. 
Metal Porch Gates
Aluminum is a popular choice for porch gates, and I understand that: after all, it's lightweight and cheap. But aluminum porch gates aren't last long- especially if you have pets; they're too easy to dent. I also favored treated steel/ stainless steel more over wrought iron.
Even powder-coated iron is a better choice for a garden gate vs. a porch gate- because you don't want a porch gate to be heavy. The exception is for a decorative gate you don't plan to use often, but it's still not practical. 
Vinyl/ PVC
Vinyl/ PVC is a tempting option for a porch gate, and, in a pinch, it'll work. I like that it won't ever rot; it is lightweight and cheap. The problem? While I could recommend this option for a temporary pet gate (I have used one before), they are pretty fragile, easy to break, and they certainly aren't adding to your curb appeal. 
Selecting Porch Gates by Features/ Style
How your gate functions matter too. I included a variety of options, depending on how much space you have:
Type of Gate
Who I Included It For
Who I'd Not to Recommend It For

Retractable Porch Gate 

Anyone who wants security (usually locks) and/ or a unique aesthetic appeal 

Someone with young kids, or if you need to let pets in and out 

Rolling Porch Gate

Those with limited space and who are on a budget 

Anyone with small animals, or who lives in a heavily snowy region

Scissor/ Accordion Porch Gate

Anyone who wants an adjustable gate that promotes airflow; if you want something you can store away 

Anyone who needs something substantially sturdy or wants a permanent, directly-installed gate 

Simple Sliding Porch Gate (can open from side or middle)

Anyone who wants a classic design, with easy operation 

Anyone who needs a collapsible or storable design

** sliding gates are becoming more popular

Swing Porch Gate 

Anyone who wants a classic design with easy operation

Anyone who needs a collapsible or storable design

** Swing gates are more traditional
Features I considered to enhance these styles included: self-closing, integrated or automatic lofts, different adjustable options, and other safety features (such as lights or alarms). 
Selecting Porch Gates by (Aesethic) Style
But my selections weren't solely based on quality and construction. As much as I appreciate a simple porch gate, it's also a feature others will notice- and it should coordinate with the rest of your porch.
I selected different styles such as vintage-inspired, farmhouse, modem farmhouse, minimalist, and contemporary. I also had fun searching for porch gates that had something unique or decorative about their design.  
Where I Shopped (and Why)
I looked for porch gates at places I was familiar with – but also researched some specialty stores. Amazon, Wayfair, and home improvement stores (Home Depot, Menard's, and Lowe's) were all places I checked. Ultimately, I ensured the store I bought from had a history of positive sales and straightforward shipping and return policies. 
Porch Gates: My Top Picks 
Here are a few of my favorite ideas and designs for porch gates. As outlined by my selection criteria above, my selections range from more decorative to focused on safety- but each one is thoughtfully designed. From farmhouse to simple to vintage, hopefully, one of these porch gate kits will get you inspired.  
See also: Best Side Porch Ideas This 2022
VEVOR Single Folding Security Gate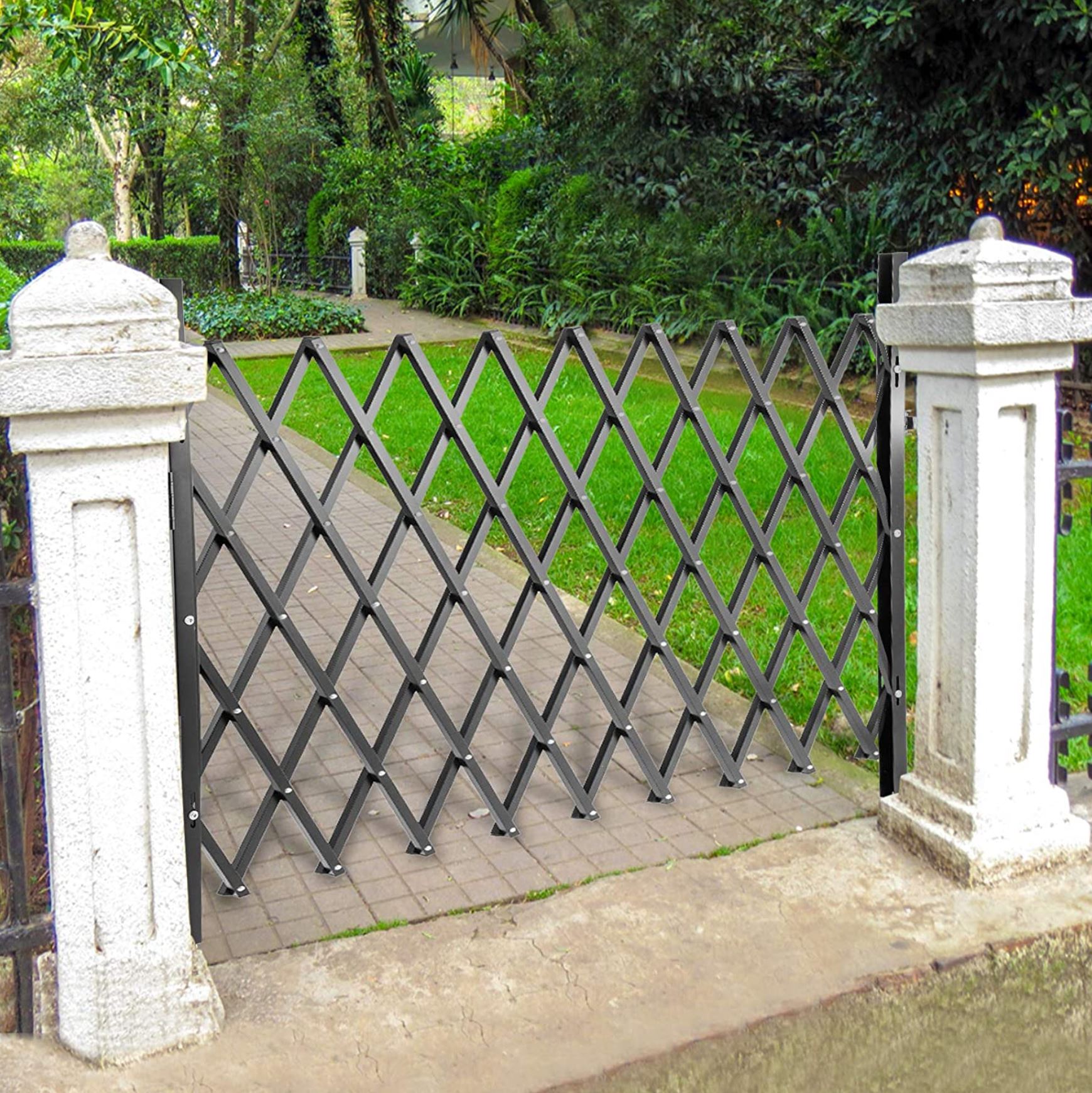 Consider this accordion porch gate if you're looking for an excellent porch gate that feels open and provides security. What I like about this option is you're not blocking off visibility, and the low-profile design makes your porch space feel less cut off. The gate includes locking positions, all of which are adjustable.
If you're like me and brainstorming multipurpose uses, this is one of those gates you could easily place in different areas of your home. I also love that it's made with heavy-duty, powder-coated steel, so it will last through weather, pets, and more. Buy Here. 
Pyrex Sliding Gate Kit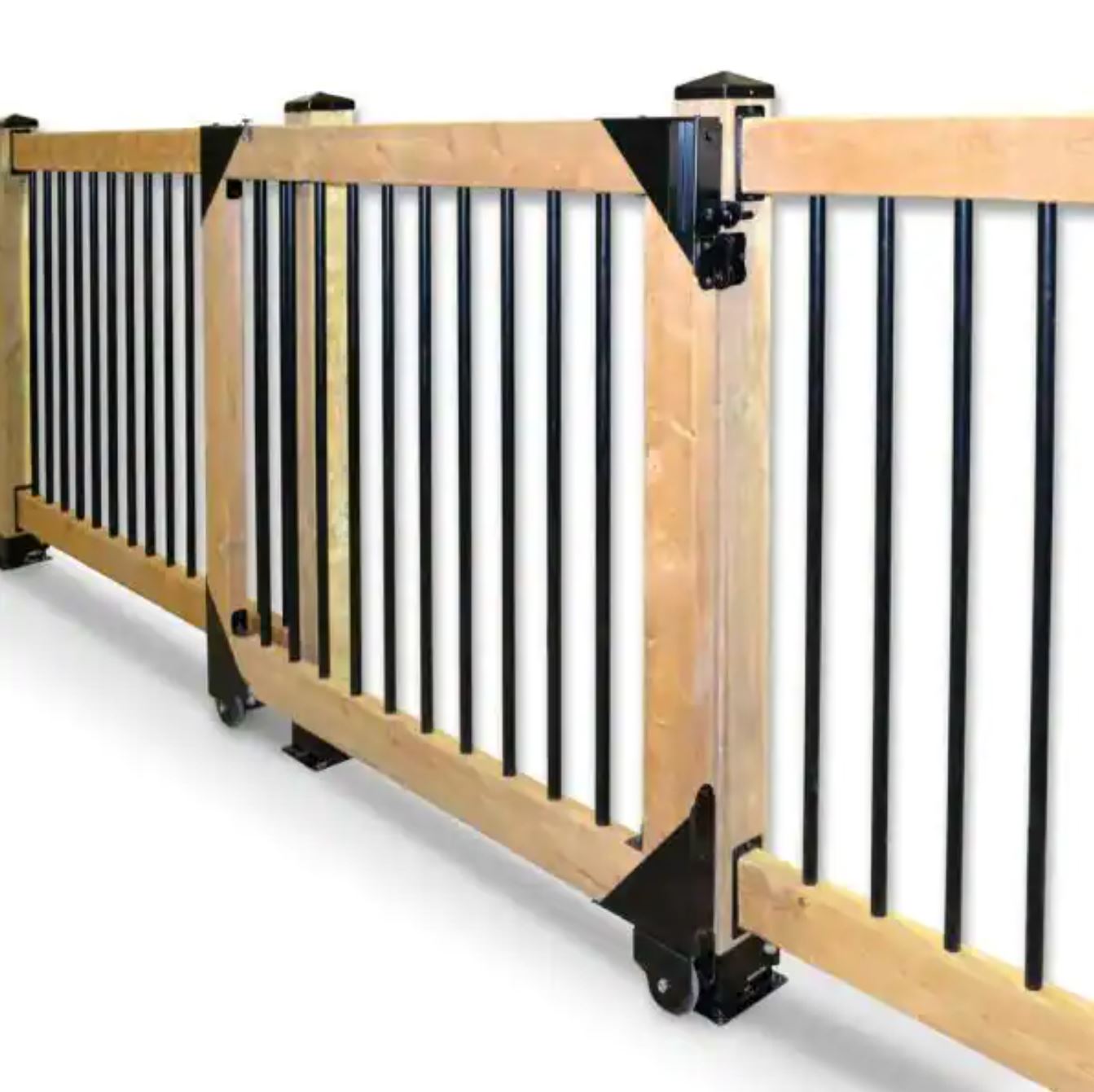 I used to think a small porch meant settling for a temporary gate- but this sliding porch gate proves that notion wrong! I love how easy this gate is to use in tight spaces while providing the durability and locking security you need for pets and kids.
Rust-resistant steel and wood tones make it practical and attractive for a classic porch or deck. The price is competitive, and I love that the kit includes hardware. Buy Here. 
Guard Me Wide Retractable Safety Gate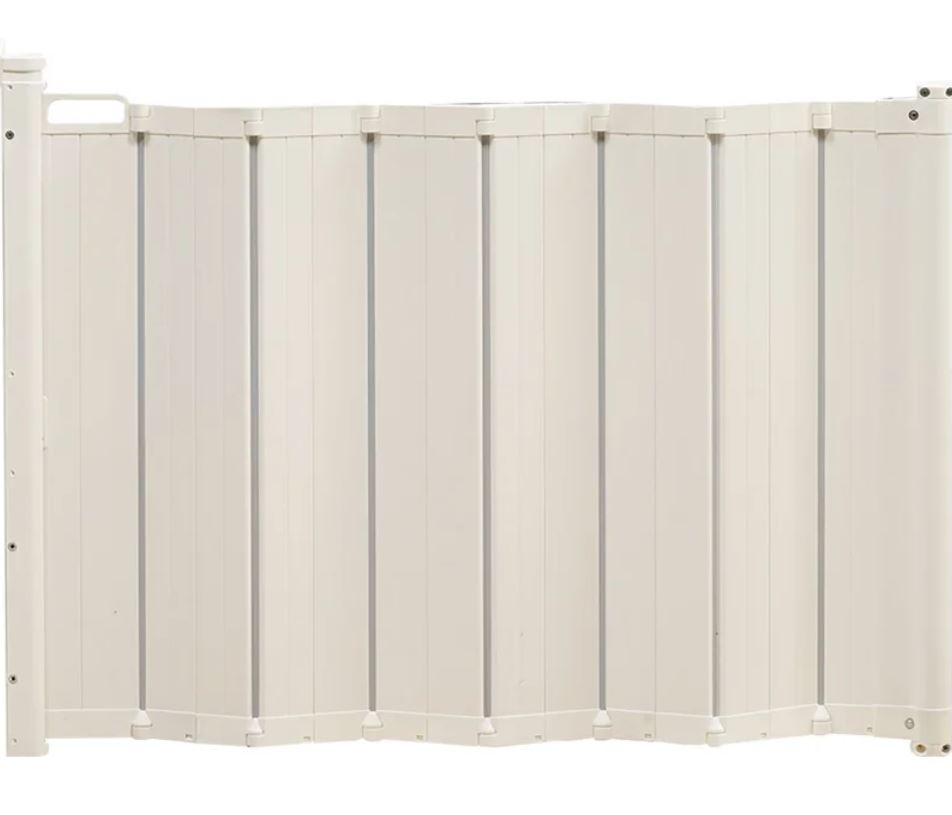 This impressive porch gate idea pairs technology with a simple, understated design. I love this porch gate because it helps you out when things are hectic- and you may not have two hands-free. The flexible size means you can take this outdoors and indoors, with a weather-resistant build. I love that it's safe to use for pets and toddlers, but being able to scan and operate it with your cell phone makes it stand out. Buy Here. 
See also: Best Porch Fence Ideas
Urnporium Acacia Porch Gate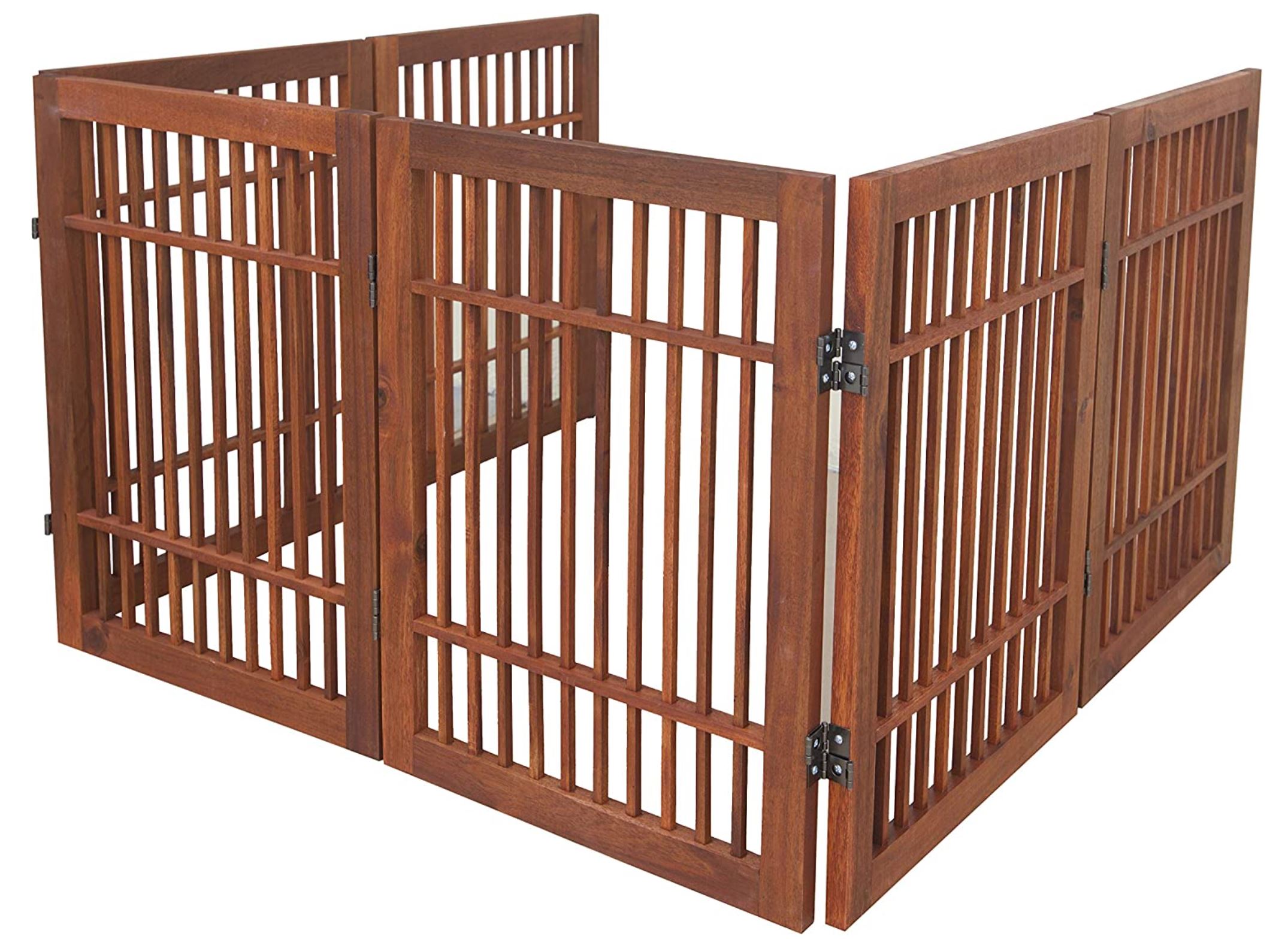 I love this idea if you need a large, adjustable gate to keep a pet or toddler safe. This porch gate is made out of genuine acacia hardwood. What makes that special is that acacia hardwood is naturally rich in oil and not as susceptible to rotting or damage.
While I still recommend treating it once or twice a year (if you always leave it on your porch, this is a classic and durable option. It's easy to pick up, store away and assemble again for a temporary gate solution. Plus, it's priced quite competitively. Buy Here. 
Cardinal Outdoor Porch Gates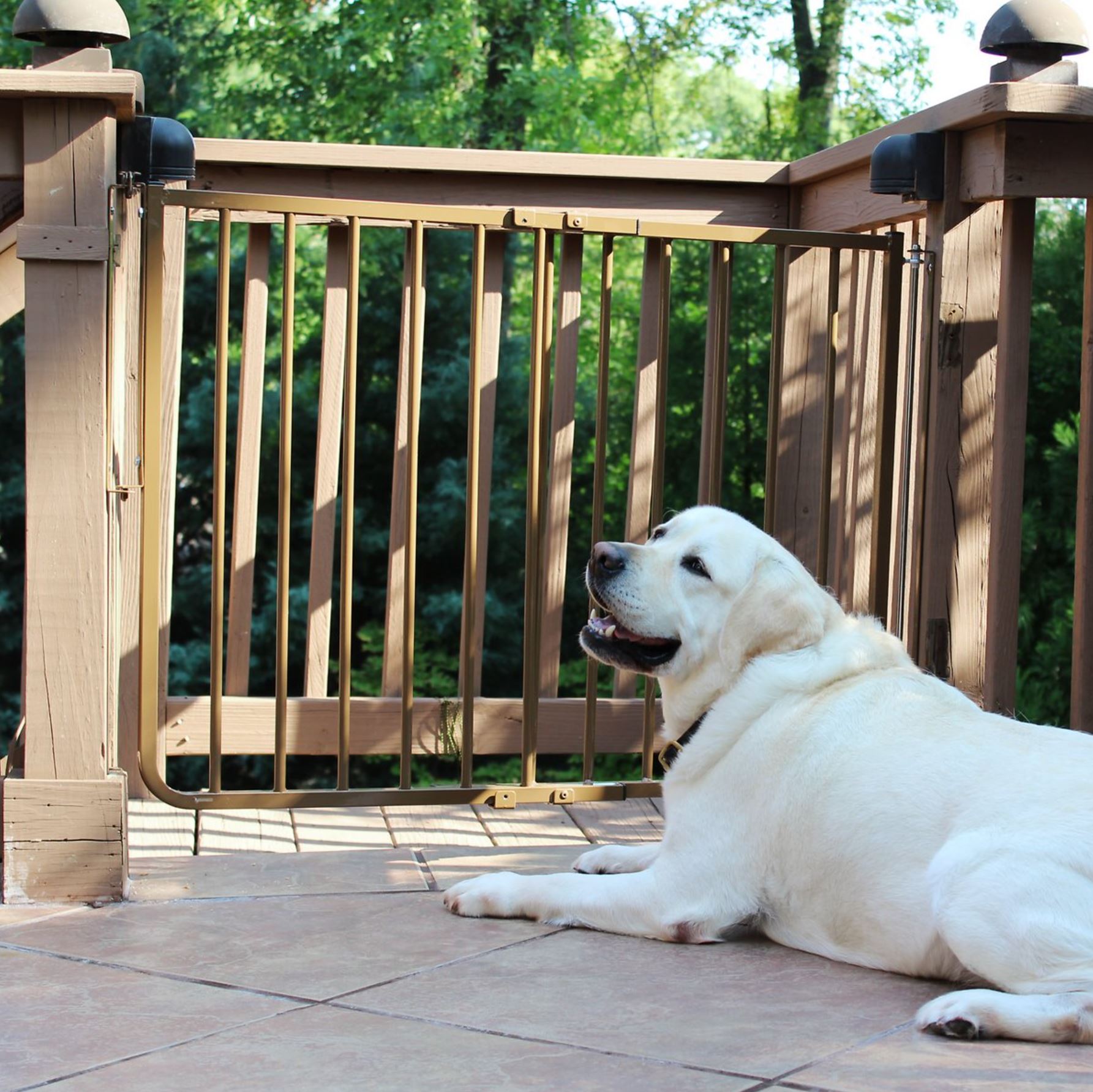 Here's the thing: if you've ever owned a dog like me, you know how quickly some of them can bolt. And sometimes, you don't want to mess with a complicated gate. This porch gate is simple, has a fair price, and gets the job done.
Available in black or brown, it's weather and rust-proof, with heavy-duty construction even for larger dogs. The best part: you can use it with just one hand, which is very useful when things get crazy. Buy Here. 
Tree of Life Vinyl Privacy Porch Gate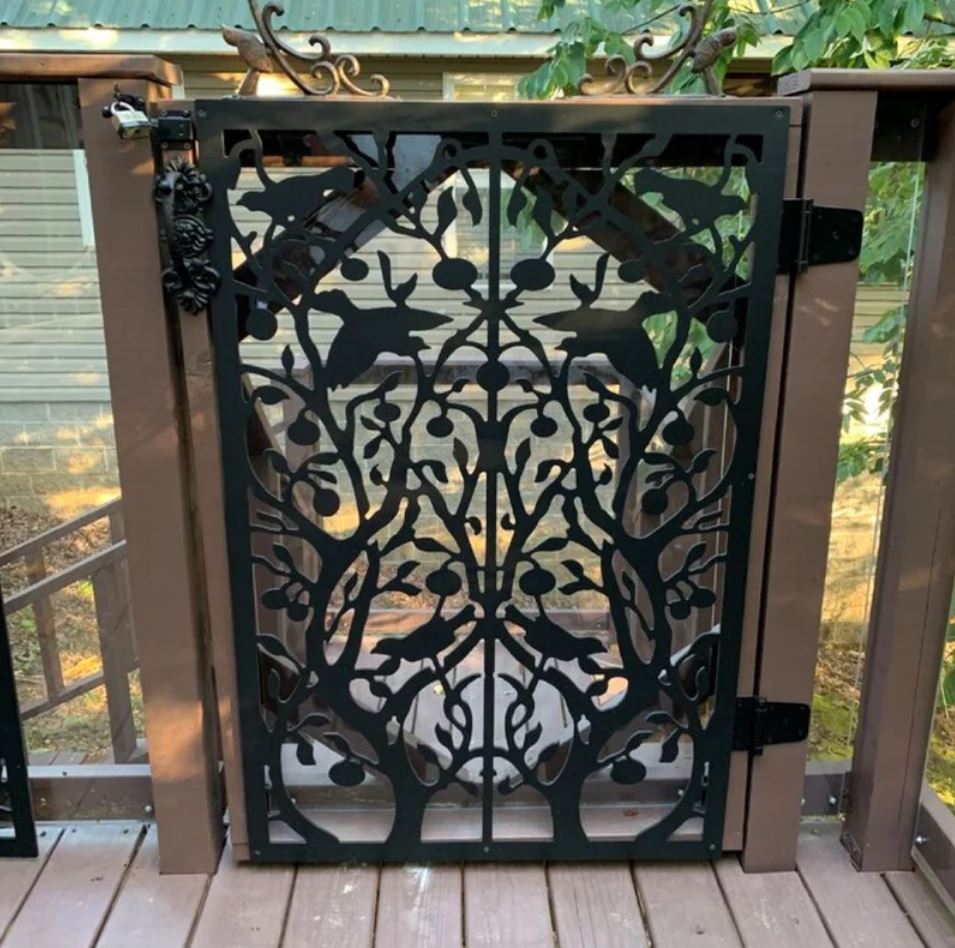 I wanted to find a decorative but practical porch gate- this idea is just that. A bit vintage and nature-inspired, this porch gate offers a touch of style and privacy. I love this look with dark wood, and the intricate latticework is relatively versatile.
Since it's constructed with quality vinyl, I also like that you get the metal look but with no maintenance required. Buy Here. 
Drummer Boy Gate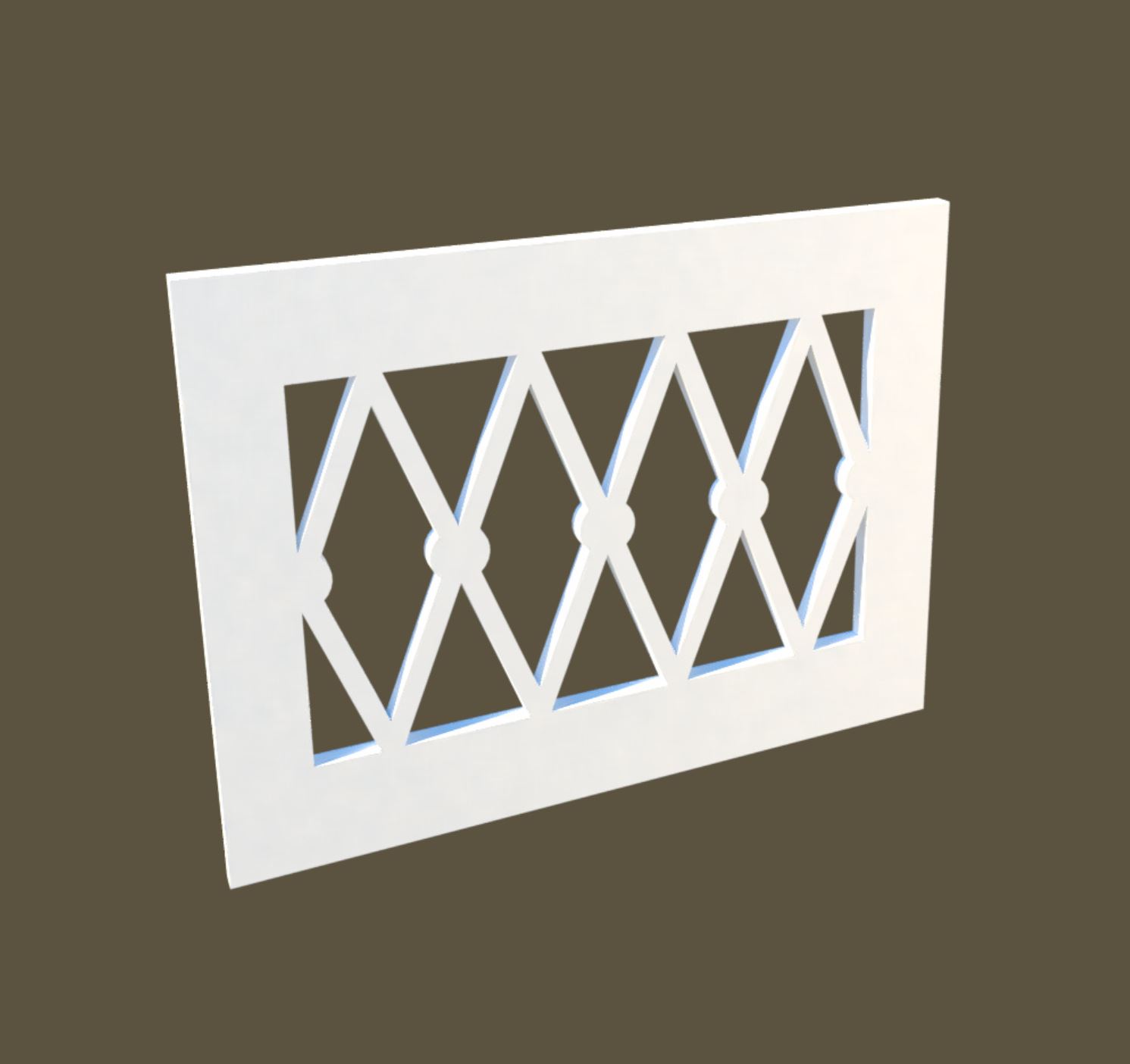 Sometimes, you need a small, reliable porch gate- this simple design delivers. What I love about this gate is that it's timeless and classic- easily styled with more modern and older porch designs. It's constructed with durable PVC, complete with resistance against warping and UV rays. It doesn't have any extraordinary features- it's a simple sliding gate- but honestly, sometimes that's all you need. Buy Here. 
Jewett Cameron Gate System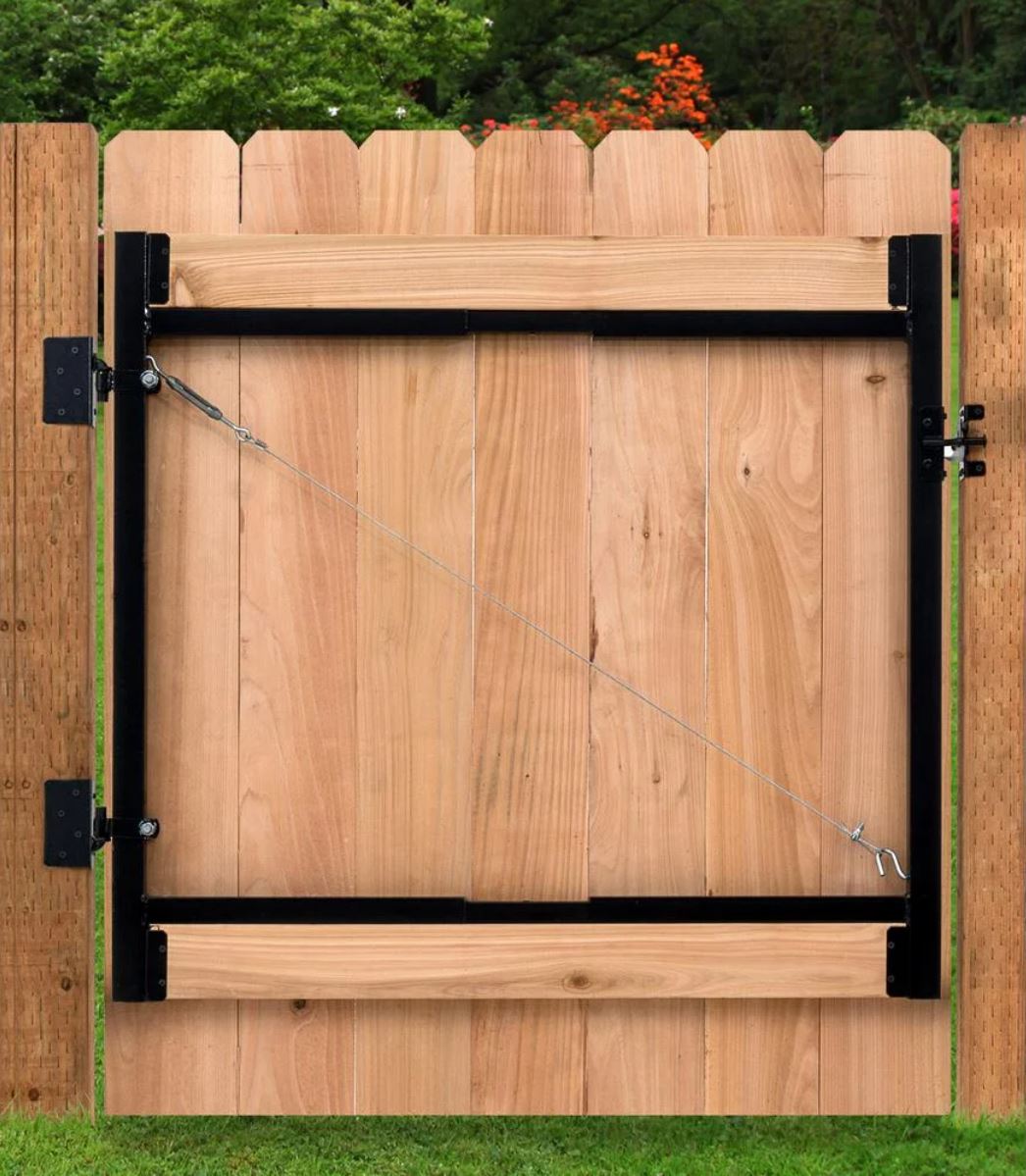 If you're not sure actually how you're going to use your porch gate or you have an unusual space to fit, then an adjustable gate system is a clever solution. I also love this idea if you want a little DIY touch. You match this system with a railing and a fence (it looks excellent with wood). It could even be a repair or replacement solution for an existing gate. With a simple black, rust-resistant finish, it's easy to see why this is multipurpose. Buy Here. 
Fypon® QuickRail® Square Gate Kit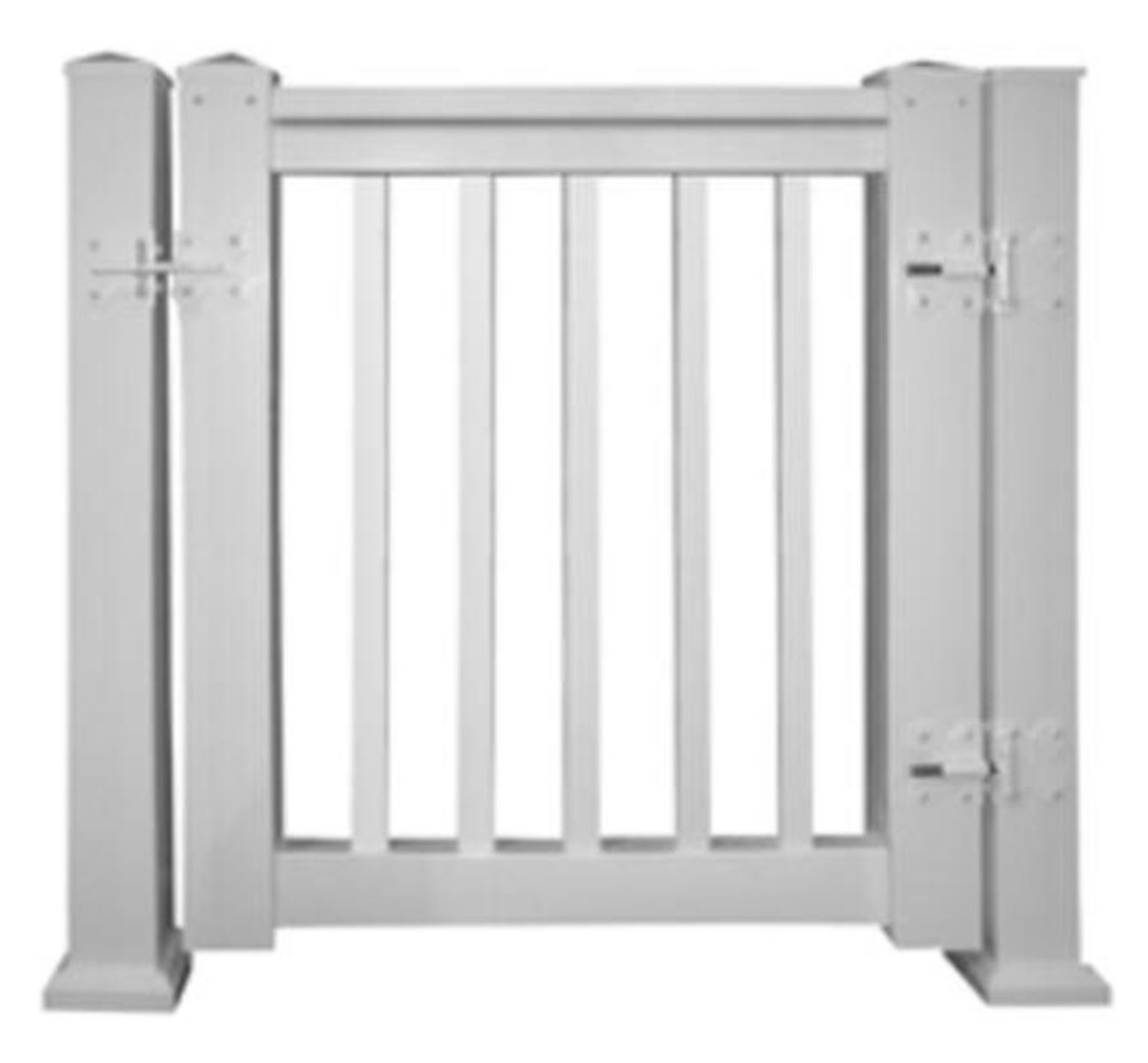 In the past, I've opted for temporary gate solutions partly because installation for some gates can be expensive or complicated. If those are your concerns but want something more permanent, look at this simple white porch gate kit.
It's low-maintenance and super easy to clean. There's no need to stain or finish this gate, and you won't have to worry about facing it. Scroll down to check out other gate sizes and solutions by the same brand. Buy Here. 
Yellowwood Pressure Treated Gates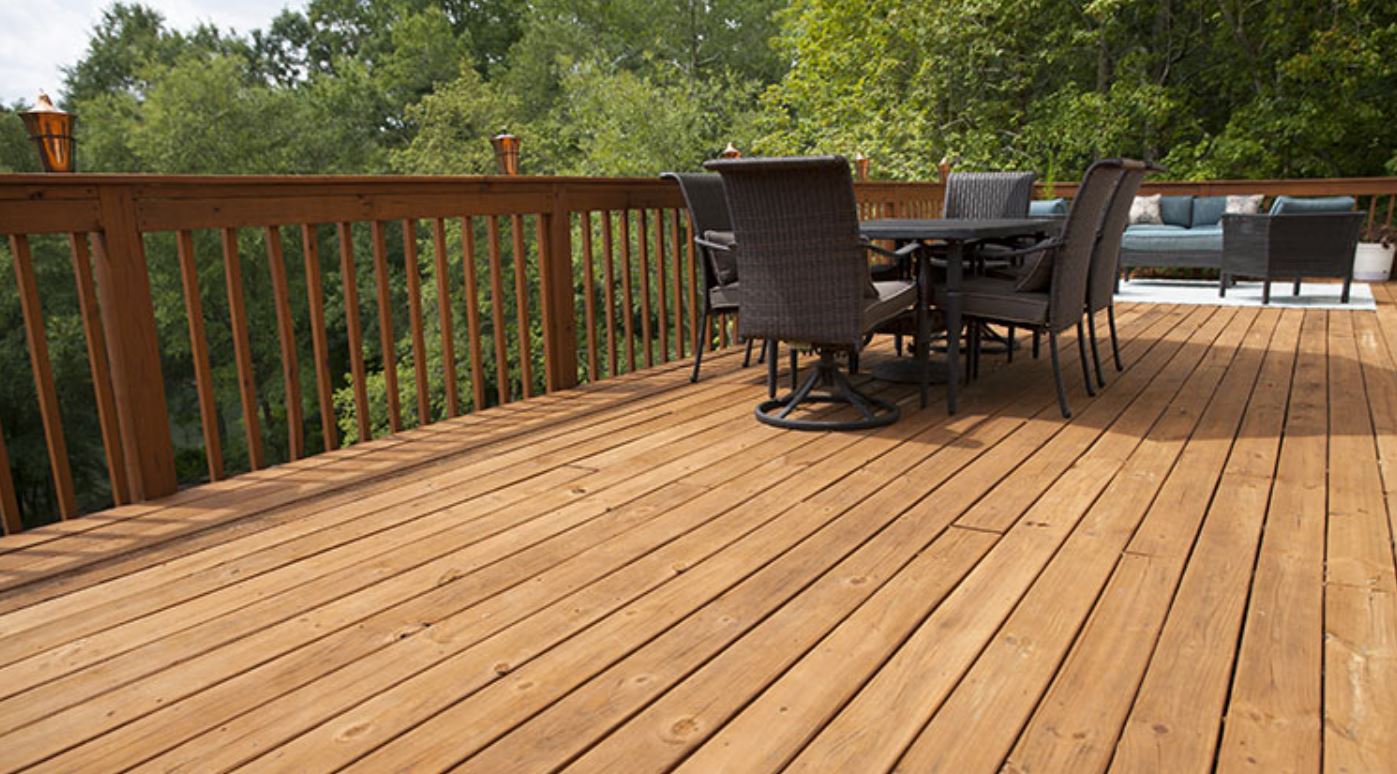 I highly recommend pressure-treated wood if you want a hardwood gate for your porch. It's one thing to love the look of classic wood (I sure do!) and another to deal with it warping. The truth is, you'll still need to treat your porch gate some, but this type of gate reduces your risk of warping and rot.
I love that this company offers a wide range of products and solutions. All you need to do is enter your zip code and find products and installation options near you. Learn More Here. 
Frequently Asked Questions
Question: How do I make a simple porch gate?
Answer: While you can buy a porch gate for an affordable price, there is something to be said to satisfy a DIY project. Keep things simple by selecting durable hardwood (oak, teak, acacia, maple, and mahogany are a few of my favorites). You'll need either a drill or an impact driver.
Start by measuring your opening from your posts. It's easiest to start with two-by-four pre-cut planks, and you'll need to make 45-degree cuts. For a full tutorial, I recommend this one by My Builds. This simple wooden gate will work for both decks and porches. 
Question: Should porch gates swing in or out?
Answer: Always opt for a porch gate (or deck gate) that swings in, not out. While outward may seem a sensible option, it poses both logistical problems and safety hazards. Silly as that might sound, it's better to have control and swing the gate towards you vs. towards someone who could be headed up the steps.
Your hinges should be on both sides: something important to mind if you're leaning towards a DIY project. Large gates in driveways, especially automated ones, may swing outward, but this is a very different situation. 
Question: Do gates add value to a property? 
Answer: A porch or deck gate isn't likely to add value so much as safety. A larger gate- such as a driveway entrance- might. It provides privacy and a luxurious feel and may entice potential home buyers.
Of course, gates always have the potential to add perceived value to a property, depending on what people are looking for. I wouldn't add a gate purely to improve your home value, but it may be a bonus if you do. 
Question: Does Trex make a porch or deck gate?
Answer: Trex is a popular brand that's part of Mobil Corporation. Known for its outdoor decking solutions and related materials, Trex sells adjustable aluminum gates and some composite options (in addition to the railing and other needs). You can find their products from Wayfair, Lowe's, and some specialty stores, like Decks Direct.
They usually sell their hardware kits separately, but the good news is that they can be customized and cut to size as needed. While I love that most Trex gates come with a warranty, I also think some of their gates are not as high quality as some other brands. 
Final Thoughts 
An addition as simple as a porch gate can make a big difference in safety. Even the most simple gate is a good idea whether you have small pets, toddlers, or babies or want a little security. Of course, as I've shown, porch gates can add decorative touches and a little style too. From modern and sleek to classic to whimsical, I'm happy that there are more options than there used to be.
And if you're not comfortable with DIY, most of these porch and deck gates are pretty reasonable prices. I hope at least one of my ideas captured your attention and inspired you to make some upgrades to both the safety and aesthetics of your porch. 
Final Recommendations 
Porch gates don't have to be complex to be great. What I hope this little list has shown you is that there are enough different types of gates to suit an array of different styles and budgets. But at the same time, I highly encourage you to browse through my selection criteria if you haven't. Choosing something as simple as a porch gate makes a difference in your final purchase. 
Still deciding? As someone who also takes a while to make a decision, I understand. If you're torn on what type of porch gate to get, it's hard to go wrong with something low-maintenance yet sturdy, like the Fypon® QuickRail® Square Gate Kit. With other sizes available, a warranty, and an easy-to-use and install design, it will be a practical solution for just about any porch. 
Recommended Reads: