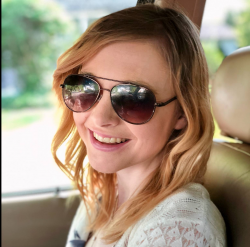 Latest posts by Erin Jamieson
(see all)
My family has always had Christmas traditions, from baking cookies to attending Christmas Eve services, to hitting attractions around Cincinnati like the Festival of Lights and Krohn Conservatory. But a tradition I truly miss is going to Neiderman's Farm for their walk-through lights. Playful Christmas signs and an indoor display were paired with a walk-through Nativity scene. It was both meaningful and truly a beautiful display of lights, signs, and warm chocolate at the end. 
Perhaps that's where my fondness for Christmas porch signs comes from. Christmas lights are beautiful, but porch signs add a personal touch. From quirky Santas to twinkling Christmas trees and more religious signs, there's something undeniably welcome about a porch sign. 
I'll share with you some of my favorite secular and religious porch signs for Christmas- from rustic farmhouse to contemporary. I hope that you find a Christmas sign for your porch that brings you a bit of joy for the season.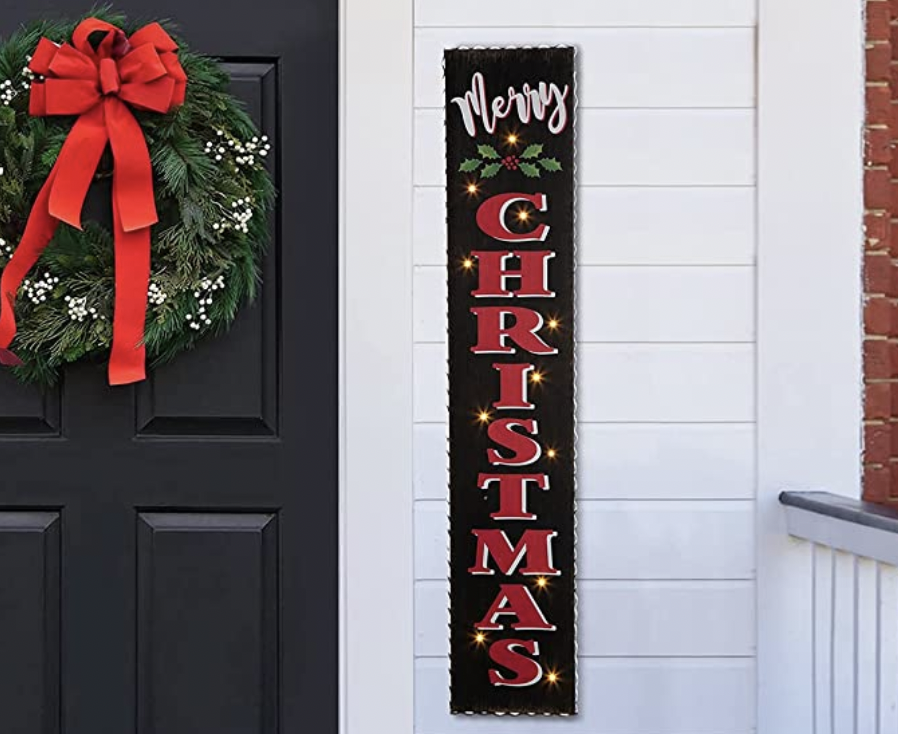 Bottom Line Up Front Summary
As much as I love lights and other holiday decors, a Christmas porch sign ties everything together. I love how Christmas porch signs add a welcoming touch and a bit of personality. Whether you're looking for a whimsical design, a rustic farmhouse touch or even to show your religious faith, I hope these ideas give you a bit of inspiration. 
If I were to recommend just one Christmas porch sign for most homes, it would be something both low maintenance and versatile, like the Welcome Christmas Porch Sign Banners. While it's not as detailed or artistic as other options, it's super easy to clean, weather-resistant, and can be used both indoors and outdoors. Plus, I love that it's made out of Oxford fabric, rather than polyester. 
My Top Picks
Glitz Home Merry Christmas Porch Sign:

Best Christmas Porch Sign With Lights 

Christmas Welcome Truck Porck Sign:

Best Vintage-Inspired Porch Sign 

Artisan Winter Welcome Sign:

Best Santa-themed Porch Sign 

Jesus is the Reason Porch Sign

:

Best Religious Christmas Porch Sign 

Welcome Christmas Porch Sign Banners

:

Best Versatile Christmas Porch Sign 

Gingerbread Hanging Porch Sign

:

Best Christmas Porch Sign For Young Families 

Our Snowman Family Porch Sign

:

Best Personalized Christmas Porch Sign 

The Grinch Christmas Porch Sign

:

Best Humorous Christmas Porch Sign 

Let it Snow Porch Sign with Wreath

:

Best Christmas Porch Sign/ Wreath Combo 
My Selection Criteria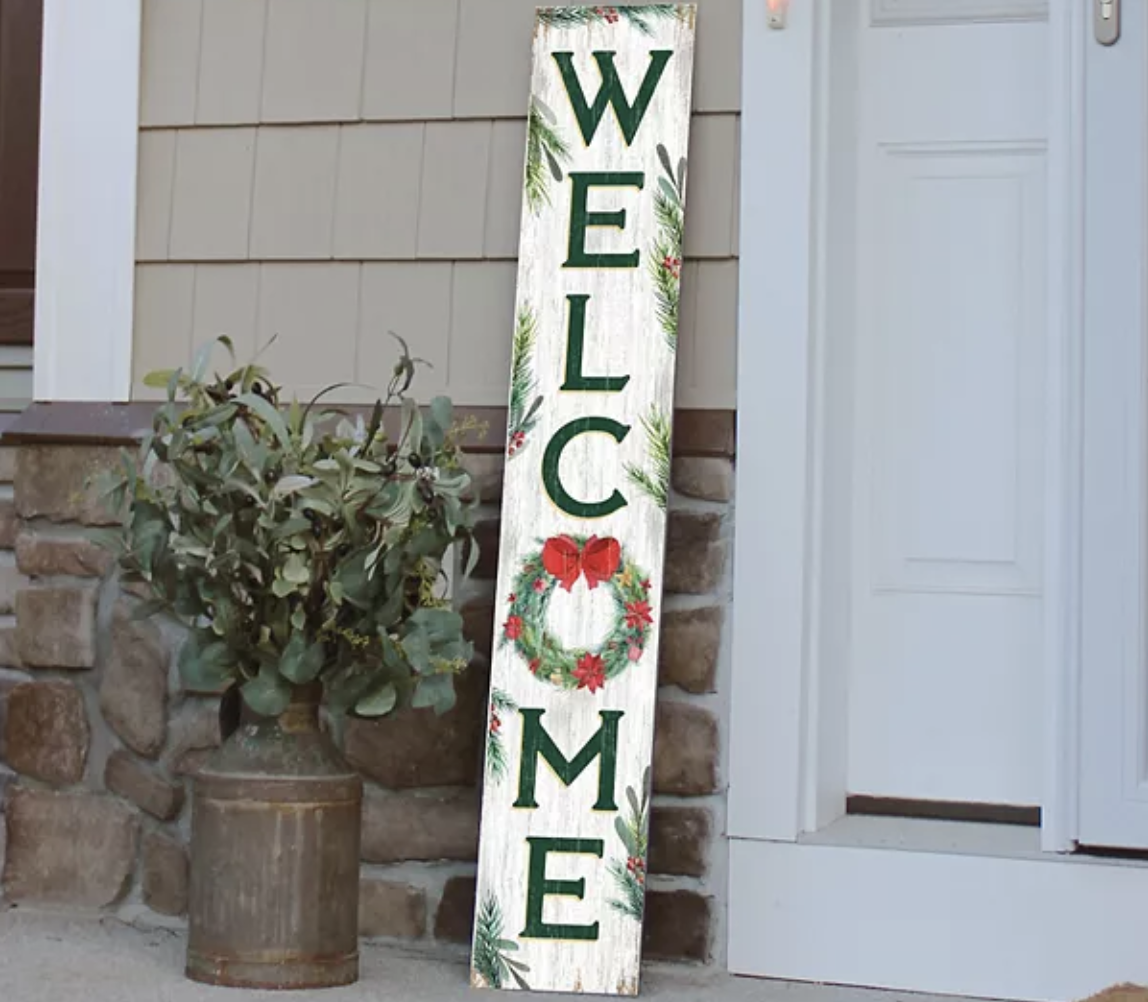 Walk into a craft store- especially right after Thanksgiving- and chances are, you'll be bombarded with Christmas decorations. One of my favorite things to do, silly as it sounds, is travel to different stores to get inspiration. The problem: porch signs and other decors truly meant for the outdoors are hard to find. Here's how I found great Christmas porch signs online- and the tricky challenge of balancing quality with fun, festive designs. 
Selecting Different Types of Porch Signs
One thing I've seen is that too many people worry about the right way to decorate their home for Christmas. Whether you have a small porch and want an equally small porch sign or you want a large, bold sign, I want to find a few options. That meant searching for hanging porch signs, upright porch signs, and porch signs that you can use both indoors and outdoors. Finally, I also added porch signs with wreaths for a seamless, two-in-one decorating experience. 
Selecting Distinct Styles
I wanted to find a variety of styles for everyone, including:
Religious 

Vibrant 

Whimsical

Classic

Modern

Vintage-Inspired

Rustic/ Farmhouse
I was also happy to discover that even within these styles, there's plenty of room to mix and match. For instance, you can pair a farmhouse Christmas porch sign with contemporary decorations for a modern farmhouse aesthetic overall. My goal was simply to showcase how many fun Christmas porch sign styles there are to explore. That also meant playing a bit with colors. While I leaned heavily towards green and red colors, I also considered metallic accents or wintery whites and blues. 
Selecting Signs for Winter Weather 
This part was the hardest. For all the charming Christmas porch signs available, few of them are intended for outdoor use- ironic as that is. The problem I ran into was that most signs are made with wood that's known to rot, manufactured materials known to warp, and metal known to rust when exposed to rain and snow. 
This greatly limited my options, but I looked primarily for:
Rot- Resistant Wood (kiln-dried, protective coatings, cedar, redwood, mahogany, oak)

Powder Coated Metal/ Stainless Steel

PVC or Oxford Fabrics 

Engineered Wood (can still distress over time- bring indoors during active snow or rain) 

Stone/ Slate
None of my selections are perfect- wood can still warp. However, most of my selections I wanted to be durable enough to stay out on your porch during the snow. 
Where I Looked 
I wanted as many choices as possible. That meant exploring Christmas porch sign collections from Amazon, Wayfair, Target, Walmart, home specialty and goods stores, craft stores (Michael's, Joanne's, Hobby Lobby), and related stores. But I had standards: the company had to have a secure checkout and transparent policies.
While I love shopping on Etsy, I didn't make selections from there, as in-stock items changed frequently. Bottom line: I only wanted to recommend products from stores I have bought from, or would buy from. 
See also: Screen Porch Ideas on a Budget
My Favorite Festive Christmas Porch Signs 
Here's a look at a few of my favorite festive Christmas porch signs. From religious to quirky and everything in between, I hope at least one of these ideas will spark some inspiration. As I explained under my selection criteria, the challenge was to balance quality with spirited and clever designs. From small signs to 60-inch signs, these porch signs at very least get me into the Christmas spirit.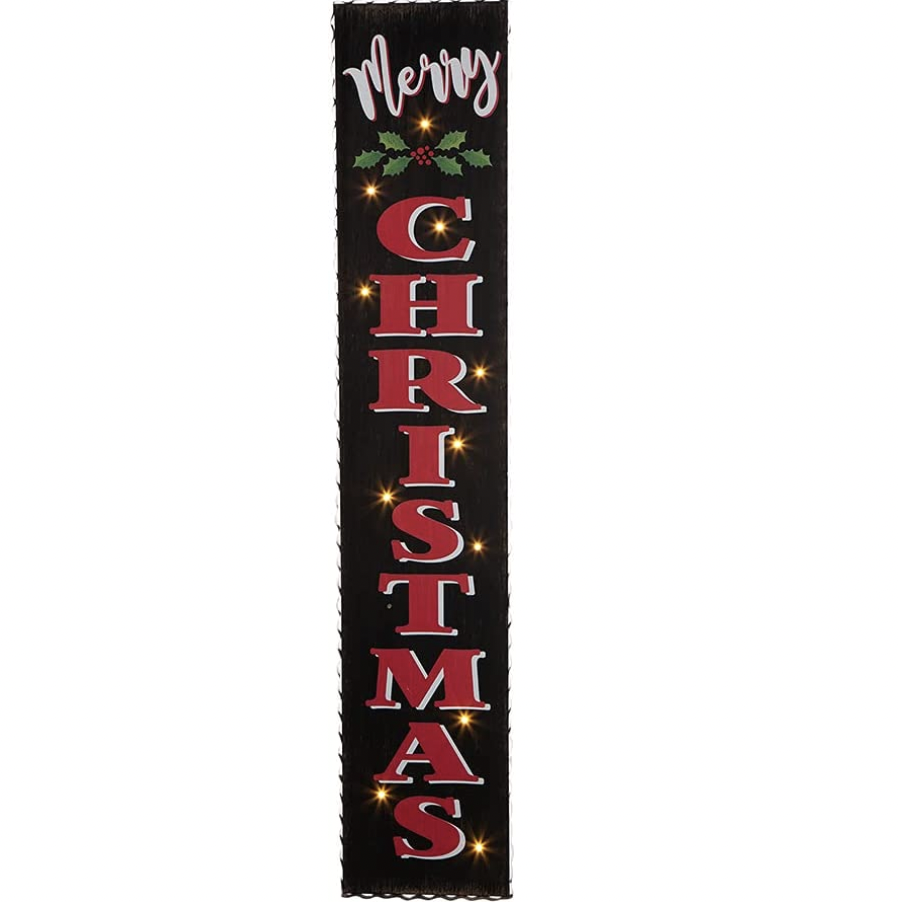 I love twinkling lights at Christmas, and this porch sign adds that timeless charm with a vibrant message. Usher in a Merry Christmas with bright red block letters, accented with a bit of holly. This porch sign strikes me as at once timeless and innovative, and I love that you can lean it against a door or drill a small hole to hang it.
If you coordinate this porch sign with other white string lights, it'll make a dazzling impression. It's crafted with engineered wood, but my only hesitation is that it might not hold up as well when it's actively snowing outside- so bring it indoors during heaving precipitation.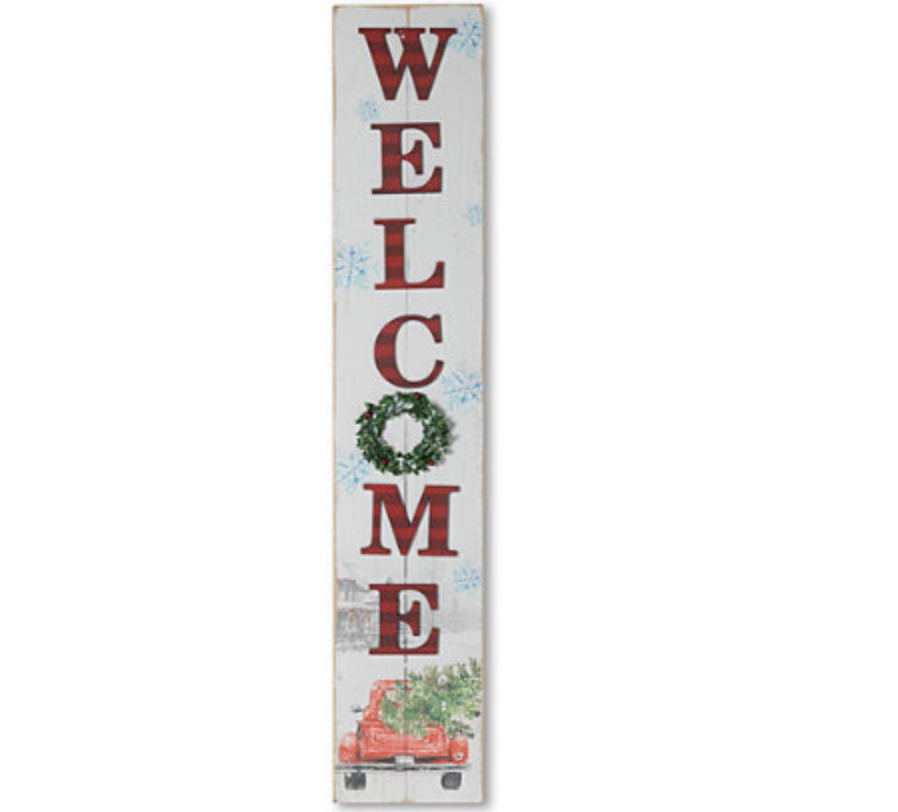 This is not only one of the more unique Christmas porch signs, but it's also one of my favorite options if you love the vintage-inspired decor. This charming porch sign features soft watercolors with a slightly rustic but also an elegant touch. I love the whitewash finish and handpainted feel. It's the perfect way to make Christmas feel truly timeless- pair this with some red poinsettias and your porch will be beautiful and festive.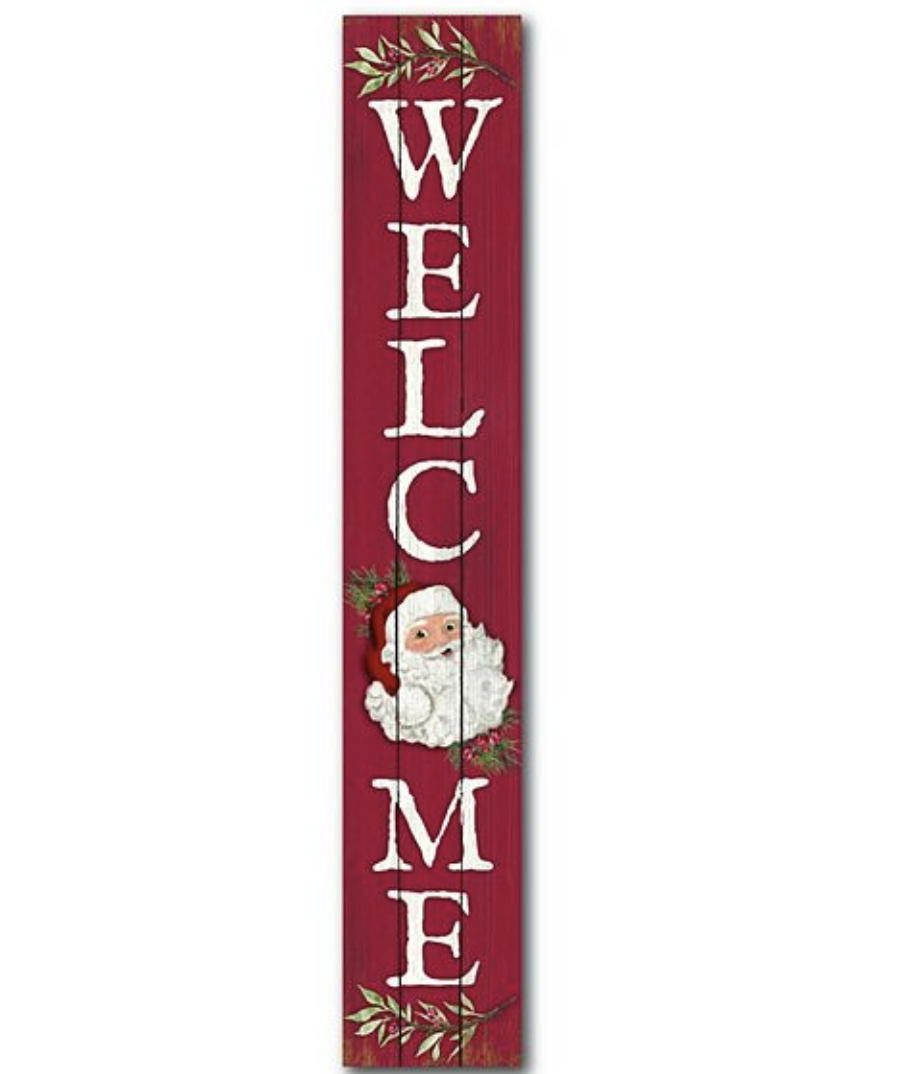 There's nothing quite like the magic of waking as a child to find presents left by Santa. This porch sign brings that magical feeling, with a classic design. Not only do I love the jolly Santa and cherry-red stain, but I love the thought behind it. The company that makes this porch sign uses sustainably-sourced woods and applies protective PVC coating. That's plenty to celebrate and keeps Santa looking his best.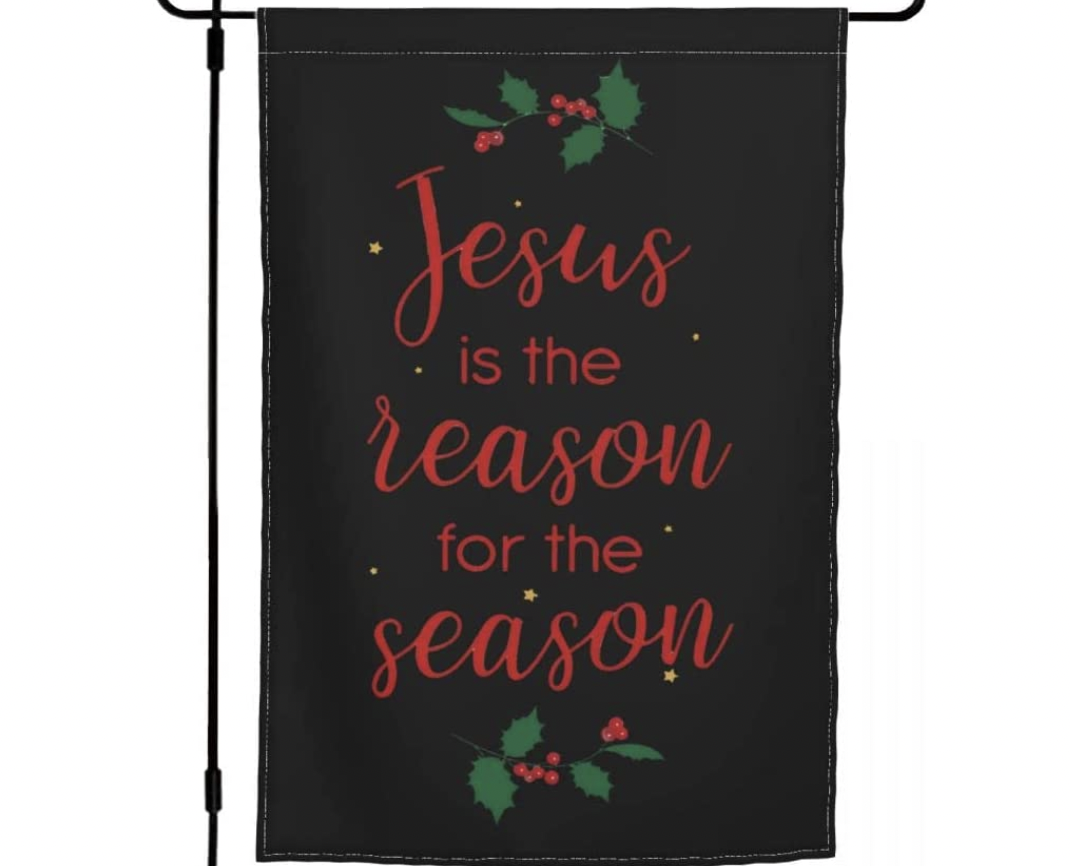 For me, Christmas isn't only about celebrating with family and friends, but also celebrating the birth of Jesus Christ. I love both secular and religious Christmas decor, but this is one of my top ideas if you want to make a more faith-based statement. Use this as a flag sign to drape over your door or attach it to a post, railing, or pretty much wherever you like!
I love that it's under $15 and made with fade-resistant and washable polyester. With a simple but meaningful message, the red and green accents still feel festive.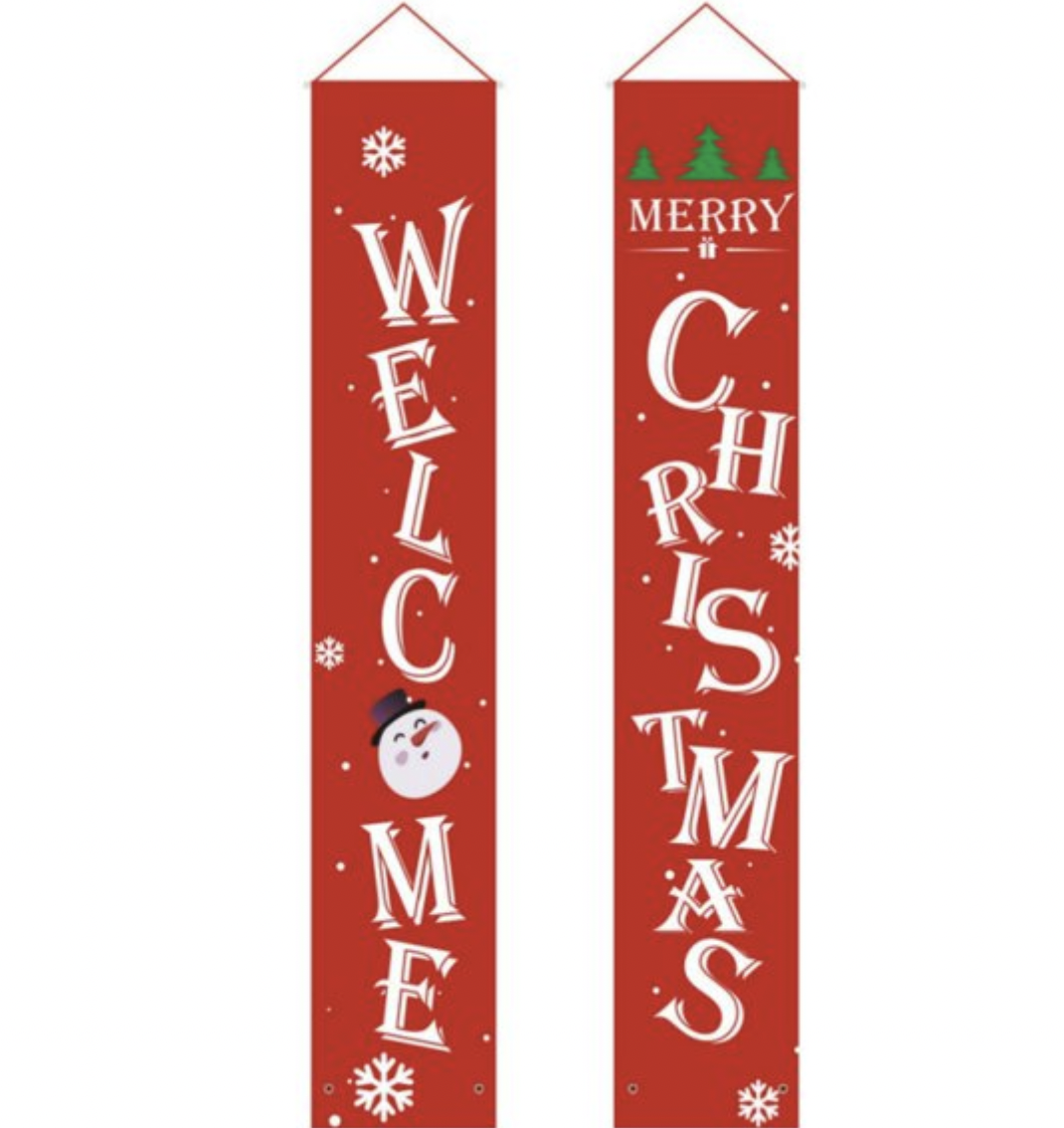 Why do I love this idea for a Christmas porch sign? Several reasons. The bright red hue immediately caught my eye, and it's the perfect backdrop for the charming snowman, snowflakes, and miniature pine trees. But this is a porch sign that you can use multiple ways. Hang it outside on your porch, inside as a party decoration, or for a covered porch. It's a festive, lighthearted option that requires less maintenance than a wooden sign. Plus, the Oxford cloth material is more durable than your typical polyester.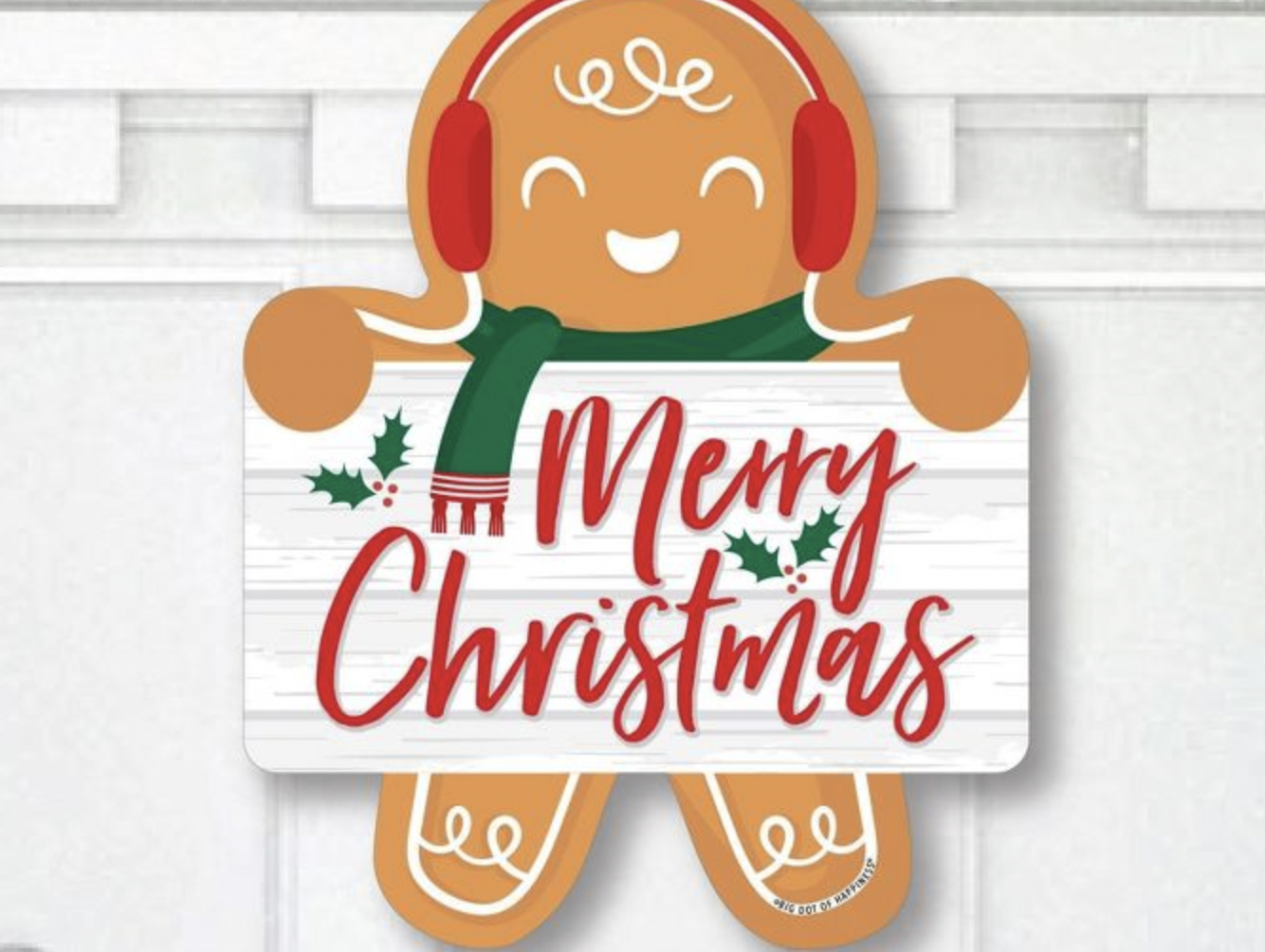 I love this Christmas porch sign for anyone with young children. The whimsical gingerbread man brings back memories of making gingerbread houses (albeit I couldn't even decorate them well!) and made me smile when I saw it. I like how this porch sign from Target is also really handy for indoors and outdoors, made with easy-to-clean PVC materials. While it's lightweight, it's still heavy-duty enough to withstand challenging weather conditions.
See also: Best Side Porch Ideas This 2022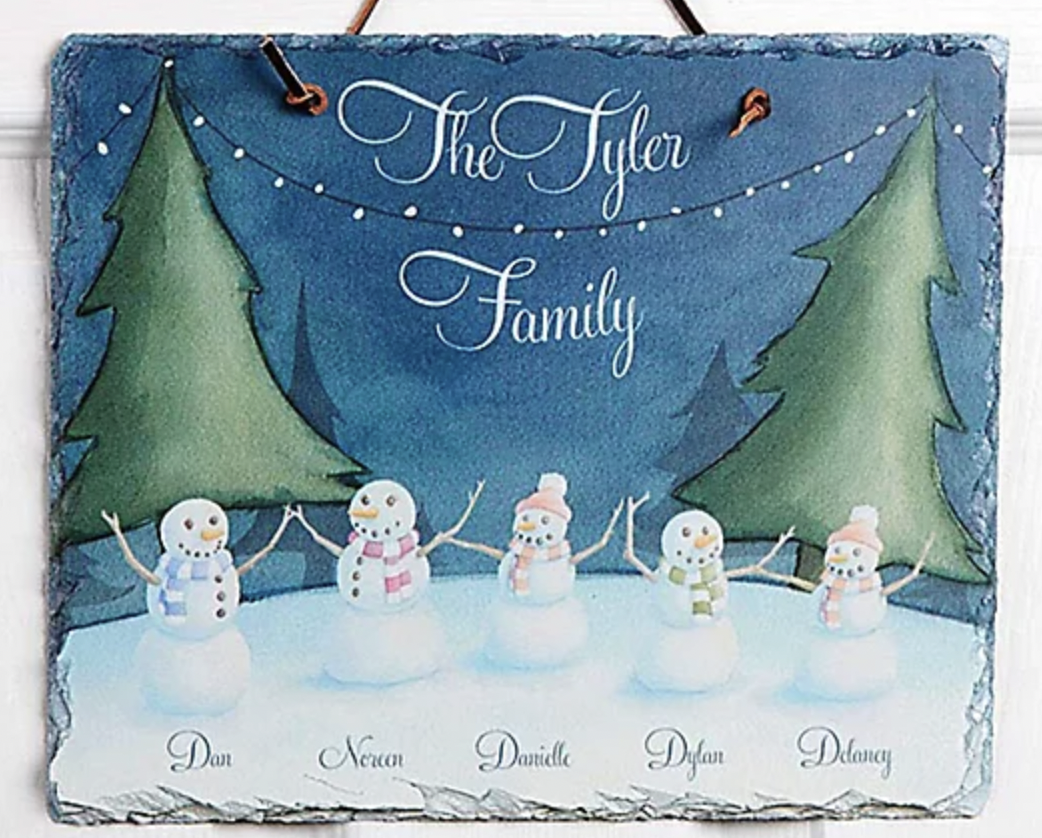 While this porch sign is the least Christmas-themed, the string lights and pine trees still bring the holiday season to mind. But even though I love the soft watercolors (and the fact that you could get by with leaving this up all winter long), it's the durable slate material and customization that makes it one of my favorite ideas. Made to order, you can customize it to fit your family. It's a welcoming sign that you'll reach for year after year.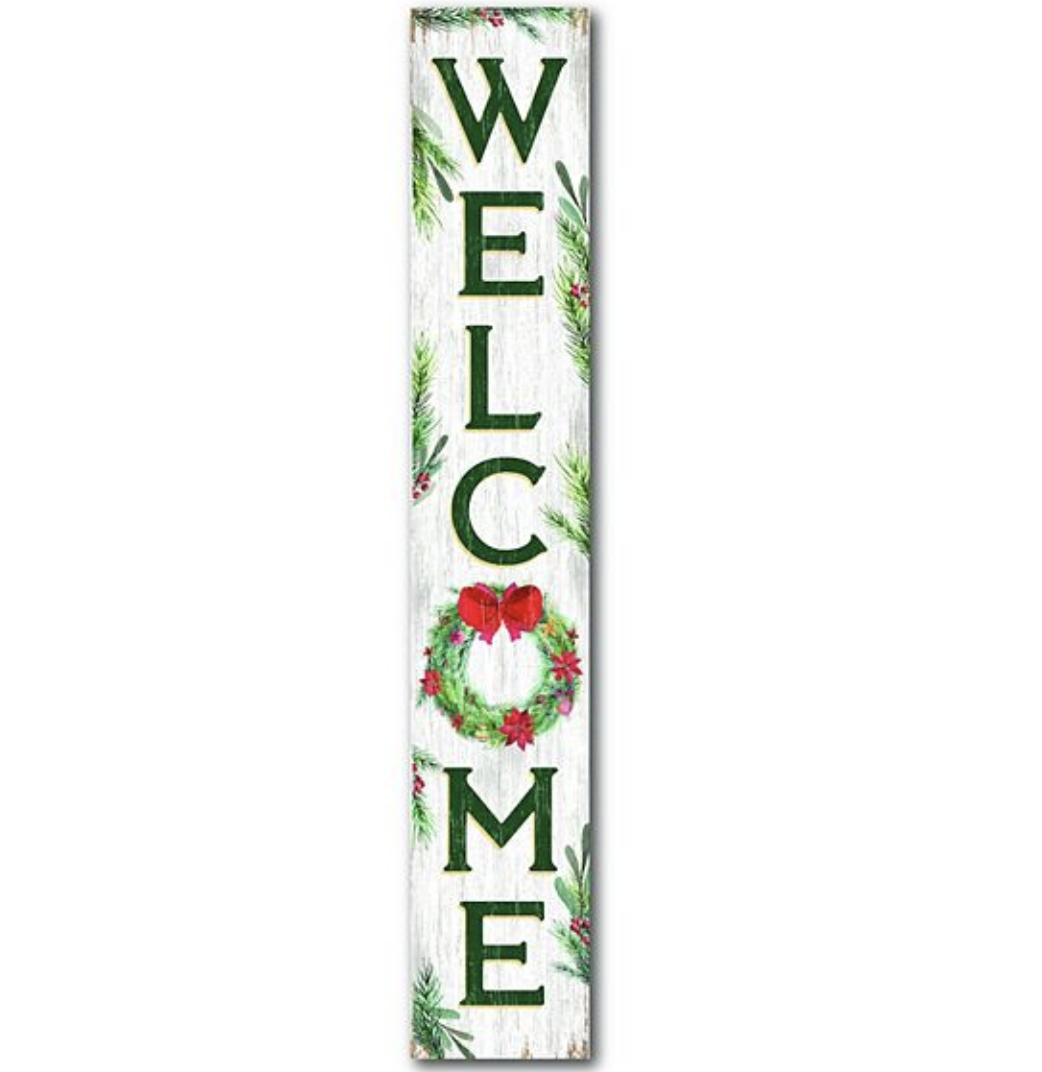 Made with sustainably-sourced wood and coated with protective paint, I love the contemporary yet classic cheer this porch sign exudes. What caught my attention was the use of lighter watercolors. You still get that red and green color scheme, but with a softer, more lighthearted aesthetic. I think this porch sign would be especially great for a warmer climate. You still get the Christmas feel, but with a softer touch.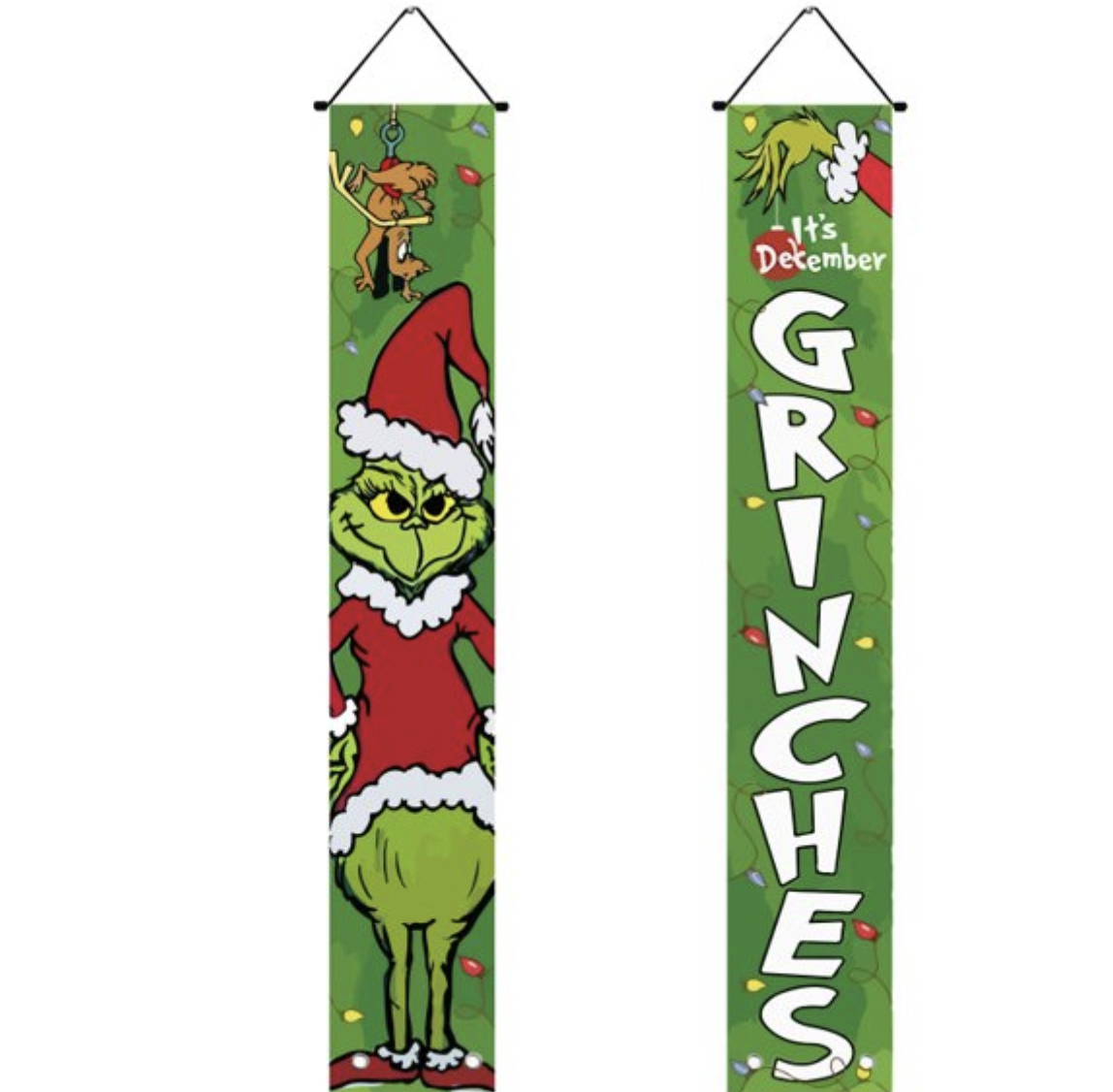 The original 1966 animated version of How the Grinch Stole Christmas has always been one of my favorite seasonal films, and I'm still far more attached to it than the 2000 or (yet to see) 2018 feature films. But no matter which version you prefer, if you're a Grinch fan- or just want a Christmas porch sign with goofy charm- you may love this idea. Sure it's neither elegant nor easy to coordinate with, but it's sure to bring a smile to anyone with a sense of humor.
It's easy to hang wherever you like and it can even double for indoor decor for a Christmas party (especially one that includes ugly sweaters!). As a bonus, it's under $20 and made out of weather-resistant fabric.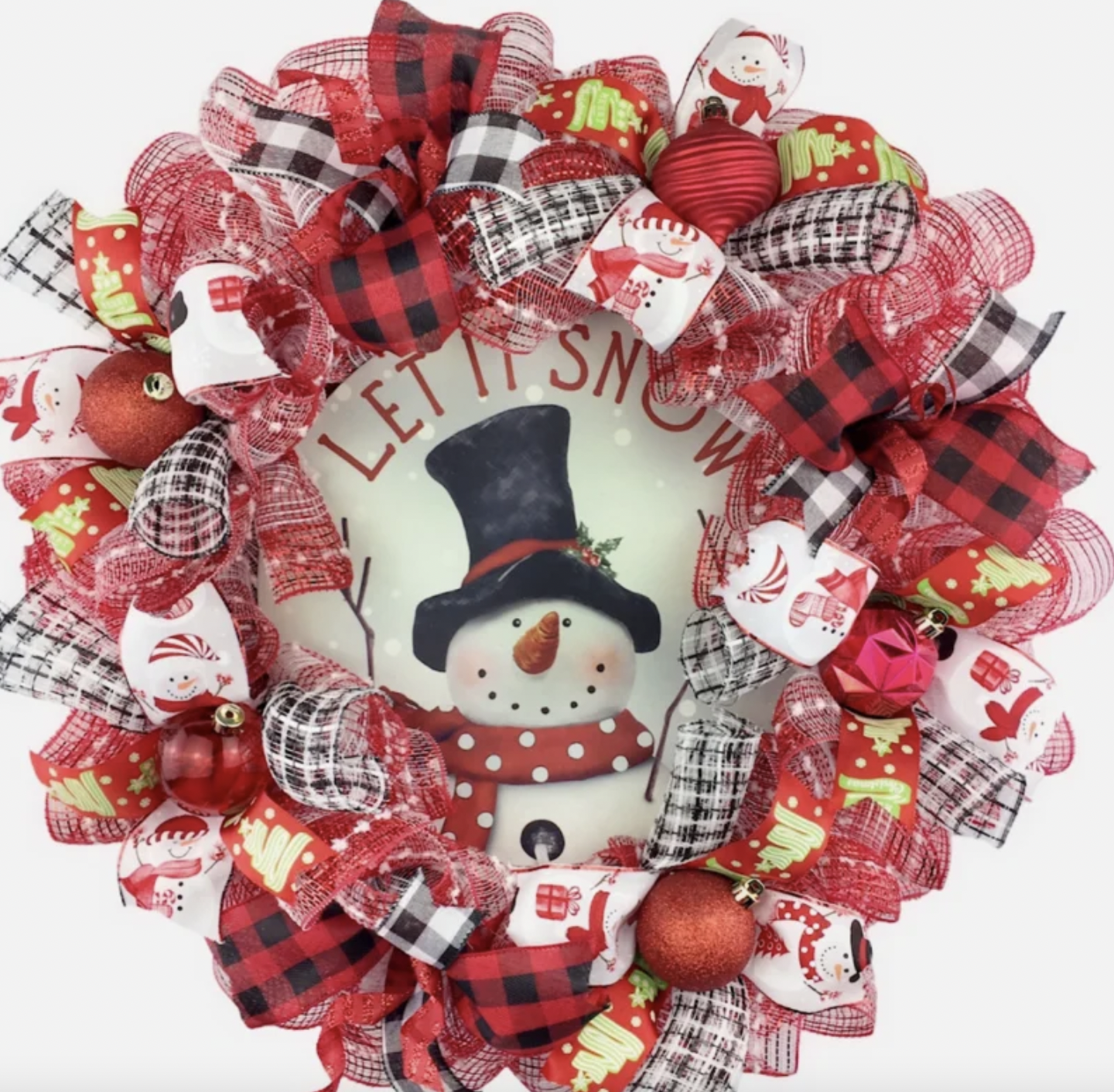 Can't decide between a porch sign and a wreath for your door? I love that this affordable combo means that you don't have to make that decision. This is my most expensive idea, but it's also one of the most visually impressive. I love the classic Let it Snow theme, flanked by subtle Christmas tree symbols for festive but season-long decor.
The mix of fabrics gives me a rustic impression yet the style is versatile enough to accessorize the way you'd like. If you like this idea but don't love the style, scroll down on the product page and Wayfair will recommend other charming Christmas porch sign and wreath combinations.
Frequently Asked Questions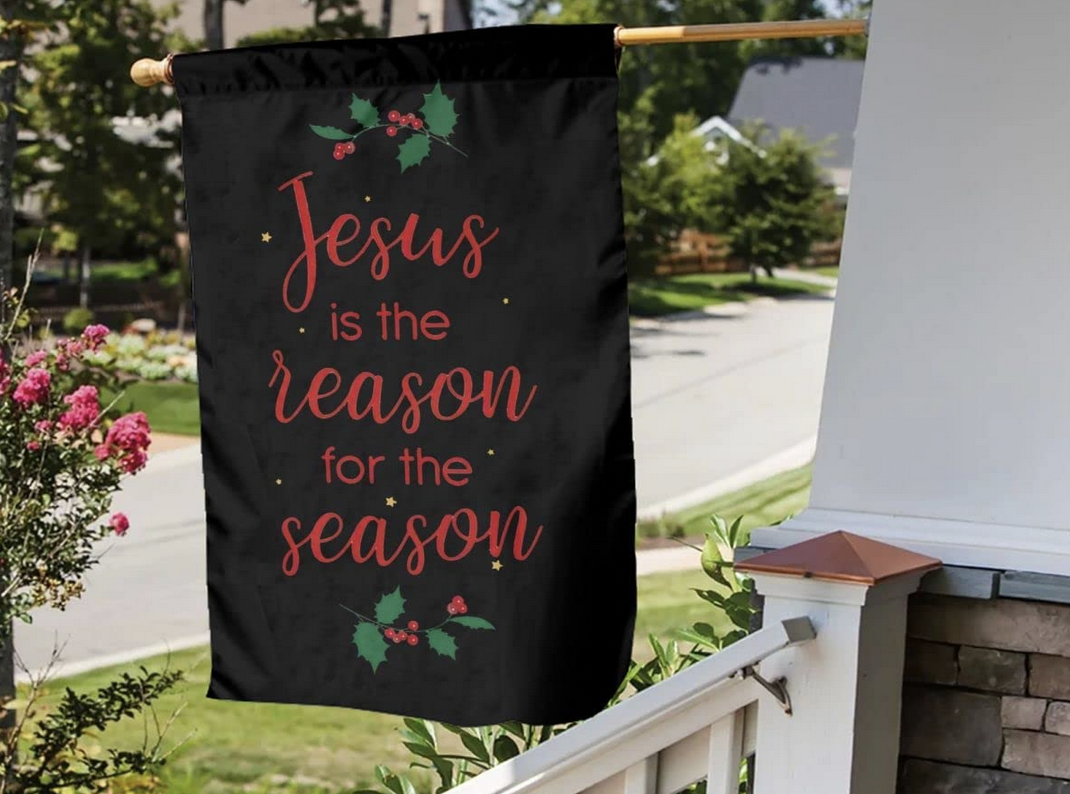 Question: How do you make a Christmas porch sign?
Answer: If you don't like your options for Christmas porch signs in store, then you can DIY. I'd start by browsing craft stores for inspiration- you can find stencils from places like Michael's. Pick up some garland if you want to add some corner accents. For the main materials, opt for rot-resistant wood or engineered wood (you can order planks online or pick them up at a home improvement store).
You'll need a miter saw or something like it to cut it to size. Don't forget weather-resistant paint or a stain to keep your sign in good condition. You can even add twinkling lights on the exterior of a Christmas tree-shaped porch sign. 
Question: Where can you buy personalized Christmas porch signs?
Answer: Etsy is a great place to shop for handmade, unique, and personalized Christmas porch signs. The tricky part is finding the right fit- and buying it before it goes out of stock. Inventory changes pretty quickly, which of course has pros and cons. Not only are many Christmas porch signs on Etsy made to order, but some stores allow you to add your name, and initials, or make tweaks to the design.
The result: you're supporting small businesses and getting a more personalized sign. (Shop Christmas Porch Signs on Etsy Here). 
Question: How do you decorate Christmas signs?
Answer: Whether you're DIY or buying a sign, there are plenty of ways to have fun personalizing a porch sign. You can do that by making direct additions to your sign, or adding decorative touches around it. Add weather-resistant mini porch string lights, garland, and a bit of color with weather-resistant paint.
If you're using your sign inside, inside a screened porch, or under a covered porch, you can even add a bit of glitter for sparkle. Creativity (and weather) are your main limits, so don't be afraid to stroll a craft store or Pinterest for more inspiration.
Question: What do evergreen trees symbolize?
Answer: Evergreen, or pine trees, are one of the most immediately recognizable symbols of mainstream Christmases. An evergreen tree symbolizes both eternal life and spiritual growth. While this ties in well to the Christian message (the birth of Jesus Christ), the tradition of pine trees in homes has Pagan roots.
As far back as the 4th century, pine trees were a sign of hope and light during the Winter Solstice. Today, the symbol is tied to advertising and is used by Christians and non-Christians alike. It's also one of the most popular ways to depict Christmas through decor. 
Final Thoughts
A porch sign is a timeless and spirited way to usher in the Christmas season. As much as I love classic twinkling lights and a decorated tree, a porch sign adds that finishing touch. As you can see, you have options for whatever expresses your style and beliefs most. You can opt for a whimsical Christmas porch sign that'll make any guest smile, a religious one to share your faith or a unique one that ties together the rest of your decor.
Hopefully, I've given you some ideas and inspiration for one- or many- Christmas porch signs. 
Final Recommendations
No matter what Christmas porch sign you select, don't forget the other decorations! I love coordinating with string lights and a bright, festive welcome mat. Less can be more: you don't have to have tons of Christmas decorations to make an impression. And remember: there is no right or wrong way to decorate. Christmas is meant to be a season of joy, so don't get too caught up in perfection. Something as simple as a porch sign can add a welcoming touch. 
But if you're still trying to decide on a Christmas porch sign, I recommend something like the Welcome Christmas Porch Sign Banners. What I like about this idea is that it's constructed with weather-resistant Oxford fabric that's easy to clean and careful. It's a spirited, classic design that would look fantastic both outside on your porch and inside. 
Recommended Reads: