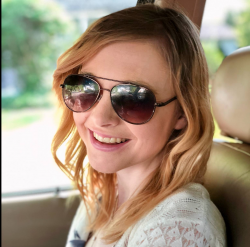 Latest posts by Erin Jamieson
(see all)
I've always thought that you could tell a lot about a house by the first impression it makes- for better or worse. But for me, that has less to do with size or structure and more to do with ambiance. My grandparent's home always had warm white light exuding from their porch lights. That first impression spoke to the warmth and welcoming nature of their home.
From whimsical string lights to modern wall lights, white porch lights are one of the best ways to make the exterior of your home feel complete. But as popular as white porch lights are, the challenge is to find ones that will last and provide the performance you need. 
Read on for the white porch lights I'm most excited about- and why I selected each. The goal is to provide you with inspiration and ideas, no matter what your needs are. 
Bottom Line Up Front Summary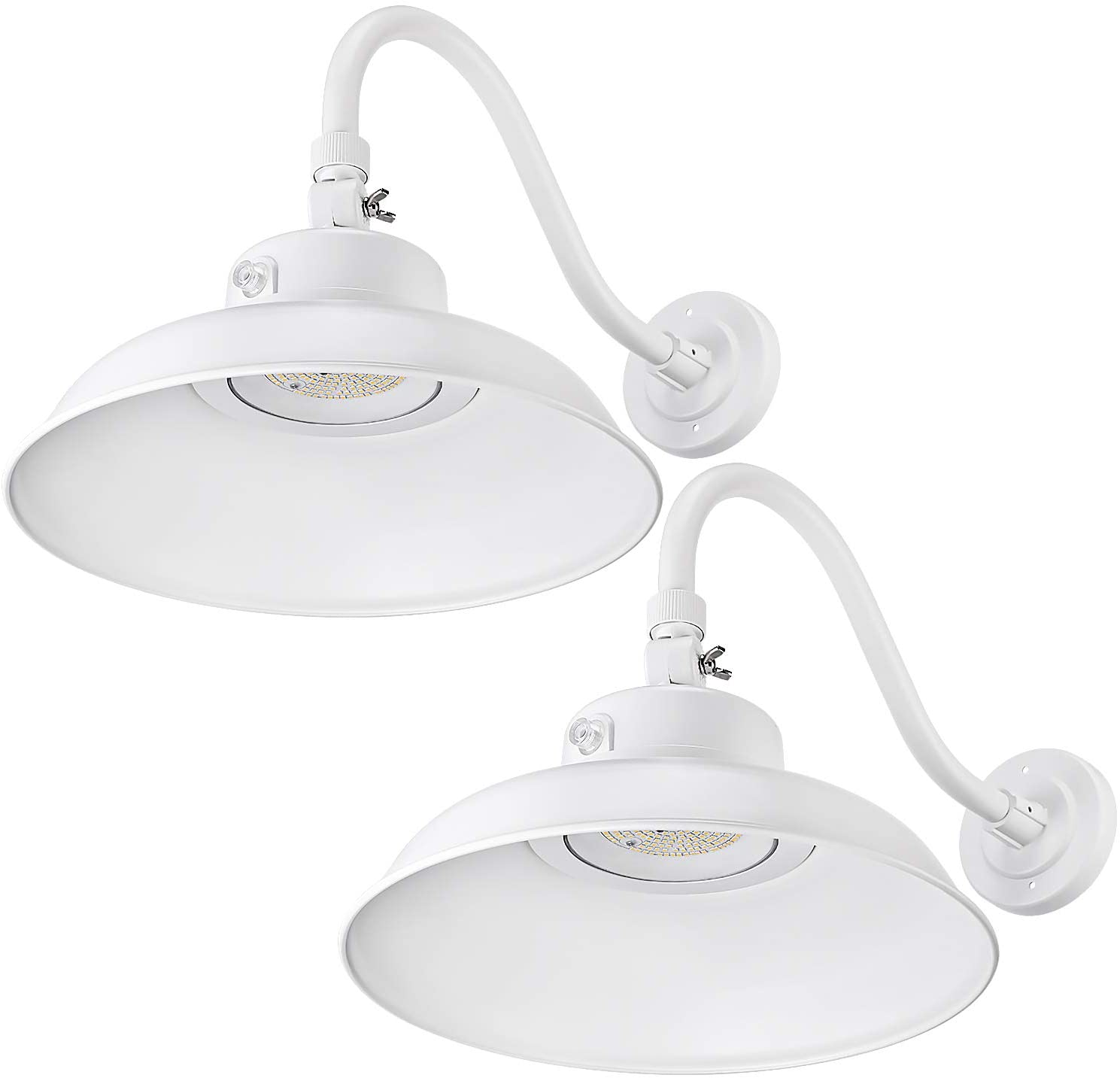 White porch lights are a classic way to provide a welcoming addition to your home. What I love about white porch lights is how timeless and versatile they are- but I also only wanted to recommend lights that offer good performance and durability. My ideas include modern and traditional styles, from dainty string lights to iconic lanterns. 
If I could only recommend just one white porch light for your home, my top choice would be the  LEONLITE LED 14 Inch Gooseneck Barn Light. This white porch light features a beautiful modern farmhouse design that would look at home in an array of different porches. The LED light is energy efficient, and, with a waterproof and dusk to dawn sensor, it's low-maintenance.
My Top Picks
My Selection Criteria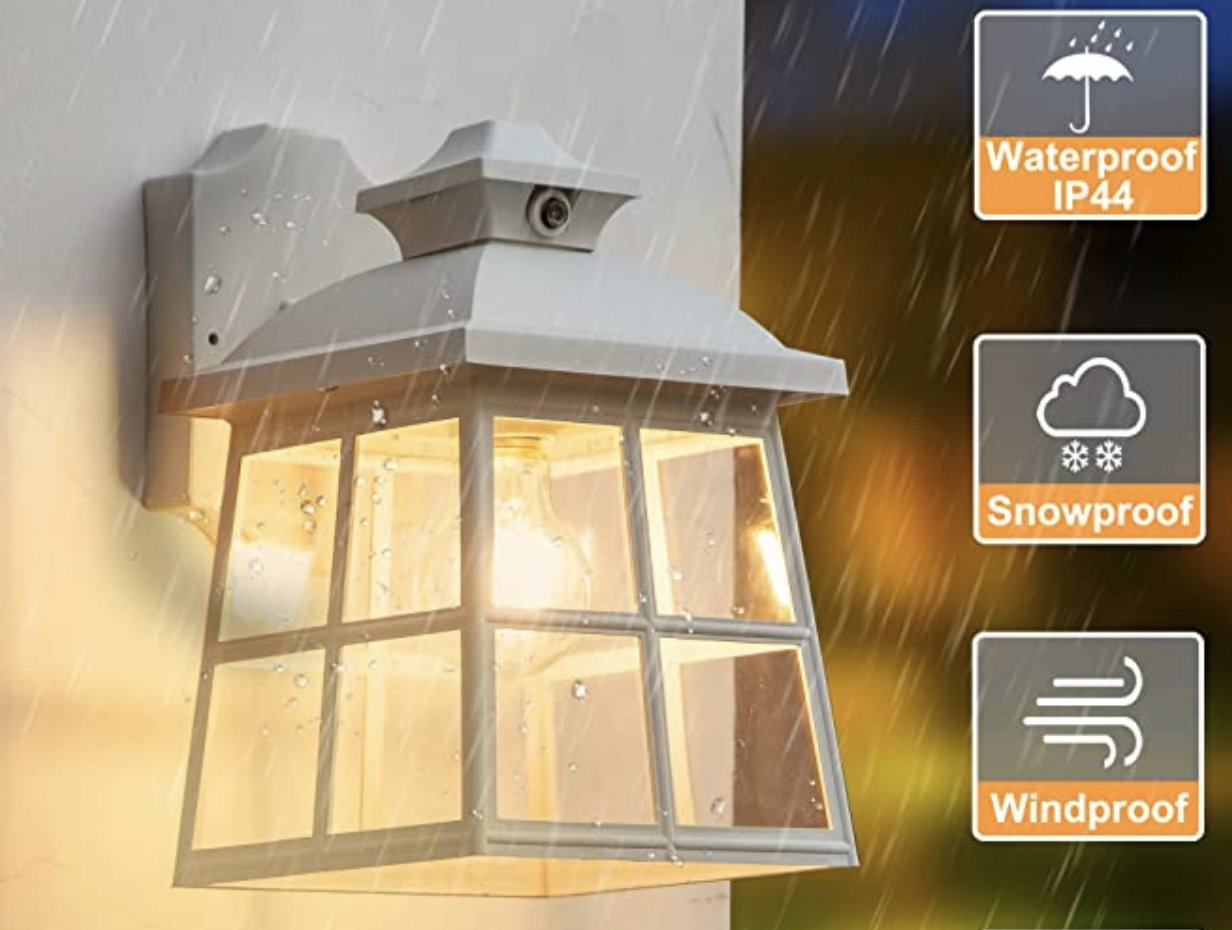 White porch lights may seem universal in their appeal- but obviously, there's no one size fits all. When I looked into white porch lights, I knew my selections needed to both show the range of options and offer quality or unique value. Here's the thought process behind my list of ideas. 
See also: Ultimate Front Porch Decor Ideas
Representing Different Types of White Porch Lights
First, I wanted to think about the many reasons why any of us need a white porch light- so I'm including the following types of porch lights to meet every need: 
| | |
| --- | --- |
| Type of White Porch Light  | Why I'm Including It  |
| Security Lights (Motion Sensor, Floodlights)  | For anyone wanting to add security and safety to their home.  |
| Wall-Mounted and Ceiling Lights  | For anyone who wants a classic white porch light to illuminate a porch/ door  |
| Post / Path Lights  | For anyone who wants to add ambiance and visibility leading up to, and surrounding a porch  |
| String Lights & Decorative Lantern Lights  | For anyone who wants white accent lighting for ambiance, gatherings, holidays  |
What I love to do is combine some of these lighting solutions: select a classic wall porch light, then combine it with accent post lighting to expand visibility but also add ambiance. 
Selecting Solar and Electric Lights
I also wanted to include both solar lighting and white porch lights with an outlet- so the choice is up to you. I love the energy savings from solar lighting, but also like lights with an outlet as a backup or security if you're hit with a series of cloudy days.
Light Output & Bulb Type
For each white porch light, I wanted to make sure you're getting the lighting you need. I favored LED lights for their energy efficiency. For solar panels, I valued those equipped with batteries and efficient storage. 
 I selected lights that fall within or near these ranges: 
Floodlights: 500 to 700 lumens or above

Wall Lights: 150 to 300 lumens 

Path Lights: 60 to 250 lumens 
I also considered light range and radius. For watts, aside from accent lights, I aimed for 120 watts and above. 
See also: Best Porch Design Ideas
Selecting the Best Materials and Features
Materials
I was picky about the white porch light materials and features. For the porch light's exterior, I opted for Acrylonitrile Butadiene Styrene (high density/ composite plastic), stainless steel, or powder-coated steel for a weather-resistant construction. Coating brass with white is not common, but brass is another option I considered. Any metal needs to be certified weather-proof.  For bulbs, I selected both glass and high-quality plastic (plastic is shatter resistant, but can become cloudy over time). 
Features
For all of my ideas, I consider features that improve durability and safety, including wetness/ damp ratings, wind resistance, and resistance to rust and corrosion. Anything that was UL or ETL listed (independent testing safety testing) got my attention. In short, I wanted to select white porch lights that are going to be both safe and durable to use. 
I also considered helpful features: light automatic timers, energy-saving photocells (solar), and integrated motion sensors for security lights. 
Selecting Styles and Light Tone
For white lights, I favored warmer hues for wall, ceiling, and path lights. For floodlights and security lights, I favored more intense, cool hues. For all, I wanted a range of styles and designs. That includes: classic/ traditional, farmhouse/ rustic, modern farmhouse, modern, boho/ whimsical, and industrial. 
I also wanted to showcase a range of exteriors. That meant bright white, ivory, cream, and other soft white hues. Crisp white adds a modern and fresh look, while I love the warmth of off-white porch lights. 
Where I Shopped 
I wanted to select my white porch ideas from places I would shop. That included home improvement stores (Home Depot, Menards, Lowes), Wayfair, Amazon, and a few reputable specialty lighting stores. My porch light ideas come from companies that offer return policies, and fair prices and have generally positive reviews. While I looked for good prices, I also wanted to make sure I was recommending lights that offer unique value. 
White Porch Lights I Love: My Top Ideas
Here are some of my favorite white porch lights. From floodlights to string lights, I've browsed the (virtual) shelves of reputable stores and brands to find the best value and quality lights for your home. My ideas touch the spectrum of white porch lights, so that no matter your needs or budget, you'll get some inspiration. Here's what I picked, where to buy it, and why I love each of these outdoor white porch light ideas. 
Globe Outdoor String Lights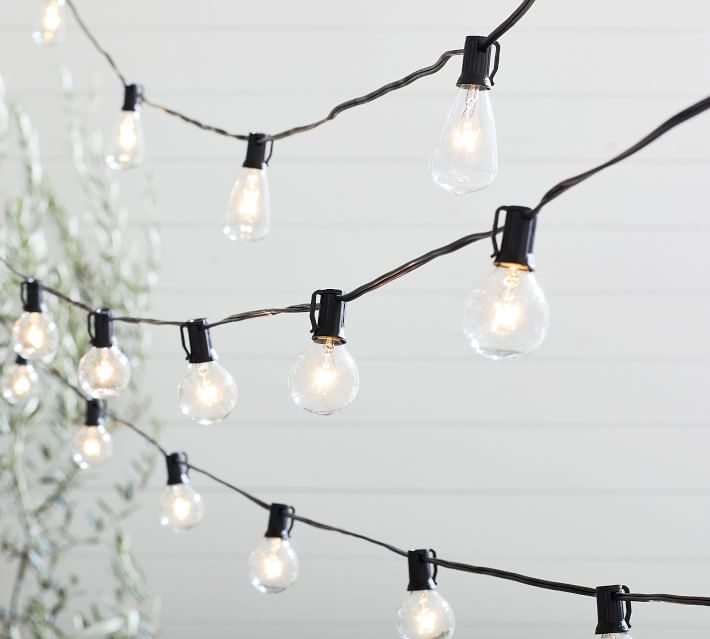 String lights are never going to be perfect, and I can see an argument being made for a cheaper set. But these white porch string lights are a great option if you want something beautiful, durable, and adds an enchanting touch. Use these string lights for parties or even weddings. What I love about these so much is that they are made with the care you rarely see for a string light set.
They're both BPA and lead-free, with three string lengths that are highly versatile both indoors and outdoors. I love the beautiful, soft light they exude for a romantic aura. While many string lights are made to be as economical as possible, these are UL-wet listed. That means you don't have to worry about them being caught in the rain. Add these white string lights on your porch, for trees, or even a gazebo. Buy Here. 
Oxford Flood Light Motion Sensor Outdoor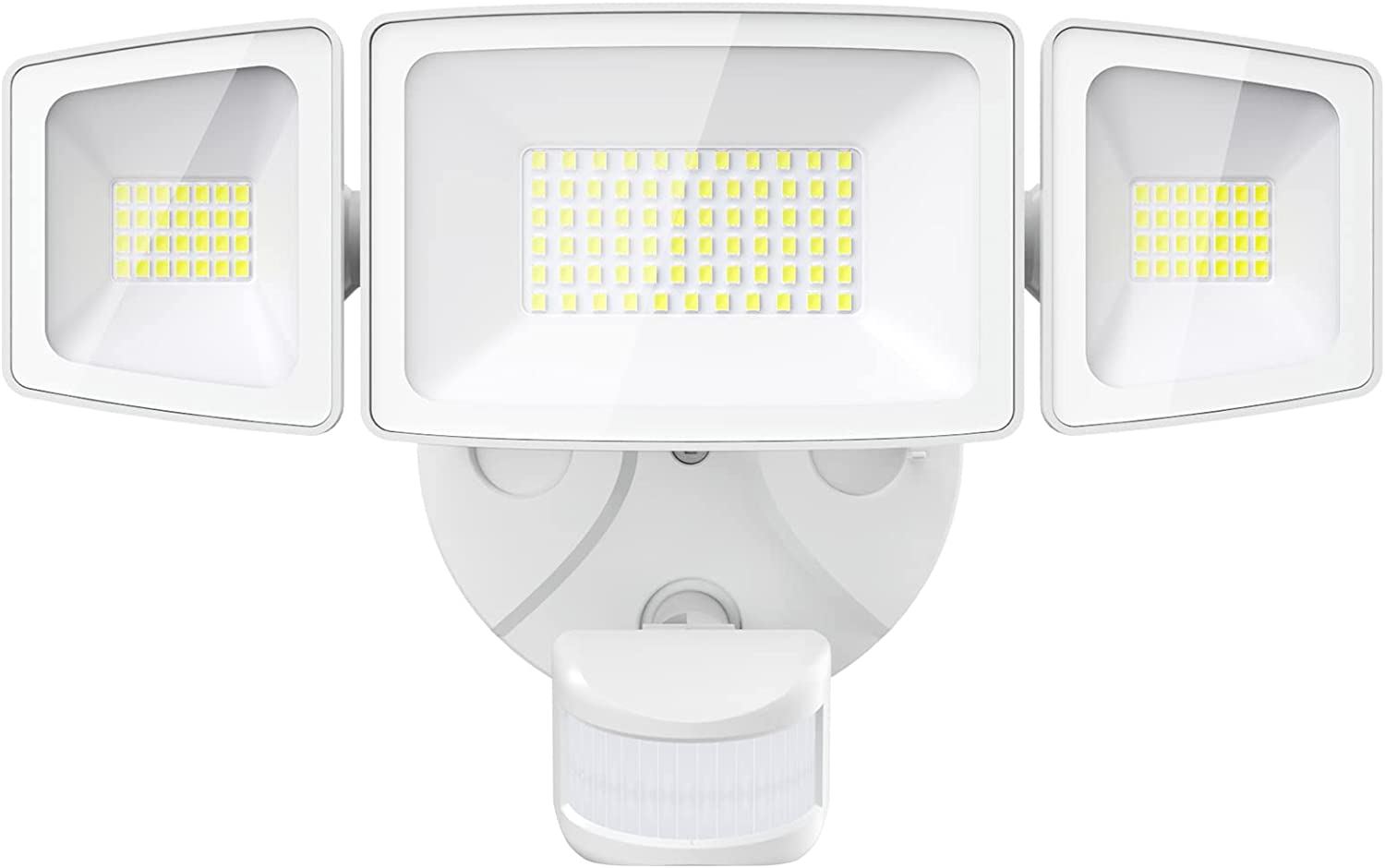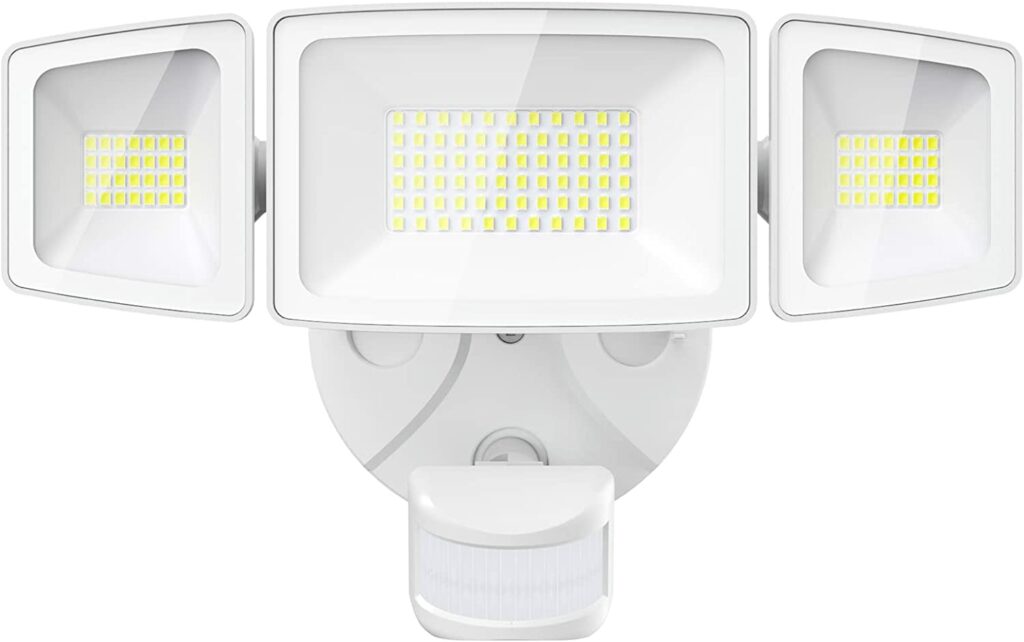 This motion sensor light is one of my favorite ideas for an affordable way to add security to your porch and home. Most motion sensor lights aren't made out of the highest-end materials, but this light is a nice compromise for quality, features, and performance. I love that the floodlight is powered by energy-efficient LED beads. Equipped with a 180-degree angle, you can adjust and monitor large parts of your yard. Many motion sensor lights miss out on quality construction- so I'm always pleased to see that it's rated waterproof for rain, sleet, and snow. Buy Here. 
Clifton White LED Outdoor Bulkhead Light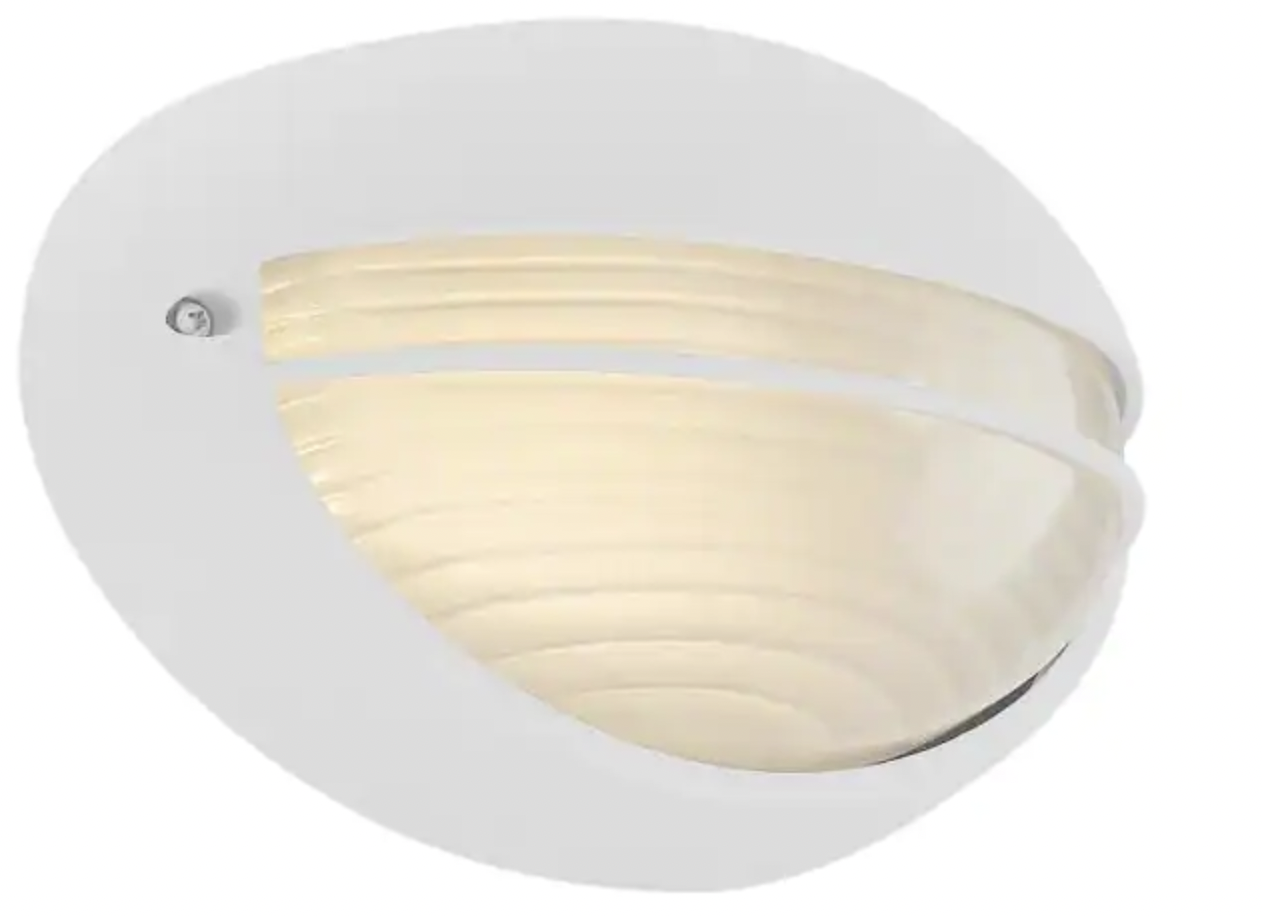 If you are looking for a soft, welcoming white porch light, this one isn't for you. If, on the other hand, you want a staple, versatile porch light that provides bright visibility at night, this may just be one of the best ideas. This white porch light features energy-efficient LED lighting with an impressive light output for even the cloudiest nights. It's dimmable for even more energy savings, and I love the 5-year warranty. It's one of those porch lights that you can count on to work as intended- though I'd keep this one under a covered porch. Buy Here. 
Davinci Lighting Flexfit Solar Outdoor Post Cap Lights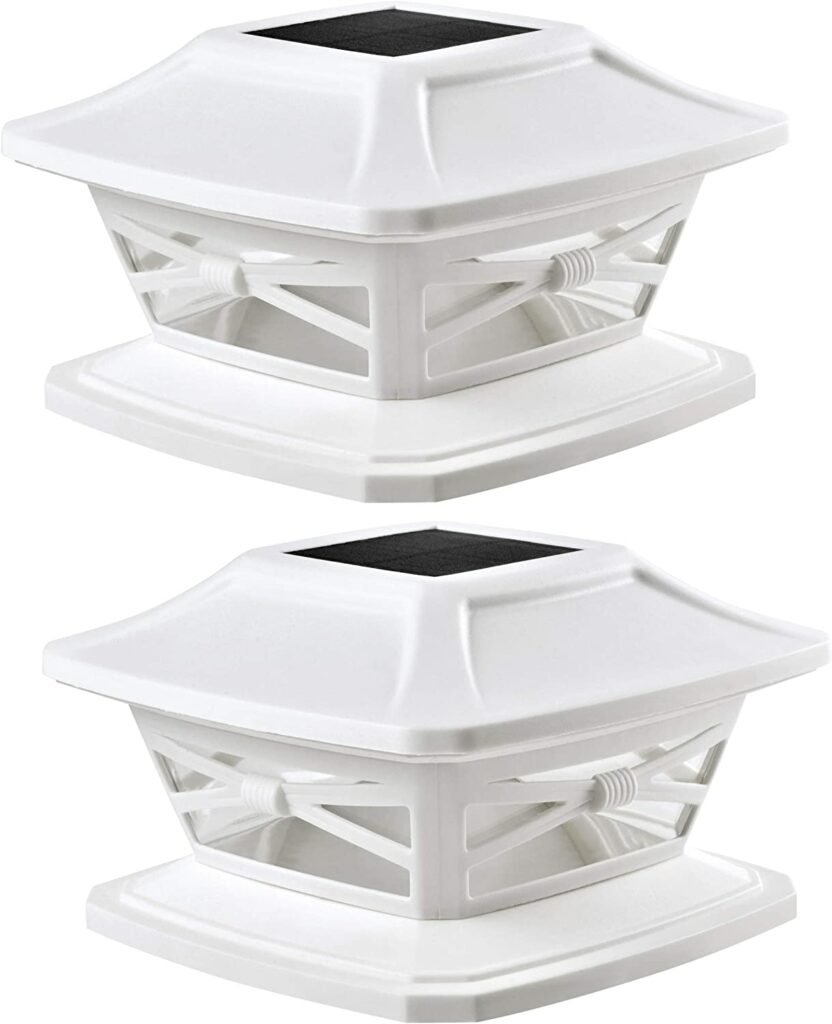 If you want a way to light up the corners of your porch or a simple solution for posts leading up to your home, these pearly white lights are a good solution. I like that the intertwined side details add just a touch of style but still suit a practical design. These solar lights provide just the right touch of light and save you money long-term over energy costs. I love that they turn on automatically and can provide up to 7 to 8 hours of light. Since they're both fade-resistant and waterproof, you can use these in about any climate- and it's great if you're a bit forgetful like me when weather rolls in! Buy Here. 
Spence 1-Light White Outdoor Wall Lantern Sconce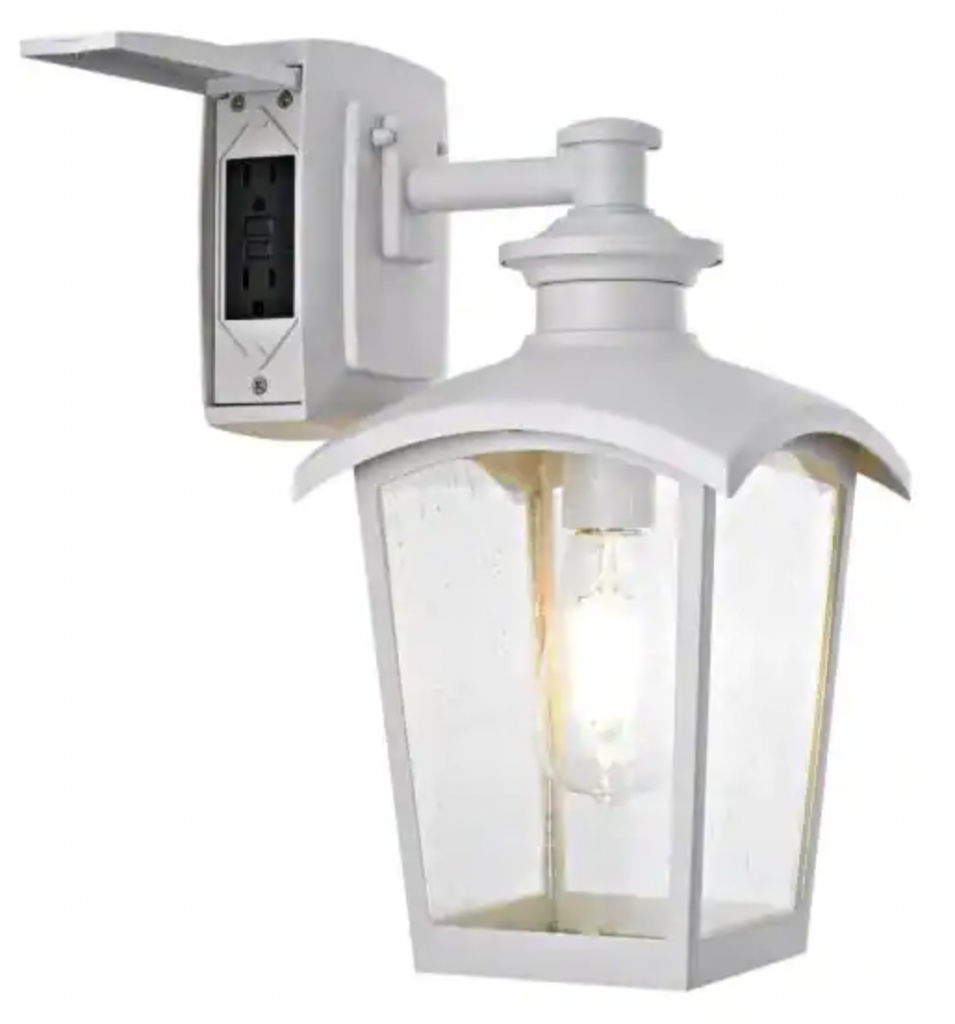 I think that a white lantern is one of the most timeless and iconic additions to a porch. If you're looking for a white porch light that's unlikely to go out of style, this is one of my favorites. Aside from the attractive, classic design, this porch light from Home Depot is weather-resistant and ETL-listed. Translation: it should hold up no matter the weather and it's certified for safety. The soft white light is welcoming and makes your porch feel even more like home. I'd love to see this white porch light paired with a classic porch swing or glider. Buy Here. 
FUSSY Dusk to Dawn LED Outdoor Wall Lantern
The frustrating thing about many dusks to dawn lights? They're often not as attractive or versatile as other options. If you want a white porch light that's energy-efficient, low maintenance, and beautiful addition to your home, look no further. I love this idea for many reasons. First off, the dusk to dawn sensor means you never have to worry about turning this porch light on and off. Adding to your energy savings? An integrated LED, ETL-certified light. It's also fully waterproof and features a fairly simple installation process. I love how this white porch light balances style, versatility, and function. Buy Here. 
LEONLITE LED 14 Inch Gooseneck Barn Light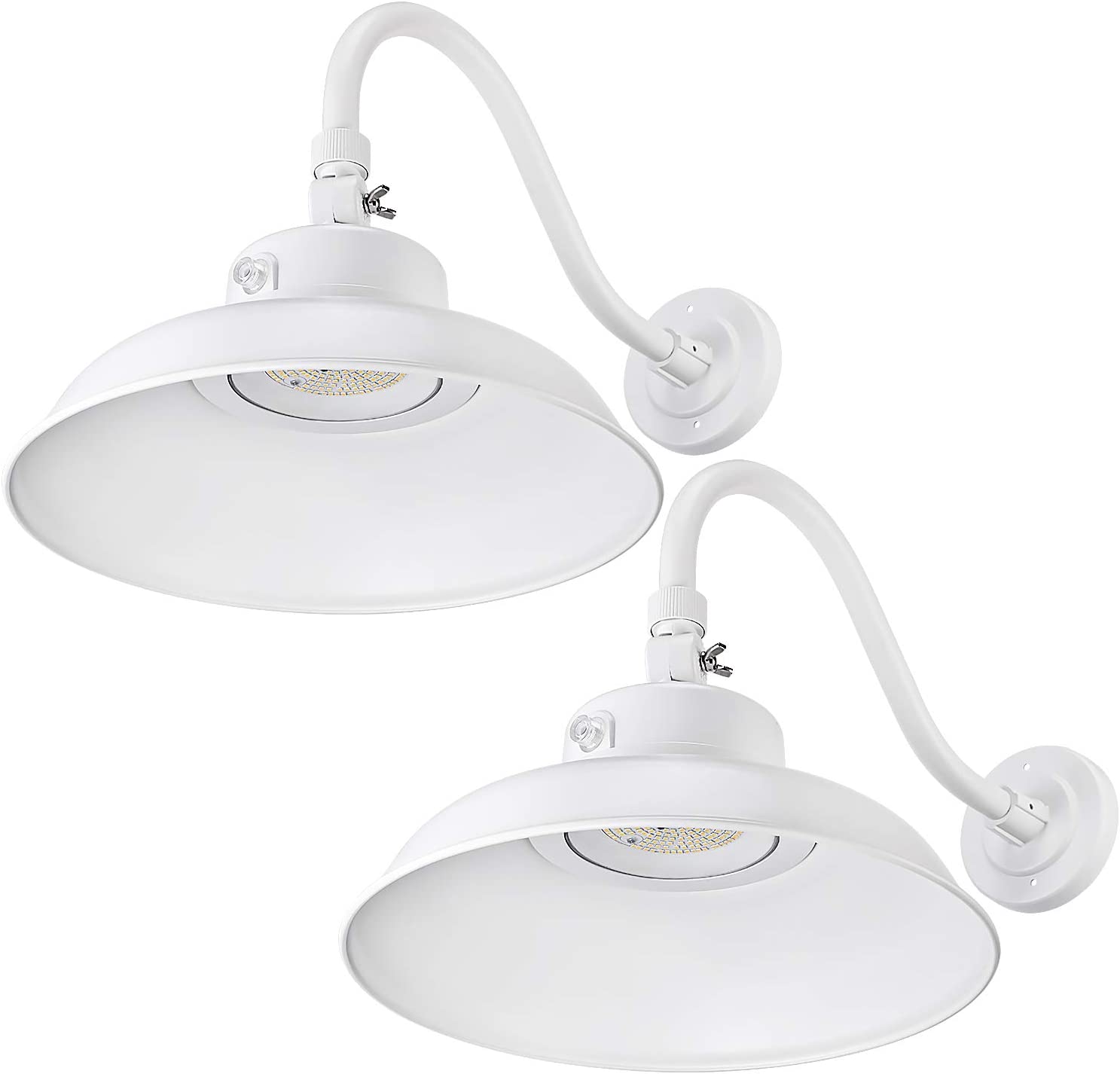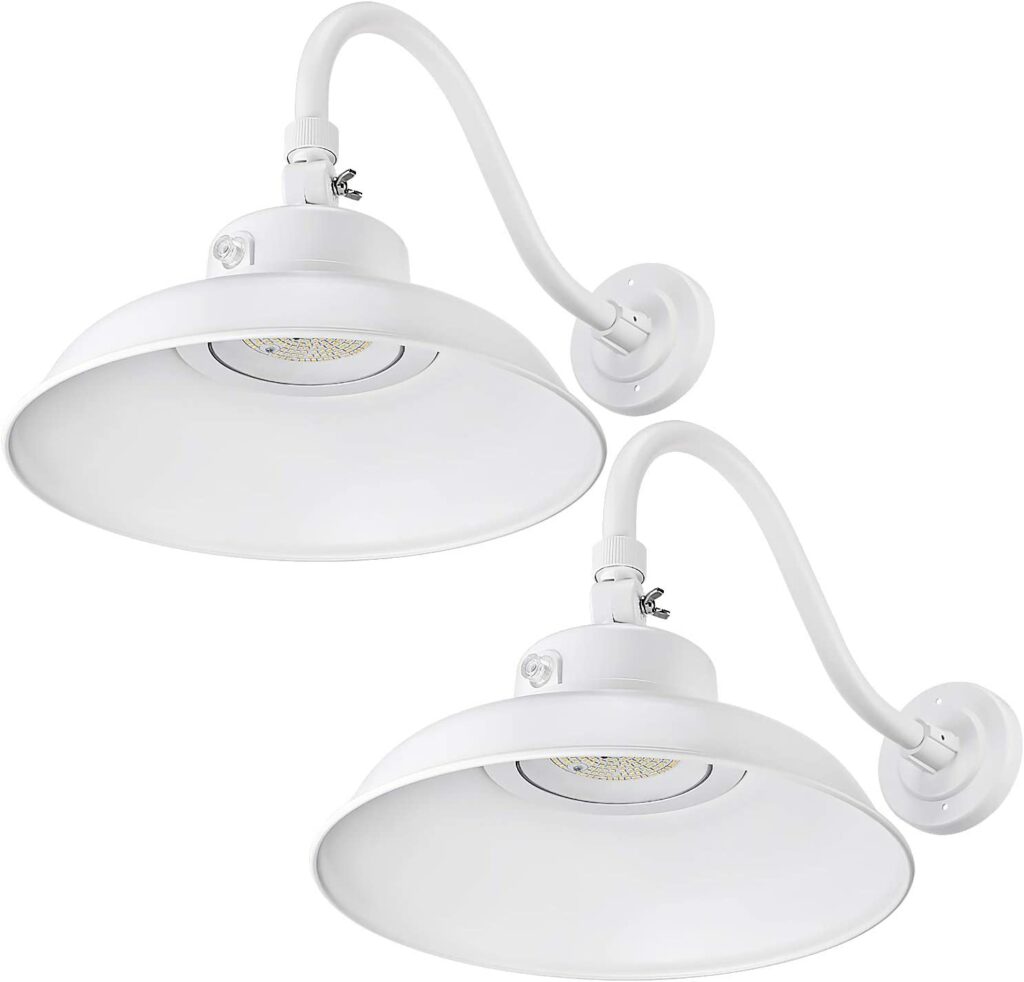 Modern farmhouses are a trend I love- and one you may just as well. The beauty of this white porch light is that it looks at home for modern and even more rustic homes. But beyond the enviable design, I love the unique features of this porch light. That includes a smart photocell, a waterproof design, and ETL certification. The light is bright for nearby, but not too harsh. What makes this a top pick, though, is the 5-year warranty. That's something I didn't expect and only adds to the appeal of this lovely white porch light. Buy Here. 
Pearlstar Solar Pathways Lights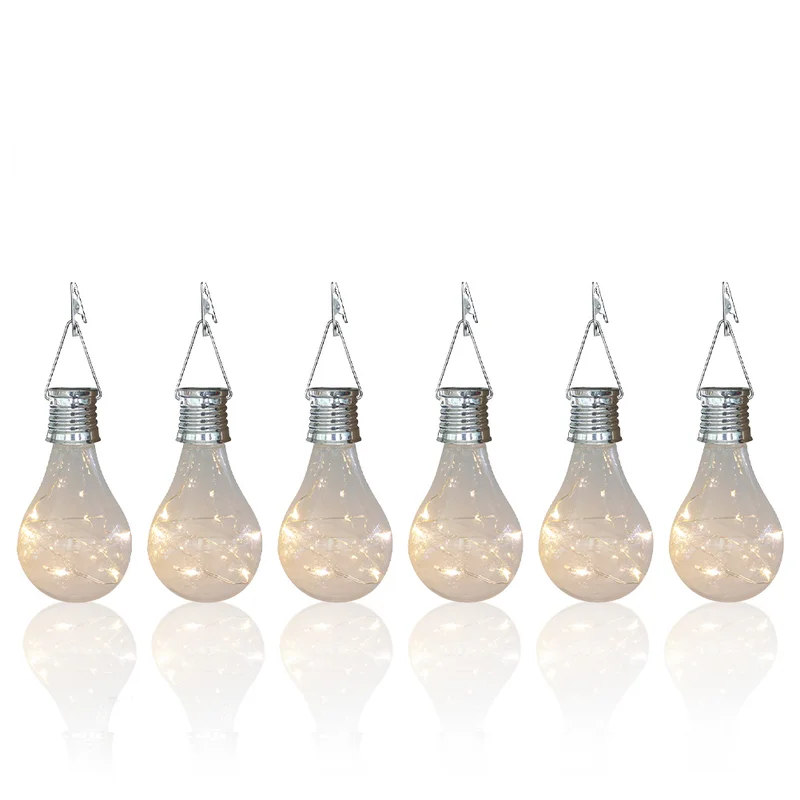 While these porch lights don't come with their strand, I love the quality and versatility them for lighting up a path around your porch or hanging them from the porch rafters. The simple look would look at home for industrial, modern, minimalist, and even farmhouse porches. They're entirely solar-powered which I love both for energy savings and a rustic, off-the-grid aesthetic. The integrated LED lights provide a soft, creamy white glow. It's a great option for budget-friendly accent lighting. Buy Here. 
Charlton Home Slusser Porch Light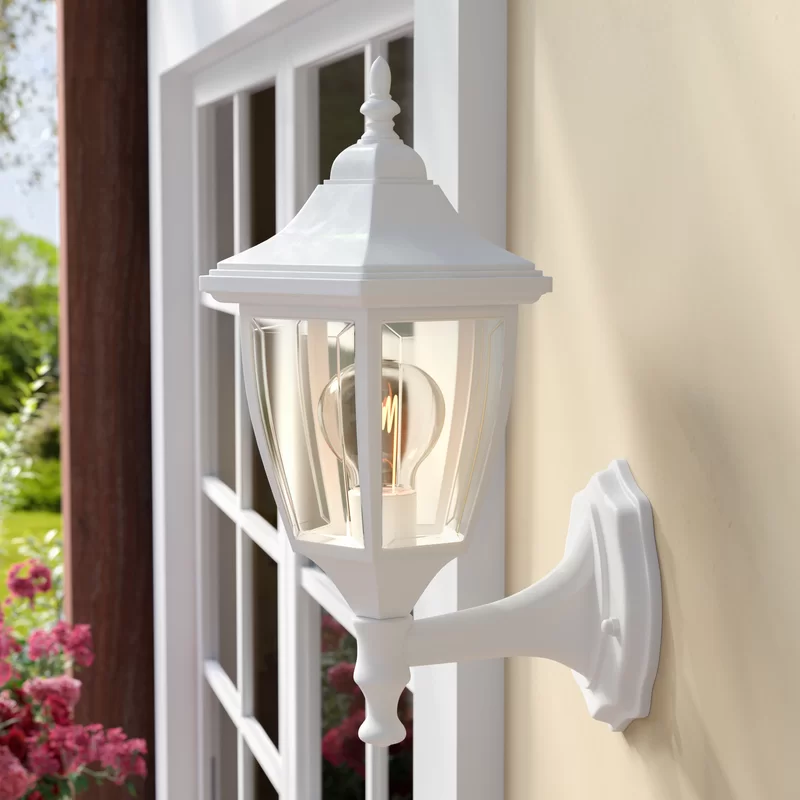 If you want a classic white porch light on a tight budget that's going to give you the most bang for your buck, this is one of my favorite ideas. It's hard to find white porch light that's budget-friendly, stylish, and performs well- but this Wayfair light checks all of those boxes. The matte white lantern has touches of classic and more modern aesthetics, with a beautiful mansard roof touch. The stainless steel frame is durable and UL listed, and the 120 volts are just about right for soft but effective porch lighting. Buy Here. 
Frequently Asked Questions
Question: What does a white porch light mean?
 
Answer: White porch lights are one of the most common types of outdoor lighting and for good reason. A white porch light signifies a welcoming environment and communicates that visitors are welcome. White porch lights are also associated with innocence, charm, and natural ambiance. Compared with yellow lights, white lights are a bit more subdued and relaxed. By blending in with your exterior, white porch lights exude both warmth and a sense of ease. Of course, these are all messages signified by classic porch lights. A harsh white light- usually reserved for security and floodlights- carries a different aesthetic and message. 
Question: Should I leave my porch light on overnight?
Answer: Most people leave porch lights on overnight to signify that they are home and ward off intruders. While it can be tempting to turn porch lights off to save money, for most, a porch light of any kind adds not only ambiance but also a sense of security. It's up to personal preference, but you could even hire someone or have a loved one switch on your porch lights at night if you're away. Anyone worried about safety might switch to motion sensors or floodlights, but this isn't a must for everyone. 
Question: What color is best for a porch light? 
Answer: There's no one best color for a porch light. Yellow and white porch lights are easy to coordinate, welcoming, and generally perceived as attractive. Yellow, pink, and orange lights discourage bugs- though they don't entirely repel them. It's also important to keep porch light saturation and hue in mind. Natural to warm colors are usually preferred for regular porch lights. Colors on the warmer spectrum are more friendly to our eyes at night, softer, and more approachable. The exception is floodlights- whose main goal is to add high levels of visibility and security. These are usually equipped with cooler-tone white bulbs. 
Question: What are the 4 types of lighting?
For both indoor and outdoor lighting, there are four major categories: ambient lighting, accent lighting, decorative lighting, and task lighting. Ambient lighting outdoors is focused on improvising visibility and illumination. Examples include wall-mounted lighting, lanterns, and path lights. Accent lighting simply highlights a small area of features- such as a porch swing or a small garden. Decorative lighting is something like string lights, which add just touches of light but are mostly focused on adding style and ambiance. Finally, task lighting outdoors would be something like floodlights and security lights: not selected as much for ambiance, but more for a specific objective (such as adding security). 
Final Thoughts
White porch lights are a classic for a reason. From soft white lanterns to cool white security lights, you've seen that there's a wider variety than you might think. The key is to start your shopping with a checklist. How do you plan to use your white porch lights? List must-have features set a budget and filter out anything that doesn't meet your most important criteria. I love this strategy because it keeps me- and hopefully you-focused as you shop. Taking this step can narrow down your choices quickly and help you find the best white porch lights for you.
Final Recommendation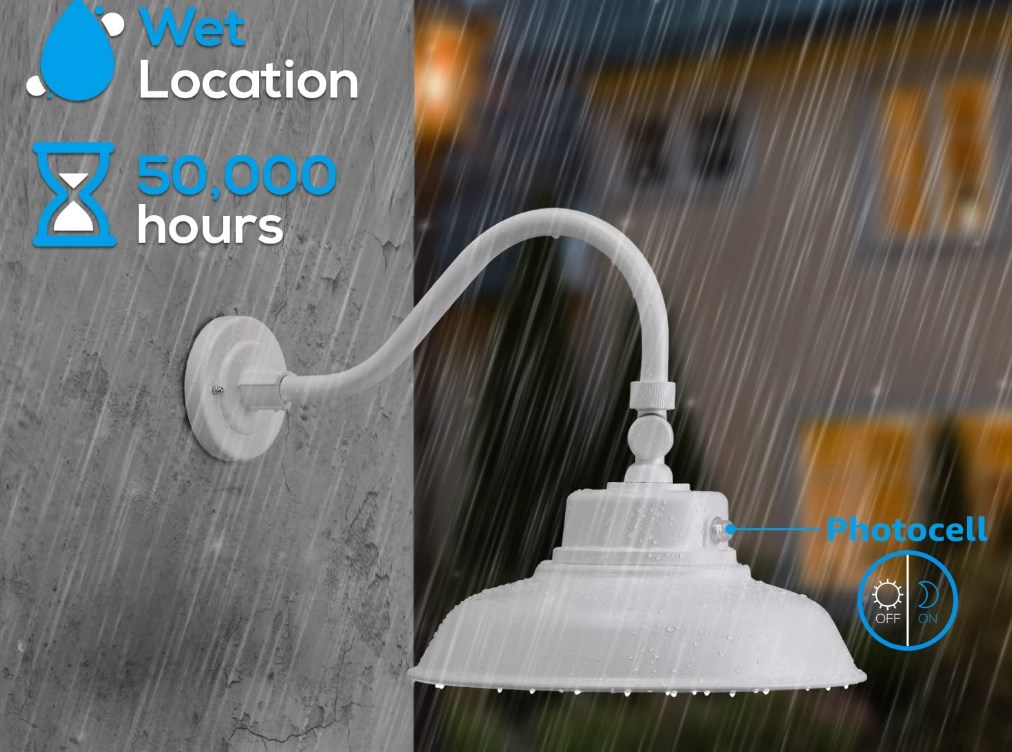 If you've browsed my ideas and still can't decide, chances are you either aren't quite sure what you need yet or you just need a versatile porch light that will work for everyday use. If you're looking for a staple white porch light that will work for about any circumstance and any style of home, then I recommend something like the LEONLITE LED 14 Inch Gooseneck Barn Light. Let's face it: we're often not the best at regular maintenance, and this stylish porch light doesn't require it. It's waterproof, energy-efficient, and automatically adapts to light.
Recommended Reads: