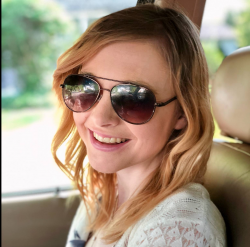 Latest posts by Erin Jamieson
(see all)
I've always known that spending time outside is good for my mental health. Yet it's only recently that I've realized what a huge impact spending more time on an outdoor patio can make. Being outside allows me- and so many others- to unwind, refocus, and take time for ourselves and our loved ones.
But if you live in a place like I do, with distinct seasons, it's easy to spend less and less time outdoors when the temperatures drop. That's why a patio heater may be one of the best purchases you can make. 
Patio heaters don't provide as much heat as fire pits, but they don't have the same maintenance and space requirements as open flame heating. At their best, both electric and propane heaters can encourage you to spend more time outdoors, year-round. 
But I'll be honest: buying a patio heater can be overwhelming if you don't know what you're looking for. So rather than taking another year to buy one, read on. This guide will take 5 easy steps to find the perfect patio heater for you. 
I hope this guide will help you make the best decision and permit you to spend more time outdoors. 
Bottom Line Up Front Summary
If you want to enjoy your patio year-round, I think that patio heaters are an excellent choice.
But knowing how to buy the right patio heater- and understanding its limitations- are both keys to success. Electric heaters are best for covered patios, while gas patio heaters are a little less expensive to run. Stainless steel is a great material; you'll need to pay attention to heat output and features.
If I were to recommend just one patio heater for the average home, it would be the Fire Sense Platinum Heater. Fire Sense may not be the highest-end patio heater, but the brand is popular. This patio heater is a perfect example: it's a stainless steel freestanding patio heater with safety features and solid heat output.
Since it's a freestanding model, you can use it anywhere you need to on your patio and adjust it to your heating needs.
My Top Picks
How to Select the Best Patio Heater For Your Home in 5 Steps
Here's the truth: there's no one best patio heater because all of us have different spaces and personal preferences. Luckily, I have an easy 5 step process that clears the confusion and narrows your options. 
Step One: Decide on a Type of Patio Heater
First, you must ask yourself why you're buying a patio heater. Are you trying to warm a covered porch? Looking for a small burst of heat? While freestanding patio heaters are the most popular, they aren't your only option. See the table below to help you decide what type of patio heater is the best fit for your home.
| | | |
| --- | --- | --- |
| Type of Patio Heater | Best For… | Not For… |
| Freestanding  | Moving around a patio, versatility, entertaining, more advanced features (varies), warming seating areas | Small patio, heating-covered spaces (possible but not convenient), minimalist look.  |
| Tabletop  | Small bursts of heat on a table/ surface, tiny patio areas, low maintenance/ cost  | Warming a large area, keeping you very warm during winter, replacing larger heating methods |
| Ceiling-Mounted and Wall-Mounted  | Covered spaces, targeted heat, corner seating, or dining areas  | Heating larger patio areas, or if you need portability or flexibility  |
As you can see, there is no suitable option for everyone. Freestanding offers the most flexibility, while the ceiling and wall-mounted will be out of your way if you have little kids or limited space.
And, of course, a tabletop patio heater will be the least expensive and most portable option. Many tabletop patio heaters (if electric) are rated for indoor use, too. 
Step Two: Decide on a Fuel Source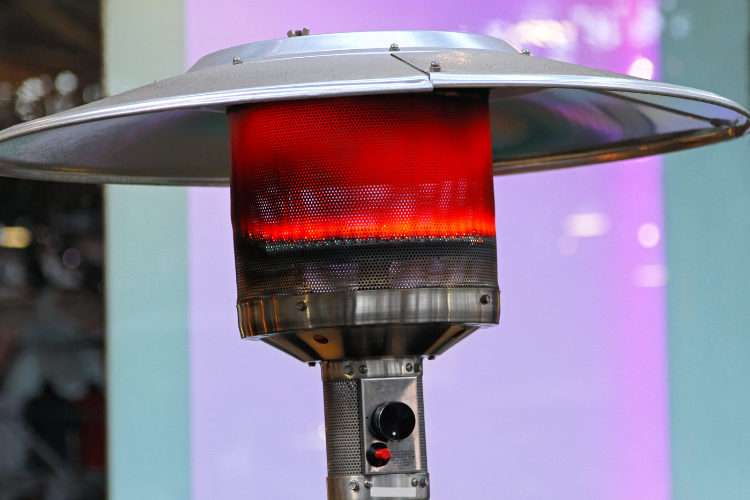 The next step is one you might find more challenging. The good news is that any type of fuel source will work- there are definite pros and cons. Electric vs. Propane gas vs. natural gas patio heaters is a debate with fewer clear answers than trades and trade-offs. 
Natural Gas 
Natural gas patio heaters are the least popular, and you'll have fewer options to choose from- but that doesn't make them a bad idea. The cost of propane is usually less, but this can vary based upon circumstances and your region.
Natural gas is one of the cleaner-burning fossil fuel sources (though not 'environmentally friendly'). You won't have a chemical odor, as propane heaters can leave. Natural gas heaters are also pretty quick to heat up. 
Propane Gas
Propane gas patio heaters are typically the least expensive to run, and you'll have perhaps the widest range of options to choose from. I also like that propane heaters are quick to heat up, and unlike natural gas heaters, you're not limited to a gas line.
The main disadvantage is the faint smell and the cost and bulk of propane tanks. Still, propane patio heaters are among the cheapest run overall. 
Electric 
Electric patio heaters are becoming increasingly popular- especially with energy-efficient and more environmentally friendly options, like infrared heaters. Unlike gas, they don't require the same ventilation and can be used even in covered spaces (some are even rated for indoor use!).
Electric heaters are perhaps the easiest to use and operate, which is another great advantage. At the same time, electric patio heaters can be expensive to run and tend to heat an area the most slowly.
On top of that, in my experience, there are far more stationary (wall and ceiling mounted) options available. That's a plus if you want that type of patio heater, but you may find less portable and freestanding heater options. 
Still, Need Help? 
Choose: 
An electric patio heater if

you need a ceiling or wall-mounted unit, have limited space, or need hearing for a covered area. If electric is cheaper than natural gas in your area, that's another consideration. Finally, electric heaters tend to be safer. 

A natural gas patio heater if

you don't mind being tied to a natural gas line and want a cleaner-burning option than propane. You also won't have to deal with bulky propane tanks- heating your space more quickly than with an electric heater. 

A propane patio heater if

you want a low operation cost (without paying for infrared heating) and tons of model options. Propane heaters are a solid choice for heating larger spaces more quickly and often come with a range of features- all for a lower base cost than comparable electric heaters. 
Step Three: Selecting the Best Materials and Heat Output
The next step is probably the one you're most tempted to skip. If you already know what type of patio heater is best for you, don't immediately find the cheapest option or one with great features.
Heat output and materials will play a huge role in how long your patio heater lasts and whether or not it'll perform as intended. 
Materials
The cheapest patio heaters have an aluminum base. While I accept a few aluminum components, aluminum is too easy to damage and isn't as sturdy as steel.
My preference is either stainless steel or carbon steel- and even better if there's an additional weather-resistant/ powder coating. Regular steel can rust, but stainless steel and carbon provide a sturdy and weather-resistant frame. 
Heat Output and Heat Radius
Heat output ranges from under 20,000 BTU to 50,000 BTU, while electric watt heaters range from 1,000 W to 6,000 W. There's no one correct heat output, but I follow the general rules: 
1,500 W and up for ceiling/ wall-mounted heaters

40,000 BTU and up for heating larger patio spaces

30,000 to 40,000 BTU for small patio areas

8,000 to 20,000 BTU is adequate for tabletop heaters
Of course, heat radius is also important because that tells you how much area you can expect to be heated. If you want the warmest option, look at the type of heat being used. Radiant direct heat will be more efficient than what most patio heaters use- indirect heat. 
Step Four: Deciding on Must-Have vs. Optional Features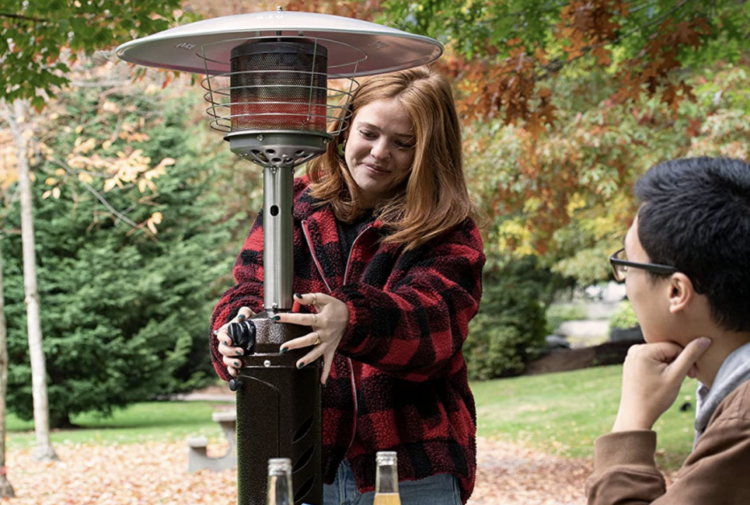 Patio heaters are getting more advanced- and it's something I'm happy to see. Even patio heaters under $200 have some of these fantastic features.
But what you need depends on your unique situation. The main features range from portability to entertaining perks, energy efficiency, and safety. I tend to prioritize safety features first, followed by energy efficiency. 
| | |
| --- | --- |
| Feature  | Why Bother?  |
| ETL, CSA, TSSA certified/ approved | These independent testing agencies have safety standards for patio heater operation. This gives you more reassurance, especially for propane heaters, that they'll work as intended without risk to you. That doesn't mean other patio heaters aren't safe- just that these heaters have been vetted.  |
| Anti-Tilt  | This feature is handy for freestanding heaters, especially those that are lighter weight or on wheels. The patio heater is built to lock or prevent to fall over.  |
| Automatic Shut Off  | (only for electric ignition models) Auto shut-off systems may save you energy but, more importantly, are designed to turn your heater off if it exceeds safe to use or has not been attended to.  |
| Electric Ignition | Electric ignition makes gas heaters easier to use, quicker to heat, and often comes with additional features.  |
| Adjustable Flame or Adjustable Heat Knob | (only for electric ignition and gas heaters) This allows you to easily adjust the temperature. That's a plus for comfort and controlling your heat output.  |
| Infrared Heating  | More energy-efficient, these heaters use direct radiant heat. That means you're using less energy to feel the same warmth. As a bonus, infrared heaters are also environmentally-friendly.  |
| Wheels  | This is self-explanatory, but a freestanding patio heater on wheels is a breeze to move where you want it. At the same time, you're sacrificing a little stability.  |
| Glass Tube Flame | Usually, pyramid-shaped freestanding patio heaters this is mostly for aesthetic purposes. Suppose you love to look at an open flame but prefer a patio heater's control vs. a fire pit. In that case, this will add a touch of elegance to your patio (though a little expense to your initial price too).  |
| Other Entertaining Features: Side and Adjustable Trays, Bluetooth Connection, Convertible Designs  | All of these are very much in the optional category. They add functionality for entertaining, but not everyone will use or need them.  |
Step Five: Where to Buy (& Finding Discounts)
Patio heaters can be found at one of three stores: large online/in-store outlets (Amazon, Wayfair, Walmart, Target), home improvement stores (Home Depot, Lowe's, Menards), and specialty stores. 
I like looking everywhere for the best deals and selection- but if I'm shopping from a specialty store I don't know, I always check external company and customer reviews. And if you're like me and want quality buy the best deal possible, you may appreciate a few of my tricks:
Shop off-season!

Patio heaters sometimes go on sale during Summer because fewer people buy them. 

Take Advantage of Price Matching!

It's true: home improvement stores have price-matching programs, so reach out to a store consultant and ask. 

Comparison Shop.

Of course, this is a no-brainer if you're considering price matching. 

Decide on Must-Haves.

I prioritize quality construction, heating type and output, and safety features. Decide your must-haves, set a budget, and filter your results. 
Top Patio Heaters to Buy This Year: My Picks & Criteria  
Now that you know what to look for when buying a patio heater, here's a shout-out to my favorite options. From tabletop patio heaters to freestanding and ceiling-mounted, I'll show you a few excellent buys in each category.
These patio heaters were carefully selected based on overall features, quality materials, heat output, and overall value. I'm only including patio heaters I'd recommend to my family and friends, and everything is from a store I'd shop at.
If nothing else, these patio heaters should give you an idea of what gas natural gas patio heaters, propane gas patio heaters, and electric patio heaters are available. 
Innova Infrared Heater

Suppose you have limited space but want efficient, direct radiant heating. In that case, this Innova patio heater is one of the best you can buy.
I love that this wall-mounted patio heater uses energy-efficient infrared heating- which is both more environmentally friendly and cheaper to run. It's ETL-listed, has low maintenance costs, and has a powder-coated stainless steel exterior. Buy Here. 
Pros
Energy Efficient 

5,000+ Run Hours

Custom Powder Coating Options

Great For Covered Areas
Cons
Limited Versatility and Range 

Remote, Custom Mount Kit Not Included
Briza Tabletop Patio Heater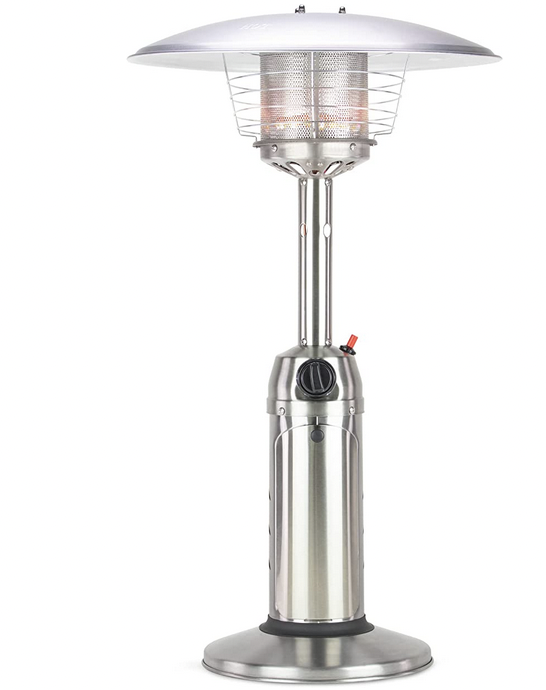 Have limited space but want a more consistent and powerful heating option than candles? This gas tabletop patio heater is great for small cafe tables.
Though the heat output is modest (11,000 BTU), it provides a comfy burst of warmth with 360-degree heating. You can even take this camping with tip-over/ anti-tilt protection, electric ignition, and a portable design. Buy Here. 
Pros
360 Degree Heating

Anti-Tilt

Electric Ignition

Stainless Steel
Cons
No Safety Certifications

Modest BTU
See also: Best Patio Fire Pits
Zachvo Electic Heater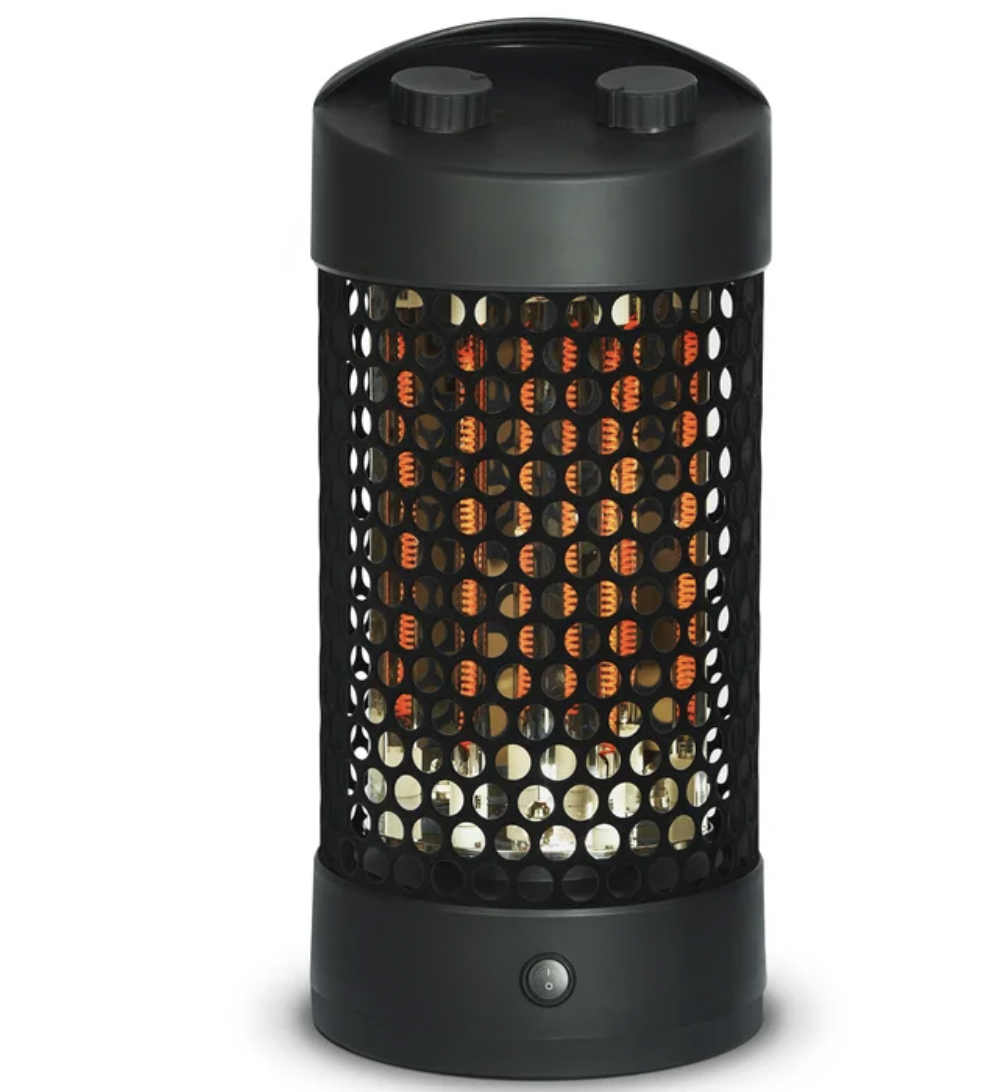 If you're looking for a stylish tabletop patio heater that you can use indoors, outdoors, and in covered spaces, look no further.
The Zachvo electric tabletop patio heater is weather-resistant, with a tip-over switch, wheels, and an impressive heat output of over 40,000 BTU! I also love that it uses infrared heating and is waterproof-certified. Buy Here. 
Pros
Great Heat Output

Use Indoors and Out

Tip-Over Switch 

Waterproof
Cons
Not For Large Spaces

No Remote 
Fire Sense Platinum Heater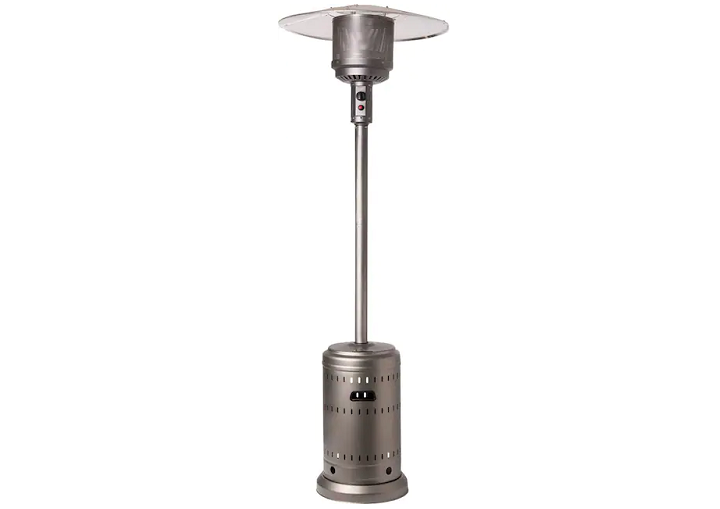 Suppose you came here for an outdoor patio heater at a reasonable price with built-in safety features. In that case, this option from Fire Sense is one of the best options.
Auto-shutoff, tilt/ tip-over protection, and an ETL listing make this a safe and secure gas heater. The freestanding heater also has an adjustable temperature knob, wheels, and a stainless steel frame. Buy Here. 
Pros
ETL Listed

Auto Shut Off

Freestanding with Wheels

Adjustable Temperature Knob
Cons
Not Energy-Efficient 

May Not Heat As Well During Windy Days 
Rebuyhome Pyramid Heater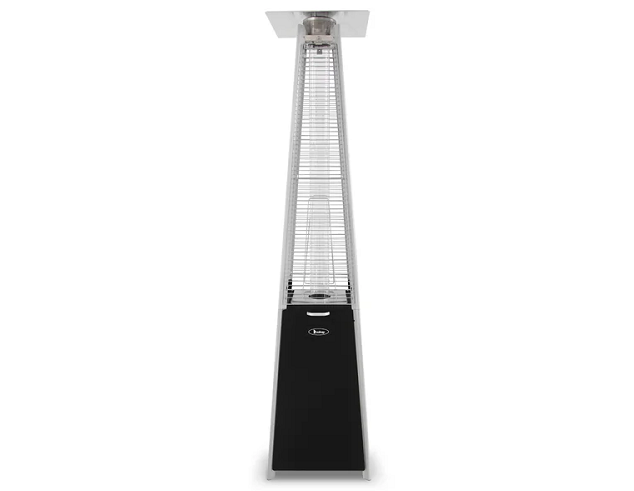 Who says patio heaters have to be bland in their design? This stylish, sleek pyramid patio heater adds flair to your outdoor space with a beautiful glass tube flame. Equipped with tip-over protection, easy electric ignition, wheels, and adjustable heat, it's a great choice for versatile entertaining.
Plus, it's ETL-listed and has an automatic safety shut-off. This powder-coated steel gas heater is also cheaper than other pyramid heaters- which can run over $300 or even $500. Buy Here. 
Pros
Glass Tube Flame

Electric Ignition

Adjustable Heat

ETL Listed
Cons
A Little More Expensive

Remote Not Included 
Incbruce Gas Patio Heater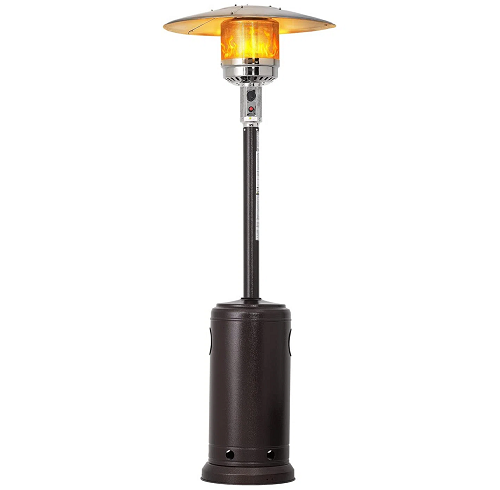 While propane heaters are more popular, a natural gas patio heater like this one is still a solid choice. This Incbruce gas patio heater has an impressive heat output of up to 48,000 BTU, equipped with an automatic safety shut-off.
The frame is rust and corrosion-resistant, with anti-tilt technology for safe use. I also love that it's CSA-certified and comes with a 1-year warranty. Buy Here. 
Pros
CSA-Certified

48,000 BTU

Rust and Corrosion-Resistant

Auto Shut Off
Cons
Natural Gas Only

No Electric Ignition 
Frequently Asked Questions
Question: Is a Patio Heater Worth It?
Answer: Patio heaters are worth it if and only if you have realistic expectations. Patio heaters are intended to heat a small entertaining area.
In contrast, a few ceiling-mounted heaters may have a greater radius. They come in many dimensions and types, so they're an excellent option for everything from events to simply extending the outdoor dining season. Most are easy to maintain and not too expensive.
For many, a patio heater is a great investment- but it does have some limitations. So, consider purchasing one if you aren't relying on a single patio heater to warm your patio all winter long.
Question: Do Patio Heaters Keep You Warm?
Answer: Patio heaters provide great warmth for a small area. But they aren't meant to work quite as well during cold winter months. Patio heaters work the best in 40 degrees and up though hardy models operate even in freezing temperatures. It depends on the patio heater and if you're using it as intended.
The extent to which your patio heater will keep you warm can also be told by the BTU output of watts.
Question: Can you put a patio heater under a covered porch?
Answer: Some patio heaters can be used and are used under a covered porch. The catch is that these are only electric patio heaters. Electric patio heaters work well for covered areas so long as they have enough clearance from other obstacles.
However, you should never use a natural gas or propane heater under a covered area. That's because gas patio heaters require ventilation to be used safely. Ceiling and wall-mounted heaters make the most sense for covered porches. 
Question: Why are Infrared Patio Heaters Better? 
 
Answer: Infrared heaters are popular for a good reason. Compared with your average patio heater, infrared heaters are more energy efficient. That's because they use direct radiant heat.
The result is that your space is being directly targeted and heated up. In contrast, most other patio heaters heat the air around you. You'll get a lot more warmth for the same output and could save substantial money on energy costs over time.
Final Thoughts
For some, a ceiling-mounted infrared heater makes a covered porch area more enjoyable. Others need an efficient but freestanding patio heater.
The key is to determine your goals with a patio heater and pay attention to the quality of both the materials and the brand. By doing so, you're more likely to have success in finding the best patio heater for your outdoor space.
Final Recommendations
I know that looking for a patio heater can be overwhelming. I hope this guide was helpful and takes you one step closer to finding the best heating solution for your home.
But suppose you're still trying to decide and don't have too many space limitations. In that case, I recommend a patio heater like Fire Sense Platinum Heater. This gas, a freestanding heater, is a great value. For under $300, you get a weather-resistant steel frame, plus great safety features.
Recommended Reads: