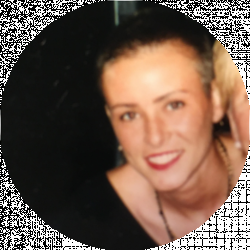 Latest posts by Richelle Tieman
(see all)
Do you spend a lot of time thinking about the social aspect of your porches? I sure do. An instant solution for welcoming guests,  porch rope swings also greet and welcome you home to a haven of relaxation.
A porch rope swing immediately adds charm, a sense of togetherness, and functional seating without taking up floor space.  It tends to have a gravitational pull all its own.
Porch rope swings are the crowning glory of my space.  Regardless of what else is on my front porch, this hefty investment entices and encourages long glances and studied interest.
There is no better way to sit on a porch than to be suspended above the floor.  Curl yourself up into the corner with pillows and sway back and forth, creating a breeze on a hot day, or lose yourself in a book as you are defying gravity.
Whether it be a spot just for you, or wide enough for the whole family, a porch rope swing is a luxury that everyone covets.  I am a big fan of these for their destination-worthy charm.  Porch rope swings just make you want to spend more time outdoors.
Grab a few soft throws and some malleable pillows to scrunch up just the way you like, some iced tea, lemonade, or coffee and you are all set!
Having a porch rope swing shows that you have gone the extra mile to create a user-friendly abode out of doors.
Porch Rope Swing Bottom Line Up Front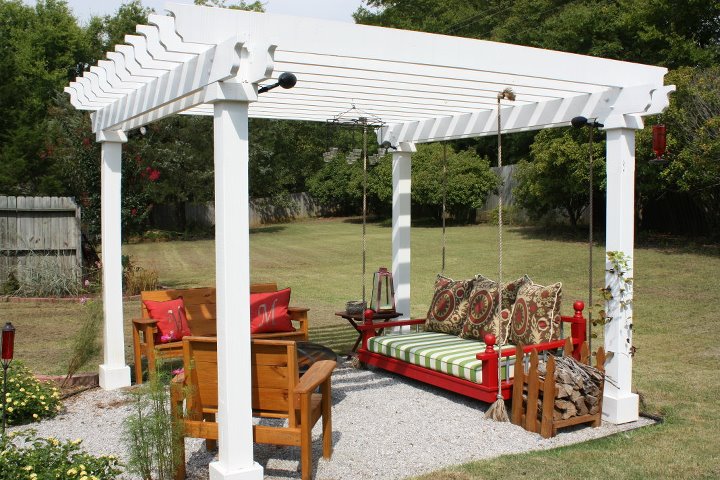 My hands-down favorite porch rope swing is one custom made in MS near Tupelo.
I have not seen anything like this anywhere in the world.  They are incredibly durable and strong and will be made from a wood and rope choice of your selection.
This whimsical red swinging daybed has white slats in the arm and bed poster-like balls.
This porch swing is made out of cedar, and features natural hemp rope, but can be customized.  I love the cool one-of-a kind furniture that coordinates with this!  Check it out here!
Choosing Your Rope Porch Swing
Selection Criteria
How do I know what gets on my recommendation list?  A built-in carefully honed sense of the bigger picture automatically checks the boxes as I research items and use some of them in my home! The visual appeal of the items is always the first thing to catch anyone's eye, but before you buy something for looks I have learned it pays to know what makes a good porch swing and what doesn't.
Safety and Reliability – Most people buy a car because of the way it looks or feels, but I buy the top safety pick.
Durability –  How long will it last?  I tend to buy things that I can use for years, better yet, lifetimes!
Functionality – How well does it do what it's supposed to do?
Comfort – Is this something I would want to sit in?
Aesthetic appeal – How beautiful do I feel looking at this and will it beautify everything around me?!
Price $$ – Is this an item for the upper echelon of society?  Or could 80% of the population afford to buy it either outright or by saving for it?
Chain or Rope?
Basically, any porch swing can have rope holding it up.  If it comes with chains, just swap it out for polypropylene braided 3/4″ rope.  Polypropylene is the strongest option, and the easiest on your hands without being slippery, for a porch swing.  It doesn't rot or have to be replaced every two years, and unlike chains, it won't rust or cut into trees if you hang it from a limb (avoid fruit trees and evergreens as their limbs are weak).
Braided rope is stronger than twisted fibers and has less stretch so your porch swing won't sag on one side!  Polypropylene is flexible and easy to tie into knots that stay put.  It's also waterproof and lightweight.  Hemp and Manila absorb water and will mold and decay, creating a safety hazard if not watched carefully.
Tensile Strength
I caution you against getting too excited about the rope's tensile strength.  Tensile strength is the pressure needed to snap and break the rope.  It is not the weight limit capacity.  The "working load" limit or weight limit is the only number you need to adhere to.  It is generally about 15-25% of the tensile strength.  A rope that has a tensile strength of 2,500 pounds will have a weight limit of about 400 pounds.  Quite a difference.
Tensile strength generally is between 2,500 to 8,000 pounds.  It is recommended to use between 5,000 and 8,000-pound tensile strength rope.  Some wood porch swings are heavy and can add over 100 pounds to the adults sitting on the swing, so plan for a weight limit of at least 800 pounds when reading the porch swing description.  (This is for a bench-like swing and swinging daybeds built for two people).
The carabiner (if you are using them) will need to have a strength of at least 1,000 pounds.  For more details on how to appropriately set up a porch rope swing, read this article from Bob Vila.  How-to articles for hanging your porch swing can be found at Plank and Pillow, Southern Living, and in this YouTube video.
I have plowed through hundreds of styles for porch rope swings, and my decades of experience on what works and what doesn't will be reflected in my suggestions!  Worst porch swing I ever bought was in college at a large department store.  I liked it because it was cheap, had lots of scroll designs, and it could fit in my dorm room!  (That should have been a tip-off right there!)  Trying to impress a friend, we were studying for an English exam, swinging in my room when suddenly it came out of the ceiling and we landed boom!  on the floor stunned.  Not too smart, and my parents weren't impressed with the repair bill, either.
How to Decorate with a Porch Rope Swing

Idea #1: Country Cottage
This airy country version of a porch featuring a rope swing has many coordinating details that give the space balance and charm.
Notice the wire urns on each side of the swing and the metallic jug side table that gives a bit of glitz.
I especially like the dark wood bent stools under the table that give off richness and texture.
Check out some footstool/table swag to coordinate with your porch here at Overstock.
For some wrought iron urn stands, check out A Rustic Garden – I love these!
Idea #2: Rustic Bohemian
This rope swing highlights a bohemian/rustic porch, with accessories adding depth and contrast to the neutral colors.  The lights give it warmth and the small fire pit and candles on the end table emit cheer and camaraderie.
Find enticing porch and patio lighting ideas at Country Living, and buy your outdoor hanging lights at Amazon!
Wind chimes or a water fountain are great ways to have light and relaxing sounds follow you as your thoughts wander on a cool night cuddled on the porch swing.
Find more porch rope swing decorating ideas as well as inexpensive DIY porch swings at Life by Leanna.
My Recommendations for the Best Rope Porch Swings

Pros:
Each swing is individually crafted to order and the cushion goes with it
It has a five-year warranty- love that
Coming in six sizes from 52″ to 77″ long, this gorgeous cathedral porch swing has five stain colors and your choice of more than 40 cushion colors and patterns!
You have a choice of hardware design and the rope comes in a natural blend (for areas that are not exposed to moisture or high humidity) or three synthetic blends.
Made of Western Red Cedar, all swings come fully assembled with rope and hardware
I love the extra deep seat depth of 28 inches!
Something crucially important is the step-by-step instructions for hanging the swing that are on their website, as well as specific extra care guidelines
Cons:
One disadvantage is that the made-to-order pieces take four weeks to make, and then another 7 business days for the shipping, so planning ahead is a must if you want to have it for the summer season
A natural manila rope is provided (remember you will have to switch it out for a new one every 2 years if you don't go with a synthetic rope), or you can choose a synthetic rope
Gossip Novogratz Porch Rope Swing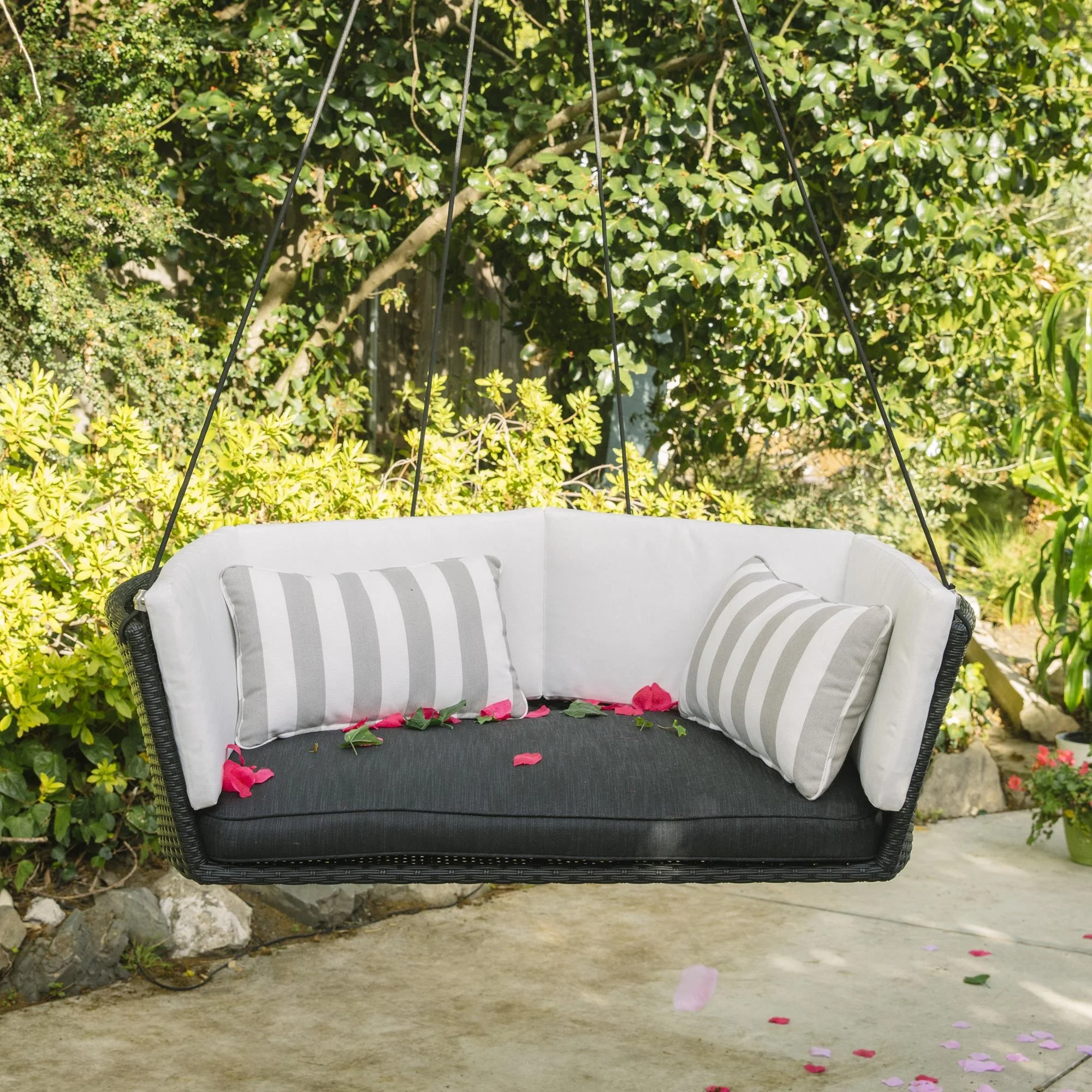 This Novogratz gossip swing is available at Overstock.
Pros:
I love that this swing has coordinating pieces to match it and that the body comes in black or cream, with a different color back and seat cushions that distinguish this line
It has a single swing seat counterpart at Overstock!
Built to hold 500 pounds, this two-seater is 53″x28″x16″ high with a rounded back
It has a steel frame covered in quality resin wicker and has a one-year warranty
It is weather-resistant and lightweight at only 30 pounds
The two lumbar pillows come with it, as well as back and seat cushions, and carabiners – this is worth having!
For slim spaces, it is just over two feet wide and leaves you with plenty of room to get around it,  I love this for small porches!
Find this budget-friendly lightweight porch swing at Wayfair
Cons:
The only downside is that it is a bit narrow for people who like a deep dive into their seating
Grove Hanging Porch Rope Swing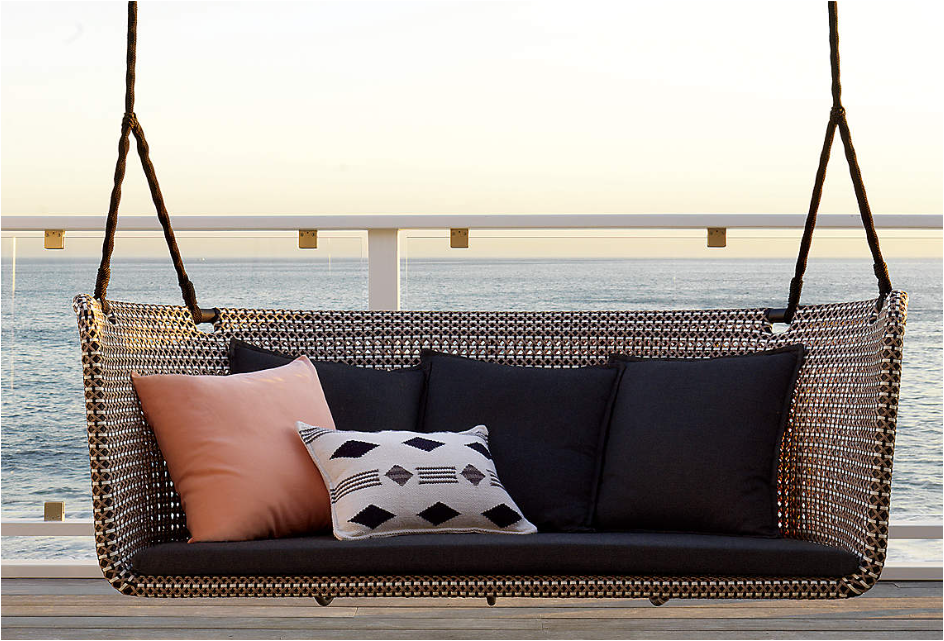 This cozy porch swing is at Cb2. Mermelada Estudio has taken the porch rope swing and rounded the lines so this striking piece flows from one end to the other.
Pros:
It has great streamlined curves and an understated cushion that really shows off the fantastic cupping of this swing
Made of lightweight aluminum with weather-resistant faux rattan
Two thick ropes in four places provide strong and elegant hanging
I love the larger size, and at 72″x35″x26″ high it comes up to support you in the back and cuddle you in as you swing
Another convenient facet to this is that it is comfortable even without the seat cushion, and you get that plus three pillows with the swing!
This is handwoven and made in Indonesia
Cons:
Mid-Century Modern Porch Rope Swing
Pros:
What a showstopper this is!  A different take on the traditional porch rope swing is reminiscent of mid-century modern poolside style – or The Jetsons!  This quality-made porch swing is at Frontgate
What's not to adore about this hourglass beauty that comes in 2 swing colors and over 50 fabric choices!  I will save my pennies for this one – stunning and unique
This is quality and durability at its best
With the thick seat cushion and four 20″x20″ pillows included, it feels like a cloud of cotton
Dimensions for this are 78″x57″x23″ high, this is made for families and pets (thus I chose the navy blue fabric)
Holding up to one thousand pounds (the swing is almost 100 pounds itself), with weather, mold, mildew, splinter, and fade-proof resin wicker, this is an investment in the future with a ten-year warranty
Cons:
It is definitely a modern, futuristic style that needs a coordinating home theme
Knotted Melati Porch Rope Swing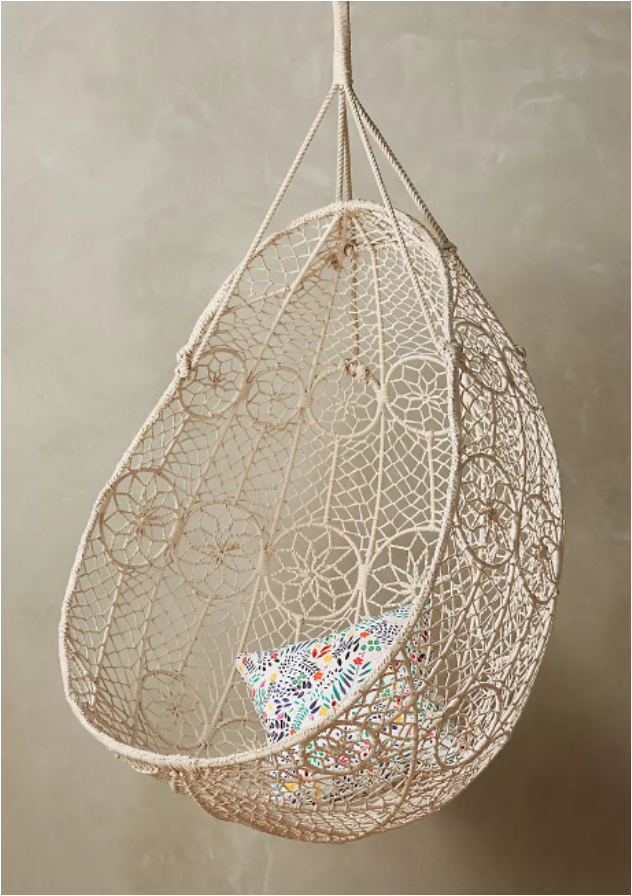 This boho vibe beauty is at Anthropologie!  Find other one-seaters at One Kings Lane.
Pros:
The wonderful designs of this macrame hanging pod chair emit bohemian vibes while giving an air of tranquillity to any space
I love the neutral shade of this, it doesn't scream boho but is graceful and delicate, adding texture and nuance to your covered porch
Though this piece is handwoven polyester rope, it is intended for a covered porch (preferably in the middle away from the ends)
This has a sturdy iron frame, and for cleaning, you can wipe it with a wet rag
Roomy and made for one, as it is 37″ wide, 30″ deep, and four feet high
Cons:
The rope and mounting hardware are not included, which is a shame since it wouldn't have been too expensive for them to add it
Southern Komfort Sipsey Rope Porch Swing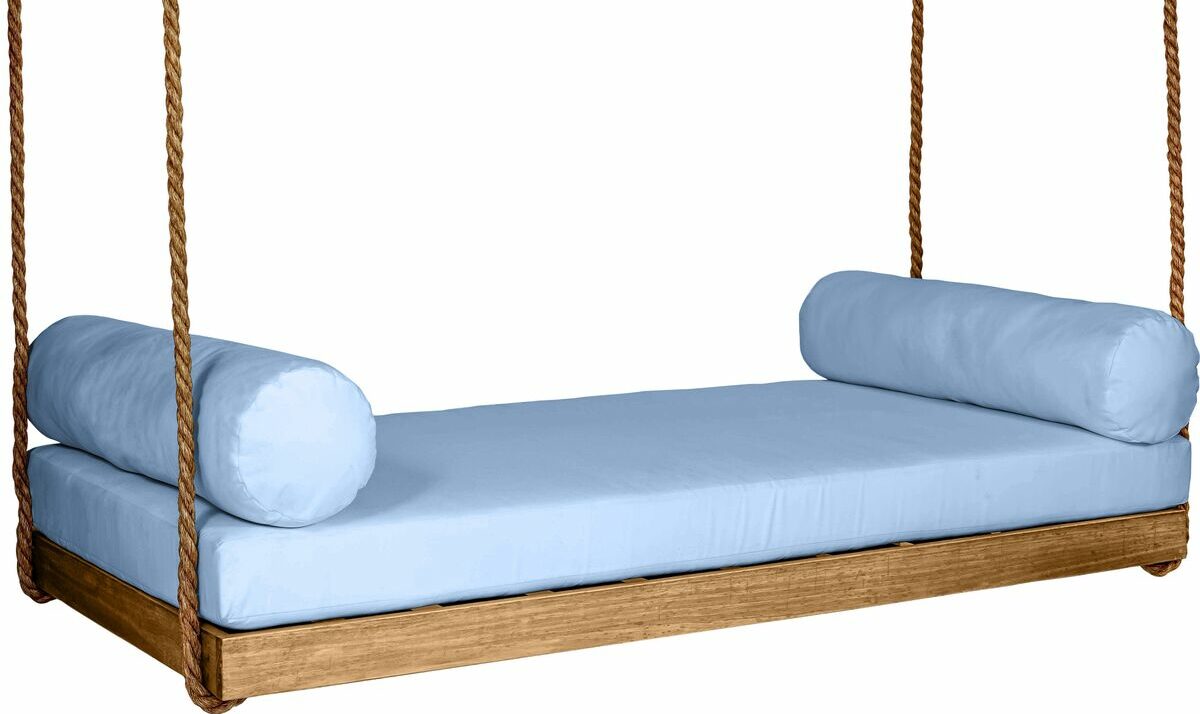 This trim, elegant porch swing can be found at One Kings Lane.
Pros:
I stare at this inviting porch swing and the desire to have it just builds as the visual appeal is endless
Hand-crafted in Birmingham, Alabama by Southern Komfort Bed Swings
Made with a sturdy Eucalyptus frame
The cushions are foam and wrapped in Sunbrella fabric
It measures a whopping 73″x43″x21″ high and also comes in an 83″ length
There is no weight limit, but the quality and price indicate it should be at least 1000 pounds
Cons:
The swing itself is 135 pounds, and it only comes in one stain and one color for the cushion
Keystone Amish Company Porch Swing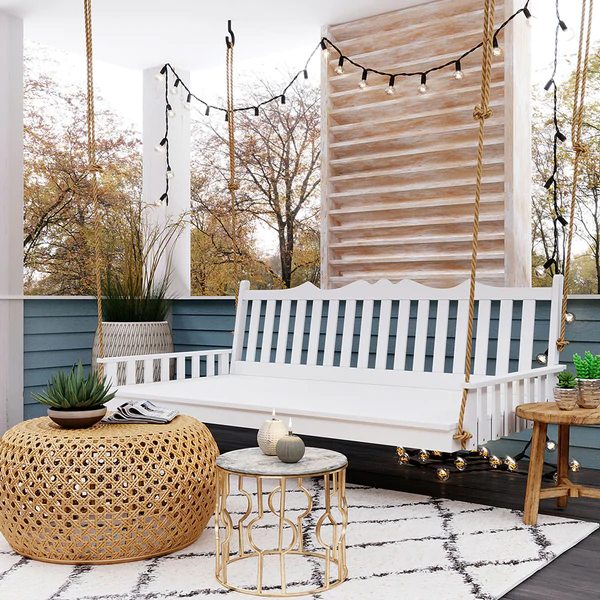 Find this at The Porch Swing Company.
Pros:
This solid pine and acrylic painted porch swing is made in an Amish community that is recognized for the craftsmanship and diligence of their work
 I love the many optional items you can add to this swing because it makes it so convenient to install and use
Hanging hardware, ropes or chains, optional cupholders on each side, comfort springs, and cushion choices!  This swing makes it easy to get everything you need in one place
Coming in fifteen plus colors, and in 4, 5, or 6-foot lengths (or a twin mattress size), this gracefully curved swing has room for everyone!  At almost four feet deep, this is an extra benefit for comfort and people with long legs, like me!
It weighs 175 pounds and has an 800-pound capacity (so that would be 800 minus the 175 pounds which would only leave you with about 600 pounds to put on it)
The back is two feet high, and that means support and safety – my preference is a higher back – both ergonomically, privacy-wise, and for general comfort  (the worst thing is stretching your spine in the opposite direction because there is nothing holding you in)!
Cons:
With the whole family and pets being able to find room on this, the 600 pounds will go fast, and that would concern me
Surfside Solid Wood Porch Swing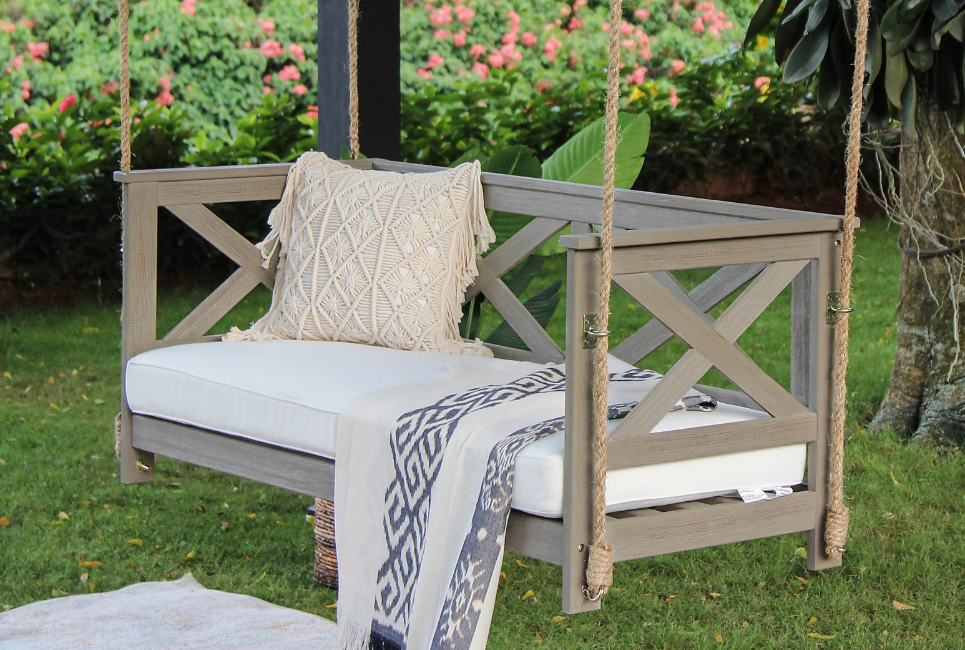 This uniquely charming swing is at Overstock.
Pros:
Nothing could be more charming than the elegant lines and angles of this country porch rope swing
I like the secure feeling from the high sides and back, and the simple X motif allows you to focus on the neat side rope hardware and washed grey finish
Not to be overlooked is the plush cushion that comes with this mahogany swing, and at 3 inches you can be sure your seat will be cozy!
A classic two-seater, the dimensions are 50″x22″x22″
Cons:
My only concern is the seat depth.  At 22 inches from front to back, that means about 19 inches of seat space which for me would be a deal-breaker.  This would be great for one person on a narrow porch.
Lloyd Flanders Low Country Brown Woven Porch Swing

Pros:
This incredibly delicate, yet sturdy porch swing can be found at Kathy Kuo Home
This porch swing mixes Asian-inspired chic with modern and traditional designs for a true one-of-a-kind look
Made of woven vinyl wicker and steel, its 30″ depth is more than enough room to support all lengths of legs
At 58″ wide, it's big enough to seat three people.
Definitely a must-have for those of us seeking the road not traveled in decor, and I love that Kathy Kuo offers many coordinating pieces that include sofas, settees, benches, and ottomans in this style
This porch swing is made by Lloyd Flanders, from MI, and the company is over 100 years old.  These timeless antebellum pieces are made to withstand time itself, and the collection holds pieces to fit everyone's tastes.
Cons:
A bit on the expensive spectrum
International Caravan Porch Rope or Chain Swing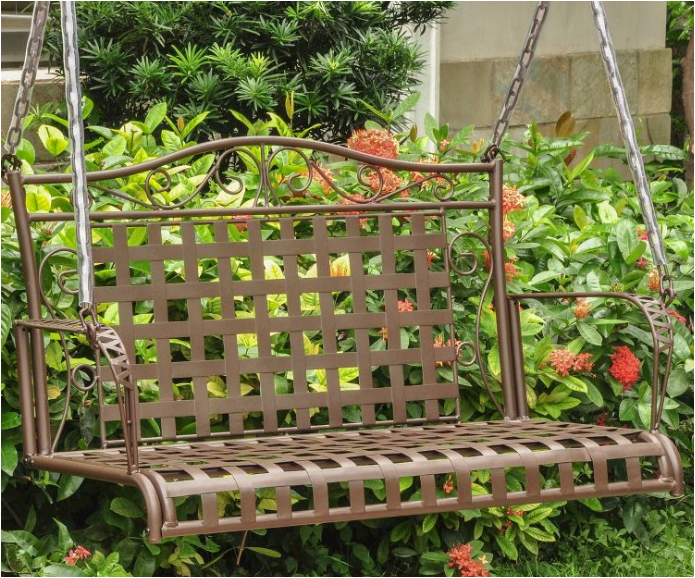 This rust-resistant steel porch swing can be found at Target!
Pros:
Weather, water, rust, and fade-resistant iron made this woven porch swing durable, while the elegant scrolls lend an English garden aura to even the most metro scapes
I like this for the ease of use and simplicity it brings to the porch, and because you can swap out the chain for rope and give it some contrasting texture which leads to depth
A big selling point is the price, which is budget-friendly in comparison to some of the larger wooden rope porch swings
This has a hammered finish for an antique appeal and can hold 450 pounds as it seats two
I like that the hanging hardware is included for this!
Cons:
The swing itself is 50 pounds, so that brings your weight limit down to 400 pounds, which is quite low for a porch swing
The depth is also something to think twice about, being only 21 inches.  This is great for a small, narrow porch but not for people like me who have long legs and like to squish into a porch swing and get comfortable.
San Blas Hanging Rope Swing by Selamat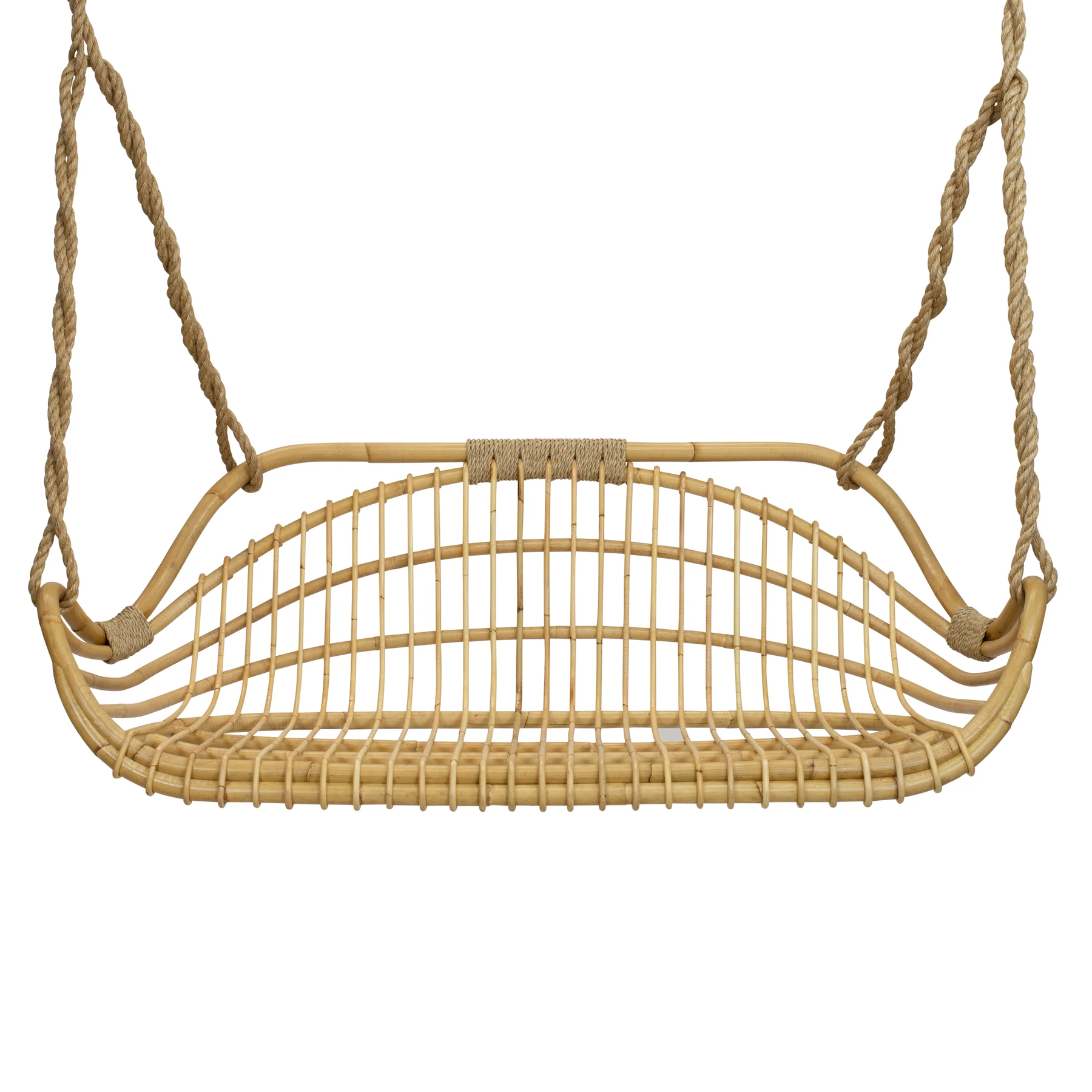 This Panama-inspired hanging rope swing can be found at Burke Decor.
Pros:
The curves on this hand-bent swing are fashioned to resemble the rising sun from the islands of Panama
Made of synthetic rush and rattan, it weighs only 16 pounds, yet holds up to 500 pounds!  That's a great return for the strength!
Dimensions are a hefty 62″x26″x22″, and although the 26″ depth is a bit narrow with the long length, the backward slope of the swing tells me it's not a 90-degree angle!
There is a beautiful San Blas hanging chair to go with this, as well as many rattan lights and chairs in the same style.
Cons:
There is quite a long wait for this swing, however, with the waiting time of about 20 weeks.
Hickory Amish Chain or Rope Porch Swing
This gorgeous conversation starter can be found with others like it at The Charming Bench Company.
Pros:
An Amish mountain porch swing from A & L Furniture is handcrafted from solid Hickory wood with each one having varying grain and texture
Made in Pennsylvania, the slatted wood design is reminiscent of the rustic, country style
Hickory heartwood is moderate brown and the sapwood is a pale yellowish brown which creates a contrast of light and dark woods.  The name "calico" is given to the colors when heartwood and sapwood are found on the same board
Available in 2 sizes and three stains, the weight capacity is between 400 and 500 pounds, with the swing itself weighing 50 pounds.
Cons:
A concern I would have is the weight limit of only 500 pounds for a swing that could hold three adults
Avery Rope Porch Swing on Etsy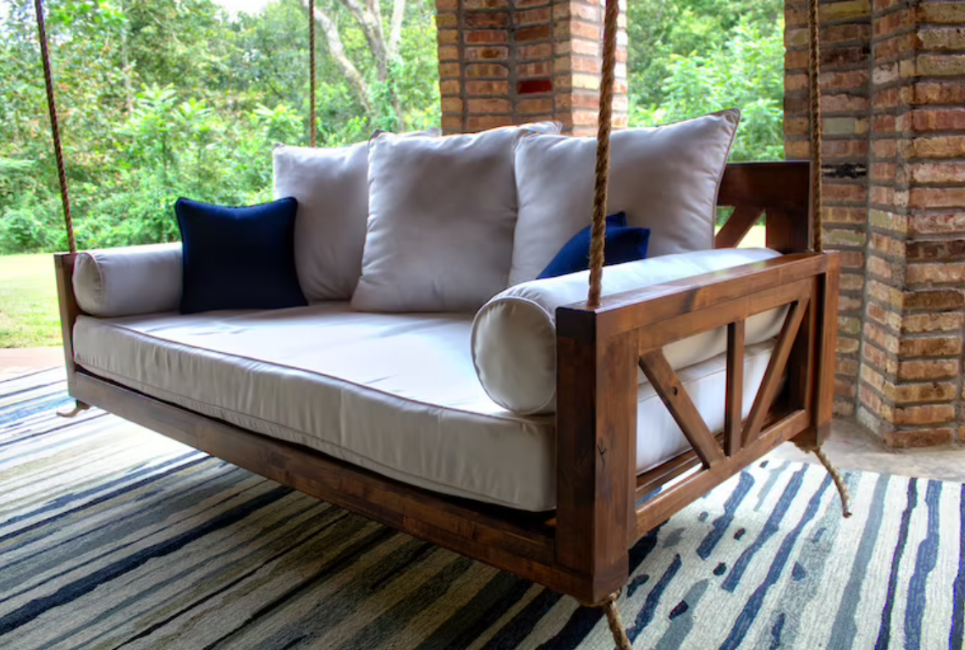 Find this made-to-order porch swing daybed at Etsy!
Pros:
Hand-carved from Kiln dried Knotty Alder wood, each piece is made to order from solid wood that is sustainably harvested and grown in the USA
This comes in a crib size swing or a twin size bed swing, and all cushions are sold separately
The ropes come with the swing but are made of manila. so unless you want to replace them every year or so, I would recommend buying some synthetic polypropylene rope
Cons:
Cushions are sold separately
FAQs.
Question: Is it hard to put up a porch rope swing?
 
Answer: It's not hard, but it's vital to install a porch swing correctly for safety. If you are using just one beam or joist to hand your swing, it needs to be 2×8.  To find your joists you will need to cut a part of your porch ceiling out (if it is finished).  You will need special hardware that has a weight limit of 500 pounds, and you will need screws that are at least 3 inches long.  A stud finder and an electric drill are also necessary. Check out this YouTube Video on how to hang a porch swing. 

Another resource for you is this Home Depot article on hanging a porch swing.
Question: How do I know if my porch can hold a swing?
Answer: That's a great question because your safety depends on the strength of the ceiling joists.  You must have a supporting beam that is 2×6 at least and never install the swing into beadboard or plywood.  All your hardware must support at least 500 pounds.  Bob Vila has some great information in this article. The key is in the load-bearing joists, where they are located, and how large they are.  First off, you will need one joist if it is 2×8, two joists if they are 2×6, or three joists if they are 4×4.

For the location of the joists, consider that where you hang the ropes or chains has to be at least 3 feet from the front of the swing and 3 feet from the back of the swing.  That means the joists cannot be closer than 3 feet to the wall.  On the sides of your swing, you will need 2 feet on each side.  Because the weights of swings vary enormously, and the risk of injury from an inadequate hanging, it is best to consult with a professional who has experience hanging different types of porch swings.  Check out this article from House Notebook.
Question: How can I decorate around a porch swing?
 
Answer: It's easy to decorate with a porch swing, and perhaps easier since you already have a hefty eye-catcher that will be a focal point.  Many people want their porch rope swing to stand out and be the center of attention, while others want a relaxing seat that blends in with the porch decor.  I tend to be the former, and since I like dramatic colors and a slightly bohemian style, I will play off the color of the porch swing with the cushions and pillow colors.  Bright reds, oranges, and dark greens are my favorites for the porch, and I will mix and match designs and patterns with those three colors.  A bordered rug that is tan with an accenting color around the edges blends in with my bold chic, as do plenty of ferns!

When seeking a more muted ambiance, try layering cream and tan rugs of different textures on top of one another, and stick with a few pillows with the same pattern to position on your porch swing and chairs.  You can never go wrong with plants, either!  Check out Wayfair for loads of fantastic over size pillows!
In Conclusion
Porches have always been very special to me as I saw them all be opportunities to interact with nature both while decorating them and when the work was done! Embracing life – the elements, the wind, the views, and the people (if I'm on my front porch), is tantamount to being fully present with the bigger world around you. A swing on your porch has a vital breath about it, the gentle sway of being in the womb or in a cradle harkens back to days when worries were a thing of the future!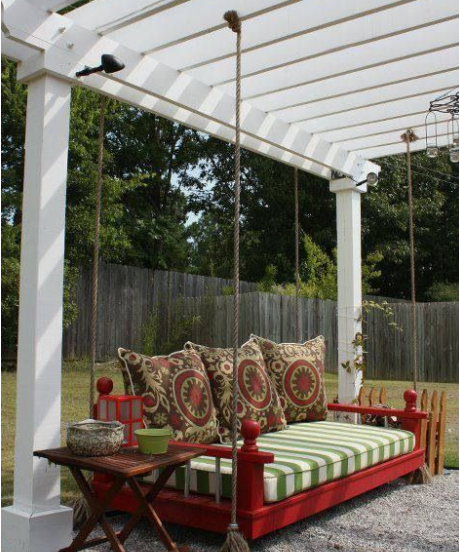 This is my favorite porch pergola rope swing because it's large enough for friends and a nap, and it is hung low enough to the ground to be SAFE if one should tumble off! I think I would sacrifice getting on it and back up again just so I wouldn't worry about young 'uns falling.
Those round ball arm and back adornments juxtaposed with the vertical rungs – very Alice in Wonderlandesque.
The seat cushion's wide green and cream stripes are also defined by the medallions and floral scrollwork of the oversized pillows, all giving this porch swing a luxuriously plush and distinctive aura. The colors and choice of fabrics with the largesse of the whole swing make this the absolute focal point of the front porch or the backyard.
You can see a small part of the iron candle chandelier hanging in the right-hand upper corner for more whimsy. Dramatic and decadent – I love it!
See you at the porch store, picking out accessories for our porch swings!
Recommended Reads: