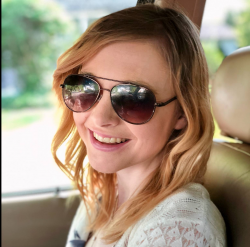 Latest posts by Erin Jamieson
(see all)
I think most of us- myself included- could spend more time outside. So it's always a shame to see people heading indoors the moment cooler weather hints. From enjoying the beauty of a crisp autumn day to the budding, still-chilly days of Spring, a propane patio heater could be one of your best purchases.
While a propane patio heater isn't useful for snowy days, it really can extend the time of year you spend out on your patio. The tricky thing is that? Finding a propane patio heater that's worth your money.
.This is my quick guide to finding the right propane heater for your patio. I'll share how to navigate shopping in four easy steps- and even link you to a few of my favorite propane patio heaters you can buy today. 
Bottom Line Up Front Summary
Propane patio heaters are usually cheaper to run than electric heaters- but they also are slightly less safe. Give your propane patio heater at least 2 feet of clearance on either side and opt for weather-resistant components, such as stainless steel. Pay attention to both the BTU output and the heating radius if you want the best performance. ETL, UL, or CSA certifications as well as tip-over protection and a weighted base add safety, security, and peace of mind. 
If I were to recommend just one propane patio heater, it would be the HIO Propane Patio Heater. It may be budget-friendly, but you don't sacrifice many features. This freestanding patio heater is ETL listed, with a weather-resistant frame, electric ignition, and heat output of up to 47,000 BTU. 
My Top Picks
How to Find a Great Propane Heater for Your Patio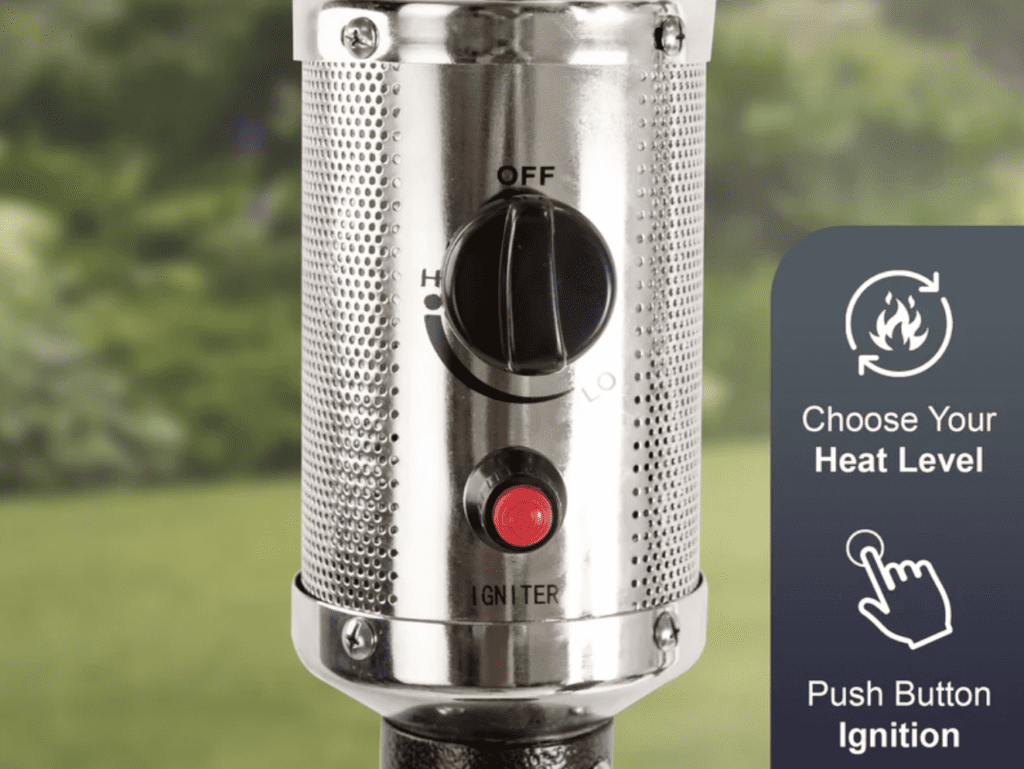 If you're set on a propane heater for your outdoor patio, one of the worst mistakes you can make is simply buying the first one that catches your eye. Propane patio heaters are quite popular, and with that, I've noticed a wide range in quality. As much as I love clearance shopping, my goal is to show you the easy steps you can take to buy the best propane patio heater for you. 
Step One: Select a Style for Your Propane Patio Heater
Propane patio heaters come in a wide range of dimensions- but that also ties into your type of propane patio heater. As a rule of thumb, propane heaters require three feet of clearance above and two feet of clearance to the left and right. That can even help you determine what style of propane patio heater is realistic for your patio space. 
But the style of the propane patio heater also depends on how you intend to use it. In the chart below, I've listed the most common types of propane patio heaters. If you want a wall-mounted or ceiling heater, I recommend opting for an electric unit instead. 
| | | |
| --- | --- | --- |
| Type of Propane Patio Heater | Best For… | Not Suitable For… |
| Freestanding  | Versatile use, general heating, and entertaining, stability (if designed well), heat output  | Small spaces  |
| Freestanding with Wheels (Portable)  | Same as above, but it's much easier to move around for entertaining  | Smaller spaces (depending on size), not as sturdy usually as models without wheels  |
| Pyramid (can be freestanding or tabletop) | Versatile entertaining, high aesthetic appeal, (often) modern features/ electric ignition | If you're on a tight budget  |
| Tabletop  | Small bursts of warmth, small spaces  | Maximum heat output, cold nights  |
Step Two: Selecting BTU/ Heat Output 
More isn't always better, but, looking at reviews, I think a lot of people purchase propane patio heaters with unrealistic expectations. A propane patio heater usually has a maximum BTU of 48,000. It's going to provide warmth for cool days- but won't work when temperatures dip below 40, and often not below 45 degrees Fahrenheit. 
Ranges 
For heat output, I like a range of 40,000 to 50,000 for larger freestanding heaters. For tabletop, I only expect a BTU output of 10,000 to 20,000. 
Heat Radius 
Don't just pay attention to the maximum heat output. Many propane heaters will also list (on the product description or the manual) a heat radius- but sometimes they don't. Patio heaters usually have a modest heat radius- so you do need to be fairly close to enjoy them.
 As a general rule, tabletop heaters should have a radius around the same as the diameter of your table. Most propane heaters with an output of 40,000 and up can cover up to 6 to 10 feet from the base. But again, this is a general rule- so if you have concerns, you can reach out to the manufacturer. 
Step Three: Selecting Optional Features
Features are tricky. What I mean by that is you don't have to have many features to have a practical propane patio heater. But unless you're on a very tight budget, I do think some features can make a substantial difference. There are both safety features and features that will make your propane patio heater either easier or more enjoyable to use. 
Safety Features
First some bad news: propane patio heaters are generally less safe than electric heaters. That means you have to be careful and attentive. But a well-built propane heater can be used safely, and some come with extra reassurance. Tip-over protection and reinforced bases reduce the risk of accidents from bumping tabletop or freestanding units over. Automatic shut-off systems help make sure pressure levels don't get out of control. Finally, safety certifications mean that they've been tested for safe use (ETL, CSA or UL). Approval is approved for the country of origin; certification meets standards for worldwide use. 
Efficiency and Temperature Controls
Variable temperatures and adjustable knobs and valves give you more control over your heart output. This is great both for efficiency and comfort. Thermocouple Technology, meanwhile, provides more even heat distribution. 
Other Features
Wheels are handy for moving your propane heater around- just know this can detract from its stability. I like easy access doors for storing propane tanks, and I always appreciate a unique style or design, like a glass tube flame. Electric ignition speeds up the healing process (propane heaters are a bit slower to heat vs electric) and makes them easier to use. Occasionally there are some truly innovative models with entertaining features, such as integrated LED lights or side serving trays. 
Step Four: Choosing a Durable Propane Patio Heater
We've all been there: there's little more frustrating than spending money on something that lasts a month or two. While there are no guarantees for how long a propane patio heater will last, I do have some advice for making a smarter purchase. 
Choose a Durable Frame & Components 
I look for a frame that's both weather resistant and strong. My top choice is stainless steel or powder-coated steel. Both provide lightweight length strength and shouldn't corrode. Aluminum components are okay- but a fully aluminum frame is a lot easier to dent and damage. 310 stainless steel is high-quality. There are steel alloy patio heaters. The tricky thing about this- unless specified-is that you'll have variable quality. I look for the structure of the heater and a thoughtful design. 
Buy From a Reputable Retailer and Brand 
Another way I determine quality is where I'm buying the propane patio heater from. There's nothing inherently wrong with going with a brand you know, like Fire Sense or Better Homes & Gardens- but don't make the mistake of being so brand loyal that you overlook options or flaws. Check for return policies, as well as detailed product descriptions, pictures, and customer reviews. I'm wary of any propane patio heaters that don't have full specifications listed. A warranty is not a must, but certainly a bonus. 
A few places that you can shop include: 
Home Improvement Stores (Menards, Home Depot, Ace Hardware, Tractor Supply, Lowes) 

Costco and Aldi 

Wayfair,  Amazon, and Walmart 

Target

Specialty Stores and Brands (Fire Sense, BBQ Guys, etc) 
Just be careful. I came across several specialty stores- such as HVAC Direct- that have a history of poor customer service or poor product quality. 
Propane Patio Heaters: My Picks
Here are a few propane patio heaters that caught my eye for their unique features, durability, versatility, and efficiency. I want to show you the range of propane heaters available, from tabletop heaters to portable propane heaters with wheels.  I'm only showing propane heaters that are listed in stores I would also feel comfortable buying from. 
Heatmax Tabletop Patio Heater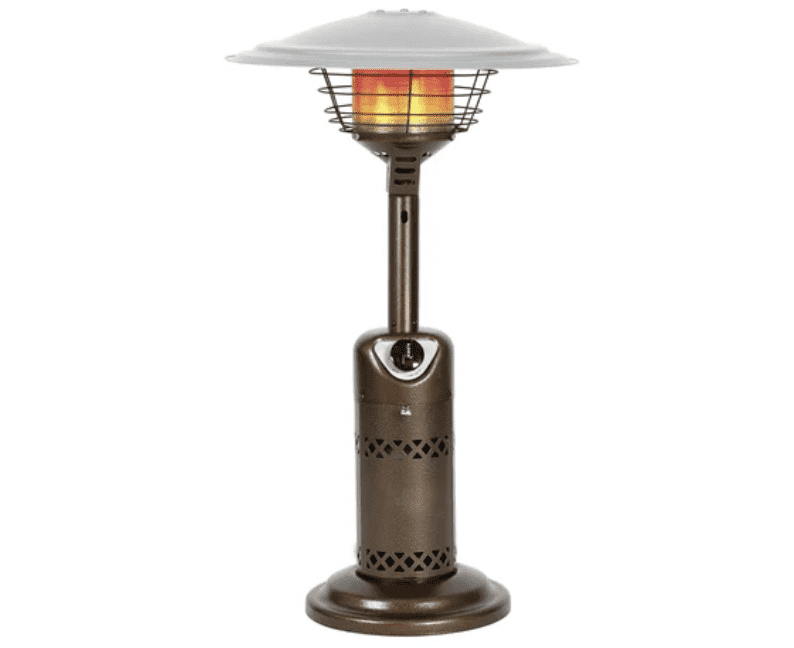 I have a philosophy that you shouldn't pay above $200 or $300 for a tabletop patio heater- simply because it will be a lot more limited in its use and heat output. Not only does this tabletop propane heater sit very comfortably under the $200 mark, but it'd make my list if I had no budget. The powder-coated steel frame is stylish and weather-resistant. An efficient electric ignition system makes this easy to warm up quickly. I love the added safety features: automatic safety shut-off, a tip-over switch, and CSA certification. Those are impressive features for such a compact propane patio heater. Buy Here. 
Pros
CSA Certified

Auto Shut Off 

Tip-Over Protection
Cons 
Limited Use

Only 10,000 BTU 
Zweeney Standing Patio Heater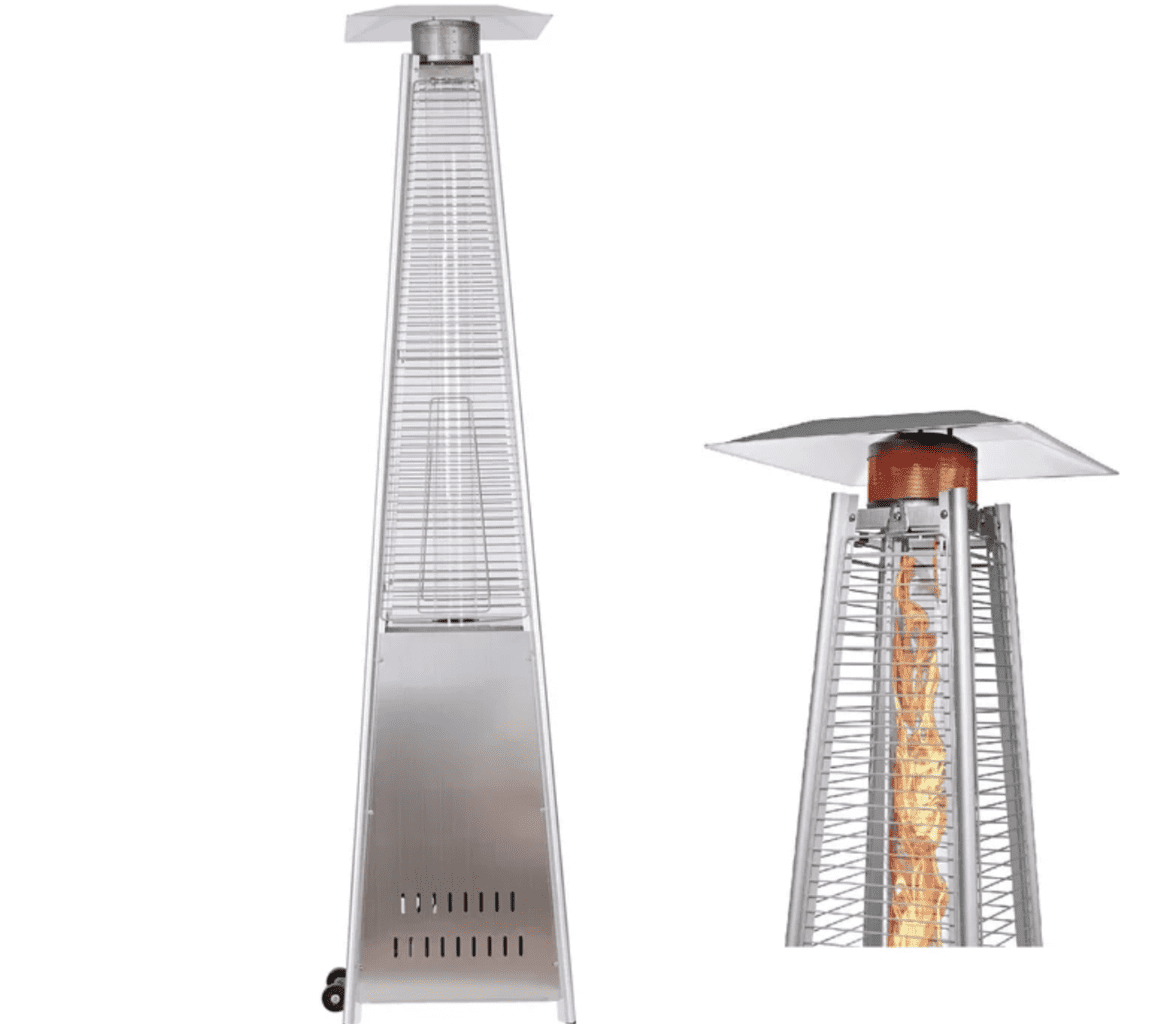 This sleek, modern pyramid patio heater is one of the best models if you want to make a warm impression.  I love the ambiance this propane patio heater exudes, but it's a lot more than about first impressions. The heat output of up to 46,000 BTU is superior to many other propane heaters, and while it has tip-over protection, it also features wheels for easy transportation. Simple push and turn ignition make it easy to operate and the adjustable heat plays perfectly with the striking glass tube flame. All tools are included for assembly, and it's ETL listed for safety. It's a sleek and updated heater designed for performance. Buy Here. 
Pros
ETL Listed

Adjustable Heat 

Tip-Over Protection 
Cons
Expensive 

No Automatic Shut Off 
HIO Propane Patio Heater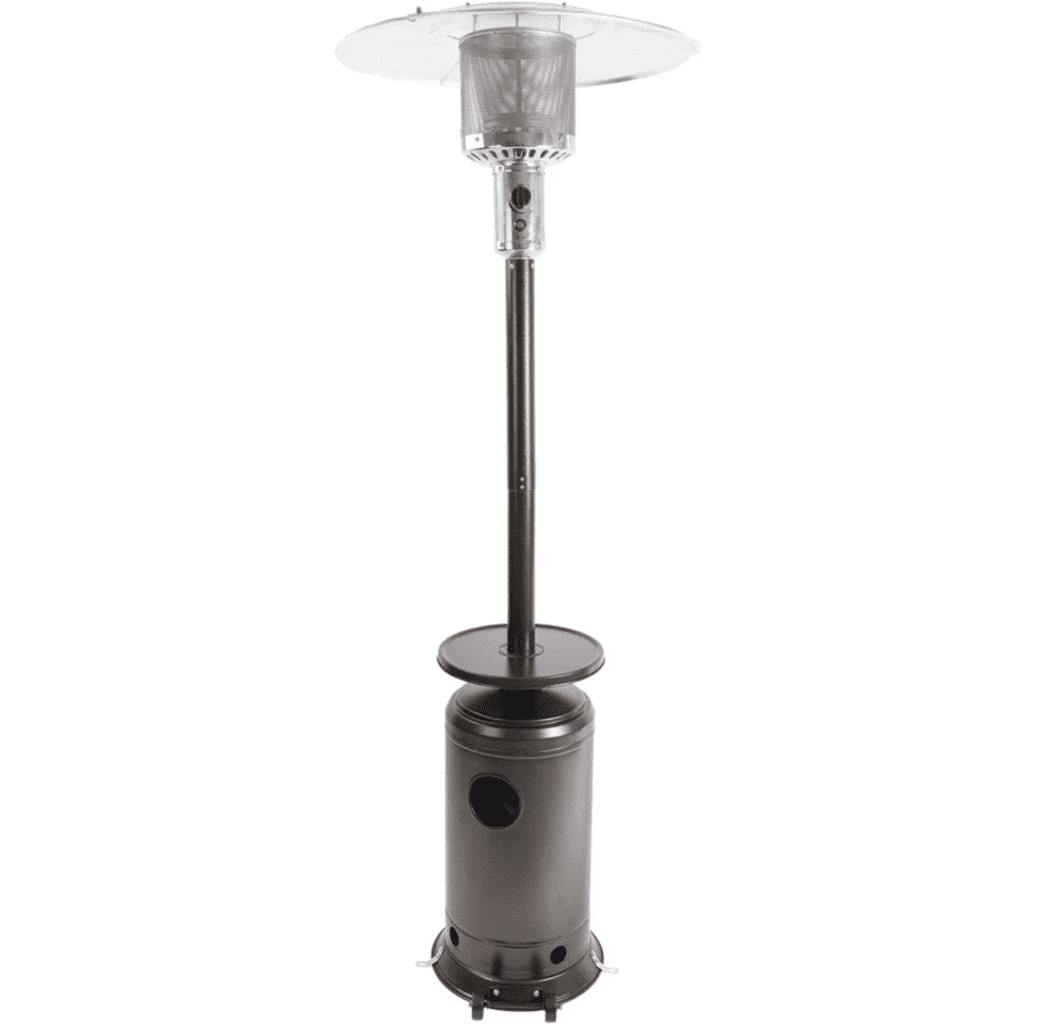 Here's a tip: if you're on a tight budget, you can find a lot of propane patio heaters for under $200, and even below. The other tip? Not all of them are created well, or worth your money- so the key is to strike a balance between price and features. That's exactly what this affordable propane patio heater does. The heat output of up to 47,000 BTU is superior to most budget-friendly freestanding heaters. It's weather-resistant, with a heat deflector and rounded side table to keep you more comfortable. I also like the easy-lift compartment for easy care and the simple push and turn of the ignition. It's one of the few budget models that are ETL listed, too. Buy Here. 
Pros
Great Price

47,000 BTU

Easy Turn Ignition
Cons
Not as Sturdy as More Expensive Models

No Tip-Over Protection
Afoxsos Pyramid Outdoor Heater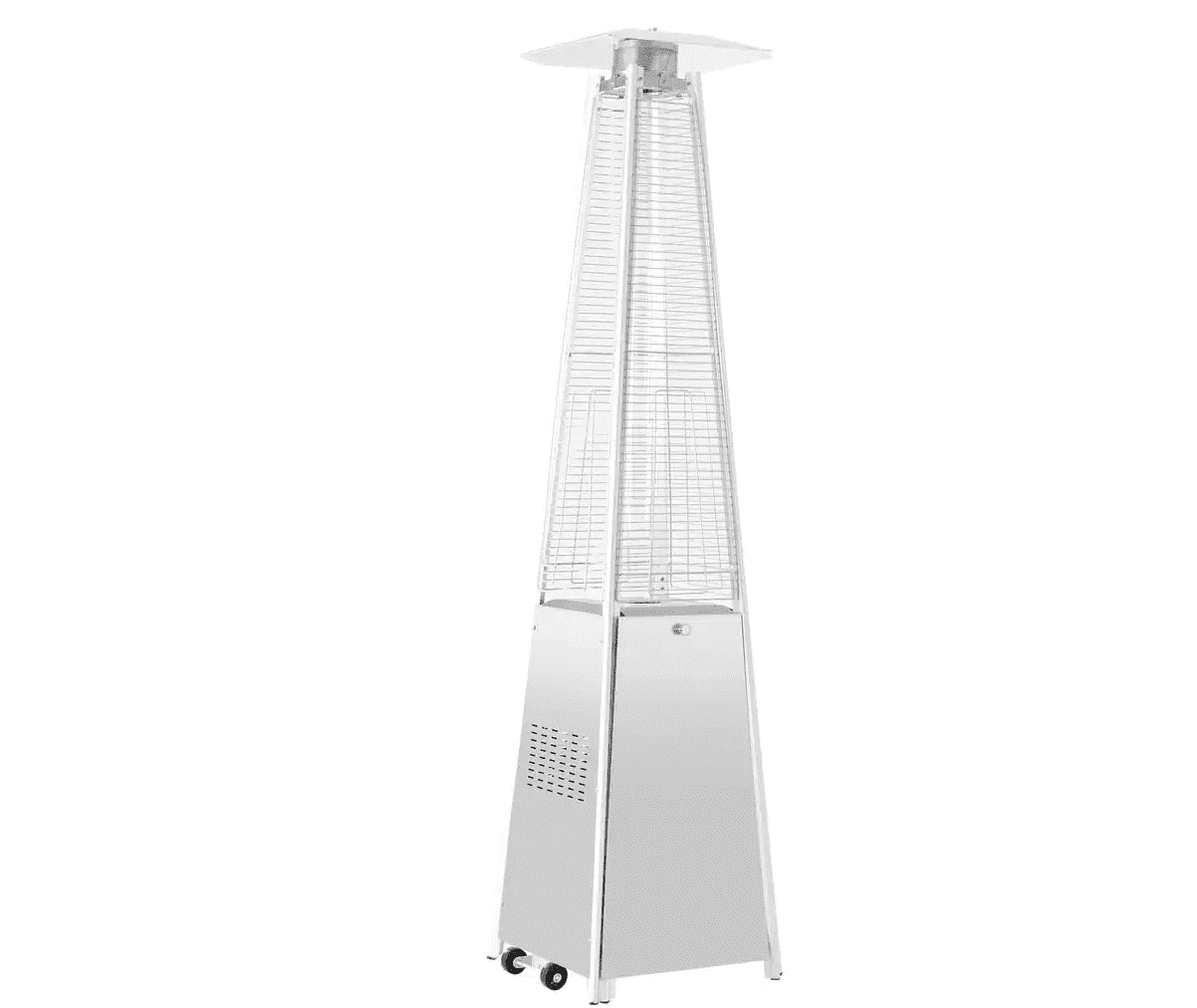 Propane patio heaters are already fairly energy efficient, but this pyramid model from Home Depot is a great choice if you want to get the very most out of your fuel. The tubular design is not only atmospheric but designed with a purpose. A reflector shield reduced heat loss and directs heat where you want it. The integrated glass tube showcases flames with both beauty and efficiency and I love the 360-degree view. This propane patio heater is stately, rust-proof, and sure to make an impression. Buy Here. 
Pros
360 Degree View 

Energy Efficient 

Reflector Shield
Cons
No Safety Certification

Slightly Expensive
Avenlur Propane Patio Heater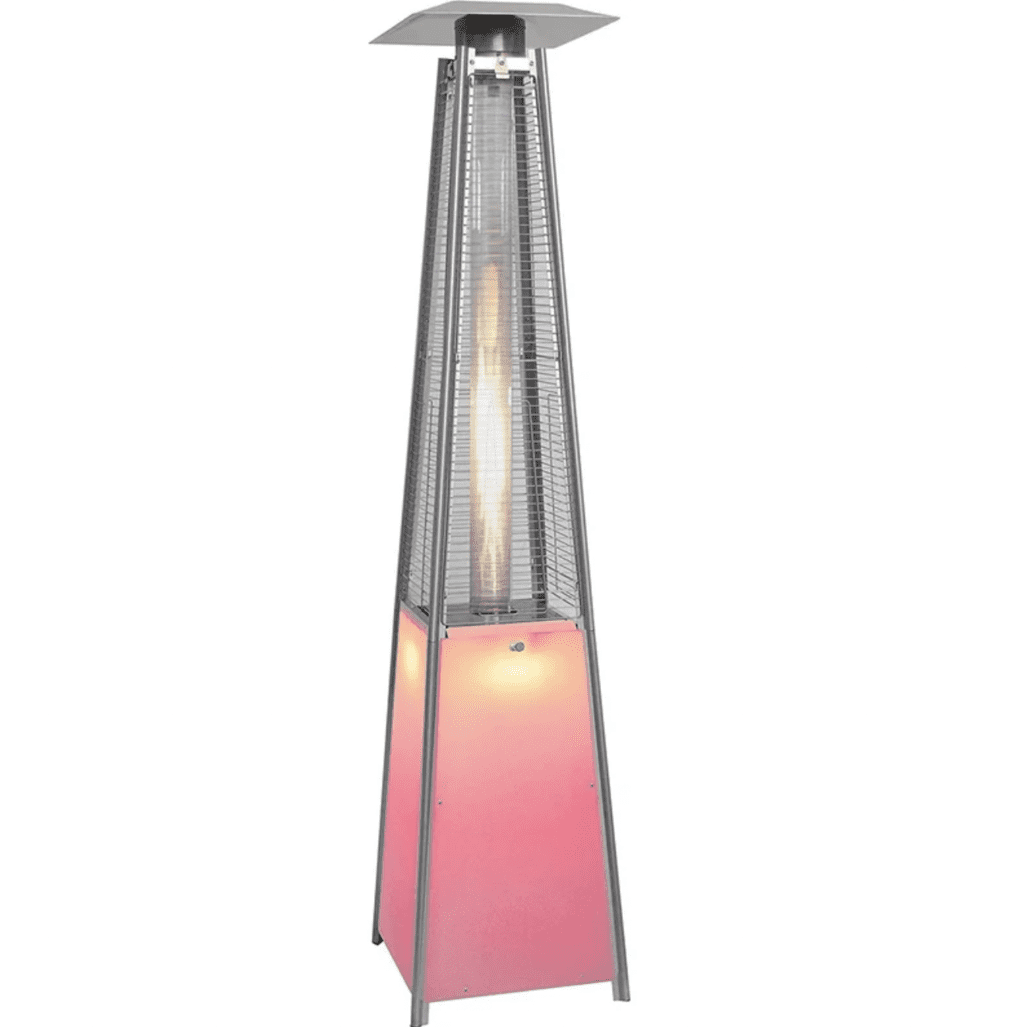 I value function over form for patio heaters- but sometimes they do go together. And who's to say that you can't have a fantastic propane patio heater and have a bit of fun too? This unique propane patio heater has a heat output of up to 48,000 BTU and is available in multiple colors for a pop of fun. With electric ignition for quick entertaining, you can catch the dramatic flame in the glass tube design. It's equipped with wheels, tip-over protection, and automatically shuts off. And even though this propane patio heater is party-ready, it's also designed with safety in mind, as an ETL-listed product. Buy Here. 
Pros
Unique, Striking Design

Tip-Over Protection

Safety Shut Off
Cons
Limited Heat Radius

Difficult Assembly 
Frequently Asked Questions
Question: Do propane patio heaters work in the winter?
Answer: The bad news about both propane and electric patio heaters is that they don't work well in winter. If you live in a warm climate where winters are quite mild, the heaters will still work. But the vast majority are not designed for the low 40s and below. The purpose of propane heaters is to provide warmth during mild winter days, fall days, and spring days. Unless it's a specialty model, your heater isn't going to perform in freezing temperatures. That's where some powerful fire pits (depending on the model) and especially outdoor fireplaces hold a notable advantage. 
Question: Do I need to cover my patio heater?
 
Answer: A lot of people don't cover their patio heaters, and it's not an absolute necessity. If your patio heater is made with a weather-resistant structure and not susceptible to rust or corrosion, then you can get by without a cover. But I recommend buying a cover regardless. If you cover your patio heater, it's less likely to freeze up, less likely to collect dust and moisture, and will provide better performance for longer.  You don't need expensive materials- something like reinforced PVC or polyester will suffice. 
Question: Why do gas patio heaters freeze up?
 
Answer: Gas patio heaters usually freeze up because they've collected dirt, debris, dust, and/ or condensation. During cooler months, meanwhile, cold vapor may become trapped. The tell-tale sign of this is a thin coating of ice on the exterior of the patio heater. While these are common problems, there are several steps you can take to keep your patio heater from freezing. Check your regulator's vents and keep your tank full. Both will reduce the build-up of pressure. A good patio heater cover can also keep out moisture and debris. If you need to clean your heater, be careful not to push snow, debris, or ice further into your tank or heater.
Question: Does propane go bad? 
Answer: Propane is unique from natural gas and many other fuel sources: it won't go bad. While you don't have to worry about shelf life for propane, however, you do need to be thoughtful about how to store it. Too many make the mistake of storing propane tanks in enclosed spaces, like garages. Propane should be stored outside, away from house foundations and anything potentially flammable. They need to be in a cooler location- preferably shade. Any extreme heat- above 120 degrees- could leave you and your propane tanks susceptible. 
Final Thoughts
Propane patio heaters are popular for a reason. First of all, they're usually cheaper to operate than both electric and natural gas heaters. They're more energy-efficient, and there's a wide variety of heaters to choose from. With a clean burn, propane heaters shouldn't bother allergies too much. I also really like that they tend to have a longer lifespan than electric heaters. But at the same time, it's important to be aware of the limitations of propane heaters (you can't use them in the dead of winter) and to be especially careful when using one. Selecting a propane heater of reputable quality really can make a difference for both your enjoyment and safety.
Final Recommendations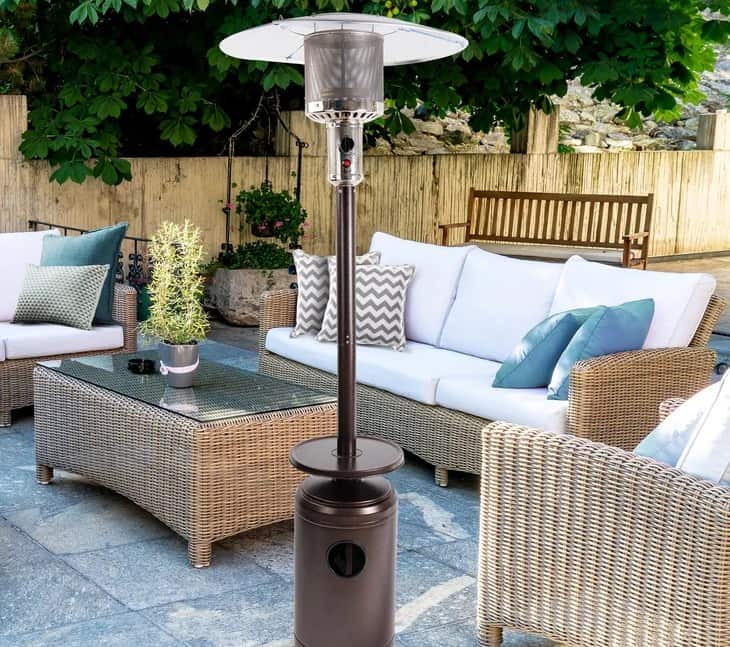 If you're still hesitating about propane patio heaters, ask yourself what's holding you back. If it's concerned about safety, go for a propane heater that has built-in safety features, like tip-over protection, automatic shut-off systems, and safety certifications.
If you're simply not sure what type of propane patio heater to buy, I recommend something versatile and reliable, such as the HIO Propane Patio Heater. This propane patio heater manages to be practical, affordable, and useful. It's ETL listed for safety and equipped with ignition for easy use.
Recommended Reads: