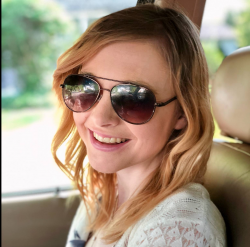 Latest posts by Erin Jamieson
(see all)
I'm not a brand loyalist for many things- and I keep an open mind for patio heating solutions. But one brand I've come across and researched time and time again is Fire Sense. From Target to Costco to Walmart, Amazon, Home Depot and so many others, it seems like almost everyone carries this brand. 
But I know how big of a difference your patio heater choice can make. Whether you tend to be critically skeptical like me or are already loving the brand, this short guide is for you. I'll tell you what you need to know about the Fire Sense brand, then take you through my tips for selecting the best Fire Sense patio heater. 
Read on for shopping tips, honest pros and cons, and a few Fire Sense patio heaters you should consider for your home. 
Bottom Line Up Front Summary
Fire Sense patio heaters are popular for a reason. They're reasonably priced, made with weather-resistant materials, and offer helpful features like electric ignition, adjustable knobs, and wheels. At the same time, Fire Sense patio heaters aren't premium models and lack some features that expensive brands have. 
If I were to recommend the best Fire Sense patio heater for average use, it would be the Fire Sense Commercial Patio Heater. There's a reason why this freestanding patio heater is so popular. It's made with stainless steel, with an impressive heat output of up to 46,000 BTU. Electronic ignition makes it easy to use, while the weighted base and tip-over protection make it safer and more secure to use. 

My Top Picks
Behind the Brand: Fire Sense Pros and Cons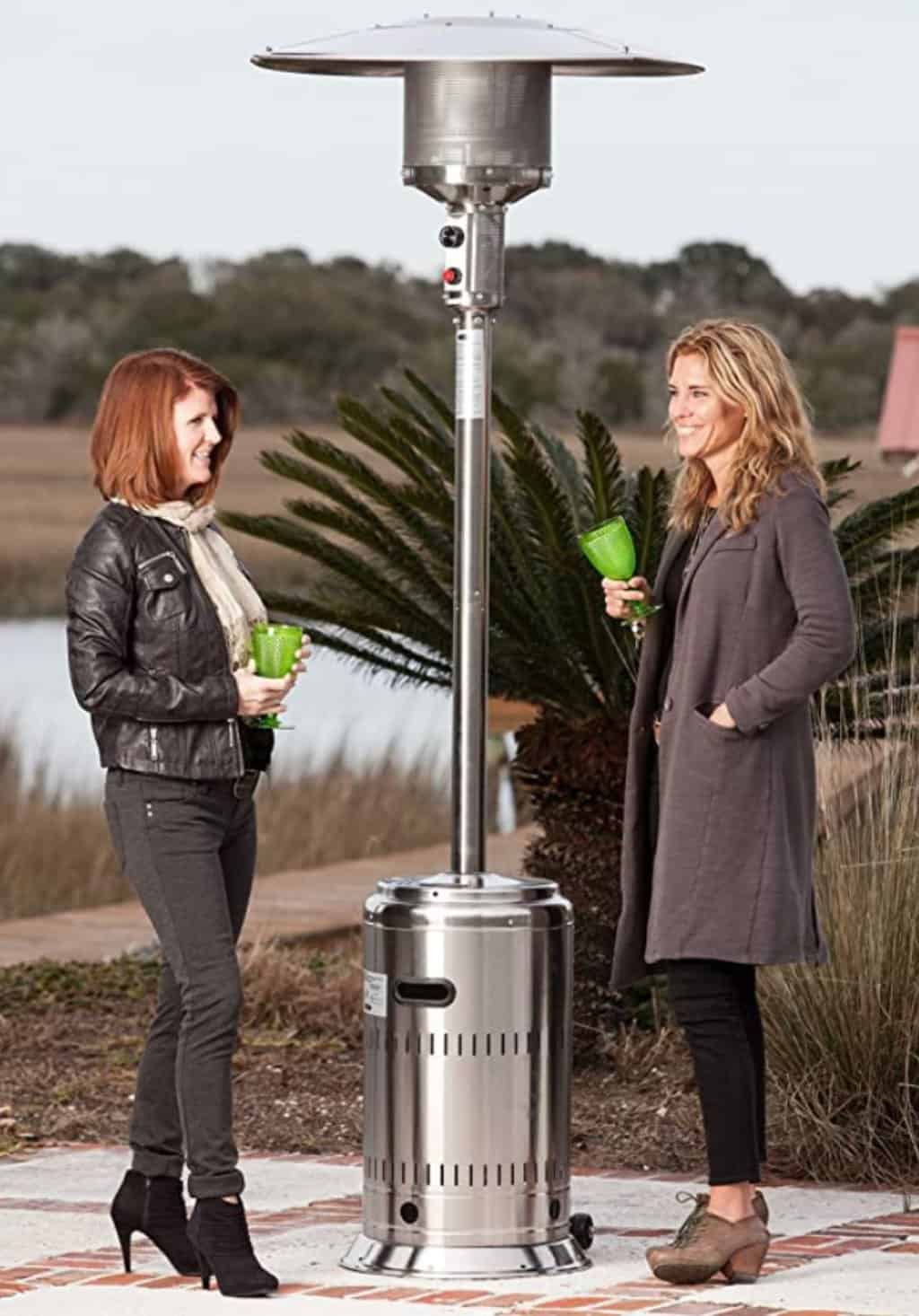 Chances are you've at least heard of Fire Sense. When I say the brand is everywhere, I mean it's sold through some of the largest and most popular retailers. But before I show you how to select the best patio heaters from Fire Sense, I want to have an honest conversation about the brand and its pros and cons. Here are some reasons why a Fire Sense patio heater may be right for you- and a few drawbacks. 
Why I Like About Fire Sense 
Fire Sense is reasonably priced, and you can shop for the brand at so many different stores that it's easy to find good deals or even something on clearance. Fire Sense patio heaters are made by Balkan Home, a well-known company that's been making outdoor heating solutions since 1998. Everything is designed in the United States, and the brand offers replacement parts warranties, extended warranties, and returns.
 I like the availability of customer reviews, detailed patio heater descriptions, and transparent specifications. All of these things do set Fire Sense patio heaters apart from other patio heaters at the same price point. Finally, I like that Fire Sense heaters are built with weatherproof materials and finishes. 
What I Don't Love 
While I was excited to see that all Fire Sense patio heaters are designed in the United States, it's also true that their manufacturing takes place in different parts of the world. Given their prices, it's not surprising- but does mean a bit less oversight. While the materials are generally durable, I wouldn't call them premium. Some Fire Sense patio heaters are a bit less substantial than more expensive brands. And while I do think they offer good value, you aren't going to find exceptional designs in terms of innovation or unique style. 
Finally, Fire Sense patio heaters don't usually come with the highest safety rating standards, such as CSA approval or certification. Finally, while most Fire Sense patio heaters are made to be weather resistant, I don't love that some of their accessories- such as heat deflectors- are constructed out of aluminum, which can be easy to damage. 
How I Find the Best Fire Sense Patio Heaters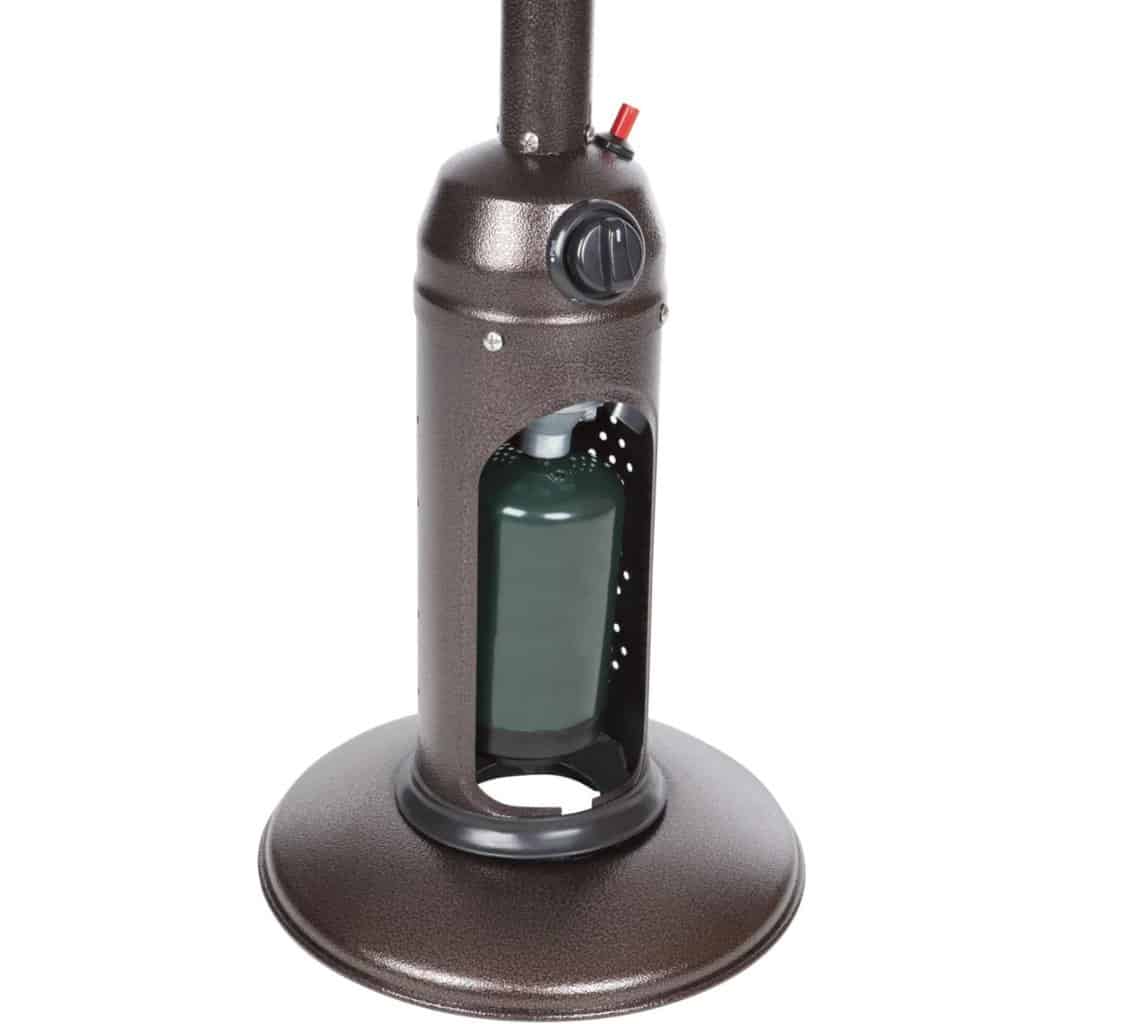 Bottom Line: I still find a lot to admire about Fire Sense patio heaters, and I think the average customer will too. With that in mind, here's how I shop thoughtfully to find the best Fire Sense patio heaters. 
Materials
I have good news about Fire Sense patio heaters: you don't have to worry about them too much. That's because almost all Fire Sense patio heaters are constructed with materials that I approve of. All materials are at least somewhat weather-resistant and durable. However, while it's hard to go wrong, I prefer steel to platinum. However, some accessories are made out of aluminum. This isn't a deal-breaker, just something to be aware of. 
Skip: Platinum 
Just a few Fire Sense patio heaters are made with platinum. While I like the look of platinum and its versatility, it's much easier to damage than steel. 
Choose: Steel and Powder-Coated Steel 
Steel, stainless steel, and powder-coated steel are all a few times stronger than platinum. If you plan to cover your patio heater when not in use and only use it during dry conditions, a steel or stainless steel heater will work. But if you are forgetful (been there!) opting for a powder-coated heater provides exceptional weather protection. 
Electric or Gas?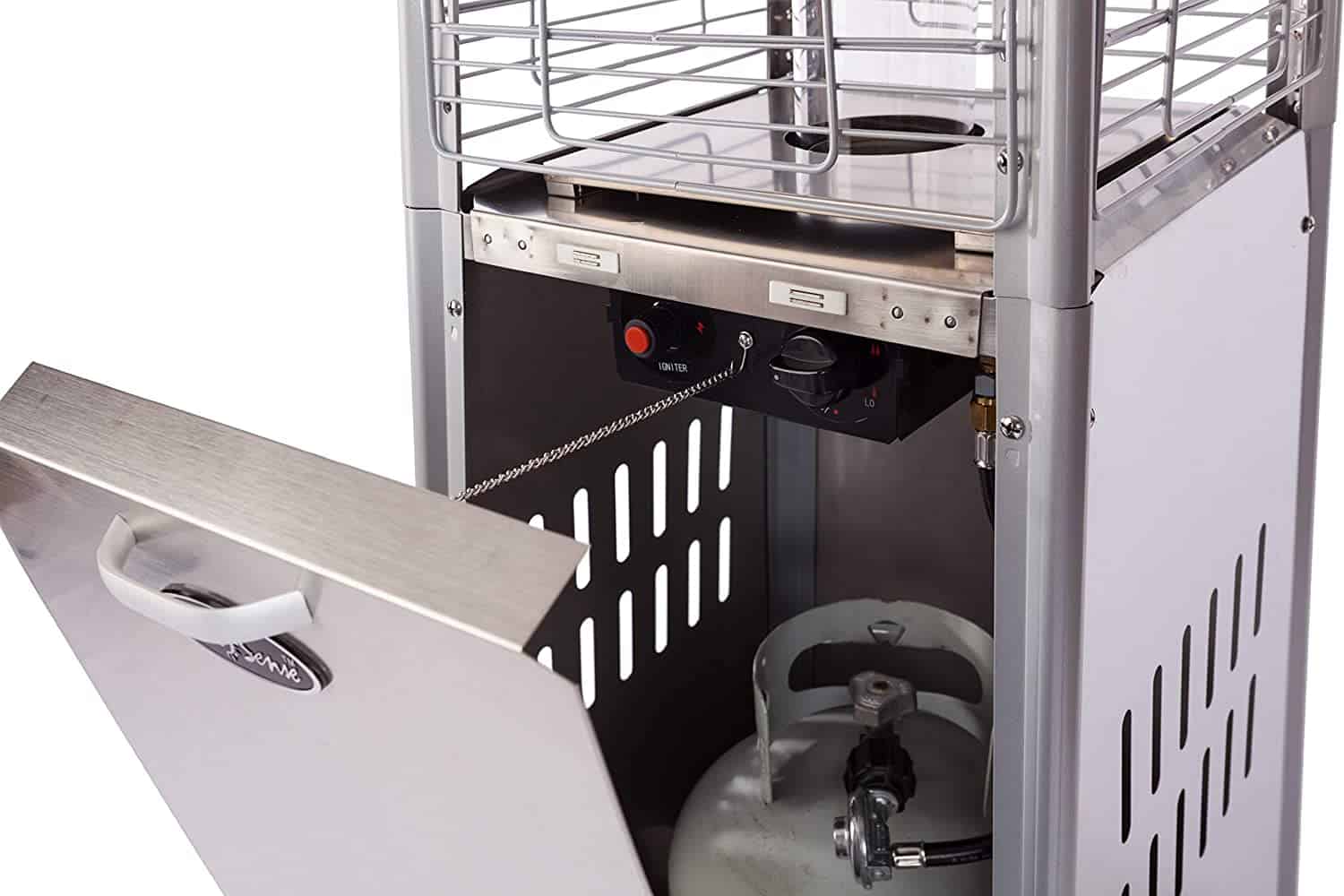 Fire Sense strikes a great balance between electric patio heaters and gas patio heaters. Both are reasonable options- so instead of telling you which one to buy, I'll share what I see as the advantages or disadvantages of both. 
Electric Fire Sense Patio Heaters
Electric Fire Sense patio heaters are a bit easier to operate, and they're generally safer. That's certainly something worth looking into- especially since Fire Sense doesn't tend to go for CSA certification. I also like that there are infrared options that are more energy-efficient and cut down on costs. That said, Fire Sense tends to focus more on electricity for its wall-mounted heaters, which can be limiting. 
Gas Fire Sense Patio Heaters
Most of the freestanding patio heaters Fire Sense makes are propane-based. I like that propane tends to be efficient and cheaper to run in the long term. However, you have to be extra careful with gas patio heaters, and great ventilation is a must. 
Choosing the Right Type of Fire Sense Patio Heater 
Fire Sense sells a few types of patio heaters: wall-mounted, freestanding, and tabletop. While freestanding offers the most versatility, there are a few circumstances where you might want to buy one of their tabletop or wall-mounted heaters instead. 
| | | |
| --- | --- | --- |
| Type of Fire Sense Patio Heater | Why Buy It  | Recommended BTU (if applicable) |
| Freestanding | Versatile heating, heating large areas, entertaining (mostly propane) | 30,000 to 50,000 |
| Tabletop  | For adding warmth to small areas, less energy consumption, smaller spaces/ less storage | 8,000 to 20,000 |
| Wall-Mounted | If you have great ventilation, these heaters take up no extra space and can be used for heating a seating area (all electric) | Watts: 1200 to 2000  |
Selecting Fire Sense Patio Heaters by Features
My favorite features I've seen with Fire Sense patio heaters fall into a few categories: safety, efficiency, and enjoyment. Here are a few features you should consider:
Heat Deflectors/ Shields

Infrared/ Energy Efficient Heating 

Tip-Over Protection

Powder Coated Finishes

Piezo Ignition System (easy electric push ignition) 

Wheels (for transport, but can detract from stability) 

Reinforced/ Sturdier Base 

Adjustable Temperature Knob/ Variable Valve 
Don't aim for all features in one model- though it is possible. Think about what's most important for how you'll use it, and still within your price range.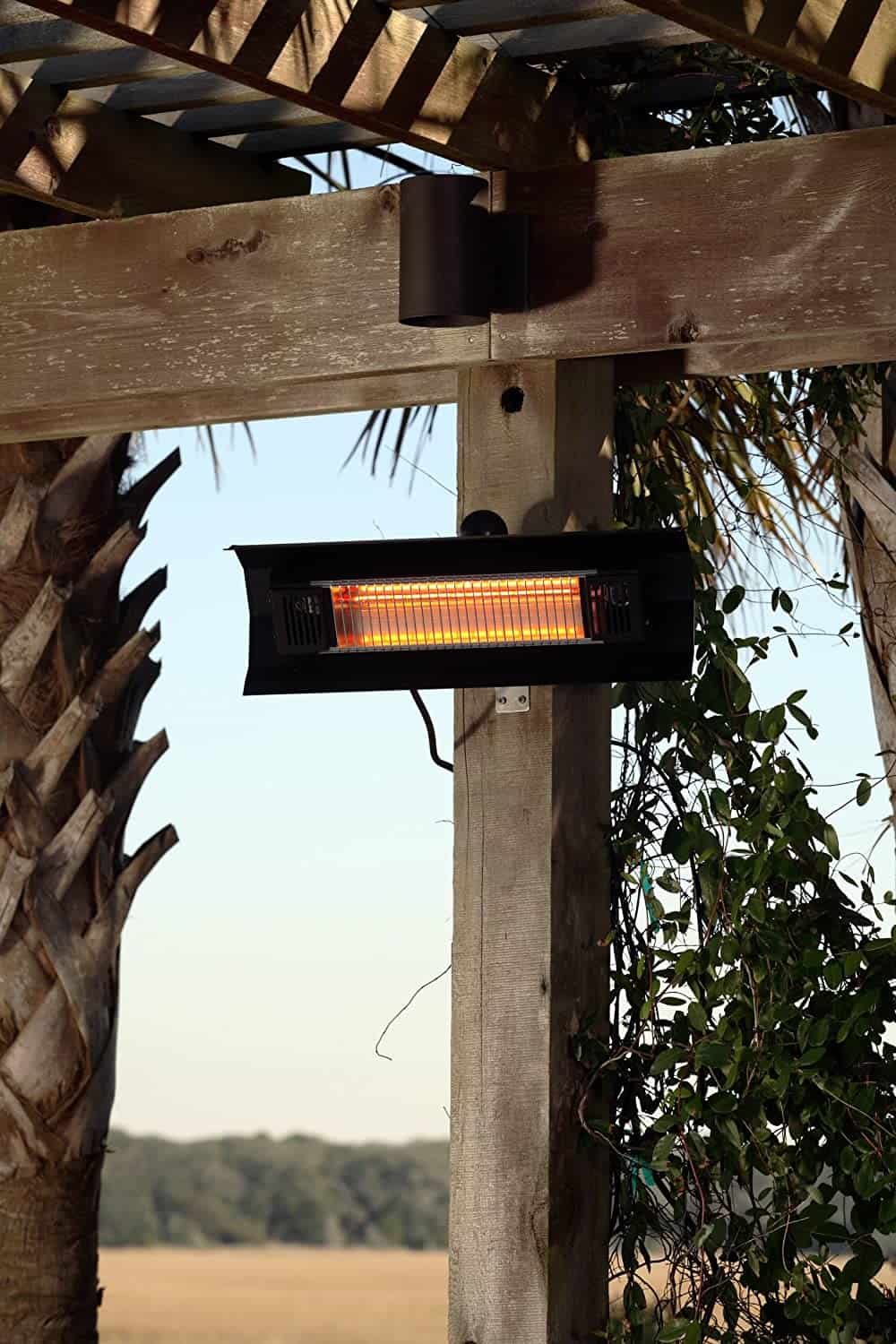 Where to Buy Fire Sense Patio Heaters
The good news is that Fire Sense patio heaters are sold both in stores and online- and through an array of retailers. Here are just a few places where I've found Fire Sense patio heaters:
Home Improvement Stores (Lowes, Home Depot)

Costco

Walmart

Target 

Amazon 

Wayfair 

BBQ Guys 

Other Specialty Stores 
I like shopping from the places I listed because their websites are secure and they are transparent about shipping and return policies. If you shop from a place you don't know, just make sure you do a bit of research on the company's policies and reviews. It never hurts to check if they have a presence on Better Business Bureau's website. 
Finding Great Deals 
Shopping for clearance? I like to look at holidays across different websites. But you can also take advantage of price-matching programs through Home Improvement stores. Still, I'd go in with a price range and must-have features. That way, you can stay on budget but get the features you're looking for. The lowest prices tend to be from Amazon, Walmart, or BBQ Guys- I noticed Target's prices in particular are a bit high. 
My Favorite Fire Sense Patio Heaters (& Selection Criteria)
Here are a few of my top picks for Fire Sense patio heaters. My goal here is to share examples of what I think exemplifies the Fire Sense brand best. I've taken into consideration reviews, assembly, accessories, price, unique design, and quality materials. From deluxe Fire Sense pyramid flame patio heaters to those with a powder-coated base, here are a few I recommend. 
Fire Sense 35-Inch Tabletop Patio Heater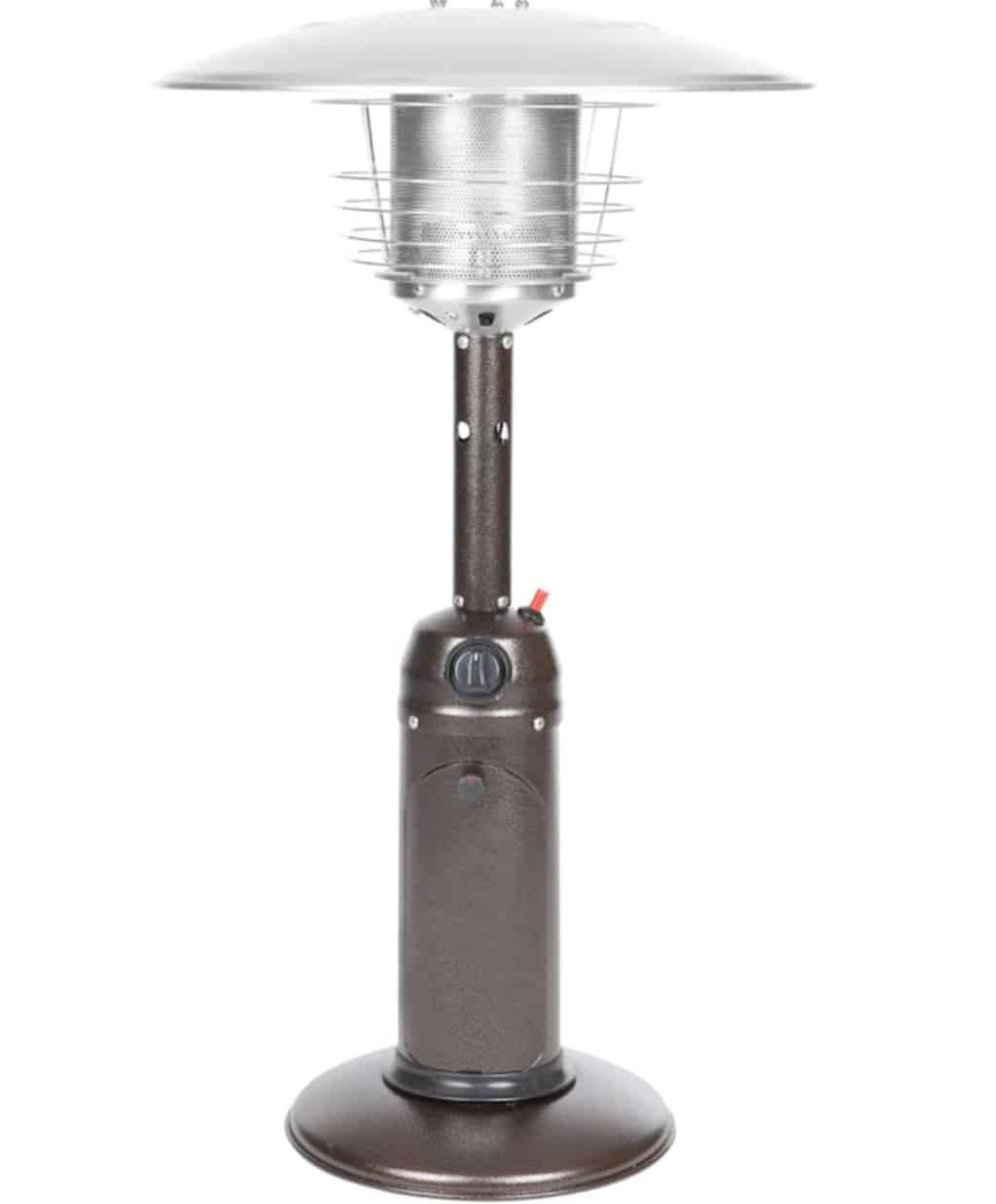 If you want a small, tabletop patio heater for warming up a table, this is my top pick from Fire Sense. Perfect for those of us who don't have much storage space, the 35-inch tabletop patio heater strikes a balance with dimensions and features. I love that the finish is not only powder-coated but also exudes warmth from the bronze hue. It's one of my favorite Fire Sense patio heaters overall because it's CSA-approved. While those standards aren't as high as certification, it stands out. Pair that with the auto shut-off system, and it's one of the best Fire Sense has to offer- just not very powerful. Buy Here. 
Pros
CSA Approved

Auto Shut Off

Powder-Coated
Cons
Very Modest BTU (10,000 is good for this type of heater)

Limited Use 
Fire Sense Wall-Mount Infrared Heater

If you're looking for either an electric heater or a wall-mounted heater, this is my favorite from Fire Sense. Scoring higher reviews than the other electric patio heaters, you can set this up beside a dining table without taking any space. Infrared heating is not only efficient but also safe to use both indoors and outdoors. It works well even on windy days, and I think the black finish is a refreshing alternative if you're not into the silver stainless steel look. Buy Here. 
Pros
Suitable For Indoors and Outdoors

Efficient Heating 

Not Impacted by Wind
Cons 
Corded

A Bit More Expensive To Operate 
Fire Sense Commercial Patio Heater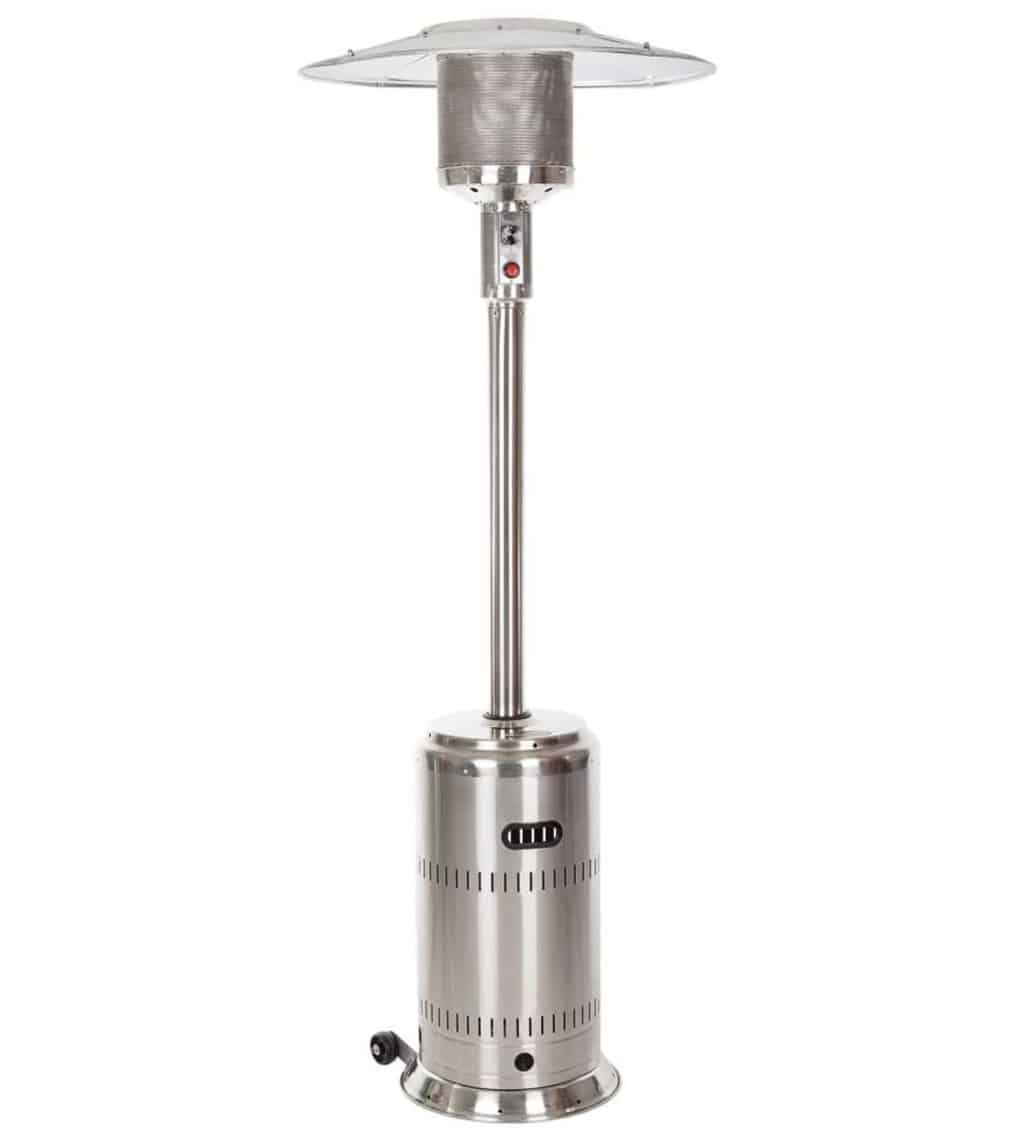 I have other freestanding patio heaters that I like, but this one is the most versatile and best overall from Fire Sense. Sure, the stainless steel umbrella design is nothing exceptional- but the price and features just might sell you. If your main goal is to heat your patio, this offers an impressive heat output of up to 46,000 BTU. Tip-over protection and a weighted base make it much more stable to operate over many models within the same price range. Buy Here.
Pros
Great Heat Output

Tip-Over Protection

Weighted Base
Cons
Not CSA Approved

Not Very Unique Design
Fire Sense Espresso Patio Heater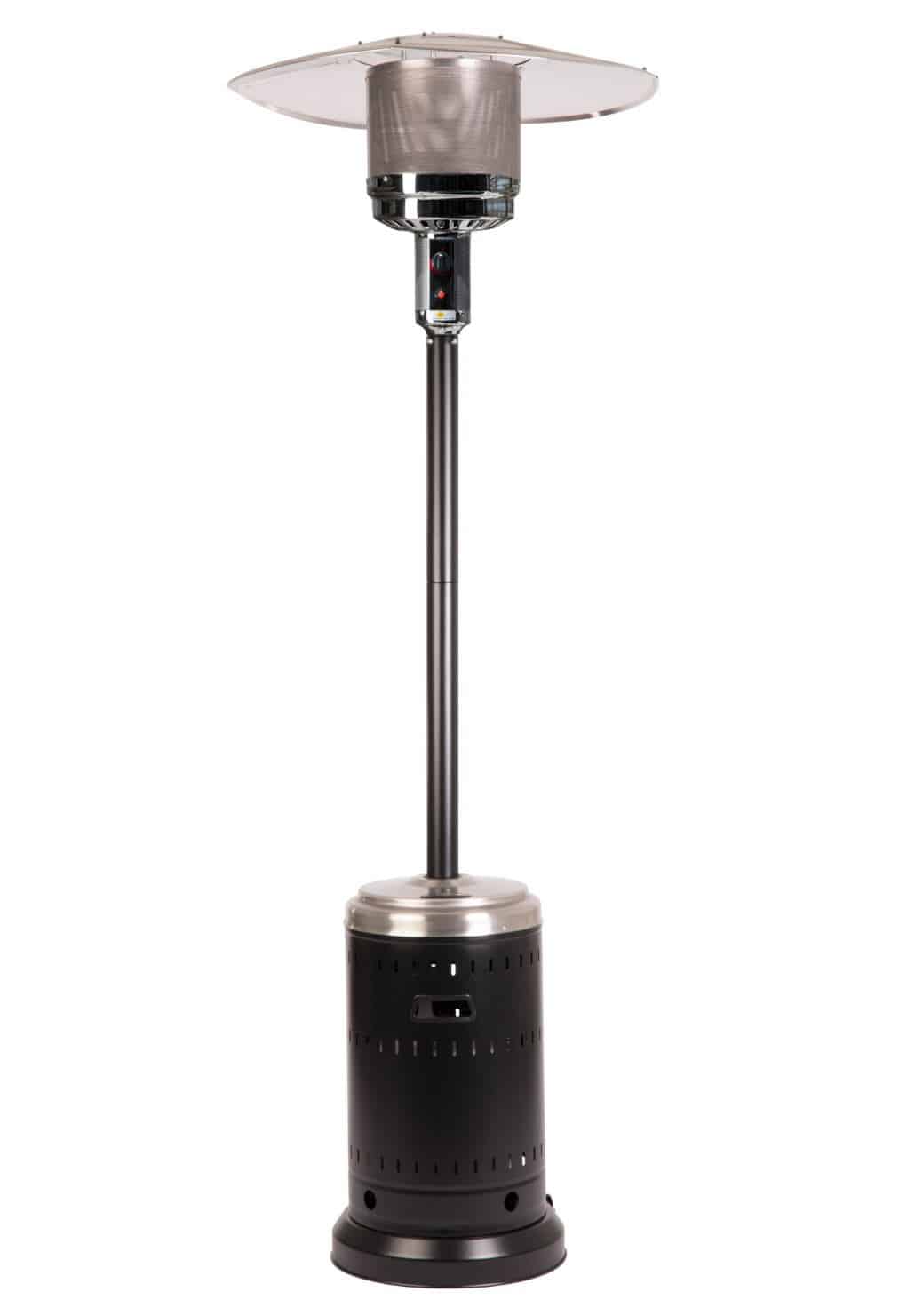 I found a great price for this Fire Sense patio heater from Walmart- and it just happens to be one of the most popular models and one of your best choices if you want a heater you can easily wheel around. It boasts 46,000 BTU heat output for heating even larger patio areas. I love that it has easy electric ignition for easy use. While the espresso finish is unique, it's the powder-coated exterior that makes it one of the best Fire Sense has to offer. With tip-over protection and a wide base, it's sturdier than most models on wheels. Buy Here. 
Pros
Wheels for Mobility

Wide Base 

Powder Coated 
Cons
Can Struggle with High Winds

Slightly Easier to Dent 
Aqua Fire Sense Patio Heater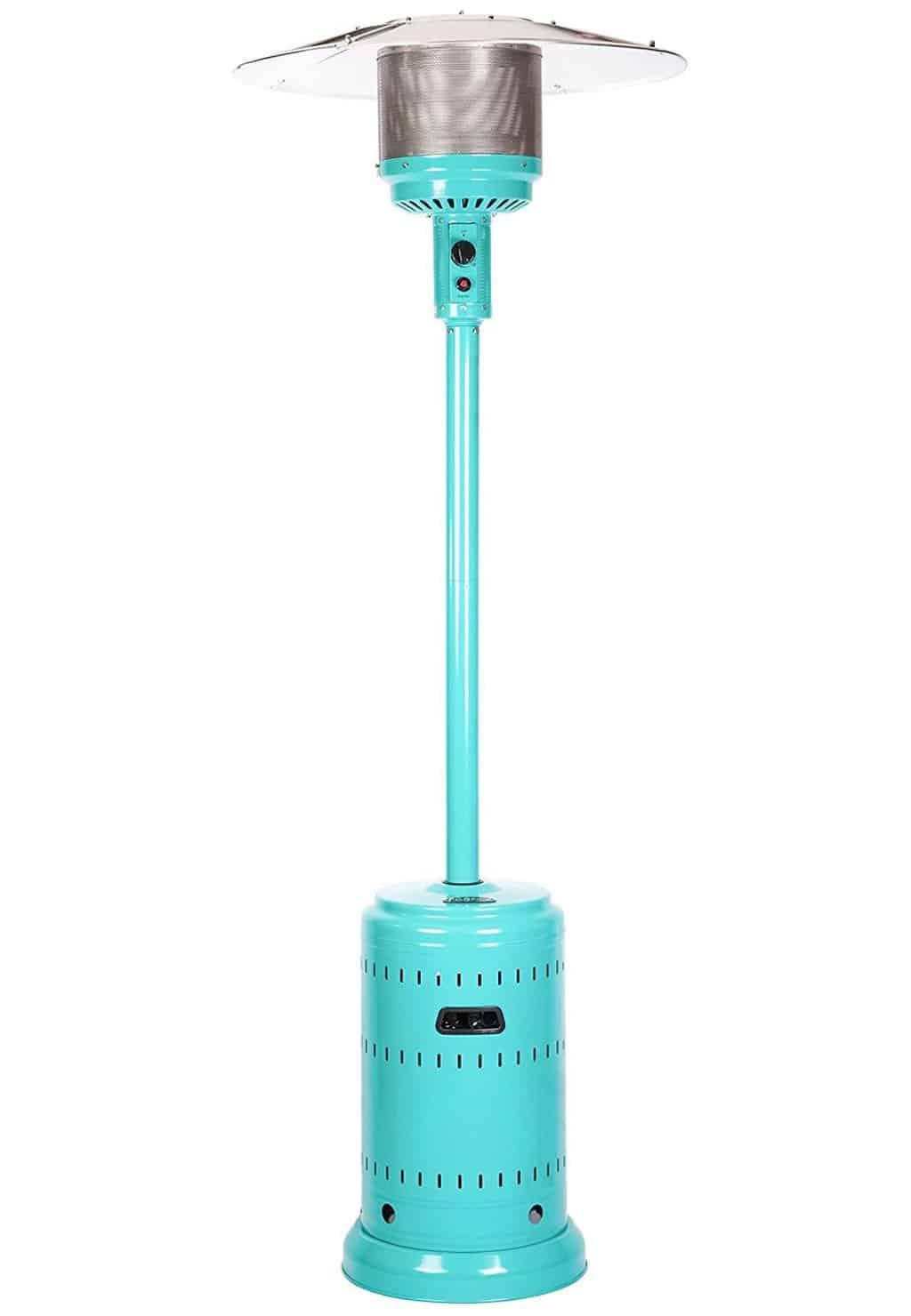 What can I say: as much as I value versatility, I also appreciate a little innovation. If you want a playful, bright patio heater that's also helpful, this unique aqua-hued design may make sense for you. The aqua fire sense patio heater is freestanding, with that same helpful heat output of up to 46,000 BTU. The ignition system is intuitive to use- even if you're new to operating a patio heater. In addition to a striking hue, I appreciate the powder coating. A safety valve shut-off is a great feature if you get forgetful. Buy Here. 
Pros
Unique Color

Safety Shut Off

Powder Coating 
Cons
Only Available in Aqua

Slightly Top Heavy 
Fire Sense Pyramid Flame Heater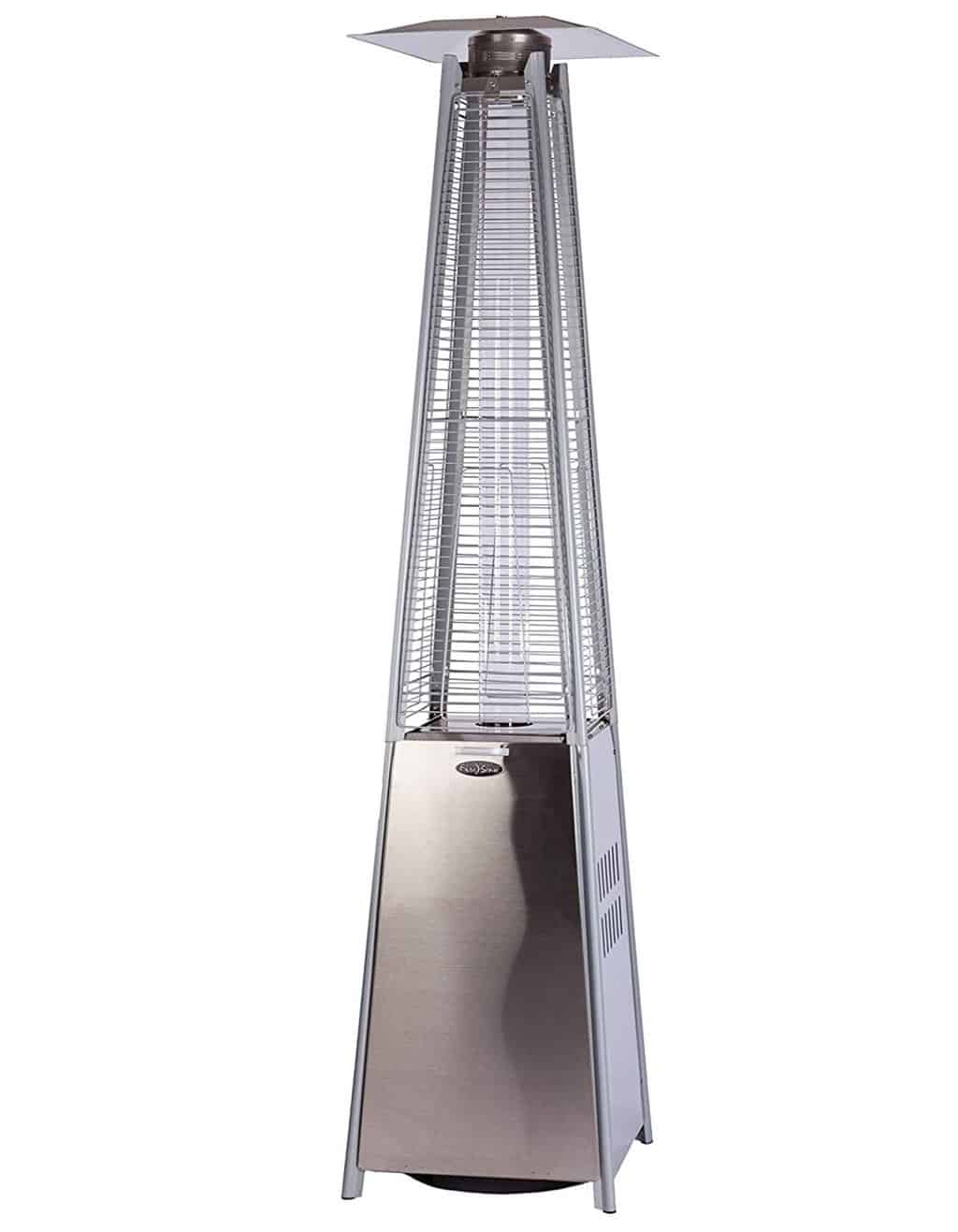 My final pick for one of the best Fire Sense patio heaters is the most stylish and modern. The pyramid design is a great option if you want both efficiency and beauty. Electronic ignition pairs with a standard 20-pound propane tank for a larger heating solution. With the glass tube, I'd set this close to dining to add a bit of ambiance. Its heat output of up to 34,000 BTU is a bit more modest but still provides warmth on those suddenly chilly nights. Once again, I love that the heater includes a safety shut-off so even if you're busy entertaining, you don't have to worry as much. Buy Here. 
Pros
Electric Ignition

Stylish Design

Auto Shut Off 
Cons
More Expensive

More Modest BTU Output 
Frequently Asked Questions
Question: What type of patio heater is most efficient?
Answer: If you're looking for an efficient patio heater, a propane heater is your best choice. Propane heaters with integrated variable temperature controls provide optimal efficiency and can save you money in the long run. However, if you want an electric model, an infrared electric patio heater is also an excellent choice. Contrary to popular belief, these heaters are safe and can also save you money even despite the initial higher sticker price. Meanwhile, regular electric and natural gas heaters tend to be less energy efficient. 
Question: How do I turn my Fire Sense patio heater on?
Answer: While there are some variations from model to model, most Fire Sense patio heaters have an ignition button or turn-on knob. If your Fire Sense patio heater fails to turn on, chances are you haven't connected it properly. Propane patio heaters won't work at all if they don't have adequate propane. If your Fire Sense patio heater works but won't remain lit, there's a chance something was damaged during shipping. You can contact Fire Sense for replacement parts. And if you have any more questions, the Fire Sense Troubleshooting Guide is a helpful resource. 
Question: Can a patio heater cause a fire?
Answer: Patio heaters can start fires, but a little common sense can prevent hazards. The main reason why fires start is that patio heaters are placed beside flammable materials. By allowing adequate clearance, you're greatly reducing your risk of a fire. I also recommend never leaving your patio heater unattended. In addition, some cheaper patio heaters are more likely to tip over. Buying a heater with a sturdy base, or one with tip-over protection further mitigates these risks. By taking these steps, it's easy to enjoy a patio heater safely. 
Question: Do infrared heaters work on patios? 
Answer: Despite the fears and myths surrounding infrared heaters, they're an excellent choice for a patio. They operate as safely as other types of patio heaters and can save you money. They're amongst the most energy-efficient options available- and the best choice if you're sold on an electric patio heater. If you want to buy the safest model possible, you can find some infrared heaters with safety certifications and additional safety heaters. But as long as you use the infrared heater as directed, you shouldn't be facing any exceptional safety hazards. 
Final Thoughts
Fire Sense offers a selection of patio heaters that, in my opinion, have the average customer in mind. Whether you're buying a Fire Sense patio heater from Home Depot, Amazon, Lowes, Costco, Walmart, or the Fire Sense store, it's clear that there's a good range of models. Fire Sense patio heaters may not be revolutionary, but I understand why they're popular- and there's a reason why the brand has made my own top patio heater lists before. The key is shopping for a model that fits your needs. There's no one perfect Fire Sense patio heater, but hopefully, some of my picks will help you see how to choose one that fits your situation.
Final Recommendations
At the same time, even shopping within a brand is overwhelming. While I love the variety that Fire Sense offers, I think two things are important. For one, I do recommend at least considering other brands if you aren't finding a Fire Sense patio heater that works for you. Secondly, shop with intention. Set a budget, but don't always feel bound to go for either the cheapest or most expensive Fire Sense patio heater.
If you're still indecisive about which Fire Sense patio heater to buy, I recommend the Fire Sense Commercial Patio Heater. What I like about this patio heater is that it provides versatile performance at a reasonable price. With a heat output of up to 46,000 BTU, this heater provides ample warmth for entertaining. The electric ignition makes it easier to use, and I also like both the weighted base and tip-over protection for improved stability.
Recommended Reads: