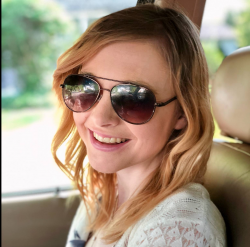 Latest posts by Erin Jamieson
(see all)
While I love solar porch lights, the truth is that I live in an area with pretty fickle weather. One moment it's sunny, and the next thing there's a cloud-covered sky. I like to keep a balance of lighting options. For many people like me, it's best to at least have one great porch light with an outlet. 
While I love selecting a porch light to make a home look more welcoming, the saying that looks aren't everything applies here, too. To help you strike the balance between style, price, quality, and performance, here's a short guide. 
I'll cover everything from types of outlet porch lights to dimensions, quality, and more. With my tips, you'll be able to find a reliable porch light that won't leave you or your guests in the dark. 
Bottom Line Up Front Summary
A great porch light with an outlet is easy enough to find- if you know how to avoid pitfalls. Determine the type of porch light that fits your needs, opt for a slightly larger size than you think you need, and aim for an off-white, LED light bulb for a welcoming but bright ambiance. Floodlights, meanwhile, need to have a sharper light tone and a greater level of lumen intensity. 
If I were to recommend one porch light with an outlet, it would be the LUTEC Integrated LED Wall Light. This wall-mounted porch light is ETL listed and constructed with sleek and durable stainless steel. It's both weather-resistant and damp rated, so it's a great choice for a slightly covered porch. With LED energy-efficient lights, accessories, and a generous warranty,  it's hard to believe how affordable it is. 
My Top Picks
How to Select a Great Porch Light with an Outlet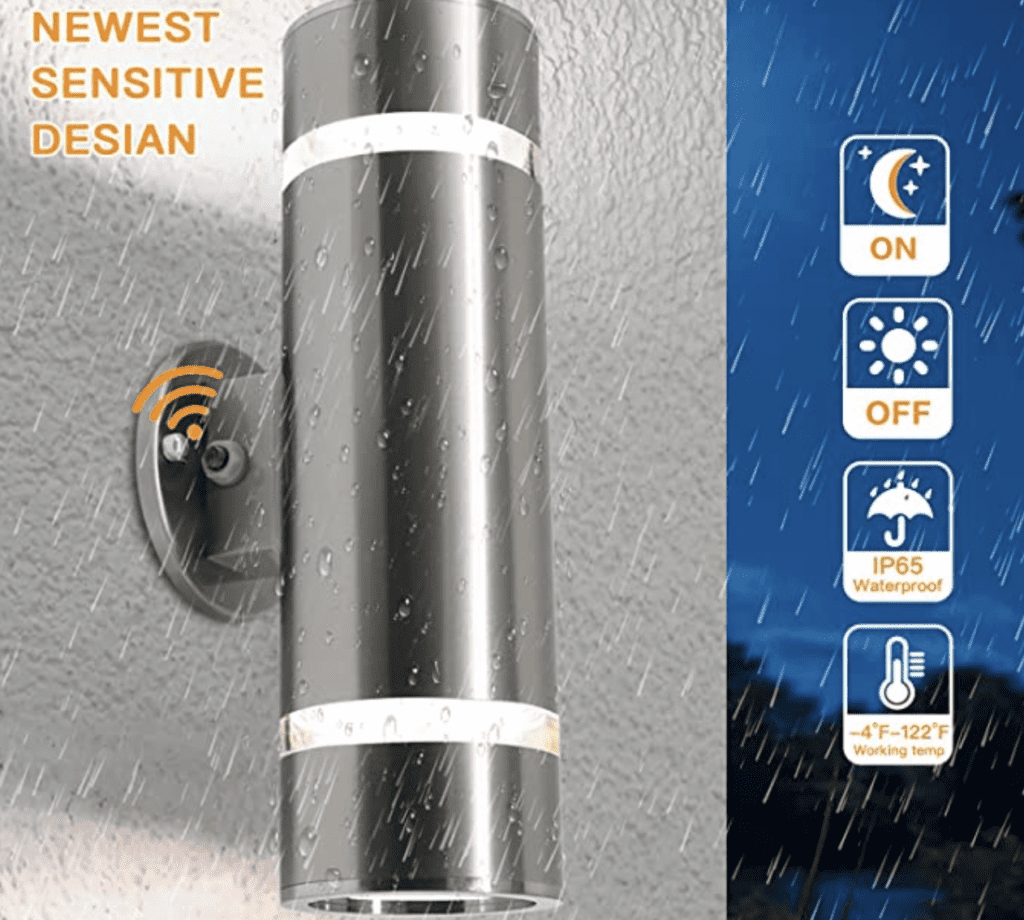 If you want to find a great porch light with an outlet, get your checklist ready. There are so many options now that you have to shop with clear criteria. Whether you're buying online or in stores, here are the guidelines that I recommend to find the best porch lighting for your home.
Select a Type of Porch Light with an Outlet
The type of porch light with an outlet that's best for you depends on what you want. Do you want a porch light that frames your home? Does that add safety and security? The chart below shows the most common types of porch lights with outlets- and the purpose of each. 
Note that not all of these porch light types always have outlets- just that these styles can sync with outlets. 
| | | |
| --- | --- | --- |
| Type of Porch Light with Outlet | Description & Purpose | Get If You Want… |
| Ceiling Porch Lights | These attach to the ceiling of your porch and are used for illuminating the porch rather than a larger area. These can be light simple, or decorative (such as drop/ chandelier styles) | Decoration, to illuminate a large porch area  |
| Flood Porch Lights | Also known as safety lights, these porch lights are meant to increase visibility and often include special features such as monitors, motion sensors, and more.  | Added safety and security  |
| Post Porch Lights | These porch lights are installed along fences, columns, and posts. They frame your porch and increase visibility but also aesthetic appeal. Some use them to highlight porch decorations. | Lighting for a larger porch area  |
| Scone Porch Lights | These attach to a porch side wall. They are used for enjoying your porch and also can be used to frame doors or windows. They are a bit more subtle than ceiling porch lights.  | Softer coverage of your main porch  |
| String Porch Lights | These are purely decorative. Sometimes used for festive occasions and sometimes used for whimsical appeal or ambiance, string lights don't illuminate as much and tend to be more fragile.  | Fun  decorative elements that'll you'll use occasionally  |
As you can see, there is no one best porch light type. A lot of it depends on personal preferences and needs. Flood lights are naturally sharper and harsher and less decorative. Post porch lights frame a larger area, while ceiling and scone lights do a better job of lighting your main porch/ sitting area. 
See also: Ultimate Front Porch Decor Ideas
Determine the Best Porch Light Size 
The best size for your porch light, of course, is dependent upon both the size of your porch and the type of light you're seeking. I honestly think it is more common to buy porch lights too small, rather than too large. When in doubt: size up.
If you want it to be proportionate to your door, opt for a porch light that's roughly one-third of the height of your door. Keep in mind that a porch light looks roughly a third to half of its size from the street. Depending on your aesthetic goals, you'll want to aim for something a bit bigger than you probably the first thing that you need. 
Select the Best Materials for a Porch Light with Outlet
Another big mistake I see people make is choosing a porch light with an outlet and not thinking about the exterior build. Porch lights with outlets are made with aluminum, copper, cast iron, steel, composites, and brass.
Brass is a good option because it is fairly sturdy and develops a natural patina. This darker hue is generally protective against the weather. The same is true for copper. Cold-rolled steels can be a fair option if they're treated with a weather coating. While composites are cheap, they also are more fragile and don't last as long. Plastic should only be selected for shatterproof string lights (bulbs) and ideally coordinated with other materials. 
Of these, my favorite choice is stainless steel. Like aluminum, it's weather-resistant and durable, but it's a bit stronger than aluminum. 
Lumens and Bulb Types
Bulb Type & Lumens
LED lights are the most efficient option for porch lights with an outlet. They last an average of 15 to 20 years, compared with a standard bulb (1-year life rating) and halogens (average of 2 years). The lumens needed, though, depending on the type of porch light. 
For floodlights, aim for around 600 to 800 lumens
For sconce lights, aim for around 100 to 400 lumens 
For other porch lights, aim for 100 to 500 lumens
Anything above 700 lumens is usually better suited for floodlights and may appear too harsh to be enjoyed. But again, some of this is up to personal preference. Anything below 50 lumens is not going to provide much coverage in the dark. 
Light Tone
A softer, off-white is the best option for most porch lights. Floodlights attached to an outlet may do better with a brighter white tone. 
Key Features for Porch Lights with Outlets
Here are a few features I consider for deciding on regular porch lights with outlets or floodlights for added security. 
Flood Lights
These are usually divided into motion sensors and dusk to dawn lights. Motion sensor lights react based upon movement. Meanwhile, dusk to dawn lights reacts to the rising and setting of the sun. You can also buy lights that are equipped with both features. It depends on personal preference what combination of lights makes the most sense. I like that dusk to dawn lights mean you never have to think about turning them on or off. 
Water Rating
You may see outdoor lights with an outlet rated as either damp or wet. Damp ratings indicate porch lights that can withstand moisture but should be used under a porch cover as opposed to direct rain. Wet ratings, meanwhile, indicate that these lights can be left out in direct rain. 
ETL & UL Listings
Both the ETL and UL are independent testing organizations for electric safety. If the light is ETL or UL listed, that means it's met high inspection and safety standards for regular use. 
See also: Best Porch Design Ideas
Where to Buy & Savings Tips 
Porch lights with outlets are incredibly common. The problem is sorting out the best place to buy them. There's no one best place to buy porch lights–home improvement stores, specialty lighting stores and larger suppliers like Wayfair are all fair options. If you opt for a retailer you're less familiar with, do a quick look at external customer reviews, as well as if they have a rating through the Better Business Bureau or any press coverage. 
This is not a hard and fast rule, for porch lights with outlets tend to go on sale during Winter, late Fall, and holidays (especially Memorial Day, Labor Day, Fourth of July, etc). You can always compare shops and ask for price matching.
But I also think that it's worth mentioning that buying a more energy-efficient porch light with a durable exterior is key for saving money in the long run. 
Porch Lights with an Outlet: My Picks 
Here are a few of my top examples of porch lights with an outlet. These lights were selected by their quality construction, intended use, materials, features, and company and/ or brand reputation. Keep in mind that porch lights come in countless sizes and styles- from modern to rustic, traditional, and everything in between. These just represent ideas to help with your planning. 
Outdoor String Lights with Edison Vintage Shatterproof Bulbs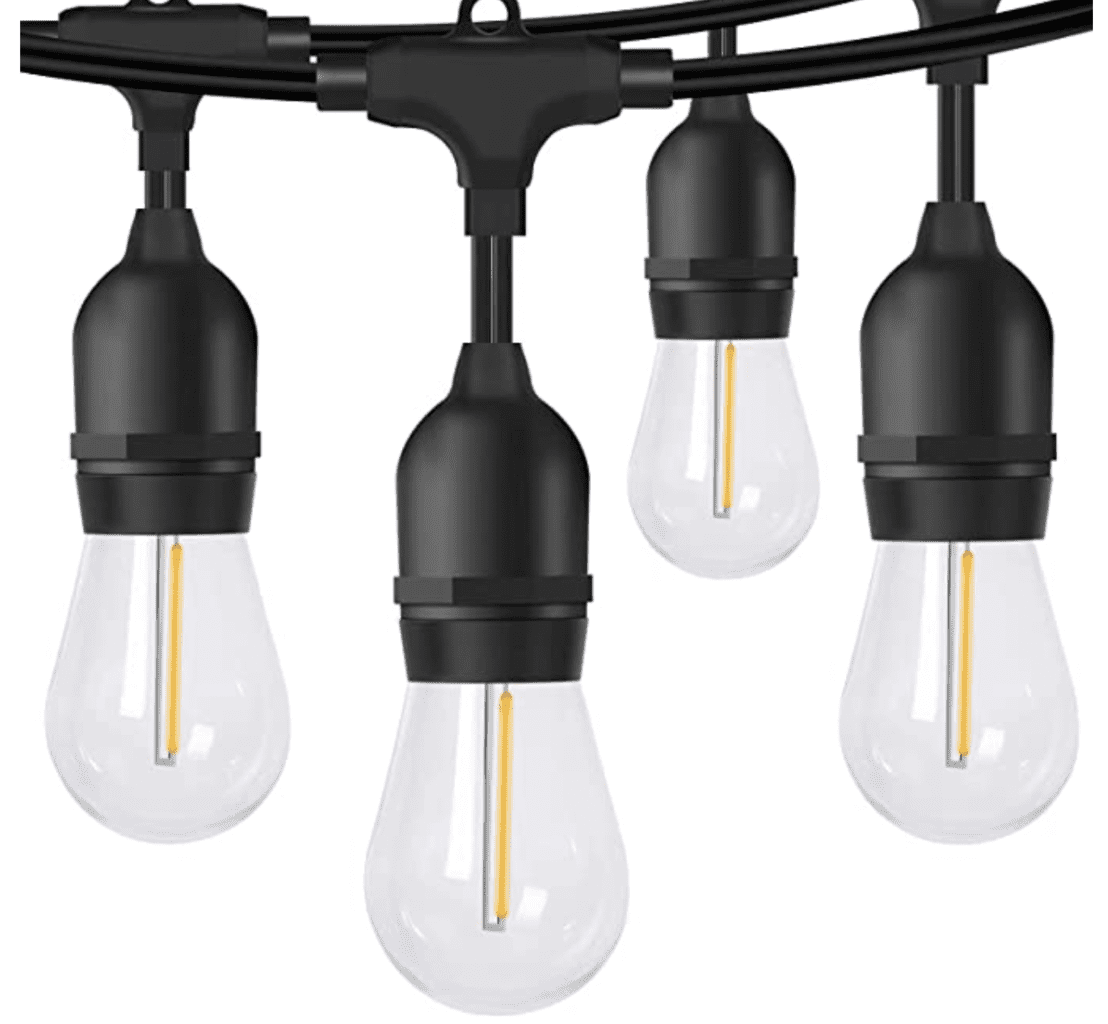 If you're looking for a playful and affordable way to add a little more light to your porch, these string lights are one of the best options. String lights never are going to be quite as durable as strong as traditional porch lights, but I do love having them on hand for parties and just adding a little touch of ambiance.
There are so many things that set these string lights apart from others. They feature advanced LED technology and are entirely waterproof. That means no worrying or guilt if you leave them out in rain, snow, or during cold and hot temperatures. I love that it includes a dimmer for mood lighting (something I'd use for a candlelight dinner feel). Plus, the bulbs are shatterproof. That's pretty impressive for the price point. Buy Here. 
Pros
Advanced LED Technology 

Waterproof 

Dimmer Setting 
Cons
Modest Lighting

May Not Work with All Outlets (Check Specs) 
Ankita Dusk to Dawn Sensor Outdoor Wall Sconce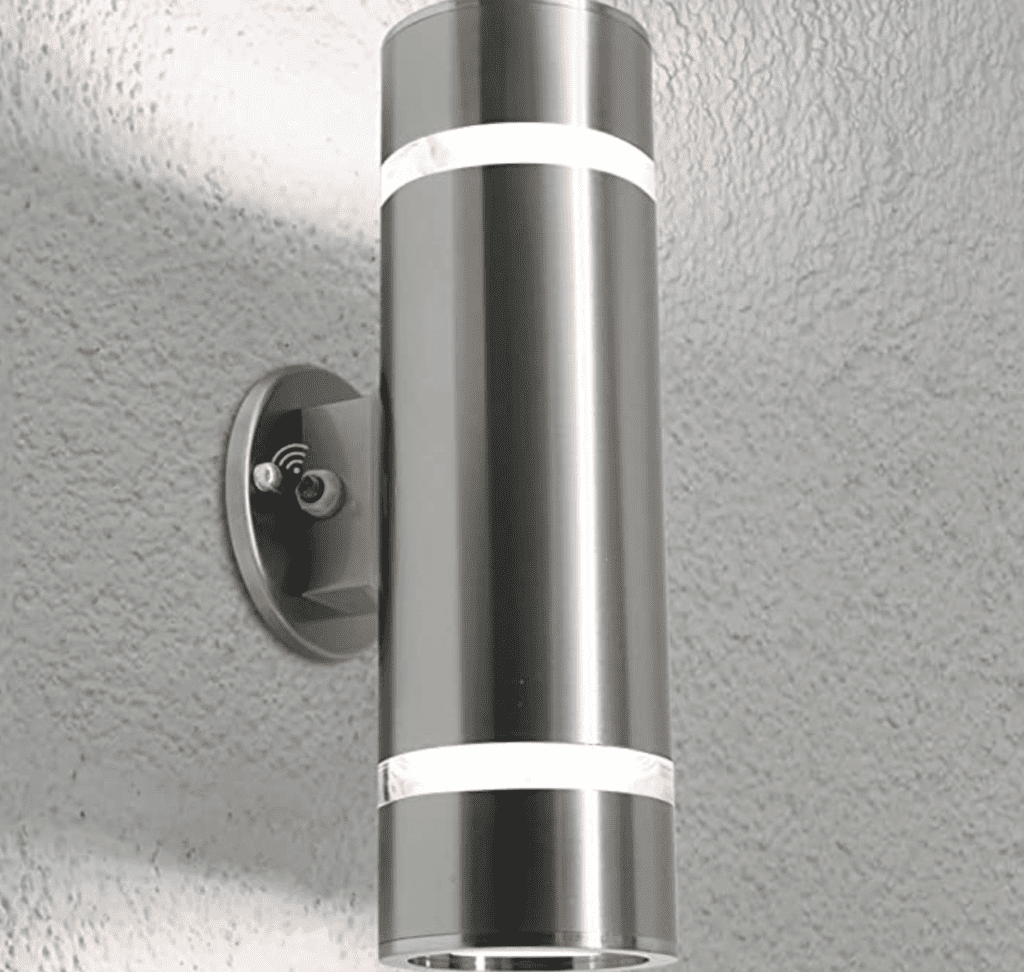 The benefit of a dusk to dawn light is that it naturally adapts- no intervention is needed. The sleek, modern profile of this porch wall light with an outlet caught my eye, but there are many reasons why it makes my top pick. A built-in sensor detects surroundings automatically. It's one of the few constructed with 304 stainless steel (most are aluminum) which works in all weather. It's rated by the ETL as safe to use and comes with 2 years of customer service. It's a versatile light that provides security and stability. Buy Here. 
Pros
Heavy Duty Stainless Steel

Motion Sensor 

All-Weather Durability 
Cons
Challenging Installation

Not 100 Percent Waterproof 
Phillips Lucca Outdoor Wall Light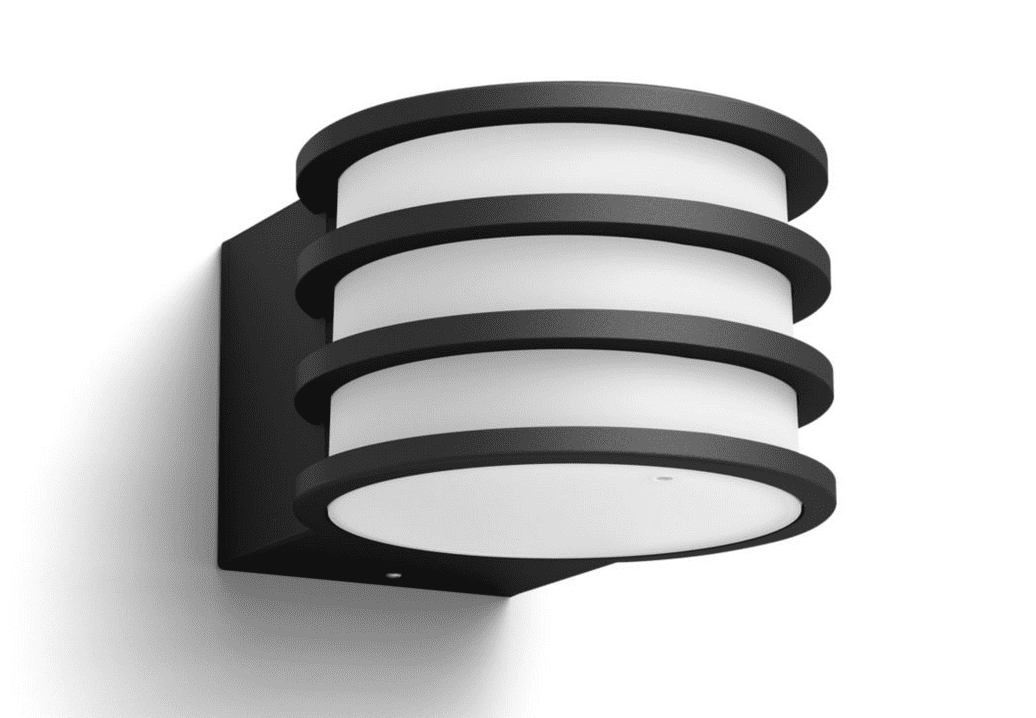 This is easily one of the most unique and it also happens to be one of the best options if you need a floodlight. The unique floodlight features both colored and white, energy-efficient LED lighting. It's rated IP44, which works for covered patios and light rain. Metal pairs with heavy-duty composite materials for modern, lightweight, and durable construction. I like the warm light it exudes, the smart control features, and the complimentary two-year warranty. Buy Here. 
Pros
Damp Rated

Efficient

Smart Controls 
Cons
Some Aluminum Components (Not Strong as Steel)

Less Versatile Design 
VOLT® Cypress Stainless Steel Bollard Light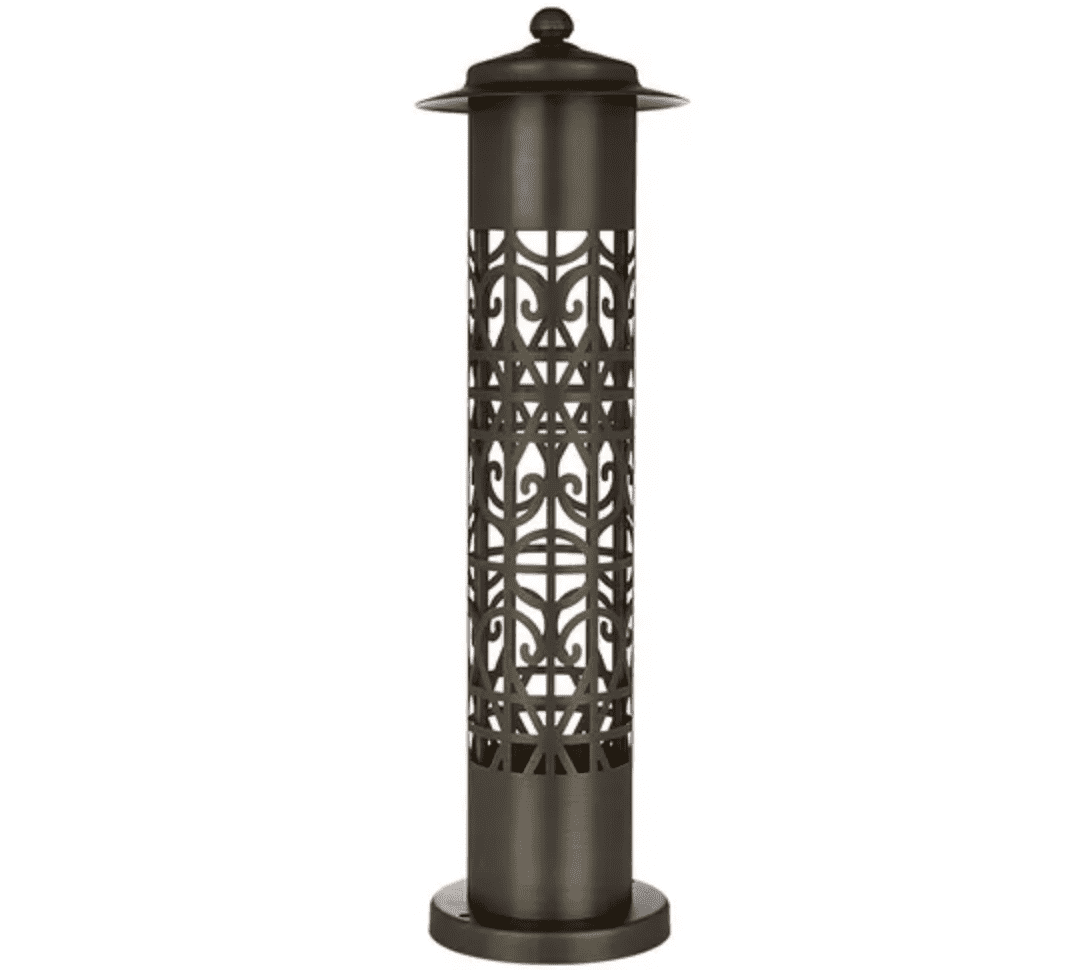 This striking porch light with an outlet is post-style. You can use it to illuminate the corners of your porch or light the path along the way. I love the play with patterns and the dazzling visual effect. But unique design aside, these LED lights are built to perform. Crafted with bronze with electroplating, they'll weather the elements and add style to your home. I also love that it's UL listed (safety standard) and energy-efficient. Buy Here. 
Pros
Energy Efficient

Unique Design 

Bronze with Electroplating 
Cons
Requires Voltage Adapter

Modest Radius 
LNC 10″ Metal/Glass Square Outdoor Wall Light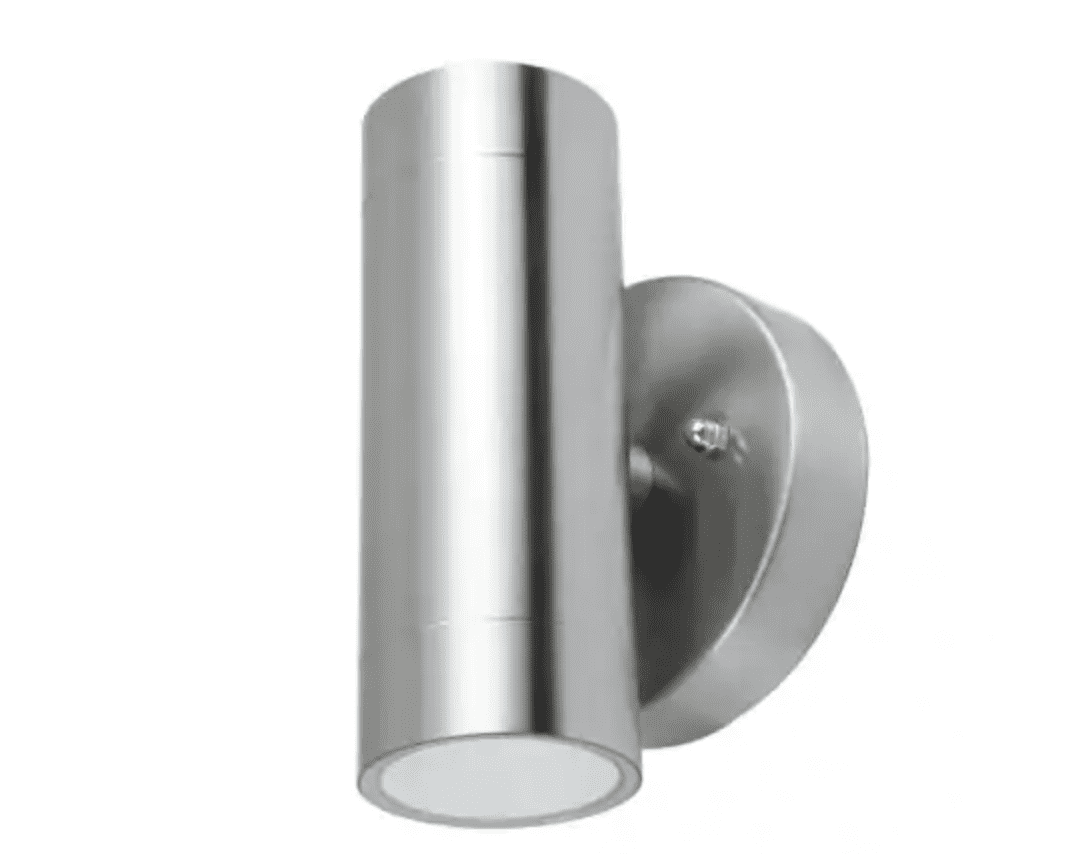 This classic porch light could suit just about any home. If you want a versatile porch light with an outlet with a sturdy, reliable frame, this one is one of my top picks. Surprised as I was to find this porch light at Target, it does hit the target- for some of my top criteria. The streamlined frame plays on classic but updated design principles. You can use either LED or incandescent lights, providing versatility many porch lights lack. It's weather-resistant for the dame and wet locations and won't tarnish with exposure to sun, rain, wind, and snow. I also love that it comes with a two-year warranty guarantee. Buy Here. 
Pros 
LED or Incandescent Lights

Sturdy, Weather Proof Frame 

Two Year Warranty
Cons
Not Stainless Steel 

Only One Size 
LUTEC Integrated LED Wall Sconce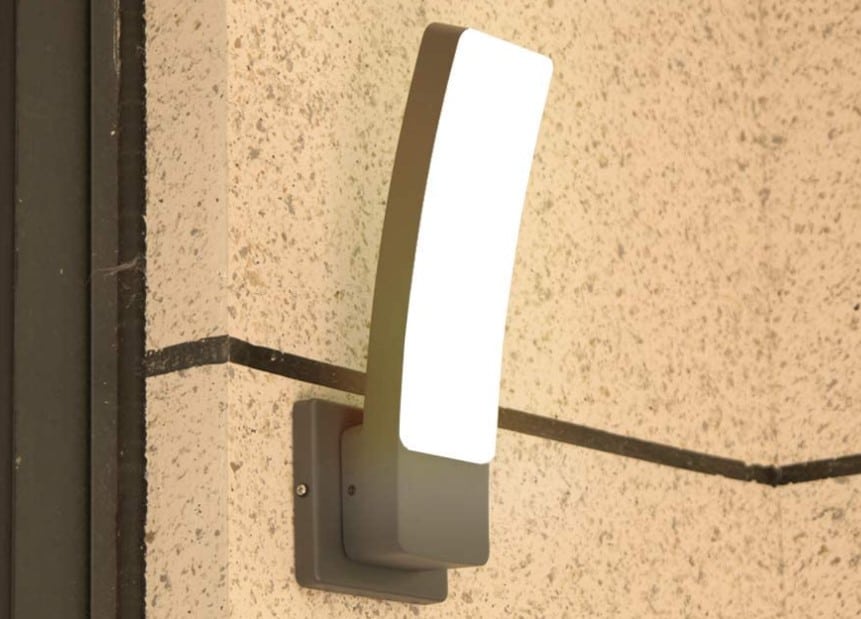 My last pick is one of the most affordable porch lights on the market and is also quite modern. If you're in search of a minimalist sleek side porch light, Home Depot has you covered. Wet-rated for outdoor use, this wall sconce is made with light brushed stainless steel and includes a bright white integrated LED light. It can be purchased with affordable accessories (including flush mounts and lantern sconces) or used alone. Certified as an ETL listing and with a 3-year warranty, this porch light is simply practical. Buy Here. 
Pros
Integrated LED

Brushed Stainless Steel

3 Year Warranty 
Cons
Not Fully Waterproof (Damp Rated) 

Very Plain Design 
Frequently Asked Questions
Question: How do you turn a porch light into an outlet?
Answer: Any light fixture can be switched into an outlet. The most common way to do so is using a fixture-outlet adapter. The adapter works by syncing into an outlet. Adapters include both a socket and a receptacle. However, the entire process is a bit more complicated if you want to make permanent changes. To do so, you'll need to turn off all power to that circuit, remove the light fixture, remove wires, strip the wires, and add screw loops. You can hire a professional or (if you're careful) DIY. Watch a Tutorial Here. 
Question: Should lights and outlets be on the same circuit?
Answer: You can use both lights and outlets on the same circuit- it's quite common.  However, some consideration should be given to performance and optimization, as well as safety. The problem is too many neutral charges. If there are too many lights and outlets on the same circuit, the risk of fire increases. When in doubt, ask your electrician. If you're installing a powerful light or outlet, be mindful of what is already using the same circuit.  
Question: Why did my porch light with outlet stop working?
Answer: The most common reason is a tripped breaker or a tripped GFCI. Complete power outages are possible culprits as well. Tripped GCFIs are usually a result of an integrated safety system. When a heavy storm or rain comes, GCFIs stop the flow of electricity to prevent hazards. Usually, they have a simple rest button to restart the flow of electricity. The same is true for a tripped breaker. 
Question: Why do my lights work but not my outlets?
Answer: The most common reason why an outlet wouldn't work is that there is a faulty or loose wire. A single bad wire can pose issues for your outlets. Check socket connections first. Even if there hasn't been a specific episode that causes damage, mere age and wear and tear can pose issues for outlets and wires alike. Of course, even something as simple as a tripped circuit breaker can cause problems (assuming your lights and outlets are on a separate circuit breaker). 
Final Thoughts
I love how porch lights set the scene for style and ambiance. From classic to modern to rustic, the problem isn't the shortage of options. The important thing is to set clear criteria before you shop online or in stores. And if you're feeling overwhelmed, remember: there is no one perfect porch light. I prioritize water rating, materials, and lumens over extra features. 
Final Recommendation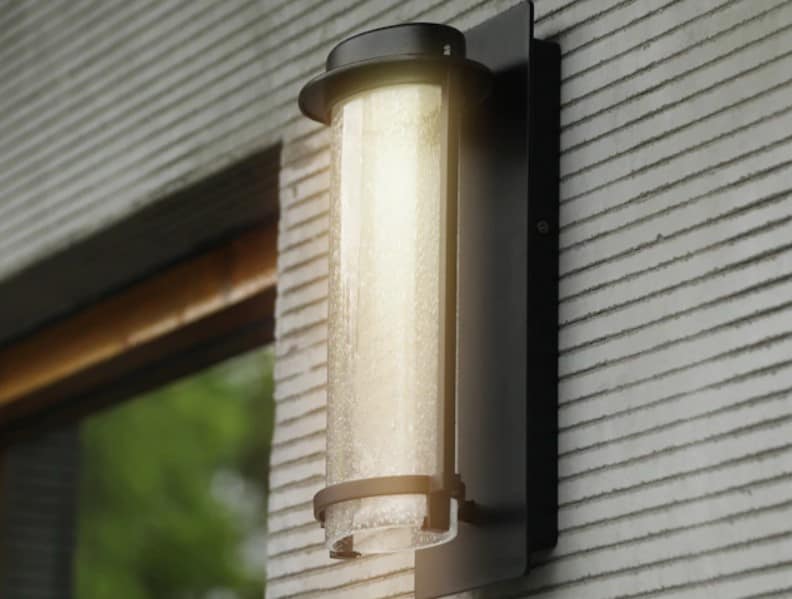 Still, trying to decide on the best porch light with an outlet for you? I've been there. Chances are you might need something simply versatile or practical. If that's true, I recommend a classic porch light like the LUTEC Integrated LED Wall Light. It's a minimalist style light made with stainless steel and ETL certified for safety. With energy-efficient lighting and an incredibly affordable price, it's a great go-to if you just need some light for your porch or patio. 
Recommended Reads: