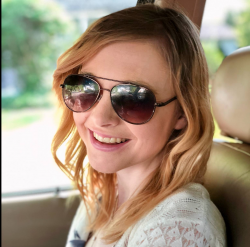 Latest posts by Erin Jamieson
(see all)
In the Midwest- and many places in the United States- temperatures can turn on a dime. As someone who loves spending time outdoors with loved ones, I know it can be a damper to others to go from a mild to a chilly night. But even if you have limited space, there's an affordable heating solution: tabletop patio heaters. 
I'm sharing a quick guide with you so you can find the best tabletop patio heater for your home. I'll share my tips for selecting important features, quality materials, and how to decide between different options. From sleek electric tabletop patio heaters to propane tabletop patio heaters, here's how you can find the best value for your money. And here's to spending more time outside with friends, family, or just a good book. 
Bottom Line Up Front Summary
Tabletop patio heaters are a clever way to add warmth to a small space. They're usually pretty easy to use and affordable- but you have to buy one with realistic expectations. The best tabletop patio heaters are made with structural integrity and feature safety features to ensure smooth and enjoyable operation. 
If I were to recommend one tabletop patio heater, it would be the Sunheat International Tabletop Heater. The reason why I'm awarding this the best overall distinction is because it's one of the few heaters that are CSA certified has a reasonable price, and packs in excellent features! This tabletop patio heater offers a stunning steel pyramid design, coupled with a reflector for heat efficiency, a simple push ignition system, and a warranty. 
My Top Picks
Tabletop Patio Heaters: Myths vs. Facts 
Something that I used to find frustrating about buying any appliances for the outdoors was all the contradicting bits of information. Now that I've researched for myself and had my own experiences, I've realized that there's a mix of both fear and high expectations for tabletop patio heaters. Here's the truth about why you might love a tabletop patio heater- and some reasons why you should look for a different heating solution. 
| | | | |
| --- | --- | --- | --- |
| Perception  | Myth  | Fact  | Low-Down  |
| Tabletop Patio Heaters Aren't Safe.  | X |   | Tabletop patio heaters pose the same risks as other patio heaters- though they may be slightly more likely to tip over. You can buy built-in safety features and use them as directed for safe use.  |
| Tabletop Patio Heaters Are As Effective As Other Heaters | X |   | Tabletop patio heaters are designed to produce a small burst of heat, not warm a large area. They are best used for an intimate seating situation.  |
| Tabletop Patio Heaters Are An Alternative to Candles |   | X | They don't provide the same ambiance but are more consistent, powerful, and easier to control  |
| Tabletop Patio Heaters Are Better Than Tabletop Fire Pits  |   | X | It's more a matter of preference. Tabletop fire pits run on electric or gel fuel; heaters run on electric, natural gas, or propane. Heaters are a little easier to control because they don't have the same open fire- but provide less ambiance.  |
In short, tabletop patio heaters can be safe if used and operated properly. They are a good solution if you want a little heat for a small, intimate outdoor seating area but don't want to grapple with an open flame. Just don't expect as powerful of a heating solution as a freestanding patio heater would provide. 
How to Find the Best Tabletop Patio Heaters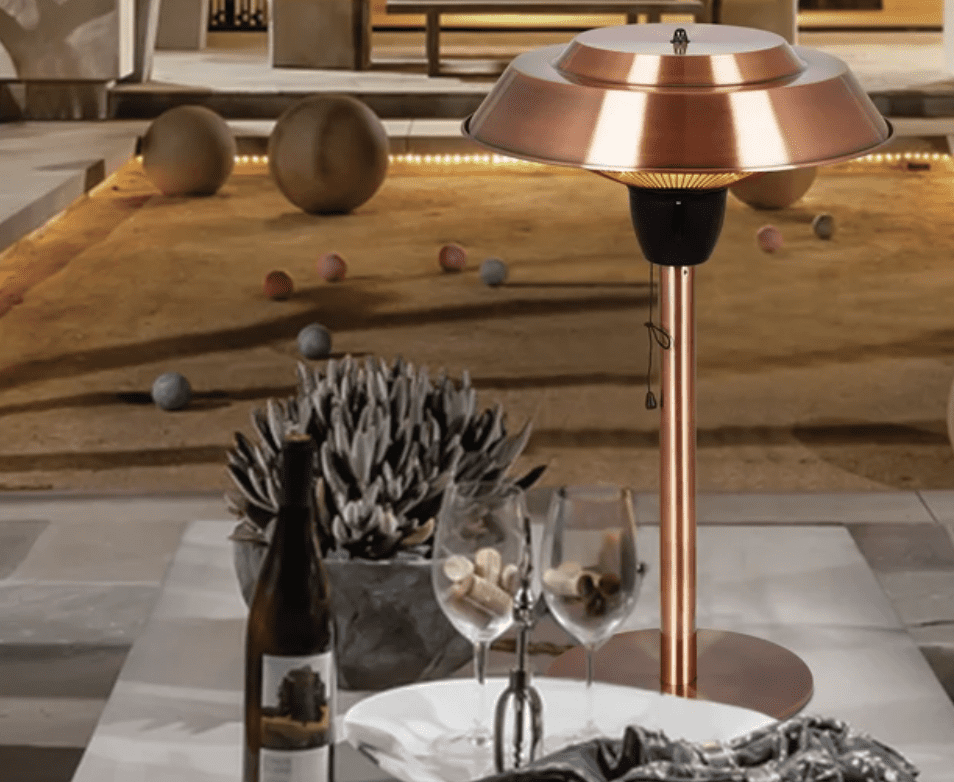 Here's how I recommend looking for the best tabletop patio heater. I like following a step-by-step process because it's a good way to avoid less than stellar options. With tabletop heating solutions rising in popularity, you can find a heater at a fair price and features built for performance. 
Tip One: Buy a Steel Tabletop Patio Heater
My first tip is to avoid aluminum or iron tabletop patio heaters- with some exceptions. Aluminum is lightweight and affordable, but I'd only recommend a heater with some aluminum components at most.
While mostly weather-resistant, aluminum heaters tend to be less sturdy and easier to damage. Iron and other metals are more prone to rust than steel. Carbon steel, 310 steel, and stainless steel are all solid options. You get that lightweight performance at a fair price. 
Tip Two: Selecting Between Electric vs. Gas 
This is a step where I can't fully decide for you. Electric and gas tabletop patio heaters are both acceptable. 
Reasons to Choose an Electric Heater
If you have an outlet nearby (or want something battery operated), the plus side is that these tabletop heaters are easy to use. Electricity is usually not too expensive, and many feel comfortable with it. They tend to be slightly safer than gas options, too. 
Reasons to Choose a Gas Heater
I have a preference for gas over electric tabletop patio heaters. Gas tends to be more energy-efficient, quicker to heat, and may save you money in the long run. The biggest downside is that it's very important to use these heaters only in ventilated areas- so they are not suitable for covered patios or inside. 
Tip Three: Heat Output and Efficiency
Here, bigger is not necessarily better. For a tabletop patio heater, I expect a modest heat output of anywhere between 2,000 to 20,000 BTU. I'd say that 10,000 BTU is a pretty good average to aim for, assuming you're using this for a small or medium table. 
Heat efficiency matters too. If that's one of your top priorities, a few features can help, such as infrared heating, variable temperature distribution, and adjustable temperature valves. If you opt for natural gas, make sure the hose is not only properly connected, but also made out of 100 percent solid rubber. 
Finally, I pay attention to the heating radius. For tabletop patio heaters, that radius should be a few feet- and at least cover the radius/ general area of your table or seating region. 
Tip Four: Other Features
I don't expect quite as many additional features from a tabletop patio heater as I would for a freestanding heater. But I do appreciate unique features that make my purchase feel worthwhile, including: 
Safety Features 

Reinforced bases, automatic shut off, anti-tilt, heat deflectors, burner screen guards, safety approval/ certification (CSA, EL, etc.) 

Stylish Additions 

Glass tubes, unique finishes, unique hardware

Modern Upgrades

Electric ignition, remote control

Warranties and Protection Plans 
Tip Five: Where to Shop- and Buying Tricks
Shop online, and you'll have a wide selection of tabletop patio heaters ready to purchase. But trust me when I say that being selective pays off. Even with my other standards, I want to feel confident that I'm buying a high-quality tabletop patio heater. That can include places like Amazon and Home Depot, but also specialty stores. I just make sure I know something about the company and have some policy for returns. 
I buy products from listings that have detailed specifications and photos and prefer those with genuine customer reviews. 
Finally, to save money, I recommend shopping during holidays or even cooler months, which are considered 'off-season.' If you don't want to wait, you can also take advantage of the various price matching programs offered through most home improvement stores. And be patient: sometimes the best models go out of stock, but you can be notified when they're back in stock. 
See also: Fire Pit Seating Ideas
My Favorite Tabletop Patio Heaters (& Selection Criteria) 
Want to get started? If you've decided that a tabletop patio heater is the best choice for your home, I want to give you a little inspiration. I've selected a few options that I think are a good value. I've included electric and gas tabletop heaters, each selected based upon the quality of materials, special features, and store or brand standards. 
Zachvo Electric Tabletop Patio Heater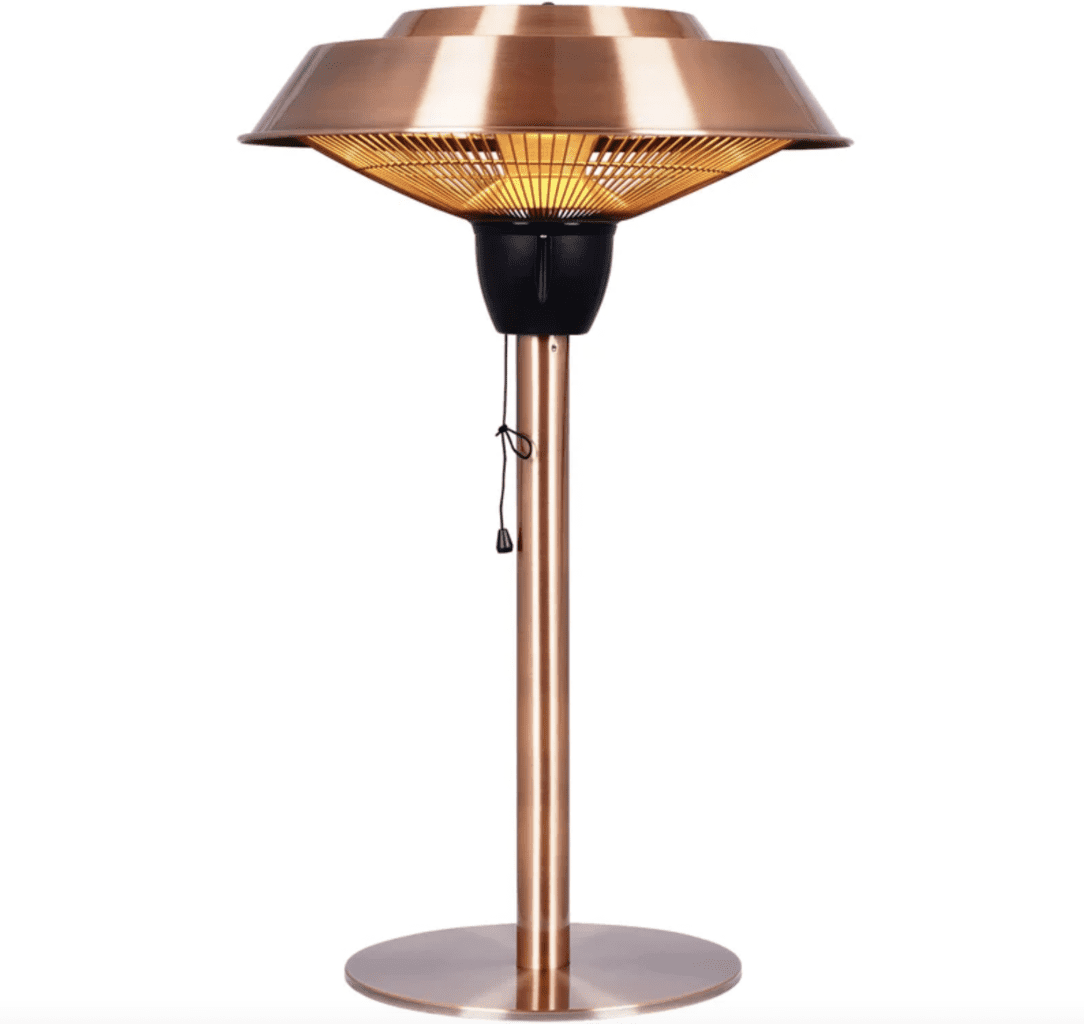 The electric tabletop patio heater immediately caught my attention. So many electric tabletop heaters use up more energy than you'd think. But what makes this heater stand out from the rest is its energy efficiency. The infrared heater is sold through Wayfair and features a tip-over switch for improved stability and safe use.
I love that it includes wheels and multiple certifications for safety, dust, and water resistance. This tabletop patio heater comes with a brushed copper or hammered bronze finish for a unique look. If you don't have the proper ventilation required for a gas heater, this is your best option. Buy Here. 
Pros
Safety Certified

Energy Efficient

Unique Bronze/ Copper Finish
Cons
Can't Convert to Gas

Slower to Heat than Gas
Heatmaxx Propane Tabletop Patio Heater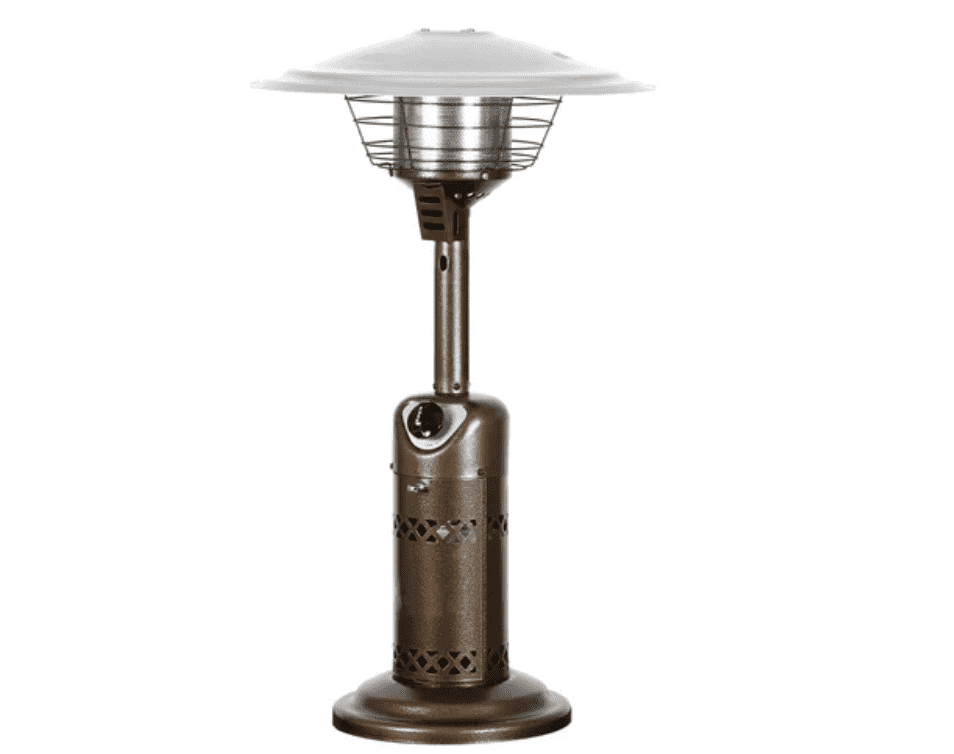 While I did come across tabletop patio heaters with safety features, few possess a CSA certification. CSA certification provides the most stringent standards for patio heaters, so if safety is your top priority, this is one model to consider.
This CSA-certified propane tabletop heater is lightweight and portable. But don't let that fool you: it still has a respectable output of up to 10,000 BTU which is perfect for heating an outdoor dining table. It's a great price, too. Buy Here. 
Pros
CSA Certified

Lightweight

Warranty Included
Cons
No Easy Ignition 

Propane Only 
SANJIANG Small Portable Patio Heater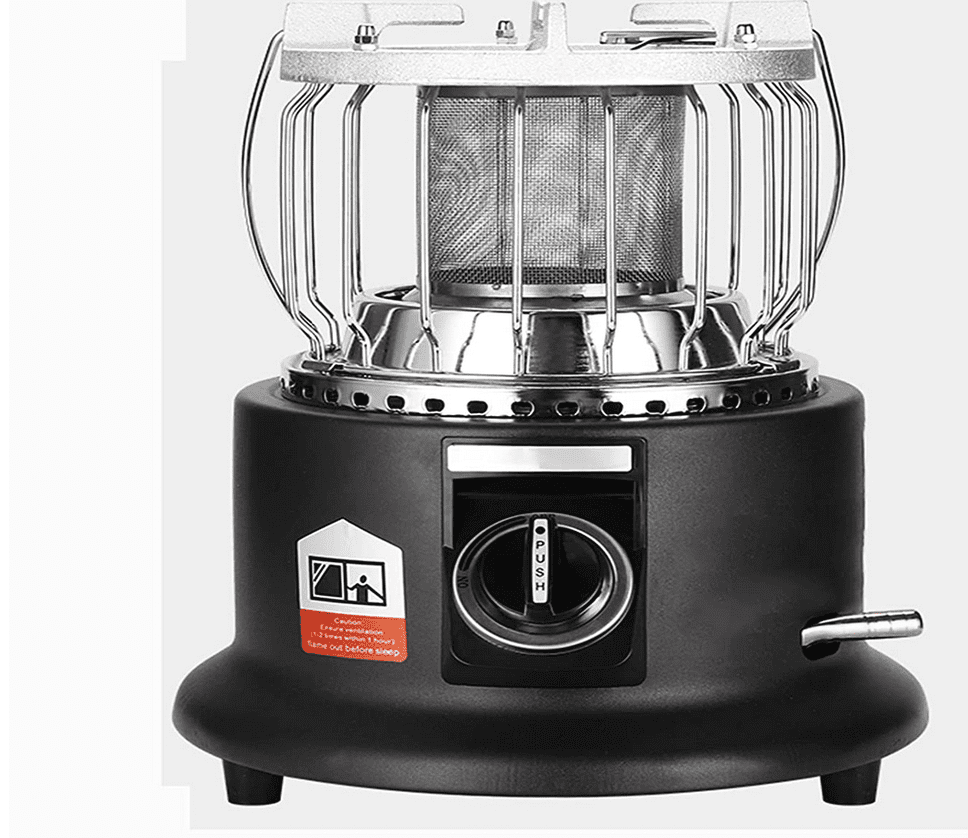 If you want a natural gas tabletop patio heater, you'll find yourself with fewer options. Still, this heater works well. It can convert to propane if you change your mind and is unique.
What surprised me about this model is that it's multipurpose: in addition to heating, you can even use it for boiling and cooking! This clever tabletop patio heater also is equipped with tip-over protection, an adjustable thermostat, and an accessory gas hose. Buy Here. 
Pros
Multipurpose

Propane or Natural Gas

Adjustable Thermostat
Cons
Not Certified

Not as Aesthetically Pleasing 
Cuisinart Tabletop Patio Heater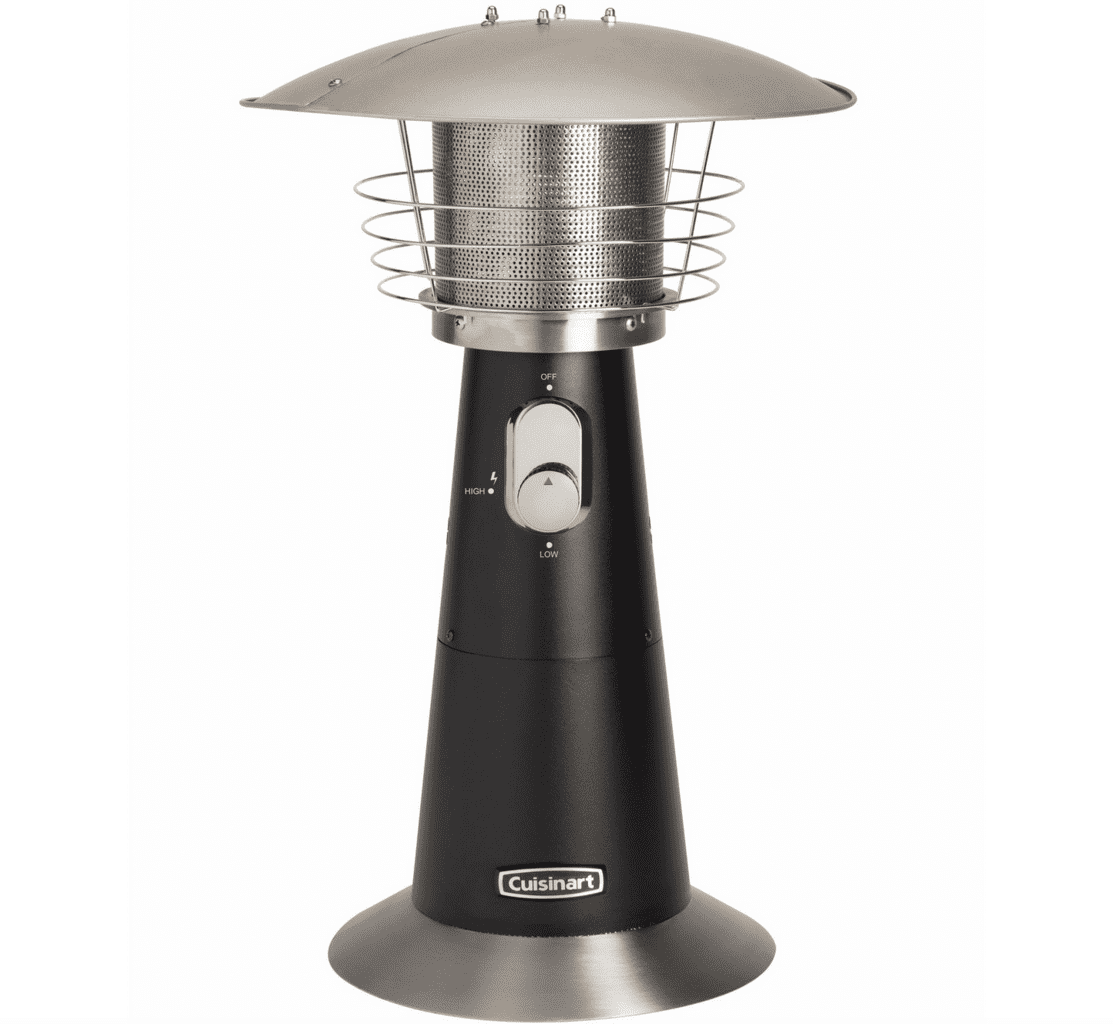 On a budget? One thing I've learned is that you can balance budget and quality- and that's exactly what I think this tabletop patio heater does. Available through Target and other retailers, the Cuisinart tabletop patio heater comes with a budget-friendly price but an array of helpful features.
Those features include a rotary dial control, a safety tilt switch, and a BTU heat output of up to 11,000. It can be used with a small propane tank or hooked to a 20-pound tank for longer use. The design is versatile and would blend in well without making a statement. Buy Here. 
Pros
Great Price

Safety Tilt Switch

Adjustable Knob
Cons
Not as Sturdy as More Expensive Models

Not Energy Efficient 
Sunheat International Tabletop Heater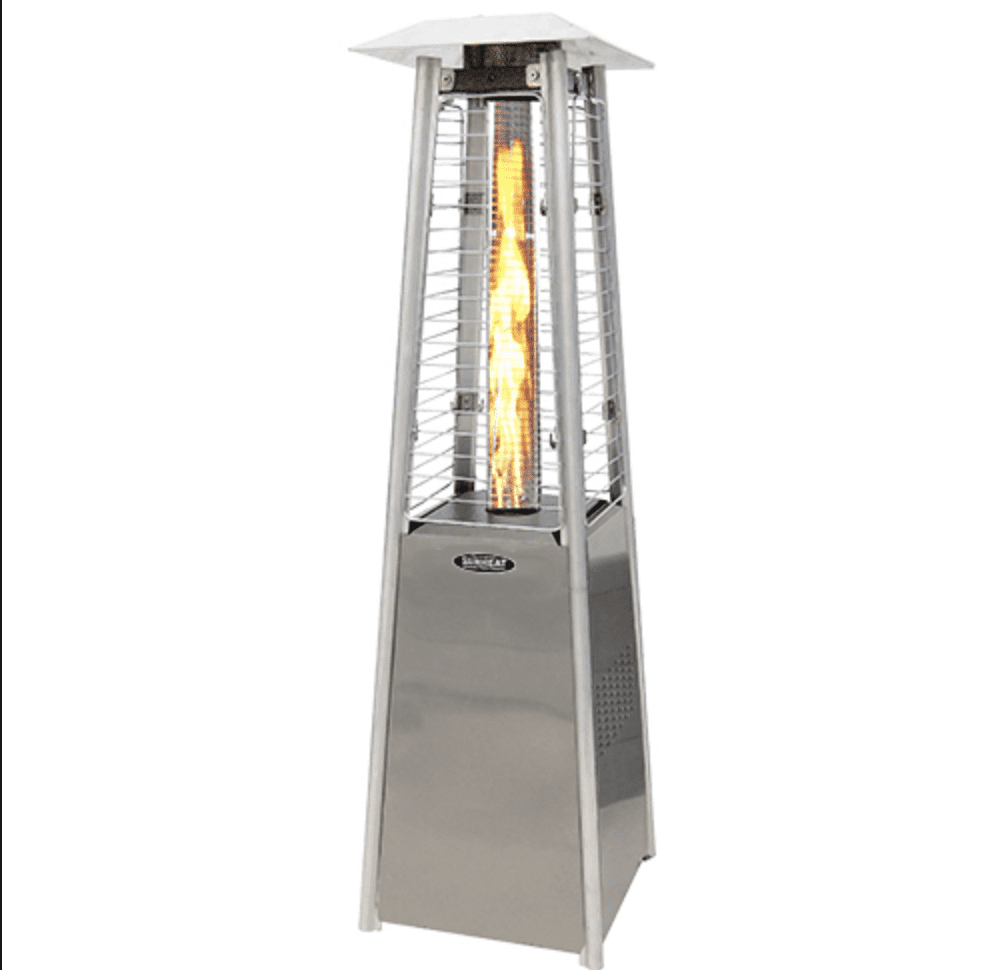 This stainless steel tabletop heater is one of my favorites overall- so long as you're willing to spend a little extra. It features a sturdy, stainless steel design with a dramatic and modern allure.
But looks aren't everything – I also love this tabletop patio heater because it's CSA certified, comes with a temperature control knob, and includes a manufacturer's warranty. Meanwhile, the glass flame tube is stylish and adds the ambiance of a fire pit without the worry of an open burning flame. Buy Here. 
Pros
CSA Certified

Stylish

Adjustable Temperature
Cons
Frequently Asked Questions
Question: Are tabletop patio heaters safe?
Answer: Patio heaters of all types are relatively safe if used properly- but accidents do happen. The most common safety issues arise from either not installing a patio heater correctly or tipping it over. Tipping patio heaters over is a problem, and even more so for smaller tabletop patio heaters.

Some have tip-over lock protection systems and/ or a weighted, reinforced base. While these aren't foolproof, they do add stability and reduce the risk of accidents. The third most common safety issue is forgetting and leaving a patio heater on. This risk can be mitigated by models that include an automatic safety shut-off system. 
Question: How long does a tabletop patio heater last?
Answer: A propane tabletop patio heater runs a mere one to two hours or up to five hours on a low setting. Of course, electric and gas tabletop heaters are dependent on your supply of natural gas or electricity. In terms of durability, tabletop patio heaters should last at least several years, but a lot of that has to do with your use and the durability of your model. To keep your tabletop patio heater operating for as long as possible, cover it during inclement weather and spend a little extra money upfront to buy a well-made model. 
Question: Can you use a patio heater on a deck?
Answer: Patio heaters are called patio heaters for a reason: they're designed to safely run and operate on concrete patios. Decks, of course, can be made with many materials- including wood. The good news is that they can be used on wooden decks too (unless otherwise specified), but you must be attentive.

While keeping a careful watch over your patio heater is important regardless, it's especially important for wooden decks. Use your heater carefully and according to the manufacturer's instructions, and you should be able to enjoy it safely. 
Question: Are infrared heaters safe?
Answer: Infrared heaters run on electricity and provide a more energy-efficient source of heat. While there are health myths about radiation, infrared heaters are considered safe to use and operate as other types of patio heaters. Many claims have been made that infrared heaters pose fire risks.

This is no more true for infrared heaters vs. other forms of patio heaters. In short, while there are myths surrounding infrared heaters, they can be just as safe- and more effective- than other methods of heating your patio. 
Final Thoughts
Tabletop patio heaters can be a wonderful addition to your patio. If you want a little warmth but don't want the upkeep or need the bulk of a full-sized patio heater, this could be a good solution. While they should be monitored and used carefully, they're less fickle than candles and easier to operate than a fire pit.
Of course, if your main goal is to heat a large portion of your patio or keep you warm on the coldest nights, even the best tabletop heaters are unlikely to meet your needs. So think about what your goals are, and come in with reasonable expectations for what a tabletop patio heater can do for you.
Final Recommendations
Tabletop patio heaters really can be a great heating solution for entertaining. I know how frustrating it can be to work in a small space but still want to provide a comfortable experience for your guests! I also know the temptation to leave a tabletop patio heater out. Who hasn't left out patio furniture or appliances? But if you do, a small waterproof cover honestly is worth it. It'll keep your patio heater working for longer.
And if you're still trying to figure out which tabletop patio heater is right for you, I recommend something like the Sunheat International Tabletop Heater. While a bit more expensive than the average tabletop patio heater, it's a stunning, modern design built to perform. The stainless steel heater is easy to use, CSA certified, and comes with a manufacturer's warranty.
Recommended Reads: