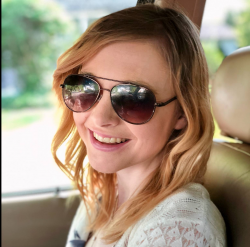 Latest posts by Erin Jamieson
(see all)
I love attending weddings and following wedding trends. I also love spending time outdoors. What do these two things have to do with each other, and what do they have to do with patio heaters? The truth is many outdoor events- from weddings to gatherings- can quickly go from enjoyable to something to endure when there isn't ample heating. And for small backyards or more intimate gatherings, one of the best solutions is a patio heater. 
Stainless steel patio heaters with a BTU output of 48,000 are powerful and usually more durable than cheaper models. Yet selecting the right heating solution is never quite that simple. To help you decide if a 48,000 BTU stainless steel patio heater is right for you- and to select the right one- read on.
I'll give you my honest opinion about these patio heaters, how I look at one that's a great value and share some of my favorite options for 2022. 
Bottom Line Up Front Summary
A 48,000 BTU stainless steel patio heater is one of the most effective heating solutions for entertaining. A modern and versatile exterior pairs with powerful heat output. At their best, these patio heaters provide warmth and comfort for cooler months and allow you to enjoy the outdoors around the year. 
If I were to suggest just one of these patio heaters, it would be the Costway 48,000 BTU Patio Propane Heater. While it's not the most affordable option, the price makes sense for all of the amazing features. This stainless steel patio heater includes CSA certification, a reflective cover for heat efficiency, a unique side shelf for entertaining, anti-tilt construction, and even ground fixers for additional stability. Modern, versatile, and sturdier than budget models, you can use this safely and in myriad ways. 
My Top Picks
Pros and Cons: 48,000 BTU Stainless Steel Patio Heaters
There's a reason why you're here. Maybe you're reading this guide because you're determined to buy a 48,000 BTU stainless steel patio heater. In that case, feel free to scroll through to my top picks. But if you're on the fence and still trying to figure out if this is the best patio heating solution for you, here's my honest opinion.
Reasons to Buy…
48,000 BTU is about as high of heat output as you can get from a standard patio heater. That's a big plus if you live in a cooler climate. A patio heater with a mere BTU of 20,000 wouldn't cut it for me on a chilly day in Ohio. Stainless steel is also an excellent choice. Stainless steel is lightweight and versatile but generally weather-resistant. It's also less expensive than something like stone. 
Reasons to Buy Something Else…
Patio heaters, even at their best, often heat a smaller area than a fire pit. And of course, you can't use a patio heater to cook or grill as you can with some fire pits. If you're limited on space, a tabletop patio heater makes more sense. If you live in a climate that only gets slightly cooler, I also don't think you need a BTU of 48,000. 
Bottom Line…
If you're sold on a patio heater, 48,000 BTU is about as powerful as you can get, and stainless steel is a lightweight, strong material. 
See also: A Frame Porch Swing Ideas
How I find the Best 48,000 BTU Stainless Steel Patio Heaters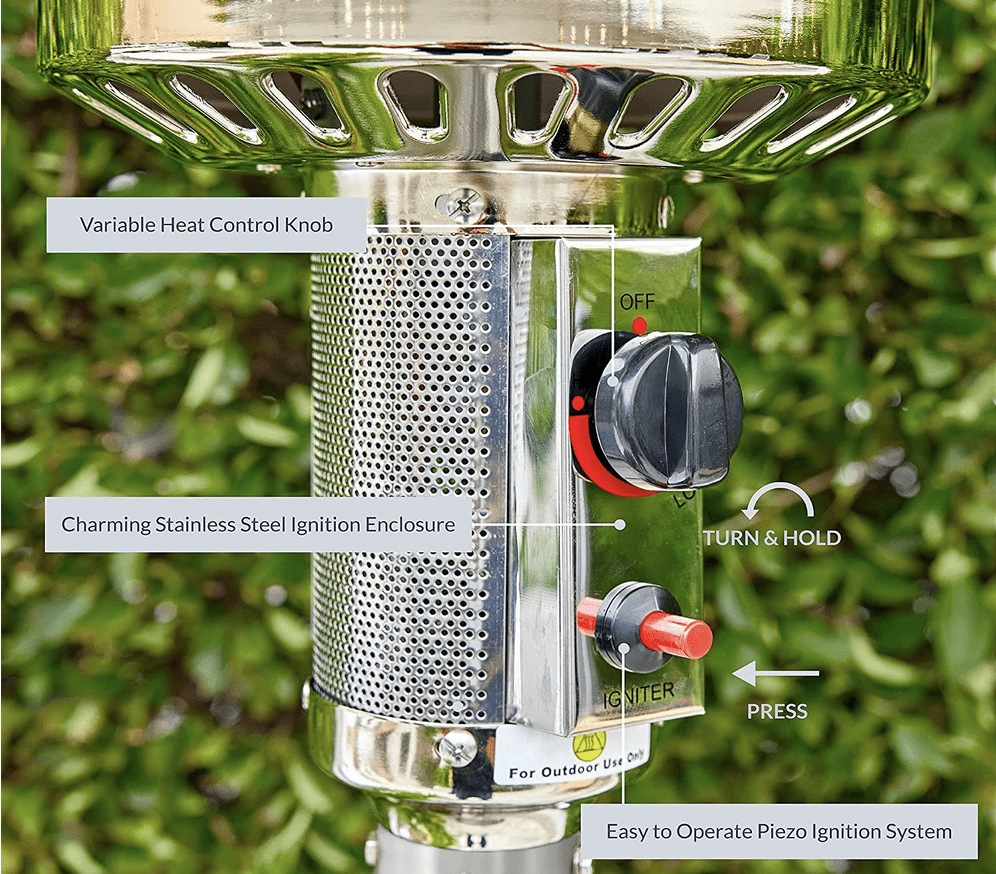 So how did I go about selecting the best value 48,000 BTU stainless steel patio heaters? With the same care, I put into any patio or outdoor upgrades. Here's what I considered for durability, versatility, and safety. Since we're focusing on BTU- the more standard unit of measure for gas heaters, the majority of my selections are propane patio heaters. 
Dimensions/ Heating Radius
You won't find any 48,000 mini patio heaters or tabletop designs. The main options are regular freestanding designs, tall posts, and unique designs like those with side/ connecting tables. I considered all of these options and tried to represent a range of options. For heating radius, I'd expect around 200 square feet, depending on the model. 
Safety Features
I don't know about you, but I can get forgetful, and I can also be a little clumsy. Those two things taken together, I love finding patio heaters- especially with a higher heat output- with safety features. Those include: 
Automatic Shut Off Systems

Heat Shields 

Anti-Tilt Protection

A Sturdy Base 

Safety Certifications, such as CSA/CE
None of these are musts- but they do grab my attention. 
Other Features
Other features I considered were all about either extending the use of the patio heater or adding to its aesthetic appeal. To be considered among the best, I wanted each 48,000 BTU stainless steel patio heater I selected to stand out in some way. That included easy transportation (wheels, lightweight design, easy assembly), unique style (bronze, glass tubes), accessories, and adjustable features (including variable temperature). 
I also took note of patio heaters that are easy to use and control, with electric ignition, adjustable knobs, easy access doors, and quick-connect technology. 
Patio Heater Quality and Reputation
To determine overall value, it was also important for me to consider the quality of the construction. While I expect less from budget options, I consider customer satisfaction, reviews, and the reputation of either the brand and/ or the store. Rather than remain brand loyal (though I did consider popular options like Mainstays, Hampton Bay, Living Accents, and Garden Treasures), I selected these patio heaters based on reviews, features, specifications, and even protection plans and warranties. Other features that spoke to me for quality standards included: 
Weatherproof Exterior

Rust Resistance

Blend of other Durable Materials 

Thoughtful Construction 
My Picks: Quality 48,000 BTU Stainless Steel Patio Heaters 
With that said, here are a few of my favorite stainless steel patio heaters with a heat output of up to 48,000 BTU. I've selected models for different price points, but my main focus was on overall value. From patio heaters with wheels to unique patio heaters with stylish glass tubes, hopefully, one of these models will be a great addition to your patio. 
Mainstays Large Stainless Steel Patio Heater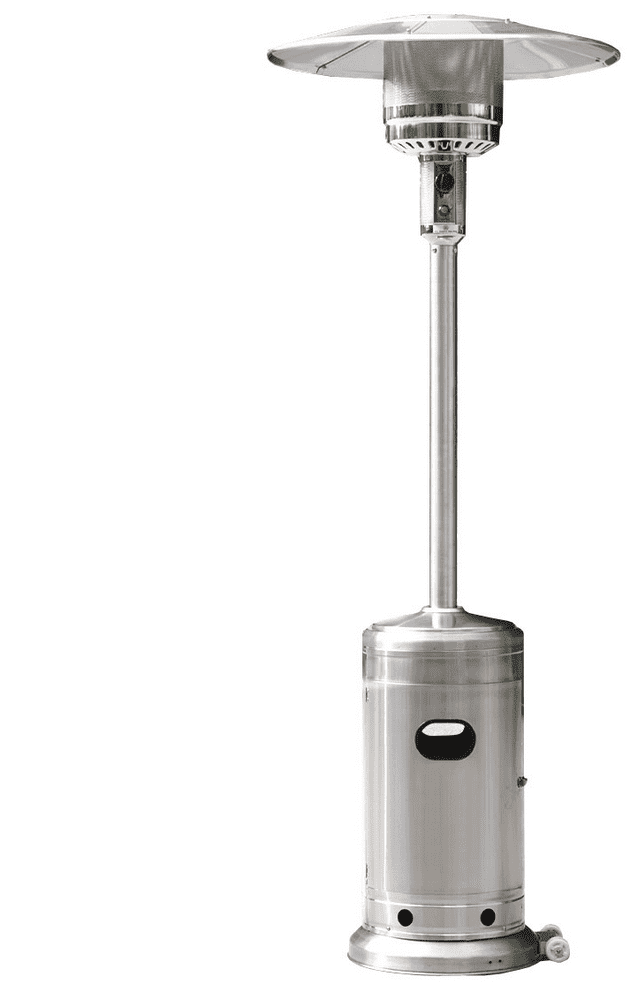 There's a reason why the Mainstays 48,000 BTU stainless steel patio heater is one of the most sought-after. If you want a budget patio heater with features you'd expect from higher-priced brands, this could be the perfect fit for you. The simple stainless steel silver finish is unassuming but equipped with an easy-start electric ignition button. With CSA approval, thermocouple, and anti-tilt technology, it's far safer than other budget models. I was equally impressed with the easy access door, weighted base, and wheels. Walmart impressed me with just how much thought went into this budget-friendly design. Buy Here.
Pros
CSA Approved

Anti-Tilt 

Easy Electric Ignition
Cons
Lack of Warranty (90 Day Returns Ok)

No Automatic Shut Off 
BELLEZE 48,000 BTU Gas Outdoor Patio Heater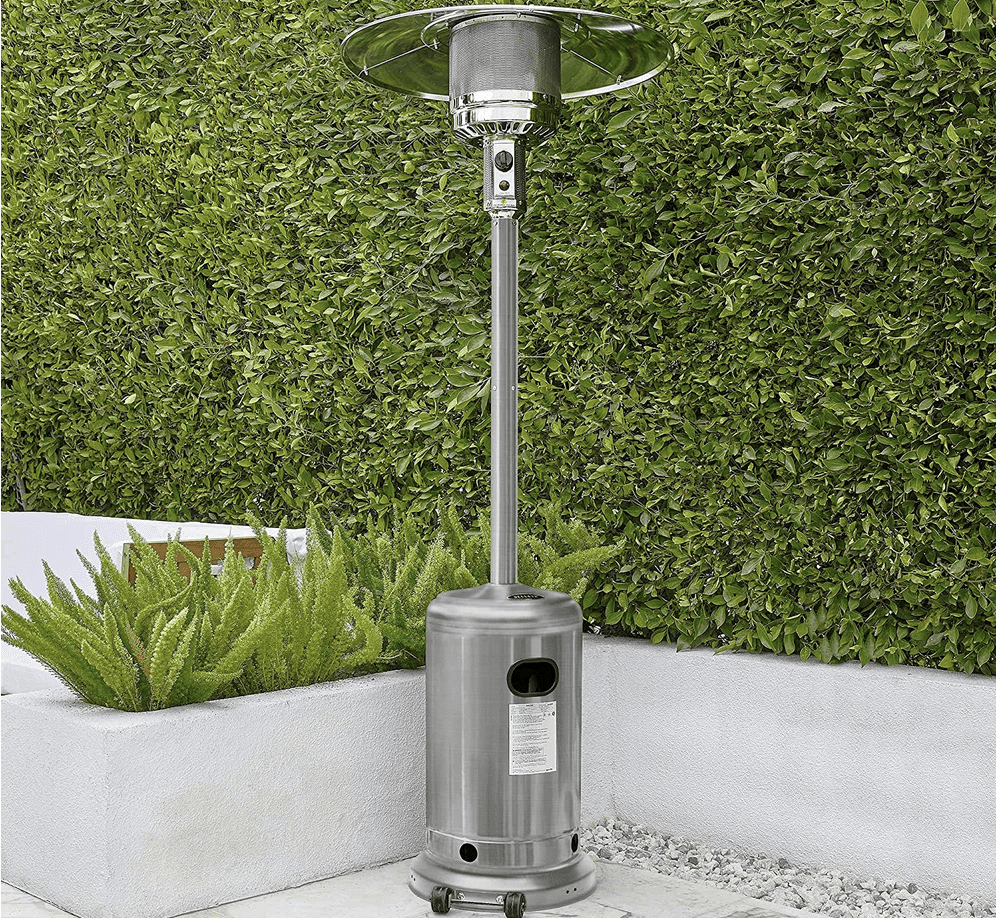 One of the biggest challenges for me when I make a purchase or upgrade is deciding how much versatility I need. If you don't want to feel stuck to one location, this 48,000 stainless steel patio heater is the best choice for smooth mobility. Thoughtfully integrated wheels are designed for moving this patio heater from location to location. It's CSA certified, with an electric ignition system and simple knob controls for more even heat distribution. I love the price, but you can spend a little more to opt for a more unique style under the same Amazon listing. Buy Here. 
Pros
CSA Certified

Smooth Wheels 

Adjustable Knob 
Cons
Fairly Plain Style 

Lighter Base 
Hanover  48000-BTU Stainless Steel Patio Heater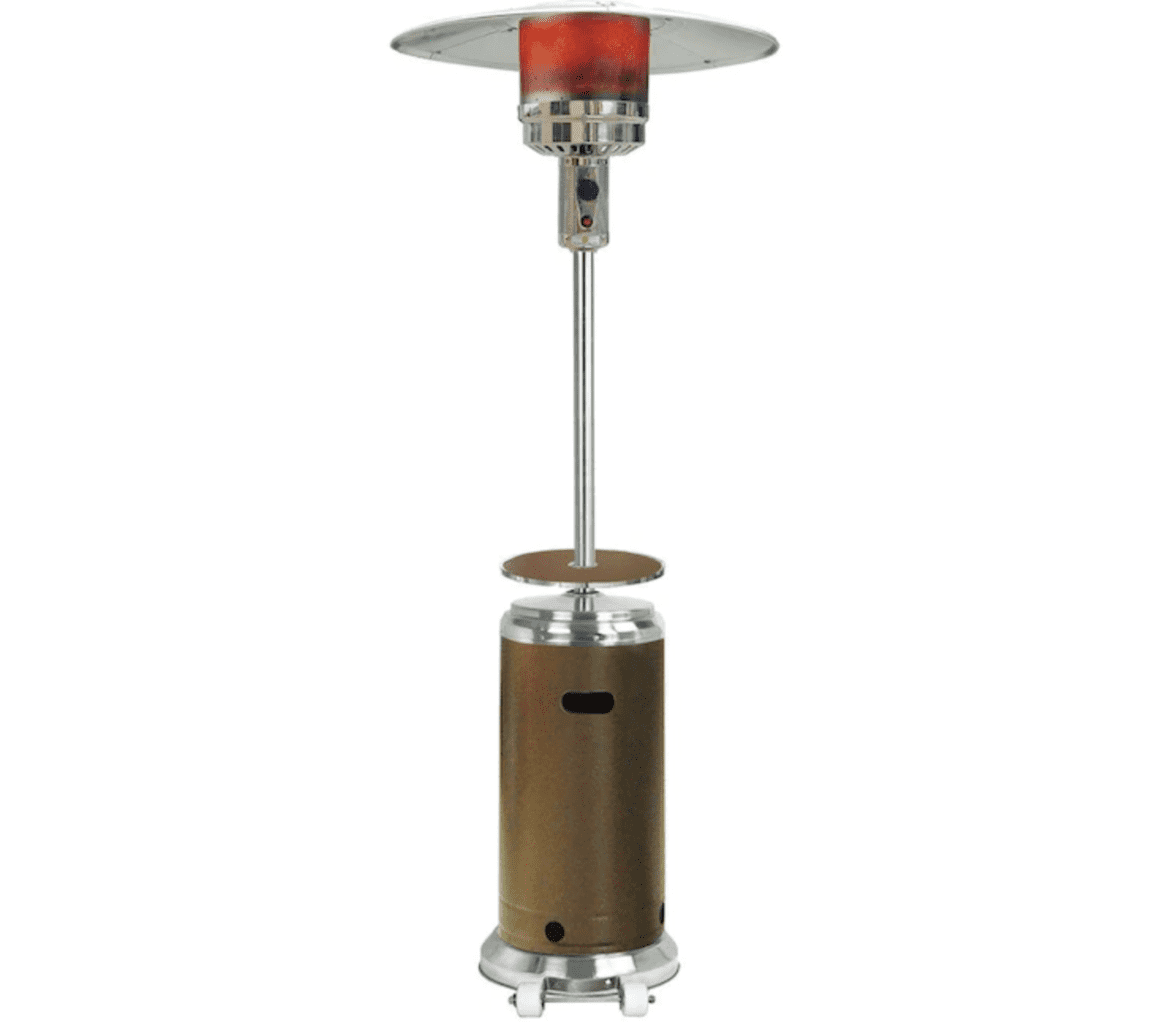 One thing that's tricky about living in Ohio- or anywhere where weather changes on a dime- is determining the best heat output. I also think that finding that comfort level extends to other things- like your comfort vs for entertaining, or even finding ways to reduce energy use. That's why I like this 48,000 BTU stainless steel patio heater, which includes a valve for variable temperature control. Customize based upon the weather and your company. It's CSA certified and comes in multiple colors and finishes. The push-button ignition is a nice touch. Buy Here. 
Pros
Variable Temperature Valve 

CSA Certified

Multiple Finishes 
Cons
No Anti-Tilt Features

Modest Heat Radius
Garden Treasures Stainless Steel Stainless Patio Heater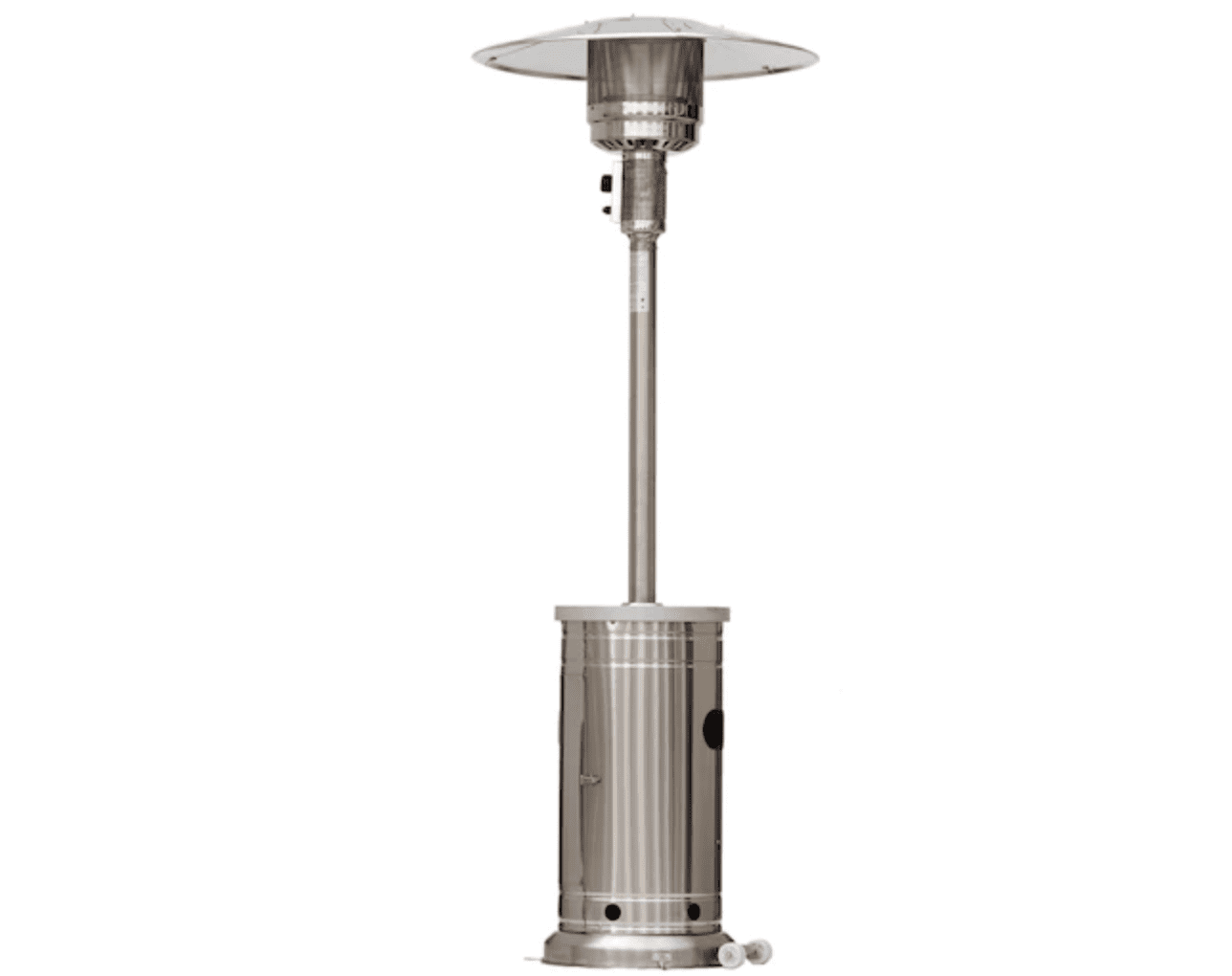 If you've considered buying a patio heater but are hesitant to purchase it because you don't want something hard to use, this electric pulse patio heater is a good choice. The 48,000 stainless steel patio heater from Lowe's includes an electric pulse ignition for an easy and powerful start. The generous maximum burning time of 10 hours, plus an adjustable knob means you can use it for even longer occasions. I also really like the anti-tilt safety feature and the price. Buy Here. 
Pros
Electric Pulse Ignition

Generous Burn Time 

Anti Tilt Feature
Cons
Some Aluminum Components

Difficult Assembly
Enjoy Sun Pyramid Patio Heater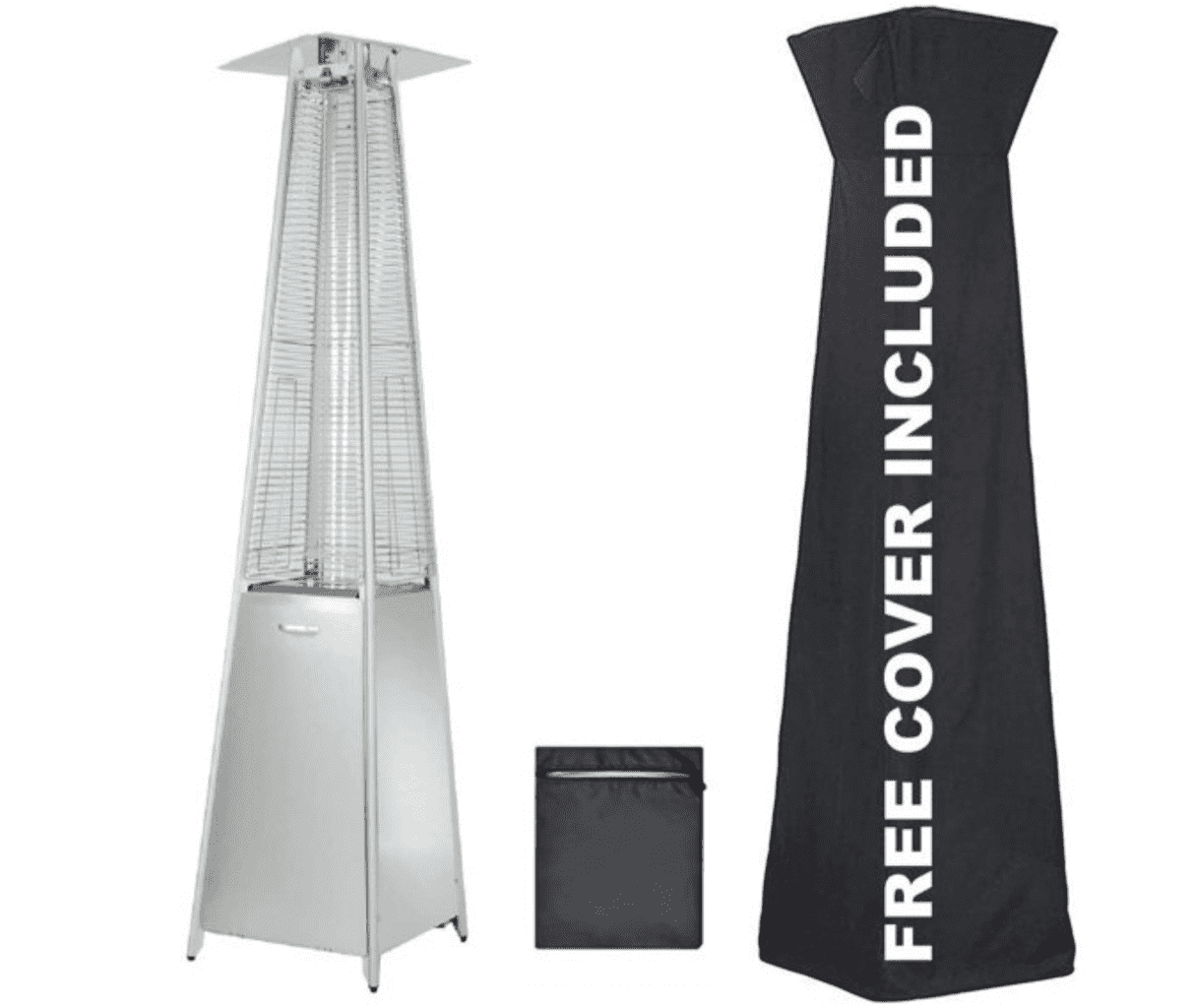 There's something to be said for a patio heater that boasts an eye-catching design and fantastic features. This pyramid 48,000 BTU stainless steel patio heater has excellent features and is attractive enough to use for outdoor parties. It's my top choice for special occasions for a few reasons. Aside from its signature design, it also features a pulse ignition system for an easy start. A control knob allows you to adjust to your guest's comfort levels. I also love that it comes with a fade-resistant cover plus smooth wheels. That makes setting up and cleaning up all that much easier. Of course, the quartz glass tube adds ambiance. Buy Here. 
Pros
Control Knob

Signature Design

Wheels and Cover 
Cons
Not CSA Approved

A Bit More Expensive 
Barnhart 48,000 BTU Propane Patio Heater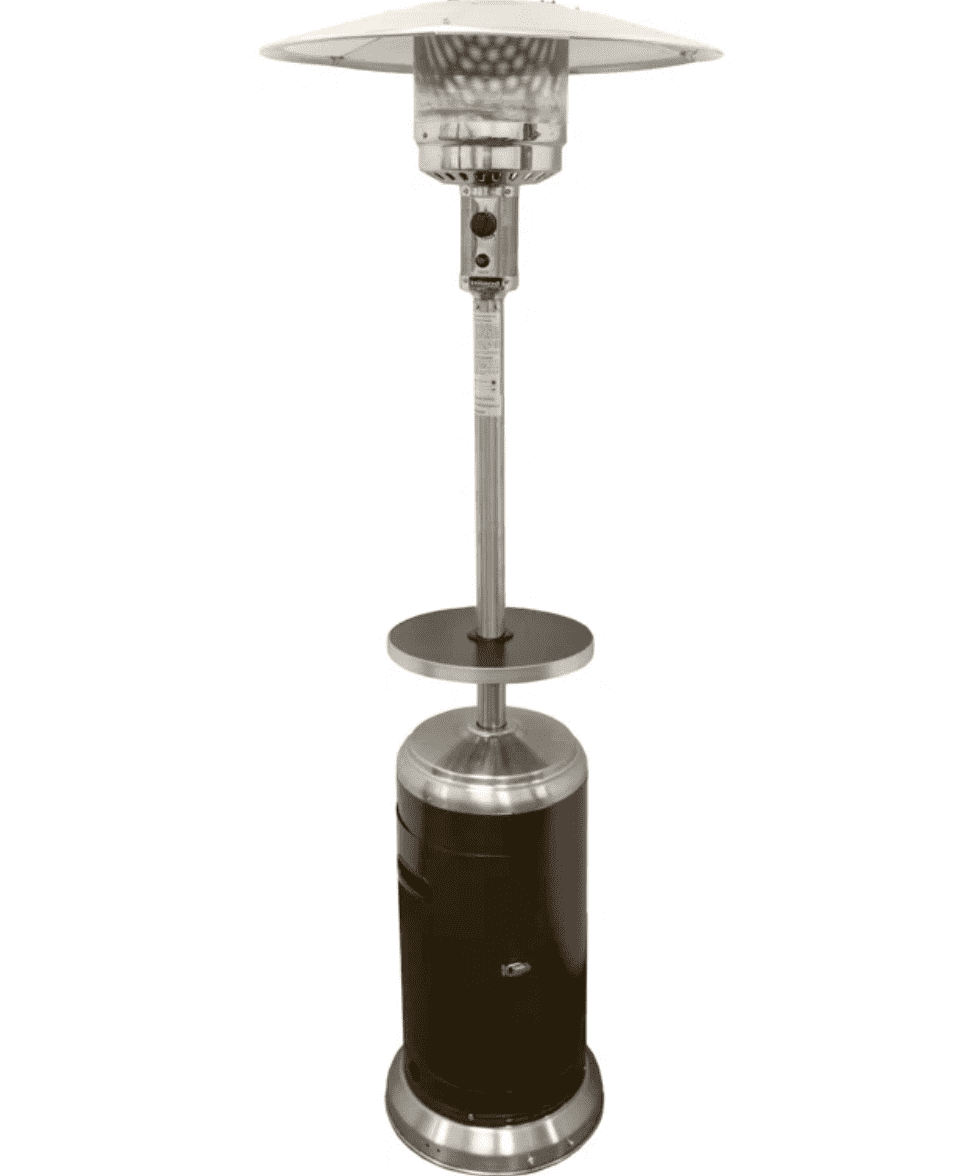 Do you want the durability of stainless steel but a warmer finish? This 48,000 BTU stainless steel patio heater from Wayfair makes a warm impression with a tall design and bronze finish. I think that the hammered bronze and stainless steel pair well together, but it's the additional features that convinced me to add this heating option to my best-of list. The weather-resistant exterior includes wheels and an anti-tilt switch for improved stability. I like the simple, versatile design and, of course, I also appreciate the manufacturer's warranty. Buy Here. 
Pros
Striking Hammered Bronze Finish 

Anti-Tilt 

Wheels for Transport 
Cons
No Electric Ignition

Not CSA Approved 
Foowin 48,000 BTU Patio Propane Heater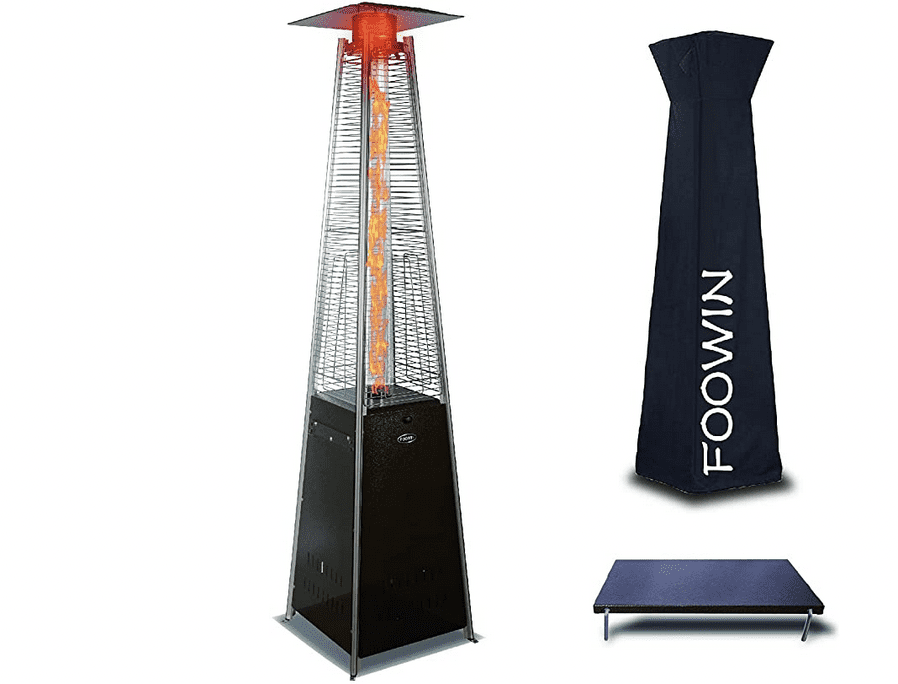 Of all of my top picks for 48,000 BTU stainless steel patio heaters, this is the most interesting and modern. The unique pyramid heater includes pulse ignition, a knob control flame, and a sturdy exterior. But the innovative part comes with the intelligent automatic flameout design and the removable side panel. That side panel is handy for everything from bowls to cups, wine glasses, and more. I also love that the price includes protective gloves, a waterproof cover, and a manual with 24-hour customer service. Buy Here. 
Pros
Versatile Side Panel

Intelligent Safety Shut Off 

Customer Support 
Cons
Heavy 

Doesn't Include Safety Certification/ Approval 
Costway 48,000 BTU Patio Propane Heater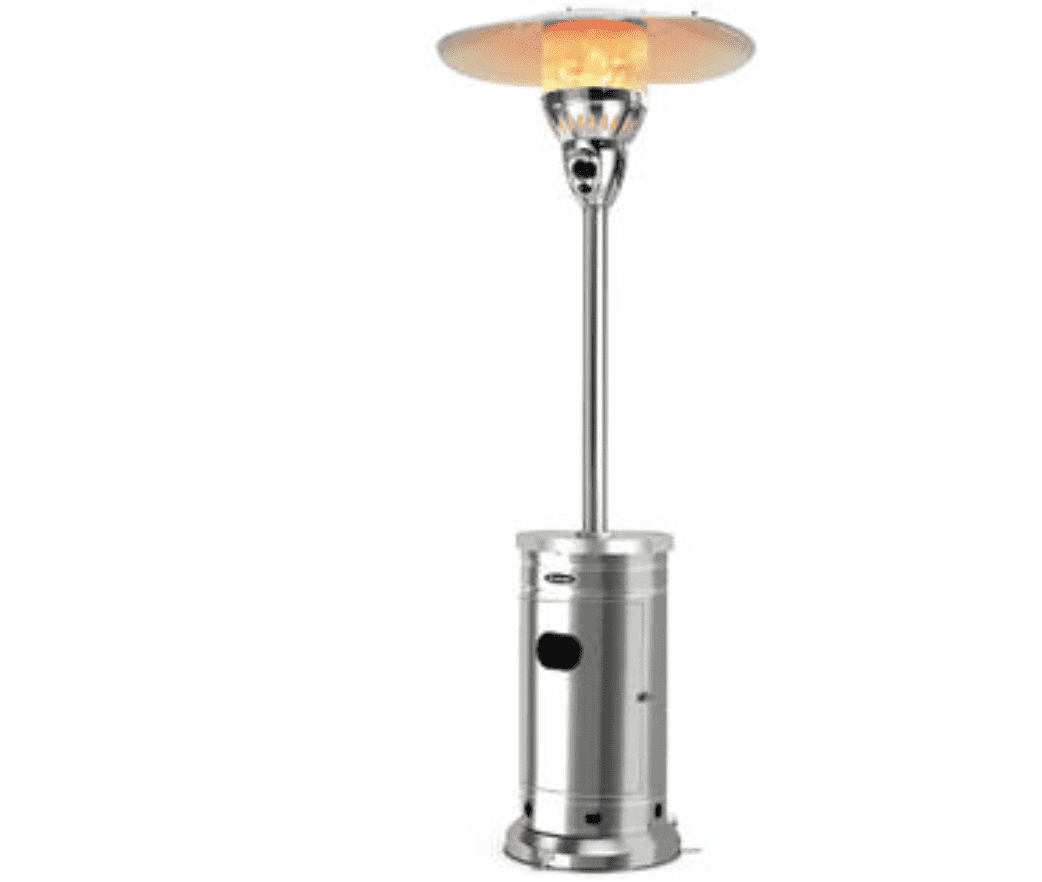 My final recommendation is for anyone who wants a side shelf feature with an impressive and stylish exterior. Ideal for making a stylish and useful addition to your porch, this patio heater exudes both warmth and great features. The reflective cover maximizes heat efficiency. I love that it comes with an anti-tilt construction plus CSA certification for safe use. With a heat control knob, a side shelf for beverages, and ground fixers for stability, this is a premium patio heater. It even includes smooth wheels for easy transport. With all these features in mind, I think it's worth paying a little extra. Buy Here. 
Pros
CSA Certified

Reflective Cover for Heat Efficiency 

Entertaining Shelf
Cons
Most Expensive of My Picks 

Fewer Reviews (you can see reviews on Amazon)
Frequently Asked Questions
Question: What are the hottest patio heaters? 
Answer: 48,000 BTU is about the maximum output you can expect from most commercial patio heaters. For comparison, this is a fair heat output even for a fire pit. Patio heaters with this output frequent best-of lists, but they aren't always the best solution for every situation. Smaller areas and tabletop heaters are going to fare better with softer heat output. In addition, you should always pay attention to the listed radius of heat coverage to determine the best patio heater solution for your home. 
Question: Can you put a patio heater under a covered porch?
Answer: Patio heaters are often used under covered porches, but this statement requires some nuance. Just because some patio heaters will work safely under a covered porch, does not mean this is universally acceptable. Most patio heaters will include instructions in the manual indicating certain settings you can use under a covered porch- and some may advise against it entirely. You need ample clearance, and likely will need a lower setting. Never operate a patio heater on full heat without consulting the manual. 
Question: Are propane patio heaters worth it?
Answer: Propane patio heaters are efficient and generally easy to use. Over some time, propane patio heaters will save you money over both electric and natural gas heaters. That said, there are a few downsides. Propane patio heaters are generally not as safe as electric heaters- making safety standards and feature more important. They also heat a smaller area of space as opposed to a fire pit. If you want an energy-efficient way to heat a small patio area, then a propane heater is a reasonable option. 
Question: Can outdoor heaters be left out in the rain? 
Answer: Outdoor heaters are sometimes left out in the rain- either because someone forgets or just doesn't think it will do any harm. Some patio heaters are waterproof, more are water-resistant, and others still will rust or corrode. My general rule of thumb is to play it safe. A simple patio heater cover is an easy solution and should increase the longevity of your patio heater, regardless of the materials it's purportedly made out of. If you leave a patio heater out in the rain that isn't made to be weather-proof, you risk ruining it. 
Final Thoughts 
If you're looking for a patio heating solution, a 48,000 stainless steel patio heater is a wise choice. It's a good solution for entertaining during cooler months. Stainless steels offer a modern, versatile and durable exterior. Of course, as I've discussed, it's not the ideal solution for every circumstance. If you want to heat just a small area, sometimes a mini patio heater works. If you want a powerful heat source that doubles for entertaining, a backyard fire pit or a fire pit table could be a solution. If you do buy a 48,000 BTU stainless steel patio heater, just make sure you read the description carefully so you understand how large of an area will be covered. 
See also: Best Porch Design Ideas For A Welcoming Home
Final Recommendations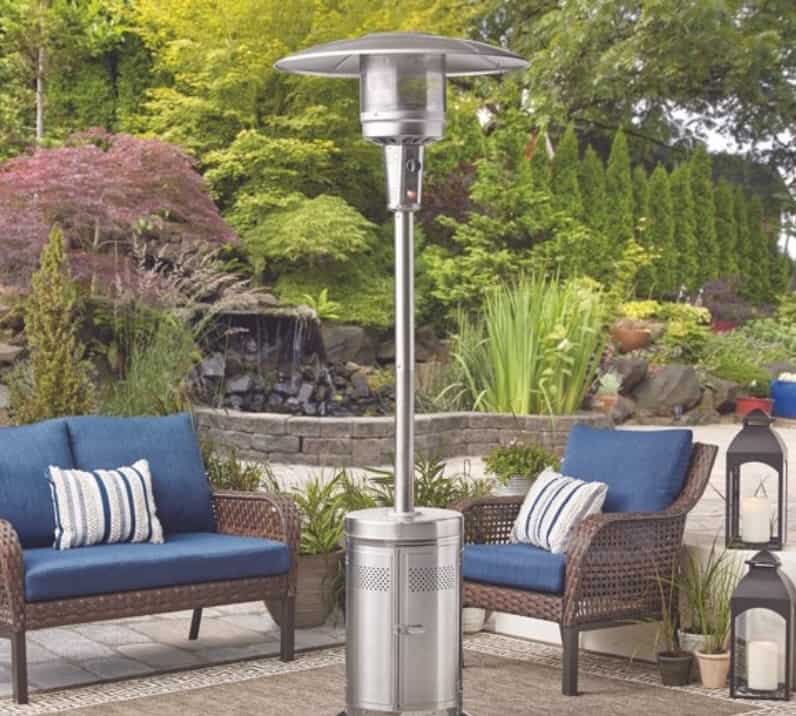 If you're like me, you may mull decisions over for a while before you make a purchase- and that's fine! Finding the right patio heating solution can take time, and I'd rather you deeply consider it vs rush to buy something. That said, keep in mind that no one patio heating solution is perfect. 
If you're settled on a 48,000 BTU stainless steel patio heater but just can't select the best one for you, I recommend the Costway 48,000 BTU Patio Propane Heater if you have the money to spend. With anti-tilt technology, a reinforced base, CSA certification, and some excellent features for entertaining, it's both versatile and safe to use. If you are on a tight budget, I do think that the Mainstays Large Stainless Steel Patio Heater is a good compromise. 
Recommended Reads: