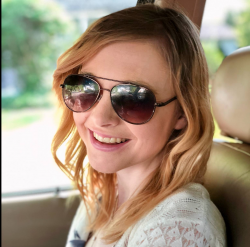 Latest posts by Erin Jamieson
(see all)
Ohio weather can be unpredictable. There's a joke where I live that you can experience all four seasons in a single day. That's especially true during the Spring and Autumn months. But I also was lucky enough to grow up with a sturdy, A-frame porch swing that ensured all. From windy days to unexpected showers, that porch swing was one of my favorite places to spend outdoors on. 
A-frame porch swings are classic for a reason, and, at their best, they really can make a durable and stylish addition to your home. But since A-frame porch swings are so popular, I wanted to share a few of my favorite ideas for your home. 
Ready to start making your memories? Here are my top swings for 2022 and how I selected each one. 
Bottom Line Up Front Summary
Looking for stability, versatility, and a classic look? An A-frame porch swing is an excellent choice. In my experience, A-frame porch swings are an excellent option, no matter what the weather brings. But paying close attention to the quality of the materials and the swing's construction makes a big difference.
If I were to recommend just one A-frame porch swing idea for the average person, it would be the Value A-Frame Metal Porch Swing. This porch swing converts from upright to a daybed in a matter of moments. Though versatile and unassuming, it provides excellent value with durable materials and some surprising features. 
My Top Picks
My Selection Criteria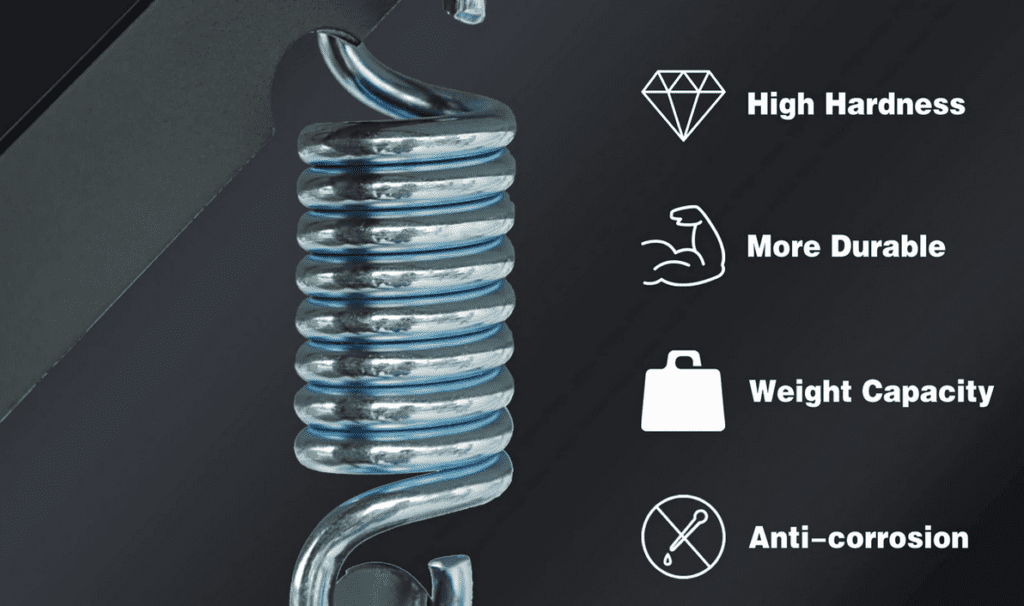 An A-frame porch swing is one of my favorite suggestions for updating a home. But I also know that not all A-frame porch swings are built to last. With their popularity, you can buy A-frame porch swings in more places than you can imagine- so here's how I sorted through the options and selected only my favorites! 
Finding the Best Swing and Frame Materials
First step: I wanted to make sure I was only recommending sturdy and durable frames and swings. The problem with A-frame swings is that far too many are made with cheaper materials to cut down on costs. While I did consider a range of budget options, I don't believe it's worth buying a swing for under $100 if it won't last. For hardware, I opted for steel (stainless steel, Marine-quality, etc). 
Metal
Metal is sleek, versatile, and contemporary. I like steel swings- preferably stainless steel and carbon steel. Carbon steel is less common but has a great advantage of forming its protective coating as it ages. I mostly looked for stainless steel and steel alloys with powder-coating. While not a must, I love powder-coated A-frame swings because it improves resilience against all weather conditions. I skipped aluminum (too easy to damage and flimsy) and non-treated iron (strong, but susceptible to corrosion).
Wood
I'm a sucker for a classic (or modernized) A-frame porch swing that's made with genuine wood. But so many options available are made with pine and other softwoods. I opt for hardwoods like oak, maple, mahogany, and teak. I do make an exception for cedar- which caught my eye for its insect-repelling qualities. 
Polywood
I had to also sneak in a swing or two made out of Polywood. This high-density, all-weather recycled plastic is pretty even in its performance- so I just made sure that I was looking at genuine Polywood with a respected retailer. 
Swing Chains and Hardware
I wanted to also check the integrity of the porch swing as a whole- so that meant any included hardware and springs were made out of suitable materials. Steel, zinc plating and PVC coating are all fair picks. 
Great Features
A-frame porch swings can be quite plain, and there's nothing wrong with that. But extra features can extend the use and enjoyment of your porch swings. Some of these features made me take note and consider them for my ideas list:
Cup Holders and Consoles

Canopy (Including Adjustable) 

Lights 

Cushions (must be weather-resistant, like polyester, olefin, Sunbrella)

Unique Design 

Convertible Design 

Made in the USA/ Made by Amish communities 

Foot Pads (reduces friction)

Smooth Motion Springs (also called comfort springs) 

Easy Installation 
Finding Reputable, Sturdy Swings
This was the hardest part of my search. While you can buy A-frame porch swings from a wide range of retailers, shopping online can be tricky. To make sure I selected only sturdy and well-made porch swings, I did a little research behind the store. That meant checking for the following:
Customer Reviews (internal and external)

Company Reputation (such as through the Better Business Bureau)

Detailed Product Descriptions

High-Quality Photos 

Return and Refund Policies 

Protection Plans and/ or Warranties 

Steel Hardware and Sturdy Chains
I wanted to see evidence that the swing was made with care. By considering all of these factors, I filtered out some more cheaply made products from ones that should perform well for your porch. 
See also: Best Modern Porch Swing Ideas
Weight Capacity 
Weight capacity was a final factor I kept in mind. Since I'm including A-frame porch swings of different sizes and dimensions, I do think weight capacity is important. I prefer swings that accommodate 200 pounds or more per person (500 pounds for a 2-person swing). Weight capacity gives me an idea of how sturdily built a swing is, and the integrity of the frame. 
A-Frame Porch Swings I'm Excited About 
Here are A-frame porch swings that I'm pleased to share with you. All of these swings were carefully selected, and I knew right away that I wanted to showcase different styles. From classic wood A-frame porch swings to sleek and modern swings, here are my picks, and what I love about each swing. 
QW Amish A-Frame Settee Swing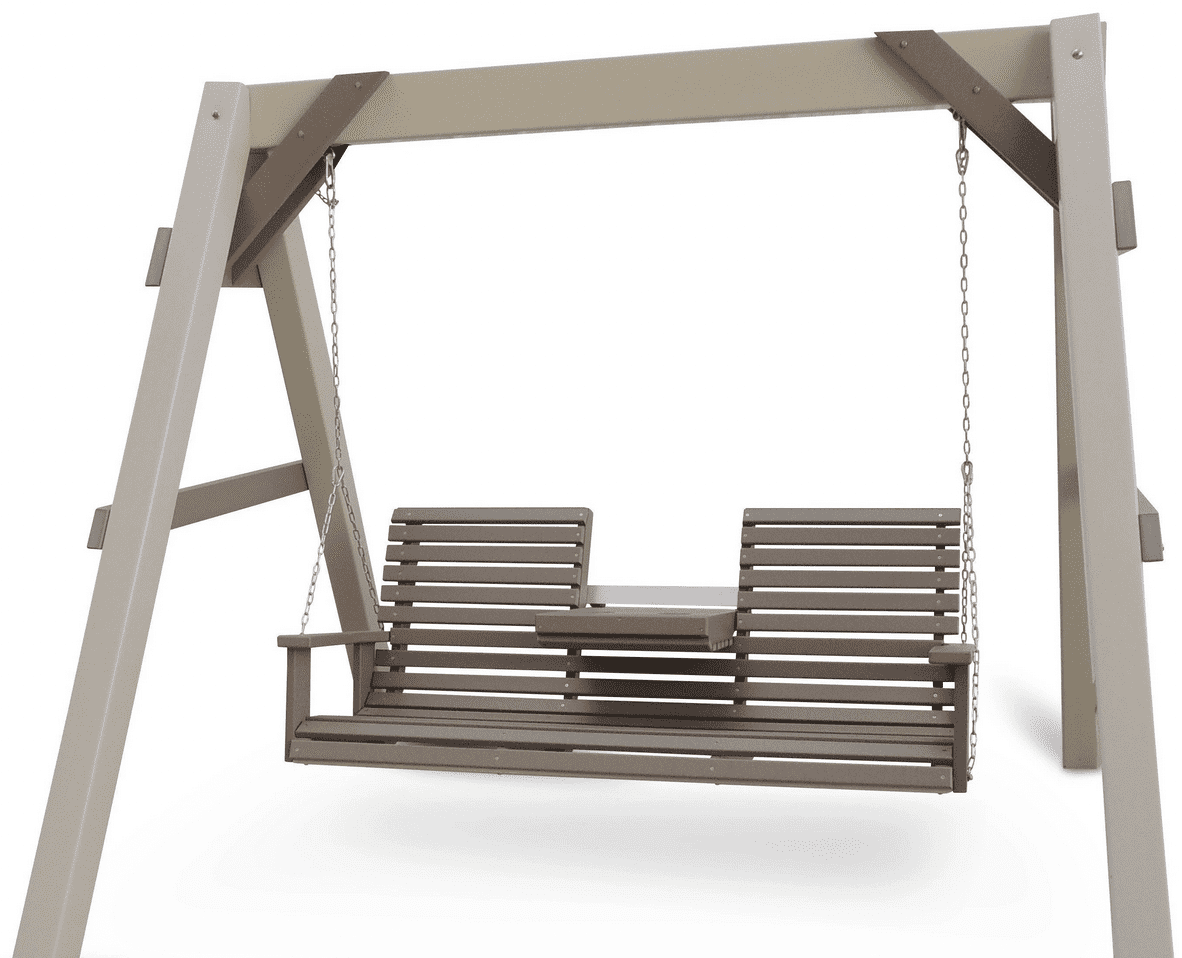 I love seeing Amish craftsmanship, and I'm lucky enough to live not too far from a few Amish communities. If you love the idea of a handcrafted swing made in the USA that requires next to no maintenance, take note of this A-frame porch swing. It's the most expensive of my ideas, but that hardly detracts from the beauty and durability of this swing. It's made-to-order and customizable- and that's rare to find online. I love that you can choose from over 20 stains for the Polywood frame and that it comes with a set of chains. The rollback swing design is not only classic but also comfortable. If you're like me and tend to develop knots in your shoulders and back, this swing provides ample support. Buy Here. 
Magnolia Cedar A-Frame Porch Swing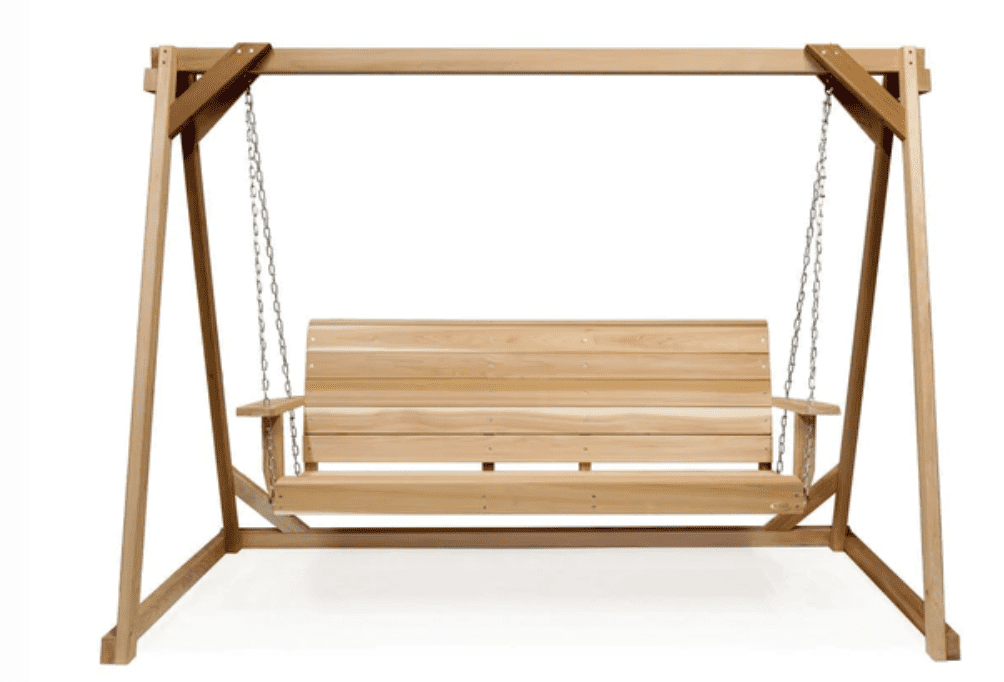 Classic wood A-frame porch swings are simply timeless. If you want a beautiful swing that's versatile and resistant to insects, this idea might be for you. The beautiful red cedar swing is made in the USA- another win in my opinion- and is constructed with care. Everything is finely sanded and the edges are rounded, so you don't have to worry about rough spots. It's the little details, however, that made this A-frame porch swing stand out to me. I love the curved back for more support, paired with comfort springs for a smooth and safe experience. With zinc-plated chains, pre-drilled holes, and assembly instructions, I love this A-frame swing for its beauty and practicality. Buy Here. 
Meader A-Frame Solid Wood Porch Swing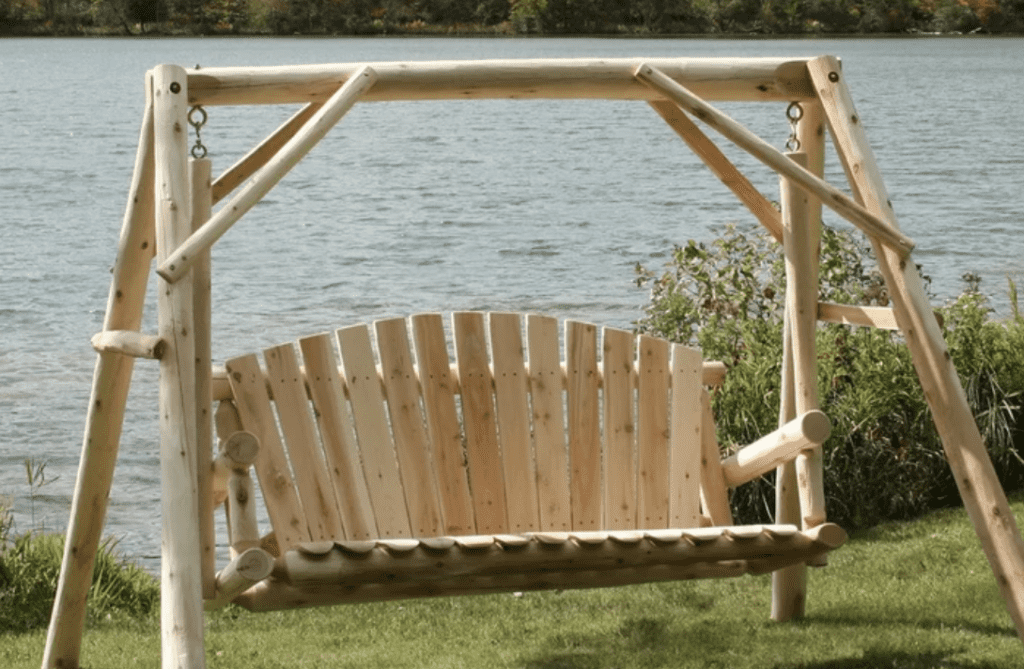 Whether you have a cabin, live near a lake, or just prefer a classic, rustic lodge look, this A-frame porch swing is a great idea. What caught my attention about this cedar porch swing was the striking light cedar logs. The slatted seat provides plenty of ventilation for those hot and sticky days. Like many of my ideas, it's also comfortable, with a contoured seat designed to reduce pressure and stress. I was surprised to find that, even though this porch swing is being sold through Wayfair, it's also made in the USA. Resistant to both rot and insects, this rustic A-frame porch swing is sure to make a warm and welcoming impression. Buy Here. 
Tioman Hardwood A-Frame Porch Swing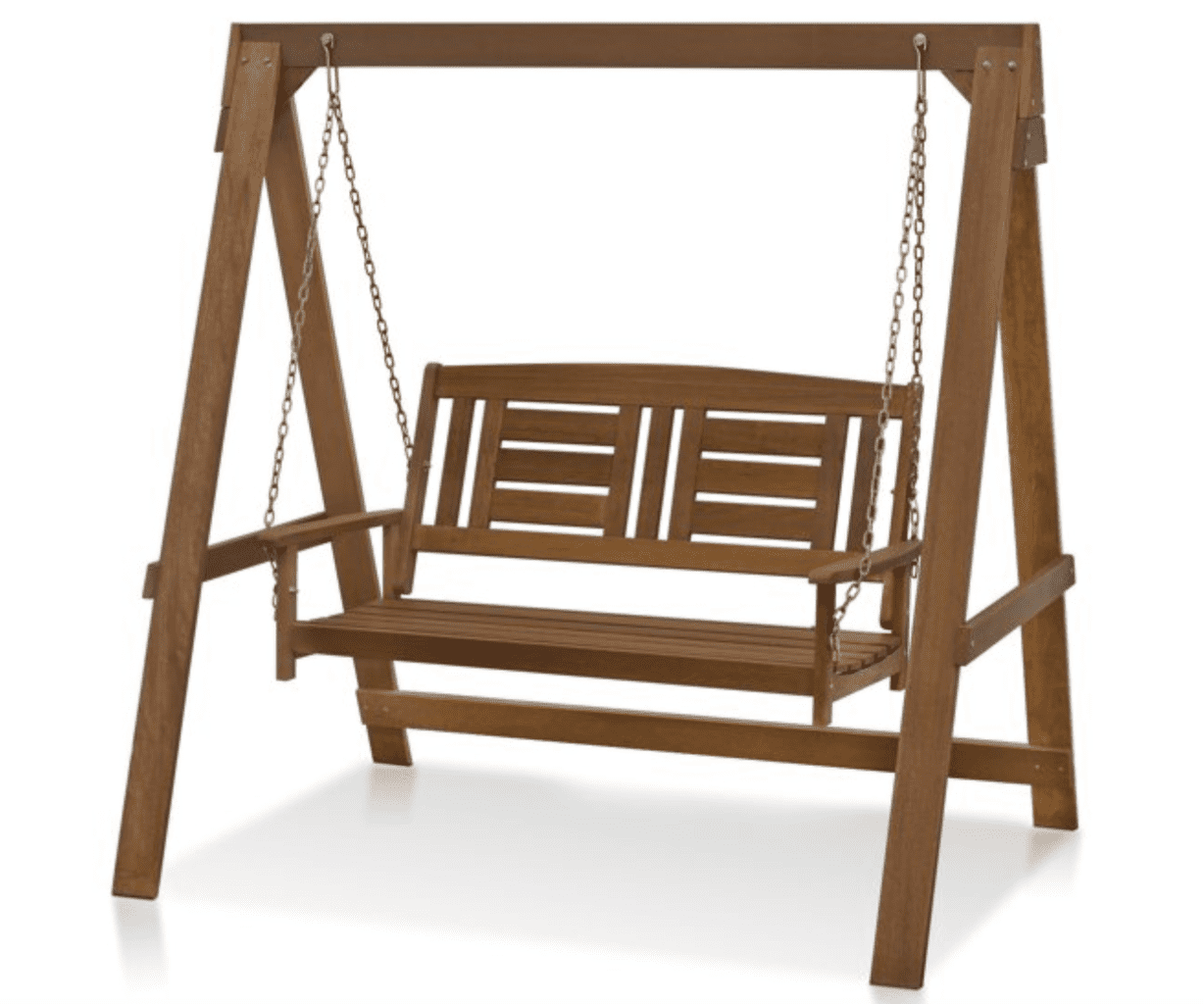 I've been on tighter budgets for patio furniture before, so I knew I needed a budget-friendly A-frame porch swing. The problem? Many of the cheapest A-frame porch swings are cheap for a reason. But this A-frame porch swing is made with genuine hardwood (Meranti) which is then treated in teak oil. While Meranti isn't quite as sturdy as some more expensive woods, it's an excellent value for the price. I love the rich hue, paired with a surprisingly stylish cut-out back. It's also one of those styles that you can enjoy alone or accent with cushions. Modern but also timeless, this A-frame porch swing doesn't look like it's as affordable as it is. Buy Here. 
Purple Leaf A-Frame Porch Swing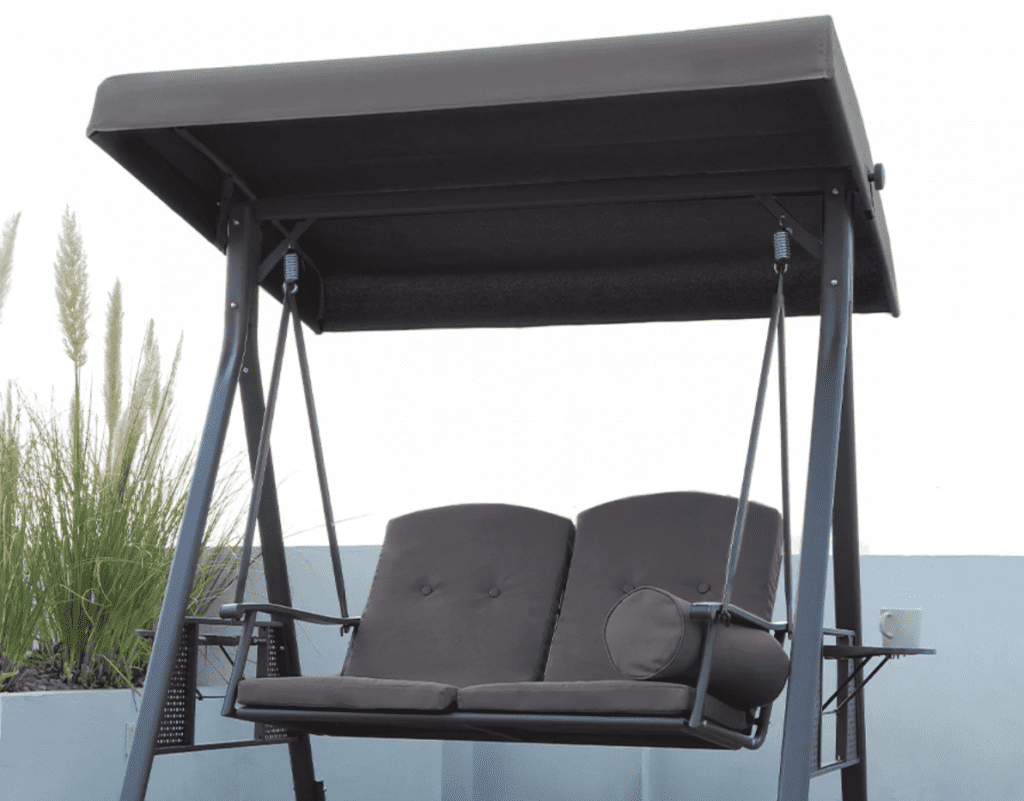 Maybe it's just because my skin burns easily, but I always appreciate a swing with a canopy. But this A-frame porch swing, in particular, caught my attention because of its sturdy and modern construction. The canopy swing seats 2 people with a generous weight capacity of 600 pounds. I also love the coated steel frame and weather-resistant cushions. If you like staying out for a while, you can also build in tables, lights, and a fully adjustable canopy. It's an excellent value and comes in several fun colors. Buy Here. 
Vluoo A-Frame Metal Porch Swing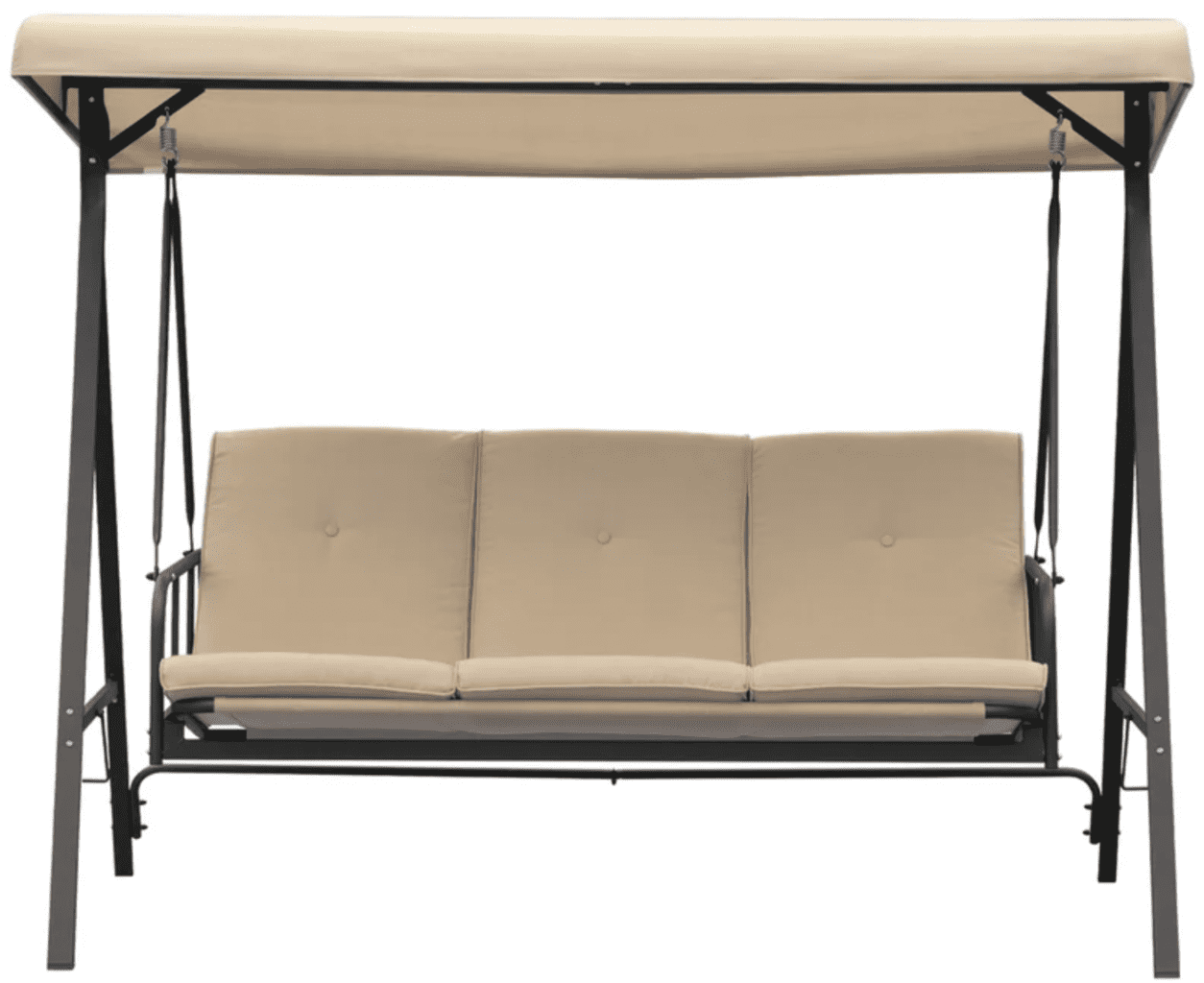 One thing I'm bad at? Getting myself to relax as much as I should. If you feel like you need more incentive to relax- or even take a short nap- then you may just love this A-frame porch swing. This A-frame porch swing comes with either beige or teal weather-resistant cushions and a matching canopy. But I was delighted to learn that these aren't just polyester cushions, but Sunbrella cushions. Sunbrella is my favorite choice for outdoor fabric because it's the most durable and offers a premium look. The main draw for this swing is, of course, its convertible design, which allows you to seamlessly transition from an upright (powder-coated steel frame) to a daybed swing. This swing does have so much going for it- I just wish there were more color choices! Buy Here. 
Wicker Patio 2-Seat Deluxe Porch Swing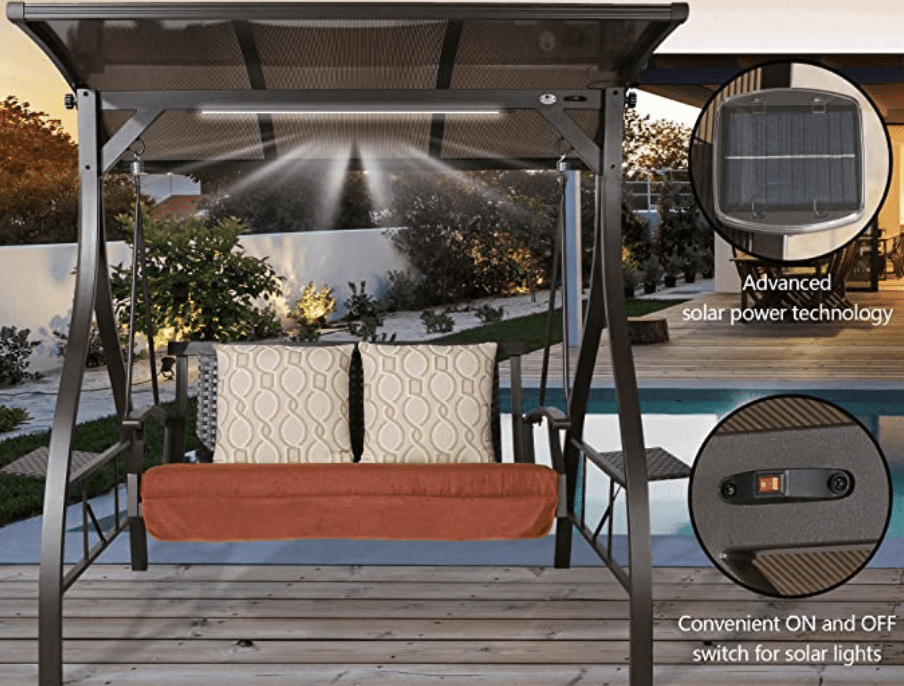 Finding a stylish, sturdy, and practical A-frame swing sounds like a tall order. But this porch swing is the perfect fit if you want premium features for under $700. What I like about this porch swing is that it uses only quality materials and provides a comfortable and aesthetically pleasing swinging experience. A powder-coated steel frame is paired with vibrant, weather-resistant Sunbrella fabric. While those features alone are admirable, I also love the addition of energy-efficient solar lights. That means more time spent on this beautiful swing, from dawn to dusk. Buy Here. 
Outsunny A-Frame Swing and Gazebo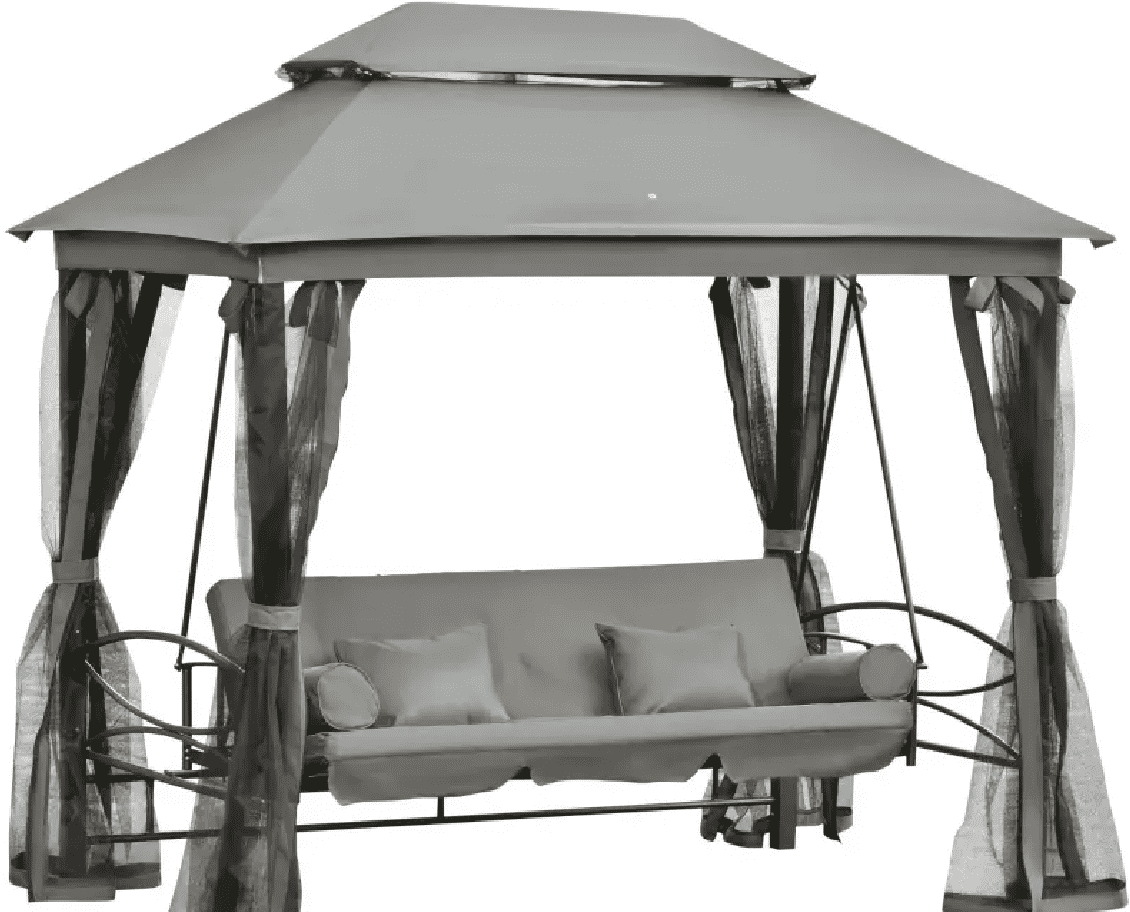 There are few sets like this. If you want a show-stopping space for entertaining and the functionality of an A-frame swing, look no further. Admittedly this would be better suited on a back deck than most porches- but I still think it's worth a mention. The three-person swing comes with a dramatic gazebo overhang that includes a 2-tier vented top for breathability even on the most humid days. A sturdy powder-coated steel frame adds the stability something this large and dramatic needs. And it's hard not to love how they look all come together. You can choose from gray cushions (and coordinating canopy) or tan. Buy Here. 
LuxCraft A-Frame Swing Stand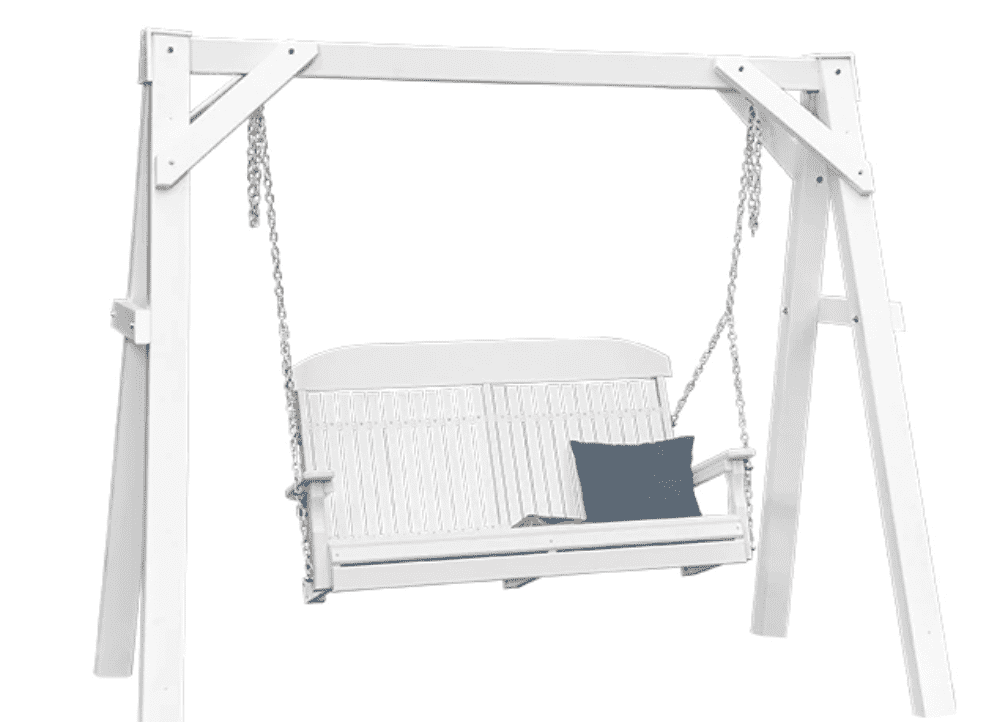 I wanted to finish up my list with a stand-alone stand. While you won't necessarily save money this way, it does provide more options. If you have a hanging swing already or want to mix and match, this Polywood A-frame stand is a superb choice. Crafted in the USA by Amish communities, it has an undeniably classic appeal. At once modern, timeless, and beautiful, this stand is built to last, no matter what weather comes its way. You can shop for coordinating swings from AmishYard, or look elsewhere to save a little money. Buy Here. 
See also: Best Porch Design Ideas For A Welcoming Home
Frequently Asked Questions
Question: How do you build a simple porch frame for a swing?
Answer: While a DIY porch swing can be a daunting task, building a simple porch frame is fairly easy. You'll need a durable hardwood to start with. While softwoods, especially pine, are popular for their budget-friendly price, they won't wear nearly as well. A bandsaw, quality wood glue, and precise measuring tools are also needed. For nuts and bolts, opt for heavy-duty steel. Instead of doing it entirely from scratch, I recommend watching a tutorial video. This tutorial video includes step-by-step directions on how to build an A-frame and even includes A-frame porch swing templates. 
Question: Which way should a porch swing face?
Answer: Porch swings can face any way you like- it just depends on what you value most. Those seeking a more serene, quiet experience may face their porch swing towards their yard or off to the side. A porch swing that faces the street may have less privacy but offers a classic, warm aesthetic. You can even angle the porch swing so that it partly faces a street and partially faces out. I'd also recommend thinking about the rest of the porch. Some like to orient themselves towards other porch furniture, which is a great setup for entertaining. 
Question: Are Frame porch swings safe?
Answer: Porch swings of all kinds are safe if used properly and installed correctly. A-frame porch swing tends to be safer than hanging porch swings, especially in the case of windy or stormy weather. However, the frame must be sturdy. A porch swing frame should be made out of solid metal or hardwood and secured with steel hardware. So long as the bolts are tight and secure and the swing is properly attached to the frame, it's fairly safe. Of course, young children should always be supervised near a porch swing. 
Question: Is a porch swing good exercise? 
Answer: Most buy porch swings to add comfort and ambiance to their home. However, for those who want some low-impact activities, a swing can also serve as a form of exercise. If you sit there or lounge casually, a porch swing doesn't do much for your cardiovascular health. However, purposely pumping your legs and swinging quickly is a form of light exercise. There are other benefits, too. A porch swing encourages you to spend more time outdoors. You can get both fresh air and exposure to sunlight. Those are potentially beneficial for not only your physical health but also your mental and emotional health. 
Final Thoughts
An A-frame porch swing is an excellent addition to a porch. While I love the whimsical note cast by a hanging porch swing, I like the stability that an A-frame provides. What's even better about an A-frame porch swing is that it's timeless. As you've seen from my ideas, you can find anything from classic wooden swings to sleek metal swings- and in a range of dimensions. So if you've been considering a porch swing and want something enjoyable, aesthetically pleasing, and sturdy, I hope one of my ideas sparks your interest. 
Final Recommendations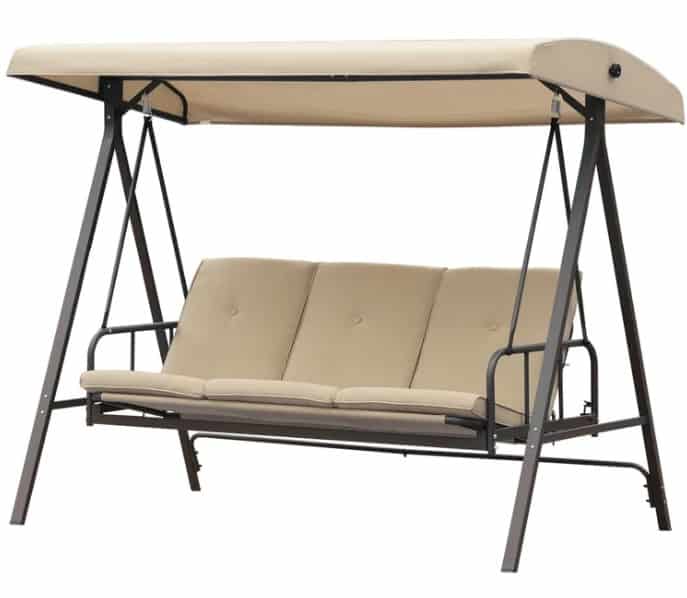 A-frame porch swing needs care, just like any other porch swing. If you're anything like me, you can get so caught up in everything else you're doing that it's all too easy to forget upkeep. If you buy a wooden swing frame, be prepared to seal it at least once a year. A great investment is a full swing cover that'll protect it from the elements. 
But if you're still trying to decide on an A-frame porch swing, I think you're best off opting for a durable option like Vluoo A-Frame Metal Porch Swing. The great thing about this A-frame porch swing is that you can use it as a classic swing or a daybed. The powder-coated sturdy steel frame means less maintenance, and it's honestly one of the best values online today.
Recommended Reads: