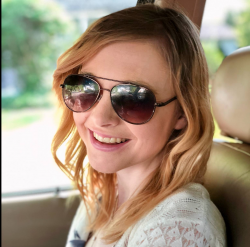 Latest posts by Erin Jamieson
(see all)
Since I started studying French many years ago, I've always loved a farmhouse-style home and porch, especially those inspired by the French countryside. Even before then, I was drawn to the rustic charm of an American farmhouse. From hours spent at a family friend's horse ranch, to horseback riding classes in college, I've always appreciated a beautiful swing on a farmhouse porch. 
However, farmhouse porch swings aren't merely rustic or classic. From white wicker porch swings for a farmhouse chic style, to a Polywood porch swing for a modern farmhouse, the possibilities are endless. To help you find the best porch swing for your farmhouse-styled home, I'm sharing my favorite ideas. 
Read on to see some of the best farmhouse porch swings and why I love each one. 
Bottom Line Up Front Summary
No farmhouse porch is complete without a porch swing. From modern farmhouses, to farmhouse chic, and classic farmhouses, selecting a porch swing can not only be fun but make your home welcoming and distinct. 
If I were to recommend just one farmhouse porch swing for the average buyer, it would be the Vineyard 3-Person Swing. This porch swing is most suitable for a modern farmhouse, but it's versatile enough to be styled with rustic cushions for a classic farmhouse feel. Since it's made out of Polywood, you don't have to worry about protecting it from the weather. It's a great size and has a classic, timeless style. 
My Top Picks
My Selection Criteria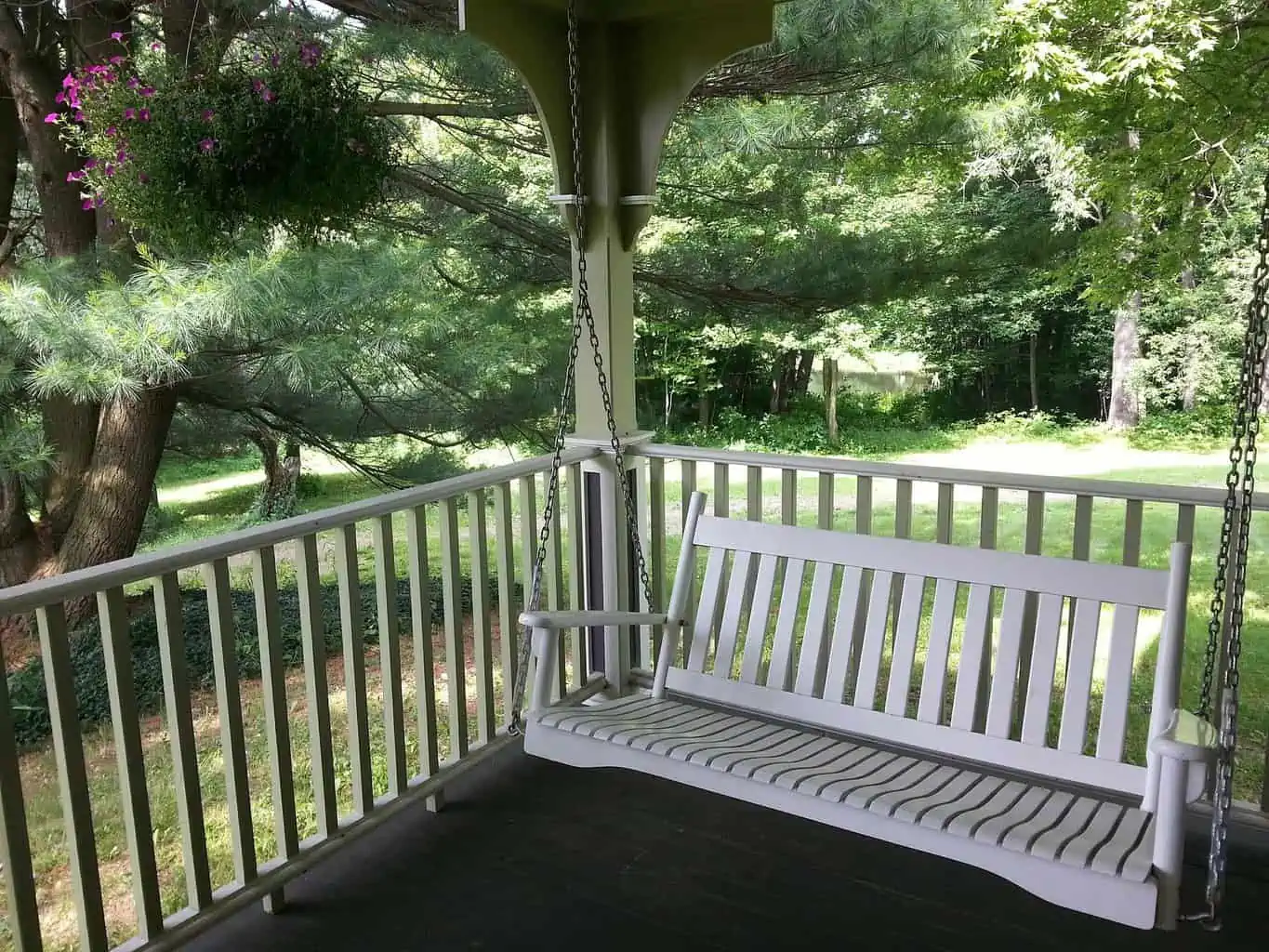 Before I share farmhouse porch swings I'm excited about, here's a look at how I selected swings for this list. One reason I'm cautious when shopping for any patio furniture is that I want it to be something that'll last to make memories with. From stand-out styles and features to quality, here's what caught my eye. 
Choosing for Different Farmhouse Styles 
What's exciting about farmhouse porch swings is that the farmhouse style is more expensive than you might think. I wanted to select a variety of styles that suited a diverse range of tastes. The table below shows different styles and materials that suit some of the most popular takes on a farmhouse porch. 
| | | |
| --- | --- | --- |
| Farmhouse Porch Style | Description | Materials I Love |
| Modern | Sleek, contemporary accents with clean lines and touches of rustic charm  | Polywood, wood with black/ white/ dark color paint (navy, deep green)  |
| Classic/ Rustic  | Cozy, charming, and classic with exposed wood and white hues | Genuine hardwood  |
| Chic, Southern Charm  | A softer take with rustic and farmhouse touches — light colors | Painted (white) wood, wicker  |
Choosing the Best Materials
But I also wanted to make sure that the materials I selected were as durable as possible. Between Polywood, hardwood, and wicker, Polywood is the lowest maintenance and often comes with warranties of 15 to 20 years. Hardwoods can last longer- but only if you seal and oil them every year. The hardware had to be a sturdy material, like 304, Marine-grade, or stainless steel. 
For Wooden Swings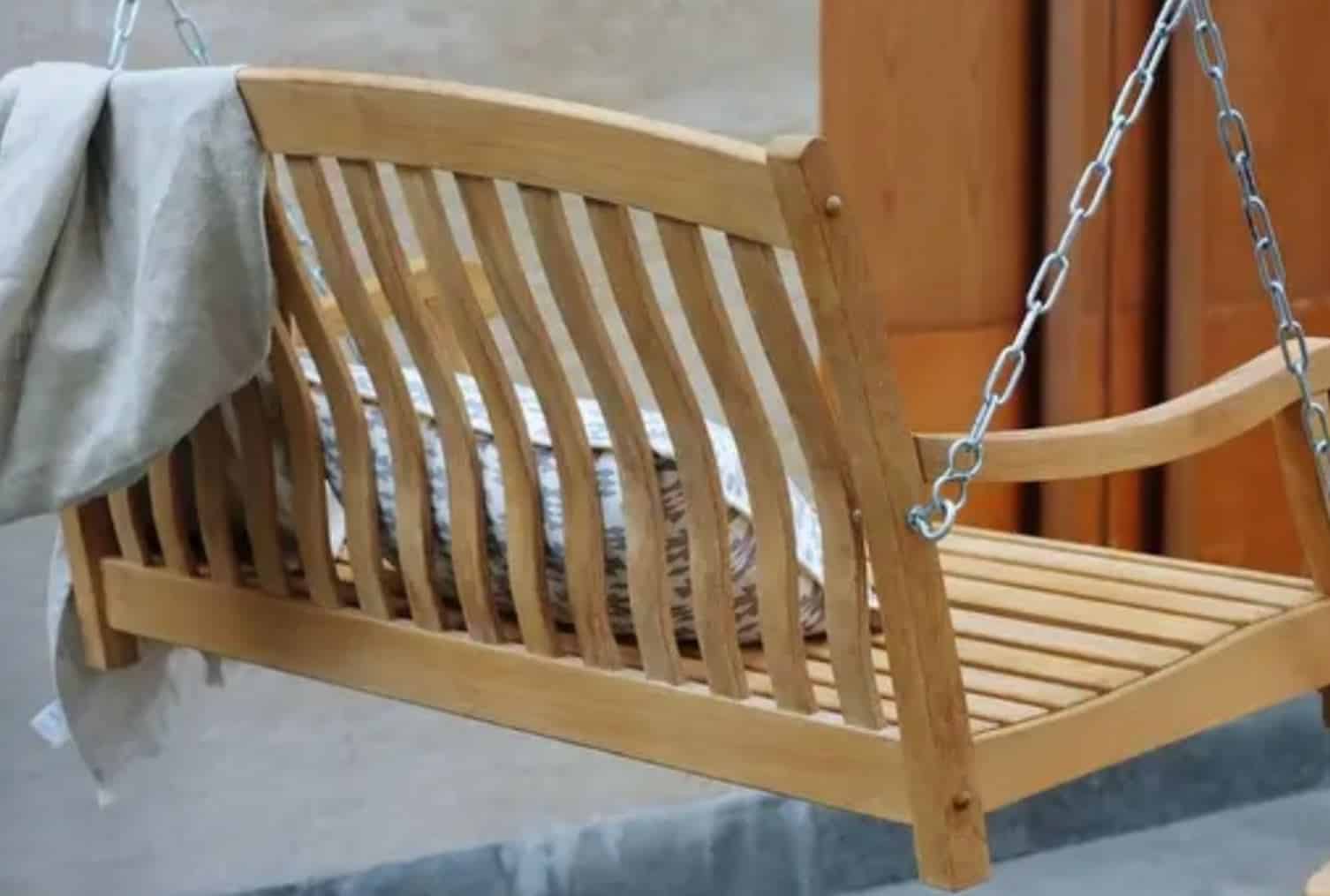 For wooden swings, I try to choose hardwoods over softwoods. My favorites for a farmhouse porch style include oak, teak, maple, and kiln or pressure-treated woods. For a rustic farmhouse look, I embrace woods with natural grains and knots. Unfinished wood lets you decide your stain, but finished wooden swings are ready to enjoy. I do make one exception for softwoods, and that's cedar. Cedar is one of the harder softwoods and naturally repels insects. 
For Polywood
I just made sure all my ideas were genuine Polywood (high density recycled plastic), in an array of colors, and from a reputable company. 
For Wicker 
Wicker simply isn't as durable, but it does provide that farmhouse chic charm, and I'm fine with a wicker swing under covered and screened porches. I look for weather-protective resin coatings.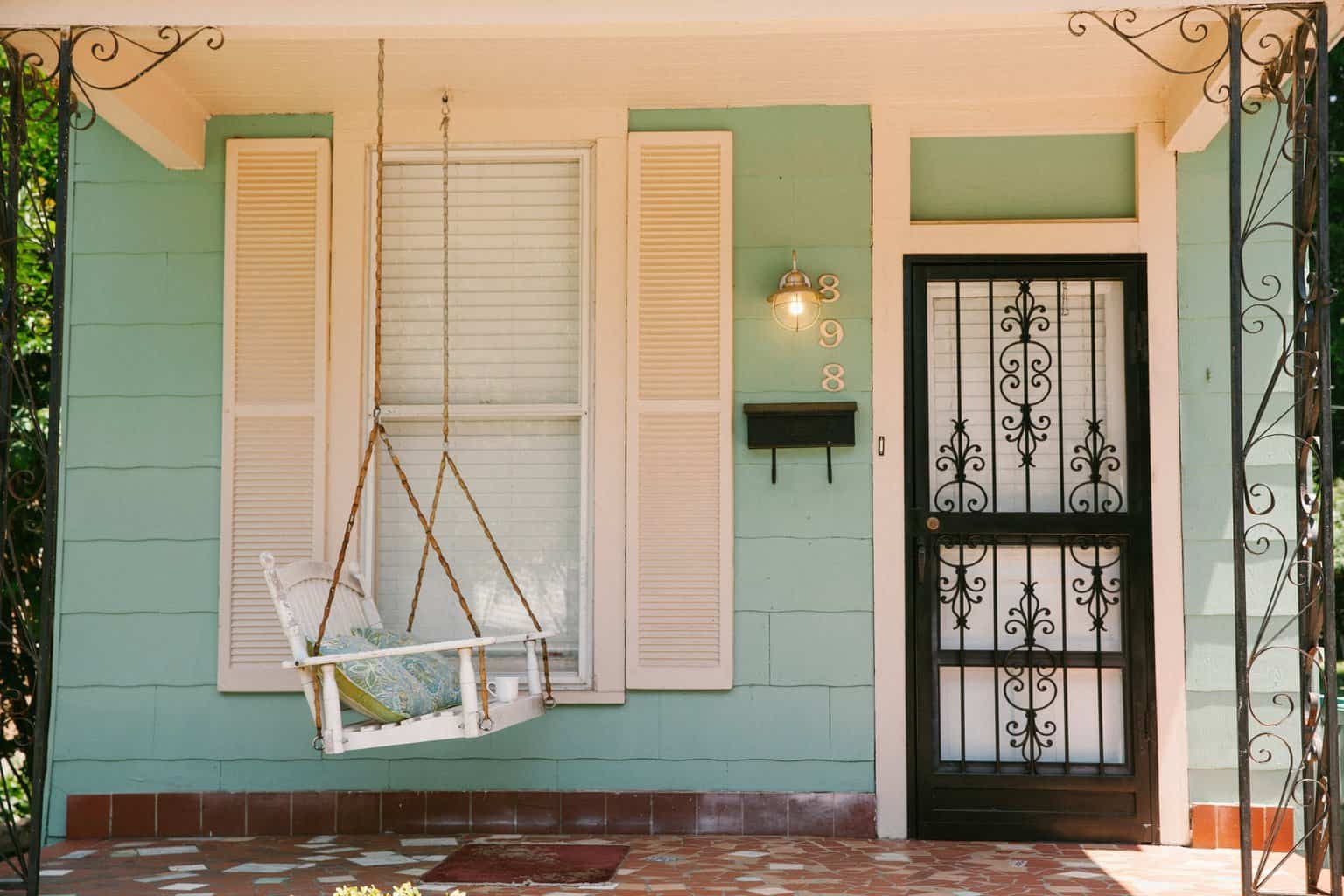 Choosing Unique Features & Designs 
I also wanted to find ideas that stood out for their timeless design or unique features. In my mind, a great farmhouse porch swing is one you'll want to spend hours lounging in or enjoying a great book. That includes features like:
Cupholders

Canopies

Fold-Out Trays

Unique Colors (white, black, navy blue, espresso, gray, green)

Daybed/ Convertible Designs

Arched, Ergonomic Back

Ergonomic Armrests

Unique Stylish Details (such as antique-rustic)

Beautiful Wood Grain 

Cozy, Weather-Resistant Cushions

Easy Assembly Instructions

Made in the USA
See also: Farmhouse Fall Porch Decor Guide
While I don't consider every feature a must-have, I do think that these features enhance the purpose of a farmhouse porch swing.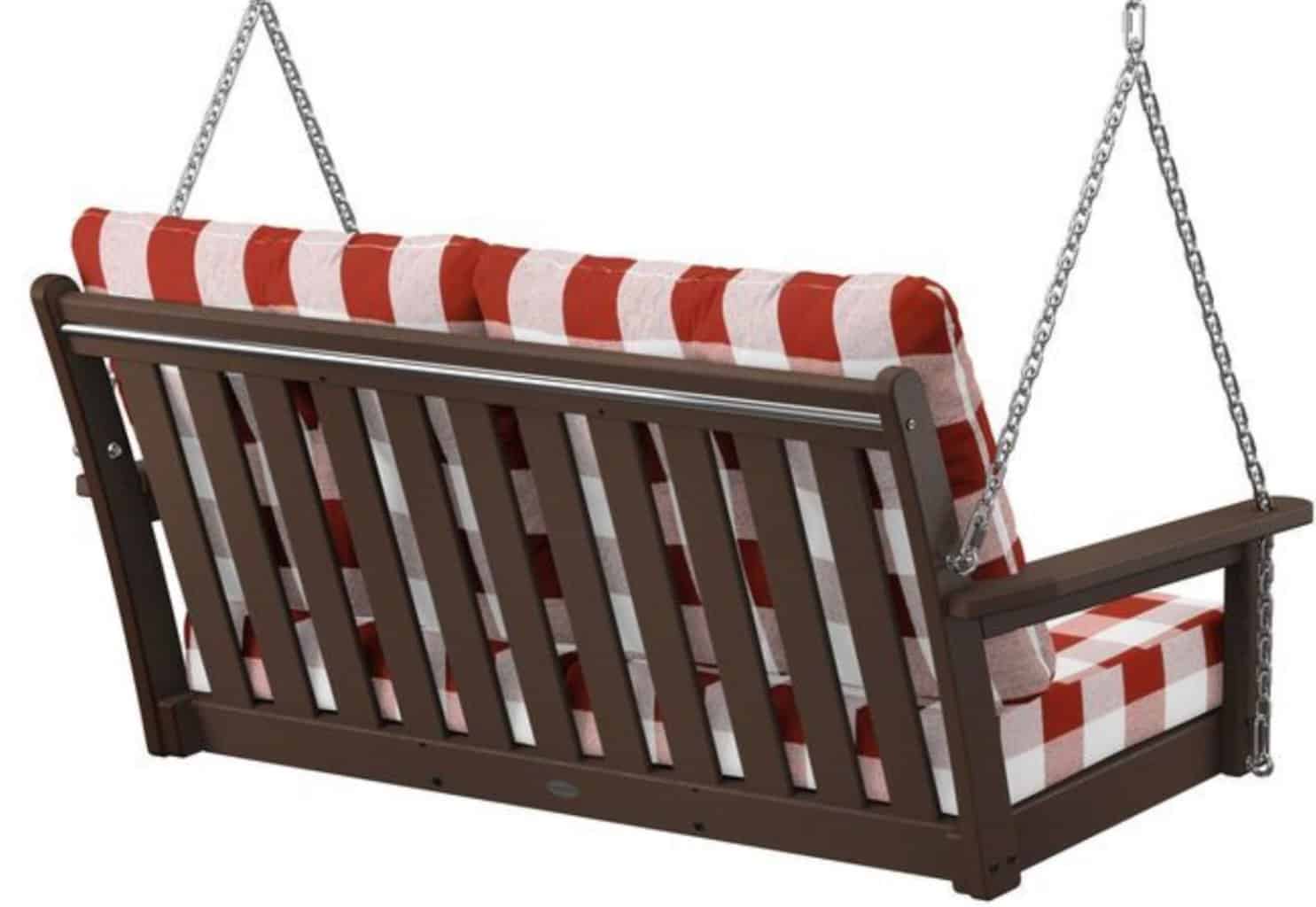 Buying From Trustworthy Stores
Buying online, at least for me, is tricky. Since you aren't seeing the swing in person, it's all that more important to feel confident with your purchase. I've selected farmhouse porch swings from only reputable companies with a history of transparency, customer service, and fair prices. Better Business Bureau profiles, customer reviews, and detailed descriptions all played into what I chose for my favorite ideas. I also took note of farmhouse porch swings that come with a warranty and included some made in the USA. 
Note About Swing Dimensions
Farmhouse porch swings truly do come in myriad sizes and dimensions. I wanted my ideas to reflect different needs, so I included large porch swings, medium/standard sizes, and even a porch swing for one. That said, before you buy any of these porch swings, it's important to decide what size works best for you and your porch. (The standard swing size ranges from 4 to 6 feet). 
However, I did keep weight capacity and seat depth in mind. I wanted most of my ideas to have a medium to more laid-back seat (above 18 inches in depth). I also wanted to be sure to include some heavy-duty farmhouse porch swings- that's important for higher weight capacity needs as well as a sign of a very sturdy swing (over 250 pounds/ person). 
Farmhouse Porch Swings: My Favorite Ideas 
With that said, here are farmhouse porch swings that get me excited in 2022. These farmhouse porch swing ideas range from modern with rustic touches to a cozy daybed swing for curling up with hot cider and a great book. 
See also: How to Find the Best Patio Umbrella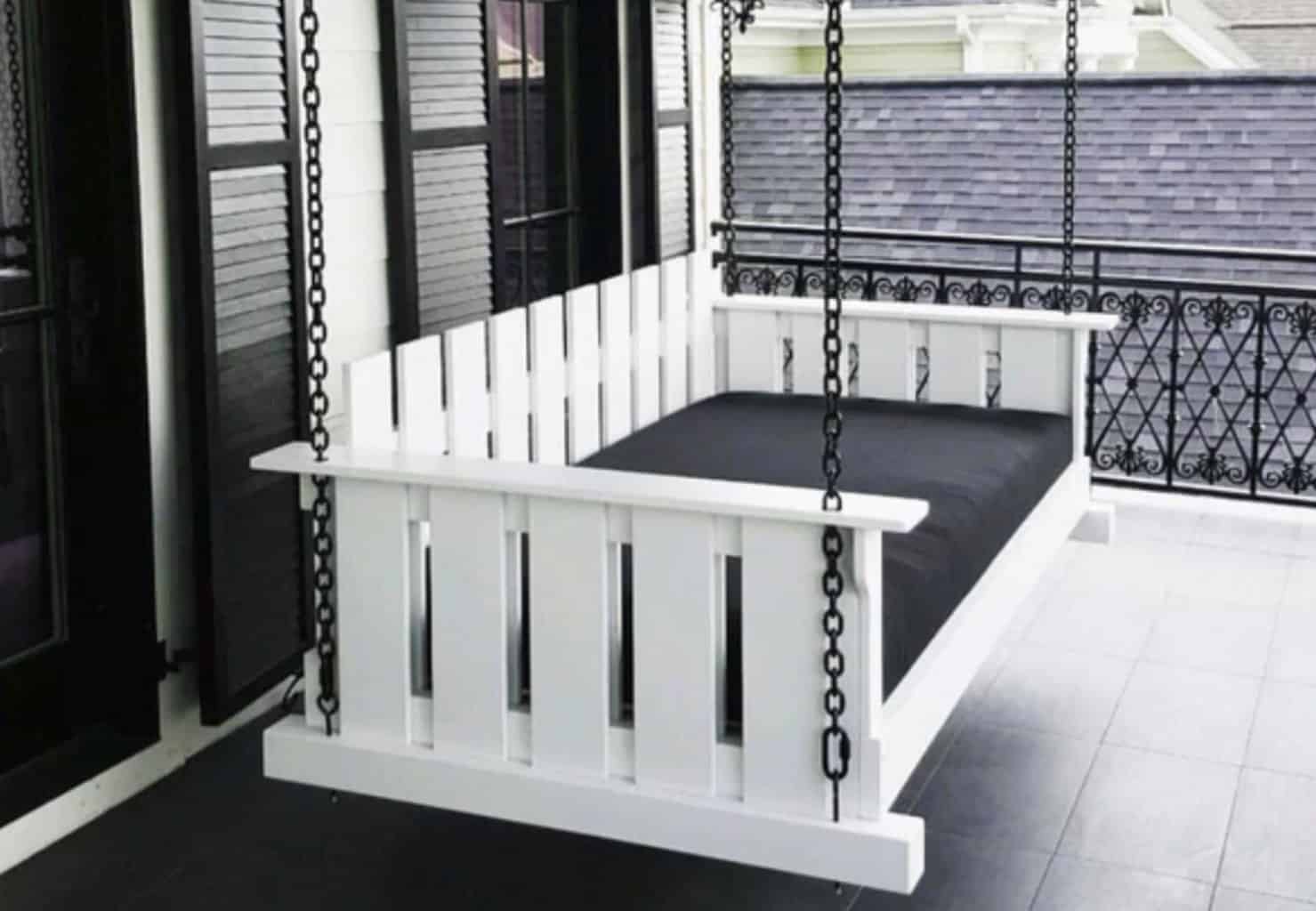 When I was younger, I used to take afternoon naps. It's funny how we all tell ourselves to outgrow that habit when in reality, a short nap could do many of us good to reduce daily stresses. But naps aside, I think having a porch swing that invites you to relax is a huge appeal of a farmhouse-style daybed porch swing. This is an excellent idea for anyone looking to achieve a classic or vintage farmhouse style. Valspar white paint coats a charming back, and I love that this cedar swing is made in the USA. You can save money by ordering it in pine, but I'd stick with the cedar frame or, even better, the teak. Dress this swing up with cushions to personalize its charm.
See also: Best Black Porch Swing Ideas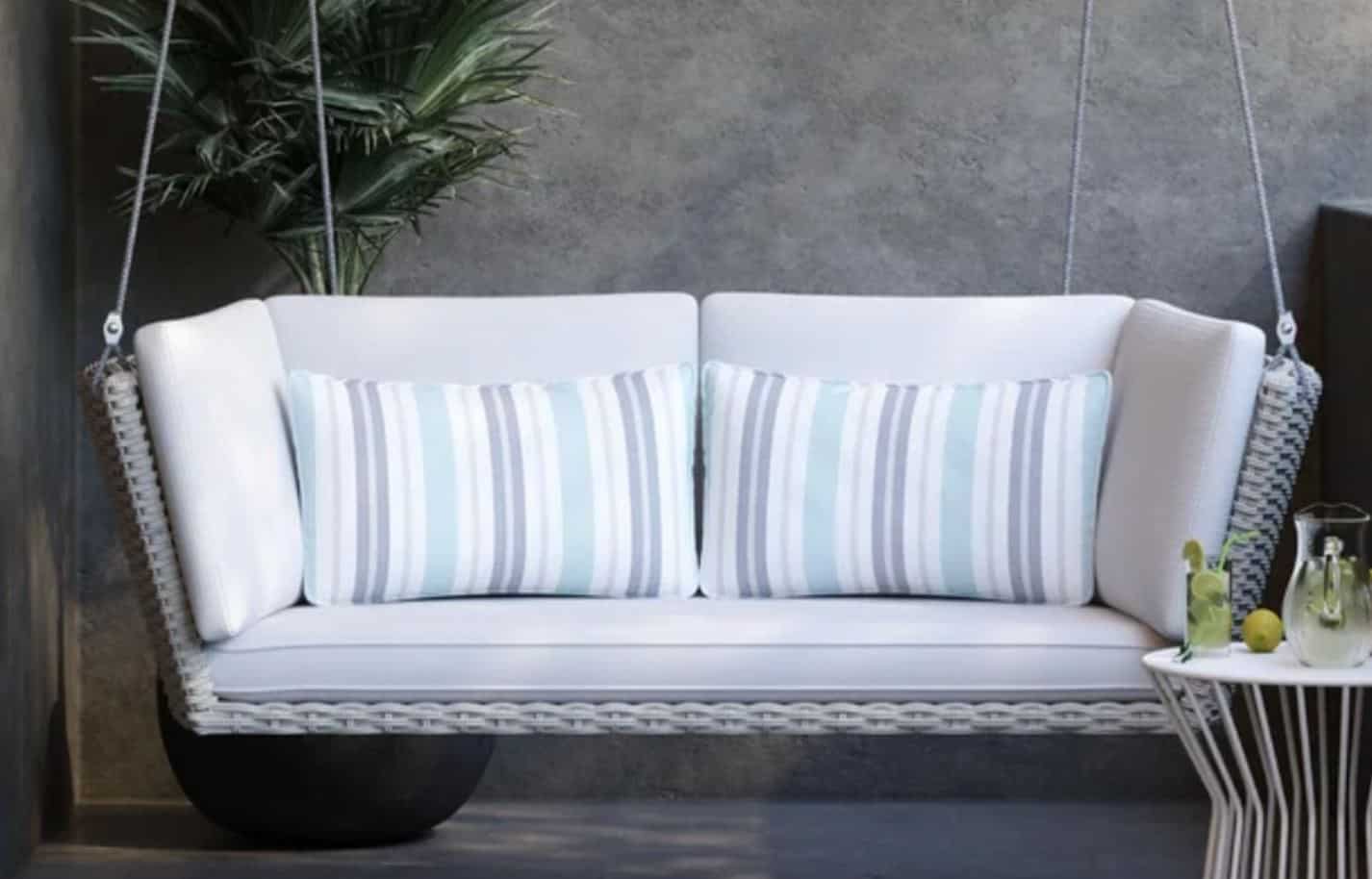 Farmhouse chic is a style I love seeing because it challenges common perceptions about what farmhouse style is. I've seen farmhouse chic in my home region in the Midwest and even in New England. This wicker porch swing is a bit contemporary, a bit farmhouse chic. Swap out the cushions or pillows with botanical and floral motifs to achieve the look. This fun loveseat-style bed is perfect for a covered or screened-in porch. The wicker is weather-resistant and accommodates 500 pounds — more than I expected from this style.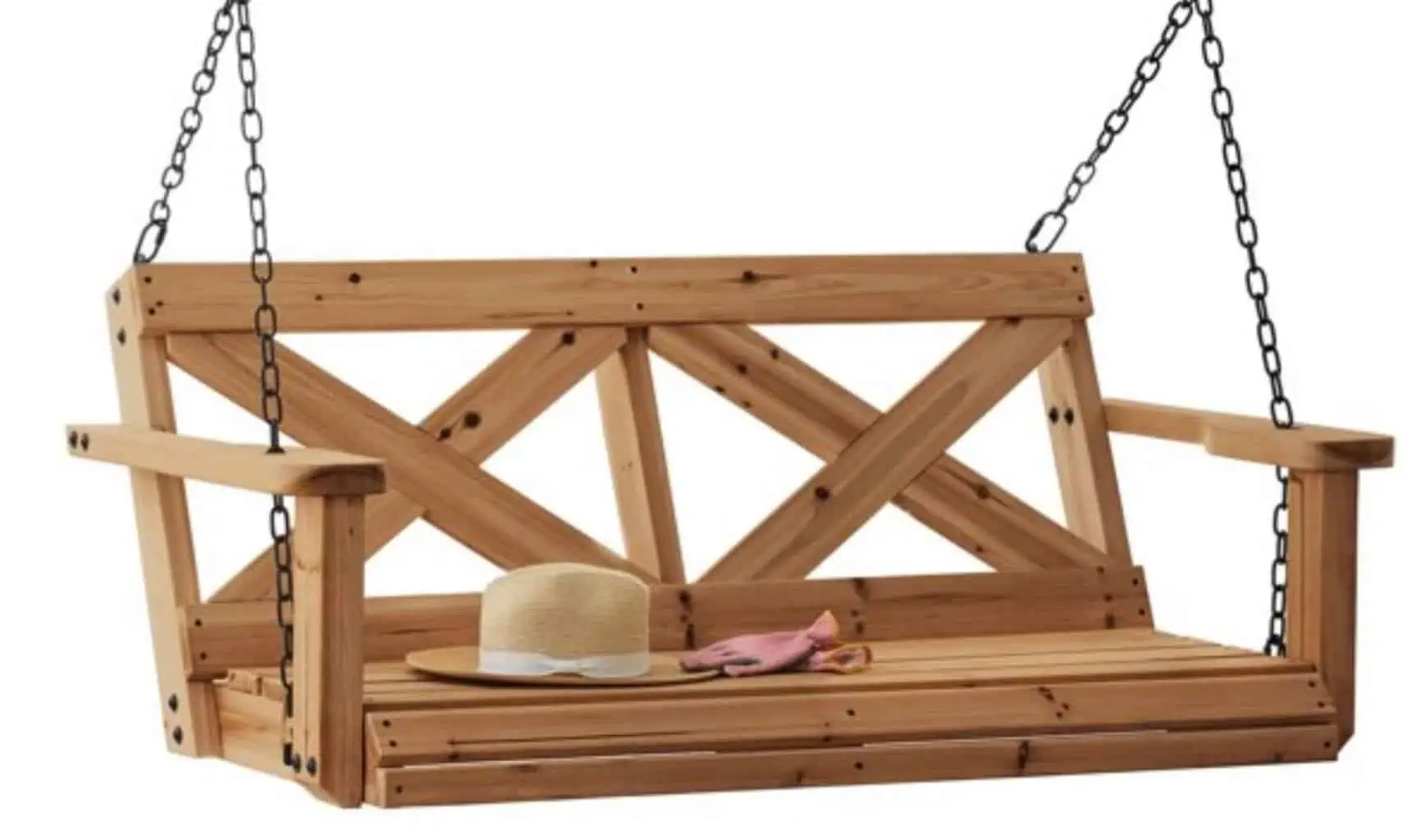 Something I see too often, and I've done myself, is people discounting outdoor upgrades because they think they can't afford something. Sometimes it is better to wait and save money, but I also know there are some reasonable options for farmhouse porch swings under $200. This cedar porch swing nails the traditional farmhouse style with a soft light brown hue that you can (and should) stain to your liking. I love that it accommodates up to 600 pounds, and you can't deny the appeal of the unique slatted back. The laid-back style is also more comfortable for tense backs. Not great with assembly? This swing is good for that too: it comes with pre-drilled holes.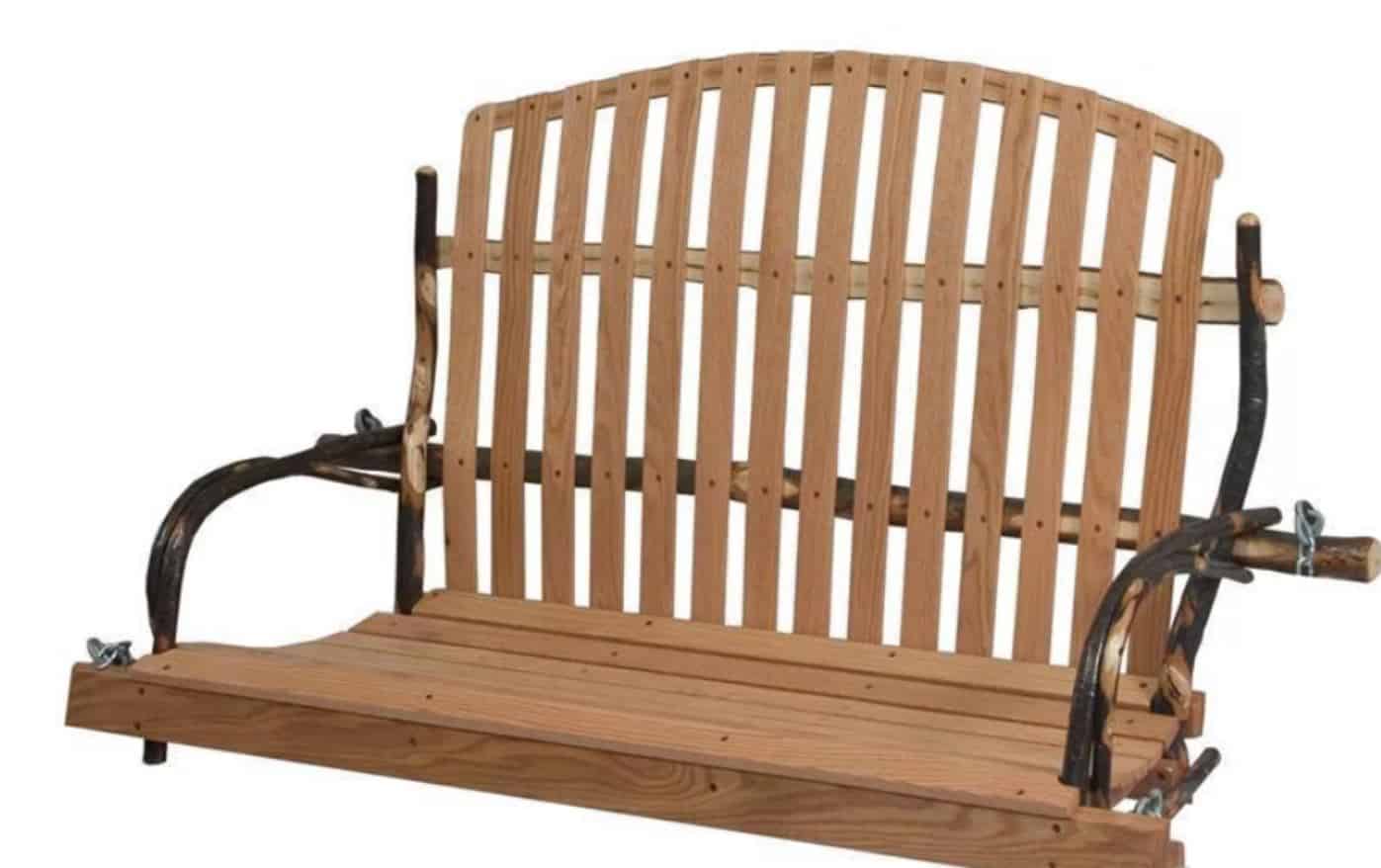 Rustic, charming, and unique, this farmhouse porch swing immediately caught my attention. If your favorite take on farmhouse style is the more rustic elements, this swing is an excellent choice. Combining elements of a rocking chair style with a classic porch swing, it's made with sturdy hickory wood. I love that you can select the outdoor stain of your choice, and it's made by Amish communities in the USA.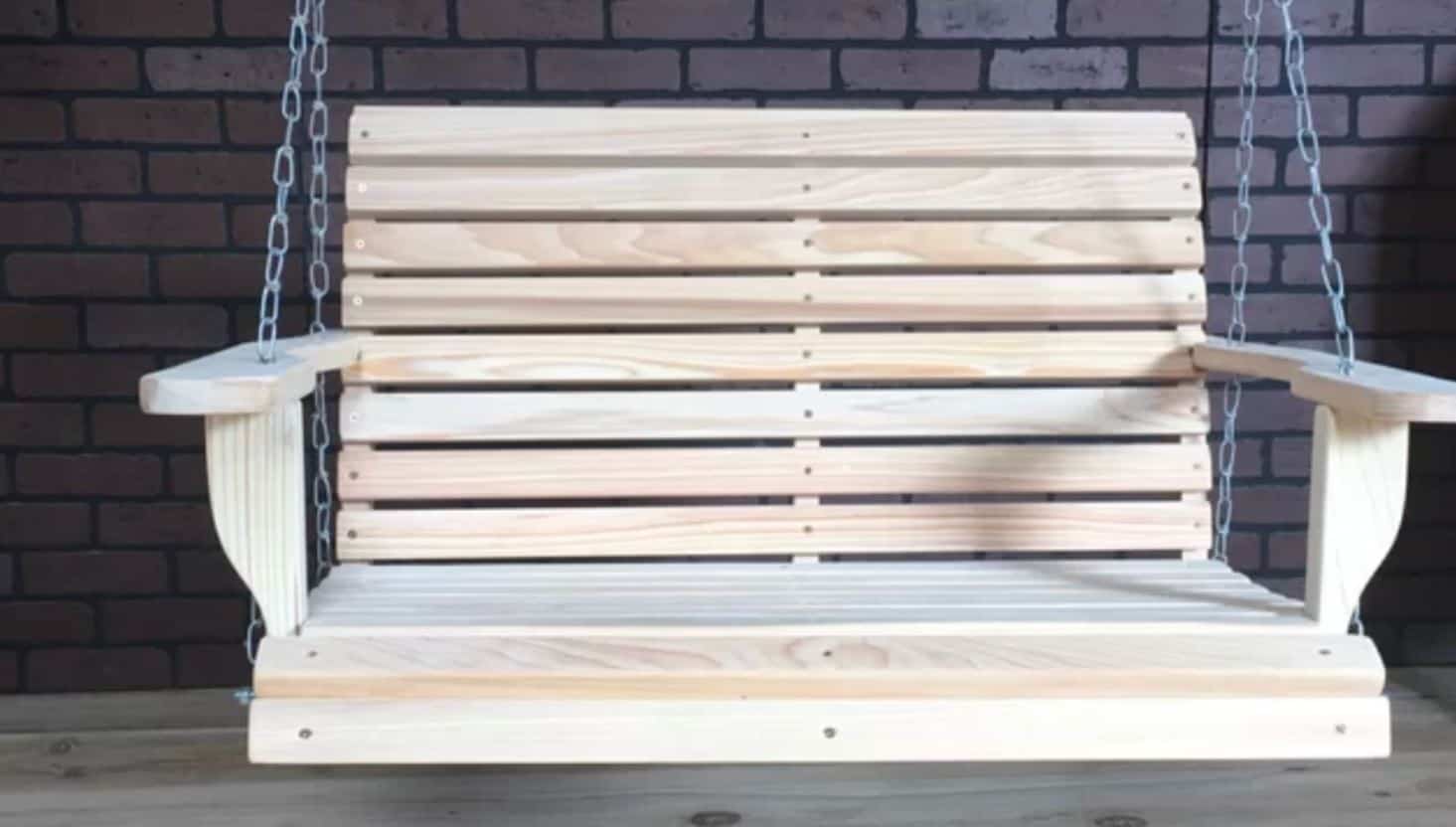 I know that a porch swing for a farmhouse usually brings to mind a wide, generous seat. But not all of us have that space (I can relate!) Some of us just want a one-person porch swing to enjoy for ourselves. After some hunting, I found this solid wood porch swing that's well-constructed and captures classic farmhouse charm. Be gentle with it, stain it, and use it preferably under a covered porch. I love the natural light wood variation and slightly laid-back seat. Wide armrests also mean a more comfortable swinging experience. 
See also: Best White Porch Swing Ideas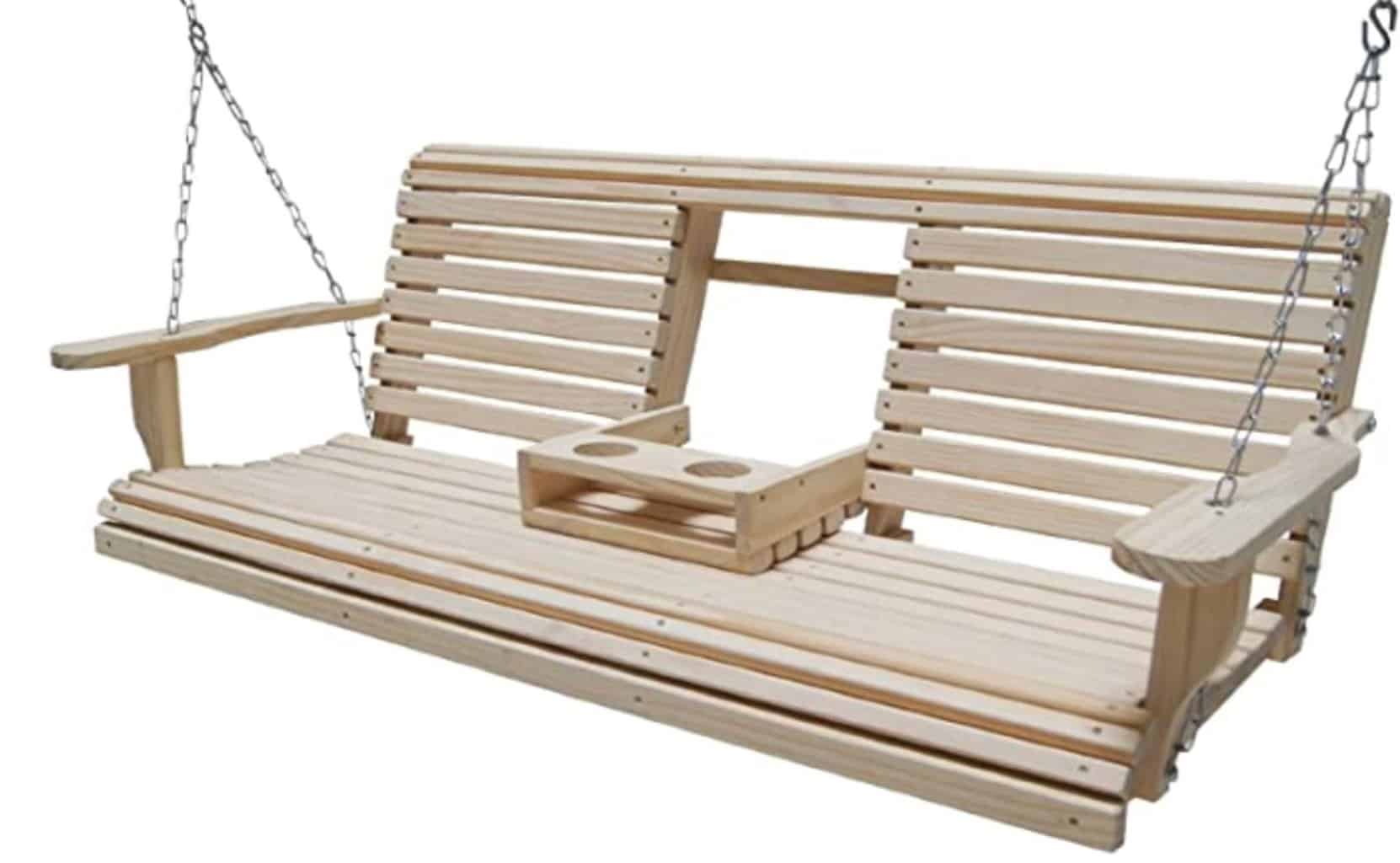 Try as I might, I've never quite been able to rid myself of being clumsy, and that also means absent-mindedly spilling a drink I set down. If you enjoy snacking or sipping on something while you swing, this farmhouse porch swing may be the best idea for you. The lumbar rollback is one of the most comfortable styles, designed to reduce shoulder strain. I love the simple cupholder console in the middle too. The wood frame is naturally rot-resistant and can be stained to your liking.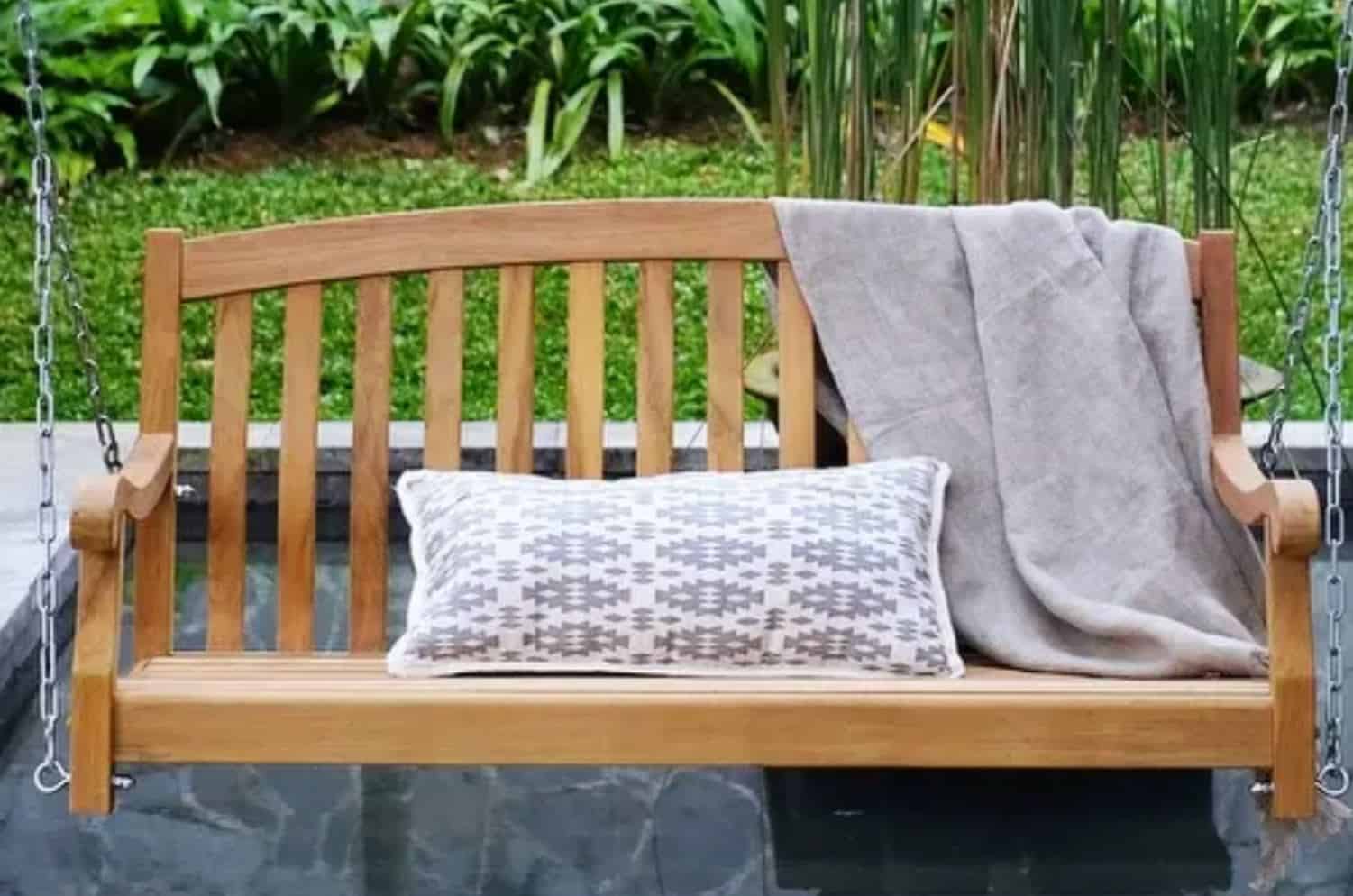 Of all my ideas, this porch swing is probably the most understated for a traditional farmhouse style. I love this teak porch swing for anyone who might be forgetful about sealing and oiling their wooden swing. Teak naturally produces its oils and is a hardwood, so it simply requires less maintenance. The arched back and detailing on the armrests are part farmhouse, part vintage. Dress it up with checkered seat cushions and accent pillows.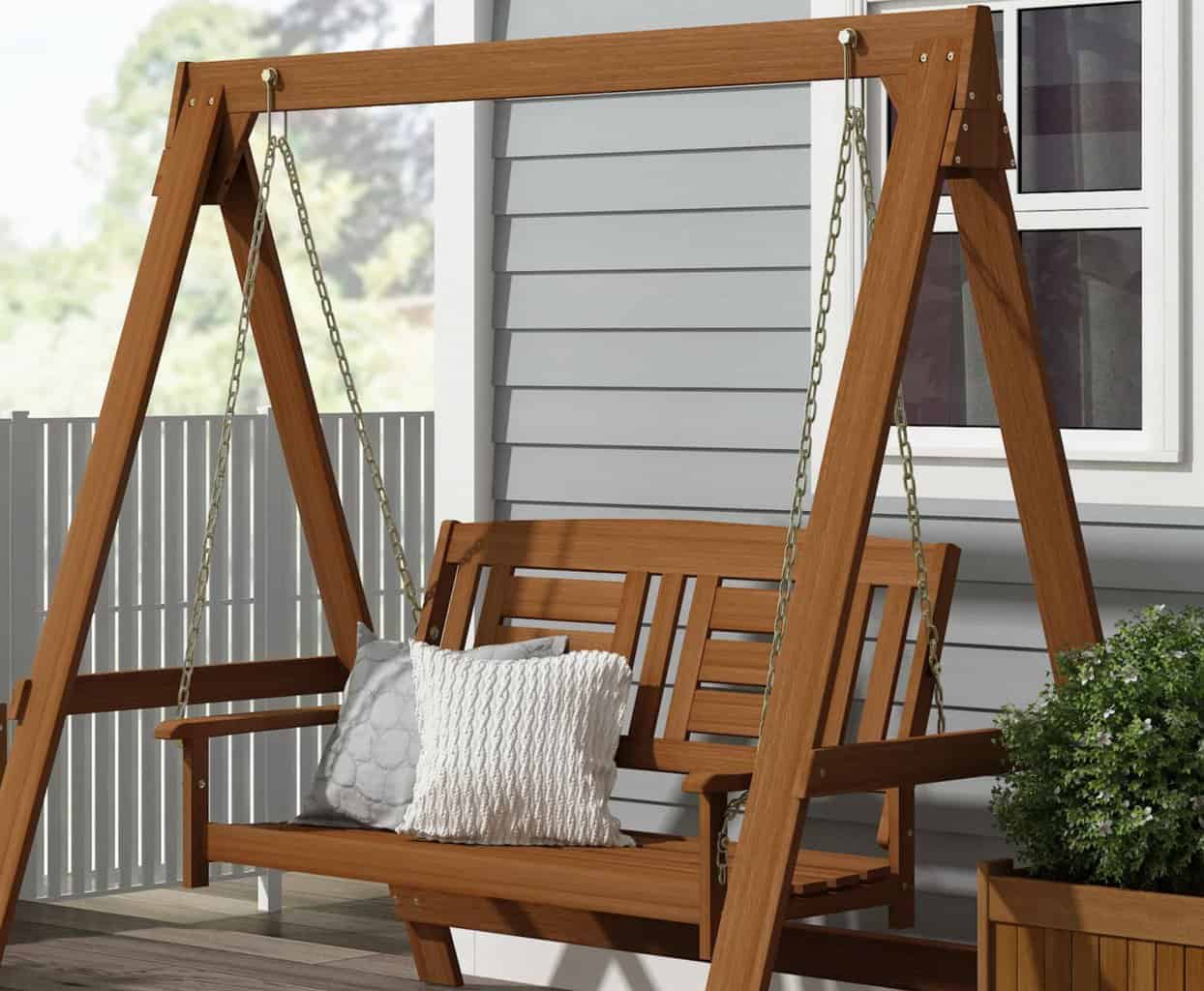 As you may have noticed, many farmhouse porch swings are hanging porch swings. But if you have nowhere to hang a porch swing, or want stability during stormy weather, this may be the best idea for you. Crafted out of mahogany wood, this porch swing with a stand is more of a contemporary farmhouse style, with clean lines but elements of that warm farmhouse charm. I love the detailed, relaxed back on this swing, coupled with a fair price and warranty.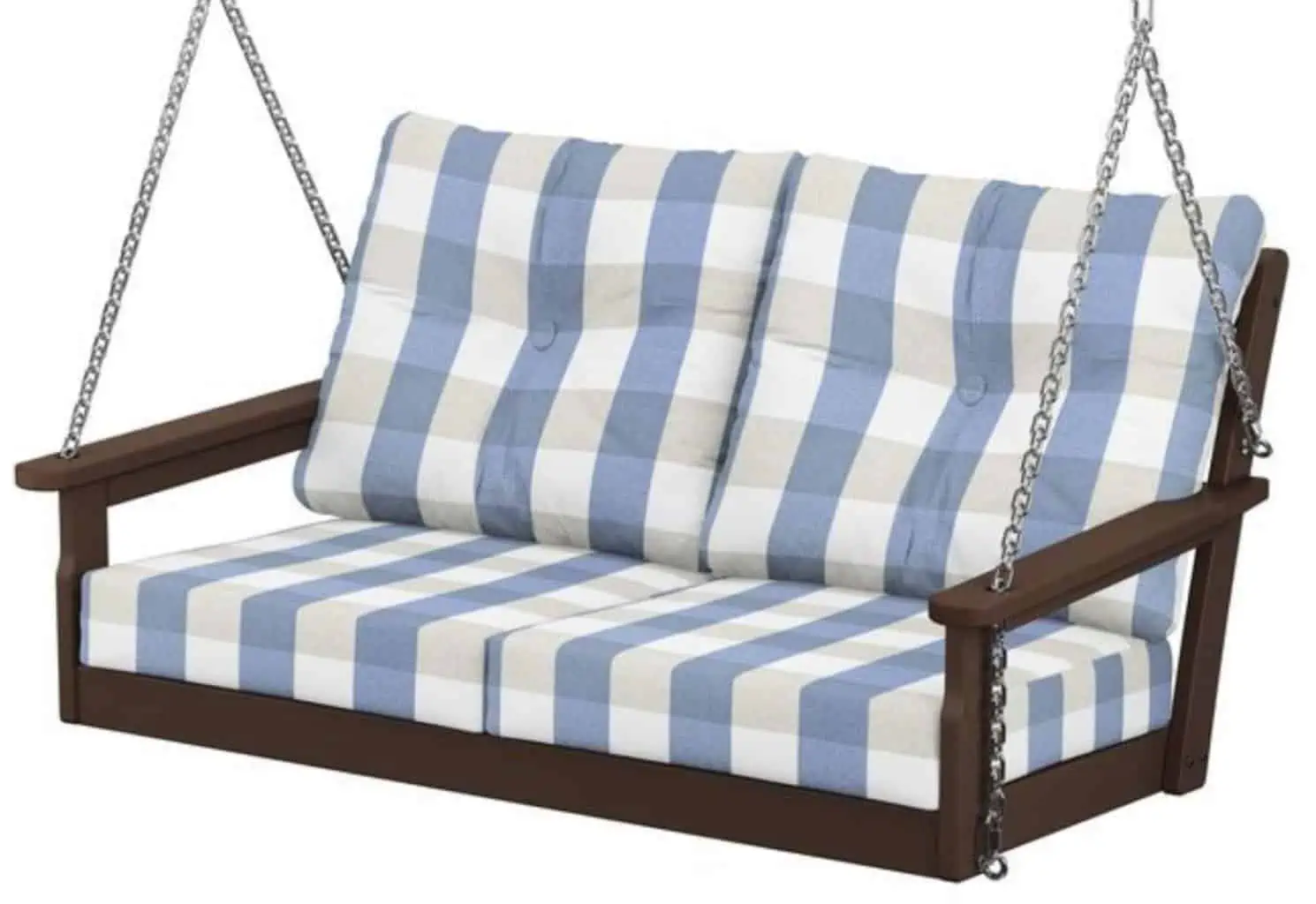 A modern farmhouse style is tricky to capture, but this luxurious porch swing would pair well with that look. This is the porch swing for you if you have more money to spend and want as comfortable of a swing as possible. The Polywood frame is very low-maintenance but still carries the charm of a wooden swing. I love the soft and supportive seat cushions, with a deep seat for the ultimate swinging experience. Plus, you can customize this by ordering different frame colors and cushions. To add a more farmhouse feel to it, simply opt for the checkered or floral patterned cushions when you customize your order!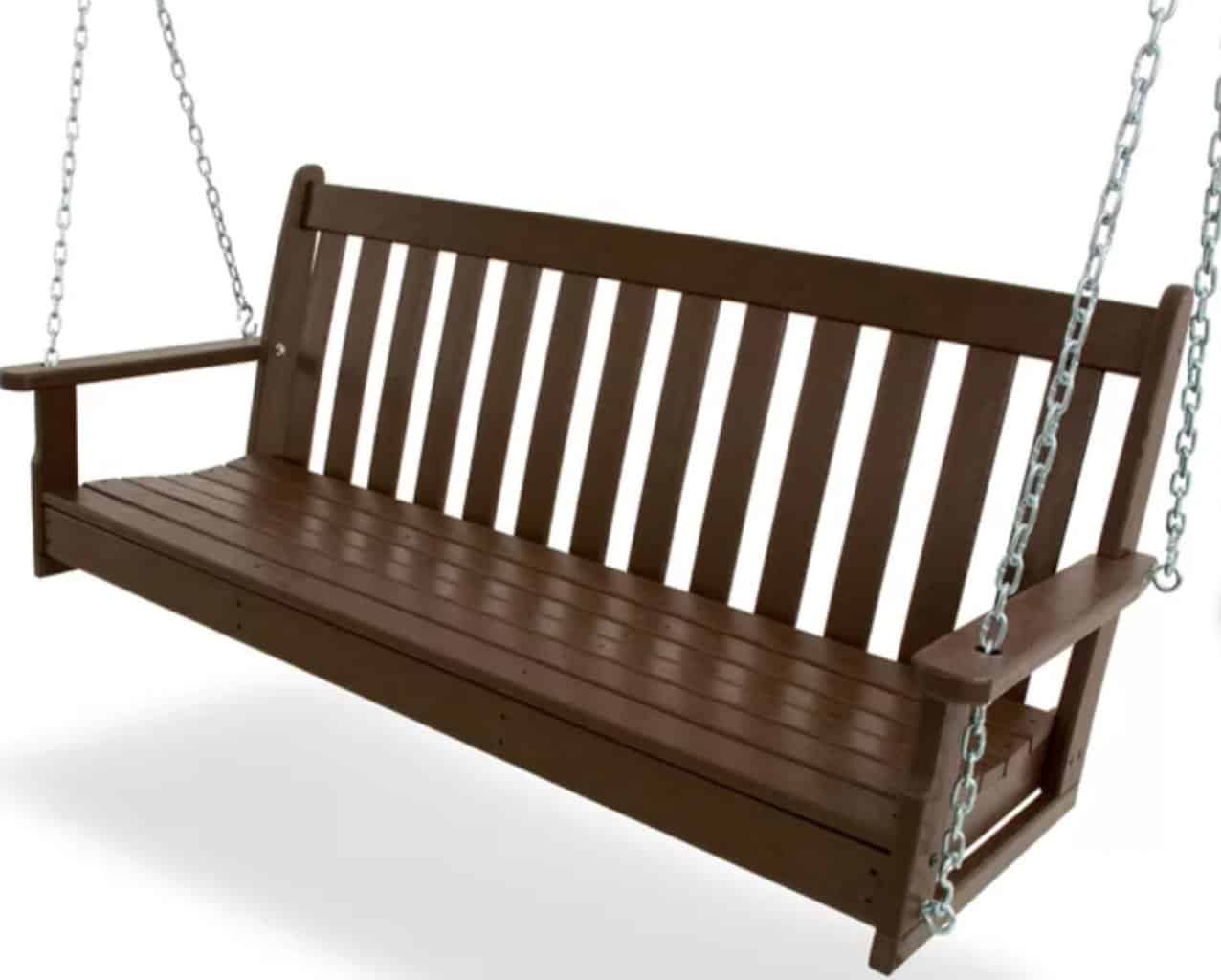 Want a modern farmhouse porch swing that's weather-resistant, low-maintenance, and costs under $500? Then this may be the best porch swing for you. I've done it before, and we probably all have: thinking it won't rain and neglecting to cover patio furniture. You don't have to worry about that with a Polywood porch swing. The mahogany stain carries a farmhouse theme but with undertones of clean and sophisticated lines. Keep it simple, or dress it up with a patterned pillow. It's a generous length (60 inches) and a great choice for having company over or just making a welcoming statement on your front porch. 
Frequently Asked Questions
Question: Where are farmhouse porches most popular?
Answer: Farmhouse porches and homes are the most popular in Southern states but also in parts of the Midwest. Farmhouse porches suit charming classic Southern styles, but also provide a cozy ambiance no matter where you are. However, classic farmhouse styles are not quite as widespread as modern and contemporary porches. You can find farmhouse porches across the United States. I think they are most suited for homes that are located just outside of the suburbs or countrysides, yet small towns also suit the style well. With innovation in the style, you really can have a farmhouse porch anywhere. 
Question: When did farmhouse porch swings become popular?
Answer: It's hard to trace an exact date when farmhouse porch swings became popular, but the farmhouse style soared in popularity during the early 2000s. It perhaps peaked around 2015 — popularized by personalities like Joanna Gaines. However, while traditional farmhouse styles are not quite as popular as they once were, modern farmhouse and modern farmhouse swings are increasingly popular. In 2020, a survey of 5,000 homeowners found that modern farmhouse decor was the most common, especially in the Northwest, East, and Southeast. 
Question: What is the new farmhouse style?
Answer: New, or modern farmhouse, blends contemporary designs with classic farmhouse designs. Translation: minimalist and clean metallic accents are paired with vaulted ceilings, wooden rafters, and exposed wood. It's a perfect blend to provide an updated, stylish, but still cozy ambiance to any home or porch. Wood, metallics, white, and navy blue are some popular accents to pull the style together. 
Question: What is farmhouse chic?
Answer: Farmhouse chic combines rustic designs with a contemporary twist. That means pairing lighter woods with white and ivory. Vaulted ceilings, open spaces, and cozy fireplaces are common. In many ways, farmhouse chic overlaps with French countryside styles. The difference between chic vs. modern farmhouse is that it cuts out sleek metallic elements in favor of elegant but comfy styles. It's a softer look than either classic farmhouse or modern farmhouse styles. 
Final Thoughts 
Farmhouse porch swings are simply timeless, even if you do go for a modern style. While I love a great porch swing for any porch, I think it's especially a staple for a farmhouse. When I think of farmhouse style, I think of a welcoming home. Adding a swing upgrades your look, makes your house feel more inviting, and hopefully will encourage you to take some much-needed time outside. I think most of us, myself included, could use that as a reminder. 
Final Recommendations 
If you've added potted plants and even a welcome mat or signs, but your porch still feels unfinished, taking the step to buy a farmhouse porch swing may just be the best choice you'll make. Ultimately, your decision should come down to the type of farmhouse style you're going for, as well as the size you need. 
If you're still undecided, I recommend buying a farmhouse porch swing like the Vineyard 3-Person Swing. If you are forgetful and don't have a covered porch, the Polywood frame will do just fine left out in the rain. Though it leans towards the more modern or contemporary style, you can easily accessorize the swing with accent pillows and farmhouse decor. Add florals and soft hues for a farmhouse-chic look, or checkered and plaid prints for traditional farmhouse style. 
Recommended Reads: