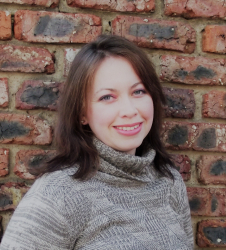 Latest posts by Talitha vanNiekerk
(see all)
The porch swing is a truly American iconic image that speaks of a lazy afternoon sitting and relaxing while the world passes by you. The swing is a classic make-out spot for young couples, and no porch is complete without one. If you're going to have a swing, it HAS to be a white one. 
When we finally moved to the suburbs and bought our first house with a large porch, I began my quest for the perfect white porch swing. Surprisingly, there were many different white swings, and I was spoiled for choice, making my selection process so much more complicated. 
Eventually, I created a checklist that became my personal buyer's guide. I chose a white porch swing with this guide that legendary afternoons would be spent on and memories made. 
Bottom Line Up Front
While a white porch swing is about lazy days and slowing down, you probably want to rush out and buy one already, so here's my top choice and why I chose it. 
The Wachapreague 3-Person Fir Solid Wood Porch Swing is my top choice as a white porch swing. I instantly fell in love with the additional functionality of having it either be a three-person swing or a two-person swing with a cupholder station. 
My Top White Porch Swing Picks at a Glance
Best Multi-Functional White Porch Swing – Wachapreague 3 Person Fir Solid Wood Porch Swing
Best Classic Look White Porch Swing – POLYWOOD GNS60WH Vineyard 60" Swing, White
Most Comfortable Swing – Northlight 50" White Stripe Outdoor Patio Resin Wicker Swing with Chain
Traditional White Wood Two Seater Swing – 2-Person Outside Swing Seat Bench w/Water-Resistance & Classic Look
Best Swing Bed – A & L Furniture Yellow Pine Royal English Swing Bed
White Porch Swing Advice and Tips
A white porch swing comes with some maintenance and a commitment to keep your swing looking fresh and new. Nobody will like sitting on a white porch swing that looks faded and where the paint has cracked and become dull. Additionally, a white porch swing can quickly look dirty, especially during the windy season of fall. 
Caring for White Porch Swings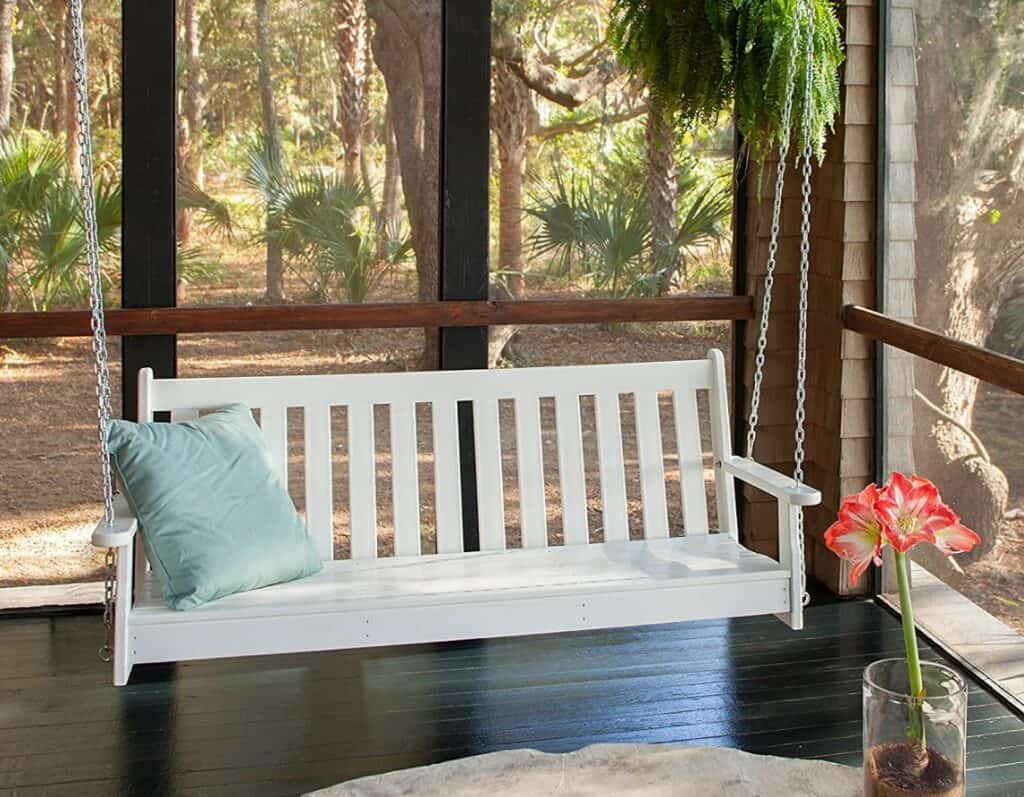 It would be best if you first read through the manufacturer's care guide to care for your new white porch swing. Any reputable manufacturer will give you instructions on how to clean, maintain, and preserve their product, but if they don't, you can use these steps:
Your white porch swing will need regular wiping with a damp cloth to remove any environmental deposits such as dust, bugs, rain splashes, etc. Regularly wiping your white swing ensures these deposits don't become ingrained.
Use a damp cloth, but avoid soaking the swing. If needed, you can use a few drops of dishwashing liquid in some warm water for tough deposits. 
Should the swing become too soaked, you can wipe it dry with a dry cloth. Never leave a "wet" swing to just air dry as the water can damage the material, whether wood, metal, or wicker. 
Check the Hardware Regularly
While you may happily wipe the swing itself, you shouldn't forget the swing's hardware. 
Inspect the swing chains regularly to ensure there is no buildup of rust and no unwelcome bugs making their nests in the chain links. Some chains do well with a light spray with a silicone lubricant, while others require treatment with an oily lubricant. 
Check and care for your swing, and don't forget to flip the swing over at least once a month to check the bottom of the swing for damage. 
Inspect the swing for insect occupants and signs of rain rot. Treat damage appropriately if you find anything. Also, remember to check the bottom of the swing's holes where the chains pass through. 
Your white porch swing will be hanging from the ceiling or a roof beam. Be sure to inspect these places for signs of wear and tear regularly. After all, you don't want to cozy up to your boyfriend or partner only to have the whole swing come out of the top anchors! 
See also: Inexpensive Porch Ceiling Ideas [2022]
Keeping White Porch Swings White
While white is a color that can handle UV rays quite well, it can fade and become yellowed with age. Daily wiping is a good idea, but UV protection and protection from rain are even better. Invest in a swing cover, a slip-over cover made from quality weatherproof canvas materials. 
Fitting the swing cover when the swing isn't in use is a great way to keep your swing protected and white. 
Top Tip: Always remember to tie your swing to a railing or porch pillar if there is inclement weather. Swings are made for a slight bit of movement, not for banging around during a storm. 
Repainting a White Porch Swing
If your white swing is no longer white, you can consider repainting it. The secret to a successful repainting is always first to remove the original paint coat. Sand the swing until the natural material is revealed. 
Then choose a paint appropriate to your swing's material. Metal swings will first require a metal primer coat, then a suitable white paint coat. Wood and wicker swings may only require sanding and painting in good quality white paint. Oil-based paints are best for a long-lasting finish. 
Selection Criteria for the Perfect White Porch Swing
For the perfect white porch swing, you need to know what you need, what you want to use the swing for, and where you will be placing it (on your porch, obviously). These considerations helped create my buyer's guide for my own white porch swing purchase. 
It worked great, and I have never been happier than when I was sitting outside on my little slice of heaven in my new white porch swing.
Material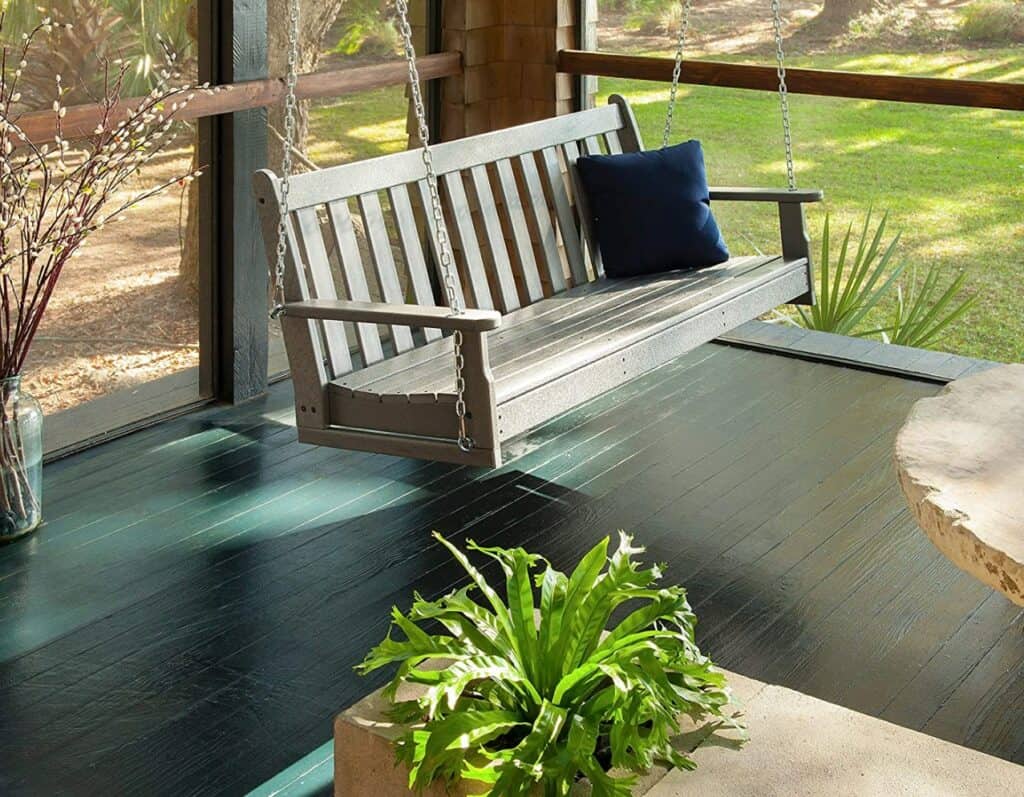 My perfect swing isn't necessarily your perfect swing. We each have our own criteria for what makes a great swing. The first criteria for you will probably be my first consideration, too—what the swing is made from. 
There are many different materials used for swings. Traditionally, a porch swing is wood, but you may consider a metal or wicker swing for your porch. There are benefits to any of these materials, and if you search hard enough, you will probably find a PVC swing. 
Wood Swings
If wood is your choice, you can rest assured in the strength and durability of this material as long as you treat the wood to prevent rot. 
Wood can be painted and varnished, and it can also be stained. If you want to change your color scheme a few months down the line, you can sand the current treatment and paint your swing a different color or stain it with that new shade of hot cherry you love. 
Metal Swings
The other popular alternative is a metal swing for your porch. Metal is even more durable than wood, and if you make sure it doesn't rust, your metal swing can become a family heirloom. A metal swing can carry more weight than some thinner wood swings can, and a metal swing can withstand more exposure to the elements. 
Metal swings can also be repainted and given a surface treatment to change their appearance. One downside of metal is that it is pretty cold, and it may not be very comfortable to sit on for long. 
Wicker Swings
A wicker swing is a woven basket-type swing. Wicker is a traditional material made from various materials, from natural bamboo to artificial materials. Wicker swings can come in a range of designs and colors, and you can also change the look of the wicker by painting or staining the wicker. 
While wicker swings won't last for decades, they have a great life expectancy if adequately cared for and kept from harsh sunlight and excessive rain.
See also: Best Farmhouse Porch Swing Ideas
Design and Features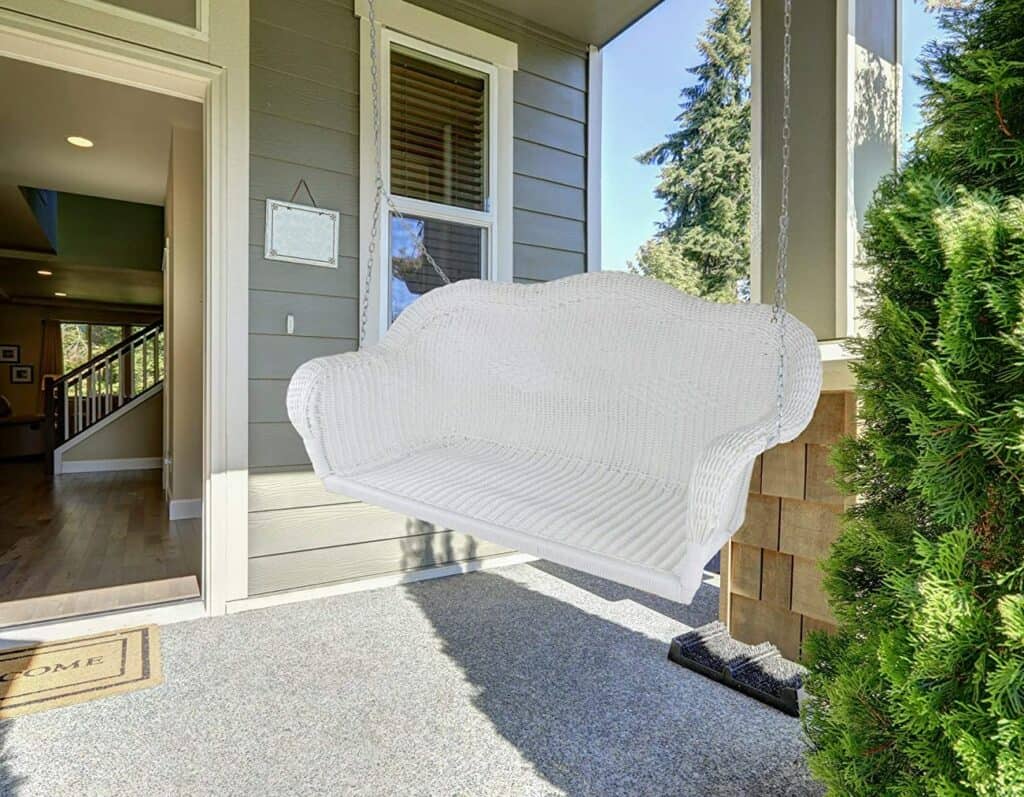 Your porch is one of the first aspects of your home that people see, and you would want a swing on your porch that is warm and inviting. There is no space for ugly swings on your porch, so ensure you get a design that's pleasing and well-appointed. 
A too narrow swing won't sit comfortably, while a too wide swing may throw you off balance and create a tipping hazard. Consider features such as built-in side tables, cup holders, ties to attach the swing seat cushions, and overall aesthetic. 
Comfort 
Your swing will be seeing a lot of traffic, so make sure it is comfortable. Check whether the swing will "sit" comfortably. Make sure the swing won't jam at the back of your knees or place strain on your back. 
The armrests should support and relax your arms, not pull them out of their sockets. If the swing is a more rigid material, you may also consider what swing seat cushions the swing needs. 
Ease of Installation
It's not rocket science, but a swing seat needs someone who knows what they are doing to install it safely. However, most of us prefer to do renovation projects on our own. Therefore, ensure your swing is easily installed so you won't require the services of an expert handyman to get it up. 
It is best to buy a swing with a complete hanging set, including bolts, nuts, drill bits, and good directions.  
Weight Capacity
While you may weigh next to nothing, when your weight combines with your partner's, your porch bench will need to show its mettle by how much its actual weight capacity is. 
Durability and Care  
Swings are always resilient, and they make great investments. Your swing should be easy to transport if you move homes, and it should be light enough to carry easily. 
Ensure the swing you choose has a care manual to explain what chemicals your swing can withstand, what kind of care the swing requires, and where you can place it. 
Price 
We all have a budget that we operate on, so I was careful to look within my budget range as I didn't want to have a "white elephant" swing that cost half my paycheck, but nobody used it because they were scared to break it. The swing I wanted needed to fit in my budget, and if I could come in under budget, I'd be even more excited. 
Best White Porch Swing Recommendations
Best Multi-Functional White Porch Swing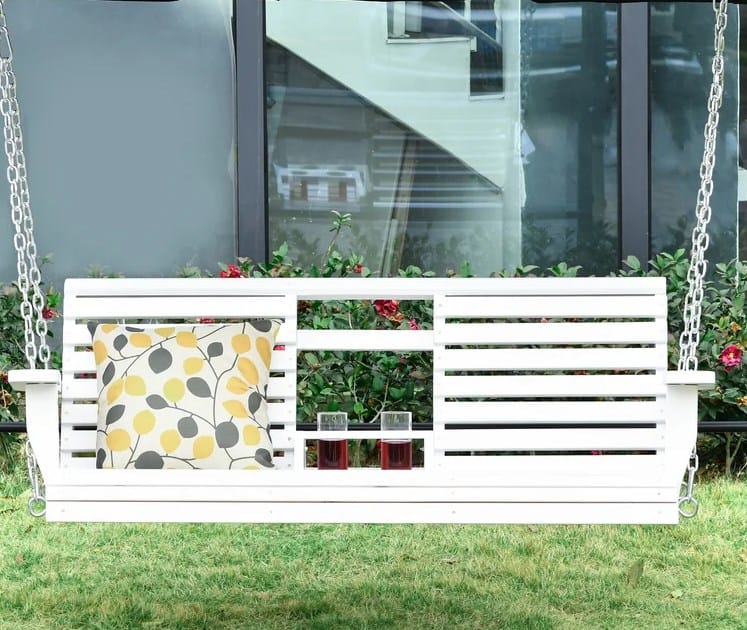 For that particular item that's simply practical to the point of being ingenious, the Wachapreague 3 Person Fir Solid Wood Porch Swing hits the spot. I love the way you can alternate between a two or three-person swing and that when it's a two-person swing, you have a drop-down drinks station to prevent spills.
Pros 
Great budget saver at less than $240

Solid wood, painted white

Chains provided

Drinks station built into the back of the third seat's back

Holds 792 pounds for secure 3-person seating

Secure hanging feature of the chains running through the swing arms and then attaching to anchors at the base of the swing—no tilting
Cons
Some partial assembly is required, but you can also pay for assembly for total peace of mind

Sunken screw holes may cause weak spots where rain can collect
I couldn't wait to get my set home, and I even managed to assemble it on my own, with hubby only helping to hang it from the porch beams (it sucks being short!). We ended up sealing the screw holes with some white builders silicone, which leveled it up with the surface of the swing planks, so no more rainwater collection. 
We instantly enjoyed the afternoon on the swing, gently rocking away as we watched a beautiful afternoon sunset and sipped some lemonade while using the drinks station. Hands down, this proved to be the best choice by far!
Best Classic Look White Porch Swing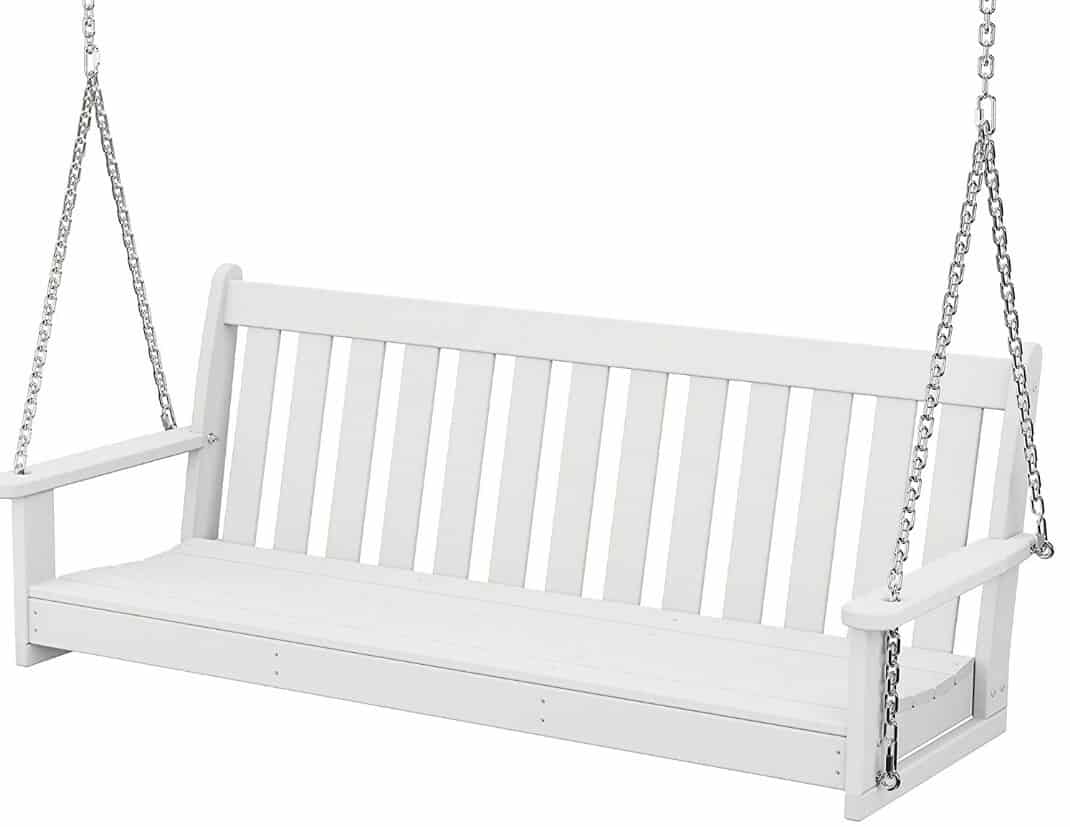 The POLYWOOD GNS60WH Vineyard 60" Swing in white features clean lines and a sleek paint-free finish. It is made from 100% recycled plastics. I simply love the fact that while I rock my Sunday afternoon, I am also doing my bit to save the environment. 
Pros 
Made from recycled milk and detergent bottles 

Chip and crack proof

Weather-resistant 

Lightweight

Not susceptible to environmental damage 

No need to ever repaint

Comes with marine-grade hardware 
Cons
Can fade or yellow with excessive sun exposure 
I really enjoyed this swing, and while I tested it out in the local showroom, I knew visitors would never believe it was made from plastic. With a few comfy cushions, this swing can add value to any front or back porch.
Most Comfortable Swing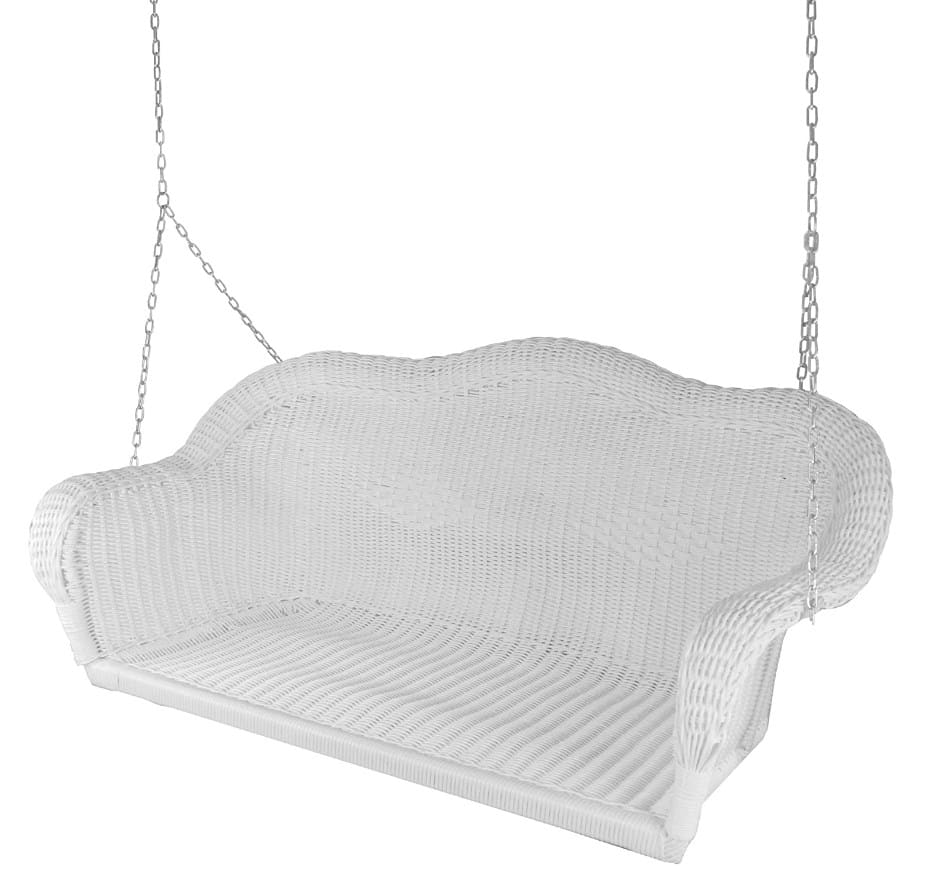 The Northlight 50" White Stripe Outdoor Patio Resin Wicker Swing with Chain hits the spot for a truly comfortable swing. The resin wicker swing is durable and also comfortable. 
Pros 
Hand-woven from resin wicker

No need to repaint 

Weather-resistant

Comfortable anatomical seating that is shaped for the human body

Two-seater

Carries 450 pounds weight 

Seven-foot steel chains included

Plastic sleeves over the chain to prevent pinching
Cons
Wicker can perish with excessive sun exposure
I loved the comfort of this swing. Even without seat cushions, the wicker offers a soft seat. One concern was that wicker's texture might be harder to keep clean, making a swing cover compulsory. 
Traditional White Wood Two Seater Swing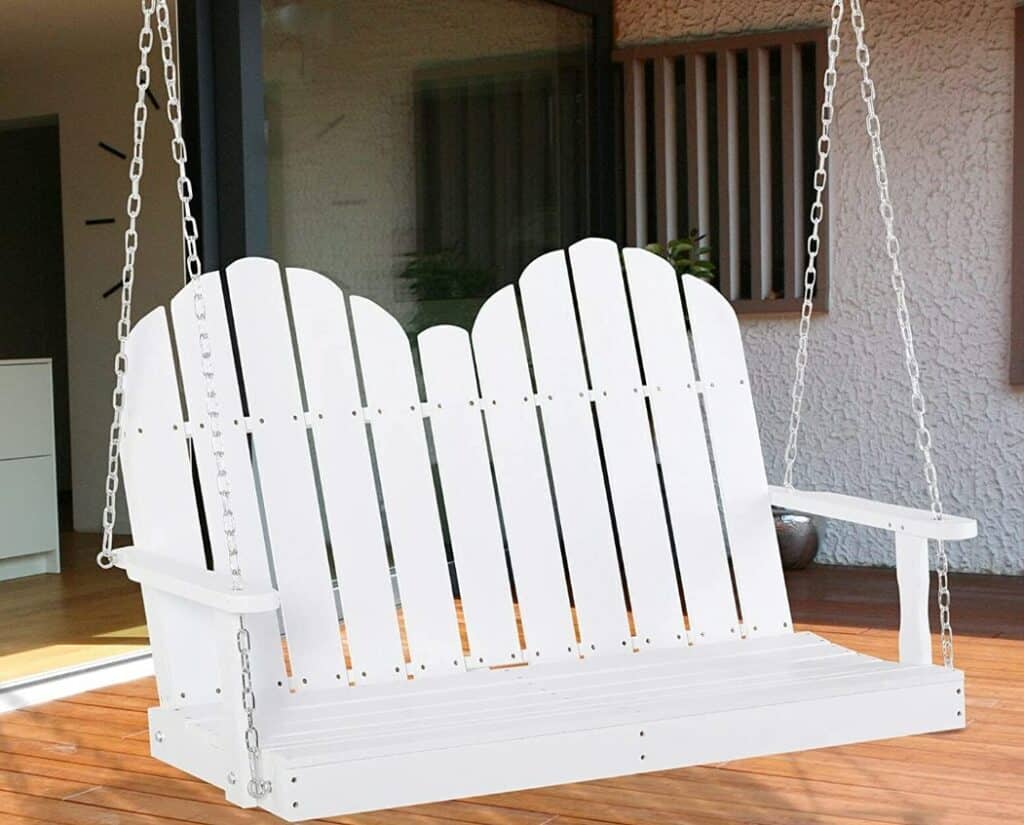 A great traditional wood swing is the 2-Person Outside Swing Seat Bench w/Water-Resistance & Classic Look from GXP. The classic appearance of the slatted double seats is reminiscent of a white picket fence (the ultimate American icon of ranch living). 
Pros 
Made from quality fir wood slats that won't accumulate water

Painted white and varnished with water-resistant product 

Carries 440 pounds
Cons
Some assembly required to attach the slats

Water can accumulate in the holes where the screws attach the wooden slats, causing rot
While I enjoyed this swing, I felt that I wouldn't be up to the assembly, and having seen before how much dirt can collect in screw holes, I decided against this design. 
See also: Best Porch Fence Ideas
Best Swing Bed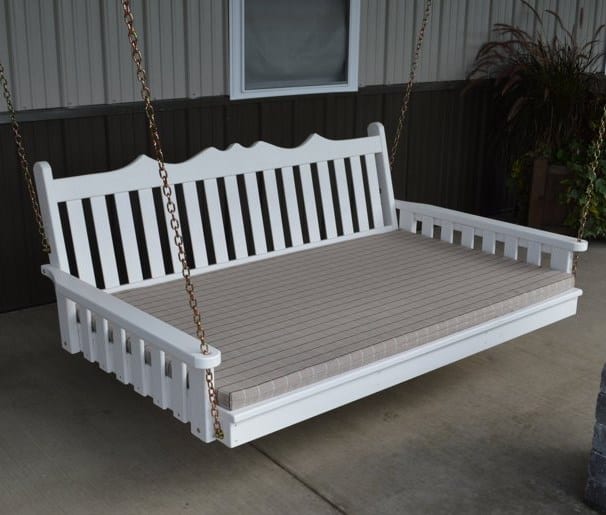 Since a swing is supposed to be comfortable, why not go for the one you can lounge in all day? The A & L Furniture Yellow Pine Royal English Swing Bed is ideal for lazing about on a rainy afternoon with a lovely weighted blanket to keep you company. 
Pros 
Extra-wide base for lounging on your own or sharing with a friend

Made in the US by Amish craftsmen 

Made from yellow pine, painted white

Chain included
Cons
No seat cushion included 

Requires more space for a wider base

The wider base can tip when getting onto the swing

Standard swing covers won't fit
I enjoyed trying out the wider swing, though it took some getting used to having all of your body on the swing and then not being able to really control where you swing. 
White Porch Swing FAQs
Question: What accessories are included with porch swings?
Answer: Porch swings usually come as a set with their own chains, anchor bolts, and other hardware such as screws and glue (if the swing is an assembly type). 
Question: How wide is a 2-person porch swing?
Answer: Two-person swings are typically four to six feet in length, and at four feet, comfortably seating two people. When the swing is six feet long, three people can be seated. Swings also come in specially divided seats where each seat may be two to three feet in seat width for a more comfortable sitting experience. 
Question: How much weight can a porch swing hold?
Answer: The average weight that a porch swing holds is 550 pounds, which should seat two to three people comfortably. The quality of the chains primarily determines the weight-carrying capacity. Also, consider the materials the swing is made from and the construction methods. 
Question: How do you stop your white porch swings from bleaching in the sun?
Answer: Use UV-resistant white paint if you are repainting your porch swing. Cover it with a swing cover to prevent the paint from fading when your swing is not in use. 
Question: What is the average height of a porch swing?
Answer: Most porch swings should be placed at knee height, so the sitter can comfortably sit into the swing. The average height is 17-19 inches off the ground.
Question: How do I hang a porch swing? 
Answer: Hanging a porch swing is surprisingly easy. Place the swing in the position you want it to, and stack a sturdy base below it to lift the swing to the desired height. Next, attach the top end of the two sets of chains to your room beams' secure beam or anchor bolts. 

Use U-bolts to secure the chain onto itself, and don't try to screw it to the beam or ceiling. Next, use the next set of U-bolts to secure the chain's bottom ends to the swing. Once the chains are secured, remove the base, and test the swing for weight and balance. 
The Final Swing
We have spent many afternoons and evenings on our white porch swing. It's the perfect place to hang out or chill out and let the day lazily drift to an end. Seeing how excellent the swing is, we ended up getting a second swing too, so our friends can also join us for evening coffee on the porch while we watch the stars and chat till late. 
Whichever swing you choose, choose one that offers value for money, is made from quality materials, will be easy to care for, and doesn't break your budget. And take care of your swing by considering a swing cover like the ones in our Best Porch Swing Covers Guide.
Recommended Reads: