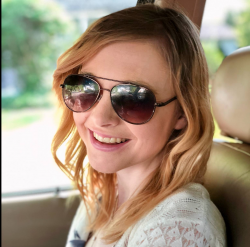 Latest posts by Erin Jamieson
(see all)
Hiking and camping are two activities that may not be for everyone but can broaden your view of the world around you. From taking hiking trips with my family to camping with my group, some of the best experiences I've had was spending time with others in nature. And while it's not required, a portable fire pit can add fun and convenience to your trips. 
Not into camping? A portable fire pit could still be for you. In this brief guide, I'll discuss my honest take on the pros and cons of portable vs stationary fire pits. From portable tabletop fire pits for a patio to portable tailgating fire pits, I'll tell you how to find the best portable fire pits and even share a few of my favorite options. 
Bottom Line Up Front Summary
Portable fire pits may not provide the same power or heavy-duty durability as stationary fire pits, but they're excellent for entertaining, camping, and the beach. The best portable fire pits are powered by propane gas, crafted with sturdy weather-resistant steel, and come equipped with features for transporting or entertaining, 
If I had to select just one portable fire pit, it would be the Breeo X Series Smokeless Fire Pit. This fire pit is made with exceptional materials and made entirely in the USA. The smokeless ventilation is mess-free and low-maintenance. It's built to last and can be used almost anywhere– and worth paying the little extra upfront. 
My Top Picks
Portable Fire Pits: The Best Choice For You?
Portable fire pits are popular for good reason. But before you buy one, it's important to discuss the advantages and disadvantages of a portable fire pit, as opposed to a stationary one. The biggest mistake? Making assumptions about a portable fire pit being cheaper- and not taking all factors into account. 
A Portable Fire Pit May be Right For You If….
You can indeed find portable fire pits for cheaper than stationary fire pits. They are lightweight and smaller, which also makes them easier to maneuver and makes them feel a bit more beginner-friendly. Some are designed for camping or tailgating. You have more flexibility than a stationary fire pit and in this way, portable fire pits feel like less of a commitment. Even if you don't plan on camping, many portable fire pits- tabletop fire pits included- are a great idea when you have a small backyard or patio. 
A Portable Fire Pit May be a Worse Fit If….
If you're most concerned about safety, stability, and durability, a stationary fire pit is a better option- especially if you don't plan on traveling with it anyway. While the best portable fire pits are fairly sturdy, they won't be as sturdy as fully installed, especially in-ground fire pits. Another mistake is buying a portable fire pit thinking it is lower maintenance. This is not necessarily true. Portable fire pits still require cleaning, maintenance, and storing/ covering when not in use. 
Bottom Line
My bottom line is that portable fire pits are really fun to have, but you need to be buying one for the right reasons. Buy a portable fire pit for camping, for small spaces, and for versatility. Don't buy one simply assuming it'll be cheaper (not always true) and if you're not willing to follow proper maintenance and safety procedures. 
How to Choose the Best Portable Fire Pits in 5 Steps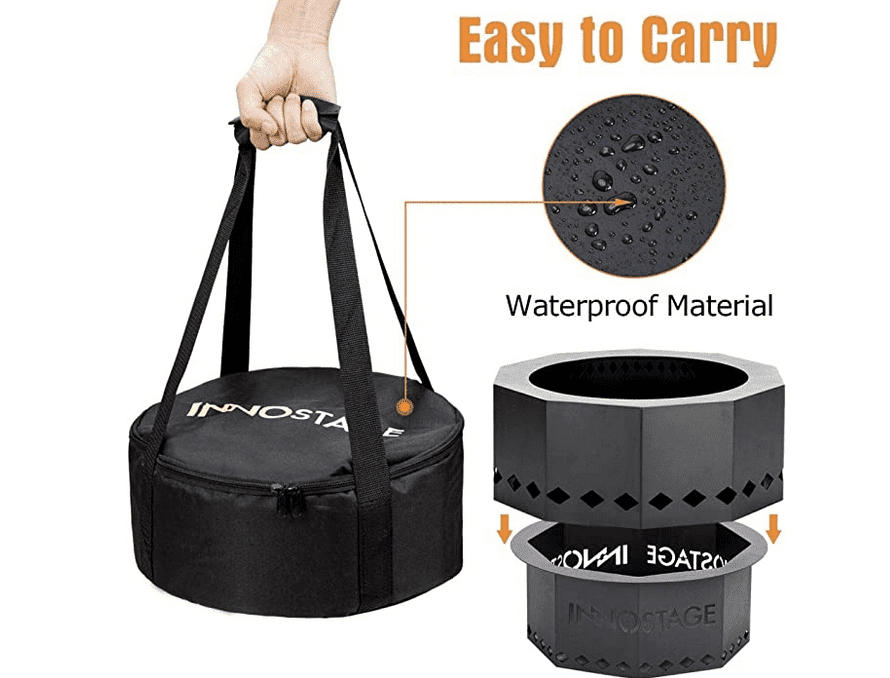 To make sure you don't waste your money, here's what I'd look for in a portable fire pit. Portable fire pits can be cheap- but that doesn't make them the best value. If you want to avoid overpaying or buying something that doesn't meet your needs, take these steps.
Step One: Portable Fire Pit Sizes and Types
A portable fire pit will be smaller than the average size of a fire pit. Some, including those with wheels, run a little larger. The same rules apply: if you're using a portable fire pit in your backyard, make sure that you have adequate space and are a minimum of 10 feet away from your home's foundation. 
Miniature and Tabletop Fire Pits
Miniature and tabletop fire pits are the smallest in this category. These are meant to be used on tables- not unlike a candle. They add ambiance and warmth but aren't suited for grilling. They also aren't used for roasting and typically are seen on patios more than for camping trips, These are cheap, very lightweight, and small additions of decor. There are larger tabletop fire pits too- but these wouldn't be considered portable. For these fire pits, it makes sense to look for modest dimensions and a weight of 10 pounds and under. 
Portable Fire Pits for Camping
These are more substantial than portable tabletop fire pits and often come with features to match. A weight of around 20 pounds is not uncommon. They can be square or round and are used for heating on the go. The larger end of these– just under 30 pounds- may even include racks or grates for roasting and grilling. 
Semi-Portable Fire Pit Tables
These are fire pit tables that are compact and have wheels. I list these as semi-portable because they are not fully portable for camping. These fire pits are suited for entertaining, such as tailgating. A slightly heavier weight- up to 30 something pounds- is allowed, if there are wheels. These can be round or square. 25" by 30" is a good size for a semi-portable, fire table on wheels. 
Step Two: BTU and Fuel Source
This is a really important decision to make, as fuel source impacts the use and operation of your portable fire pit. 
Wood-Burning vs Propane
With regular fire pits, you also have the choice of natural gas. But propane or wood-burning are your only options for portable fire pits. Wood-burning fire pits are chemical-free, but harder to control. Propane portable pits are fairly fuel-efficient and can come with features such as safety shut-offs and electronic ignition. 
BTU Output
Portable fire pits are smaller, so you don't need the BTU output of larger fire pits, which start at around 50,000 BTU up to 150,000 BTU. A modest BTU of 30,000 to 50,000 should be sufficient- and you can get by with less for a tabletop or miniature portable fire pit. 
Step Three: Materials
Once again, you typically have fewer options-or at least less sensible options- for a portable fire pit vs a stationary fire pit. For a fully portable fire pit, metal makes far more sense than stone or concrete- both of which tend to be bulky and heavy. Of these options, both iron and steel are far stronger than aluminum. The last thing you want is dents or damage to your fire pit. If you're taking it out camping, a portable fire pit needs to be able to withstand the elements. 
Powder-coated or reinforced metal adds to its durability. While stainless steel is fairly weather-resistant, it can become damaged over time. I think that a protective coating is especially important for iron. Without it, iron can rust. 
Step Four: Special Features and Ventilation
All portable fire pits need some form of ventilation. That could be in the form of air vent holes, traditional air vents, or double-wall systems for smokeless, portable fire pits. 
Special features I look for include: 
Electronic ignition (for easy use)

Grates for grills (to use for cooking) 

Adjustable bases or height 

Weather-resistant coatings and paint 

Smokeless ventilation

Ash collection pans 

Extended warranties 
Finally, pay attention to the product listing description. Some portable fire pits establish what terrain they are suited for. For instance, there are portable fire pits designed to sit well and work on beaches. 
See also: Best Amazon Fire Pits Guide
Step Five: Where to Buy Portable Fire Pits & Pricing
Portable fire pits cost anywhere from under $50 to $1,000, depending on the materials, brand, and where you shop. Set a maximum price you can spend, but don't buy purely based upon that sticker price. 
You can buy portable fire pits from large online retailers (Wayfair, Amazon, Target, Walmart, Costco), home improvement stores (Home Depot, Lowes, Menards, Tractor Supply), and specialty outdoors stores. You'll find budget portable fire pits from those larger online retailers, mid-range at the home improvement stores, and some high-end from specialty stores. 
Portable Fire Pits: My Top Ideas 
After a review of portable fire pits for sale, these are some of my favorites. I've covered portable fire pits for camping, your backyard, the beach, and the outdoor patio. I also considered special features that make these portable fire pits stand out such as being made in the USA, a no smoke construction, or a grill. These portable fire pits are a good value for the price. 
Fire Sense Portable Fire Pit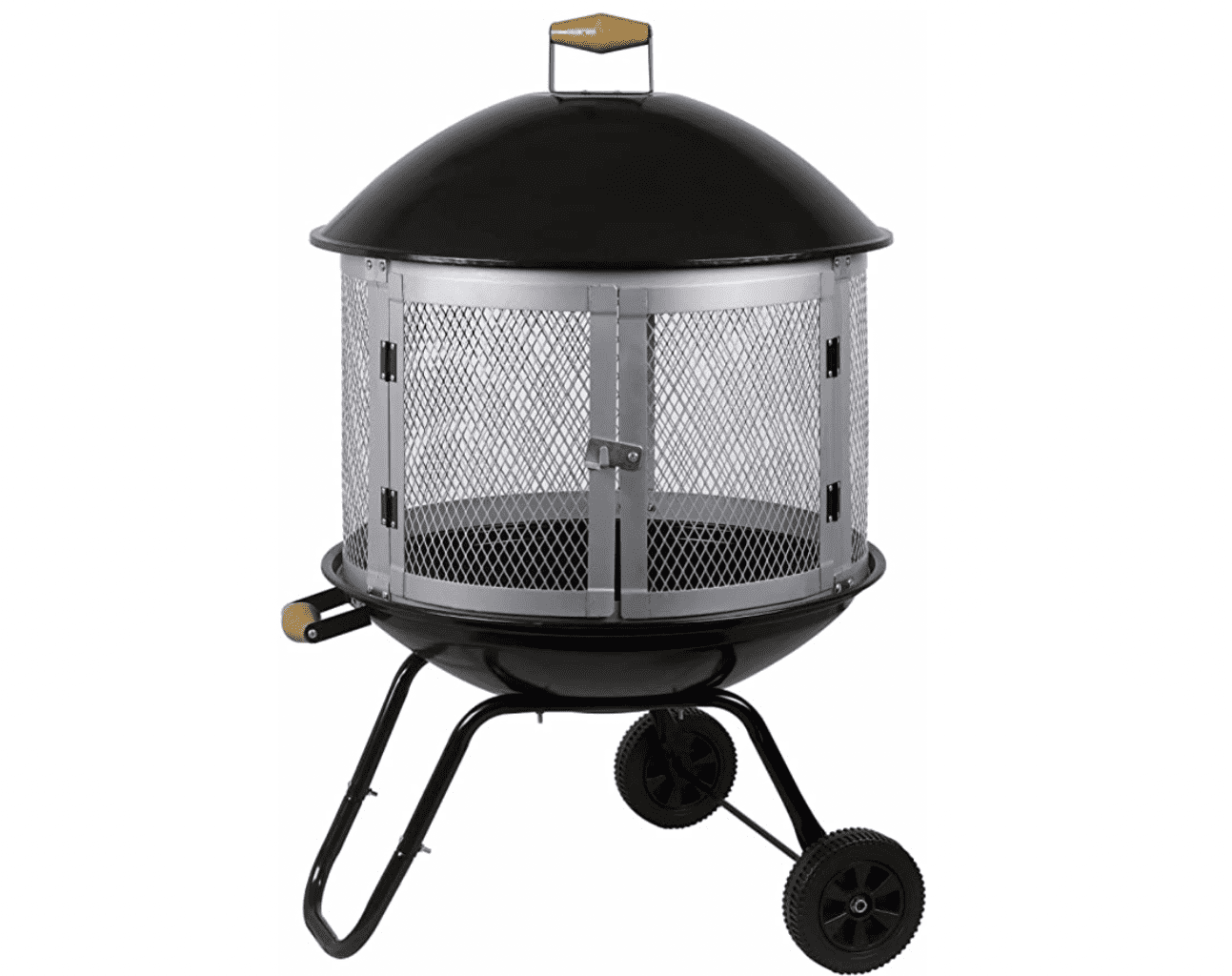 If you're looking for a budget-friendly fire pit with wheels, look no further. The Fire Sense portable fire pit is equipped with wheels that make it easy to carry along for camping or wherever your travels take you. This highly-rated portable fire pit features a fire screen to protect you against sparks, plus a removable steel grate for improved air circulation and easy cleaning. The porcelain enamel coating adds durability to the steel construction. This portable fire pit was highly rated for its maneuverability and easy use. Buy Here. 
Pros
Wheels 

Spark Screen

Removable Grate

Protective Coating 
Cons
Slightly Flimsy

Thinner Gauge 
Breeo X Series 24 Smokeless Fire Pit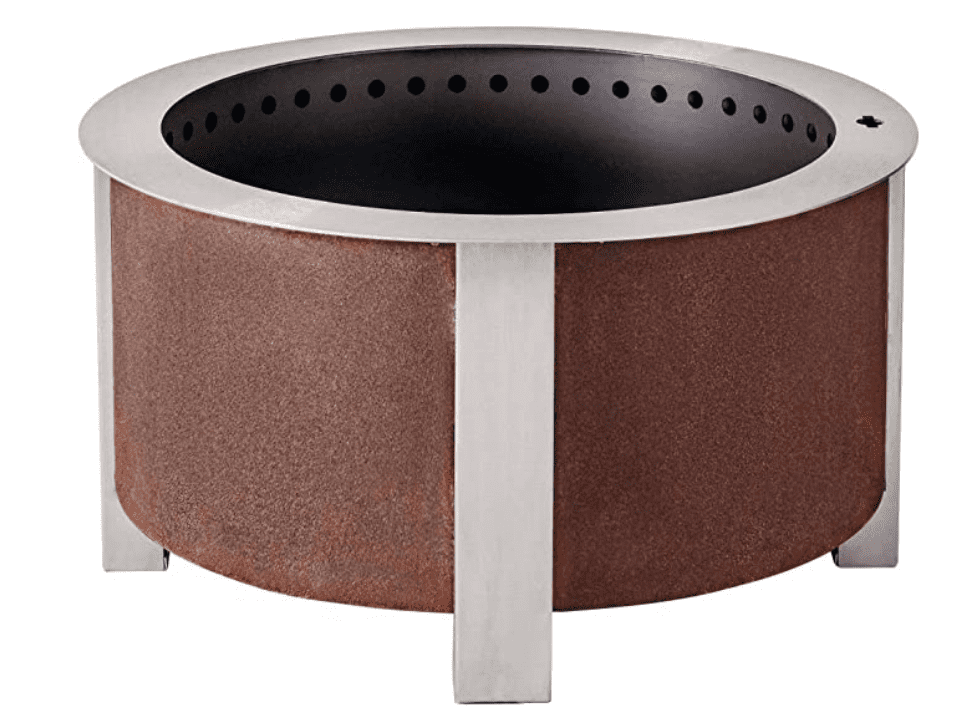 The high-end portable fire pit features a no-smoke construction and a striking, modern design. The specialty corten steel isn't something you see often, and I wish it was more commonly used. This type of steel develops a naturally protective coating over time, producing a classic patina with exposure. A specialized double-walled airflow system provides excellent ventilation for low smoke and little mess. To add to its appeal, I love that this portable fire pit is also made in the USA. This brand is one of the first to offer a smokeless fire pit, and that expertise shows. Buy Here. 
Pros
Smokeless, Double-Walled Design

Made in the USA

Develops Naturally-Protective Coating 

Sturdy and Attractive 
Cons
More Expensive

Accessories Not Included
Gather Matte Portable Fire Pit and Grill Bundle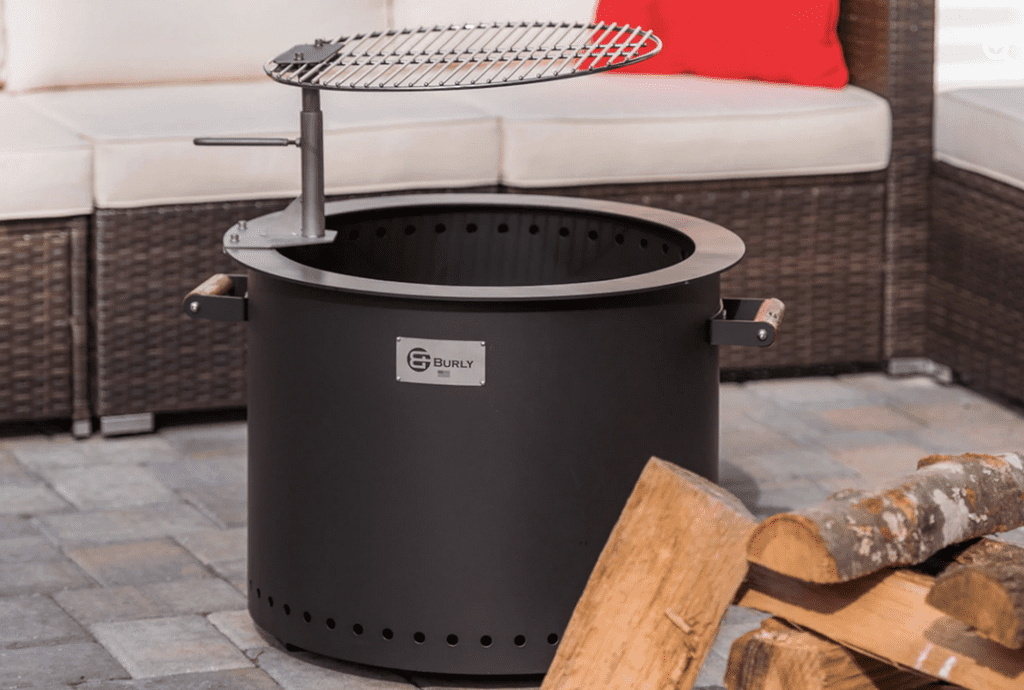 My most expensive pick very much deserves its spot on my list of top 5 fire pits. It's hard to find a sturdy fire pit with grill features that's reliable- but this grill bundle is impressive.  Heavy gauge steel pairs with heavy-duty stainless steel for a design that's at once hardy and also modern and appealing. This portable fire pit features adjustable height for temperature regulation. It swivels and includes a generous 18" grill gate. The portable fire pit is perfect for grilling vegetables and even small meat portions. Buy Here. 
Pros
Generous Grill Grate

Swivel and Height Adjustment

Heavy-Duty Steel

Storage Compartment 
Cons
Expensive 

No Automatic Shut Off 
Inno Portable Fire Pit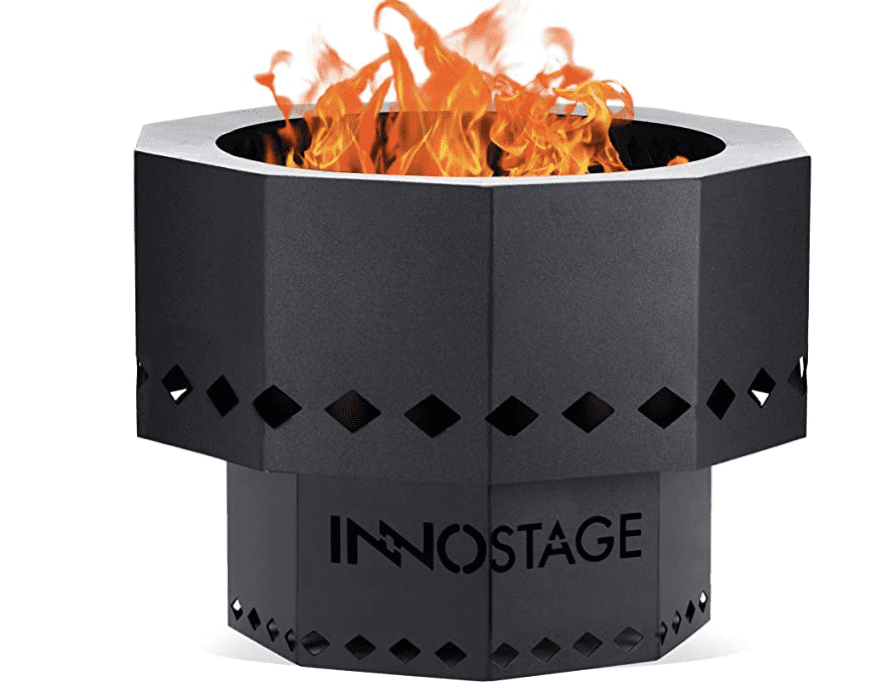 This portable fire pit is an Amazon Choice product, complete with a nearly smokeless design and a price of under $50. This small portable fire pit impressed me- and proved that you can find a decent option for all budgets. The double-wall design boasts improved ventilation and a cool and comfortable fire pit. The two-tiered structure is easy to assemble and deconstruct and it comes with a carrying case for camping trips. No extra assembly is needed. The metal has a heat-resistant finish.  Buy Here. 
Pros
Excellent Price

Little Assembly

Smokeless

Carrying Case 
Cons
Very Small

Not Entirely Resistant to Corrosion
Tailgater Portable Fire Pit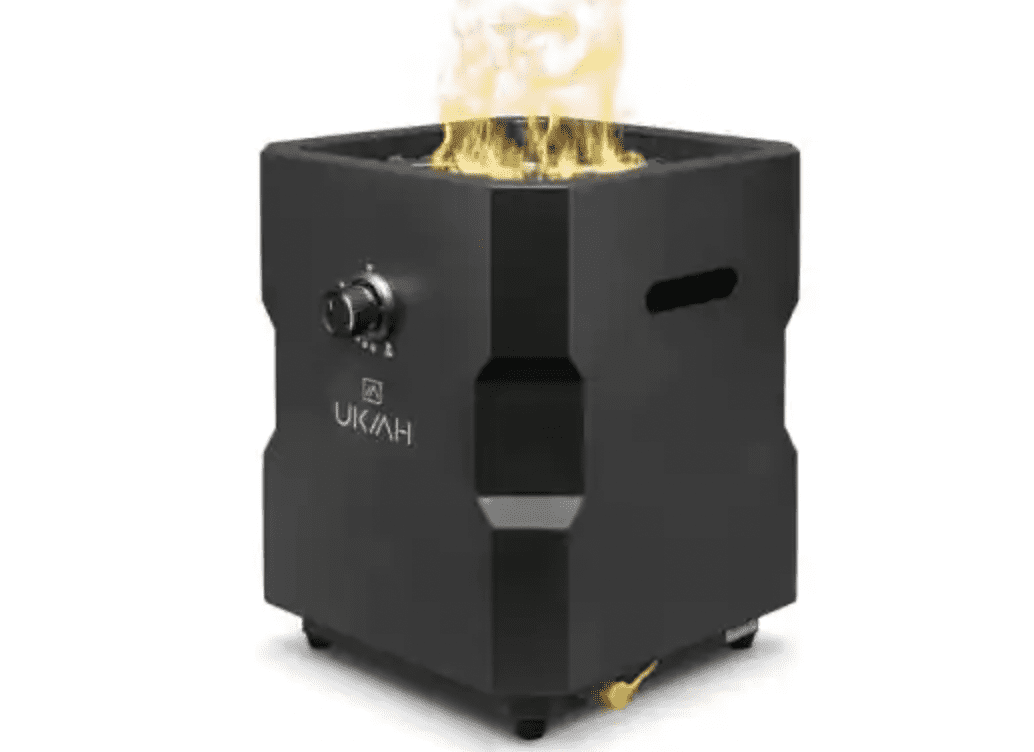 Get ready for the next big name. This portable fire pit was designed with tailgating in mind, with some excellent features. Despite its smaller size, it manages an output of 48,000 BTU. Designed for use anywhere- including the beach- the frame is made with durable, powder-coated steel. You get an adapter cord if you want a stationary fire pit hooked to natural gas. Electronic ignition, lava rocks, and a tank cover come with your purchase. The size is still portable, but more suited to entertaining and roasting marshmallows. Buy Here. 
Pros
48,000 BTU

Powder-Coated Steel

Electronic Ignition

Accessories 
Cons
Frequently Asked Questions
Question: Are portable fire pits safe?
Answer: Portable fire pits, like all fire pits, pose risks, and even more so when used improperly. Any fire pit that's placed closer than 10 feet near a foundation can cause a fire. Using a fire pit during very dry or windy weather is always a risk, and some are more tempted to do so if camping with a portable fire pit. It's also dangerous to a fire pit- portable or otherwise- directly on a wooden deck. By taking steps to avoid these issues and turning off your portable fire pit (if electronic), it's much safer. Some fire pits also have safety certificates (such as CSA). 
Question: How much are portable fire pits?
Answer: Portable fire pits are generally inexpensive compared to traditional fire pits, but it depends. Features like wheels, electronic ignition, automatic safety shut off, windshields, and more all impact the price. Portable fire pits can cost less than $50 and up to several hundred dollars (and some premium models as much as $1,000 or more). While the average is $500 to $700, the median price is different. You can find portable fire pits from a wide range of budgets. 
Question: Can propane fire pits be used indoors?
Answer: One of the biggest safety mistakes new fire pit owners make is trying to use outdoor fire pit pits inside. Propane fire pits need plenty of ventilation. They are not recommended for indoor use, and that includes garages and sheds. I also wouldn't use a propane fire pit with a screened-in porch. They may be used for some terraces or open-concept areas. Just follow instructions and never use a fire pit intended for outside, or indoors. 
Question: How do I make portable fire pits? 
Answer: A popular trend is to DIY a portable fire pit. Keep in mind that this comes with many drawbacks. While you may save money initially, using cheap materials or not knowing what you're doing poses safety hazards and limited durability concerns. I've seen portable fire pits made with small tin cans, but this isn't safe. Others use metal buckets and place a grill plate inside. Please know that any portable fire pit you make yourself is at your own risk- and may not fall under regulations or safety standards for fire pits. Check with your local and state laws before following any Youtube tutorials. 
Final Thoughts
Whether you're going camping, hiking, or just want a lightweight option for your backyard, portable fire pits are popular for a reason. Generally less expensive than other fire pits, they're fun, versatile, and convenient. They do pose safety hazards when used improperly. You also need to make sure that you take care of a portable fire pit as you would a stationary fire pit. That means storing it away or covering it when not in use, and checking to make sure that any electric systems are functioning properly. With that in mind and an eye towards materials and quality, there's no reason why you can't enjoy a portable fire pit, season after season. 
Final Recommendations: Accessories For Portable Fire Pits
What's a great portable fire pit without some accessories? Accessories expand the longevity and practical use of your fire pit. While some of these are sold with portable fire pits, many are not always. Here are a few additional accessories that I love for portable fire pits, from fun camping trips to just taking care of your portable fire pit.
Covers & Carrying Bags for Portable Fire Pits
You can find protective covers for your portable fire pit at any store that sells portable fire pits. Covers that are made with PVC or reinforced polyester are both great options. Such covers should be resistant to moisture, mold, wind, and sun. Carrying bags also come in handy, especially when you're out hiking. Amazon honestly has some great prices for UV-resistant portable fire pit carrying bags, just like this one. 
Tool Kits & Roasting Sets
One of my favorite accessories? Call me a kid at heart, but something as simple as this 6 Piece Marshmallow Stick Roasting Set can add a lot of fun. If you're looking for something that you can use for anything while you're camping or at home, a staple Sticks and Tools Accessory Bundle is a great option. 
Recommended Reads: