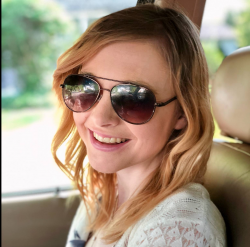 Latest posts by Erin Jamieson
(see all)
I have a pretty busy life, and, much as I love to shop in person for things, sometimes ordering from Amazon is simply easier. But as someone who's enjoyed talking and roasting marshmallows around fire pits, I was a little skeptical. Could Amazon provide the best fire pit experience?
What I discovered was not a definitive answer, but a mix of both. Shopping on Amazon for a fire pit does require a guide. With over 2,000 listings at any time, it is possible to find a great fire pit. But you'll need a little strategy. 
I'll show you how to find the best Amazon fire pit for your next backyard bbq, or even a portable fire pit for camping. From the best materials to shopping sales, here's what you need to know – and my personal favorites from Amazon. 
Bottom Line Up Front Summary
Amazon has over 2,000 fire pits to choose from, so shopping can be overwhelming if you don't have clear buying criteria. Select a stainless steel or concrete fire pit. Choose between portable fire pits, classic fire pits, and tabletop fire pits. If you want a chemical-free fire pit, opt for wood. Otherwise, propane and natural gas are practical choices. Shopping during Amazon sales days can save you money.
If I had to recommend one Amazon fire pit, it would be the Grand Patio Outdoor Gas Fire Pit Table. This fire pit doubles as an entertainment space and is CSA-approved for safety. The sturdy powder-coated steel frame is compatible with standard propane tanks. 
My Top Picks
Amazon Fire Pits: Honest Pros and Cons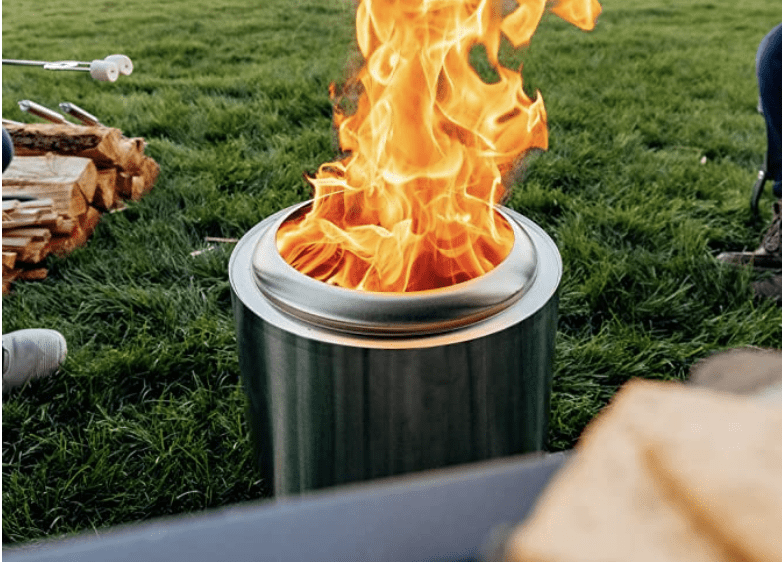 I can't complain that Amazon doesn't have enough options for fire pits. An array of a few thousand products covers a range of brands- but it's not all great. Here's my honest take on why you should shop for a fire pit from Amazon, and why you may want to find an alternative. 
Amazon Advantages
As I said, you can find a fire pit to fit your needs. Amazon is a great place to find budget fire pitches, catch sales, and quickly compare to other models (under recommended products). I like how many reviews you can sort through, and most listings have enough specifications and pictures to get an idea of what you're buying. Amazon ships directly to you and shipping are easy to track. You get even more perks if you're a Prime member. I can also appreciate that the selection of fire pits is always changing, with new listings to look forward to if you can't find something right away. 
Amazon Disadvantages
Amazon's wide selection of fire pits is also a disadvantage. It's overwhelming to find a good fire pit, especially if you don't know what you're looking for. The search features aren't as nuanced as they are with competitors' websites. Quality ranges quite a bit- from flimsy fire pits to fairly substantial fire pits. There are many fire pits with great features, but nothing with premium materials or exceptional design. It's also good to compare: Amazon listings are not always cheaper than home improvement stores. The last thing that's worth mentioning is that you aren't getting the customer support or options for installation you'd get through some home improvement and traditional stores. 
Bottom Line
If you want a wide selection of fire pits and convenience, there are some pretty solid fire pits on Amazon. But you need to go into shopping with intention, clear criteria, and a willingness to compare with other listings. 
How to Find the Best Amazon Fire Pits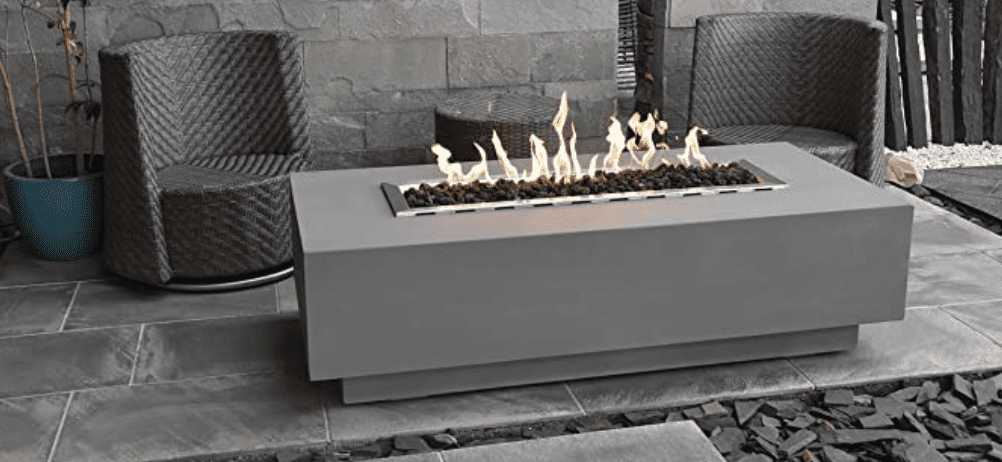 Here's how to shop smart for a fire pit from Amazon. Whether you're sold on a large outdoor fire pit or a portable one to go camping, you need to establish what you need before you start shopping. Avoid buying the first pit you see by following my steps. 
Step One: Select a Type of Fire Pit 
Amazon carries large and small fire pits, as well as an array of shapes. To simplify the selection process, the chart shows you the main type of fire pit. None of these are right or wrong– just used for different purposes.
| | |
| --- | --- |
| Type of Amazon Fire Pit | Use/ Description |
| Portable  | Lighter, less sturdy, used for camping- may have wheels or be wheeless  |
| Tabletop/ Tables | Tables often placed on patios- can be large or small and include other elements for entertaining  |
| Standard Fire Pits  | Traditional to contemporary, used in yards or on patios- varieties include grills and other features |
Step Two: Dimensions & Shapes 
The best shape matter of personal preference. Rectangular fire pits are most commonly fire pit tables and used in gardens and entertainment spaces. Round fire pits are classic and great for roasting or even grilling. Unusual shapes add style but may be harder to fit within your space. 
Amazon has pretty much any size of fire pit available, so there are few restrictions. If you want to cook or roast marshmallows, a more generous size makes sense. Smaller fire pits work well for patios or confined spaces. Measure your area, making sure that you have a minimum of 10 feet from your home's foundation. A good, standard size for a fire pit is The optimal size for a fire 30 and 46 inches (round diameter) or four to five feet wide. 
Step Three: Fuel Type & BTU
Amazon has wood-burning fire pits, natural gas fire pits, and propane fire pits. When people ask what's best, I think they're going about the debate in the wrong way. Every fuel type has trade-offs. 
Wood-Burning
I love the traditional charm of wood-burning fire pits. I also like that they are cheap to maintain. However, they can be temperamental, hard to control, and aren't usually the best fit for patio spaces. 
Propane vs Natural Gas 
Natural gas and propane are also interesting discussions. Though the idea of natural gas is appealing to some- and propane tanks are expensive- propane is far the most fuel-efficient. A propane fire pit can also be portable. For most people, a propane fire pit is the most pragmatic option. 
BTU
BTU output tells you how much heat and power to expect. Many Amazon fire pits hover around 35,000 to 50,000 BTU which is a decent range. Far lower or higher isn't always practical. A high BTU may be preferred for cooler climates and larger fire pit areas. 
Step Four: Best Materials and Features
Luckily, Amazon has some good choices for materials and build. A fire pit gets bonus points from me if it has marine-grade or weather-proof steel hardware. Of the options, I'd avoid aluminum fire pits and wicker fire pits. My top choices from Amazon are listed in the table below.
Type of Amazon Fire Pit
Pros
Cons

Concrete

 

(Reinforced Concrete is Best)

Hard, Durable

Study Construction

Cheap to Fill Cracks

Can Crack with Air/ Moisture 

Not as Aesthetically Pleasing

Steel 

 

(Powder-Coated Steel is Best)

Lightweight, Modern

Low Maintenance 

Cost-Effective 

Heats Quickly

Not All Weather-Proof Without Powder Coating 

Hot to Touch 

Stone 

Classic Aesthetic 

Durable

Won't Crack 
Some Amazon fire pits blend materials. A few have tempered glass– which is best suited as a heat or wind guard. Both heat and wind guards are an excellent choice if you live in a windy climate and if you want to use your fire pit on your patio. 
Other noteworthy features from some Amazon fire pits include easy push electronic ignition, automatic shut-off safety features, the ability to convert to a side table, tailgating features (light. Sound systems), and wheels for transportation. 
See also: Best Fire Pit Accessories
Step Five: Amazon Sales, Choice Products & Reviews
One of the best parts about buying a fire pit from Amazon is being able to price compare and sort through a wide range of options. 
I'd never buy a fire pit purely on reviews, but Amazon Choice products are a good option because they tend to reflect that the majority of customers were pleased with the fire pit. I also scoop a little about the brand. I like listings where you can navigate to the brand's main page. At least two high-quality pictures, specifications, and answered questions separate the better fire pits from some sub-par options. 
Sales happen on and off for Amazon fire pits. Sales are often site-wide rather than product-specific, so if you want to catch a deal, shop on the following days:
Amazon Prime Day

Cyber Monday

Black Friday

Super Saturday

Labor Day

Memorial Day
Amazon Fire Pits: My Picks 
Here are just a few ideas for some of the best fire pits you can buy from Amazon. I looked for fire pits that are made with durable materials but priced well. Extra features, customer reviews, and unique or staple designs also caught my eye. 
Hykolity 2 in 1 Fire Pit with Cooking Grill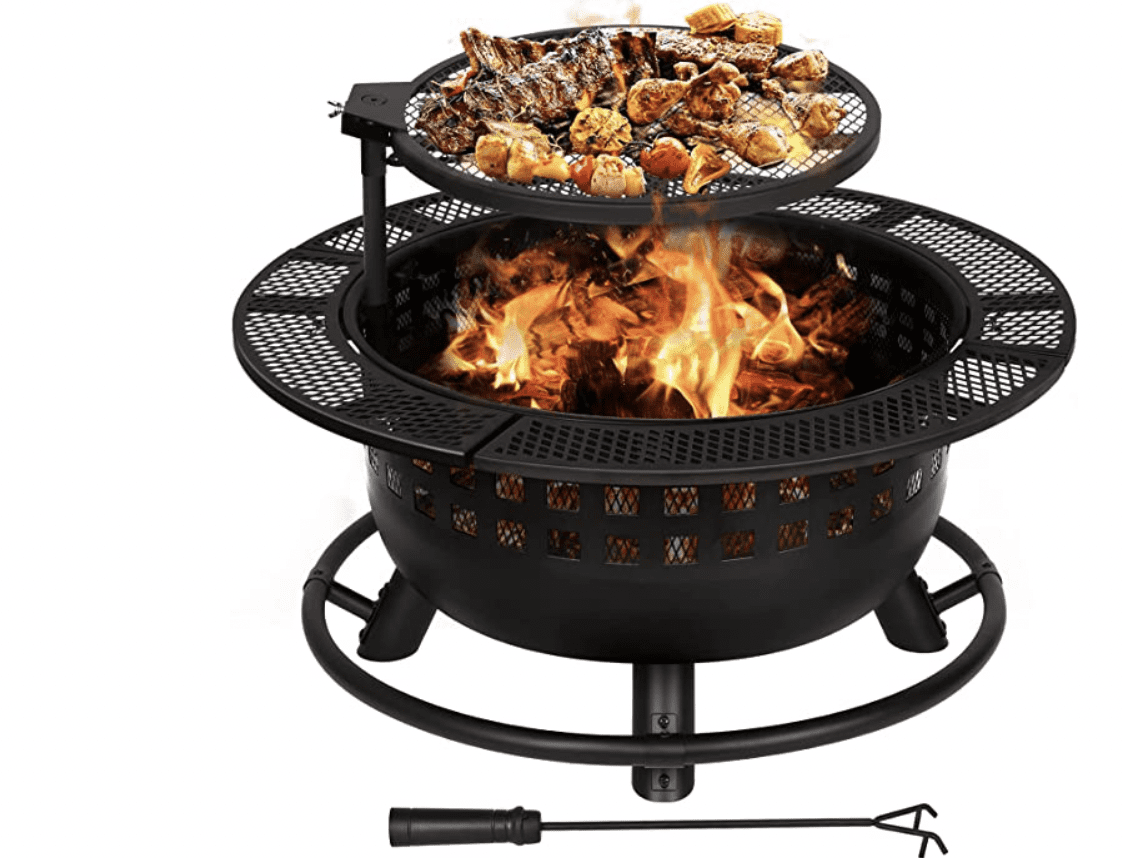 This Amazon Choice fire pit is one of the first that caught my attention, and for good reason. If you love wood-burning fire pits and want to cook or grill, it's hard to find one that's both highly rated and at a fantastic price. This 2-in-1 fire pit and grill is equipped with an 18.5-inch cooking grate that provides 360 degrees of swivel movement. The stainless steel is rust-proof and it's easy to assemble. It's lightweight, sturdy, and allows you to seamlessly grill or just enjoy your fire pit. This fire pit comes with a one-year warranty. Buy Here. 
Pros
360 Degree Swivel

Grill Grate

Powder-Coated Steel

Amazon Choice 
Cons
Can Only Use Wood

Only Basic Grilling Grate 
TIKI 25 Inch Stainless Steel Low Smoke Fire Pit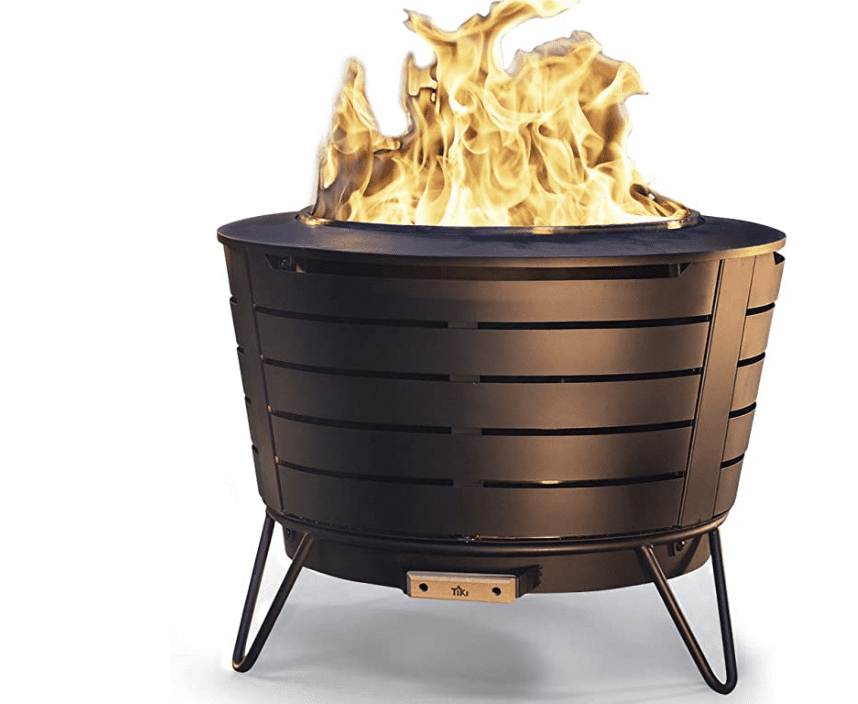 As much as I love bonfires, sometimes my allergies get to me– and that's due to excessive smoke. I love the smell of a classic fire pit, but if you're anything like me, a low-smoke fire pit is worth considering. This modern round fire pit is made with powder-coated steel and has a minimalist aesthetic. A winner of the 2021 Edison Awards, you can use traditional wood or a Tiki Brand wood pack. There's an ash pan for easy clean-up and it's highly rated for sturdiness and maneuverability. Buy Here. 
Pros
Award-Winner

Powder-Coated Steel

Low Smoke

Sturdy but Lightweight 
Cons 
Only Wood or Tiki Wood

Modest Dimensions
GRAND PATIO Outdoor Gas Fire Pit Table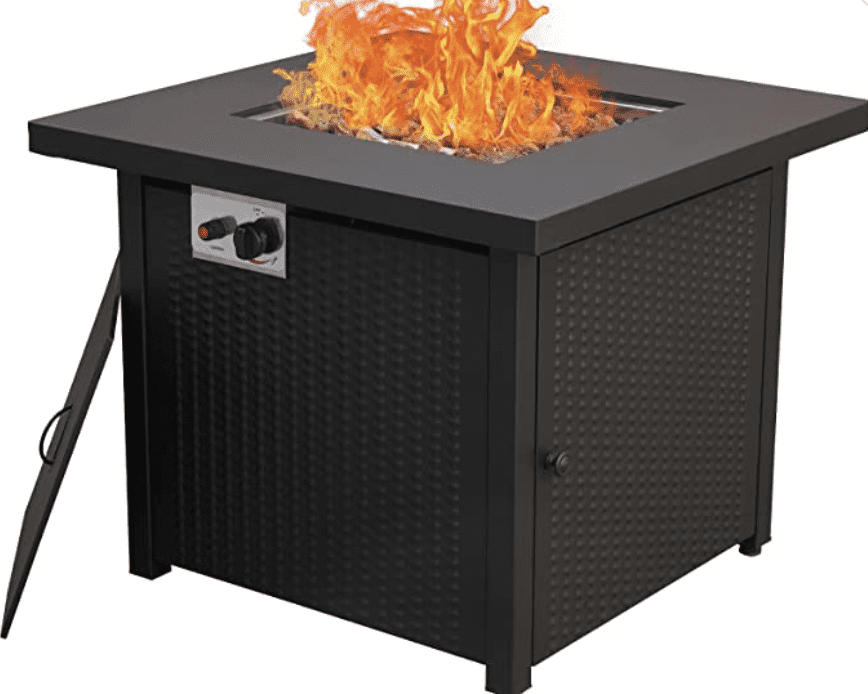 Make an impression with this square fire pit table. If you want to entertain or just add ambiance to your patio with little maintenance, this is one of the best fire pits from Amazon. The 30-inch tablet has a respectable output of 50,000 BTU. It's compatible with a standard 20-pound propane tank. A powder-coated steel frame provides a durable, fuss-free frame. I also like that the fire pit includes a cover, plus, hose, and regulator. It's CSA-approved for safety and can be assembled in half an hour. Buy Here. 
Pros
50,000 BTU

Powder-Coated Steel

CSA-Approved

Compatible with Standard Propane Tanks
Cons
Only Up to 30 Inches

No Automatic Shut Off 
BBQ Fire Pit with Charcoal Rack Mesh Cover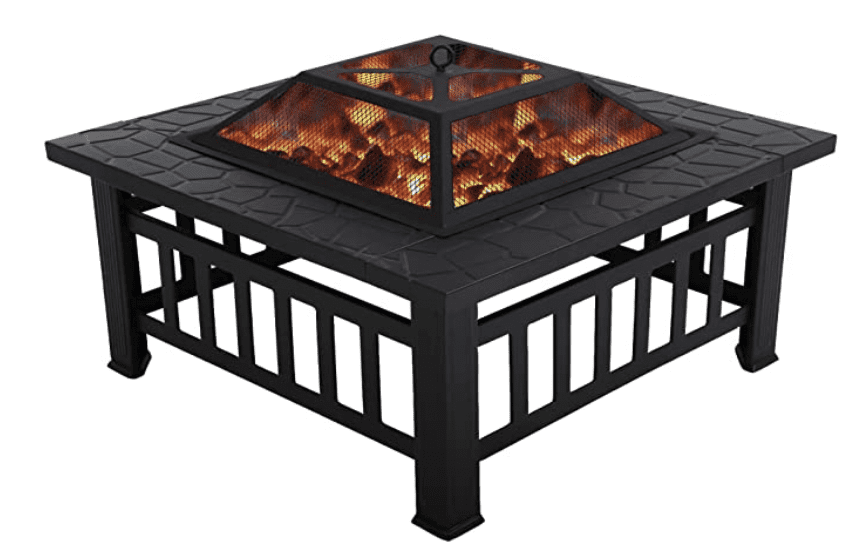 Looking for an affordable fire pit from Amazon that you can take camping? This lightweight (22 pounds fully assembled) fire pit is easy to assemble and packs some classic features. The fire pit includes a screen lid that protects you from flare-ups. It can be used at home or on a longer trip. While lightweight, the powder-coated steel frame is durable and sturdy. I also like how the table doubles as a side table for entertaining, making it one of the most versatile fire pits Amazon sells for an unbeatable price (under $100). Buy Here. 
Pros
Protective Screen Lid

Easy Assembly and Lightweight

Powder-Coated Steel

Under $100 
Cons
Only Uses Wood

Not Many Ratings 
Elementi Granville Fire Pit Table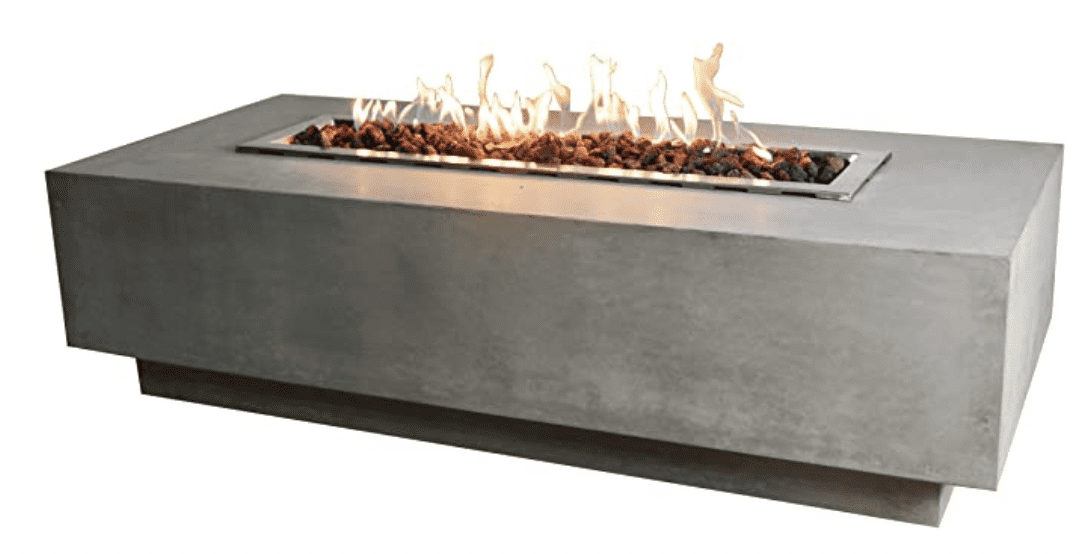 One of the weakest parts of Amazon's collection of fire pits is that they are mostly small. If you want a large, heavy-duty fire pit, this is your best option. It's a modern, concrete fire pit that provides an output of 45,000 BTU with flames that reach 24 to 26 inches. It's certified by CSA and CE for safety concerns. Stainless steel burners and electric ignition pair with an automatic shut-off system. This rectangular fire pit is multipurpose: you can even use it as a table. Buy Here. 
Pros
Automatic Shut-Off System

Stainless Steel Burners

CSA, CE Certified

Doubles as Table
Cons
Expensive

Only Natural Gas 
Solo Stove Ranger Steel Smokeless Fire Pit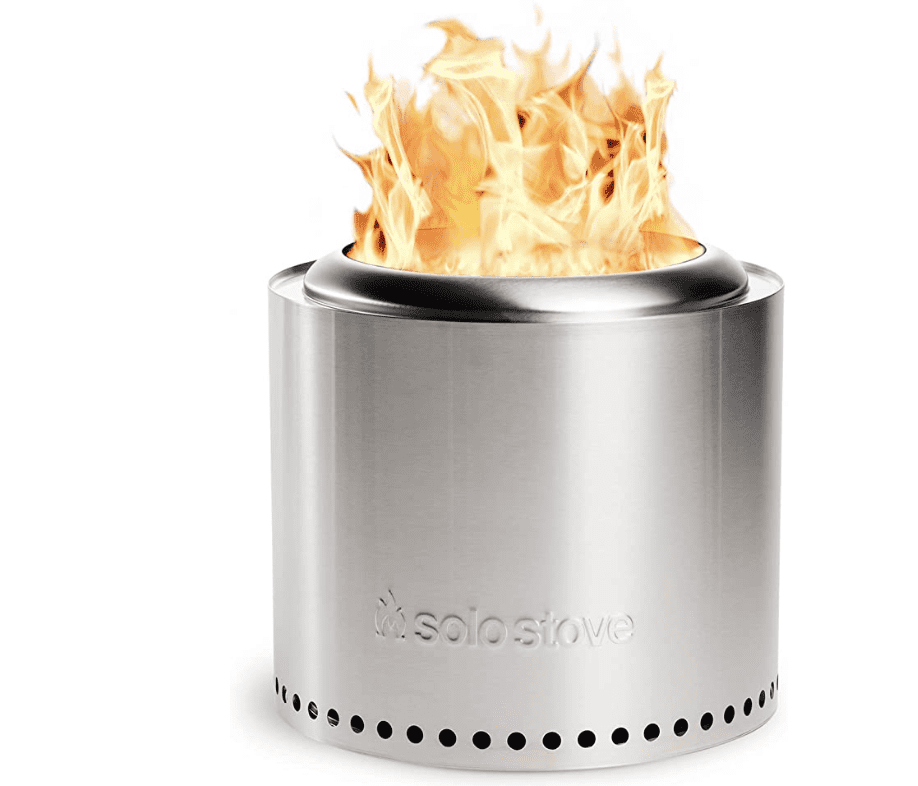 'These Amazon fire pit is one of the best fully portable options. Whether you want to take this fire pit camping or just move it around, the compact size packs some powerful features. A nearly smokeless design means less mess. It's designed to burn fuel more efficiently, with a double-wall design to maximize airflow. The polished stainless steel exterior is attractive and modern. This highly-rated fire pit measures 17 by 17 by 15 inches. Buy Here. 
Pros
Fuel-Efficient Compact Design

Smokeless

Polished Stainless Steel 

Highly Rated
Cons
Slightly Expensive For Size

Not Powder-Coated
Alternatives to Amazon Fire Pits 
Amazon fire pits are versatile and affordably priced. Despite this, they aren't going to provide as many premium materials, unique styles, or customer service as other stores. Here are a few alternatives, based on what your must-haves are. 
Closest Alternative: Wayfair Fire Pits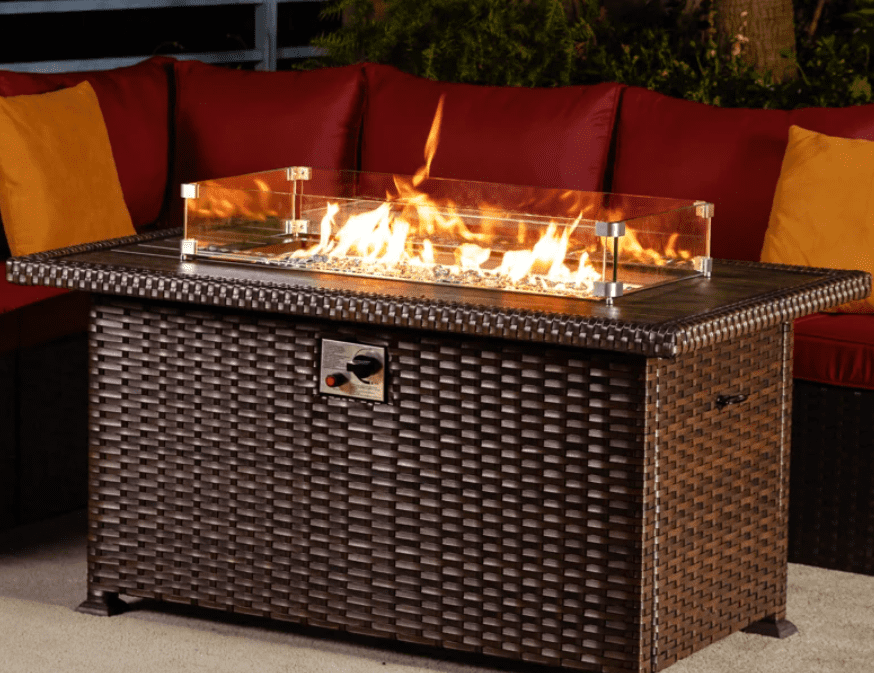 If you love the huge selection of fire pits that Amazon offers, Wayfair is another great choice. Though many of their fire pits are priced higher, you get a wide selection and a more organized online shopping experience. Helpful filters and guides make shopping for a fire pit online a little less overwhelming. Shop Wayfair Fire Pits Here. 
For Traditional In-Store Shopping/ Customer Service: Lowe's and Home Depot 
If you want the option to shop in-store or want to talk with an expert, both Lowes and Home Depot are good options. They carry mid-range fire pits, with assembly options, sales, and other perks. Shop Lowes Fire Pits Here or Shop Home Depot Fire Pits Here. 
Frequently Asked Questions
Question: Are Amazon fire pits waterproof?
Answer: Not all Amazon fire pits are waterproof. Keep in mind that Amazon carries over 2,000 fire pits for the outdoors alone. Along with that, Amazon carries indoor fire pits. Indoor fire pits are labeled this way for a reason: they won't hold up to weather conditions. You also don't need a fully waterproof fire pit, but a water-resistant one. For instance, their powder-coated steel fire pits are a great option because they are resistant to precipitation and moisture. Concrete and stone fire pits from Amazon will also supply the support and protection that you need.
Question: Are fire pits considered open burning?
Answer: Anything that doesn't include either a chimney or a stack is classified as open burning. Because of this, most fire pits are regulated under open burning regulations in your region. Backyard fire pits are legal in most cases, but usually with stipulations. Every state has slightly different laws. My home state doesn't permit open burning fire pits within several months from certain hours. You also can't burn certain substances nor can you place a fire pit right beside your neighbor's home. Check your state's government website for regulations and restrictions. 
Question: Are fire pits safe or dangerous?
Answer: Fire pits always have the potential to be dangerous. The truth is, many people don't use fire pits properly or take necessary precautions. My first recommendation is to buy a fire pit cover. A fire pit cover doesn't only extend the life of your fire pit- it also protects you and your loved ones when it's not in use. Never leave a fire pit unattended, and never place it closer than 10 feet away from your foundation.

Most fire pits shouldn't be placed directly on a wooden deck. I like fire pits with emergency shut-off systems (gas) if you tend to be forgetful. Having some great fire pit accessories on hand- including protective gloves and an extinguisher- ensures a safer experience. If you follow these steps and don't use fire pits during high winds or other high-risk weather, you can have a safe and enjoyable experience. 
Final Thoughts
If you want countless fire pits to choose from, Amazon has you covered. Quick delivery, full customer reviews, and an array of styles and price points are just a few perks. I like that you can find fire pits on a budget, as well as everything from portable fire pits to classic large fire pits. If you find yourself getting overwhelmed with your options, go back to what your criteria are. Setting a budget and must-haves ahead of time can help you find the best Amazon fire pit for you.
Recommended Reads: