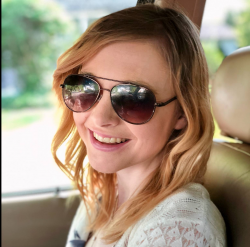 Latest posts by Erin Jamieson
(see all)
Menards is one of my favorite places to shop, not only for home improvement projects, either. Call me crazy, but there's something always interesting to see, from cookbooks to new kitchen sinks. I love the ability to pursue projects too– and I was pleased to see that Menards also distinguishes itself with its unique fire pit collection.
Modern styles and DIY fire pit projects may not be for everyone, but they do make this collection interesting. Since it's exciting but a bit different to shop for a fire pit at Menards, I'll guide you through smart-shopping tips. From what materials to buy (and avoid) to navigating sales and more, here's how to find the best fire pits and Menards, and a few of my top picks. 
Bottom Line Up Front Summary
Menards is one of the few places that offer fire pit projects, where you can DIY with guidance and instructions. But they also offer a selection of reasonably priced backyard and portable fire pits. Be sure to take advantage of sales, mail-in rebates, and other perks at Menards. 
If I had to choose one fire pit from Menards, it would have to be the Stacked Stone Propane Gas Fire Table. This fire table can be used on a patio, but it's versatile in its own right. It pairs a classic stone look with a modern allure, plus powder-coated steel and pulse ignition. It's a good value, attractive, and useful for the average person.
My Top Picks
Pros and Cons: Should You Buy a Fire Pit from Menards?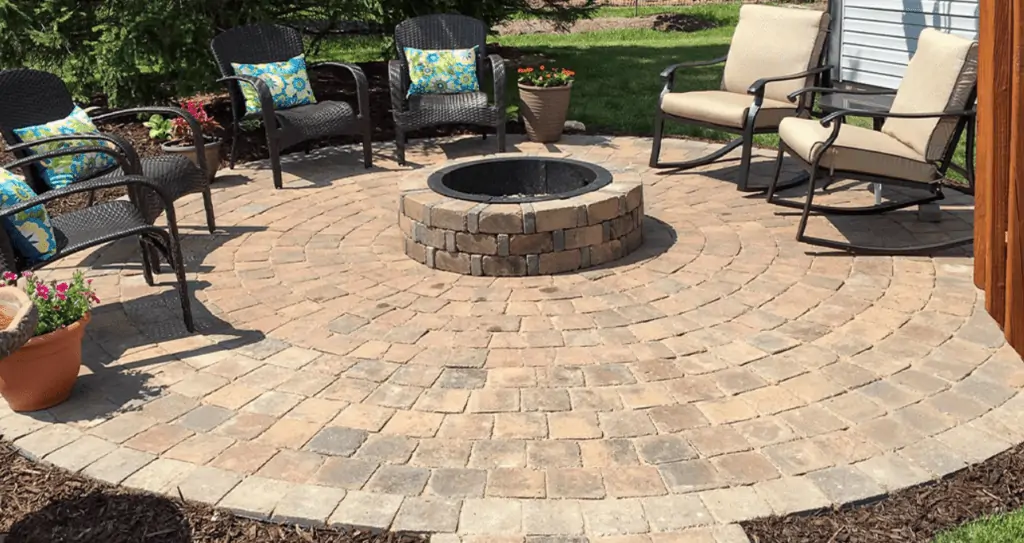 I've looked at Home Depot Fire Pits and Lowes Fire Pits, and I expected this collection to be fairly similar. The truth is, while Menards is lumped in the same home improvement store niche, their fire pit collection comes with different pros and cons. Here's my take on how and why Menards fire pits stand out and whether or not this collection is the best option for you and your backyard. 
Buy a Fire Pit From Menards If…
Menards surprised me, and mostly in good ways. If you're looking for a reasonably-priced fire pit that's practical- but with more unique styles than other home improvement stores. Menards excels most with its practical but stylish and more innovative modern designs. I also really like that you can filter by brands, fuel source, and availability. That's not uncommon, but having everything on a central page makes it a little quicker to shop. In my experience, many items are in stock at local stores, giving you the option of both online and in-store shopping. They also offer sales and rebate perks to score even deeper discounts. 
Look Somewhere Else for a Fire Pit If…
If you're looking for fire pits made in the USA, it's time to look elsewhere. In their collection of around 140 fire pits, just one is made in the United States. The collection is comparatively small to Amazon Fire Pits, so you may not be able to find every type or style of a fire pit. I also noticed that Menards fire pits lean more average in size (minus portable) so you have fewer choices for large fire pits. Finally, even though Menards has competitive prices, it is certainly possible to find fire pits on a tighter budget from a place like Amazon or Walmart. Also, brand variety is lacking: a lot of their fire pits are from a single brand. 
Takeaway 
It's easy to shop for a fire pit, you get options to shop online and in stores, and there are more unique designs than in competing stores. However, if you want a vast collection, of fire pits made in the USA, or a good selection of large fire pits, consider shopping at either a specialty store or a large online retailer like Wayfair. I also don't love that most of their stone and concrete fire pits are 'projects' where you have to DIY. 
How to Find the Best Menards Fire Pits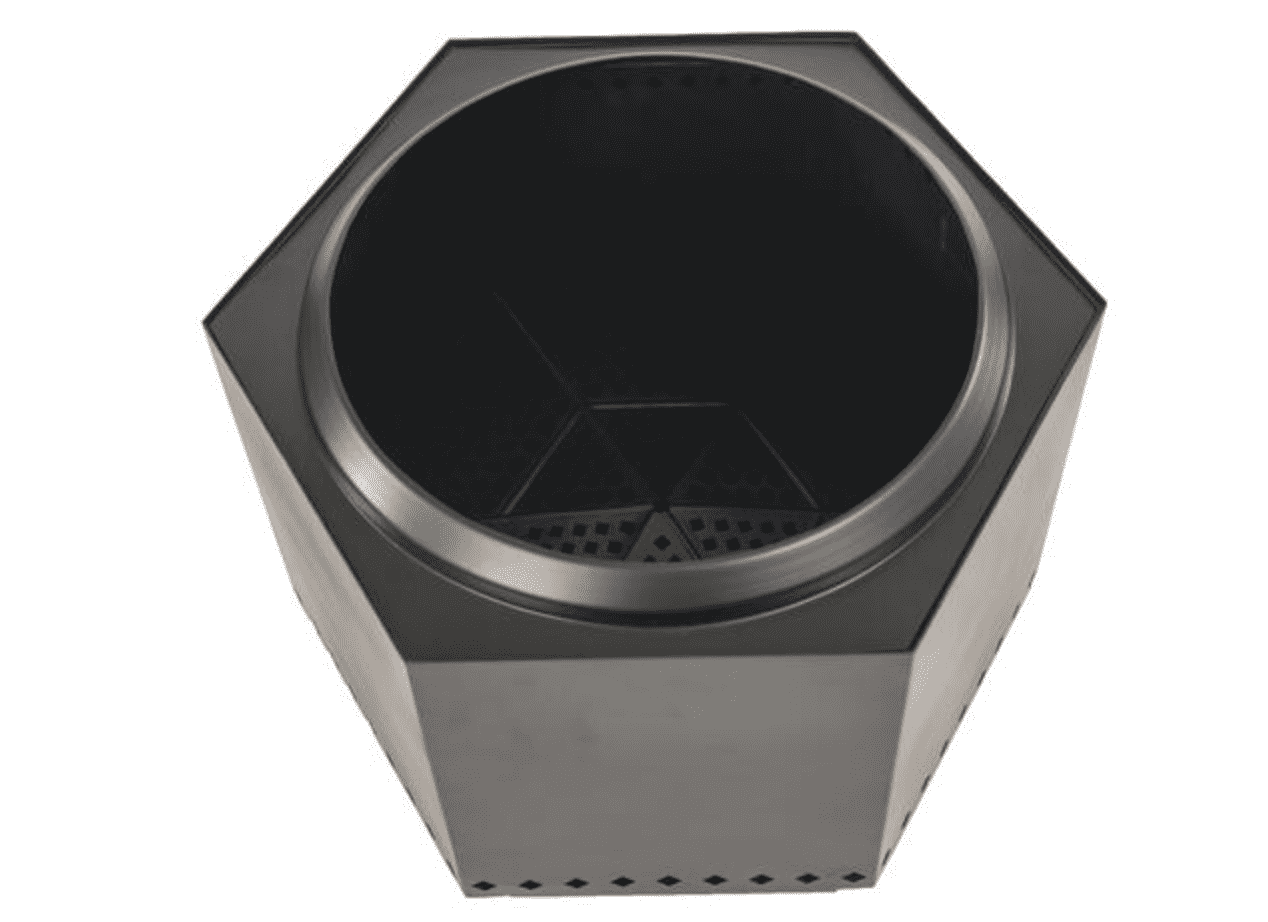 I have a few tricks and tips for shopping wisely at Menards for a fire pit. If you want to make the most out of your shopping experience, my first suggestion is to not get too caught up on the cheapest (or most expensive) models. The best fire pits from Menards are somewhere in between and offer value and durability with a bit of modern, stylish flair. 
Tip One: Decide on a Fire Pit Size and Shape
Dimensions
What size and dimensions you need for a fire pit depend on your fire pit area. For stationary, traditional fire pits, the average size falls between 34 to 46 inches. Anything below this would be classified as small and more portable. Above this range are larger fire pits suited for spacious backyards. If you plan to use fire pit chairs around your fire pit, a height of 12 to 16 or 18 inches is best. 
Measure your patio or yard and the area you want your fire pit to be. You need a minimum of 10 feet of clearance from home foundations and anything else that can catch fire. Most fire pits from Menards are 23 to 50 inches. Something within the 23- 30 inch range is great for camping, otherwise, stick to the 34-46 inch range for normal use. 
Shape
There is no best fire pit shape, though the most common are round or square fire pits, followed by rectangular. Menards mostly have these common shapes, and, aside from tables, there's a bias towards round fire pits. Square fire pits are better for space efficiency (small yards, patios), while round fire pits provide a more classic aesthetic. 
Tip Two: Be Selective abohut Materials
At a glance, Menards is fairly standard for its fire pit materials. They carry metal fire pits, stone fire pits, and concrete fire pits. For metal, they carry iron, steel, and aluminum. 
Menards Metal Fire Pits 
For any of their metal pits, my preference is metal that's been treated with a weather-resistant coat, such as powder-coating. This is especially true for iron, which is more susceptible to rust (but a little stronger) than steel. I'd also opt for both steel and iron over aluminum, as both will be far more durable against damage, winds, and wear and tear. 
Menards Stone and Concrete Fire Pits
Something interesting about Menards stores and concrete fire pits is that many of them are sold a little differently. They're often packaged as fire pit projects and require more assembly steps- and sometimes other accessories. Concrete fire pits can crack- but the upside is that they usually are not too expensive or painstaking to repair. Stone fire pits, while more expensive, are durable and beautiful.  The biggest downside to these at Menards is that you mostly buy them as Fire Pit Projects- except tables. That means you have to buy these materials and essentially build your fire pit from scratch. It's not something I'd recommend to someone new to fire pit construction. 
Tip Three: Deciding on a Fuel Type 
Like most places, Menards has wood-burning fire pits, propane fire pits, and natural gas fire pits. They have more propane fire pits than other kinds, which is not too surprising. Propane fire pits are arguably the easiest to control, fuel-efficient, and portable. Here's a glance at the pros and cons of each:
Type of Menards Fire Pit
Pros
Cons 

Propane 

Fuel-Efficient

Suited for Portable Pits

Includes Electric Ignition Pits

Tanks Can Be Expensive 

Not Chemical-Free

Natural Gas 

Easy to Start

Natural Gas is Initially Cheaper than Propane

No Bulky Tanks

Not Very Fuel-Efficient

Stationary Fire Pits Only 

Wood-Burning

Chemical-Free

Classic Aesthetic

For Stationary and Portable Fire Pits

Most Options (at Menards 

Harder to Control

No Electric Options/ Can be Slow to Burn 
In short: all are reasonable options- you just need to decide what's best for your situation. BTU output should be between 40,000 and 60,000 for classic fire pits (natural gas, propane). 
Tip Four: Types of Menards Fire Pits
Menards carries fire pit tables, classic fire pits, and portable fire pits- known of which should be confused with fire pit bowls or patio heaters. Firepit tables are used on patios, for entertainment. These may include electronic ignition and other features. Portable fire pits I'd select either for tiny yards or camping. While not as sturdy (and sometimes durable) as classic fire pits, they're quite versatile. 
Tip Five: Special Features 
Menards may not have the fanciest features on the market for fire pits, but there are some you should keep in mind. These features add some value and versatility to your fire pit. 
Fire Pit Feature 
Consider For/If…

"Smokeless" System

You have allergies or want to clean up. Smokeless fire pits cost a little more but are designed to improve airflow and reduce smoke output. Vents are good for all fire pits, but this is a more efficient, integrated system

Wheels 

For portable fire pits and fire pit tables. Wheels make it easier to move your fire pit from place to place. 

Cooking Grates/ Grills

You're buying a wood-burning fire pit and want to use it for grilling, too. Swivel rotation is a plus, as is a tired grate system for even cooking. 

Safety and Stability Features 

This could include wind/ heat guards and fire pit inserts.

Unfortunately, these are all sold as separate features at Menards

 
Tip Six: Pricing, Sales & Deals at Menards
Menards fire pits range in price from just under $50 for a cheap, portable fire pit up to just under $1,000 for a large fire pit table project. These prices are of course subject to change, but some of the best fire pits retail for $150 to $500. I tend to find this middle-range price at Menards to usually be the best value for a fire pit. But there are ways to save money, too. 
Here's how I recommend saving money on your fire pit and accessories from Menards:
This program is unfortunately available for in-store purchases, offered in the form of a credit check. They provide an 11 percent discount on eligible purchases.

Price Adjustments

 

One thing I see so many misses out on is Menard's sales adjustment program, as outlined in their

Official Pricing and Payments Statement

. This probably won't do you much good often, but if you buy a fire pit accessory, it's worth paying attention to. Any items in their store flier whose prices have dropped within 2 weeks of purchase are eligible. 
You can get discounts and be notified of upcoming sales. Catch sales on fire pits and accessories during late autumn through winter. You may also score discounts on Black Friday, Cyber Monday, Fourth of July, and Memorial Day.  
Menards Fire Pits: My Picks
Here are just a few of my favorite fire pits from Menards. These were selected based upon their price, materials, and features– with an eye toward overall value. This gives you a good idea of what Menards offers for portable fire pits, fire pits with special accessories, and fire pit tables. 
Stacked Stone Propane Gas Fire Table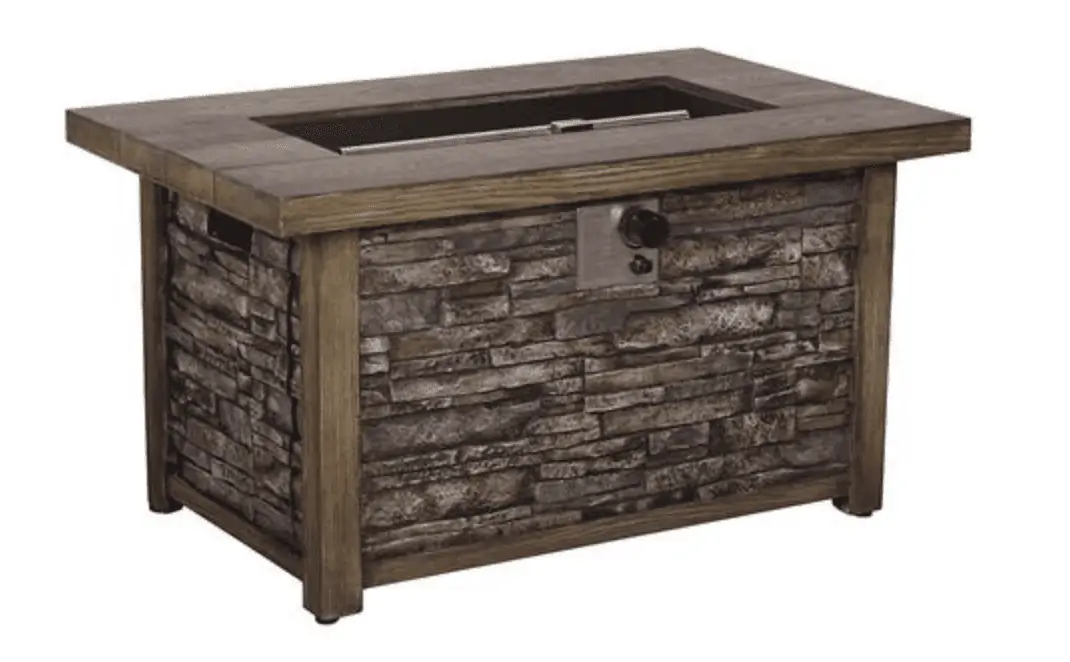 Not only is this one of the few stone fire pit options that aren't a DIY project, but this is also my top pick for a great Menards fire pit table. This fire pit table is a beautiful, modern take on a classic, featuring brown stacked stones with powder-coated steel. This durable and striking fire pit table has a BTU output of 50,000 and features a pulse ignition system. A pulse ignition system ensures quick, accurate, and seamless fire control. It's CSA-certified for safety and comes with complementary lava rocks and even a protective PVC cover. That's a great value, and it's a versatile fire pit table I could see fitting most patios.  It works with propane, but can even be converted to natural gas. Buy Here. 
Pros
Stacked Stone with Powder-Coated Steel

50,000 BTU

CSA certified

Pulse Ignition 
Cons
Only One Size (43 inches by 23 inches)

Over $500
Backyard Creations Portable Fire Pit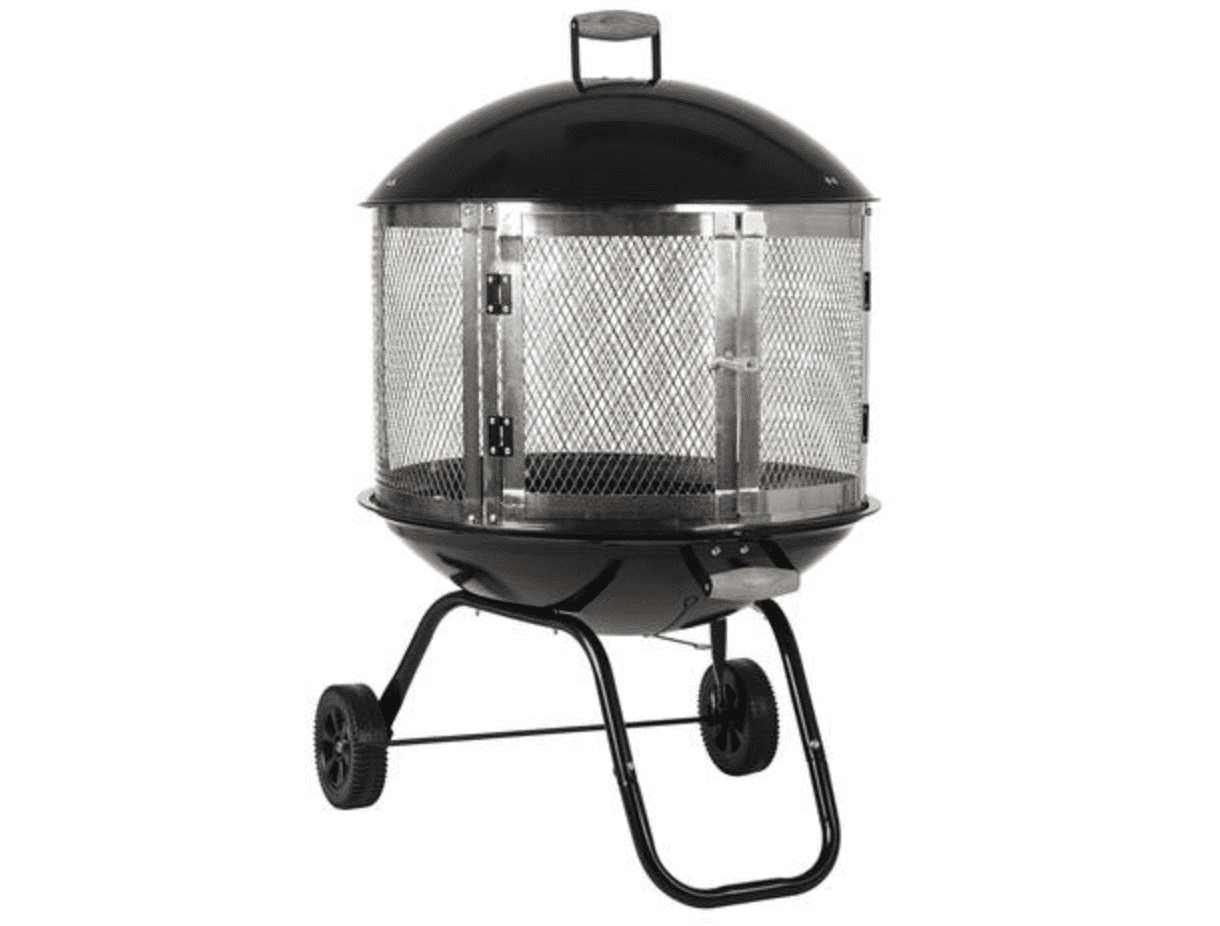 Looking for an affordable fire pit that you can take camping with you? This fire pit from Menards is currently under $100 but it beats out many of their budget fire pits. I selected this portable fire pit because it offers a classic, almost retro style with a modern twist. I like the wheels on the bottom for easy transportation, and that it comes with a porcelain-coated lid. The spark guard protects you from flames. This steel fire pit is a classic wood-burning fire pit and is perfect for short trips. Buy Here. 
Pros
Great Price

Wheels for Portability

Spark Screen and Lid

Porcelain Coat 
Cons
Not Powder-Coated

Fairly Small for Regular Use (28 inches)
Roadhouse Fire Pit Grill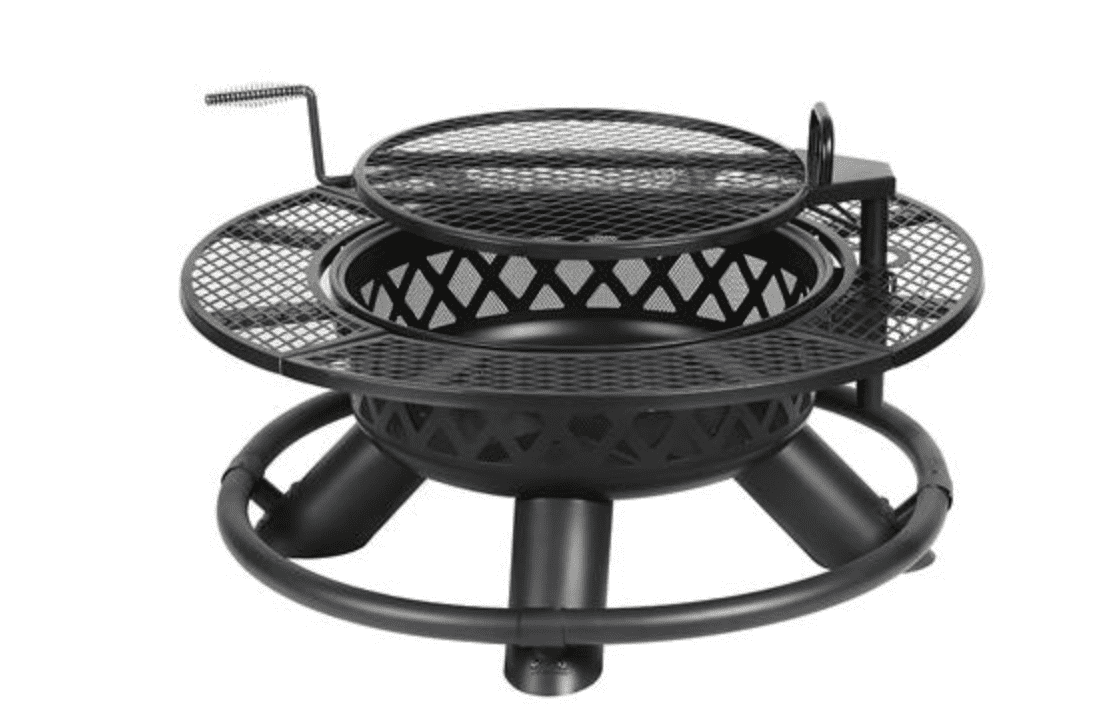 Can't decide between purchasing a grill or a fire pit? You don't have to. This 47-inch fire pit is perfect for both entertaining and enjoying. If you just want to grill some meat and vegetables or roast marshmallows, this fire-round steel fire pit does just fine. A decorative lattice design makes this fire pit stand out from others. The cooking grate includes a swivel base for more even heat dispersion. The footrest provides some stability and character for this unique fire pit design. The heavy-duty steel is easy to work with. Buy Here. 
Pros
Swivel Base

Tiered Cooking Grate 

Heavy-Duty Steel

Decorative Lattice
Cons
Not Powder-Coated

Wood-Burning Only (Good for Grilling but less Versatile)
Dragonfire Black Steel Fire Pit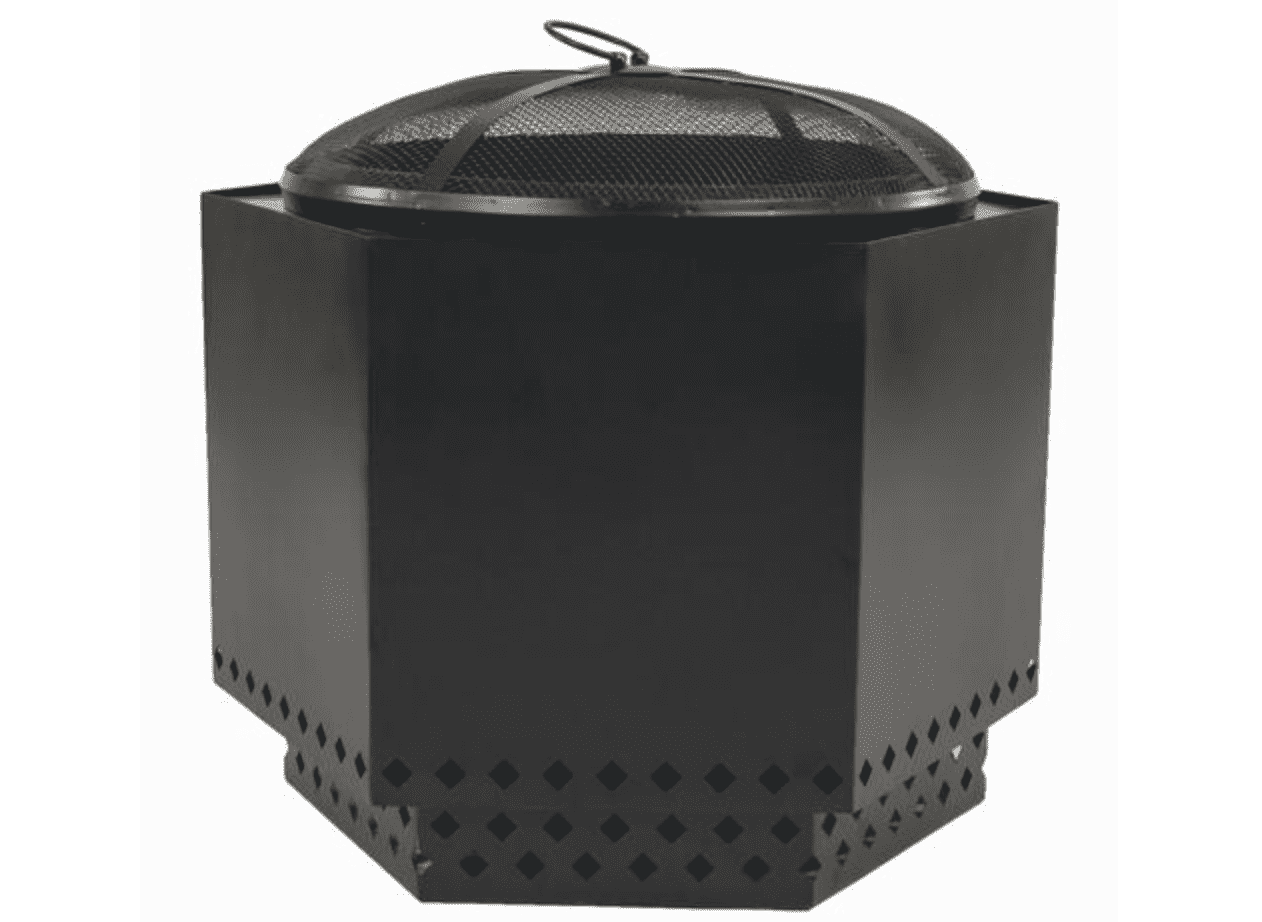 If you're looking for a small, smokeless fire pit, this is one of your best bets at Menards. They don't sell many larger smokeless fire pits, but this design is a great value and can be used for camping or in your backyard. The steel fire pit features a dual-wall for improved efficiency, paired with a deflector ring and a spark screen. I also love that it comes with a polyester fire pit cover. The 23-inch size is portable and can be used for tailgating and RV trips. Buy Here. 
Pros
Smokeless, Dual-Wall

Portable 

Spark Screen

Polyester Cover 
Cons
Mansfield Fire Pit Project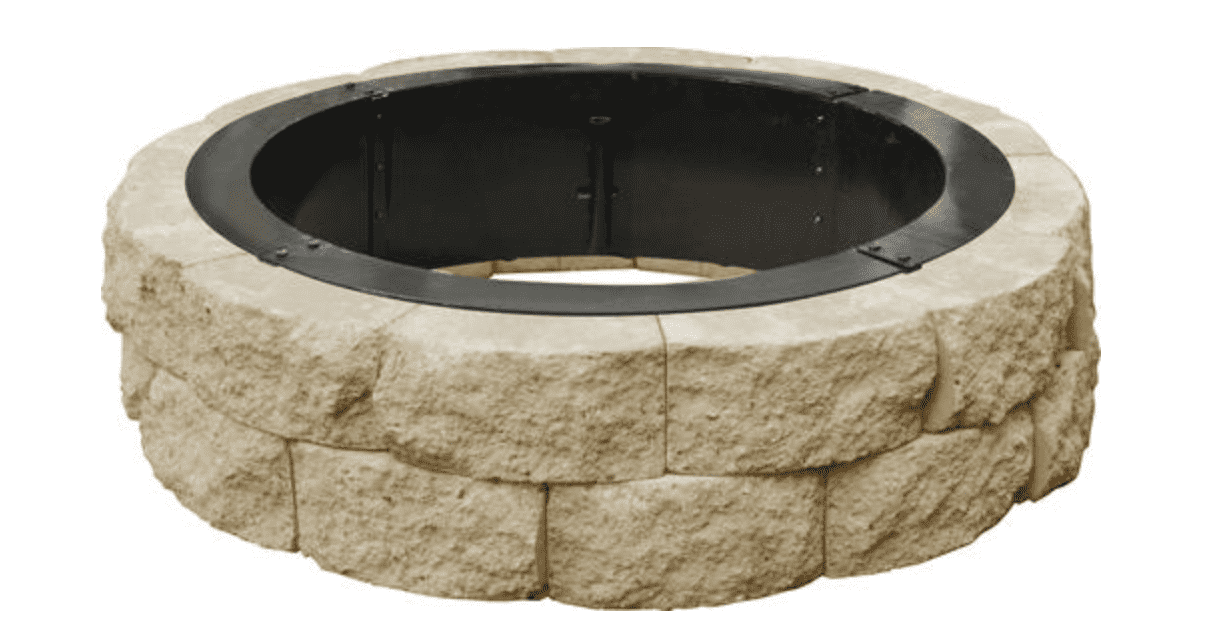 While I don't think that a 'fire pit project' is the best fit for the average customer,  I'd be remiss not to mention one. Part of the appeal of Menards, at least for me, has always been the option to imagine and DIY projects. Their fire pit projects act as bundles. You buy the base materials and have to put them together to customize and construct your fire pit. While there are more impressive projects, this one is probably the best value. This concrete fire pit set mimics the look of stacked stone. The round fire pit project kit includes Mansfield blocks, a fire ring, block, adhesive, and instructions. You can also add on accessories, such as a spark screen, lid, grill plate, and poker and tongs set. Buy Here. 
Pros
Customizable

Stacked Stone Look

Fair Price 
Cons
Must Cut, Completely DIY

Additions Can Get Expensive
Frequently Asked Questions
Question: Do Menards carry fire pits?
Answer: Menards carries not only fire pits, but also fire pit accessories. Their collection of fire pit covers, fire pit rings, and inserts offer fair prices and versatile solutions. However, it's important to keep in mind that the online store differs somewhat from its inventory in stores. For example, if you're shopping for a fire pit out of season (late Fall to Autumn) to catch a sale, then you may find that online shopping is the best option. Check the pack for fire pit options: like other home improvement stores, inventory will change some during a calendar year. 
Question: Does Meijer carry fire pits?
Answer: Even grocery store chains carry some fire pits- though this is limited. Meijer carries just a handful of fire pits online. You can sometimes catch a fire pit in a larger Meijer store during peak season, near the outdoor equipment section. As of now, these are round and square steel fire pits that measure 26 to 35 inches and are all priced under $200. They also carry galvanized steel fire pit rings. That said, Wayfair or a home improvement store has a much better selection of fire pits. 
Question: Which fire pits are best?
Answer: The best fire pits are made out of weather-resistant stainless steel, concrete, stone, or brick. Fire-burning fire pits are natural and chemical-free, while propane fire pits are the most fuel-efficient. The best fire pits come with a warranty and have a respectable BTU output of 40,000 and above. Of course, the best fire pit for you depends on how you intend to use it.
Question: What do you put in the bottom of a fire pit?
 
Answer: The bottom of the fire pit should be filled with something to maintain and stabilize your fire. That varies but may include: sand, gravel, glass, lava rocks, bricks, or paving stones. Another good idea is to buy a fire pit insert. A fire pit insert helps control your flames and protects you and your fire pit. The best fire pit inserts are crafted with stainless steel and are weather resistant. 
Final Thoughts
Menards' selection of fire pits is practical but also more unique than many of its competitors. What strikes me is the balance between price, pragmatic features, and unique styles. Sale prices, mail-in rebates, and regular sales are just a few ways to get the best price possible. What's also great is that you can shop for fire pit accessories you need on the same website, which are even more competitively priced. All in all, shopping at Menards for a fire pit is a solid experience, so long as you know how to look and what to look for. 
Final Recommendations: Menards Fire Pit Covers

From brands like Backyard Creations to Ravenna and Landmann, Menards has a small but helpful collection of affordable fire pit covers. Firepit covers are a good idea if you're planning to leave a fire pit out year-round (stationary). Expect to spend anywhere from $11 to $60 on a fire pit cover from Menards, which is below the average price range. 
To find the best Menards fire pit cover, look for one that includes some type of enclosure for a snug fit- whether that's velcro straps or a zipper. Decent materials include both PVC and polyester. Shop All Menards Fire Pit Covers Here. 
Recommended Reads: