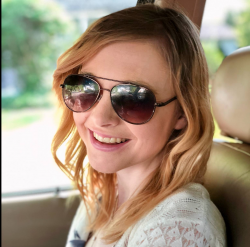 Latest posts by Erin Jamieson
(see all)
Whether you're imagining an endless summer of bonfires, a great bbq, or just want an aesthetic addition to your backyard, a fire pit is a fantastic addition.
But while I've had the pleasure of spending hours around a fire pit, I've always wanted a slightly different look. The truth is: that not all fire pits are round, and rectangular fire pits are a fantastic alternative. 
Sleek, modern, and sophisticated, rectangular fire pits and fire pit tables give you a lot of the same functionality but in slightly different dimensions. In my opinion, too many people buy a fire pit for their yard and patio without thinking about how a different shape could be the best fit. 
This guide will help you determine just that. I'll give you the scoop on the pros and cons of a rectangular fire pit, plus my buying tips. From where to shop to select the best style and dimensions, here's to endless summers of enjoying a rectangular pit. 
Bottom Line Up Front Summary
Rectangular fire pits offer a sleek and elegant addition to gardens and patios. They are best for someone who wants to add ambiance to dining and entertainment spaces but is not the most cost-effective.
To find the best rectangular fire pit, start by selecting the dimensions, then opt for durable materials, either gas or wood-burning fuel types, and features that suit your needs. Warranties of least 90 days is a good sign, 
If I had to recommend just one rectangular fire pit, it would be the Ukiah Loom Steel Rectangular Fire Pit. This is a small tabletop fire pit that packs in some solid features for an incredible price. That includes a powder-coated steel frame, protective glass, and electronic ignition. 
My Top Picks
Finnegan Natural Gas Outdoor Fire Pit Table Insert:

Best Fire Pit Insert

Epsom 48″ X 20″ Concrete Rectangular Propane Fire Pit

:

Best Premium 

Home Depot Rectangle Concrete Propane Fire Pits: Best Large

Sedona 14.25" H Stone Outdoor Fire Pit:

Best Stone 

Ukiah Loom Propane Fire Pit with Sound System

:

Best For Entertaining 
How to Decide if a Rectangular Fire Pit is the Best Option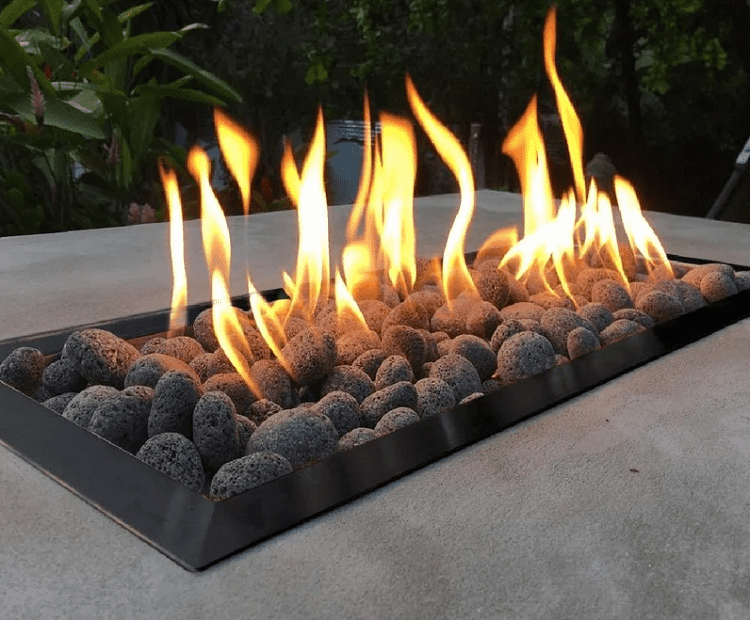 There are two problems I see with how people buy a fire pit. The first is that they only consider a fire pit and buy it by default. The second is that they don't think about the pros and cons of different fire pit shapes or the space they're working with.
I'll tell you a not-so-secret tip: there is no one best shape for a fire pit. Here's why you should consider a rectangular fire pit- and reasons why a different shape may be better. 
Pros of Rectangular Fire Pits
Rectangular fire pits are unique. They provide ambiance and make a slightly more formal and modern statement than round pits. They're natural fits for long fire pit tables, as well as larger fire pits for a backyard. They provide a contemporary look, with clean and aesthetic lines.
I like how easy rectangular fire pits are to accessorize with or arrange modern seating around. They also work as a visual separation between dining spaces. They also are used for flair in spacious, modern gardens. 
Cons of Rectangular Fire Pit
Rectangular fire pits are simply not very space-efficient. Even with smaller sizes, they're harder to work with. If you have a small area to work with, I do think that you get more out of your space with a round or even square fire pit shape.
There are fewer options for rectangular fire pits, both for price and style. And if you long for a more traditional look, around a fire pit is going to be the better option. 
Takeaway
A rectangular fire pit provides a modern, pleasing aesthetic. I love how it can complement dining and entertainment spaces. But if you want either a very traditional look or you want to be as space-efficient as possible, then a different shape is a better choice. 
How to Buy the Best Rectangular Fire Pit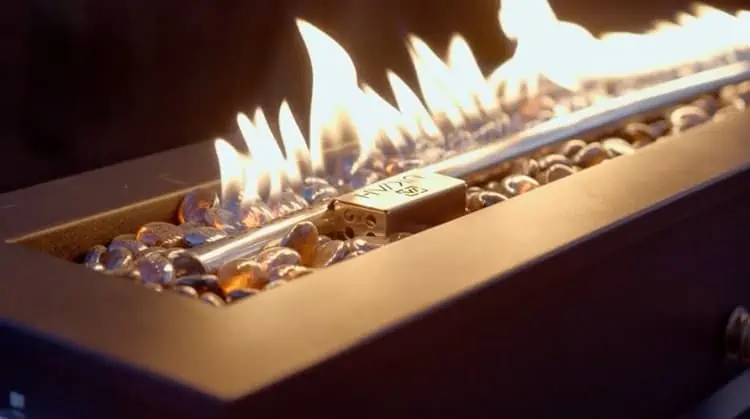 If you've decided you love the modern appeal of a rectangular fire pit, it's time to get shopping. But I always go into big purchases with a criteria list. Instead of buying the first rectangular fire pit you see, here's what I want you to look for so you can enjoy it to the fullest. 
Step One: Size/ Dimensions
Both weight and dimensions are important when selecting a rectangular fire pit. Measure the space where you want your rectangular fire pit. It needs to be placed a minimum of 10 feet from your foundation and away from anything that can catch fire.
Factor in a 2-3 feet radius if you want chairs to surround it. Here are standard ranges that would be within normal limits for a backyard rectangular fire pit:
Width

: 3 to 6 feet 

Length:

30 to 56 inches 

Height

: 12 to 20 inches 

Weight

: 20 pounds to 70 pounds
12 to 14 inches is a nice height for chairs and simply enjoying. Fire pits that are closer to 20 inches high are usually reserved for sitting near the edge. 20 pounds is closer to a portable fire pit and will be less sturdy. 
Small fire pits, or tabletop fire pits, hover around 24 to 28 inches long. A 60-inch length is considered to be a large rectangular fire pit. 
Step Two: Fuel Type
Rectangular fire pits more heavily favor propane and natural gas as their fuel source. However, there are select styles that are wood-burning. Likely the shape and modern aesthetic both influence favoring gas over wood-burning. 
Wood-Burning Rectangular Fire Pits
Wood is a natural, chemical-free option. It's hard to match its ambiance, and it's a fairly cheap way to fuel your fire pit. However, there are far fewer wood-burning rectangular fire pits than gas.
In addition, it's less practical to stock wood to burn. Wood can burn for a long time but takes a while to heat up. Pairing logs with twigs takes a little finesse, and it's harder to predict and control your flames. 
Propane vs Natural Gas Rectangular Fire Pits
Propane requires tanks, while most natural gas fire pits have to be hooked up to a gas line. Of the two, natural gas is usually cheaper over a long time. By some estimates, natural gas is ⅙ of the cost of a propane fire pit in certain areas.
Propane fire pits have the advantage of being able to be moved, instead of tied to a line. There's also efficiency to consider. Though natural gas is cheaper, propane is far more efficient. 
Bottom Line
None of these fuel sources is a poor choice for a rectangular fire pit. If you want to be able to move your fire pit, propane or wood is the better choice. If you're interested in reducing fuel costs, natural gas is a good option. Both propane and natural gas have more choices for rectangular fire pits. 
Step Three: Main Materials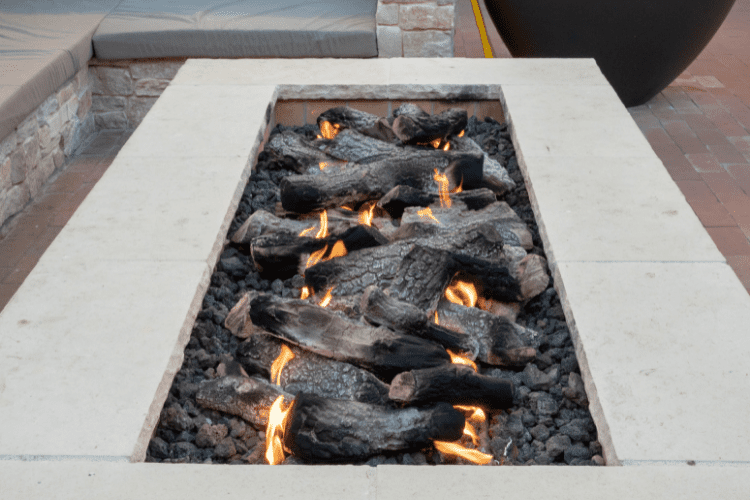 The materials and build of your rectangular fire pit matter quite a lot. This includes both the exterior and any liners. The rule I use is simple: I want heat and fairly weather-resistant materials that ensure my fire pit will last long enough for my purchase.
With rectangular fire pits, you have a few fewer options, so I'll cover the most commonly used materials. 
Steel Rectangular Fire Pits
Steel and stainless steel provide a slick, modern look and are fairly lightweight. These fire pits are resistant to warp or heat damage. They're pretty affordable, though stainless steel isn't quite as strong as some other materials. Unless powder coated, it can corrode over time, so treatment or a cover is recommended. 
Concrete & Stone Rectangular Fire Pits
Concrete fire pits are sturdy, reliable, and provide stability. They usually include easy installation. Though cracks can happen, they can usually be filled for a low cost. The biggest downside is that they are stationary and not to everyone's aesthetic tastes. Stone has similar advantages and disadvantages, though it does not crack. 
Pewter Rectangular Fire Pits
Pewter won't rust or corrode. However, it can oxidize, and some pewter contains deposits of lead. While aesthetically pleasing, pewter isn't the cheapest or most durable choice. 
Aluminum Rectangular Fire Pits 
I think of aluminum fire pits as a cheaper cousin to steel fire pits. While weather-proof for the most part and quick to heat up, they're easier to damage and usually more cheaply made. 
Bottom Line
For rectangular fire pits, I'd choose reinforced or powder-coated stainless steel, concrete, or stone. Other materials aren't as worth your money. 
Step Four: Rectangular Fire Pit Features & Where to Shop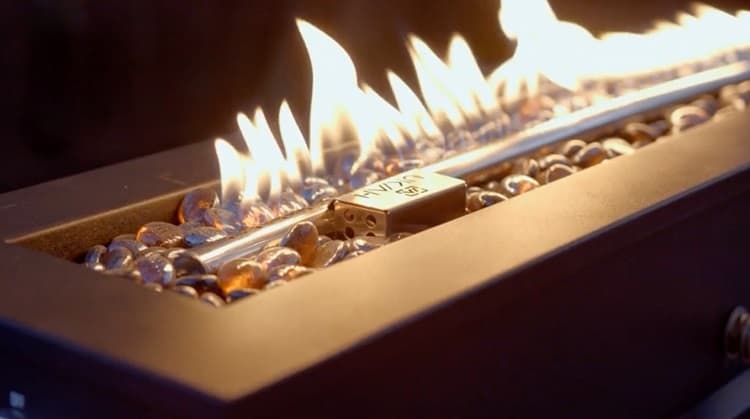 These are the seemingly small features that set some rectangular fire pits apart. While you're unlikely to get all of these features in one rectangular fire pit, here are a few to consider:
| | |
| --- | --- |
| Feature  | Purpose |
| Wheels  | Portable  |
| Heat Deflector  | Reduces heat on the affected region; keeps grass, patios cool |
| Hidden Tank | Aesthetics  |
| Flame Guard  | Protects against sparks, flare-ups (also known as a wind guard) |
| Vents vs Smokeless | Vents or air holes sustain the flames. For propane fire pits, vents are especially needed. Smokeless uses funnels instead. These produce less smoke (though still some) and tend to be a little more expensive |
| Cooking Grates and Grills | Usually for larger pits- these allow you to grill meat, seafood, and vegetables  |
| Adjustable Flame  | Allows you to seamlessly adjust the height/ intensity of gas flames  |
| Automatic Shut-Off  | Automatically turns off-gas systems after a while/ when not in use  |
I also consider warranties and reviews. Some places, like Wayfair, allow you to buy additional protection plans. At the very least, there should be some option for returns, exchange, or protection policies.
 Places to shop include Amazon, Pottery Barn, Home Depot, Williams-Sonoma, Overstock, and Target. Be careful with online retailers you aren't familiar with. 
Rectangular Fire Pits: My Picks
Here are a few ideas for some fantastic rectangular fire pits. I selected these rectangular fire pits based on: features, price, quality construction, unique designs, and overall value. All of these rectangular fire pits are sold by reputable stores with transparent policies for returns, shipping, and payment. 
Finnegan 2.5" H Stainless Steel Natural Gas Outdoor Fire Pit Insert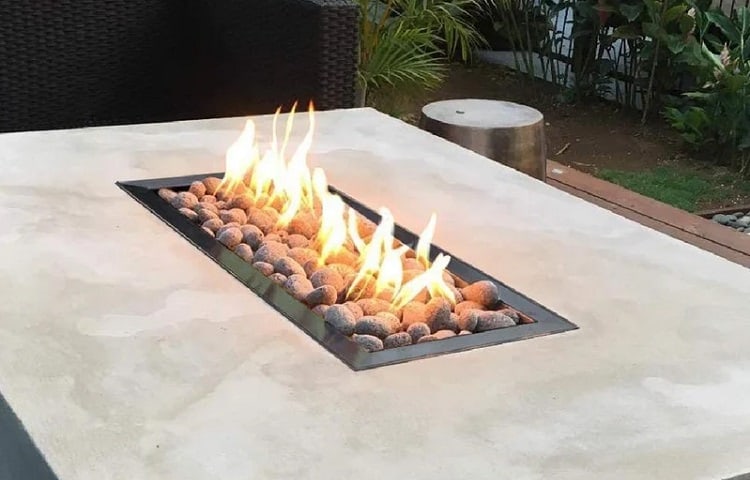 A fire pit table insert is just like it sounds. It fits within a table and usually includes the main burner, fire pit pan, and mounting plates. This fire pit table insert can serve as a replacement or minimalist allure. The 304-grade stainless steel is resistant to corrosion and provides an elegant, modern look.
With an output of 90,000 BTU, this fire pit is powerful, with the ability to run on natural or propane gas. It measures 26.5 by 10 inches. Though there isn't a specific warranty, there's an affordable 3-year protection plan, as well as a standard 30-day return policy. Buy Here. 
Pros
Sleek and Modern

Natural Gas or Propane

Powerful BTU Output 
Cons
Not Many Features

Limited Use 
Epsom 48″ X 20″ Concrete Rectangular Propane Fire Pit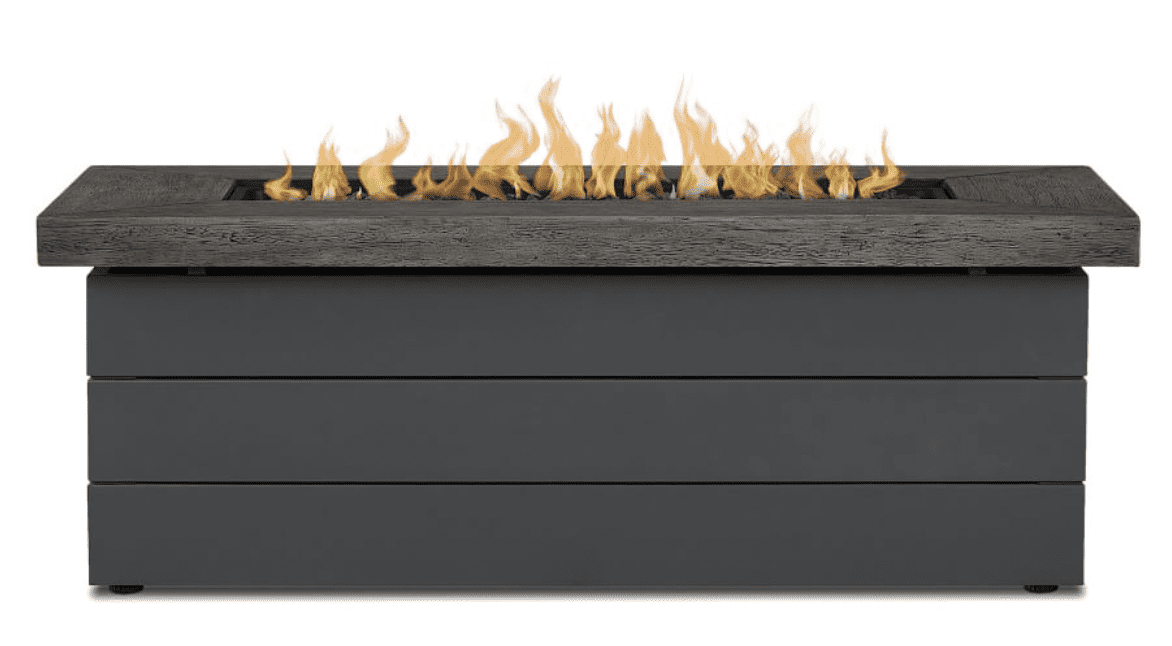 Pottery Barn has some fantastic patio furniture and appliances, and that includes their collection of fire pits. Though I love that they carry 2 fully sustainably-sourced fire pits, I settled on this style, which still offers premium features but is under $2,000.
This striking rectangular fire pit is made with a powder-coated steel frame that's resistant to weather, UV rays, corrosion, and rust.
A simple electronic button allows you to easily ignite the fire pit (propane) for up to 8 hours at a time, with an output of 50,000 BTU. This fire pit comes with a burner, lid, red lava rocks, tank seat, hose, and regulator. Buy Here. 
Pros
Powder-Coated Stainless Steel

Up to 8 Hours at a Time 

Complete Set- Lid, Accessories Included
Cons
More Expensive 

Only Propane Fuel 
Ukiah Loom X 28 in. W Steel Outdoor Rectangular Propane Fire Pit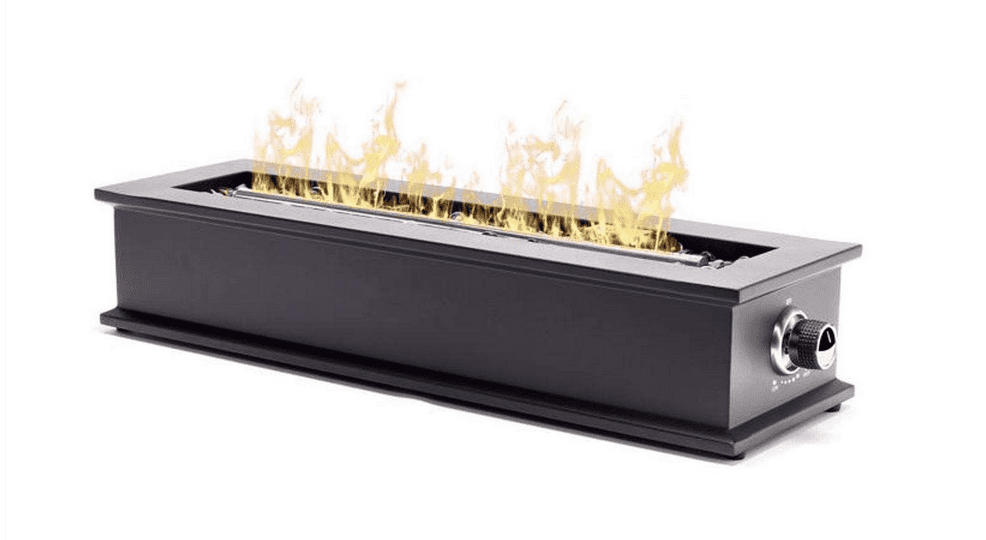 This small tabletop rectangular fire pit is a striking touch to any outdoor event. It also just so happens to be an incredible price. If you're on a tight budget and don't have the space for a larger pit, then this one from Ace Hardware is certainly worth considering.
This rectangular fire pit has a quick-connect adapter for propane and an output of 40,000 BTU. Electronic ignition pairs with an adjustable flame for greater control.
The body is constructed with powder-coated steel and includes a protective glass frame to guard against heat and wind. Buy Here. 
Pros
Electronic Ignition

Powder-Coated Steel

Glass Guard 
Cons
60 in. 50000 BTU Rectangle Concrete Propane Outdoor Fire Pit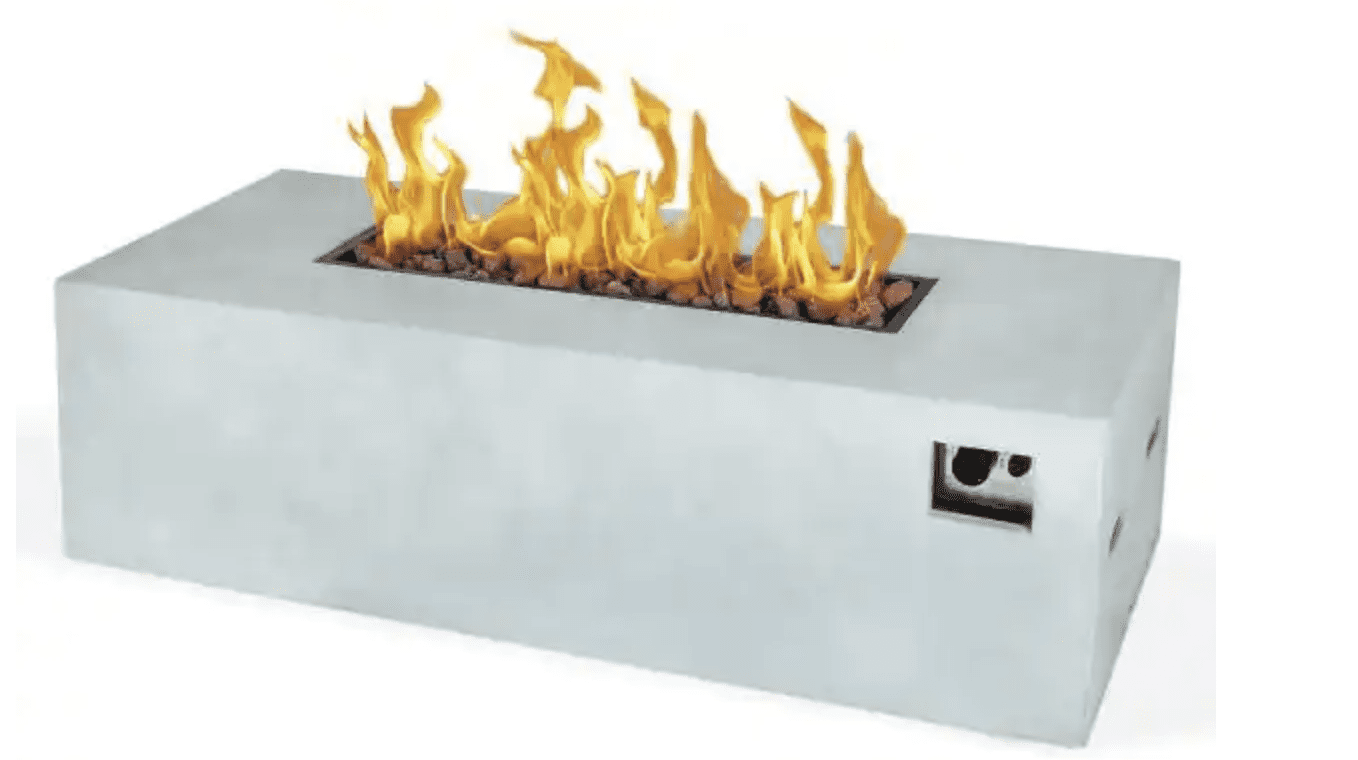 If you want a larger fire pit, this rectangular, concrete fire pit offers a sturdy build and helpful features. Your purchase comes with a protective cover and next to no assembly, plus a generous return window.
A simple push-button for ignition plus an output of 50,000 BTU provides seamless use. The concrete body is hardy against all weather types and can easily be repaired. I also love how it can double as an accent table when not in use. Buy Here. 
Pros
Simple Push Ignition

Hardy Concrete Frame 

Easy Set-Up 
Cons
Not as Stylish 

Propane Only 
14.25″ H x 66.25″ W x 29″ D Sedona 14.25" H Stone Outdoor Fire Pit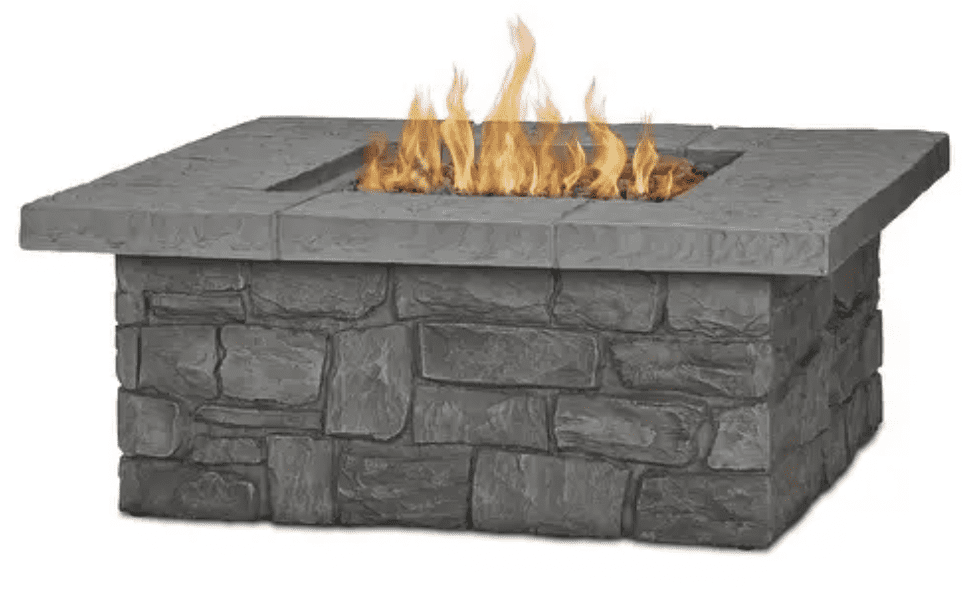 The Sedona rectangular fire pit is one of my favorite options if you love the ambiance of stone. This beautifully stone fire pit pairs with fiber-cast concrete for premium, durable construction. The fire pit comes with an adjustable flame, filler, gas conversion kit, and protective cover.
The generous size is ideal for a seating area. It has an output of 65,000 BTU- perfect for chillier nights. Designed for patios, it comes with a 1-year warranty and is sure to make a statement. Buy Here. 
Pros
Stone and Fiber-Cast Concrete 

65,000 BTU

Kit, Protective Cover Included

Adjustable Flame
Cons
Expensive 

More Difficult Assembly 
Ukiah Loom Propane Fire Pit with Sound System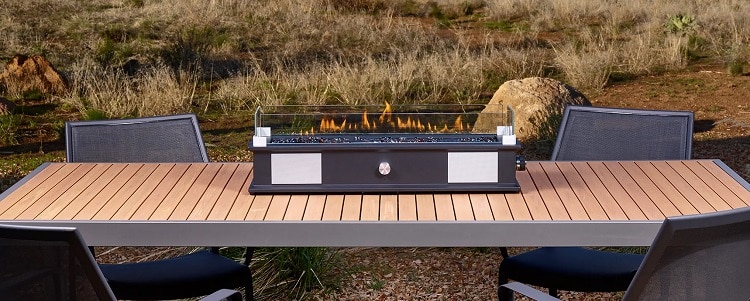 This 28-inch by 9-inch rectangular fire pit boasts built-in entertainment. The fire pit is made with a steel frame and equipped with an electronic ignition button.
This pairs with a patented sound system with a 100-watt system and Bluetooth technology. A lithium-ion battery provides up to 20 hours of performance, with 3 unique sound modes. Adding a bit of flair to your patio isn't hard with this fire pit. Buy Here. 
Pros
Patented Sound System 

Electronic Ignition 

Sturdy Steel Frame 
Cons
Not Powder-Coated Steel

Small- Tabletop Use 
Frequently Asked Questions
Question: Should a Fire Pit be Round or Square?
Answer: Deciding on a fire pit shape is a matter of space and personal preference. While the most popular fire pits are round or square, there are also rectangular, octagonal, and hexagonal fire pits. Your fire pit shape suits how you want to arrange your area.

A square fire is more space-efficient, but round and rectangular fire pits can be a fashionable alternative. While around fire pit has a classic camping aesthetic, a square or rectangular fire pit adds a modern touch. Many fire pit tables are non-round shapes. 
Question: What is a Good Size for a Backyard Fire Pit?
 
Answer: The best size for a fire pit is one that can be safely used within your backyard. Keep in mind that fire pits should be a minimum of 10 feet away from your home's foundation.

In addition, you'll need room to navigate around a fire pit, as well as for properly spacing any chairs. The standard sizes of backyard fire pits are around 34 to 44 inches for the interior diameter, and square and rectangular fire pits range from 3 to 6 feet wide. 
Question: Should I Put a Stone in the Bottom of My Fire Pit?
Answer: Stones, while not a must-have, are often placed at the bottom of fire pits. Lava rocks are a popular alternative to stones, especially for a decorative touch for fire pit tables.

The purpose of stones at the bottom of a fire pit is to provide proper drainage. You can also substitute stones with sand, gravel, or even dirt. Some people also use filler, especially concrete, though this tends to be more expensive. Ultimately, it's a matter of preference for what you want to fill the bottom of your fire pit with. 
Final Thoughts
Rectangular fire pits make a striking and modern statement. They're especially suited for larger areas and fit seamlessly into backyards with gardens or ones that have a more formal feel. While rectangular fire pits aren't the best solution for everyone, they're a solid alternative to the classic round shape.
Keep my shopping tips in mind to find the best rectangular pit for your yard. Prioritize materials and quality, then splurge for other features if you have wiggle room.
Final Recommendations: Rectangular Fire Pit Covers
If you're going to spend money on a great rectangular fire pit, you might as well invest by buying a weather-proof, durable cover. Firepit covers don't need to be beautiful. The goal is to protect your fire pit and create a safe environment.
While some only cover their fire pits in Winter, you really should cover your fire pit whenever it isn't in use. Choose a fire pit cover that protects against UV rays, high winds, and moisture. Reinforced polyester and PVC are cost-effective.
Rectangular Fire Pit Covers from Home Depot & Amazon
One place to shop for rectangular fire pit covers is Home Depot. Their collection of 15 rectangular covers includes zipper and velcro fasteners for a secure fit. Sizes range from 40 to 56 inches.
Amazon has a wider selection and competitive prices. Of these, I'd stick with covers with a 4.5-star rating and above. Shop Home Depot Here or Shop Amazon Here.
Recommended Reads: