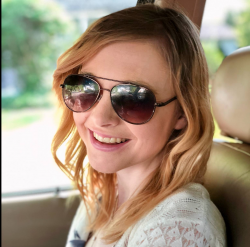 Latest posts by Erin Jamieson
(see all)
One of my favorite places I've ever visited is the Bay Area bordering San Francisco, especially the surrounding communities like Half Moon Bay and Pacifica.
One of the restaurants I ate at had a stunning view of a pebbled beach, and slate-gray cool ocean waves. Adirondack chairs circled outdoor tabletop fire pits. The view and ambiance of the fire pits were one of the best afternoons I spent in the region. 
You don't need to travel or live by a scenic ocean to enjoy a tabletop fire pit. The best tabletop fire pits can be enjoyed on your patio, whether you want to roast marshmallows or just have a warm space for guests. 
In this guide, I'll explain the pros and cons of tabletop fire pits and what features I look for to find the best designs. I'll give you a few ideas of some tabletop fire pits you can buy online or in stores. Who knows? A tabletop fire pit may be all you need to make your backyard feel complete. 
Bottom Line Up Front Summary
Tabletop fire pits make a fantastic addition to a patio- if you know how to select one.
The best are made with a weather-resistant material that accommodates heat (stone, steel, pewter), work with natural gas, and offers additional features, such as adjustable knobs, wind guards, and decorative flourishes. While a BTU of 35,000 is a good minimum for larger tables, small tables often run with much less. 
If I had to recommend just one tabletop fire pit, it would be the Serene Life Outdoor Fire Pit Table. Neither the most nor least expensive, this fire pit table includes two safety certifications, a warranty, an adjustable flame, and heavy-duty construction. However, it's not recommended to be placed directly on the wood. 
My Top Picks
Our Fire Pit Tables Worth It: What You Need to Know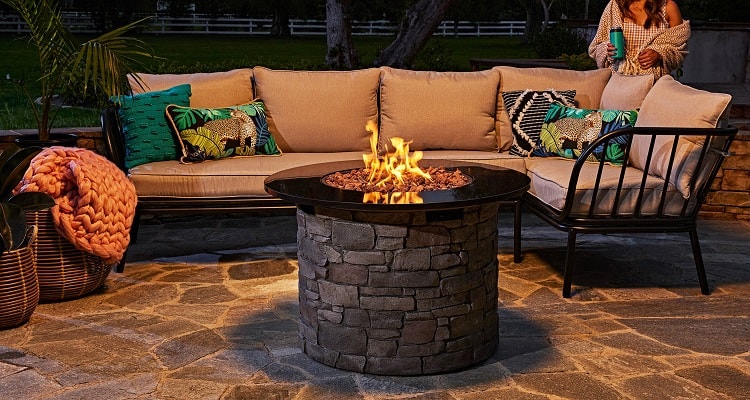 Before you rush out to buy a fire pit table, I think it's important to understand how it operates, how it can be used, and some limitations. While tabletop fire pits undoubtedly add ambiance and a fit of fun to a patio, there are a few disadvantages. 
Advantages
Tabletop fire pits work like regular fire pits. They run off some type of fuel and produce flames within an area. There's debate about whether they are more or less safe. Since the flames tend to be smaller, I would argue that tabletop fire pits are slightly safer than other fire pits.
See also: Best Target Fire Pits Guide
There's the undeniable aesthetic appeal. Tabletop fire pits also may be more high-tech than other fire pits (though not always). At the same time, they can be incredibly simple and cheap. 
 It's not as uncommon to see accessories and an attempt to complement other patio furniture, from attractive materials to features like umbrella holes and electric-powered controls.
They still give off heat and can be used for roasting marshmallows or hot dogs. They're great for entertaining, can be used at any time, and are a bit less hassle to get started than traditional fire pits. 
Disadvantages 
If not used properly, tabletop fire pits aren't safer than regular fire pits. A huge mistake is that people get too comfortable and set their tabletop fire pit near a home- something people tend to be less tempted to do with a regular fire pit. (Fire pits should be a minimum of 10 feet away from a home).
Tabletop fire pits aren't typically (safely) portable for camping. They also aren't usually as large or used as full fire pit grills for cooking something like steak. 
Bottom Line
Bottom line? When used properly and responsibly, tabletop fire pits can be safe and a lot of fun. They're great for entertaining and a good option if you want something a little smaller scale, advanced, and useful without much fuss. 
Selecting the Best Tabletop Fire Pits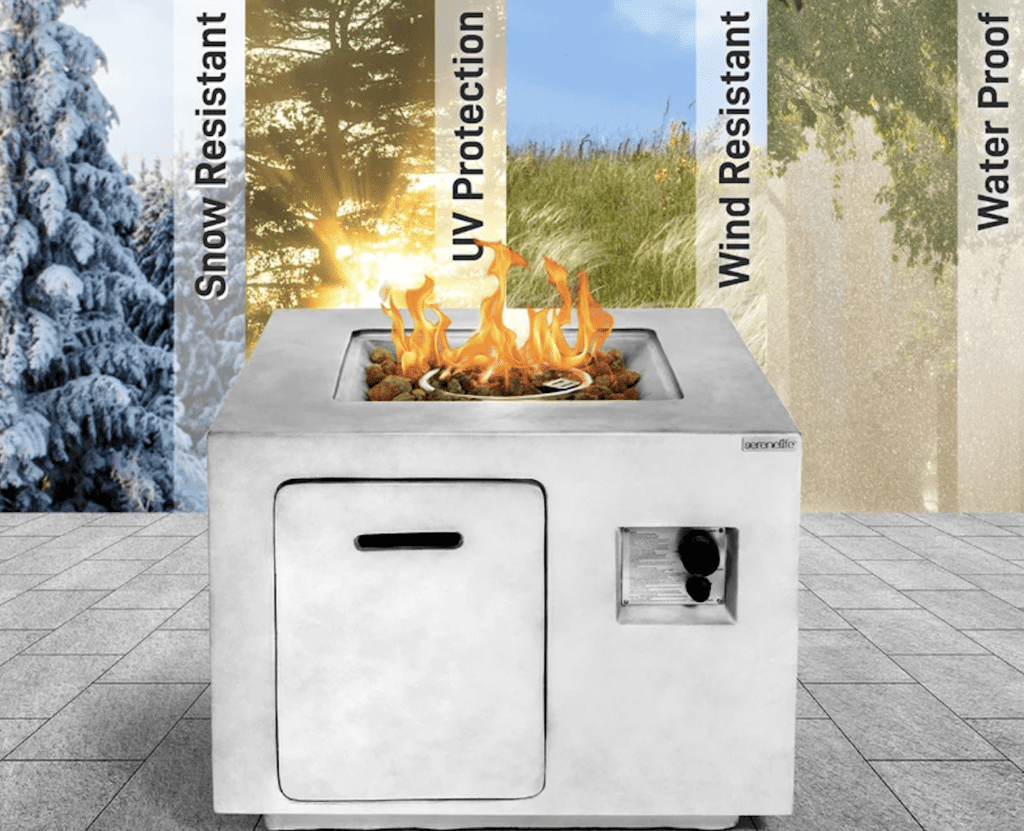 Here's how I sort through high-quality tabletop fire pits- and styles I'd skip. Keep in mind that all of this applies to outdoor tabletop fire pits. Indoor fire pit tables should never be used in the outdoors. 
Criteria: Main Materials
It doesn't matter how great of a price a tabletop fire pit is if it's not built to last. It has to be weather-resistant and able to withstand high temperatures. That's a pretty high bar to set. So here's a look at the most common materials- and what to choose or avoid. 
Pewter 
Pewter won't rust or corrode, and it's now lead-free in the USA. Pewter has the advantage of being able to withstand high temperatures. The biggest downside is that it's a bit softer than other materials used for tabletop fire pits. That means it's easier to dent or damage. 
Stone & Concrete
Stone and concrete are well-loved materials for tabletop fire pits for a few reasons. Both are noteworthy for their durability and classic ambiance. Able to withstand high temperatures and most weather conditions, these are good choices.
However, I prefer slightly stone because it won't crack like concrete can, under temperature changes and exposure to air.  Reinforced concrete will reduce this and improve durability. Both concrete and stone are slow to heat up. 
Steel 
Steel is another solid choice for a tabletop fire pit. Reinforced steel is even better, as is steel that's been treated with a weather-resistant coating. Steel isn't quite as hard as stone, but steel is much quicker to heat up. It's also lighter than stone. 
Glass Stone & Glass
Regular glass is usually only used for a cover, but glass stone is becoming more popular for tabletop fire pits, Glass stone is made by fusing glass, resin, and other materials. You may have also come across it as a stronger alternative to quartz countertops.
Glass stone is more resistant to stains and discoloration than steel. It's a beautiful material– but it is certainly easier to damage and could be a poor choice if you have kids or pets. Even if just part of your tabletop fire pit is glass, it can more easily break.
If you do opt for this material, make sure it's glass stone/ crushed glass that's suitable for flames and not just regular glass. 
Polywood
This is not common, but there are some Polywood tabletop fire pits. Polywood is a form of high density, recycled plastic that's very low maintenance and weather-resistant. It is quite expensive, however. 
I would avoid copper. Even though it's loved for a boho aesthetic, it isn't suited for use outdoors. I also don't go for aluminum, which is easier to dent and damage and likewise better for use indoors. 
See also: Best Solar Porch Lights
Criteria: BTU and Fuel Type 
BTU
BTU output is an important measurement if you have a gas tabletop fire pit. Moderate to larger tabletop fire pits should have a BTU of 30,000 BTU to 60,000 BTU. 
More is not always better: some tiny tabletop fire pits have as little as 2,000 BTU. Another consideration is the climate you live in. The hotter and more humid, the lower BTU levels will be comfortable.
Fuel Options
The main fuel types for a tabletop fire pit include propane, natural gas, and wood or tinder. Wood burns without chemicals and has a nice charm- but is not common because it suits larger fire pits. Small tabletop fire pits operate with natural gas or propane. 
Propane provides a vibrant yellow flame. But I prefer natural gas a bit for a few reasons. It leaves less soot and is cheaper than propane. Both propane and natural gas, regardless, are reasonable options for tabletop fire pits. 
A popular choice for small tabletop fire pits is isopropyl alcohol. This is a flammable chemical that produces a small flame. You want to look for a high alcohol percentage. This is very quick to ignite (but can be dangerous if it is not contained). While it produces less smoke, it can produce a lot of soot and make things messy to clean up.
 A better option is gel fuel, used for ventless, small to miniature tabletop fire pits. These are bought in canisters, have a low heat output, and only last about 3 hours– ideal for shorter-term entertainment. 
Best Options: Natural Bio-Ethanol, Gel Fuel for small and miniature tabletop fire pits. 
Criteria: Size and Type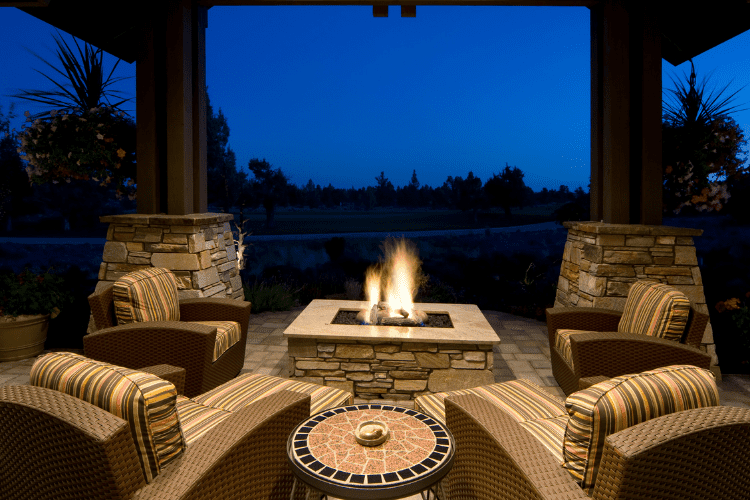 Sizing all depends on how you'll use your tabletop fire pit. A larger fire pit, of course, generates more heat and provides more room for roasting. A miniature table fire pit adds a bit of atmosphere with fewer fuel requirements and less upkeep. 
There are tabletop fire pit inserts, portable styles, and stand-alone tables. The bulkier options provide more stability, but it's a matter of your space. Round, square, oval, and rectangular shapes are the most common. 
Criteria: Features 
Here's a list of some unique or top features I'd consider for a tabletop fire pit. These features are not must-haves, but they can amp up your enjoyment and change the way you use your tabletop fire pit. 
Adjustable Knobs to Control Flames

Decorative Stand, Accents

Flame / Wind Guard

 Ventless (Used for Indoors as Well as Outdoors) 

Geometric Shapes and Modern Details 

Heat Deflectors 

Safety Certifications (CSA, ETL) 

Warranties 
Criteria: Pricing & Where to Buy 
Tabletop fire pits can be tricky to find if you don't know where to look, but the selection online covers a lot more than what you see in stores. Lowes, Amazon, Home Depot, Walmart, Bed Bath and Beyond, Overstock, and Wayfair all have a reasonable selection of styles, sizes, and prices. 
Speaking of prices, since there are miniature and large tabletop fire pits, the budget ranges pretty widely. Firepit tables range from around $100 to several thousand dollars for very large and elaborate tables. But a good price range for most is $300 to $900. 
Tabletop Fire Pits: My Picks
Here are just a few of my picks for the best tabletop fire pits for outdoor use. These were selected based upon materials, pricing, features, warranties, and reputation. Every one of these tabletop fire pits comes from a reputable store with transparent customer service policies. 
All Modern Latitude Concrete Outdoor Fire Pit Table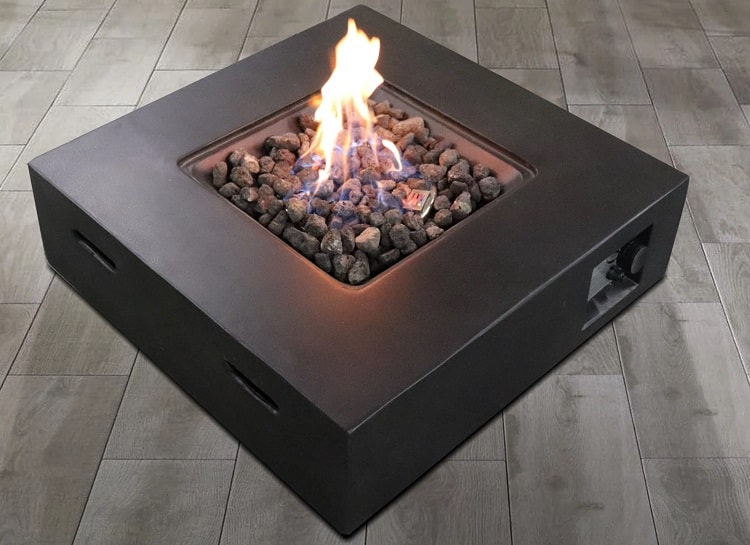 This 11" by 30" fire pit table is sleek, modern, and durable. Fiber-reinforced concrete is paired with stainless steel with a clever balance of structure and being able to heat up quickly. A simple push-button and adjustable flame provide control.
It's CSA-certified too (a Canadian certification metric for electronic safety standards) and comes with a 1-year warranty. It weighs 20 pounds, comes with lava rocks, and comes with a weather-proof, protective lid. The BTU output is 40,000 and it runs on propane or natural gas. Buy Here. 
Pros
CSA Certified

Adjustable Flame 

Stainless Steel and Reinforced Concrete

Comes with a Protective Cover 
Cons
Modest Size 

Steel May Need Weather-Proofing 
Polywood Round Fire Pit Table 
Looking for a fire pit table that's low-maintenance and that will become a centerpiece? If you have the budget, this modern Polywood fire pit table fits both of those categories. Made with durable, weather-resistant Polywood, this fire pit table comes with stainless steel burners and a protective cover.
With a propane tank (20 lbs) it can run for over 8,000 hours. It can also be hooked up to natural gas. A door with a hidden latch provides quick access while maintaining a stylish exterior.
It's made in the USA, secured with Marine-grade hardware, and resistant to UV light, snow, and more. It measures 48" and weighs a hefty 140 lbs. Buy Here. 
Pros
20-Year Warranty

Very Long Burn Time 

Side Door Access

Made in the USA with Marine-Grade Hardware 
Cons
Expensive

Very Difficult to Move 
Tack Life Outdoor Gas Fire Pit Table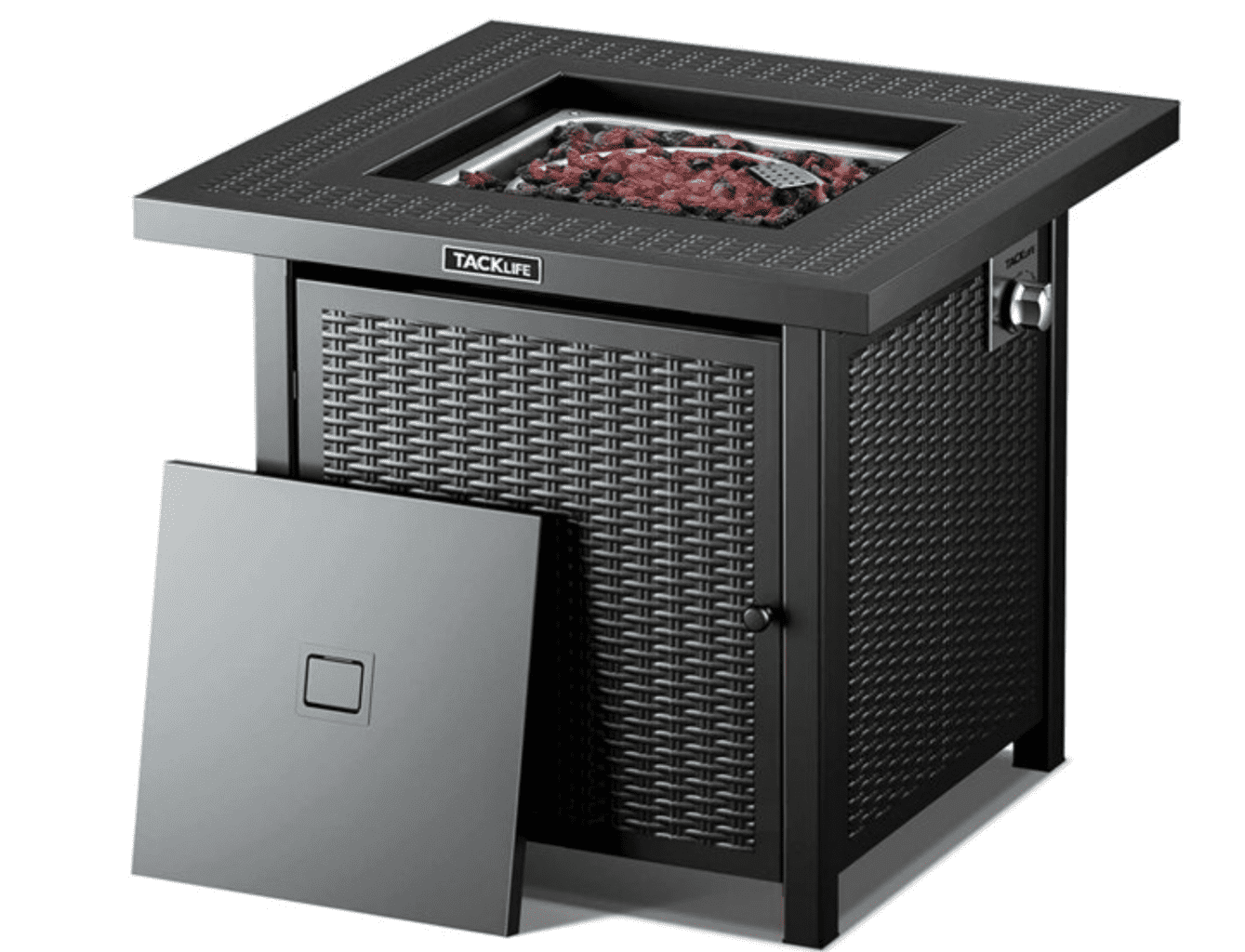 If you're on a tight budget, you can still find a fire pit table that's powerful and functional. This fire pit table is available at an excellent price and has an output of 50,000 BTU.
An electrode wire allows you to ignite in a single simple step. The 28-inch fire pit table uses propane fuel and is ETL-certified (tested for safety standards).
The steel frame and lid protect against damage and can double as patio decor. It's an incredible price and a simple fire pit table that suits cool and temperate climates. Buy Here. 
Pros
Excellent Price

ETL- Certified

50,000 BTU

Easy Switch 
Cons
No Warranty

Regular, Not Reinforced Steel 
Latitude Run Deidre Steel Fire Pit Table Insert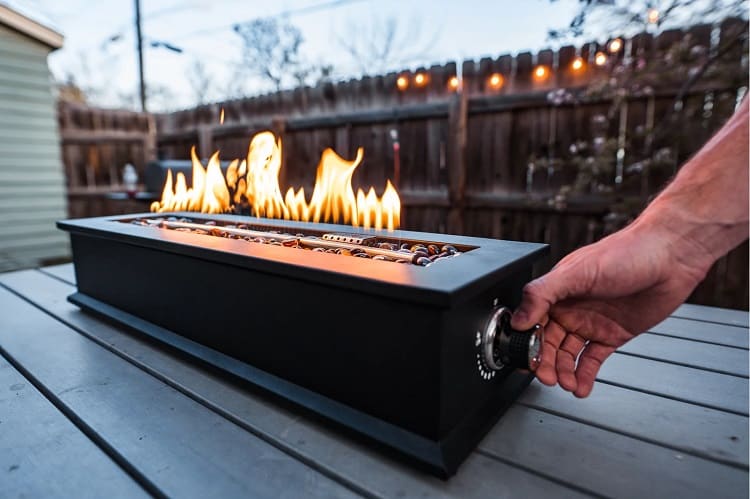 A table insert is a fantastic spin-off of a typical fire pit table. Use a table insert to add decorative flair to outdoor tables without the bulk of a larger fire pit. While you won't be able to do as much with an inserted style, this is a fantastic option if you want ambiance with bulk or as much maintenance.
This nearly five-star product runs on propane and includes a knob to adjust flames. It's crafted with weather-resistant steel and has an impressive output of 40,000 BTU. The small 8.62" size suits medium-sized patio tables. The purchase comes with a 1-year warranty and a protective cover. Buy Here. 
Pros
Adjustable Flame 

Steel Exterior 

Perfect for Decor 

40,000 BTU
Cons
No Certification

Doesn't Work with Umbrellas 
Allen & Roth Stacked Stone Fire Pit Table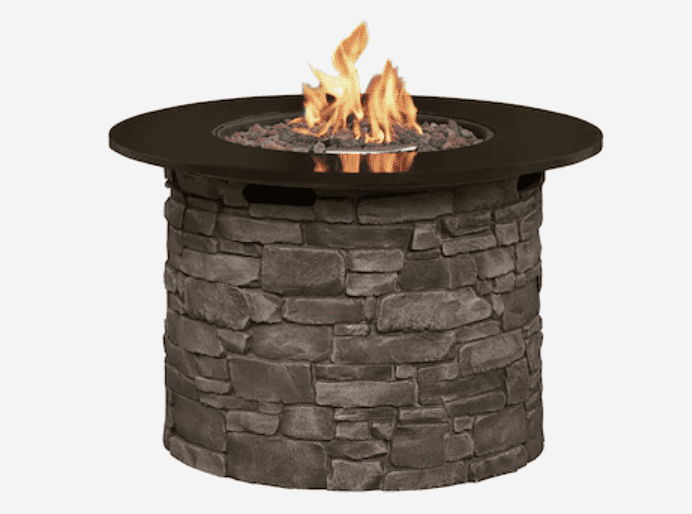 Stone is a beautiful option for a fire pit table, but it's also harder to find. I was excited to find this option from Lowes. Allen & Roth create a stacked stone tabletop fire pit with a beautiful black granite top, This eye-catching fire pit has a 50,000 BTU heat output with propane tanks.
I especially love the automatic heat turn-off safety feature. It comes fully assembled and with a complimentary one-year warranty. Buy Here. 
Pros 
Shut-Off Safety Feature

Stone and Granite 

 50,000 BTU 

Beautiful Aesthetic 
Cons
No Adjustable Flame 

Propane Only 
Serene Life Outdoor Fire Pit Table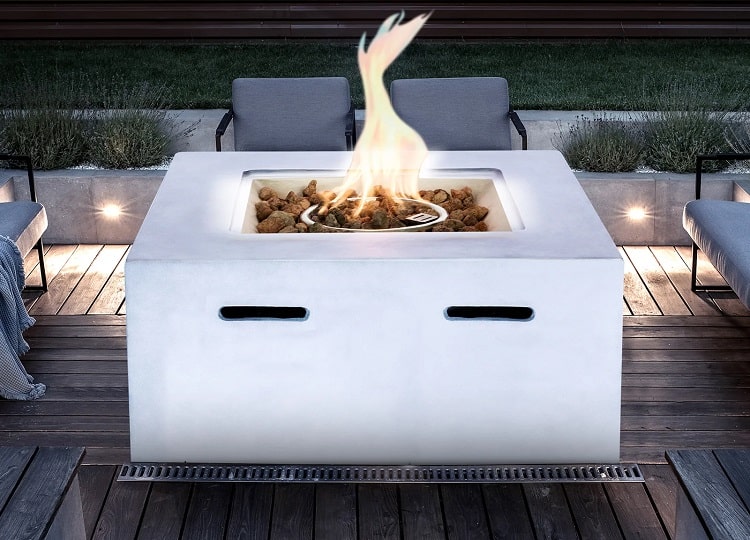 I wanted to finish off with a strong recommendation, and this beautiful tabletop fire pit is just that. Though it's not the cheapest option, it's one of my favorites, and still half the cost of my Polywood pick. The Serene Life tabletop fire pit is both CSA and ETL certified, with a balanced output of 40,000 BTU.
Features include an adjustable flame, a concealed propane tank, lava rocks, and a 1-year warranty. Stainless steel is paired with MGO construction, plus a PVC cover. It's weather and UV-resistant and easy to use. The 23" by 30" white exterior is modern, stylish, and versatile. Buy Here. 
Pros
CSA and ETL Certifications

40,000 BTU

Adjustable Flame 

Stainless Steel and Durable MGO Construction
Cons
Not Suited for Wood Surfaces

A Bit Expensive 
Frequently Asked Questions
Question: How do You Make a Tabletop Fire Pit?
Answer: There are plenty of tabletop fire pits to choose from, at least normally. But with shortages in patio furniture and accessories or appliances, things are changing. Rising costs and a new perspective are leading people to try DIY projects- tabletop fire pits included.

I've seen mini tabletop fire pits made with simple materials for as little as under $10. This includes tumbling towers, stains, gravel, and basic materials you can find at dollar stores. Keep in mind that these handmade fire pits are not very advanced, nor as safe as the ones you'd buy.

If you just want decor for a party, watch this 8-Minute DIY Tabletop Fire Pit Tutorial. Of course, you should never leave this or any fire pits unattended, especially if you have pets and/or children. 
See also: Best Fire Pit Accessories [2022]
Question: Can you Put a Tabletop Fire Pit on a Deck?
Answer: Something I find interesting about this question is that there is some debate. Some claim you can place a tabletop fire pit on a deck, while others say never to do so, The truth is in between. A fire pit should not be placed directly on a wooden deck- for obvious reasons.

However, there are some circumstances where a tabletop fire pit can be placed on a deck when it's contained and far away from the house.

A tabletop fire pit is different from one set directly on the ground. A contained tabletop fire pit is likewise different. There are greater safety concerns for a wooden or vinyl deck vs a concrete patio- so it's something to be aware of. The fire risk is higher, but it depends on the orientation of your tabletop fire pit. 
Question: Do Tabletop Fire Pits Give Off Heat?
Answer: Tabletop fire pits, as you might imagine, give off heat. The tricky part of this statement is that they all give off different amounts of heat.

Some have controls that allow you to adjust this heat and its intensity. This is helpful for everything from roasting marshmallows to enjoying its warmth on a chillier evening. Tabletop fire pits tend to have more controllable and varied heat vs other types of fire pits.

The fuel used, size, and materials all play a role in how much heat is given off- and how much heat you'll notice. The heat that tabletop fire pits give off is expressed as BTU/ hour. On average, a tabletop fire pit generates heat, not unlike a modest campfire's heat. 
Final Thoughts
Tabletop fire pits are a great addition to a patio. Whether you just want a warm place for cooler evenings or want to try your hand at roasting marshmallows, there's a lot to love.
At the same time, tabletop fire pits require care and maintenance. Even the best tabletop fire pits can't make up for negligence. That sounds harsh, but my message is relatively simple. Take care of your tabletop fire pit and use it as intended. You'll enjoy it safely- and for years to come. 
Final Recommendations: Tabletop Fire Pit Covers 
Some may skip this step, but I argue that fire pit covers are a necessity. This is true for tabletop fire pits, which people are even more likely to keep outside. Firepit covers, regardless of the type of fire pit, need to be weather-resistant. 
The goal is to protect your home and your fire pit. As such, a good tabletop fire pit cover should be resistant to mold, mildew, moisture, wind, and UV rays. By keeping your tabletop fire pit covered, you're improving the durability and trimming back on safety risks.
It's especially important to cover your tabletop fire pit cover when it's not in use both during dry seasons and during winter months. A good example is this Tabletop Fire Pit Cover from Amazon. It's heavy-duty, waterproof, and protects your pit against animals and damage. 
Recommended Reads: