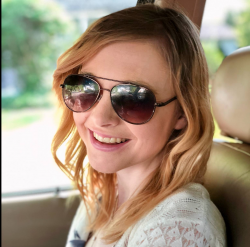 Latest posts by Erin Jamieson
(see all)
Some birthdays stick with you, even decades later. One of the most memorable birthday parties I attended was a Halloween-themed party, complete with a haunted hayride, pumpkin patch, and a cozy fire put with Adirondack chairs.
In the years that followed, I enjoyed time with friends and family around fire pits, and what made the experience great was a great chair to sit in.
In this guide, I'll give you my tips for finding the best fire pit chairs. I want you to be able to enjoy your memories, whether that's with one other person or entertaining with friends and family. I'll tell you how to select the best styles and materials and where to buy fire pit chairs. 
With these tips and ideas, hopefully, you'll be enjoying your fire pit chairs in no time.
Bottom Line Up Front Summary
The best chairs for a fire pit feature a low-lying, laid-back orientation. Plywood and hardwood are far preferable to other materials. Select the best chairs for your fire pit by selecting dimensions that suit your space and comfort levels.
If I had to recommend one fire pit chair, it would be the All-Weather Chair from L.L. Bean. Available in many colors and praised by customers, it features a classic style, generous armrest, and is made with durable Polywood. 
My Top Picks
How to Arrange a Fire Pit Sitting Area
Before you select your fire pit chairs, I want to discuss how to create a sitting area around a fire pit. Creating a space is a must before you buy fire pit chairs.
It'll tell you how many chairs you can safely place, and what arrangement makes the most sense. I've seen fire pit seating areas poorly designed, and that can pose serious problems. 
Where to Place Your Fire Pit 
Fire pits should be far away from anything flammable, anything that can get caught, and a minimum of 10 feet away from a house or fences.
Select a level of an area as possible, and make sure that it's an area that you won't stumble upon by accident if you're wandering through your yard. If you have a small yard, be aware that you might need to have a pretty modest sitting area.  
See also: Best Target Fire Pits Guide
Best Surfaces
I have seen many fire pits and seating airs placed directly on the grass, but this isn't the best idea. If you do need to place your fire pit on grass, a non-flammable mat is a good idea. Otherwise, a patio of slab on concrete is another great place to set your fire pit and chairs around. 
Where to Place Your Chairs
Fire Pit chairs are usually arranged in a circle, equidistant from the fire pit. I recommend giving yourself 30 to 32 inches of space between your chairs and the fire pit. Instead of cramming your chairs in, provide plenty of space between each. For a seat that has a lot of depth, give yourself extra space to get in and out.
You can have fire pit tools and accessories nearby. Otherwise, keep the space clean and clear. Upkeep the space by raking away leaves in the Fall. And of course, have fun with it. Make the fire pit seating area your own. 
See also: Best Fire Pit Accessories [2022]
How to Find the Best Fire Pit Chairs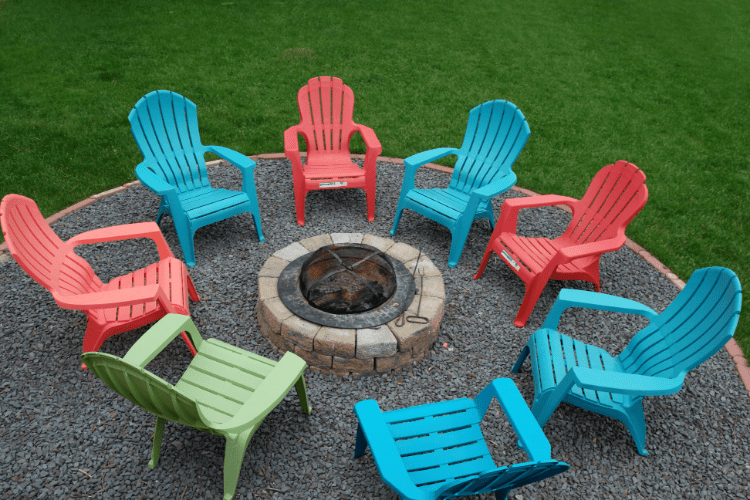 While technically you can use different styles of chairs for a fire pit, most fire pit chairs are Adirondacks. Adirondack chairs are slightly reclined, with a sloped back.
First introduced in the 1900s, Adirondack chairs have since soared in popularity. Not only are they classically charming, but they provide a comfortable and safe seating experience for a fire pit. 
Some like swivel chairs near fire pits– but I recommend limiting these to dining and patios. Swivel chairs provide movement, but they aren't too practical for a fire pit- and potentially dangerous. I prefer patio swivel chairs for bars and dining sets. 
See also: How to Find the Best Patio Tables for Your Outdoor Space
Step One: Adirondack Chair Characteristics
Chances are that you've seen– and even used an Adirondack chair. I love this type of chair for fire pit seating for a few reasons. A great Adirondack chair should have a slightly contoured seat.
The curved seat provides more support and is naturally more comfortable than a straight-edged seat. It's also a great choice for someone with weaker knees or joints. 
Another feature I look for is generous armrests. Wider armrests likewise are suitable for a lounging position and take some of the pressure off her arms.
The back should be slatted and curved. This provides ventilation and proper back support. A reclined position allows you to join the warmth of a fire but stay safely away. 
If you or a loved one has trouble getting in and out of chairs, a footstool or slightly higher (or more shallow seat) may be good to look for. 
Step Two: Best Materials for Fire Pit Chairs
The biggest mistake I see made is set for an attractive Adirondack chair– without thinking about what materials make sense for a fire pit.
Because of the safety concerns and heat generated by a fire pit, there are several materials that you should avoid– and only a few I'd recommend. (Also check the chair's hardware. I prefer steel or stainless steel hardware for its durability and versatility). 
Avoid: Metal, Regular Plastic, Wicker Chairs
Metal traps heat. You can imagine that metal chairs may not be the best choice near a fire pit for that reason alone. Even with seat cushions, it's going to be pretty uncomfortable. I also wouldn't recommend plain plastic chairs or wicker resin chairs. These won't fare well with exposure to heat. 
Be Careful: Hardwood Chairs 
Notice that I said hardwood, not softwood. Softer woods aren't suitable for outdoor use, let alone for a fire pit chair. Examples of hardwoods include cherry, walnut, oak, maple, acacia, eucalyptus, teak, and hickory.
The advantage of hardwood is its beauty, natural materials, and ability to resist damage from scratches and dents. Unlike metal, it'll provide a comfortable fit around a fire pit. Of course, you need to set them away from the fire pit. 
These chairs will require a bit of maintenance, including oiling/ sealing up to a few times a year. A wood that is naturally rich in oil, like teak, will require less maintenance.
It's even better if you can find a fire pit hardwood chair that's been treated for weather resistance, such as with a polyurethane coating. Without treatment, hardwood chairs can warp or shrink. 
Good Choice: (Treated) Polywood
My parents have Polywood Adirondack chairs, but that's not the main reason I'm recommending them for a fire pit. Polywood is a high-density, recycled plastic that's meant to withstand weather conditions and temperature extremes year-round.
It requires little maintenance, is comfortable, and provides a classic look not too far off from polished wood. It can be a little pricy, but its durability and use are worth it. Make sure it's certified/ labeled as actual Polywood. As a bonus, some are treated to be UV-resistant and heat-resistant. 
Step Three: Fire Pit Chair Dimensions
The majority of Adirondack chairs for a fire pit are 28 to 34 inches wide, 34 to 42 inches tall, and up to 38 inches deep.
Deeper seats provide a more laid-back orientation and are suited for taller individuals. Going for the mid-range of these dimensions plays it safe.
A lot of it is personal preference and how far back you want your chair to be. I prefer a slightly narrower and more shallow chair because I'm 5'4" and don't like leaning quite as far back. 
Another thing to keep in mind is the space you're working with. As a reminder, you need 30 to 32 inches between your chairs and the fire pit. 
See also: Best Outdoor Rugs for Porches
Step Four: Where to Buy & Pricing
I only shop from stores and websites that have a great reputation for customer service and a good value based upon their materials.
Other nice features to have, such as chairs with cup holders, sustainably sourced chairs, or fire pit chairs made in the USA will limit your selection just a bit. Here's where I recommend shopping for fire pit chairs, based on your needs and your budget. 
| | |
| --- | --- |
| Need | Where to Buy  |
| Budget/ Cheaper Fire Pit Chairs | Amazon, Overstock, Warehouse Outlets, Target  |
| Amish- Made, Made in the USA | Amish Yard, Polywood.com, Vermont Woods Studios, Loll Designs, Small/ Independent Businesses  |
| Higher-End Features  | Pottery Barn, L.L Bean, Williams-Sonoma  |
| Mid-Range, Practical  | Home Depot, Lowes, Wayfair, Menards, other Home Improvement Stores  |
Great Fire Pit Chairs for 2022 
Here are a few of my favorite fire pit chairs that you can buy online. I wanted chairs that were comfortable but also offered great features.
These chairs are durable, stylish, and suited for use near a fire pit. They've been selected based on price, design, and quality materials. Of course, these chairs all come from stores with a history of fair policies and reputable customer service. 
See also: Best Fire Pit Covers Guide
Polywood Nautical 3-Piece Adirondack Set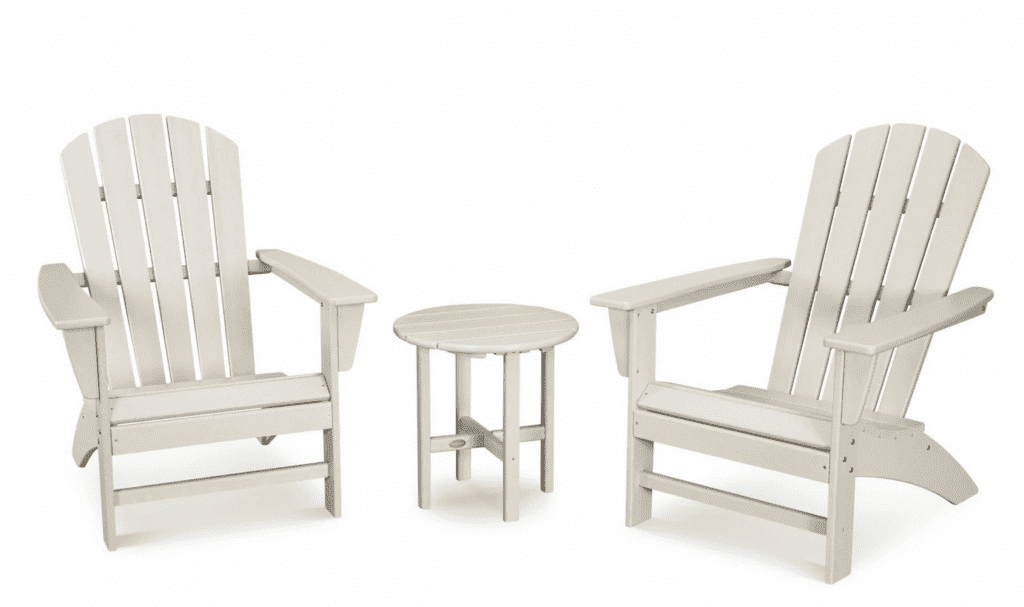 This Adirondack set is one of my favorite sets for a small fire pit. Everything is made in the USA by local Amish communities in Tennessee, Kentucky, and Ohio. But that's not the only reason why this is a great purchase for enjoying a fire pit. Two chairs and a side table are included.
The side table is just the right size for two beverages or plates. Fade-resistant Polywood is ideal for all weather conditions and won't get too hold near a fire pit.
Marine-grade hardware, free shipping, and a 20-year warranty are just a few of the other reasons why I love this set for a fire pit area. This set is available in the following colors: black, white, tan, brown, orange, red, green, lime green, aqua, red, and cobalt blue. Buy Here. 
Pros
Made in the USA by Amish Communities

Includes Side Table

UV and Weather-Resistant 

Marine-Grade Hardware 
Cons
Have to Buy as a Set

32 Inch Seat Depth May Not be Best For Taller People
Highland Dunes Nystrom Adirondack Chair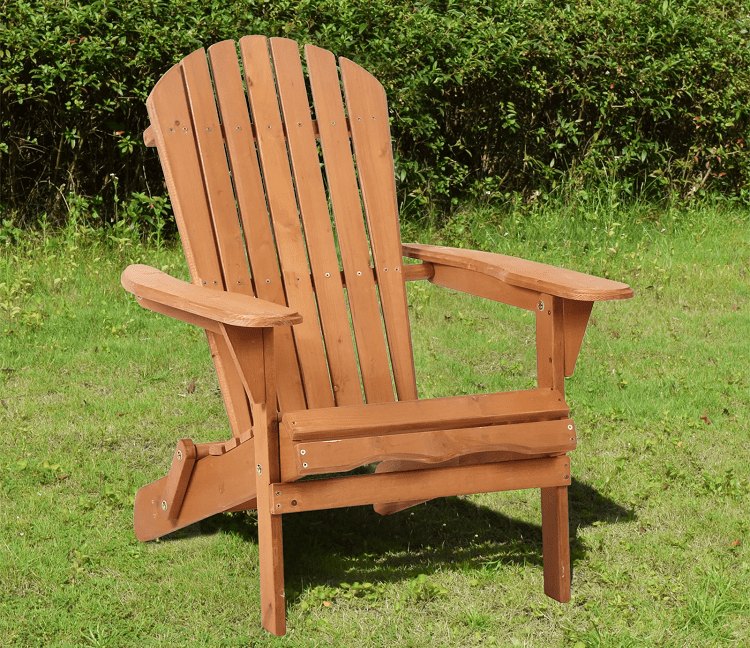 If you love the look of hardwood but are on a budget, this chair from Wayfair may be the perfect addition to a fire pit. It's constructed with genuine Acacia hardwood and built to be durable and comfortable.
This fire pit chair stood out to me with its contoured seat and relaxed back. While it's fairly lightweight, it's still sturdy and boasts generous armrests. I also love that it can be folded down and stored inside during winter or inclement weather. Buy Here. 
Pros
Good Price

Acacia Hardwood

Generous Arm Rests 

Comfortable Back 
Cons
Needs to Be Treated

Requires Extensive Assembly
All-Weather Waterfall Adirondack Chair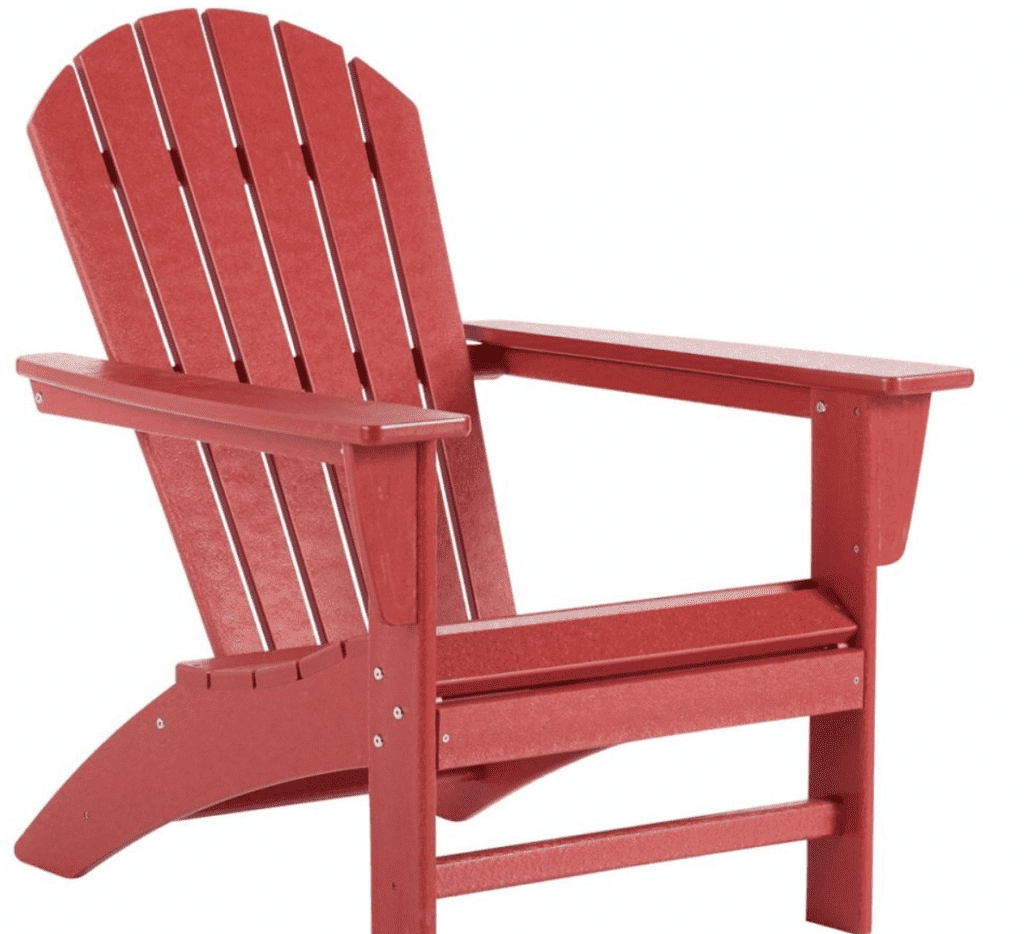 I admit it: I have a special fondness for L.L. Bean. Growing up, L.L. Bean was my family's go-to for backpacks and cozy zip-ups. L.L. Bean continues its tradition of classic design and durable materials with a collection of colorful fire pit chairs.
This sturdy Polywood chair is resistant to fading, cracking, high winds, and wet weather. It's made in the USA, making it an instant American classic. It pairs well with their matching footstool and cushions.
It's sturdy but not too heavy and praised by customers. But another thing I love is the array of colors to choose from. These include black, navy, red, green, mahogany, sand, slate gray, and white. Buy Here. 
Pros
Classic Design in Great Colors

Rot, Fade, and Weather- Resistant Polywood

Made in the USA

Great Accessories
Cons
A Bit More Expensive 

Returns, but Lack of Free Warranty 
FSC® Teak Adirondack Chair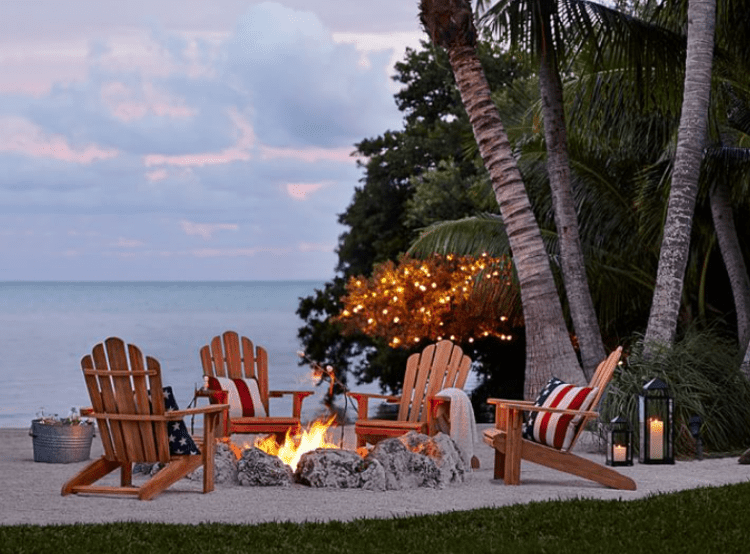 This beautiful hardwood fire pit chair is an exceptional choice if you have a generous budget. Not all wooden fire pit chairs are of the highest quality, and this design from Pottery Barn is an example of why. Natural teak produces its rich oils, making it harder and lower maintenance.
It's made with the highest grade teak available and certified sustainably sourced. The classic design is secured with stainless steel hardware. You can also purchase their outdoor wood cleaner and brightener or buy your own. Treated well, this chair should last you for a bonfire after bonfire. Buy Here. 
Pros
Grade-A, Weather-Resistant Teak

Sustainably Sourced

Beautiful Design

Lower Maintenance than Other Hardwood
Cons
Expensive

Teak Naturally Weathers to Light Gray (Could Also Be a Pro) 
Colunga Solid Wood Adirondack Chair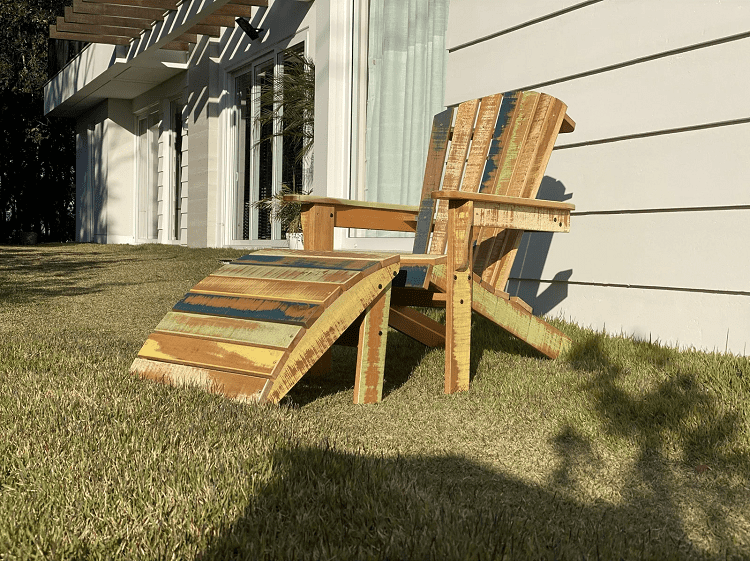 Whether you love a rustic style or just something a bit different, this is one of the most unique (and affordable) fire pit chairs available. The distressed paint adds a quirky accent to a classic hardwood chair.
The natural variation from the eucalyptus wood only adds to its charm. It comes with a 90-day warranty, a great price, and sturdy construction. I also appreciate the optional 5-year protection plan and the option for expert assembly if you want it. Buy Here. 
Pros
Charming Distressed Look

Solid Hardwood

Rot and Water Resistant

Resistant to UV Rays
Cons
Eucalyptus Wood is Strong, but More Prone to Warping than Teak

Requires Regular Maintenance 
Frequently Asked Questions
Question: How Close Can a Fire Pit be to a House?
 
Answer: One mistake I see people make is placing a fire pit too close to their house. Convenient as it may be, it can also be quite dangerous. General safety guidelines dictate that you should place a fire pit further than 10 feet.

However, if you live in a windy area, and, just to be safe, I'd expand that to 15 or 20 feet away when possible. Be wary of anything that could obstruct your fire pit. That included branches, trees, and anything you might have in your yard. 
Question: Is it Legal to Have Fires in Your Backyard?
In most cases, it is legal to have a bonfire in your backyard, but many places have regulations about the type and extent of the fire. For instance, there may be regulations concerning what can be burned in a bonfire.

Always, it's important to keep your fire safe, contained, and far away from other homes or anything else that would cause a hazard. Check-in with your state's laws, or check the EPA's Statement on Recreational Fires. 
Question: How Tall Should my Fire Pit Be?
Fire pits should be around 10 to 14 inches tall, depending on your setup. This is not a must, but the idea is to make your fire pit proportionate to your chairs. It should sit a few inches lower than whatever chairs you plan to use. The most important thing is to establish a fire pit in a flat, safe area and set it away from potential hazards. 
Question: How many Adirondack chairs are around a fire pit? 
The number of Adirondack chairs for a fire pit depends on the size of your fire pit sitting area. I've seen fire pits as intimate as just two chairs, while large fire pits areas may have 6. With Adirondack chairs and a fire pit, the important thing is to provide adequate space. Set each chair 2 to 3 feet apart to fully enjoy them.

These chairs, with their laid-back orientation, are a little trickier to get in and out of. When in doubt, be more generous with your spacing.

In addition, allow approximately 32 inches of space between the fire pit and your chairs. Measuring the sitting area radius ahead of time will tell you how many chairs you can have. 
Final Thoughts 
Final Recommendations: Fire Pit Chair Covers
When your fire pit and chairs aren't in use, why not keep them covered? While it's most important to keep the fire pit covered, it may be a good idea to cover your chairs in the Winter or if you plan to be away for a long time.
The best chair covers are made out of Oxford cloth, PVC polyester, or 1000 denier. They should be weather-resistant and durable. Of course, you'll also need to buy covers specifically designed for your chair's unique dimensions. 
Adirondack Chair Covers from Wayfair
For a great range of covers and fair prices, I recommend shopping from Wayfair. Wayfair's collection of Adirondack chair covers includes simple to stylish options.
Look for a cover that includes a closure– whether that is elastic, a drawstring, or a zipper. These covers are priced anywhere from under $20 to $150, so that's a pretty big range. Shop Here. 
Recommended Reads: