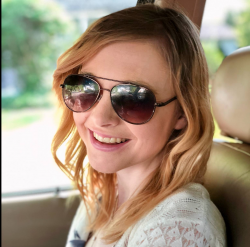 Latest posts by Erin Jamieson
(see all)
I've been in Target stores more times than I could count. Last year, I ordered a majority of my Christmas presents from Target.com. But what I didn't realize was how extensive their outdoor furniture and patio selection is. That includes a pretty tempting selection of fire pits. But I wanted to know: is Targeted a bull's eye for fire pits?
I researched Target's selection of fire pits and was happy to find a solid variety. This guide will help you navigate to the best fire pits Target carries, from portable to tabletop to classic gas fire pits. I'll tell you what to look for and even how to catch a great sale. 
See also: Best Fire Pit Accessories [2022]
Bottom Line Up Front Summary
Target has a few hundred fire pits to choose from. That includes portable fire pits, fire pit tables, and classic medium-sized fire pits. The best they have to offer are fire pits constructed with stone, stone resin, or powder-coated steel. I look for the BTU output, features, ratings, warranties, and sturdy construction.
 If I had to recommend just one Target fire pit for the average person, it would be the Captiva Designs Outdoor Fire Pit Table. This versatile fire pit doubles as a side table and fire pit, with an automatic shut-off feature, rust-resistant steel frame, and powerful system. 
My Top Picks
Target: Best Store for Fire Pits?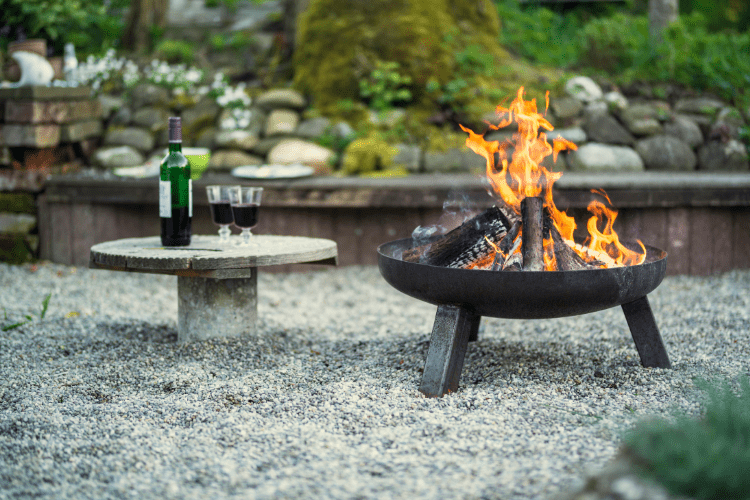 If you like Target as much as I do, you're not alone. Not only is it one of the largest retailers in the United States alone, but it's also earned top spots for Americans' favorite store.
But just because it's your go-to for socks, books, and even pantry staples, doesn't mean it's the best place to shop for fire pits. Here are my top pros and cons for Target's fire pit collection. 
Pros
Target carries around 600 products in its Complete Online Collection of Fire Pits– though that does include some patio heaters and fire pit accessories. With this broad range, I was happy to see a range of prices for both wood and gas fire pits. While you may not immediately recognize all the brands, you won't be stuck with a brand that you don't like.
Target's fire pits are mostly contemporary, modern, and practical. It's a wide selection, but not overwhelming like shopping on Amazon or Walmart. I like that you can have your fire pit shipped to you or a store.
Ratings and customer reviews help make a decision. Product descriptions mostly give you the details you need. Most of the target's fire pits are moderately priced and pretty versatile. 
Cons
Target is a pretty mixed bag. There are some pretty durable fire pits, but also many that have mixed reviews and aren't very substantial. If you want fire pits made in the USA, Target also isn't your best choice. Target excels most with its fire pits tables, fire pit table inserts, and portable fire pits.
While I like a lot of Target's fire pit styles, it's hard to find highly innovative designs or rustic designs. Most feature a relatively simple contemporary look.
Finally, while Target fire pits do have some nice features, they aren't exceptional or revolutionary. The most expensive fire pits at Target don't offer quite enough for me to recommend them over other stores. 
Bottom Line
Target offers a lot more online than in stores. Their fire pits are moderately priced, contemporary, and especially great for patios and camping. They offer far smaller and portable fire pits than large fire pits, and they aren't the best store for fire pits made in the USA or with all the bells and whistles. 
How to Find the Best Fire Pits at Target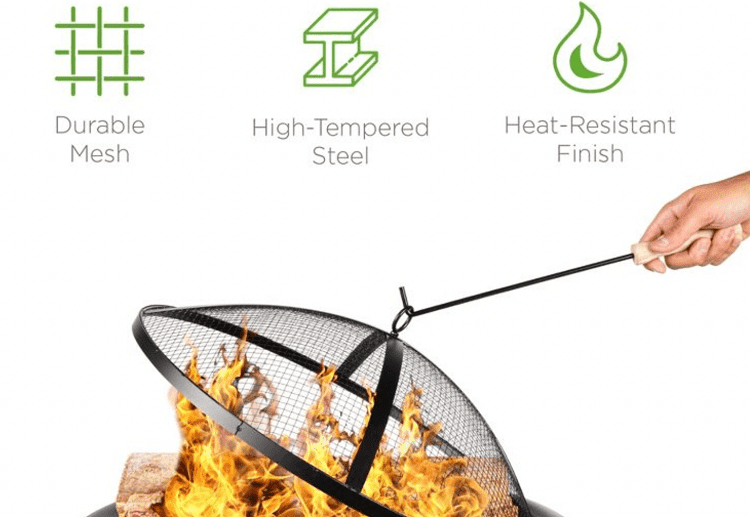 Before you get pulled in by the initial price tag, I have some tips and tricks for finding the best deals and features for fire pits. Here's how to navigate through Target's listings of fire pits. Follow these steps, and you'll find a fire pit worth your money. 
Step One: Set a Budget 
The first step I'd take is to set a budget. You can have a flexible budget range- which I encourage but doing so allows you to sort by something realistic. Target fire pits range from as little as $40 up to $3,300. However, the majority of their fire pits are a few hundred dollars. 
Pro-Tip
If you want to save money, don't simply go for the cheapest option. If you want to catch a great deal, shop clearance or shop during a time that fire pits go on sale.
Target, like many stores, tends to put fire pits on sale during the later part of Fall and through Winter. Sometimes you can catch special holiday promotions and sales too. 
Step Two: Select a Fire Pit Type
While I'd argue that Target does tabletop fire pits and portable fire pits best, the type of fire pit you should buy is up to you and how you'll use it. To help, I've created a quick chart to show you the main types of fire pits Target sells- and what each kind is best for. 
| | |
| --- | --- |
| Type of Target Fit Pit  | Main Purpose  |
| Tabletop Fire Pit  | Standalone tables or table inserts for entertaining, aesthetics, and roasting marshmallows; popular for patios and non-wooden decks |
| Portable Fire Pit  | These are lightweight fire pits that you can take with you- most frequently used for camping. They're not quite as powerful or durable, but very convenient  |
| Fire Pit Grill  | These fire pits are equipped with grill plates and devices. Used for everything from simply roasting to grilling steak, fire pit grills are an alternative to a traditional grill |
| Standard Fire Pit  | This category is pretty self-explanatory. These fire pits are moderate or larger and are used for backyard bonfires  |
Step Three: Select Your Fuel Type
Target organizes its fire pits into two broad fuel types: wood and gas. Here are your main options, and the pros and cons of each. 
Wood
I like a wood fire pit, but it's not for everyone. You'll be getting a cleaner, chemical;-free burn but it's also less convenient. Not only is it less convenient to store wood, but wood fire pits burn more slowly and take longer at times to generate heat. 
Gas 
Target sells both propane and natural gas fire pits. Propane is bought in tanks and provides a consistent burn. Natural gas is sometimes preferred because it's cheaper and some think it is "cleaner." Propane, however, ends up being cost-effective because it is more efficient than natural gas. 
Pro-Tip
Regardless of what fuel type you go for, pay attention to the BTU output. A medium to larger fire pit should have a BTU of around 35,000 to 50,000. You can get by with less for a tabletop fire pit (for warm climates) and small, portable fire pits. 
See also: Best Porch Swing Covers Guide
Step Three: Select Materials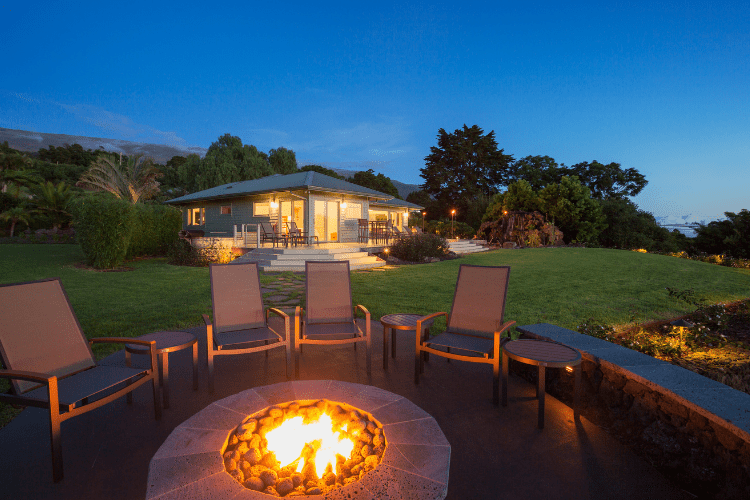 Target sells aluminum, steel, concrete, fiberglass, and stone fire pits. Of these, I recommend sticking with steel, concrete or stone, or stone resin. These are the more durable materials and will last fairly well outside.
The best option for these is either stone or powder-coated steel. However, stone resin is also very durable and known for its density and weather resistance. Powder-coated is treated to withstand difficult weather conditions, while stone provides the sturdiness of concrete without cracking, as concrete is susceptible to. 
Step Four: Deciding on Features
Features can set apart some of Target's fire pits. A few of those features include adjustable knobs, weather guards, automatic shut-offs, removable ash pans, side-opening doors, grill burners/ plates, and umbrella hole mounts.
Removable lids and ash pans don't directly impact how the fire pit operates, but they do make clean-up easier and more efficient. 
Pro-Tip
One thing you really should pay attention to is the ignition type. That's between manual and electric. This is a matter of preference but some strongly prefer the ease of electric ignition.
Something this is not technically a feature but I look for are the customer ratings and warranty policy. I'd try to find a fire pit with at least a standard 60-day warranty and a rating of no longer than 4 out of 5 stars.
Target Fire Pits: My Picks 
Here are a few of my favorite fire pit options from Target. These stood out to me for a few reasons. They're made with durable, weather-resistant materials and have either a great value or a unique feature.
They also come with a warranty and present a good balance of features and price- and I did keep the style with mild consideration. Likewise, I have selected different types of Target fire pits to fit an array of needs. 
Captiva Designs 28" Outdoor Fire Pit Table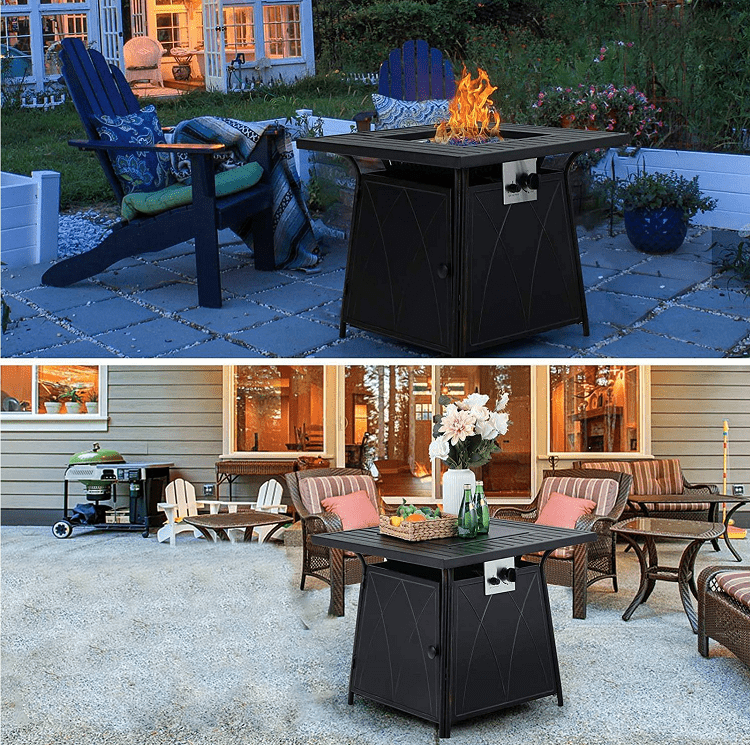 Whether you're entertaining or enjoying it for yourself, this 28" fire pit table is easily one of Target's best fire pit options. This strikingly versatile, modern, and clever fire pit table seamlessly does double duty. You get the warmth of a fire pit, or, with the lid on, an accent table. This powerful fire pit table has an output of 50,000 BTU.
It's smokeless and includes an easy push-on ignition button. The rust-resistant steel frame is hardy, paired with just the right amount of decorative flourishes for visual interest. I love the automatic safety shut-off feature, plus the easy assembly.
This fire pit table runs on propane gas and comes with a 1-year warranty. It's a great find, even if you're new to fire pits. Buy Here. 
Pros
Versatile- Doubles as Accent Table

50,000 BTU

Automatic Gas Shut Off

Rust-Resistant Steel Frame 
Cons
Propane Tanks Not Included/ Propane Only 

Tank Support Could be Stronger 
Relic Home Audio Fire Pit (with Bluetooth)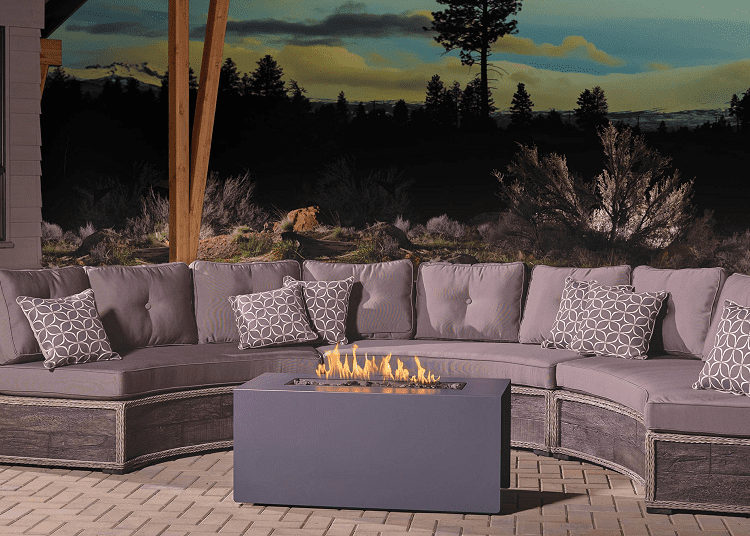 I still stand by my analysis that Target's collection of fire pits isn't, for the most part, innovative but this fire pit certainly is one of the exceptions. If you have extra money to spend and are primarily buying a fire pit for entertainment, this design is worth looking into.
The sturdy powder-coated steel frame and modern, sleek design alone make it worthwhile. Add to that easy electronic ignition, a 10-foot gas hose, lava rocks, and a protective cover and you're getting a decent amount, even for the steeper price. The 100-watt sound system includes 4 unique music modes and a wireless Bluetooth connection within 60 feet.
The battery life lasts for an average of 20 hours. This striking fire pit and entertainment system comes with a single-year warranty and is compatible with propane tanks. Buy Here. 
Pros
Patented Sound System

Includes Gas Hose, Protective Cover, and Lava Rocks

Powder-Coated Steel Frame

Electronic Ignition 
Cons
Expensive 

Bluetooth Only Works Within 60 Feet 
Best Choice 22" Portable Fire Pit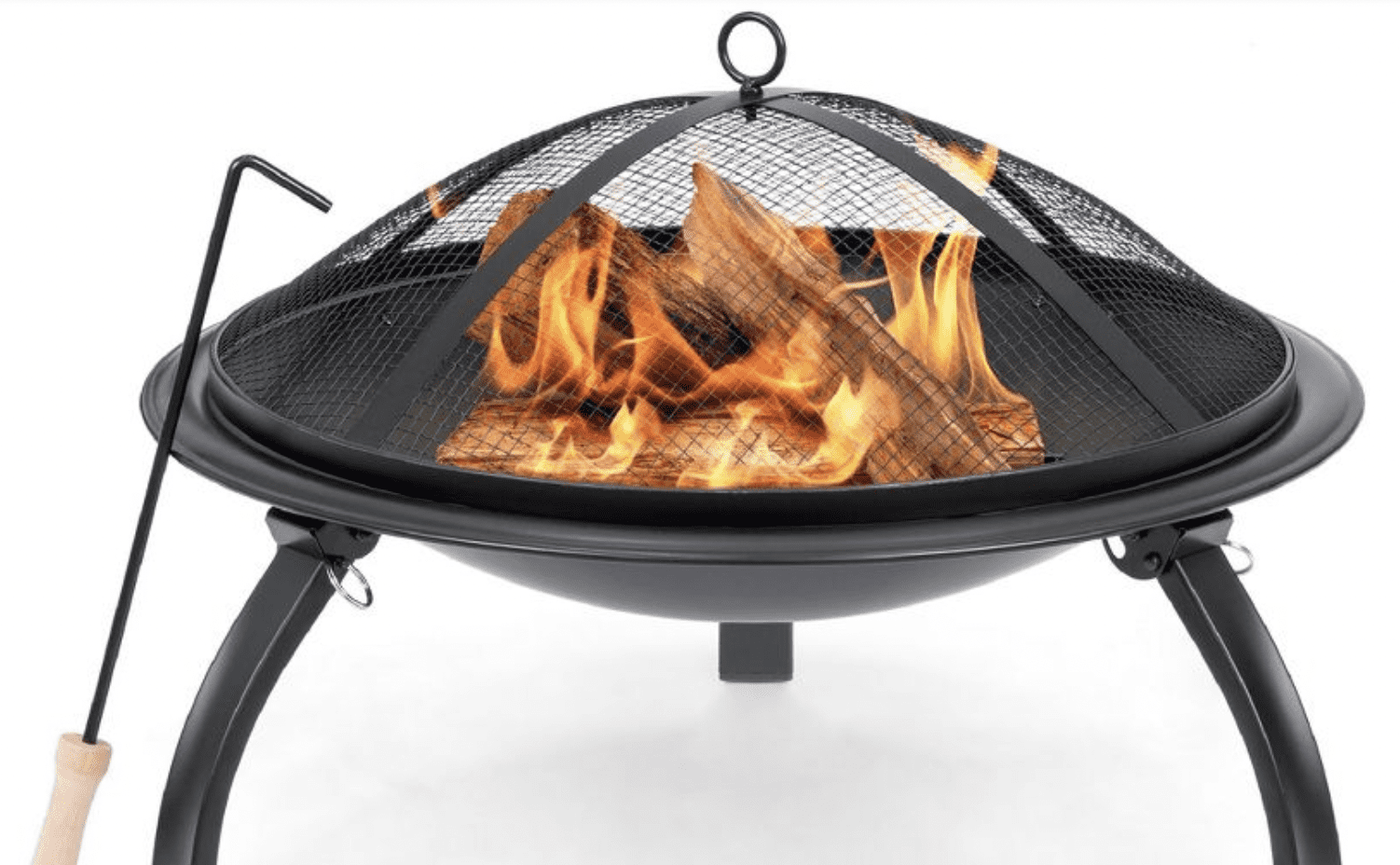 Whether you're looking for a portable fire pit or a fire pit under $100, this option from Target may just be your best choice. The 22" fire pit is lightweight and even foldable for easy storage.
Despite this, it's still built with tempered steel that's heat-resistant and easy to clean: something you often don't see in budget or foldable fire pit designs. Assembly is a breeze with just two parts to put together.
It works with wood and weighs a mere 9.3 pounds- perfect for those camping expeditions. Your purchase comes with a 60-day warranty. Buy Here. 
Pros
Incredible Price

Foldable

Lightweight, Highly Portable 

Tempered Steel 
Cons
Not Fully Weather-Resistant 

Fairly Limited Warranty 
26" Hex-Shaped Outdoor Fire Pit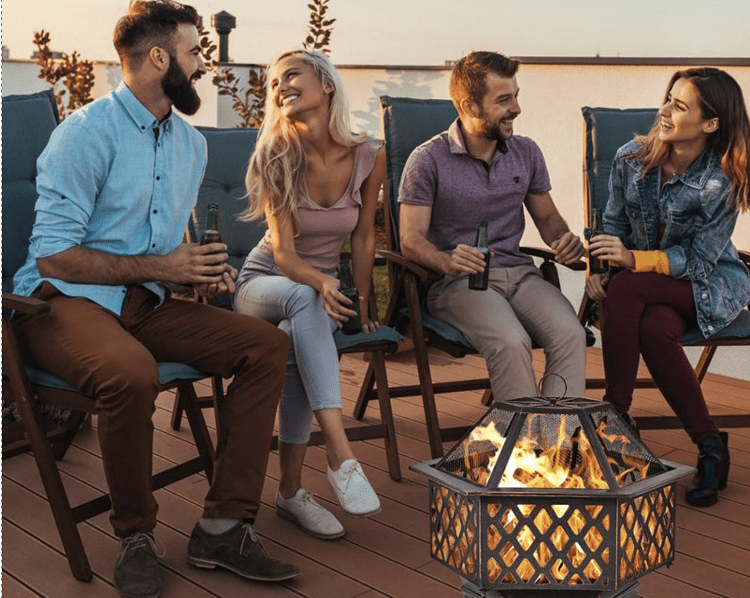 I noticed that Target carries- and advertises for far more propane and natural gas-burning fire pits than wood-burning ones. But this wood-burning fire pit is a great choice for a few reasons. First, the price is hard to beat. Secondly, the design is eye-catching. But more importantly, it balances out stability with portability.
Though lightweight, the steel frame is powder-coated and sturdy. Mesh guards are helpful for wind and protect you from flying sparks. Built-in steel barriers make it suitable for both outdoor and indoor environments. It also works with propane. This fire pit comes with a 90-day warranty. Buy Here. 
Pros
Striking Design 

Powder-Coated Steel

Lightweight but Durable

Great Price
Cons
More Limited Warranty

Fairly Simple Features 
32" Hammered Round Fire Pit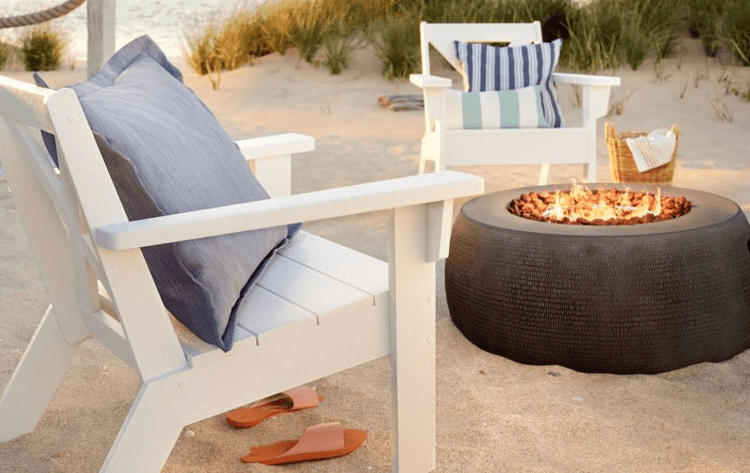 This fire pit may not have an immediately impressive name, but I like this fire pit for several reasons. If you want a larger, powerful fire pit with adjustable features, this shows how Target can pack in a great value for a lower price than some of its competitors. The stone/ resin base features a hammered appearance for a bit of flair.
At once modern and touches boho, this fire pit features a control knob for adjustable flames. The 50,000 BTU output produces plenty of heat.
There's a side handle to move it if you need to, plus charming lava rocks and a protective cover to keep it safe when not in use. This fire pit exudes heat within a 7-foot radius and comes with a 1-year warranty. Buy Here. 
Pros
Striking Hammered Exterior

Adjustable Flame 

50,000 BTU

Lava Rocks, Handle, and Protective Cover
Cons
No Automatic Shut-Off

Stone Resin Doesn't Look as "Authentic" as Stone
Frequently Asked Questions
Question: Does Target Sell Fire Pits in Stores?
Answer: Target sells a nice variety of fire pits, including those on clearance. However, their best fire pit selection is online. Some target stores carry smaller and select fire pits in person. Search for a target near you and ask. They're more likely to carry fire pits in larger stores and during peak seasons from Spring to early or mid-Fall.

You can also order a fire pit online and pick it up at your online store. If you order a Fire Pit from Target.com and want a refund, follow their Return Policies for Online Orders. 
Question: Can You Use a Fire Pit During Restrictions?
Answer: Before you use your Target fire pit, it's important to be aware of two types of restrictions: state laws and safety warnings. State laws usually revolve around what can be burned in a fire pit during certain hours. State laws vary, so it's important to check in with your state's government website.

For instance, my home state (Ohio) doesn't allow you to openly burn materials from 6 am to 6 pm in March through November. The second restriction would be during a high wind or fire risk warning. Never use a fire pit during these times. 
Question: Are Fire Pits Worth it?
Answer: While I think that fire pits are worth it, that statement is attached to myriad caveats. Fire pits are multi-purpose. They're great for entertaining and roasting, and some even are used for grilling. They add ambiance and are excellent for a fun addition to a backyard or patio.

At the same time, fire pits require some maintenance and care. Covering your fire pit when not in use, treating it occasionally, and cleaning it are all important steps. If you have kids or pets, you have to be cautious. You also should never place a fire pit directly beside the foundation of a home. 
Question: When do Fire Pits Go on Clearance?
Answer: Fire pits go on clearance outside of peak season. If you think about it, mid-Spring through early Fall are popular times to buy and use a fire pit. Because of this, you should shop for a fire pit from late Fall to early Spring. This is normally when sales dip and fire pits go on clearance.

Just keep in mind that you'll probably have to shop online in most cases. During these months, there's a lower stock level of fire pits in physical stores. 
Final Thoughts
There's always a joke that you can find nearly anything at Target, and they do indeed have a nice selection of fire pits. With just over 600 styles to choose from, it's important to go into your shopping with a clear budget and a list of must-have features.
What I appreciate most about Target's selection of fire pits is that there are options for most budgets and sizes. At the same time, it's not as overwhelming as shopping for fire pits on Amazon or Walmart. Take advantage of their sales and clearance, but don't base your decision solely on sticker price. 
Final Recommendations: Target Fire Pit Accessories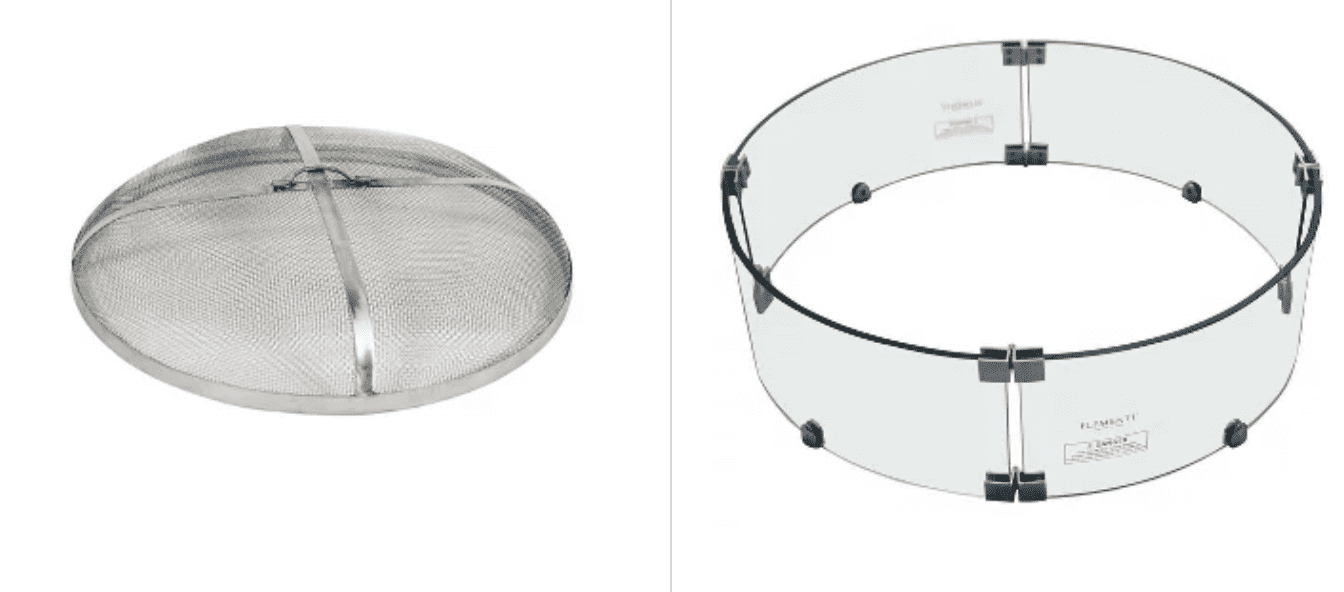 Target sells accessories for fire pits too- but you'll have to do some searching to find the best options. The most important accessory for a fire pit is a fire pit cover. For a cover, opt for a weather-proof material that is resistant to UV rays and precipitation, such as this Ravenna Full Coverage Fire Pit Cover.
Meanwhile, a Tempered Glass Wind Screen is helpful for those gustier days. Meanwhile, a Simple Fireplace Tool Kit and Campfire Skewers are great accessories to have on hand for enjoying your fire pit to its fullest.  
Recommended Reads: